Next Page: 10000
For Some Quidditch Players, The Magic Wears Off As Injury Risks Grow Clearer
Comment
Translate Page
It happened in a split second, and Vanessa Barker doesn't remember any of it. She doesn't remember dropping to the field, nor does she remember how she got hit. When she came to, she was sitting on the sidelines with an EMT, being evaluated for what turned out to be her first concussion. Over the next two years, she'd suffer another two more while out on the field — hardly what she expected when she decided to start playing quidditch. Before 2005, quidditch existed only as a creation from the fictional world of Harry Potter — a pastime for witches and wizards on flying broomsticks. But charmed by the game's allure, students at Middlebury College in Vermont held the first real-life quidditch match, a fast-paced, co-ed, full-contact combination of dodgeball, rugby and basketball. Vanessa Barker of the University of Maryland has suffered three concussions while playing quidditch. Noah Fortson / NPR Nearly a decade-and-a-half later, participation has grown dramatically, with teams

Sudan's Military Says It Has Taken Control And Arrested President Omar Al-Bashir
Comment
Translate Page
After nearly 30 years in power, Bashir is removed from power and detained by his own military.

Sudan's Military Says It Has Taken Control And Arrested President Omar Al-Bashir
By
James Doubek, Laurel Wamsley
| NPR
A military council has taken control of Sudan and arrested its longtime president, Omar al-Bashir, the country's military said Thursday. The move comes after opposition protesters recently gained new momentum in demanding al-Bashir leave office.
Sudan's defense minister, Awad Mohamed Ahmed Ibn Auf, said the "regime" had been removed and its head arrested, as he announced the coup in a televised statement.
The minister said a transitional military council will rule the country for two years before any democratic elections will take place.
Sudan awoke early to word from the state news agency that the military would be making an announcement — news that sent thousands of people flooding to the site where protesters have been calling for al-Bashir's ouster for months.
There has been so much anticipation for this moment, NPR's Halima Gikandi reports, that "some people were cheering but not really knowing what they were cheering for, and what was going to happen." In one sign of change, activists said many of their colleagues had been released from state prisons.
or protesters, the moment is bittersweet. Their primary demand has been for al-Bashir to step down. But their second demand was for a transitional government to move the country toward a democracy — and on Thursday, there were no indications of that happening.
The woman who has become an icon of the protests, Alaa Salah, tweeted that the military's announcement was unacceptable: "The people do not want a transitional military council. Change will not happen with Bashir's entire regime hoodwinking Sudanese civilians through a military coup. We want a civilian council to head the transition."
It's unclear what will happen next, but many Sudanese fear a military takeover. And with a number of military forces and government agencies now free to assert themselves, the political picture seems more complicated than ever.
"On one hand, you have the army, which in the past few days has been seeming to protect protesters," Gikandi explains. "And on the other hand, you have the national intelligence agency, which has been known to have done human rights violations. So what does it mean now for demonstrators to be seeing that the military is taking over, and installing a two-year transitional government, consisting of all of those various intelligence agencies?"
The opposition protests began in December over the price of bread, after the government ended subsidies. But the demonstrations soon spread to political concerns, and protesters demanded al-Bashir's ouster. Since Saturday, tens of thousands have maintained a protest vigil near the military headquarters in Sudan's capital, Khartoum.
The country's armed forces have been deployed around the capital's main roads and bridges, the BBC reports, and the city's main airport is closed.
The Sudanese Professionals Association, the civil society group that has led protests since December, had called on residents to mobilize on Thursday for a sit-in. The group tweeted that the military leadership must "hand over power to the people."
Sudan's current crisis "cannot be addressed through another military coup," the group said. The SPA called for protests to continue until power is handed over to a civil transitional government.
"We will not accept Bashir's aides as part of the new situation," protester Mohamed Adam told Reuters. "Those people have killed protesters."
Media reports say the current swell of protesters is largely peaceful. The SPA said it advocated a peaceful "approach to revolution and change."
Sudanese security forces killed at least 14 people on Tuesday, NPR previously reported. But according to the BBC, the army stepped in to protect protesters from at least two attacks by forces loyal to al-Bashir.
His ouster comes just a week after Algerian President Abdelaziz Bouteflika resigned, following weeks of mass protests against his 20-year rule. Since 2011, a number of the Arab world's longest-serving leaders have lost power: Tunisia's Ben Ali, Libya's Moammar Gadhafi, Yemen's Ali Abdullah Saleh, Egypt's Hosni Mubarak, and now Bouteflika and al-Bashir.
Now all eyes are on the Sudanese military, which has a long history of coups in the country.
Sudan gained independence from the U.K. and Egypt in 1956. Just two years later, chief of staff Lt. Gen. Ibrahim Abboud took power in a bloodless coup.
Riots and strikes in 1964 led to the military giving up control.
But Col. Gaafar Muhammad Nimeiri led a second military coup in 1969, according to the U.S. State Department's history. Nimeiri became prime minister, and the military banned political parties and dissolved parliament. He survived multiple coup attempts before succumbing to another military coup in 1985.
Gen. Abdel Rahman Swar al-Dahab led the military overthrow of Nimeiri in that coup. This time the military handed over power to a civilian government of Prime Minister Sadiq al-Mahdi after elections in 1986.
Al-Mahdi only lasted three years in power afterward. Al-Bashir, with the support of military officers and an Islamist political party, took power as leader of a junta in his own coup on June 30, 1989.
Al-Bashir had been in power almost 30 years. The International Criminal Court in the Hague issued warrants for al-Bashir's arrest in 2009 and 2010 for genocide and crimes against humanity in Sudan's Darfur region.
But those arrest warrants have not been carried out, with al-Bashir traveling to South Africa in 2015 and Chad in 2010 and returning home.
2019 SkS Weekly Climate Change & Global Warming News Roundup #15
Comment
Translate Page
A chronological listing of news articles posted on the Skeptical Science Facebook Page during the past week, i.e., Sun, Apr 7 through Sat, Apr 13, 2019
Editor's Pick
The world could transition entirely to cheap, safe renewable energy before 2050: Finnish study
A study from the Lappeenranta University of Technology (LUT) and the Energy Watch Group (EWG) from Germany says a global transition to the exclusive use of renewable energy is possible before 2050. (iStock)
A global transition to the exclusive use of renewable energy sources is not only possible but also cheaper and safer than reliance on fossil fuels and nuclear energy, according to a new study from the Lappeenranta University of Technology (LUT) and the Energy Watch Group (EWG) from Germany.
The study claims that the rapid development of renewable energy sources and energy storage technology will likely make it possible for the entire planet to reduce its CO2 emissions to zero even earlier than the current 2050 deadline.
The report is the first of its kind to suggest a cost-effective, all-inclusive, global roadmap to keep average global warming at 1.5 degrees Celsius. It is also the first planet-wide climate change resistance plan that suggests not using carbon capture and sequestration (CCS) techniques to mechanically remove CO2 from the atmosphere.
According to the model, in 2050 some 69 percent of the world's energy would come from solar panels, 18 percent from wind power, 3 percent from hydropower systems and 6 percent from bioenergy.
Fossil fuels and nuclear power would not be needed at all. Cars, planes and ships would run on carbon-neutral synthetic fuels produced from hydrogen and carbon dioxide.
The world could transition entirely to cheap, safe renewable energy before 2050: Finnish study, Yle News (Finland), Apr 12, 2019
---
Links posted on Facebook
Sun Apr 7, 2019
Mon Apr 8, 2019
Tue Apr 9, 2019
Wed Apr 10, 2019
Thu Apr 11, 2019
Fri Apr 12, 2019
Sat Apr 13, 2019
Ohio Implements Unconstitutional Six Week Abortion ban
Comment
Translate Page
Ohio has officially banned abortions after 5-6 weeks of pregnancy, before many women even know they are pregnant. The law will make an exception to save a woman's life, however no exceptions for cases of rape and incest. It will take effect in 90 days unless blocked by a federal judge. The law also creates punishments for doctors who perform abortions. Doctors who perform abortion after a heartbeat is detecting face a fifth-degree felony, up to a year in jail, and the State Medical Board may impose fines up to $20,000. Similar bills have been deemed unconstitutional in states such as Kentucky and Iowa. The ACLU of Ohio has also said it will be suing the state on behalf of Planned Parenthoods throughout Ohio. Former Governor John Kasich vetoed the bill several times, saying that it would be too expensive for the state to go to court over it. Ohio is now the fifth state to implement a heartbeat bill into law. While many of these laws end up being blocked by federal judges, they have become part of a larger movement to overturn Roe V. Wade.   Media Resources: NPR 4/11/19; NY Mag 4/11/19
Diplomatic Moves Edge U.S.-North Korea Summit Closer To Reality
Comment
Translate Page
Copyright 2019 NPR. To see more, visit STEVE INSKEEP, HOST: In his letter canceling a summit with North Korea's leader a few days ago, President Trump included the phrase, if you change your mind having to do with this most important summit. Well, since then, there's been a lot of diplomatic activity involving the United States and North Korea. U.S. and North Korean teams are meeting in Singapore and at the border village between the two Korean - the two Koreas. And now there's news that a senior North Korean leader, Kim Yong Chol, is on his way to the United States. He's believed to be in Beijing heading on to New York City. We're joined now by NPR White House correspondent Scott Horsley, who's in Washington, and also NPR's Anthony Kuhn, who's in Beijing. Hey there, gentlemen. SCOTT HORSLEY, BYLINE: Good morning. ANTHONY KUHN, BYLINE: Hey, Steve. INSKEEP: And Scott, let's start with you. This news comes from the president. What's he say? HORSLEY: He confirmed in a tweet that Kim Yong

As China Hacked, U.S. Businesses Turned A Blind Eye
Comment
Translate Page
Technology theft and other unfair business practices originating from China are costing the American economy more than $57 billion a year, White House officials believe, and they expect that figure to grow. Yet an investigation by NPR and the PBS television show Frontline into why three successive administrations failed to stop cyberhacking from China found an unlikely obstacle for the government — the victims themselves. In dozens of interviews with U.S. government and business representatives, officials involved in commerce with China said hacking and theft were an open secret for almost two decades, allowed to quietly continue because U.S. companies had too much money at stake to make waves. Wendy Cutler, who was a veteran negotiator at the Office of the U.S. Trade Representative, says it wasn't just that U.S. businesses were hesitant to come forward in specific cases. She says businesses didn't want the trade office to take "any strong action." "We are not as effective if we don't

'National Enquirer' Publisher Looks To Sell Magazines
Comment
Translate Page
Copyright 2019 NPR. To see more, visit AILSA CHANG, HOST: This evening, the parent company of the National Enquirer announced its intention to sell the tabloid and several of its sister tabloids. This comes after a series of scandals and controversies that involved the Enquirer's ties to President Trump. NPR media correspondent David Folkenflik joins me now. Welcome. DAVID FOLKENFLIK, BYLINE: Hey, Ailsa. CHANG: Hey. So what's the company saying about why they're interested in selling all of a sudden? Are they in financial trouble? FOLKENFLIK: Well, if you believe the official line, they say they're exploring and intend to sell the Enquirer, a couple of the sister tabloids because they want to focus on some of their more upscale lifestyle magazines. In the last year and a half or so, they acquired US Weekly and Men's Journal from Jann Wenner's media outfit. There is a financial cloud hovering over AMI, American Media Inc, the parent company of the National Enquirer. It declared

Nominee For No. 3 At Justice Department Withdraws After Backlash From GOP Senators
Comment
Translate Page
Updated at 10: 17 a.m. President Trump's pick to serve as third in command at the Justice Department, overseeing health care and immigration cases, withdrew her name from consideration Thursday evening amid backlash from conservative lawmakers on the Senate Judiciary Committee. Jessie Liu leads more than 300 prosecutors as the U.S. attorney in Washington, D.C., the nation's largest such office. As an Asian-American woman, she would have added a measure of diversity to the Justice Department's senior ranks — as well as serious prosecution chops. The Justice Department said Liu will remain in her current post and advise Attorney General William Barr as the head of a committee of other top federal prosecutors. Two sources told NPR that the attorney general got into a "shouting match" with Utah Republican Sen. Mike Lee, a key figure in opposing Liu's bid. A spokeswoman for Barr declined comment on the heated conversation with a lawmaker from his own political party. For his part, Barr

A Head-Spinning Week In The Mueller Probe Produces A Sentence And A Plea
Comment
Translate Page
Copyright 2018 NPR. To see more, visit SCOTT SIMON, HOST: Another head-spinning week on the Russia beat. The president's former personal lawyer was sentenced to three years in prison after he implicated Donald Trump in a scheme to make hush-money payments to women during the 2016 campaign. Prosecutors in New York unveiled a cooperation agreement with the publisher of The National Enquirer, who may have stories to share. And the investigation seems to have widened to include the funding of the Trump inauguration committee. Here to discuss all that and more is NPR national justice correspondent Carrie Johnson. Carrie, thanks so much for being with us. CARRIE JOHNSON, BYLINE: Good morning, Scott. SIMON: Let's, of course, begin with Michael Cohen. He once promised to take a bullet for President Trump. Now he's flipped on him. What's the latest? JOHNSON: Michael Cohen says Trump directed him to take care of payments for two women with whom Trump allegedly had affairs. The idea, Cohen says,

What is worse for the environment, plastic grocery bags or paper grocery bags?
Comment
Translate Page
In NPR (of all places), Greg Rosalsky reports,
Plastic haters, it's time to brace yourselves. A bunch of studies find that paper bags are actually worse for the environment. They require cutting down and processing trees, which involves lots of water, toxic chemicals, fuel and heavy machinery. While paper is biodegradable and avoids some of the problems of plastic, Taylor says, the huge increase of paper, together with the uptick in plastic trash bags, means banning plastic shopping bags increases greenhouse gas emissions. That said, these bans do reduce nonbiodegradable litter.

A 2011 study by the U.K. government found a person would have to reuse a cotton tote bag 131 times before it was better for climate change than using a plastic grocery bag once. The Danish government recently did a study that took into account environmental impacts beyond simply greenhouse gas emissions, including water use, damage to ecosystems and air pollution. These factors make cloth bags even worse. They estimate you would have to use an organic cotton bag 20,000 times more than a plastic grocery bag to make using it better for the environment.

...The most environment-friendly way to carry groceries is to use the same bag over and over again. According to the Danish study, the best reusable ones are made from polyester or plastics like polypropylene. Those still have to be used dozens and dozens of times to be greener than plastic grocery bags, which have the smallest carbon footprint for a single use.
Read more here.

Crime And Punishment And #MeToo
Comment
Translate Page
I have no idea how reliable Radio Free Asian is-- though I would guess not very. Last week they reported that "North Korean authorities staged a public trial and shot two female fortune tellers to death last month, forcing tens of thousands of people to watch, in what appeared to be a resumption of public executions. The executions of the two women took place in March in North Hamgyong's Chongjin city, and were aimed at forcing officials to stop patronizing fortune tellers and engaging in other 'superstitious' behavior, according to two sources who spoke to RFA's Korean Service on condition of anonymity... 'They pronounced sentences of death and carried out public executions immediately,' the source said, adding that two of the three women put on trial were executed by shooting, with the third sentenced to life in prison.
John Lasseter is not a fortune teller-- nor was he executed. A big-time Hollywood filmmaker, until recently he was the chief creative officer of Pixar and Walt Disney Animation Studios. He won two Academy Awards for his films and those movies of his have made over $19 billion, making him one of the most successful filmmakers of all time. That's a big deal and gives you a lot of moral and ethical leeway, especially in a place like Hollywood (or New York or in DC, as a matter of fact). Lasseter, the father of five sons, is a pig. He molests women employees and Disney was forced-- kicking and screaming-- to fire him. He admitted he had made some "missteps" with employees. Half a year later-- last January-- Skydance Animation hired him. In theory, he's lucky he doesn't give in North Korea-- but just in theory; the #MeToo Movement hasn't quite reached that part of the Hermit Kingdom yet.
Friday night I heard NPR interviewing actress Emma Thompson. She quit a movie she was working on for Skydance after they hired Lasseter. And then she wrote a letter about why, a letter that has been called "the Magna Carta of the #MeToo Movement." This is the letter, which was originally published by the L.A. Times:
As you know, I have pulled out of the production of "Luck"-- to be directed by the very wonderful Alessandro Carloni. It feels very odd to me that you and your company would consider hiring someone with Mr. Lasseter's pattern of misconduct given the present climate in which people with the kind of power that you have can reasonably be expected to step up to the plate.





I realise that the situation-- involving as it does many human beings--— is complicated. However these are the questions I would like to ask:





If a man has been touching women inappropriately for decades, why would a woman want to work for him if the only reason he's not touching them inappropriately now is that it says in his contract that he must behave "professionally"?





If a man has made women at his companies feel undervalued and disrespected for decades, why should the women at his new company think that any respect he shows them is anything other than an act that he's required to perform by his coach, his therapist and his employment agreement? The message seems to be, "I am learning to feel respect for women so please be patient while I work on it. It's not easy."





Much has been said about giving John Lasseter a "second chance." But he is presumably being paid millions of dollars to receive that second chance. How much money are the employees at Skydance being paid to GIVE him that second chance?





If John Lasseter started his own company, then every employee would have been given the opportunity to choose whether or not to give him a second chance. But any Skydance employees who don't want to give him a second chance have to stay and be uncomfortable or lose their jobs. Shouldn't it be John Lasseter who has to lose HIS job if the employees don't want to give him a second chance?





Skydance has revealed that no women received settlements from Pixar or Disney as a result of being harassed by John Lasseter. But given all the abuse that's been heaped on women who have come forward to make accusations against powerful men, do we really think that no settlements means that there was no harassment or no hostile work environment? Are we supposed to feel comforted that women who feel that their careers were derailed by working for Lasseter DIDN'T receive money?





I hope these queries make the level of my discomfort understandable. I regret having to step away because I love Alessandro so much and think he is an incredibly creative director. But I can only do what feels right during these difficult times of transition and collective consciousness raising.





I am well aware that centuries of entitlement to women's bodies whether they like it or not is not going to change overnight. Or in a year. But I am also aware that if people who have spoken out-- like me-- do not take this sort of a stand then things are very unlikely to change at anything like the pace required to protect my daughter's generation.





Yours most sincerely,





Emma Thompson
Too bad she wasn't around to talk to the U.S. Senate before they confirmed Brett Kavanaugh to the Supreme Court. Not too late, though, to send a copy of the letter to Nancy Pelosi-- maybe to shame her into ending the shameful coverup she perpetrated for Los Angeles Democratic Congressman Tony Cárdenas.
The real hacking danger: China
Comment
Translate Page
NPR Frontline has a report on China's stealing intellectual property from the US for at least 20 years.
why? Because if the companies complained, China might not let them use their cheap labor to make profits.




Technology theft and other unfair business practices originating from China are costing the American economy more than $57 billion a year, White House officials believe, and they expect that figure to grow. Yet an investigation by NPR and FRONTLINE into why three successive administrations failed to stop cyberhacking from China found an unlikely obstacle for the government — the victims themselves.
In dozens of interviews with U.S. government and business representatives, officials involved in commerce with China said hacking and theft were an open secret for almost two decades, allowed to quietly continue because U.S. companies had too much money at stake to make waves
read the whole article.
This is indeed an open secret, and the Frontline program is supposed to be about Trumpieboy's trade war with China. Trump was in business and knows how these things work of course, but don't expect an accurate account of why he decided to fight back, because, as the saying goes: "orange man bad".
sigh. I wish Congress would recognize that there are very real problems that need bi partisan cooperation instead of constantly whining and obstructing reform to make political points.
In other news, there are hints that Trump will shut down the Federal OPM office (who allowed my files to be hacked).
The WAPO hyperventillates about it but does admit:



Today the agency is widely viewed as slow and ineffective, though, with a long-lingering backlog of background investigations and risk-averse leadership that has failed to respond to calls for faster hiring and recruiting for a changing workforce. "In order to really ramp up the mission around people, we need to have an infrastructure for people management that is really world-class," Weichert said.
in other words, reorganize the place. Given the advances in technology for records since the office was established, one hopes it is about time the office is reorganized and made more efficient.
But of course, this is government, which takes forever to do anything and tends to be years behind the private sector. If we needed something repaired or replaced at our clinic, it took months and lots of paperwork to get it done. As for computers: we had MSDos for our medical records in 2000, for example, even though Windows 1 was released in 1985... And then we were hacked and went back to using paper records.
ah but the problem with the bureaucracy is that their priorities are more important than the priorities of actually doing what they were tasked to do.
The plan has raised suspicions from federal employees, who have watched the administration attempt to freeze their pay, weaken the power of their unions, and move to clear a faster path to discipline and firing.
Translation: Right now, it's almost impossible to fire an employee who isn't needed, and it is difficult to fire a lazy or incompetent employee.
The American Federation of Government Employees, the largest federal employee union, with 750,000 members, is calling the idea "Trump's Dangerous Plan to Abolish OPM" and predicting a "disastrous" result if policy for federal employees moves so close to the White House.
presumably they will slow down their work and do things wrong just to "punish" Trumpieboy.
Ah, but the realization that something needs to be done is a bipartisan agreement, which the WAPO admits if you read down to near the end of the long article:

Breaking up the OPM is not a Republican idea, though. The Obama administration discussed internally whether to do it, and so did Hillary Clinton's team in 2016, civil service experts said. And the agency drew bipartisan fury in 2015 when U.S. officials alleged Chinese hackers stole millions of personnel records by hacking through the agency's weak security system.
why yes. And who was fired for this security breech? Anyone? Anyone?
-----------------
update: from Lawfareblog via Belmontclub:

OPM Chief Information Officer Donna Seymour acknowledged that the information compromised in the data breach included "SF-86 data as well as clearance adjudication information." This was a particularly dismaying disclosure ... The full breadth of the security clearance data at risk remains unclear.
For instance, U.S. officials have "neither confirmed nor denied" whether OPM's database was linked with Scattered Castles, the intelligence community's database of "sensitive clearance holders" ... To make matters worse, it appears that OPM maintained an unsecured and unencrypted database for the security clearances ... Along with the aforementioned databases, the OPM systems are linked electronically to other agencies and databases, and it stored much of this data alongside the security clearance files.
and Belmnot club adds:



This is conceivably the biggest headline that never was; quite a feat in an period whose intelligence disasters included Snowden, Wikileaks-Manning, the rollup of the CIA network in China, missing the rise of ISIS and the burning of the US diplomatic stations in Benghazi. When you combine the litany of disasters with what we now know about lobbying for foreign governments in Washington it's probable that Collusion has been out of control for some time. It's a design defect. DC was meant to be a national capital not the 'capital of the world' which it has now become. The federal bureaucracy, the press corps and its defensive agencies were designed for more homogenous national age. They seem unable to cope with the corrosion of the global world.
Clean up your cat litter
Comment
Translate Page
the real story why Ecuador threw out Assnage: He didn't clean up the cat litter.
so what happened to the cat?
NPR report on Assange's cat.
Moreno explained that Assange treated his hosts disrespectfully; late last year the embassy implemented a series of rules for Assange, including a requirement to be responsible for the "well-being, food, hygiene and proper care of your pet." If Assange didn't, the embassy threatened to put the cat in a shelter. In other words, it is likely that Assange didn't effectively clean up after his cat's own wiki-leaks.
apparently he gave it to his family after the embassy threatened to take it away and put it in a pound.
If I find all of this absurd, it is because boys of all ages are notorious for being messy, so hiring a part time maid to clean up after him wouldn't cost a fortune, so why is the embassy making such a big thing about it? Or maybe buy a self cleaning litter box?
Because of course this is not about being messy: they were pressuring him to leave and a lot of his messiness was about protesting this.
On the other hand, I guess he hasn't read Jordan Peterson:

--------------------

I find it is ironic that he spent years isolated in an embassy for embarassing Hillary, but Chelsey Manning not only got a pardon but a free sex change operation for releasing information that endangered soldiers in Iraq.




Whistleblower Protections Key Tool To Investigators Probing Waste And Abuse Of Power
Comment
Translate Page
In this March 24, 2019 photo, The White House is seen behind security barriers in Washington. A White House official turned whistleblower says dozens of people in President Donald Trump's administration were granted access to classified information despite "disqualifying issues" in their backgrounds including concerns about foreign influence, drug use and criminal conduct.; Credit: Cliff Owen/AP

Tim Mak | NPR

Civil servant Tricia Newbold recently became a whistleblower, approaching a federal government watchdog and Congress to report senior officials overturning security clearance denials for White House staff.

She is protected from retaliation under the Whistleblower Protection Act, which marks its 30th anniversary this week. Since the law was enacted the number of people exposing government wrongdoing has gone up — and so has bipartisan support for protecting those who speak out.

But it's not without its risks. Robert MacLean was a federal air marshal in 2003 when he told the public that the Transportation Security Agency cancelled air marshal coverage on long-haul flights to cover budget shortfalls.

"Everybody in my neighborhood and my family thought I was insane, and I was fighting a futile fight," he told NPR. "It's infuriating because you know what the truth is. And the officials know what the truth is. But they're going to ignore you."

The TSA reversed its position, but it also fired him for releasing information about the threats to U.S. aviation. MacLean fought it, winning a Supreme Court battle for reinstatement in 2015. Then he was fired again this year.

If a whistleblower reports waste, fraud, abuse, illegality, or threats to public health or safety, they have legal rights.

The last three decades have seen a number of notable and sometimes controversial whistleblowers, such as Dr. David Graham, a researcher at the Food and Drug Administration who said his agency had ignored warnings that the painkiller Vioxx had lethal side effects; and Franz Gayl, a Marine corps whistleblower who raised the alarm about troops lacking properly armored vehicles that would protect them from IEDs. In both cases the government was forced to change their policies.

As the legal director of the Government Accountability Project, a nonpartisan law firm that aids whistleblowers, Tom Devine has worked with about 7,000 of them over the last 40 years.

He helps these individuals tell their stories by providing them a legal defense — and says he sees one similar trait in their motivations for going public.

"The common characteristic is that they have to act on their knowledge in order to be true to themselves," Devine said. "If they don't, what they concealed is something that will be haunting them like a cancer in their soul for the rest of their lives, particularly if there's some consequences from them not speaking out."

And more are choosing to speak out. The number of reports against waste, fraud and abuses at federal agencies has increased dramatically over the last thirty years.

The Office of Special Counsel, an independent agency unrelated to Special Counsel Robert Mueller, is tasked with protecting federal whistleblowers from retaliation.

In 1988, the office received just 120 whistleblower disclosures. Last year, the OSC received 1,559 new cases — the fifth year they have received more than 1,500.

"When I first came to the Government Accountability Project whistleblowers were generally considered nutty or traitors betraying their colleagues," Devine said. "Now whistleblowers are lionized as the public's eyes and ears."

And as the cultural view towards whistleblowers have changed, so have the legal protections, which have been updated over the past 30 years and most recently in 2012.

Rep. Gerry Connolly, D-Va., who chairs the Oversight subcommittee that has jurisdiction over the law, says it's essential for keeping government honest.

"I'm glad we have it. I think it is an important tool in accountability," he told NPR.

At a time when the left and right can't seem to agree on legislative priorities or even which topics are worth congressional investigation, they both agree on whistleblower protection — but for different reasons.

Pete Sepp, from the conservative National Taxpayers Union, explains that, "as a fiscal conservative whistleblower protection means taxpayer protection." But Shanna DeVine, from the progressive advocacy group Public Citizen, told NPR that "whistleblowers are the public's eyes and ears to abuses of power that betray the public trust."

It's this broad consensus, formed by different ideological justifications, that is the strongest assurance of keeping or even strengthening these safeguards in years to come.

Copyright 2019 NPR. To see more, visit https://www.npr.org.
This content is from Southern California Public Radio. View the original story at SCPR.org.
'Welcome To Marrdy's' - A Shared Kitchen For Local Cooks In Gentrifying West Atlanta
Comment
Translate Page
Two years ago Keitra Bates was trying to buy a run-down storefront in West Atlanta that had been vacant for years. "Here's my dream come true," she said at the time, as we peered in through a wrought-iron front door at the neglected building she hoped to buy in a blighted neighborhood not far from downtown. Bates is one of the Americans NPR has been talking with as part of our Kitchen Table Conversations , started when President Trump took office. We examined how people from all walks of life are faring under the new administration. Voters talked about their finances, health coverage concerns, and Trump's promises to revive U.S. industry. Back in 2017, Keitra Bates stands in front of the building that eventually becomes Marrdy's, a shared kitchen for cooks in West Atlanta. Debbie Elliott / NPR In early 2017, Keitra Bates was concerned about the future. She'd recently closed her business — a pizzeria — when her landlord raised the rent. She decided that whatever uncertainty the new

Key Battleground State Florida Was A Firewall For Republicans
Comment
Translate Page
Copyright 2018 NPR. To see more, visit STEVE INSKEEP, HOST: Republicans prevailed in a big race in Florida. Ron DeSantis won the governor's seat with help from President Trump. The president flew into the state the final weekend to tell Floridians that Andrew Gillum, seeking to become the state's first black governor, was, quote, "just not equipped" for the job. NPR has not formally called the Senate race in Florida, though Republican Rick Scott appears to have a narrow lead. NPR's Debbie Elliott joins us now from Pensacola. Hi there, Debbie. DEBBIE ELLIOTT, BYLINE: Good morning. INSKEEP: What's the win mean for DeSantis? ELLIOTT: Well, I think it means that this is a win for President Trump. You know, Trump came out early endorsing DeSantis over a better funded and more well-known Republican contender, and DeSantis acknowledged that in his victory speech last night. (SOUNDBITE OF ARCHIVED RECORDING) RON DESANTIS: I'd like to thank our president for standing by me when... (APPLAUSE)

Civil Enforcement PCN - parking within the allocated time
Comment
Translate Page
Hey all, Asking for a friend. So they went into some local shops that had about 30 parking bays with a max stay time of 90 mins. She was there for 15 mins as per the letter an ANPR cameras showing the entering/exiting time of 15mins. They already rejected the appeal as the driver and it's now going to POPLA. I did notice on the letter it states they were parked in a permit only car park and I do know it's a public car park as it's typical trades like fish and chips, Chinese take away, barbers, newsagent and corner shop etc. I tried searching for within time limits but it's mainly bringing up appealing within time limits. Has anyone know of this to be an even easier case to appeal? Is it down to the usual questions of signage, land owner authority an dare I say proof of parking and ANPR? Though I can't see how the latter two will help as they are sending the charge out on permit only. The sign is up:

Comment on Last Remaining Staff Member at KHSU Resigns by Eric Taylor
Comment
Translate Page
Create the world you want to live in.Lets work to build the radio station we thought we had.Hundreds of volunteers,hundreds of thousands in community funding.We can do this,let's get a license, rent a building,erect a transmitter and forget the university.We can build it better than it's ever been.We have the talent,we can raise the money.I love KMUD but its rightfully geared for sohum.KZYX in philo has NPR news and local programming and so can we.Lets do this friends.Ignore the haters full steam ahead.

'National Enquirer' Publisher Looks To Sell Magazines
Comment
Translate Page
Copyright 2019 NPR. To see more, visit AILSA CHANG, HOST: This evening, the parent company of the National Enquirer announced its intention to sell the tabloid and several of its sister tabloids. This comes after a series of scandals and controversies that involved the Enquirer's ties to President Trump. NPR media correspondent David Folkenflik joins me now. Welcome. DAVID FOLKENFLIK, BYLINE: Hey, Ailsa. CHANG: Hey. So what's the company saying about why they're interested in selling all of a sudden? Are they in financial trouble? FOLKENFLIK: Well, if you believe the official line, they say they're exploring and intend to sell the Enquirer, a couple of the sister tabloids because they want to focus on some of their more upscale lifestyle magazines. In the last year and a half or so, they acquired US Weekly and Men's Journal from Jann Wenner's media outfit. There is a financial cloud hovering over AMI, American Media Inc, the parent company of the National Enquirer. It declared

German Lawmakers Consider Nationalizing Private Apartments To House The Poor
Comment
Translate Page
While Mario Draghi continues to lament the lack of inflation that the ECB's massive balance sheet - now at 41% of Europe's GDP -  has failed to spark, and is contemplating even more aggressive measure to create higher prices, to one group of people, the ECB's reflationary efforts have been more than successful: Berlin renters who are furious that the median rent has more than doubled since 2011, soaring past 10 euros a square meter, meaning a 1,000-square-foot apartment costs more than $1,100 a month (still be a bargain in most other major cities),
And as the anger over soaring rents grows, so do the protests: last weekend, 50,000 protesters took part in a march against rent increases in Germany's capital city, which was organized by an affordable housing advocacy group in an effort to collect signatures for a referendum that would push the city to expropriate apartments from large landlords, and transfer some of the city's increasingly expensive residential rental properties to public ownership.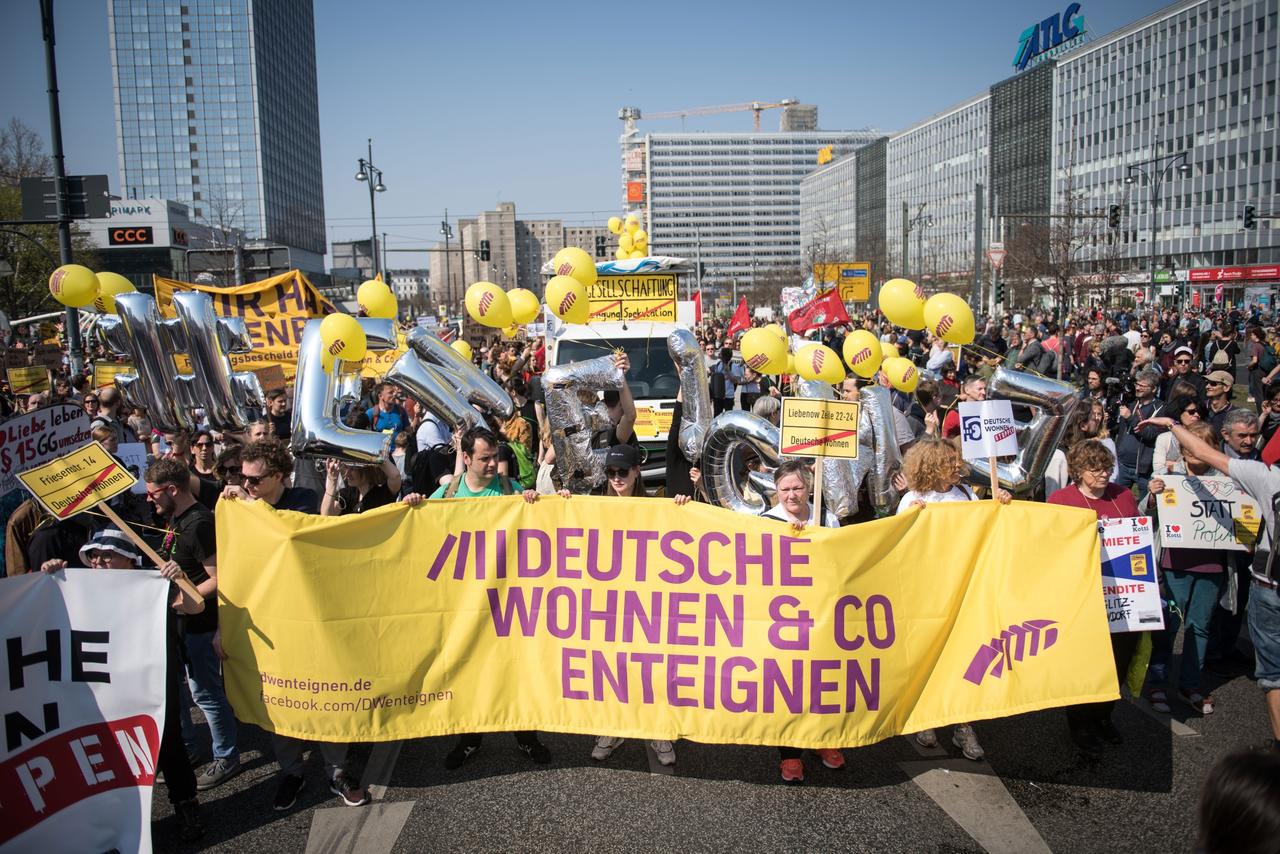 If the group gathers enough signatures — about 20,000 — the city's government will have to consider a plan to seize more than 250,000 apartments from their corporate owners, The Associated Press reported.
The proposal targets for-profit companies that own more than 3,000 apartments in Berlin: "These are companies that are coming in and seeing a really profitable market," Thomas McGath, a spokesperson for the group that organized the campaign, told NPR. "It's not your normal mom and pop landlord."
In other words, far from not sparking inflation, the ECB has not only doubled Berlin rents, but sparked a historic backlash that may result in the confiscation and the nationalization of big, corporate chunks of the housing market.
And here's where it gets especially troubling for the ECB: under German law, the plan technically could happen. As NPR reports, Article 15 of the German Constitution states that "land, natural resources and means of production may, for the purpose of nationalisation, be transferred to public ownership."
Furthermore, while Germany has the lowest proportion of home owners in the European Union, renters are by far in the majority in Berlin. That makes rental costs a political issue. Merkel's government has taken tentative steps by passing legislation to limit rent increases and pledging to invest more than 6 billion euros in affordable housing.
Ah the irony: East Germany, in its passionate desire to "tear down this wall", never really considered the long-term consequences of a free market (even if one manipulated entirely by the ECB), and is suddenly feeling nostaglic for the good, old days of communism, where things such as private property did not exist.
"At the beginning, some of the fathers of the constitution thought, 'Well, there could be a situation where the market ... gets out of control and then it could be important to get this regulation," Ralf Schoenball, a reporter for the German newspaper Der Tagesspiegel, told KCRW Berlin. But Schoenball said the article has never been used before.
Well, congratulations, Mario Draghi: your monetary policies are about to force the first European nation to revert back to socialism.
As for those who think that Germany's anger at soaring rents is a flash in the pan and will soon be over, think again. As Bloomberg reports, during last weekend's demonstration, a blond-haired girl carried a wooden placard as she marched with her parents and thousands of others at a demonstration against soaring rents. Her sign had a stark message: "My future? Sleeping under bridges."
The girl's poignant protest highlights the emotionally charged nature of the housing debate in Germany, and Berlin in particular. In the capital city, where residents have been buffeted by a sudden surge in costs, a movement is gaining momentum for a radical solution: nationalizing big chunks of the housing market.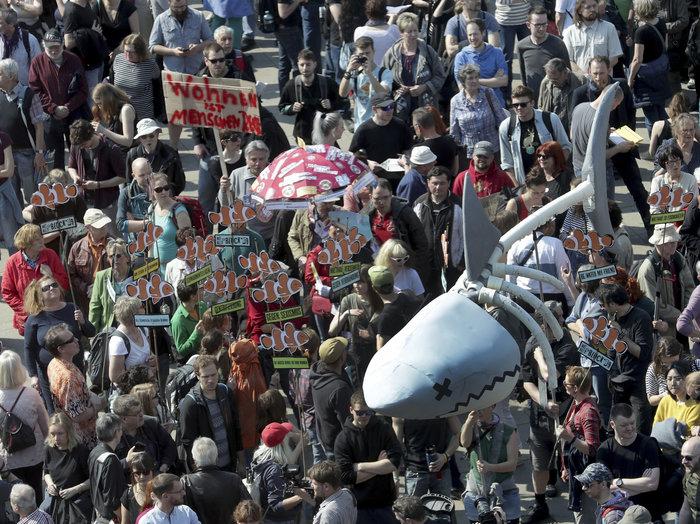 Furthermore, unlike any typical, disorganized grassroots movement, this one is very clear in their demands: the organizers have started collecting signatures for a referendum to push the city to expropriate apartments from large landlords - companies that own more than 3,000 units like Deutsche Wohnen SE and Vonovia SE.
The advocacy group has named its campaign "Expropriate Deutsche Wohnen & Co," which translates as take possession of the real estate company Deutsche Wohnen, which owns about 160,000 residential and commercial units.
"There are a lot of stories about the Deutsche Wohnen ... that they raise rental fees, that they try to get rid of tenants with old contracts with low rental fees," Schoenball told KCRW Berlin. "A lot of tenants are afraid that they could be put out of their apartment."
The final straw for the activists according to Blocame last year, when Deutsche Wohnen agreed to buy 800 residential and commercial units on Karl Marx Allee, an imposing Stalinist boulevard in the former communist east. Residents fearing rent increases mobilized, and the city sought to block the deal in court. Naturally, the property company - one of the main winners of Berlin's housing boom - has rejected demands to turn over its property.
"We won't allow our assets to be expropriated," Deutsche Wohnen Chief Executive Officer Michael Zahn said during a panel discussion in Berlin this week. "That's just not going to happen. We're not living in a banana republic."
We wouldn't be so sure: the activists need to collect 20,000 within six months and another 170,000 by February. While pushing the state to buy apartments won't increase supply, campaigners argue that the measure would send a signal to landlords that they need to play fair or risk losing their assets.
Of course, landlords are merely responding to market supply and demand  - if rents this high were uneconomical they wouldn't exist. The question is why are such high prices suddenly affordable. For the answer, look to this man, who has injected trillions in both Europe's capital markets and, to a far lesser extent, the economy. The result are rents that are unaffordable for the majority of the population, but since they were never the marginal price setters, well.... take your protest from Berlin to Frankfurt, and ideally inside the lobby of the ECB.
"Expropriation is creating a lot of emotions right now," Zahn told AP in an email. "But it won't create a single apartment." AP also reported that the company said, on average, its apartments are about 645 square feet and cost about the equivalent of $650 to rent, and that the company follows government rules for calculating permissible rent increases based on neighborhood averages.
So will Berliners be successful in pushing through the first nationalization of property in modern German times? It remains to be seen: if the campaign can pass its first hurdle and collect 20,000 signatures, the city's government will be tasked with drafting a counterproposal that satisfies the grassroots group. If the government fails, the group will need to rally another 170,000 signers to move the proposal to a referendum and then to a ballot, where a majority will be required to pass it.
As Bloomberg adds, the chances of the referendum's success may not be so far-fetched. The German constitution allows for expropriation in the interests of "socialization" in return for adequate compensation. Berlin has a vibrant track record of civic activism, with a 2014 referendum successfully forcing the city to back off plans to sell parts of the former Tempelhof airfield to developers.
While most mainstream politicians, including Chancellor Angela Merkel and Berlin's mayor, are against using taxpayer money to buy apartments, there has been tentative support. Robert Habeck - co-leader of the Greens, the second-strongest party in Germany in recent polls - has said state housing purchases need to be considered to counter speculation.
The risk is that such state intervention could scare away investors needed to bolster supply, which is the only real long-term solution. The German construction industry association warned that compensation for expropriated owners could run to 36 billion euros ($41 billion), enough money to build over 220,000 rental units on government land.
"What we really need to do is build, build and build again," said Stefan Koerzell, a senior official at the German Trade Union Confederation, which supports the referendum. The growing crisis is a "wake-up call" for politicians, he said at a press conference in Berlin.
And since a flood of supply isn't happening any time soon, the schism between renters and property owners is only set to grow, potentially with dire consequences:  on a panel with the Deutsche Wohnen CEO, Rouzbeh Taheri - one of the leaders of the referendum campaign - said he and other activists were treated like "pesky mosquitoes" by the property company. As public backing grows, he had a warning: "Try spending a night with a thousand mosquitoes and see what happens."
NPR and Assange/Wikileaks
Comment
Translate Page

I've been listening to National Public Radio's coverage this week on the arrest of Wikileaks founder Julian Assange and the reporting has generally been abysmal. In other words, it has been par for the course.

At least four things have stood out to me in the NPR coverage I have heard. First, the NPR reporting on the withdrawn (but possibly soon-to-be resumed) Swedish sexual assault investigation has consistently failed to fully report Assange's position. As Wired noted nearly two years ago: "Assange has always maintained that extradition to Sweden was a thin ruse intended to make him vulnerable to further extradition to the United States, where it's widely believed that a secret grand jury for years was investigating him for WikiLeaks-related crimes." (I offer no judgment on the veracity of Assange's protestations that he was innocent of the Swedish allegations.)

Second, the range of guests NPR has hosted on the Assange segments has generally run the gamut from "I don't like Assange much" to "I really dislike the treacherous Assange". For instance, on the day Assange was arrested NPR interviewed Leon Panetta, secretary of defense and CIA director during Obama administration.

(NPR thought it not worth mentioning that Panetta was also Bill Clinton's OMB director and, later, chief of staff or that Panetta endorsed Hillary Clinton in 2016. Less than three months before the election, Panetta also went to bat for her regarding alleged Clinton Foundation improprieties during her tenure as Secretary of State. In 2017, Clinton blamed Wikileaks, in part, for her 2016 loss to Donald Trump. And why mention that less than a year ago the DNC filed a lawsuit against Wikileaks?)

Predictably, Panetta is in favor of the extradition and prosecution of Assange: "So I think ... as a result of the impact of releasing this classified information that he ought to be subject to the laws of the United States and face our system of justice." He also raised the Clinton defeat: "Well, there's no question that there was a huge amount of attention, particularly to WikiLeaks and the impact of WikiLeaks on the 2016 election. There's no question that as a result of the information that he was able to release, it had a huge impact in terms of our politics ..." In response to a question about a recent Tweet by Edward Snowden on Assange's arrest, Panetta avoided commenting on the substance of Snowden's position and launched an ad hominem attack.

Third, NPR on-air personalities and guests have repeatedly made (or declined to challenge the accuracy or relevance of) the claim that Assange/Wikileaks are not covered by the 1st Amendment because they allegedly released classified material without redactions of sensitive material.

Just today, NPR hosted former CIA deputy director John McLaughlin, who asserted Assange is not a "legitimate journalist", in part, because Assange allegedly declined to redact material that "mainstream journalists" wanted him to remove and, further, that Assange wouldn't even listen "to that case [for redactions]". McLaughlin makes this claim twice in the segment and it is never challenged.

I am unaware of any "not enough redactions" exception to the freedom of the press. Moreover, in October 2010, CNN reported:

With the posting of 400,000 classified documents from the Iraq war, WikiLeaks has shown a much heavier hand redacting compared to its previous publication of documents.

After the leak in July of more than 70,000 Afghanistan War documents, the website was heavily criticized by the U.S. government, the military and human rights groups for failing to redact names of civilians in the documents, putting them at risk of retaliation by the Taliban.
Assange's role in the alleged failure to redact names in the July leak is not discussed in the CNN article, which does go on to say concerning later releases: "An initial comparison of a few documents redacted by WikiLeaks to the same documents released by the Department of Defense shows that WikiLeaks removed more information from the documents than the Pentagon" (emphasis added). Yep, Wikileaks apparently withheld more information than the US military but you're not likely to learn that on NPR.

In the same piece CNN also reported: "Even with redaction, the Pentagon is critical of the documents' release, saying the site had no right to publish and is not equipped to understand what information is harmful." This seems to suggest that Wikileaks failure to redact what the military wanted redacted was due to incompetence or negligence, not malice. In any case, where does the 1st Amendment require journalists to keep secret what the government wants kept secret?

Finally, it is striking that NPR's coverage has featured very little discussion of the substance of the actual charges against Assange' let alone the substance of the material Chelsea Manning provided for Wikileaks to publish (see e.g. the video below). The unsealed federal grand jury indictment is only seven pages long and pretty straightforward but NPR has instead covered ancillary issues, such as Assange's cat, with the seeming goal of smearing and convicting Assange in the court of public opinion.

Assange's purported crime appears to be agreeing to help Manning crack a government password (Indictment, para. 7). However, the indictment also indicates that Assange's assistance did not extend to him actively accessing a restricted government computer system. Thus, paragraph 9 of the indictment speaks of "the portion of the password Manning gave to Assange". At first glance this seems analogous to asking Assange, from afar, for help opening a physical combination safe. It's akin to Assange saying "try this combination" while not turning the dial himself or even being in the same room.

If it's illegal for a journalist to help someone from afar break the password of a computer file or crack a safe then would it also be illegal to open/unseal a stolen envelope clearly marked "Top Secret" and containing classified material or turn the pages of a stolen document clearly marked "Top Secret"? What about helping to decipher an encrypted text? If not, why not? What's the substantive difference between these acts?

To be clear, if Assange sat at a keyboard and unlawfully attempted to access classified files while they were still stored on a government system then that would seem to be an overt, illegal act. However, that's not what Assange is accused of doing.

He is accused of conspiring to help Chelsea Manning do that and, under the particular circumstances, that seems a little fuzzier, especially when something as important as the 1st Amendment is in play. But as Glenn Greenwald puts it:

Neither the most authoritarian factions of the Trump administration behind this prosecution, nor their bizarre and equally tyrannical allies in the Democratic Party, care the slightest about press freedoms. They only care about one thing: putting Julian Assange behind bars, because (in the case of Trump officials) he revealed U.S. war crimes and because (in the case of Democrats) he revealed corruption at the highest levels of the DNC that forced the resignation of the top 5 officials of the Democratic Party and harmed the Democrats' political reputation.
###






###


Download the US indictment of Assange here (PDF): https://www.justice.gov/usao-edva/press-release/file/1153481/download

Here, in no particular order, are some alternative views on the Assange arrest that you're not likely to hear represented on NPR:


Hooking Up Gets Easier To Do In Saudi Arabia
Comment
Translate Page
The White Foam Cafe in Riyadh is a cheery little place with wooden tables and chairs, and a good reputation for its fair-trade coffees and vegan desserts. It's also well-known for something else. "This is one of the really famous dating places here. I dated my fiancé a lot here," says a 29-year-old woman enjoying a French-press coffee. She's wearing stylish high-heeled shoes and a black abaya, a traditional floor-length cloak. But her flowing hair is not covered. She asks NPR not to use her name for fear her family would find out about her dating past. Until recently, she says, it was "taboo to be seen with a man who was not your relative." Nowadays, things are getting easier for many Saudis on the heterosexual dating front. The Gulf kingdom now allows things like movies, music and theater that it once forbade. More men and women are openly mixing in public than before. Though some in the deeply conservative country are bothered by it, a growing hookup culture is one of the latest

We Got Nice Things In Your Nice Things!
Comment
Translate Page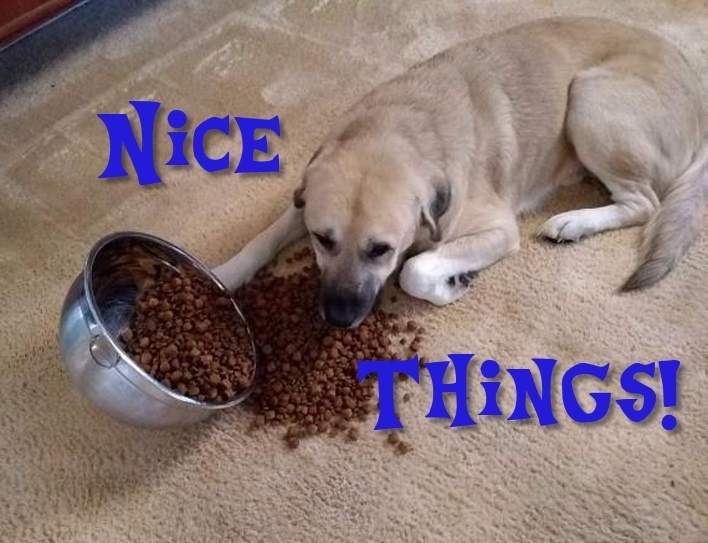 It's Palm Sunday, and you know what that means! Time to read one of Kurt Vonnegut's OK but not essential collections! Also, it means it's time to take a little time from the banal evils of the week and read some nice stuff, because dang, you look tense. You should relax some. Here, put your feet up.
---
Let's Pester A Historian, Shall We? (Be Nice, You)
We're actually taking a week off from Yr Wonkette Book Club; we're halfway through Winter War: Hoover, Roosevelt, and the First Clash Over the New Deal, by Erich Rauchway, a New Deal scholar and history prof at UC Davis. It's a darn good book about Herbert Hoover's attempts to undermine the incoming president and the New Deal, and how that clash helped shape the outlooks of Democratic and Republican politics for much of the 20th Century. And, well, RIGHT NOW:
Also, Herbert Hoover was SUCH a butt!

As an extra-special bonus this month, Dr. Rauchway has offered to participate in our little ol' Book Club. Go ahead and follow him on the Twitters, and then ask him any questions you have about Winter War, the New Deal, FDR 'n' Hoover, and related topics. Please be sure to include the hashtag #WinterWarWonkette so's he finds your question -- if you just toss a brilliant question out there with no tag, how the heck would he even see it? And if you don't use the Twitters, email your question to me at doktorzoom at-sign wonkette dot com, and I will pass them on for you! We'll compile the bestest Q&A; dialogues for a midweek Wonkette story!
Also, Dr. Rauchway weighed in on Friday's most important cultural event, the teaser trailer for the ninth Star Wars movie:
The man knows how to nerd. No, do not pester him with your fan theories on Jar Jar Binks. Like, not even if you think he was loosely based on Hoover's secretary of Labor, William N. Doak. Haha, Doak.
We'll finish Winter War for next Sunday, so if you haven't obtained a copy yet, hit the Amazon linky and Yr Wonkette gets a nice kickback!
OK, Fine, Another History Thing!
If you aren't yet following Princeton historian Kevin Kruse, you're missing some of the best stuff happening on Twitter. He's an expert at debunking rightwing nonsense with wit and ample documentation. He's also one of three historians who weighed in this weekend on the vital question, "Does It Matter That the President Knows Nothing About History?" (Spoiler: fuck yes!) He'll also be one of several historians featured in this year's edition of Samantha Bee's "Not the White House Correspondents' Dinner," whee! And if you wanna talk academic cred, this week, he was awarded a Guggenheim Fellowship.
Needless to say, one side effect of Kruse's public service crops up surprisingly often: some dip who's been convinced of utter nonsense by Dinesh D'Souza or other hucksters will tell Kruse he knows nothing at all about REAL history, leading to this sort of exchange:
(The person who told Kruse she knows nothing? A Candace Owens fan with an AM radio show, who insists Kruse knows nothing about "data and accurate black history" because he only writes to please white people. No, she offers no actual data or history; she just knows.)
As tribute, a true hero of America sent Kruse some new business cards.
Time To Help Pay Gahan Wilson Back For All Those Laughs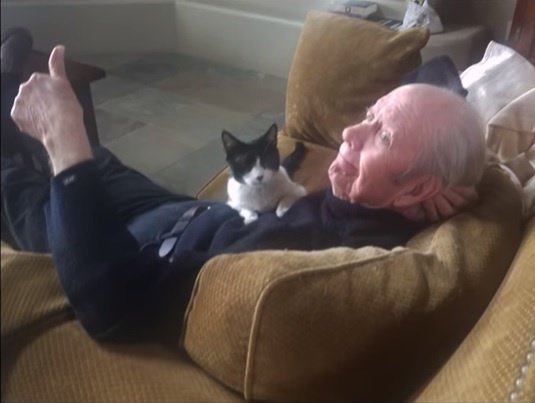 This one, we're afraid, isn't exactly nice, although it's about somebody whose work probably made you laugh and perhaps cringe a little. Cartoonist Gahan Wilson, whose work appeared regularly in Playboy, The New Yorker, and the National Lampoon for decades, has advanced dementia, and his son in law is running a GoFundMe to raise money for his longterm memory care. Yr Wonkette is terrified of the copyright police, so we'll only link to some of his work that other people have put on the interwebs. But you probably recognize the signature, the style, and the wonderfully sick sense of humor.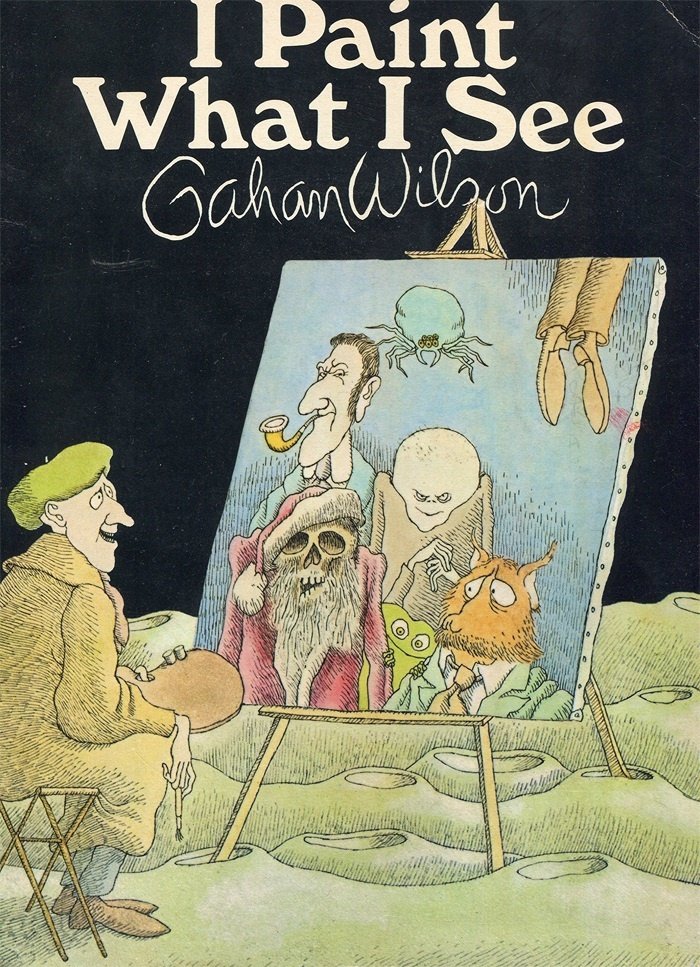 The Arizona Republic published a very sweet piece on Wilson, who still draws, but isn't sure of who the people around him are and often doesn't recognize his own cartoons. His wife, Nancy Winters, died in March, and they had been doing OK together in an assisted living facility, but now Wilson needs more expensive care. And everybody whose sense of humor was warped by his should chip in and help with that, if you can afford that. Yes, GoFundMe and the kindness of strangers is no way to run a healthcare system, but it's what we're stuck with. For now.
gahanmom www.youtube.com
Yo Yo Ma ROCKS!
You probably already knew that, particularly if you watched "The West Wing." But yesterday, the cellist played concerts in the cross-border twin cities of Laredo, Texas, and Nuevo Laredo, Mexico.
It was part of his Bach Project, which uses the composer's 300-year-old music to explore connections between cultures. [...]

"As you all know, as you did and do and will do, in culture, we build bridges, not walls," he said. After his performance, he gestured to the bridge to his right. "I've lived my life at the borders. Between cultures. Between disciplines. Between musics. Between generations."
A single concert was originally planned to take place on the bridge between the two cities, and officials in both cities were up for that, but they eventually decided it would cause too much disruption to close the bridge even temporarily. So instead it became two concerts, held in parks right next to the border on each side. Works for us!
Cellist Yo-Yo Ma Plays Bach In Shadow Of Border Crossing youtu.be
All Hail Japan's Cat Lord!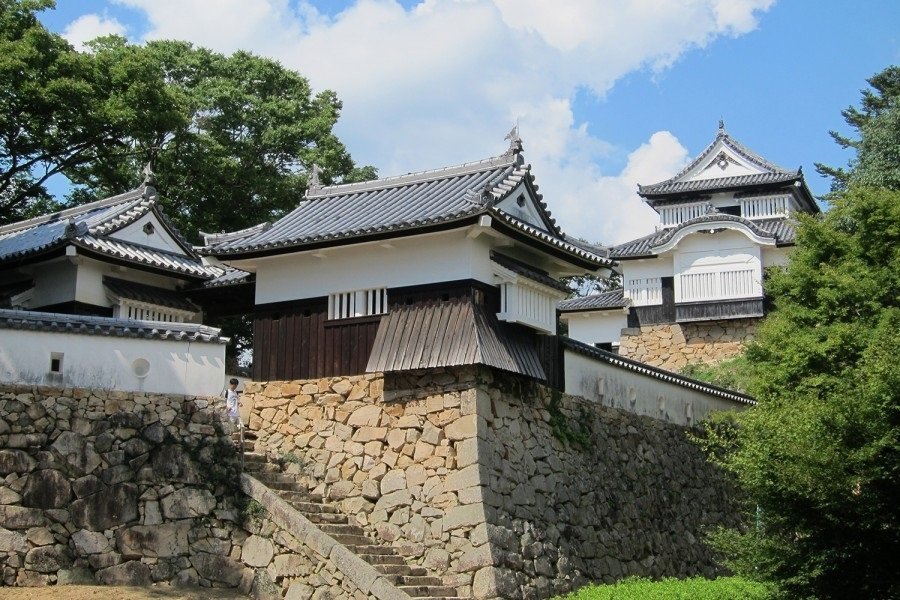 This is just incredibly cute and neato: Japan's Bicchu Matsuyama Castle, built in 1240, was badly damaged by heavy rains in 2018. After that, tourists stopped visiting, and revenues fell sharply. Around the same time, a very friendly stray cat started hanging around the castle. The kittycat picked up the nickname "Sanjuro" (after a local samurai) and became a social media star. Tourism picked up, especially when the nonprofit that manages the castle named the handsome kitty the lord of the castle.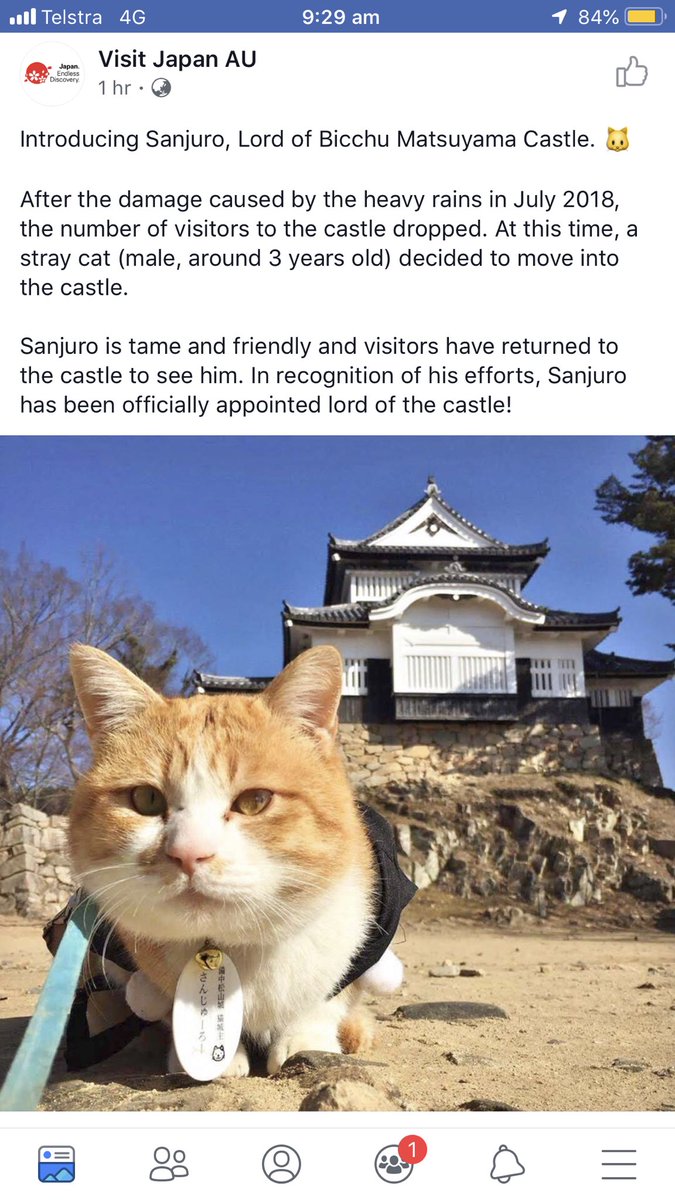 Looks like SOME countries know which orange celebrities deserve at least a ceremonial job. Also, we look forward to the inevitable anime in which Shinjuro is an anthropomorphic samurai kittycat.


Holy Crap Science Is Cool!
Everybody was excited about the Black Hole photos released this week! So were we! We're also lazy, so here, have a video 'splainer!
First Image of a Black Hole! youtu.be
You Want Cute Critters? Here, Have Cute Critters!
Otter pup being hand-reared at Chicago zoo youtu.be
You know, you really shouldn't anthropomorphize animals like that. They don't like it.

Also, some guy on Twitter found Granny Weatherwax's kitten, You, but said in the thread he wasn't looking for name suggestions. But c'mon, this is clearly You.
We are now dead of cute and ready to go to brunch, too. Have an excellent relaxing Sunday, pester Eric Rauchway with your #WinterWarWonkette questions, and we will all dive back into the daily horribleness tomorrow!
[Winter War at Amazon (Hardcover: $19.48, Kindle ebook: $18.99) / Eric Rauchway on Twitter / Kevin Kruse on Twitter / NPR / Arizona Republic / GoFundMe for Gahan Wilson / WaPo / Japan Times / Japan Tourism]
Yr Wonkette is supported by reader donations. You should send us money, you! Even if you are not a little white kitten!
How Can We Be Sure Artificial Intelligence Is Safe For Medical Use?
Comment
Translate Page
When Merdis Wells visited the diabetes clinic at the University Medical Center in New Orleans about a year ago, a nurse practitioner checked her eyes to look for signs of diabetic retinopathy, the most common cause of blindness.
At her next visit, in February of this year, artificial intelligence software made the call.
The clinic had just installed a system that's designed to identify patients who need follow-up attention.
The Food and Drug Administration cleared the system — called IDx-DR — for use in 2018. The agency said it was the first time it had authorized the marketing of a device that makes a screening decision without a clinician having to get involved in the interpretation.
It's a harbinger of things to come. Companies are rapidly developing software to supplement or even replace doctors for certain tasks. And the FDA, accustomed to approving drugs and clearing medical devices, is now figuring out how to make sure computer algorithms are safe and effective.
Wells was one of the first patients at the clinic in early February to be tested with the new device, which can be run by someone without medical training. The system produces a simple report that identifies whether there are signs that a patient's vision is starting to erode.
Wells had no problem with the computer making the call. "I think that's lovely!" she says.
"Do I still get to see the pictures?" Wells asks nurse practitioner Debra Brown. Yes, Brown replies.
"I like seeing me because I want to take care of me, so I want to know as much as possible about me," Wells says.
The 60-year-old resident of nearby Algiers, La., leans into the camera, which has an eyepiece for each eye.
"It's just going to be like a regular picture," Brown explains. "But when we flash, the light will be a little bright."
Once Wells is in position, Brown adjusts the camera.
"Don't blink!" she says. "3-2-1-0!" The camera flashes and captures the image. Three more flashes and the exam is done.
She says still planning to examine the images and backstop the computer's conclusion. That reassures Wells.
The test is quick and easy, which is by design. People with diabetes are supposed to get this screening test every year, but many don't. Brown says the new system could allow the clinic to screen a lot more patients for diabetic retinopathy.
That's the hope of the system's inventor, Michael Abramoff, an ophthalmologist at the University of Iowa and company founder.
"The problem is many people with diabetes only go to an eye-care provider like me when they have symptoms," he says. "And we need to find [retinopathy] before then. So that's why early detection is really important."
Abramoff spent years developing a computer algorithm that could scan retina images and automatically pick up early signs of diabetic retinopathy. And he wanted it to work in clinics, like the one in New Orleans, rather than in ophthalmologists' offices.
Developing the computer algorithm wasn't the hard part.
"It turns out the biggest hurdle, if you care about patient safety, is the FDA," he says.
That hurdle is essential for public safety, but not an easy one for a brand-new technology — especially one that makes a medical call without an expert on hand.
Often medical software gets an easy road to market, compared with drugs. Software is handled through the generally less rigorous pathway for medical devices. For most devices, the evaluation involves a comparison with something already on the market.
But this technology for detecting diabetic retinopathy was unique, and a patient's vision is potentially on the line.
When Abramoff approached the FDA, "of course they were uncomfortable at first," he says, "and so we started working together on how can we prove that this can be safe."
Abramoff needed to show that the technology was not just safe and effective but that it would work on a very diverse population, since all sorts of people get diabetes. That ultimately meant testing the machine on 900 people at 10 different sites.
"We went into inner cities, we went into southern New Mexico to make sure we captured all those people that needed to be represented," he says.
All the sites were primary care clinics, because the company wanted to demonstrate that the technology would well without having an ophthalmologist on hand.
That extensive test satisfied the FDA that the test would be broadly useable, and reasonably accurate. IDx-DR surpassed the FDA's requirement. Test results that indicated eye disease needed to be correct at least 85 percent of the time, while those finding no significant eye damage needed to be correct at least 82.5 percent of the time.
"It's better than me, and I'm a very experienced retinal specialist," Abramoff says.
The FDA helped guide the company's software through its regulatory process, which is evolving to accommodate inventions flowing out of artificial intelligence labs.
Bakul Patel, associate director for digital health at the FDA, says that in general, the FDA expects more evidence and assurances for technologies that have a greater potential to cause harm if they fail.
Some software is completely exempt from the FDA process. A simple tweak in a routine piece of software may not require any FDA review at all. The rules get tighter for a change that could substantially alter the performance of an artificial intelligence algorithm.
The agency has years of experience approving software that is part of medical devices, but new algorithms are creating new challenges.
For one thing, the agency needs to be wary of approving an algorithm that's based on a particular set of patients, if it's not clear that it will be effective in different groups. An algorithm to identify skin cancer may be developed primarily on white patients and may not work on patients with darker skin.
And many algorithms, once on the market, will continue to gather data that can be used to improve their performance. Some programs outside of health science continually update themselves to accomplish that. That raises questions about how and when updated software needs another round of review.
"We realize that we have to re-imagine how we look at these things, and allow for the changes that go on, especially in this space," Patel says.
To do that, the FDA is testing out a whole new approach to clearing algorithms. The agency is experimenting with a system called precertification that puts more emphasis on examining the process that companies use to develop their products, and less emphasis on examining each new tweak. Continued monitoring is another element of this strategy.
"We're going to take this concept and take it on a test run," Patel says.
Because many algorithms will likely be in a state of continual evolution, "it's really important when a system is deployed in the real world that we monitor those systems to make sure that they're performing the way we expect," says Christina Silcox, a researcher at the Duke-Margolis Center for Health Policy.
She's enthusiastic about the prospects of AI in medicine, while alert to some of the challenges the FDA will face.
"Right now we might see an update to a medical device every 18 months," she says. "In software you might expect to see one every two weeks or every month."
Seemingly minor software glitches can occasionally have serious unintended consequences. One of the worst cases involved a radiation therapy machine that, in the 1980s, gave huge overdoses of radiation to some patients because of a software bug.
Researchers looking at more recent incidents identified 627 software recalls by the FDA from 2011 through 2015. Those included 12 "high risk" devices such as ventilators and a defibrillator.
Patel certainly doesn't want to see a high-profile failure, because that could set back a promising and rapidly growing industry.
One challenge that's beyond the FDA's scope is figuring out how to resolve conflicting conclusions from rival devices. Genetic tests that are used to guide cancer treatment, for example, already provide conflicting treatment recommendations, says Isaac Kohane, a pediatrician who heads the biomedical informatics department at Harvard Medical School. "Guess what," he says, "The same thing is going to happen with these AI programs."
"We're going to have built-in disagreements and no doctor and no patient will know what is right," he says.
Indeed, IDx isn't the only company that interested in using an algorithm to identify early signs of diabetic retinopathy. Among its competitors is Verily, one of Google's sister companies, which is currently deploying its technology in India. (Google is among NPR's financial supporters).
"Actually I'm quite bullish in the long term," Kohane says, as he looks out on the burgeoning field of AI. "In the short term, it's wild land grab."
He says we need the equivalent of Consumer Reports in this area to help resolve these disagreements and identify superior technologies. He would also like reviews to examine not simply whether a technology performs as expected, but if it's an improvement for patients. "What you really want is to get healthy," he says.
The cost of the camera and set-up for the IDx-DR systems is around $20,000, a company spokesperson said in an email. There are options to rent or lease-to-own the camera that can reduce the upfront costs.
The list price for each exam is $34, the spokesperson said. But it varies depending on factors including patient volume.
A technically accurate piece of software doesn't automatically lead to better health.
At the diabetes clinic in New Orleans, for example, the system replaced a service that also checked for another cause of blindness, glaucoma.
Nurse practitioner Brown visually scans Wells' images for signs of glaucoma, but that wouldn't happen when the work is handed off to someone who lacks her expertise. Instead, the diabetes clinic staff will refer patients to get another appointment for that test.
Wells also got something that future patients might not – a review of her retina images, so she could see for herself any suspected issues. That interaction with a health care professional was also an important moment to talk about her diet and what she can do to stay healthy.
Chevelle Parker, another nurse practitioner, points to some silvery lines inside the eye's blood vessels.
"That happens when your sugar levels are high," Parker explains. "It can also be an indication of diabetic retinopathy. So we're going to do a referral and send you on for complete testing."
The software did its intended job. While Wells seemed a bit upset by the news, at least she has found out about this concern early, while there's still time to protect her vision.
You can reach NPR Science Correspondent Richard Harris at rharris@npr.org.
Copyright 2019 NPR. To see more, visit https://www.npr.org.
'I Love You, But You're Wrong,' And Other Salvos On The Front Lines Of Civility
Comment
Translate Page
A lawyer and her future son-in-law argue furiously about politics on Facebook, each accusing the other of ignoring "the facts."
A newly married couple gets into an uncomfortably heated argument as they watch the confirmation hearings of then-Supreme Court nominee Brett Kavanaugh, until one finally leaves the room. "I love you, but you're wrong," she says.
A Mexican-American college student argues with her Trump-supporting mother — also Mexican-American — about how she could possibly accept the idea of a border wall.
These, of course, are not isolated stories: Political differences can drive a wedge through even the closest families and friendships. A 2017 Reuters/Ipsos poll found that 13 percent of respondents said the 2016 election had caused them to end a relationship with a friend or relative. Nearly 40 percent said the election had provoked at least one argument with a loved one.
More broadly, Americans say they're worried that the United States is growing more polarized and that civility — respect, courtesy, kindness — is slipping away in many aspects of their lives. From road rage to Twitter feuds to the rancor at the highest levels of government, polls show that Americans think incivility is at crisis levels.
Recently, NPR has been traveling the country to explore how people are grappling with the idea of civility in polarizing times.
Here are five stories about the shaky line that people walk to keep things civil — or not — in their most intimate relationships.
---
'I Love You, But You're Wrong'
When Patricia "P." Price met Simone Perry in 2016, she was surprised when Simone told her she was Republican. As P. explains, "Black, lesbian and Republican — it doesn't go in the same sentence." They got married a year later, and Simone Perry became Simone Price.
Simone, who initially supported Ted Cruz and voted for Gary Johnson in 2016, says P. is more interested in "how I carry myself and how I treat people than who I support politically." P., a Democrat who voted for Hillary Clinton, says Simone is much more engaged in politics than she is and wins 90 percent of their political debates.
But several months ago, a debate flared into a fight that P. was not willing to concede. The confirmation hearings for Kavanaugh's nomination to the Supreme Court were on TV, and P. says she was "completely turned off" by his demeanor.
Simone, on the other hand, sympathized with Kavanaugh's need to defend himself. She remembers asking P., "If someone we love is ever accused of something, are we going to grant them the benefit of the doubt?"
The argument got angry, uncomfortable. Both women say they often use prayer or meditation to calm themselves if they're fighting, but this political moment called for more immediate action: When P. felt she couldn't take it anymore, she walked out and went upstairs.
---
The Fight Stays On Facebook
Christopher Kilpatrick and Cheryl Hume are about as politically different as two people can be. Chris, 38, describes himself as a "far-right kind of guy" who voted for Trump. Cheryl, his 58-year-old future mother-in-law, voted for Hillary Clinton and donates to causes like refugee resettlement and prisoner re-entry programs. They see each other only a few times a year but connect frequently on Facebook, where they clash over everything from Trump's border wall to the latest conspiracy theory.
Their back-and-forth can get barbed — they sometimes attack each other for being ignorant — but before things get too nasty, one of them changes the subject. "How's Kathy doing?" Cheryl might ask.
Kathy is Chris' fiancée and Cheryl's foster daughter. Both Chris and Cheryl say it's their mutual love for Kathy that helps them put their political differences in perspective.
When the family gets together, Chris and Cheryl say, they avoid talking politics, partly to spare Kathy the misery of playing referee, but partly, they say, because they genuinely enjoy each other's company. Chris calls Cheryl "big hearted," and Cheryl describes Chris as a "good guy."
But when they return home from a family gathering, Chris and Cheryl retreat to their respective corners on social media and resume sparring. Happily for them, Kathy doesn't pay that much attention to Facebook.
---
The Reluctant Mediator
Lorraine Bank, 67, says she thinks her children were raised right and "instilled with good values." But somewhere along the way — through school, TV or the workplace — she thinks her two daughters "got brainwashed." Politically, the sisters lean liberal, while Lorraine is a staunch conservative. She says she and her husband mention Trump often enough so their children "know we think he's a good president, but we don't rub it in."
That's not always enough for daughter Valerie, 28, who voted for Clinton in 2016. She says she has to steel herself when she visits her parents.
"I do breathing exercises," she says. "Before I get into a conversation, I give myself a pep talk and say, 'I'm going to keep calm, I'm not going to engage, and if someone tries to bait me, I'm not going to take the bait.' "
Sometimes she has a few drinks to calm herself down. If all else fails, she leaves the room.
For the past few years, Valerie has had to deal with an additional family stress: Her older sister, Sarah, stopped talking to their mother after a serious fight. (Sarah declined to participate in this story.)
As their mother, Lorraine, tells it, after a series of political disagreements, she and Sarah got into a "final straw" argument about gay marriage shortly before the 2016 election. At one point, Lorraine referred to gays as "fags," and although she says she later apologized, Sarah still refuses to speak to her.
"I pray every day that whatever is wrong, she can get over it and she'll wake up and know we still love her," Lorraine says.
Now, on the few family occasions where everyone is together, Sarah won't interact directly with her mother. Valerie plays the reluctant mediator, trying to knit together a conversation between two people who can no longer find the words.
---
From 'Oh Crap' To A Lasting Friendship
In 2016, Michael Beale and Francesco Mazza were assigned to be freshman roommates at High Point University in North Carolina. And before they met, they each formed an instant impression of the other.
Michael remembers that Francesco was wearing a bright red "Make America Great Again" hat in his Facebook profile photo.
"And I thought to myself, 'Oh crap, I gotta live with this kid for a year,' " Michael says.
Francesco recalls that Michael's Facebook page had a picture of Bob Marley on it.
"So I'm like, 'Jesus, Mary and Joseph, he's probably like some hippie liberal,' " Francesco recalls. (Michael actually voted for Libertarian Gary Johnson. And for the record, he doesn't remember a Bob Marley picture: "It was probably me at a Grateful Dead concert," he says.).
Despite their respective knee-jerk reactions, both men decided to approach the year with open-mindedness — a trait that helped them avoid arguments and eventually build a friendship that has sustained to this day. Now 21-year-old juniors, the two recently returned from a spring break trip to Florida.
And almost since the day they met, they haven't been afraid to debate politics.
"Michael will ask how I think Trump is doing," says Francesco. "If I think he's doing something stupid, I'll say so."
Francesco, the son of a police officer, grew up around guns in Norristown, Pa. Michael was raised in Connecticut near Sandy Hook Elementary School, where a devastating mass shooting made him wonder why anyone would own a gun.
Whenever there's a shooting in the news, they find themselves going back and forth about gun policy. Like many of their political debates, these conversations can be eye-opening — but rarely, they admit, mind changing.
---
'We Go Slowly, Trying Not To Hurt Each Other'
Nancy Richer, a 55-year-old Mexican-American, was born in Texas and spent half of her life in Mexico. Her daughter, Daniela Garduno, 19, was born in Mexico but grew up mostly north of the border. Each woman says she feels a stronger pull to one side of the Mexican-American hyphen: Nancy identifies more with her American side, Daniela with her Mexican side.
And that can cause tension. Daniela is against the border wall, while her mother supports it.
Nancy says she is proud of her older friends who went through the immigration process legally: "They had to wait 18 years. They had to pay. They had to go through all the process," she says. "Why not the others?"
Daniela says she's confused that her mother, a Trump supporter, "can be Mexican and at the same time advocate for rights that are very anti-immigrant, anti-Latino." She says she sometimes regrets that she and her mother aren't more politically aligned and can't have the relaxed, head-nodding conversations that some of her school friends have with their parents.
At the same time, both mother and daughter say they try to be respectful of each other's opinions, which helps keep their political arguments to a gentle roar.
"When I'm having these issues with my mom," Daniela says, "I'll distance myself from the political part of it — I separate my mother from the politics."
Of her daughter, Nancy says, "When I see that she's responding as if I'm attacking her — instead of her points of view — that's when I stop. ... We go slowly, trying not to hurt each other."
Copyright 2019 NPR. To see more, visit https://www.npr.org.
Next Page: 10000
Site Map 2018_01_14
Site Map 2018_01_15
Site Map 2018_01_16
Site Map 2018_01_17
Site Map 2018_01_18
Site Map 2018_01_19
Site Map 2018_01_20
Site Map 2018_01_21
Site Map 2018_01_22
Site Map 2018_01_23
Site Map 2018_01_24
Site Map 2018_01_25
Site Map 2018_01_26
Site Map 2018_01_27
Site Map 2018_01_28
Site Map 2018_01_29
Site Map 2018_01_30
Site Map 2018_01_31
Site Map 2018_02_01
Site Map 2018_02_02
Site Map 2018_02_03
Site Map 2018_02_04
Site Map 2018_02_05
Site Map 2018_02_06
Site Map 2018_02_07
Site Map 2018_02_08
Site Map 2018_02_09
Site Map 2018_02_10
Site Map 2018_02_11
Site Map 2018_02_12
Site Map 2018_02_13
Site Map 2018_02_14
Site Map 2018_02_15
Site Map 2018_02_15
Site Map 2018_02_16
Site Map 2018_02_17
Site Map 2018_02_18
Site Map 2018_02_19
Site Map 2018_02_20
Site Map 2018_02_21
Site Map 2018_02_22
Site Map 2018_02_23
Site Map 2018_02_24
Site Map 2018_02_25
Site Map 2018_02_26
Site Map 2018_02_27
Site Map 2018_02_28
Site Map 2018_03_01
Site Map 2018_03_02
Site Map 2018_03_03
Site Map 2018_03_04
Site Map 2018_03_05
Site Map 2018_03_06
Site Map 2018_03_07
Site Map 2018_03_08
Site Map 2018_03_09
Site Map 2018_03_10
Site Map 2018_03_11
Site Map 2018_03_12
Site Map 2018_03_13
Site Map 2018_03_14
Site Map 2018_03_15
Site Map 2018_03_16
Site Map 2018_03_17
Site Map 2018_03_18
Site Map 2018_03_19
Site Map 2018_03_20
Site Map 2018_03_21
Site Map 2018_03_22
Site Map 2018_03_23
Site Map 2018_03_24
Site Map 2018_03_25
Site Map 2018_03_26
Site Map 2018_03_27
Site Map 2018_03_28
Site Map 2018_03_29
Site Map 2018_03_30
Site Map 2018_03_31
Site Map 2018_04_01
Site Map 2018_04_02
Site Map 2018_04_03
Site Map 2018_04_04
Site Map 2018_04_05
Site Map 2018_04_06
Site Map 2018_04_07
Site Map 2018_04_08
Site Map 2018_04_09
Site Map 2018_04_10
Site Map 2018_04_11
Site Map 2018_04_12
Site Map 2018_04_13
Site Map 2018_04_14
Site Map 2018_04_15
Site Map 2018_04_16
Site Map 2018_04_17
Site Map 2018_04_18
Site Map 2018_04_19
Site Map 2018_04_20
Site Map 2018_04_21
Site Map 2018_04_22
Site Map 2018_04_23
Site Map 2018_04_24
Site Map 2018_04_25
Site Map 2018_04_26
Site Map 2018_04_27
Site Map 2018_04_28
Site Map 2018_04_29
Site Map 2018_04_30
Site Map 2018_05_01
Site Map 2018_05_02
Site Map 2018_05_03
Site Map 2018_05_04
Site Map 2018_05_05
Site Map 2018_05_06
Site Map 2018_05_07
Site Map 2018_05_08
Site Map 2018_05_09
Site Map 2018_05_15
Site Map 2018_05_16
Site Map 2018_05_17
Site Map 2018_05_18
Site Map 2018_05_19
Site Map 2018_05_20
Site Map 2018_05_21
Site Map 2018_05_22
Site Map 2018_05_23
Site Map 2018_05_24
Site Map 2018_05_25
Site Map 2018_05_26
Site Map 2018_05_27
Site Map 2018_05_28
Site Map 2018_05_29
Site Map 2018_05_30
Site Map 2018_05_31
Site Map 2018_06_01
Site Map 2018_06_02
Site Map 2018_06_03
Site Map 2018_06_04
Site Map 2018_06_05
Site Map 2018_06_06
Site Map 2018_06_07
Site Map 2018_06_08
Site Map 2018_06_09
Site Map 2018_06_10
Site Map 2018_06_11
Site Map 2018_06_12
Site Map 2018_06_13
Site Map 2018_06_14
Site Map 2018_06_15
Site Map 2018_06_16
Site Map 2018_06_17
Site Map 2018_06_18
Site Map 2018_06_19
Site Map 2018_06_20
Site Map 2018_06_21
Site Map 2018_06_22
Site Map 2018_06_23
Site Map 2018_06_24
Site Map 2018_06_25
Site Map 2018_06_26
Site Map 2018_06_27
Site Map 2018_06_28
Site Map 2018_06_29
Site Map 2018_06_30
Site Map 2018_07_01
Site Map 2018_07_02
Site Map 2018_07_03
Site Map 2018_07_04
Site Map 2018_07_05
Site Map 2018_07_06
Site Map 2018_07_07
Site Map 2018_07_08
Site Map 2018_07_09
Site Map 2018_07_10
Site Map 2018_07_11
Site Map 2018_07_12
Site Map 2018_07_13
Site Map 2018_07_14
Site Map 2018_07_15
Site Map 2018_07_16
Site Map 2018_07_17
Site Map 2018_07_18
Site Map 2018_07_19
Site Map 2018_07_20
Site Map 2018_07_21
Site Map 2018_07_22
Site Map 2018_07_23
Site Map 2018_07_24
Site Map 2018_07_25
Site Map 2018_07_26
Site Map 2018_07_27
Site Map 2018_07_28
Site Map 2018_07_29
Site Map 2018_07_30
Site Map 2018_07_31
Site Map 2018_08_01
Site Map 2018_08_02
Site Map 2018_08_03
Site Map 2018_08_04
Site Map 2018_08_05
Site Map 2018_08_06
Site Map 2018_08_07
Site Map 2018_08_08
Site Map 2018_08_09
Site Map 2018_08_10
Site Map 2018_08_11
Site Map 2018_08_12
Site Map 2018_08_13
Site Map 2018_08_15
Site Map 2018_08_16
Site Map 2018_08_17
Site Map 2018_08_18
Site Map 2018_08_19
Site Map 2018_08_20
Site Map 2018_08_21
Site Map 2018_08_22
Site Map 2018_08_23
Site Map 2018_08_24
Site Map 2018_08_25
Site Map 2018_08_26
Site Map 2018_08_27
Site Map 2018_08_28
Site Map 2018_08_29
Site Map 2018_08_30
Site Map 2018_08_31
Site Map 2018_09_01
Site Map 2018_09_02
Site Map 2018_09_03
Site Map 2018_09_04
Site Map 2018_09_05
Site Map 2018_09_06
Site Map 2018_09_07
Site Map 2018_09_08
Site Map 2018_09_09
Site Map 2018_09_10
Site Map 2018_09_11
Site Map 2018_09_12
Site Map 2018_09_13
Site Map 2018_09_14
Site Map 2018_09_15
Site Map 2018_09_16
Site Map 2018_09_17
Site Map 2018_09_18
Site Map 2018_09_19
Site Map 2018_09_20
Site Map 2018_09_21
Site Map 2018_09_23
Site Map 2018_09_24
Site Map 2018_09_25
Site Map 2018_09_26
Site Map 2018_09_27
Site Map 2018_09_28
Site Map 2018_09_29
Site Map 2018_09_30
Site Map 2018_10_01
Site Map 2018_10_02
Site Map 2018_10_03
Site Map 2018_10_04
Site Map 2018_10_05
Site Map 2018_10_06
Site Map 2018_10_07
Site Map 2018_10_08
Site Map 2018_10_09
Site Map 2018_10_10
Site Map 2018_10_11
Site Map 2018_10_12
Site Map 2018_10_13
Site Map 2018_10_14
Site Map 2018_10_15
Site Map 2018_10_16
Site Map 2018_10_17
Site Map 2018_10_18
Site Map 2018_10_19
Site Map 2018_10_20
Site Map 2018_10_21
Site Map 2018_10_22
Site Map 2018_10_23
Site Map 2018_10_24
Site Map 2018_10_25
Site Map 2018_10_26
Site Map 2018_10_27
Site Map 2018_10_28
Site Map 2018_10_29
Site Map 2018_10_30
Site Map 2018_10_31
Site Map 2018_11_01
Site Map 2018_11_02
Site Map 2018_11_03
Site Map 2018_11_04
Site Map 2018_11_05
Site Map 2018_11_06
Site Map 2018_11_07
Site Map 2018_11_08
Site Map 2018_11_09
Site Map 2018_11_10
Site Map 2018_11_11
Site Map 2018_11_12
Site Map 2018_11_13
Site Map 2018_11_14
Site Map 2018_11_15
Site Map 2018_11_16
Site Map 2018_11_17
Site Map 2018_11_18
Site Map 2018_11_19
Site Map 2018_11_20
Site Map 2018_11_21
Site Map 2018_11_22
Site Map 2018_11_23
Site Map 2018_11_24
Site Map 2018_11_25
Site Map 2018_11_26
Site Map 2018_11_27
Site Map 2018_11_28
Site Map 2018_11_29
Site Map 2018_11_30
Site Map 2018_12_01
Site Map 2018_12_02
Site Map 2018_12_03
Site Map 2018_12_04
Site Map 2018_12_05
Site Map 2018_12_06
Site Map 2018_12_07
Site Map 2018_12_08
Site Map 2018_12_09
Site Map 2018_12_10
Site Map 2018_12_11
Site Map 2018_12_12
Site Map 2018_12_13
Site Map 2018_12_14
Site Map 2018_12_15
Site Map 2018_12_16
Site Map 2018_12_17
Site Map 2018_12_18
Site Map 2018_12_19
Site Map 2018_12_20
Site Map 2018_12_21
Site Map 2018_12_22
Site Map 2018_12_23
Site Map 2018_12_24
Site Map 2018_12_25
Site Map 2018_12_26
Site Map 2018_12_27
Site Map 2018_12_28
Site Map 2018_12_29
Site Map 2018_12_30
Site Map 2018_12_31
Site Map 2019_01_01
Site Map 2019_01_02
Site Map 2019_01_03
Site Map 2019_01_04
Site Map 2019_01_06
Site Map 2019_01_07
Site Map 2019_01_08
Site Map 2019_01_09
Site Map 2019_01_11
Site Map 2019_01_12
Site Map 2019_01_13
Site Map 2019_01_14
Site Map 2019_01_15
Site Map 2019_01_16
Site Map 2019_01_17
Site Map 2019_01_18
Site Map 2019_01_19
Site Map 2019_01_20
Site Map 2019_01_21
Site Map 2019_01_22
Site Map 2019_01_23
Site Map 2019_01_24
Site Map 2019_01_25
Site Map 2019_01_26
Site Map 2019_01_27
Site Map 2019_01_28
Site Map 2019_01_29
Site Map 2019_01_30
Site Map 2019_01_31
Site Map 2019_02_01
Site Map 2019_02_02
Site Map 2019_02_03
Site Map 2019_02_04
Site Map 2019_02_05
Site Map 2019_02_06
Site Map 2019_02_07
Site Map 2019_02_08
Site Map 2019_02_09
Site Map 2019_02_10
Site Map 2019_02_11
Site Map 2019_02_12
Site Map 2019_02_13
Site Map 2019_02_14
Site Map 2019_02_15
Site Map 2019_02_16
Site Map 2019_02_17
Site Map 2019_02_18
Site Map 2019_02_19
Site Map 2019_02_20
Site Map 2019_02_21
Site Map 2019_02_22
Site Map 2019_02_23
Site Map 2019_02_24
Site Map 2019_02_25
Site Map 2019_02_26
Site Map 2019_02_27
Site Map 2019_02_28
Site Map 2019_03_01
Site Map 2019_03_02
Site Map 2019_03_03
Site Map 2019_03_04
Site Map 2019_03_05
Site Map 2019_03_06
Site Map 2019_03_07
Site Map 2019_03_08
Site Map 2019_03_09
Site Map 2019_03_10
Site Map 2019_03_11
Site Map 2019_03_12
Site Map 2019_03_13
Site Map 2019_03_14
Site Map 2019_03_15
Site Map 2019_03_16
Site Map 2019_03_17
Site Map 2019_03_18
Site Map 2019_03_19
Site Map 2019_03_20
Site Map 2019_03_21
Site Map 2019_03_22
Site Map 2019_03_23
Site Map 2019_03_24
Site Map 2019_03_25
Site Map 2019_03_26
Site Map 2019_03_27
Site Map 2019_03_28
Site Map 2019_03_29
Site Map 2019_03_30
Site Map 2019_03_31
Site Map 2019_04_01
Site Map 2019_04_02
Site Map 2019_04_03
Site Map 2019_04_04
Site Map 2019_04_05
Site Map 2019_04_06
Site Map 2019_04_07
Site Map 2019_04_08
Site Map 2019_04_09
Site Map 2019_04_10
Site Map 2019_04_11
Site Map 2019_04_12
Site Map 2019_04_13
Site Map 2019_04_14