Next Page: 10000
February 8, 2019: Steve Jackson's Undead Returns!
Cache
Translate Page
We're happy to report that Steve's Undead game (first published in 1981 and out-of-print for many, many years) is coming back! We offered the game as a stretch goal in the ongoing Pocket Box campaign on Kickstarter . . . and the stretch goal has been unlocked! You're not familiar with Undead? Let's set the stage with Steve's own words in this excerpt from Space Gamer #37 (March 1981):

"The other new one is my own project. It's not as far along, just because I've been getting CAR WARS ready for the playtesters . . . but it's getting there. This one doesn't have a name yet – but it was inspired by Bram Stoker's Dracula. 

The title seems a natural – but after I'd worked on it for a while, I understood why it hadn't been done. There are problems with the original Dracula story, as far as gaming goes. Some of them aren't ironed out yet – but it's just a matter of time.

Right now, the vampire player gets to move around on a map of London, trying to conceal his coffins and find new victims. His pursuers search for his hideouts while trying to alert the city to the danger. When the players meet, they battle. Eventually, the "great Un-dead" dies (or is driven away) – or the vampire hunters bite the dust instead.

I doubt this one will have a solitaire version, unless I get inspired. Right now, it looks like it will work OK with two players; better with three (vampire, the hunters, and a referee). Or there can be more than one hunter-player. The game will draw from both role-playing and wargame concepts. I've got a couple of ideas that came too late to be included in Fantasy Trip . . . so I'll work them in here. Basically, this is going to be an FRP game that works itself out in one or two sessions, rather than continuing indefinitely. Eventually, somebody will win . . . and you can start another game later."

If you've never before played Undead, this is your chance to add the game to your collection and give it a try. The Pocket Box campaign closes on March 1, so there's still time to join and grab this . . . as well as several other classics including Car Wars, Illuminati, and Ogre. Just how many Pocket Box games will be offered as part of the Kickstarter project? We won't know until the end, but your support helps unlock stretch goals and add more to the campaign. Join us today!

– Phil Reed

Warehouse 23 News: It's The End Of The World!

In Munchkin Apocalypse, every possible natural (and unnatural) disaster has happened . . . or will happen during the game. You are a rugged survivor in a world full of people – and things – that want to kill you and take your stuff. So do it to them first! Survive the end of the world at Warehouse 23!

Thread: Doctor Who: Solitaire Story Game (Second edition):: Rules:: Companions limit/improving between adventures
Cache
Translate Page
by Connecticus

Hi all,

First time poster on the geek after massively enjoying this game. I have a couple of questions though!

One is on the companion limit rules. My understanding is that I cannot retain more than two companions at the end of an adventure. Although I understand the companion roll mechanism, my question is:-

Can I upgrade an ally to a companion (exceeding two companions in total for the next adventure) under the upgrading between adventure rules?

Additionally, aside from the DM differences (i.e. 0 to 4 or -2 to +2) in the expansions available for the 1st edition, are there any other compatibility issues with the 2nd edition?

Any input would be much appreciated!

Thanks

Nick

New comment on Item for Geeklist "Top 10 WWI Naval Games"
Cache
Translate Page
by ross_menzies

Related Item: The Royal Navy


This game uses simultaneous plotting of moves doesn't it?

In that case it would seem useless for solo play. Is this true?





No - the basic game doesn't use plotting. Player order is determined by initiative rating - The 1st player (lower initiative) moves half their movement, the 2nd player moves their entire movement, the 1st player completes his movement, then the 2nd player can make turns if desired. Torpedoes are essentially fired like guns (or left on-map for longer ranges). This works well, especially for play-by-email without a ref but I solitaire it all the time using the full, plotted version. But then I can solitaire anything - the brain you know, the brain. :)

New comment on Item for Geeklist "Solitaire Games on Your Table February 2019"
Cache
Translate Page
by der_mandarin

Related Item: Legends of Andor

Jessica raised a good point: One usually expects a different type of gameplay when the game features a fantasy setting. At least here on BGG this is the case. Judging by the volume of expansions and the amount of it occupies in stores here, the game seems to do more than just fine.

Still, I regret to admit that it isn't my cup of tea as well (even tried and owned it twice!) and I really dig the non-cartoony artstyle.

If you like puzzle gameplay then give this a shot for sure!

New comment on Item for Geeklist "Solitaire Games on Your Table February 2019"
Cache
Translate Page
by Tokhuah

Related Item: Unpublished Prototype

I am very interested in how this game design progresses. Midway works but is not designed as solo first so it shears off levels of potential strategy.

I playtested for AEG, FFG, Victory Point, and with few exceptions the preliminary work is done with text-cards and no graphics so this is not a problem at this point of development. You can put me down as another playtester if you need it.

On the artistic design front, look at Pulp Detective. Their concept is brilliant. They use highly thematic period art at a fraction of what it would cost for original pieces and present it is an attractive graphic deign. Their SciFi follow-up later this year is Pulp Invasion with the same graphic concept. With this in mind, maybe acquiring some art and working with graphic designer is an option.

2 Carat Diamond Ring Princess Cut
Cache
Translate Page
Carat Princess Cut Diamond Ring Lannie Created Keezing Kreations for Different 2038 1 | 1805 X 1214 Diamond Solitaire Ring Carat Princess CutWhite Gold in Newest Cut 161220304 MV ZM JAR | 900 X 900 Diamond Engagement Ring Ct Tw Princess CutWhite Gold for Recent Carat Cut 080413913 MV ZM | 900 X 900 Ct […]

Thread: Kiev '41:: News:: Announcement
Cache
Translate Page
by ULTIMO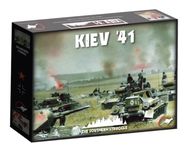 KIEV '41 covers the most difficult branch - the southern one - of Operation Barbarossa and completes the Trilogy started with MOSCOW '41 and continued with LENINGRAD '41.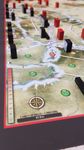 The game covers a timeline of 6 months - from the end of June to the end of December 1941.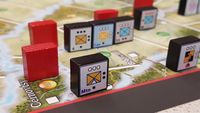 The map is not only a work of pure art, but also an accurate depiction of the area of operations: from the Rumanian border in the west to the Don steppes in the East.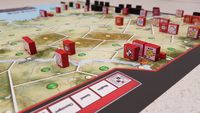 The Combat units are an exact replica of the forces involved in the campaign.




In line with previous VentoNuovo productions,
KIEV '41 has been made to the highest standards in the gaming industry and complies with all European regulations.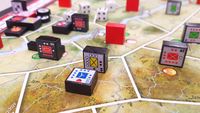 The game uses the same engine as its predecessors, with fog of war for masking enemy units and wooden blocks for elegantly representing the way the units' effectiveness is reduced in combat, and rebuilt with production points.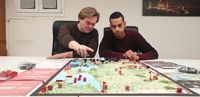 Set your strategy, activate your leaders, move your units, engage the enemy, send your Aircraft in to support the combats and blitz with your tanks!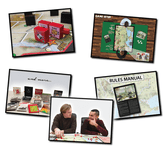 KIEV '41 is a beautiful game, quick to setup, easy to learn, fun to play and based on the latest historical research.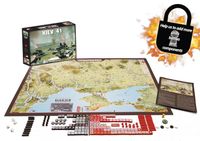 Help us to unlock new units, new scenarios and special parts to give you an unparalleled gaming experience!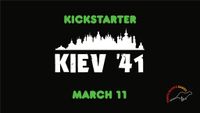 Play solitaire or with your friends!

ALL THE BEST

emanuele


Review: A Spoiled Victory: Dunkirk 1940:: Some thoughts about what the game is, and what it sometimes seems it is
Cache
Translate Page
by RLMNANJING

This is an excellent game. It is both an accurate simulation and a very much a puzzle for the player, especially if one casts it alongside 'State of Siege' games—very fine products in their own right, but quite different (many are about campaigns not a single confined battle)—and tries to compose an optimal strategy. At Dunkirk, as memoirs and many analyses make clear, everything had to fall into place for the miracle to be made. A good deal of the brilliance of the design is that there is likely no ideal approach so much as a flexible response to events that one hopes will work at the end of the day.

If there is a glitch, it's in the lack of clarity about which side one is really playing. If this as much an escape game as a war-game, as the designer concedes, it is not always apparent if one is the prisoner trying to dash across the water or the warden trying to prevent the getaway. Despite the fact that the system demands you to make decisions as the British, much of what occurs in the game is aimed at the Germans. The game assumes that the decision has already been made to evacuate; that the Battle for France is over (and as Winston Churchill intoned, "the Battle for Britain is about to begin"); and that victory or defeat is driven by how many people you can get to the shoreline and then off the beaches. There is no allowance for the possibility of making a stand and then a breakout against German forces bearing down: the battle is lost, and continuing the war rests on fleeing instead of fighting. It's a Management Evacuation game as much as a military simulation.

Because of that focus, the game is a set of decisions that are tradeoffs, and very much dependent on the choices made and reacting to the card draw and distribution. It's very impressive that the designer provided a set of interesting optional rules; that is, the ability to stiff-arm or even subvert the cards one draws, to make sure that the player, not the cards, bear the vast bulk of responsibility for what happens—something that seems to be rare in many recent solitaire games, where one fastens the seat-belt and rides along instead of being belted across the mouth for roads chosen or not taken. Decisions in this design matter. This is a simulation that feels very much like a scramble, making choices and then making do when events overtake.

At the same time, because so much is about what the Germans do and how you as the Allied player react, there is a curious mix of waiting to see where the German pressure is going to come, and then responding to it. But many memoirs and various analyses depict the British as hell-bent on preparing to get out many days ahead of the actual evacuation. Those accounts make it seem that by the time the simulation starts, it's the German side that's reacting, not the Allies. Wermacht commanders and the Luftwaffe are wondering what Hitler is going to do, if the main battle is yet to be fought once the British leave, and what to do about logistical lines that are getting rather long and supplies that are starting to get short. So at points one is really playing both sides--the Germans, waiting for cards, and the Allies, wondering what sort of a situation that the turn produces. It's not at all clear whether that's what was transpiring during the actual campaign. The designer does not claim to depict that level of fidelity, but because so much of the game is constructed to replicate what transpired (and does so well at it), it's uncertain where that leaves players trying to understand the campaign as a whole.

The map, as handsome as it is, is not much help in this larger regard either. If one is truly playing the British, why is the map oriented as if one is the German High Command looking for an opening? Might it have been better to have the map positioned with the player sitting in London, or offshore somewhere, surveying the situation as British commanders would have done?

Then there's the title, which is also very much from the German perspective—the result of Wermacht commanders after the war endeavoring to show their strategic genius (and lack of culpability) by blaming Hitler and his whims for "spoiling the victory". The name of the game (as it were) seems to put the onus on the player not to spoil the victory—but for whom? Perhaps the designer's intent here is to be at least somewhat ironic: that Hitler did not spoil it, the British did—and that's your objective as the player. There would be brilliance in that, and should not surprise those of us who have played what is very much a brilliant game.

It's good to see that "A Spoiled Victory" is going to be renamed and offer a two-player option (which if the comments above are accurate may be more straightforward than it might first appear) in the long-promised updated edition to be published by Legion Games. Kudos too to White Dog Games for reprinting the game in the interim, and providing others with the opportunity to see outstanding and detailed design at work. There are some issues, but there is also an enormous amount to be admired in this game—one of the few in solitaire form that works as both an intellectual puzzle and a historical simulation, giving the player ample opportunities to make decisions and celebrate and suffer for them. "A Spoiled Victory" is a simulation to be savoured.


Review: Ticket to Ride:: Is Ticket to Ride Fun to Play?
Cache
Translate Page
by Art Campbell

The race is on! You've taken a bet with one to four other friends (this is a 2 to 5 player game) to see who can travel the furthest by train across North America. But tickets are limited and competition to get the best routes is fierce!

Is this a fun journey? Read on to find out.

Objectives and Overview
Ticket to Ride is played on a map of the continental United States and Canada (there are a lot of expansions and variations set in other countries, as well). Each player will select some cards that show routes they must complete to gain points. They must then draw cards that allow them to place their carriages on the map to complete those routes. Also, they'll earn points for each track completed (a track is a leg of the journey between cities). The longer the journey, the more points they collect but, the harder it is to collect enough carriages to complete the track (some tracks are one wagon long, some are six!). The longest continuous journey also receives bonus points. At the end of the game, the player with the most points wins.



How Easy is it to Learn?
It's a simple game to learn. At the start of the game, you'll draw three cards to determine which routes you're aiming for. You can put one back if you wish, but have to keep at least two. You'll score points for completing these. Each turn, players will draw cards from the pile to form a deck and then, if they can, place their carriages on the board using the cards in their hand. You need to collect enough cards to put wagons on a track of that colour all at once (routes vary in length). There are 'wild' cards and tracks to help things along.

You draw three route cards randomly at the start of the game, but only have to keep two. If you complete them and think you've got time, as an action, you can choose more of route cards to gain extra points.



How Easy is it to Play?
The game mechanics are straightforward - draw cards, place trains. The cards are quite small, which can make them a little fiddly. The carriages are made of plastic and easy enough to handle, but very light, so you don't want to bump the board. With all those carriages on the board, it can get quite crowded, but it's not usually a problem.

Players don't interact with each other in this game – there's no combat or trading – so there's no deep strategy or tactics. Typically there are only one or two lines between cities, and once someone claims them, no one else has access to them. So you are competing for limited train lines, and have to be prepared to find a different route to your destination.



How Easy is it to Win?
Of four recorded plays with my family (we played more before I started recording my games), we have a relatively even split of winners. There is a significant element of chance as you only have limited control over which routes you are aiming for, and you need to collect enough cards of the right colour before you can place your carriages. While you're not trying to stop other players achieve their goal (you don't know what their goal is until the end of the game), having a limited number of tracks available between cities means it's very easy for someone to lose access to the most optimal route. The chances of blocking increases with more players. This element of chance evens out the odds considerably.



Is it Fun to Play?
What I've always loved about Ticket to Ride is the element of suspense. Despite its simplicity and lack of deep strategy, I find it a very stressful game to play, in a fun way. No one is 'out to get you', but at any moment they could steal the tracks you need for your route, simply because they're going the same direction, and you have to take the long way around. That can work to your advantage if you can finish the route because longer routes score more points, but it also increases the chances of failure.

The other plus to this game is that it is very accessible. You don't have to be a genius to master the rules or strategy.

Ticket to Ride's strengths can also be its weaknesses, for a particular type of gamer. It's not a challenging game and is open to the charge of being solitaire played in a group. Most of the time you're just doing your own thing and waiting to see if life gets difficult while people do their own thing.

The Board Game Geek community gives it a complexity rating of 1.9/5. I agree it's a medium-light game that offers more than it requires of players.



Who Will Enjoy It?
If you're the sort of person who likes to play nice and isn't too competitive, you should probably check out Ticket to Ride. Winning doesn't depend on anyone deliberately attacking other players. If you enjoy games that let you chill and get on with doing your own thing, you'll also enjoy it.

Of course, if you're more competitive or like a lot of player interaction, this game isn't for you.

Ticket to Ride is an ideal family game. The box says Ticket to Ride is for 2 to 5 players aged 8 and up, and it takes about 30 to 60 minutes to play. It's not difficult or combative, evens out the playing field, and isn't too long.


Thread: Aquaducts:: General:: A little gem
Cache
Translate Page
by SeanMcJerry

What can I say, I've only recently discovered this little big game and I can only say that it's one of the most beautiful solitaire I've ever tried: I can't stop playing it! I can only recommend it and publicly thank the inventor of this little gem. Thank you very much!
Happy gaming!

Reactie op Afschieten dat beest, de beste oplossing ….. of toch niet misschien? door Alex
Cache
Translate Page
Dag Jan, Wat aardig dat u reageert. Ik voel mij daardoor uitgenodigd om uw reactie te beantwoorden. U stelt dat u niet suggereert dat populatiebeheer en schadebestijging nattevingerwerk is. Maar in u column heeft u het toch echt over: " (...) dit soort slecht onderbouwde schietfestijnen." Ook uw cynische opmerking "top schutters overigens dat ze van deze 30 geen één weten te raken" getuigt van grote onwetendheid. U hebt duidelijk geen idee wat een jager dient af te wegen voordat hij tot schot komt. Dat u slecht bent geïnformeerd blijkt evenzeer uit uw reactie op wat u een "kulverhaal" noemt. U "denkt" dat de wolf geen grote invloed heeft op de populatie moeflons op de Veluwe, terwijl Wolven in Nederland aangeeft dat de moeflon hoog op het dieet van de wolf staat. Bovendien, en dat is kwalijker, lijkt u de boodschap van de directeur van Nationaal Park de Hoge Veluwe niet te hebben begrepen. Hij geeft in het interview aan dat er in Nederland geen ruimte is voor meerdere roedels wolven, omdat dit voor teveel conflicten en schade zal zorgen. Hij roept daarom op om mogelijkheden te creëren om de wolf te beheren. Deze mogelijkheden zijn er nu niet. Waarom zouden we eventuele problemen - of calamiteiten - afwachten en dan met gebonden handen toekijken? Dat is de strekking van het artikel. En niet het onmiddellijk afschieten van de solitaire wolven die zich nu hebben gevestigd. Ik ben overigens wel blij dat u erkent, zij het in een reactie op een reactie onder de column, dat u te kort door de bocht bent geweest omtrent de besmettingsrisico's van Afrikaanse varkenspest. Rest mij nog aan te geven dat u de invloed van een dergelijke column kennelijk onderschat. Het bereik van natuurfotografie.nl zal vermoedelijk duizenden personen zijn. Door onvolledige en onjuiste informatie te verspreiden brengt u wel snel schade toe aan de maatschappelijke discussie.

New comment on Item for Geeklist "Solitaire Games on Your Table February 2019"
Cache
Translate Page
by Citanul

Related Item: Terraforming Mars

I think without heavily depending on the starter projects, that it is much harder to beat the game on solo mode... maybe to alleviate this, solo modes terraforming requirements should be cut down some... or maybe the game should go a few more generations. I think if there were 15 or 16 generations in the solo game, that card play can become a much bigger puzzle and allow the player to rely less on standard projects.



I think that might make the game too easy. I've found that if I haven't been able to reach all three terraforming goals in generation 14 that I'll be able to do it in generation 15. So 14 seems to be the ideal number to offer a decent challenge.

New comment on Item for Geeklist "Solitaire Games on Your Table February 2019"
Cache
Translate Page
by bartlett82

Related Item: Terraforming Mars

But I think that is one thing I haven`t really gotten the hang on. With a beginner Corporation, I get 10 cards and keep them, but during gameplay with the other Corporations I start straight on choosing from the card draft of four, like I saw in a playthough video. Is there something I am not getting?

I REALLY belong to the `don`t get all the rules right` group... :blush:



I do believe that everyone starts with 10 cards in the beginning... but non starter corps have to buy the cards they want from the 10...



..................ah.........................my bad! :P

I barely rely on the Standard Projects, but they are good to have when you don`t get the cards you need. It sure helped me get somewhat closer to winning the game on my latest play (even though I didn`t win that...) than I would without them.



I think without heavily depending on the starter projects, that it is much harder to beat the game on solo mode... maybe to alleviate this, solo modes terraforming requirements should be cut down some... or maybe the game should go a few more generations. I think if there were 15 or 16 generations in the solo game, that card play can become a much bigger puzzle and allow the player to rely less on standard projects.

Next Page: 10000
Site Map 2018_01_14
Site Map 2018_01_15
Site Map 2018_01_16
Site Map 2018_01_17
Site Map 2018_01_18
Site Map 2018_01_19
Site Map 2018_01_20
Site Map 2018_01_21
Site Map 2018_01_22
Site Map 2018_01_23
Site Map 2018_01_24
Site Map 2018_01_25
Site Map 2018_01_26
Site Map 2018_01_27
Site Map 2018_01_28
Site Map 2018_01_29
Site Map 2018_01_30
Site Map 2018_01_31
Site Map 2018_02_01
Site Map 2018_02_02
Site Map 2018_02_03
Site Map 2018_02_04
Site Map 2018_02_05
Site Map 2018_02_06
Site Map 2018_02_07
Site Map 2018_02_08
Site Map 2018_02_09
Site Map 2018_02_10
Site Map 2018_02_11
Site Map 2018_02_12
Site Map 2018_02_13
Site Map 2018_02_14
Site Map 2018_02_15
Site Map 2018_02_15
Site Map 2018_02_16
Site Map 2018_02_17
Site Map 2018_02_18
Site Map 2018_02_19
Site Map 2018_02_20
Site Map 2018_02_21
Site Map 2018_02_22
Site Map 2018_02_23
Site Map 2018_02_24
Site Map 2018_02_25
Site Map 2018_02_26
Site Map 2018_02_27
Site Map 2018_02_28
Site Map 2018_03_01
Site Map 2018_03_02
Site Map 2018_03_03
Site Map 2018_03_04
Site Map 2018_03_05
Site Map 2018_03_06
Site Map 2018_03_07
Site Map 2018_03_08
Site Map 2018_03_09
Site Map 2018_03_10
Site Map 2018_03_11
Site Map 2018_03_12
Site Map 2018_03_13
Site Map 2018_03_14
Site Map 2018_03_15
Site Map 2018_03_16
Site Map 2018_03_17
Site Map 2018_03_18
Site Map 2018_03_19
Site Map 2018_03_20
Site Map 2018_03_21
Site Map 2018_03_22
Site Map 2018_03_23
Site Map 2018_03_24
Site Map 2018_03_25
Site Map 2018_03_26
Site Map 2018_03_27
Site Map 2018_03_28
Site Map 2018_03_29
Site Map 2018_03_30
Site Map 2018_03_31
Site Map 2018_04_01
Site Map 2018_04_02
Site Map 2018_04_03
Site Map 2018_04_04
Site Map 2018_04_05
Site Map 2018_04_06
Site Map 2018_04_07
Site Map 2018_04_08
Site Map 2018_04_09
Site Map 2018_04_10
Site Map 2018_04_11
Site Map 2018_04_12
Site Map 2018_04_13
Site Map 2018_04_14
Site Map 2018_04_15
Site Map 2018_04_16
Site Map 2018_04_17
Site Map 2018_04_18
Site Map 2018_04_19
Site Map 2018_04_20
Site Map 2018_04_21
Site Map 2018_04_22
Site Map 2018_04_23
Site Map 2018_04_24
Site Map 2018_04_25
Site Map 2018_04_26
Site Map 2018_04_27
Site Map 2018_04_28
Site Map 2018_04_29
Site Map 2018_04_30
Site Map 2018_05_01
Site Map 2018_05_02
Site Map 2018_05_03
Site Map 2018_05_04
Site Map 2018_05_05
Site Map 2018_05_06
Site Map 2018_05_07
Site Map 2018_05_08
Site Map 2018_05_09
Site Map 2018_05_15
Site Map 2018_05_16
Site Map 2018_05_17
Site Map 2018_05_18
Site Map 2018_05_19
Site Map 2018_05_20
Site Map 2018_05_21
Site Map 2018_05_22
Site Map 2018_05_23
Site Map 2018_05_24
Site Map 2018_05_25
Site Map 2018_05_26
Site Map 2018_05_27
Site Map 2018_05_28
Site Map 2018_05_29
Site Map 2018_05_30
Site Map 2018_05_31
Site Map 2018_06_01
Site Map 2018_06_02
Site Map 2018_06_03
Site Map 2018_06_04
Site Map 2018_06_05
Site Map 2018_06_06
Site Map 2018_06_07
Site Map 2018_06_08
Site Map 2018_06_09
Site Map 2018_06_10
Site Map 2018_06_11
Site Map 2018_06_12
Site Map 2018_06_13
Site Map 2018_06_14
Site Map 2018_06_15
Site Map 2018_06_16
Site Map 2018_06_17
Site Map 2018_06_18
Site Map 2018_06_19
Site Map 2018_06_20
Site Map 2018_06_21
Site Map 2018_06_22
Site Map 2018_06_23
Site Map 2018_06_24
Site Map 2018_06_25
Site Map 2018_06_26
Site Map 2018_06_27
Site Map 2018_06_28
Site Map 2018_06_29
Site Map 2018_06_30
Site Map 2018_07_01
Site Map 2018_07_02
Site Map 2018_07_03
Site Map 2018_07_04
Site Map 2018_07_05
Site Map 2018_07_06
Site Map 2018_07_07
Site Map 2018_07_08
Site Map 2018_07_09
Site Map 2018_07_10
Site Map 2018_07_11
Site Map 2018_07_12
Site Map 2018_07_13
Site Map 2018_07_14
Site Map 2018_07_15
Site Map 2018_07_16
Site Map 2018_07_17
Site Map 2018_07_18
Site Map 2018_07_19
Site Map 2018_07_20
Site Map 2018_07_21
Site Map 2018_07_22
Site Map 2018_07_23
Site Map 2018_07_24
Site Map 2018_07_25
Site Map 2018_07_26
Site Map 2018_07_27
Site Map 2018_07_28
Site Map 2018_07_29
Site Map 2018_07_30
Site Map 2018_07_31
Site Map 2018_08_01
Site Map 2018_08_02
Site Map 2018_08_03
Site Map 2018_08_04
Site Map 2018_08_05
Site Map 2018_08_06
Site Map 2018_08_07
Site Map 2018_08_08
Site Map 2018_08_09
Site Map 2018_08_10
Site Map 2018_08_11
Site Map 2018_08_12
Site Map 2018_08_13
Site Map 2018_08_15
Site Map 2018_08_16
Site Map 2018_08_17
Site Map 2018_08_18
Site Map 2018_08_19
Site Map 2018_08_20
Site Map 2018_08_21
Site Map 2018_08_22
Site Map 2018_08_23
Site Map 2018_08_24
Site Map 2018_08_25
Site Map 2018_08_26
Site Map 2018_08_27
Site Map 2018_08_28
Site Map 2018_08_29
Site Map 2018_08_30
Site Map 2018_08_31
Site Map 2018_09_01
Site Map 2018_09_02
Site Map 2018_09_03
Site Map 2018_09_04
Site Map 2018_09_05
Site Map 2018_09_06
Site Map 2018_09_07
Site Map 2018_09_08
Site Map 2018_09_09
Site Map 2018_09_10
Site Map 2018_09_11
Site Map 2018_09_12
Site Map 2018_09_13
Site Map 2018_09_14
Site Map 2018_09_15
Site Map 2018_09_16
Site Map 2018_09_17
Site Map 2018_09_18
Site Map 2018_09_19
Site Map 2018_09_20
Site Map 2018_09_21
Site Map 2018_09_23
Site Map 2018_09_24
Site Map 2018_09_25
Site Map 2018_09_26
Site Map 2018_09_27
Site Map 2018_09_28
Site Map 2018_09_29
Site Map 2018_09_30
Site Map 2018_10_01
Site Map 2018_10_02
Site Map 2018_10_03
Site Map 2018_10_04
Site Map 2018_10_05
Site Map 2018_10_06
Site Map 2018_10_07
Site Map 2018_10_08
Site Map 2018_10_09
Site Map 2018_10_10
Site Map 2018_10_11
Site Map 2018_10_12
Site Map 2018_10_13
Site Map 2018_10_14
Site Map 2018_10_15
Site Map 2018_10_16
Site Map 2018_10_17
Site Map 2018_10_18
Site Map 2018_10_19
Site Map 2018_10_20
Site Map 2018_10_21
Site Map 2018_10_22
Site Map 2018_10_23
Site Map 2018_10_24
Site Map 2018_10_25
Site Map 2018_10_26
Site Map 2018_10_27
Site Map 2018_10_28
Site Map 2018_10_29
Site Map 2018_10_30
Site Map 2018_10_31
Site Map 2018_11_01
Site Map 2018_11_02
Site Map 2018_11_03
Site Map 2018_11_04
Site Map 2018_11_05
Site Map 2018_11_06
Site Map 2018_11_07
Site Map 2018_11_08
Site Map 2018_11_09
Site Map 2018_11_10
Site Map 2018_11_11
Site Map 2018_11_12
Site Map 2018_11_13
Site Map 2018_11_14
Site Map 2018_11_15
Site Map 2018_11_16
Site Map 2018_11_17
Site Map 2018_11_18
Site Map 2018_11_19
Site Map 2018_11_20
Site Map 2018_11_21
Site Map 2018_11_22
Site Map 2018_11_23
Site Map 2018_11_24
Site Map 2018_11_25
Site Map 2018_11_26
Site Map 2018_11_27
Site Map 2018_11_28
Site Map 2018_11_29
Site Map 2018_11_30
Site Map 2018_12_01
Site Map 2018_12_02
Site Map 2018_12_03
Site Map 2018_12_04
Site Map 2018_12_05
Site Map 2018_12_06
Site Map 2018_12_07
Site Map 2018_12_08
Site Map 2018_12_09
Site Map 2018_12_10
Site Map 2018_12_11
Site Map 2018_12_12
Site Map 2018_12_13
Site Map 2018_12_14
Site Map 2018_12_15
Site Map 2018_12_16
Site Map 2018_12_17
Site Map 2018_12_18
Site Map 2018_12_19
Site Map 2018_12_20
Site Map 2018_12_21
Site Map 2018_12_22
Site Map 2018_12_23
Site Map 2018_12_24
Site Map 2018_12_25
Site Map 2018_12_26
Site Map 2018_12_27
Site Map 2018_12_28
Site Map 2018_12_29
Site Map 2018_12_30
Site Map 2018_12_31
Site Map 2019_01_01
Site Map 2019_01_02
Site Map 2019_01_03
Site Map 2019_01_04
Site Map 2019_01_06
Site Map 2019_01_07
Site Map 2019_01_08
Site Map 2019_01_09
Site Map 2019_01_11
Site Map 2019_01_12
Site Map 2019_01_13
Site Map 2019_01_14
Site Map 2019_01_15
Site Map 2019_01_16
Site Map 2019_01_17
Site Map 2019_01_18
Site Map 2019_01_19
Site Map 2019_01_20
Site Map 2019_01_21
Site Map 2019_01_22
Site Map 2019_01_23
Site Map 2019_01_24
Site Map 2019_01_25
Site Map 2019_01_26
Site Map 2019_01_27
Site Map 2019_01_28
Site Map 2019_01_29
Site Map 2019_01_30
Site Map 2019_01_31
Site Map 2019_02_01
Site Map 2019_02_02
Site Map 2019_02_03
Site Map 2019_02_04
Site Map 2019_02_05
Site Map 2019_02_06
Site Map 2019_02_07
Site Map 2019_02_08
Site Map 2019_02_09
Site Map 2019_02_10