Next Page: 10000
Collections Representatives
Cache
Translate Page
VA-Norfolk, We are seeking Collectors for two different clients, one in Downtown Norfolk; the other in the Princess Anne area of Virginia Beach. Both opportunities are Temporary-to-Hire, with pay starting at $14.00 per hour. The Norfolk Collector role has hour from 8:00 am to 5:00 pm, Monday thru Friday. The Virginia Beach Collector role has hours between 8:00 am and 8:00 pm (must be flexible to work Evenings

Call Center Representative
Cache
Translate Page
VA-Virginia Beach, Our clients in the of Virginia Beach and Norfolk are looking for experienced Call Center Representatives for long-term projects. Qualified applicants please apply to www.randstadusa.com. Duties Include: -Respond to customer inquiries by telephone. -Record customer interactions and transactions by documenting specific details of inquiries, complaints and comments. -Address customer inquiries and re

Data Entry Clerk
Cache
Translate Page
VA-Virginia Beach, Experienced Data Entry Clerks needed for several Clients in Virginia Beach, Norfolk, and Chesapeake.- Please apply directly to this posting to be considered for the position. - Reviewing data and user generated information for accuracy - Adding or Updating contact information in the database - Entering information into excel and the Database - Generate receipts - Reviewing work for errors Responsi

Export Coordinator
Cache
Translate Page
VA-Virginia Beach, Randstad is looking to hire Several Export Coordinator for current and upcoming opportunities with several organizations in Hampton Roads (Virginia Beach, Norfolk, Chesapeake, and Portsmouth) The organizations we staff for range from small, mid-sized, and large, within many different industries. Positions are Temporary-to-Hire and Direct Hire, ranging between $13.00 and $18.00 per hour Responsibil

Three BR in Virginia Beach VA 23462 (Listanza) $1,195
Cache
Translate Page
large 3 beds 2.5 bathrooms townhouse available. freshly painted. new renovated kitchen. new cabinets, counter top, ceramic floor. has a fireplace in living room. central air and heat (RLNE1008764) - Resident Pays Water - Resident Pays Electricity - Resident Pays Trash Pick-up - Lease Term: twelve months Source: Rentlinx

Three BR in Virginia Beach VA 23462 (Listanza) $1,195
Cache
Translate Page
large 3 beds 2.5 bathrooms townhouse available. freshly painted. new renovated kitchen. new cabinets, counter top, ceramic floor. has a fireplace in living room. central air and heat (RLNE1008764) - Resident Pays Water - Resident Pays Electricity - Resident Pays Trash Pick-up - Lease Term: twelve months Source: Rentlinx

Human Resources Assistant
Cache
Translate Page
VA-Virginia Beach, We have several clients in Virginia Beach, Norfolk, and Chesapeake, who are looking for experience Human Resources Specialist for Direct Hire Opportunities. If you are an interested and qualified, please submit your resume to www.randstadusa.com . Duties Include: - Ensure company compliance with federal and state laws, including reporting requirements. - Evaluate job positions, determining classif

Medical Secretary / Surgery Scheduler
Cache
Translate Page
Posted on: 2019-02-10



Medical Secretary / Surgery Scheduler

Full-time, experienced medical secretary/surgery scheduler needed for orthopedic practice in Virginia Beach. Must be compassionate and organized with excellent communication skills, medical terminology and computerized surgery scheduling experience.




recblid t7yy2ce5mw496i20wwx42uoxh0bir2





Shipping and Receiving Clerk
Cache
Translate Page
VA-Virginia Beach, We are looking for Shipping and Receiving Clerks! DUTIES: - Inspect parcels in accordance with the set requirements - Label/packaging sampling - Assist in external audits - Daily received products check - Process daily shipping records ADVANTAGES: - Good salary + bonuses, - Career opportunities, - Friendly team, - Opportunity to choose working hours.

More Than Half Of Homes In These Zip Codes Are "Seriously Underwater"
Cache
Translate Page
Roughly 12 years after the US housing market meltdown entered its most acute phase in 2007, a shocking number of American homes are still "seriously underwater", according to the latest US real-estate market report from ATTOM.
And with the housing market embroiled in its worst slump since the recovery began, many of those who have continued paying their mortgages month after month, even though they owe more than the value of their homes, likely won't find any respite from this situation - at least not any time soon.
Per ATTOM's data, the states with the highest share of mortgages that were seriously underwater included Louisiana (20.8%), Mississippi (16.9%), Arkansas (15.9%), Illinois (15.6%) and Iowa (15.2%). And among all of the 7,590 zip codes with at least 2,500 properties examined in the report by ATTOM, there were a total of 27 where more than half of all properties with a mortgage remained seriously underwater, including zip codes in Chicago, Cleveland, Saint Louis, Atlantic City, Virginia Beach and Detroit.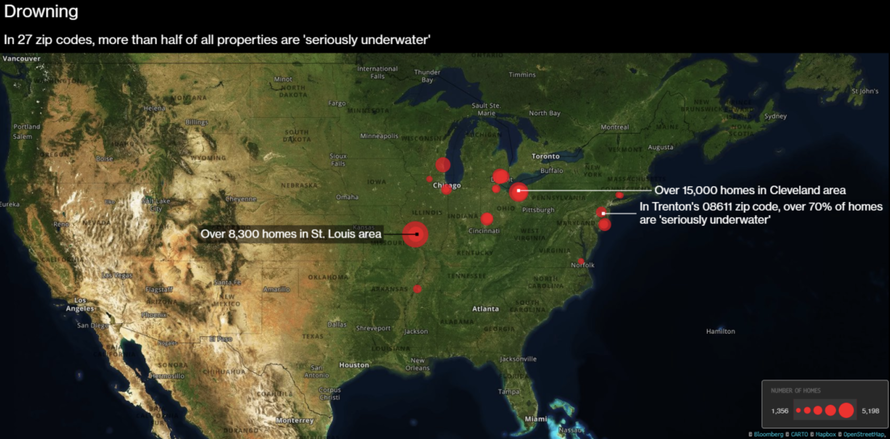 (Map courtesy of Bloomberg)
Of these, the zip codes with the highest share of seriously underwater homes were: 08611 in Trenton, New Jersey (70.3%); 63137 in Saint Louis, Missouri (64.8%); 60426 in Harvey, Illinois (62.3%); 38106 in Memphis, Tennessee (60.5%); and 61104 in Rockford, Illinois (59.6%).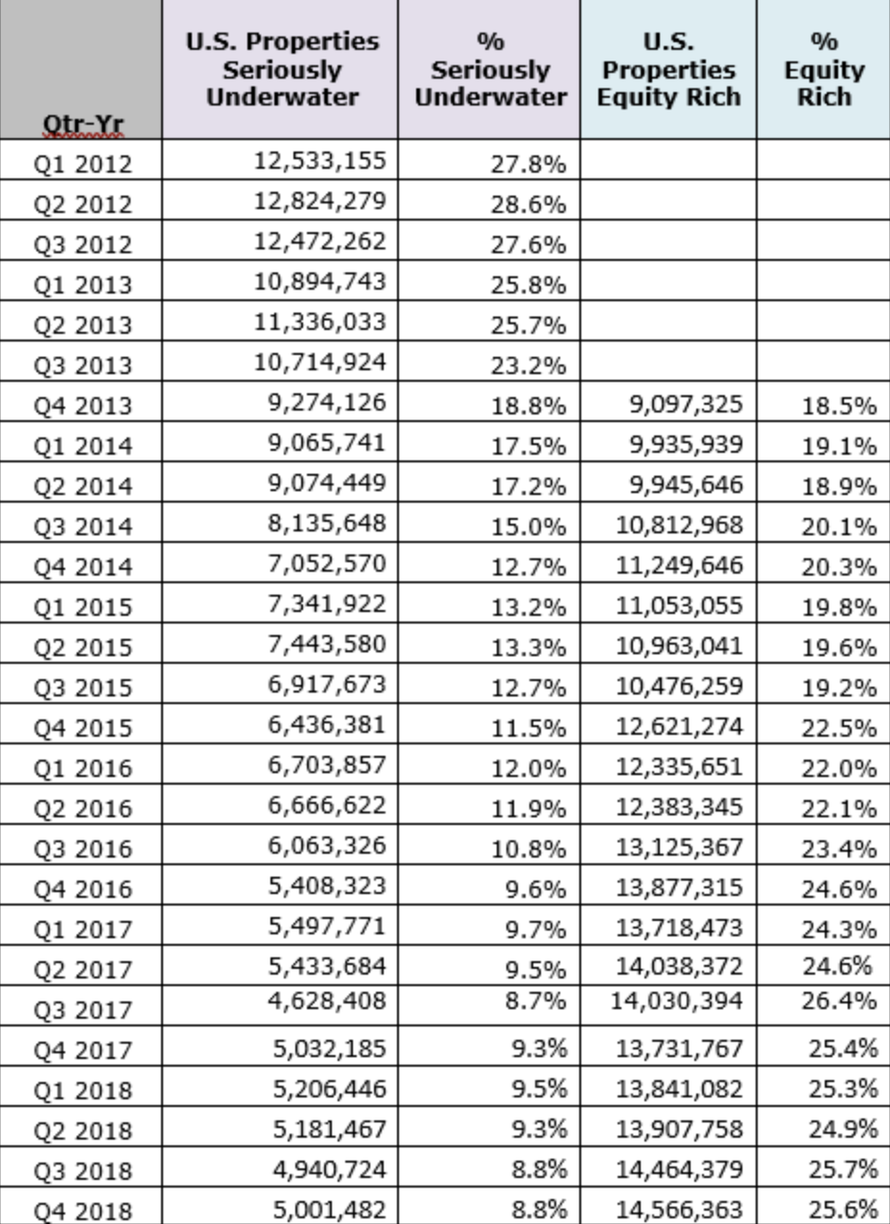 Meanwhile, sates with the highest share of equity rich properties - where the combined estimated amount of loans secured by the property was 50% or less of the property's estimated market value - included California (43.6%); Hawaii (39.3%); New York (34.2%); Washington (34.2%); and Oregon (32.9%).
Human Resources Assistant
Cache
Translate Page
VA-Virginia Beach, We have several clients in Virginia Beach, Norfolk, and Chesapeake, who are looking for experience Human Resources Specialist for Direct Hire Opportunities. If you are an interested and qualified, please submit your resume to www.randstadusa.com . Duties Include: - Ensure company compliance with federal and state laws, including reporting requirements. - Evaluate job positions, determining classif

Virginia police: Man with big knife shot, killed by officer
Cache
Translate Page

VIRGINIA BEACH, Va. (AP) — Police in Virginia say an officer has shot and killed a man with a large knife. Virginia Beach Police say officers responded Saturday to a call about a domestic incident and encountered a man trying to harm himself with a knife. They say they negotiated with him for several hours […]

Adopt Bert AKA Lindsay a American / Mixed rabbit in Virginia Beach (Adopt-a-Pet.com)
Cache
Translate Page
Bert AKA Lindsay (3 mons old) is a American Rabbit. This is Lindsay. Lindsay is a young bunny looking for her furever home. She's timid and shy when meeting strangers, but once she's comfortable with you she'll be your best friend for life. Lindsay's new family needs to be patient so she can build confidence and become a social butterfly. If you have any questions please ask a cattery staff member for more info.

Next Page: 10000
Site Map 2018_01_14
Site Map 2018_01_15
Site Map 2018_01_16
Site Map 2018_01_17
Site Map 2018_01_18
Site Map 2018_01_19
Site Map 2018_01_20
Site Map 2018_01_21
Site Map 2018_01_22
Site Map 2018_01_23
Site Map 2018_01_24
Site Map 2018_01_25
Site Map 2018_01_26
Site Map 2018_01_27
Site Map 2018_01_28
Site Map 2018_01_29
Site Map 2018_01_30
Site Map 2018_01_31
Site Map 2018_02_01
Site Map 2018_02_02
Site Map 2018_02_03
Site Map 2018_02_04
Site Map 2018_02_05
Site Map 2018_02_06
Site Map 2018_02_07
Site Map 2018_02_08
Site Map 2018_02_09
Site Map 2018_02_10
Site Map 2018_02_11
Site Map 2018_02_12
Site Map 2018_02_13
Site Map 2018_02_14
Site Map 2018_02_15
Site Map 2018_02_15
Site Map 2018_02_16
Site Map 2018_02_17
Site Map 2018_02_18
Site Map 2018_02_19
Site Map 2018_02_20
Site Map 2018_02_21
Site Map 2018_02_22
Site Map 2018_02_23
Site Map 2018_02_24
Site Map 2018_02_25
Site Map 2018_02_26
Site Map 2018_02_27
Site Map 2018_02_28
Site Map 2018_03_01
Site Map 2018_03_02
Site Map 2018_03_03
Site Map 2018_03_04
Site Map 2018_03_05
Site Map 2018_03_06
Site Map 2018_03_07
Site Map 2018_03_08
Site Map 2018_03_09
Site Map 2018_03_10
Site Map 2018_03_11
Site Map 2018_03_12
Site Map 2018_03_13
Site Map 2018_03_14
Site Map 2018_03_15
Site Map 2018_03_16
Site Map 2018_03_17
Site Map 2018_03_18
Site Map 2018_03_19
Site Map 2018_03_20
Site Map 2018_03_21
Site Map 2018_03_22
Site Map 2018_03_23
Site Map 2018_03_24
Site Map 2018_03_25
Site Map 2018_03_26
Site Map 2018_03_27
Site Map 2018_03_28
Site Map 2018_03_29
Site Map 2018_03_30
Site Map 2018_03_31
Site Map 2018_04_01
Site Map 2018_04_02
Site Map 2018_04_03
Site Map 2018_04_04
Site Map 2018_04_05
Site Map 2018_04_06
Site Map 2018_04_07
Site Map 2018_04_08
Site Map 2018_04_09
Site Map 2018_04_10
Site Map 2018_04_11
Site Map 2018_04_12
Site Map 2018_04_13
Site Map 2018_04_14
Site Map 2018_04_15
Site Map 2018_04_16
Site Map 2018_04_17
Site Map 2018_04_18
Site Map 2018_04_19
Site Map 2018_04_20
Site Map 2018_04_21
Site Map 2018_04_22
Site Map 2018_04_23
Site Map 2018_04_24
Site Map 2018_04_25
Site Map 2018_04_26
Site Map 2018_04_27
Site Map 2018_04_28
Site Map 2018_04_29
Site Map 2018_04_30
Site Map 2018_05_01
Site Map 2018_05_02
Site Map 2018_05_03
Site Map 2018_05_04
Site Map 2018_05_05
Site Map 2018_05_06
Site Map 2018_05_07
Site Map 2018_05_08
Site Map 2018_05_09
Site Map 2018_05_15
Site Map 2018_05_16
Site Map 2018_05_17
Site Map 2018_05_18
Site Map 2018_05_19
Site Map 2018_05_20
Site Map 2018_05_21
Site Map 2018_05_22
Site Map 2018_05_23
Site Map 2018_05_24
Site Map 2018_05_25
Site Map 2018_05_26
Site Map 2018_05_27
Site Map 2018_05_28
Site Map 2018_05_29
Site Map 2018_05_30
Site Map 2018_05_31
Site Map 2018_06_01
Site Map 2018_06_02
Site Map 2018_06_03
Site Map 2018_06_04
Site Map 2018_06_05
Site Map 2018_06_06
Site Map 2018_06_07
Site Map 2018_06_08
Site Map 2018_06_09
Site Map 2018_06_10
Site Map 2018_06_11
Site Map 2018_06_12
Site Map 2018_06_13
Site Map 2018_06_14
Site Map 2018_06_15
Site Map 2018_06_16
Site Map 2018_06_17
Site Map 2018_06_18
Site Map 2018_06_19
Site Map 2018_06_20
Site Map 2018_06_21
Site Map 2018_06_22
Site Map 2018_06_23
Site Map 2018_06_24
Site Map 2018_06_25
Site Map 2018_06_26
Site Map 2018_06_27
Site Map 2018_06_28
Site Map 2018_06_29
Site Map 2018_06_30
Site Map 2018_07_01
Site Map 2018_07_02
Site Map 2018_07_03
Site Map 2018_07_04
Site Map 2018_07_05
Site Map 2018_07_06
Site Map 2018_07_07
Site Map 2018_07_08
Site Map 2018_07_09
Site Map 2018_07_10
Site Map 2018_07_11
Site Map 2018_07_12
Site Map 2018_07_13
Site Map 2018_07_14
Site Map 2018_07_15
Site Map 2018_07_16
Site Map 2018_07_17
Site Map 2018_07_18
Site Map 2018_07_19
Site Map 2018_07_20
Site Map 2018_07_21
Site Map 2018_07_22
Site Map 2018_07_23
Site Map 2018_07_24
Site Map 2018_07_25
Site Map 2018_07_26
Site Map 2018_07_27
Site Map 2018_07_28
Site Map 2018_07_29
Site Map 2018_07_30
Site Map 2018_07_31
Site Map 2018_08_01
Site Map 2018_08_02
Site Map 2018_08_03
Site Map 2018_08_04
Site Map 2018_08_05
Site Map 2018_08_06
Site Map 2018_08_07
Site Map 2018_08_08
Site Map 2018_08_09
Site Map 2018_08_10
Site Map 2018_08_11
Site Map 2018_08_12
Site Map 2018_08_13
Site Map 2018_08_15
Site Map 2018_08_16
Site Map 2018_08_17
Site Map 2018_08_18
Site Map 2018_08_19
Site Map 2018_08_20
Site Map 2018_08_21
Site Map 2018_08_22
Site Map 2018_08_23
Site Map 2018_08_24
Site Map 2018_08_25
Site Map 2018_08_26
Site Map 2018_08_27
Site Map 2018_08_28
Site Map 2018_08_29
Site Map 2018_08_30
Site Map 2018_08_31
Site Map 2018_09_01
Site Map 2018_09_02
Site Map 2018_09_03
Site Map 2018_09_04
Site Map 2018_09_05
Site Map 2018_09_06
Site Map 2018_09_07
Site Map 2018_09_08
Site Map 2018_09_09
Site Map 2018_09_10
Site Map 2018_09_11
Site Map 2018_09_12
Site Map 2018_09_13
Site Map 2018_09_14
Site Map 2018_09_15
Site Map 2018_09_16
Site Map 2018_09_17
Site Map 2018_09_18
Site Map 2018_09_19
Site Map 2018_09_20
Site Map 2018_09_21
Site Map 2018_09_23
Site Map 2018_09_24
Site Map 2018_09_25
Site Map 2018_09_26
Site Map 2018_09_27
Site Map 2018_09_28
Site Map 2018_09_29
Site Map 2018_09_30
Site Map 2018_10_01
Site Map 2018_10_02
Site Map 2018_10_03
Site Map 2018_10_04
Site Map 2018_10_05
Site Map 2018_10_06
Site Map 2018_10_07
Site Map 2018_10_08
Site Map 2018_10_09
Site Map 2018_10_10
Site Map 2018_10_11
Site Map 2018_10_12
Site Map 2018_10_13
Site Map 2018_10_14
Site Map 2018_10_15
Site Map 2018_10_16
Site Map 2018_10_17
Site Map 2018_10_18
Site Map 2018_10_19
Site Map 2018_10_20
Site Map 2018_10_21
Site Map 2018_10_22
Site Map 2018_10_23
Site Map 2018_10_24
Site Map 2018_10_25
Site Map 2018_10_26
Site Map 2018_10_27
Site Map 2018_10_28
Site Map 2018_10_29
Site Map 2018_10_30
Site Map 2018_10_31
Site Map 2018_11_01
Site Map 2018_11_02
Site Map 2018_11_03
Site Map 2018_11_04
Site Map 2018_11_05
Site Map 2018_11_06
Site Map 2018_11_07
Site Map 2018_11_08
Site Map 2018_11_09
Site Map 2018_11_10
Site Map 2018_11_11
Site Map 2018_11_12
Site Map 2018_11_13
Site Map 2018_11_14
Site Map 2018_11_15
Site Map 2018_11_16
Site Map 2018_11_17
Site Map 2018_11_18
Site Map 2018_11_19
Site Map 2018_11_20
Site Map 2018_11_21
Site Map 2018_11_22
Site Map 2018_11_23
Site Map 2018_11_24
Site Map 2018_11_25
Site Map 2018_11_26
Site Map 2018_11_27
Site Map 2018_11_28
Site Map 2018_11_29
Site Map 2018_11_30
Site Map 2018_12_01
Site Map 2018_12_02
Site Map 2018_12_03
Site Map 2018_12_04
Site Map 2018_12_05
Site Map 2018_12_06
Site Map 2018_12_07
Site Map 2018_12_08
Site Map 2018_12_09
Site Map 2018_12_10
Site Map 2018_12_11
Site Map 2018_12_12
Site Map 2018_12_13
Site Map 2018_12_14
Site Map 2018_12_15
Site Map 2018_12_16
Site Map 2018_12_17
Site Map 2018_12_18
Site Map 2018_12_19
Site Map 2018_12_20
Site Map 2018_12_21
Site Map 2018_12_22
Site Map 2018_12_23
Site Map 2018_12_24
Site Map 2018_12_25
Site Map 2018_12_26
Site Map 2018_12_27
Site Map 2018_12_28
Site Map 2018_12_29
Site Map 2018_12_30
Site Map 2018_12_31
Site Map 2019_01_01
Site Map 2019_01_02
Site Map 2019_01_03
Site Map 2019_01_04
Site Map 2019_01_06
Site Map 2019_01_07
Site Map 2019_01_08
Site Map 2019_01_09
Site Map 2019_01_11
Site Map 2019_01_12
Site Map 2019_01_13
Site Map 2019_01_14
Site Map 2019_01_15
Site Map 2019_01_16
Site Map 2019_01_17
Site Map 2019_01_18
Site Map 2019_01_19
Site Map 2019_01_20
Site Map 2019_01_21
Site Map 2019_01_22
Site Map 2019_01_23
Site Map 2019_01_24
Site Map 2019_01_25
Site Map 2019_01_26
Site Map 2019_01_27
Site Map 2019_01_28
Site Map 2019_01_29
Site Map 2019_01_30
Site Map 2019_01_31
Site Map 2019_02_01
Site Map 2019_02_02
Site Map 2019_02_03
Site Map 2019_02_04
Site Map 2019_02_05
Site Map 2019_02_06
Site Map 2019_02_07
Site Map 2019_02_08
Site Map 2019_02_09
Site Map 2019_02_10