Next Page: 10000
Pajama Yoga - Yoga Nidra
Cache
Translate Page
Yoga Nidra is a technique in yoga where we systematically calm the senses and go into a deep state of relaxation. It begins with the breath (pranayama). As the breath slows so does our thinking and as the practice ...
Rangiora | Wednesday, 15 August 2018 - Wednesday, 2 January 2019
Update: Relax & Sleep Well Hypnosis (Lifestyle)
Cache
Translate Page
Relax & Sleep Well Hypnosis 6.58.17

Device: iOS Universal
Category: Lifestyle
Price: Free, Version: 6.58.11 -> 6.58.17 (iTunes)


Description:

Relax & Sleep Well is a professional hypnosis and meditation app by Glenn Harrold, an acclaimed hypnotherapist of over 20 years. The app features 4 free hypnotherapy and meditation recordings and over 80 in-app purchase options covering insomnia, stress, anxiety, mindfulness, sleep, weight-loss, confidence, self-esteem, the solfeggio frequencies, binaural beats, spiritual healing, phobias, addictions and much more. All recordings are high quality pro studio productions.

Relax & Sleep Well also includes a playlist feature, a manage storage feature to control the size of the app, a breathe feature, and an easy to navigate interface with detailed descriptions for each title. All support issues are replied to within 24 hours.

Relax & Sleep Well is now helping well over 3 million people to sleep well every night!

# Number 1 Grossing Lifestyle Appin New Zealand
# Number 1 Grossing Lifestyle App in Ireland
# Number 1 Grossing Lifestyle App in South Africa
# Number 1 Grossing Lifestyle App in Denmark
# Number 1 Grossing Lifestyle App in Israel
# Number 1 Grossing Lifestyle App in Peru
# Number 1 Grossing Lifestyle App in Norway
# Number 1 Grossing Lifestyle App in Jordan
# Number 1 Grossing Lifestyle App in Ecuador
# Number 1 Grossing Lifestyle App in Kenya
### And over 50 more……………..

Download Now to find out why this app has been number 1 in over 50 countries!

The free tracks include Relax & Sleep Well, which is a full 29-minute hypnotherapy session that will take you on a relaxing journey into the deepest levels of self-hypnosis. The subtle soundscapes supporting Glenn's calming voice will help you connect with a profound feeling of relaxation and mindfulness. It will also help you to alleviate stress and anxiety, overcome insomnia and encourage healthy sleep patterns.

The next free track is a 30-minute lite version of the stunning 639 Hz Solfeggio Sonic Meditation, which is based upon the ancient Solfeggio musical scale. When you experience this powerful healing meditation it will give you an idea of what the full range of Solfeggio Meditation titles sound like. Overcome insomnia stress and sleep well with this dreamy, relaxing meditation recording.

The latest free track is a lite version of the Mindfulness Meditation for Releasing Anxiety. This 25 minute meditation will put you in a very present state and help you to feel mindful.
This app also includes Glenn's free guide to self-hypnosis eBook, which is an in depth guide showing you how to use self-hypnosis to help you in many areas of your life.

A typical Glenn Harrold hypnosis and meditation recording features subtle background sound effects, which have been recorded in specific keys and frequencies to help guide you into a deep state of mental and physical relaxation.

All of Glenn's Hypnosis and Meditation Recordings Feature:

* The very latest hypnotherapy, mindfulness and healing meditation techniques combined with state-of-the-art recording technology.

* Glenn's highly acclaimed hypnotic vocal techniques guiding you into a deeply relaxed state.

* Background sound effects recorded in specific musical keys and frequencies to compliment the hypnotic suggestions and deepen the relaxation effect.

* Stereo-echoed affirmations, which pan from ear-to-ear across the stereo range - a deeply relaxing and unique effect.

Glenn is one of the world's most successful hypnotherapists. His recordings have sold over 10 million and he is a published author of 7 self-help health books. Glenn has 20 years of hypnotherapy experience and has worked with many celebrity clients.

Relax & Sleep Well Free by Glenn Harrold was placed 1st in Healthline's list of the Best Insomnia Apps in 2018! "Healthline's editors carefully selected each winner based on quality and usability."

What's New

You are going to love this update! We have completely revamped the app and given it a makeover that Grand Designs would be proud of! On top of that we have added a number of new Binaural meditations and On The Go exercise affirmation sessions. Here are the new features:

- New Design
The app features a brand-new easy-to-use modern interface.

- Categories
We've added a sliding menu at the top of the Library and Store pages so you can quickly find a suitable session.

- Favourites
You can now mark any session as a favourite and keep them all together in their own area in the Library.

- Breathe
Take a deep breath and enjoy the new Breathe feature which can help you relax whenever you feel stressed or anxious.

- New Sessions
We've added 8 brand-new On The Go exercise affirmation sessions and 5 new Binaural hypnosis and meditation sessions.

- New Audio Player & Updated Playlist Feature
Featuring skip forward and skip back, loop and a selection of backgrounds which you can slide across to suit your mood!

- Updated Free Ultimate Guide To Self Hypnosis
Glenn's free guide to self hypnosis has been updated and is available to view in the Help section.

We have also fixed the early bugs in this new version.

We sincerely hope you enjoy the new features and new tracks in this update.

As always, if you run into any issues, let us know at sales@hypnosisaudio.com

Relax & Sleep Well Hypnosis



Pat Robertson, Stephen Strang Unpack Why Trump Followers Are So Excited Right Now
Cache
Translate Page
I'm proud to announce that my latest book, Trump Aftershock, releases today. In it, I detail Trump's accomplishments since being elected and, as a result, what God is doing in our nation in this hour. You can find the book at trumpaftershock.com or anywhere books are sold.
CBN founder Pat Robertson interviewed me on The 700 Club on Monday, Nov. 5, about Trump Aftershock. One thing Robertson pointed out was that I don't simply share my opinion in this book; I report the facts and back it up with pages of research. Trump Aftershock combines my journalistic training and my Christian worldview to give readers what I hope is an honest, God-centered look at all Trump has done since he was elected president.
Interestingly enough, one of the things I admire most about Trump is what most people hate: He's a disrupter. Since becoming president, he has exposed and uprooted much of the so-called deep state. After all, he promised during his campaign to drain the swamp, and I think he's doing just that. For example, if Hillary Clinton had won the presidency, we would never have found out about Lisa Page and Peter Strzok's secret text messages. Clinton's administration would have covered the situation up, and Page and Strzok probably would have been promoted. Trump is cleaning house as no one else has because he doesn't care if people don't like him. Most other politicians, on the other hand, just want to keep everyone happy.
As I point out to Robertson, though, Trump's lack of concern for others' opinions of him has provoked a firestorm of opposition. This opposition includes radical leftist billionaires such as George Soros, Warren Buffett and Tom Steyer. These wealthy people have put millions of dollars toward hindering Trump's agenda. And that money isn't just going to campaigns; they're setting up organizations that give money to antifa and other leftist groups. There's even evidence that the liberal protests we're seeing on the news are funded by the left—even to the point of paying protesters!
But even billionaire radicals can't stop the enthusiasm that follows Trump. Just a few weeks ago, he and Cruz joined forces at a rally, which sold out because so many people wanted to come. And this doesn't just happen in a handful of places; it's everywhere Trump goes. He packed out a stadium of about 6,000 in a small Nevada town, whereas Joe Biden was rallying across the state and got fewer than 200 people.
This enthusiasm, of course, isn't widely reported, but it reveals a level of excitement welling up in the American people. I can't help but think this is because Trump has kept his promises and is getting things done.
You can read more about Trump's accomplishments and how God is using him in Trump Aftershock. Order your own copy at trumpaftershock.com. It's also available at Walmart, Amazon, Books-A-Million, Barnes&Noble and The Christianbook Group.
Click on the podcast below to hear my exciting conversation with Pat Robertson!
Comment on Covering Or Campaigning? Fox News Anchors Appear With Trump At Missouri Rally by Mr Kurtz
Cache
Translate Page
maybe so I am no expert on engineering or demolition but i have seen quite a few say that buildings dont just collapse like that without simultaneous cutting charges. it matters very little to what is at hand today, perhaps just as it matters very little the ther very perplexing things about 9/11 which remains unexplained like why were all the israeli art students suddenly thrown out of the country or why did israeli software company odigo get last minute warnings to evacuate the building shortly before the hijacks and what exactly is in the classified part of the 9/11 about the Saudis. observe that the Saudis and the Israelis have benefitted strategically alike from our interventions in afghanistan, libya, iraq, and syria and it kind of makes you wonder Trump alluded to these things in the election but once the Deep State had him by the short hairs you can see that he followed the same tired old playbook all the others have since whomever took over after Nixon and Kissinger. I think those two were geniuses of foreign policy and Trump was headed in their direction but seems stalled for now. Maybe things turn out ok today in the election and with a stronger hand, he will finish in NKorea and deliver a peace with the Taliban too. those twin victories would raise him to a level of success he currently has not in my viewpoint it's way above my pay grade, anyways

'Four More Years!' Trump Rallygoers As Stupid As Trump
Cache
Translate Page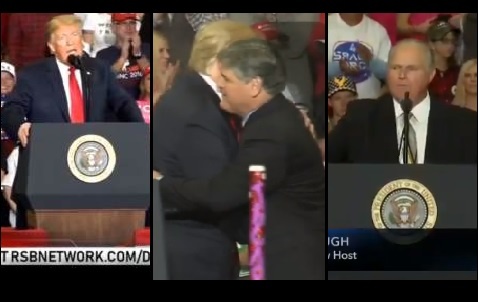 Donald Trump wrapped up his reelection campaign Monday night with yet another big crazypants rally, this time in Cape Girardeau, Missouri. Before you put on your fedora and correct us that Trump was campaigning for the midterm elections, and ostensibly in support of Republican US Senate candidate Josh Hawley, you'd better have a chat with Trump's crowd, who kept chanting "Four more years! Four more years!" We don't know what happens to him in '22, but then, neither do they.
In addition to Hawley -- who was mostly an afterthought, as are most beneficiaries of Trump's campaign appearances -- the rally featured Lee Greenwood performing a medley of his patriotic hit, Rush Limbaugh spouting lies, Sean Hannity onstage campaigning for Trump less than 12 hours after saying he'd do no such thing, and White House employees Ivanka Trump, Sarah Huckabee Sanders, and Kellyanne Conway illegally at a campaign appearance, because what is the Hatch Act anyway?
Well, yes, Trump HAD promised that morning that anyone violating federal election law would be "subject to the Maximum Criminal Penalties," but he meant illegal immigrants voting, not his own staff.
---
The rally was the usual weird bullshit, but turned up to 11 because crunch time. Before the rally, Sean Hannity "interviewed" Trump by asking him a bunch of tough questions about how Trump manages to be so awesome. Trump bragged that he'd now turned the southern border of the USA into a land of beautiful barbed wire, and who knows, maybe a recreation of World War I trench warfare: "We have a barbed wire wall, you see that, what they're doing, highest level [...] a lot of digging going on, a lot of trenching, and people aren't going to come into our country without the legal process."
Once the rally actually got going, Rush Limbaugh came onstage and explained the REAL collusion in 2016 was by Hillary Clinton, as you'd expect, because if she weren't a criminal, why would people chant "Lock her up," huh?
"Hillary Clinton colluded with Russia. Hillary Clinton rigged that election," insisted Limbaugh, which makes all sorts of sense because clearly she rigged it so she'd lose and then secretly undermine Trump from the Deep State. Talk about nefarious!
Trump also acted very surprised that Lee Greenwood had casually dropped by for the rally, although the appearance had been announced Sunday. Then Trump called Sean Hannity to the stage -- he was another guest the campaign had announced in advance, but Monday morning, Hannity had indignantly insisted he would simply be doing his normal work of covering Trump like the hardworking journamalist he is: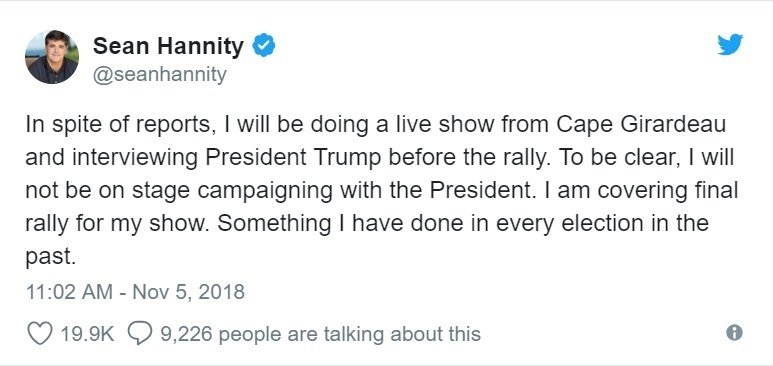 Gee, that was a quick turnaround!
After getting on stage to campaign with the "president," the most trusted man in rightwing news pointed at the back of the auditorium and said, "By the way, all those people in the back are fake news." And again, despite denying the campaign's announcement he'd be joining Trump, he also said he was surprised Trump had called him up on stage. That's a weird little dance, and we're frankly not sure why any of these idiots even try to pretend they're not lying, since the Trump/Fox crowd is perfectly fine with being lied to anyway.

Trump finally got the attention back on himself, at which point he explained that actually, everyone who voted for Trump is much smarter, better-educated, and in fact has far better stuff than any of the "elites," who are actually kind of trashy tacky people. Why does anyone pay attention to "the elites" when the REAL elites are Ivanka and all of you in your MAGA hats and "Life's a bitch, don't vote for one" t-shirts.
I know all of the elites. They're not very smart in many cases. They have a lot of hatred in their hearts. I don't know about you, but many of you went to better schools than they did...we have better houses, homes, boats. We do better than they do, we work harder than they do, we make more money than they do [...] We are the super-elites. We are the super-elites!
In fact, you might even wonder why the Trump Super-Elites even let the rest of us losers continue to live here. Probably because they're so nice. The rally continued on for a while with the usual string of lies, punctuated by some concerned silence when an audience member needed medical attention -- perhaps to grant succor to the person who'd fainted, someone in the crowd shouted "CNN SUCCCKS!!" and the crowd cheered, which almost certainly helped.
Trump, a little punchy, even got mixed up about what those evil Democrats want to destroy and what the brave GOP will protect, at least until today's votes are counted:
[If] Democrats gain power on Tuesday, one of their very first projects will be a socialist takeover of health care... The Democrat plan would obliterate Obamacare.
Now, of course he meant Medicare, because Medicare for All would destroy Medicare, you know, that's just a fact. (Except that it would actually save trillions over all US healthcare spending.) But because Donald Trump is incapable of admitting he's wrong, the Great Man didn't bother with a hasty "err, Medicare." Instead, he explained the Dems WOULD destroy Obamacare and that would be good, but even once Obamacare was destroyed the Dems would "leave the bad parts behind."
Trump then closed with a familiar line about how he avoided all the phone calls from foreign leaders who tried to tell him not to move the US embassy in Israel to Jerusalem, he said he'd call back in a week, after he'd very ingeniously already signed the order! SMART! But this time, the story had an interesting variation:
So when I called them back, I said, "Mr. King, Mr. Queen, Mr. Whatever," I said, listen, Mr. President, Mr. Prime Minister [...] I wish you'd gotten to me sooner! [huge laugh at how clever this was!!]
So don't you go saying Donald Trump isn't all that bright, because he knows ALL the titles for world leaders.
And that was the last Trump midterms rally until probably next week when he decides he really likes doing them more than anything else. FOUR MORE YEARS!
[WaPo / Politico / Guardian / Daniel Dale on Twitter / Aaron Rupar on Twitter]
Yr Wonkette is supported by reader donations! Send us money, or we'll cover more Trump rallies, even if we have to make them up. Why not? HE does.
JUNIOR COULD CLEAR THE REPUBLICAN FIELD IN A LOT OF RACES, AND THAT'S NOT A COMPLIMENT, GOP VOTERS
Cache
Translate Page
Most of you will regard this Maggie Haberman story as shameless suckuppery, but I think she's providing an accurate map of Republican voters' pleasure centers:

... Donald Trump Jr. ... has emerged as one of the G.O.P.'s most visible headliners in a challenging midterms climate for the party.

... Visits from President Trump have been a double-edged sword for Republican candidates in certain states, who want his backing but who fear blanket media coverage of his controversial statements.

A guest appearance by Donald Trump Jr. has become the next best thing for several candidates, some of whom he's campaigned for repeatedly.... He is scheduled to headline six rallies in five states on Monday.

The G.O.P. base, with whom Mr. Trump was a family ambassador when his father campaigned in 2016, is almost as protective of Mr. Trump as they are of his father, seeing him as a looser version whom they can relate to, someone who does not carry himself like a celebrity.
Why? We think it's impossible to be more ignorant, conspiratorial, or polarizing than Donald Trump Sr., but Junior, in a less visible way, is Dad, only more so.

Mr. Trump [Jr.] has ... attacked news outlets with gusto and amplified conservative memes, including retweeting a conspiratorial thread about the murdered Saudi journalist Jamal Khashoggi. In recent days, he declared that Senator Angus King, independent from Maine, wants to "repopulate Maine with Syrian and Somalian refugees." ...

David Axelrod, a former senior adviser to President Obama and an architect of Mr. Obama's historic win in 2008, described the younger Mr. Trump as "hotheaded and even more unrestrained than his dad when it comes to mixing it up."

"If Trump Sr. employs a dog whistle, Jr. favors a bullhorn, joyfully transmitting nutty conspiracy theories that even his dad might be hesitant to embrace," Mr. Axelrod added.

... He focuses heavily on amplifying alternatives to established outlets that appeal to his father's base of support, including some that traffic in misinformation, scrolling through his Twitter feed repeatedly to look at what is being said.
Junior seems to spend more time marinating in the fever swamps than his father, and more than any other Republican with a national profile. Junior doesn't just rely on a Fox News and a few dozen right-wing Twitter accounts, like Dad -- he goes out of his way to seek out extremely dubious information (and disinformation) sources. And while his father often seems to have fun goading his enemies, Junior doesn't seem to be enjoying himself -- he's in it for the grim triumphalism of (allegedly) owning the libs. He's boiled down the rage to its purest form.

Also, with his new ex-Fox News girlfriend, he must seem, to the deplorables, like a right-wing Kennedy, vigorous and in youthful trim.

You may laugh, but I'm not surprised that Haberman turns to the subject of Junior's possible future in electoral politics:

His fluency in the language of the Republican base, which comes more naturally to him than any other Trump family member besides the president, has prompted constant questions about whether he will run someday.

"People love to hear him. He's good at his delivery," said Representative Kevin McCarthy, Republican from California, "and he's got the passion of what he's fighting for, but he connects with the average person."

... Jeff Roe, [a] Republican strategist and general consultant for a number of high-profile races this year ... said that Mr. Trump "has to find a place to live, and he has to find a place he'd enjoy, because he has to run for office."
I wonder if that was a subtext when Ron DeSantis, Florida's Republican gubernatorial candidate, said at a rally last week that he'd like to persuade Junior and his brother Eric to relocate the Trump Organization to Palm Beach County. A state that could elect Rick Scott twice (and that might elect DeSantis) could absolutely embrace Donald Trump Jr. as a politician, despite Andrew Gillum's poll numbers.

As I've said here before, I think Junior absolutely has a political future if he wants one. I realize that you all believe Junior is going to prison. I don't. I don't believe Jared Kushner or anyone named Trump will go to prison as a result of Russiagate investigations. This is America -- we don't send the people in the C-suites to prison. The investigation (and possible future investigations by a Democratic House) might reveal serious wrongdoing by the Trump family, and might lead to an impeachment or (more likely) a weakened president going into 2020. But in America we only send mid-level people to prison -- think Abu Ghraib or Plamegate (not to mention the financial crisis, for which no one went to prison).

I think Junior might be more appealing to Republican voters if the evil Deep State sent him to the hoosegow, but I don't think it will happen.

The only question is whether he wants a political career.

Mr. Trump says he is asked questions about his own future "every day," but if there's a specific office he would be drawn to, he didn't say. His supporters have mentioned possible runs for statewide office, almost certainly in red states where his father performed well.

"Right now, I'm focused on other things, but you never know. I love the intensity of campaigning," he said. "I love aspects of the fight. I don't know how much I would love aspects of the actual job yet."
I don't know how much he would love aspects of any actual job -- has he ever held one? What does he do for a living? What has he ever done? He might never run for office because he has no interest in work. That would be a lucky break for America.




Researcher Jailed
Cache
Translate Page
If you have been following stories in recent years of scientists and researchers who make discoveries that are threatening to the Deep State and the bottom line of Big Pharma, you will have seen the pattern before. Those doctors are often 'persuaded' to recant their studies, offered bribes or other benefits to distance themselves from or even destroy their data, and even threatened with jail time or, if a legal case is too difficult to fabricate against them, they may simply be killed. Such is the tale of molecular biologist Judy A. Mikovits, PhD, in the disturbing true story first detailed in this Natural News article that included … Continue reading →
The post Researcher Jailed appeared first on LewRockwell.
Comment on Election night by Anon
Cache
Translate Page
Contra Tim, I predict no reaching across the aisle. Dem's will scream like idiots for 2 years. Nothing much will get done. Expect more record deficit spending. Senate will continue to confirm decent judges. The Meuller 'make work program for deep state wankers' will continue unabated. The economic gains of the last two years will be lost as Dems intentionally tank the economy while the press blame Trump. People will be stupid enough to fall for this, trump will not get a second term. Border wall will now never be built, the country will continue to be flooded with 3rd world parasites. All the while, CWII creeps ever closer.

WND Does More State-Media Work For Trump At Midterms
Cache
Translate Page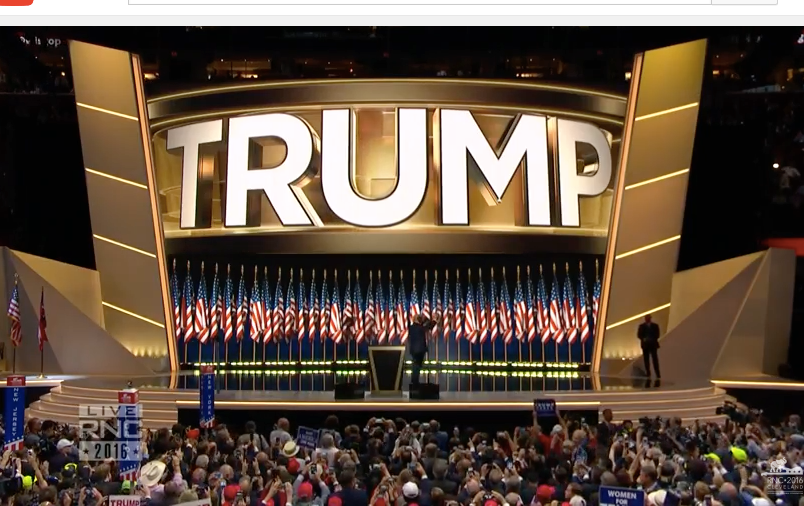 Becoming total pro-Trump state media didn't keep WorldNetDaily from circling the drain not once but twice this year. So what did WND do to prepare its dwindling readership for the midterms? Double down on sucking up to Trump.
An anonymously written Oct. 29 article updated one of WND's old tricks, a dubious list of Trump's alleged "accomplishments":
If Americans want more of deregulation, lower taxes, economic growth, record-low unemployment, job creation, immigration enforcement, border security, a stronger military, conservative judges, improved trade deals and unprecedented foreign policy victories with nations such as North Korea, the party of the person they vote for in congressional elections matters.

Since WND published a list of 183 accomplishments in Trump's first 14 months, the president has continued to fulfill campaign promises.

Most recently, Brett Kavanaugh became the second judge confirmed to the Supreme Court who interprets the Constitution according to the text, following Neil Gorsuch. The negotiation of a trade deal with Mexico and Canada to replace the North American Free Trade Agreement, or NAFTA, fulfilled a major campaign vow. Another eight trade deals have been negotiated with Japan, South Korea, Europe and China.

In a typical diplomatic victory, the Trump administration, employing tough sanctions and behind-the-scenes diplomatic maneuvers, secured in October the release of pastor Andrew Brunson from an otherwise defiant Turkish regime, without any apparent concessions.
The only thing more embarrassingly fawning than this article was WND editor Joseph Farah's Nov. 2 column promoting it:
Who knows how things will turn out next Tuesday?

If the results were based on good outcomes, the party supporting the incumbent president might just turn the midterm jinx on its head.

But there's the media, of course.

There's also the media-amplifiers at Google and Facebook and Twitter.

Then there's academia.

There's also the Big Cities.

There's the Deep State.

And then there are stupid people.

Otherwise, how could he NOT rock the house?

It shouldn't even be close.

I'm optimistic. I was in 2016. I said so. In fact, I may have been overly optimistic – even fantasizing about how even New Yorkers and Californians could shock the country with their votes.

But here's what I want you to do for us right now – before it's too late.

I want you to spread this BIG, BIG, BIG LIST OF TRUMP ACCOMPLISHMENTS far and wide before Election Day.

It's truly breathtaking.

[...]

Before Trump, my standard was Reagan. I didn't think we'd ever see another president like him. I was wrong. He out-conservatived Reagan – without even trying.

Where does the man get the energy, the stamina, the grit?

God bless him.

He did what he said he would do.

How often do you see that?

I can't even think of a significant disappointment. When has that ever happened?
Farah's full-metal suck-up continued in his Nov. 5 column, with added Divine Donald silliness:
Despite all Donald Trump as done in the last 24 months, and make note of it, we are on the precipice of throwing it all away.

This is what not just the "fake news media" have done. This is what Google and Facebook have wrought on us all when powerful, special interests turn the truth on its head.

Am I throwing in the towel?

Not at all. I have never sold Donald Trump short. He is a force of nature. I'm always been a fan. He has stood boldly and with clarity. But I'm just not sure how far his voice can carry.

Maybe God gave us a stark choice between Barack Obama and Donald Trump and said: "Choose."
Farah than complained: "There was a time in America at which we could talk to one another, respect differences of opinion and agree to disagree. That is long gone. There is no tolerance for dissent or disagreement." He wrote that without irony, apparently oblivious to his and WND's major role refusing to respect differences of opinion (he refused to call Obama the president, remember?) and his own very thin skin regarding any criticism of him and his website.
And just a few paragraphs earlier, he was demonizing and maliciously mischaracterizing anyone who disagreed with his view of the midterms:
Choose between one who believes in nation-states and one who does not.

Choose between one who breaks the law and one who does not.

Choose between one who fosters the production of wealth and one who does not.

Choose between one who supports life and one who does not.

Choose between one who supports Brett Kavanaugh and one who promotes scurrilous, unsubstantiated accusations.

Choose between one who acts in the best interest of his country and one who does not.

Choose between whether sovereign citizens vote or just anybody.

You get the idea. This is what it has become in the United States of America in 2018. It's a critical state of the affairs indeed. Though we have been blessed by two years of Donald Trump, the choice is clear, and about half the country appears relatively close to choosing unwisely – whether they have been manipulated or conned.
Is a person who thinks that anyone who disagrees with him must have been "manipulated or conned" into having those views really sincerely concerned with the failure to "respect differences of opinion and agree to disagree"? Highly unlikely.
Italia, clima sabotato? Magaldi: possibile, ma improbabile
Cache
Translate Page
Magaldi: non credo al complottismo del sabotaggio climatico, anche se tecnicamente è possibile usare strumenti così pericolosi.
Qualcuno ha deciso di "bombardare" l'Italia scatenando tempeste e alluvioni? Le tecnologie di manipolazione del clima esistono, ammette Gioele Magaldi, che però aggiunge: chi mai potrebbe essere così irresponsabile da utilizzare deliberatamente, e in modo doloso, strumenti così pericolosi? La storia degli ultimi decenni, dice Magaldi in diretta web-streaming su YouTube con Fabio Frabetti di "Border Nights", dimostra che finora, anche nei momenti peggiori, è sempre prevalsa una sorta di saggezza di fondo: la stessa che, durante la Guerra Fredda, ha impedito a Usa e Urss di impiegare i rispettivi, devastanti arsenali nucleari. Certo, aggiunge il presidente del Movimento Roosevelt, la catastrofe meteorologica che sta flagellando l'Italia impone un drastico ripensamento del nostro rapporto con l'ambiente. Abusi e devastazioni possono presentare un conto salatissimo, anche se stavolta l'apocalisse delle Dolomiti – valli sventrate e intere foreste secolari cancellate – disegna un orizzonte inedito. Il panorama è più inquietante del consueto, drammatico bollettino di guerra stagionale fatto di strade interrotte, ponti crollati e paesi isolati, acquedotti lesionati e infrastrutture distrutte. La minaccia si chiama surriscaldamento climatico, e sembra inarrestabile. Gli alberi crollano, seminando morti e feriti, sotto trombe d'aria mai viste a queste latitudini. E potrebbe essere solo l'inizio.
Comment on Election today! by redarmyvodka
Cache
Translate Page
Jeanine Pirro is a hack. Jeff Sessions however is a great attorney general who should have remained on board for all eight years of a Trump presidency but after today even I think he will be gone. His idiotic choice to recuse himself enabled a series of legal actions which were designed by the deep state to energize the Democratic base. I know this tactic well because it's what occurred under the Clinton administration. Anyone who successfully challenges the Bush crime family can expect the special counsel treatment. Now that the Democrats will control the House the vital investigations into deep state corruption will vanish forever. Mission accomplished. This better be a major wake up call to GOP types about the serious danger posed by censorship of conservative content. Even Fox News refused to run Trump's anti-illegal immigration ad. Massive democrat voter is the only way the Democrats took control of the House. A national voter ID system should have been enacted years ago.

Comment on Election Eve Open Thread by Ironsides
Cache
Translate Page
This, of course, is the problem with lying. Trump lied about building the Wall. Trump lied about draining the Swamp. Trump lied about protecting free speech. Trump lied about stopping/getting rid of illegals. Trump lied about "winning until we're sick of winning." And CH lied, over and over again, about how the left is on their last legs, about how Trump has everything so tied up it's basically just the mop-up, how any second now the Deep State is going to be purged, etc. etc. After you've lied outrageously enough times, promising victory only for reality to deal out defeat, people eventually stop lying to themselves and cease to believe the next useless whopper that you come out trumpeting and grinning and hooting about. You can only whip up enthusiasm over the mirage of victory so many times when it inevitably gives place to one crushing defeat after another. Disgusting. Don't promise what you can't deliver. it's more demoralizing to be worked up over and over with fake enthusiasm than to just be confronted with the grim reality of defeat and get over it. I no longer believe Trump. I no longer believe you. You people have been living on an infinite line of confidence credit. Well, the credit's dried up. You're con men who have delivered nothing and will deliver nothing except futile hot air.

This Was One of the Most Vicious Anti-Trump Elections By Psycho Deep State Apparatchik Media Shills
Cache
Translate Page
 In no small part due to the symbiosis of Donald Trump with cable news, the 2018 midterm elections are notably heavy on emotion and even hatred. Lionel of Lionel Media joins Rick Sanchez to discuss, taking a psychoanalytical read of US civics and proclaiming that we as a country have "lost our...

[[ This is a content summary only. Visit http://www.figanews.com or http://FinanceArmageddon.blogspot.com or http://www.newsbooze.com or http://www.figanews.com for full links, other content, and more! ]]
Comment on Open Secret by Artxell Knaphni
Cache
Translate Page
The spectacle of Anglo-Saxon resentment against Norman rule, attempting to portray itself as a victim of neo-Third World exploitation, has now reached the Oval Office, where it happily continues that Norman rule and all of its exploitations, more than ever, whilst it simultaneously rebels against the tactical veneer of egalitarian universalism deployed by that Norman rule, as public relations instrument and pretext of its depredations, as if that veneer were some kind of 'deep state'.

Pardon Request Addressed to Trump
Cache
Translate Page
NOVEMBER 1, 2018 POST and FORWARD Donald J. Trump President of these united States of America 1600 Pennsylvania Ave. NW Washington DC, 20500 RE: Pardon request for DR. SEAN-DAVID MORTON and MELISSA MORTON, both vindictively prosecuted by IRS/DOJ CONSPIRACY and wrongfully convicted by elements of the DEEP STATE to ALTER 2012 and 2016 ELECTION OUTCOMES. […]

Comment on Covering Or Campaigning? Fox News Anchors Appear With Trump At Missouri Rally [Updated] by Mr Kurtz
Cache
Translate Page
the American system of government is very weak but flexible and resilient. Therein lies its durability. It's weakness makes it no threat to the established capitalist powers, and its flexibility makes it amenable to doing what they want at every juncture. The powerful parts of government, morevoer, like the security apparatus, are almost always entrenched bureaucracies not affected by elections. They are Deep STate civil service and are executive level dominated by people who are zealously educated in Ivy Leagues and often have overlapping ties with Wall Street like the Dulles Brothers or George Bush, You can see that other security apparatus and Deep State Darlings like Hillary have deep ties to financiers as well. The Republican party is having a real emergence of nationalism at the moment which could counterbalance the agenda of global capitalism, but, it's constrained by the weakness of the governmental things it is allowed to control. It's also constrained by the large element of lumpenproles of urban blight and migrants that the Democrats are weaponizing against the middle and working classes.

"Using Election Fraud to Introduce the QFS" by Fireswan - 11.7.18
Cache
Translate Page
Entry Submitted by Fireswan at 4:27 AM EST on November 7, 2018
What if...
1. What if the plan with this election is to "get everyone to vote" in front of the entire world.
2. Next, the MSM announces the election "Results" that are later challenged because the electic voting system is rigged.
3. Cybersecurity professionals come forth with evidence that the "Results" are manipulated and there was widespread illegal and "dead people voting" and network security professionals showing real-tangible evidence of cyber-tampering (because many honey-pots and traps were set up). NOTE: when I voted today, I asked an election officials about how they count the votes. She said that they run them through two separate counting machines from different vendors. The likelihood that they be rigged exactly the same way is extremely low. If they don't end up with exactly the same results, the machines are seized and the ballots are saved for a recount. I asked if dead people can vote. They are checking signatures and only living persons are verified by the "identity scanner" (sounds like QFS-like procedures to me).
4. Law enforcement and election officials have press conferences announcing the fraud and discuss the evidence and culprits are caught red handed and arrested on camera.
5. The American public that put their "skin in the game" feel personally victimized by the fraud and crime. Any remaining trust in government is shattered. Wronged voters demand justice.
6. Meanwhile, the integrity of stock market crashes and other US-based electronic systems are considered "rigged". The markets are taken down or crash.
7. To solve the election/digital fraud, unhackable systems such as the QFS are introduced using the problem-reaction-solution paradigm that everyone is used to (use their tools against them - Q).
8. Meanwhile, as the depth of the fraud and corruption is delivered in consumable red pills, people throughout the world demand change. "A spoonful of sense makes the unbelievable go down". Instead of previous revolutions in world history the real culprits are blamed (setting up for the tribunals). This time, there's no angry mobs because cyber crime is a diffuse target. Makes Hillary's servers and other cyber-based crimes more understandable. Deep state involvements in rigging everything comes to the surface to expose the shadow government.
No one that I work with has suggested this playbook. I do not channel. I do not do remote viewing nor do I gaze into crystal balls. I'm just putting the pieces together. I'm just using my intuition.
Seriously, it looks to me like this election is being used to test the identity check portion of the QFS and to test the controls in place to report on block chain integrity, especially with public "critical infrastructure" digital/network interconnections.
Just sayin.
(This post is for entertainment purposes only, it is not meant to disclose any secrets or confidential or protected information. All opinions expressed here coming from exercising my logic and intuition based on information that is publicly available to anyone who does their own research.)
Fireswan
Random Monday Morning Thoughts
Cache
Translate Page
Why did a Texas coach who won eight state championships and compiled a record of 192-10 at Richland Springs quit last month after seven games at his new head coaching job? Hint: His kid was threatened and he wouldn't put up with it. Story.
"I noticed all that beautiful barbed wire going up today. Barbed wire used properly can be a beautiful sight." - Trump at a Montana rally this weekend after news footage showed U.S. troops laying barbed wire at the border.

We had a white middle aged man and military vet kill two people and injure five at a yoga studio in Florida.
I have a lot of questions about this "promoted" tweet (meaning paid) from Saturday from an account which has 12 followers. (And even more confusing is that up until late September the account simply retweeted Trump's rantings.)

Some folks in Parker County support Cruz and fear "Deep State Demon Rats." (h/t Bud Kennedy):

College football: (1) I don't think I ever seen a quarterback look so frustrated as time was running out, basically say, "Screw it. Snap the ball!" and throw a rainbow laser like Will Grier did against Texas to win the game, (2) Oklahoma has to go the Morgantown for the last regular season game of the year and then will turn around the next week and face WVU again in the Big 12 Championship Game, (3) Tech might have beaten OU if their quarterback hadn't suffered a collapsed lung for the second time this season (4) Maybe my favorite meme of all time from the LSU/Alabama game set to "The Sound of Silence".

We moved closer to Idiocracy on Friday when Trump and Iran conducted foreign policy with fake Game of Thrones posters:

And HBO was not pleased with Trump's trademark violation:

Some teachers in Idaho thought it would be good idea to go as Mexicans and a Wall for Halloween.

I continue to worry about the Star-Telegram's home page. The "latest news" this morning are three stories on Stephen A. Smith (???) and one on high school football.

I've heard sports radio stations and even conservative talk radio dedicate segments to the Bohemian Rhapsody film. That's paid promotion.
Justin Nelson is taking no prisoners in his campaign against Ken Paxton. What a place to make a speech from:

I would not mess with 60 year old Alec Baldwin.

Messenger: Above The Fold.
Election Tampering: Polling place in Pittsburgh, PA has Vote Straight Democrat on door
Cache
Translate Page
Looks like voter fraud and voter tampering has already been exposed in America, as a polling station in Pittsburgh, PA has Vote Straight Democrat printed on the door. The only way the Deep State and Democrats can even have a chance at winning the 2018 midterms, is if cheating simply takes place in mass...And it already looks like a polling station in Pittsburgh is already illegally being bias towards one party. For Americans who have yet to go to the polls be sure you look for things like this, especially if you see polling stations to vote a certain way...Because it's illegal. See something say something is very serious, we must protect America by protecting the midterm election from Democrat cheating and tampering.
Comment on ]SESSIONS DEACTIVATED[ by stg58animalmother
Cache
Translate Page
Scene: The Oval Office Melania storms in waving a newspaper that reads "SESSIONS OUT; ROSENSTEIN MUZZLED. DEEP STATE ANNIHILATED!" Melania: Is it true, Donald? Did you kill all those people? The Don: I will allow you to ask me about my business this one time. Yes. I did kill all those people. Melania: was it...long and painful?

Here Are Ten Notorious Republican Villains Who Lost Their Elections Tuesday
Cache
Translate Page
The midterm elections on Tuesday night delivered mixed results that left no one completely satisfied.
Democrats won the House for the first time in nearly a decade, picked up seven governorships, flipped a half dozen state legislative chambers, and won some important state judicial races and ballot referendums on health care, redistricting, and voting rights. But Republicans made significant gains in the Senate and pulled off a few victories in some of the most closely-watched governor races, like Florida and Ohio, complicating the path to further Democratic gains in 2020.
For Democrats, however, there is plenty to rejoice about. It was indeed a wave election for them — and in the process, they unseated a number of their particularly hated GOP foes.
Here are ten notable Republicans who were defeated last night:
Sen. Dean Heller (R-NV)
While the Senate results in general were a groaner for Democrats, they did manage to topple the one Republican this cycle from a state Hillary Clinton won: Nevada's Dean Heller, who was first appointed to a vacancy in 2011 by Gov. Brian Sandoval and who had never lost a race.
Heller once positioned himself as a moderate, but in the Trump era enthusiastically did the president's bidding. He promised constituents he would never repeal protections for pre-existing conditions, only to turn around and back a bill that did just that. He later threw a cancer patient who asked him about it out of his town hall and called her a "Democrat political operative." He was also a proud backer of the GOP's tax scam bill and the confirmation of Brett Kavanaugh to the Supreme Court, dismissing the sexual assault allegations against him as a "hiccup."
Heller lost to Rep. Jacky Rosen, a former computer programmer and synagogue president who was first elected to Congress in 2016. With Rosen's win, Nevada will become the seventh state in U.S. history to send two women to the Senate concurrently (Nevada's other senator, Catherine Cortez Masto, won former Democratic Leader Harry Reid's seat in 2016.)
Gov. Scott Walker (R-WI)
Scott Walker has long been the bane of Midwestern Democrats' existence, and for good reason: he was a ruthless right-wing ideologue in a state that (usually) votes blue.
Walker is best known for severely gutting collective bargaining rights for public workers, triggering massive protests in 2011, but that was just the beginning. His budget cuts decimated the University of Wisconsin system, which was once renowned internationally. He cruelly rejected $1 billion in federal money to expand Medicaid, leaving hundreds of thousands in his state uninsured. He signed one of the most gerrymandered maps in the country, rigging elections for Republicans. And after being caught in a serious campaign finance scandal, he worked with his allies in the legislature to ban the type of public corruption investigation that caught him.
Walker built up a reputation for political invincibility. He is the only governor in U.S. history to survive a recall vote. And he won re-election in 2014 handily. But when he tried to win a third term this year, his antics finally caught up with him.
Fittingly, the governor infamous for destroying teachers' right to unionize lost to Tony Evers, the state superintendent of public instruction.
Gov. Bruce Rauner (R-IL)
Illinois was the largest blue state to have a Republican governor — and Bruce Rauner, a billionaire former private equity manager first elected in 2014, shared Walker's antipathy toward public programs and collective bargaining. He was the financial backer of the lawsuit that led to this year's Supreme Court decision declaring large parts of public-sector union financing illegal. His administration was largely defined by a three-year budget standoff with the Democratic legislature that wrecked the state's credit rating and jeopardized education and social services.
Rauner was always in grave danger going into this election — polling showed he was the most unpopular governor on the ballot this year, with a whopping 62 percent disapproval. His Democratic opponent, J.B. Pritzker, was also a billionaire investor, and consequentially the race became one of the most expensive in history, totaling nearly $300 million between the two candidates.
In the end, there was nothing Rauner could do to save himself. With his loss, Illinois returns to being a state Democratic trifecta, one of five new trifectas that Democrats managed to secure.
Kris Kobach (R-KS)
Few people have been more involved in the right-wing plot to restrict access to the ballot under the guise of preventing "voter fraud" than Kansas Secretary of State Kris Kobach.
A right-wing firebrand who has accepted donations from white supremacists, Kobach served as an election integrity czar on President Donald Trump's short-lived voter fraud commission. He created the Interstate Crosscheck System, which is supposed to help states prune duplicate voter registrations but which is prone to false positives and security flaws. And a unique state law he helped design in Kansas gives him his own team of prosecutors to charge people with voter fraud, but his investigations were a laughable failure.
The crown jewel of his projects, however, was a Kansas law requiring people to prove citizenship before registering to vote. After that law disenfranchised some 36,000 legal voters without even informing them, Kobach was ordered to stop by a federal judge, but flouted that ruling, culminating in a trial where he performed so incompetently the judge had to explain to him how trials work. Kobach was ultimately found in contempt of court and ordered to take remedial law classes.
This year, undaunted by his legacy of voting rights scandals, Kobach threw his hat into the ring for governor, narrowly beating sitting Gov. Jeff Colyer for the nomination while overseeing the whole election himself. He was actually favored to win the three-way race between Democratic state Sen. Laura Kelly and independent Greg Orman. But in the end, Kelly pulled off a victory, giving Kansas its first Democratic governor since 2010.
Rep. Dana Rohrabacher (R-CA)
Dana Rohrabacher, who represents a traditionally conservative congressional district on the coast of Orange County, is often known by the nickname "Putin's favorite congressman" and for good reason: he is disturbingly sympathetic to the authoritarian Russian regime. He has traveled to Moscow and met with Russian nationals implicated in the special counsel investigation, and supports Julian Assange, the Russia-linked "transparency" activist who distributed hacked information on Democrats through WikiLeaks. Even his fellow House Republicans were so unsettled by his chumminess with the Kremlin that they cut off his travel budget earlier this year.
But even putting aside the Russia issue, Rohrabacher is a poisonous politician. He has said there's nothing wrong with refusing to sell homes to gay couples. He has been caught multiple times associating with Chuck C. Johnson, a far-right Internet troll who has denied the Holocaust. And he vehemently opposes the creation of homeless shelters.
His Democratic opponent was businessman and attorney Harley Rouda. Though the race has not officially been called yet, Rouda leads by 1.4 percent with 100% of precincts reporting.
Rep. Pete Sessions (R-TX)
Beto O'Rourke did not run against Sen. Ted Cruz for nothing. His close race spurred Democratic turnout in Texas, and may have played a hand in the defeat of Pete Sessions, a longtime Dallas-based GOP incumbent.
Sessions chaired the powerful House Rules Committee — a position he has used to ruthlessly block any consideration of amendments that would loosen the federal prohibition on marijuana. Even most Republicans, and some Republican lawmakers, are starting to doubt marijuana should be illegal, at least at the federal level — but Sessions was one of the biggest obstacles to any debate of the issue in the House.
Sessions was unseated by Colin Allred, a former linebacker for the Tennessee Titans who went on to become a civil rights attorney and a legal assistant at the Department of Housing and Urban Development.
Rep. Dave Brat (R-VA)
Virginia was a bloodbath for House Republicans. Reps. Scott Taylor in the 2nd District and Barbara Comstock in the 10th District fell to Democrats. But perhaps most interesting is the defeat of Dave Brat in the 7th District.
A former professor of economics at Randolph-Macon College, Brat himself was first elected to Congress in a surprise upset in 2014, defeating GOP House Majority Leader Eric Cantor in his own primary. A member of the far-right House Freedom Caucus, Brat has compared his own constituents to neo-Nazis for protesting his vote to repeal health coverage for the poor.
His race against Democratic former CIA operative Abigail Spanberger was one of the nastiest contests of the cycle. Republican strategists improperly obtained Spanberger's security clearance file and used it to write attack ads about her teaching at a school that was also attended by terrorist recruits. Ultimately, this fearmongering was not enough to save Brat's job.
Rep. Jason Lewis (R-MN)
Minnesota Democrats were taken aback when Jason Lewis managed to win this open Twin Cities seat in 2016, defeating newspaper reporter and LGBTQ adoption rights plaintiff Angie Craig.
Lewis, a former right wing talk-radio host styling himself "America's Mr. Right," was notorious for his vile comments on air. He complained single women are "ignorant of the important issues in life," said that same-sex marriage and progressive income taxes are like slavery, and bemoaned the fact that it is no longer socially acceptable to call women "sluts."
This time around, however, the media paid more attention to Lewis' extremist history, to the point where CNN was even threatened with a frivolous lawsuit for quoting excerpts of his radio show. Craig was nominated for a rematch, and this time, she beat him.
Rep. Claudia Tenney (R-NY)
Claudia Tenney represented New York's 22nd Congressional District, an upstate seat that voted for Trump by 15 points. This fact was not lost on her, as she did her utmost to be as Trumpy as possible, welcoming him to fundraisers and voting for his agenda 97 percent of the time.
Like Trump, Tenney also had a penchant for baselessly demonizing her opponents. In one radio interview, she echoed an Internet hoax that most mass shooters are Democrats, then shouted "Fake News!" at reporters challenging her assertion. On another occasion, she suggested the "Deep State" was responsible for Housing Secretary Ben Carson overspending tax dollars on a dining room set. And she faced anger over a campaign memo telling her staff to watch out for her (Italian-American) opponent Anthony Brindisi's "thuggish" family because they might be tied to the mob.
Brindisi, a moderate state assemblyman, ended up winning the day as voters rejected Tenney's abrasive, far-right politics.
Kim Davis
At the local level in Kentucky, Republicans received a special blow with the loss of Kim Davis, the Rowan County clerk who became briefly famous in 2015 when she directed her office to refuse to issue marriage licenses to same-sex couples — even though the Supreme Court had just extended the right to same-sex marriage nationwide. Davis ended up serving a brief stint in jail for contempt of court, for which the conservative movement made her a martyr.
Elwood Caudill Jr., her Democratic opponent, says that she has already called to congratulate him.
U čemu Ugljanin ima pravo? - Filip Mladenović
Cache
Translate Page
deep state Republike Srbije.

Izjavom da je Srbija fašistička tvorevina Sulejman Ugljanin je mislio na "paralelne strukture sudstva, tužilaštva, policije, vojske i službi bezbednosti koje su od 1990. do danas odgovorne za zločin genocida i sve druge zločine tokom teritorijalnih osvajanja na prostoru bivše SFRJ".

On je naveo da su te strukture prisutne i danas u sistemu Republike Srbije i predstavljaju realnu opasnost i prete bošnjackom narodu.

"Naš je cilj da ta nem



Next Page: 10000
Site Map 2018_01_14
Site Map 2018_01_15
Site Map 2018_01_16
Site Map 2018_01_17
Site Map 2018_01_18
Site Map 2018_01_19
Site Map 2018_01_20
Site Map 2018_01_21
Site Map 2018_01_22
Site Map 2018_01_23
Site Map 2018_01_24
Site Map 2018_01_25
Site Map 2018_01_26
Site Map 2018_01_27
Site Map 2018_01_28
Site Map 2018_01_29
Site Map 2018_01_30
Site Map 2018_01_31
Site Map 2018_02_01
Site Map 2018_02_02
Site Map 2018_02_03
Site Map 2018_02_04
Site Map 2018_02_05
Site Map 2018_02_06
Site Map 2018_02_07
Site Map 2018_02_08
Site Map 2018_02_09
Site Map 2018_02_10
Site Map 2018_02_11
Site Map 2018_02_12
Site Map 2018_02_13
Site Map 2018_02_14
Site Map 2018_02_15
Site Map 2018_02_15
Site Map 2018_02_16
Site Map 2018_02_17
Site Map 2018_02_18
Site Map 2018_02_19
Site Map 2018_02_20
Site Map 2018_02_21
Site Map 2018_02_22
Site Map 2018_02_23
Site Map 2018_02_24
Site Map 2018_02_25
Site Map 2018_02_26
Site Map 2018_02_27
Site Map 2018_02_28
Site Map 2018_03_01
Site Map 2018_03_02
Site Map 2018_03_03
Site Map 2018_03_04
Site Map 2018_03_05
Site Map 2018_03_06
Site Map 2018_03_07
Site Map 2018_03_08
Site Map 2018_03_09
Site Map 2018_03_10
Site Map 2018_03_11
Site Map 2018_03_12
Site Map 2018_03_13
Site Map 2018_03_14
Site Map 2018_03_15
Site Map 2018_03_16
Site Map 2018_03_17
Site Map 2018_03_18
Site Map 2018_03_19
Site Map 2018_03_20
Site Map 2018_03_21
Site Map 2018_03_22
Site Map 2018_03_23
Site Map 2018_03_24
Site Map 2018_03_25
Site Map 2018_03_26
Site Map 2018_03_27
Site Map 2018_03_28
Site Map 2018_03_29
Site Map 2018_03_30
Site Map 2018_03_31
Site Map 2018_04_01
Site Map 2018_04_02
Site Map 2018_04_03
Site Map 2018_04_04
Site Map 2018_04_05
Site Map 2018_04_06
Site Map 2018_04_07
Site Map 2018_04_08
Site Map 2018_04_09
Site Map 2018_04_10
Site Map 2018_04_11
Site Map 2018_04_12
Site Map 2018_04_13
Site Map 2018_04_14
Site Map 2018_04_15
Site Map 2018_04_16
Site Map 2018_04_17
Site Map 2018_04_18
Site Map 2018_04_19
Site Map 2018_04_20
Site Map 2018_04_21
Site Map 2018_04_22
Site Map 2018_04_23
Site Map 2018_04_24
Site Map 2018_04_25
Site Map 2018_04_26
Site Map 2018_04_27
Site Map 2018_04_28
Site Map 2018_04_29
Site Map 2018_04_30
Site Map 2018_05_01
Site Map 2018_05_02
Site Map 2018_05_03
Site Map 2018_05_04
Site Map 2018_05_05
Site Map 2018_05_06
Site Map 2018_05_07
Site Map 2018_05_08
Site Map 2018_05_09
Site Map 2018_05_15
Site Map 2018_05_16
Site Map 2018_05_17
Site Map 2018_05_18
Site Map 2018_05_19
Site Map 2018_05_20
Site Map 2018_05_21
Site Map 2018_05_22
Site Map 2018_05_23
Site Map 2018_05_24
Site Map 2018_05_25
Site Map 2018_05_26
Site Map 2018_05_27
Site Map 2018_05_28
Site Map 2018_05_29
Site Map 2018_05_30
Site Map 2018_05_31
Site Map 2018_06_01
Site Map 2018_06_02
Site Map 2018_06_03
Site Map 2018_06_04
Site Map 2018_06_05
Site Map 2018_06_06
Site Map 2018_06_07
Site Map 2018_06_08
Site Map 2018_06_09
Site Map 2018_06_10
Site Map 2018_06_11
Site Map 2018_06_12
Site Map 2018_06_13
Site Map 2018_06_14
Site Map 2018_06_15
Site Map 2018_06_16
Site Map 2018_06_17
Site Map 2018_06_18
Site Map 2018_06_19
Site Map 2018_06_20
Site Map 2018_06_21
Site Map 2018_06_22
Site Map 2018_06_23
Site Map 2018_06_24
Site Map 2018_06_25
Site Map 2018_06_26
Site Map 2018_06_27
Site Map 2018_06_28
Site Map 2018_06_29
Site Map 2018_06_30
Site Map 2018_07_01
Site Map 2018_07_02
Site Map 2018_07_03
Site Map 2018_07_04
Site Map 2018_07_05
Site Map 2018_07_06
Site Map 2018_07_07
Site Map 2018_07_08
Site Map 2018_07_09
Site Map 2018_07_10
Site Map 2018_07_11
Site Map 2018_07_12
Site Map 2018_07_13
Site Map 2018_07_14
Site Map 2018_07_15
Site Map 2018_07_16
Site Map 2018_07_17
Site Map 2018_07_18
Site Map 2018_07_19
Site Map 2018_07_20
Site Map 2018_07_21
Site Map 2018_07_22
Site Map 2018_07_23
Site Map 2018_07_24
Site Map 2018_07_25
Site Map 2018_07_26
Site Map 2018_07_27
Site Map 2018_07_28
Site Map 2018_07_29
Site Map 2018_07_30
Site Map 2018_07_31
Site Map 2018_08_01
Site Map 2018_08_02
Site Map 2018_08_03
Site Map 2018_08_04
Site Map 2018_08_05
Site Map 2018_08_06
Site Map 2018_08_07
Site Map 2018_08_08
Site Map 2018_08_09
Site Map 2018_08_10
Site Map 2018_08_11
Site Map 2018_08_12
Site Map 2018_08_13
Site Map 2018_08_15
Site Map 2018_08_16
Site Map 2018_08_17
Site Map 2018_08_18
Site Map 2018_08_19
Site Map 2018_08_20
Site Map 2018_08_21
Site Map 2018_08_22
Site Map 2018_08_23
Site Map 2018_08_24
Site Map 2018_08_25
Site Map 2018_08_26
Site Map 2018_08_27
Site Map 2018_08_28
Site Map 2018_08_29
Site Map 2018_08_30
Site Map 2018_08_31
Site Map 2018_09_01
Site Map 2018_09_02
Site Map 2018_09_03
Site Map 2018_09_04
Site Map 2018_09_05
Site Map 2018_09_06
Site Map 2018_09_07
Site Map 2018_09_08
Site Map 2018_09_09
Site Map 2018_09_10
Site Map 2018_09_11
Site Map 2018_09_12
Site Map 2018_09_13
Site Map 2018_09_14
Site Map 2018_09_15
Site Map 2018_09_16
Site Map 2018_09_17
Site Map 2018_09_18
Site Map 2018_09_19
Site Map 2018_09_20
Site Map 2018_09_21
Site Map 2018_09_23
Site Map 2018_09_24
Site Map 2018_09_25
Site Map 2018_09_26
Site Map 2018_09_27
Site Map 2018_09_28
Site Map 2018_09_29
Site Map 2018_09_30
Site Map 2018_10_01
Site Map 2018_10_02
Site Map 2018_10_03
Site Map 2018_10_04
Site Map 2018_10_05
Site Map 2018_10_06
Site Map 2018_10_07
Site Map 2018_10_08
Site Map 2018_10_09
Site Map 2018_10_10
Site Map 2018_10_11
Site Map 2018_10_12
Site Map 2018_10_13
Site Map 2018_10_14
Site Map 2018_10_15
Site Map 2018_10_16
Site Map 2018_10_17
Site Map 2018_10_18
Site Map 2018_10_19
Site Map 2018_10_20
Site Map 2018_10_21
Site Map 2018_10_22
Site Map 2018_10_23
Site Map 2018_10_24
Site Map 2018_10_25
Site Map 2018_10_26
Site Map 2018_10_27
Site Map 2018_10_28
Site Map 2018_10_29
Site Map 2018_10_30
Site Map 2018_10_31
Site Map 2018_11_01
Site Map 2018_11_02
Site Map 2018_11_03
Site Map 2018_11_04
Site Map 2018_11_05
Site Map 2018_11_06
Site Map 2018_11_07