Rivalen Zuid-Sudan sluiten akkoord en schudden de hand
Cache
Translate Page
De president van Zuid-Sudan Salva Kiir heeft opnieuw een vredesakkoord getekend met de rebellenleider Riek Machar. Het akkoord moet een eind maken aan de burgeroorlog die al vijf jaar woedt. Honderdduizenden mensen kwamen om door oorlogsgeweld, ziektes en honger. Miljoenen mensen sloegen op de vlucht.
Volgens correspondent Koert Lindijer leek het er gisteravond even op dat de twee kemphanen het goed met elkaar kunnen vinden. "Een paar weken geleden, toen de besprekingen onder leiding van Ethiopië begonnen, konden de twee elkaar nog niet in de ogen kijken of de hand schudden. Gisteravond leek er chemie tussen de mannen en spraken ze amicaal met elkaar."
Cynisme
President Salva Kiir en zijn vroegere vicepresident Riek Machar zeiden gisteravond dat dit het finale akkoord is. Toch is er nog voldoende reden voor cynisme, aangezien eerdere akkoorden niet werden nageleefd. Het Verenigd Koninkrijk, de VS en Noorwegen, drie landen die hebben gewerkt aan de onafhankelijkheid van Zuid-Sudan in 2011, hebben hun zorgen. Ze vragen zich af hoe groot de bereidheid is om het akkoord daadwerkelijk na te leven.
Aan de andere kant is er volgens Lindijer ook reden voor optimisme. Alle partijen kunnen geld verdienen aan het akkoord. Een belangrijk onderdeel is olie en handel.
Olie uit Zuid-Sudan loopt via een pijpleiding door buurland Sudan naar de haven. De partijen hebben afgesproken dat Zuid-Sudan voor dat transport door Sudan ongeveer 6 dollar per vat gaat betalen. Op die manier profiteert ook Sudan van de Zuid-Sudanese olie-export die nu weer op gang kan komen.
Ook Oeganda heeft belang bij dit akkoord. Dat land wil graag handel drijven met Zuid-Sudan. Lindijer: "Kortom, Oeganda en Sudan hebben dit akkoord erdoor gedrukt."
Vredestrein
Volgens Koert Lindijer is er nog een reden om positief te zijn over dit akkoord: "Er rijdt een soort vredestrein door de Hoorn van Afrika en de machinist is Ethiopië."
In april werd in Ethiopië de progressieve Abiy Ahmed verkozen tot president. Hij deed toezeggingen aan Eritrea in het grensconflict en haalde de banden aan met het buurland. Eerder deze week kondigden Eritrea en Ethiopië aan dat ze hun troepen zullen terugtrekken van hun grenzen.
Daarnaast zijn er ook vredesinitiatieven tussen Eritrea en Somalië en tussen Eritrea en Djibouti.
Kenya: Animated Video on Cross-Border Migrant Child Protection
Cache
Translate Page
Organization: Save the Children
Country: Kenya
Closing date:

20 Sep 2018




Terms of Reference for Animated Video on Cross-Border Migrant Child Protection Mechanisms and Publication of Guidebook in line with Save the Children Branding Guidelines
Background: Cross Border Coordination Mechanisms in East and Southern Africa
The last decade has seen a dramatic increase in the global mobility of people. The global regular migrant stock had reached 258 million by late 2017.1 Migrants from poorer countries, which are often harder to capture in official data, are of particular concern from a development and humanitarian perspective: they are often amongst the most vulnerable populations. Because of the overall rise of movement of people, there is also a marked increase of Children on the Move. This is particularly true for East and Southern Africa: even though children make up roughly 15% of the global international migrant stock, this proportion is dramatically larger in East and Southern Africa with 28.2% of recorded migrants being children.2 In some countries this ratio is even higher, with Ethiopia having 47% migrant children.
In many countries in East and Southern Africa clear child protection legislation is in place, but often it is only implicitly and by extension protecting migrant children, failing to recognize their specific risks.
The comprehensive protection of unaccompanied and separated migrant children (USMC) requires the coordination and cooperation of a large range of stakeholders, often from more than one country. Government departments mandated to protect vulnerable children have to interact with immigration and internal affairs departments, departments of education and health, and more particularly across borders, the protection of USMC requires close coordination between governments to ensure that case management is not disrupted or impeded by the national border, ensuring that the children's best interest is the most important guiding principle.
In Southern Africa, over the last 10 years, Save the Children has established bilateral cross-border coordination mechanisms between five governments, growing over the years into a significant improvement in the protection of USMC by harmonising case management, standard operating procedures, and facilitating communication. Save the Children's East and Southern Africa Regional Office's Regional Programming Unit (RPU) continues to work towards expanding the bilateral meetings, particularly in East Africa. In order to communicate this cost effective and successful approach to strengthening the protection of USMC, the RPU is looking to create a short form animated video and a high quality publication.
The video is intended to illustrate the cross-border mechanisms and how in the past 10 years, Save the Children, with support from various donors, has grown a bilateral meeting discussing USMC cases between South Africa and Zimbabwe into a regional mechanism covering most of Southern Africa. The video will make this complex process understandable to a broader audience, trying to generate interest in the approach amongst key stakeholders, partners and donors. Additionally, the video on the regional process will be a tool for country offices to try and increase government commitment, as well as engage neighbouring countries to expand the mechanism to more borders.
The RPU will additionally write a guidebook on establishing cross-border mechanisms for the protection of USMC. This guidebook will draw on the experience from country offices and the extensive project
1 UN DESA, International Migration Report 2017
2 Using UN DESA Migration Stock Data. Includes Botswana, Burundi, Democratic Republic of Congo, Djibouti, Eritrea, Ethiopia, Kenya, Lesotho, Malawi, Mozambique, Namibia, Somalia, Sudan, South Africa, South Sudan, Swaziland, Tanzania, Uganda, Zambia, Zimbabwe documentation to develop a practical roadmap to help offer deep insights into the establishment of the meetings. This guide will be written in-house, but it will require graphic design and layout of the text into a publishable and printable PDF that conforms with the Save the Children branding guidelines, which will also nclude the design of key illustrations and visual elements.
Save the Children - Regional Children on the Move Programme in East and Southern Africa The Regional Programming Unit's (RPU) Children on the Move programme seeks to protect children at risk of or undertaking unaccompanied and unsafe migration in East and Southern Africa through improved national and transnational migration management, including case management and access to child protection systems. It currently coordinates these efforts in Botswana, Mozambique, South Africa, Swaziland, Zambia and Zimbabwe.

Improved transnational cooperation and responsibility-sharing between governments to realise durable solutions for children affected by mixed migration.

Develop an expanded evidence base to guide quality programming on addressing root causes of irregular migration, early unaccompanied economic migration, and preventing unsafe migration in East and Southern Africa.

Improved family tracing and reunification procedures and case management to increase successful reunifications for children crossing borders between Botswana, Mozambique, South Africa, Swaziland, Zambia and Zimbabwe.
The programme is also working with four partners in Botswana and Swaziland, integrating them into the broader COM programme that is active in Mozambique, South Africa, Zambia, and Zimbabwe, in order to achieve that:
Children at risk of unaccompanied and unsafe migration in East and Southern Africa access essential and integrated protection, education and health services in countries of origin, transit and destination.

Civil society organizations are empowered to strengthen child protection and other essential services for child on the move, including survivors of sexual violence and exploitation in border towns, in Botswana, Swaziland, Mozambique, Zimbabwe, Zambia and South Africa.

Communities, including children, are empowered to transform existing social norms that perpetuate children's vulnerability to violence, incl. unsafe migration, PHP and sexual violence.
The RPU further provides cross-learning platforms and opportunities to exchange best practice and build a community of practice focused on child migration. At country level, programmes are context specific, utilizing evidence of national migration dynamics to try and effectively prevent unsafe migration by addressing push factors (e.g. through income generating projects, skills training of adolescents, positive discipline work to address violence at home and in schools) and strengthening national child protection systems to include migrant children (e.g. including unaccompanied and separated migrant children in alternative care systems, developing child migrant specific case management systems, strengthening FTR systems, etc.).
Objective and Scope of Work
The required work is comprised of two components:
Component 1 - Five Minute Video
A short five-minute video, 2D or 3D animated, illustrating the cross-border coordination mechanism, including establishing of the meetings, the programming approach and the benefits of the cooperation of governments to the protection of USMC to a broad audience, including potential donors, NGOs, and government stakeholders.
The video should have a memorable, high quality artistic style that captures often complex processes in a simple and easy to understand narrative, featuring professional voice-overs.
For reference, please see screenshots from a previous video produced for a different project:
Component 2 - Graphic Design and Layout of Guidebook
Based on a 40-50 page word document, this component requires the design and layout of a booklet in line with the Save the Children branding guidelines, including illustrations/graphs/figures.
Outputs/Deliverables
The project requires two key outputs:
Story board/narrative for 5-minute video for review

5-minute 2D/3D animated video provided in a range of encoding qualities (preferably including UHD)

Layout and graphic design of 50 page A4 guidebook for PDF publication and print.

Roles and Responsibilities
The Consultant:
Regular and transparent reporting on progress to RPU, including any delays or challenges as they develop.

Development of visual style and script based on a provided narrative.

Development of required 2D or 3D assets.

Voice-over services.

Animation.

Graphic design and layout of 40-50-page document.
Save the Children and RPU: (based in Pretoria and Nairobi)
Providing a narrative for the video.

Assisting in the process of transforming the narrative into a script.

Inputting on visual style of animated video.

Providing 40-50-page document for graphic layout.

Inputting on visual style of Guidebook on Cross-Border Coordination.

Timeframe

3 months - from September to November 2018.

Competencies

Experience in 2D/3D animations.

Experience in visualizing political/advocacy processes.

Experience in graphic design and layout of documents/booklets.

Experience working in the non -profit sector is an advantage.
How to apply:
Application Email: Please apply with a covering letter and up-to-date CV to: Esaro.procurement@savethechildren.org
Various Artists: Two Niles To Sing A Melody: The Violins & Synths Of Sudan
Cache
Translate Page
Ostinato LP 005 (UK 3x LP) - € 33.00


In Sudan, the political and cultural are inseparable.



In 1989, a coup brought a hardline religious government to power. Music was violently condemned. Many musicians and artists were persecuted, tortured, forced to flee into exile — and even murdered, ending one of the most beloved music eras in all of Africa and largely denying Sudan's gifted instrumentalists, singers, and poets, from strutting their creative heritage on the global stage.



What came before in a special era that protected and promoted the arts was one of the richest music scenes anywhere in the world. Although Sudanese styles are endlessly diverse, this compilation celebrates the golden sound of the capital, Khartoum. Each chapter of the cosmopolitan city's tumultuous musical story is covered through 16 tracks: from the hypnotic violin and accordion-driven orchestral music of the 1970s that captured the ears and hearts of Africa and the Arabic-speaking world, to the synthesizer and drum machine music of the 1980s, and the music produced in exile in the 1990s. The deep kicks of tum tum and Nubian rhythms keep the sound infectious.



Sudan of old had music everywhere: roving sound systems and ubiquitous bands and orchestras kept Khartoum's sharply dressed youth on their feet. Live music was integral to cultural life, producing a catalog of concert recordings. In small arenas and large outdoor venues, musical royalty of the day built Khartoum's reputation as ground zero for innovation and technique that inspired a continent.



Musicians in Ethiopia and Somalia frequently point to Sudan's biggest golden era stars as idols. Mention Mohammed Wardi — a legendary Sudanese singer and activist akin to Fela Kuti in stature and impact in his music and politics — and they often look to the heavens. A popular story is of one man from Mali who walked for three months across the Sahel to Sudan because the father of the woman he wanted to marry would only allow it if he got him a signed cassette from Wardi himself. Saied Khalifa is said to be the one of the few singers to make Ethiopian emperor Haile Selassie smile.



Such is the stature of Sudanese singers and the reputation of Sudanese music, particularly in the "Sudanic Belt," a cultural zone that stretches from Djibouti all the way west to Mauritania, covering much of the Sahara and the Sahel, lands where Sudanese artists are household names and Sudanese poems are regularly used as lyrics until today to produce the latest hits. Sudanese cassettes often sold more in Cameroon and Nigeria than at home.



But years of anti-music sentiment have made recordings in Sudan difficult to source. Ostinato's team traveled to Ethiopia, Somalia, Djibouti, and Egypt in search of the timeless cultural artifacts that hold the story of one of Africa's most mesmerizing cultures. That these cassette tape and vinyl recordings were mainly found in Sudan's neighbors is a testament to Sudanese music's widespread appeal.



With our Sudanese partner and co-compiler Tamador Sheikh Eldin Gibreel, a once famous poet and actress in '70s Khartoum, Ostinato's fifth album, following our Grammy-nominated "Sweet As Broken Dates," revives the enchanting harmonies, haunting melodies, and relentless rhythms of Sudan's brightest years, fully restored, remastered and packaged luxuriously in a triple LP gatefold and double CD bookcase to match the regal repute of Sudanese music. A 20,000-word liner note booklet gives voice to the singers silenced by an oppressive regime.

Take a sail down the Blue and White Nile as they pass through Khartoum, carrying with them an ancient history and a never-ending stream of poems and songs. It takes two Niles to sing a melody.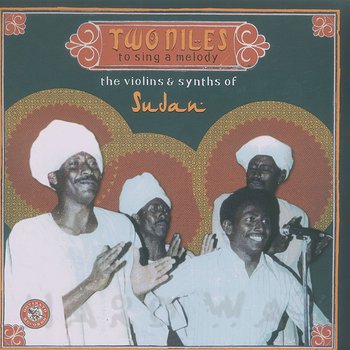 Tracklisting:
Emad Youssef: Al Bareedo Ana (The One I Love)
Abdel El Aziz Al Mubarak: Ma Kunta Aarif Yarait (I Wish I Had Known)
Kamal Tarbas: Min Ozzalna Seebak Seeb (Forget Those That Divide Us)
Madjzoub Ounsa: Arraid Arraid Ya Ahal (Love, Love Family)
Khojali Osman: Malo Law Safeetna Inta (What If You Resolve What's Between Us?)
Zaidan Ibrahim: Ma Hammak Azabna (You Don't Care About My Suffering) [Live]
Saied Khalifa: Igd Allooli (The Pearl Necklace)
Taj Makki: Ma Aarfeen Nagool Shino! (We Don't Know What to Say!)
Hanan Bulu Bulu: Alamy Wa Shagiya (My Pain and Suffering) [Live]
Abdelmoniem Ekhaldi: Droob A Shoag (Paths to Love)
Samira Dunia: Galbi La Tahwa Tani (My Heart, Don't Fall in Love Again)
Mohammed Wardi: Al Sourah (The Photo)
Abdullah Abdelkader: Al Zaman Zamanak (It's Your Time)
Mustafa Modawi & Ibrahim El Hassan: Al Wilaid Al Daif (The Youth Who Came as a Guest)
Ibrahim El Kashif: Elhabeeb Wain? (Where is My Sweetheart?)
Mohammed Wardi: Al Mursal (The Messenger)