Next Page: 10000
Lubbock-area news for 7/10/2018
Cache
Translate Page
Web Page Cache
Lubbock County tax-payer-paid dirt arena one step closer to reality Lubbock County commissioners consider opioid lawsuit against pharmaceutical companies Main Street Closed for Water Line Construction Project Lubbock roadways, including some I-27 lanes, to be closed for accident investigations Wednesday 'From here, it's possible:' A Q&A with Tech System Chancellor Robert Duncan TTU Engineering Professor […]

Toadcast #76 - The Presscast
Cache
Translate Page
Web Page Cache
I recently did an interview with Billy from The Scotsman's Under the Radar blog (amongst other venerable organs) which took the form of an interesting chat about the current tension between  bloggers and professional journalists.  He has played off my opinions against those of his friend Mike Diver, who is currently the online editor for (the excellent) Clash magazine.  The whole thing can be found here, along with plenty of comments from Ally and Milo, professional writers from around these parts, and myself and Tart, on the side of the bloggers.  The comments on that thread
It's an interesting debate, frankly, and one which, as a blogger with aspirations, as opposed to someone who is happy to simply chat for the sake of it, I have applied a fair deal of thought to.  Ultimately, though, I think it is something of a false dichotomy: some of the best reporters keep blogs as ways of expressing themselves outwith the constraints of the editorial policy of whatever rag pays their wages and a lot of the best bloggers end up parlaying their writing skills into professional careers in journalism.  And of either side there is a vast amount of detritus, professional and amateur.
So, yes, the Toad once again holds forth passionately on subjects he knows far too little about and may in general be making a fool of himself once more.  The, erm, songs are good though.
01. Billy Bragg - Which Side Are You On? (03.17)
02. The Decemberists - Cautionary Song (Live) (11.03)
03. Jens Lekman - No Time For Breaking Up (14.09)
04. The Meteors - Out of Time (22.21)
05. Franz Ferdinand - Darts of Pleasure (32.47)
06. The Dead 60s - Horizontal (35.17)
07. Sleepy Horses - Lubbock Love Song (42.27)
08. Eels - I Write the B-sides (52.05)
09. The Replacements - Unsatisfied (62.30)
10. David Cross - My Kids are Amish (68.09)
Vídeo mostra enfermeiros orando por colegas e pacientes em hospital
Cache
Translate Page
Web Page Cache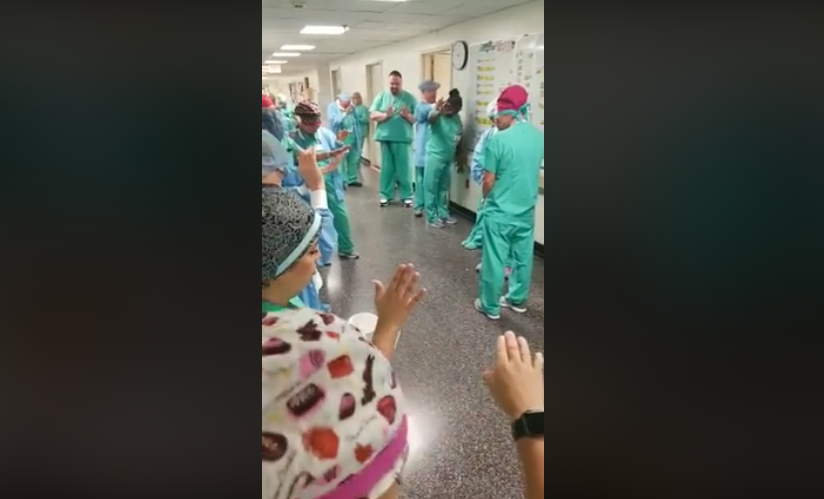 Imagens que mostram uma equipe de enfermagem orando pelos colegas de trabalho e pacientes de um hospital do Texas, nos Estados Unidos, têm comovido pessoas do mundo inteiro nas redes sociais.
O vídeo foi publicado por uma das enfermeiras no dia 28 de junho em seu perfil no Facebook. "Nós oramos todos os dias pelos nossos pacientes, famílias e colegas de trabalho", disse Sonia Diaz na legenda. "Hoje também foi a despedida de dois grandes enfermeiros".
Enfermeiros do hospital Covenant Health, na cidade de Lubbock, foram filmados com as mãos estendidas e as cabeças inclinadas, em um momento de oração coletiva. As imagens publicadas na página de Sonia já contam com mais de 1,9 milhões de visualizações.
A oração foi conduzida por uma das enfermeiras, que clamava a Deus emocionada: "Que as mãos deles sejam como cura e consolo para os que cuidam. Pedimos que o Senhor os encoraje a serem os líderes que o Senhor os chamou para ser".
"Que eles estejam confiantes, sabendo que Tu estás guiando cada passo que eles dão. Senhor, dê a eles paciência, força e, acima de tudo, amor enquanto caminham em seus novos caminhos", acrescentou, em oração pelos enfermeiros que estavam se despedindo.
"Ajude eles a Te procurarem nos momentos difíceis e nos momentos mais tranquilos. Pedimos que o Senhor os envie em suas novas jornadas com as mãos abertas, sabendo que eles tomaram as decisões certas", continua.
A oração é concluída com as seguintes palavras: "Senhor, coloque uma mão de proteção ao redor deles e de toda a nossa equipe. Abençoe aqueles que estão doentes, chorando, morrendo, para que possam encontrar conforto e paz em Ti. E pedimos isso em seu nome precioso, Jesus. Amém!".
Assistant Manager - up to $15.00+ Bonus and Benefits
Cache
Translate Page
Web Page Cache
TX-Lubbock, Drive your Future!Pilot Flying J is seeking an experienced Retail General Manager to oversee our high-volume retail facilities. You will be responsible for the generation and execution of travel center and restaurant business plans to achieve established standards, sales and profit objectives as well as customer satisfaction. The Retail General Manager will also be: • Ensuring that customer expect

Update: Alamo Drafthouse (Entertainment)
Cache
Translate Page
Web Page Cache
Alamo Drafthouse 5.7.2

Device: iOS iPhone
Category: Entertainment
Price: Free, Version: 5.7.1 -> 5.7.2 (iTunes)


Description:

Faster. Smarter. And soooo good lookin'.

The official Alamo Drafthouse app has been rebuilt from the ground up to get you into your seat quicker and easier than ever before. With elegant, intuitive design and a host of new features (plus many more on the way), this is your new favorite way to enjoy your experience at Alamo Drafthouse.

* Skip the lines. No need to visit a kiosk, a box office or your office printer. Head straight into the theater and have a seat.

* Keep your wallet in your pocket. Securely save your credit card details to the Card Vault.

* Find your favorite seat. Easily flip through showtimes to see which seats are available before you buy your tickets.

* Not feeling it tonight? Get a refund directly on the app up to one hour before the showtime.

* Snag some stuff. Add limited edition Alamo Drafthouse and Mondo merchandise to your purchase with just a touch.

* Dig deeper. Watch movie trailers, see what's playing, and scope out what's trending.

* 24/7 access to your Victory account. Check your rank, earn rewards, and use them directly in the app.

Never visited an Alamo Drafthouse location? We've got locations across the country, delivering the best film, food, and drink all in one seat. Learn more about us at drafthouse.com, facebook.com/alamodrafthouse, twitter.com/alamodrafthouse, or instagram.com/drafthouse.

Ashburn, VA | Austin, TX | Charlottesville, VA | Corpus Christi, TX | Dallas, TX | Denver, CO | El Paso, TX | Houston, TX | Kansas City, MO | Laredo, TX | Los Angeles, CA (coming soon!) | Lubbock, TX | New Braunfels, TX | New York, NY | Omaha, NE | Phoenix, AZ | Raleigh, NC | San Antonio, TX | San Francisco, CA | Springfield, MO | Winchester, VA | Yonkers, NY

What's New

- Minor bug fixes

Alamo Drafthouse



Next Page: 10000
Site Map 2018_01_14
Site Map 2018_01_15
Site Map 2018_01_16
Site Map 2018_01_17
Site Map 2018_01_18
Site Map 2018_01_19
Site Map 2018_01_20
Site Map 2018_01_21
Site Map 2018_01_22
Site Map 2018_01_23
Site Map 2018_01_24
Site Map 2018_01_25
Site Map 2018_01_26
Site Map 2018_01_27
Site Map 2018_01_28
Site Map 2018_01_29
Site Map 2018_01_30
Site Map 2018_01_31
Site Map 2018_02_01
Site Map 2018_02_02
Site Map 2018_02_03
Site Map 2018_02_04
Site Map 2018_02_05
Site Map 2018_02_06
Site Map 2018_02_07
Site Map 2018_02_08
Site Map 2018_02_09
Site Map 2018_02_10
Site Map 2018_02_11
Site Map 2018_02_12
Site Map 2018_02_13
Site Map 2018_02_14
Site Map 2018_02_15
Site Map 2018_02_15
Site Map 2018_02_16
Site Map 2018_02_17
Site Map 2018_02_18
Site Map 2018_02_19
Site Map 2018_02_20
Site Map 2018_02_21
Site Map 2018_02_22
Site Map 2018_02_23
Site Map 2018_02_24
Site Map 2018_02_25
Site Map 2018_02_26
Site Map 2018_02_27
Site Map 2018_02_28
Site Map 2018_03_01
Site Map 2018_03_02
Site Map 2018_03_03
Site Map 2018_03_04
Site Map 2018_03_05
Site Map 2018_03_06
Site Map 2018_03_07
Site Map 2018_03_08
Site Map 2018_03_09
Site Map 2018_03_10
Site Map 2018_03_11
Site Map 2018_03_12
Site Map 2018_03_13
Site Map 2018_03_14
Site Map 2018_03_15
Site Map 2018_03_16
Site Map 2018_03_17
Site Map 2018_03_18
Site Map 2018_03_19
Site Map 2018_03_20
Site Map 2018_03_21
Site Map 2018_03_22
Site Map 2018_03_23
Site Map 2018_03_24
Site Map 2018_03_25
Site Map 2018_03_26
Site Map 2018_03_27
Site Map 2018_03_28
Site Map 2018_03_29
Site Map 2018_03_30
Site Map 2018_03_31
Site Map 2018_04_01
Site Map 2018_04_02
Site Map 2018_04_03
Site Map 2018_04_04
Site Map 2018_04_05
Site Map 2018_04_06
Site Map 2018_04_07
Site Map 2018_04_08
Site Map 2018_04_09
Site Map 2018_04_10
Site Map 2018_04_11
Site Map 2018_04_12
Site Map 2018_04_13
Site Map 2018_04_14
Site Map 2018_04_15
Site Map 2018_04_16
Site Map 2018_04_17
Site Map 2018_04_18
Site Map 2018_04_19
Site Map 2018_04_20
Site Map 2018_04_21
Site Map 2018_04_22
Site Map 2018_04_23
Site Map 2018_04_24
Site Map 2018_04_25
Site Map 2018_04_26
Site Map 2018_04_27
Site Map 2018_04_28
Site Map 2018_04_29
Site Map 2018_04_30
Site Map 2018_05_01
Site Map 2018_05_02
Site Map 2018_05_03
Site Map 2018_05_04
Site Map 2018_05_05
Site Map 2018_05_06
Site Map 2018_05_07
Site Map 2018_05_08
Site Map 2018_05_09
Site Map 2018_05_15
Site Map 2018_05_16
Site Map 2018_05_17
Site Map 2018_05_18
Site Map 2018_05_19
Site Map 2018_05_20
Site Map 2018_05_21
Site Map 2018_05_22
Site Map 2018_05_23
Site Map 2018_05_24
Site Map 2018_05_25
Site Map 2018_05_26
Site Map 2018_05_27
Site Map 2018_05_28
Site Map 2018_05_29
Site Map 2018_05_30
Site Map 2018_05_31
Site Map 2018_06_01
Site Map 2018_06_02
Site Map 2018_06_03
Site Map 2018_06_04
Site Map 2018_06_05
Site Map 2018_06_06
Site Map 2018_06_07
Site Map 2018_06_08
Site Map 2018_06_09
Site Map 2018_06_10
Site Map 2018_06_11
Site Map 2018_06_12
Site Map 2018_06_13
Site Map 2018_06_14
Site Map 2018_06_15
Site Map 2018_06_16
Site Map 2018_06_17
Site Map 2018_06_18
Site Map 2018_06_19
Site Map 2018_06_20
Site Map 2018_06_21
Site Map 2018_06_22
Site Map 2018_06_23
Site Map 2018_06_24
Site Map 2018_06_25
Site Map 2018_06_26
Site Map 2018_06_27
Site Map 2018_06_28
Site Map 2018_06_29
Site Map 2018_06_30
Site Map 2018_07_01
Site Map 2018_07_02
Site Map 2018_07_03
Site Map 2018_07_04
Site Map 2018_07_05
Site Map 2018_07_06
Site Map 2018_07_07
Site Map 2018_07_08
Site Map 2018_07_09
Site Map 2018_07_10
Site Map 2018_07_11