Cache
Musings about the Suspended in Pink Raffle.
Thanks to Marthe Le Van's recent article, I have been thinking about the 'Suspended in Pink' raffle.
Here is an extract:
"As a retail storeowner and salesperson, the raffle felt amateurish, gimmicky, and a bit desperate—like when I heard about Facebook for the first time. Ultimately, after reconciling all my perspectives, I believe there is much to applaud in the
Suspended in Pink
raffle. It feels fresh and innovative, optimistic and courageous, liberating and democratic—all worthy consequences pointing toward progress"
Now, I have no problem at all about an idea of mine being compared to the early Facebook- and I am the first to admit the visuals, practicalities and how the raffle is presented still needs some work!
Most raffles are devised as a means of fundraising, to enable an exhibition, event etc... Seen by the Borax Collective , Handshake Jewellery and an American Art Jewellery group ( i am sure there are many many more).

And as Le Van notices, through her many astute questions, fundraising is not the aim of the 'Suspended in Pink' Raffle...
So what is it? and WHY should you take part?

I go to many many exhibitions every year. But As a wanna-be collector, I have only three small pins.
I dont want a specially designed brooch with a groups logo on it, a sample piece or a bunch of postcards as a consolation prize- I want THE piece.
I want to own

Silke Fleischer's

amazing necklace and Sam Hamilton's 'Bread' Like brooch.
As a practitioner is who interested in engagement and audience interaction, I am always looking for ways to get my audience to wear the jewellery, understand it, and imagine owning it- and that, in my view, is the real strength of the 'Suspended in Pink' raffle.
So the idea of raffling off one of the jewellery pieces from the Suspended in Pink Exhibition seemed an obvious idea.
But its more then that....
Once a viewer decides they wish to take part in the raffle, they then can spend up to an hour, going through the exhibition, trying on the jewellery, comparing, assessing, deciding which item THEY would take home.
Deciding which piece of jewellery spoke out the most to them.
And this was then the piece that they would then bet on.
Maybe they would win it, maybe not- but for £5/€6/$8 it seems like a worth while experience to have- the experience of wearing and imagining that favourite piece of jewellery which YOUR ticket could win you....
And here is the good news- the odds of winning in this raffle are actually really high!
Only a small number of people have guessed the same names, and there are a number of exhibitors who's name has not been guessed yet-
So you have a real chance of winning....
All you have to do is email:
suspendedinpink@gmail.com
with: your name, the name of the artist who you want to win-
And to send payment of £5/€6/$8 by paypal to:
suspendedinpink@gmail.com
The winner is announced this Autumn!
Cache
Worthy clothes for the Goddess of Love and Beauty.

Price: $17.95 Special Price: $8.98
Cache
Remember when Batman fans thought it was a horrible idea to give fan favorite villain The Joker his own standalone origin film? Well, we were all wrong as not only did Joaquin Phoenix turn in an Oscar worthy performance, but the film set a record for an October opening as it took in close to […]

Cache
While music lovers in Spokane have been eager to get to know James Lowe, the new music director of the Spokane Symphony, we must recognize that he has been eager to learn more about us, too. The quality of a live music performance is inseparable from the quality of the audience.
Musicians will tell you they depend on the energy they feel in the house to attain levels of excellence they could never achieve in the practice room, and they can finish a performance before an appreciative audience feeling refreshed and exhilarated, while playing to an uninvolved crowd leaves them exhausted.
Lowe must have been very pleased after conducting "Masterworks 2: Garden Romance," his second pair of concerts in the orchestra's "Masterworks" series, at the Martin Woldson Theater at the Fox. The audience who cheered his appearance onstage, after doing the same for concertmaster Mateusz Wolski, was there not to see and be seen, but because they loved music and were eager to enjoy what the evening had in store.
They applauded at every opportunity and for every musician who took a solo. They chuckled at musical jokes, murmured at especially beautiful patches of melody and rose to their feet in appreciation for what they had been given. This positive energy was more than matched by what one could sense emanating from Lowe himself.
Even when the music did not demand it, he inspired his musicians to enliven every page, every bar, with palpable vitality. The first item on the program, a set of disparate dances by Dmitri Shostakovich (1906-1975) skillfully orchestrated by Gerard McBurney and published in 1988 as "Suite for Variety Orchestra No. 1," is charming and enjoyable but certainly not great music.
The dances bear no trace of the searing passion and bleak ironies of the composer's "Symphony No. 8" that we heard last year on the stage of the Fox so brilliantly conducted by Rei Hotoda. Lowe could certainly have merely allowed the endearing melodies and catchy rhythms of the suite to make their transitory points and move on to the more intellectually challenging parts of the program, but he did not. Instead, every clever turn of phrase, every witty interjection was delivered with point, clarity and focus.
The audience responded by roaring their approval, especially of featured players Keith Thomas (oboe), Chip Phillips (clarinet), Bruce Bodden (flute), and Steven Radcliffe and Greg Presley (pianos). Worthy of special mention was the luxury casting of accordionist Patricia Bartell, whose playing, not only in the solo passages but also in ensemble, was characterized by all the wit, imagination and elegance we have heard so often from her.
Guitarist Robert Belinic
Having enjoyed the delightful bonne bouche of the Shostakovich-McBurney, the audience was eager to hear guitar soloist Robert Belinic take on the beloved "Concierto de Aranjuez (1939)" of Joaquin Rodrigo (1901-1999). He proved himself to be an artist of superior technical finish and intense emotional projection, allied with a humility that allowed him to collaborate fully with his fellow musicians in bringing to life the rich sensory fabric of Rodrigo's concerto.
Lowe carefully maintained textures in the orchestra that were light and vibrant, exactly as we heard from Belinic's guitar. As a result, the virtuosity required to get around the technical difficulties posed by Rodrigo's writing for orchestra and soloist dissolved, leaving the impressions of, as Rodrigo put it, "The fragrance of magnolias, the singing of birds and the gushing of fountains."
In listening to his playing and remarks from the stage in the pre-concert lecture, one was impressed by the sincerity of Belinic. The guitar is unique in its ability to convey this quality, for the reason that, unlike the case of most other string instruments, the sound we hear is the result of unmediated contact of the string with the body of the performer.
By some neurological decoding, our minds recognize a degree of intimacy in those vibrations greater than can be found in other instruments. Thus, the experience of hearing Belinic play the guitar is like seeing directly into the heart of one who seeks beauty through music and wishes to take us with him.
The intoxicating sensuality of Rodrigo gave way in the second half of the program to the exquisite but sterile beauty of Erik Satie's (1866-1925) "Gymnopédies 1 and 2 (1888)," composed for piano but heard in these concerts in orchestral arrangements by Satie's vastly more gifted contemporary, Claude Debussy.
Emotional engagement
A difficult and solitary figure, Satie sought to create music as much as possible without emotional affect, music that could be experienced without engaging feeling. Fortunately, the performance on Saturday night missed that mark thanks to the sensitive orchestration by Debussy and Bodden and Thomas, whose playing commands emotional engagement.
As throughout the evening, Lowe achieved an orchestral texture of amazing transparency in which every strand made its maximum effect. From music that avoids any hint of conflict and sought otherworldly perfection, we moved to music that is as intensely human and fraught with emotion as any ever written: the Symphony No. 40 in G minor K. 550 (1788) of Wolfgang Amadeus Mozart (1756-91).
Mozart's music is famous for its perfection of proportion and balance. In the G minor Symphony, however, that perfection is one element in a duality, the other portion of which is the disorder and suffering that inevitably come to us in time. Mozart shifts tonality throughout the piece from minor to major, and back again, to make us feel the insecurity and impermanence of earthly happiness.
In the second movement of the work, the Andante, Mozart begins to state a cheerful diatonic melody in the major only to sour it with a shrilly dissonant chromatic accompaniment that drains the melody of its cheerful energy.
The finale of the work, ordinarily a place for triumph over all of the difficulties that went before it, is in this symphony an expression of anger and disappointment, as attempts at cheerful nonchalance are interrupted by harsh dissonances and pastoral melodies in the major sour into the minor.
Lowe was uncompromising in portraying the stressful emotions of this greatest of all Mozart's symphonies. He reduced the sweetness of the violins by having them play with little or no vibrato. He asked for bowings that sharpened the outlines of phrases rather than smoothing them over.
Most of all, the impressive clarity we noted throughout the earlier parts of the concert was maintained throughout Mozart's far deeper and more complex musical argument, allowing us to feel every wrenching disappointment, every burst of anger as though it were our own. Lowe's unstinting clarity and honesty of musical vision, and his ability to bring that vision to us through music, are beginning to emerge as his most outstanding qualities.
Cache
So the city of San Francisco is trying to recycle restaurant grease into biofuel for automobiles, to save the city's pipes from having a heart attack, and to clean our air, and to save the planet from melting, and it's going to be so awesome, even the Chronicle and its self-styled nemesis BeyondChron manage to agree on its front-page-worthy awesomeness.

Which is why I think it's funny no one mentioned this has been tried before, and has failed.

Two years ago the Golden Gate Restaurant Association named Bay Area Biofuel of Richmond its "preferred vendor" for grease recycling, and then in May 2006 I wrote a big front page article saying the company was growing production based on the partnership, and hoped to soon be profitable. The executive director of the restaurant association said Bay Area Biofuel "has all the right stuff" for the partnership, and according to my notes told me the association had conducted interviews to "find the industry leader" before settling on the company.

In October 2006, my colleague Lizette Wilson checked in with Bay Area Biofuel as part of a industry roundup article. She found the company still unprofitable, looking for more money from investors and drowning in unprocessed grease ("We need to expand production significantly to keep up with supply and be profitable").

By February of this year, the company's website had disappeared.

Then in May, Bay Area Biofuel Inc. of Richmond, CA filed for Chapter 7 bankruptcy liquidation in an Oakland court, according to Dow Jones Newswires' Corporate Filings Alert.

With Bay Area Biofuel gone, the city obviously needed to turn to a different company for its new grease recycling program. It settled on Blue Sky Bio-fuels of Oakland, which according to the Chronicle has been making biofuel for just two months.

I'm not saying San Francisco's new grease-to-biofuel effort will definitely fail, just that the city and its partner Blue Sky need to be asked what they will do to avoid the fate of Bay Area Biofuel and how certain they are about the sustainability of the restaurant grease recycling program. And coverage of the city's high-profile announcement should take note of the dead corporate body lying on this green road to the future.

By all accounts, including those of restaurateurs I interviewed in May 2006, restaurants are more likely to recycle their grease -- instead of pouring it down the drain -- if pickup is timely and reliable. There are well-established companies willing to reliably pick up restaurant grease for less glamorous ends than biofuel, as they have been doing for years. If restaurants are going to be encouraged to switch to a new recycler, it should probably be someone who is going to be around for some time to come.

(Photo courtesy nchoz on Flickr via Creative Commons license.)

Cache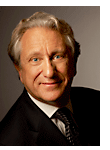 Last week I had a date with Laurence Geller, CEO of Strategic Hotels & Resorts and, by extension, the owner of the Westin Saint Francis hotel here in San Francisco. He put me in an apron, plied me with wine, cooked for me in a rooftop kitchen, gave me a signed copy of his rather purple novel "Do Not Disturb" and entertained me with

the

most delightful story about Michael Mina.

Michael Mina was going to make him a brasserie, in his hotel. Michael Mina was going to put it in the old Oak Room. Michael Mina was going to also make a bakery inside the brasserie and give it a window onto Post Street, somehow, and everyone was going to come and it was going to be awesome.

Laurence told me this, and gave me champagne, which made me happy, and then later he told as much to his 10 other guests, even though he did not care for them in that special way in which he cared for me, and he poured us more wine, and we were happy.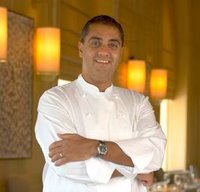 There were warning signs. When, the next day, I called the general manager of the St. Francis, a reliable and trustworthy fellow, he let on that the brasserie plans were, well, in the conceptual stage, but still "likely." And that Michael Mina was in talks but not, shall we say, signed on the dotted line. Michael Mina could not be reached for comment.

Actually, Michael Mina

was

reached for comment, the day after we went to press. Telling me that the plan for a brasserie was very preliminary, one among perhaps 15 projects Mina's company (total restaurants: 10) is weighing at any given time. But he was fairly certain he'd be running the St. Francis' new bar, the Clock Bar. But writing about the brasserie would be, uh, premature.

Well, Michael, you'll have to call Laurence about that one. Careful -- he's a sweet talker.

SF Business Times: St. Francis sees $150M hotel upgrade: CEO: But first, fix tourism (free link)

Cache
As my quest to find the Perfect Novel-Writing Haunt in Tbilisi continues (
Black Lion
and my old favourite
Near Opera
are too far away,
Cafe Literaturuli
is too much of a chain,
Konka
just doesn't feel decadent enough,
Caravan
's closed down, everything in Meidan's too bloody expensive now), I may have identified another worthy contender.
Moulin Electrique
, located in a slightly continental courtyard off
Leselidze Street
(follow the Hebrew sign on the left side of the street (ie, with Freedom Square at your back) to the lesser-known synagogue (not the one near Chardini St), manages to avoid the slightly disingenuous sheen so many "European" cafes in the increasingly gentrified Old Town have adopted, in which sleek minimalism and plastic shine replace authentically European cramp and acceptable sleaze. Its Toulouse-Lautrec posters are a bit new for Paris - but by Tbilisi standards, it's positively authentic, with a painfully hip (and, it seems from a cursory eavesdrop, largely Georgian) clientele too cool for Chardini. Like the rest of Leselidze Street, an unrenovated street with a mercantile history famous for its icon-stores and craftsmen,
Moulin Electrique
has managed to weather Old Town's transition into the occasionally plasticine picturesque: it's charming without ever appearing manicured.
The place is at its best in the summertime, when the continental courtyard is transformed into a semi-piazza, with outdoor tables and awnings. But for a varied coffee menu (chai lattes, elaborate cappuccinos), reasonably priced sandwiches, Moulin Electrique offers year-round casual comfort all too rare in this slick, pricey part of Old Tbilisi.
Cache
RAMBO: LAST BLOOD has not been received well. But it has gained plenty of attention. And it's great to see Sylvester Stallone back in Action.  AMAZING score, too, from Brian Tyler, as always! So what's the problem with the latest film? It's nasty. It appears to pit Rambo against a specific group, rather than have him trapped in the middle of a conflict between nations / factions as before. He talks too much. He is now a man of property and even community, thereby meaning that all he can do is regress rather than progress. Rambo was never Rocky, but they shared some sense of optimism at heart; the man against the odds, the system and a primal rage placed in service of an almost childlike innocence as ironic contrast. Stallone excels at that as an actor and his writing style, generally 'got' the essence of his characters and what made them cool.   So it's a shame that LAST BLOOD = Logan + Skyfall + No Country for Old Men + Taken..yet not as good as any of those and lacking the soul, heart and above all, the bandanna of a solid Rambo movie. Cut his hair; sure. But NEVER lose his trademark battle outfit 😉 That said? The film IS getting talked about and Sly is STILL vital, and those last action scenes and closing montage are excellent, 'imho'. Makes one curious for more, at least one more adventure? If that were to be commissioned, there were alternative drafts for the fifth film that could be harnessed, alongside the mooted prequel series for streaming. Here's a list of old ideas, cobbled together from multiple gossip sources for ideas for Rambo 4 AND 5...that could still give us a Rambo..6?   RAMBO VS TALIBAN   Seriously, this was almost a 'thing'. Post 9/11, especially, it was knocked around as a possibility. Also as a way of apologising for the perceived simplicity of Rambo 3 in Afghanistan. Send him BACK there to confront an element of the old order who had previously helped him against the Soviets. Perhaps he was rescuing another friend FROM corruption by Taliban /Al-Qaeda forces? Proving one of his old friends was innocent of conspiring with Bin Laden, via extraction FROM a terror training camp? So you'd have a big bad villain worthy of the old Cold War menaces that everyone feared in the war on terror; but still some socio-political complexity and depth, with Rambo again trapped in a struggle between competing forces and factions. Think the blood, guts and action fun of First Blood part 2..but with the heart, soul and depth of the first film? I would genuinely have loved to see this. Could they do it again? Maybe: Rambo in Syria, North Korea, Iraq, Iran, an increasingly draconian China? The possibilities for a genuinely current thriller do exist, if done correctly and without losing the fun. RAMBO VS MILITIA The Alt-Right. They are not 'nice', whatever your actual socio-economic politics. And in Timothy McVeigh, you have a poster boy for the extreme dark side of what one might term 'right' wing. An absolute belief in the imminent, even current, destruction of America at an almost apocalyptic level, they are drawn and driven to the madness of hate and ultimately, violence. McVeigh 'masterminded' the Oklahoma bombing of 1995. It was a devastating act of terror. It also shook Hollywood to the core. On the one hand, they considered withholding action fare that summer if 'terror' appeared to be trivialised (honestly, Die Hard 3 was almost iced?). On the other? McVeigh provided a new face for evil, for the goodies to slay like a dragon. And so it was that we almost had Ethan Hunt, Martin Riggs and yes, John Rambo take on militia groups. None of those proposals made it to the screen. But in Rambo's case, it was more intriguing because the pitch apparently involved a confrontation in the mountains between Rambo and an organisation whose leader might have been played by Brian Dennehy from First Blood? This would have had Rambo finish his war, on home turf, whilst remaining an exotic action piece with helicopters, machine guns and our hero taking out a private army, whilst confronting a real world villainy and finding some closure in his own character arc, via location. Missed opp. Definitely. But could be re-tooled, too, for part 6. AND, thematically, ending the final conflict on native American reservation land, as mooted..makes logical and visual sense.   RAMBO VS PREDATOR? Don't laugh. This makes sense. In a way. A minor flip in genre, veering into sci-fi yet still 'possible'. Around 2009, a script was circulating in which Rambo and a team of special forces veterans would be tasked with taking down a genetically enhanced super-soldier. Not compatible? Not realistic? Well, the Jason Bourne series arguably covers similar ground. And the idea of a mutation from genetic experimentation is only a minor exaggeration. But the pitch was ultimately deemed too 'out there' and also a BIT too much like PREDATOR (starring Arnold Schwarzenegger: Sly's main rival /buddy). Now, had they put those guys TOGETHER in a crossover..Arnie v Sly v Predator? Wow! But more seriously, the thematic depth could still have been there. Rambo is essentially a monster made by man; built for war and rendered autistic by an un-diagnosed PTSD. So confronting the 'monster' could have served as furter metaphor for John Rambo's own arc of closure, and some sci fi schlock / cautionary action based tale against messing with DNA..   RAMBO IN MEXICO! This was an initial pitch for Rambo 4 AND 5. In the former, he went to Burma instead. In the latter, yes, there is a Mexican dimension, but its pitch, premise and tone / purpose are convoluted in the resulting plot and moral motifs. Rambo would either be just travelling, for fun, as fits his character and THEN, himself, faced a kind of kidnap from which he had to escape? OR: He […]

Cache
The whole kerfuffle over the whistle blower demonstrates that Fartus Maximus Prevaricator is unworthy of any trust from the American people.  What is awaiting is how many Senators are comfortable committing treason.

Cache
Record 2.4 million fans tried to secure ticket for festival's 50th year next June
Tickets for the 50th year of Glastonbury have sold out in 34 minutes, as a record number of fans tried to secure a ticket for the event at Worthy Farm next June.
Emily Eavis confirmed that a record number of people had registered to be eligible for the sale, which started at 9am on Sunday and was finished in little over 30 minutes. A record 2.4 million people signed up to have a chance of securing a ticket.
Continue reading...
Cache
Song Hye-kyo recently made her first Instagram post since June. Though the post just consists of a fashion pictorial, it is noteworthy for being the first post Song Hye-kyo has made to the social media platform since the high profile announcement of her divorce from actor Song Joong-ki, who she met while filming 'Descendants of the Sun' back in 2015.

Cache
The U.S. Chamber's Technology Engagement Center ("C_TEC") and Center for Global Regulatory Cooperation ("GRC") recently released a set of ten principles essential for attaining the full potential of AI technologies. The principles, drafted with input from more than 50 Chamber member companies, stress the importance of creating a sensible and innovation-forward approach to addressing the challenges and opportunities presented by AI. The ten principles are: Recognize Trustworthy AI is a Partnership: Addressing issues of public concern around AI (e.g., protecting against bias, ensuring democratic values and respecting human rights), must be a multistakholder process involving governments, the private sector, civil society and academics in order to effectively foster public trust in AI technologies. Be Mindful of Existing Rules and Regulations: Policymakers should remind themselves that AI technology users must remain accountable under existing laws.…

Cache
Some of the best advice I received was when I was experiencing a lot of pain confronting the abuse I endured from my family and later romantic relationships. I opened my heart to a pastor about the hurt in my life and he told me "you don't have to make yourself feel vulnerable in person and forgive someone face-to-face. Forgiveness can be done at anytime from a safe distance." I never looked at things that way and it helped me let go of pain and guilt I felt throughout my life. As my parents are still alive, although I have distanced myself for my overall wellbeing, I still had the need to reach out because I recently found out my husband and I are expecting a baby of our own and I wanted to say how I felt to lay my feelings to rest once and for all. It was cathartic to write out my feelings and realize how strong of a person I am and how my family has missed out on knowing me thinking I'm good for nothing. I was able to Express how I am passionate about raising my child in a loving environment free of violence and apathy and it felt good to express how I feel without the need for validation and no expectations. The response I got was apathetic and stoic, histocially as they have behaved towards me, they never claimed any responsibility for their actions I expressed in my letter nor validated my feelings (which was the source of my pain for years) but it didn't matter to me because I know I did what I felt I needed to do - I needed to confront the hell they put me through, their lack of love and support and share despite that I forgive them and I still love them because that's the woman I am, I recognize they brought me into this world and now I have the opportunity to do better because if the woman I have become. I am a strong and beautiful being despite them, I didn't have their support then and I don't need it now because I have an inner strength that has sculpted me to be steadfast. I reached out to them to express how I feel and face them at the same opportunity, I did this so when they pass I know I gave them the chance to be open hearted, I forgave them and they chose otherwise (I can release myself from feeling like my feelings are unsolved or have any guilt). I'm a spiritual person so I wanted to honour my parents and treat them as I want to be treated and release myself from feelings of unworthiness and powerlessness because their limiting beliefs don't have to be mine anymore. Everyone copes with pain and trauma differently, and the rejection and abuse by your birth family can be damaging as society puts so much emphasis on close family bonds being the norm. Something that has brought me a lot of peace is that 'family' doesn't have to be defined by those connected to us by DNA, by letting go of my birth family it has made room for real love and peace in my life. I felt a void in my life by not having my parents to stand by me or siblings who cared about me and I filled that void by being a sister and child to those without that connection (seniors, orphaned and neglected children, etc). Everyone copes differently so what works for some may not work for others but for me reaching out and volunteering (formally and informally) has brought a lot of love into my life. I never developed a close bond with my parents but there are hundreds if not thousands of people I opened my heart to and had a genuine connection with, making the world a little brighter. In reading others feedback I do agree there is the danger of making bad choices by feeling "needy" for love and validation - hence how I ended up in abusive relationships over the years, making unhealthy choices. That's why I talk about my experiences and own upto my mistakes to maybe help others from undergoing the pain I experienced when feeling unworthy and seeking validation in all the wrong ways (binge drinking to 'fit in' and 'numb out', having numerous flings and seeking validation from men, etc). I also spoke to counselors and other survivors of abuse to work through the trauma and make healthy choices, it took me a lot of years of pain and suffering to realize I don't need to revictimize myself, I deserve better and need to love myself for me and I need to be selfish and put myself first, approve myself and be proud of myself. I didn't need my family to do that for me, I needed to love myself. Just like forgiving my family, it allowed me to forgive myself for my mistakes and move on. I hope this helps.

Cache
If your company sponsors a 401(k) or 403(b) plan that allows participants to take hardship distributions, you probably had a conversation with your plan recordkeeper last year about changes to the rules on hardship distributions under those plans.  Your company may even have already adopted related plan amendments or approved related plan operation changes, and that action was likely based on proposed hardship distribution regulations that the Internal Revenue Service (IRS) issued late last year (as described in this December, 2018, blog post from my colleague Belinda Morgan. Last week, the IRS issued final 401(k)/403(b) plan hardship distribution regulations, found here.  Thankfully, if your company was one of those employers that already took action based on the proposed regulations, the final regulations make only a handful of changes, so chances are that any changes you already made will still work.  The following are the few noteworthy items from the final…

Cache
 Ex Air Force Officer Describes Four Types of Extraterrestrial Beings the Government Knows About
Published 3 days ago
On September 23, 2019
By Arjun Walia
IN BRIEF
The Facts:
- A former member of the Air Force Office of Special Investigations, Richard Doty, tells all to researcher Dr. Steven Greer in a long interview.
Reflect On:
- With the reality of this phenomenon coming to light, how much disinformation has been spread by the 'powers that be' in order to twist the truth? Why?
Richard Doty is a retired Air Force Special investigations officer (AFSIO), and his job was to spread disinformation about the UFO subject during his time with the Air Force. Spreading disinformation about the reality of UFOs is no secret, and in Doty's case, he admitted to infiltrating UFO circles along with his colleagues to feed Ufologists and journalists lies and half-truths so that they would never understand any real truth. This is something I believe is still occurring within the UFO community–multiple disinformation campaigns that are now perhaps more sophisticated as well as a number of frauds who are sharing their 'experiences' when they've really had done. In fact, it was decades ago when the very first Director of the Central Intelligence Agency, Roscoe  Hillenkoetter, stated to The New York Times:
It is time for the truth to be brought out in open Congressional hearings. Behind the scenes, high ranking Air Force officers are soberly concerned about UFOs. But through official secrecy and ridicule, citizens are led to believe the unknown flying objects are nonsense. To hide the facts, the Air Force has silenced its personnel.
 Several astronauts have been quite outspoken about UFOs, like Apollo 14 astronaut Dr. Edgar Mitchell and high-ranking military/government personnel from around the world as well. On top of all of this, the simple fact that many people have had their own experiences has also sparked interest in the subject. There are also multiple videos that've been released by governments around the world, as a couple came from the Pentagon over the past few years via the To The Stars Academy. Here's a picture that the Canadian Air Force released in the 60s. It's no secret that UFOs have been a topic of concern, as academic publications, radar trackings, and millions of pages of documents have been released from multiple governments detailing numerous interesting encounters with these objects.
So, where does the extraterrestrial question come into play? It comes from hundreds, if not thousands, of people like the ones mentioned above. Credible sources with verified backgrounds have alluded to the fact that these objects are indeed extraterrestrial, and that this can be verified.
Yes, there have been crashed craft, and bodies recovered. – Dr. Edgar Mitchell 
Not long ago, a leaked document exposed notes taken by legendary scientist Dr. Eric Davis during a meeting he had with Admiral Thomas Ray Wilson, the former Director of the Defense Intelligence Agency, regarding extraterrestrial space crafts. 
This is why it's always interesting to hear such people talk about actual extraterrestrial entities rather than 'UFOs.' UFOs are no longer taboo within the mainstream, but the idea that some of them are extraterrestrial still seems to be a touchy subject.
According to Richard Doty, in the interview below with Dr. Steven Greer, maker of the hit documentary that's currently on Netflix called "Unacknowledged," the US government is aware of at least four different extraterrestrial species that've visited this planet.
Dr. Greer is well-known for interviewing multiple people with interesting, verified backgrounds, especially from the military and intelligence agencies. He's a major reason as to why the topic of UFOs has garnered so much attention.
According to Doty:
There were four types of crafts that they showed us, four types of extraterrestrials, and they never explained to us where they got the pictures of these extraterrestrials but there were actually pictures of these weird looking creatures that showed on the film that were extraterrestrials from some other location different from where the EBENs came from.
One was looking like an insect, had huge eyes, very large head, a small body. They had two different appendages on their arms, they had basically two hands on each arm. They had several joints in their legs, and they had a bubble type appendage in the front and a lump or something in the back, that was one of them. They were about the size of an average human.
The second one was a very tall thing, very very thin humanoid that had long arms. Arms reached down probably to its knees, they had regular hands. Their faces were very very thin. They were almost human looking, unless you really really study them and got real close to them. They didn't have any hair, they had cat like eyes.
And then there was a third creature… It looked something like the EBEN but it was bigger, it had a bigger body. I found out later in a briefing that I had, in 1995, that that was a genetically engineered creature that the EBENs made… They knew it was genetically engineered, and I don't know how, they didn't ever tell us how.
The "EBENs," which stands for extraterrestrial biological entities, Doty describes as "about four feet tall" and that they "didn't appear to have any ears, they had an indentation for the nose. They had very big eyes. They had a very tight fitting suit, almost looked like they were nude, but they actually had a very thin but tight fitting suit on. No thumbs just four fingers, suction devices on their tips of their fingers. One of them had a head apparatus on it, maybe a helmet or some kind of an ear phone, or some type of device that they were communicating with the craft or with something else, and they found a number of different objects in the craft. They had a piece of what they thought was plexiglass that they kept for years before they figured out it was an energy device for the craft."
Doty goes on to explain that multiple crafts have been shown to use zero-point energy–meaning they've found a way to extract energy from the vacuum of space.
Jack Kasher, Ph.D, a professor emeritus of physics at the University of Nebraska, once expressed "there is another way, whether it's wormholes or warping space, there's got to be a way to generate energy so that you can pull it out of the vacuum, and the fact that they're here shows us that they found a way." 
Doty is not the only one to claim that the global elite is aware of extraterrestrial beings. Paul Hellyer, who was the Canadian Minister of National Defense in the 1960s during the Cold War, claimed that "At least four known alien species have been visiting Earth for thousands of years."
"They have different agendas… Nearly all are benign and benevolent, they want to help us, [but] there may be one or two species which do not… They come from various places. For a long while, I only knew about ones that came from different star systems… There are some in our star system, there are actually extraterrestrials who live on a planet called Andromeda, which is one of the moons of Saturn, and that there are others on Venus, and some on Mars, and that they may be interacting between themselves… because there is what is called a federation of these people, and they have rules." – Paul Hellyer -
These people have nothing to gain but ridicule for speaking up about these things. And it's not just witness testimony, it's testimony that corroborates with many others in similar positions.
Lyn Buchanan, one of the STARGATE army remote viewers, claims, as multiple others within the program have, that he was tasked to find out information on extraterrestrial groups that were/are visiting the planet.
There are multiple other examples!
Confirming Doty's Identity:
As far as Doty's identity, UFO researcher Alejandro Rojas wrote a piece for Huffington Post in 2014 linking some very interesting documents regarding one of Doty's misinformation missions, one of which he also speaks about in the interview below. The Guardian has confirmed his identity, as do these videos. But what really did it for me was Hal Puthoff's response to this well-known UFO researcher?
Hal Puthoff is an American physicist who earned his Ph.D. from Stanford University. He is the Director of the Institute for Advanced Studies at Austin. His research includes theoretical and experimental projects in electrodynamics, quantum physics, gravitation, cosmology, energy research and more. His professional background includes engineering work at General Electric and Sperry as well as three and a half years spent at the U.S. Department of Defense. He served various government agencies, the Executive Branch, and Congress as a consultant on leading-edge technologies and future technology trends. He has been awarded the DoD Certificate of Commendation for Outstanding Performance, post-doc appointments at Stanford University as Research Associate, and more.
He is currently part of the team at the To the Stars Academy and was also the co-founder of the US Government's STARGATE program, which examined parapsychology. Doty claimed that he worked with Puthoff on multiple occasions and also mentioned him in the interview below. I came across a tweet from well-known UFO researcher Grant Cameron who tweeted that Hal Puthoff confirmed Doty's identity. Furthermore, another popular and well-known UFO researcher, James Iandoli, also asked Puthoff to comment on Doty's claims, and he did.
Dr. Steven Greer does not interview anybody whose credentials he cannot verify, which is also a noteworthy point. Doty's identify has been confirmed by many, something which is hard to do when you've held these types of positions within intelligence agencies.
It's safe to say that Doty is who he claims to be. Whether or not he is telling the truth is up to you to decide.
********************************
Cache
When one of Liz Kleinrock's fourth grade students made a cringeworthy comment about race, rather than change the subject, she chose to turn the moment into a teachable one — and start a conversation.

Cache
Originally posted on: http://brustblog.net/archive/2006/10/30/95540.aspx
If anyone has been following this technology closely, there have been a lot of complaints by some of the security vendors regarding PatchGuard. I first heard about this technology at TechEd 2006 in a lot of the Vista sessions.
The recent controversy caused me to do a little more research in to this technology and the issues surrounding it.
The official name for this technology is called Kernel Patch Protection (KPP) and it's purpose is to increase the security and stability of the Windows kernel. KPP was first supported in Windows Server 2003 SP1, Windows XP, and Windows XP Professional Edition. The important thing to understand about this support is that it is for x64 architectures only.
KPP is a direct outgrowth of both customer complaints regarding the security and stability of the Windows kernel and Microsoft's Trustworthy Computing initiative, announced in early 2002.
In order to understand the controversy surrounding KPP, it is important to understand what KPP actually is and what aspects of the Windows operating system it deals with.
What is the Kernel?
The kernel is the "heart" of the operating system and is one of the first pieces of code to load when the operating system starts. Everything in Windows (and almost any operating system, for that matter) runs on a layer that sits on top of the kernel. This makes the kernel the primary factor in the performance, reliability and security of the entire operating system.
Since all other programs and many portions of the operating system itself depend on the kernel, any problems in the kernel can make those programs crash or behave in unexpected ways. The "Blue Screen of Death" (BSoD) in Windows is the result of an error in the kernel or a kernel mode driver that is so severe that the system can't recover.
What is Kernel Patching?
According to Microsoft's KPP FAQ, kernel patching (also known as kernel "hooking") is
the practice of using internal system calls and other unsupported mechanisms to modify or replace code or critical structures in the kernel of the Microsoft Windows operating system with unknown code or data. "Unknown code or data" is any code or data that is not provided by Microsoft as part of the Windows kernel.
What exactly, does that mean? The most common scenario is for programs to patch the kernel by changing a function pointer in the system service table (SST). The SST is an array of function pointers to in-memory system services. For example, if the function pointer to the NtCreateProcess method is changed, anytime the service dispatch invokes NtCreateProcess, it is actually running the third-party code instead of the kernel code. While the third-party code might be attempting to provide a valid extension to the kernel functionality, it could also be malicious.
Even though almost all of the Windows kernels have allowed kernel patching, it has always been an officially unsupported activity.
Kernel patching breaks the integrity of the Windows kernel and can introduce problems in three critical areas:
Reliability
Since patching replaces kernel code with third-party code, this code can be untested. There is no way for the kernel to assess the quality of intent of this new code. Beyond that, kernel code is very complex, so bugs of any sort can have a significant impact on system stability.

Performance
The overall performance of the operating system is largely determined by the performance of the kernel. Poorly designed third-party code can cause significant performance issues and can make performance unpredictable.

Security
Since patching replaces known kernel code with potentially unknown third-party code, the intent of that third-party code is also unknown. This becomes a potential attack surface for malicious code.
Why Kernel Patch Protection?
As I mentioned earlier, the primary purpose of KPP is to protect the integrity of the kernel and improve the reliability, performance, and security of the Windows operating systems. This is becoming increasingly more important with the prevalence of malicious software that is implementing "root kits". A root kit is a specific type of malicious software (although it is usually included as a part of another, larger, piece of software) that uses a variety of techniques to gain access to a computer. Increasingly, root kits are becoming more sophisticated and are attacking the kernel itself. If the rootkit can gain access to the kernel, it can actually hide itself from the file system and even from any anti-malware tools. Root kits are typically used by malicious software, however, they have also been used by large legitimate businesses, including Sony.
While KPP is a good first step at preventing such attacks, it is not a "magic bullet". It does eliminate one way to attack the system...patching kernel images to manipulate kernel functionality. KPP takes the approach that there is no reliable way for the operating system to distinguish between "known good" and "known bad" components, so it prevents anything from patching the kernel. The only official way to disable KPP is by attaching a kernel debugger to the system.
KPP monitors certain key resources used by the kernel to determine if they have been modified. If the operating system detects that one of these resources has been modified it generates a "bug check", which is essentially a BSoD, and shuts down the system. Currently the following actions trigger this behavior:
Modifying system service tables.
Modifying the interpret descriptor table (IDT).
Modifying the global descriptor table (GDT).
Using kernel stacks that are not allocated by the kernel.
Patching any part of the kernel. This is currently detected only on AMD64-based systems.
Why x64?
At this point, you may begin to wonder why Microsoft chose to implement this on x64 based systems only. Microsoft is again responding to customer complaints in this decision. Implementing KPP will almost certainly impact comparability of many legitimate software, primarily security software such as anti-virus and anti-malware tools, which were built using unsupported kernel patching techniques. This would cause a huge impact on the consumer and also on Microsoft's partners. Since x64-based machines still make up the smaller install base (although they are gaining ground rapidly) and the majority of x64-based software has been rewritten to take advantage of the newer architecture, the impact is considered to be substantially smaller.
So...why the controversy?
Since KPP prevents an application or driver from modifying the kernel, it will, effectively, prevent that application or driver from running. KPP in Vista x64 requires any application drivers be digitally signed, although there are some non-intuitive ways to turn that off. (Turning off signed drivers does prevent certain other aspects of Windows from operating, such as being able to view DRM protected media.) However, all that really means is anyone with a legitimately created company and about $500 per year to spend can get the required digital signature from VeriSign. Unfortunately, even it is a reputable company, it still doesn't provide any guarantees as to the reliability, performance, and security of the kernel.
In order for software (or drivers) to work properly on an operating system that implements KPP, the software must use Microsoft-documented interfaces. If what you are trying to do doesn't have such an interface, then you cannot safely use that functionality. This is what has lead to the controversy. The security vendors are saying that the interfaces they require are not publicly documented by Microsoft (or not yet at any rate) but that Microsoft's own security offerings (Windows OneCare, Windows Defender, and Windows Firewall) are able to work properly and use undocumented interfaces. The security vendors want to "level the playing field".
There are many arguments on both sides of the issue, but it seems that many of them are not thought out completely. Symantec and McAfee have argued that the legitimate security vendors be granted exceptions to KPP using some sort of signing process. (See the TechWeb article.) However, this is fraught with potential problems. As I mentioned earlier, there is currently no reliable way to verify that code is actually from a "known good" source. The closest we can come to that is by digital signing, however, a piece of malicious code can simply include enough pieces from a legitimate "known good" source and hook into the exception.
So lets say, for arguments sake, that Microsoft does relent and is able to come up with some sort of exception mechanism that minimizes (or even removes) the chance of abuse. What happens next? Windows Vista, in particular, already includes an array of new features to provide security vendors ways to work within the KPP guidelines.
The Windows Filtering Platform (WFP) is one such example. WFP enables software to perform network related activities, such as packet inspection and other firewall type activities. In addition to WFP, Vista implements an entirely new TCP stack. This new stack has some fundamentally different behavior than the existing TCP stack on Windows. We also have network cards that implement hardware based stacks to perform what is called "chimney offload", which effectively bypasses large portions of the software based TCP stack. Hooking the network related kernel functions (as a lot of software based firewalls currently do), will miss all of the traffic on a chimney offload based network card. However, hooking in to WFP will catch that traffic.
Should Microsoft stop making technological innovations in the Windows kernel simply because there are a handful of partners and other ISVs that are complaining? The important thing to realize is that KPP is not new in Windows Vista. It has been around since Windows XP 64-bit edition was released. Why is it now that the security vendors are realizing that their products don't work properly on the x64-based operating systems? The main point Microsoft is trying to get across is that most of the functionality required doesn't have to be done in the kernel. Microsoft has been working for the last few years trying to assist their security partners in making their solutions compatible. If there is an interface that isn't documented, or functionality that a vendor believes can only be accomplished by patching the kernel, they can contact their Microsoft representative or email msra@microsoft.com for help finding a documented alternative. According to the KPP FAQ, "if no documented alternative exists...the functionality will not be supported on the relevant Windows operating system version(s) that include patch protection support."
I think the larger controversy is the fact that there are now documented ways to break KPP. This is where Microsoft and it's security partners and other security ISVs should be spending their time and energy. If we are going to have a reliable and secure kernel, we need to focus on locking down the kernel so that no one is able to breach it, including the hackers. This is an almost endless process, as the attackers generally have almost infinite amounts of time to bring their "products" to market and don't really have an quality issues to worry about. Even with the recent introduction by Intel and AMD of hardware based virtualation technology (which essentially creates a virtual mini-core processor that can run a specially created operating system), there is still a long way to go.
What's next?
While it is important to understand the goals of KPP and the potential avenues of attack against it, the most important thing for the security community to focus on is in making sure that the Windows kernel stays safe. The best way to do this is to keep shrinking the attack surface until it is almost non-existent. There will always be an attack surface, however, the smaller that surface becomes the easier it is to protect. Imagine guarding a vault. If there is only one way in and out, and that entrance is only 2-feet wide it is much more easily guarded than a vault that has 2 entrances, each of which are 30-feet wide.
However, as malware technology advances it is important for the security technology that tries to protect against it to advance as well. In fact, the security technology really needs to be ahead of the malware if it is to be successful. PatchGuard has already been hacked, some of the proposed Microsoft APIs for KPP won't be available until sometime in 2008, and the security vendors do have legitimate reasons for needing to access certain portions of the kernel.
Host Intrusion Prevention Systems (HIPS), for instance, uses kernel access to prevent certain types of attacks, such has buffer overflow attacks or process injection attacks, by watching for system functions being called from memory locations where they shouldn't be called. The Code Red Worm would not have been detected if only file-based protection systems were in use.
The bottom line is that the malware vendors are unpredictable and not bound by any legal, moral, or ethical constraints. They are also not bound by customer reviews, deadlines, and code quality. The security vendors and Microsoft need to work together to ensure that the attack surface for the kernel and Windows itself is small and stays small. They can do this by:
Establishing a more reliable way to authenticate security vendors and their products that will prevent "spoofing" by the malware vendors.
Minimizing the attack surface of the Windows Kernel.
Establishing documented APIs to interact with the kernel to perform security related functions, such as firewall activities.
Enforcing driver signatures...in other words, don't allow this mechanism to be turned off. At least don't allow it to be turned off for certain security critical drivers.
Enforcing security software digital signatures. If you want your security tool to run, it must be signed. Again, don't allow this mechanism to be turned off.
Establishing a more secure way for the security products to hook in to the kernel.
Restricting products to patching only specific areas of the kernel. Currently, it is possible to patch almost any portion of the kernel.
Enforcing Windows certification testing for any security products.
Cache
Owning a dog is a decidedly WEIRD thing
.
If your roommates
woke you up every morning at the crack of dawn, prevented you from going out after work with friends, cut short your vacation, pissed on your rugs, crapped on your floor, ate your shoes, and vomited on your car seat, you would kick them to the curb.
Add in fleas and ticks
and the occasional weird smell because he or she likes to roll in deer poop? Call the police!
And yet people gravitate to dogs.
WHY?
What INCREDIBLE thing
does a dog offer that makes all these liabilities seem trivial?
The answer
is that dogs are a mirror in which we see ourselves, NOT AS WE ARE, but as we hope to be.
We love dogs
because dogs AFFIRM what we want to think about ourselves.
The dog is a MIRROR
that presents us IMPROVED.
We may be boring,
but the dog tells us we are interesting and EXCITING.
We may come home feeling dejected and tired
, but the dog tells us we are MAGNIFICENT. The dogs are DELIGHTED to see us, and they tell us they have waited all day for the privilege! We may be common as a turnip top, but our dogs tell us we are special.
We may be awkward and present with bad breath
, but out dogs tells we are worthy of adoration.
We may be sarcastic
, grumpy, and self-centered, but our dogs say we are kind and loving.
We may be thick as a brick
, but our dog tells us that we are WISE, and a near-GENIUS.
We may be weak and challenged
, but our dogs tell us we are POWERFUL and worthy of respect.
We may be little more than a cog
at work, but our dog tells us we are the most important person in the world
And, of course,
our dogs are HAPPY, HAPPY, HAPPY to see us.
Our spouses aren't always happy
to see us. Our kids aren't always happy to see us. But the dog is always THRILLED.
We love dogs because of how they make us FEEL about ourselves
and we NEVER FORGET the people or things that make us feel good about ourselves.
Not to be sexist; it's the woman in the mirror too.
Cache
It is a chilly, sunny February afternoon in Napa Valley. Tasting rooms are packed and wine routes are busy, much busier than I remember from previous visits.



It's been five years since my last visit to the region and just over a decade since I spent weekends roaming Napa's wine routes while working on a nine-month project in the Bay Area.



Napa served as my introduction to wine a dozen years ago and the foundation of my initial wine education. Those early trips were largely about cabernet sauvignon, but today I'm in search of Napa's other Cab — cabernet franc.



Cabernet sauvignon may be King of Napa Valley — 23,000 of the 43,000 acres of vines in the region are planted to the grape — but, over 30 grape varieties are being cultivated for wine across the region.



Among the other varieties thriving in vineyards across the Valley is cabernet franc, the ancient red grape of the right bank of Bordeaux and the Loire Valley where it's grown for centuries (though recent genetic analysis indicates the grape originated in the Spanish País Vasco, Basque Country). It's also the genetic parent of cabernet sauvignon.



Often used to add bright aromatics to red blends, cabernet franc wines are lighter, juicier, softer, more perfumed and versatile than those made from its progeny.



Two weeks before this trip, I organized a Napa BYOB dinner with friends to get reacquainted with wines of the region.



There were several exceptional cabernet sauvignons and chardonnays, a serviceable merlot and a seriously delicious ribolla gialla shared that evening, but it was a 2016 cabernet franc from Detert Family Vineyards that stole the evening.



Aromatically charming and intense, a perfect blend of new world fruit and old world spice and earthy notes, the grapes for the Detert Cabernet Franc were grown in To Kalon, the iconic American vineyard.



To Kalon — Ancient Greek for 'the highest beauty' — is situated between Highway 29 and the edge of the Mayacamas mountains in western Oakville in the heart of Napa Valley.



Established in 1868 by Napa wine pioneer Hamilton Walker Crabb, To Kalon spans 678 acres today and is the source of Cabernet Sauvignon for some of the most prestigious and expensive American wines.



The origins of cabernet franc in Napa are opaque but one of the first plantings is thought to be seven decades ago in To Kalon. Planted along the northwestern edge of To Kalon in 1949, the seven acre plot has been farmed by the Deterts Family Vineyards team for six decades.



Like the cabernet sauvignons made from grapes grown in the gravelly soils of Ta Kalon, the complex and expressive Detert Cabernet Franc is one of the most acclaimed in Napa.



About 20 miles southeast of the Detert vineyard at To Kalon, cabernet franc is thriving in vineyards planted on Sugarloaf Mountain East in southeast Napa.



Cabernet franc evangelist John Skupny, and his wife Tracey, founded Lang & Reed (the middle names of their two sons) in 1996 in St. Helena to focus on Napa's other cabernet.



The Skupnys left their careers in the restaurant industry in the midwest to move to Napa in 1980. "We drank a lot of cab franc when we lived in the midwest working in the restaurant industry so we had an appreciation for the potential the grape and believed it could make excellent wines in Napa," explained Skunpy.



"We made an experimental cab franc in 1993, started commercial production in 1996 and have made one every vintage since."



In 2007, Napa viticulturist Bill Hill contacted Skupny about buying cab franc grown on Sugarloaf Mountain in southeast Napa. "I've been working with cab franc in Napa so long I'm like an orphanage for it, growers often contact me about buying fruit," said Skupny with a chuckle.



"I wasn't looking for new fruit sources at that time but said I'd be interested in walking the vineyard. Bill sent me a map and I noticed it was planted with the Entlav 214 clone that originated in the Loire Valley and thrives in cool sites like Sugarloaf Mountain east."



In his over two decades of experience working with cabernet franc in Napa, Skupny has gained a deeper appreciation for the importance of site and clonal selection, "I've found Entlav 214 performs great here in cooler sites that drain well and are planted on the mid to upper benchlands. Cab franc vines on Sugarloaf Mountain are planted just above the fog line on a 20% slope with southwest exposure which is why the wine is so expressive."



Elizabeth Vianna, winemaker at Chimney Rock Vineyards who farms nearly four acres of cabernet franc in the Stags Leap District, is a big fan of the grape and feels it's underrated but starting to get more deserved attention, "Cab Franc is a niche grape here [in Napa] but there is definitely a growing buzz around the grape as a varietal wine for sure."



Adding to cabernet franc's appeal is the grape's versatility as a varietal wine.



Winemaker Steve Matthiasson says, "Cab Franc is actually an adaptable variety, making more Cabernet Sauvignon-like wine planted up-valley where it's warmer, and lighter more aromatic wines in the south part of the valley. It can work on east or west exposures, but again, it's a bit of a chameleon style-wise, and it will be riper and more powerful on the southwestern exposures, and more aromatic on the northeastern exposures."



"Cab Francs from the cooler AVAs like Stags Leap express a brighter personality but it is thriving across the Valley because it's so versatile," said Vianna, who farms nearly four acres of Cabernet Franc in the Stags Leap District.



"In a blend, Cab Franc brings freshness and liveliness but has a lot to stay on it's own as a varietal wine," says Brian Kay, winemaker at Trefethen Family Vineyards, who farms just over five acres of the grape in the Oak Knoll District.



At $8,505 per ton in 2018, cabernet franc is the most expensive grape in the region (compared to $7,925/ton for Cabernet Sauvignon) but is often a serious bargain in bottle compared to the cabernet sauvignon. [Ref. 1]



Cabernet franc may not be the first cabernet that comes to mind when you think of Napa Valley and may always be in the shadow of its progeny, but these wines are compelling and worthy of a place at your table.



For a taste of Napa's other Cab, seek out Cabernet Franc wines from Corison, Detert, Beringer, Cornerstone, PRIDE Mountain, Crocker & Star, and these producers:



Ref. 1: Price per ton as reported in the United States Department of Agriculture National Agricultural Statistics Service Grape Crush Report and Napa County Agricultural Crop Report (page 10).
Lang & Reed 2016 Two-Fourteen Cabernet Franc



Named for the Entav 214 clone, Two-Fourteen is 100% cabernet franc grown on the sloped hillside of Sugarloaf Mountain. This is the only Cabernet Franc in the region made exclusively from the Entav 214 clone. Medium-bodied and ruby in color, this wine pulls you in to the glass with aromas of red raspberry, blueberry and spice. Energetic, revealing a complex range of flavors including raspberry, cherry, dried strawberry, tobacco leaf, violet and spice with hints of black olive on the edges. Lengthy dried herb and dark berry finish. Seriously delicious.



Matthiasson 2016 Cabernet Franc



Made from 100% Cabernet Franc from Matthiasson's home vineyard in the western Oak Knoll District. An aromatically charming Cabernet Franc from the restrained hand of winemaker, Steve Matthiasson; a bridge from new to old world. Pale ruby in color, offering aromas of red fruits, spices and dried herbs followed by flavors of ripe plum, sage and mineral. Mouthwatering acidity with a long herbaceous finish. A compelling expression of Cabernet Franc.



Trefethen 2016 Cabernet Franc



Founded in 1968, Trefethen is now managed managed by the third generation. Made 100% Cabernet Franc grown in Trefethen's estate vineyard in the Oak Knoll District in southern Napa from vines planted in 2003. Aged 18 months in French oak (22% new). Cab Franc offering notes of tobacco leaf, violets, dark cherry, and cranberry around a core of dried herbs. Hints of toasty oak and black tea linger on the finish.



Chimney Rock 2014 Estate Cabernet Franc



Made from 100% Cabernet Franc grown in the Chimney Rock estate vineyard in the Stags Leap District AVA in southern Napa Valley. A robust and complex Cab Franc offering pronounced dark fruit, violets, baking spice, and leather aromas with savory notes lingering. Energetic and powerful in the mouth, revealing a range of dark berry and earthy flavors. Ample acidity. Lengthy vanilla and blueberry notes on the finish.



Barnett 2016 Cabernet Franc



Made from grapes grown in Barnett's estate vineyard on Spring Mountain in St. Helena at 1,800 feet in elevation, just above the fog line. A complex and layered Cabernet Franc, offering ripe plum, tobacco leaf, pomegranate, and bright raspberry aromas; the 6% Merlot adds ripe blueberry and cocoa powder aromas on the edges. Medium-bodied, the palate is expressive, full of dark fruits, cedar, violets, olive tapenade, framed by moderate tannins and a lively red acidity with mint tea on the finish.

______________________________________________________

A Virginia native, Frank Morgan founded DrinkWhatYouLike.com nine years ago to chronicle his wine experiences and share stories of local wines and winegrowers. Morgan is the wine columnist for VA Growler Magazine. He contributes to Piedmont Virginian Magazine, The Virginian-Pilot online, edibleDC, the wine site Snooth, and PBS. He is the founder of Virginia Wine Chat, a monthly virtual tasting series featuring notable wines and winemakers. He lives in the Coastal Virginia region with his wife and daughter. Connect with him on Instagram: /DrinkWhatYouLike
Cache
Drag
Drag
Entertainment
Can someone sign me up to judge G-A-Y's 'Porn Idol' next?!
Entertainment
Mikelle Street
It seems that the drag world's attention is currently on London — well, RuPaul's world that is! After Miss Fame, Aquaria, and Violet Chachki bounced around at fashion month, we settled in Britain for the launch of RuPaul's Drag Race U.K. And seemingly to fete the show's arrival, a few Drag Race alum came to town. Of them, was All Stars season 3 winner Trixie Mattel.
While in London, Mattel linked up with Drag Race U.K. contestants The Vivienne and Baga Chipz for a stop at the popular nightclub G-A-Y. Among her dates there, as there were multiple, she hosted a night of the spot's long-running competition "Porn Idol." Think of it as American Idol (or maybe British Idol) but strippers! And while the contestants certainly put on a show, Mattel's facial expressions were meme-worthy in and of themselves. 
"Are you ready to see some fucking naked people?!" Mattel said after being introduced onstage. Yes m'am. Yes m'am, we are. 
We aren't exactly sure how the event is structured but from what we can tell, a number of contestants come to stage and strip to, what seems to be, a song of their choice. There's a pole available for twirling around and apparently, you can take it all off (as one contestant did.) On Thursday, when Mattel judged, the lone female contestant apparently took her mic from the drag queen mid performance. So, that happened!
But get into Mattel's varied expressions during the whole thing.
Quite a ride! After every performance, the judges scored the contestants via placards. Later on, an audience vote helped to decide (with a little save from Mattel herself) the final two. That pair, the lone female contestant, and the guy who went balls to the crowd, played backup dancers for the All Stars winner, later for a lip sync — and at some point during the night Mattel also juggled for full seven seconds!
Mattel returned to G-A-Y for a performance on Saturday as well.

RELATED | 'Cher' Crashed Sean Hayes' Guest-Host Appearance on 'Ellen'

 

00

Cache
by jhaelen

Game Four:

Originally, Bartholomew (#18), the Gnome Rogue's main motivation for founding the alliance had been to search the Slayer's Dungeon for the remains of the Lost Alliance's members in order to liberate them from their possessions. But after they'd unexpectedly found a means to bring one of them, Shoktor the Transmuter, back to life, he had quickly become an important ally and friend. And as the group followed the tracks of the Lost Alliance and learned more about their fate, he found that their discoveries had affected them in unexpected ways.

Between him and Kulldrak (#20), the Half-Orc Paladin, an unspoken competition had started, and they felt compelled to outdo each other in combat. And between Taio (#21), the Warrior Mage, and Jypzy (#6), the Elf Wizard, a tender romantic relationship had blossomed, so they were reluctant to leave each other's side for long.

It almost felt as if they were reenacting what had befallen the Lost Alliance…

As if that wasn't worrying enough, after their latest trip to the Slayer's Dungeon, an important task had remained unresolved: After defeating the Dark Empress, they had discovered one of Shoktor's allies in her Throne Room, bound to a table, his soul imprisoned in a strange crystal, leaving his body in a stasis, trapped between life and death. Unsure how to free him without causing irreparable damage, they'd left him there, with Taio magically sealing access to the place.

After spending a few days researching dark rituals and forbidden eldritch experiments, help came from an unexpected direction: Lady Eleanor, who had accompanied them before during their ill-fated second dungeon expedition learned about their inquiries and made a proposition:

In return for three artifacts, she offered them a tome describing the occult procedure to return a soul to its body. Grudgingly they accepted the deal, took the tome, and made their way back through the Great Wyrm's tunnels into the depths of the Slayer's dungeon.

Quests: Displacement, Lady Eleanor, Dark Empress

On their way to the sealed portal leading to the Throne Room, they made short work of the creatures that had made the previously cleared rooms their new home. Bartholomew winked at Kulldrak and quickly dispatched a pair of giant spiders in one room, Jypzy incinerated another room harboring a zombie and a gargoyle, while Taio dealt with an ogre in a third room. All that was left for Kulldrak to do was to search the rooms, discovering a treasure chest and a strange broken amulet.
[o]Just as in my previous game, the continuing Rivalry between Bartholomew and Kulldrak earned me a total of two campaign tokens over the course of this game. I've found it's harder to ensure that the first rival to activate slays an Enemy while within two spaces of the other in the later game rounds. So, two out of a potential maximum of four isn't bad.[/o]
With a short prayer, the Paladin mended the trident-shaped amulet and restored its power. He handed it over to Shoktor to investigate, who grew agitated as it triggered another memory: Shoktor himself had once created the amulet as a gift for Tay the Summoner, his secret love! He'd enchanted it to enhance her summoning skills.
[o]Repairing the Amulet of Triton granted me one campaign token and the card itself – one of the rare sources of a damage bonus for pets.[/o]
In the meantime, Taio had opened the chest and started looting. Apart from coins and a few pieces of jewelry, he discovered a rod which he identified as a magical Rod of Opening. As he was holding it, it started to glow with a faint bluish light indicating the presence of a nearby secret door. Intrigued, he started pacing the room's outer walls, and after casting a detection spell, revealed something even more fascinating:

Apparently the room was slightly out of phase, existing partially in a different dimension. Warning the rest of the party to remain at a safe distance, he activated the rod and watched as the room shifted and warped, leaving him slightly dizzy. When he recovered, new pathways had opened in three directions and a pair of wargs was pouncing on him!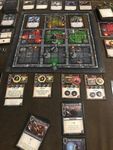 [o]Since I didn't want to take any chances, I had spent the 3xp required to trigger Dimensional Replacement in my last turn of the first game round. This quest is worded a bit differently than the others, allowing the token to be placed in any Dungeon room, which I interpreted to mean it didn't have the standard restrictions. So, I chose to place it in the central room, adjacent to Taio. In retrospect, after re-reading the relevant rules section (the first section on page 7 of the Rules Supplement), it looks like that was an error:


In addition, the player must obey the following rules


I'm used to card texts taking priority over general rules, but this doesn't seem to be the case here

. Well, it can't be helped now. I would still have been able to resolve the quest quite easily, but it would likely have taken me an additional activation. Anyway, resolving the quest granted me two campaign tokens.[/o]
For the rest of the group, it had looked as if the door to the room had disappeared and the wall started to move and twist, until a new opening suddenly appeared, showing Taio trying to fend off huge canine beasts, while a hydra and a wyvern in adjacent rooms slowly made their way towards him, attracted by the noise.

The rogue was the first to recover his wits and joined the fight, flanking and impaling one of the giant wolves. Then the elf wizard followed his lead, covering Taio's side and blasted several of the hydra's heads with spells. Unfortunately, this wasn't sufficient to take out the hydra. Wide-eyed Jypzy watched as for every head she had destroyed a new pair grew back with alarming speed. The hydra's vicious counter-attack was too much for the elf. A distressed cry escaped the warrior mage as he watched her go down.
[o]The continuing effect of the Forbidden Love Letter earned me one campaign token at the end of game round two. At the end of round four, I didn't manage to join the "Lovers" due to Taios being defeated at that point, causing the heart-broken Jypzy to take another wound.[/o]
The half-orc was the slowest to react, but made up for it with a fierce rage, charging the wyvern without regard for his own safety. Even falling into a pit trap that unexpectedly opened under him couldn't stop his advance for long. Before the dumbfounded wyvern understood what had happened, Kulldrak had already gutted it.

Despite his concern for Jypzy, Taio suppressed his emotions and with a coolness he didn't feel, ran in a circle around the hydra to disable a trap in the hydra's lair before finishing off the hydra.

Seeing this, Bartholomew nodded grimly and made a run for the next room, opening the door to reveal a small lizard-like creature asleep in a corner. Without pausing, he rushed back, intending to deal with the remaining warg when he suddenly realized that he was back in the room with the portal they had sealed during their previous visit. But the portal was open! How could that be?

His thoughts were racing when another shock hit him like a bolt of lightning and with a feeling of growing dread he watched the Dark Empress they'd believed dead emerge from the portal. With a wicked grin she cast a spell at him and he felt as if he'd fallen into an icy lake and barely managed to shout a warning as he almost passed out.

A fierce fight ensued, which became even worse when the awakened lizard-creature joined, turning out to be a deadly basilisk!
[o]I knew I had to take some risks if I wanted to earn enough campaign points to call my last game a victory. So far, I'd been making excellent progress, but taking down a Final Enemy can take time, so I placed the Throne Room entrance at my earliest opportunity.

And I still needed that third level II or higher monster for Lady Eleanor's quest. So, I also placed a level III room with a basilisk, the only remaining standard monster type I hadn't encountered yet in any of my previous games.

Finally, I opened the entrance to the Throne Room since it seemed like a relatively safe thing to do as the basilisk wouldn't activate this turn…

This would be something I'd regret in a short while because its nasty gaze ability forced me to discard four cards, prolonging the fight against the Final Enemy.[/o]
Things looked truly dire until an opening presented itself: The Dark Empress was so focused on taking revenge for her previous defeat at the hands of the adventurers that she fell into the pit trap Kulldrak had triggered earlier.

This gave Jypzy the chance to take her down for good this time, bathing her in magical fire until there was nothing left but ashes. With the evil sorceress gone, the basilisk was soon to follow.
[o]Defeating The Dark Empress (again!) granted me another four campaign tokens. During this fight another rule question came up. As the second paragraph on page 8 of the Rules Supplement mentions:


The Final Enemy always attacks a hero at the end of each Monster Activation segment if possible.


As it turned out, the only way to attack the randomly selected target hero required the Dark Empress to move through the space containing the Pit Trap.

So far, so good, but apparently I hadn't read the Pit Trap's card text carefully enough, because I believed that any creature entering the space would take 2 automatic damage.

However, as I'm seeing now, what the card actually says is that the automatic damage is only taken when the trap is sprung. Afterwards, its only effect is to hinder movement and prevent creatures in its space to attack.

Unfortunately, this means that Jypzy wouldn't have been able to take out the Dark Empress with a single attack, leaving her with two remaining life instead. So, it would have taken me at least another activation to defeat her. Ah, well…

[/o]
After they'd recovered a bit, Taio studied the portal with a puzzled expression. "I thought no one would be able to break my seal. I doubt the Dark Empress would have been strong enough. And besides, how comes she was alive again? Someone or something extraordinarily powerful must be behind this." This was followed by an uneasy quietness, everyone exchanging worried glances.
[o]In previous games I had wondered how you're supposed to successfully resolve Lady Eleanor's quest. It's already not that easy to defeat 3 Level II or higher monsters to trigger the quest. And even if you do, you're very likely already far into the game. And then you need to draft three artifacts, move adjacent to her and remove them from the game again!

Turns it out it's a lot easier if you already start the game with two artifacts in play


So, this is one example of a quest that is a lot easier to complete in the 3rd or 4th game of a campaign. Resolving the quest earned me three campaign tokens.[/o]
It was Kulldrak who finally broke the silence: "All this brooding won't do us any good. Let's finish the job we came here for!" With renewed determination they made their way through the portal to look for Shoktor's ally. And thankfully he was still there, looking exactly the same as the last time they'd seen him. Perusing the tome they'd received from Lady Eleanor, they carefully followed its instructions and proceeded to free the captured soul and used it to restore the adventurer.

When he came to, his befuddled gaze darted from one adventurer to another until he spotted Shoktor. "Is that you Shoktor? Have you been taken prisoner, too? Who are your companions and where are we?!"

After bringing him up to date, the adventurer introduced himself as Vrakh the Hunter and told them how he had been separated from the other members of his alliance and taken prisoner by the Dark Empress. But it was his final memory that was the most worrying:
It had not been the Empress herself but a demonic entity, half spider, half woman that had strapped him to the ritual device to drain his soul.
[o]Freeing the Enervated Adventurer's soul from the crystal prison granted me three campaign tokens.

I also added Vrakh the Hunter to my deck, yet another means to draw more cards and allowing me to play a second Battle Tactic or Weapon.[/o]
And just as he was finishing the tale, a strange chittering sound came from the ceiling and the being Vrakh had described descended from the blackness of an otherworldy gate, hanging by a silken thread. All of a sudden, a hissing voice in their heads proclaimed "Look who's found their way into our web, my children. More souls to feed the Spider Queen!"
Leaving no doubt about her intentions, our brave heroes prepared for a battle to protect their very souls.

It took a concerted action to bring her down while the mere presence of the demon queen poisoned their bodies and minds. When Kulldrak delivered the killing blow, her voice manifested in their heads one last time, uttering a chilling curse.
[o]Defeating The Spider Queen granted me an impressive five campaign tokens. Thankfully, I didn't contract the Curse of Spider Queen earlier. At this point in the campaign, it didn't have any effect, anymore. But if it had already been in place at the start of the third game, it might have given me a bit of a challenge.[/o]
The fight had taken its toll and everyone was close to death, but that didn't stop them from exploring the rest of this dungeon level. Thankfully Bartholomew discovered a Staff of Restoration allowing him to cure some of their poisonous wounds.

So they barely managed to escape from the dungeon. Despite being badly wounded they felt quite proud of their achievement, having discovered and ended the threat of a great evil.
But had the Spider Queen truly been responsible for the fate of the Lost Alliance or was there something else behind all this. Something hidden even deeper in the Slayer's Dungeon; something they hadn't encountered yet?

From the shadows an ancient being clad in black armor watched the adventurers as they made their way back to the surface. As its glowing eyes searched for signs of weakness, it whispered to itself "Well, well, finally some worthy opponents. I'm really looking forward to meet you in a duel should you ever dare to return to my dungeon." With a silent laugh it made its way back to the heart of the dungeon it had created centuries ago...

This concludes the fourth and final part of this campaign.

In this game, I gained a total of 61xp (after 4 rounds), which was also my final score since I placed all rooms and had no monster or (unrevealed) challenge tokens left on the board. I had also beaten all three quests and collected a total of 21 campaign tokens, five more than the goal for a campaign's 4th game.

I drafted a total of 15 cards, which was probably a bit much. Even with the additional card draws I had a few activations where my hand wasn't ideal and finished the game badly beaten up with a total of 21 wound tokens left on my four heroes. And six times, one of the adventurers had to face defeat.

I feel a bit bad about the rules mistakes I discovered while writing this session report, but back when I'd just finished the game, I definitely considered it a resounding success.

Either way, it's been a satisfying conclusion to the campaign



And in case you couldn't tell: I consider the adventure packs a great enhancement to the game, and campaign mode the definitive way to play.

I'm really looking forward to give the next adventure pack a try. It's already been way too long since I finished my first campaign



Thanks for reading and I hope you enjoyed the session report!


Next Page: 25 © Googlier LLC, 2019