Cache
The IVth Amendment to the American Constitution states that the people shall be secure in their persons against unreasonable searches and seizures and that no warrants shall issue, but upon probable cause (1788)
Cache
by Alex Zielinski
Three Portlanders who sustained injuries during a 2018 protest have joined together to sue the City of Portland and Portland Police Bureau (PPB) officers, accusing the city of allowing its officers to use violent, unnecessary tactics to muzzle the demonstrators' free speech.
"The City of Portland has a custom and practice of using militarized force against protestors," reads the complaint, filed Monday. "When force is used, PPB makes no effort to limit its force to individuals who actually pose a threat of violence, instead using force indiscriminately at anyone who happens to be in the crowd."
The joint lawsuit names James Mattox, Aaron Cantu, and Tracy Molina as plaintiffs. All three were participating in a counter-protest to the August 4, 2018 "Gibson for Senate Freedom March," a Portland demonstration organized by the far-right agitator Joey Gibson. Gibson, who was making an unsuccessful run for US Senate at the time, is the founder of Patriot Prayer, the small group of alt-right enthusiasts based in Vancouver, WA.
On the day of the August protest, hundreds gathered at the Portland waterfront to oppose Patriot Prayer's far-right rhetoric and threats of violence. However, according to the suit's plaintiffs, the main violence that took place on August 4 came from Portland's own police force.
The complaint focuses on a specific moment during the chaotic demonstration: When officers decided to fire so-called "less lethal" munitions into a crowd of 50 or so counter-protesters near SW Columbia and SW Naito.
"PPB initiated their attack on the counter-fascist protestors following no provocation," the suit reads.
In reports penned after the protest, officers say they were responding to protesters who were throwing rocks and "smashing the windows of police cars." PPB has yet to produce evidence supporting this claim.
Mattox was walking with protesters on SW Columbia when officers began shooting rubber bullets and flash-bang grenades into the crowd. The complaint describes the scene best: "At the time plaintiff was shot he was... waving his arms and his anarchist shield, flipping off the officers, and shouting profanities."
After being shot in the leg by a rubber bullet, Mattox picked up the bullet and shouted at the officers, "Look, you missed!" The same officer fired again, hitting Mattox in the right arm.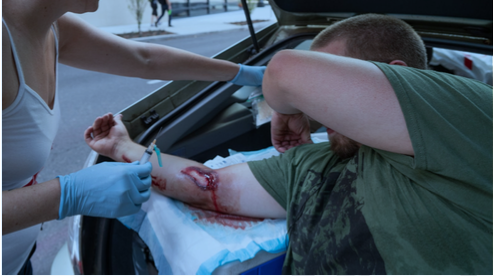 He left the crowd with a bleeding gash, seeking medical care. The complaint claims the PPB officer shot Mattox in retaliation for "engaging in speech that [the officer] did not condone."
"By shooting Mr. Mattox [the officer] in fact chilled the Mr. Mattox's political speech," the document reads.
Cantu was in the same crowd of counter-protesters when PPB began firing its munitions. He was running away from the police when an officer's flash-bang grenade lodged itself into his skull. Cantu was wearing a bike helmet at the time, but the munition was powerful enough to blaze through his helmet and cut into his head. If he hadn't been wearing the helmet, the complaint reads, Cantu could easily have died from the impact.
Cantu suffered a traumatic brain injury and still suffers from dizziness and tinnitus.
Mr. Cantu has sustained emotional distress," the suit adds, "including, but not limited to, pain and suffering, discomfort, fear, frustration, a fear of trusting those in positions of power, and anxiety."
Molina is the only plaintiff who was arrested on August 4. Molina came to the protest with a sign reading, "Hey Racists Stop Making Your Ignorance Our Problem Grow Up or Go Home." During PPB's confrontation with counter-protesters, Molina allegedly followed officers orders to stay on the sidewalk. But, the complaint reads, this didn't stop an officer from grabbing her protest sign from behind.
Molina did not let go of her sign, which allegedly prompted an officer to knock her to the ground "with such force that she fell and rolled into the middle of the street," where she was then crushed by several dog-piling officers.
Molina was charged with disorderly conduct, attempt to commit a felony, and interfering with a police officer. The criminal case was eventually dismissed in her favor.
The plaintiffs have accused the City of Portland and its officers of violating the Fourth and Fourteenth Amendments by using excessive force with little provocation and violating the First Amendment by using violence to silence protected speech. They also accuse the city of negligence, battery, false arrest, and intentional infliction of emotional distress.
"Without adequate training, supervision, or review of PPB's officers, defendant City of Portland has created an environment of militarized responses to mild forms of dissent," the suit reads. "Additionally, by firing their lethal weapons directly into a passive crowd... agents of City of Portland created an unnecessary and unreasonable risk of harm against all present."
The complaint specifically notes how PPB officers do not appear to use the same amout of force against right-wing protestors, "despite their disobedience of officers' orders."
"[Officers] chose to attack plaintiffs' group in part because they disagreed with the political message of the anti-fascist demonstrators and sympathized with the fascists," the document reads.
The plaintiffs, represented by three separate attorneys, have requested a jury trial.
They're not the only ones who've turned to the court system to address officer-inflicted injuries stemming from the 2018 protest. In August, Michelle Fawcett sued the City Portland for physical and psychological damages sustained after being hit by a flash-bang grenade, shot by a PPB officer on August 4, 2018. She's asked the city pay $250,000 for her injuries.
[ Subscribe to the comments on this story ]
Cache
Many people think that if they are charged with a DWI, a conviction is inevitable. DWI defendants have numerous rights, however, f their rights are violated during the course of a DWI investigation, the state may be prohibited from introducing evidence found during the investigation against the defendant. The Superior Court of New Jersey recently discussed what constitutes a violation of the right against unreasonable search and seizure and the right to Miranda warnings in a DWI case. If you are a resident of New Jersey currently charged with a DWI, it is advisable to meet with a knowledgeable New Jersey DWI defense attorney regarding your case. Factual Background Allegedly, in April 2017, the defendant arrived at the home he previously shared with his estranged wife with damage to his car. The defendant's wife called the police and reported the defendant entered the home through the basement, was slurring his words, smelled of alcohol, and appeared to be intoxicated. The…

Cache
Slow-Motion Whiplash
Brian
October 7th, 2019 at 1:15 PM
10/6/2019 – Michigan 10, Iowa 3 – 4-1, 2-1 Big Ten
The story of the last 20 years of the Michigan-Ohio State rivalry is Jim Tressel gradually transitioning Ohio State from what was then accurately termed "pro style offense" to a spread option system that's been at or near the bleeding edge for 15 years. He inherited Steve Bellisari and Craig Krenzel, neither of whom will be confused with a gazelle any time soon, and transitioned to Troy Smith in a bumpy 2004 season that saw the Buckeyes reach The Game with a 3-4 Big Ten record.
One-loss, #7 Michigan entered a heavy favorite. Four hours later a nuclear bomb had gone off. Smith threw for 241 yards on 23 attempts. He ran for 145 on 18. Ohio State got 52 yards on 14 carries from fullback Brandon Joe; everything else was Smith gaining 9.4 yards per whatever he did.
OSU did not look back. Since November 20th, 2004, Ohio State has had zero sharp turns with their approach. They've pushed things around based on whether their QB was Braxton Miller or Cardale Jones; they've constantly iterated to keep up with the Joneses. At almost no point have they tried to do something completely different.
When they found themselves forced into something pretty different a year ago when it turned out Dwayne Haskins would rather eat a turtle than run a zone read, things were rickety to the tune of a 49-20 blowout at Purdue where the Buckeyes tried a WR screen on fourth and goal from the two.
Doing different things is hard. Especially all at once.
---------------------------------------
By contrast, Michigan has had no set offensive identity for longer than a few years. The tail end of the Carr era was almost nothing but outside zone from under center because the Broncos made it cool. Michigan imported Rich Rodriguez, then fired him after two years of Denard Robinson. Brady Hoke put Robinson under center a lot, because he is a neanderthal, and then recruited nothing but battleship pocket passers (and air). Michigan imported an Alabama OC who was no better than the guy putting Robinson under center; Hoke got fired.
In comes Jim Harbaugh, who had a fascinating period manballing it up from every formation that had ever been invented, lost Jedd Fisch, hired Pep Hamilton, threw Tim Drevno overboard two years too late, hired Ed Warinner, turned to Warinner after the Notre Dame debacle, developed a nice arc read package, ditched Hamilton, and hired Josh Gattis.
In the opener Gattis showed an arc read with an option attached that looked like the natural evolution of what Michigan had been running last year, and then for whatever reason all of that got stuffed in a garbage disposal. Michigan cited an oblique injury to the quarterback. Since then they've done various things, with nothing that you can actually call a base offense. Giving total control to Josh Gattis appears to have resulted in Michigan tossing some adequate babies out with the bathwater, and now the babies are not very adequate.
The number of whiplash moments here is approaching double digits, all while Ohio State calmly whittles a stick into a cruise missile. Michigan has repeatedly thrown over their offensive approach midseason.
Michigan doesn't need to go to Columbus for a counter-example, either: after getting ripped by Ohio State last year Don Brown has moved to a bunch of zone coverages. This is a pretty radical makeover itself, but since it's run by the same guy the terminology hasn't changed; the playbook is still the playbook, but different things are coming out of it. You can see where the defense is heading as it adapts to its personnel. Since that personnel has a decided lack of NFL defensive tackles it's been bumpy.
There's no comparison between the two units. Even after getting imploded by Wisconsin, Michigan sits 2nd in SP+ defense. In reality they're probably a few notches down from that—SP+ is still including a healthy preseason component. The offense is 66th, down over 40 spots from last year after returning nine starters. And there, too, optimistic preseason projections are propping that number up.
It's time to start moving certain pieces around, if only to experiment. Piece number one is quarterback, where it's time to see if any of the offseason Dylan McCaffrey hype was warranted.
Maybe that'll be enough for Michigan to dig in at some spot that—while vastly disappointing relative to preseason expectations—allows Michigan to entrench and see a way forward. Maybe not. Either way Michigan has another hard choice to make: continue on with an unproven coordinator off to a confusing, awful start, or throw it all away and try to build another sand castle before Ohio State can stomp it flat.
[After THE JUMP: defense though!]
AWARDS
Clark Kent mode: still dormant [Fuller]
Known Friends And Trusted Agents Of The Week
you're the man now, dog
#1 Kwity Paye/Aidan Hutchinson. 2.5 TFLs each; Paye's were all sacks; Hutchinson had one sack. Hutchison also added a forced fumble on the first play from scrimmage—nice when that happens to the other guys—and a PBU when he deflected a pass at the LOS. The relative proficiency of both guys on the interior allowed Michigan to put their rush package on the field on anything resembling a passing down and survive.
#2 Khaleke Hudson. 11 tackles, a QB hurry, a TFL, and suffered a hold so blindingly obvious that it drew a flag. Missed one tackle on a crossing route; otherwise excellent.  
#3 Cam McGrone/Jordan Glasgow. McGrone had some off moments but was also instrumental in Michigan's constant Stanley-shattering pressure; he's getting a +3 in UFR for a sack on which he took off from the linebacker level on the snap, dusted the RB, and finished. Glasgow converted a run blitz to a similar sack.
Honorable mention: Nico Collins was most of Michigan's touchdown drive, and he also got targeted two more times. Dax Hill had an impressive fourth-down PBU. Josh Metellus got over the top for an INT; so did Lavert Hill.
KFaTAotW Standings
NOTE: New scoring! HM: 1 point. #3: 3 points. #2: 5 points. #1: 8 points. Split winners awarded points at the sole discretion of a pygmy marmoset named Luke.
13: Aidan Hutchinson(#1 Army, HM Rutgers, T1 Iowa)
10: Zach Charbonnet (#2 MTSU, #2 Army)
9: Shea Patterson(HM MTSU, #1 Rutgers), Josh Uche (#3 MTSU, #3 Army, T2 Rutgers), Ambry Thomas (#1 MTSU, HM Rutgers)
7: Kwity Paye (T2 Rutgers, T1 Iowa).
5: Khaleke Hudson (#2 Iowa).
3: Ronnie Bell (HM Army, T3 Rutgers), Cam McGrone(HM Rutgers, T3 Iowa), Jordan Glasgow (HM MTSU, T3 Iowa)
2: DPJ (T3 Rutgers), Nico Collins (HM Rutgers, HM Iowa), Dax Hill(HM Rutgers, HM Iowa), Josh Metellus (HM Army, HM Iowa), Lavert Hill (HM Army, HM Iowa)
1: Will Hart (HM MTSU), Josh Ross (HM, MTSU), Sean McKeon (HM, MTSU),Brad Hawkins (HM Army), Christian Turner (HM Rutgers), Christian Turner (HM Rutgers).
Who's Got It Better Than Us(?) Of The Week
Nate Stanley is buried under an avalanche of persons on fourth and forever.
Honorable mention: The many and various sacks. Nico Collins catches a bomb.
​MARCUS HALL EPIC DOUBLE BIRD OF THE WEEK.
Moody misses a chip-shot field goal that would have essentially ended the game.
Honorable mention: Nordin gets iced at the end of the first half. Patterson throws a pick trying to get over a dropping defender on hi/low read. Patterson… well, just read the next section.
OFFENSE
McCaffrey time. Shea Patterson had one 51-yard bomb to Nico Collins and 25 other attempts on which Michigan advanced 96 yards, 3.8 yards an attempt. He threw a very bad interception and tried to throw another one. Both of his sacks were on him; he sat in the pocket forever on the first and then ran himself into pressure on the second.
I like Joel Klatt but when going over the game I about passed out when he lamented how no one was open on the first sack.
Literally everyone is open! This coverage is a giant Iowa bust on which a corner playing outside leverage expects safety help and that safety help is moving up on a crossing route, which is also open. It really seems like this is the whole point of the play, as Bell takes his route vertical for a few steps to draw the safety's attention before breaking to the crossing route.
I should note that after attempting to match this up with the rush, the point at which Patterson needs to decide to throw is this:
Since both LBs are moving left and the safety has committed these guys are in fact all open but I didn't want to be accused of cherry picking a moment too late. We saw McCaffrey make a nice anticipation throw to McKeon against Wisconsin, it's not unreasonable to expect Patterson to decide any of these guys are open. Also the wide open post needs no anticipation.
Various other incidents where Patterson sat in the pocket and couldn't find anyone didn't get the downfield cam treatment but I imagine many of them were like this, because this has been a consistent issue any time Patterson goes up against a zone defense.
There is no reason to expect this to improve, so I'm on Team McCaffrey as soon as he returns from injury.
rarely does it come easy [Fuller]
A brief bit of sun. Michigan's other drive—the one that ended in the missed field goal—was frustrating even when things were working: it interspersed one two-yard run with completions to Collins, DPJ, and Black on two hitches that wobbled their way out there but were still easily completed and an out on which Tru Wilson picked up a CB blitz and Patterson threw it where that came from.
It's impossible to see that bit and not think about why it couldn't be this easy all the time. After the deep shot to Collins Iowa cornerbacks were playing in the parking lot or showing more aggressive coverage and bailing just before the snap. Michigan threw one hitch at that until the fourth quarter, that the Sainristil third down conversion.
To be fair to Gattis, Michigan did try to high-low Iowa on a couple of different instances only for Patterson to throw an interception on one. And the wobble on those hitches may have been oblique-induced. They were not confidence inspiring.
no sale [Fuller]
Legitimate complaint. One complaint about the WR corps that I do think was legitimate was a distinct lack of Grant Perry route artisanship on red-zone corner routes, which were continually well-covered because Michigan's double moves on them were weak or nonexistent. Perry liked the weak first move followed by a more convincing second one inside, and then he'd break out. Iowa's a lot better than Hawaii and Geno Stone in particular was amazing in this game; still would like to see some guys bite on your moves.
Wildcat. I'm of two minds about the wildcat snap: yes, it was sort of a six-v-six situation on which the OL didn't win. (I say sort of because the overhang linebacker flew into the box on the snap.) On the other, Michigan took a passing down and waved a giant flag that they were going to run. Pass protection gets worse once the opposition doesn't have to worry about the run—Michigan had 15 pass protection positives before their first negative against Wisconsin, and from there things went to hell—and no doubt that dynamic exists for obvious runs.
Meanwhile, Michigan's other trick play was supposed to be an end-around pass from DPJ to Erick All. All fell over, Iowa didn't bite anyway, and DPJ seemingly had not been coached to get rid of the ball if his passing option was not there.
Ground woes continue. More whiplash: after a week where Michigan ran power, outside zone, and inside zone with meh success and seemingly quite a bit of confusion Michigan flipped to approximately one run play: inside zone. There was some split zone in there and a couple of arc plays, but after some early success Iowa got locked in on the one thing Michigan was doing and turned it into a struggle.
It is depressing that Michigan's gone from a team that can throw a lot of stuff at your face and run it all pretty well to one that does literally nothing well enough to be a base play. That goes double given the returning starters Michigan has. A lot of this has to do with the suddenly non-functional QB run game—that one arc read outside of four-minute-drill time was so open it was painful—but I don't know what to do with a team-wide regression so comprehensive. Players are supposed to get better as they get older.
I don't even know man. Michigan threw one bubble in this game, when they put Eubanks outside of DPJ. Iowa rolled their CB up to the LOS and slid their LB corps heavily to the field, with an OLB, who is a real OLB since it's Iowa, head up on Eubanks. The presnap look was a giant blinking DO NOT THROW A BUBBLE.
Bubble. I'm going to walk into the ocean now.
Michigan can't throw a screen of any variety. No TE screens, no WR screens, no RB screens. No tunnels, no bubbles, no flash screens. Speed in space is nonexistent.
DEFENSE
Dax Hill: a man. Hill got another chunk of playing time and flashed eye-popping ability. His fourth and two PBU was a drag route on which he lined up with outside leverage, got a step behind, and then made up the distance in a flash. Almost casually. I look forward to fully actualized Dax Hill.
at least there's someone missing a tackle [Fuller]
Mesh: a plan. Michigan got hit with a few different crossing routes in this game, but in almost all cases this was because someone messed up. McGrone had one; Hudson missed a tackle; I think Thomas was late recognizing his responsibility on the one to Iowa's little scatback. Like last week's not-quite switch-em-up that seemed like Dax Hill busting a trap coverage. Michigan is still getting used to a much more diverse defensive approach but it's working pretty well; see the column section above.
Drop-out blitzes: a canal. Michigan's TFL issues were always a product of who they played. Army is Army. MTSU and Rutgers have offenses designed around the fact they can't block anyone. Wisconsin is Wisconsin, and they only had to throw 15 passes. It wasn't likely that a Don Brown defense was going to be bad at getting to the QB.
But even the most optimistic view wouldn't have projected eight sacks and an intentional grounding that was functionally a ninth. Michigan obliterated Iowa's pass protection. They were extremely eager to throw their rush package on the field—second and seven+ was good enough—and in the second half they threw in a ton of threatened rushes and late drops that sent a ton of guys through untouched. McGrone zipped through the interior of the line when Uche dropped out multiple times; Hudson got a free run off the edge; etc.
Panama. I like Panama because on a continent where way too many countries have national anthems titled "The National Anthem," the Panamanian national anthem is "The Hymn Of The Isthmus."
how Stanley didn't fumble in this game is unknown [Fuller]
McGrone, up and down. As mentioned above, Cam McGrone had some negative blips here. He was set to jam a crossing route from Smith-Marsette and airballed on him; there was a chunk iso run where he got thwacked by the fullback and didn't funnel to help.
But the dude has the Devin Bush thing where he can come from the linebacker level with no warning and get in on the quarterback in a flash. Iowa was constantly turning him free on blitzes up the middle in part because of that—there are guys who seem dangerous and guys who don't based on their positioning. McGrone was also excellent at not tipping when he was coming.
Handsy. A pretty frustrating game for both offenses in the PI department. Michigan had an open-drive TD that didn't quite come off because a DB who was beaten clean by Black yanked him from behind without a call. For Michigan's part it seemed like they dodged a couple of penalties: an official made the uncatchable signal after Ambry Thomas mugged Oliver Martin on a fade, and a Lavert Hill PBU saw some serious jersey tugging both ways.
On the latter play an official had tossed his hat to indicate the WR had stepped out of bounds. If you step out of bounds and are ineligible to touch the ball first, can you be interfered with? It seems like the answer should be no. But I don't know.
Michigan did get hit with an inevitable flag on a badly underthrown go route.
[Fuller]
All right-thinking persons believe these flags are an affront to momentum and should not be called. Michigan was the beneficiary of one against Army, which felt dirty but was badly needed at the time. It is unfair to penalize someone when they are running in a straight line and the WR decides he needs to go through your body.
SPECIAL TEAMS
What are you doi—ok. DPJ fielded a punt at the four, which was bad. Then he DPJed his way out to the 40, which was good, and then he fumbled, which was bad, and then Michigan jumped on it, so that was okay again. Michigan got some fluck in this game to offset earlier bad luck.
Golden godhood: nah. Aussie drifter Michael Sleep-Dalton only averaged 38 yards a kick and didn't pin Michigan inside the 10. (Punting stats should record inside the 10, not inside the 20.) He did have a very frustrating line drive he hammered to the left after rolling right; DPJ had no shot at fielding it and it ended up being 56 yards with no return. Sleep-Dalton put a couple in the sideline as compensation.
By contrast Will Hart was his usual self: boom everything, live with the consequences. Iowa picked up 54 yards on four punt returns with a long of 17—ie, everything that got fielded came back a long way, and six of the eight punts either got returned or went into the endzone. So despite a 46 yard average, Michigan only netted 34 yards a punt once touchbacks and returns are accounted for.
These are the costs of Michigan's punting approach.
What was with the pop-ups? Michigan popped up their first two kickoffs. Smith-Marsette caught the first one on the dead run but had fair-caught it. The second one he took out to the 50. The opening kickoff of the second half went into the endzone, and you have to wonder why Michigan wasn't doing that from the beginning.
Nordin: very large leg. Consecutive 58-yarders were easily long enough; the second one got pushed wide after a bad snap.
MISCELLANEOUS
End of half, again. The end of half bugaboo struck again. Michigan was rightfully turtling until Kirk Ferentz called a somewhat unusual timeout on third and one; Haskins ripped off Michigan's longest run of the day—18 yards—and Michigan decided to try to get something with 20 seconds left and one timeout. Out of the timeout they threw a hitch, and DPJ got tackled in bounds. Michigan let the clock roll, threw another short pass, and then called timeout with one second left.
After the hitch the announcers clucked about how DPJ had to get out of bounds, something that would have been much easier if he'd been running an out. Why was he getting a throw at the numbers, five yards from the sideline?
homecoming without lots of homecoming [Bryan Fuller]
No halftime show. Homecoming didn't have the alumni band performance. No Temptation, no War Chant. I don't even know what we're doing here if we're not preserving even extremely easy-to-preserve traditions. Let's become the mauve and taupe.
HERE
Meh: The Offense

I'm going to be a contrarian here and say the offense legitimately looked like it was making solid strides against what is a very good (if unspectacular) defense. Yes, Jim Harbaugh is probably trolling a bit when he says he thinks the offense is hitting its stride, as 10 points in any game is rarely a sign your team is firing on all cylinders. But I re-watched this game and there were a number of times where a play here, a play there turns what was a nail-biter into a blowout and we aren't having as many existential conversations about the state of the program. I know Iowa players said they didn't make adjustments to the pass defense, and I guess if your philosophy is "zone them hard and grab anyone who tries to get away", then in broad strokes that's probably correct. But Michigan still ground down the field at a decent clip (4.1 ypc after you excise sacks, kneel-downs, and whatever happened during that DPJ play), and perhaps most importantly stayed ahead of the sticks consistently (Iowa only picked up 4 TFLs, and two of those came on sacks and a third was the aforementioned DPJ play). Iowa's one of the worst teams in the country in generating tackles behind the line, but as we've seen past performance does not remotely portend future results. And heck, Patterson actually kept the ball on a couple of plays and picked up a couple of first downs in the process.
Also podcast, Ace's recap:
This was ¡El Assico! 2: This Time in Blue. Neither team cracked 270 yards of total offense. Of the game's 26 real drives, there were:

15 punts
four interceptions
a lost fumble
two made field goals
two missed field goals
a single, solitary touchdown
Iowa's eight-play, 12-yard drive to end the game.

The defense, obviously, emerged as the game's heroes.
ELSEWHERE
THE BAD: ROAD NATE STANLEY

This is Nate Stanley's worst performance on the road against a ranked conference opponent since…well…the last time Nate Stanley was on the road against a ranked conference opponent. In 2018 it was against Penn State, when he completed a pathetic 37% of his passes for 205 yards, threw for two interceptions and was sacked three times. In 2017 it was at Wisconsin where he completed eight (8!) passes for 41 yards, one interception and was sacked four times. His QBR against Wisconsin was 6.0. Six, point, zero.

Comically, this was statistically his best performance of those three games, as he threw for 260 yards and completed a more impressive 54.8% of his passes. Unfortunately, there were also the three interceptions and, oh yeah, the EIGHT sacks. Some of those weren't his fault (which we'll talk about), others, like the one where he had about 5 seconds to throw the ball away as he was running towards the sideline and decided instead to take the sack, were. Stanley turtles on the road in tough conference games and his decision-making is about a full two seconds slower. That was the case when he first started and unfortunately, that's the case in his final year.
HSR:
A win is a win. Which is something you say when your team wins ugly.  But Michigan really needed this win, which, of course, will be immediately devalued by the national press because of how bad Iowa looked, and Iowa was overrated because who had Iowa played really?  It's going to happen because it's what always happens.  But things need to get fixed this week on the offensive side.  Figure something out, because you can't keep telling the defense it's all on them week in, week out.
DEFENSIVE CHAMPION – I'm just going to come right out and say it, the ENTIRE DEFENSE played lights-out for Michigan. I mean, this was a total TEAM EFFORT. From Don Brown mixing up his schemes and his calls, to the d-line sacking the Iowa QB eight times, to the defensive secondary getting 3 interceptions, to the linebackers limiting the Hawkeyes to just one yard rushing. It wasn't perfect, but in a one-possession game where the offense was having problems getting into the end zone, you just knew the defense was going to have to make the last stop – and they did.
Cache
This is an expansion of an alt-history answer I gave on Quora to the alt-history question of what would have happened to Texas without an American Revolution.

The base point? It would have remained part of Spain, then independent Mexico. The one wild card is Louisiana.

To extend this idea, let us assume Napoleon keeps Louisiana, with nobody else to sell to.

At the end of the Napoleonic Wars, for loyalty in fighting France, Britain gives Spain the portion of Louisiana south of the Arkansas River and takes the rest for itself. That serves as an additional buffer.

THAT said, then assume that American Revolution-type conditions are realized in the War of 1812.

First, the American Revolution could have been prevented.

Give the colonies some token representation in Commons, like one member per colony. If they protest about not having more, bring up pocket boroughs and rotten boroughs and then, per Monty Python, if the colonialist protest, tell them to snuff it. Make some compromise on what is taxed and at what rate. Allow a select number of American ships to trade directly with the Caribbean, but only conditional on British inspections of cargo and manifest in the American ports.

At the same time, promulgate information about the Quebec Act in Ireland and maybe encourage bits of immigration as a counterweight. At the same time, write that act to look slightly less pro-Catholic in the U.S. Tell the colonials that the settlement restrictions are for their own good unless they want to pay more taxes for more British troops. Also, pass it earlier, and in a separate set of acts from the so-called Intolerable Acts. (None of this is unreasonable alt-history.)

Due to the 1774 Quebec Act, and Canadian population growing since 1774 (and Britain diverting more and more there as possible), let us say this Rebellion of 1819 ends with the original 13 colonies plus the "Old Southwest" in a new United States of America. Florida is Spain's, as it had been. The Ohio Country remains part of British Canada, and of course, so does British Louisiana north of the Arkansas River.

Mexico secedes from Spain the next year, as in real history.

The weak new US, presumably under an Articles of Confederation government, isn't strong enough to take the current state of Louisiana, or go across the Mississippi in general for another couple of decades. Plus, there's no unity of government on such an idea under an Articles-type government and one that's dominated by slave states.

Andrew Jackson, the George Washington of the new American republic, leads the calls for a new constitution, and is elected the first American president under it. New England, edgy about a new nation with a stronger constitution and just as pro-slavery as the post-1819 Articles government, rebels when Jackson makes a military play for Louisiana in 1833.

Britain, having just emancipated the Caribbean islands of slavery, sees a chance to muck around in American history and does so. New England is easy to supply from Canada as well as directly from the Home Islands, and seizing the eastern sliver of New York will provide the extra defense line of the Hudson River.

Britain also sells arms to Mexico, which Jackson cannot stop. Other independent Latin American nations support Mexico in various ways and Jackson fails.

A new Treaty of Ghent has Jackson agreeing that Britain has a right to guarantee the independence and inviolability of the new Latin American republics. He also agrees to accept the Mississippi and Ohio as boundaries and to accept the new Nation of New England's independence.
Cache
Denying Respondent Tru Development's abandonment counterclaim, the Board granted Petitioner Double Coin's petition for cancellation of a registration for the mark ROAD WARRIOR for tires, finding a likelihood of confusion with the registered mark WARRIOR, in the stylized form shown below, for automobile tires. Tru was unable to prove nonuse of the WARRIOR mark for three consecutive years, and failed to carry its burden of proof to establish that Double Count intended not to resume use of the mark during the period of nonuse. Double Coin Holdings, Ltd. v. Tru Development, Cancellation No. 92063808 (October 1, 2019) [precedential] (Opinion by Judge Jonathan Hudis).



Likelihood of Confusion: In a cancellation proceeding in which both parties own registrations, priority is an issue. Couch/Braunsdorf Affinity, Inc. v. 12 Interactive, LLC, 110 USPQ2d 1458, 1474 (TTAB 2014). Double Coin established priority from a date "well prior" to Tru's constructive first use date of November 13, 2014, the filing date of its underlying application.

The Board found the goods of the parties to be in part legally identical, and presumed that those goods travel in the same channels of trade to the same classes of purchasers. Cai v. Diamond Hong, Inc., 127 USPQ2d 1797, 1801 (Fed. Cir. 2018); In re Viterra, Inc., 101 USPQ2d 1905, 1908 (Fed. Cir. 2012)).

As to the marks, the Board deemed the word "road" to be weak highly suggestive of, and a weak source identifier for, tires. Observing that adding a generic, descriptive, or highly suggestive term to the entire mark of another is generally not sufficient to avoid confusion, the Board found that ROAD WARRIOR "looks, sounds, and conveys the impression of being a line extension of WARRIOR," and that the marks at issue are "similar in their entireties in appearance, sound, connotation and overall commercial impression."

There was no evidence that consumers exercise a higher than ordinary degree of purchasing case in buying tires, and so this du Pont factor was neutral. Tru pointed to the lack of evidence of actual confusion, but the Board found that there had not been a reasonable opportunity for confusion to occur, since Double Coin had "temporarily withdrawn" its tires from the United States market. In any case, "it is unnecessary to show actual confusion in establishing likelihood of confusion." Giant Food, Inc. v. Nation's Foodservice, Inc., 218 USPQ 390, 396 (Fed. Cir. 1983).

Balancing the relevant du Pont factors, the Board found a likelihood of confusion.



Laches: Tru's affirmative defense of laches fell flat. There was no evidence that Double Coin had actual knowledge of Tru's use of the ROAD WARRIOR mark, and so the date of issuance of the challenged registration (September 1, 2015) was the applicable date for the beginning of the laches period. Double Coin's cancellation petition was filed a mere 8 months later, and no case law supports a finding that this amount of time is unreasonable. The Board therefore found that this is "an insufficient period to be considered undue or unreasonable for laches to apply." Moreover, Tru failed to show that it suffered economic prejudice resulting from Double Coin's delay in petitioning for cancellation.

Abandonment: Section 45 of the Lanham Act states that abandonment of a mark occurs when its use "has been discontinued with an intent not to resume such use." Furthermore, "'Use' of a mark means the bona fide use of such mark made in the ordinary course of trade, and not made merely to reserve a right in a mark." The concept of "nonuse" should be "interpreted with flexibility to encompass a variety of commercial uses." See Lewis Silkin LLP v. Firebrand LLC, 129 USPQ2d 1015 (TTAB 2018). Section 45 further states that "Nonuse for 3 consecutive years shall be prima facie evidence of abandonment."

In August 2015, Double Coin announced that it intended to halt shipments of tires to the United States due to high tariffs that had been imposed on Chinese goods. The article also stated that Double Coin's parent was seeking production facilities outside of China, including possibly the United States, in order to bring its tires sales back to the United States. Double Coin's expert witness testified, without rebuttal, that the approach taken by Double Coin to avoid the high tariffs was undertaken in other industries, such as the furniture industry.

The question for the Board was "whether Double Coin's decision to discontinue sales in the United States in response to the imposition of tariffs, in-and-of-itself, was 'excusable,' that is, a reasonable business judgment under the circumstances."


To prove excusable nonuse, the registrant must produce evidence showing that, under his particular circumstances, his activities are those that a reasonable businessman, who had a bona fide intent to use the mark in United States commerce, would have undertaken. Rivard v. Linville, 133 F.3d 1446, 45 USPQ2d 1374, 1376 (Fed. Cir. 1998).

The evidence of record failed to show that Double Coin had discontinued use of its mark for "three consecutive years," and so there was no prima facie abandonment under Section 45 of the Lanham Act. Therefore the burden of proving abandonment remained with Tru.

Double Coin had discontinued use of its mark for two-and-one-half years, but did it intend not to resume use? In addition to its statements in the article discussed above, Double Coin (1) was active in opening a new facility in Thailand to avoid the tariffs on some tires, (2) was active in seeking lower tariffs on other tires, (3) renewed it importation of certain tires in January 2018, (4) prepared new price lists simultaneously with the resumed importation of certain tires from China, and (5) maintained its website during the period of non-use.

Finding this case similar to Crash Dummy Movie, LLC v. Mattel, Inc., 94 USPQ2d 1315 (Fed. Cir. 2010), the Board found Double Coin's efforts to be sufficient to show that its cessation of use of the WARRIOR mark was "unaccompanied by any intent not to resume use."


When it announced discontinuation of sales in the United States due to the imposition of high tariffs, Double Coin also publicly stated that it intended to find an alternative source of manufacture, including possibly in the United States. *** Double Coin subsequently followed through on its intention to build a new factory to source the goods outside China by building a factory in Thailand, which Double Coin's expert Ms. Coates explained "included finding a suitable location, obtaining operating permits, building the actual factory, acquiring and installing manufacturing equipment, hiring and training workers, beginning production, and achieving quality standards for export to the U.S." *** These are not the statements and acts of an entity that intended to leave the U.S. market permanently, never to return.

The Board therefore found that Tru failed to prove abandonment by a preponderance of the evidence.

Conclusion: The Board denied the counterclaim for abandonment and granted the petition for cancellation.

Read comments and post your comment here.

TTABlog comment: Good discussion of the abandonment issue but in the end not a difficult conclusion.



Text Copyright John L. Welch 2019.



Cache
By Stephen Lendman
The Trump Regime sued Edward Snowden and publishers of his new memoir titled "Permanent Record." More on this below.
Exposing government wrongdoing is a noble act. Like dissent, it's a high form of patriotism, warranting praise, not persecution and condemnation.
The 1989 US Whistleblower Protection Act protects federal employees who report misconduct.
Federal agencies are prohibited from retaliating against individuals who do the right thing. Yet it happens time and again.
Whistleblowers may report law or regulatory violations, gross mismanagement, waste, fraud and/or abuse, or acts endangering public health or safety.
The FBI is exempt from WPA provisions. Instead of protecting the rights of whistleblowers, the agency targets them.
Since WPA's 1994 revisions, it ruled on over 200 cases — only three times in favor of whistleblowers, the deck stacked against them. US law fails to protect them, circumvented by its police state apparatus.
The 2012 Whistleblower Protection Enhancement Act (WPEA) failed to protect government employees from reprisal for disclosing official misconduct, revealing it to co-workers or supervisors, or disclosing policy decision consequences — any or all of the above in relation to their jobs or duties.
The Obama regime prosecuted more whistleblowers and leakers involved in exposing US wrongdoing than all his predecessors combined, nine targeted individuals, Trump following the same repressive practice, wanting US dirty linen concealed.
The US is a surveillance state. Big Brother watches everyone, privacy virtually nonexistent, including our health and financial records, cellphone and email communications, everything posted on social media, along with workplace and other public areas surveilled.
Exposing government wrongdoing is hazardous to personal safety and welfare. Julian Assange is imprisoned in London at the behest of the Trump regime — for the "high crime" of truth-telling journalism the way it should be universally.
Courageous whistleblower Chelsea Manning spent years in prison for revealing US high crimes of war and against humanity in Afghanistan and Iraq — imprisoned again indefinitely for refusing to aid the Trump regime's lynching of Assange.
Granted asylum in Russia, a noble gesture, Edward Snowden was luckier. He followed in the footsteps of Daniel Ellsberg and likeminded others, connecting the dots for countless millions to know how they're illegally and repressively spied on.
Earlier he said "I really want the focus to be on (documents revealed) which I hope will trigger among citizens around the globe what kind of world we want to live in."
Enactment of the USA Freedom Act (the renamed Patriot Act) did little to change things. US spy agencies continue trampling on Bill of Rights protections.
They compromise due process, habeas rights, free expression, assembly and association, as well as protection from unreasonable searches and seizures.
Microsoft, Yahoo, Google, Facebook, Twitter, Skype, YouTube, Apple, and major telecommunications companies are complicit in spying on their customers for US dark forces.
US intelligence community spying targets friends and foes alike. It's for total control, political and economic advantage, to be one up on foreign competitors —information used advantageously in trade, geopolitical, and military relations.
Domestic spying is longstanding. It has nothing to do with protecting national security. America's only foreign, domestic, or terrorists threats are invented.
The Trump regimes Justice Department sued Snowden and three publishers of his memoir — MacMillan Publishers, Henry Holt and Co., and Holtzbrinck Publishers.
The repressive suit aims to freeze assets from book sales. US attorney for the Eastern District of Virginia G. Zachary Terwilliger said the following:
"Intelligence information should protect our nation, not provide personal profit (sic). This lawsuit will ensure that Edward Snowden receives no monetary benefits from breaching the trust placed in him (sic)."
The lawsuit is the latest example of Washington's assault on speech, media and academic freedoms, targeting what diverges from the official narrative on major issues.
It accused Snowden and his publishers of going to press "without submitting (the book for) pre-publication review."
The notion that US approval is required of current or former federal employees to write or speak publicly on issues related to their work flies in the face of their constitutional rights.
In response to the suit, Snowden tweeted: "The government of the United States has just announced a lawsuit over my memoir, which was just released today worldwide. This is the book the government does not want you to read…"
Already a bestseller, Snowden said in his preface "I used to work for the government, but now I work for the public," adding:
"It took me nearly three decades to (understand the) distinction…I now spend my time trying to protect the public from the" US intelligence community — working against ordinary people .
Separately, he tweeted: "It is hard to think of a greater stamp of authenticity than the US government filing a lawsuit claiming your book is so truthful that it was literally against the law to write."
It reveals no state secrets, nothing not already in the public domain, including from establishment media reports.
The ACLU and Knight First Amendment Institute are challenging the so-called pre-publication review process, attorney Max Kaufman, saying:
"(I)ts current form is broken and unconstitutional, and it needs to go."
"It's one thing to censor the nuclear codes, but it's another to censor the same information high schoolers are pulling from Wikipedia."
"Prepublication review gives the government far too much power to suppress speech that the public has a right to hear."
Snowden hopes the DOJ lawsuit will promote his memoir, enabling it to attract greater readership worldwide.
River

to

Sea
Uprooted Palestinian
The views expressed in this article are the sole responsibility of the author and do not necessarily reflect those of the Blog!
Cache
Authors: John S. Hyatt, Michael S. Lee
Validation accuracy is a necessary, but not sufficient, measure of a neural network classifier's quality. High validation accuracy during development does not guarantee that a model is free of serious flaws, such as vulnerability to adversarial attacks or a tendency to misclassify (with high confidence) data it was not trained on. The model may also be incomprehensible to a human or base its decisions on unreasonable criteria. These problems, which are not unique to classifiers, have been the focus of a substantial amount of recent research. However, they are not prioritized during model development, which almost always optimizes on validation accuracy to the exclusion of everything else. The product of this approach is likely to fail in unexpected ways outside of the training environment. We believe that, in addition to validation accuracy, the model development process must give added weight to other performance metrics such as explainability, resistance to adversarial attacks, and overconfidence on out-of-distribution data.
Cache
Previously we looked some of the prerequisites to where we are.
- God's plan is in place
- We are God's workmanship
- We are created to do good
- We are God's - Psalm 100
- We are eternally dead without Christ. However, through grace we can be saved, the gift of God, through Christ. Ephesians 2:8
The post Unreasonable Grace #2 appeared first on Bethel Mennonite Church.
Cache
There is no way that we can give a true presentation of God's unreasonable grace, other than to get a glimpse through scripture and experience it ourselves.
God created us and gave us the ability to choose. God has a divine purpose - man has a choice whether to fit into that divine purpose or not. In our natural state and due to our "sin issue," in a spiritual sense we are born dead.
The post Unreasonable Grace #1 appeared first on Bethel Mennonite Church.
Cache
Published on October 8, 2019 12:10 PM UTC



Previously: Card Balance and Artifact, Artifact Embraces Card Balance Changes, Review: Artifact

Epistemic Status: Looks pretty dead

Artifact had every advantage. Artifact should have been great. Artifact was great for the right players, and had generally positive reviews. Then Artifact fell flat, its players bled out, its cards lost most of their value, and the game died.

Valve takes the long view, so the game is being retooled and might return. But for now, for all practical purposes, the game is dead.

Richard Garfield and Skaff Elias have one take on this podcast. They follow up with more thoughts in this interview.

Here's my take, which is that multiple major mistakes were made, all of which mattered, and all of which will be key to avoid if we are to bring the combination of strategic depth and player-friendly economic models back to collectible card games.

I see ten key mistakes, which I will detail below.

Alas, we do not get to run controlled experiments. The lack of ability to experiment and iterate was the meta-level problem with Artifact. The parts of the game that Valve knew how to test, and knew to test, were outstanding, finely crafted and polished. The parts that Valve did not test had severe problems.

We will never know for sure which reasons were most critical, and which ones were minor setbacks. I will make it clear what my guesses are, but they are just that, guesses.
Reason 1: Artifact Was Too Complex, Complicated and Confusing
Artifact streams were difficult to follow even if you knew the game. As teaching tools they didn't work at all. I heard multiple reports that excellent streamers were unable to explain to viewers what was going on in their Artifact games.
I was mostly able to follow streams when I had a strong strategic understanding of the game and all of its cards and recognized all the cards on sight. Mostly.
I was fortunate to learn Artifact in person with those deeply committed to it, at the Valve offices, and in a setting where I had several days with no distractions to become comfortable with the game and how it worked. All eight of us who were introduced to the game that week got what it was about and had fun. We were able to pass through hours of not knowing why our heroes had died or our cards hadn't worked the way we expected.
But that's all an extraordinary bar to entry. It also helped that we were playing against each other, rather than spikes from the internet beating us over the head with netdecks.
Valve did amazingly great work on the user interface that, in addition to making the game beautiful, made it as clear as possible what was going on at all times. It wasn't enough.
What was enough was the same thing that Magic: The Gathering players need: A human who will sit down with you and explain how things work. No other solution comes close.
Whenever I talked to players who bounced off Artifact, even top professional Magic players, complexity was always the number one complaint.
I introduced Gaudenis Vidugiris to the game. He bounced off. Too complicated.
I introduced Sam Black to the game. He bounced off. Too complicated.
I played in a tournament match during the beta against Andrew Cuneo. He knew the basic rules but had no idea what was going on and felt lost and helpless. He bounced off.
Randy Buehler reported it took him about two weeks to start understanding things well enough to begin having fun.
If those four think your game is too complicated and hard to grasp, I have some news. Your game is too complicated and hard to grasp. There is no large audience that is more sophisticated than that, that wants more complexity than that.
Artifact when you don't know what is going on is a frustrating experience. I was only able to enjoy playing Artifact when I was playing most days, and making it my strategic gaming focus, and giving games the attention they deserved. When I did that, I had some of the best and most intensive and interesting gaming experiences I can remember. Whenever I tried to phone things in, it became quickly clear there was no point.
Some of us stuck with the game through those problems and got tens or hundreds of hours of good experiences out of the game. But eventually it took its toll on all of us. When Valve started changing cards, I lost heart and gave up, no longer confident that my mastery of this complex information and its strategic implications would last long enough to justify the continued investment.
I loved Artifact. I love complex games and love that they exist and that others love them. It brings me joy to know others are building superstructures in Minecraft, Dwarf Fortress and Europa Universalis. Whenever I was at the World Boardgaming Championships I would devote entire days to games of Advanced Civilization, then I would check on those who devoted their entire week to a single game of Global War, and would have done the same for any games of Empires in Arms. But it is worth noting that as much as I admire them and want to try them, I have never played Global War or Empires in Arms. They take too long, require too much dedication, and I could never make it happen. They're a bridge or two too far.
The most extreme case might be, interestingly, the game Artifact was based on: Dota 2. Dota 2 takes dozens of hours before one is able to play the game as anything other than a training exercise. I tried to learn it by having someone sit down and play a learning game with me. It lasted an hour. At the end of that hour, I felt only marginally closer to understanding the game. I still was so bad at the game that I suspected I was hurting my team by doing anything at all rather than staying in the starting area doing nothing. 
Tutorials continue to be a grand unsolved problem. It's not clear that most of them aren't actively counterproductive for games at this level, and we shouldn't just assign experienced players to teach and mentor newer players. No other tech is known to work (and for Dota 2, even that seemed like it wasn't great).
Despite these problems, Dota 2 is huge, and hugely successful. Part of that is greater resonance. Part of that is path dependence, as so many players have made the investment and that has justified it to others. Part of that is that the game pays off in hundreds or thousands of hours. But it's not like I can watch a stream of Dota 2 and have any idea what is going on in the sense that people watching Artifact don't know what is going on. It's not like I feel there's a reasonable path to learning the game, even though I've wanted to at various points.
It is easy to see why complexity didn't seem like a mission critical issue for the Dota 2 card game, when Dota 2 itself arguably has these issues even worse than Artifact. And as Artifcact designers Richard Garfield and Skaff Elias point out, even if you knock out 90%+ of all potential players with this, that still leaves plenty of eager potential participants. The point is a few players who love you, not to appeal to everyone.
I don't think this had to be fatal on its own, but it put a lot of pressure on the game to deliver the goods elsewhere to make up for it.
Reason 2: Artifact Was Too Skill Testing
Artifact announced it was handing Stanislav Cifka a million dollars.
They worded this as an announcement of a million dollar first prize tournament. Technically, many of us had hope it might be us. But we all knew, in our heart of hearts, it was going to be Stanislav Cifka. He owned all of us throughout the beta, going through entire tournaments without dropping games. The one time I can think of he did lose, it was through a clear tactical error in the final.
I entered one Artifact tournament after the game premiered, and played in several beta tournaments. Results were, shall we say, mixed.
In every case, for every match that I won, I could point to impactful errors by my opponent.
In every case, for every match that I lost, I knew I had made key mistakes and deserved to lose.
Good players in Artifact have a huge advantage against bad players. Great players have the same advantage against good players.
If you had to line up players such that the player in front would dominate the player behind them such that an upset would be very surprising (so let's say 400 ELO points distance), for Magic: The Gathering you'd get something like (Top Player -> PTQ Level Player -> Reasonable Store Player -> Bad Player) for four players in the row. I can see a case for three or five.
Chess would have (2800 -> 2400 -> 2000 -> 1600 -> 1200 -> 800) so it would have six.
Artifact would have at least six. It might have seven.
That is too much skill testing, especially for a game that people didn't think was all that skill testing. Players noticed all the bad parts of too much skill testing without the benefits.
What made this hard to see? Artifact had lots of random events, but they were mostly small rather than adding up, so all that did was give better players unique situations to roll with and plan for. It had lots of decisions with long term payoffs, that compounded and played in to each other. Poorer players didn't even notice many of the things that were causing them to lose. And this all plays into reason three.
Reason 3: Artifact Wasn't Random Enough but Was Perceived as Random in Bad Ways
Randomness is vital to games. The biggest benefits of randomness are variety of game play and game situations, such that the game feels fresh, the opportunity for tension and surprise, the chance for players to beat players who are better than them so worse players so more matchups remain interesting and poor players do not lose interest, and giving players the chance to make interesting strategic choices where they have to decide what risks are acceptable and worthwhile.
As Garfield and Skaff point out in their textbook, luck and skill are not opposites. But Artifact definitely had (if anything) too much skill, and did not have enough luck. After a while, the games start to bleed together, following similar patterns. There are lots of little random events that can be good or bad for you, but those even out, so the better player reliably crushed the weaker player, more than in any other known card game.
The randomness the game did have was great. Knowing when to risk a bad arrow, or hope for a good one, and how to maximize your chances of getting one, was quite interesting, as was trying to maximize your chances of lining up well with where heroes would end up within a lane, or what would happen based on where the enemy placed their heroes versus where you would place yours, or your chance of getting the item you wanted out of your store, and so forth.
The problem is that if you add up a lot of little random things, you get far less than additive amounts of net randomness in the result. But you might get more than additive amounts of perceived randomness. Players see each individual random element as part of a constant barrage. And the randomness that Artifact did have was too often the kind of explicit non-card-draw randomness that creates player ire and complaints.
Mark Rosewater and others who work on Magic often note that players react to different kinds of randomness in different ways. Coin flips and die rolls are the worst, when one outcome is clearly good for a player and the other bad, because they stick out as explicit intentional randomness. There is a reason we all hated Frenetic Efreet, and why we don't make cards like that anymore.
The arrows of Artifact felt to players like that kind of randomness. As opposed to drawing different cards in the wrong order or wrong place, or having the tools for the wrong matchup, which are forms of randomness people accept.
The distributions of heroes, and who lined up against who, especially in the opening, was the same. Sometimes you would have heroes face off and someone would go back to the fountain on turn one. Other times, they'd miss each other entirely. That was a big swing that players had little control over, although they could build their decks to assert more or less control over it. The secret was that losing those flips was much less bad than it appeared, since the hero comes back two turns later to the lane of your choice and not that much damage gets dealt to the tower. It definitely risks a runaway via item purchases, or perhaps very quick tower kills, but it's quite manageable by design. Thus, it didn't actually let bad players beat good players that often. But it sure felt like it did.
The lesson is to do your best to hide your randomness where it isn't viewed as the bad kind of random, and to make sure it is available in at least some large chunks. Artifact's best randomness was the placement of heroes simultaneously, because it doesn't feel like randomness. The shop items also felt 'fair' because they were drawing cards from a deck.
Reason 4: Artifact Had No Meaningful Outer Loop
When Artifact launched, you could enter a casual queue and play matches that meant nothing. Or, you could enter a competitive queue that cost $1 (one ticket, if you played keeper draft you had to bring packs as well) and returned slightly less than that in value. That seems like the actual minimum charge required to keep the matches interesting without embracing toxic free-to-play style mechanics that would have destroyed card value along with the overall game experience. So hats off to them for charging just enough to keep it interesting, and not a cent more.
The problem was that this was all you had to do, unless you found a tournament online that would last all day and was definitely a niche product.
Winning at first did not bring any benefits whatsoever, beyond the small return from the tournament itself. The only benefit of winning was you played against harder opponents, but your rating was invisible to you, so you got to experience the frustration of not winning more when you got better at the game without the reward of knowing that you were improving via the rating. There were no larger prizes or thresholds or other things to aspire to, beyond what the community created for itself.
Later, Artifact added experience points and levels in a tacked-on fashion, parallel to the ratings that actually mattered and continued to remain hidden. The new system meant that if you played games, you had a number that slowly went up, which slowly gave you a small number of packs and icon rewards, and allowed you to have a higher number next to your name. It was really weird that I could know how many games my opponent played, but not how good they were in any real fashion. This seemed to not fit a game that was so much about skill.
There was no meaningful 'collect cards' outer loop, because drafting cards was not a practical way to assemble what you needed – any reasonable person would simply buy what they wanted, especially once the prices started coming down. There was no meaningful achievement loop. When I thought about playing games, I did not expect to get any form of reward beyond the game itself, other than the opportunity to improve my skills. In today's world, that is not acceptable.
What should Artifact's outer loop have been? At a minimum, Artifact could have had a system that allowed qualification towards its big prize tournaments. Given Artifact's emphasis on skill, giving players a competitive structure to climb seems like the obvious thing to do, and was something that was promised in the form of a million dollar tournament that was never delivered – which at least to me severely damages the credibility of future Valve promises. Artifact should also have given players the chance to know their true Elo ratings. What they did offer, in the form of cumulative rewards, was much better than nothing, but the rewards quickly became few and far between in a way that felt super far away, leaving players without realistic aspirations, and strongly encouraged players to play only a small number of games before mostly maxing out. Without getting into the weeds here too much, there are a lot of ways to vastly improve how much such a system encourages play.
Another key part of the outer loop is 'keeping up' with expansions. When one plays in Arena, Hearthstone or Eternal, one is constantly aware that one's collection naturally decays over time, with continuous play required to get the cards to keep going. The only alternative is payment. Artifact of course was planning to have expansions, but not even one of them was ever announced. This was an underappreciated huge deal. Without knowledge of a future expansion, the most important and unique outer loop of all was crippled – my collection was complete and would remain so for the indefinite future.
Reason 5: Artifact Had No Good Budget Format
What is so weird is that they ran cash prize tournaments in a very good budget format, called Commons Only, during the beta. This format spontaneously turned out to foster interesting play that focused on lane resource allocation, as playing only commons means that mostly things in a given lane remain stuck in that lane. This is an excellent way to get one's feet wet, as the game does not need to be grasped as a unified whole in the same way. It had several viable decks at the highest level that covered the four colors.
Then for some reason, this did not become a default format to offer players. I still have no idea why, beyond fear that players might not feel enough need to buy more cards, but I don't model Valve as thinking that way. Without a budget format that could sustain itself, the game seemed much more expensive and off-putting, as playing Artifact with inferior tools can be very disheartening.
This then made Artifact's economic model seem and be worse than it would have been otherwise, making one of their biggest problems even worse.
Reason 6: Artifact's Economic Model Was Marketed Poorly and Misconstrued
I put this before the important real flaws in the economic model because I believe that perception of Artifact's model as greedy, stingy, unreasonable and out of step with the times was far more hurtful than the real flaws it had. Artifact had in effect a perfectly reasonable economic model, but players did not see it that way.
What happened? A lot of it was the way the model was presented. Artifact did not highlight its customer-friendly economic features.
Artifact charged minimal amounts for tournament and draft participation, even allowing you to play for free if you chose to do so, at the expense of your opponents not having a strong incentive to give the games their full attention. When entry was charged, the rake taken on it was very small.
This is a big deal. In all the other collectible card games I know, playing limited is something you earn through grinding, or something you buy at remarkably high hourly rates. 
In Artifact, once you pay the initial $20 fee, you can draft as many times as you want, for free, forever. 
That's the best drafting deal ever offered, and that is how Artifact's offering should have been framed. It is also how the bulk of players should have been playing the bulk of their games.
If players had thought of Artifact as a $20 experience that allowed you to play its primary mode of play forever, and also gave you assets you could sell to get a lot of that $20 back (in the first week you could get more than all of that $20 back, although that did not last) then players would have seen that this is a good deal the same way that paying $30 for Slay the Spire or $60 for Dragon Quest XI is a good deal. You then have an option to play constructed, which can cost up to a few hundred for a complete set of playable cards, but there is no one forcing you to do that if it is not interesting to you.
The cost of constructed in Artifact started around $200, then decreased as the game failed, but $200 for a full set of playable cards from a large set compares favorably to what you would pay in other similar games. It compares even better if you consider that you can sell those cards afterwards and hope to potentially even profit, and you can choose to buy only those cards you need, without having to go through a super inefficient dusting or wildcard system.
But none of that mattered, because all people heard was 'Artifact is not free to play.' This cached out as two things: Artifact costs $20 initially (whether or not this was at first effectively $0 given that the cards you get along with that can be sold) and Artifact does not reward your daily play with cards that suffice to let you build a constructed deck. Players only considered the question of 'how generous are you to people who don't want to ever pay money but do want to build a collection' and generally looked for markers of generosity within the free-to-play business model I consider deeply flawed, rather than considering the system holistically or comparing it to a normal pay-to-play title.
Thus, players got angry, and the game got review bombed, and professional reviews constantly referred to the game as greedy and as using an aggressive, outdated business model. Once that becomes the story, you're in deep trouble, whether or not it is accurate.
Reason 7: Artifact's Economic Model Was Flawed
As much as I will defend Artifact's economic model as being unfairly maligned and having the right overall concepts at its foundation, the execution of those ideas was botched. One of the ways this happened was very not subtle and should have been obvious, especially since I tried to caution them about it. The others were understandable mistakes that would have been difficult to notice in advance.
The big mistake was to lock all transactions to the Steam Marketplace, preventing players from transacting with each other directly, and then take a 15% cut of every transaction.
15% is a freaking huge fee, and the desire to collect that fee ruled out any ability to loan cards or give cards to friends. Thus, the ability to let a friend play a deck you've assembled, or try out something cool, was gone.
Players ended up feeling tied to their cards a large percentage of the amount they would have felt tied with no ability to sell at all. One of the big advantages of having cards that can transfer is the ability to recapture value, but a 15% transaction tax makes that story far more difficult to tell. Another is to have tight markets so you feel like you're getting a fair price when you buy or sell. Magic Online provides this through the use of trading bots, so you don't feel like trading is too expensive. The problem is that if every card comes with a 15% fee, then that makes any profitable trading strategy need to widen out by 15% on top of the 15% fee, so they can pay the 15% when it's their turn to pay it. So effectively there is a 30% gap between buy and sell prices, plus the profits to the dealers who are worried their inventory will lose value and at paying large costs to get rid of things they no longer want, so you're looking at a gap of 40% minimum when you don't have 'natural' flow to trade against. That is super punishing.
Combine that with an interface for trading where it suggests prices you might want to seek to pay, but which often fail to actually make a trade happen, and the whole experience is super frustrating. I felt bad every time I went to use the market for a non-trivial purpose, and all my dreams of speculation or investment in undervalued cards went away completely the moment I saw the market structure.
Even worse was that the game was creating sources of surplus card flow to be dumped onto the market, debasing the value of the cards. Starting a new account forced players to open $20 of product, without giving most people much reason to keep those cards, since they would end up mostly playing limited or leaving the game entirely. So why wouldn't they reclaim what value they could by dumping everything into the market, even at a big loss? Then, when this flow pushed prices down, players saw cards as an increasingly bad investment, further depressing demand, and accelerating the downward price spiral set in motion by a declining player base.
We add to that the giving away of product in daily rewards. The daily rewards may not have looked like much to players, but it was still a large flooding of the market, because many of the players getting the free packs had no reason to hang onto them when they could get some steam credit by dumping the cards. I've been working on modeling this interaction for some time, and I firmly believe that you mostly must choose two of these three: either give cards away steadily for free, or allow cards to be exchanged freely, or allow cards to retain value. If you give away cards and let them be exchanged, the market floods and value is depressed. If you give away cards and want them to retain value, you have to lock those cards down (if not all cards) to avoid this. If you don't give away cards for free, then value is maintained because incoming supply is always paid for, so unless you have a large decline in the player base, someone is paying for that supply at whatever price you charge.
If you're going to have a marketplace and want your cards to have value, it imposes real restrictions on you. What you distribute has to be chosen very carefully. Players need to fully own their cards and be able to reasonably transfer them. Players need assurances that their card value will be protected.
You have to mean it, or it won't work.
Reason 8: Artifact Set Expectations Too High
Artifact came from Valve and Richard Garfield, based upon DOTA 2, looking better and with more polish than any other digital card game has ever launched with by a wide margin. The game is gorgeous, the result of years of loving detail and care, and came after a long gap of game publishing from a studio with a long record of hits. It was presented as the Next Big Thing, and a lot of people got super excited. Tons of players tried it out when it launched.
Alas, a lot of those players had no business playing Artifact, because they weren't the type of player who enjoys that level of complex strategic interaction. And also alas, the game launched essentially unfinished, because it didn't have its outer loops in place in any form, and without a good way to bring new players up to speed, but it was presented as fully ready rather than early access.
This resulted in a strong early peak in users, followed by a huge decline, which looked like failure and also did terrible things to the market, and resulted in terrible reviews because people were evaluating the game against a standard it never had a hope of meeting.
If Artifact had launched first as early access, allowing players to first view it as a game in progress, all of that could have been avoided. It also would have allowed them to fix their problems before it was too late, because they would have avoided the next issue.
Reason 9: Artifact Did Not Run the Right Tests Because They Didn't Test Their Economy
Artifact ran an extensive beta test where many of us played a lot of games. The problem was that what they didn't do was test Artifact where players did not have full card access. Throughout the beta, players were given complete collections.
Which was super awesome for the players, and allowed us to better test the 'final form' of the constructed format. What it didn't do was give an idea of how players would in practice interact with the game. What would their experience be? What would they choose to do, what types of decks would they build and face? Would the economy work? How would desire to build a collection interact with and drive player spend and behavior? And so on.
These are super important questions. Artifact's test of them was on launch day.
Arena solved this problem by running a beta with its full economy working as designed, with credits from card purchases being given when the cards were reset later. That solution is not available to a game with a full marketplace, especially if you want to predict player actions and market dynamics, so the problem isn't a trivial one to solve. If I buy a copy of Drow Ranger in the market, someone gets that money, so Valve can't refund it without taking those proceeds away.
My guess is that would indeed be the right thing to do – to take those profits away upon reset. For the test period, cards and packs cost Relics which can be bought with steam credits, and the market trades in Relics. At the reset, Relics are destroyed, and all funds used to purchase Relics are returned as either steam credits or as funds one can use to purchase selected items in Artifact.
The important task is to impose some set of reasonable card access restrictions, and see how players build decks, play the game and use the market in response to that.
Reason 10: Artifact Did Not React Well or Quickly to Initial Failures and Did Almost No Press
It is normal for a game to see a huge decline in play numbers over its first few weeks. No one knows that better than Valve. So it was understandable for Valve not to be too concerned about the decline in numbers over the first few weeks, until it was clear that the ongoing trajectory was not going to improve. More troubling should have been the reviews of various types that were coming in, the reports of players dropping the game or not streaming or watching the game due to complexity concerns, and other not-the-number-of-users red flags.
What initial reactions they did have, enshrining free drafting and giving a first draft of player achievements and rewards for playing, were good starts, but did not turn around the narrative. Valve counted, as it has done in other cases, on its players to get the word out. That didn't work, and players continued to view the economy as greedy and the game as having nothing for them to do.
Still, those stopgaps combined with the excellent reception the game got from many lovers of deep strategy games, bought Valve some time. During that time, they could have made further improvements, offered more things to do, or at least announced future things and improvements that players could anticipate. They also did not engage in any public interactions that showed they were aware of the issues, or illustrated their thinking or intentions.
Also importantly, for a game whose core success strategy was supposed to involve top level competition, they left actual competitions entirely in the hands of outsiders. There were some cool tournaments held, but Valve itself didn't have any planned or offered. Players who came to the game without knowing about the tournaments didn't realize there was any organized play. What play was organized didn't have a clear path to getting involved other than either knowing someone or signing up for a single elimination all day tournament through discord. When I say all day, I mean all day. I think giving us a few Grand Prix style events, with five figure prize pools, that could be qualified for via wins or win rates in queued events, would have gone a long way towards tiding things over. Having that feed into a fully announced and scheduled million dollar first prize tournament? Even better.
Instead, every week that went by we all wondered whether Valve would be willing to follow through, or would instead abandon its pledge. Which is what eventually happened – it turned out to be a conditional promise that had assumed the game's success. Why were we still playing?
When the time came to address the metagame being stale, and people complaining about some cards being better than others, Valve responded not by printing or releasing new cards or expansions, but by changing cards via fiat. This got them a lot of initial good press they had at least done something to respond to players and shake the game up. I saw that response, and thought that perhaps my negative reaction had been premature. If they kept changing things to keep the game dynamic, and embraced this new system, that would be tough on card value and make it especially taxing on players who tried to take breaks from the game, but they would be providing new and different experiences, show responsiveness to the player base, and be able to iterate towards where they needed to be while we waited for the first expansion.
Alas, such iterated changes did not come, nor did more radical changes or any announced plans. When the first set of changes did not revive the player base on its own, that was it. So we never got to find out what that experiment would have looked like, or whether it would have worked. Nor did we try releasing the first expansion to see if that helped shake things up and make people think of the game as a changing and evolving thing.
I respect the hell out of 'it will be released when it is ready' as a principle of game creation. Kudos to those with the resources and determination to pull it off. But once one releases a game that requires continuous play and a critical mass of players, one no longer has the luxury of time. One certainly does not have the luxury of time with no communications.
Conclusion
Artifact was, as my review made clear, a uniquely amazing game in important ways. It did a lot of things uniquely right. Alas, it also did a lot of things uniquely wrong. I've listed ten. If we could fix one of the ten, could we have saved the game? My guess is that no one of them alone would have been enough to turn the game into a success if it were fixed, but each of them would have made a substantial difference. Solving a lot of them, I believe, would have been enough. While the complexity issue in particular is a huge deal, that complexity also brought many benefits, and I think that with proper handling of other issues the complexity problem could have been navigated, as it was in the original DOTA 2. It was the combined weight of so many different problems that ended up bringing the game down.

Could the game still be saved? There is a bad taste in everyone's mouth, legacy economic problems that will weigh on the enterprise, and the players have almost all checked out. At this point, time pressure is no longer a major concern, as everything that can be lost to delays has already been lost. If the game came back in a few years, with solutions for its problems and proper support including prize support, I do believe it can still be a modest success on its own terms. I do not expect that to happen.

The greater tragedy would be to draw broad conclusions about what is fatal to a game, and for Artifact to become a way to inhibit innovation and drive games towards becoming Hearthstone clones (or otherwise stick to existing templates) even more than they already do. The more we realize how many different ways there are to improve our prospects when exploring interesting new space, the better our chances for creating the next unique great thing.

 

 



Discuss


Next Page: 25 © Googlier LLC, 2019