Cache
UPDATE 10/7: I think farmers have had enough, maybe, I hope anyway...

1. "I went to Madison feeling financially scared and emotionally depressed but hopeful," said Paul Adams, who runs a 500-cow organic dairy near Eleva, WI."I came home feeling financially scared, emotionally depressed, unwanted, and unneeded."





2. Brittany Olson left her Barron County farm at 2am to make the trip to Expo and hear Perdue speak. "To go through the effort to see the USDA secretary, only for him to say that small farms like ours likely have no future made me feel like little more than a peasant in a system of modern-day feudalism," Olson said.





3. "To me, it really drew a line in the sand on just where this administration stands," said Chippewa County dairy farmer George Polzin.
Danielle Erdvick summed it up this way in the story:

But I sense a fire growing in the belly of the family farmers I meet in my work with Farmers Union. Farmers are weary. But there's a growing flicker that's starting to feed a change in the narrative. No more will they be spoon-fed a top-down vision for rural America. Instead, I see a drive for a farmscape where fair prices, local food systems, clean water, and land conservation are at the heart of farm policy. How can we achieve it? It'll take actually enforcing America's antitrust laws and holding corporations accountable when they try to monopolize an industry. It'll mean addressing market manipulation. It'll mean not raising our hackles, as farmers and ag groups, every time someone wants to talk about clean water or livestock siting. It'll mean continuing to adopt regenerative practices and thinking outside the box so we're protecting our natural resources for our children and grandchildren.
__________________________________________________________________________________________________



Farmers will never stop voting for Republicans. Sadly, GOP promises of "small government" simply mean they don't really have to do anything for their constituents, and deregulation is anything that basically leaves them alone.

Tariff War is not Their Fight: It seems farmers are okay sacrificing their livelihoods for big corporate interests seeking intellectual rights and protections.

And then the last shoe dropped; Ag Sec. Sonny Perdue told us what big corporate Republican politicians were really thinking about family farmers:


Perdue told reporters that he doesn't know if the family dairy farm can survive as the industry moves toward a factory farm model ... "In America, the big get bigger and the small go out. I don't think in America we, for any small business, we have a guaranteed income or guaranteed profitability."
A few farmers suddenly realized what was really going on...

Jerry Volenec, a fifth-generation Wisconsin dairy farmer with 330 cows, left the Perdue event feeling discouraged about his future. "What I heard today from the secretary of agriculture is there's no place for me. Can I get some support from my state and federal government?"

Darin Von Ruden, president of the Wisconsin Farmers Union and a third-generation dairy farmer who runs a 50-cow organic farm (said) getting bigger at the expense of smaller operations like his is "not a good way to go. Do we want one corporation owning all the food in our country?"
Democrats, Governor Tony Evers backs Family Farms, despite never getting their vote, but after Sonny Perdue's comment, even our laid back Gov. had to say something:




"Are they struggling? Absolutely. But I think at the end of the day we need to get behind them rather than saying, ah maybe you should go larger. I, frankly, resent that the Department of Agriculture secretary from the federal government came in and kind of lambasted them."
But don't take Evers word for it, here's a comment made at the Minnesota Farmfest about CAFO's. Note: Why were visa's for dairy labor ever determined to be seasonal and not year around?:
Wisconsin dairy farmers are still feeling the sting of Trump's visit to Milwaukee in July, where the president downplayed the suffocation felt by farmers here because of Trump's own tariffs.



Trump: "Some of the farmers are doing well. ... We're over the hump. We're doing really well."
Farmer Response...:
"If he's saying farmers are over the hump, he would be badly mistaken," said Darin Von Ruden, a third generation dairy farmer. "In order to get over the hump we need to stop losing dairy farms."
From PBS's Market to Market: Trump's says farmers are happy...
Farmers are slamming Trump's $28 billion farm bailout — more than double Obama's 2009 payment to automakers — as a 'Band-Aid'.
Perdue editorial doesn't repair Damage
: Nope, his word salad backtrack to obscure how he really feels, is a little late. In fact, Perdue reminds farmers how this whole problem was really Trump creation:
Purdue: "President Donald Trump has made it his mission to support American agriculture and negotiate better trade deals so our productive farmers can sell their bounty around the globe."
And don't forget how Scott Walker pushed oversupply in the dairy industry.
Here's what one farmer, "a great patriot," really thinks about Trump:
Cache
Write your secrets in the sand and trust them with a mermaid. . . Come frolic under the sea with Lil' Mermaid for Callie 6 and the Genesis 2 Female(s).

Includes a Mertail, separately loading right and left smart prop Shell Bra and Starfish Bra and Shell and Starfish props to place anywhere you please!

The Mertail has Easy Posing dials in order to make posing a breeze and contains a range of custom fit morphs, including a fit for Coral, as well as numerous adjustment morphs are built in to enhance realism and versatility.

Price: $24.95 Special Price: $12.48
Cache
A day at the beach, sunbathing on the sand and swimming in the sea can be the perfect remedy for the stresses of the city. Luckily, Qatar is a peninsula; the coastline is over 560 km long, so there are plenty of beaches to choose from. Some, like the Inland Sea (Khor Al Adaid) can…

Cache
Link to the full paper, and the quote is from page 7: https://papers.ssrn.com/sol3/papers.cfm ... id=2668236. I tried reading the paper, but it's a bit over my head (comparing models using statistical tests), but the full quote is:



Thorny issues arise for factors that have no theoretical motivation but are robust in out-of-sample

tests. Without a model that identifies the forces responsible for a meaningful pattern in observed returns,

it's hard to assess the likelihood that the pattern will persist. One might draw a line in the sand and exclude

such factors, even when they enhance model performance. The models in previous versions of this paper,

for example, exclude momentum factors. We include momentum factors (somewhat reluctantly) now to

satisfy insistent popular demand. We worry, however, that opening the game to factors that seem

empirically robust but lack theoretical motivation has a destructive downside – the end of discipline that

produces parsimonious models and the beginning of a dark age of data dredging that produces a long list

of factors with little hope of sifting through them in a statistically reliable way.
Cache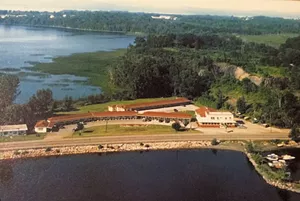 Conventional wisdom holds that the first three rules for choosing commercial real estate are location, location and location. If that's the case, what's the deal with the old Sand Bar Inn, a long-vacant motel on the west side of the Sandbar Causeway in South Hero? If ever a spot were prime for commercial ka-ching, this highly visible, 3.7-acre waterfront lot on Route 2 would seem to check all the boxes. It offers spectacular panoramic views of Lake Champlain and the Green Mountains, its own beach access on Outer Malletts Bay, boat slips directly across the road, and Sand Bar State Park about a mile away. It's close to two large population centers — Chittenden County and Montréal — accessible via Interstate 89, and situated in a year-round vacationers' paradise not yet saturated with lodgings and eateries. Developers would also be pleased to know that the site has all the necessary permits in place, no costly or time-consuming environmental review required, a rarity for lakefront development. And, according to its owners, it wouldn't need to be rezoned to accommodate a new motel, restaurant or residential community. Inexplicably, the Sand Bar Inn's website, last updated in 2007, still advertises cottages, lakefront dining, a marina and special events catering. The site even claims that the inn is currently "closed for renovations," though the only signs of repair on a recent July day were new windows installed at least a decade ago. But except for a weekend-long art installation in July 2018 at the inn, titled "From Away," by Burlington-based Overnight Projects, the dilapidated motel has sat unused and unvisited for 14 years, its paint peeling, its roof missing shingles and holes gaping in the siding. "I'm flabbergasted that no one has stepped up and tried to make a run at this property," said Yves Bradley, vice president of commercial brokerage at Pomerleau Real Estate in Burlington, which currently lists the property for sale at $795,000. "But it'll happen." The last decade notwithstanding, Bradley's optimism seems warranted. For nearly a century, the Sand Bar Inn was a popular restaurant and overnight spot for visitors to Grand Isle before it closed for good in 2005. Teresa Robinson, a retired history teacher and former president of the South Hero Historical Society, confirmed via email that the inn was built in 1900 by Benajah Phelps, a toll keeper who collected fares on Sandbar Bridge, a predecessor…

Cache
Horchata I love food, and I love travel. Experiencing life in a different place, tasting new flavors, smelling salty or unfamiliar air and trying to capture it in my memory or through the lens of my camera resets my soul, makes me smile and reminds me of what life offers. sunrise in Mazatlán, Mexico sunset in Mazatlán, Mexico One year ago, I was recovering from surgery to remove more thyroid cancer. A year later, I'm feeling the sand between my toes, listening to the waves crash on the beach, and enjoying a culinary tour of Mazatlán, Mexico. One thing I love to bring home is a favorite taste to make in my own kitchen. Mazatlán is known as the Pearl of the Pacific. For me, the pearl-colored beverage, Horchata (or-CHA-tah), will always remind me of Mazatlán and Mexico. It was also one of the first things...

This is just a summary. Visit my website for full links, other content, and more!
Cache
I've always wondered how Google got its legal counsel to sign off on Project Zero's code release strategy. Doesn't contributory negligence get apportioned? i.e., Couldn't a victim of an attack sue both the vendor and Google for shared responsibility for the attack, since Google supplied the code for the attack? (I'm not saying this is how things should be, but it seems to be how the legal system works.) Maybe Google's management was just bold enough to draw a line in the sand and take a stand on principle.

Cache
From Ian:

---
Jonathan S. Tobin: Whatever Happened to the Palestinian 'Diplomatic Tsunami'?

At the United Nations, where once-hardened ex-generals like Barak quaked about the prospect of the world uniting to force Israel to accept a Palestinian state, the situation for the Jewish state's foes is particularly dismal. It's true that many UN agencies, like its Human Rights Council, are still cesspools of antisemitism and hypocrisy, focusing almost exclusively on bogus attacks on Israel while ignoring real human-rights catastrophes in countries around the world.

But as is the case elsewhere, the diplomatic isolation that Barak and so many others feared never happened. Indeed, as Israeli Ambassador to the United Nations Danny Danon recently wrote, the world body is no longer the "home court" for those who oppose Israel. The majority of member states joined the United States and Israel in condemning Hamas terrorism in the past year. In a variety of steps, both large and small, Israel's presence there has become normalized.

At the same time, the Palestinians have become more of an afterthought. It's probably better for Abbas that even the Palestinians' usual cheerleaders on the left paid no attention to his recent address at the UN General Assembly, where he spoke of his devotion to democracy and his plans to hold an election. Abbas is so devoted to democracy that he is currently serving the 15th year of a four-year term as president of the PA, to which he was elected in 2005. No one takes his talk of finally holding another vote seriously, since there is no way he would risk being defeated by his more radical Islamist rivals in Hamas, who currently rule Gaza.

The Arab and Muslim worlds may still be hotbeds of antisemitism and may have successfully exported their Jew-hatred to the West in the form of the BDS movement. However, Arab states have effectively dropped the Palestinian cause as a priority and instead are increasingly looking to Israel as an ally against Iran. Though they still pay some lip service to the Palestinian cause, the governments of Saudi Arabia, Jordan, and Egypt have little interest in creating another failed and unstable Arab state for the Palestinians.

To note these facts is not to deny that the ongoing conflict with the Palestinians is not going away and remains a serious problem. But as long as both the PA and Hamas are stuck in the mindset of their century-long war on Zionism, peace will have to wait until the Palestinians are ready to accept the legitimacy of a Jewish state.

The fact that the "tsunami" that so many Jews feared has fizzled into the BDS flop that can only intimidate someone like Lovato demonstrates that the conventional wisdom peddled by Israel's noisy critics shouldn't be taken seriously. Those who listen to the counsels of despair in 2011 have turned out to be as confused as a second-tier pop star.
FM confirms initiative to sign 'historic' non-aggression pact with Arab states
Foreign Minister Israel Katz on Sunday confirmed that he has been advancing non-aggression treaties with several Arab countries in the Gulf, a "historic" démarche he said could end the conflict between Jerusalem and those states.

"Recently I have been promoting, with the backing of the prime minister, a diplomatic initiative to sign 'non-aggression agreements' with the Arab Gulf states," Katz wrote on Twitter.

"It's a historic move that will end the conflict and enable civilian cooperation until the signing of peace agreements," he said, in what appeared to be a tacit acknowledgement that no Arab country is currently willing to establish full diplomatic relations with the Jewish state as long as the Israeli-Palestinian conflict remains unresolved.

Katz further confirmed that he presented his plan to several Arab foreign ministers during his visit to New York last week at the sidelines of the United Nations General Assembly. He also discussed the proposal with the US administration's outgoing special envoy for the peace process, Jason Greenblatt, Katz said.

"I will continue to work to strengthen Israel's standing in the region and around the world," he pledged.

Katz's tweet included a link to a report aired Saturday night by Channel 12, which first revealed the existence of the potentially groundbreaking initiative.
PMW: Fatah attempts to hide its terror promotion from Facebook

In fact PMW's reports show that Fatah does all of that and worse on its Facebook page, and PMW has pointed this out to Facebook more than once. Yet Facebook continues to leave the platform open for Fatah's terror promotion.

Fishman further explained that Facebook finds that governments and academics are acting too slow in terms of designating who are "terrorist actors" and therefore designates such themselves:
"We [Facebook] designate terrorist actors ourselves. This is pretty unique, but the reason we do this is because although there are a variety of lists of terrorist organizations in the world that are maintained by academics, that are maintained by governments, we find that academics and governments act too slowly. They don't actually maintain comprehensive lists in real time, and the expectation on us by our users and by the community globally is that we are able to respond to these things in near real time."

One can only marvel at the speed with which Facebook claims that it responds to terror promotion when looking at its inaction in the face of PMW's thorough documentation. Nine months ago Facebook was supplied by PMW with explicit evidence that Fatah's mission includes terror and violence. Yet in its statement to the Jerusalem Post last week Facebook said:
"We have received reports about potentially violating content on this page and, as we do with all such reports, are in the process of reviewing that content to determine whether it violates our policies."

Facebook boasting would be laughable, if its behavior was not life-threatening. Facebook claims to have a policy according to which "there may be no praise, support, or representation of a terrorist organization, a terrorist actor, a terrorist event," and boasts 'we are able to respond to these things in near real time."

In the case of Fatah, Facebook has failed repeatedly to deal with the terror promotion on its platform. Despite being provided with the evidence, Facebook did nothing to remove Fatah's terror glorifying and promoting posts. While their actions were no more than piece-meal, it appears that even Fatah accepted PMW's claim that many of their posts contained terror glorification and promotion and decided to take them down.

Facebook removes terror promotion in "real time," except when the murder of Israelis is being celebrated and promoted. For Israelis a full nine months is necessary and Facebook is still "in the process of reviewing that content," that clearly celebrates and promotes terror.

While Facebook is bragging about fighting terror, Palestinian terror is being embedded in the hearts and minds of the next generation of potential terrorists, thanks to Facebook.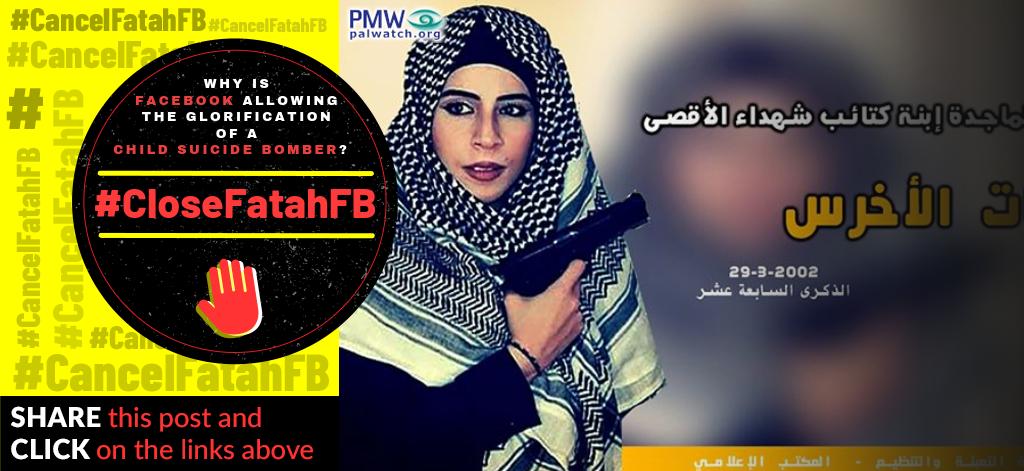 PA wipes peace agreements from schoolbooks, encourages incitement and intolerance
The Palestinian Authority has removed any mention of past agreements with Israel from their school textbooks, with the exception of the Oslo Accords, which are mentioned in far less detail than in previous editions of the schoolbooks, according to a new report by Yedioth Aharonot.

The new curriculum, which has been progressively implemented throughout the past three years, and the textbooks in particular, are studied between 1st and 12th grades in the West Bank, the Gaza Strip, east Jerusalem and refugee camps. They, unlike their previous editions, make no mention of the historical Jewish presence in Israel, and speak about every quarter in Jerusalem's Old City – except the Jewish Quarter.

The portions of the textbooks that do mention the Oslo Accords portray Israel in a negative light, claiming that "the Zionist occupation was forced to recognize the PLO after the First Intifada in 1987."

In addition, the old textbooks contained the full contents of the letter written in 1993 by then-PA chairman Yasser Arafat to then-Israeli prime minister Yitzhak Rabin, which detailed the values of peace between the Palestinians and the Israelis.

The new textbooks, however, censor the part in which Arafat writes that the declaration of principles "is the beginning of an era of coexistence in peace without violence and any action that may risk the peace."

The few times in which Israel is mentioned throughout the rest of the textbooks are in parentheses, a habit typically taken on to claim the illegitimacy of the state by extremist organizations such as Hamas and the Islamic Jihad, according to Mako.



Seth J. Frantzman: Trump gives green light to Turkey to take over Syria, displace U.S. partners

Turkey will soon move forward with its long-planned military operation to create what it calls a "safe zone" in northern Syria – and U.S. forces will not support or be involved in it, the White House press secretary announced early Monday morning. The move is an extraordinary reversal of US policy that leaves America's allies wondering whether they can still rely on the Trump administration.

The statement came after Turkish President Tayyip Erdogan and US President Donald Trump discussed in a phone call Turkey's plans to establish a "safe zone" east of the Euphrates River in Syria. For four years, the US and mostly Kurdish fighters have fought and defeated Islamic State in northeast Syria.

The White House decision will effectively displace the partner forces the US had been working with. For more than a year and a half, Trump has been seeking to leave Syria. In the midst of the impeachment crisis, he has now made the decision to sacrifice US allies in the war on ISIS as opposed to pressuring Ankara with diplomatic means.

"Turkey will soon be moving forward with its long-planned operation into Northern Syria," the White House press secretary said in a statement.

"The United States Armed Forces will not support or be involved in the operation, and United States forces, having defeated the ISIS territorial 'Caliphate,' will no longer be in the immediate area," it added.

The White House looks at the overall picture in eastern Syria, not as one in which the US fought and sacrificed alongside Kurdish partner forces, but as a simple transactional issue.

In this view, the US has no interests in eastern Syria, except the ISIS fighters. Washington has no interests in creating stability, preventing Iranian influence, defending its partners, preventing ethnic cleansing or the destruction of property, or in managing the crisis. Instead, it decided that its mission was tailored and narrow, and nothing beyond the ISIS issue.
US Throws Kurdish Allies Under the Bus; Turkey "Opens the Floodgates" to Europe
Turkey's Erdogan government will be invading northern Syria to slaughter the Kurds, America's loyal allies against ISIS; release captured ISIS fighters, and doubtless seek to stay permanently in control of the area. The horror is that it will be doing all this with the tacit blessing of the US.

"I am saying this today: We have not got the required support from the world -- particularly from the EU -- to share the burden of the refugees we have been hosting, so we might have to [open the gates] to get the support." — Turkish President Recep Tayyip Erdogan, Takvim, September 5, 2019

"If we open the floodgates, no European government will be able to survive for more than six months. We advise them not to try our patience." — Turkish Interior Minister Süleyman Soylu, Anadolu Agency, July 21, 2019.

Erdogan's threats are not new... and his claims are flawed.... Ankara has not lived up to its commitments.

"The most important question is why the refugee camps are not open to civil monitoring. Entry to refugee camps is not allowed. The camps are not transparent. There are many allegations as to what is happening in them. We are therefore worried about what they are hiding from us." — Cansu Turan, a social worker with the Human Rights Foundation of Turkey (TIHV), to Gatestone Institute, August 2016.

"Turkish authorities are detaining and coercing Syrians into signing forms saying they want to return to Syria and then forcibly returning them there." — Human Rights Watch, July 2019.
Netanyahu says cooperation with Russia 'critical' with U.S. to leave Syria
Israel has "great challenges around us" and it's cooperation with Russia is "critical," Prime Minister Benjamin Netanyahu said on Monday, a day after US President Donald Trump announced his intention to withdraw troops from Syria and allow a Turkish incursion there against Kurdish forces.

Netanyahu made the comments at a holiday toast with workers in his office, during which he relayed that he just had a telephone conversation with Russian President Vladimir Putin. Netanyahu phoned Putin to wish him a happy birthday.

"I met with him a few weeks ago about issues that are important for the security of the State of Israel, and this conversation as well was important to Israel's security," he said. Though he did not provide details, the Netanyahu-Putin conversation is believed to have dealt with the changing dynamics in Syria resulting from the White House's dramatic announcement on Sunday.

"We have great challenges around us, but we enjoy important cooperation and coordination with Russia, something that is critical for us, and which we will continue to deal with," he said.
Lindsey Graham, Nikki Haley on Trump's Syria plan: Disaster in the making
The Trump administration's move, which opens the way for a Turkish strike on Kurdish fighters long aligned with Washington, runs counter to the positions of even some of Trump's top allies in his own party.

Lindsey Graham, a Republican senator who is generally a vocal Trump supporter, wrote in a series of Twitter posts that he was trying to set up a call with Secretary of State Mike Pompeo and would introduce a Senate resolution opposing the withdrawal decision and calling for it to be reversed.

"It's never in our national security interest to abandon an ally who's helped us fight ISIS," Graham said in an interview with Fox News Channel, using an acronym for Islamic State.

"This impulsive decision by the president has undone all the gains we've made, thrown the region into further chaos."

Former US Ambassador the United Nations, Nikki Haley also responded on Twitter, saying, "We must always have the backs of our allies, if we expect them to have our back. The Kurds were instrumental in our successful fight against ISIS in Syria. Leaving them to die is a big mistake."

Republican Senator Marco Rubio tweeted that "If reports about US retreat in #Syria are accurate, the Trump administration has made a grave mistake that will have implications far beyond Syria."
US troops begin Syria pullout as Turkey readies offensive, alarming Kurds
US-backed Kurdish-led forces in Syria said American troops began withdrawing Monday from northeast Syria ahead of a Turkish invasion that the Kurds say will overturn five years of achievements in the battle against the Islamic State terror group.

The Syrian Kurdish fighters also accused Washington of failing to abide by its commitments to its key allies in the fight against IS. It's a major shift in US policy.

The American withdrawal came just hours after the White House said US forces in northeastern Syria will move aside and clear the way for an expected Turkish assault — essentially abandoning Kurdish fighters who fought alongside American forces in the years-long battle to defeat IS.

Turkish President Recep Tayyip Erdogan has threatened for months to launch the military operation across the border. He views the Syria Kurdish forces as a threat to his country as Ankara has struggled with a Kurdish insurgency within Turkey.

Turkish Foreign Minister Mevlut Cavusoglu said that Turkey was "determined to ensure our country's existence and security by clearing terrorists from this region."

"From the start of the Syria war, we have supported that country's territorial integrity and will continue to do so from now on," Cavusoglu wrote on Twitter. "We will contribute to bring serenity, peace and stability to Syria."
UN 'preparing for the worst' from Turkey's Syria operation
The United Nations said Monday it was "preparing for the worst" in northeast Syria after the United States said it would step aside to allow for Turkish military operations in the area.

"We don't know what is going to happen… we are preparing for the worst," UN regional humanitarian coordinator for Syria, Panos Moumtzis, said in Geneva, stressing that there were "a lot of unanswered questions" about the consequences of the operation.

Moumtzis added that the UN was "in contact with all sides" on the ground.

But he made clear his office did not have advance warning about the US decision that effectively abandons the Kurds, who were Washington's main ally in the long battle against the so-called Islamic State group.

Moumtzis said the UN's priorities were to ensure that any prospective Turkish offensive not result in new displacements, that humanitarian access remain unhindered and that no restrictions be put in place on freedom of movement.

The UN has a contingency plan to address additional civilian suffering, but "hopes that will not be used," Moumtzis said.
No joke: Iran FM Zarif — whose military exercises control or influence in Syria, Iraq, Lebanon & Yemen — called on Turkey to respect the "sovereignty and territorial integrity" of other countries.https://t.co/i65vK1NpEV

— Hillel Neuer (@HillelNeuer) October 6, 2019
Netanyahu: Israel Needs Air Defense System Against Iranian Cruise Missiles
In a cabinet meeting on Sunday, Prime Minister Benjamin Netanyahu proposed a massive air defense system to defend against Iranian attacks, especially cruise missiles like those used in attacks on a Saudi Arabian oil facility last month, according to KAN.

Last month, cruise missiles and explosive drones were used in an attack on two plants at the heart of Saudi Arabia's oil industry, including the world's biggest petroleum processing facility.

The United States, Saudi Arabia, Britain, France and Germany have publicly blamed the attack on Iran, which denies involvement in the strike.

The attacks on the two facilities cut Saudi Arabia's crude oil supply by around 5.7 million barrels per day, or about 50% of its output.

The plan proposed by Netanyahu will cost billions of shekels. Some of the funds for the project won't be allocated officially until after a government is formed, assuming that there aren't third elections.

The funds for the project will either come from cuts within the security establishment or from funds cut from social services. According to KAN, it's more likely that the funds will be taken from social services.
Iran unveils kit to convert artillery rockets into guided missiles
The Iranian military says it has produced a new conversion kit to upgrade artillery rockets to surface-to-surface missiles, technology that Israel has accused Tehran of attempting to deliver to the Hezbollah terror group.

The Iranians unveiled the new guidance system upgrade, called Labeik, at an event Thursday at which a number of new military technologies were showcased, according to Jane's Defence Weekly.

Jane's reported that Labeik appeared similar to the guidance systems on the Fateh-110 series of rockets, many of which are believed to be in the hands of Hezbollah in Lebanon. According to the report, the new system also looks to be compatible with Zelzal heavy artillery rockets.

Video footage of the new conversion system aired on Iranian television shows a short body featuring four inverted fins that can be fitted between the rocket and its payload.

According to Iran's Fars News, the "anti-armor 'Labeik 1' missiles… enjoy precision-striking power."

"There is nothing new in the conversion itself, they have been doing it for years, and they already showed conversion kits for the Fatah 110 family of missiles," Uzi Rubin, one of the pioneers of Israel's earliest attempts at missile defense, told The Times of Israel.

"What's new here are the aerodynamics of the winglets — very unique, unseen in Iran to date and unseen in any other country. Going to indigenous design rather than copying others indicates self-confidence. The purpose of the new and unique aerodynamics is probably to increase the maneuverability of the converted rockets."
Congresswoman: Antisemitism, Iran threat highlight need for US-Israel ties
Growing global antisemitism and the dangers of Iran make it more important than ever that the US maintain close ties to Israel, leading Republican Representative Ann Wagner of Missouri said during a speech on the floor of the House of Representatives, in which she spoke against BDS and promoted joint Palestinian-Israeli business ventures over the Green Line.

"Israel is deeply invested in achieving peace in the Middle East, and so is the United States of America," said Wagner, who is a member of the US House Foreign Affairs Committee. "And we will all stand collectively with Israel as they work toward the achievement of this goal."

At "a time of heightened antisemitism that we are seeing across the globe, it is more important than ever that we maintain a strong connection to this very key ally of ours in Israel," said Wagner. Such a stance is also significant given that Iran is threatening Israel, including through its proxies Hezbollah and Hamas.

Part of a small congressional delegation that traveled to Israel in August, Wagner was on a trip sponsored by the US Israel Education Association (USIEA). The trip focused on security issues and the work of the Judea and Samaria Chamber of Commerce and Industry, co-led by Avi Zimmerman of the Ariel settlement and Ashraf Jabari of Hebron.

According to the chamber, it has a membership of some 250 Israeli and 250 Palestinian business people. Jabari was among a small number of Palestinian entrepreneurs who attended the US-led economic workshop in Manama, Bahrain, in June.
'The days of the Ottoman Empire are over'
Foreign Minister Yisrael Katz has ordered his office to draw up plans to stop the Turkish government's efforts to undermine Israeli sovereignty in Jerusalem and protect Jordan's special status as guardian of Muslim holy sites in the city.

Katz intends to present the plan to Prime Minister Benjamin Netanyahu soon, so he can authorize its implementation. Due to the sensitivity of the plan, whose implementation will almost certainly lead to a direct confrontation with Ankara, it is also expected to be raised for discussion by the Diplomatic-Security Cabinet. According to ministry officials, as the plan pertains to security matters, there is nothing preventing it from being implemented by a transition government.

The issue of Turkey's influence on members of Jerusalem's Arab population has weighed on security and diplomatic officials' minds for years. As Israel Hayom has previously reported, Turkish President Recep Tayyip Erdoğan has been buying influence over sites and prominent figures in east Jerusalem for years. Nevertheless, Jerusalem has not made any effort to challenge these efforts up until now.

The Foreign Ministry's plan would see the Muslim Brotherhood, which has close ties to Erdoğan's Justice and Development party, deemed an illegal association in Israel. Further ministry recommendations for thwarting Ankara's efforts include restricting the activities of the Turkish Cooperation and Coordination Agency, or TIKA, in Israel. The organization, whose stated objective is "preventing the Judaization of Jerusalem," spends some $12 million annually on activities aimed at undermining Israeli sovereignty in east Jerusalem. It should be noted that these activities are personally managed by Erdoğan.

The plan's architects propose obligating TIKA to coordinate its activities with Israel in advance and preventing the association from act unequivocally in Jerusalem. In addition, they propose Jerusalem not renew the head of TIKA in Jerusalem's, a move that would strip the organization head of his diplomatic status in Israel and render his presence in Israel illegal.

Additional steps would include restricting communications between members of the Islamic Waqf.
How to get Erdogan off the Temple Mount
This is why a new plan from Foreign Minister Yisrael Katz should be seen more as a declaration of intent and less as an operational plan. For the plan to take effect, defense and security officials who have been dealing with the issue for several years already must supply the top political echelon with evidence. Anyone who wants, for example, to limit the activity of TIKA, a well-endowed Turkish government agency, in Jerusalem will have to first prove that its activity goes beyond the bounds of civil/community service and slides into violence and incitement. Thus far, no evidence of that has been found, although attempts have been made to do so.

The steps the Foreign Ministry wants to take against the worldwide Muslim Brotherhood organization could also turn out to be complicated. It's doubtful whether Israel can point to direct activity by the Muslim Brotherhood. On the other hand, it is definitely possible to identify violent activity by groups or individuals with ideological links to the Brotherhood or its international headquarters in London. Steps have been taken against the Muslim Brotherhood in the past, and we can assume that more will be done in the future. Only recently, two female rioters were barred from the Temple Mount for a period of six months.

It looks like the best way to fight Erdoğan, who is hostile to Israel and trying to buy influence in Jerusalem, is to continue to expose Turkey's ties to Hamas. For years, Turkey has served as a haven for Hamas terrorists and commanders. For years, terrorist attacks or attempted terrorist attacks on both sides of the Green Line have been initiated and directed from Turkish territory. Erdoğan has repeatedly made it clear that as far as he is concerned, Hamas is not a terrorist organization, but the facts on the ground prove differently. Dozens of Hamas cells handled from Turkey have been exposed over the past few years, and the Shin Bet recently reported, "Turkey contributes to the military empowerment of Hamas, through methods that include the SADAT company, which was founded on the orders of Adnan Basha, a close advisor to government officials in Turkey."

This is where Israel has to operate, both operationally and in terms of public diplomacy and traditional diplomacy. The Turkish nonprofits active in Jerusalem are tough to check unless legislative changes can be made that alter the definition of "hostile" activity in Jerusalem, the capital of Israel.
Israel backs Cyprus as Turkey moves gas drill into its waters
Israel's envoy to Cyprus on Monday expressed backing for the Mediterranean island state after Turkey moved a gas drilling rig into Cypriot waters last week.

"Friends should stick with each other," Ambassador Sammy Revel tweeted.

He added that Israel is "following closely and with concern" the Turkish move.

Revel's comments come after Cyprus lashed out at Turkey's new attempt to drill for gas in Cypriot waters where European energy companies are already licensed to conduct a search, calling it a "severe escalation" and vowing to fight the move.

Israel and Turkey, once close allies, have had increasingly strained relations since Turkish President Recep Tayyip Erdogan became the country's leader. Erdogan is a staunch supporter of the Palestinians and launches frequent verbal attacks on the Jewish state.

Israel also voiced support for Cyprus in July over Turkish operations in the country's exclusive economic zone.

Israel, Cyprus and Greece have forged an energy-based partnership that has steadily grown following the discovery of gas deposits in the eastern Mediterranean. The United States began joining the talks earlier this year.
German Jews blast WJC's decision to give Merkel the Herzl Award
Members of Germany's Jewish community are speaking out against the World Jewish Congress's decision to honor Chancellor Angela Merkel with its prestigious Herzl Award.

Every year, the organization bestows the award to figures who act to promote Zionist visionary Theodor Herzl's "ideas for the creation of a safer and more tolerant world for Jews."

Along with Merkel, former US Ambassador to the UN Nikki Haley has also been selected for the award, which the two women are set to receive in separate ceremonies.

However, the announcement of WJC's plan to honor Merkel with the award has been met with piercing criticism from members of Germany's Jewish community, who note the change in Merkel's stance toward Israel in recent years, her support for the 2015 nuclear deal, and the increasing sense among the country's Jews that Berlin is not doing an adequate job of contending with the growing threat to Jews as a result of the anti-Semitic views of Arab and Muslim migrants to the country.

Among the points of contention raised by the local Jewish community: Germany's continued pattern of voting against Israel in UN and other international bodies; Berlin's continued funding for organizations that support the boycott, divestment, and sanctions movement; its refusal to ban Hezbollah activities in the country; and Germany's increased financial support for UNRWA, the UN agency for Palestinian refugees, without conditioning those funds on the cessation of incitement against Israel. There also those who cite Merkel's vocal opposition to US President Donald Trump's recognition of Jerusalem as Israel's official capital and Israeli sovereignty over the Golan Heights.
IDF Sets Up New Anti-Tunnel Company to Detect, Destroy Threats in Israel's North
The Israel Defense Forces have set up a special engineering corps company to discover and prevent terror tunnels dug across Israel's northern border from Lebanon.

The new company is intended to deal with the long-term threat from tunneling attempts by Hezbollah, Israeli news website Mako reported on Sunday. It will use cutting edge technology to do so, most of it tested on Hamas tunnels dug from Gaza, but adapted to the northern terrain, which is quite different.

The main tactic employed by the company is the use of new technology, and as a result is heavily invested in research and development.

One department deals with developing technologies to detect tunnels and tunnel digging activity, while another examines the practical engineering means of interdicting and destroying them.

The head of the company, Captain Moshe Asraf, said it was established according to the "lessons" learned during last year's Operation Northern Shield, during which he served as a commander in the engineering corps.
Arabs Hurl Firebombs, Burn Tires as Jews Pray at Joseph's Tomb
Dozens of Palestinians rioted on Sunday night following the pilgrimage of some 1,000 Jews, under Israeli security escort, to the Tomb of Joseph in Shechem/Nablus to pray. The rioters threw firebombs and burning tires at security personnel.

Israeli security forces responded with riot dispersal methods.

There were no Israeli reports of casualties during the incident, however the PA's Wafa news agency reported that seven rioters were wounded after "Israeli forces escorted a convoy of buses packed with over a thousand fanatic Jewish settlers to the site, located in the Palestinian-controlled area, sparking confrontations with Palestinian residents."

Wafa stated that the injured Palestinians had been "protesting" the "raid" and "attempting to block settlers' access to the site"

"Among the settlers who raided the site were Israeli Minister of Economy and Industry Eli Cohen, leader of the council of settlers in the occupied West Bank Yossi Dagan, and Knesset member Moshe Arbel," Wafa reported.
Palestinian Authority Continues to Pay Salaries to Terrorists
Abbas' remarks, which were less acerbic in tone than those he made in previous addresses to the General Assembly, reflected a concern over the ineffectiveness of his policies and the sidelining of the Palestinian issue from the international, regional, and Israeli agenda.

It is also nevertheless evident from Abbas' remarks that he does not intend to bend as far as his fundamental positions on the conflict are concerned. This was given clear expression in Abbas' stated enthusiastic commitment to continue to pay salaries to Palestinian terrorists and their families, despite the fact that Israel has deducted this amount from the tax revenues it transfers to Ramallah. While there is nothing new about this declaration, Abbas' decision to repeat it in a major international forum is indicative of the PA chairman's commitment to the expectations of the Palestinian street, as he perceives and shapes it.

In practice, despite the cuts in the transferred funds and the Palestinian decision to avoid accepting a further installment of payments Israel is willing to transfer, the PA continues to pay these terrorist salaries as usual. According to the PA budget implementation report for 2019, the Palestinian Authority transferred 276 million shekels (around $79 million) in payments – i.e., salaries – and another 75 million shekels (around $22 million) in "social" payments to families, family expenses, medical insurance coverage, and legal expenses, among other things. In total, the PA Prisoner Affairs Ministry spent some 364 million shekels ($105 million) on these terrorist payments.

These numbers reveal that the PA's payments to terrorists in 2019 were similar in scope to those made the previous year. The significance of this is that despite increasing pressure, the Palestinians are sticking to their guns, as it were, and as a result, the chances of the PA
becoming a partner for peace under Abbas' leadership continue to be slim to none.
Khaled Abu Toameh: Shtayyeh: We received NIS 1.5 billion from Israel

The crisis between Israel and the Palestinian Authority over Israeli deductions of payments made to security prisoners and families of Palestinians killed while carrying out attacks against Israelis remains unresolved, PA Prime Minister Mohammad Shtayyeh said on Monday.

Speaking at the weekly meeting of his cabinet in Ramallah, Shtayyeh announced that the PA has received NIS 1.5 billion from Israel in accordance with the deal reached between the two sides last week.

"The problem with Israel [over the funds withheld by Israel] has not been resolved until this moment," Shtayyeh said. "There is no government in Israel that is capable of making a political decision on this matter."

Despite Israel's decision to deduct the payments from the tax revenues it collects on behalf of the Palestinians, the PA government continues to fulfill its duties toward the prisoners and the families of the "martyrs," Shtayyeh said, and the PA government will remain committed to paying salaries to the families of the prisoners and "martyrs."

PA President Mahmoud Abbas also said that the PA's position regarding payments to the security prisoners and families of "martyrs" remains unchanged.
Abbas says he'll discuss elections with Hamas, factions but provides no timeline
Palestinian Authority President Mahmoud Abbas said Sunday that he would discuss plans for new parliamentary elections with all factions, including longtime rivals Hamas.

Meeting with senior Palestinian leaders in the PA's administrative capital of Ramallah in the West Bank, Abbas renewed a pledge to hold the polls — the first since 2006 — but without giving a timeframe.

He announced that they had formed committees to "communicate with the election commission and factions such as Hamas and all factions, as well as with the Israeli authorities."

He said any elections should take place in "the West Bank, Jerusalem and the Gaza Strip."

Hamas and Fatah have been at loggerheads since 2007, when the terror group seized Gaza and threw out Abbas's forces, which retained control of the internationally recognized Palestinian government, based in the West Bank.

No parliamentary elections have been held since 2006, with the two sides trading blame.
Khaled Abu Toameh: What Iran's Friends Are Doing in Gaza

In other words, Islamic Jihad's promise is one of unending toxicity: to go on poisoning the hearts and minds of generation after generation of Palestinians – as well as to continue investing millions of dollars in building tunnels and amassing weapons to ensure that the fight against Israel continues forever.

"The policy of resistance and jihad is the genuine policy to liberate all Palestine, and the Palestinian people will not abandon this path. We will not accept any agreement that contradicts the project of jihad and liberation. Under no circumstances will we give up one inch of the land of Palestine." -- Senior Hamas official Salah Bardaweel.

For [Hamas and Islamic Jihad] , a ceasefire means further amassing weapons and preparing their people for war without worrying about Israeli military action. When will the international community pull its head out of the sand in which it has so long been buried and understand that with organizations such as Hamas and Islamic Jihad running the show, the Gaza Strip will remain the humanitarian disaster that is so bitterly blamed on Israel?
Commander of Gaza-Based Fatah Splinter Group: Fatah Is the Leader of the Armed Struggle pic.twitter.com/ABBhc3ajRQ

— MEMRI (@MEMRIReports) October 7, 2019
Lebanon arrests Syrian for making phone calls to Israel
Lebanese authorities have arrested a Syrian national accused of having made phone calls to neighboring Israel, the army said Friday.

An army statement said the suspect, who was not identified, was referred to court for "contacting Israeli phone numbers and communicating with Israelis present in the occupied Palestinian territories." It did not elaborate.

Lebanon is home to tens of thousands of Syrian refugees who fled the war raging in their country.

In August, tensions spiked between Lebanon and Israel after two drones packed with explosives were sent into the Beirut bastion of the Shiite movement Hezbollah.

Iran-backed Hezbollah and the Lebanese army accused Israel of being behind the drone launch.

Lebanon's government and Hezbollah chief Hassan Nasrallah both described the apparently botched operation as an act of aggression.

A few days after the August 25 drone incident in Beirut, the army opened fire on Israeli drones flying over southern Lebanon.
Does Iran's Leader Leave Room for Iran's Return to the Negotiating Table?
At the same time, over the past few weeks, there have been increasing calls from senior religious figures in Iran and the leadership of the Iranian Revolutionary Guard for the destruction of the State of Israel. This is similar to statements issued by the Supreme Leader in 2016 that Israel would cease to exist in another 25 years. It is possible that this round of criticism against Israel serves a smokescreen while negotiations are taking place between Iran and the United States to enable Iran's return to the nuclear deal.

In any case, by November 7, 2019, a further reduction is expected in Iran's commitment to the nuclear agreement (including the enrichment of uranium to 20 percent and even higher). There is a window of opportunity for diplomacy and European efforts to try what has failed until now – to promise economic compensation to Iran for the American sanctions or alternatively to bring Washington back to the negotiating table. Iran's oppositional regional policy (against Israel and Saudi Arabia, in Yemen, Iraq, and Syria) will apparently make it harder for Europe and the United States to advance the negotiations with Iran. However, in the past, Europe has shown that it is prepared to ignore repeated violations of human rights in Iran, such as its role in terror activities (including within European territory!), to fulfill the nuclear agreement, which eventually leads to investment and economic cooperation with Iran. Iran is well aware of Europe's modus operandi and uses it and U.S. weakness to achieve maximum profit to renew negotiations regarding the nuclear agreement.

"Today, the Nuclear Deal Is in the Intensive Care Unit"
In this regard, Abbas Aragchi, deputy foreign minister and one of the patrons of the nuclear deal, stated at a ceremony marking the 30th anniversary of the opening of the German embassy in Tehran that, "today the nuclear deal is in the intensive care unit." He added that to save it, cooperation was necessary between the P5+1 states. This could "bring down the walls of American sanctions and one-sided policies, which have become its weapon against independent countries." According to him, Iran, along with the European countries, China, and Russia, are attempting to reach a balanced agreement through negotiations, but because of America's one-sided policies, this balance has been violated and lost.5
Iran says Russian journalist held over visa issue, not Israel spy claim
Iran has confirmed the arrest last week in Tehran of a Russian journalist, saying the case was a matter of a visa violation.

Government spokesman Ali Rabiei told reporters that Yulia Yuzik's case is under "quick review" by authorities and wasn't related to matters concerning the "counter-espionage" department. Her ex-husband said last week she had been arrested for allegedly spying for Israel.

The Russian Embassy in Tehran said on Friday that Yuzik flew into Tehran the previous Sunday and that Iranian officials seized her passport at the airport for unknown reasons. She was arrested from her hotel room on Wednesday.

The Russian foreign ministry summoned the Iranian ambassador to Moscow to explain Yuzik's arrest.

Prior to her arrest, Yuzik posted photographs from her trip on Instagram, saying she loved being in Iran.
Houthi Military Expert Lieutenant-General Abed Al-Thour: UAE Like a Cave Full of Bats; We Can Destroy It; UAE Soldiers Will Have No Place to Return to pic.twitter.com/Xm1qkIU7vD

— MEMRI (@MEMRIReports) October 7, 2019
Houthi Political Bureau Member Muhammad Al-Bakhiti: If Saudi Arabia Doesn't Stop Its Aggression, We Might Launch an Offensive Campaign to Reach Riyadh, Topple the Saudi Regime pic.twitter.com/tFFGhqiywX

— MEMRI (@MEMRIReports) October 7, 2019
---
---
We have lots of ideas, but we need more resources to be even more effective. Please donate today to help get the message out and to help defend Israel.

Cache
Mosul now is completely isolated from the outer world , ISIS have prohibited internet connections and threatened to punish any one who would use it . No one can be reached inside Mosul , we no nothing about people there…. how are they ?, what do they eat ? . 2 millions people are stucked there , lacking the basics to survive , suffering starvation and living days full of fears from an unknown future . We are wondering about the fate of those who couldn't find their way to escape out of the city and forced to live under the wild laws of ISIS , beside every nights episodes of air strikes that are destroying the city.
Day by day , the iraqi forces are getting closer to the south of Mosul , the fighting now is near al qayyarah ( 300 km north to Baghdad) , many people fled the fighting are now struggling in the desert with no food ,water and shelter , and the government as usual gives them the cold shoulder!!
United nations reports warn from a disaster in DEBAKAH camp ( near Erbil) , there is no water to drink there and the people use their own clothes as tents under unbearble sun with temperature of 50 degrees!!! Children are sleeping on the sand , pregnant women give birth inside a dirty tent !! .
People fled to DEBAKAH in response to the government promises that they will be safe and that the government has put good plans to accomodate them but as usual , it abandoned them. Shurqat and Qayyarah are the main cities from which the people fled to Debakah escaping the war. While the total population count is only nearly 160000 , the government and the non govermental or international organizations failed to rescue them ..so how would deal with a big city as Mosul with nearly 2 Millions people !! Again , the government and united nations are giving promises to deal with the crisis but nothing is going to be done!!
Humans in Iraq no longer have any value ! People are killed on daily basis , millions lost their homes and now have nothing to eat , with the world watches in deathly hush! I'd read a post on washington post which touched my feeling deeply , the post had a title of "The worst isis attack in days is the one the world probably cares least about" referring to the massive explosion at Alkarradah in Baghdad which killed more than 200 people. The author critisized the carelessness of the world toward the crimes in Iraq while it react aggressively to those everywhere else!!
We don't deserve all of this , we are also humans and must have our rights . We need to live in peace just like the others.
Cache
Monologue:
Welcome to Healthline Live, 21st Century where we're going to show you that you cannot just have some dead multi vitamin with minerals circa 1950.

If you want outrageous health, the body has to have live source nutrition. It's gotta have that DNA in there so that it's able to support the biophoton activity of the DNA of your own cell. This is critical and we don't want toxic tag-a-longs, small amounts, over time may represent devastating damage.

So you want something that's excipient free, you want something that's exquisitely well grown, and meticulously cared for and protected from it's moment of conception to it's moment of consumption. And if all of that's done, then the nutrient should test 'on' to all 4 biofield polarities. That's right, living things are not like electricity in the wall with a positive and a negative, they have 4 polarities. They should all test on and no matter how much I stress tap that nutrient it's fields should still test on.

And today the best food you can buy - organic, well grown, good water, the best of the best organic - all 4 biofield polarities will be on, however (maybe on,sometimes they aren't) but they stress tap off with 5 stress taps - WOW.

Imagine, 100 years ago, our food made us the strongest nation on earth, you couldn't stress tap off the food. Less than 5 percent of Americans was chronically ill, no nation on earth could match us. Today, more than 53% are chronically ill. We're not getting reports anymore after 2005 because we believe in the 'ostrich solution' ; we just stick our head in the sand and don't report it anymore, however, it's the food that's doing this to you folks.

So growing some of your own food, getting heirloom seeds, learning how to really take care of the soil, the way Albricht (sp?) taught at the University of Missouri I believe, many years ago back in the 1950's and we need to go back to that. But even if you had that food, it still wouldn't be enough .

You can't buy a food like that today, but if you are looking for a supplement that could meet that criteria, you've found it - Quantum Nutrition Labs. And I made these things first, to recover myself from genetically engineered poisoning of bad tryptophan; and it worked. And more and more practitioners asked me about it and so I began manufacturing it, and to this day we use equipment that's rarely used in the nutrition industry so that we are able to quickly identify the nutrients that are on to all 4 bio-field polarities and can't be stress taped off. Experience some of these nutrients today as we go into our specials and we're going to be doing everything for the skin today so stay tuned for that.

And in addition to the importance of exquisetly well grown nutrients, the 2nd step is finding and eliminating interference fields, that may be blocking the healthy energy flow and slowly choking the life out of the key organ or gland. And no matter how much nutrition you use, slowly, relentlessly and unstoppably, these interference fields will destroy that organ or gland.

But you can find ways today to eliminate the interference field, get the healthy energy flow back, and unleash your best health for that organ or gland. Stay tuned and we'll be talking about more of that. And if you'd like to call in, with your nutrition and health related question, you can reach us toll free: 800-370-3447.Tell a friend to enjoy 21st Century nutrition as well even if they're outside your listening area, they can visit our website at Healthline.cc, not .com, and then they can look up the broadcast and join us in their area and if you haven't heard Saturday's broadcast, you can look up the broadcast and join us.
All right, let's go right to the phones:

1st Caller:
female, 55 yrs old, 145lbs
Dr. Marshall: Well, the first thing, once you've had a complete hysterectomy, the challenge is to maintain your healthy hormone balance. And my favorite things to do that, are, 1). Propolis and honey, believe it or not.

This not only helps the hormones, but it also, in my mind is one of the best things for the liver. So you'd start out, because you're not a big woman, with 3 capsules of the Propolis, and you would empty them into about 1/2 teaspoon of an unheated wild honey like our Canadian Gold or our Texas honey, and you would use that for about 1 to 2 weeks and make sure it agrees with you. But it can also illicit a detox so I like to start slowly.

After 1 or 2 weeks you could increase it a half teaspoon. That would be at breakfast. And then ultimately you would do the same thing at dinner. After 2 or 3 weeks, you would add a half teaspoon after dinner. After another 2 or 3 weeks, finally you'd up another half teaspoon. So now you're at two teaspoons a day. It tastes great.

Each half teaspoon has 3 capsules of Propolis. You're going to find that most people say 'I have way more energy; I feel better' . It's one of the most wonderful things for the immune system, the skin, for the hair, for the hormones, for the liver. You know if you look around, when I was a child I saw the bee keepers living into the 90's or even 100's just eating the crud that was left that no one else would buy. And as the years have gone by, I learned that the crud they would eat was the best stuff of all. Even though it had the insect wings and a whole bunch of other little junk in it, it was the best stuff you could get your hands on. So here's your chance to mimic them and take the adversity of the hysterectomy to your advantage.

Today we're going to be working on the skin and that's the skin inside and outside the body.so obviousley there's a bacterial ecology for the skin, for the intestines and of course the intestines are the largest segment of skin in the body. In fact if I laid out your intestines flat, they would cover a football field- Holy Mackeral. But the skin on the outside of the body would only cover a few square feet. So what do we do for that 'inside skin'?

Well, inside or outside, my favorite thing on this planet is propolis. This is a bee resin they collect from trees and barks and they just work so industriously to put all this stuff together. And of course they use this to seal their little hives and this has been shown to be a great immune support agent for the whole body. And it's been shown to contain large amounts of bioflavenoids and it is just really great for the health of the thymus. But most important, this guy participates not only in the immune activity of the skin but the overall health of the skin. So it is just one of the most wonderful things on the planet.

And in fact, one of the things I like to do is empty about 3 capsules into about a half teaspoon of an unheated honey like our wild honey or our Canadian Gold Honey. When you mix the propolis in there and just let it sit for a little bit and then eat that - WOW - that is one of the best things. And of course my favorite of all is to mix these together with about a teaspoon of wild pollen that comes from the northern regions of Canada where the bees survive 55 degrees below zero and instead of having brown honey the've got white honey or gold honey,it's really something. But the taste is exquisitely good and this is nutrition from God Himself. This is the best of the best of the best. And of course in these areas there is no other farming, so you're not seeing a lot of spraying and the exposure to all kinds of weird chemicals like you might anywhere else. This is one of my favorite players on the planet and of course this can promote the best health for the intestines and for the skin in general.

And you can even mix a little bit of the honey and propolis and put it right on your skin if something's bothering you. It's a wonderful way to go. And of course if the bacterial ecology of the gut has been disordered by years of not digesting the food well, or by antibiotic courses, or by some kind of infection, and you want to reset the good bacterial ecology, you want to promote that healthy bacterial ecology,our probiotic complex is on special.

You buy any combination of two or more get 25% off each one, You're gonna love what these guys can do for the body longterm and shortterm. Just about everyday, unless I'm on the road, I have that wonderful wild pollen, a little propolis, and some honey. And I'm up to taking about 2 teaspoons of honey with about 8 to 9 probiotic capsules and a good teaspoon of the wild pollen. Mix all that together and eat it. Tastes like heaven. Give that a try and I think it'll give you the skin of a queen or king. You're just gonna love what that does. Just give a buzz to our order line 800-370-3447

Next Caller:
female, 54 yrs. old, 125-127lbs, stiffness in thumbs

Dr. Marshall:
You know, the thumbs are very, very interesting. Is it the inside or the outside of the thumb? Can you remember?
Caller: It's the inside and the joint where it meets the wrist. That's giving me a lot of pain also and it's swollen and it's also the other thumb.
Dr. Marshall: Well, the thing to remember is that the hands are the outflow of the head, face and neck. So sometimes it can mean that we've got some dental work that's maybe toxic material in the teeth that are giving us a challenge.
Caller: You are so correct. I have a dental appointment this coming Friday.
Dr. Marshall: Now what you can do, but this is like going to be a band-aid, but it may provide some improvement and that is to get some medibody pack and mud pack your hands. And use HM as the fluid, And in particular put a half tablespoon of the mixture on the thumb and let it site there a good 15 minutes. And then wash it off thouroughly, Try to do this in a snice soothing environment, not someplace where people are yelling and screaming, not when you have high stress and you've got exactly 13 minutes to leave,(laugh), you know. And if it can be done early in the day it usually works the best. And it's only a band-aid in that until and unless whatever is driving that junk in the mouth is taken care of , if's gonna come back and come back and come back until you can hardly move your thumb.
Caller: Right, exactly. And I have a problem with rising blood pressure.
Dr. Marshall: Well healthy blood pressure can be many different things. This is something usually i'd like you to be tested to see a QRA practitioner so that they can find the origin so that they can watch you and that you can monitor the blood pressure and of course if there is a blood pressure issure, we always recommend you have your case supervised by a medical doctor so he can make sure that you don't put yourself at any risk.

Sometimes when blood pressure is a little high, it's still in a very safe zone and you have room to work on it from a nutrition standpoint but other times it's out of range and you may be risking your life so you don't want to do that, o.k.? But if it's already in the normal range, there are a number of nutrient steps that can be taken. One of my favorites is Delta Boost. This is a wonderful little remedy and at your body weight, maybe one breakfast, one dinner.

Most important to me as an underpining to healthy blood pressure is that you are digesting and absorbing your food well. You're in that zone where you've got to be on hydrachloric acid supplementation, in my opinion and digestive enzymes. So, maybe 1 digest at the start of a meal, 2 if it's a big meal for you, and then at the end of the meal, the HCL Detox Kit where the HCL would probably be 2 or 3 and 1 activator , end of the meal. And now you should be digesting the way you did in your 20's, and now the junk that's in the food is no longer going all over the body. That's the big thing. You're able to digest and absorb the food properly. These are some of the things I would do. So if blood pressure is in the normal range, you can just start this. If it's even beyond the normal range, what I would do is immediately contact a medical doctor. Ok?
Caller:All right Dr. Marshall

Next Caller:
male, 35yrs old, 170lbs, thinning hair, intestinal yeast
Dr. Marshall: Your hair has just begun to thin or what?
Caller: Slowly but surely you can see a little scalp in the top in the crown for probably about the last 4 years but it's getting really bad now.
Dr. Marshall: Typically that's called 'male pattern baldness'. And typically that's linked to DHT- Dihydrotestosterone. So, the antidote was discovered many, many years ago, almost 100 years ago, as Avena Sativa, that's a fancy Latin name for oat grass. And you can get oat grass in something like what we make called Greens Mix. I don't think it will necessarily bring back your hair, although it did for me but I caught it very, very, very early. But I think what it can do is stop you from losing more hair and start softening up that skin on top of the head called the galea and see if you can't keep what you've got.ok? And maybe, maybe, get a little of it back but that's very argumentative. And so you could get Greens Mix which is the grasses. And at your body weight, 1 tablespoon a day would be idealand you could put it in a smoothie. If you prefer capsules, you could get Greens Mix capsules and if you do that, you'd probably want about 6 per meal, so it's a lot more work, ok?

Now that's the hair thinning, let's go to the intestinal yeast. What makes you think you have intestinal yeast?
Caller: I saw one of the doctors you had me see in Cleveland, and he had a CRT computer regulated, thermal scan...
Dr. Marshall:...imaging, yeah...
Caller: ..yeah...and it showed, first of all it did show the hormones and the DHT but it also showed a lower intestional yeast.which is also why I'm prone to sinus infections alot.
Dr. Marshall: Yeah, well that would mean, if that's the case, that you're not digesting your food well. You're not producing enough HCL. Did that show as well?
Caller: He did not. However, I have been on your Digest, Activator and HCL for about 3 to 4 months now.
Dr. Marshall: And what do you think, is it helping?
Caller: Yeah, my digestion feels great!
Dr. Marshall: (laugh)Good, well there's a couple of thinks you'll want to check. First, you'll want to check there's no more placque forming on the teeth. Cause if there is, then you know you've still got, you don't have enough HCL, ok? That's #1 to look for. #2, you should notice that you don't feel sleepy after you eat, cause that's another sign you just can't digest the meal.
Caller: Yeah, I do feel sleepy, very sleepy after I eat.
Dr. Marshall: So you may still need a little bit more and it sounds like you could use today's special, the house cleaning special, I would get on Intestacidine and I would also get on the Propolis with wild honey. And just take it easy on that though. You know about 3 caps with a half teaspoon of the unheated wild honey and I would do that quite a while - six months; a year. It usually starts house cleaning with sinuses and then it works it way all the way down, so what I usually have people do is mix it together and swallow it, so it doesn't hit the sinuses quite so hard. And it'll be slower hitting the sinus rather than if you eat it and it diffuses through everything in your mouth and your sinus, Whoa. If you've had dental work or if you've had a lot of junk in the mouth, boy that is roto-rooter, ok? And then as you get better and better you could take a half teaspoon as dessert after the dinner meal, Ok? So I think that's what I would do there.

MORE TO COME




CLICK below to listen to the full program

Cache
As more Boomers are becoming caregivers themselves for their parents and loved ones, the realities of the costs and work involved are sinking in. It's time to make a plan for yourself.

Cache
President Obama drew a line in the sand and said he would not tolerate chemical weapons being used ("The Buck Stops . . . Where?" Editorial, Sept. 5). Now he says that he didn't draw that line in the sand, but the world community did. I don't see the world community siding with him on this issue. Moreover,...


Next Page: 25 © Googlier LLC, 2019