Cache
Welcome to FreedomWorks Foundation's nineteenth regulatory review of 2019! Our Regulatory Action Center proudly updates you with our favorite tidbits from the swamp. We want to smash barriers between bureaucracy and the American people by delivering regulatory news straight to FreedomWorks activists. Check back in two weeks for the next edition.
1) Video of the Week: Unsurprisingly, the United States is not the first country to experience ballooning budgets and astronomical deficits. In the mid-1990's, Canada's debt grew to as high as 70% of GDP, similar to our current debt situation. In this weeks video, John Stossell sits down with Canadian economist David Henderson to discuss how Canada managed to tackle their debt problem by cutting government spending and reducing waste.
2) Why Is the CDC Still Fostering Potentially Deadly Confusion About Vaping and Lung Disease?: "Media outlets, following the lead of the U.S. Centers for Disease Control and Prevention (CDC), continue to blame recent cases of severe respiratory illnesses among vapers on "vaping" and "e-cigarettes" in general, falsely implying a link to legal nicotine products. This misinformation is fostering public confusion that may lead to more disease and death, both from smoking and from the black-market products that have been implicated in the lung disease cases." https://reason.com/2019/09/24/why-is-the-cdc-still-fostering-potentially-deadly-confusion-about-vaping-and-lung-disease/
3) FBI using Facebook ads to gather Russian intelligence: report: "The FBI is reportedly using Facebook ads to gather intelligence on Russia, specifically targeting those who may be or know Russian spies. The FBI is running ads in the Washington, D.C., area, CNN reported on Wednesday, that direct to the FBI field office's website that describes its counterintelligence team and encourages visitors to meet "in person." https://thehill.com/policy/national-security/fbi/464069-fbi-using-facebook-ads-to-gather-russian-intelligence-report
4) Federal Court Upholds FCC Decision to Roll Back Obama-Era Net Neutrality Rules: "Today, by a 2-1 vote, the United States Court of Appeals for the District of Columbia Circuit sided largely with the FCC, upholding the primary regulatory rollback as a valid exercise of its authority. In the nearly 200 page opinion, which is heavy on technical detail, the court wrote that while the challengers raised "numerous objections" aiming to show that the FCC's reclassification is "unreasonable," the judges found them "unconvincing." https://reason.com/2019/10/01/federal-court-upholds-fcc-decision-to-roll-back-obama-era-net-neutrality-rules/
5) Trump to issue executive order 'protecting' Americans from 'Medicare for All' campaign proposals pushed by Democrats: "The executive order, which he is scheduled to discuss at a speech in Florida later Thursday, is intended to bolster Medicare Advantage, private Medicare insurance for seniors that currently covers 22 million people, senior administration officials said on a call with reporters. The plan would also offer more affordable plan options, increase use of telehealth services and bring payments in Medicare fee-for-service program in line with payments for Medicare Advantage, officials said." https://www.cnbc.com/2019/10/03/trump-to-issue-executive-order-protecting-americans-from-medicare-for-all.html
6) Treasury to create tool to help people redeem billions in unclaimed savings bonds: "Sen. John Kennedy (R-La.) on Wednesday said that the Treasury Department will create an online tool to help people redeem billions of dollars in savings bonds. About $26 billion in matured savings bonds are in the U.S. Treasury and have yet to be redeemed. Using the department's forthcoming tool, people will be able to verify against Treasury Department records if they have any savings bonds dated after 1974 that can be redeemed, Kennedy's office said in a news release." https://thehill.com/policy/finance/464057-senator-treasury-will-create-tool-to-help-people-redeem-billions-of-dollars-in
7) Trump takes heat from right over vaping crackdown: "The Trump administration is under fire from conservative groups and some GOP lawmakers, who are pushing back over its planned crackdown on e-cigarette flavors. They say the administration is overreaching, and the flavor ban will harm small businesses, a violation of core Republican free market principles." https://thehill.com/policy/healthcare/464470-trump-takes-heat-from-right-over-vaping-crackdown
Cache
Every serious entrepreneur understands the need for writing a comprehensive business plan. Business plans provide you with a road map for your new project. You also use the plan to attract ideal investors if you need more capital. Whether you're bootstrapping or seeking investment, your business plan ensures you achieve success. Planning before you embark […]
The post 5 Tips on How to Create the Best Business Plan for your New Project appeared first on Infinity On Loop.
Cache
Mitch McConnell and Lindsey Graham lead condemnation of foreign policy move that could prove 'disaster in the making'Donald Trump with Mark Milley, the chairman of the joint chiefs of staff, in the Cabinet Room on Monday. Lindsey Graham said abandoning the Kurds would be 'a stain on America's honour'. Photograph: Carolyn Kaster/APDonald Trump was dangerously isolated on Monday as, in a rare rebuke, some of his most loyal allies revolted against his decision to withdraw US troops from north-eastern Syria.Senate majority leader Mitch McConnell led a chorus of Republicans who, having defended the president on almost every other issue – including over impeachment – decided to draw a line in the sand."A precipitous withdrawal of US forces from Syria would only benefit Russia, Iran, and the Assad regime," McConnell said. "And it would increase the risk that Isis and other terrorist groups regroup."He added: "As we learned the hard way during the Obama administration, American interests are best served by American leadership, not by retreat or withdrawal."The criticism was significant because McConnell is usually at pains not to cross Trump even at his most capricious. Last week the Kentucky senator released a Facebook video promising to stop Democratic-led impeachment in its tracks.Article 1 of the United States constitution gives the House of Representatives the sole power to initiate impeachment and the Senate the sole power to try impeachments of the president. A president can be impeached if they are judged to have committed "treason, bribery, or other high crimes and misdemeanors" – although the constitution does not specify what "high crimes and misdemeanors" are.The process starts with the House of Representatives passing articles of impeachment. A simple majority of members need to vote in favour of impeachment for it to pass to the next stage. Democrats currently control the house, with 235 representatives.The chief justice of the US supreme court then presides over the proceedings in the Senate, where the president is tried, with senators acting as the jury. For the president to be found guilty two-thirds of senators must vote to convict. Republicans currently control the Senate, with 53 of the 100 senators.Two presidents have previously been impeached, Bill Clinton in 1998, and Andrew Johnson in 1868, though neither was removed from office as a result. Richard Nixon resigned in 1974 before there was a formal vote to impeach him.Martin BelamThe unusual fracture emerged on Sunday night when, shortly after a phone conversation between Trump and Turkey's president Recep Tayyip Erdoğan, the White House announced removal of US troops from the Syria-Turkey border area. "Turkey will soon be moving forward with its long-planned operation into Northern Syria," it added.Critics of all political stripes have long feared that the move could open the way for a Turkish strike on Kurdish-led fighters in the area. Kurdish groups have fought alongside a small US presence in Syria to drive Islamic State militants from the region.The Republican backlash was rapid and potentially unnerving for a president whose fate is tethered to the party and the assumption that it will acquit him in the Senate if, as widely expected, the Democratic-led House of Representatives votes for impeachment.Lindsey Graham, chairman of the Senate judiciary committee, who has become an outspoken defender (and frequent golf partner) of Trump, did not acquiesce this time. Abandonment of the Kurds would be "a disaster in the making", he said, and "a stain on America's honour".Graham told Fox News: "I hope I'm making myself clear how short-sighted and irresponsible this decision is. I like President Trump. I've tried to help him. This, to me, is just unnerving to its core."Graham wrote on Twitter that if the plan goes ahead, he will introduce a Senate resolution opposing it and seeking reversal of the decision. He added: "We will introduce bipartisan sanctions against Turkey if they invade Syria and will call for their suspension from NATO if they attack Kurdish forces who assisted the US in the destruction of the ISIS Caliphate."Kevin McCarthy, the top Republican in the House, whose attempts to defend Trump's phone call with Ukraine's president have provoked mockery, said: "If you make a commitment and somebody is fighting with you, America should keep their word."Michael McCaul of Texas, the lead Republican on the House foreign affairs committee, also urged the president to reconsider. "The United States should not step aside and allow a Turkish military operation in north-east Syria," he said. "This move will undermine our ongoing campaign to prevent an Isis resurgence and will ultimately threaten our homeland."Additionally, the United States needs to stay engaged to prevent further destructive involvement in the region from our adversaries like the Assad regime, Putin and Iran."Notably, senator Marco Rubio of Florida, reluctant to criticise Trump even when the president suggested that China investigate former vice president and 2020 election rival Joe Biden, was clear , describing the retreat as "a grave mistake that will have implications far beyond Syria"And Nikki Haley, Trump's former UN ambassador, admonished Trump without mentioning his name. "We must always have the backs of our allies, if we expect them to have our back," she tweeted. "The Kurds were instrumental in our successful fight against ISIS in Syria. Leaving them to die is a big mistake. TurkeyIsNotOurFriend"Ominously for Trump, even conservative Fox News aired dissent. Host Brian Kilmeade described the pullout as "a disaster", telling viewers of Fox & Friends: "Abandon our allies? That's a campaign promise? Abandon the people that got the caliphate destroyed?"Republicans who have contradicted Trump before did so forcefully again. Utah senator Mitt Romney described Trump's announcement as "a betrayal", adding: "It says that America is an unreliable ally; it facilitates ISIS resurgence; and it presages another humanitarian disaster."Romney and Democratic senator Chris Murphy issued a joint statement insisting Trump's administration "explain to the American people how betraying an ally and ceding influence to terrorists and adversaries is not disastrous for our national security interests".Democrats also piled in but there was a lone voice of support for the president on Capitol Hill. Republican senator Rand Paul, long a critic of foreign intervention, said: "So many neocons want us to stay in wars all over the Middle East forever. [Trump] is absolutely right to end those wars and bring the troops home."Trump himself was undeterred by the blowback. Speaking at the White House on Monday, he said he has "great respect" for the prominent Republican critics. And added: "People are extremely thrilled because they say it's time to bring our people back home. We're not a police force. They're policing the area. We're not a police force. The UK was very thrilled at this decision … many people agree with it very strongly."
Cache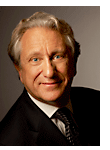 Last week I had a date with Laurence Geller, CEO of Strategic Hotels & Resorts and, by extension, the owner of the Westin Saint Francis hotel here in San Francisco. He put me in an apron, plied me with wine, cooked for me in a rooftop kitchen, gave me a signed copy of his rather purple novel "Do Not Disturb" and entertained me with

the

most delightful story about Michael Mina.

Michael Mina was going to make him a brasserie, in his hotel. Michael Mina was going to put it in the old Oak Room. Michael Mina was going to also make a bakery inside the brasserie and give it a window onto Post Street, somehow, and everyone was going to come and it was going to be awesome.

Laurence told me this, and gave me champagne, which made me happy, and then later he told as much to his 10 other guests, even though he did not care for them in that special way in which he cared for me, and he poured us more wine, and we were happy.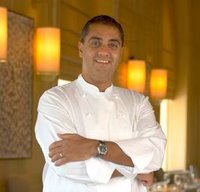 There were warning signs. When, the next day, I called the general manager of the St. Francis, a reliable and trustworthy fellow, he let on that the brasserie plans were, well, in the conceptual stage, but still "likely." And that Michael Mina was in talks but not, shall we say, signed on the dotted line. Michael Mina could not be reached for comment.

Actually, Michael Mina

was

reached for comment, the day after we went to press. Telling me that the plan for a brasserie was very preliminary, one among perhaps 15 projects Mina's company (total restaurants: 10) is weighing at any given time. But he was fairly certain he'd be running the St. Francis' new bar, the Clock Bar. But writing about the brasserie would be, uh, premature.

Well, Michael, you'll have to call Laurence about that one. Careful -- he's a sweet talker.

SF Business Times: St. Francis sees $150M hotel upgrade: CEO: But first, fix tourism (free link)

Cache
Prominent friends and supporters of Sen. Bernie Sanders, I-Vt., say he should cut back on his relentless campaign pace and speak openly about his recent heart attack when he returns to the campaign trail, urging a shift toward a more personal and less hectic campaign than he has run so far.
The comments reflect what supporters describe as a deeply personal decision with big implications for Sanders's candidacy: how the 78-year-old democratic socialist, viewed by many of his backers as the leader of a movement, should proceed after a health scare that has sidelined him for days and raised questions about whether he can - or should - maintain the punishing demands of a presidential campaign.
"I would be very open about the experience he had," said Rep. Ro Khanna, D-Calif., a national co-chair of the Sanders campaign who made his pitch to the senator in a brief telephone conversation last week. "I think it can show a resilience, a sense of empathy and a sense of vulnerability."
Sanders supporters privately acknowledge concern that the heart attack could give voters second thoughts about the candidate, who would be the oldest president in history if elected. In an effort to move beyond the setback, some hope he can seize on the event to transmit a softer side that's eluded him.
The goal, said Khanna, would be to "make a very human connection." He said he texted the senator's wife, Jane Sanders, last week to tell her that this could be Sanders's "FDR moment," referring to President Franklin D. Roosevelt, whose battle with polio is sometimes said to have contributed to his empathy for the less fortunate.
The sensitivity of dealing with the heart attack has been evident since the episode occurred. The campaign did not immediately disclose the heart attack, initially saying only that Sanders had experienced chest pains and had two stents inserted in an artery.
Advisers and friends also say Sanders should consider easing his breakneck campaign pace. Sanders has been sprinting across the country, holding multiple events per day, maintaining a speed that has surpassed his top rivals.
"If I were giving him advice, I would tell him just slack up a little bit," said former Senate majority leader Harry Reid, D-Nev., who visited Sanders in a Las Vegas hospital last week. "Even if he slacks up a little bit, he's campaigning more than anybody else."
Sanders spent Monday recuperating at home in Burlington, Vermont. On a conference call with staff, he reiterated that the movement he has been leading is not about him, a theme he often hits in campaign speeches.
"If there's anything that this event kind of tells us, it is the importance of what our message is in this campaign. And our message is 'Us, not me,' " Sanders said, according to a person with knowledge of his remarks.
Campaign officials have signaled that he is not expected to return to the trail until the Oct. 15 debate near Columbus, Ohio. That makes the debate a critical event for the campaign, as Sanders will face considerable scrutiny from voters and rivals sizing up his health and vitality.
"Bernie is raring to go, and his campaign staff has been trying to hold him back until the debate," said Ben Cohen, who co-founded Ben & Jerry's ice cream and serves as a national co-chair of the campaign. "The plan is for the debate to be his reentry into the race."
People with knowledge of the situation said there had been a period of uncertainty about the campaign's future in the immediate aftermath of Sanders's hospitalization for chest pains last week. The campaign suspended an Iowa ad buy and made reassuring calls to supporters during those first hours.
But in recent days, the campaign has shown determination to move full speed ahead. The Iowa ad touting Sanders will be on the airwaves starting Tuesday.
The campaign rolled out a new policy proposal Monday aimed at curtailing the role of money in politics. It would eliminate big-dollar fundraising for all federal elections, enact a constitutional amendment to declare that campaign contributions are not speech and end corporate contributions to the party conventions.
Surrogates campaigned for Sanders in the key early states over the weekend, a strategy the campaign plans to continue. Cohen said he plans to campaign for Sanders this weekend in New Hampshire.
The campaign is also aggressively calling voters. After establishing a goal of making a million calls in the early primary states over the past 10 days, it beat that goal by 300,000 calls, the campaign said.
Sanders and his allies have also used his heart attack to call attention to his push to enact a Medicare-for-all universal health-care system. They note that while Sanders was fortunate to have access to good doctors and treatment, many Americans do not.
And Sanders has already begun showing a more personal side of himself. When he left the hospital on Friday, he stood shoulder-to-shoulder with his wife, Jane, smiling and waving. When he returned to Burlington, reporters there noted Sanders saying he was "happy to be home" before walking inside where family was waiting.
On Monday, he and Jane took a walk in the rain, and he joked with reporters he said should get paid more for working in the drizzle.
Early this year, when he launched his second campaign for president, advisers encouraged Sanders to speak about his participation in the civil rights movement and his modest upbringing in Brooklyn. He mentioned those things at early campaign stops. But as time went on, they faded from his stump speeches.
"He's somewhat reticent to talk about his own … life experiences," said Cohen. "But I think it's helpful for him to do that and it's certainly only a decision that he can make, but I do think this is an opportunity for him to talk."
Sanders has been trailing former vice president Joe Biden and Sen. Elizabeth Warren, D-Mass., in many recent polls, sparing him the pressure that can face the front-runner. His Democratic rivals have either wished Sanders well or brushed aside questions about his physical fitness for office. President Donald Trump and his allies have been preoccupied with the impeachment inquiry.
These external events have led some Sanders allies to conclude that he does not have to rush back onto the national stage.
"The next months are going to be dominated by the impeachment inquiry, not the presidential race," said Khanna. "His volunteers can do a lot of the work and he just needs to focus on recovering."
In a sign of how the Sanders movement has charged ahead without him on the trail, a video created by a supporter arguing that he's been criticized unfairly by the media had received 6 million views as of late Monday.
As Sanders recovers, his campaign has taken steps to reassure staffers and supporters, scheduling calls and other outreach to keep allies focused.
"The campaign reached out to me to let me know that he was doing fine. They gave me the details, which made me feel really comfortable," said Deb Marlin, an Iowa small-business owner who has endorsed Sanders.
Reid recalled spending 30 to 45 minutes with Sanders on Thursday. They reminisced about their work in the Senate and talked about health care, Reid said. As for the next debate, Reid said Sanders ought to take things slowly before then.
"He should take it easy until then," said Reid. "As far as I understand, that's what he's going to do."
Cache
COLUMBUS, Ohio (AP) — Republican Gov. Mike DeWine's new proposals to address Ohio gun violence in the wake of the Dayton mass shooting don't include background-check requirements for gun sales or a so-called red-flag law to restrict firearms for people perceived as threats, despite his earlier support of those ideas.
Instead, his administration detailed legislative proposals detailed Monday intended to increase and improve background checks and ensure people don't have firearms if a court has deemed them to be a danger. Among other changes, the "STRONG Ohio" plan also would increase penalties for anyone who provides a gun to someone who is legally prohibited from having one, and require that certain types of protection orders and arrest warrants be reflected in state and federal law enforcement databases to ensure more accurate background checks.
DeWine said his team consulted with city leaders, lawmakers and many others and worked to produce proposals that he believes will get results, protect people's rights — and be able to pass the Republican-led Legislature.
"They do not infringe on Second Amendment rights for anyone who has a legal right to own a gun," Lt. Gov. Jon Husted said. "What the plan does is put dangerous people — criminals — on notice that if you're a threat to yourself or others, you are not legally allowed to possess weapons, and we're going to build a system to ensure that you don't."
Husted said the idea of a red-flag law that still protected gun owners' due process proved "inadequate and unworkable" because of the time required for due process and the danger that could pose for law enforcement and because removing a weapon doesn't ensure the subject won't harm themselves or others. So-called red flag laws allow a court to temporarily seize guns from people believed to be a danger to themselves or others.
The news conference included the legislation's sponsor, GOP Sen. Matt Dolan, of Chagrin Falls, along with supportive statements from Dayton Mayor Nan Whaley and Whitney Austin, a gun owner seriously wounded in a Cincinnati shooting last year.
Whaley, a Democrat, recalled how a crowd chanted "Do something!" as she and DeWine attended a vigil after a shooter in Dayton killed nine people in August. The new proposals don't do enough but are an "important start," she said.
"This is the first time in my career that I have witnessed our state government seriously consider restrictions on access to guns instead of allowing more dangerous weapons in our communities," Whaley said.
The top Democrat in the House, Rep. Emilia Strong Sykes, of Akron, objected more bluntly.
"When the people told the governor to do something, they didn't mean to do just anything," she said in a statement. "Ohioans want common sense gun safety. STRONG Ohio is weak."
Advocates from the anti-violence group Everytown for Gun Safety also criticized DeWine, saying he abandoned his earlier proposals and offered legislation that lacks needed changes.
Another group, Ohioans for Gun Safety, said it applauds DeWine's proposal but will continue its separate, ongoing push to use a petition process to change state law to require background checks on virtually all gun sales.
A detailed summary of the STRONG Ohio bill is available here. Key components of the bill will:
Create a process in Ohio law, similar to the current probate court process that directs those suffering from severe mental health conditions into court-ordered treatment, to give hospitals and courts a better ability to help those who are legally declared to be a danger to themselves or others due to drug dependency or chronic alcoholism;
Ensure that citizens have full due process at all probate court hearings;
Ensure that those legally declared by a judge to be a danger to themselves or others do not have access to firearms;
Give family members of those who may be a danger to themselves or others because of drug dependency or chronic alcoholism the ability to more easily petition the probate court for court-ordered treatment;
Mandate that law enforcement agencies and courts enter certain protection orders and arrest warrants for serious crimes into state and federal law enforcement databases to ensure more accurate background check results;
Create a new private-sale background check process that will increase the number of background checks conducted in Ohio while also protecting the privacy of law-abiding gun owners;
Create a legal safe harbor for firearms sellers who require private-sale background checks;
Increase penalties for those who sell or provide a firearm to someone legally prohibited from possessing a gun;
Give judges a range of sentences for felony cases in which a gun was either possessed, brandished, or used;
Increase the penalty for those who are found with a gun while legally prohibited from possessing a firearm;
Increase the penalty for selling a gun to a minor;
Increase penalties for straw purchases and knowingly possessing a straw-purchased gun.
Cache
Trump's EPA unveiled the plan last week to boost US biofuels consumption to help struggling farmers, but did not provide an exact figure; the plan cheered the agriculture industry but triggered a backlash from Big Oil, which views biofuels as competition

Cache
As mentioned in the article, the funding for additional shares comes from existing shares owned by RA. And as long as Softbank keeps pushing the valuation up, this house of cards will keep going higher and higher. Also, RA Hospitality Holdings is registered in Cayman.. So the plan is to have less governance and no tax. Another WeWork waiting to happen.

Cache

[Image via]

As part of the Community Parks Initiative, Joseph C. Sauer Park is scheduled to undergo a redesign on 12th Street between Avenue A and Avenue B.

However welcome most of the changes are, there is one sticking point: the new (shorter) fence the Parks Department plans to install.

So park organizers have launched a petition to save their fence...




Per the petition:


Dear neighbors, friends and everyone who loves Joseph C. Sauer Park. As many of you may already know the Parks Department will close our park for renovations which should last a full year. Once complete the park will feature a new design with many requested features.

Part of the plan however is to remove the current 8 foot high fence and replace it with a 4 foot fence, which will make the park less secure and an unsafe place for children to use.

We are asking for your help to stop the Parks Department from removing the only proven means of securing our park at night. We have the backing of Assemblyman Harvey Epstein, Councilwoman Carlina Rivera and our Community Board.

Some history: "Sauer Park is one of nine playgrounds that were built by the Parks Department through the War Memorial Fund, and were opened simultaneously on July 15, 1934." There were subsequent additions here in 1965, 1989 and 1992.

Find the petition at this link.
Cache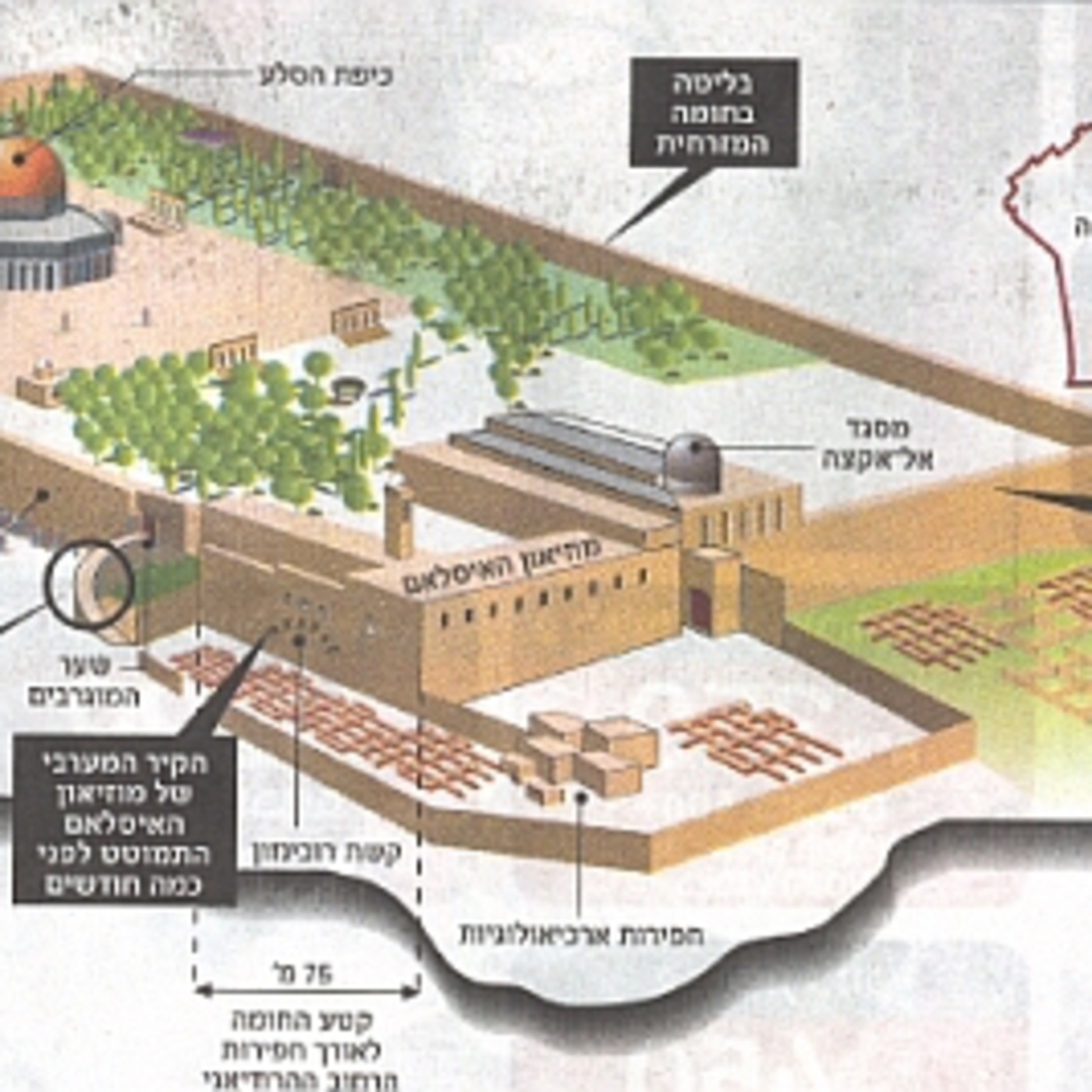 Jesus said that when He comes back; He will set His foot on the Mount of Olives, and all of Israel's enemies will be destroyed! He said that when He appears, Israel will look on Him and mourn or repent! Seeing His hands and His feet they will know that this is the one and true Messiah of Israel. Oh what a wonderful day that will be. The day seems to be so much closer than we ever imagined. There have been wars and rumors of wars forever, and I will be the first to admit that, however so many things are in line right now, that the thrill of seeing Yeshua come on the clouds of glory and hearing that trumpet sound is so real! It is almost at the door! Do we suppose that because evil men did evil things in Jesus name, that He is the enemy of Israel? Yeshua is certainly not the enemy of Israel. He will be their defender. He is in love with and desires Israel. He wept for her as a mother does her children. His heart has not changed toward the apple of His eye. Those who marched under the cross against Israel during the crusades were not Christian. They were possessed by the devil and full of evil! They had no understanding of the plan of salvation! Or how G-d chose to use the people of Israel to bring Messiah into the world! G-d spoke to Abraham and asked Him to give his only son! He said now take your only son Isaac and offer him as a sacrifice to me. Abraham, being G-ds friend would deny Him nothing. Because Abraham obeyed, G-d stopped him just in time, and gave him back his son. Is it a surprise that much later, G-d sent His only begotten son to die on the cross as a sacrifice for the children of Abraham and through Him, the whole world? Oh and is it not like G-d to offer Him up on the same mountain. And not only that but He raised Him up alive again, to receive Him back to Himself, where He ever lives to make intercession for us. Please read the scriptures below! Romans the 11th chapter says it so well. Much of what has taken place with Israel was G-ds plan, so that He might have mercy on all of us. If the Jewish people had readily accepted Him, we would forever be in that lost condition! We were without G-d, without hope and destitute of the wisdom and holiness of G-d. Now He can have mercy on all men and we can be grafted into the true vine through faith in Messiah. These scriptures contain Strongs numbers for easier Bible study! Rom 11:1 I say3004 then, 3767 Hath (3361) God2316 cast away683 his848 people? 2992 God forbid.1096, 3361 For1063 I1473 also2532 am1510 an Israelite, 2475 of1537 the seed4690 of Abraham, 11 of the tribe5443 of Benjamin.958 Rom 11:2 God2316 hath not3756 cast away683 his848 people2992 which3739 he foreknew.4267, (2228) Wot1492 ye not3756 what5101 the3588 Scripture1124 saith3004 of1722 Elijah? 2243 how5613 he maketh intercession1793 to God2316 against2596 Israel, 2474 saying, 3004 Rom 11:3 Lord, 2962 they have killed615 thy4675 prophets, 4396 and2532 digged down2679 thine4675 altars; 2379 and I2504 am left5275 alone, 3441 and2532 they seek2212 my3450 life.5590 Rom 11:4 But235 what5101 saith3004 the3588 answer of God5538 unto him? 846 I have reserved2641 to myself1683 seven thousand2035 men, 435 who3748 have not3756 bowed2578 the knee1119 to the image of Baal.896 Rom 11:5 Even so3779 then3767 at1722 this present3568 time2540 also2532 there is1096 a remnant3005 according2596 to the election1589 of grace.5485 Rom 11:6 And1161 if1487 by grace, 5485 then is it no more3765 of1537 works: 2041 otherwise1893 grace5485 is1096 no more3765 grace.5485 But1161 if1487 it be of1537 works, 2041 then is2076 it no more3765 grace: 5485 otherwise1893 work2041 is2076 no more3765 work.2041 Rom 11:7 What5101 then? 3767 Israel2474 hath (5127) not3756 obtained2013 that which3739 he seeketh for; 1934 but1161 the3588 election1589 hath obtained2013 it, and1161 the3588 rest3062 were blinded.4456 Rom 11:8 (According as2531 it is written,1125 God2316 hath given1325 them846 the spirit4151 of slumber,2659 eyes3788 that they should not3361 see,991 and2532 ears3775 that they should not 3361 hear )191 unto2193 this4594 day.2250 Rom 11:9 And2532 David1138 saith, 3004 Let their848 table5132 be made1096 a(1519) snare,3803 and2532 a (1519) trap,2339 and2532 a(1519) stumblingblock, 4625 and2532 a (1519) recompense468 unto them:846 Rom 11:10 Let their848 eyes3788 be darkened, 4654 that they may not3361 see, 991 and2532 bow down4781 their848 back3577 always.1275 Rom 11:11 I say3004 then, 3767 Have they (3361) stumbled4417 that2443 they should fall? 4098 God forbid: 1096, 3361 but235 rather through their848 fall3900 salvation4991 is come unto the3588 Gentiles, 1484 for to provoke them to jealousy.3863, 846 Rom 11:12 Now1161 if1487 the3588 fall3900 of them848 be the riches4149 of the world, 2889 and2532 the3588 diminishing2275 of them848 the riches4149 of the Gentiles; 1484 how much4214 more3123 their848 fullness? 4138 Rom 11:13 For1063 I speak3004 to you5213 Gentiles, 1484 inasmuch as1909, 3745, 3303 I1473 am1510 the apostle652 of the Gentiles, 1484 I magnify1392 mine3450 office: 1248 Rom 11:14 if by any means1513 I may provoke to emulation3863 them which are my3450 flesh, 4561 and2532 might save4982 some5100 of1537 them.846 Rom 11:15 For1063 if1487 the3588 casting away580 of them846 be the reconciling2643 of the world, 2889 what5101 shall the3588 receiving4356 of them be, but1508 life2222 from1537 the dead? 3498 Rom 11:16 For1161 if1487 the3588 firstfruit536 be holy, 40 the3588 lump5445 is also2532 holy: and2532 if1487 the3588 root4491 be holy, 40 so2532 are the3588 branches.2798 Rom 11:17 And1161 if1487 some5100 of the3588 branches2798 be broken off, 1575 and1161 thou, 4771 being5607 a wild olive tree, 65 wert grafted in1461 among1722 them, 846 and2532 with them (1096) partakest4791 of the3588 root4491 and2532 fatness4096 of the3588 olive tree; 1636 Rom 11:18 Boast not against2620, 3361 the3588 branches.2798 But1161 if1487 thou boast,2620 thou4771 bearest941 not3756 the3588 root,4491 but235 the3588 root4491 thee.4571 Rom 11:19 Thou wilt say2046 then, 3767 The3588 branches2798 were broken off, 1575 that2443 I1473 might be grafted in.1461 Rom 11:20 well; 2573 because of unbelief570 they were broken off, 1575 and1161 thou4771 standest2476 by faith.4102 be not highminded, 5309, 3361 but235 fear: 5399 Rom 11:21 For1063 if1487 God2316 spared5339 not3756 the3588 natural2596, 5449 branches, 2798 take heed lest3381 he also spare5339 not3761 thee.4675 Rom 11:22 Behold1492 therefore3767 the goodness5544 and2532 severity663 of God: 2316 on1909, (3303) them which fell, 4098 severity; 663 but1161 toward1909 thee, 4571 goodness, 5544 if1437 thou continue in1961 his goodness: 5544 otherwise1893 thou4771 also2532 shalt be cut off.1581 Rom 11:23 And1161 they1565 also, 2532 if they abide not3362, 1961 still in unbelief, 570 shall be grafted in: 1461 for1063 God2316 is2076 able1415 to graft them in1461, 846 again.3825 Rom 11:24 For1063 if1487 thou4771 wert cut1581 out1537 of the3588 olive tree which is wild65 by2596 nature, 5449 and2532 wert grafted1461 contrary3844 to nature5449 into1519 a good olive tree: 2565 how much4214 more3123 shall these, 3778 which3588 be the natural2596, 5449 branches, be grafted into1461 their own2398 olive tree? 1636 Rom 11:25 For1063 I would2309 not,3756 brethren,80 that ye5209 should be ignorant50 of this5124 mystery,3466 lest3363 ye should be5600 wise5429 in3844 your own conceits;1438 that3754 blindness4457 in575 part3313 is happened1096 to Israel,2474 until891, 3757 the3588 fullness4138 of the3588 Gentiles1484 be come in.1525 Rom 11:26 And2532 so3779 all3956 Israel2474 shall be saved: 4982 as2531 it is written, 1125 There shall come2240 out of1537 Zion4622 the3588 Deliverer, and 4506 and2532 shall turn away654 ungodliness763 from575 Jacob: 2384 Rom 11:27 For2532 this3778 is (3844) my1700 covenant1242 unto them, 846 when3752 I shall take away851 their848 sins.266 Rom 11:28 As concerning2596, (3303) the3588 gospel, 2098 they are enemies2190 for your sakes: 1223, 5209 but1161 as touching2596 the3588 election, 1589 they are beloved27 for the fathers' sakes.1223, 3588, 3962 Rom 11:29 For1063 the3588 gifts5486 and2532 calling2821 of God2316 are without repentance.278 Rom 11:30 For1063 as5618 ye5210 in times past4218 have (2532) not believed544 God, 2316 yet1161 have now3568 obtained mercy1653 through their5130 unbelief: 543 Rom 11:31 Even so3779 have these3778 also2532 now3568 not believed, 544 that2443 through your5212 mercy1656 they846 also2532 may obtain mercy.1653 Rom 11:32 For1063 God2316 hath concluded4788 them all3956 in1519 unbelief, 543 that2443 he might have mercy1653 upon all.3956 Rom 11:33 O5599 the depth899 of the riches4149 both2532 of the wisdom4678 and2532 knowledge1108 of God! 2316 how5613 unsearchable419 are his848 judgments, 2917 and2532 his848 ways3598 past finding out! 421 Rom 11:34 For1063 who5101 hath known1097 the mind3563 of the Lord? 2962 or2228 who5101 hath been1096 his848 counselor? 4825 Rom 11:35 Or2228 who5101 hath first given4272 to him, 846 and2532 it shall be recompensed467 unto him846 again? Rom 11:36 For3754 of1537 him, 846 and2532 through1223 him, 846 and2532 to1519 him, 846 are all things: 3956 to whom846 be glory1391 forever.1519, 165 Amen.281

Cache
by Rod Williams -

I was pleased to see Mayor Cooper had hired Kevin Crumbo as the new finance director. One thing that makes me especially pleased is the same thing that is resulting in criticism from from some city leaders, especially Black council members.

In 2017 Kevein Crumbo provided his services for free in analyzing the status of General Hospital and developing a new model for the hospital. Essentially, his proposal called for turning Metro General Hospital into a ambulatory surgery center and outpatient clinic. Mayor Megan Barry announced the plan in November 2017 referencing the work of Crumbo. The plan ran into immediate opposition. While I admire Barry for proposing this plan, I criticize her for the way she executed the politics of the proposal. She just sprung it on people without selling it and building support. When she ran into opposition she backed down.

Maintaining a charity safety-net hospital is not required by state law or the metro charter. At one time such a hospital may have made sense, but ever since the advent of medicare poor people have had choices. As time has gone on, people have had even more choice. If metro wants to subsidize charity care, there are much less expensive ways to do it. General is subsidized to the tune of $50M a year and cannot fill its beds. It is the hospital that uninsured Metro jail inmates are sent to and Metro employees get an incentive for choosing General, yet few people chose it.

Metro General is on the campus of Meharry Medical School and has long been as source of pride in the Black community. Nashville General is the teaching hospital of Meharry Medical College. Meharry is the second largest educator of African-American medical doctors and dentists in the United States and has the highest percentage of African Americans graduating with Ph.Ds in the biomedical sciences in the country. Should General close, the mission of Meharry Medical College would not be jeopardized, however. General Hospital is now less important to Meharry than in the past. A couple years ago Meharry partnered with HCA to train doctors at TriStar Southern Hills Medical Center, a hospital in HCA's TriStar Health subsidiary.

That General Hospital gives Black members of the community something to look upon with pride seems to me to be the real reason General is kept open. It is an expensive ego boost. It is my hope that Mayor Cooper will finally close General Hospital; it should have been closed fifty years ago.







Cache
BLOOMBERG Consumer products giant Unilever, whose brands include Dove soaps and Lipton teas, said Monday it aims to halve its use of non-recycled plastics by 2025. CEO Alan Jope said the plan to slash use of the virgin plastics will require a...

Cache
From Ian:

---
Jonathan S. Tobin: Whatever Happened to the Palestinian 'Diplomatic Tsunami'?

At the United Nations, where once-hardened ex-generals like Barak quaked about the prospect of the world uniting to force Israel to accept a Palestinian state, the situation for the Jewish state's foes is particularly dismal. It's true that many UN agencies, like its Human Rights Council, are still cesspools of antisemitism and hypocrisy, focusing almost exclusively on bogus attacks on Israel while ignoring real human-rights catastrophes in countries around the world.

But as is the case elsewhere, the diplomatic isolation that Barak and so many others feared never happened. Indeed, as Israeli Ambassador to the United Nations Danny Danon recently wrote, the world body is no longer the "home court" for those who oppose Israel. The majority of member states joined the United States and Israel in condemning Hamas terrorism in the past year. In a variety of steps, both large and small, Israel's presence there has become normalized.

At the same time, the Palestinians have become more of an afterthought. It's probably better for Abbas that even the Palestinians' usual cheerleaders on the left paid no attention to his recent address at the UN General Assembly, where he spoke of his devotion to democracy and his plans to hold an election. Abbas is so devoted to democracy that he is currently serving the 15th year of a four-year term as president of the PA, to which he was elected in 2005. No one takes his talk of finally holding another vote seriously, since there is no way he would risk being defeated by his more radical Islamist rivals in Hamas, who currently rule Gaza.

The Arab and Muslim worlds may still be hotbeds of antisemitism and may have successfully exported their Jew-hatred to the West in the form of the BDS movement. However, Arab states have effectively dropped the Palestinian cause as a priority and instead are increasingly looking to Israel as an ally against Iran. Though they still pay some lip service to the Palestinian cause, the governments of Saudi Arabia, Jordan, and Egypt have little interest in creating another failed and unstable Arab state for the Palestinians.

To note these facts is not to deny that the ongoing conflict with the Palestinians is not going away and remains a serious problem. But as long as both the PA and Hamas are stuck in the mindset of their century-long war on Zionism, peace will have to wait until the Palestinians are ready to accept the legitimacy of a Jewish state.

The fact that the "tsunami" that so many Jews feared has fizzled into the BDS flop that can only intimidate someone like Lovato demonstrates that the conventional wisdom peddled by Israel's noisy critics shouldn't be taken seriously. Those who listen to the counsels of despair in 2011 have turned out to be as confused as a second-tier pop star.
FM confirms initiative to sign 'historic' non-aggression pact with Arab states
Foreign Minister Israel Katz on Sunday confirmed that he has been advancing non-aggression treaties with several Arab countries in the Gulf, a "historic" démarche he said could end the conflict between Jerusalem and those states.

"Recently I have been promoting, with the backing of the prime minister, a diplomatic initiative to sign 'non-aggression agreements' with the Arab Gulf states," Katz wrote on Twitter.

"It's a historic move that will end the conflict and enable civilian cooperation until the signing of peace agreements," he said, in what appeared to be a tacit acknowledgement that no Arab country is currently willing to establish full diplomatic relations with the Jewish state as long as the Israeli-Palestinian conflict remains unresolved.

Katz further confirmed that he presented his plan to several Arab foreign ministers during his visit to New York last week at the sidelines of the United Nations General Assembly. He also discussed the proposal with the US administration's outgoing special envoy for the peace process, Jason Greenblatt, Katz said.

"I will continue to work to strengthen Israel's standing in the region and around the world," he pledged.

Katz's tweet included a link to a report aired Saturday night by Channel 12, which first revealed the existence of the potentially groundbreaking initiative.
PMW: Fatah attempts to hide its terror promotion from Facebook

In fact PMW's reports show that Fatah does all of that and worse on its Facebook page, and PMW has pointed this out to Facebook more than once. Yet Facebook continues to leave the platform open for Fatah's terror promotion.

Fishman further explained that Facebook finds that governments and academics are acting too slow in terms of designating who are "terrorist actors" and therefore designates such themselves:
"We [Facebook] designate terrorist actors ourselves. This is pretty unique, but the reason we do this is because although there are a variety of lists of terrorist organizations in the world that are maintained by academics, that are maintained by governments, we find that academics and governments act too slowly. They don't actually maintain comprehensive lists in real time, and the expectation on us by our users and by the community globally is that we are able to respond to these things in near real time."

One can only marvel at the speed with which Facebook claims that it responds to terror promotion when looking at its inaction in the face of PMW's thorough documentation. Nine months ago Facebook was supplied by PMW with explicit evidence that Fatah's mission includes terror and violence. Yet in its statement to the Jerusalem Post last week Facebook said:
"We have received reports about potentially violating content on this page and, as we do with all such reports, are in the process of reviewing that content to determine whether it violates our policies."

Facebook boasting would be laughable, if its behavior was not life-threatening. Facebook claims to have a policy according to which "there may be no praise, support, or representation of a terrorist organization, a terrorist actor, a terrorist event," and boasts 'we are able to respond to these things in near real time."

In the case of Fatah, Facebook has failed repeatedly to deal with the terror promotion on its platform. Despite being provided with the evidence, Facebook did nothing to remove Fatah's terror glorifying and promoting posts. While their actions were no more than piece-meal, it appears that even Fatah accepted PMW's claim that many of their posts contained terror glorification and promotion and decided to take them down.

Facebook removes terror promotion in "real time," except when the murder of Israelis is being celebrated and promoted. For Israelis a full nine months is necessary and Facebook is still "in the process of reviewing that content," that clearly celebrates and promotes terror.

While Facebook is bragging about fighting terror, Palestinian terror is being embedded in the hearts and minds of the next generation of potential terrorists, thanks to Facebook.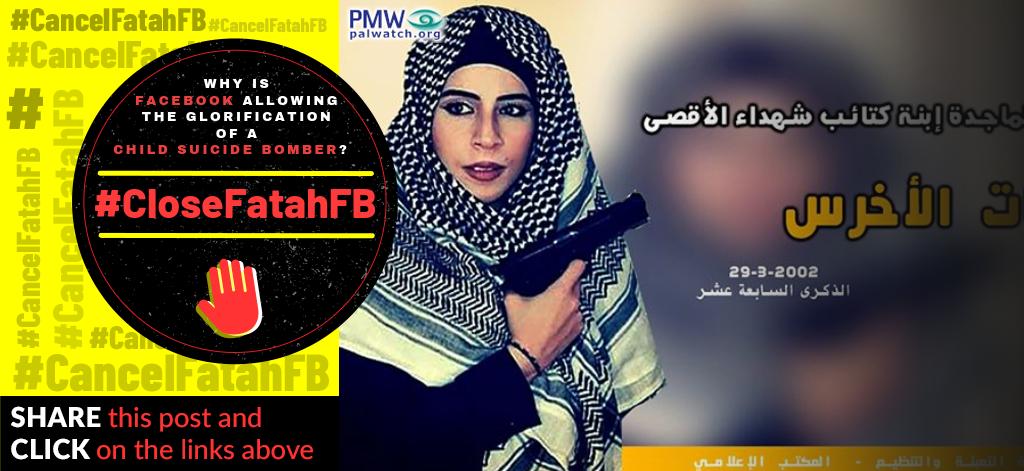 PA wipes peace agreements from schoolbooks, encourages incitement and intolerance
The Palestinian Authority has removed any mention of past agreements with Israel from their school textbooks, with the exception of the Oslo Accords, which are mentioned in far less detail than in previous editions of the schoolbooks, according to a new report by Yedioth Aharonot.

The new curriculum, which has been progressively implemented throughout the past three years, and the textbooks in particular, are studied between 1st and 12th grades in the West Bank, the Gaza Strip, east Jerusalem and refugee camps. They, unlike their previous editions, make no mention of the historical Jewish presence in Israel, and speak about every quarter in Jerusalem's Old City – except the Jewish Quarter.

The portions of the textbooks that do mention the Oslo Accords portray Israel in a negative light, claiming that "the Zionist occupation was forced to recognize the PLO after the First Intifada in 1987."

In addition, the old textbooks contained the full contents of the letter written in 1993 by then-PA chairman Yasser Arafat to then-Israeli prime minister Yitzhak Rabin, which detailed the values of peace between the Palestinians and the Israelis.

The new textbooks, however, censor the part in which Arafat writes that the declaration of principles "is the beginning of an era of coexistence in peace without violence and any action that may risk the peace."

The few times in which Israel is mentioned throughout the rest of the textbooks are in parentheses, a habit typically taken on to claim the illegitimacy of the state by extremist organizations such as Hamas and the Islamic Jihad, according to Mako.



Seth J. Frantzman: Trump gives green light to Turkey to take over Syria, displace U.S. partners

Turkey will soon move forward with its long-planned military operation to create what it calls a "safe zone" in northern Syria – and U.S. forces will not support or be involved in it, the White House press secretary announced early Monday morning. The move is an extraordinary reversal of US policy that leaves America's allies wondering whether they can still rely on the Trump administration.

The statement came after Turkish President Tayyip Erdogan and US President Donald Trump discussed in a phone call Turkey's plans to establish a "safe zone" east of the Euphrates River in Syria. For four years, the US and mostly Kurdish fighters have fought and defeated Islamic State in northeast Syria.

The White House decision will effectively displace the partner forces the US had been working with. For more than a year and a half, Trump has been seeking to leave Syria. In the midst of the impeachment crisis, he has now made the decision to sacrifice US allies in the war on ISIS as opposed to pressuring Ankara with diplomatic means.

"Turkey will soon be moving forward with its long-planned operation into Northern Syria," the White House press secretary said in a statement.

"The United States Armed Forces will not support or be involved in the operation, and United States forces, having defeated the ISIS territorial 'Caliphate,' will no longer be in the immediate area," it added.

The White House looks at the overall picture in eastern Syria, not as one in which the US fought and sacrificed alongside Kurdish partner forces, but as a simple transactional issue.

In this view, the US has no interests in eastern Syria, except the ISIS fighters. Washington has no interests in creating stability, preventing Iranian influence, defending its partners, preventing ethnic cleansing or the destruction of property, or in managing the crisis. Instead, it decided that its mission was tailored and narrow, and nothing beyond the ISIS issue.
US Throws Kurdish Allies Under the Bus; Turkey "Opens the Floodgates" to Europe
Turkey's Erdogan government will be invading northern Syria to slaughter the Kurds, America's loyal allies against ISIS; release captured ISIS fighters, and doubtless seek to stay permanently in control of the area. The horror is that it will be doing all this with the tacit blessing of the US.

"I am saying this today: We have not got the required support from the world -- particularly from the EU -- to share the burden of the refugees we have been hosting, so we might have to [open the gates] to get the support." — Turkish President Recep Tayyip Erdogan, Takvim, September 5, 2019

"If we open the floodgates, no European government will be able to survive for more than six months. We advise them not to try our patience." — Turkish Interior Minister Süleyman Soylu, Anadolu Agency, July 21, 2019.

Erdogan's threats are not new... and his claims are flawed.... Ankara has not lived up to its commitments.

"The most important question is why the refugee camps are not open to civil monitoring. Entry to refugee camps is not allowed. The camps are not transparent. There are many allegations as to what is happening in them. We are therefore worried about what they are hiding from us." — Cansu Turan, a social worker with the Human Rights Foundation of Turkey (TIHV), to Gatestone Institute, August 2016.

"Turkish authorities are detaining and coercing Syrians into signing forms saying they want to return to Syria and then forcibly returning them there." — Human Rights Watch, July 2019.
Netanyahu says cooperation with Russia 'critical' with U.S. to leave Syria
Israel has "great challenges around us" and it's cooperation with Russia is "critical," Prime Minister Benjamin Netanyahu said on Monday, a day after US President Donald Trump announced his intention to withdraw troops from Syria and allow a Turkish incursion there against Kurdish forces.

Netanyahu made the comments at a holiday toast with workers in his office, during which he relayed that he just had a telephone conversation with Russian President Vladimir Putin. Netanyahu phoned Putin to wish him a happy birthday.

"I met with him a few weeks ago about issues that are important for the security of the State of Israel, and this conversation as well was important to Israel's security," he said. Though he did not provide details, the Netanyahu-Putin conversation is believed to have dealt with the changing dynamics in Syria resulting from the White House's dramatic announcement on Sunday.

"We have great challenges around us, but we enjoy important cooperation and coordination with Russia, something that is critical for us, and which we will continue to deal with," he said.
Lindsey Graham, Nikki Haley on Trump's Syria plan: Disaster in the making
The Trump administration's move, which opens the way for a Turkish strike on Kurdish fighters long aligned with Washington, runs counter to the positions of even some of Trump's top allies in his own party.

Lindsey Graham, a Republican senator who is generally a vocal Trump supporter, wrote in a series of Twitter posts that he was trying to set up a call with Secretary of State Mike Pompeo and would introduce a Senate resolution opposing the withdrawal decision and calling for it to be reversed.

"It's never in our national security interest to abandon an ally who's helped us fight ISIS," Graham said in an interview with Fox News Channel, using an acronym for Islamic State.

"This impulsive decision by the president has undone all the gains we've made, thrown the region into further chaos."

Former US Ambassador the United Nations, Nikki Haley also responded on Twitter, saying, "We must always have the backs of our allies, if we expect them to have our back. The Kurds were instrumental in our successful fight against ISIS in Syria. Leaving them to die is a big mistake."

Republican Senator Marco Rubio tweeted that "If reports about US retreat in #Syria are accurate, the Trump administration has made a grave mistake that will have implications far beyond Syria."
US troops begin Syria pullout as Turkey readies offensive, alarming Kurds
US-backed Kurdish-led forces in Syria said American troops began withdrawing Monday from northeast Syria ahead of a Turkish invasion that the Kurds say will overturn five years of achievements in the battle against the Islamic State terror group.

The Syrian Kurdish fighters also accused Washington of failing to abide by its commitments to its key allies in the fight against IS. It's a major shift in US policy.

The American withdrawal came just hours after the White House said US forces in northeastern Syria will move aside and clear the way for an expected Turkish assault — essentially abandoning Kurdish fighters who fought alongside American forces in the years-long battle to defeat IS.

Turkish President Recep Tayyip Erdogan has threatened for months to launch the military operation across the border. He views the Syria Kurdish forces as a threat to his country as Ankara has struggled with a Kurdish insurgency within Turkey.

Turkish Foreign Minister Mevlut Cavusoglu said that Turkey was "determined to ensure our country's existence and security by clearing terrorists from this region."

"From the start of the Syria war, we have supported that country's territorial integrity and will continue to do so from now on," Cavusoglu wrote on Twitter. "We will contribute to bring serenity, peace and stability to Syria."
UN 'preparing for the worst' from Turkey's Syria operation
The United Nations said Monday it was "preparing for the worst" in northeast Syria after the United States said it would step aside to allow for Turkish military operations in the area.

"We don't know what is going to happen… we are preparing for the worst," UN regional humanitarian coordinator for Syria, Panos Moumtzis, said in Geneva, stressing that there were "a lot of unanswered questions" about the consequences of the operation.

Moumtzis added that the UN was "in contact with all sides" on the ground.

But he made clear his office did not have advance warning about the US decision that effectively abandons the Kurds, who were Washington's main ally in the long battle against the so-called Islamic State group.

Moumtzis said the UN's priorities were to ensure that any prospective Turkish offensive not result in new displacements, that humanitarian access remain unhindered and that no restrictions be put in place on freedom of movement.

The UN has a contingency plan to address additional civilian suffering, but "hopes that will not be used," Moumtzis said.
No joke: Iran FM Zarif — whose military exercises control or influence in Syria, Iraq, Lebanon & Yemen — called on Turkey to respect the "sovereignty and territorial integrity" of other countries.https://t.co/i65vK1NpEV

— Hillel Neuer (@HillelNeuer) October 6, 2019
Netanyahu: Israel Needs Air Defense System Against Iranian Cruise Missiles
In a cabinet meeting on Sunday, Prime Minister Benjamin Netanyahu proposed a massive air defense system to defend against Iranian attacks, especially cruise missiles like those used in attacks on a Saudi Arabian oil facility last month, according to KAN.

Last month, cruise missiles and explosive drones were used in an attack on two plants at the heart of Saudi Arabia's oil industry, including the world's biggest petroleum processing facility.

The United States, Saudi Arabia, Britain, France and Germany have publicly blamed the attack on Iran, which denies involvement in the strike.

The attacks on the two facilities cut Saudi Arabia's crude oil supply by around 5.7 million barrels per day, or about 50% of its output.

The plan proposed by Netanyahu will cost billions of shekels. Some of the funds for the project won't be allocated officially until after a government is formed, assuming that there aren't third elections.

The funds for the project will either come from cuts within the security establishment or from funds cut from social services. According to KAN, it's more likely that the funds will be taken from social services.
Iran unveils kit to convert artillery rockets into guided missiles
The Iranian military says it has produced a new conversion kit to upgrade artillery rockets to surface-to-surface missiles, technology that Israel has accused Tehran of attempting to deliver to the Hezbollah terror group.

The Iranians unveiled the new guidance system upgrade, called Labeik, at an event Thursday at which a number of new military technologies were showcased, according to Jane's Defence Weekly.

Jane's reported that Labeik appeared similar to the guidance systems on the Fateh-110 series of rockets, many of which are believed to be in the hands of Hezbollah in Lebanon. According to the report, the new system also looks to be compatible with Zelzal heavy artillery rockets.

Video footage of the new conversion system aired on Iranian television shows a short body featuring four inverted fins that can be fitted between the rocket and its payload.

According to Iran's Fars News, the "anti-armor 'Labeik 1' missiles… enjoy precision-striking power."

"There is nothing new in the conversion itself, they have been doing it for years, and they already showed conversion kits for the Fatah 110 family of missiles," Uzi Rubin, one of the pioneers of Israel's earliest attempts at missile defense, told The Times of Israel.

"What's new here are the aerodynamics of the winglets — very unique, unseen in Iran to date and unseen in any other country. Going to indigenous design rather than copying others indicates self-confidence. The purpose of the new and unique aerodynamics is probably to increase the maneuverability of the converted rockets."
Congresswoman: Antisemitism, Iran threat highlight need for US-Israel ties
Growing global antisemitism and the dangers of Iran make it more important than ever that the US maintain close ties to Israel, leading Republican Representative Ann Wagner of Missouri said during a speech on the floor of the House of Representatives, in which she spoke against BDS and promoted joint Palestinian-Israeli business ventures over the Green Line.

"Israel is deeply invested in achieving peace in the Middle East, and so is the United States of America," said Wagner, who is a member of the US House Foreign Affairs Committee. "And we will all stand collectively with Israel as they work toward the achievement of this goal."

At "a time of heightened antisemitism that we are seeing across the globe, it is more important than ever that we maintain a strong connection to this very key ally of ours in Israel," said Wagner. Such a stance is also significant given that Iran is threatening Israel, including through its proxies Hezbollah and Hamas.

Part of a small congressional delegation that traveled to Israel in August, Wagner was on a trip sponsored by the US Israel Education Association (USIEA). The trip focused on security issues and the work of the Judea and Samaria Chamber of Commerce and Industry, co-led by Avi Zimmerman of the Ariel settlement and Ashraf Jabari of Hebron.

According to the chamber, it has a membership of some 250 Israeli and 250 Palestinian business people. Jabari was among a small number of Palestinian entrepreneurs who attended the US-led economic workshop in Manama, Bahrain, in June.
'The days of the Ottoman Empire are over'
Foreign Minister Yisrael Katz has ordered his office to draw up plans to stop the Turkish government's efforts to undermine Israeli sovereignty in Jerusalem and protect Jordan's special status as guardian of Muslim holy sites in the city.

Katz intends to present the plan to Prime Minister Benjamin Netanyahu soon, so he can authorize its implementation. Due to the sensitivity of the plan, whose implementation will almost certainly lead to a direct confrontation with Ankara, it is also expected to be raised for discussion by the Diplomatic-Security Cabinet. According to ministry officials, as the plan pertains to security matters, there is nothing preventing it from being implemented by a transition government.

The issue of Turkey's influence on members of Jerusalem's Arab population has weighed on security and diplomatic officials' minds for years. As Israel Hayom has previously reported, Turkish President Recep Tayyip Erdoğan has been buying influence over sites and prominent figures in east Jerusalem for years. Nevertheless, Jerusalem has not made any effort to challenge these efforts up until now.

The Foreign Ministry's plan would see the Muslim Brotherhood, which has close ties to Erdoğan's Justice and Development party, deemed an illegal association in Israel. Further ministry recommendations for thwarting Ankara's efforts include restricting the activities of the Turkish Cooperation and Coordination Agency, or TIKA, in Israel. The organization, whose stated objective is "preventing the Judaization of Jerusalem," spends some $12 million annually on activities aimed at undermining Israeli sovereignty in east Jerusalem. It should be noted that these activities are personally managed by Erdoğan.

The plan's architects propose obligating TIKA to coordinate its activities with Israel in advance and preventing the association from act unequivocally in Jerusalem. In addition, they propose Jerusalem not renew the head of TIKA in Jerusalem's, a move that would strip the organization head of his diplomatic status in Israel and render his presence in Israel illegal.

Additional steps would include restricting communications between members of the Islamic Waqf.
How to get Erdogan off the Temple Mount
This is why a new plan from Foreign Minister Yisrael Katz should be seen more as a declaration of intent and less as an operational plan. For the plan to take effect, defense and security officials who have been dealing with the issue for several years already must supply the top political echelon with evidence. Anyone who wants, for example, to limit the activity of TIKA, a well-endowed Turkish government agency, in Jerusalem will have to first prove that its activity goes beyond the bounds of civil/community service and slides into violence and incitement. Thus far, no evidence of that has been found, although attempts have been made to do so.

The steps the Foreign Ministry wants to take against the worldwide Muslim Brotherhood organization could also turn out to be complicated. It's doubtful whether Israel can point to direct activity by the Muslim Brotherhood. On the other hand, it is definitely possible to identify violent activity by groups or individuals with ideological links to the Brotherhood or its international headquarters in London. Steps have been taken against the Muslim Brotherhood in the past, and we can assume that more will be done in the future. Only recently, two female rioters were barred from the Temple Mount for a period of six months.

It looks like the best way to fight Erdoğan, who is hostile to Israel and trying to buy influence in Jerusalem, is to continue to expose Turkey's ties to Hamas. For years, Turkey has served as a haven for Hamas terrorists and commanders. For years, terrorist attacks or attempted terrorist attacks on both sides of the Green Line have been initiated and directed from Turkish territory. Erdoğan has repeatedly made it clear that as far as he is concerned, Hamas is not a terrorist organization, but the facts on the ground prove differently. Dozens of Hamas cells handled from Turkey have been exposed over the past few years, and the Shin Bet recently reported, "Turkey contributes to the military empowerment of Hamas, through methods that include the SADAT company, which was founded on the orders of Adnan Basha, a close advisor to government officials in Turkey."

This is where Israel has to operate, both operationally and in terms of public diplomacy and traditional diplomacy. The Turkish nonprofits active in Jerusalem are tough to check unless legislative changes can be made that alter the definition of "hostile" activity in Jerusalem, the capital of Israel.
Israel backs Cyprus as Turkey moves gas drill into its waters
Israel's envoy to Cyprus on Monday expressed backing for the Mediterranean island state after Turkey moved a gas drilling rig into Cypriot waters last week.

"Friends should stick with each other," Ambassador Sammy Revel tweeted.

He added that Israel is "following closely and with concern" the Turkish move.

Revel's comments come after Cyprus lashed out at Turkey's new attempt to drill for gas in Cypriot waters where European energy companies are already licensed to conduct a search, calling it a "severe escalation" and vowing to fight the move.

Israel and Turkey, once close allies, have had increasingly strained relations since Turkish President Recep Tayyip Erdogan became the country's leader. Erdogan is a staunch supporter of the Palestinians and launches frequent verbal attacks on the Jewish state.

Israel also voiced support for Cyprus in July over Turkish operations in the country's exclusive economic zone.

Israel, Cyprus and Greece have forged an energy-based partnership that has steadily grown following the discovery of gas deposits in the eastern Mediterranean. The United States began joining the talks earlier this year.
German Jews blast WJC's decision to give Merkel the Herzl Award
Members of Germany's Jewish community are speaking out against the World Jewish Congress's decision to honor Chancellor Angela Merkel with its prestigious Herzl Award.

Every year, the organization bestows the award to figures who act to promote Zionist visionary Theodor Herzl's "ideas for the creation of a safer and more tolerant world for Jews."

Along with Merkel, former US Ambassador to the UN Nikki Haley has also been selected for the award, which the two women are set to receive in separate ceremonies.

However, the announcement of WJC's plan to honor Merkel with the award has been met with piercing criticism from members of Germany's Jewish community, who note the change in Merkel's stance toward Israel in recent years, her support for the 2015 nuclear deal, and the increasing sense among the country's Jews that Berlin is not doing an adequate job of contending with the growing threat to Jews as a result of the anti-Semitic views of Arab and Muslim migrants to the country.

Among the points of contention raised by the local Jewish community: Germany's continued pattern of voting against Israel in UN and other international bodies; Berlin's continued funding for organizations that support the boycott, divestment, and sanctions movement; its refusal to ban Hezbollah activities in the country; and Germany's increased financial support for UNRWA, the UN agency for Palestinian refugees, without conditioning those funds on the cessation of incitement against Israel. There also those who cite Merkel's vocal opposition to US President Donald Trump's recognition of Jerusalem as Israel's official capital and Israeli sovereignty over the Golan Heights.
IDF Sets Up New Anti-Tunnel Company to Detect, Destroy Threats in Israel's North
The Israel Defense Forces have set up a special engineering corps company to discover and prevent terror tunnels dug across Israel's northern border from Lebanon.

The new company is intended to deal with the long-term threat from tunneling attempts by Hezbollah, Israeli news website Mako reported on Sunday. It will use cutting edge technology to do so, most of it tested on Hamas tunnels dug from Gaza, but adapted to the northern terrain, which is quite different.

The main tactic employed by the company is the use of new technology, and as a result is heavily invested in research and development.

One department deals with developing technologies to detect tunnels and tunnel digging activity, while another examines the practical engineering means of interdicting and destroying them.

The head of the company, Captain Moshe Asraf, said it was established according to the "lessons" learned during last year's Operation Northern Shield, during which he served as a commander in the engineering corps.
Arabs Hurl Firebombs, Burn Tires as Jews Pray at Joseph's Tomb
Dozens of Palestinians rioted on Sunday night following the pilgrimage of some 1,000 Jews, under Israeli security escort, to the Tomb of Joseph in Shechem/Nablus to pray. The rioters threw firebombs and burning tires at security personnel.

Israeli security forces responded with riot dispersal methods.

There were no Israeli reports of casualties during the incident, however the PA's Wafa news agency reported that seven rioters were wounded after "Israeli forces escorted a convoy of buses packed with over a thousand fanatic Jewish settlers to the site, located in the Palestinian-controlled area, sparking confrontations with Palestinian residents."

Wafa stated that the injured Palestinians had been "protesting" the "raid" and "attempting to block settlers' access to the site"

"Among the settlers who raided the site were Israeli Minister of Economy and Industry Eli Cohen, leader of the council of settlers in the occupied West Bank Yossi Dagan, and Knesset member Moshe Arbel," Wafa reported.
Palestinian Authority Continues to Pay Salaries to Terrorists
Abbas' remarks, which were less acerbic in tone than those he made in previous addresses to the General Assembly, reflected a concern over the ineffectiveness of his policies and the sidelining of the Palestinian issue from the international, regional, and Israeli agenda.

It is also nevertheless evident from Abbas' remarks that he does not intend to bend as far as his fundamental positions on the conflict are concerned. This was given clear expression in Abbas' stated enthusiastic commitment to continue to pay salaries to Palestinian terrorists and their families, despite the fact that Israel has deducted this amount from the tax revenues it transfers to Ramallah. While there is nothing new about this declaration, Abbas' decision to repeat it in a major international forum is indicative of the PA chairman's commitment to the expectations of the Palestinian street, as he perceives and shapes it.

In practice, despite the cuts in the transferred funds and the Palestinian decision to avoid accepting a further installment of payments Israel is willing to transfer, the PA continues to pay these terrorist salaries as usual. According to the PA budget implementation report for 2019, the Palestinian Authority transferred 276 million shekels (around $79 million) in payments – i.e., salaries – and another 75 million shekels (around $22 million) in "social" payments to families, family expenses, medical insurance coverage, and legal expenses, among other things. In total, the PA Prisoner Affairs Ministry spent some 364 million shekels ($105 million) on these terrorist payments.

These numbers reveal that the PA's payments to terrorists in 2019 were similar in scope to those made the previous year. The significance of this is that despite increasing pressure, the Palestinians are sticking to their guns, as it were, and as a result, the chances of the PA
becoming a partner for peace under Abbas' leadership continue to be slim to none.
Khaled Abu Toameh: Shtayyeh: We received NIS 1.5 billion from Israel

The crisis between Israel and the Palestinian Authority over Israeli deductions of payments made to security prisoners and families of Palestinians killed while carrying out attacks against Israelis remains unresolved, PA Prime Minister Mohammad Shtayyeh said on Monday.

Speaking at the weekly meeting of his cabinet in Ramallah, Shtayyeh announced that the PA has received NIS 1.5 billion from Israel in accordance with the deal reached between the two sides last week.

"The problem with Israel [over the funds withheld by Israel] has not been resolved until this moment," Shtayyeh said. "There is no government in Israel that is capable of making a political decision on this matter."

Despite Israel's decision to deduct the payments from the tax revenues it collects on behalf of the Palestinians, the PA government continues to fulfill its duties toward the prisoners and the families of the "martyrs," Shtayyeh said, and the PA government will remain committed to paying salaries to the families of the prisoners and "martyrs."

PA President Mahmoud Abbas also said that the PA's position regarding payments to the security prisoners and families of "martyrs" remains unchanged.
Abbas says he'll discuss elections with Hamas, factions but provides no timeline
Palestinian Authority President Mahmoud Abbas said Sunday that he would discuss plans for new parliamentary elections with all factions, including longtime rivals Hamas.

Meeting with senior Palestinian leaders in the PA's administrative capital of Ramallah in the West Bank, Abbas renewed a pledge to hold the polls — the first since 2006 — but without giving a timeframe.

He announced that they had formed committees to "communicate with the election commission and factions such as Hamas and all factions, as well as with the Israeli authorities."

He said any elections should take place in "the West Bank, Jerusalem and the Gaza Strip."

Hamas and Fatah have been at loggerheads since 2007, when the terror group seized Gaza and threw out Abbas's forces, which retained control of the internationally recognized Palestinian government, based in the West Bank.

No parliamentary elections have been held since 2006, with the two sides trading blame.
Khaled Abu Toameh: What Iran's Friends Are Doing in Gaza

In other words, Islamic Jihad's promise is one of unending toxicity: to go on poisoning the hearts and minds of generation after generation of Palestinians – as well as to continue investing millions of dollars in building tunnels and amassing weapons to ensure that the fight against Israel continues forever.

"The policy of resistance and jihad is the genuine policy to liberate all Palestine, and the Palestinian people will not abandon this path. We will not accept any agreement that contradicts the project of jihad and liberation. Under no circumstances will we give up one inch of the land of Palestine." -- Senior Hamas official Salah Bardaweel.

For [Hamas and Islamic Jihad] , a ceasefire means further amassing weapons and preparing their people for war without worrying about Israeli military action. When will the international community pull its head out of the sand in which it has so long been buried and understand that with organizations such as Hamas and Islamic Jihad running the show, the Gaza Strip will remain the humanitarian disaster that is so bitterly blamed on Israel?
Commander of Gaza-Based Fatah Splinter Group: Fatah Is the Leader of the Armed Struggle pic.twitter.com/ABBhc3ajRQ

— MEMRI (@MEMRIReports) October 7, 2019
Lebanon arrests Syrian for making phone calls to Israel
Lebanese authorities have arrested a Syrian national accused of having made phone calls to neighboring Israel, the army said Friday.

An army statement said the suspect, who was not identified, was referred to court for "contacting Israeli phone numbers and communicating with Israelis present in the occupied Palestinian territories." It did not elaborate.

Lebanon is home to tens of thousands of Syrian refugees who fled the war raging in their country.

In August, tensions spiked between Lebanon and Israel after two drones packed with explosives were sent into the Beirut bastion of the Shiite movement Hezbollah.

Iran-backed Hezbollah and the Lebanese army accused Israel of being behind the drone launch.

Lebanon's government and Hezbollah chief Hassan Nasrallah both described the apparently botched operation as an act of aggression.

A few days after the August 25 drone incident in Beirut, the army opened fire on Israeli drones flying over southern Lebanon.
Does Iran's Leader Leave Room for Iran's Return to the Negotiating Table?
At the same time, over the past few weeks, there have been increasing calls from senior religious figures in Iran and the leadership of the Iranian Revolutionary Guard for the destruction of the State of Israel. This is similar to statements issued by the Supreme Leader in 2016 that Israel would cease to exist in another 25 years. It is possible that this round of criticism against Israel serves a smokescreen while negotiations are taking place between Iran and the United States to enable Iran's return to the nuclear deal.

In any case, by November 7, 2019, a further reduction is expected in Iran's commitment to the nuclear agreement (including the enrichment of uranium to 20 percent and even higher). There is a window of opportunity for diplomacy and European efforts to try what has failed until now – to promise economic compensation to Iran for the American sanctions or alternatively to bring Washington back to the negotiating table. Iran's oppositional regional policy (against Israel and Saudi Arabia, in Yemen, Iraq, and Syria) will apparently make it harder for Europe and the United States to advance the negotiations with Iran. However, in the past, Europe has shown that it is prepared to ignore repeated violations of human rights in Iran, such as its role in terror activities (including within European territory!), to fulfill the nuclear agreement, which eventually leads to investment and economic cooperation with Iran. Iran is well aware of Europe's modus operandi and uses it and U.S. weakness to achieve maximum profit to renew negotiations regarding the nuclear agreement.

"Today, the Nuclear Deal Is in the Intensive Care Unit"
In this regard, Abbas Aragchi, deputy foreign minister and one of the patrons of the nuclear deal, stated at a ceremony marking the 30th anniversary of the opening of the German embassy in Tehran that, "today the nuclear deal is in the intensive care unit." He added that to save it, cooperation was necessary between the P5+1 states. This could "bring down the walls of American sanctions and one-sided policies, which have become its weapon against independent countries." According to him, Iran, along with the European countries, China, and Russia, are attempting to reach a balanced agreement through negotiations, but because of America's one-sided policies, this balance has been violated and lost.5
Iran says Russian journalist held over visa issue, not Israel spy claim
Iran has confirmed the arrest last week in Tehran of a Russian journalist, saying the case was a matter of a visa violation.

Government spokesman Ali Rabiei told reporters that Yulia Yuzik's case is under "quick review" by authorities and wasn't related to matters concerning the "counter-espionage" department. Her ex-husband said last week she had been arrested for allegedly spying for Israel.

The Russian Embassy in Tehran said on Friday that Yuzik flew into Tehran the previous Sunday and that Iranian officials seized her passport at the airport for unknown reasons. She was arrested from her hotel room on Wednesday.

The Russian foreign ministry summoned the Iranian ambassador to Moscow to explain Yuzik's arrest.

Prior to her arrest, Yuzik posted photographs from her trip on Instagram, saying she loved being in Iran.
Houthi Military Expert Lieutenant-General Abed Al-Thour: UAE Like a Cave Full of Bats; We Can Destroy It; UAE Soldiers Will Have No Place to Return to pic.twitter.com/Xm1qkIU7vD

— MEMRI (@MEMRIReports) October 7, 2019
Houthi Political Bureau Member Muhammad Al-Bakhiti: If Saudi Arabia Doesn't Stop Its Aggression, We Might Launch an Offensive Campaign to Reach Riyadh, Topple the Saudi Regime pic.twitter.com/tFFGhqiywX

— MEMRI (@MEMRIReports) October 7, 2019
---
---
We have lots of ideas, but we need more resources to be even more effective. Please donate today to help get the message out and to help defend Israel.

Cache
From Ian:

---
Rina Shnerb's alleged murderer linked to European-funded BDS affiliates
Samer Arbid, the alleged leader of the Popular Front for the Liberation of Palestine (PFLP) terrorist cell responsible for murdering 17-year-old Rina Shnerb near Dolev in August, worked for a European-funded NGO linked to BDS, NGO Monitor reported on Wednesday.

Arbid, 44, considered one of the PFLP's top officials in Ramallah, was previously arrested for preparing PFLP explosive devices during the Second Intifada.

IDF and Border Police forces arrested him on Sunday for allegedly preparing and detonating the improvised explosive device that killed Shnerb and wounded her father Eitan and brother Dvir.

On Monday, Haaretz reported that the Justice Ministry opened an investigation into "potential wrongdoing" by officers of the Shin Bet (Israeli Security Agency) after Arbid was in critical condition in at Hadassah-University Medical Center on Mount Scopus following his interrogation, which involved torture. It was subsequently reported that the agents were authorized to conduct a "violent interrogation" but went "too far."

Media sources reported on Tuesday that the Public Committee Against Torture in Israel (PCATI) and several Joint List MKs sent a letter to Attorney-General Avichai Mandelblit demanding a criminal investigation be opened regarding Arbid's interrogation.

According to the NGO Monitor, Arbid was listed as an accountant for Addameer (Arabic for conscience) Prisoner Support and Human Rights Association, a Palestinian NGO that provides legal representation to Palestinians detained in Israel. The Ramallah-based organization's mandate includes "ending torture and other forms of cruel, inhuman and degrading treatment inflicted upon Palestinian prisoners" and "guaranteeing fair, impartial and public trials." The organization was listed as a PFLP-affiliated institution on Fatah's website in September 2015.
NGO Monitor: Samer Arbid's Alleged Terror Activities, Arrests, and NGO Affiliations

According to Israeli security officials, on August 23, 2019, Samer Arbid commanded a Popular Front for the Liberation of Palestine (PFLP) terror cell that carried out a bombing against Israeli civilians, murdering 17-year old Rina Shnerb, and injuring her father and brother. According to the Israel Security Agency (Shabak), Arbid prepared and detonated the explosive device.

Ties to PFLP-linked NGOs
Arbid worked for Addameer – a Palestinian NGO closely linked to the PFLP, 1 which listed him as the organization's accountant for several years.

In addition to his work for Addameer, Arbid appears to have worked for another NGO with ties to the PFLP, the Union of Agricultural Work Committees (UAWC). According to Samidoun, yet another PFLP-linked NGO, Arbid was the "financial director of the Union of Agricultural Work Committees in the West Bank" in 2016.
Prior Arrests
- In an Addameer-produced video from April 2013, Arbid describes his numerous arrests. He states that he was arrested at the beginning of 2003 and sentenced to two and a half years in prison, and served an additional year in administrative detention.
- According to Samidoun, Arbid was placed in administrative detention from March 2007 to August 2008.
- Similarly, Samidoun reported that Arbid was arrested on September 23, 2013 and placed in administrative detention.
- According to Samidoun, Arbid "was ordered to an additional three months' administrative detention" on March 12, 2016.
Israel reportedly arrests another Palestinian behind the deadly Dolev Spring attack
A senior member of the terror cell suspected of being responsible for the West Bank bombing that killed teenager Rina Shnerb in August was arrested by Israeli security forces early on Thursday, Palestinian media reported.

According to the reports, security forces arrested Walid Muhammed Hanatsheh at his home in the village of al-Tireh outside of Ramallah during overnight arrest raids across the West Bank, which saw 13 Palestinians arrested by IDF troops and Border Police officers.

Wafa News reported that the raids took place in several villages in the Ramallah area including Kobar, Deir Abu Mashaal, Jifna and al-Tireh. During Hanatsheh's arrest, a Palestinian TV cameraman was injured after troops fired a rubber bullet toward rioters.

Hanatsheh, who acts as finance and administration manager for the health work committees (HWC), has been a member of the Popular Front for the Liberation of Palestine since the Second Intifada, and has been arrested by Israel several times for his membership in the terrorist group.
BBC-promoted NGO's terror links surface again
The terror cell leader, Samer Arbid, was employed (despite his past history of involvement in terror activity) as an accountant by the Palestinian NGO 'Addameer' which is known for its links to the PFLP – a designated terror organisation in the US, the EU, Canada and Israel.

Five days after Rina Shnerb was murdered the BBC News website published a video report which included an interview with the director of 'Addameer', Sahar Francis.

Partisan report on detained Palestinian 'children' from BBC's Gender and Identity correspondent

That heavily promoted report was made available on the BBC News website for fourteen consecutive days.

In other words the producers of that report, along with additional BBC journalists, apparently saw nothing at all problematic in the amplification of the unchallenged narrative of a political NGO that is linked to a terrorist organisation that the BBC knows has murdered Israeli civilians in the past and which, we now learn, employed the leader of the PFLP terror cell apparently responsible for the brutal murder of a seventeen-year-old out hiking with her family.
How the Myth of the Israel-Palestinian Conflict's Supreme Importance Distorted 70 Years of American Middle East Policy
After failing in 1948 to stop the U.S. from supporting the creation of a Jewish state, writes Samuel Tadros, the Middle East experts of the State Department put forth the theory that America could not achieve its strategic goals in the region without first solving the Arab-Israeli conflict. This soon became "dogma" in Foggy Bottom, at think tanks, and in academia. Even President Trump, for all his unorthodoxies, is not immune to the allure peacemaking.

In reality, no one [in the Middle East] actually cared about the Palestinians, at least not the region's rulers. [Their] priorities were everywhere besides Palestine: toppling the monarchs for some, searching for hegemony for others, or, for most, simply protecting their rule from revolutionary upheaval. The Palestinians, if they were considered at all, served simply as a bargaining chip; a cause to rally supporters and attack opponents.

Despite this, Washington's Middle East experts were not deterred. The centrality of the issue was never to be questioned, but the method to solve it changed.

[Today], stepping back from the details and daily changes on the ground, [it is necessary to confront] an inconvenient proposition: maybe there is no solution to the conflict. After all, it is uniquely American to think that every problem must have a solution. Maybe the reality is that there are two peoples who claim the same piece of land and that no amount of effort or innovative solutions can solve this simple fact.
The Arab World Can't Blame All of Its Problems on the West
For the past several weeks, the death of Israa Ghrayeb, a twenty-one-year-old Palestinian woman, has garnered much attention on Arabic-language social media and also in the Arab press. Ghrayeb was apparently beaten to death by family members for appearing in public—at a café—with her fiancé. To Hussain Abdul-Hussain, her death is a stark reminder of the ways in which Arab intellectuals have used the ideas of the Egyptian-American literature professor Edward Said, along with the those of the many postcolonial theorists who followed in his footsteps, to avoid critical examination of honor killings and other social ills:

"Orientalism" [was the term Said gave to] the collection of stereotypes through which the West is purported to understand the Middle East. For anti-colonialists . . . those stereotypes are proof that the colonial powers failed to understand the people they colonized. Honor killing is one of the stereotypes unjustly attributed to Muslims and Arabs, so the argument goes. But it is no stereotype. . . . It is a reality.

Though women are the main victims, honor killing falls under the Islamist concept of "promotion of virtue and prevention of vice." For many Arabs and Muslims, this involves the restoration of some long-ago, supposedly perfect society that exists only in their imagination. But [this mythic ideal] is used to justify killing adulterers (of both sexes) or homosexuals or men who are perceived as effeminate, such as the Iraqi teenager whose murder by stabbing was recorded by his killer. . . . In Lebanon, a non-Druze man who married a Druze woman had his penis cut off by relatives of the bride.

Honor killing . . . is a flaw in Muslim society and it can be rectified only if that society is prepared to look inward at itself rather than blaming outsiders. . . . [B]ashing colonialism and Orientalism won't solve the [Arab world's] problems. On the contrary, it will only conceal them. . . . [T]o eradicate an abomination such as honor killing, Arabs and Muslims must first acknowledge its existence and take ownership of it.
PMW: Palestinian women's lives endangered by PA religious leaders' ruling

Top PA religious figures prohibit Palestinian women from submitting complaints over spouses to Israeli police

PA Ministry of Justice is working on improving legislation on family matters, including "ensuring punishment of those who commit crimes from a motive of honor"

The Israeli Arab party The Joint List has announced that it will boycott today's swearing-in ceremony of the Israeli Parliament in protest of what it calls the government's failure to address the rising levels of violence in Arab towns. Yet while Israeli Arab politicians are complaining that not enough is being done to tackle the growing problem of violence in Israeli Arab communities, the PA is telling Palestinian women not to go to the Israeli police with complaints over their husbands
"Anti-Normalization" With Israel: The True Goal
An anti-Israel group called the Association for Supporting Resistance and Confronting Normalization claimed that Jordanians who work in Eilat and other Israeli cities are often recruited as informants by the Israeli security services. The group accused the Jordanian government of "complying with all the demands of the Zionists on the pretext of cooperation for the sake of peace." The claim that Jordanians who go to work in Israel or help clean the beach are recruited as spies is aimed at painting them as traitors, a charge that is likely to put their lives at risk.

Instead of thanking Israel for allowing Jordanians to come and work in Eilat, the "anti-normalization" activists are inciting the workers to boycott Israel. These activists, of course, are not offering the Jordanian workers jobs and salaries.

In March 2019, Israel agreed to increase by 33% the number of Jordanian day laborers employed at hotels in Eilat from 1,500 to 2,000. The permits for the Jordanians are designed to allow them to work in the hotel industry of Eilat, close to the border with Jordan. The move is part of an agreement signed between Israel and Jordan to advance ties between the two countries through economic and social cooperation initiatives.

As far as the "anti-normalization" activists are concerned, inciting their people against Israel and the Jordanian workers is more important than any economic and social initiatives. These activists hate Israel to a point where they prefer to see 2,000 workers lose their jobs than continue working and earning good salaries in Eilat.

If greeting a Jew on his or her holiday, cleaning the beach with an Israeli, or working in Israel are considered by many Arabs a "crime," what will be the fate of any Arab who makes peace with Israel?

Those who are calling for boycotts of Israel -- and are threatening and inciting their people against any Arab who dares to host a Jew or send him or her greetings -- are also emphatically opposed to peace with Israel. For them, making peace with the "Zionist entity" is considered an act of treason. They are worried that an Arab who greets a Jew may one day make peace with Israel. They are worried that an Arab state that hosts Israeli athletes may one day make peace with Israel. They are worried that Arabs who go to work in Israel may fall in love with Israelis and stop thinking of ways to kill them or destroy Israel.
US gives cold shoulder to major Palestinian donor parley
The United States gave a cold shoulder last week to the major bi-annual meeting for donor aid to the Palestinian Authority, known as the Ad Hoc Liaison Committee (AHLC), which has operated for the last 25 years.

"We limited our participation to working-level observers only," US special envoy Jason Greenblatt told The Jerusalem Post this week as he described the downgrade.

It is the latest Trump administration action against traditional venues that help provide financial assistance to Palestinians and the Palestinian Authority.

As part of its peace plan known as the "Deal of the Century," the administration plans to create new funding venues for the Palestinians, the blueprint for which was unveiled at a Bahrain conference in June. But action on the plan is dependent on success with the political part of the peace process, which has yet to be published.

The US was previously one of the largest donors to the Palestinians and the PA, providing upward of half-a-billion dollars a year through the United Nations and other venues, but it has slowly halted that funding over the last two years.

The high-level 15 member AHLC meeting, held in the spring in Brussels and in the fall in New York, is one of the bedrock pillars of international funding for the Palestinians. It has remained a neutral venue where Israelis, Palestinians and the United States interact, even when all other communication is frozen.

In the past, the meetings chaired by Norway have been attended by high-level officials such as Greenblatt, or secretaries of state such as John Kerry. EU foreign policy chief Federica Mogherini often attends, and was one of the dignitaries who gathered in New York for the meeting on September 26.
Rivlin: Israel is in crisis, needs government now
Israeli democracy is in a state of emergency, and a government must be formed as soon as possible, President Reuven Rivlin said at the 22nd Knesset's inaugural meeting, which was overshadowed by the political uncertainty on Thursday.

Rivlin and Knesset Speaker Yuli Edelstein addressed the long period of political uncertainty, which saw the 21st Knesset be inaugurated and dissolved in a period of less than two months, less than six months ago. They both said the solution is a unity government.

"We are facing a time of crisis for the House of Jacob, an emergency for Israel's security and for Israeli society, an emergency for Israeli democracy," Rivlin said. "Forming a government is not only the wish of the people. More than ever, in times like these, it is an economic and security need the likes of which we have not known for many years."

Rivlin said a broad governing coalition would allow Israelis "to put the disagreements between us to one side and work on finding areas of agreement...to give us all an opportunity to breathe a little, to heal."

The President listed a number of "real life" areas that the government must address, from combatting the Iranian threat to making day-care cheaper to tacking rising crime in Arab communities.
Lapid forgoing rotation as prime minister
Blue and White's co-candidate for prime minister in last month's election, MK Yair Lapid, announced on Thursday that he would no longer be a candidate for prime minister in the next government.

The announcement came after Prime Minister Benjamin Netanyahu accused him of being the obstacle to the formation of a national unity government. Netanyahu said Lapid was trying to stop Gantz from joining a coalition government that he is currently trying to form because he would not give up his goal of rotating in the Prime Minister's Office with Gantz.

"For the sake of a unity government, I'm forgoing the rotation," Lapid told the Blue and White Party. "There won't be a rotation with three people. That's not serious. Running a country is a serious matter. It's far more important to me that there's unity in the country. That there won't be another election. That this country begins a healing process. Mends the wounds. Changes the national priorities."

Lapid warned that Netanyahu is trying everything to drag Israel to its third election within a year.

"One man with three indictments stands between us and a national unity government," he said. "That's what the country needs.

This country needs a national unity government led by Blue and White, with Likud, with Liberman, with Labor. That's what we said throughout the campaign. In that government there will be a rotation. Gantz will be prime minister for the first two years. There's no other option."

Lapid ruled out a coalition in which Gantz rotates as prime minister with Netanyahu but did not rule out a rotation with another Likud leader.

Benjamin Netanyahu invites Avigdor Liberman to join coalition
Prime Minister Benjamin Netanyahu offered Yisrael Beytenu head Avigdor Liberman to join the government he is forming, in a meeting Thursday morning at the Prime Minister's Office in Jerusalem.

Netanyahu told his former aide and ally and current political nemesis that he should join as soon as possible in order to contribute to the formation of a unity government.

But Netanyahu's spokesman said there did not end up being a breakthrough in the meeting.

Liberman released a statement after the meeting saying that he urged Netanyahu to have Likud, Blue and White and Yisrael Beytenu meet to decide the next government's guidelines on policy and only then deal with distributing portfolios and who should go first in a rotation in the Prime Minister's Office.

"I am making a major effort to form a broad unity government," Netanyahu told the Likud faction. "This is what the voters decided, and this is what is right. This should be taken for granted."

Following the meeting with Liberman, Netanyahu went to update the heads of the right-wing and religious parties in his political bloc.
IDF indicts 5 Palestinians in murder of soldier Dvir Sorek
The IDF Prosecution filed an indictment in the Judea Military Court on Thursday against five Palestinians in connection with the murder of IDF Corporal Dvir Sorek on August 8.

The five Palestinians, all of who are affiliated with Hamas according to the indictment, are: Qasem al-atzafra, Nazir al-atzafra, Ahmad al-atzafra, Yusef Zahur and Mahmoud Atuna.

Previously, the IDF announced that it sent messages to the defendants' families announcing its intention to demolish their houses.
Some of the defendants have already objected and the High Court of Justice will hear the issue on October 31.

The stabbing attack occurred against Sorek near Migdal Oz on August 8.
Greenblatt: PA Must End "Pay to Slay"
U.S. Middle East envoy Jason Greenblatt told Asharq Al-Awsat in an interview: "I can't imagine a world in which a peace agreement is signed where issues like the Palestinian Authority's 'Pay to Slay' program remains - a program that rewards terrorists who murder or attack Israelis. It's a basic concept that you cannot encourage people to kill and expect a peace deal that works."

"I can't imagine the Israeli government ever signing such an agreement. It would make no sense and it's completely antithetical to the concept of peace. To deal with that abhorrent program, the USA has cut all funding to the PA and we continuously raise awareness of this issue to other donor countries. I cannot understand how donor countries continue to donate funds knowing that some of their taxpayers' money is used to fund terrorism and the murder of Israelis."
PA claims 24 'incursions' on Temple Mount
The Palestinian Authority Ministry of Religious Endowments and Religious Affairs published a report on the holy sites, which included 24 Jewish 'incursions' of the al-Aqsa mosque and 52 cases of denial of prayer for prayer at the Ibrahimi Mosque in the Patriarchs Cave.

The Ministry of Endowments accused Israel of continuing the 'siege' and intervention at the Ibrahimi Mosque (the Cave of the Patriarchs) and closed it completely to Muslim worshipers during Rosh Hashanah.

According to the report, the Israeli authorities were not only content with preventing Muslims from entering the place, but they allowed settlers to get on the roof of the Cave of the Patriarchs and IDF soldiers attacked and humiliated Muslim workers.

It was also alleged that the "occupation forces" demolished the Al-Uma Mosque in Jabal Jawhar Hevron, which was in final stages of construction, and the level of incitement at the Al-Aqsa Mosque increased as Jewish holidays and the calls of the Temple Mount trustees came closer.
Hamas Takes Action in Nepotism Case following Public Pressure
Every year, the Saudi Arabia Ministry of Hajj and Umra hosts for free 1,000 people from the families of Palestinian martyrs to perform the hajj in Mecca.

After Anas Radwan, son of Hamas leader Ismail Radwan, went on the pilgrimage, activists argued on social media that he did not have the right to do so.

To calm public anger, Hamas formed a committee to investigate the incident, which concluded that Anas was not supposed to join the pilgrims. He was fined 5,000 dinars ($7,000), to be distributed among those who were denied travel to Mecca.

The Palestinian street is not accustomed to Hamas disclosing the details of any punitive measures against its leaders and members.
Well done @palinfoen. Love your work! https://t.co/AWIzY8n464 #Gaza

— (((David Lange))) (@Israellycool) October 3, 2019
Israel-Egypt gas deal gets a boost as shares soar
Gas giant Delek Group Ltd.'s announcement that it had updated an agreement for the export of liquefied natural gas from the Leviathan and Tamar offshore reservoirs to Egypt sent share prices soaring on Wednesday.

In February 2018, Delek Drilling and Texas-based Noble Energy – partners in the Leviathan and Tamar LNG projects – signed a $15b. decade-long deal to supply 64 billion cu.m. of natural gas to Egypt's Dolphinus Holdings Ltd.

The new agreement provides for a 35% increase in the total gas supply that will now reach 85 billion cu. m.

"The agreement is a further proof of the important economic cooperation between the two countries and the tremendous positive impact that these relations have on the Egyptian economy and the Israeli economy, as well as the great potential for additional cooperation in the mutual interest of the parties," Yossi Abu, CEO of Delek Drilling, said in a statement on Wednesday.

The deal with Egypt followed a September 2016 agreement worth $10b. between Jordan's National Electric Power Company Ltd. and the Leviathan project partners to supply a gross quantity of 45 billion cu.m. of natural gas to Israel's eastern neighbor over 15 years.
Death Toll Climbs as Iraqi Protests Escalate for Third Day
Police and gunmen exchanged fire in a southern Iraqi city on Thursday killing one person, after 11 others were killed overnight as nationwide anti-government protests escalated into one of the worst security challenges in years.

At least 19 people have been killed since the protests erupted three days ago, seemingly independent of any organized political party and taking the security forces by surprise.

Police said protesters carrying guns had fired at them in the town of Rifae on Thursday morning, near the southern city of Nassiriya where seven people died overnight. Fifty people were wounded in Rifae, including five policemen, they said, adding to hundreds already injured across the country.

Clashes in another southern city, Amara, killed four people overnight.

A curfew, lifted early in the morning in southern cities, was reimposed immediately in Nassiriya and later in Amara.

In Baghdad, the authorities attempted to head off protests by imposing a curfew from 5 a.m. Troops patrolled main roads and public spaces, but by morning sporadic demonstrations had begun, and troops opened fire with live rounds to disperse them.

"Despite the curfew we are going out to protest to call for our rights. We want to change the regime. They have arrested our people. They have done things to our people they did not even do to Islamic State," a youth told Reuters TV after gunshots could be heard nearby.

"They have beat them up and humiliated them while firing live gunfire. What did we do? Are we suicide bombers? We are here to call for our rights and all these people."
Report: Iranian Entrenchment in Syria (PDF)
Iran's deployment of its own forces and proxy militias recruited from other countries has been decisive in the Assad regime's reversal of territorial losses to the Syrian opposition.

As a result, Iran now has wide latitude to pursue its own geopolitical agenda on Syrian territory, including the introduction of sophisticated weapons systems that will enable Iran to open a new front against Israel and threaten freedom of navigation in the eastern Mediterranean.

The Syria Study Group believes the U.S. can still influence the outcome of the Syrian war in a manner that protects U.S. interests.

The U.S. has meaningful tools of leverage to prevent the reemergence of ISIS and counter other terrorist groups, stop Iran from turning Syria into a forward operating base, provide relief to displaced Syrians and Syria's hard-pressed neighbors, and advance a political outcome that stops Syrian territory from serving as a net exporter of terrorism and instability.

The key near-term goal should be to prevent further entrenchment of Iran and its partners and proxies while raising the cost to Iran for its actions in Syria.

To this end, the U.S. should continue its support of Israeli air strikes; enforce sanctions aimed at undermining Iran's ability to fund its proxies and partners in Syria, Lebanon, and Iraq; and maintain the U.S. military presence at the al-Tanf military base.

The U.S. should insist that any political settlement require the withdrawal of Iranian forces and proxies from Syria.
France: President Macron Must Stop Appeasing Iran's Mullahs
Has French President Emmanuel Macron forgotten that he is helping and appeasing a state leading in human rights violations? In 2018, according to Javaid Rehman, the UN expert on human rights in Iran, at least 273 people were executed in Iran, and 6,000 over ten years, according to Iran Human Rights.

In addition, the use of cruel and inhuman punishment is also on the rise in Iran; according to Amnesty International, the use of various forms of torture such as amputation and flogging has been increasing at an alarming rate.

Macron also fails to recognize that the nuclear deal never contained or adequately addressed Iran's multifaceted threats, which include but are not limited to: The arming and financing of terror and militia groups in the region; intervening in the internal affairs of regional countries; pursing a sectarian agenda by pitting Shiites and Sunnis against each other; carrying out cyber attacks against other nations; and committing human rights violations inside Iran and abroad through its proxies.
IRGC Commander Confirms Missile-Cities Hidden under Iran's Mountains
We have been digging tunnels since 1984 when we first began making missiles." These were the words of Revolutionary Guards general Amir Ali Hajizadeh, commander of the IRGC's Aerospace Force. He was interviewed by the Iranian regime's Documentary TV a few hours after the National Council of Resistance of Iran (NCRI)- US representative office, revealed the existence of numerous tunnel formations across Iran that were used to stock long-range missiles.

Hajizadeh had played a vital role in the September 14, 2019 drone and cruise-missile attack against Saudi Arabia's ARAMCO facilities deep inside Saudi territory, according to information revealed on September 30 by the NCRI's US representative office in Washington DC.

Even though Hajizadeh is not a member of the regime's Supreme National Security Council (SNSC), according to the NCRI's information, provided by the People's Mojahedin (PMOI, Mujahedin-e Khalq or MEK), he was present in the SNSC's session on July 31, 2019, when the decision to prepare an attack on Saudi oilfields was made.

After the decision was approved by the regime's supreme leader Ali Khamenei, Hajizadeh was instructed to begin the implementation of the plan.

More than ten points of construction/stockpiling of missiles with ranges of up to 2000 km were revealed for the first time by the NCRI's US representative office. Satellite photos of all the locations were made available to the public.

"We have to protect our arsenal in an adequate way. The idea goes back to 1984, just when we began thinking of missiles. Before the first such material was imported into the country, we had already begun digging the tunnels to hide them," Hajizadeh affirmed in his interview, broadcast a few hours after the revelations made by the Iranian Resistance.
Woman at Entrance to Hospital in Shiraz, Iran: We Are Hungry, Need Medicine; To Hell with Our Leaders; Khamenei's Time Is up, He Should Go Meet His Maker pic.twitter.com/UcT8SSuZI9

— MEMRI (@MEMRIReports) October 3, 2019


PreOccupiedTerritory: Pakistan Wondering How Much Longer It Can Keep Citizen Anger Focused On Faraway Israel (satire)

A proven political strategy to divert popular resentment from the corrupt, repressive government and toward an outside foe might not remain effective forever, a new report by this Islamic country's ministry of the interior warns.

Israel remains a potent rhetorical magnet for focusing Pakistanis' anger despite its physical distance and negligible measurable impact on Pakistani lives, acknowledged the report, but the authors caution that overplaying the Israel card may carry unwanted consequences during a time of increased access to alternative sources of information that can both attenuate the desired anti-Israel and anti-Jewish effect of the rhetoric and reflect some of the anger back at Pakistan's own leadership. The risk of this development has reached a likelihood unknown thirty years ago, according to the report, and appears to increase with each passing year, such that by the middle of this century, it estimates, Pakistan may be forced to forgo anti-Zionism as a primary domestic pacification strategy.

"Whereas during the latter half of the previous century the very mention of Israel, Zionists, or Palestine served as a reliable lightning rod for popular anger, it no longer riles the populace as it once did," the report warned. "An outright majority of Pakistanis still view an assertive Jewish presence on historically Muslim-ruled land as a source of existential shame, but indications have emerged that they no longer rank that shame at the top of their troubles, a development that points to an emerging challenge for the leadership in deflecting attention from its cronyism, nepotism, incompetence, corruption, support for terrorists, warped domestic priorities, and other issues best left shrouded in distraction."
---
---
We have lots of ideas, but we need more resources to be even more effective. Please donate today to help get the message out and to help defend Israel.

Cache
Country Delight Inc., which is working to occupy the former Dean Foods plant in Huntley, is seeking a special use permit to allow for the outside storage of vehicles and trailers for the shipping of dairy products at the site.

The request will be before the Huntley Plan Commission on Monday.

Country Delight, which transports about 52 million pounds of milk a year and serves about 400 stores in the Chicago area, has been operating out of Dean Foods' transportation facility on the north side of Mill Street and is hoping to use the plant for storage of its milk and dairy products.

A conceptual review of the project was held in February.

Huntley's plant was one of several Dean Foods facilities that ceased production because of decreased dairy consumption trends and a highly competitive industry, according to the Dean Foods 2017 annual investors report. The closure caused more than 100 people to lose their jobs.

A 250,000-square-foot Walmart milk-processing plant announced in 2016 also posed a problem to the plant's market base, according to the report.

Should the project move forward, it is Country Delight's hope to turn the plant into its flagship headquarters. The business is estimated to bring 75 to 105 employees.

A Country Delight representative had informed the village that truck traffic would be about one-third of what the traffic was when Dean Foods was in operation.

Also on the plan commission's agenda is a special use permit request from Shepherd Capital LLC for congregate care at a roughly 7-acre site at the southeast corner of Regency Parkway and Farm Hill Drive.

Shepherd Capital LLC owners Steve and Theresa Maskrey have been seeking approval of a $21 million project to build 144 residential units for assisted living and memory care in Huntley.

The goal is to build nine single-story residences on the two sites, plus an administrative office building. This would be done in two phases: the first will consist of 96 units within six buildings and the administrative building while the second will consist of the other 48 units.

The plan commission will meet at 6:30 p.m. at the Huntley Municipal Complex, 10987 Main St.



Cache
Morgantown Already has Three Polluting Electric Power Plants To the Editor, Morgantown Dominion Post, October 2, 2019 The plan to expand the Longview Power Plant with a gas-fired plant (Dominion Post — September 13) is disturbing. The company wants the Monongalia County Commission to approve a huge tax break, a PILOT (Payment In Lieu Of [...]

Cache
A while ago, I started a semi-regular series in which I examined specific cases of Tesla FUD (or "Fear, Uncertainty, and Doubt"). The plan was that I would look at a FUD topic that it seemed a ton of stock analysts were suddenly communicating about Tesla. The idea began because in my regular check-ins about how Tesla was doing, I would often find my newsfeed dominated by a bunch of writers claiming the same basic idea, and how that idea showed that Tesla was in big trouble

Cache
A group of businessmen and top Republican donors touted connections to President Trump while trying to recruit management at Ukraine's state gas company in order to advance their own financial interests, according to a report from the Associated Press.Over the past year, real-estate entrepreneurs Lev Parnas and Igor Fruman, and oil magnate Harry Sargeant III, all of whom have donated large sums to Republican PACs and campaigns, have worked to recruit Andrew Favorov, a senior executive at Ukrainian gas company Naftogaz, for a plan wherein the company would begin importing American natural gas in order to reduce the country's dependence on Russia.The report highlights the Ukrainian business interests of Trump-administration allies at the same time as Trump and his private legal counsel Rudy Giuliani seek to draw attention to Hunter Biden's business activity in Ukraine while his father was serving as vice president. Hunter sat on the board of a Ukrainian natural-gas company from 2014 to 2019 while his father was overseeing U.S. policy toward Ukraine for the Obama administration.Sargeant told Favorov that he regularly met with Trump and that the president backed the gas sale plan, according to sources interviewed by the Associated Press. Parnas also told Favorov that Trump would remove then–ambassador to Ukraine Marie Yovanovitch and replace her with someone more favorable to their business interests.The plan hit a setback with the surprise election in May 2019 of Volodymyr Zelensky as Ukraine's president.However, U.S. Energy Secretary Rick Perry then reportedly stepped in to advance a plan to replace the entire management board of Naftogaz. One of Perry's top picks for the board was a Texas businessman Michael Bleyzer, who in the past had donated to Perry's 2010 reelection campaign for governor of Texas. No illegal transaction was known to have taken place throughout this time.U.S. Energy Department spokeswoman Shaylyn Hynes commented that Perry "did not . . . advocate for the business interests of any one individual or company." She added that such an allegation "is fiction being pushed by those who are disingenuously seeking to advance a nefarious narrative that does not exist."Update 2:40 p.m.: Christopher Kise, an attorney for Harry Sargeant III, had put out the following statement: "In March 2019, while attending the CERAWeek 2019 conference in Houston, Texas, one of the largest energy industry trade events in the world, Mr. Sargeant was asked to attend an informal dinner with Andrew Favorov, Igor Fruman, and Lev Parnas, and to offer his views on the global oil and gas industry. Mr. Sargeant never discussed any role or participation in any Ukraine venture, nor any specifics regarding the potential business ventures of the other dinner participants."Kise further wrote, "Attending a single, informal dinner in Houston does not place Mr. Sargeant at the center of any Naftogaz or Ukrainian business plan."
Cache
https://img-hws.y8.com/cloud/v2-y8-thumbs-video-thumbnails-001/269491/s640x360_video_thumbnail.jpg When high-powered book editor Margaret (Sandra Bullock) faces deportation to her native Canada, the quick-thinking exec declares that she's actually engaged to her unsuspecting put-upon assistant Andrew (Ryan Reynolds), who she's tormented for years. He agrees to participate in the charade, but with a few conditions of his own. The unlikely couple heads to Alaska to meet his quirky family (Mary Steenburgen, Craig T. Nelson, Betty White) and the always-in-control city girl finds herself in one comedic fish-out-of-water situation after another. With an impromptu wedding in the works and an immigration official on their tails, Margaret and Andrew reluctantly vow to stick to the plan despite the precarious consequences.
Cache
The sponsors of the BrooklynSpeaks coalition--neighborhood and housing groups--and some allied elected officials are holding a forum tomorrow night at the Montauk Club (25 8th Avenue) in Park Slope at 7 pm.

"Sixteen years of promises, but we still have a hole in the ground. It's time for a new plan," the announcement says:

Fix the traffic problems. Improve transit.
Design spaces that work in Brooklyn.
Create real affordable housing.
Assemblymembers Walter Mosley and Jo Anne Simon are expected.

Developer pre-empts the meeting?

Surely in anticipation of the meeting, developer Greenland Forest City Partners this week floated an article in the New York Post regarding new plans to start the first half of the Vanderbilt Yard platform next year, dutifully regurgitated as Brooklyn's Pacific Park moves to fast track.


Three towers over railyard,
but no timetable

The developer also released a glossy image (left) of those three towers over the railyard, plus the B4 tower flanking the Barclays Center.

As I wrote, it's surely progress, but it's not quite the fast track, because the developer provided no specific timetable for completion of the platform, or the start of future towers.

Still, the three towers over the railyard (B5/B6/B7) might plausibly start in a year or two, as suggested on the tentative project schematic below, given the projected time for the platform, as I write today. Then again, is there a market for all that?



Either way, there still will be a large "hole in the ground" over the eastern block of the railyard, slated for the final three towers, which could take until 2035 and must be built before the lion's share of the much-touted open space can be completed.

See photo below right.

What's on the agenda?

What might the "asks" be?


Eastern block of railyard

As Gib Veconi, a BrooklynSpeaks leader, wrote to me, "In the past, the BrooklynSpeaks sponsors have called for traffic mitigations like residential permit parking, and affordability levels that better reflect the needs of the most rent-burdened members of the community."

Whether it be permit parking and/or other reforms, expect new concerns from neighbors about parking and street safety and new buildings and a school open near congested Sixth Avenue, close to fire and police stations.

Affordability, as of now, relies significantly on the revised Affordable New York program, as I wrote Monday. There's a tension between an increased number of units and more affordability: buildings with 30% affordable units have more middle-income units, while those with 25% affordable units have more low-income ones. That said, an additional commitment by government entities could enhance affordability.

BrooklynSpeaks also once warned that open space behind buildings "is likely to feel more like a private backyard than a public park." In 2015, when the most recent open space design was unveiled, I suggested that Veconi was generous in not repeating that critique.

Let's see if BrooklynSpeaks takes a harsher stance, especially since the open space so far is fractional and there's no timetable for the full open space.

No voluntary changes

It's unlikely that Empire State Development (ESD), the state authority that oversees/shepherds Atlantic Yards/Pacific Park, is looking to adopt a new plan.

After all, a recent effort to allow nearly 100,000 square feet in below-grade space for a fitness center and fieldhouse under the B12 and B13 sites was approved by ESD despite criticism from BrooklynSpeaks, Simon, and Veconi. He also sits on the advisory Atlantic Yards Community Development Corporation (AY CDC), which, at his instigation, reached a first-ever split vote, unable to endorse (or oppose) that below-ground space.

Nor was any public benefit--such as increased affordability, or public space--provided as reciprocation for what many saw as a gift to developer TF Cornerstone, which leased the sites from master developer Greenland Forest City Partners.

What's the leverage?

There may be points for future leverage. The most dramatic would be a lawsuit, such as a challenge to the fitness center and field house approval process. But there's been little talk of such an effort.

Another would be an oversight hearing, conducted by the state Assembly.

Another option would be pressure during the expected (but not yet launched) effort to change the project plan to approve a much larger, two-tower project at Site 5, currently home to P.C. Richard and Modell's.

Veconi suggested another pathway:

The main leverage at this point may be the unstable state of the project. It's not easy to see how Atlantic Yards' affordable housing deadline will be met without building over the railyard, and the recent announcement about construction of the platform above block 1120 doesn't speak to when the buildings above it will be built or by whom. China's monetary policy no longer favors foreign investment in real estate, as evidenced by the recent pattern of sales of development leases. And the project's financing strategy was conceived at a time when City and State subsidy policies for affordable housing was very different that they are now (to say nothing of what may change in 2022 when Affordable New York expires).
He's right that, as project uncertainty rises, the chance for leverage increases, but I still think it's possible--as suggested yesterday--to meet the affordability deadline by building just two towers over the railyard.

I also spoke with Mosley, who said he'd stress the affordable housing component, while Simon, in whose district Site 5 sits, may focus on that issue.

"My issue is the deliverability of the affordable housing within the time frame that was renegotiated," said Mosley, who noted that legislators' query to ESD about a timetable has not drawn a response.

"I've had preliminary conversation about possibility of having oversight hearings," he said. Like Veconi (and speaking before the latest announcement), he expressed skepticism about Greenland USA's commitment, "in terms of the market, the geopolitical landscape."

Mosley said he hoped the meeting would provide "a clearer directive from our constituents as to how we could proceed."

The housing conundrum and the larger transparency issue

The difficulty in requesting more affordability, for example, is that that likely would require an extra subsidy from government or, perhaps, an extra benefit to the developer.

(The Site 5 negotiation could offer leverage on that, but it's also possible that Site 5 would deliver additional affordable units beyond the 2,250 required--seemingly a boon--but would skew toward middle-income households.)

That's because there's no way to hold Greenland Forest City to the once-pledged housing configuration, in which 40% of the affordable units would be low-income. The definition of affordable housing in the guiding Development Agreement is far more broad, encompassing units in various subsidy/assistance programs.

The overarching Atlantic Yards/Pacific Park issue is transparency: the timing of towers, the plan to meet affordability, the progress of the railyard, the likelihood the eastern section will actually be built.

Despite Greenland Forest City's latest strategic announcement, starting a platform does not translate into a project timetable.


Cache
"That doctor."
"You knew him."
"Did I? When?"
"I think you dream about him sometimes. There's a man in a suit. Tall, thin man. Great hair. Some…really great hair."
-- Donna Noble and Rose Tyler, Doctor Who: "Turn Left"
Hello again, everyone! S
pecial guest companion Holly Mac from The Five(ish) Fangirls Podcast returns to
Next Stop Everywhere: The Doctor Who Podcast
to help me discuss "
Turn Left
", the eleventh episode of
Doctor Who
Series 4 in 2008, featuring David Tennant as the Tenth Doctor, Catherine Tate as Donna Noble, Billie Piper as Rose Tyler, and Bernard Cribbins as Wilfred Mott!
In this episode, Holly and I discuss things like Doctor-lite vs. Doctor Light, how "Turn Left" appealed to Holly, Donna winning over Holly, Wilf being the best grandpa ever, waiting for the big Cosmic Reset Button after Donna's memories of traveling with the Doctor are removed, Russell T. Davies announcing his departure and the ambiguity over David Tennant's departure, the plan for the return of Billie Piper as Rose Tyler, more of Doctor Who companion mothers being horrible, Chipo Chung as Chantho, Wilf favoring his granddaughter over his actual daughter, wondering how Sylvia turned out the way she did, Rule 2 of Doctor Who, the Fortune Teller persuading Donna to take the road not taken, wondering why the Doctor can't regenerate if he drowns, Holly's momentary panic about seeing the Doctor die, Wilf realizing how bad "labor camps" can be, Sylvia sliding into depression, the alternate outcomes of previous Doctor Who episodes, the Trickster never appearing on Doctor Who, Rose guiding Donna toward restoring the original timeline, the awkward moment when Donna materialized two miles away from meeting herself with only two minutes to change things, Donna's self-sacrifice to reset the timeline and free herself from the Time Beetle, the moment when the Doctor realizes that Donna met Rose, the return of Bad Wolf graffiti, our favorite quotes of the episode,
my
Reverse the Polarity segment
, new feedback from David K. Proctor, Holly's fellow Five(ish) Fangirl Rachel Frend,
and more!
If you'd like to check out our latest episode, you can find us on...
In honor of our 5th anniversary, we now have a
NEW
Next Stop Everywhere t-shirt
with our current logo, which you can find on TeePublic right
HERE!
This spiffy new shirt looks great when you're listening to your favorite
Doctor Who
podcast and travelling through time and space! Or your could order all sorts of cool
Next Stop Everywhere
merch
there as well!
And hey, if you'd like to pick up our classic logo
Next Stop Everywhere
t-shirt, you can also find it on TeePublic right
HERE

!
Help support the show and feel free to post pictures on our Facebook page of you or some other cool person you know wearing the shirt!
Be sure to come back next week, as new special guest companion Rachel Frend from The Five(ish) Fangirls Podcast joins me on Next Stop Everywhere: The Doctor Who Podcast to discuss "Vengeance on Varos", the second serial of Doctor Who Series 22 in 1985, featuring Colin Baker as the Sixth Doctor and Nicola Bryant as Peri Brown, and introducing Nabil Shaban as Sil!
Cache
The NY Times editorial board endorses the plan to bury the BQE under parkland. It's on a long wish-list of items for de Blasio to tackle - I guess we'll see if it carries any weight. https://www.nytimes.com/2019/10/06/opinion/bill-de-blasio.html

Cache
Provides comprehensive skilled nursing care and services to patients in the home setting. Works on an interdisciplinary team to provide care in the home health, palliative care and hospice programs. Accountable for the assessment, development of plan of care, education and consultation related to pain and symptom management as well as adjustment to changes in health status. Plans for the return of patient care to primary Health Care providers as indicated. Essential Responsibilities: Provides nursing interventions requiring substantial and specialized nursing skill, and initiates appropriate preventive and rehabilitative nursing procedures. Follows through the plan of care as developed to: provide appropriate instruction to patient/caregiver about health care, disease management and adjustment to illness; direct and supervise the care and services of LPN and HHA in the home setting; perform treatments; instruct patients/families in self care activities and home safety; and competently perform skills/tasks per plan of care. This includes pain and symptom management in the home. Performs skilled procedures to include injections, dressings, catheter insertion and care, colostomy and trachiotomy, central line IVcareand blood draws. Identifies educational needs. Instructs patient according to the plan of care. Provides care and case management with interdisciplinary team. Communicates and collaborates with other interdisplinary team members and with the patient family in planning and implementing care. Records accurate and pertinent data in the electronic medical record in a timely manner, according to documentation guidelines. Adheres to KFHPW infection control, safety, hazardous waste, universal precautions, and CPR standards. Identifies own learning needs, including those related to age-specific populations and participates in educational efforts to meet those needs. Participates in the following: staff orientation; self and colleague/team performance reviews; and activities related to quality care and cost saving measures. Adheres to KFHPW personnel policies and maintains a high standard of professional work habits. Demonstrates an appearance consistent with KFHPW dress code policy. Assesses patient need for care and communicates with other health care providers appropriately and in a timely manner. Collects data relevant to visit throughout the duration of care. Develops and initiates the plan of care based on assessment. Communicates and collaborates with medical doctor(s) to establish plan of care. Evaluates patient response to care through timely assessment, communication and observation. Modifies plan of care through assessement based upon patient and care systems response.

Cache
Provides age-appropriate skilled nursing care to patients in their place of residence in accordance with agency policy and procedure and state and federal regulations. Teaches the patient/family disease process and self-care needs. Monitors physiological state to determine an appropriate level of safety and comfort. Provides services requiring nursing skills in accordance with the plan of care. Develops and coordinates the plan of care and provides case management. Performs duties consistent with the nursing practice act that includes the standards of competent performance including Title 16, Chapter 14, Section 144.3 of the California Code of Regulations. Essential Responsibilities: Provision of Care: Provides the initial all system nursing assessment prior to the provision of care. Initiates the plan of care and necessary revisions including obtaining written physician orders for changes. Provides care and services in accordance with the plan of care. Performs assessment/data collection in an on-going systematic manner, focusing on hysiologic, psychosocial, cultural, spiritual and cognitive status; also nutrition, pain, patient/family education, family involvement and patient advocacy. Provides ongoing periodic all system assessment of the patient and the patient's equipment needs. Initiates preventative and rehabilitative nursing procedure (Home Health). Initiates timely discharges based on goals. Educates and instructs the patient, patient's family or other staff as required. Counsels the patient and family in meeting nursing and related needs. Supervises and teaches LVN's and HHA's as required for patient care. Provides nursing care through all phases of care taking into consideration age and developmental needs. Documentation and Communication: Documents all care, interventions and care coordination per law, regulation and agency policy. Notifies the patient's attending MD, Podiatrist and other professional persons and responsible staff of significant changes in the patient's condition in a timely manner. Assists in coordinating all services provided. Consults with other health professionals when needed. Planning, Organizing and Productivity: Effectively plans and organizes work assignment, manages and sets competitive priorities, and completes work assignments with a minimum of direct supervision per agency policy and within established time frames. Adheres to the services policy and principles of the Kaiser Permanente Medical Care Program. Supervises Home Health aides and LVNs according to law, regulation and agency policy. Professional Behavior: Behaves in a courteous professional manner with patients, health professionals and maintain patient confidentiality. Acts as a patient advocate in utilizing Medicare, MediCal, Health Plan and community resources. Participates in Departmental Quality Assurance activities and Utilization Review activities as requested. Self-Development: Selects and attends education programs to keep current in area of practice. Utilizes new knowledge and skills. Participates in in-service programs. Annually prepares realistic professional goals and reviews their progress with Supervisor. Perform other related duties as necessary. Supervisory Responsibilities: The job has no supervisory responsibilities. SPECIALITY AREA If no qualified candidate, will be willing to train. Where indicated, candidates in training are required to obtain appropriate certification(s) within the designated timeframe for a particular field of practice. WOUND / OSTOMY CARE - 3 months experience as WOCN required. 1 year experience as a WOCN preferred. WOCN or CERTN certification required. Graduate from an accredited WOCN education program. PALLIATIVE CARE: Two years recent (within the last 5 years) experience in case management, and recent experience in palliative care (such as oncology, home health, hospice, etc.) to include experience in initiating and participating in end of life discussions with patients and families, facilitating family conferences and advanced care planning.


Next Page: 25 © Googlier LLC, 2019