Cache
We have lots of great new coupons out today, save on Sargento, L'Oreal and more. Plus, checkout the great coupon deals, like a vitamins moneymaker! Coupon Deals Right now at Publix, pick up ThermaCare heatwraps for FREE! Stack a manufacturer coupon and new store coupon plus SavingStar to get stocked up. Get the Deal Here […]

Cache
(Bloomberg) -- Boris Johnson's government is preparing for Brexit talks to collapse, a move for which it will blame Ireland and European Union leaders, according to a text message from one of the prime minister's officials reported by the Spectator magazine.The message, which ran to nearly 800 words, was published in full by the magazine on its website. It was attributed simply to someone in Johnson's office.It blamed the EU's refusal to move on the Irish border question, which has stalled talks for more than a year, on Parliament for passing a law that aims to stop Johnson taking the U.K. out of the bloc without a deal. As a result of that, the author claimed Irish Prime Minister Leo Varadkar had decided not to make concessions on the border.The message suggested that the main way Johnson would try to avoid delaying Brexit would be to try to get an EU country to veto one. It said Britain would offer rewards to any country opposing an extension to negotiations. According to the Spectator, the U.K. would also threaten cooperation on areas including defense and security if it stays in the EU.Johnson Warned Against Big Tax Cuts as U.K. Faces No-Deal ShockNevertheless, the author seemed to accept that an extension was likely, and that Johnson would then fight an election, promising a no-deal Brexit immediately if he won.Talks about Johnson's Brexit plan, announced last week, are due to continue Tuesday in Brussels. The U.K. side has given more legal detail about how its plan would work, but EU leaders are still demanding that Britain drop its plan to introduce a customs border on the island of Ireland. There's an informal deadline for the talks of the end of this week. Johnson yesterday called counterparts in what Brexit minister James Duddridge told Parliament was an attempt to "whip up enthusiasm for the deal and avoid no-deal."Rules and QuestionsMeanwhile, Johnson's government has delayed publishing its rules for when it would be able to intervene to help businesses after a disagreement over what those rules should be.According to a person familiar with the plans, speaking on condition of anonymity, changes to state aid rules were going to be published Tuesday. That has now been held back.The precise nature of the disagreement isn't clear, but for months there has been an argument within government on the issue. The Treasury has argued that the European Union's rules should be copied into British law, to give businesses continuity, and to promote competition. EU rules aim to prevent governments from distorting markets by helping particular companies.On the other side of the argument are ministers who want the government to be able to help businesses struggling in the wake of a no-deal Brexit. Without the constraints of the EU's rule, the government would be able to back national champions, potentially undercutting rival European firms.To contact the reporter on this story: Robert Hutton in London at rhutton1@bloomberg.netTo contact the editors responsible for this story: Tim Ross at tross54@bloomberg.net, Robert JamesonFor more articles like this, please visit us at bloomberg.com©2019 Bloomberg L.P.
Cache
(Bloomberg) -- The U.S. and Japan signed a limited trade deal intended to boost markets for American farmers and give Tokyo assurances, for now, that President Donald Trump won't impose tariffs on auto imports.The accords on agriculture and digital trade cover about $55 billion worth of commerce between the world's largest- and third-biggest economies, U.S. Trade Representative Robert Lighthizer said at a ceremony in the Oval Office alongside Trump.The accord is a "game changer for our farmers" and ranchers, Trump said at the event.The goal is for the accord to take effect Jan. 1.Trump, who faces re-election next year, was eager to make a deal with Japan to appease U.S. farmers who have been largely shut out of the Chinese market as a result of his trade war with Beijing. American agricultural producers, also reeling from bad weather and low commodity prices, are a core component of Trump's political base.Under the deal, Japan will lower or reduce tariffs on some $7.2 billion of American-grown farming products, including beef and pork.Prime Minister Shinzo Abe's priority was to win a pledge that the U.S. won't slap tariffs on Japanese automobile exports, a sector valued at about $50 billion a year and a cornerstone of the country's economy.Read more: Click here for the most recent research from Bloomberg EconomicsThe written text of the deal doesn't explicitly cover auto tariffs, but Abe has said he received assurances that Japan would be spared from them.The proposed pact won't lower the barriers protecting Japan's rice farmers -- a powerful group supporting Abe's ruling Liberal Democratic Party. This could help the prime minster smooth the deal's course through parliament, where it must be ratified before coming into effect.The U.S. has said this agreement -- which was signed in principle on the sidelines of the United Nations General Assembly last month -- is just the first phase of a broader agreement.To contact the reporters on this story: Justin Sink in Washington at jsink1@bloomberg.net;Jennifer A. Dlouhy in Washington at jdlouhy1@bloomberg.net;Brendan Murray in London at brmurray@bloomberg.netTo contact the editors responsible for this story: Margaret Collins at mcollins45@bloomberg.net, Sarah McGregor, Robert JamesonFor more articles like this, please visit us at bloomberg.com©2019 Bloomberg L.P.
Cache
(Bloomberg) -- Follow @Brexit, sign up to our Brexit Bulletin, and tell us your Brexit story. As Brexit negotiations resumed in Brussels, Boris Johnson got a boost from the courts. A Scottish judge ruled in the prime minister's favor in a case that could have forced him to obey a law requiring him to delay Brexit if he can't reach a deal.But the lift may only be short-lived. The judge ignored the prime minister's frequent assertions he won't seek an extension and instead relied on assurances from government lawyers that he would obey the law. That may make it harder for Johnson to leave without a deal on Oct. 31.Key Developments:Johnson's lead negotiator, David Frost, is in Brussels for talks with European CommissionScottish judge rules in Johnson's favor after pledges over Brexit delayWhen This $2 Trillion Market Turns, Start Worrying About BrexitBrexit Deal Prospects Fade as Talks Stall, EU Signals PessimismJohnson Calls EU Counterparts to Urge Shift (4 p.m.)Boris Johnson spoke to his counterparts in Denmark, Sweden and Poland this afternoon, his office said. Brexit minister James Duddridge told Parliament the prime minister was trying to "whip up enthusiasm for the deal and avoid no-deal."Questioned over how the government would meet its apparently contradictory commitments to leave the EU by Oct. 31 and to abide by a law requiring it to seek a delay to Brexit if there isn't a deal, Johnson's spokesman James Slack told reporters: "The manner in which this is achieved is a matter for the government." he gave no further details.Government Won't Publish Brexit Legal Text (3:45 p.m.)Brexit Minister James Duddridge said the government won't make public the full legal 44-page text of its latest proposals to the EU.The full text "will only be published when doing so will assist with the negotiations," Duddridge told MPs after being questioned about the issue in the House of Commons. "We're not going to provide that legal text if it's going to get in the way of negotiations and get in the way of a deal."Keir Starmer, Brexit spokesman for the opposition Labour Party, said both Irish Prime Minister Leo Varadkar and European Commission President Jean-Claude Junker had asked for the document to be published. "The only party insisting on secrecy is the U.K. Government," he told lawmakers. "The question is obvious: What is the Government hiding?"No Deal Trade Burden at 8 Billion Pounds (1:30 p.m.)Businesses trading between the U.K. and European Union will face almost 8 billion pounds ($9.9 billion) of additional costs in a no-deal Brexit, according to new estimates by the U.K's tax and customs authority HMRC.Importers will pay a total of 3.8 billion pounds submitting the necessary customs declarations forms if the U.K. leaves the EU without a deal at the end of this month. Exporters' costs will rise to 3.9 billion pounds, HMRC said.The calculation shows the cost for one year and is based on 2017 trade flows. HMRC said it calculated that year's EU-U.K. trade flows as if they were carried out with the U.K. outside the bloc.Johnson Wins Scottish Challenge on Extension (12:55 p.m.)A Scottish judge refused to put further obligations on Boris Johnson, saying his "unequivocal assurances'' to seek an extension to the Brexit deadline were sufficient.At a hearing in Edinburgh on Friday, Johnson's lawyers promised he will obey a law that forces him to postpone Brexit. The claimants had argued that Johnson couldn't be trusted and should be forced to comply with the legislation under threat of a fine or imprisonment."I am not persuaded that it is necessary for the court to grant the orders sought or any variant of them," Judge Peter Cullen said while giving his ruling.Jo Maugham, one of the challengers, said he will appeal the decision.Johnson May Meet Varadkar As EU Seeks Progress (12:15 p.m.)Boris Johnson may try to meet with Irish Prime Minister Leo Varadkar in the coming days as he seeks to show progress in Brexit talks, according to a U.K. official speaking on condition of anonymity.The U.K. accepts both sides need to know where the proposals put forward by Johnson are heading by Friday, the person said. Both Varadkar and French President Emmanuel Macron signaled they want progress by the end of the week.If insufficient progress is made, then Johnson's plan may not even appear on the agenda for the Oct. 17-18 EU Council meeting, the person said.Brexit TimelineTime for EU to Compromise, U.K. Says (11:45 a.m.)Boris Johnson wants the EU to engage fully with his proposals for the Irish border and it's the bloc's turn to compromise, the prime minister's spokesman James Slack told reporters in London.Reiterating that he won't accept Northern Ireland being in a separate customs territory from the rest of the U.K., Slack said London has made compromises and expects Brussels to follow suit. He doubled-down on the premier's pledge to leave with or without a deal on Oct. 31."We are ready to talk with the EU at a pace to secure a deal so that we can move on and build a new partnership between the U.K. and the EU, but if this is to be possible, the EU must match the compromises that the U.K. has made," Slack told reporters. "The prime minister believes that we have set out a fair and sensible compromise."Johnson will call the leaders of Poland, Sweden and Denmark on Monday, Slack said.EU Demands 'Workable Solution' (11:35 a.m.)David Frost, the U.K.'s chief negotiator, is at the European Commission for Brexit talks today, commission spokeswoman Mina Andreeva said.The negotiations this week are "to give the U.K. the opportunity to present their proposals in more detail and then we'll take stock," she said.She added that the U.K. has to come up with "a workable solution now and not something based on untried and revocable arrangements."Scottish Ruling Expected at Noon (Earlier)The latest Scottish court ruling related to Brexit is expected at noon Monday. Politicians are seeking a ruling that forces Prime Minister Boris Johnson to obey a law that requires him to seek an extension if he can't reach a deal with the European Union.Jolyon Maugham, a lawyer backing the case, said there are two elements to the ruling. First, will the court order Johnson to act as the law dictates, which would create the possibility of fines or even a jail term if he fails?Second, is sending a letter requesting the extension -- which Johnson's lawyers have promised to do -- enough to comply with the law. Or could the court look at other actions by Johnson that might be seen as undermining the law?Earlier:Brexit Deal Prospects Fade as Talks Stall, EU Signals PessimismWhen This $2 Trillion Market Turns, Start Worrying About Brexit\--With assistance from Edward Evans, Anthony Aarons, Ian Wishart, Alex Morales and Jessica Shankleman.To contact the reporters on this story: Jonathan Browning in London at jbrowning9@bloomberg.net;Robert Hutton in London at rhutton1@bloomberg.netTo contact the editors responsible for this story: Tim Ross at tross54@bloomberg.net, Edward Evans, Thomas PennyFor more articles like this, please visit us at bloomberg.com©2019 Bloomberg L.P.
Cache
Springdale-based accounting firm Keen & Company CPAs PLLC has acquired the Fayetteville-based accounting practice of certified public accountant Wanda G. Lanier. Financial terms of the deal were n ... - Source: talkbusiness.net

Cache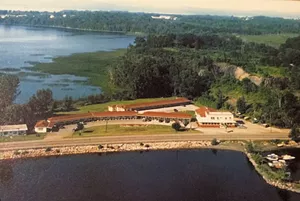 Conventional wisdom holds that the first three rules for choosing commercial real estate are location, location and location. If that's the case, what's the deal with the old Sand Bar Inn, a long-vacant motel on the west side of the Sandbar Causeway in South Hero? If ever a spot were prime for commercial ka-ching, this highly visible, 3.7-acre waterfront lot on Route 2 would seem to check all the boxes. It offers spectacular panoramic views of Lake Champlain and the Green Mountains, its own beach access on Outer Malletts Bay, boat slips directly across the road, and Sand Bar State Park about a mile away. It's close to two large population centers — Chittenden County and Montréal — accessible via Interstate 89, and situated in a year-round vacationers' paradise not yet saturated with lodgings and eateries. Developers would also be pleased to know that the site has all the necessary permits in place, no costly or time-consuming environmental review required, a rarity for lakefront development. And, according to its owners, it wouldn't need to be rezoned to accommodate a new motel, restaurant or residential community. Inexplicably, the Sand Bar Inn's website, last updated in 2007, still advertises cottages, lakefront dining, a marina and special events catering. The site even claims that the inn is currently "closed for renovations," though the only signs of repair on a recent July day were new windows installed at least a decade ago. But except for a weekend-long art installation in July 2018 at the inn, titled "From Away," by Burlington-based Overnight Projects, the dilapidated motel has sat unused and unvisited for 14 years, its paint peeling, its roof missing shingles and holes gaping in the siding. "I'm flabbergasted that no one has stepped up and tried to make a run at this property," said Yves Bradley, vice president of commercial brokerage at Pomerleau Real Estate in Burlington, which currently lists the property for sale at $795,000. "But it'll happen." The last decade notwithstanding, Bradley's optimism seems warranted. For nearly a century, the Sand Bar Inn was a popular restaurant and overnight spot for visitors to Grand Isle before it closed for good in 2005. Teresa Robinson, a retired history teacher and former president of the South Hero Historical Society, confirmed via email that the inn was built in 1900 by Benajah Phelps, a toll keeper who collected fares on Sandbar Bridge, a predecessor…

Cache
If the deal happens, it would take the two largest amusement park operators in America and make them one giant owner. Continue reading…

Cache
WASHINGTON – President Donald Trump is scheduled to sign a limited trade agreement Monday with Japan, a deal that would win back benefits American farmers lost when Trump pulled out of a broader Asia-Pacific pact his first week in office.
U.S. farmers have been operating at a disadvantage in Japan since Trump withdrew from the Trans-Pacific Partnership agreement, which had been negotiated by the Obama administration. The other 11 Pacific Rim countries, including big farm producers such as New Zealand and Canada, went ahead without the United States and were enjoying preferential treatment in Japan.
The Washington wheat industry welcomed the agreement when it was first announced last month. Japan traditionally has been among the biggest importers of the region's wheat.
"The main thing is it gets us to an equal footing with our competitors as far as a price standpoint. This is just great news," Michelle Hennings, executive director of the Washington Association of Wheat Growers, said at the time.
Trump earlier had put Washington wheat markets in jeopardy when he decided in 2017 to pull the United States out of the Trans-Pacific Partnership, which put U.S. wheat farmers at a graduating trade disadvantage to both Canada and Australia.
While rewarding American farmers, the new U.S.-Japan mini-deal does not resolve differences over trade in autos. Trump has said the two countries continue to work on a more comprehensive agreement.
Trump has threatened to impose import taxes on foreign autos, claiming they pose a threat to U.S. national security. At the U.N. general assembly, Japanese Prime Minister Shinzo Abe told reporters that Trump had assured him that a previous agreement to spare Japan from new auto tariffs still stood.
But Japanese automakers were disappointed that the United States kept existing auto tariffs at 2.5%.
The limited trade pact also includes market-opening commitments on $40 billion worth of digital trade between the two countries.
Trump has long complained by America's large trade deficit with Japan, which came to $58 billion last year. Japan is the world's third-biggest economy behind the United States and China.
The president was set to sign the deal at the White House Monday afternoon.
The news might sound familiar. The deal was first announced at the August Group of 7 summit in Biarritz, France. At the UN gathering last month, the two countries signed an agreement-in-principle. On Monday, Trump was scheduled to sign the final text.
Cache
Group Nine — the digital media company formed by the merger of Thrillist, NowThis, The Dodo and Seeker — just announced that it has reached an agreement to acquire women's lifestyle publisher PopSugar. The financial terms of the deal were not disclosed, but The Wall Street Journal reports that it's an all-stock transaction that values […]

Cache
The provincial government will spend $20 million a year to ensure hundreds of support staff who were laid off last month return to Ontario schools — and another $58 million annually to help create more support for special education students.
The tentative deal reached Sunday night between the province, school boards and 55,000 school support staff represented by the Canadian Union of Public Employees — who include educational assistants, early childhood educators, custodians and office staff — means the Toronto District School Board will be able to rehire dozens of workers who lost their jobs because of budget cuts.
For some, the new contract — and the more than $230 million in additional funding — bodes well for ongoing negotiations with teacher unions.
"I think (the CUPE deal) builds some momentum to drive positive deals for kids in this province," Education Minister Stephen Lecce said in a telephone interview Monday afternoon.
"I am going to remain cautiously optimistic there is a pathway," he added, if all sides are willing to negotiate in good faith.
Teachers, however — especially at the secondary level — are fighting a tougher battle with the province over larger class sizes and the resulting loss of thousands of jobs over the next four years, plus an unprecedented move to mandate four online courses in high school with even bigger student-teacher ratios.
Harvey Bischof, president of the Ontario Secondary School Teachers' Federation, said CUPE's deal could impact negotiations for his 60,000 members, who include teachers and some support staff.
"There is cause for some cautious optimism inasmuch as the government seems to have recognized the value for the services that staff provide in our schools," said Bischof. "It really depends on how they (the province) approach that teacher table … The government has launched very different kinds of attacks on different parts of the education system."
The Doug Ford government, he added, is "bent on slashing 10,000 teaching positions out of the system — one out of every four high school teachers — and there is no path forward without restoration."
Liz Stuart, president of the Ontario English Catholic Teachers Association, which represents 45,000 elementary, secondary and occasional teachers, said she is "hopeful we'll be able to achieve a deal for our members as well.
"At this point in time we feel we're engaged in productive dialogue," she said. "As long as the government and the trustees association come to the table and we're able to all bargain together in good faith, we have every hope that we, too, will be able to find a deal."
The three-year CUPE deal, which retains all sick day benefits but caps workers' wage increases at one per cent each year, was reached Sunday night after a weekend of last-ditch talks to stave off a strike Monday that would have shuttered hundreds of schools across the province.
For parents, the deal means "services return to their schools," said Laura Walton, who heads the union's school board unit. "Lots of those jobs went missing over the summer."
She said cleanliness standards should improve, more educational assistants will be in schools and libraries will be open longer.
Despite the deal, NDP Leader Andrea Horwath blasted Premier Ford for giving parents a weekend of "uncertainty."
"He needs to go back and reverse the cuts and invest in our education system," she told reporters. "We ended up on the brink of chaos (Sunday) night and that's no way to treat families or education workers for that matter."
During talks, the government had focused on sick days and short-term leave. CUPE workers take an average of more than 15 days off a year, which is costly and leads to a "revolving door" of staff for students to deal with, Lecce has said.
In the end, the sides agreed to a standardized medical form for any workers seeking to take time off beyond the 11 sick days that are paid at 100 per cent and dip into the 120-day short-term disability plan at 90 per cent pay.
The deal is said to provide consistency provincewide, given some boards had policies on doctor notes and others did not.
The $20-million fund will revive 300 full-time-equivalent positions with job protections for the life of the three-year contract — although there is an out for boards if enrolment declines or funding is cut.
The government also reinstated a yearly $58.3-million local priorities fund, which is mainly for educational assistants to aid students with special needs.
CUPE negotiated a separate $600,000 annual fund that will pay for custodians to work after-hours when community groups take out permits to use school facilities.
The government did not renew a professional development fund of roughly $4.5 million.
John Weatherup, president of Toronto Education Workers CUPE Local 4400, said the deal will see 60 to 70 special education staff back in the city's public schools.
"It still won't be enough, but at least it's putting people back into the classrooms," he said.
University of Toronto professor Charles Pascal, a former deputy minister of education, said "the pressure from parents and the public at large was clearly on the side of CUPE workers. And true to form, the minister ran to the front of the parade to take credit for avoiding a mess of his own creation."
Lecce, however, said no one at the negotiating table wanted to inconvenience families with a strike. He said the government focused on keeping kids in class and investing "in the front lines of education."
Markham mother Kimberly Clark was not expecting a resolution, so she lined up a week's worth of activities for her children — and because she's a real estate agent with flexible hours, she even offered to look after other kids.
When news of the deal broke late Sunday, her children begged her to keep a play date with friends on Monday, so Clark let them stay home.
"It's one day — it's not going to hurt, we'll keep our plans and go back to regular school (on Tuesday)," she said.
Kristin Rushowy is a Toronto-based reporter covering Ontario politics. Follow her on Twitter: @krushowy
Robert Benzie is the Star's Queen's Park bureau chief and a reporter covering Ontario politics. Follow him on Twitter: @robertbenzie
Isabel Teotonio is a Toronto-based reporter covering education. Follow her on Twitter: @Izzy74
Cache
And, of course, it's the double-barreled hypocrisy. There's the eco-hypocrisy of the Democratic leader who wags her finger at the rest of us for our too-big carbon footprints, and crusades for massive taxes and regulation to reduce global warming. Then there's the Bay Area hypocrisy of the woman who represents one of the most anti-military areas of the country soaking up military resources to shuttle her (and her many family members) across the country almost every weekend.
Remember: Pelosi's San Francisco is notorious for banning the Marines' Silent Drill Platoon from filming a recruitment commercial on its streets; killing the JROTC program in the public schools; blocking the retired battleship U.S.S. Iowa from docking in its waters; and attacking the Navy's Blue Angels -- which left-wing activists have tried to banish from northern California skies for the past two years.
Apparently, those anti-war protesters have no problem with evil military jets currying Pelosi and her massive entourages to the funerals of the late Rep. Stephanie Tubbs Jones and Charlie Norwood; foreign junkets to Rome; and politicized stops to Iowa flood sites to bash the Bush administration. One exasperated Department of Defense official, besieged with itinerary changes and shuttle requests back and forth between San Francisco International Airport and Andrews Air Force Base for Pelosi, her daughter, son-in-law and grandchild, wrote in an e-mail:
"They have a history of canceling many of their past requests. Any chance of politely querying (Pelosi's team) if they really intend to do all of these or are they just picking every weekend? ... (T)here's no need to block every weekend 'just in case.'"
Another official pointed out the "hidden costs" associated with the speaker's last-minute changes and cancellations. "We have ... folks prepping the jets and crews driving in (not a short drive for some), cooking meals and preflighting the jets etc." Upset that a specific type of aircraft was not available to her boss, a Pelosi staffer carped to the DoD coordinators: "This is not good news, and we will have some very disappointed folks, as well as a very upset speaker."
Three months ago, turmoil erupted over Queen Nancy's demand for the military to reposition her plane to fly out of Travis Air Force Base in Fairfield, Calif., closer to where she had "business," instead of San Francisco Airport/SFO (1.5 hours away). A special air missions official wrote: "We have never done this in the past. The deal is ... that the Speaker shuttle is from D.C. to SFO and back. We will not reposition. We do not reposition for convenience even for the SECDEF. It is not (too) far of a drive from Travis to SFO. Did the escort suggest to the speaker that this is OK? If so, I hope you guys correct them immediately. If you agree with me that I am correct, then you need to stay strong and present the facts to the speaker's office."
Another official stated bluntly: "We can't reposition the airplane such a short distance. It is not a judicial use of the asset. It is too expensive to operate the jet when there is truly no need to do so."
A beleaguered colleague responded: "(Y)ou know I understand and feel with you ... but this is a battle we are bound to lose if we tell the speaker office. In the end, this is what will happen. ... I wish that I could say this is a one-time request, but we know it will probably happen again in the future."
In the end, the military won that battle. But a few days later, Pelosi was back with a new demand: that her military plane taking her from D.C. to San Francisco make a stop in New Jersey to bring her and three Democrats to an "innovation forum" at Princeton University involving 21 participants and no audience. A Gulfstream jet was secured for the important "official business."
No word on whether Pelosi required vanilla-scented candles, Evian water and fresh white lilies aboard the flight. But rest assured: Air Diva traveled in style, courtesy of your tax dollars and the forbearance of the U.S. military.
Cache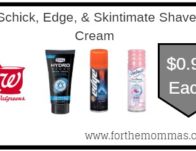 Walgreens: Schick, Edge, & Skintimate Shave Cream ONLY $0.99 Starting 10/13
Starting 10/13, Schick, Edge, or Skintimate Shave Cream will be priced at $2.99. Combine this sale price with a $1/1 Schick, Edge, or Skintimate Shave Cream coupon insert to further reduce the price. In addition to that you can also score 2,000 Bonus Points when you buy 2 to make the final price ONLY $0.99 each! Here are the deal details:
Walgreens Deal Starting 10/13:
Buy (2) Schick, Edge, or Skintimate Shave Cream $2.99
Use (2) $1/1 Schick, Edge, or Skintimate Shave Cream (SS 10/13/19)
Pay $3.98
Receive 2,000 Bonus Points when you buy 2
$1.98 or $0.99 each after coupons and Bonus Points
Get more such Walgreens Deals HERE
Here are more printable coupons that you can use at Walgreens:
Save $3.00 on any ONE (1) 44ct.
Continue reading Walgreens: Schick, Edge, & Skintimate Shave Cream ONLY $0.99 Starting 10/13 at FTM.
Cache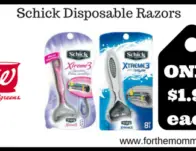 Walgreens: Schick Disposable Razor Packs ONLY $1.99 Each Starting 10/13
Starting 10/13, Schick Disposable Razors will be on sale for $5.99. Combine this sale price with a $3/1 Schick Disposables Razor Pack coupon insert to further reduce the price. In addition to that you can also score 2,000 Bonus Points when you buy 2 to make the final price ONLY $1.99 each! Here are the deal details:
Walgreens Deal Starting 10/13:
Buy (2) Schick Disposable Razor Packs $5.99 each
Use (2) $3/1 Schick Disposable Razor Packs (SS 10/13/19)
Pay $5.98
Receive 2,000 Bonus Points when you buy 2
$3.98 or $1.99 each after coupons and Bonus Points
Get more such Walgreens Deals HERE
Here are more printable coupons that you can use at Walgreens:
Save $3.00 on any ONE (1) 44ct.
Continue reading Walgreens: Schick Disposable Razor Packs ONLY $1.99 Each Starting 10/13 at FTM.
Cache
I love all the Style Steals deals from Cents of Style! The deal today is awesome – get a fun fall scarf for just $11.95 when you use coupon code COZYPLAID. Adding the coupon code makes the price just awesome! Get yours and add a fun new scarf&nb...

Cache
Have you thought about adding a few new games to the game cabinet this fall? How about a Monopoly game based on a crazy popular TV show? How about this deal?   Get on over to Best Buy and check out the deal on the Monoply Stranger Things Ed...

Cache
Need a new mixer? Have you been waiting for a deal on a KitchenAid? These bowl lift mixers are a kitchen favorite for so many people! Available in Red! How about this deal? Get on over to Best Buy and check out the deal – Save on the KitchenAid ...

Cache
Group Nine — the digital media company formed by the merger of Thrillist, NowThis, The Dodo and Seeker — just announced that it has reached an agreement to acquire women's lifestyle publisher PopSugar. The financial terms of the deal were not disclosed, but The Wall Street Journal reports that it's an all-stock transaction that values […]

Cache
Townhouse with Lucrative Commercial Component Standing Tall and Important, 119 East 38th Street is 1 of the most prominent Townhouses available for Sale. Situated right off Park Avenue, this location has been a superior location for some of the most prominent people throughout history. The Residence At approx 8000 square ft, spread over six floors this property is ideal for many who work from home or those who seek the deal structure where the income from the office space offsets the total carrying cost of the property. The 4 residential floors serviced by an elevator, consists of 4-five beds, Very spacious living room, Dining area, Chefs Kitchen, Breakfast Room and Garden Veranda overlooking other townhouse gardens and trees. The Main living room floor can host 150 people for a cocktail party and is 1 of the longest living spaces in a private residence in Manhattan. The upper levels have 4-five beds all with en suite -bathrooms.

Cache
From Ian:

---
Jonathan S. Tobin: Whatever Happened to the Palestinian 'Diplomatic Tsunami'?

At the United Nations, where once-hardened ex-generals like Barak quaked about the prospect of the world uniting to force Israel to accept a Palestinian state, the situation for the Jewish state's foes is particularly dismal. It's true that many UN agencies, like its Human Rights Council, are still cesspools of antisemitism and hypocrisy, focusing almost exclusively on bogus attacks on Israel while ignoring real human-rights catastrophes in countries around the world.

But as is the case elsewhere, the diplomatic isolation that Barak and so many others feared never happened. Indeed, as Israeli Ambassador to the United Nations Danny Danon recently wrote, the world body is no longer the "home court" for those who oppose Israel. The majority of member states joined the United States and Israel in condemning Hamas terrorism in the past year. In a variety of steps, both large and small, Israel's presence there has become normalized.

At the same time, the Palestinians have become more of an afterthought. It's probably better for Abbas that even the Palestinians' usual cheerleaders on the left paid no attention to his recent address at the UN General Assembly, where he spoke of his devotion to democracy and his plans to hold an election. Abbas is so devoted to democracy that he is currently serving the 15th year of a four-year term as president of the PA, to which he was elected in 2005. No one takes his talk of finally holding another vote seriously, since there is no way he would risk being defeated by his more radical Islamist rivals in Hamas, who currently rule Gaza.

The Arab and Muslim worlds may still be hotbeds of antisemitism and may have successfully exported their Jew-hatred to the West in the form of the BDS movement. However, Arab states have effectively dropped the Palestinian cause as a priority and instead are increasingly looking to Israel as an ally against Iran. Though they still pay some lip service to the Palestinian cause, the governments of Saudi Arabia, Jordan, and Egypt have little interest in creating another failed and unstable Arab state for the Palestinians.

To note these facts is not to deny that the ongoing conflict with the Palestinians is not going away and remains a serious problem. But as long as both the PA and Hamas are stuck in the mindset of their century-long war on Zionism, peace will have to wait until the Palestinians are ready to accept the legitimacy of a Jewish state.

The fact that the "tsunami" that so many Jews feared has fizzled into the BDS flop that can only intimidate someone like Lovato demonstrates that the conventional wisdom peddled by Israel's noisy critics shouldn't be taken seriously. Those who listen to the counsels of despair in 2011 have turned out to be as confused as a second-tier pop star.
FM confirms initiative to sign 'historic' non-aggression pact with Arab states
Foreign Minister Israel Katz on Sunday confirmed that he has been advancing non-aggression treaties with several Arab countries in the Gulf, a "historic" démarche he said could end the conflict between Jerusalem and those states.

"Recently I have been promoting, with the backing of the prime minister, a diplomatic initiative to sign 'non-aggression agreements' with the Arab Gulf states," Katz wrote on Twitter.

"It's a historic move that will end the conflict and enable civilian cooperation until the signing of peace agreements," he said, in what appeared to be a tacit acknowledgement that no Arab country is currently willing to establish full diplomatic relations with the Jewish state as long as the Israeli-Palestinian conflict remains unresolved.

Katz further confirmed that he presented his plan to several Arab foreign ministers during his visit to New York last week at the sidelines of the United Nations General Assembly. He also discussed the proposal with the US administration's outgoing special envoy for the peace process, Jason Greenblatt, Katz said.

"I will continue to work to strengthen Israel's standing in the region and around the world," he pledged.

Katz's tweet included a link to a report aired Saturday night by Channel 12, which first revealed the existence of the potentially groundbreaking initiative.
PMW: Fatah attempts to hide its terror promotion from Facebook

In fact PMW's reports show that Fatah does all of that and worse on its Facebook page, and PMW has pointed this out to Facebook more than once. Yet Facebook continues to leave the platform open for Fatah's terror promotion.

Fishman further explained that Facebook finds that governments and academics are acting too slow in terms of designating who are "terrorist actors" and therefore designates such themselves:
"We [Facebook] designate terrorist actors ourselves. This is pretty unique, but the reason we do this is because although there are a variety of lists of terrorist organizations in the world that are maintained by academics, that are maintained by governments, we find that academics and governments act too slowly. They don't actually maintain comprehensive lists in real time, and the expectation on us by our users and by the community globally is that we are able to respond to these things in near real time."

One can only marvel at the speed with which Facebook claims that it responds to terror promotion when looking at its inaction in the face of PMW's thorough documentation. Nine months ago Facebook was supplied by PMW with explicit evidence that Fatah's mission includes terror and violence. Yet in its statement to the Jerusalem Post last week Facebook said:
"We have received reports about potentially violating content on this page and, as we do with all such reports, are in the process of reviewing that content to determine whether it violates our policies."

Facebook boasting would be laughable, if its behavior was not life-threatening. Facebook claims to have a policy according to which "there may be no praise, support, or representation of a terrorist organization, a terrorist actor, a terrorist event," and boasts 'we are able to respond to these things in near real time."

In the case of Fatah, Facebook has failed repeatedly to deal with the terror promotion on its platform. Despite being provided with the evidence, Facebook did nothing to remove Fatah's terror glorifying and promoting posts. While their actions were no more than piece-meal, it appears that even Fatah accepted PMW's claim that many of their posts contained terror glorification and promotion and decided to take them down.

Facebook removes terror promotion in "real time," except when the murder of Israelis is being celebrated and promoted. For Israelis a full nine months is necessary and Facebook is still "in the process of reviewing that content," that clearly celebrates and promotes terror.

While Facebook is bragging about fighting terror, Palestinian terror is being embedded in the hearts and minds of the next generation of potential terrorists, thanks to Facebook.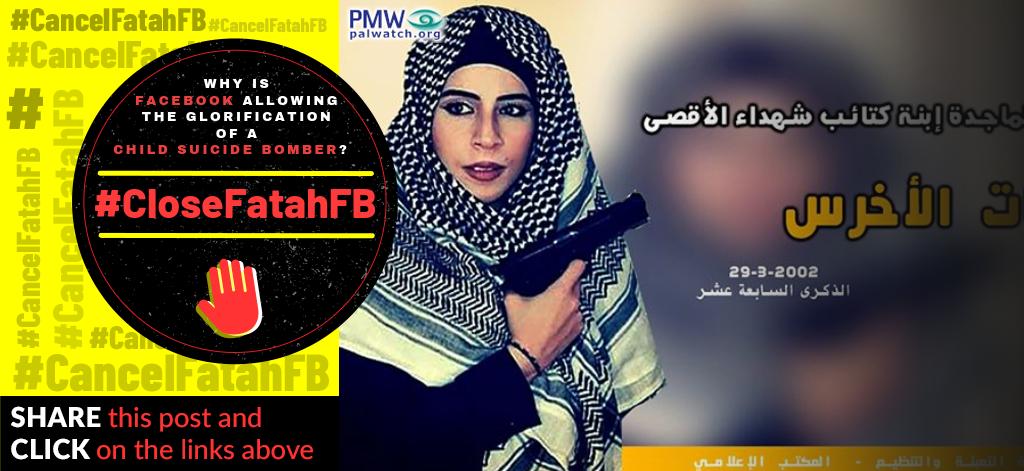 PA wipes peace agreements from schoolbooks, encourages incitement and intolerance
The Palestinian Authority has removed any mention of past agreements with Israel from their school textbooks, with the exception of the Oslo Accords, which are mentioned in far less detail than in previous editions of the schoolbooks, according to a new report by Yedioth Aharonot.

The new curriculum, which has been progressively implemented throughout the past three years, and the textbooks in particular, are studied between 1st and 12th grades in the West Bank, the Gaza Strip, east Jerusalem and refugee camps. They, unlike their previous editions, make no mention of the historical Jewish presence in Israel, and speak about every quarter in Jerusalem's Old City – except the Jewish Quarter.

The portions of the textbooks that do mention the Oslo Accords portray Israel in a negative light, claiming that "the Zionist occupation was forced to recognize the PLO after the First Intifada in 1987."

In addition, the old textbooks contained the full contents of the letter written in 1993 by then-PA chairman Yasser Arafat to then-Israeli prime minister Yitzhak Rabin, which detailed the values of peace between the Palestinians and the Israelis.

The new textbooks, however, censor the part in which Arafat writes that the declaration of principles "is the beginning of an era of coexistence in peace without violence and any action that may risk the peace."

The few times in which Israel is mentioned throughout the rest of the textbooks are in parentheses, a habit typically taken on to claim the illegitimacy of the state by extremist organizations such as Hamas and the Islamic Jihad, according to Mako.



Seth J. Frantzman: Trump gives green light to Turkey to take over Syria, displace U.S. partners

Turkey will soon move forward with its long-planned military operation to create what it calls a "safe zone" in northern Syria – and U.S. forces will not support or be involved in it, the White House press secretary announced early Monday morning. The move is an extraordinary reversal of US policy that leaves America's allies wondering whether they can still rely on the Trump administration.

The statement came after Turkish President Tayyip Erdogan and US President Donald Trump discussed in a phone call Turkey's plans to establish a "safe zone" east of the Euphrates River in Syria. For four years, the US and mostly Kurdish fighters have fought and defeated Islamic State in northeast Syria.

The White House decision will effectively displace the partner forces the US had been working with. For more than a year and a half, Trump has been seeking to leave Syria. In the midst of the impeachment crisis, he has now made the decision to sacrifice US allies in the war on ISIS as opposed to pressuring Ankara with diplomatic means.

"Turkey will soon be moving forward with its long-planned operation into Northern Syria," the White House press secretary said in a statement.

"The United States Armed Forces will not support or be involved in the operation, and United States forces, having defeated the ISIS territorial 'Caliphate,' will no longer be in the immediate area," it added.

The White House looks at the overall picture in eastern Syria, not as one in which the US fought and sacrificed alongside Kurdish partner forces, but as a simple transactional issue.

In this view, the US has no interests in eastern Syria, except the ISIS fighters. Washington has no interests in creating stability, preventing Iranian influence, defending its partners, preventing ethnic cleansing or the destruction of property, or in managing the crisis. Instead, it decided that its mission was tailored and narrow, and nothing beyond the ISIS issue.
US Throws Kurdish Allies Under the Bus; Turkey "Opens the Floodgates" to Europe
Turkey's Erdogan government will be invading northern Syria to slaughter the Kurds, America's loyal allies against ISIS; release captured ISIS fighters, and doubtless seek to stay permanently in control of the area. The horror is that it will be doing all this with the tacit blessing of the US.

"I am saying this today: We have not got the required support from the world -- particularly from the EU -- to share the burden of the refugees we have been hosting, so we might have to [open the gates] to get the support." — Turkish President Recep Tayyip Erdogan, Takvim, September 5, 2019

"If we open the floodgates, no European government will be able to survive for more than six months. We advise them not to try our patience." — Turkish Interior Minister Süleyman Soylu, Anadolu Agency, July 21, 2019.

Erdogan's threats are not new... and his claims are flawed.... Ankara has not lived up to its commitments.

"The most important question is why the refugee camps are not open to civil monitoring. Entry to refugee camps is not allowed. The camps are not transparent. There are many allegations as to what is happening in them. We are therefore worried about what they are hiding from us." — Cansu Turan, a social worker with the Human Rights Foundation of Turkey (TIHV), to Gatestone Institute, August 2016.

"Turkish authorities are detaining and coercing Syrians into signing forms saying they want to return to Syria and then forcibly returning them there." — Human Rights Watch, July 2019.
Netanyahu says cooperation with Russia 'critical' with U.S. to leave Syria
Israel has "great challenges around us" and it's cooperation with Russia is "critical," Prime Minister Benjamin Netanyahu said on Monday, a day after US President Donald Trump announced his intention to withdraw troops from Syria and allow a Turkish incursion there against Kurdish forces.

Netanyahu made the comments at a holiday toast with workers in his office, during which he relayed that he just had a telephone conversation with Russian President Vladimir Putin. Netanyahu phoned Putin to wish him a happy birthday.

"I met with him a few weeks ago about issues that are important for the security of the State of Israel, and this conversation as well was important to Israel's security," he said. Though he did not provide details, the Netanyahu-Putin conversation is believed to have dealt with the changing dynamics in Syria resulting from the White House's dramatic announcement on Sunday.

"We have great challenges around us, but we enjoy important cooperation and coordination with Russia, something that is critical for us, and which we will continue to deal with," he said.
Lindsey Graham, Nikki Haley on Trump's Syria plan: Disaster in the making
The Trump administration's move, which opens the way for a Turkish strike on Kurdish fighters long aligned with Washington, runs counter to the positions of even some of Trump's top allies in his own party.

Lindsey Graham, a Republican senator who is generally a vocal Trump supporter, wrote in a series of Twitter posts that he was trying to set up a call with Secretary of State Mike Pompeo and would introduce a Senate resolution opposing the withdrawal decision and calling for it to be reversed.

"It's never in our national security interest to abandon an ally who's helped us fight ISIS," Graham said in an interview with Fox News Channel, using an acronym for Islamic State.

"This impulsive decision by the president has undone all the gains we've made, thrown the region into further chaos."

Former US Ambassador the United Nations, Nikki Haley also responded on Twitter, saying, "We must always have the backs of our allies, if we expect them to have our back. The Kurds were instrumental in our successful fight against ISIS in Syria. Leaving them to die is a big mistake."

Republican Senator Marco Rubio tweeted that "If reports about US retreat in #Syria are accurate, the Trump administration has made a grave mistake that will have implications far beyond Syria."
US troops begin Syria pullout as Turkey readies offensive, alarming Kurds
US-backed Kurdish-led forces in Syria said American troops began withdrawing Monday from northeast Syria ahead of a Turkish invasion that the Kurds say will overturn five years of achievements in the battle against the Islamic State terror group.

The Syrian Kurdish fighters also accused Washington of failing to abide by its commitments to its key allies in the fight against IS. It's a major shift in US policy.

The American withdrawal came just hours after the White House said US forces in northeastern Syria will move aside and clear the way for an expected Turkish assault — essentially abandoning Kurdish fighters who fought alongside American forces in the years-long battle to defeat IS.

Turkish President Recep Tayyip Erdogan has threatened for months to launch the military operation across the border. He views the Syria Kurdish forces as a threat to his country as Ankara has struggled with a Kurdish insurgency within Turkey.

Turkish Foreign Minister Mevlut Cavusoglu said that Turkey was "determined to ensure our country's existence and security by clearing terrorists from this region."

"From the start of the Syria war, we have supported that country's territorial integrity and will continue to do so from now on," Cavusoglu wrote on Twitter. "We will contribute to bring serenity, peace and stability to Syria."
UN 'preparing for the worst' from Turkey's Syria operation
The United Nations said Monday it was "preparing for the worst" in northeast Syria after the United States said it would step aside to allow for Turkish military operations in the area.

"We don't know what is going to happen… we are preparing for the worst," UN regional humanitarian coordinator for Syria, Panos Moumtzis, said in Geneva, stressing that there were "a lot of unanswered questions" about the consequences of the operation.

Moumtzis added that the UN was "in contact with all sides" on the ground.

But he made clear his office did not have advance warning about the US decision that effectively abandons the Kurds, who were Washington's main ally in the long battle against the so-called Islamic State group.

Moumtzis said the UN's priorities were to ensure that any prospective Turkish offensive not result in new displacements, that humanitarian access remain unhindered and that no restrictions be put in place on freedom of movement.

The UN has a contingency plan to address additional civilian suffering, but "hopes that will not be used," Moumtzis said.
No joke: Iran FM Zarif — whose military exercises control or influence in Syria, Iraq, Lebanon & Yemen — called on Turkey to respect the "sovereignty and territorial integrity" of other countries.https://t.co/i65vK1NpEV

— Hillel Neuer (@HillelNeuer) October 6, 2019
Netanyahu: Israel Needs Air Defense System Against Iranian Cruise Missiles
In a cabinet meeting on Sunday, Prime Minister Benjamin Netanyahu proposed a massive air defense system to defend against Iranian attacks, especially cruise missiles like those used in attacks on a Saudi Arabian oil facility last month, according to KAN.

Last month, cruise missiles and explosive drones were used in an attack on two plants at the heart of Saudi Arabia's oil industry, including the world's biggest petroleum processing facility.

The United States, Saudi Arabia, Britain, France and Germany have publicly blamed the attack on Iran, which denies involvement in the strike.

The attacks on the two facilities cut Saudi Arabia's crude oil supply by around 5.7 million barrels per day, or about 50% of its output.

The plan proposed by Netanyahu will cost billions of shekels. Some of the funds for the project won't be allocated officially until after a government is formed, assuming that there aren't third elections.

The funds for the project will either come from cuts within the security establishment or from funds cut from social services. According to KAN, it's more likely that the funds will be taken from social services.
Iran unveils kit to convert artillery rockets into guided missiles
The Iranian military says it has produced a new conversion kit to upgrade artillery rockets to surface-to-surface missiles, technology that Israel has accused Tehran of attempting to deliver to the Hezbollah terror group.

The Iranians unveiled the new guidance system upgrade, called Labeik, at an event Thursday at which a number of new military technologies were showcased, according to Jane's Defence Weekly.

Jane's reported that Labeik appeared similar to the guidance systems on the Fateh-110 series of rockets, many of which are believed to be in the hands of Hezbollah in Lebanon. According to the report, the new system also looks to be compatible with Zelzal heavy artillery rockets.

Video footage of the new conversion system aired on Iranian television shows a short body featuring four inverted fins that can be fitted between the rocket and its payload.

According to Iran's Fars News, the "anti-armor 'Labeik 1' missiles… enjoy precision-striking power."

"There is nothing new in the conversion itself, they have been doing it for years, and they already showed conversion kits for the Fatah 110 family of missiles," Uzi Rubin, one of the pioneers of Israel's earliest attempts at missile defense, told The Times of Israel.

"What's new here are the aerodynamics of the winglets — very unique, unseen in Iran to date and unseen in any other country. Going to indigenous design rather than copying others indicates self-confidence. The purpose of the new and unique aerodynamics is probably to increase the maneuverability of the converted rockets."
Congresswoman: Antisemitism, Iran threat highlight need for US-Israel ties
Growing global antisemitism and the dangers of Iran make it more important than ever that the US maintain close ties to Israel, leading Republican Representative Ann Wagner of Missouri said during a speech on the floor of the House of Representatives, in which she spoke against BDS and promoted joint Palestinian-Israeli business ventures over the Green Line.

"Israel is deeply invested in achieving peace in the Middle East, and so is the United States of America," said Wagner, who is a member of the US House Foreign Affairs Committee. "And we will all stand collectively with Israel as they work toward the achievement of this goal."

At "a time of heightened antisemitism that we are seeing across the globe, it is more important than ever that we maintain a strong connection to this very key ally of ours in Israel," said Wagner. Such a stance is also significant given that Iran is threatening Israel, including through its proxies Hezbollah and Hamas.

Part of a small congressional delegation that traveled to Israel in August, Wagner was on a trip sponsored by the US Israel Education Association (USIEA). The trip focused on security issues and the work of the Judea and Samaria Chamber of Commerce and Industry, co-led by Avi Zimmerman of the Ariel settlement and Ashraf Jabari of Hebron.

According to the chamber, it has a membership of some 250 Israeli and 250 Palestinian business people. Jabari was among a small number of Palestinian entrepreneurs who attended the US-led economic workshop in Manama, Bahrain, in June.
'The days of the Ottoman Empire are over'
Foreign Minister Yisrael Katz has ordered his office to draw up plans to stop the Turkish government's efforts to undermine Israeli sovereignty in Jerusalem and protect Jordan's special status as guardian of Muslim holy sites in the city.

Katz intends to present the plan to Prime Minister Benjamin Netanyahu soon, so he can authorize its implementation. Due to the sensitivity of the plan, whose implementation will almost certainly lead to a direct confrontation with Ankara, it is also expected to be raised for discussion by the Diplomatic-Security Cabinet. According to ministry officials, as the plan pertains to security matters, there is nothing preventing it from being implemented by a transition government.

The issue of Turkey's influence on members of Jerusalem's Arab population has weighed on security and diplomatic officials' minds for years. As Israel Hayom has previously reported, Turkish President Recep Tayyip Erdoğan has been buying influence over sites and prominent figures in east Jerusalem for years. Nevertheless, Jerusalem has not made any effort to challenge these efforts up until now.

The Foreign Ministry's plan would see the Muslim Brotherhood, which has close ties to Erdoğan's Justice and Development party, deemed an illegal association in Israel. Further ministry recommendations for thwarting Ankara's efforts include restricting the activities of the Turkish Cooperation and Coordination Agency, or TIKA, in Israel. The organization, whose stated objective is "preventing the Judaization of Jerusalem," spends some $12 million annually on activities aimed at undermining Israeli sovereignty in east Jerusalem. It should be noted that these activities are personally managed by Erdoğan.

The plan's architects propose obligating TIKA to coordinate its activities with Israel in advance and preventing the association from act unequivocally in Jerusalem. In addition, they propose Jerusalem not renew the head of TIKA in Jerusalem's, a move that would strip the organization head of his diplomatic status in Israel and render his presence in Israel illegal.

Additional steps would include restricting communications between members of the Islamic Waqf.
How to get Erdogan off the Temple Mount
This is why a new plan from Foreign Minister Yisrael Katz should be seen more as a declaration of intent and less as an operational plan. For the plan to take effect, defense and security officials who have been dealing with the issue for several years already must supply the top political echelon with evidence. Anyone who wants, for example, to limit the activity of TIKA, a well-endowed Turkish government agency, in Jerusalem will have to first prove that its activity goes beyond the bounds of civil/community service and slides into violence and incitement. Thus far, no evidence of that has been found, although attempts have been made to do so.

The steps the Foreign Ministry wants to take against the worldwide Muslim Brotherhood organization could also turn out to be complicated. It's doubtful whether Israel can point to direct activity by the Muslim Brotherhood. On the other hand, it is definitely possible to identify violent activity by groups or individuals with ideological links to the Brotherhood or its international headquarters in London. Steps have been taken against the Muslim Brotherhood in the past, and we can assume that more will be done in the future. Only recently, two female rioters were barred from the Temple Mount for a period of six months.

It looks like the best way to fight Erdoğan, who is hostile to Israel and trying to buy influence in Jerusalem, is to continue to expose Turkey's ties to Hamas. For years, Turkey has served as a haven for Hamas terrorists and commanders. For years, terrorist attacks or attempted terrorist attacks on both sides of the Green Line have been initiated and directed from Turkish territory. Erdoğan has repeatedly made it clear that as far as he is concerned, Hamas is not a terrorist organization, but the facts on the ground prove differently. Dozens of Hamas cells handled from Turkey have been exposed over the past few years, and the Shin Bet recently reported, "Turkey contributes to the military empowerment of Hamas, through methods that include the SADAT company, which was founded on the orders of Adnan Basha, a close advisor to government officials in Turkey."

This is where Israel has to operate, both operationally and in terms of public diplomacy and traditional diplomacy. The Turkish nonprofits active in Jerusalem are tough to check unless legislative changes can be made that alter the definition of "hostile" activity in Jerusalem, the capital of Israel.
Israel backs Cyprus as Turkey moves gas drill into its waters
Israel's envoy to Cyprus on Monday expressed backing for the Mediterranean island state after Turkey moved a gas drilling rig into Cypriot waters last week.

"Friends should stick with each other," Ambassador Sammy Revel tweeted.

He added that Israel is "following closely and with concern" the Turkish move.

Revel's comments come after Cyprus lashed out at Turkey's new attempt to drill for gas in Cypriot waters where European energy companies are already licensed to conduct a search, calling it a "severe escalation" and vowing to fight the move.

Israel and Turkey, once close allies, have had increasingly strained relations since Turkish President Recep Tayyip Erdogan became the country's leader. Erdogan is a staunch supporter of the Palestinians and launches frequent verbal attacks on the Jewish state.

Israel also voiced support for Cyprus in July over Turkish operations in the country's exclusive economic zone.

Israel, Cyprus and Greece have forged an energy-based partnership that has steadily grown following the discovery of gas deposits in the eastern Mediterranean. The United States began joining the talks earlier this year.
German Jews blast WJC's decision to give Merkel the Herzl Award
Members of Germany's Jewish community are speaking out against the World Jewish Congress's decision to honor Chancellor Angela Merkel with its prestigious Herzl Award.

Every year, the organization bestows the award to figures who act to promote Zionist visionary Theodor Herzl's "ideas for the creation of a safer and more tolerant world for Jews."

Along with Merkel, former US Ambassador to the UN Nikki Haley has also been selected for the award, which the two women are set to receive in separate ceremonies.

However, the announcement of WJC's plan to honor Merkel with the award has been met with piercing criticism from members of Germany's Jewish community, who note the change in Merkel's stance toward Israel in recent years, her support for the 2015 nuclear deal, and the increasing sense among the country's Jews that Berlin is not doing an adequate job of contending with the growing threat to Jews as a result of the anti-Semitic views of Arab and Muslim migrants to the country.

Among the points of contention raised by the local Jewish community: Germany's continued pattern of voting against Israel in UN and other international bodies; Berlin's continued funding for organizations that support the boycott, divestment, and sanctions movement; its refusal to ban Hezbollah activities in the country; and Germany's increased financial support for UNRWA, the UN agency for Palestinian refugees, without conditioning those funds on the cessation of incitement against Israel. There also those who cite Merkel's vocal opposition to US President Donald Trump's recognition of Jerusalem as Israel's official capital and Israeli sovereignty over the Golan Heights.
IDF Sets Up New Anti-Tunnel Company to Detect, Destroy Threats in Israel's North
The Israel Defense Forces have set up a special engineering corps company to discover and prevent terror tunnels dug across Israel's northern border from Lebanon.

The new company is intended to deal with the long-term threat from tunneling attempts by Hezbollah, Israeli news website Mako reported on Sunday. It will use cutting edge technology to do so, most of it tested on Hamas tunnels dug from Gaza, but adapted to the northern terrain, which is quite different.

The main tactic employed by the company is the use of new technology, and as a result is heavily invested in research and development.

One department deals with developing technologies to detect tunnels and tunnel digging activity, while another examines the practical engineering means of interdicting and destroying them.

The head of the company, Captain Moshe Asraf, said it was established according to the "lessons" learned during last year's Operation Northern Shield, during which he served as a commander in the engineering corps.
Arabs Hurl Firebombs, Burn Tires as Jews Pray at Joseph's Tomb
Dozens of Palestinians rioted on Sunday night following the pilgrimage of some 1,000 Jews, under Israeli security escort, to the Tomb of Joseph in Shechem/Nablus to pray. The rioters threw firebombs and burning tires at security personnel.

Israeli security forces responded with riot dispersal methods.

There were no Israeli reports of casualties during the incident, however the PA's Wafa news agency reported that seven rioters were wounded after "Israeli forces escorted a convoy of buses packed with over a thousand fanatic Jewish settlers to the site, located in the Palestinian-controlled area, sparking confrontations with Palestinian residents."

Wafa stated that the injured Palestinians had been "protesting" the "raid" and "attempting to block settlers' access to the site"

"Among the settlers who raided the site were Israeli Minister of Economy and Industry Eli Cohen, leader of the council of settlers in the occupied West Bank Yossi Dagan, and Knesset member Moshe Arbel," Wafa reported.
Palestinian Authority Continues to Pay Salaries to Terrorists
Abbas' remarks, which were less acerbic in tone than those he made in previous addresses to the General Assembly, reflected a concern over the ineffectiveness of his policies and the sidelining of the Palestinian issue from the international, regional, and Israeli agenda.

It is also nevertheless evident from Abbas' remarks that he does not intend to bend as far as his fundamental positions on the conflict are concerned. This was given clear expression in Abbas' stated enthusiastic commitment to continue to pay salaries to Palestinian terrorists and their families, despite the fact that Israel has deducted this amount from the tax revenues it transfers to Ramallah. While there is nothing new about this declaration, Abbas' decision to repeat it in a major international forum is indicative of the PA chairman's commitment to the expectations of the Palestinian street, as he perceives and shapes it.

In practice, despite the cuts in the transferred funds and the Palestinian decision to avoid accepting a further installment of payments Israel is willing to transfer, the PA continues to pay these terrorist salaries as usual. According to the PA budget implementation report for 2019, the Palestinian Authority transferred 276 million shekels (around $79 million) in payments – i.e., salaries – and another 75 million shekels (around $22 million) in "social" payments to families, family expenses, medical insurance coverage, and legal expenses, among other things. In total, the PA Prisoner Affairs Ministry spent some 364 million shekels ($105 million) on these terrorist payments.

These numbers reveal that the PA's payments to terrorists in 2019 were similar in scope to those made the previous year. The significance of this is that despite increasing pressure, the Palestinians are sticking to their guns, as it were, and as a result, the chances of the PA
becoming a partner for peace under Abbas' leadership continue to be slim to none.
Khaled Abu Toameh: Shtayyeh: We received NIS 1.5 billion from Israel

The crisis between Israel and the Palestinian Authority over Israeli deductions of payments made to security prisoners and families of Palestinians killed while carrying out attacks against Israelis remains unresolved, PA Prime Minister Mohammad Shtayyeh said on Monday.

Speaking at the weekly meeting of his cabinet in Ramallah, Shtayyeh announced that the PA has received NIS 1.5 billion from Israel in accordance with the deal reached between the two sides last week.

"The problem with Israel [over the funds withheld by Israel] has not been resolved until this moment," Shtayyeh said. "There is no government in Israel that is capable of making a political decision on this matter."

Despite Israel's decision to deduct the payments from the tax revenues it collects on behalf of the Palestinians, the PA government continues to fulfill its duties toward the prisoners and the families of the "martyrs," Shtayyeh said, and the PA government will remain committed to paying salaries to the families of the prisoners and "martyrs."

PA President Mahmoud Abbas also said that the PA's position regarding payments to the security prisoners and families of "martyrs" remains unchanged.
Abbas says he'll discuss elections with Hamas, factions but provides no timeline
Palestinian Authority President Mahmoud Abbas said Sunday that he would discuss plans for new parliamentary elections with all factions, including longtime rivals Hamas.

Meeting with senior Palestinian leaders in the PA's administrative capital of Ramallah in the West Bank, Abbas renewed a pledge to hold the polls — the first since 2006 — but without giving a timeframe.

He announced that they had formed committees to "communicate with the election commission and factions such as Hamas and all factions, as well as with the Israeli authorities."

He said any elections should take place in "the West Bank, Jerusalem and the Gaza Strip."

Hamas and Fatah have been at loggerheads since 2007, when the terror group seized Gaza and threw out Abbas's forces, which retained control of the internationally recognized Palestinian government, based in the West Bank.

No parliamentary elections have been held since 2006, with the two sides trading blame.
Khaled Abu Toameh: What Iran's Friends Are Doing in Gaza

In other words, Islamic Jihad's promise is one of unending toxicity: to go on poisoning the hearts and minds of generation after generation of Palestinians – as well as to continue investing millions of dollars in building tunnels and amassing weapons to ensure that the fight against Israel continues forever.

"The policy of resistance and jihad is the genuine policy to liberate all Palestine, and the Palestinian people will not abandon this path. We will not accept any agreement that contradicts the project of jihad and liberation. Under no circumstances will we give up one inch of the land of Palestine." -- Senior Hamas official Salah Bardaweel.

For [Hamas and Islamic Jihad] , a ceasefire means further amassing weapons and preparing their people for war without worrying about Israeli military action. When will the international community pull its head out of the sand in which it has so long been buried and understand that with organizations such as Hamas and Islamic Jihad running the show, the Gaza Strip will remain the humanitarian disaster that is so bitterly blamed on Israel?
Commander of Gaza-Based Fatah Splinter Group: Fatah Is the Leader of the Armed Struggle pic.twitter.com/ABBhc3ajRQ

— MEMRI (@MEMRIReports) October 7, 2019
Lebanon arrests Syrian for making phone calls to Israel
Lebanese authorities have arrested a Syrian national accused of having made phone calls to neighboring Israel, the army said Friday.

An army statement said the suspect, who was not identified, was referred to court for "contacting Israeli phone numbers and communicating with Israelis present in the occupied Palestinian territories." It did not elaborate.

Lebanon is home to tens of thousands of Syrian refugees who fled the war raging in their country.

In August, tensions spiked between Lebanon and Israel after two drones packed with explosives were sent into the Beirut bastion of the Shiite movement Hezbollah.

Iran-backed Hezbollah and the Lebanese army accused Israel of being behind the drone launch.

Lebanon's government and Hezbollah chief Hassan Nasrallah both described the apparently botched operation as an act of aggression.

A few days after the August 25 drone incident in Beirut, the army opened fire on Israeli drones flying over southern Lebanon.
Does Iran's Leader Leave Room for Iran's Return to the Negotiating Table?
At the same time, over the past few weeks, there have been increasing calls from senior religious figures in Iran and the leadership of the Iranian Revolutionary Guard for the destruction of the State of Israel. This is similar to statements issued by the Supreme Leader in 2016 that Israel would cease to exist in another 25 years. It is possible that this round of criticism against Israel serves a smokescreen while negotiations are taking place between Iran and the United States to enable Iran's return to the nuclear deal.

In any case, by November 7, 2019, a further reduction is expected in Iran's commitment to the nuclear agreement (including the enrichment of uranium to 20 percent and even higher). There is a window of opportunity for diplomacy and European efforts to try what has failed until now – to promise economic compensation to Iran for the American sanctions or alternatively to bring Washington back to the negotiating table. Iran's oppositional regional policy (against Israel and Saudi Arabia, in Yemen, Iraq, and Syria) will apparently make it harder for Europe and the United States to advance the negotiations with Iran. However, in the past, Europe has shown that it is prepared to ignore repeated violations of human rights in Iran, such as its role in terror activities (including within European territory!), to fulfill the nuclear agreement, which eventually leads to investment and economic cooperation with Iran. Iran is well aware of Europe's modus operandi and uses it and U.S. weakness to achieve maximum profit to renew negotiations regarding the nuclear agreement.

"Today, the Nuclear Deal Is in the Intensive Care Unit"
In this regard, Abbas Aragchi, deputy foreign minister and one of the patrons of the nuclear deal, stated at a ceremony marking the 30th anniversary of the opening of the German embassy in Tehran that, "today the nuclear deal is in the intensive care unit." He added that to save it, cooperation was necessary between the P5+1 states. This could "bring down the walls of American sanctions and one-sided policies, which have become its weapon against independent countries." According to him, Iran, along with the European countries, China, and Russia, are attempting to reach a balanced agreement through negotiations, but because of America's one-sided policies, this balance has been violated and lost.5
Iran says Russian journalist held over visa issue, not Israel spy claim
Iran has confirmed the arrest last week in Tehran of a Russian journalist, saying the case was a matter of a visa violation.

Government spokesman Ali Rabiei told reporters that Yulia Yuzik's case is under "quick review" by authorities and wasn't related to matters concerning the "counter-espionage" department. Her ex-husband said last week she had been arrested for allegedly spying for Israel.

The Russian Embassy in Tehran said on Friday that Yuzik flew into Tehran the previous Sunday and that Iranian officials seized her passport at the airport for unknown reasons. She was arrested from her hotel room on Wednesday.

The Russian foreign ministry summoned the Iranian ambassador to Moscow to explain Yuzik's arrest.

Prior to her arrest, Yuzik posted photographs from her trip on Instagram, saying she loved being in Iran.
Houthi Military Expert Lieutenant-General Abed Al-Thour: UAE Like a Cave Full of Bats; We Can Destroy It; UAE Soldiers Will Have No Place to Return to pic.twitter.com/Xm1qkIU7vD

— MEMRI (@MEMRIReports) October 7, 2019
Houthi Political Bureau Member Muhammad Al-Bakhiti: If Saudi Arabia Doesn't Stop Its Aggression, We Might Launch an Offensive Campaign to Reach Riyadh, Topple the Saudi Regime pic.twitter.com/tFFGhqiywX

— MEMRI (@MEMRIReports) October 7, 2019
---
---
We have lots of ideas, but we need more resources to be even more effective. Please donate today to help get the message out and to help defend Israel.

Cache
From Ian:

---
Seth Frantzman: Israel appears strong, but there are risks ahead

BUT ISRAEL has some issues on the horizon that, if they would come together at the wrong time, would be a perfect storm. Among these is the increasing hostility of Turkey. Ankara has become more nationalist and religious-nationalist, a toxic mix. It is flexing its muscles, taking over swaths of northern Syria and seeking to keep on track to totally remove the Americans from the region. That would be a setback for the US – and setbacks for the US also impact Israel. Turkey is buying the S-400, not in itself a problem for Israel. Ostensibly, both Ankara and Jerusalem have an interesting relationship with Moscow today, borne of Russia's increased role in the region, particularly in Syria.

Russia's role in Turkey is strategic and also related to energy and Syria. This can impact Israel in a complex way. Turkey's current government is seeking to take up the mantle of being the main opposition to Israel in the region. It bashes Israel over Jerusalem, and its media run hyperbolic stories about Israeli abuses. Turkey is close to the Muslim Brotherhood today and wants to see Hamas have a more prominent role in Ramallah. Yet Israel can deal with Turkey's anger. The question is whether it can deal with the emerging Turkey-Iran relationship.

Iran has been a challenge for Israel due to a variety of reasons, but lately it is capitalizing on the weakness of its adversaries. That means it is increasingly playing a role in Iraq, Lebanon, Syria and Yemen. That means it is transferring precision missile technology to Hezbollah.

Iran's IRGC says that it can destroy Israel. It launched an attack on Saudi Arabia on September 14 that has ramifications for Israel. That Riyadh did not respond shows that Israel's supposed common interests with the Gulf are more problematic than in reality. Saudi Arabia won't confront Iran. So who will confront Iran? The US? No. The US has signaled it will not. And the next US administration may be more pro-Iran than this one. That could give Tehran what it wants in Syria, which means a kind of "land bridge" that ends near the Golan and threatens Israel.

What Israel faces today is potentially two strong adversaries in Turkey and Iran, although they are quite different in how they confront Israel. Turkey uses soft power; Iran uses hard power. But Israel, appearing strong, now faces these challenges in some ways alone. It is not like the 1950s, when Israel was truly alone. Israel has made major inroads in India, China and elsewhere. But the immediate challenges are still there. It is dangerous to be too confident and arrogant today, and it is essential that Jerusalem seek to analyze and deal with these challenges in the long-term because short term planning won't work. Iran thinks in the long term – and its role in the region is a long-term role.
Jpost Editorial: No Third Election

Against that backdrop, the 22nd Knesset was sworn in on Thursday in Jerusalem. Many are wondering if, like the 21st Knesset, it will also last for less than two months and perhaps become the shortest-lived legislature in Israel's history.

As the Post's Lahav Harkov pointed out on Wednesday, there are only eight new members of this Knesset, as well as another nine who are returning from past stints as legislators, which means that 103 members of the 22nd Knesset will be sworn in for the second time this year.

A proud institution, the Knesset is in danger of becoming a laughing stock. But it's no joke. Israel needs a stable government and a stable Knesset. Every attempt must be made to prevent the newly sworn-in Knesset from becoming the shortest Knesset in Israeli history.

All parties should take the responsibility upon themselves as if they alone are charged with insuring that a third election is not called for. The country has survived some nine months of paralysis, but it's only a matter of time before the string starts to unravel out of control and the situation begins to do irreparable damage to Israel and its population.

At Thursday's ceremony, Knesset Speaker Yuli Edelstein led the MKs with "I pledge allegiance to the State of Israel and to faithfully fulfill my mission in the Knesset." And the newly sworn-in lawmakers responded: "I pledge."

Let's hope they take that allegiance and mission seriously and prevent a third election.

Amb. Alan Baker: The EU Demonstrates a Distinct Political Bias Against Israel

European Union Special Representative for the Middle East Peace Process Susanna Terstal, writing in the Jerusalem Post on Sep. 21, evidently believes that incessant repetition of the phrase "two-state solution" adds some element of legitimacy and feasibility to the idea. But the two-state solution has never been agreed-upon between Israel and the Palestinians, and does not figure in any of the agreements between them. It is nothing more than an expression of wishful thinking within the UN and the EU.

To the contrary, the Oslo Accords, to which the EU itself is a signatory, clearly leaves the issue of the permanent status of the territories to be decided in negotiations. Thus, whether the outcome will be one, two or three states, or a federation or confederation, remains on the negotiating table. By incessantly plying a two-state solution, the EU is in fact prejudging an agreed negotiating issue.

Suggestions by Israeli leaders to "apply sovereignty" led EU representatives to complain that unilateral modification of the Oslo Accords "undermines the entire agreement" and "dismantles Oslo." One wonders why the EU did not view the recent declarations by the Palestinian leadership canceling the territorial division between areas A, B and C in a similar light. Did this not undermine the accords?

The EU representative also expressed support for a "Palestinian state based on the 1967 lines." Yet the issue of borders is an agreed-upon permanent-status negotiating issue, and her presumption of a Palestinian state based on the 1967 lines clearly contradicts and prejudges both the Oslo Accords and UN Security Council Resolution 242 of 1967.

The EU cannot in good faith claim that it does not take sides in the conflict. The EU has not only taken sides, but clearly demonstrates a distinct political bias against Israel in virtually all its positions, policies, statements and dealings regarding the Israeli-Palestinian negotiation process.
Iran displays ancient clay tablets, returned by US, from empire that freed Jews
The National Museum of Iran opened on Wednesday an exhibition of around 300 cuneiform clay tablets returned from the United States after a drawn-out legal saga.

The tablets were found at the ruins of Persepolis, capital of the Persian Achaemenid Empire (6th – 4th c. BC) in the south of Iran. Cyrus the Great, who ruled during the Achaemenid Empire, is said to have liberated the Jews from Babylonian captivity in 539 BCE, allowing them to return home and build the Second Temple.

The works on display belonged to a group of 1,783 clay tablets or tablet fragments returned to Iran by the Oriental Institute at the University of Chicago.

In the 1930s, the university had received on loan around 30,000 tablets or tablet fragments found at Persepolis for research purposes, Iranian media reported.

A large portion of the tablets were returned in three batches between 1948 and 2004 before their restitution was blocked by legal action initiated by American survivors of an attack in Israel in 1997 carried out by the Palestinian Hamas terror group.

Blaming Tehran for supporting the armed group, the plaintiffs demanded the seizure of the tablets and their sale put toward the $71.5 million that Iran was ordered to pay in the case.

The proceedings only ended in February 2018 when a US Supreme Court decision banned the seizure of the works.
Yossi Cohen: The Mossad Spy Chief Who Stole Iran's Secret Nuclear Archives
In March 2018, Mossad Director Yossi Cohen, 58, updated then-CIA Director Mike Pompeo on what the Mossad had found inside Iran's secret nuclear archives that it had stolen from the heart of Tehran in January 2018. Sources close to Cohen told the Jerusalem Post that the information the Mossad seized is "still being used right now" to glean high-quality and valuable intelligence. A map of nuclear sites captured in the operation has yet to be made public. These revelations "even go beyond Prime Minister Benjamin Netanyahu's revelation of the Abadeh nuclear site" earlier this month. Cohen says Pompeo praised the Mossad for redefining "daring and boldness."

Dozens of agents were involved in surveillance missions and the heist itself. Neutralizing any electronic surveillance that could expose them, they spent six hours and 29 minutes nabbing Iran's secret nuclear files, which were kept in 32 safes. They used special torches to slice into these safes. They loaded the vast files onto trucks and used Iranian smugglers to get across the border.

Cohen's view is that relations with Sunni countries in the Gulf are "not as much about personal trust, but about overlapping national interests" - especially when it comes to Iran. For example, while Cohen would be against sharing sensitive Israeli technologies with the Saudis to combat the drone threat from Iran, he would seek to help states in the Gulf combat Iran together in other ways.

Regarding the Palestinians, sources close to Cohen indicate that he does not believe anything will move on the peace process until PA President Mahmoud Abbas leaves office.
FDD: The Israeli–Palestinian Struggle, Continued.

There is no chance of a "peace party" returning to Jerusalem unless Israelis see that Palestinians have unequivocally denounced the past, that the celebrations of those who've died killing Israelis are rejected. That is impossible to envision in the near-term: neither Fatah, nor Hamas, nor the Israelis, nor Washington want the Palestinian people voting. All fear the worst—the wrong side winning. Perhaps most perversely, the Israelis are invested in a security status quo with Fatah that likely negates the chance of any Palestinian change, and surely makes Hamas more popular on the West Bank than its tyranny in Gaza has earned. But it's possible that if there were a free vote among Palestinians the hostility towards Israelis—the fundamental rejection of the legitimacy of a Jewish state—could be the common denominator among Palestinians who otherwise loathe Fatah's and Hamas' dictatorships. Palestinians again voting could lead to intense violence, among Palestinians and against Israelis. Nonetheless, Palestinian popular sovereignty is likely the only way out of this cul-de-sac. We have two peoples wanting the same land with national and especially religious narratives that negate the other's. For even non-practicing Muslims, Moses is a great prophet, trying to lead his people toward the one, true calling—Islam. A Jewish homeland wasn't in Allah's message. Yet the unrelenting secularism of Westerners reduces the most compelling stories we have to differences about water rights, East Jerusalem, and security checkpoints.

The basic character of a people and faith can change, but that usually happens after a truly devastating military defeat or a long evolution. The Palestinians haven't actually seen a society-crushing catastrophe; they have endured foreign, non-Muslim overlords, with all of the indignities, and incompetent, avaricious, ambitious, insouciant, deluded and sometimes brutal native rulers (they, however, get a middling score in hideousness in the modern Middle East).

Since 2002, the Israelis appear to have a consensus: Palestinians cannot be trusted. On the other side, Palestinians seem more conflicted about the Jews, more divided religiously and culturally, more prone to internecine violence today than they were when the Israelis directly ruled all of the West Bank and Gaza.

The continuing decline of America in the Middle East will unavoidably remove certain delusions about what might be possible between the Israelis and the Palestinians. The torpor of the peace process under Obama and Trump is likely the new American standard. If they haven't already, Palestinians will give up on the idea of Washington's intercession, of American democracy coercing Israeli democracy into making concessions to unelected Palestinian officials. For the Palestinian people that will, at least, change the rhetoric and excuses of the ruling elite.

America's retreat may tempt the Israelis to act more hubristically towards the Palestinians, to take land in the West Bank that has no plausible security value. But the most effective check on ugly Israeli actions has always been the internal debate, the tension between the executive, legislative, and judicial authorities in Israel's messy democracy.

For decades out, it's hard to see anything better than an unpleasant modus vivendi between the Israelis and the Palestinians. Given that it is the Middle East, however, that isn't an awful state. Americans always want to believe that honesty is the best policy, that without honesty solutions aren't possible. We are certainly tardy in applying that principle to the Israeli–Palestinian clash.
The Missile War in Southern Arabia: Lessons for Israel
UAV Warfare
Another hint of the effectiveness of Patriot defense are Houthi/Iranian alliance efforts both to suppress it and evade it. To elucidate this point, we need to refer to another aspect of the Houthi/Iranian war machine in Yemen: UAV warfare. UAVs are one of the main pillars of Iranian military doctrine. Together with other weapon shipments, Iran has been providing the Houthis with numerous types of UAVs, both of the larger types used for armed reconnaissance such as the Shahad 129 (roughly equivalent to Israel's Hermes 450) and smaller "suicide" UAVs (such as the Ababil, used by Hezbollah in 2006 for attacks deep within Israel, which for the sake of Iranian deniability has been renamed Kasef 2). The Houthi arsenal is augmented by the acquisition of mail order UAVs such as the Chinese "Skywalker" available online from Ali Baba. More remarkable, the Iranians have provided the Houthis with knowhow, production machinery and expertise to set up a UAV industry of their own in their stronghold of Sad'ha in northern Yemen. The Houthi UAV industry is now producing unique designs of long-range machines, some equipped with jet engines, obviously designed in Iran. Beyond the classic UAV roles of reconnaissance and light bombardment, the Houthi/Iranian alliance is using them for direct "suicide" attacks on Patriot batteries. Three incidents of direct attacks on Patriot batteries have been claimed: Two attacks were within Yemen, probably targeting UAE batteries in Mocha and Marib, and one attack on a Patriot battery defending the Saudi border city of Najran, with unknown results.

Even more significantly, the Houthi/Iranian alliance exploits the Patriot's system limitations in engaging low and slow threats in order to penetrate beneath the Saudi air/missile defense shield. In fact, UAVs are now being used by the Houthi's as ersatz land attack cruise missiles. With immunity against air and missile defense, and with much better accuracy than ordinary ballistic missiles, UAVs now seem to be the preferred weapons for imaginative and audacious strikes deep within Saudi territory. For example, the civilian airport of the Saudi town of Abha, about 120 km. from the Yemeni border, was attacked by Houthi suicide UAVs no less than three times during the month of June 2019, wounding 28 passengers and airport workers. In August 2019, the Houthis managed to strike the Shaybah oilfield deep within Saudi Arabia, almost 1200 Km from the Houthi stronghold in Sad'ha. The attack was carried out by no less than 10 UAVs and sparked a fire in gas storage tanks. Such a complex attack needs precise coordination and excellent navigation, which demonstrates the proficiency achieved by Iran's UAV operators. While those strikes did not cause excessive damage – perhaps intentionally so – they were propaganda coups for the Houthis, providing them with solid achievements in the cognitive battlefield.

The fourth lesson for Israel is the growing military role of UAVs both for missile defense suppression and for evasion. UAVs were first used by Hezbollah for reconnaissance over Israel even prior to the 2006 Lebanon war. At the closing stage of that war, four suicide UAVs were launched by Hezbollah against Israeli targets (One suffered a failure and fell near the border, two were intercepted by Israeli jet fighters, and the fourth vanished). In the 2014 Gaza war Hamas tried to attack Tel Aviv with its own UAVs (Two, perhaps three UAVs were shot down by Patriot air defense batteries). This experience is not indicative of the future. The Yemen war demonstrates how UAVs will be employed in future wars in significant numbers to erode Israel's missile defense capabilities by attacking the Iron Dome, David Sling and Arrow batteries. Hostile UAVs, in conjunction with precision rockets, may well be tasked to damage Israel's critical infrastructures such as desalination plants. Consequently, Israel needs to integrate air defense capabilities into its missile defense systems, and to provide its critical infrastructures with their own point defenses.

The current civil wars in the Middle East – especially in Syria and in Yemen – resemble the Spanish civil war of the 1930s inasmuch as they are exploited by outside powers to test new doctrines, weapons and tactics in realistic battle conditions. What the Axis powers (and to a lesser extent the USSR) did in Spain during the 1930s is being done today by Iran in Yemen.

It would be advisable for Israel's Ministry of Defense and the IDF to closely study the civil war in Yemen, particularly its rocket and drone warfare aspects. The weapons and tactics in use in Yemen today will be employed against Israel tomorrow.
Israeli President Tells Papal Diplomat Israel Wants to Share Land with Palestinians
Israel wants to "share the land and find a way to live together" with the Palestinians, President Reuven Rivlin told Cardinal Leonardo Sandri, one of the highest-ranking Vatican diplomats, when they met at the President's Residence on Thursday night.

Sandri, who is the Prefect of the Congregations for the Oriental Catholic Churches, came with a delegation that included several Franciscan priests, as well as the Papal Nuncio and the Custos of the Holy Land.

He is in the region to mark the 800th anniversary of the Pilgrimage of Peace to the Middle East by St. Francis of Assisi and his dialogue with the Sultan of Egypt.

Rivlin, who has met with Pope Francis and is aware of the efforts being made by the Vatican to bring about a cessation of hostilities in the Middle East in general and between Israel and the Palestinians in particular, told Sandri that he knows how hard the Vatican is working to find a solution to this century-old tragedy.

Knowing that Sandri is also going to Ramallah to meet with Palestinian Authority President Mahmoud Abbas, Rivlin asked him to convey his regards, and noted that Abbas had sent New Year greetings to the people of Israel.

Emphasizing the need to build understanding between Israelis and Palestinians, Rivlin was of the opinion that a valuable asset in this regard was the restoration of the baptismal site at Qasr el-Yahud on the Jordan River near Jericho, where Jesus first met John the Baptist.

The restoration project was approved by Israeli, Jordanian and Palestinian leadership, said Rivlin, who was personally involved in the process.

Dr. Martin Sherman: Alternative Jordans?

Although the details of the "Deal" are as yet obscure, it would appear the Jordan is slated to play a major role in it—grudgingly or otherwise. Accordingly, the feasibility of the "Deal"—indeed its acceptability—will be dramatically impacted by the nature of the regime east of the Jordan River and its prospective stability (or lack thereof).

After all, although some may hope otherwise, there seems little prospect that any successor regime in Amman will be more favorably disposed toward Israel than the current one.

This takes us back to the crucial strategic importance for Israel of the highlands of Judea-Samaria and the Jordan Valley. As I have been at pains to point out on numerous occasions, not only are these highlands the only topographical barrier between Jordan and the heavily populated coast plain, but any forces—regular or renegade—deployed on them will have complete topographical command and control of virtually all Israel's airfields (military and civilian, including Ben Gurion, the only international airport), its major ports and naval bases, is principal traffic axes (rail and road), vital infrastructure installations/systems (electrical power, desalination plants and water conveyance), centers of civilian government and military command and 80% of the civilian population and commercial activity.

All of these will be in range of cheap, readily available weapons that have already been used against Israel from areas evacuated by it and transferred to Arab control.

Thus, the rationale of any plan that entails Israeli evacuation of this vital territory will hinge critically on the nature of the regime-type in Jordan, which abuts it from the East.

For whatever other grave detriments their might be in such a plan, it will matter greatly if Jordan is ruled by a government that strives to reign in forces hostile to Israel, or one that is indifferent to their aggressive intent—or worse, is complicit with it.

After all, should the Trump plan entail significant territorial concessions, Israel may well find itself in a situation in which it will have to contend with a huge expanse of hostile territory, stretching from the fringes of Greater Tel Aviv to the border of Iraq—and perhaps beyond.

Accordingly, Israel's security establishment should indeed draw up plans to deal with prospective alternatives in Jordan—not only how to cope with them once they arise, but to prevent them from arising at all.
Why Israelis should support the Iraqi protesters
Another Arab Spring-like protest movement now seems to be arising, seeking to topple the present Iraqi government. As Israelis, we should support the Iraqi people in their quest for true freedom and democracy.

Mendi Safadi, heads of the Safadi Center for International Diplomacy, Research, Public Relations and Human Rights, has noted that if we want to prevent the creation of another Syria, we should call upon the community of nations to intervene as soon as possible to uphold the rights of the protesters, prevent additional bloodshed, and stop the radical Islamists, Iran, and the former Baathists from overtaking the protest movement.

"Today, this Arab Spring has begun to take over Iraq against a government that is corrupt and loyal to Iran," Safadi said. "These protesters are against the Iranians taking over Iraq. Talks with activists on the ground and the leaders of the protest movement reveal that the people are repulsed by the government, who betrayed their nation by becoming a proxy of Iran. The Iranian takeover of Iraq has gotten the people to revolt, to take to the streets and to demand that Iraq be returned to its rightful owners. They seek freedom and basic human rights that every citizen of this world deserves."

According to a report from the Internal Commission of Iraq, "The Iraqi government takes instructions from Iranian Revolutionary Guard Commander Qassem Soleimani. Over 700 members of the Iranian Revolutionary Guard shot live fire at Iraqi demonstrators. There were demonstrators who were killed including men, women and children. The Iranians even went as far as burning a 2-year-old child in a car with her father. The Iraqi people are calling upon the international community to intervene urgently in order to save the Iraqi people, who have suffered under Iran and political Islam. We demand that all pro-Iranian parties be banished from Iraq and to take away all of Iran's influence in the country. We seek to hold the regime accountable and to change from a parliamentary system to a republican form of government. We seek that the rights of women be respected, as the number of women in the country is very high. The Iraqi people will stop protesting only once our demands are met."
Iraq crisis: Protests say anger could boil over Friday after 44 deaths
Protesters in Iraq prepared Friday for bloody clashes with security forces in Iraq after three days of protests that saw the government order live fire against the demonstrators. The protesters are angry. They have tried to block roads to the airport in Baghdad and break into the "Green Zone" where foreign embassies are located. They are shocked that officials have ordered live fire used against them.

The protests began on October 1 in the wake of Iraqi Prime Minister Adel Abdul Mahdi sidelining a popular Counter-Terrorism service commander named Abdul Wahab Al-Saadi. But the real reason for the protests are much larger. They are angry over corruption and wage stagnation and lack of opportunities.

The Prime Minister has closed down internet and sought to isolate cities in Iraq. He gave a speech on Thursday evening and has indicated he could meet the protesters. But there are no clear leaders of the protests. The demonstrators gained some solace when the Shi'ite religious leader Ayatollah Ali Sistani appeared to express sympathy on Friday. Many believed that after prayers on Friday there would be bloody clashes unless the government retrains its tactics. It is not entirely clear which police have been ordered to fire on the protesters, because protesters say they cannot identify them by uniform. Some said it was not the Federal Police but other interior ministry forces. Others claims it was members of Shi'ite militias loyal to Iran, including the Saraya Khorosani unit. But much of this is rumors and has not been confirmed. What is clear is that security forces can be heard in dozens of videos using gunfire. Up to fifty demonstrators may have been killed and thousands injured, including members of the police.

The UN has called on Iraq to have a transparent investigation about the shooting of the demonstrators. "We call on the Iraqi government to allow people to freely exercise their rights to freedom of expression and peaceful assembly."
Iran tries to blame Israel and US for Iraqi protests
Iranian media and local sources in Iraq have reported on the protests sweeping the country with increasing concern that the protesters oppose Iranian influence. This concern has now reached the highest levels of Iran's regime where the narrative that has been concocted is to blame "foreign" hands for the unrest. Under this logic tens of thousands of young men, leaderless and braving the gunfire of security forces, have been sacrificing themselves by the dozens all because of some complex conspiracy.

Iraq's government of Prime Minister Adel Abdul Mahdi has shut down internet, social media and even made phone calls difficult in areas across Iraq, all to stop the protests. Yet the protests continue. To discredit them an Iranian cleric on Friday claimed the US and Israel are behind the protests. Supposedly it was to "disrupt a major annual Shi'ite Muslim pilgrimage planned to be held in Iraq later this month," Reuters reported. "The enemy is now determined against the Islamic nation, America and Zionism are targeting the Arabaeen pilgrimage in Iraq, causing trouble," claimed Ayatollah Mohammad Emami-Kashani.

His full Friday sermon, published at Tasnim News in Farsi claims that "America and Zionism are the enemies of God." He mentions the Houthi rebels in Yemen who "have shown themselves against the miserable Saudi rulers," and notes that Saudi Arabia's reputation has been weakened. This is a reference to the September 14 drone and missile attack on Saudi Arabia. He also mentions the US "maximum pressure" sanctions on Iran and says that it has not been successful. "Endurance is the way of the martyrs." It is in this context he says that the "enemies" are targeting the religious pilgrimages to the holy sites in Karbala, where Shi'ites make pilgrimage. He calls on people to take refuge in the shrine of Imam Hussein.

In Iraq the senior Shi'ite religious leader, Grand Ayatollah Ali al-Sistani, lamented the deaths of dozens of protesters and called for an end to the deaths, casualties and destruction. He called on the government to listen to the people's demands about corruption and other issues.
Russian journalist arrested in Tehran on suspicion of spying for Israel
A Russian journalist has been arrested in Iran on suspicion of spying on the Islamic Republic on behalf of Israel, according to family members and Russian media reports.

Yulia Yuzik was first declared missing earlier this week by family members who said she was arrested in Tehran days ago. Her ex-husband Boris Voytsekhovskiy posted on Facebook that Yuzik was facing charges of cooperating with Israeli intelligence services, and that her trial is scheduled for Saturday.

According to Voytsekhovskiy, Yuzik's charges carry a prison sentence of up to 10 years.

It wasn't clear when Yuzik was arrested; her last post on social media was a series of Instagram pictures taken in Kashan, a city in northern part of Isfahan province.

Voytsekhovskiy told Russian media outlets that Yuzik used to work as a correspondent in Tehran several years ago, and she returned to the Iranian capital last week at the invitation of an unknown party.
Engel bows to Arab lobbyists, pro-Israel friends are silent
An anti-Hamas bill has been severely watered down by Congressman Eliot Engel. It's a turn of events that should trouble every supporter of Israel.

The New York Post revealed this week that Engel (D-NY), the chairman of the House Foreign Affairs Committee, agreed to change the bill after heavy pressure from Qatar and the Palestinian Authority (PA)

The Post quoted "a personal acquaintance of Engel's" as saying, "Eliot told me directly that he was getting a lot of pressure from the Qataris" about the bill. At the same time, Engel or his representatives held seven meetings this past spring with lobbyists for the PA, apparently to discuss the bill.

The Qataris didn't like the fact that the bill mentioned Qatar's massive financial support for Hamas. The PA didn't like the fact that it would have penalized regimes—like the PA—that assist Hamas in various ways.

So the bill, which was authored by Rep. Brian Mast (R-Florida), was changed. The language about Qatar was removed, and loopholes were added so that aid to Hamas which is considered "humanitarian" would not be blocked.

We put "humanitarian" in quotation marks because we all remember how "humanitarian" concrete, which supposedly would be used to build homes, instead was used to build tunnels to kidnap and murder Israelis.

At this point in the story, you would imagine that those Jewish leaders who claim to be Engel's buddies would have intervened to restore the original language of the Mast bill.
Behind the Lines: Pakistan and Israel: Much ado about nothing?
Pakistani Prime Minister Imran Khan last week dismissed speculation that his country was moving toward the establishing of open diplomatic relations with Israel. Speaking at the Asian Society in New York City last Thursday, as reported by the Middle East Eye website, Khan reiterated Pakistan's traditional stance on the issue:

"Pakistan has a very straightforward position," the Pakistani prime minister and former cricket star said. "It was our founder of Pakistan Quaid-i-Azam Muhammad Ali Jinnah who was very clear that there has to be just settlement, a homeland for Palestinians, before Pakistan can recognize Israel."

His remarks, according to Middle East Eye, were met with enthusiastic applause. They came amid widespread recent speculation at a possible diplomatic breakthrough between Jerusalem and Islamabad. Prominent Pakistani journalist Kamran Khan launched the rumors with a tweet on August 25, asking "Why can't we openly debate pros cons of opening direct and overt channels of communication with the State of Israel?"

What is the background to the recent speculation, and is there a realistic chance of a breakthrough, or do Imran Khan's remarks settle the matter in the negative?

THERE IS a school of thought in Pakistan that favors the abandonment, or at least the questioning, of Islamabad's long rejection of formal ties with the Jewish state. Why now?
'Recent convert' to Islam stabs 4 to death at Paris police headquarters
A 45-year-old technology administrator at the police headquarters in central Paris went on a knife rampage inside the building on Thursday, killing three police officers and an administrative worker before he was shot dead by an officer, French officials said.

French broadcaster BFM TV said the attacker had converted to Islam 18 months ago.

Officials did not say anything about the motive for the attack and said they were still trying to discover if there was a terrorism link.

The man launched the attack in his office then moved to other parts of the large 19th-century building across the street from the Notre Dame Cathedral.

An officer stopped the attack when he shot the assailant in the compound's courtyard, said a police official. The official was not authorized to talk publicly about the case and requested anonymity.
IDF thwarts weapons smuggling attempt from Lebanon to Israel
The IDF and Israel Police thwarted an attempt to smuggle weapons from Lebanon into Israel in September, according to an IDF spokesperson.

An IDF field observer from the 869th battalion spotted two suspects acting suspiciously on the Lebanese side of the border with Israel near the border fence. IDF soldiers went to the scene to check the issue.

Bags found in the area contained about 40 pistols and magazines which were meant to be smuggled from Lebanon into Israel. The background of the incident is being looked into.

One suspect was arrested on the Israeli side of the border and was transferred for questioning by security forces.

"I saw a suspect approaching the fence and immediately realized that this was an unusual incident," said Pvt. Adi ben Naim, the field observer who identified the suspects. "I alerted the troops and directed them to the location. It was only after the incident that I realized that a very large weapon-smuggling attempt was thwarted. My job as a field observer is to identify what takes place in the field and alert my commanders; which is exactly what I did in this incident.
Thanks to the vigilance of Adi, an 18-year-old combat intelligence soldier, a smuggling attempt of 40 guns from Lebanon into Israel was thwarted.

👏🏻 round of applause👏🏻 pic.twitter.com/WRQ0Pu5oro

— Israel Defense Forces (@IDF) October 3, 2019
@Friendsisrael delegation visiting one of the tunnels dig by terrorist organization Hizballah to penetrate Israeli soil and carried out an attack. Almost a year after the discovery @UNIFIL_ is still looking to the other side! @COLRICHARDKEMP pic.twitter.com/SvuMCkYlnJ

— Friends of Israel (@Friendsisrael) October 3, 2019
Israeli military marks 'Mean Girls Day' by trolling Iran on Twitter
The Israel Defense Forces marked "Mean Girls Day" this week by tweeting a meme of Iran's supreme leader Ayatollah Ali Khamenei and Hassan Nasrallah, leader of the Lebanese Shiite terrorist group Hezbollah.

The meme, posted on Thursday, October 3, was an altered version of a "never before seen" photo published by the Iranian government showing the supreme leader, Nasrallah and Qassem Soleimani — the commander of Iran's elite Quds Force.

The IDF photoshopped the Iranians into a "Mean Girls" scene alongside Lindsay Lohan, with the caption: "There's no one meaner than the mean girls of the Middle East…"

The IDF added #DontSitWithThem and #MeanGirlsDay to their post.

October 3 was a date that was mentioned in passing by Lohan's character to her crush in Mean Girls, and has since become a pop cultural phenomenon marked annually by movie fans.

The "Don't sit with them" refers to a line in the movie when Rachel McAdams's character Regina George is turned away from popular clique's table at lunch because she's wearing sweatpants.
Seriously @Newsweek @marikamalaea, does this really look like Benjamin Netanyahu to you in @IDF's tweet?! It's actually Qasem Soleimani, the head of the Iranian Revolutionary Guard's Quds Force. Oops. https://t.co/Zciz5w0NwX pic.twitter.com/Fa0nB5fxLq

— HonestReporting (@HonestReporting) October 4, 2019
Arab citizens of Israel undergo quiet revolution
The Arab citizens of Israel need rapid development of their areas. They dream of having high-tech zones and industrial centers; they seek enhanced police work to battle the crime that is raging in the streets of Arab cities; and they resent the vicious incitement against them that was led for years by the prime minister and the ruling party. Will the future government, which for now is still nowhere to be seen, be able to fulfill all of these demands and build bridges between the establishment and one-fifth of Israel's population?

During the recent political campaign, the Likud party accused Gantz numerous times of "planning to create a government with [Joint List MKs] Ahmad Tibi and Ayman Odeh," but the leaders of the bloc had ruled it out many times. When Blue and White MK Ram Ben-Barak, ex-deputy director of the Mossad, turned to the Arabs this summer, he said that Blue and White needed them "to change the government." But what will happen the day after such a change is accomplished?

Amjad Iraqi, a contributing editor at +972 magazine, said to The Media Line that what is missing from the tactical decision of the Joint List is thought about the day after. "This decision is quite some gamble that could also backfire, especially if a unity government will be formed eventually between Likud and the Blue and White bloc. I do understand the logic —Ayman Odeh decided to prioritize getting rid of Netanyahu, and most of the public endorsed him because they want to change at least some part of the equation. But how do we know that the Blue and White bloc, whose leaders had their share of critical and negative remarks about Arabs, will be able to live up to its promises?" said Iraqi.

El-Sana believes that if the Joint List is unable to maximize its gains this time around, the alternative for the next time will be voting for existing Jewish parties or for a joint Arab-Jewish party, a project that el-Sana tried to run this time together with the former Knesset speaker, Avrum Burg. There are also many question marks about the participation of the Balad party, which is increasingly seen by many in the Arab public as a destabilizing element that fails to serve its people. "If they were to participate in the elections today by themselves, they would go down. They have three seats in the Joint List, but they are worth only 1.5 seats, or even less" says Darawshe. On the opposite side, Iraqi believes that Balad gives legitimacy to the Joint List, serving as a link between them and the wider Palestinian cause. "Balad still represents a significant portion of voters. They need the Joint List, and the Joint List needs them," he concludes.

For now, Arab voters seem to be quite satisfied with the result. They proved to be resilient against incitement and intimidation, increased their representation at the Knesset, and now will wait just like everyone else to see how the current political reality TV unfolds.

The leaders of the Joint List will now have to prove to their voters that they can make some real gains with the increased power that they received this time. Considering the shaky structure of the bloc, which includes four different parties with contradicting ideologies, this will not be easy. If no government is formed and Israel goes to a third round of elections, the bloc will have to campaign extremely hard to maintain its success. For now, it is unlikely that the Joint List will top its current result—13 seats. The quiet revolution in the Arab sector, however, will continue, sweeping Arab Israeli citizens away from segregation and isolation, toward integration and equality.
Thousands of Arab Israelis march, block roads to protest deadly crime wave
Thousands of Arab Israelis held protests Friday at the conclusion of prayers, a day after a general strike over a wave of deadly violence within the minority community.

Protesters blocked roads, including sections of the major highways in the north of the country. Demonstrators carried signs with slogans such as "our children's blood is not cheap" and chanted slogans about what they say is police inaction on the issue.

Ayman Odeh, the head of the Knesset's predominantly Arab Joint List faction, called on the Jewish community to join the protests, saying that a society without weapons should be the ideal for everyone.

"I also urge the Jewish public to join the protests. A society without firearms is a civil and social aim for us all," Odeh tweeted.
Some Israelis to Celebrate Sukkot with 4 Species Holders Made in Gaza
Some Israelis — many, in fact — will celebrate the holiday of Sukkot this year holding their four species bound with holders produced in the Gaza Strip.

Ahead of the Jewish holiday, the IDF Coordinator of Government Activities in the Territories (COGAT) has approved the import of tens of thousands of four species holders, used for the traditional customs of the holiday.

The four species – the etrog, a citron fruit; the lulav, a frond of a date palm; the hadas, a myrtle bough; and the aravah, a willow branch – are the species the Jewish people are commanded to bind together during the holiday.

The holders are made out of dried palm leaves, woven into a shape that allows the four species to be held together comfortably during the holiday prayers. The abundance of palm trees in Gaza, as well as cheap labor, makes the enclave a prime location for the production of the holders.

Despite the growing tension between Hamas, the terror group that controls Gaza and Israel, COGAT was able to facilitate the import successfully, passing it through the Kerem Shalom Crossing under heavy security inspection.
Ha'aretz: Meet the Palestinian Villagers Living Out the American Dream

Halfway between the West Bank cities of Ramallah and Nablus, the road gives way to an exit unlike any other along Israel's Highway 60. At first glance, this route — lined with palm trees and polished sidewalks that lead up to lavish stone villas — looks like a well-funded Jewish settlement. But a closer look reveals that unlike other typical settlements, there is no security gate at the entrance to the community and its houses are not lined up in rows along the hilltops.

The expensive homes scattered on slopes among olive trees, reminiscent of the famous Hollywood Boulevard, are actually a window into the Palestinian diaspora. The majority of their dwellers are dual American-Palestinian nationals who live in the United States for most of the year and treat the village of Turmus Ayya as their summer home.

Turmus Ayyans are not only based in the United States. These Palestinian villagers are spread throughout the world, with members of the community living in Spain, Panama, Cuba and Brazil. According to the village's municipal office, there are some 11,000 Turmus Ayyans in total; 4,000 are permanent residents, while 7,000 made their home abroad.

Unlike the majority of Palestinians living in the diaspora, Turmus Ayyans are not refugees of the 1948 war. Rather, they are economic immigrants who chose to leave this West Bank village in pursuit of better financial opportunities. Residents told Haaretz that the first villager to immigrate was Odeh Abdel Qader, who left for the United States in 1909 and worked in Manhattan's Little Syria (where the Financial District is situated today). Local Wadi Abu Awad recalls Qader's return to the village: "He was the guy who came from America," he says. Throughout the 20th century, Qader's legacy became an inspiration for other Turmus Ayyans who wished to chase the American Dream.
Hamas Facing Growing Criticism in Gaza
A picture making the rounds on social media shows the leader of Hamas, Ismail Haniyeh, with his six sons, standing healthy in tailored suits, and beneath it, a picture of Gaza youths who have had a leg amputated after rioting at the Gaza fence.

Another example is a recording by a Gazan father whose son was wounded at the border confrontations.

"I was told I needed to provide his medicine out of my own pocket. If he were the son of one of the Hamas higher-ups, the whole world would have given aid."

"Where am I supposed to get money for medicine? They told my boy to get on the bus and protest, and then they threw him out to die."
Attempted murder, much? https://t.co/bbvtz4rtQ7

— (((David Lange))) (@Israellycool) October 4, 2019
Iran not 'drawing back' militarily after Saudi attack-US admiral
Iran has not drawn back to a less threatening military posture in the region following the Sept. 14 attack on Saudi Arabia, the top U.S. admiral in the Middle East told Reuters, suggesting persistent concern despite a lull in violence.

"I don't believe that they're drawing back at all," Vice Admiral Jim Malloy, commander of the U.S. Navy's Bahrain-based Fifth Fleet, said in an interview.

The United States, Saudi Arabia, Britain, France and Germany have publicly blamed the attack on Iran, which denies involvement in the strike on the world's biggest crude oil-processing facility. The Iran-aligned Houthi militant group in Yemen has claimed responsibility.

Malloy did not comment on any U.S. intelligence guiding his assessment. But he acknowledged that he monitored Iranian activities closely, when asked if he had seen any concerning movements of Iranian missiles in recent weeks.

Malloy said he regularly tracks Iranian cruise and ballistic missile movements -- "whether they're moving to storage, away from storage." He also monitors whether Iran's minelaying capabilities head to distribution sites or away from them.

"I get a briefing of movements on a daily basis and then assessments as to what that could mean," he said.

Relations between the United States and Iran have deteriorated sharply since President Donald Trump pulled out of the Iran nuclear accord last year and reimposed sanctions on its oil exports.

For months, Iranian officials issued veiled threats, saying that if Tehran were blocked from exporting oil, other countries would not be able to do so either.

However, Iran has denied any role in a series of attacks that have followed, including against tankers in the Gulf using limpet mines earlier this year.
UN nuclear watchdog says Iran taking 'step in right direction'
The UN's nuclear watchdog said Friday Iran had taken "a step in the right direction" towards dealing with questions on its nuclear program but cautioned that the issues have not been "completely addressed."

The International Atomic Energy Agency (IAEA) did not detail what the questions related to but said it was "discussing substance" with the Iranians.

There has been "engagement" from Tehran in recent weeks on questions relating to its nuclear safeguards declarations to the agency, IAEA acting head Cornel Feruta told journalists in Vienna.

"[That] engagement doesn't mean that the issues are completely addressed but it's a step in the right direction," he added.

Feruta said the queries did not touch directly on the faltering 2015 nuclear deal between Iran and world powers but rather on Iran's separate safeguards agreement with the agency.

Diplomatic sources in Vienna say the agency has been waiting for information from the Iranians relating to samples taken earlier this year from a warehouse near the capital Tehran.
France: Iran, US have one month to come to negotiating table
Iran and the United States have one month to get to the negotiating table, France's foreign minister warned, suggesting Tehran's plan to increase its nuclear activities in November would spark renewed tension in the region.

French President Emmanuel Macron attempted but failed to broker talks between US President Donald Trump and Iranian President Hassan Rouhani in New York last week.

"We consider that these initiatives, which didn't succeed, are still on the table and it is up to Iran and the United States to seize [them] in a relatively short amount of time because Iran has announced new measures to reduce its commitments to the Vienna accord in November," Jean-Yves Le Drian told parliament's foreign affairs committee.

Iran is breaching the restrictions of its 2015 nuclear deal with major powers in response to US sanctions imposed since Washington pulled out of the agreement in May of last year.

It has said its next roll-back would be at the start of November, and diplomats fear that this next breach could force European powers, which are trying to salvage the accord, to respond.
Iran rejects French call for release of dual national scholar
Iran said on Friday that France's call for it to release a detained French-Iranian scholar was an interference in its internal affairs and would not help resolve the issue, the official news agency IRNA reported.

France's Foreign Ministry on Thursday demanded Iran release dual national Fariba Adelkhah, a senior research fellow at Sciences Po university in Paris, who was detained on unspecified charges earlier this year.

"(Iranian Foreign Ministry spokesman Abbas) Mousavi said the French Foreign Ministry's interference in the case of an Iranian citizen was irrelevant..., and added: 'This will not only fail to help resolve the issue, but rather make the legal process more complicated'," IRNA reported.

Rights activists have accused Iran of arresting a number of dual nationals to try to win concessions from other countries - a charge that the Islamic republic has regularly dismissed.

Adelkhah's arrest came at a time when France and other European powers were caught up in an international standoff over Tehran's 2015 nuclear deal, which the United States abandoned last year.
U.S. Sanctions Paralyze Imports via Iranian Ports
More than 20 ships carrying around one million tonnes of grain are stuck outside Iranian ports as US sanctions create payment problems and hamper the country's efforts to import vital commodities, sources directly involved in the trade said.

Trading companies such as Bunge (BG.N) and China's COFCO International have been hit by payment delays and additional costs of up to $15,000 a day as the renewed US restrictions stifle the processing of transactions, trade sources said.

According to Reuters, food, medicine and other humanitarian supplies are exempt from sanctions Washington re-imposed after US President Donald Trump said he was walking away from a 2015 international deal over Iran's nuclear program.

But the US measures targeting everything from oil sales to shipping and financial activities have deterred several foreign banks from doing any Iranian business, including humanitarian deals such as food shipments.

The few remaining lenders still processing Iranian business face multiple hurdles to facilitate payments as financing channels freeze up.
U.S. Sanctions Squeezing Iran-Backed Hizbullah in Lebanon
The conflict between Iran and the U.S. that has created tensions throughout much of the Middle East is now also being felt in Lebanon, where Washington has slapped sanctions on the Iran-backed Hezbollah and warned they could soon expand to its allies, further deepening the tiny Arab country's economic crisis.

The Trump administration has intensified sanctions on the Lebanese militant group and institutions linked to it to unprecedented levels, targeting lawmakers for the first time as well as a local bank that Washington claims has ties to the group.

Two U.S. officials visited Beirut in September and warned the sanctions will increase to deprive Hezbollah of its sources of income. The push is further adding to Lebanon's severe financial and economic crisis, with Lebanese officials warning the country's economy and banking sector can't take the pressure.

"We have taken more actions recently against Hezbollah than in the history of our counterterrorism program," Sigal P. Mandelker, undersecretary for terrorism and financial intelligence at the U.S. Treasury, said in the United Arab Emirates last month.

Mandelker said Washington is confident the Lebanese government and the central bank will "do the right thing here in making sure that Hezbollah can no longer have access to funds at the bank."
Iran's regime lashes out at German antisemitism commissioner in response to 'Post' article
The Islamic Republic of Iran's foreign ministry blasted a prominent German official on Wednesday after the commissioner tasked with combating antisemitism told The Jerusalem Post that Chancellor Angela Merkel's administration should withdraw from the Iran nuclear deal and re-impose sanctions on Tehran for its nefarious conduct.

The Iranian regime-controlled PressTV wrote that "in an online statement on Wednesday, Foreign Ministry spokesman Abbas Mousavi condemned the remarks by Uwe Becker, commissioner of the Hessian federal state government for Jewish life and the fight against anti-Semitism."

PressTV added that "Becker on Monday called on German Chancellor Angela Merkel to put Israel's security above 'possible economic interests' that comes with the deal – known as the Joint Comprehensive Plan of Action (JCPOA)."

Becker, the commissioner of the Hessian federal state government for Jewish life and the fight against antisemitism, told the Post on Monday that "the current escalation with Israel should be reason enough for Germany to advocate the.... Iran nuclear agreement, which has been undermined by Iran... [as] dead, and for the necessary sanctions against Tehran to become effective again in their entirety."
---
---
We have lots of ideas, but we need more resources to be even more effective. Please donate today to help get the message out and to help defend Israel.

Cache
From Ian:

---
If Jews Don't Speak Up for Themselves, No One Will Speak Up for Them
In his sermon for Rosh Hashanah, Ammiel Hirsch, the rabbi of a prominent Reform synagogue in Manhattan, urged his congregants not to lose sight of "the central Jewish principle [that] all Jews are responsible one for the other." It is impossible, he argued, to "live a full Jewish life" without feeling that "the pain of a Belgian Jew is our pain; the fear of an Israeli child terrorized by rockets is our fear; the insecurity of Orthodox Jews attacked repeatedly on the streets of Brooklyn is our insecurity." Yet, in the face of the anti-Semitic threats that come from so many different directions—which Hirsch went on to analyze—Jews must not lose their sense of pride, or begin to see Judaism as a burden rather than a privilege.
Progress on Antisemitism and BDS at the UN and Women's March
In the war against BDS, the most recent development in academia was the Department of Education censure of Duke University and the University of North Carolina for the misuse of Federal Title VI funds, prompted by complaints over a BDS related event in the spring. Title VI of the Higher Education Act is intended to support foreign language instruction and US national security needs, but has become a slush fund for tendentious Middle East Studies education and programming aimed at college students and K-12.

The Education Department's letter to the Duke-UNC Center for Middle East Studies complained that fewer than 1,000 students were taking Middle East language courses, while almost 7,000 were enrolled in Middle East Studies courses with "little or no relevance to Title VI." The complaint also criticized the lack of focus on religious minorities in the Middle East and the near exclusive emphasis on Islam, particularly for K-12 teachers.

The schools were instructed to respond with a compliance plan. In the interim, however, predictable complaints were voiced by academics regarding the alleged "chilling effect on academic freedom" and by BDS advocates, who characterized the move as "anti-Palestinian."

The investigation comes after a recent study demonstrated that Arab and Muslim countries had donated billions of dollars to American colleges and universities in the past decade, with over $1.5 billion from Qatar alone. The impact of these donations is difficult to measure, but the deference and obsequiousness shown by universities and academics to donors generally is well known.

Underscoring the impact of BDS and biased pedagogy on campus, another report also indicated that Israel-related antisemitism on campuses increased dramatically between 2017 and 2018. Strong increases were seen in accusations of "genocide" against Israel, along with justifications for terrorism. Most important were dramatic increases in faculty-led BDS activities including sponsored events and individual boycotts of Israel and supporters.

Finally, it was announced that the National Students for Justice in Palestine conference would be taking place at the University of Minnesota at the beginning of November. The announcement also touted the election of Reps. Ilhan Omar (D-MN) and Rashida Tlaib (D-MI). The conference is designed to train BDS activists, many of them already on record espousing violence, as well as expand "intersectional" alliances of those "who struggle against state violence, settler-colonialism, and imperialism — from Palestine to Turtle Island, from the Philippines to Mexico and beyond."
Adam Milstein: BDS is face of old antisemitism: What will we do to stop it?

The majority of recent reports on the connection of the BDS movement to both terrorism and antisemitism make many different recommendations on how to stop the growing antisemitism of our era. One recommendation of particular note is that countries should accept the International Holocaust Remembrance Alliance (IHRA) definition of antisemitism, uphold its principles and outlaw the BDS movement.

The IHRA's working definition is a concise description of a complex hatred that takes many forms. It reads: "Antisemitism is a certain perception of Jews, which may be expressed as hatred toward Jews. Rhetorical and physical manifestations of antisemitism are directed toward Jewish or non-Jewish individuals and/or their property, toward Jewish community institutions and religious facilities."

The people who lead the BDS movement bring many different kinds of antisemitic hatred into our public conversation, and the IHRA definition helps identify the sort of bigotry they spread. It defines antisemitism as accusing Jews or Israel of inventing or exaggerating the Holocaust; accusing Jews of dual loyalty; using blood libel to criticize Israel; comparing Israel to the Nazis; and holding the Jewish state to a double standard – or, in one of its purest forms of hate, denying the Jewish people the right to self-determination.
Now that many in the world are finally acknowledging just how evil BDS is, our Jewish community and fellow Americans must follow suit. Governments and NGOs must adopt the IHRA definition of antisemitism. Our local, state and federal governments must pass laws and resolutions that condemn and delegitimize the vile hatred of BDS. Politicians and bureaucrats should stop funding educational programs that include BDS bigotry. Financial platforms should not be allowed to provide services to BDS organizations that publish antisemitic content or have links to terrorism. And we shall all demand that social media platforms remove antisemitic BDS content.

After a decade of excuses and inaction about BDS, it seems that some people are finally waking up to the danger this movement poses – not only to the Jewish people, but also to the basic values of the liberal societies in which we live.

It is the responsibility of our leaders to build on the recent momentum to inform the public about the BDS movement's antisemitic agenda, its shadowy funding sources, its true aim of denying Jewish self-determination, its lopsided and underhanded tactics, and its connection to terrorism.

BDS is the new face of the old antisemitism, and when it comes to fighting antisemitism, the old adage "better late than never" is particularly apt for our moment. It's time for us all to get to work.
Chief Rabbi of UK Speaks of BDS and the Rise of Antisemitism

Chief Rabbi Ephraim Mirvis of the United Kingdom spoke with Jordana Miller on the rise of antisemitism and the effects of the BDS movement in the UK.
Neo-Nazi protestors in Germany call for Palestinian help against Israel
Dozens of neo-Nazis marched through the German city of Dortmund on Monday, calling for Palestinian support to eradicate Israel.

The demonstration, which came on the heels of an anti-fascist protest in the western German city, involved approximately seventy neo-Nazi activists marching through the streets, holding flags of the Third Reich flag and chanting, "Palestine help us, Israel still exists" and "Israel no more."

Israel's Ambassador to Germany Jeremy Issacharoff posted condemned the neo-Nazi rally, writing on Twitter: "Disgraceful to see neo-Nazis openly on the streets of Dortmund just as we celebrate the Jewish New Year, my wife's great grand parents were from Dortmund and were murdered by the Nazis, where there is no remorse there can be no forgiveness."

Dortmund is considered to have the biggest neo-Nazi presence of any city in western Germany, with the majority of them living in the Dorstfeld quarter.

Dorstfeld is littered with graffiti of Third Reich's flag, symbols and writings.In September, anti-fascist activists arrived with police backup in Dorstfeld, where they covered the hateful graffiti with colors and messages calling for unity and tolerance.

When the neo-Nazis pledged retaliation for the clean-up, the anti-fascist activists vowed to march against them every Monday for the next 13 weeks.



Israel Journal of Foreign Affairs: Eleanor Roosevelt: Palestine, Israel and Human Rights

The creation of the State of Israel was an act of racism, imperialism, and colonialism. Eleanor Roosevelt supported it, which means she was not the humanitarian everyone believes her to be, but rather a racist, imperialist, and colonialist. That is the central thesis of Geraldine Kidd's dissertation-turned-prosecutorial brief against the most influential first lady in American history.

Readers will have no trouble surmising where Kidd (who teaches at University College in Cork, Ireland) stands on the Arab–Jewish conflict, and why she is so disappointed in Mrs. Roosevelt's sympathy for Zionism. Arab violence in Mandatory Palestine was merely a response to "incursions by the land-hungry Zionists" (p. 90) and "the insidious and ever-growing [Jewish] colonization" (p. 91), Kidd asserts. Arab leaders who violently opposed the creation of a Jewish state of any size were merely "vigorously defending Palestinian rights in the face of Jewish imposition" (p. 80). As for Mrs. Roosevelt, she "aspired for a Jewish-occupied Palestine" (p. 240) and her "growing interest in Palestine as a Jewish state bade ill for the indigenous people, whose land the Zionists coveted" (p. 54).

"Indigenous," incidentally, is a term invoked by Kidd with almost comic frequency. She applies it to the Arab residents of Mandatory Palestine no less than eleven times in the first 100 pages of her book, yet never feels it necessary to explain the basis for that assertion. For Kidd, it is self-evident that the Arabs have been the rightful owners of every inch of the country since time immemorial, while "the foreign, migrating Jewish minority" should be regarded as usurpers and criminals (p. 31).

As she chronicles Mrs. Roosevelt's views and record on Palestine, Kidd has trouble letting her have the last word. Again and again, she cites some remark by the first lady, then quickly follows with a rebuttal of her own. The book at times resembles a meeting of a debate club. Mrs. Roosevelt states that Palestine did not belong to Britain; Kidd interjects, "She was ignoring the fact that the Mandate granted them legal authority to govern it" (p. 123). Mrs. Roosevelt alludes to illegal Arab immigration into Palestine; Kidd retorts, "This statement is an extraordinary reversal of the facts, for it was not the Arabs who had moved into the Jewish orbit but instead it was the Jews who had steadily encroached on the Arabs" (p. 123). The former first lady finds fault with the Palestinian Arabs who fled in 1948; an incensed Kidd responds, "This argument is weak, as obviously the Palestinians, in their panic, had no way of knowing what the future might hold for them." Kidd adds, for good measure, that Mrs. Roosevelt's point "neatly coincided with contemporaneous Zionist thinking" (p. 174).
Prime Minister condemns "antisemitic Marxists" at Labour Party Conference last week
In his Conservative Party Conference speech, Prime Minister Boris Johnson lambasted "the fratricidal antisemitic Marxists who were in Brighton [at the Labour Party Conference] last week."

Campaign Against Antisemitism reported multiple instances of antisemitism or concern over anti-Jewish abuse at the Labour Party Conference, and has warned that the Labour Party is now institutionally antisemitic.


"Let's get #Brexit done!"@BorisJohnson reiterates his promise for the UK to leave the EU on the 31 October.

He also hits out at Labour saying he wants to win an election "against the fratricidal anti-semitic Marxists".

Tory conference updates: https://t.co/pmpEh8j3M3 pic.twitter.com/OWUslSYiCS

— Sky News Politics (@SkyNewsPolitics) October 2, 2019



On 28th May, the Equality and Human Rights Commission launched a full statutory investigation following a formal referral and detailed legal representations from Campaign Against Antisemitism, which is the complainant.

In recent months, twelve MPs and three peers have resigned from the Labour Party over antisemitism, along with a large number of MEPs, councillors and members.
Top UK Cabinet Minister: Everyone 'Has a Duty to Stop' Antisemitism
British Chancellor of the Exchequer Sajid Javid reiterated his support for the Jewish state at a Conservative Friends of Israel (CFI) event on Tuesday.

Addressing the gathering, which was attended by six cabinet ministers as well as a slew of other prominent figures, Javid said, "When I look at Israel… it is a country that aligns with all of our values… it's great to see how strongly this party supports the values of Israel at every level."

Javid also condemned antisemitism in the UK, declaring, "Everyone in this room has a duty to stop it."

"Anyone with a sense of history knows full well why the Jewish community feels uneasy now, and nowadays we don't have to look to the past to learn, sadly you just have to look around you," he continued.

Israeli Ambassador to the UK Mark Regev told Javid, "You can be proud… that under this Conservative government, the Israel-UK partnership is stronger than ever before. Our trade is growing beyond the £8.6 million we had last year, we have just signed a trade agreement so that trade will continue to grow in the years to come. That's prosperity and that's jobs."
Corbyn Sparks Controversy for Rosh Hashanah Video Featuring Hamas Supporter
Jeremy Corbyn sparked outrage for releasing a Rosh Hashanah video that features an activist who last year led a public Jewish mourning prayer for dead members of Hamas.

In the clip posted on Twitter ahead of the Jewish holiday, Corbyn visits a grocery store with Jewish Labour Party members to discuss the symbolism of honey and apples for the Jewish new year and promote Labour's "Green Industrial Revolution" program.

Alongside him is Rob Abrams, a Jewish anti-Zionist activist who in May 2018 led the Kaddish prayer in Parliament Square for 62 Palestinians killed on the Israel-Gaza border, at least 50 of whom were Hamas operatives, according to the Jewish Chronicle.

Israel activist David Collier wrote in response to the clip, "There is no way you are not aware much of the Jewish community were outraged when this person explicitly led a prayer service for dead Hamas terrorists. Which makes your actions here deliberate. Your spiteful nature highlights you are a real danger."

Also in the video is Labour counselor Sue Lukes, who tweeted an article titled the "Jewish 'War against Corbyn' risks bringing real antisemitism to Britain" and wrote a piece to "honor" Malia Bouattia, the former National Union of Students president who was accused of antisemitism.
Local UK Labour Party Branch Planning No-Confidence Vote Against Jewish MP on Eve of Yom Kippur
A local UK Labour party branch is planning a no-confidence vote against a Jewish MP on the eve of Yom Kippur.

Dame Louise Ellman, the Labour MP for Liverpool Riverside, who is Jewish, has been active in Jewish Labour groups and critical of antisemitism in her party.

Labour has been beset by series of antisemitism scandals since Jeremy Corbyn became its leader in 2015.

Ellman has held leadership positions in the Labour Friends of Israel and the Jewish Labour Movement, and is currently vice president of the Jewish Leadership Council.

The proposed motion by the St. Michael's Labour branch states, "This Branch is fully behind Jeremy Corbyn," and cites a statement by Ellman in which she said that she understood "why Jews would seriously consider leaving Britain if Corbyn became PM."

As a result of her statement, says the motion, "We have no confidence that our MP Louise Ellman will carry out the wishes of our [Constituency Labour Party] and the Riverside constituency, or that she will follow Labour Party policy."

"This Branch therefore calls on our Riverside MP, Louise Ellman, to resign," the motion concludes.

The motion will be taken up at a meeting to be held at 8 p.m. next Tuesday, which is the eve of Yom Kippur, the holiest day of the Jewish year.
Jewish Voice for Labour member Stephen Marks, who defended Jackie Walker, is re-elected to Labour's disciplinary body
Stephen Marks, a member of the antisemitism-denial group and sham Jewish representative organisation, Jewish Voice for Labour, has been re-elected to Labour's National Constitutional Committee, the Party's disciplinary body.

Mr Marks signed a 2017 petition in support of Jackie Walker, a former vice-chair of Momentum and one of those exemplifying the institutionalisation of antisemitism in the Labour Party. Mr Walker was repeatedly suspended by Labour and finally expelled earlier this year. She has persistently claimed that complaints of antisemitism are part of a plot to destabilise the leadership of Jeremy Corbyn and has rejected the International Definition of Antisemitism.

Last year Mr Marks also reportedly shared a petition in support of David Watson, who was suspended from Labour in 2016 for allegedly sharing claims on social media comparing the Israeli intelligence agency Mossad with the Nazis and accusing Israel of genocide. Mr Marks is reported to have written in respect of Mr Watson: "It is cases like this which 'bring the party into disrepute'. Those responsible are the ones who should be suspended!"

Earlier this month Mr Watson reportedly called for the abolition of the Equality and Human Rights Commission, which launched a full statutory investigation into Labour antisemitism on 28th May following a formal referral and detailed legal representations from Campaign Against Antisemitism, which is the complainant.
Jewish Voice for Labour co-chair to speak at "Stand up to racism" church event on Yom Kippur
Jenny Manson, the co-chair of the antisemitism-denial group and sham Jewish representative organisation, Jewish Voice for Labour (JVL), is scheduled for a speaking engagement on Kol Nidrei, the night of Yom Kippur.

The event, titled "Resisting the rise of the racists and fascists", will feature Ms Manson on a panel with Weyman Bennett, a member of the Socialist Workers Party's central committee. The panel is part of a larger "West London stand up to racism" event at St Mary's Church Hall in South Ealing on 8th October. It is anticipated that there will be debate on far-right extremism and antisemitism.

Although Ms Manson has previously admitted that JVL was founded in order "to tackle allegations of antisemitism in the Labour Party", she has reportedly been "hurt" by suggestions that question her Jewishness and the organisation has also stressed its Jewish credentials (including in its name). Some have suggested that this stance is somewhat undermined by undermined by Ms Manson's decision to participate in a speaking engagement at a church on Yom Kippur.

Yom Kippur (the Day of Atonement) is the holiest day in the Jewish calendar and is marked by most Jews with fasting and synagogue attendance. Communal organisations are shut and work or public engagements are generally discouraged.
Labour MP sorry for liking Facebook comment claiming Israel disgraces Jews
Labour's MP for Kensington has apologised for liking a Facebook comment claiming Israel "disgraces all of us Jews worldwide."

Emma Dent Coad, who was elected in 2017, 'unliked' the comment within hours of Jewish News reaching out for comment.

A spokesperson for the MP said: "Emma liked this in error and apologises."

A comment posted by online user Earl Okin on Monday evening read: "I've always been a Bevanite – my ultimate political hero….and as a Jew, the current Israeli apartheid regime disgraces all of us Jews worldwide."

It was reported to Jewish News by the anti-racism Twitter account GnasherJew.

The post was a response to another post by online user Bob Pandy critical of "Blairite" MPs and "members of the Netanyahu fan club".
Grotesque: Al Sharpton Gives Rosh Hashanah Sermon at East Side Synagogue
On Monday, former pogrom leader and current Democrat kingmaker Al Sharpton boasted on his Facebook page the fact that he was "being presented to speak at the Rosh Hashanah Services of the East Side Synagogue by Rabbi Perry Berkowitz and Rabbi Leah Berkowitz."

For the record, the ESS informed its members that "this year our worship space of many years, the All Souls Sanctuary, is undergoing extensive renovation and is not available for our use. We are blessed that services will be held instead at Madison Avenue Presbyterian Church at corner of 73rd Street and Madison Avenue in Manhattan. This is a beautiful and awe-inspiring space that will deepen our High Holyday (sic) experience."

Like the old joke says, "The synagogue is closed for the holidays."

By now practically every Jewish newspaper in New York has condemned the notion that Sharpton, who is identified more than anyone else with the August 1991 Crown Heights Pogrom, should be preaching to Jews on the "High Holyday." Sharpton marched through Crown Heights and in front of the 770 Eastern Parkway headquarters of Chabad-Lubavitch shortly after the riot, leading some 400 rioters who were chanting, "Whose streets? Our streets!" and "No justice, no peace!" Sharpton himself notoriously called Jews "diamond merchants," which was his personal contribution to the anti-Semitic vernacular.
Twtichy: 'Disgusting': Socialist N.Y. State Senator (and AOC pal) Julia Salazar channels Ilhan Omar in response to Brooklyn synagogue being vandalized on Rosh Hashanah

Remember New York State Senator Julia Salazar? She's the Democratic socialist who lied about being an immigrant and a Jew. This will probably come as a major shock to you, but it seems that the kind of person who would lie about being Jewish doesn't actually have a whole lot of respect for Jews.

On September 30, teenage thugs threw large objects (reportedly milk crates) through the window of the Rivnitz synagogue in Brooklyn during a Rosh Hashanah service:


Two nights ago, some young people apparently threw objects into a window of a building at Throop & Bartlett St, where neighbors were gathered for Rosh Hashana prayers.

We need to care for each other and protect each other. This isn't acceptable in our district or in our city.

— Julia Salazar (@JuliaCarmel__) October 2, 2019



She might as well have written "Some people apparently threw something through some building."
Conservative Group Severs Ties With 'Brand Ambassador' for Controversial Photo
Pro-Trump youth group Turning Point USA (TPUSA) announced this week that it has severed ties with one of its brand ambassadors following a picture of her at a dinner over the weekend with accused antisemites and white nationalists.

A spokesperson confirmed on Monday to Right Wing Watch, a project of People for the American Way, which monitors far-right activities and content, that Ashley St. Clair is no longer part of TPUSA.

"TPUSA is a large national organization that touches hundreds of thousands of people all across the nation," said the spokesperson. "Ashley is no longer one of our thousands of volunteer activists and ambassadors. [Founder and executive director] Charlie [Kirk] and TPUSA have repeatedly and publicly denounced white nationalism as abhorrent and un-American and will continue to do so."

The spokesperson also noted that St. Clair wasn't representing the organization while she was photographed.

St. Clair, who is Jewish, attended a dinner held after a debate between antisemitic and white-nationalist podcaster Nicholas Fuentes, who attended the 2017 Unite the Right rally in Charlottesville, Va., and conspiracy theorist Jacob Wohl.

St. Clair, who wasn't at the debate, attended what she told Right Wing Watch was a "diverse dinner."
Demi Lovato 'sorry not sorry' for Israel visit
Grammy-nominated American singer and actress Demi Lovato's love affair with Israel on her recent visit here seems to have come to an abrupt halt.

In an Instagram post on Wednesday that was then deleted, Lovato apologized if her trip offended anyone.

Lovato's visit initially appeared to have gone well, so the controversy that followed came as a surprise. The pop singer, who has more than 74 million Instagram followers, posted photos of herself at the Western Wall, being baptized in the Jordan River, touring Yad Vashem, and visiting the Shalva National Center for people with disabilities.

"There is something absolutely magical about Israel," she gushed. "I've never felt such a sense of spirituality or connection to God… something I've been missing for a few years now... I'm grateful for the memories made and the opportunity to be able to fill the God-sized hole in my heart. Thank you for having me, Israel."

But on Wednesday, she wrote in an Instagram story: "I'm extremely frustrated. I accepted a free trip to Israel in exchange for a few posts. No one told me there would be anything wrong with going or that I could possibly be offending anyone. With that being said, I'm sorry if I hurt or offended anyone, that was not my intention. Sometimes people present you with opportunities and no one tells you the potential backlash you could face in return. This was meant to be a spiritual experience for me, NOT A POLITICAL STATEMENT, and now I realize it hurt people and for that I'm sorry. Sorry I'm not more educated, and sorry for thinking this trip was just a spiritual experience. Going against all advice right now and apologizing because it feels right to me and I'd rather get in trouble for being authentic to myself, than staying quiet to please other people. I love my fans, all of them, from all over."

The BDS backlash began as soon as Lovato posted photos of her Israel visit on Instagram. Angry fans responded with scathing comments that she was ignoring the plight of the Palestinians and that she should boycott Israel.

Lovato then deleted the comments on a photo showing her Jordan River baptism where she praised Israel as "magical."
Her detractors took to Twitter to criticize the singer. Among the comments, Nouran Ahmed wrote: "Hey, Demi... actually, you need to read more about the history of this land because it's called Palestine, not Israel, and the magical feeling that you felt, it's back to the history of the land (Palestine) not Israel."

While BDS supporters have long campaigned to persuade celebrities to cancel planned trips to Israel, the controversy over Lovato's visit is unusual in that the pressure came following her visit. Apparently, the singer was taken by surprise by the criticism. But why she then removed her apology – which lives on in screen grabs – is unclear.

Meanwhile, Minister of Jerusalem Affairs Ze'ev Elkin took credit for inviting her as an initiative of his ministry. (h/t Esty)
Just fyi, one pic she posted I saw yesterday was her meeting with special-needs kids.

This is what she's feeling made to apologize for. Bringing smiles to the faces of Jewish children with special needs.

BDS is a genuinely cruel way to express hatred of Jews.

— Seth Mandel (@SethAMandel) October 3, 2019
German Museum to Give Walid Raad Art Prize Despite City Government's Objection: Report
On Monday, the German city of Aachen announced that it had withdrawn a decision to give a prestigious art prize worth €10,000 (roughly $10,900) to artist Walid Raad, citing his alleged support for Boycott, Divestment, and Sanctions, a pro-Palestine movement. But, according to a new report, that move is not the end of the story.

The German news network WDR reports that Raad will receive the award after all, via the Ludwig Forum for International Art, a museum in the city that facilitates the award, the Aachen Art Prize. The museum's board reportedly made the decision on Tuesday night.

Marcel Philipp, the mayor of Aachen, previously said in a statement, "According to research, we have to assume that the designated prizewinner is a supporter of the BDS movement and has been involved in various measures for the cultural boycott of Israel." He added that, when the city of Aachen had inquired with him about his alleged support for BDS, Raad had been "evasive." The city alleged that Raad "could not distance himself from BDS," which it referred to as an "anti-Semitic" movement.

The Ludwig Forum's board reportedly disagreed with the city's of Aachen's decision, however, and WDR said that its members could not find any evidence that Raad was an anti-Semite.

The Ludwig Forum and Raad did not immediately respond to requests for comment.

In an interview with the German publication Deutschlandfunk, the Ludwig Forum's CEO, Michael Müller-Vorbrüggen, said that the museum had obtained the funds to give out the award, and it was therefore it did not need to the city's permission to offer Raad the prize.
University and College Union apologises after failing to include Jews on list of groups of Holocaust victims
The University College Union (UCU) has apologised after it left out Jews from a description of the different groups murdered in the Holocaust, an omission the chief executive of the Holocaust Memorial Day Trust called "completely unacceptable".

The UCU had sent out an e-mail to branch and local association secretaries, in which chapters of the union were encouraged to observe HMD 2020, which takes place on January 27.

It described how the Nazis had persecuted groups such as "trade unions, including social democrats and Communists", "Europe's Roma and Sinti people", "Black people", "disabled people", "freemasons", "gay and lesbian people", "Jehovah's witnesses" and "'asocials', which included beggars, alcoholics, drug addicts prostitutes and pacifists" were persecuted by the Nazi regime.

It also specifically mentioned "non-Jewish Poles and Slavic POWs". However, it made no mention of Jews, the primary targets of the Holocaust.

When the e-mail was publicised, Jews on social media attacked the "shocking" and "sickening" omission, with others suggesting that the mention of "non-Jewish Poles" showed the Union had clearly been thinking about who to include – and who to leave out.

A link in the e-mail led to a specific page on the UCU about HMD, which also neglected to mention Jews as victims of the Holocaust, while mentioning other significant groups.

In a subsequent e-mail from the union's "equality support official", the organisation apologised for what it called "drafting errors" in its initial message.
Columbia celebrates anti-Semitism
I want to give Mohamad credit on one score: He's honest about his Jew-hatred. He doesn't pretend he's only attempting to champion Palestinian rights. He doesn't pretend to be supporting boycotts just to encourage Israelis to withdraw from "occupied territories." He doesn't claim that he's not anti-Semitic but merely anti-Zionist.

That last claim I find particularly misleading and annoying. Because, given a choice, I'll take anti-Semites over anti-Zionists any day. Garden-variety anti-Semites – I'm not talking about neo-Nazis or Stalinists or Khomeinists or Salafi/jihadis – disparage Jews. They don't want them working in their businesses, living in their neighborhoods, or joining their clubs. That's nasty but disparagement is survivable, and alternative businesses, neighborhoods and clubs can generally be found.

Anti-Zionists, by contrast, seek a more consequential goal. They want to deprive Israel of its fundamental right to exist. They want to end Jewish self-determination in any part of the ancient Jewish homeland, a unique refuge for Jews who fled not only from Europe but also – and in larger numbers – from Arab and Muslim countries.

Were anti-Zionists to achieve their goal, were they to succeed in eradicating the Jewish state, what would happen to the more than 6 million Jewish Israelis who live there? I think you know. I think Mohamad knows too. Perhaps he'd be "very sympathetic to them." If he's still around, of course.
When anti-Semites take advantage of liberal institutions
Last week, during a forum of world leaders held in my school, Columbia University, Malaysian Prime Minister Dr. Mahathir Mohamad spoke.

The 94-year-old leader is probably the most anti-Semitic head of state. He doesn't try to hide his anti-Semitism, he doesn't just criticize Israel, he practices classic anti-Semitism, the kind that has been associated with various slurs against the Jewish people (they have long noses; they rule the world; they cause others to fight and die for them, and so forth).

Letting the Malaysian leader speak is only the latest example of the institution's problematic choice of speakers, having already let former Iranian President Mahmoud Ahmadinejad speak at the university about a decade ago.

The organization that I head, Students Supporting Israel (SSI), has refused to stay silent. Although we could not get Mahathir's speech canceled, we decided to generate a critical conversation so that the university won't even consider inviting someone like the Malaysian prime minister ever again.

We were told that we would lose, that he would be welcomed with great honor at the university and that his anti-Semitic agenda would not be condemned.

But we did not relent. We created a petition that got more than 3,000 signatures, we sent a letter to the university president and to the professor who was to introduce the prime minister at the event, and we demanded that both university officials condemn Mahathir.
Seth J Frantzman: Khashoggi's abused to whitewash dictatorships' treatment of journalists

Websites that support the Iranian regime, state media in Turkey, and voices from authoritarian regimes and human rights abusers sought to cynically exploit the anniversary of the murder of former Saudi insider Jamal Khashoggi. Since last year, the genuine grief over the death of Khashoggi has been hijacked in some countries and media to use it for ulterior motives, talking about press freedom while journalists are jailed, expelled and harassed.

"Even as Turkish leaders call for an international inquiry into Saudi Arabian journalist Khashoggi's murder, the Committee to Protect Journalists found the Turkish government to be the world's biggest jailer of journalists for the third consecutive year," ABC news noted last year.

Amnesty International and Reporters Without Borders were on hand in Istanbul this year to commemorate the murder of Khashoggi. Amnesty published a special call to honor his legacy.

While Amnesty was commemorating Khashoggi, the human rights organization also pointed out the long list of abuses of freedom in Turkey. Yet Ankara's state media outlets have sought to highlight Khashoggi's death as an example of press freedom.

A scientist was sentenced to 15 months in prison just days before the Khashoggi commemoration for the apparent crime of publishing environmental findings. Amnesty has called for charges to be dropped against the academic, whom it describes as a whistle-blower.

Amnesty noted in August that Turkey carries out mass blocking of websites, a "full-frontal attack on freedom of expression." According to the human rights organization, the Reporters Without Borders representative that attended the Khashoggi event was himself detained in 2016 "after symbolically guest editing a publication for a day as part of a solidarity campaign."
Guardian smears Israel with false claim of 50 'racist laws'
A Sept. 25th op-ed at the Guardian ("Ousting Netanyahu isn't enough for Israel's Palestinians. They want equality") by former +972 contributor Amjad Iraqi included the claim that Israel has "dozens of discriminatory laws".

Iraqi's claim that Israeli Arabs are afforded less rights than Jews links to a report by the radical-left NGO Adalah (where he works as its advocacy director) alleging the existence of at least "50 racist laws" in Israel. However, CAMERA and other watchdog groups have refuted Adalah's claims of racism – a term used so carelessly by the NGO that even an Israeli public health law requiring that parents vaccinate their children is included on their list of "racist laws".

Among the most comprehensive analyses of the "50 racist laws" claim was conducted by the Institute for Zionist Strategies (IZS), a policy and research organization dedicated to preserving Israel as a democratic Jewish state.

Here are the highlights from their detailed July 2016 report:

- The overwhelming majority of the laws featured in the list (53 out of 57) do not even relate to the citizens' ethnic origins and those that do, are designed to prevent and avoid discrimination. For example, the Law and Administration Ordinance (1948) that defines the country's official rest days, and the Law for Using the Hebrew Date, both explicitly exclude institutions and authorities that serve non-Jewish populations for whom the law provides for definitions and procedures appropriate for their specific needs.

- In 21 cases, Adalah's claims of discrimination stem from the organization's extremist stance that rejects the nature of Israel as a nation-state in general and as the nation-state of of the Jewish people in particular. For example, the Yad BenZvi Law is defined as a discriminatory law because of the institution's objective of promoting Zionist ideals.

- 18 of the laws reflect customs in other Western democracies whose democratic character no one would disparage. For example, according to Adalah, the flag constitutes a discriminatory law. Needless to say, this unfounded reasoning would mean that any country, the flag of which bears a cross or crescent discriminates against its non-Christian or non-Muslim minorities. A more in-depth comparison between the laws frequently found that Israeli legislation is actually characterized by a higher degree of tolerance for its national minorities.
The Washington Post's Skewed Worldview on Jews and Israel
The overwhelming majority of American Jewry has a positive view of Israel. Yet, the overwhelming majority of opinion pieces and reporting from major U.S. news outlets doesn't reflect this reality. Instead, the media promotes a small and unrepresentative minority. The Washington Post offers a case in point.

Ninety-five percent of American Jews have a "strongly positive" view of Israel, according to an August 2019 Gallup poll. The pollster noted that this was "significantly more pro-Israel than the overall national averages of 71% favorable views of Israel and 21% favorable views of the Palestinian Authority."

Similarly, a 2013 Pew survey observed: "76% of Jews (identified by religion) said they were at least somewhat emotionally attached to Israel. In addition, almost half said that caring about Israel is an essential part of being Jewish (with most of the rest saying it is important although not essential) and nearly half reported that they had personally traveled to Israel."

In short: American Jewry is, except for a miniscule minority, pro-Israel. Yet, the American media often chooses to give a megaphone to Jews that actively oppose, or are hypercritical of, the Jewish state.

The Washington Post, for example, gives inordinate column space to the tiny fraction of Jews, American and otherwise, who are against the right of Jewish self-determination. In a Sept. 20, 2019 tweet, Mairav Zonszein of +972 magazine cheered that her publication was "all up in The Washington Post opinion pages today," with two pieces from the same organization appearing on the same day. Zonszein proudly noted that editors of "mainstream outlets" were no longer editing out or tweaking her use of the term "apartheid."
It's a start! https://t.co/2t9mV6pEGO #FBblocksPalestine

— (((David Lange))) (@Israellycool) October 3, 2019
In Pittsburgh a year later, the shofar-blower is dead and the shul is shuttered
As this city's Jewish community celebrated Rosh Hashanah this week, the Tree of Life synagogue stood closed, its doors blocked by a chain-link fence.

A brown, wilted wreath hung on a tree near the synagogue, where a gunman killed 11 worshipers last year in the worst anti-Semitic attack in American history. Jewish stars bearing the names of the victims are taped to a glass door at the front entrance, behind a fence and under an Israeli flag and a sign thanking first responders. A makeshift wooden sign on a barricade next to the building reads "No day shall erase you from the memory of time."

The synagogue is built to welcome hundreds of Jews. But the only person to enter regularly now is a custodian who maintains the building while the three congregations that meet there decide what to do. Tree of Life has been shuttered since the attack.

"I hope it's torn down," said Ellen Surloff, who was president of one of the congregations, the Reconstructionist Dor Hadash, at the time of the shooting. "I don't think that I could ever go back in that building and not be continually reminded of what took place there."

Signs of the attack remain everywhere in Squirrel Hill, the quiet, warm, tree-lined community that has been the home to Pittsburgh's Jews for more than a century, and which otherwise feels idyllic as summer turns into fall.

Local businesses display a sign created shortly after the attack that reads "Stronger than Hate" alongside a yellow Star of David and blue and red diamonds — the city's traditional colors. The kosher supermarket hangs a banner with the names of the 11 victims. The local Starbucks has three large hearts painted on its windows with the words "love," "kindness" and "hope" painted in Hebrew and English on each one.
'A rapidly spreading crisis'
A FIVE-YEAR-OLD student began wetting himself in class after he was subjected to antisemitic bullying over the course of four months, while a 12-year-old student was forced to kiss the feet of a Muslim child and was physically assaulted.

Both Jewish students, who have asked to remain anonymous, had to leave their public schools because their families felt the principals did not provide them adequate support.

The first child, a prep student at Hawthorn West Primary School, started wetting himself in bed at night, and in class. He also became agitated, began using derogatory language and looked for an excuse each morning to avoid going to school. His parents knew something was wrong, but were unsure if it was all a part of the adjustment process from kindergarten.

Then, after spilling his cereal one morning, the five-year-old broke down. "He literally fell down on the floor," his mother shared with The AJN, "and said, 'Mummy, you shouldn't love me. I'm a worthless, Jewish rodent. I'm vermin.'"

Mortified, his mother crumbled on the floor with him.

It was later revealed that the young boy was being bullied on a daily basis by five classmates in the school bathrooms. It started when he was questioned about being circumcised. Then came the barrage of antisemitic insults, including "Jewish vermin", "the dirty Jew" and a "Jewish cockroach".

But when raised with the school, the mother says they were "dismissive" of the antisemitic element. The school's solution was to keep the student from using the regular bathroom, offering the facilities of another bathroom instead.

"But we felt uncomfortable because obviously you're not addressing the issue," remarked the student's mother.

The parents called for an education policy about antisemitism to be rolled out. But the school declined.

According to the student's mother, "they refused to accept there was an antisemitic issue. 'It's not antisemitism, it's just bullying.' The principal said, I don't want to make other students feel uncomfortable".
Daphne Anson: In the Lucky Country, Jewish Schoolkid Forced to Kiss a Muslim Schoolkid's Feet

Back in 2012, I drew attention on this blog to a disturbing trend identified at schools in north-west England.

The repellent state of affairs had been revealed by the noted Anglo-Jewish historian Professor Geoffrey Alderman:

'Last November, in my capacity as a visiting professor at York St John University, I had the privilege of hearing a presentation by doctoral student Joy Schmack. Mrs Schmack, an extremely experienced teacher and inspector of secondary-school religious education, is researching the use of the word "Jew" in teenage classrooms in the north-west of England. She presented chilling evidence of the unmistakeable revival of the word "Jew" as a common term of abuse amongst teenagers, who apparently habitually use it as a synonym for "cheat" or "swindler", or "snitch". "Don't you dare Jew me", one Merseyside youngster might say to another - perhaps hardly realising the significance of these words.

Scarcely four months after hearing this presentation I received a communication from a retired gentleman whose family escaped from Nazi Germany in 1934 and who now devotes his retirement to talking about antisemitism to youngsters in schools in Cheshire, Merseyside and Lancashire. He had been moved to write to me because of his experience at one such school, where his presentation was discourteously received and where a teacher confessed to him that the word "Jew" had now replaced the word "gay" as a playground term of abuse. The teacher said: "If kids wish to insult each other, they now use (the word) Jew" [Emphasis added]....'

Now, the Australian Jewish News, in a scoop, reveals the antisemitic targeting that Jewish schoolkids at non-Jewish day schools in Melbourne have been enduring, causing them extreme anxiety and distress, and of the craven, odious response of the school authorities when the abused kids' parents (having tardily learned of the abuse from their persecuted offspring). That response was basically: "It's not antisemitism, it's bullying, and your kids should learn to toughen up".

They refused one set of parents' request to teach the school body about the realities and consequences of antisemitism.
Hitler-loving neo-Nazi who said it was his "dream" to create a bloodbath arrested at Luton airport and sentenced to four years in prison
Jacek Tchorzewski, an 18-year-old neo-Nazi Polish national staying in Buckinghamshire, has been sentenced to four years in prison.

Mr Tchorzewski was arrested at Luton Airport in February on suspicion of terrorism offences as he tried to board a flight to Poland, with police recovering an "enormous amount" of digital documents, including manuals on making explosives and weapons. In one voice recording, Mr Tchorzewski said it was his "dream" to "plan some terrorism" and carry out an attack, and he wrote in a notebook found while he was remanded: "Let's fill our hearts with terror and London's streets with blood."

Other documents included extreme right-wing material which praised Hitler, neo-Nazism and Satanism and also featured antisemitic sentiments and even called for genocide. He was also said to be connected to convicted terrorist Oskar Dunn-Koczorowski, who was jailed in June.

Mr Tchorzewski pleaded guilty on 21st June at the Old Bailey to ten counts of possession of information likely to be useful to a person committing or preparing an act of terrorism, contrary to section 58 of the Terrorism Act 2000. He was sentenced on 20th September at the Old Bailey.
Trial begins for German neo-Nazi group accused of plotting attacks
The trial of an alleged neo-Nazi terrorist cell accused of plotting violent political upheaval in Germany opened Monday amid reports the country's far-right scene is growing more armed and radical.

Eight members of the so-called Revolution Chemnitz group aged between 21 and 32 will answer to charges of forming a right-wing terrorist organization, according to federal prosecutors.

Almost a year to the day after most of the suspects' arrest in coordinated raids, the proceedings took place under tight security in Dresden, the capital of Saxony state, a stronghold of the extreme right.

Resentment runs deep in the region over Merkel's liberal refugee policy that led to the arrival of more than a million asylum seekers to Germany since 2015.

The anti-immigrant, anti-Muslim Alternative for Germany (AfD) party scored 27.5 percent in a state election earlier this month, just shy of the 32 percent garnered by Chancellor Angela Merkel's conservatives.

The suspects are accused of "coming together to achieve their political goals — to shake the foundations of the state — with serious violent acts," a spokeswoman for the superior regional court said.

They allegedly sought to carry out "violent attacks and armed assaults" against immigrants, political "opponents," reporters and members of the economic establishment.
Argentina Holocaust museum takes custody of secret stash of Nazi artifacts
The Museum of the Holocaust in Argentina's capital on Wednesday took custody of the largest collection of Nazi artifacts discovered in the country's history.

Federal police and Interpol agents found the more than 70 Nazi objects hidden behind a bookcase in a collector's home north of Buenos Aires in 2017 as part of an investigation into artworks of illicit origins. The Nazi items include busts of Adolf Hitler, an instrument to measure people's heads to supposedly determine their racial purity and statues of the Nazi eagle with a swastika under its talons.

Owning Nazi objects in Argentina can be illegal if it is determined that the items incite racial or religious hate in public, although they can be allowed in private. It has not been determined if the collector violated the anti-discrimination law, although he has been charged with owning pieces of illegal origin.

Agents with Interpol began following the collector and with a judicial order raided the house on June 8, 2017. A large bookshelf caught their attention and behind it agents found a hidden passageway to a room filled with Nazi imagery.
Teen allegedly attacks Jewish woman in Brooklyn, pulling off her wig
Police said Thursday a Jewish woman reported being harassed in Brooklyn on Rosh Hashanah.

The 22-year-old said that she was approached on Sunday evening by a female teenager who "pulled her scarf and wig from her head," a New York Police detective, Annette Shelton, told the Jewish Telegraphic Agency in an email.

The incident occurred in the Bedford-Stuyvesant neighborhood and the perpetrator, who was described as being 16 years old, was accompanied by another teenager, the woman told police.

Shelton said that the police's Hate Crimes Task Force was investigating the incident.

The incident is the second alleged attack that occurred on Rosh Hashanah in the borough. On Monday, the windows of a synagogue were broken in the Williamsburg neighborhood.

That incident drew condemnations from Mayor Bill de Blasio and Gov. Andrew Cuomo.
BREAKING: Jewish woman attacked in Williamsburg; headscarf yanked off her head.

We cannot allow this to continue! The Jewish community is being terrorized!

Enough!!! pic.twitter.com/CLRBIHUKwn

— Dov Hikind (@HikindDov) October 2, 2019
Hate fliers circulated in Montana town on Rosh Hashanah
Fliers bearing white nationalist language and hate speech were circulated to businesses in Whitefish, Montana.

The fliers were circulated on Monday, the first day of the Jewish holiday of Rosh Hashanah.

"The hate literature was not only offensive in relation to the Jewish holiday, but it is concerning as there is a recorded rise and mainstreaming of antisemitism in the United States, including the troll storm perpetrated from outside the community onto the Jewish people of Whitefish just two and a half years ago," Rachel Carroll Rivas of the Montana Human Rights Network said in a statement.

The fliers included code words like the number "88," which stands for "Heil Hitler" (because H is the eighth letter of the alphabet) and "14 Words" which represents a 14-word statement asserting white supremacy that was created by white nationalist David Lane, who is specifically named on the flier, according to the network.

Similar fliers appeared in Helena, Montana, over the weekend.

Neo-Nazi Andrew Anglin launched a campaign in December 2016 against Jews in Whitefish in which he published personal details and photos of Jewish residents, including a child. The campaign stemmed from a real estate dispute in Whitefish between Tanya Gersh, who is Jewish, and Sherry Spencer, the mother of white supremacist leader Richard Spencer.

Gersh said that anonymous internet users harassed her family after Anglin revealed her home address and phone number, her husband's business contact information and her son's Twitter handle.

Other Jewish families in Whitefish were also targeted. The Jewish population of the city is about 60.
KTVQ news - Whitefish - Antisemitic flyers pic.twitter.com/zLS9UW9mSj

— Eye On Antisemitism (@AntisemitismEye) October 3, 2019
Uber Expands Partnership With Israel's Moovit
Ride-sharing company Uber is set to expand its collaboration — first announced in February — with Israel-based public transit app developer Moovit App Global, the latter said Wednesday. The original partnership saw Uber leverage Moovit's application programming interface to provide users in London and four other cities with public transportation information, so that riders can access real-time transit data and route planning in the Uber app. As part of the expanded partnership, Uber is set to expand its service to 15 additional cities globally, including Paris and San Francisco.

Moovit also announced that ride-sharing company Lyft is set to implement a similar service in New York.

Founded in 2012 and based in central Israel, Moovit develops and offers a free mobile navigation app providing real-time public transit information in 3,000 cities and 92 countries. Its app has over 500 million users, adding to the company's database of over 7,000 public transportation operators, according to the company's statement.
CVC to Pay $450 Million for a 25 Percent Stake in Israeli Web and Mobile Monetization Company IronSource
Private equity firm CVC Capital Partners is negotiating a deal to acquire a 25 percent stake in web and mobile monetization company IronSource for $450 million, according to two people familiar with the matter who spoke to Calcalist on condition of anonymity. The deal, which values IronSource at $1.55 billion, is expected to be signed in the upcoming 24 hours, the people said, adding that the company is expected to hand out $100 million-worth of dividends to shareholders before the deal is complete.

The negotiations almost came to an unsuccessful end two months ago due to disagreements over IronSource's valuation, which has since been resolved, the people familiar with the matter said. If completed, the deal is expected to be the biggest secondary deal of an Israeli company. CVC will become IronSource's largest shareholder, but its founders will keep a controlling share with a 45-50 percent stake held between them, down from the 60 percent they currently hold, according to the people. The company's employees, which hold options worth $25 million, will also take part in the sale.

The CVC sale is expected to be the last funding IronSource raises before its initial public offering, scheduled for the second half of 2020. The company, which is expected to see revenues of around $1 billion for 2019 with an EBITDA of $150 million, expected to see its revenues and profit grow by its IPO. Its net profit for 2019 is estimated at $120 million to $130 million for 2019, according to the people familiar with the matter, and the company has no debt.

Founded in 2009, IronSource was originally a download optimization software developer, which shifted its focus to rewarded ads following a series of acquisi

Cache
From Ian:

---
Rina Shnerb's alleged murderer linked to European-funded BDS affiliates
Samer Arbid, the alleged leader of the Popular Front for the Liberation of Palestine (PFLP) terrorist cell responsible for murdering 17-year-old Rina Shnerb near Dolev in August, worked for a European-funded NGO linked to BDS, NGO Monitor reported on Wednesday.

Arbid, 44, considered one of the PFLP's top officials in Ramallah, was previously arrested for preparing PFLP explosive devices during the Second Intifada.

IDF and Border Police forces arrested him on Sunday for allegedly preparing and detonating the improvised explosive device that killed Shnerb and wounded her father Eitan and brother Dvir.

On Monday, Haaretz reported that the Justice Ministry opened an investigation into "potential wrongdoing" by officers of the Shin Bet (Israeli Security Agency) after Arbid was in critical condition in at Hadassah-University Medical Center on Mount Scopus following his interrogation, which involved torture. It was subsequently reported that the agents were authorized to conduct a "violent interrogation" but went "too far."

Media sources reported on Tuesday that the Public Committee Against Torture in Israel (PCATI) and several Joint List MKs sent a letter to Attorney-General Avichai Mandelblit demanding a criminal investigation be opened regarding Arbid's interrogation.

According to the NGO Monitor, Arbid was listed as an accountant for Addameer (Arabic for conscience) Prisoner Support and Human Rights Association, a Palestinian NGO that provides legal representation to Palestinians detained in Israel. The Ramallah-based organization's mandate includes "ending torture and other forms of cruel, inhuman and degrading treatment inflicted upon Palestinian prisoners" and "guaranteeing fair, impartial and public trials." The organization was listed as a PFLP-affiliated institution on Fatah's website in September 2015.
NGO Monitor: Samer Arbid's Alleged Terror Activities, Arrests, and NGO Affiliations

According to Israeli security officials, on August 23, 2019, Samer Arbid commanded a Popular Front for the Liberation of Palestine (PFLP) terror cell that carried out a bombing against Israeli civilians, murdering 17-year old Rina Shnerb, and injuring her father and brother. According to the Israel Security Agency (Shabak), Arbid prepared and detonated the explosive device.

Ties to PFLP-linked NGOs
Arbid worked for Addameer – a Palestinian NGO closely linked to the PFLP, 1 which listed him as the organization's accountant for several years.

In addition to his work for Addameer, Arbid appears to have worked for another NGO with ties to the PFLP, the Union of Agricultural Work Committees (UAWC). According to Samidoun, yet another PFLP-linked NGO, Arbid was the "financial director of the Union of Agricultural Work Committees in the West Bank" in 2016.
Prior Arrests
- In an Addameer-produced video from April 2013, Arbid describes his numerous arrests. He states that he was arrested at the beginning of 2003 and sentenced to two and a half years in prison, and served an additional year in administrative detention.
- According to Samidoun, Arbid was placed in administrative detention from March 2007 to August 2008.
- Similarly, Samidoun reported that Arbid was arrested on September 23, 2013 and placed in administrative detention.
- According to Samidoun, Arbid "was ordered to an additional three months' administrative detention" on March 12, 2016.
Israel reportedly arrests another Palestinian behind the deadly Dolev Spring attack
A senior member of the terror cell suspected of being responsible for the West Bank bombing that killed teenager Rina Shnerb in August was arrested by Israeli security forces early on Thursday, Palestinian media reported.

According to the reports, security forces arrested Walid Muhammed Hanatsheh at his home in the village of al-Tireh outside of Ramallah during overnight arrest raids across the West Bank, which saw 13 Palestinians arrested by IDF troops and Border Police officers.

Wafa News reported that the raids took place in several villages in the Ramallah area including Kobar, Deir Abu Mashaal, Jifna and al-Tireh. During Hanatsheh's arrest, a Palestinian TV cameraman was injured after troops fired a rubber bullet toward rioters.

Hanatsheh, who acts as finance and administration manager for the health work committees (HWC), has been a member of the Popular Front for the Liberation of Palestine since the Second Intifada, and has been arrested by Israel several times for his membership in the terrorist group.
BBC-promoted NGO's terror links surface again
The terror cell leader, Samer Arbid, was employed (despite his past history of involvement in terror activity) as an accountant by the Palestinian NGO 'Addameer' which is known for its links to the PFLP – a designated terror organisation in the US, the EU, Canada and Israel.

Five days after Rina Shnerb was murdered the BBC News website published a video report which included an interview with the director of 'Addameer', Sahar Francis.

Partisan report on detained Palestinian 'children' from BBC's Gender and Identity correspondent

That heavily promoted report was made available on the BBC News website for fourteen consecutive days.

In other words the producers of that report, along with additional BBC journalists, apparently saw nothing at all problematic in the amplification of the unchallenged narrative of a political NGO that is linked to a terrorist organisation that the BBC knows has murdered Israeli civilians in the past and which, we now learn, employed the leader of the PFLP terror cell apparently responsible for the brutal murder of a seventeen-year-old out hiking with her family.
How the Myth of the Israel-Palestinian Conflict's Supreme Importance Distorted 70 Years of American Middle East Policy
After failing in 1948 to stop the U.S. from supporting the creation of a Jewish state, writes Samuel Tadros, the Middle East experts of the State Department put forth the theory that America could not achieve its strategic goals in the region without first solving the Arab-Israeli conflict. This soon became "dogma" in Foggy Bottom, at think tanks, and in academia. Even President Trump, for all his unorthodoxies, is not immune to the allure peacemaking.

In reality, no one [in the Middle East] actually cared about the Palestinians, at least not the region's rulers. [Their] priorities were everywhere besides Palestine: toppling the monarchs for some, searching for hegemony for others, or, for most, simply protecting their rule from revolutionary upheaval. The Palestinians, if they were considered at all, served simply as a bargaining chip; a cause to rally supporters and attack opponents.

Despite this, Washington's Middle East experts were not deterred. The centrality of the issue was never to be questioned, but the method to solve it changed.

[Today], stepping back from the details and daily changes on the ground, [it is necessary to confront] an inconvenient proposition: maybe there is no solution to the conflict. After all, it is uniquely American to think that every problem must have a solution. Maybe the reality is that there are two peoples who claim the same piece of land and that no amount of effort or innovative solutions can solve this simple fact.
The Arab World Can't Blame All of Its Problems on the West
For the past several weeks, the death of Israa Ghrayeb, a twenty-one-year-old Palestinian woman, has garnered much attention on Arabic-language social media and also in the Arab press. Ghrayeb was apparently beaten to death by family members for appearing in public—at a café—with her fiancé. To Hussain Abdul-Hussain, her death is a stark reminder of the ways in which Arab intellectuals have used the ideas of the Egyptian-American literature professor Edward Said, along with the those of the many postcolonial theorists who followed in his footsteps, to avoid critical examination of honor killings and other social ills:

"Orientalism" [was the term Said gave to] the collection of stereotypes through which the West is purported to understand the Middle East. For anti-colonialists . . . those stereotypes are proof that the colonial powers failed to understand the people they colonized. Honor killing is one of the stereotypes unjustly attributed to Muslims and Arabs, so the argument goes. But it is no stereotype. . . . It is a reality.

Though women are the main victims, honor killing falls under the Islamist concept of "promotion of virtue and prevention of vice." For many Arabs and Muslims, this involves the restoration of some long-ago, supposedly perfect society that exists only in their imagination. But [this mythic ideal] is used to justify killing adulterers (of both sexes) or homosexuals or men who are perceived as effeminate, such as the Iraqi teenager whose murder by stabbing was recorded by his killer. . . . In Lebanon, a non-Druze man who married a Druze woman had his penis cut off by relatives of the bride.

Honor killing . . . is a flaw in Muslim society and it can be rectified only if that society is prepared to look inward at itself rather than blaming outsiders. . . . [B]ashing colonialism and Orientalism won't solve the [Arab world's] problems. On the contrary, it will only conceal them. . . . [T]o eradicate an abomination such as honor killing, Arabs and Muslims must first acknowledge its existence and take ownership of it.
PMW: Palestinian women's lives endangered by PA religious leaders' ruling

Top PA religious figures prohibit Palestinian women from submitting complaints over spouses to Israeli police

PA Ministry of Justice is working on improving legislation on family matters, including "ensuring punishment of those who commit crimes from a motive of honor"

The Israeli Arab party The Joint List has announced that it will boycott today's swearing-in ceremony of the Israeli Parliament in protest of what it calls the government's failure to address the rising levels of violence in Arab towns. Yet while Israeli Arab politicians are complaining that not enough is being done to tackle the growing problem of violence in Israeli Arab communities, the PA is telling Palestinian women not to go to the Israeli police with complaints over their husbands
"Anti-Normalization" With Israel: The True Goal
An anti-Israel group called the Association for Supporting Resistance and Confronting Normalization claimed that Jordanians who work in Eilat and other Israeli cities are often recruited as informants by the Israeli security services. The group accused the Jordanian government of "complying with all the demands of the Zionists on the pretext of cooperation for the sake of peace." The claim that Jordanians who go to work in Israel or help clean the beach are recruited as spies is aimed at painting them as traitors, a charge that is likely to put their lives at risk.

Instead of thanking Israel for allowing Jordanians to come and work in Eilat, the "anti-normalization" activists are inciting the workers to boycott Israel. These activists, of course, are not offering the Jordanian workers jobs and salaries.

In March 2019, Israel agreed to increase by 33% the number of Jordanian day laborers employed at hotels in Eilat from 1,500 to 2,000. The permits for the Jordanians are designed to allow them to work in the hotel industry of Eilat, close to the border with Jordan. The move is part of an agreement signed between Israel and Jordan to advance ties between the two countries through economic and social cooperation initiatives.

As far as the "anti-normalization" activists are concerned, inciting their people against Israel and the Jordanian workers is more important than any economic and social initiatives. These activists hate Israel to a point where they prefer to see 2,000 workers lose their jobs than continue working and earning good salaries in Eilat.

If greeting a Jew on his or her holiday, cleaning the beach with an Israeli, or working in Israel are considered by many Arabs a "crime," what will be the fate of any Arab who makes peace with Israel?

Those who are calling for boycotts of Israel -- and are threatening and inciting their people against any Arab who dares to host a Jew or send him or her greetings -- are also emphatically opposed to peace with Israel. For them, making peace with the "Zionist entity" is considered an act of treason. They are worried that an Arab who greets a Jew may one day make peace with Israel. They are worried that an Arab state that hosts Israeli athletes may one day make peace with Israel. They are worried that Arabs who go to work in Israel may fall in love with Israelis and stop thinking of ways to kill them or destroy Israel.
US gives cold shoulder to major Palestinian donor parley
The United States gave a cold shoulder last week to the major bi-annual meeting for donor aid to the Palestinian Authority, known as the Ad Hoc Liaison Committee (AHLC), which has operated for the last 25 years.

"We limited our participation to working-level observers only," US special envoy Jason Greenblatt told The Jerusalem Post this week as he described the downgrade.

It is the latest Trump administration action against traditional venues that help provide financial assistance to Palestinians and the Palestinian Authority.

As part of its peace plan known as the "Deal of the Century," the administration plans to create new funding venues for the Palestinians, the blueprint for which was unveiled at a Bahrain conference in June. But action on the plan is dependent on success with the political part of the peace process, which has yet to be published.

The US was previously one of the largest donors to the Palestinians and the PA, providing upward of half-a-billion dollars a year through the United Nations and other venues, but it has slowly halted that funding over the last two years.

The high-level 15 member AHLC meeting, held in the spring in Brussels and in the fall in New York, is one of the bedrock pillars of international funding for the Palestinians. It has remained a neutral venue where Israelis, Palestinians and the United States interact, even when all other communication is frozen.

In the past, the meetings chaired by Norway have been attended by high-level officials such as Greenblatt, or secretaries of state such as John Kerry. EU foreign policy chief Federica Mogherini often attends, and was one of the dignitaries who gathered in New York for the meeting on September 26.
Rivlin: Israel is in crisis, needs government now
Israeli democracy is in a state of emergency, and a government must be formed as soon as possible, President Reuven Rivlin said at the 22nd Knesset's inaugural meeting, which was overshadowed by the political uncertainty on Thursday.

Rivlin and Knesset Speaker Yuli Edelstein addressed the long period of political uncertainty, which saw the 21st Knesset be inaugurated and dissolved in a period of less than two months, less than six months ago. They both said the solution is a unity government.

"We are facing a time of crisis for the House of Jacob, an emergency for Israel's security and for Israeli society, an emergency for Israeli democracy," Rivlin said. "Forming a government is not only the wish of the people. More than ever, in times like these, it is an economic and security need the likes of which we have not known for many years."

Rivlin said a broad governing coalition would allow Israelis "to put the disagreements between us to one side and work on finding areas of agreement...to give us all an opportunity to breathe a little, to heal."

The President listed a number of "real life" areas that the government must address, from combatting the Iranian threat to making day-care cheaper to tacking rising crime in Arab communities.
Lapid forgoing rotation as prime minister
Blue and White's co-candidate for prime minister in last month's election, MK Yair Lapid, announced on Thursday that he would no longer be a candidate for prime minister in the next government.

The announcement came after Prime Minister Benjamin Netanyahu accused him of being the obstacle to the formation of a national unity government. Netanyahu said Lapid was trying to stop Gantz from joining a coalition government that he is currently trying to form because he would not give up his goal of rotating in the Prime Minister's Office with Gantz.

"For the sake of a unity government, I'm forgoing the rotation," Lapid told the Blue and White Party. "There won't be a rotation with three people. That's not serious. Running a country is a serious matter. It's far more important to me that there's unity in the country. That there won't be another election. That this country begins a healing process. Mends the wounds. Changes the national priorities."

Lapid warned that Netanyahu is trying everything to drag Israel to its third election within a year.

"One man with three indictments stands between us and a national unity government," he said. "That's what the country needs.

This country needs a national unity government led by Blue and White, with Likud, with Liberman, with Labor. That's what we said throughout the campaign. In that government there will be a rotation. Gantz will be prime minister for the first two years. There's no other option."

Lapid ruled out a coalition in which Gantz rotates as prime minister with Netanyahu but did not rule out a rotation with another Likud leader.

Benjamin Netanyahu invites Avigdor Liberman to join coalition
Prime Minister Benjamin Netanyahu offered Yisrael Beytenu head Avigdor Liberman to join the government he is forming, in a meeting Thursday morning at the Prime Minister's Office in Jerusalem.

Netanyahu told his former aide and ally and current political nemesis that he should join as soon as possible in order to contribute to the formation of a unity government.

But Netanyahu's spokesman said there did not end up being a breakthrough in the meeting.

Liberman released a statement after the meeting saying that he urged Netanyahu to have Likud, Blue and White and Yisrael Beytenu meet to decide the next government's guidelines on policy and only then deal with distributing portfolios and who should go first in a rotation in the Prime Minister's Office.

"I am making a major effort to form a broad unity government," Netanyahu told the Likud faction. "This is what the voters decided, and this is what is right. This should be taken for granted."

Following the meeting with Liberman, Netanyahu went to update the heads of the right-wing and religious parties in his political bloc.
IDF indicts 5 Palestinians in murder of soldier Dvir Sorek
The IDF Prosecution filed an indictment in the Judea Military Court on Thursday against five Palestinians in connection with the murder of IDF Corporal Dvir Sorek on August 8.

The five Palestinians, all of who are affiliated with Hamas according to the indictment, are: Qasem al-atzafra, Nazir al-atzafra, Ahmad al-atzafra, Yusef Zahur and Mahmoud Atuna.

Previously, the IDF announced that it sent messages to the defendants' families announcing its intention to demolish their houses.
Some of the defendants have already objected and the High Court of Justice will hear the issue on October 31.

The stabbing attack occurred against Sorek near Migdal Oz on August 8.
Greenblatt: PA Must End "Pay to Slay"
U.S. Middle East envoy Jason Greenblatt told Asharq Al-Awsat in an interview: "I can't imagine a world in which a peace agreement is signed where issues like the Palestinian Authority's 'Pay to Slay' program remains - a program that rewards terrorists who murder or attack Israelis. It's a basic concept that you cannot encourage people to kill and expect a peace deal that works."

"I can't imagine the Israeli government ever signing such an agreement. It would make no sense and it's completely antithetical to the concept of peace. To deal with that abhorrent program, the USA has cut all funding to the PA and we continuously raise awareness of this issue to other donor countries. I cannot understand how donor countries continue to donate funds knowing that some of their taxpayers' money is used to fund terrorism and the murder of Israelis."
PA claims 24 'incursions' on Temple Mount
The Palestinian Authority Ministry of Religious Endowments and Religious Affairs published a report on the holy sites, which included 24 Jewish 'incursions' of the al-Aqsa mosque and 52 cases of denial of prayer for prayer at the Ibrahimi Mosque in the Patriarchs Cave.

The Ministry of Endowments accused Israel of continuing the 'siege' and intervention at the Ibrahimi Mosque (the Cave of the Patriarchs) and closed it completely to Muslim worshipers during Rosh Hashanah.

According to the report, the Israeli authorities were not only content with preventing Muslims from entering the place, but they allowed settlers to get on the roof of the Cave of the Patriarchs and IDF soldiers attacked and humiliated Muslim workers.

It was also alleged that the "occupation forces" demolished the Al-Uma Mosque in Jabal Jawhar Hevron, which was in final stages of construction, and the level of incitement at the Al-Aqsa Mosque increased as Jewish holidays and the calls of the Temple Mount trustees came closer.
Hamas Takes Action in Nepotism Case following Public Pressure
Every year, the Saudi Arabia Ministry of Hajj and Umra hosts for free 1,000 people from the families of Palestinian martyrs to perform the hajj in Mecca.

After Anas Radwan, son of Hamas leader Ismail Radwan, went on the pilgrimage, activists argued on social media that he did not have the right to do so.

To calm public anger, Hamas formed a committee to investigate the incident, which concluded that Anas was not supposed to join the pilgrims. He was fined 5,000 dinars ($7,000), to be distributed among those who were denied travel to Mecca.

The Palestinian street is not accustomed to Hamas disclosing the details of any punitive measures against its leaders and members.
Well done @palinfoen. Love your work! https://t.co/AWIzY8n464 #Gaza

— (((David Lange))) (@Israellycool) October 3, 2019
Israel-Egypt gas deal gets a boost as shares soar
Gas giant Delek Group Ltd.'s announcement that it had updated an agreement for the export of liquefied natural gas from the Leviathan and Tamar offshore reservoirs to Egypt sent share prices soaring on Wednesday.

In February 2018, Delek Drilling and Texas-based Noble Energy – partners in the Leviathan and Tamar LNG projects – signed a $15b. decade-long deal to supply 64 billion cu.m. of natural gas to Egypt's Dolphinus Holdings Ltd.

The new agreement provides for a 35% increase in the total gas supply that will now reach 85 billion cu. m.

"The agreement is a further proof of the important economic cooperation between the two countries and the tremendous positive impact that these relations have on the Egyptian economy and the Israeli economy, as well as the great potential for additional cooperation in the mutual interest of the parties," Yossi Abu, CEO of Delek Drilling, said in a statement on Wednesday.

The deal with Egypt followed a September 2016 agreement worth $10b. between Jordan's National Electric Power Company Ltd. and the Leviathan project partners to supply a gross quantity of 45 billion cu.m. of natural gas to Israel's eastern neighbor over 15 years.
Death Toll Climbs as Iraqi Protests Escalate for Third Day
Police and gunmen exchanged fire in a southern Iraqi city on Thursday killing one person, after 11 others were killed overnight as nationwide anti-government protests escalated into one of the worst security challenges in years.

At least 19 people have been killed since the protests erupted three days ago, seemingly independent of any organized political party and taking the security forces by surprise.

Police said protesters carrying guns had fired at them in the town of Rifae on Thursday morning, near the southern city of Nassiriya where seven people died overnight. Fifty people were wounded in Rifae, including five policemen, they said, adding to hundreds already injured across the country.

Clashes in another southern city, Amara, killed four people overnight.

A curfew, lifted early in the morning in southern cities, was reimposed immediately in Nassiriya and later in Amara.

In Baghdad, the authorities attempted to head off protests by imposing a curfew from 5 a.m. Troops patrolled main roads and public spaces, but by morning sporadic demonstrations had begun, and troops opened fire with live rounds to disperse them.

"Despite the curfew we are going out to protest to call for our rights. We want to change the regime. They have arrested our people. They have done things to our people they did not even do to Islamic State," a youth told Reuters TV after gunshots could be heard nearby.

"They have beat them up and humiliated them while firing live gunfire. What did we do? Are we suicide bombers? We are here to call for our rights and all these people."
Report: Iranian Entrenchment in Syria (PDF)
Iran's deployment of its own forces and proxy militias recruited from other countries has been decisive in the Assad regime's reversal of territorial losses to the Syrian opposition.

As a result, Iran now has wide latitude to pursue its own geopolitical agenda on Syrian territory, including the introduction of sophisticated weapons systems that will enable Iran to open a new front against Israel and threaten freedom of navigation in the eastern Mediterranean.

The Syria Study Group believes the U.S. can still influence the outcome of the Syrian war in a manner that protects U.S. interests.

The U.S. has meaningful tools of leverage to prevent the reemergence of ISIS and counter other terrorist groups, stop Iran from turning Syria into a forward operating base, provide relief to displaced Syrians and Syria's hard-pressed neighbors, and advance a political outcome that stops Syrian territory from serving as a net exporter of terrorism and instability.

The key near-term goal should be to prevent further entrenchment of Iran and its partners and proxies while raising the cost to Iran for its actions in Syria.

To this end, the U.S. should continue its support of Israeli air strikes; enforce sanctions aimed at undermining Iran's ability to fund its proxies and partners in Syria, Lebanon, and Iraq; and maintain the U.S. military presence at the al-Tanf military base.

The U.S. should insist that any political settlement require the withdrawal of Iranian forces and proxies from Syria.
France: President Macron Must Stop Appeasing Iran's Mullahs
Has French President Emmanuel Macron forgotten that he is helping and appeasing a state leading in human rights violations? In 2018, according to Javaid Rehman, the UN expert on human rights in Iran, at least 273 people were executed in Iran, and 6,000 over ten years, according to Iran Human Rights.

In addition, the use of cruel and inhuman punishment is also on the rise in Iran; according to Amnesty International, the use of various forms of torture such as amputation and flogging has been increasing at an alarming rate.

Macron also fails to recognize that the nuclear deal never contained or adequately addressed Iran's multifaceted threats, which include but are not limited to: The arming and financing of terror and militia groups in the region; intervening in the internal affairs of regional countries; pursing a sectarian agenda by pitting Shiites and Sunnis against each other; carrying out cyber attacks against other nations; and committing human rights violations inside Iran and abroad through its proxies.
IRGC Commander Confirms Missile-Cities Hidden under Iran's Mountains
We have been digging tunnels since 1984 when we first began making missiles." These were the words of Revolutionary Guards general Amir Ali Hajizadeh, commander of the IRGC's Aerospace Force. He was interviewed by the Iranian regime's Documentary TV a few hours after the National Council of Resistance of Iran (NCRI)- US representative office, revealed the existence of numerous tunnel formations across Iran that were used to stock long-range missiles.

Hajizadeh had played a vital role in the September 14, 2019 drone and cruise-missile attack against Saudi Arabia's ARAMCO facilities deep inside Saudi territory, according to information revealed on September 30 by the NCRI's US representative office in Washington DC.

Even though Hajizadeh is not a member of the regime's Supreme National Security Council (SNSC), according to the NCRI's information, provided by the People's Mojahedin (PMOI, Mujahedin-e Khalq or MEK), he was present in the SNSC's session on July 31, 2019, when the decision to prepare an attack on Saudi oilfields was made.

After the decision was approved by the regime's supreme leader Ali Khamenei, Hajizadeh was instructed to begin the implementation of the plan.

More than ten points of construction/stockpiling of missiles with ranges of up to 2000 km were revealed for the first time by the NCRI's US representative office. Satellite photos of all the locations were made available to the public.

"We have to protect our arsenal in an adequate way. The idea goes back to 1984, just when we began thinking of missiles. Before the first such material was imported into the country, we had already begun digging the tunnels to hide them," Hajizadeh affirmed in his interview, broadcast a few hours after the revelations made by the Iranian Resistance.
Woman at Entrance to Hospital in Shiraz, Iran: We Are Hungry, Need Medicine; To Hell with Our Leaders; Khamenei's Time Is up, He Should Go Meet His Maker pic.twitter.com/UcT8SSuZI9

— MEMRI (@MEMRIReports) October 3, 2019


PreOccupiedTerritory: Pakistan Wondering How Much Longer It Can Keep Citizen Anger Focused On Faraway Israel (satire)

A proven political strategy to divert popular resentment from the corrupt, repressive government and toward an outside foe might not remain effective forever, a new report by this Islamic country's ministry of the interior warns.

Israel remains a potent rhetorical magnet for focusing Pakistanis' anger despite its physical distance and negligible measurable impact on Pakistani lives, acknowledged the report, but the authors caution that overplaying the Israel card may carry unwanted consequences during a time of increased access to alternative sources of information that can both attenuate the desired anti-Israel and anti-Jewish effect of the rhetoric and reflect some of the anger back at Pakistan's own leadership. The risk of this development has reached a likelihood unknown thirty years ago, according to the report, and appears to increase with each passing year, such that by the middle of this century, it estimates, Pakistan may be forced to forgo anti-Zionism as a primary domestic pacification strategy.

"Whereas during the latter half of the previous century the very mention of Israel, Zionists, or Palestine served as a reliable lightning rod for popular anger, it no longer riles the populace as it once did," the report warned. "An outright majority of Pakistanis still view an assertive Jewish presence on historically Muslim-ruled land as a source of existential shame, but indications have emerged that they no longer rank that shame at the top of their troubles, a development that points to an emerging challenge for the leadership in deflecting attention from its cronyism, nepotism, incompetence, corruption, support for terrorists, warped domestic priorities, and other issues best left shrouded in distraction."
---
---
We have lots of ideas, but we need more resources to be even more effective. Please donate today to help get the message out and to help defend Israel.

Cache
Receiver Zay Jones is going from the end of the Buffalo Bills bench to landing a fresh start with the Raiders after being traded to Oakland, a person familiar with the deal confirmed to The Associated Press on Monday. Buffalo acquired a fifth-round pick in the 2021 draft, according to the person who

Cache
You can earn cash through real estate investments with no money down. Sound too good to be true? Here's what you need to know before you invest.
Getting Started
Looking to invest in real estate? Your options will depend on factors like:
Risk
Holding on to a property to rent it out can save money through your returns. Selling your property as quickly as possible is a higher risk.
Work / Effort
Would you rather repair and remodel or sell your property as is?
Borrowing Strategy
You could borrow the funds and make payments on a loan or sell the property and pay the loan back immediately.
Managing the Property
As a landlord, you would have to find and screen tenants. Plus, you'd need to address any issues that they have while renting. Otherwise, you can hire those tasks out to a property manager.
What type of real estate will you invest in?

Residential
Single family homes, mobile homes, multi-family homes (less than 4 units)
Commercial
Multi-family properties (more than 4 units), apartments, business zoned property
Land
Land that is zoned for either commercial or residential use
Keep reading to find the best no-money-down real estate investment for you.
Seller Financing
A motivated seller might be willing to finance the property with no down payment. Seller financing is a popular way to obtain 100% financing when the seller is looking to get rid of a property, especially at a discounted value.
Real estate brokers will work with you for free. They know the market in their area, and they will be aware of sellers that either offer or may accept special terms—such as seller financing and lease options.

Advantages of Seller Financing
With seller financing, you can:

Offer higher monthly payments for a length of time instead of a down payment.
Negotiate no payments for a set time frame, perhaps the first 3 months. Take advantage of the payment-free time to repair or spruce up the rental property and to find tenants.
Negotiate lowered payments for a set period, such as the first 6 months. Your savings can cover the cost of any repairs, give you additional income for several months, and help you come up with a down payment for your next property.
Ask the seller to pay your down payment to a traditional lender to get the property sold quicker. The seller may request that you pay back the down payment or just include it in the agreement, which reduces the selling price of the property.
Disadvantages of Seller Financing
It's best to ask questions and get legal advice when entering a seller financing agreement. Consider these seller-finance disadvantages:

The interest you pay may be higher than what you might pay to a traditional lender.
The bank or lender can demand immediate payment in full if the existing mortgage contains a due on sale clause. Make sure the seller owns the home debt free or that the lender agrees, in writing, to owner financing.
If the property is sold "as is" and you don't pay to have the home inspected, you could take on a property that needs costly repairs that are well beyond your means.
Avoid costly mistakes
Both the buyer and the seller need to consult with a real estate attorney in a seller-financing agreement. An expert can answer questions and draw up the contract properly.

Lease Option
Lease option is a form of seller financing which may or may not require a down payment.
The tenant-buyer leases the property with an option, not an obligation, to purchase the property.
This is a slower way for an investor to purchase property, and the contract may call for a year or more of payments. But it gives the investor time to come up with the money to buy.
Advantages of Lease Option
Term flexibility is the main advantage in a lease option, but here are some others:

Pay the down payment back in multiple payments. For example, the down payment is $1,000. The seller may agree to add $200 a month onto the first five lease payments.
A portion of the monthly lease payments may be credited to the purchase price.
The investor buyer is granted the option to buy the property.
The investor may make repairs or renovations and sell the leased property for a profit before the lease option expires.
Disadvantages of Lease Option
The main disadvantages to lease options are the lack of details. Here's what you should know:

Monthly lease option payments could be higher than traditional lease or mortgage payments. Seek a term of at least one year, optimally three years.
The property could depreciate before the lease option expires. Ensure the option price is within 5% of market value.
The seller may not pay the property taxes and insurance. Be clear on who will be paying those costs.
The landlord could default on their mortgage. If the property goes into foreclosure, the investor could lose their contract. Consider offering to pay the mortgage for the owner in lieu of the title to ensure the property does not go into foreclosure.
Subleasing may not be allowed. Include the right to sublease in your agreement or you could end up losing the property due to a breach of contract.
Make sure the lease option contract spells out the exact amount of the monthly payments that is applied towards the purchase price and the exact final price for the property.

Sandwich Lease Option
Lease sandwich options consist of two lease-to-buy contracts:

The seller leases to the investor.
The investor then finds a tenant-buyer who agrees to sign a rent-to-own option.
The investor is then "sandwiched" between two lease options, one with the seller and the other with the tenant-buyer.
Advantages of Sandwich Leases

As a landlord, you make money through your tenant's rent payments, which increases your ability to raise funds for future property purchases.
Your tenant should pay an option fee. This is how you make quick money added to your bottom line.
The investment property is already sold and should make a profit.
Disadvantages of Sandwich Leases
Sandwich lease disadvantages are like those of lease options, with some differences:

The buyer may upkeep and maintain the property, causing the property to lose value.
The tenant might pull out of the rent-to-own agreement. You'll have to decide whether to drop out of your end of the lease option as well or seek another tenant willing to sign a lease option.
Master Lease
If a landlord is motivated and wants to step away from property management, they may consider a master lease agreement.
With a master lease option, you lease a commercial property as a single tenant with an option to buy. Then you sublease it to occupant tenants. Commercial properties in a master lease include multi-family properties, such as apartments.
Advantages of Master Leases
Here's why you may want to consider a master lease:

The lease price, length, and tenants are all controlled by you.
You can let the property go if you determine it is not worth purchasing when the contract expires. You've signed an option to buy, not an obligation to buy.
Disadvantages of Master Leases

You may pay higher taxes on commercial property.
Insurance for commercial property tends to run higher than single-family residences.
State and local ordinances may differ from single-family residences. For example, some cities require that commercial property trash disposal include a percentage of recyclable waste distribution.
Management of multiple-tenant properties may require more of your time. You'll have to handle the maintenance and repair requirements for multiple tenants.
Option a Property
A purchase option has nothing to do with lease options. The contract gives you the exclusive right to buy the property at a set price by a certain date.
Your sole responsibility is to get the house sold and find a buyer who can either pay cash or obtain a loan. When the house is sold, you collect the fee.
Option Advantages
With an option, you have:

An agreement in hand that sets the selling price for a property for a set fee, which gives you time to find your own buyer.
No down payment requirement
No payments to make. The seller continues to make payments until the property sells.
No tenants or repairs to handle, as all transactions are for the property "as is."
Option Disadvantages

You must find a willing buyer before the option contract expires.
If the seller is struggling financially, they may lose the home through foreclosure before you find a buyer. Bring a real estate attorney into the deal from the beginning to avoid this situation.
Wholesaling Property
With wholesale transactions, you buy a piece of property that is priced much below market value. Then, you sell the property to a buyer willing to fix it up and make it their ideal property.
You never plop down money for repairs. But you still net a profit. If you evaluate property values correctly, you'll experience profits from $10,000 to $15,000 with every sale.
Wholesaling Advantages

Profit on every sale you make, if you've done your property evaluations correctly.
No time or money spent on fixing the property.
Wholesaling Disadvantages

Time and effort spent finding owners who are willing to accept an offer at wholesale pricing.
Mistakes in property value evaluations may cost you profit.
Consider buying foreclosures directly from banks. Lenders won't typically consider either a purchase or lease to own option, but they will accept cash. You may be required to provide proof of funds before a lender will accept your offer.

Real Estate Trading
Real estate trading is an arrangement that requires no cash down payment. Find a buyer who is willing to sell a property to you at the same time you buy a property from them, optimally at a matching sale price.
Trading Advantages

Earn money at closing when the property you acquire is worth less than the property you are trading.
Save money on commissions if you don't involve a real estate agent.
No down payment is needed if you are not obtaining a conventional loan for the property.
Additional assets can be added to the deal to even out the trade, such as cars, boats, recreational vehicles, including your own promise of "sweat equity."
You may be able to trade without paying capital gain taxes if you make a "like-kind" exchange under Internal Revenue Code Section 1031.
Trading Disadvantages

The trade needs to be "even" in property values or assets to keep the need for cash or loans out of the picture.
Property evaluation must be precise. Fresh property appraisals are recommended.
Lenders may need to be paid off if mortgages are owed on properties.
Trading is a much smoother deal when both properties are owned outright without loan or mortgage legalities to deal with.

Assume a Mortgage
Assuming a mortgage means you take over a mortgage and agree to catch up any delinquent payments. In turn, you acquire property in your name. There is typically no money down.
Advantages of Mortgage Assumption

Frequently, no down payment is required. Consider working out a deal with the sellers if a down payment is required, such as a contract to pay off their personal debt in lieu of them making the down payment for you.
You will see little to no change to the original loan terms or interest rate. An assumed interest rate may be less than today's interest rate.
The fees are usually must less than traditional closing costs.
Sellers may agree to pay assumption fee and title search.
You may acquire property much below market value, with equity built from years of mortgage payments made.
Disadvantages of Mortgage Assumption

Original mortgage may have a lien. A title search completed through a reputable business is a must.
Some mortgages are not "assumable." This means you'll have to search for an assumable loan, and most property listings do not list this upfront.
You will have to go through the same approval process as you would with a traditional mortgage.
Joint Venture
You can partner with someone who can fund a down payment for an investment. Then you can offer your own skills, such as managing the property.
Perhaps you can manage the entire real estate deal from start to finish with a well-laid out investment plan. Your partner wants no part of the management process, but he or she will front the down payment and is eager to make a return on their investment.
Here's what that could look like:

Partner A invests a $2,000 down payment.
Partner B retains control of daily management (reselling, renting, obtaining tenants, and the management of said tenants).
Partner A receives 50% of the profit, or no less than $4,000 when the property is sold.
Partner B pockets the balance of return.
Or:

Partner B pays a percentage of rent to Partner A each month until $4,000 is paid (by a certain date).
Partner B pockets remainder of monthly rent and manages/maintains the property.
Partner A receives no additional returns unless/until the property is sold.
The advantage to a joint venture is that your partner funds the down payment while you both see a return on investment.
Any disadvantages can be avoided. Make sure you can afford to pay your partner back and ensure sure you have the time and skills to complete any services you offer as part of the deal.
Private Lender
The term private lender, especially in reference to real estate transactions, includes lending institutions as well as individuals (friends or family members). A private lender is not always a bank.
Where Do I Start With a Private Lender?
Here are some steps to consider:

Decide who you would like to borrow from—bank, family member, friend, lending institution, etc.
Consider the terms you'd like to propose, such as the time period for repayment.
Determine if you'd like to offer the property, or other assets, as collateral (a bank or lending institution may require this).
Advantages of Using Private Lenders

Flexible terms that can be negotiated
No money down, if they agree
Disadvantages of Using Private Lenders

Private lending institution may charge a higher interest rate.
Payments may dip into your earnings until the debt is repaid.
Personal relationship are at stake if you do not meticulously plan the deal.
Home Equity Loan
You can open a line of credit or second mortgage using a home or piece of property that you own as collateral. But you'll probably need to have a credit score in the high 600s.
Look for a bank that offers you a decent interest rate and enables you to easily pay the loan back.
Advantages of Home Equity Loans

Provides money to cover your real estate down payment (with no down payment needed to obtain the loan).
Lower interest rates are typical compared to a private lender loan from a banking institution.
Disadvantages of Home Equity Loans

You are putting your own property or home that you live in at risk. Make sure you are fully capable of paying the loan back before signing on the dotted line.
The loan eats into your profits until it is paid in full.
Do not borrow more money than you need. An open line of equity credit can lead to much temptation. Overborrowing will take that much longer to repay and will cost you in accrued interest.

Microloans
Online microlenders serve individuals who are impoverished or unable to obtain loans from mainstream banks.
Let's consider the sandwich lease option as an example of how you can creatively use a microlender loan to close the deal.

You've found a great piece of investment property that you're interested in through a lease option, but you need to come up with a down payment.
The seller will not allow you to pay the down payment through monthly payment terms.
You already have a buyer, an individual who is interested in obtaining the property from you in a lease option, and they have the cash for their down payment.
You obtain your down payment from a microlender and you sell the property immediately afterward.
Advantages of Microloans

You have money for a down payment.
Microlenders are less interested in your credit score than traditional banks.
Disadvantages of Microloans

Loan payments will cut into your profits until paid in full.
May pay a higher interest rate than with a traditional lender.
Microlenders, on average, lend $13,000 and up to $50,000. They are geared towards newer or startup businesses that need capital to generate growth.
These lenders are less focused on credit scores than banks that offer larger loans, but beware of interest rates. Shop around for the best interest rate—don't jump at the very first offer without doing some comparison shopping.

Tips and Tricks for Real Estate Investing
Here are some tips to consider when you begin investing in real estate:
Seek a Real Estate Broker Or Agent
This shouldn't cost you a penny. Brokers and agents will help you find motivated sellers, especially those that may accept non-traditional terms, such as lease-to-buy options or seller financing.
Get a Real Estate Attorney
This person should be involved in creating and reviewing your agreements and contracts.
Ensure the Deed is Clear
This needs to happen before contracting on a property. Hire a reputable professional to complete the title search.
Hold the Property Until it Appreciates
Resist the urge to sell early!
Know the Tax Implications
How is the property zoned by the city or classified by the IRS? You don't want to partake in what appears to be a great investment deal and end up plunking down a major amount of money to the city, state, or government.
Bottom Line
You can invest in real estate even if your bank account is empty. All you need is a basic strategy. Understand how much you'd like to be involved in the property management before you begin.

And don't forget to weigh the advantages and disadvantages before completing a real estate transaction.


How to Invest in Real Estate with No Money appeared first on CreditDonkey




Next Page: 25 © Googlier LLC, 2019