Cache
UPDATE 10/7: I think farmers have had enough, maybe, I hope anyway...

1. "I went to Madison feeling financially scared and emotionally depressed but hopeful," said Paul Adams, who runs a 500-cow organic dairy near Eleva, WI."I came home feeling financially scared, emotionally depressed, unwanted, and unneeded."





2. Brittany Olson left her Barron County farm at 2am to make the trip to Expo and hear Perdue speak. "To go through the effort to see the USDA secretary, only for him to say that small farms like ours likely have no future made me feel like little more than a peasant in a system of modern-day feudalism," Olson said.





3. "To me, it really drew a line in the sand on just where this administration stands," said Chippewa County dairy farmer George Polzin.
Danielle Erdvick summed it up this way in the story:

But I sense a fire growing in the belly of the family farmers I meet in my work with Farmers Union. Farmers are weary. But there's a growing flicker that's starting to feed a change in the narrative. No more will they be spoon-fed a top-down vision for rural America. Instead, I see a drive for a farmscape where fair prices, local food systems, clean water, and land conservation are at the heart of farm policy. How can we achieve it? It'll take actually enforcing America's antitrust laws and holding corporations accountable when they try to monopolize an industry. It'll mean addressing market manipulation. It'll mean not raising our hackles, as farmers and ag groups, every time someone wants to talk about clean water or livestock siting. It'll mean continuing to adopt regenerative practices and thinking outside the box so we're protecting our natural resources for our children and grandchildren.
__________________________________________________________________________________________________



Farmers will never stop voting for Republicans. Sadly, GOP promises of "small government" simply mean they don't really have to do anything for their constituents, and deregulation is anything that basically leaves them alone.

Tariff War is not Their Fight: It seems farmers are okay sacrificing their livelihoods for big corporate interests seeking intellectual rights and protections.

And then the last shoe dropped; Ag Sec. Sonny Perdue told us what big corporate Republican politicians were really thinking about family farmers:


Perdue told reporters that he doesn't know if the family dairy farm can survive as the industry moves toward a factory farm model ... "In America, the big get bigger and the small go out. I don't think in America we, for any small business, we have a guaranteed income or guaranteed profitability."
A few farmers suddenly realized what was really going on...

Jerry Volenec, a fifth-generation Wisconsin dairy farmer with 330 cows, left the Perdue event feeling discouraged about his future. "What I heard today from the secretary of agriculture is there's no place for me. Can I get some support from my state and federal government?"

Darin Von Ruden, president of the Wisconsin Farmers Union and a third-generation dairy farmer who runs a 50-cow organic farm (said) getting bigger at the expense of smaller operations like his is "not a good way to go. Do we want one corporation owning all the food in our country?"
Democrats, Governor Tony Evers backs Family Farms, despite never getting their vote, but after Sonny Perdue's comment, even our laid back Gov. had to say something:




"Are they struggling? Absolutely. But I think at the end of the day we need to get behind them rather than saying, ah maybe you should go larger. I, frankly, resent that the Department of Agriculture secretary from the federal government came in and kind of lambasted them."
But don't take Evers word for it, here's a comment made at the Minnesota Farmfest about CAFO's. Note: Why were visa's for dairy labor ever determined to be seasonal and not year around?:
Wisconsin dairy farmers are still feeling the sting of Trump's visit to Milwaukee in July, where the president downplayed the suffocation felt by farmers here because of Trump's own tariffs.



Trump: "Some of the farmers are doing well. ... We're over the hump. We're doing really well."
Farmer Response...:
"If he's saying farmers are over the hump, he would be badly mistaken," said Darin Von Ruden, a third generation dairy farmer. "In order to get over the hump we need to stop losing dairy farms."
From PBS's Market to Market: Trump's says farmers are happy...
Farmers are slamming Trump's $28 billion farm bailout — more than double Obama's 2009 payment to automakers — as a 'Band-Aid'.
Perdue editorial doesn't repair Damage
: Nope, his word salad backtrack to obscure how he really feels, is a little late. In fact, Perdue reminds farmers how this whole problem was really Trump creation:
Purdue: "President Donald Trump has made it his mission to support American agriculture and negotiate better trade deals so our productive farmers can sell their bounty around the globe."
And don't forget how Scott Walker pushed oversupply in the dairy industry.
Here's what one farmer, "a great patriot," really thinks about Trump:
Cache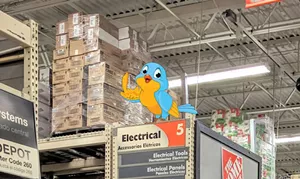 Walk into any big-box store, shopping mall or other sprawling expanse of indoor retail space this time of year, and you're likely to spot a few wild birds flitting about or roosting in the rafters. Winged creatures are especially common in the al fresco garden centers of Home Depot, Lowe's and Walmart — torn bags of birdseed are a likely draw — though wild birds are also known to take up residence in supermarkets and airport terminals. For animal lovers, the presence of uninvited guests inside these cathedrals of consumption may feel like a mischievous act of defiance, as though the animal kingdom were flipping us humans the bird, as it were, saying, "You can wall it in but you can't keep us out!" It may seem fairly innocuous to find sparrows chirping in the hardware department or starlings dive-bombing the home appliances. But there are legitimate health concerns when birds take up shop in a mall or supermarket. So, how do retailers rid themselves of these feathered friends? Recently, a Seven Days staffer heard from a friend that the birds are dispatched with BB guns. Because this method sounded both inhumane and impractical, we reached out to several large retail chains, including Home Depot, Lowe's, Walmart, Shaw's and Price Chopper Supermarkets. Only Price Chopper answered our query. "Birds, unfortunately, are a part of doing business when you're in retail," said Maureen Murphy, manager of consumer services and trends for Price Chopper, headquartered in Schenectady, N.Y. As she explained, the birds typically come in the same way the merchandise does — through the loading docks. But when asked if Price Chopper and other supermarkets use BB guns to dispatch their guests, she seemed revolted by the suggestion. "God, no! I know that we sure as heck don't ... We make sure they're taken care of humanely," Murphy said. "But when they're in our store, we have to be sure they're removed ... because, obviously, food safety is a big issue for us." Indeed, having birds pecking at the salad bar or leaving droppings in the produce section is more than a fowl nuisance. It's also a health code violation. So, as soon as a store manager detects one, she explained, they contact a third-party vendor to catch and remove the bird from the store. That task may fall to Cody Baciuska, a wildlife biologist and co-owner of Loomacres Wildlife…

Cache
Well, it's almost Halloween, my girls' second favorite holiday after Christmas. We've had our traditional ghost milkshakes (with more whipped cream than milkshake this year!) and the costumes are ready. It's been a busy time, and I wanted to highlight a few things that happened in October. Natalie MacLean, Ottawa's award-winning wine writer, is promoting her new book: Unquenchable. She's touring Canada and the United States, so check out her schedule. I have to thank Natalie for a shout-out in Ottawa Magazine this month. I'm honored to be mentioned along with Holly Burns of Wine Out Loud, another respected wine writer and blogger from Ottawa. While you're checking out Natalie's wine picks, videos, and blog, you can also read my October column: Shrimp, Watercress, Bacon and Walnut Salad Recipe Paired with Coopers Creek Chardonnay,...

This is just a summary. Visit my website for full links, other content, and more!
Cache
Not all salads are easy. This one is. Just a simple vinaigrette with fresh ingredients. And if you love cilantro, you'll love this combination. Cilantro is also known as Chinese Parsley and comes from the leaves of the coriander plant. I know there are people who find cilantro soapy tasting, and it does have a strong flavor, but let it grow on you and you may find that you crave it. The Chinese used the herb in love potions believing it provided immortality. Recipe Makes 6 servings For the vinaigrette: 1/4 cup olive oil 2 tablespoons lime juice 1 clove garlic, minced salt and pepper, to taste For the salad: 4 cups butter lettuce, cleaned and torn into bite-sized pieces 1 cup cherry tomatoes, halved 1/2 cup fresh cilantro, chopped Whisk the ingredients for the vinaigrette. Mix the salad ingredients. Just before serving, mix the...

This is just a summary. Visit my website for full links, other content, and more!
Cache
Preparing food, including soups, beverages, and desserts, as well as setting up and restocking the buffet and salad bar. Join our team at Sapp Bros!
From Sapp Bros., Inc. - Thu, 19 Sep 2019 22:20:16 GMT - View all Cheyenne, WY jobs

Cache
Placing containers in buffet area as designated by the approved schematic. The buffet/salad bar team member is responsible for setting up the buffet,…
From Eat n Park - Wed, 17 Apr 2019 01:23:35 GMT - View all Triadelphia, WV jobs

Cache
I'm back posting, for a longer spurt, I hope. I am trying to organize myself at age 43, while my grandmother is clicking along at 103 -- unstoppable. I have much work to do, and if genes are any indication, much time to do it in. My vows for health and long life, according to Nana's example, include -- eat mostly vegetables with lots of broth; eat soups; keep portions of meat small; eat slowly; exercise daily; nap when sleepy; keep up with the news; never forget the 4:00 P.M. bourbon and Fresca (

yuk!

another beverage may be substituted).



Although she's from Connecticut, Nana loves her green beans "cooked down," the way Southerners do, but with enough water or stock so that some is left. We all know that juice is hers. Same with the squash and onions -- "cooked down," with plenty of juice left. Corn, especially the fresh Silver Queen we get and cream, and the home grown tomatoes, from my garden and Mom's, thrill little Nana. Oh, and fresh cucumbers ... I could go on and on ... but you get the picture of vegetable islands surrounded by a sea of mixed juices, which she may sop up with a roll or mix in with a small mound of mashed potatoes.


My problem with meals, especially lunch, is that I have to stop what I'm doing and cook them. So, waiting until the last minute, until I'm famished ... I rush into the kitchen and look for a package, a jar -- anything taking less than five minutes and fewer brain cells to assemble. Sometimes a grilled cheese even takes too long. This habit I got into 10 pounds ago. I have a nice, homemade tomato-basil soup in my frig; but, alas, more than a week has passed and since it contains buttermilk, it's gotta' go. Other concoctions, too exotic for my husband's tastes, meet the same fate. For that lunchtime dilemma, my plan is leftovers -- I will always

try

to have something cooked/fresh that I can put my hands on quickly. For more flavorful dishes, however, I'll keep the size to 1 - 2 servings.

Today I modified a recipe for Tabbouleh Salad from Coffee and Cornbread. The recipe must be great with mint, but I used cilantro, as my only choice was chocolate mint which somehow doesn't sound right. I used lime instead of lemon, and substituted a Vidalia onion for a green one; I used garden-fresh cucumbers and tomatoes. This salad came together without a trip to the grocery store, making me very happy.


Cache
Casting herself as an environmental expert, Judd attacked Palin for "casting aside science and championing the slaughter of wildlife." The video shows a wolf being shot, writhing in pain, with an ominous soundtrack throbbing and menacing photos of Palin flashing across the screen. "Riddled with gunshots, biting at their backs in agony, they die (pause for quiver) a brutal death," Judd enunciates slowly as wolf squeals punctuate the video.
Defenders of Wildlife assails Gov. Palin for proposing a $150 bounty for every wolf killed by aerial hunters. She's cruel and bloodthirsty, and she must be stopped!
It's a compelling black-and-white storyline. But like the world Judd inhabits, this plot is make-believe.
Fact is, the policy is intended to protect other animals -- moose and caribou -- from overpopulation of wolves. Alaskans rely on caribou and moose for food. Not all Americans care to live on environmentally correct starlet diets of tofu salad and Pinkberry yogurt.
Neither Palin nor the aerial hunters in those scary low-flying planes that have Judd quivering promote the program out of malice and animal insensitivity. On the contrary, they are the true compassionate conservationists. The bounty helped state biologists collecting wolf age data and provided incentives to reduce the wolf population when wildlife management efforts had fallen behind. This is about predator control. But to liberal, gun-control zealots thousands of miles away, it's all heartless murder.
Federal law makes specific exceptions to aerial hunting for the protection of "land, water, wildlife, livestock, domesticated animals, human life or crops." Targets are not limited to wolves. And, as Alaska wildlife officials note, the process is tightly controlled and "designed to sustain wolf populations in the future."
No matter. As Judd proclaimed, "It is time to stop Sarah Palin."
That is the true aim of left-wing lobbying groups and their allies in Hollywood. Palin is a threat not to Alaska's wolves, but to the liberal establishment's wolves. Defenders of Wildlife isn't targeting the ads in states affected by these policies. They're running the Judd-fronted ads across battleground states. It's about electoral interests, not wildlife interests. The eco-Kabuki theater is just plain laughable.
On a deadly serious note, Judd's selective concern for savagery is not lost on longtime observers of the activist entertainer's political forays. A militant, pro-choice feminist, Judd lashed out at the Republican ticket during the campaign: "[A] woman voting for McCain and Palin is like a chicken voting for Colonel Sanders." Yet, not a peep has been heard from Judd about the serial predators of Planned Parenthood who have been caught on tape urging young girls to cover up statutory rape to facilitate abortion procedures. And she won't be starring in any YouTube ads decrying grisly late-term abortion procedures.
In a starlet's world, "senseless savagery" only applies to the poster pet of the month.
Cache
We had a wonderful meal at Simon Rogan's Roganic last year, and when it closed without any confirmation of a follow up London venture I was disappointed that we would not be able to sample his cooking again without a long journey up to Cumbria. So, to my delight, when Claridges announced he would be taking over the restaurant from Gordon Ramsay, I knew we would be heading for lunch as soon as we could.

You can't help but feel a bit special when heading into Claridges, and as we arrived a little early we soaked up the ambiance in the lobby before heading in. The room is impressive, with Claridges stunning art deco architecture, but a natural, organic feel, with pebble stones on wooden tables with a comfortable ambiance.

We were sat and Jack, joining Fera from our Fitzrovia haunt Kitchen Table, came over for a chat and took our drinks orders. Nice to see a familiar face. Throughout the meal the service from all was top class, just the type of consummate professionals I would expect at venue like Claridges, and not a hint of stuffiness.

Starting with some cocktails, pea shoot, apple marigold and vermouth for my wife, and a lovage and herb rye whiskey for me. Both were unusual, and quite different to anything I've had before, and as I'm a fan of lovage it was great to taste it in such a different way. However, note to self: Don't have whiskey cocktail instead of breakfast.

The first dish was brought out by Simon himself, a rather impressive start. A crisp barley wafer with smoked eel, lovely, light and flavoursome. The canapes were all equally lovely, a mouthful of the sea in the form of a mackerel wafer, a fabulous bite of rabbit, crisp, warm and rich, and an absolute peach of a dish, a bowl with potato mousse and winslade cheese dish, including duck heart for myself, being particularly memorable. The last amuse bouche was clever, an almost ice cold salad of crab with rhubarb acting as a perfect palate cleanser before the bread course, a hunk of bread with butter and unusually a cup of sweet onion broth.

The main dishes were all very much what I would expect from Simon, very light, bags of flavour, highly technical, unusual herbs and foraged ingredients. The cabbage/beef course had an amazing smoked broccoli cream I will remember for a long time but the star was a dish brought out by Simon himself, a grilled salad. This was amazing, a barrage of crunchy and crispy textures from the grilled leaves, underneath a gorgeous truffle custard redolent with strong truffle flavours served in a wooden bowl and with a large wooden spoon, which i used to scrape the bowl clean of every last trace of that custard. I've seen some of the opening reviews where some found they weren't so keen on some courses, but I couldn't fault a single dish, and every element from the shellfish butter with the prawn to some delightful discs of pickled tongue with the hogget an absolute treat.

Desserts were similar, light, fresh with perfect balance. I loved the cherries that came with the yoghurt, and the celery pieces at the bottom of the ice cream dish were a touch of unexpected genius, I now know that if you do it right, celery can go in a dessert. This was finished with a blackcurrant wafer and a fizzy blackberry concoction, which was excellent, and I think a much better choice than the chamomile milkshake I've seen described elsewhere.

The petit fours were again something out of the ordinary, especially the sweet cicely cake, a ghost of a sponge so light it barely seemed real. We ended the meal with a fancy filter coffee poured at the table, in a rather cool Japanese filter kit, the coffee a fabulous Kenyan blend that we took without milk and clearly a cut above most coffees I've had.

Our wine, recommended by the sommelier on my vague instructions for something sweet, fruity and fragrant was a bottle of Patrimonio 'Grotte di Sole', Antoine Arena 2010 (£75) and was perfect with the food, lasting us right to the petit fours.

The bill came to around £420, our most expensive London meal, but with the surroundings, food, service, booze and a 15 quid (!) coffee it wasn't too much of a shocker. We enjoyed a memorable lunch, Simons food is exciting, unique and every bite a joy. Vegetarians are equally catered for, with Simons food naturally being more vegetarian friendly, especially with so much being sourced from the farm in Cartmel.


Puffed barley, onion, watercress. Puffed barley, smoked eel, watercress.

Berkswell cheese, pickled plum. Mackerel, seawater cream, caviar.

Stewed rabbit and lovage.

Chicken skin, thyme, roasted garlic.

Scallops in buttermilk.

Peas in buttermilk.

Winslade and potato.

Crab, rhubarb, goats cheese.

Kohlrabi, rhubarb, goats cheese.

Malt bread, onion broth.

Raw beef, smoked broccoli cream, scallop roe, acidic apple juice.

Sweetheart cabbage, smoked broccoli cream, fresh curd, acidic apple juice.

Oxalis, smoked yolk, carrot, juniper.

Prawns from Gairloch, picked alexander, asparagus, shellfish butter.

Asparagus, picked alexander and sunflower.

Grilled Salad, Isle of Mull, truffle custard and sunflower seeds.

Cods cheeks poached in dulse stock, artichoke, beetroot and sea orache.

Artichokes with dulse, beetroot and sea campion.

Herdwick hogget, pickled tongue, mushroms, turnips.

Celeriac baked in hay, crispy skin, hen of the woods, turnips and hazelnut.

Chamomile, butterscotch, celery.

Sheep's yoghurt, cherries, Douglas fir.

Hampshire Strawberries,woodruff and elder flower.

Blackberry and lemon verbena.

Sweet cicely cake.

Banana mint drops.

Smoked meringue.

Fera At Claridges


Cache
My brother was over for his annual trade expo in London, but as I had plenty of notice I managed to get a table at The Ledbury on a Friday night, no small feat. On Friday and Saturday you have a choice of 2 tasting menu's, and we opted for the one with an extra course with a few substitutions.


We spent some time choosing a bottle of white, and the sommelier had it spot on with his selection, a demi-sec perfectly sweet enough for my taste, a Vouvray Le Mont, Domaine Huët from 2009.

There was a good selection of bread, with a small seeded loaf placed on the table and a choice of breads from a basket, including their excellent bacon and onion brioche.

Our first course was an artichoke and grape salad, with desiccated foie gras, a nice fresh start to the meal, with particulary nice Sauternes grapes. Next up, a really fine dish of baked crapaudine beetroot, beetroot crisp, black olives with a slither of smoked eel. Crapaudine are particularly fragrant beetroots with a delicate flavour, and were fantastic combined with the smokey rich eel.

Following this was one of The Ledbury classics, flame torched mackerel with shiso, celtic mustard and cucumber. I love this dish, and was just as good as previously. We followed this with another classic, the buffalo curd and onion broth with the awesome bechamel and truffle cheese on toast. This is so good I really wanted my brother to try it and they were more than willing to substitute a quail egg and truffle dish for this so we could. The cheese on toast was fabulous, i could eat a whole plate of it alone, it's as perfect as anything could be.

We followed this with a fantastic scallop dish, the scallop served with seaweed slices, cauliflower and a beautiful buttery foam. Soon after we were presented with the whole pork jowl, slow cooked for hour and finished with a selection of spices. When plated, the crackling was turned into a crumb and sprinkled on top of the pork and served with slices of apple and hazelnuts. The crackling and pork were a fabulous combination, soft, rich and unctuous.

The best was saved until last, a fillet of beef, served with smoked bone marrow, crispy potato and salt baked ash covered celeriac. This was seriously good, every element in harmony and packed with flavour. My brother finished his off in seconds, and spent the rest of the time jealously eyeing up my plate, drooling and trying to persuade me to share the rest. Not a chance.

Pre-dessert was a blood orange granita and clove yoghurt, with the balance of clove just right as its an ingredient that can overpower so easily. Dessert itself was a replacement for the chocolate and banana tart, as my brother is avoiding gluten (yeah, yeah, yeah I know). A citrus brulee was topped with a quenelle of apple and a lovage puree, a deceptively simple dish that worked really well, especially the citrus flavours in the brulee, which managed to be flavourful without being acidic. I'm a big fan of lovage too, an aromatic kick that blended with the sugary crisp and brulee so well.

We finished with coffees and petit fours and left with the knowledge that this time, we certainly made the right choice on choosing the some of best food London has to offer. A perfect meal.

Salad of Violet and Chinese Artichokes with Hazelnuts, Grapes and Grated Foie Gras.

Crapaudine Beetroot Baked in Clay with Smoked Eel and Dried Olives.

Flame Grilled Mackerel with Pickled Cucumber, Celtic Mustard and Shiso.

Hampshire Buffalo Milk Curd with Aged Comte, Truffle Toast and a Broth of Grilled Onions.

Scallop with Seaweed and Cauliflower.

Jowl of Pork with Apple, Hazelnuts.

Fillet of Belted Galloway Beef with Celeriac Baked in Juniper, Bone Marrow and Crisp Potato

Clove Yoghurt with Blood Orange Granita.

Citrus Brulee with Apple and Lovage.

The Ledbury



Cache
Sketch

My wife and I enjoyed the tasting menus at Pierre Gagnaires London outpost, Sketch. The venue is a large building just off Regent Street, with tea room, bistro, bars and the 2 starred restaurant, The Lecture Room and Library. The building features some serious decor and design throughout and some stunning areas including a toilet with egg shaped pods like none other I've seen. Upon arriving were lead up a roped off stairway, and double doors were theatrically opened to show the restaurant in all its glory, the best looking dining space I've been in so far.

The meal itself was fabulous, with each course featuring multiple elements, sometimes presented on multiple dishes. My first course of a warm dish of lobster, broccoli and sauternes gel, a small bowl of cold lobster jelly, and Asian salad of claw was a good example of this. Every course was of the highest quality, as good as anywhere else I've eaten since starting the blog. Stand out dish was probably one of my wives vegetarian courses, a smoked potato, beetroot veloute and blackcurrant ice cream, an unlikely combination that worked incredibly well, smoky, earthy and sweet yet balanced and in harmony, truly outstanding. I also loved Pierre Gagnaires Grand Dessert, 6 different dishes my favourite of which was a lemon veloute, thai herbs, fruits and sorbet, with one of the herbs being coriander, the first time I've had it in a dessert yet worked perfectly with the citrus flavours. All six dishes were an absolute treat.

Although I've not written in as much detail as I have with other meals due to time constraints, I can't praise Sketch enough, the venue, food and service were of extremely high standard, and The Lecture Room and Library at Sketch is easily one of the best restaurants in London.

Upstairs At The Ten Bells.

We had an excellent Sunday lunch at Upstairs At The Ten Bells, the Spitalfields restaurant from the Clove Club guys. As it was December only a set menu was offered, but this was a selection of starters including the excellent buttermilk fried chicken dish on pine I had at the Clove Club, although this time it was pheasant. My wife and I both a had a chestnut veloute starter of excellent quality, and I had an absolutely brilliant main course, a featherblade of beef generously covered in a bone marrow butter, swede puree and cavelo nero. The bone marrow butter was awesome, a slight cheesy note from what might of been unpasteurised butter with the richness of bone marrow, a perfect accompaniment for a blade of beef so soft I used a fork to cut.

I like this venue, the pub being steeped in history, indeed the rickety stairs up to the restaurant featured bare plaster, gas lamps and an old sash window that looked as it probably did when Jack The Rippers victims plied their trade there.

Return to Kitchen Table

Our third visit to Kitchen Table showed the same commitment to consistency, high quality food and service we've had in all our meals there. An excellent evening as always, with some stand out dishes including a pigeon, a beef and burnt cream combination, which sounded unusual but worked incredibly well, a corned beef sandwich amuse bouche that still has my mouth watering to think about it, a beefsteak mushroom dish, a butternut squash pasta dish laden with truffle, and a fantastic brie, white Alba truffle, honey and brioche cheese course that would be hard to top anywhere.

Sketch

Upstairs At The Ten Bells

Kitchen Table

Lobster three ways at Sketch

Smoked potato puree, beetroot and blackcurrant at Sketch

Lemon veloute, thai herbs, fruit and sorbet at Sketch.

Featherblade of beef, bone marrow butter, swede puree, cavolo nero at Upstairs At The Ten Bells.

Brie, white Alba truffle, honey and brioche at Kitchen Table.





Cache
A few days in Brighton (staying at our favourite Hotel Una) saw us having lunch at what could possibly be the best vegetarian restaurant in the country, Terre à Terre. Terre à Terre has a cafe out front, with the main restaurant in a large room with a small open garden and patio at the back, perfect for the warm summers day we were there.

We started with the tapas to share, a huge platter containing a selection of dishes from the menu. All were delicious, with some lovely beetroot soup and sour cream in a shot glass, 2 absolutely fantastic vodka roasted tomatoes, warm and fragrant and unlike any tomato I've had before, corn cakes, some spice covered crispbreads with aubergine dip, smoked tofu and a fabulous ratatouille and burrata. This was a great selection, and presented a good variety to demonstrate that there was some seriously good food coming out of the kitchen.

My main was an excellent goats cheese ravioli on a particularly good globe artichoke, poached egg on a grana padano sauce and smoked tomato sauce, with a mustard dressed salad providing some crunch from green beans and hazelnuts. The ravioli, egg, cheese and tomato sauces had some excellent deep and rich flavours, My wife had some fantastic beer battered halloumi, chips, preserved lemon relish, pea mint hash and some home made tartar sauce and pickled quails eggs. The batter had a nice crisp, with the lemon relish a stand out, again a quality dish.

Dessert was a gargantuan plate of churros to share, with 6 huge warm churros, a superb caramel sauce, a chocolate sauce with brandy cream and my favourite, vodka cherries. The doughnuts were really good, light and fluffy and the sauces accompanying them absolutely divine. After the huge starter and generous mains, we only managed half of the plate, and the remaining were packaged up for us to bring home.

Our meal at Terre à Terre was really good, with top notch dishes and some very high quality food on offer. Unlike some of the other vegetarian restaurants I know of, this is one that I am happy to visit, losing nothing at all by missing out on meat or fish. We will definitely return to sample more. The bill came to £120 and included an elderflower cocktail and kir royale for my wife, and 2 mango non alcoholic drinks for me.

Brighton has got to be one of the most vegetarian friendly towns in the UK, with Terre à Terre setting standards of vegetarian cooking for all others to aspire too, and the Laines containing not just one but a dozen or so vegan and vegetarian cafes, a far higher concentration than anywhere else, even in London.

Tapas

Sussex Poached Pillow Talk.

Better Batter and Lemony Yemeni Relish.

Churrosimo.

Terre à Terre


Cache
Tom Aikens Restaurant is now closed.



We returned to Tom Aikens Restaurant, this time sampling the tasting menu.





The Amuse Bouche was interesting, a lettuce from their rooftop garden, with a truffle Caesar dressing and some extra truffle grated on top. The lettuce was literally minutes from soil to plate and quite lovely, something a little different. Bread was just as good as before, and that cep butter is still unbeatable.




First course was an excellent smoked eel dish, with some variations of cucumber, sea veg and a watercress soup, light and refreshing. My wife had the celeriac dish from the previous visit, although a somewhat lighter balance of ingredients, reflecting the season.




My next course was an ingredient you'd think would be too much on a hot day, foie gras. There was a small line of foie gras mousse, some freeze dried foie, white asparagus, nasturtium, white asparagus ice cream, and at the table, a white asparagus veloute was poured and then the dish topped off with some grated frozen foie gras at the table. This was cool and refreshing yet the frozen foie, mousse and dried granules melted in your mouth and add a deep rich flavour. The white asparagus ice cream and veloute was fantastic, the sweetness balancing perfectly with the richness of the foie. This has to be my favourite ever dish featuring this ingredient, everything worked so well together and was so delicious as a whole. My wife's dish was the white asparagus elements, salad leaves and flowers.




Following this a baked scallop presented in a bowl of pebbles. The scallop was a huge, an excellent example of its kind, and this was different from other scallop dishes I've had by the addition of yeast potatoes, a piece of osso bucco and some toasted bread soup, which made the dish quite savoury and meaty, an excellent dish. I do like the marmite potato too. My wife had something similar to my first course, with various types of cucumber, pickled and salted, with some goats curd mousse, all lovely fresh flavours.




We both had the same next dish, home made ricotta, this was sandwiched between what might have been milk skin, and came with some honey jelly, a ice cream and granita, olive juice, pine buts and basil. I was surprised how salty and strong ricotta can be, almost like feta this was lovely. The honey jelly was particularly good too. Following this my wife had a dish similar to the egg dish I had last time, a large fried ducks eggs, crispy breadcrumbs, but this time with onions too. The caramelised onion bits were really great. I had an unusual dish, monkfish tail, pork belly and squid, the unusual bit being the sliced white strawberries and small cubes of what might have been a citrus fruit or white strawberries again, adding a sweet and sour element to the dish. The fish, pork and squid were generous portions, with that rainbow sheen on the monkfish showing just how fresh it was with some perfectly timed cooking. The squid was lovely, soft and flavourful, the pork belly piece small enough to make me want to try the pork dish next time i return. The sweet and sour elements from the fruit just about worked for me, but strawberries and fish might not be for everyone.




The final main course was the onion dish for my wife, there are some fabulous flavours here and excellent roscoff onions. I really like the sweet onion jam and burnt onion flavours in the piece I tried. Lamb for me, a lovely pink well flavoured piece of fillet, with Mediterranean flavours from the olives, courgettes and artichoke accompanying it. The courgette and olive tempura thing was really good too. However, this and the fish course were almost full sized portions, as were the egg and onion dishes my wife had, we were struggling a bit by the end of the dish, nearing my limits for savoury food.




Having said that, a short while later saw us clearing the plate of the strawberry dessert my wife had last time. It's just as well we have an additional pudding stomach. This is a fantastic dessert, lots of elements, all really great on their own or heaped on the spoon. I loved the strawberry caviar and incredibly light melt in the mouth meringue piece. Petit four were as before, but with an extra truffle of caramac and coconut caramel, as good as it sounds. This is definitely one of the best petit four selections about, a huge selection to be had. However, as we didn't check or weren't told if the jellies were gelatine free I had to eat them all myself. I'd recommend vegetarians check first, and to be honest the other pieces on offer are so good, extra instead of the jellies wouldn't be a loss.




I really enjoyed the meal, and was full to bursting, one wafer thin mint short of a Mr Creosote impression when we left, modern fine dining is not always so generous as this tasting menu. There were some really good dishes to be had, and that foie gras dish as good as anything I've had this year. The bill came to roughly £260.

Bread

Smoked Eel

Celeriac

Foie Gras

White Asparagus

Baked Scallop

Goats Curd Mousse

Homemade Ricotta

Monkfish

Ducks Egg

Lamb

Onion

Strawberry

Petit Fours









Cache
We revisited Dinner last week, taking my mum and step-dad out for lunch, two weeks of Heston in row!





The bread was really good this time, and I thought the brown better than that at the Fat Duck last week, a really well flavoured sourdough with the crispest of crusts. My mum and step-dad had the Meat Fruit to start, whilst I tried Frumenty, a new dish of grilled octopus in a smoked sea broth, possibly the best dish I've had Dinner, a fantastic smoky broth with oats, seaweeds and anemones of lovage puree and two perfectly grilled pieces of grilled octopus. My wife had the vegetarian Salamagundy, a salad with beetroot and horseradish cream and a variation of the nettle porridge as a main. My mums choice of Blackfoot Pork Chop is still a winner, with one of the largest chops I've seen requiring some help from my step-dad to finish off. His turbot was enjoyed, with the cockle ketchup proving the best element of the dish. I chose the Powdered Duck, which whilst not as rare as I like, had an absolutely incredible sticky and rich gravy which ensured the entire plate was devoured in short order. We shared some sides, excellent beans and shallots, and some absolutely incredible caraway roasted carrots. We all chose the Tipsy Cake for dessert. This was first time I've had a full portion and can assure everyone it lives up to the hype, a world class pudding.




Standards are still very high at Dinner, with Heston Blumenthals and Ashley Palmer-Watts excellent takes on old English recipes, a friendly and highly competent front of house, and we had highly memorable family lunch which my mum and step-dad absolutely loved. It must be said though, the St Pellegrino Top 50 list is well out if Dinner rates above The Fat Duck, although Dinner is superb, it's not the one off meal of a lifetime The Fat Duck provides.

Frumenty.



Cache
Keep this spinach salad recipe up your sleeve for your next potluck dinner, because it's guaranteed to make a splash (and then disappear before your eyes!)

Cache
The law firm of Pritzker Hageman is representing a client, 50-year-old Craig Moraski, of Bellevue, Nebraska, after he was sickened with a Listeria monocytogenes infection. He ate chicken salad from a tub purchased from Sam's Club in Papillon, Nebraska that was allegedly made from frozen precooked chicken sold by Tip Top Poultry to the E.A. Sween […]
The post Pritzker Hageman Representing Client Sickened With Listeria appeared first on Food Poisoning Bulletin.
Cache
Grand Strand Sandwich is recalling Lunch Box and Fresh and Local chicken sandwiches for possible Listeria monocytogenes contamination. This recall is part of the massive Tip Top cooked chicken recall that was issued last month. The firm was notified on October 3, 2019 that Star Foods, aka Mrs. Stratton's, that the chicken salad they make […]
The post Lunch Box Chicken Sandwiches Recalled For Possible Listeria appeared first on Food Poisoning Bulletin.
Cache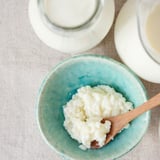 As most of us know now, gut health is such an important part of overall health with new research showing it is involved in a number of aspects of health, such as absorbing nutrients from the food we eat, improving immunity and protecting us from illness, modulating signals to the brain and even impacting our mood.
Our microbiome is what we call the ecosystem of bacteria living in our digestive tract and what we want is plenty of different, healthy bacteria populating and thriving in our microbiome. One food that is particularly helpful in promoting a thriving microbiome is kefir.
Kefir has been around for many years, originating from the Caucasus Mountains, and has superior probiotic content compared to yoghurt as the fermentation process means it contains more strains of bacteria. Yoghurts generally only contain three to five main strains, whereas kefir is generally between 10-15 strains. Traditionally kefir is made with cows' milk, but it can also be made using goat's milk, soy milk, coconut milk or water.
If you have tried kefir before you may not have been a fan straight up because a lot of kefir products tend to have an effervescence to them, kind of like drinking a mix of milk and soda water. That's why I like The Culture Co kefir. They use a specific combination of live cultures that results in a creamy, smooth texture which I find much more palatable - especially if you're new to Kefir.
What I love about Kefir is that good brands can contain therapeutic doses of over 1 billion probiotics per serve. The only other way to receive a therapeutic dose is by supplementation, so it's a fantastic whole food to add to your daily diet. Not to mention it's also a good course of calcium and protein.
I regularly drink it in a glass on its own, but there are so many ways you can use it in your everyday cooking as well. You can add it to smoothies, or use the liquid component for bircher muesli and chia puddings, or just serve it as is with fruit, nuts or muesli. You can also get even more creative and use it in salad dressings, add it to dips and marinades, add it to baked goods, or even make healthy raw treats with it.
My favourite way to have kefir is in a smoothie with zucchini, spinach, prunes, blueberries and chia seeds. I also love it mixed with tahini and lemon juice, drizzled over a salad (see that recipe here). Although you can use in frozen or cooked recipes you will get the most probiotic benefit by using it chilled straight out of the fridge.
Steph Geddes is a nutritionist and holistic foodie whose recipes are a revelation for anyone wanting to fuel their body with good food that is balanced, easy and seriously delicious. You can follow her on Instagram here or read more from Steph on her website.

Cache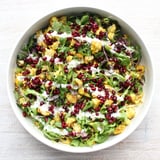 If you're starting to get back into salads after having a Winter hiatus from the green stuff, this gut-loving recipe is the perfect way to start.
Created by Steph Geddes, for Body Good Food, this recipe was not only designed with your nutritional goals in mind but also as an easy way to incorporate more Kefir (you can read more about that here), into your diet - thanks to the addition of her clever probiotic-rich salad dressing.
Keep reading for the full recipe below and be sure to bookmark this one for the Summer months.
Spiced Cauliflower Salad with Kefir Dressing
Body Good Food by Steph Geddes
Ingredients
1 cauliflower, cut into small florets
1 teaspoon turmeric
1 teaspoon cumin
1 teaspoon coriander
1 teaspoon cinnamon
2 large handfuls rocket
1/2 cup mixed microgreens (optional)
1/4 cup chopped parsley
1/4 cup chopped mint
1/4 cup chopped coriander
1/3 cup currants
1/3 cup pine nuts (or flaked almonds), toasted
1/2 pomegranate (arils only)
Dressing:
1/3 cup kefir (I love The Culture Co)
1 tablespoon tahini
1/2 lemon juice
Salt and pepper
Directions
Preheat the oven to 200°C. Combine the spices with two tablespoons extra virgin olive oil and coat the cauliflower.
Spread onto a tray and roast in the oven for approximately 20-30 minutes or until starting to brown. Make the dressing and set aside.
Combine the rocket, microgreens, herbs, currants, pine nuts, pomegranate and cauliflower. Pour over the dressing and serve.
Information
Category

Salads

Yield

Serves 4-6
Cache
Beans, mayo, salad cream and soup flavoured cakes also available.

Cache
I made the Italian Chicken recipe. Delicious! With the leftovers made chicken salad and added some of the sauce. Best I ever had. Took the remaining chicken pieces and baked them in a crescent roll with a slice of cheese. Life is good with leftovers!

Cache

This fresh, light and satisfying dish comes together in less than 15 minutes.

Cache
After the last few days I feel like I'm running on fumes, but I still got a lovely bean salad made yesterday for today's reunion with college friends, and managed to get a fair bit of straightening out done before we left for the soiree. Back now, more exhausted than ever, glad we have no plans tomorrow other than local food shopping. It was good seeing all my friends from 40 years ago (to the extent I had any), although it's always awkward trying to explain how making a living became more pressing than putting my English degree to unprofitable use. Maybe I can blame my lack of writing output on
The Most Dangerous Writing App
(via
BoingBoing
)?
Cache
LUCY BURDETTE: Today our dear Deborah Crombie's book A BITTER FEAST is on sale everywhere! We couldn't be more excited! Rather than wax on about how much we loved this book and this author, I'll get right to questions for Deb:
I know well how hard writing is and especially writing a complicated police procedural with long running characters.

But I kept thinking about how much fun you must have had with the background of the story –

inventing the food and the gardens and the dogs and describing Melody's parents' country home. And at the lunch, the table settings, the local produce, the gin cocktails…
Do you mind starting with the lunch menu?

That special luncheon was so divine! I really hoped that the murder wouldn't ruin the meal before the guests got a chance to enjoy it. Roasted lamb with white beans and fennel, local smoked trout pate, pickled veggies with seeded flat bread—you had me absolutely drooling. Even the salad was stunning with pears, blue cheese and a drizzle of caramel.
But now inquiring minds need to know, did you actually cook this menu? And how did you choose it?
DEBORAH CROMBIE: I wish I had cooked all of those things! I'm hungry just reading your list.
I've made leg of lamb, although not in a smoker, and fennel and white beans, although not together with the lamb. And I've experimented quite a bit with the fermented veggies. (As for the gin cocktails, I think I can claim to be an expert!)
The main inspiration for Viv's menu was a dinner given by a local McKinney chef, Robert Lyford.

It was my first trip to the Round Top Antiques week down in Brenham, Texas, and Robert was the featured chef for an outdoor dinner at a place called Rancho Pillow.

The guests were seated at one long table, set much like the tables in the book. We were served pickled vegetables and spicy pimento cheese with crispbread, then Robert's main course was "pork and beans" served in camping tins.

And the deserts were in little jars, as are Viv's in the book. All the food was amazing. So that part of the menu is totally down to Rob, except that I switched pork to lamb because the Cotswolds is sheep country. The pears and blue cheese were based on a recipe in our local foodie magazine, Edible. Yum! The smoked trout I just threw in because I love smoked trout spread, and if fit with the local foods.
LUCY: You had wonderful descriptions of your character Viv deciding she'd be a chef and then what it was like in the world of the kitchen, the sexism, the hard work, the pressure of seeking a Michelin star—even the tattoos the chefs got to celebrate. Here's a snippet from p. 270:

"
It was so tenuous and indefinable, the synergy of the kitchen. When everything worked, it was an almost liquid thing—one station flowed smoothly into another and the communication on the line was seamless
."

(Of course, everything is not working!)
Tell us about the research you did to get this right?
DEB: I had lots of help and advice, not just from Rob Lyford, but from my chef friend in Phoenix, Sean Currid, and chef Nik Chappell at the Slaughters Manor House in Lower Slaughter. Both Sean and Nik gave me restaurant kitchen tours and answered lots of questions. And then I read and read and read. Chefs' bios and memoirs, books about professional cooking and about the restaurant world. I also ate a lot!

Research was my excuse to go to a lot of restaurants in London and the Cotswolds that I would normally have considered out of my budget.

Now I have to figure out a way to justify those meals on the next trip.
LUCY: I've been thinking a lot about your chef characters and remembered an interview I did on the blog with psychologist Scott Haas about his book, THE BACK OF THE HOUSE
. I asked him if he ever felt like a psychologist to the chefs, and he said:
"There is a profound superficiality to the way some chefs regard the depth of their emotional lives--an avoidance, a calcification, part of why they cook instead of developing intimacy. Cooking is much easier than working on relationships. Certainly the chef told me extremely personal things, but this is not an introspective profession. On the contrary."
Did you find this to be true as you were talking with chefs? I can imagine this description fitting at least one of your characters…
DEB:
The chefs I spoke to seemed to make a great effort to lead balanced lives, and they guard their days off ferociously. But, yes,

I think you can safely say that the chefs in my book have a hard time maintaining a work/life balance. Otherwise, we wouldn't have much of a story!
LUCY: You make a wonderful comparison between the work of a gardener and a chef—how in both professions, people work so hard to achieve something that is fleeting, such as a wonderful meal or a perfectly weeded garden. And that brings us to gardens. We can picture the roses and the hedges and can imagine the landscape architect at work. Will you tell us about your interest in this and how your gardens compare?
DEB:

This book let me indulge both my passions. I am an enthusiastic if not particularly good gardener (the same could probably be said of my cooking…)

and I have an obsession with English roses. I've also been fascinated for as long as I can remember with English gardens, and with Arts and Crafts gardens in particular.

A wonderful book on the restoration of the Gertrude Jekyll garden at a Surrey house called Upton Grey inspired the gardens at Beck House.

I even drew diagrams of all the beds and plantings.

Although my own garden is tiny in scale compared to something like Beck House, I do use a lot of native perennials in a natural way—a very Arts and Crafts design template.
LUCY: You were spinning so many plates with your plots and subplots and it surely must've been difficult to decide which characters to bring forward and which new ones to introduce. With a series that has run to 18 books, can you tell us more about that process?
DEB:

I'm usually thinking a book ahead about what characters will lead the next story.

In A Bitter Feast, I knew I wanted all four of my main characters, Doug and Melody as well as Duncan and Gemma, to be working the same case in the same place, and the setting followed from that. But because there is such a big cast of continuing characters in the series, my biggest problem in planning a book is deciding who to leave out, rather than who to put in.

And sometimes the characters don't cooperate.
LUCY: You've mentioned that you go to England most years to do research for your books. What did you do and see while planning A BITTER FEAST? (Now we're all dying to visit the Cotswolds.) Do you know what you're looking for before you go? And where are we headed next?
DEB: I visited the Cotswolds on my very first trip to England with my parents, in the late seventies, and I had never been back, although I had for a long time thought the area would make a great setting for a novel. I made three trips for this book. The first was sort of a fact-finding mission, trying to find the perfect village (or villages) for the story. On that visit, I decided on the Slaughters, which I'd seen all those years ago with my folks. I'm sure we even stayed at Lords of the Manor in Upper Slaughter, when it had just opened as a country house hotel.
On the second and third trips I stayed in both Lower and Upper Slaughter, and I do think I could work for the Slaughters tourist bureau! The landscape and the villages in this part of England are just breathtakingly beautiful.

I'm quite downcast now at not having an excuse to go back—but maybe I will think of one. Beck House and the Lamb are, after all, still there.
The next book, however, is set in London, in Bloomsbury and Soho, and I'll be off for three weeks writing and researching in London right after Bouchercon! And as usual, I can't wait!
LUCY: Readers, do you know that all 7 of the Jungle Reds will be at Bouchercon in Dallas in a couple of weeks? Two of our Reds are Guests of Honor--Debs and Hank! Don't miss the annual Jungle Red game show on Thursday the 31st at 2:30.
And I have the honor of interviewing Debs on Thursday morning at 9:30. What questions would you like me to ask???
And most important, you can buy A BITTER FEAST wherever books are sold...
Cache
Stock refrigerators and salad bars. Counter Attendant and Food Preparer Skills. Use manual and electrical appliances to clean, peel, slice and trim foodstuffs.
From Canadian Job Bank - Mon, 30 Sep 2019 15:05:36 GMT - View all Whitehorse, YT jobs


Next Page: 25 © Googlier LLC, 2019