Cache
Democrats know they can't beat President Trump by running on the issues the American people care about, which is why they've employed the politics of personal destruction.
Cache
Welcome to FreedomWorks Foundation's nineteenth regulatory review of 2019! Our Regulatory Action Center proudly updates you with our favorite tidbits from the swamp. We want to smash barriers between bureaucracy and the American people by delivering regulatory news straight to FreedomWorks activists. Check back in two weeks for the next edition.
1) Video of the Week: Unsurprisingly, the United States is not the first country to experience ballooning budgets and astronomical deficits. In the mid-1990's, Canada's debt grew to as high as 70% of GDP, similar to our current debt situation. In this weeks video, John Stossell sits down with Canadian economist David Henderson to discuss how Canada managed to tackle their debt problem by cutting government spending and reducing waste.
2) Why Is the CDC Still Fostering Potentially Deadly Confusion About Vaping and Lung Disease?: "Media outlets, following the lead of the U.S. Centers for Disease Control and Prevention (CDC), continue to blame recent cases of severe respiratory illnesses among vapers on "vaping" and "e-cigarettes" in general, falsely implying a link to legal nicotine products. This misinformation is fostering public confusion that may lead to more disease and death, both from smoking and from the black-market products that have been implicated in the lung disease cases." https://reason.com/2019/09/24/why-is-the-cdc-still-fostering-potentially-deadly-confusion-about-vaping-and-lung-disease/
3) FBI using Facebook ads to gather Russian intelligence: report: "The FBI is reportedly using Facebook ads to gather intelligence on Russia, specifically targeting those who may be or know Russian spies. The FBI is running ads in the Washington, D.C., area, CNN reported on Wednesday, that direct to the FBI field office's website that describes its counterintelligence team and encourages visitors to meet "in person." https://thehill.com/policy/national-security/fbi/464069-fbi-using-facebook-ads-to-gather-russian-intelligence-report
4) Federal Court Upholds FCC Decision to Roll Back Obama-Era Net Neutrality Rules: "Today, by a 2-1 vote, the United States Court of Appeals for the District of Columbia Circuit sided largely with the FCC, upholding the primary regulatory rollback as a valid exercise of its authority. In the nearly 200 page opinion, which is heavy on technical detail, the court wrote that while the challengers raised "numerous objections" aiming to show that the FCC's reclassification is "unreasonable," the judges found them "unconvincing." https://reason.com/2019/10/01/federal-court-upholds-fcc-decision-to-roll-back-obama-era-net-neutrality-rules/
5) Trump to issue executive order 'protecting' Americans from 'Medicare for All' campaign proposals pushed by Democrats: "The executive order, which he is scheduled to discuss at a speech in Florida later Thursday, is intended to bolster Medicare Advantage, private Medicare insurance for seniors that currently covers 22 million people, senior administration officials said on a call with reporters. The plan would also offer more affordable plan options, increase use of telehealth services and bring payments in Medicare fee-for-service program in line with payments for Medicare Advantage, officials said." https://www.cnbc.com/2019/10/03/trump-to-issue-executive-order-protecting-americans-from-medicare-for-all.html
6) Treasury to create tool to help people redeem billions in unclaimed savings bonds: "Sen. John Kennedy (R-La.) on Wednesday said that the Treasury Department will create an online tool to help people redeem billions of dollars in savings bonds. About $26 billion in matured savings bonds are in the U.S. Treasury and have yet to be redeemed. Using the department's forthcoming tool, people will be able to verify against Treasury Department records if they have any savings bonds dated after 1974 that can be redeemed, Kennedy's office said in a news release." https://thehill.com/policy/finance/464057-senator-treasury-will-create-tool-to-help-people-redeem-billions-of-dollars-in
7) Trump takes heat from right over vaping crackdown: "The Trump administration is under fire from conservative groups and some GOP lawmakers, who are pushing back over its planned crackdown on e-cigarette flavors. They say the administration is overreaching, and the flavor ban will harm small businesses, a violation of core Republican free market principles." https://thehill.com/policy/healthcare/464470-trump-takes-heat-from-right-over-vaping-crackdown
Cache
A record 35 candidates filed nominations on Monday for next month's Sri Lankan presidential election, but the incumbent, Maithripala Sirisena, has opted not to seek a second term after the entry of popular former defence chief Gotabaya Rajapaksa, who is considered the favourite.Rajapaksa, who served as defence chief under his brother and then-president Mahinda Rajapaksa, is popular for his part in ending Sri Lanka's long civil war a decade ago.President Maithripala Sirisena, who likely would…

Cache
Clothing for those everyday activities. Whether it be working out, relaxing at home, or running errands around town, Micheal 4 will have the basics covered.

Note: Basicwear for M4 is included with Carrara 7 and Carrara 7 Pro.

Price: $19.95 Special Price: $0.00
Cache
The lockdown feature aims to further strengthen Linux security by "restricting access to kernel features that may allow arbitrary code execution via code supplied by userland processes".

In simple words, even the root account cannot modify the kernel code. This will hep in cases where a root account is compromised, the rest of system won't be easy to compromise specially on kernel level. In even simpler words, it enhances the Linux security.

There are two lockdown modes: integrity and confidentiality.

In integrity lockdown mode, kernel features that allow userland to modify the running kernel are disabled.

But that doesn't mean the Microsoft leopard can't change its spots. Sure, he hears, "This is the old Microsoft, and they're just biding their time." But, Torvalds said, "I don't think that's true. I mean, there will be tension. But that's true with any company that comes into Linux; they have their own objectives. And they want to do things their way because they have a reason for it." So, with Linux, "Microsoft tends to be mainly about Azure and doing all the stuff to make Linux work well for them," he explained.

Torvalds emphasized this is normal: "I mean, that's just being part of the community."

As Eric Raymond pointed out in his seminal open-source work, The Cathedral and the Bazaar: "Every good work of software starts by scratching a developer's personal itch."
Cache
Say what? Microsoft Windows 11 running a Linux kernel? What'chu smokin'? Steven J. Vaughan-Nichols wrote such a speculative article for ComputerWorld.

And actually, it makes perfect sense. Look at the unmitigated disaster that the Windows 10 updates have been. Week after week after week, we hear about how the Windows 10 updates have wrecked users computers or have otherwise gone seriously awry. Most (if not all) Linux users are Windows refugees, usually fleeing from the lack of desktop choice under Windows, the never-ending assault of virii and virus scanners, the endless battle with malware, etc., etc., etc. The list is nearly as long as the number of Linux users.

Replacing the NT kernel, which is basically rotten, with the Linux kernel is certainly doable. Vaughan-Nichols makes the argument that using the Linux kernel that is passionately and enthusiastically upkept by an army of programmers from around the world makes perfect sense. He goes on to argue that many Windows users won't even have to be aware that Windows is running on a Linux kernel, as Windows can still be made to look like Windows. But the insides, the very core, will get an upgrade in stability and security.

Sure, it sounds crazy. But who could have predicted that Microsoft would go from wanting to bury Linux and calling it a cancer under Steve Ballmer, to expressing love for Linux under Satya Nadella? Who could have predicted that Microsoft would open its extensive patent library to Linux and the FOSS community -- for free?

Vaughan-Nichols goes on to point out that Microsoft could release its own version of Linux today, if it chose to. There's nothing to stop them. But Microsoft developers have been busy laying the groundwork with the Windows Subsystem for Linux (WSL), mapping Linux API calls to Windows, and vice versa.

Coming out of informal discussions from this week's X.Org Developers Conference in Montreal, a "liboutput" library has been proposed as a theoretical new library for helping to bring up Wayland compositors, X11 window managers, and anything else wanting to interface with DRM/KMS kernel interfaces. 

My father of 91 uses Linux as well. (Lubuntu) With Windows, he often picked up a virus or other malware, and he has been running Linux virus free since six years now. He is very happy with Lubuntu. 

My brothers were in the beginning quite negative about my father using Lubuntu, but now they tend to be neutral about it. 

I tried to convince some friends of mine to use Linux, but they perceive it to be too complicated and too different. 

Only two friends of mine like it. 
Cache
Agony Unrated running through Steam play.

This is my fifth noodling and I did cut a few things. I will be playing with the length but this is about 13 minutes of my nonsense to chip tunes.

On DL141 CentOS Stream, Fedora 31 Better Multimedia Codec Support, Endeavour OS Release, Oracle Builds Super Computer with Pi, Shotwell Patent Trolls, Xbox/Windows Exclusivity Stance, Broken Lines RPG
Cache
This 20 minute video covers all the necessary, but tricky, aspects of DAZ Studio's subsurface shader.

Learn not just what settings to use, but more importantly, why to use them.

The video walks you through setting up skin materials for Michael 5 and details what each function does along the way. Gain insight on what is happening under the hood and how the renderer interprets the settings. This helps you learn what values to use, and why to use them.

Sections covered:

Render settings
Basic lighting
Applying the shader
Subsurface Shading Rate
Subsurface Shading Scale
Pre-Subsurface Diffuse
Post-Subsurface Diffuse
Troubleshooting Shading Rate
Subsurface Group ID

Running time 21 minutes - in Full HD.

Price: $9.95 Special Price: $4.98
Cache
Technology Enhancement Coordinator Level 2 Combat Aid Team - TEC2 CAT - rely on these 3D model girls to be sure that your Humongous Mecha is ready for battle and will actually hit the target before running out of power tomorrow!

Always in the background, never in the spotlight - finally it's time to let these girls get the appreciation they deserve!

Price: $19.95 Special Price: $9.98
Cache
You will get the opportunity to hone and develop your management and leadership skills working side by side with the Store Manager in all aspects of running a…
From Hibbett Sports - Sat, 22 Dec 2018 21:05:53 GMT - View all Hereford, TX jobs

Cache
Convincing pirates to part with their cash is one of the key aims of the entertainment industries. As a result, they're increasingly running awareness campaigns and offering online tools to help achieve that goal. But if even the most dedicated fans desperate to part with their money leave disappointed, how many bites at the cherry will they get?
Source: TF, for the latest info on copyright, file-sharing, torrent sites and more. We also have VPN reviews, discounts, offers and coupons.
Cache
With iOS 13, Spotify gets the system-level voice control it's been missing.
Listening to Spotify on an iOS device just got a lot easier with support for Siri voice commands. If you're running iOS 13 and have installed the latest version of Spotify, you can now say "listen to [artist/album/playlist] on Spotify" after invoking Siri. Spotify is also now rolling out an Apple TV app and support for iOS 13's Low Data Mode, which can reduce streaming quality to consume less mobile data.
Cache
Contributed by Fonts In Use Staff

Source: https://www.thenational.ae . License:

All Rights Reserved

.
Climate protesters gathered around a boat at Oxford Circus during a coordinated protest by the Extinction Rebellion group in April.
Extinction Rebellion (abbreviated as XR) is a socio-political movement with the stated aim of using civil disobedience and nonviolent resistance to compel government action on climate breakdown, biodiversity loss, and the risk of social and ecological collapse. Extinction Rebellion was established in the United Kingdom in May 2018 with about one hundred academics signing a call to action in support. — Wikipedia
The movement uses a circled hourglass, known as the extinction symbol, to serve as a warning that time is rapidly running out for many species. From rebellion.earth:
The Extinction Symbol was designed in 2011 by street artist ESP, who loans XR usage on the same basis: www.extinctionsymbol.info.
Since its launch, XR has quickly gained national and international following, taking it to the streets in mass demonstrations, demanding immediate action from their national parliaments and governments.
For their branding, the organization uses a custom, rounded version of Futura Condensed named Fucxed. Initially used in lowercase for the XR logo, a caps-only version is used across the globe on banners, websites and social media. In comparison to other recent peoples movements such as the (anti-)Brexit protests, or the Women's Marches, there is a remarkably uniform and consistent branding in the messages from Extinction Rebellion in outlets from social media to worldwide demonstrations.
Source: https://rebellion.earth
License:

All Rights Reserved

.
Website header.
Source: https://medium.com
License:

All Rights Reserved

.
Header for an article on Medium.
Source: https://www.facebook.com
License:

All Rights Reserved

.
Announcement for a demonstration in Hong Kong on Oct 5, 2019: " 地球上的生命正步向被徹底摧毀的命途之上. 為物種抗爭! 為未來反抗! / Life on Earth is being annihilated. Rebel For Life!" Slogan and logo use a yet unidentified typeface.
Source: https://www.penguin.co.uk
License:

All Rights Reserved

.
In June 2019, XR published an activist handbook with Penguin Books: "This is a book of truth and action. It has facts to arm you, stories to empower you, pages to fill in and pages to rip out, alongside instructions on how to rebel – from organising a roadblock to facing arrest." Note the clever use of the (suggestedly extinct) publisher's logo penguin as a cover illustration.
Source: https://www.nationofchange.org . License:

All Rights Reserved

.
Source: https://www.coffscoastadvocate.com.au
License:

All Rights Reserved

.
Pop-up demonstration in Australia.
Source: https://www.greenqueen.com.hk
License:

All Rights Reserved

.
Protesters in Hong Kong.
Source: https://www.theguardian.com . License:

All Rights Reserved

.
September 2019. A show-goer walks past Extinction Rebellion protesters as they demonstrate against London Fashion Week.
Source: https://www.batimes.com.ar . License:

All Rights Reserved

.
Members of Extinction Rebellion demonstrate at the La Rural exhibition centre in Buenos Aires.
Source: https://extinctionrebellion.nl . License:

All Rights Reserved

.
"Climate Change = Mass Murder" – protesters in Amsterdam, The Netherlands.
Source: https://rebellion.earth
License:

All Rights Reserved

.
Website. Crimson Text is used for body copy.
---
Cache
From the inbox, an ad from a friend of the blog, Scott Bagley:
Voting for the ACS Division of Organic Chemistry Executive committee is now open. Division members will receive an email from

elections@vote-now.com

with links to the ballots and candidate biographies. We have a terrific slate of candidates from across the organic chemistry community so please visit or join the Division of Organic Chemistry at https://www.organicdivision.org/ You must be a DOC member to view the candidates and cast your ballot.
I am running for one of 4 Member-at-Large posts and would appreciate your consideration. Thank you.
Cache
"I was showing the America I knew and observed to others who might not have noticed." – Norman Rockwell
Mention the name "Norman Rockwell," and different thoughts bubble up for different people.
The gawky New England artist charmed millions of Americans for nearly 50 years as the Saturday Evening Post's most beloved cover illustrator and chronicler of small-town life. At the same time, many critics snubbed Rockwell as too cliché, sentimental or homogenous to be taken seriously.
"Norman Rockwell is arguably America's most famous artist ever," said Wes Jessup, executive director of the Northwest Museum of Arts and Culture, where a new exhibition, "Norman Rockwell's America," opened this weekend. "Who was more famous? Warhol? No. Warhol was actually a big collector of Rockwell."
Rockwell was born in New York City in 1894 and died in 1978 in Stockbridge, Massachusetts, at age 84. He lived and worked during some of the most impactful movements in modern art history such as impressionism, cubism, surrealism and abstract expressionism.
But he forged his own way as an illustrator. He once said, "Some people have been kind enough to call me a fine artist. I've always called myself an illustrator."
"I'm 50, and when I was in college, Rockwell was considered retrograde. He was overlooked," Jessup said. "So I think there is a rediscovery coming from my generation and younger people."
Last month, singer/songwriter Lana Del Rey released her new album, provocatively titled "Norman (expletive) Rockwell." The moniker suggests that maybe everything in America is not quite so perfect after all.
There is even a term bolstering Rockwell's lasting impact on popular culture: "Rockwellian." It can refer to anything quaint, idealistic or sentimental such as a "Rockwellian childhood" or a "Rockwellian holiday celebration."
'Vivid and affectionate portraits'
No matter where one places Rockwell in the canon, his depictions of everyday life made him the most widely circulated and universally beloved American artist of the 20th century. Rockwell's "vivid and affectionate portraits of our country" garnered him the Presidential Medal of Freedom in 1977, the nation's highest civilian honor.
The MAC exhibition will use Rockwell's singular art and enduring vision of a hopeful America to chronicle the nation's history and examine what constitutes the American spirit. "Norman Rockwell America" is a show of 22 oil paintings, seven charcoal or graphite studies, original posters and all 323 Post magazine covers spanning six decades. It's the first solo exhibition of Rockwell's paintings and covers to visit the Inland Northwest.
The exhibition is arranged in chronological order, making the stages of his career recognizable and his images more poignant. The original works give viewers the chance to observe Rockwell's superb craftsmanship and attention to detail, characteristics sometimes overlooked in the more widely seen reproductions.
In a masterful style almost photograph-like, and in hyper-real detail, Rockwell painted everyday people in ordinary situations. His goal was to tell a story, in a single picture, armed only with a paintbrush.
He lived through two World Wars, the Great Depression, Korean War and Vietnam. But the stories he told most often were relentlessly optimistic, depicting a simpler world, one worth fighting for.
In Rockwell's paintings, the nation's rich tapestry is united by holiday rituals, faith and family life. Rockwell's America is a place where honest, hard-working people endeavor to live rather than a world in which they really live. As Peter Schjedahl wrote in the New Yorker, "He didn't illustrate Middle America. He invented Middle America."
For example, readers of the Post delighted in Rockwell's paintings of humorous childhood escapades. The iconic images include the illustration of the little boys running while yanking on their clothes after sneaking a dip in the local waterhole, the little girl with a black eye sitting outside the principal's office with a huge grin spread on her face, and the young runaway chatting with a cop at the soda fountain counter with his bundle of clothes tied to a stick in full view under his barstool.
There are lots of intergenerational interactions, too: a grandfather picking up a bat to hit a few balls with the little ones, the daughter watching mom put on makeup at her vanity table and the parents putting their kids to bed. In 1955, Post readers voted the 1951 Thanksgiving issue their all-time favorite cover. The illustration depicts a woman and a young boy saying grace in a crowded restaurant as they are observed by other people at their table.
'Extraordinary in the ordinary'
"He found the extraordinary in the ordinary moments because when you get to the truth of life, I think what we really remember is how beautiful it was to have a cup of tea with that person," said Rockwell's granddaughter Abigail Rockwell, who conducted a phone interview from her home back East.
"Yes, you will remember the Taj Mahal after you visit, but don't we really go back to the small moments and think, 'Oh God, I miss having tea with that person?'"
One of the paintings hanging in the MAC exhibit is titled "The Party After the Party." Rockwell lovingly created an intimate scene in which a granddaughter kneels on the parlor floor in front of her grandmother's chair. The pair holds hands as the young woman, still clad in her finery, tells Grandma all that happened at the party.
"Yes, I just got chills!" said Abigail Rockwell, now the de facto historian of the family. "That is a really sweet and memorable moment. That is part of the Edison Mazda series (of advertisements Rockwell illustrated) in the 1920s. I've always thought it's some of his best work."
Abigail Rockwell, who also is a successful jazz singer, will travel to Spokane to give a talk at the MAC on Nov. 7 at 5:30 p.m. and lead a private tour. Tickets are $25. She also will sign copies of the recently re-released autobiography by her grandfather, "My Adventures as an Illustrator: The Definitive Edition." Abigail Rockwell has spent much of the last several years researching and updating the book. Her goal was to bust false myths and preserve her grandfather's legacy.
One of the biggest misconceptions she said that she finds is that her "Pop," as she calls him, painted only white America. However, a look at some of Rockwell's most iconic works belies that notion.
In 1961, the artist painted "The Golden Rule," showing people of different religious faiths and ethnic backgrounds worshipping together. However, Rockwell himself once recalled being directed to paint out a black person from a group picture in the Post. The policy at the time only allowed the portrayal of African Americans in service jobs next to white people.
After leaving the Post in 1963, Rockwell appeared eager to refocus his efforts on supporting the Civil Rights movement. In 1964, he produced his iconic painting "The Problem We All Live With." It depicts Ruby Bridges, a 6-year-old African American girl, on her way to an all-white public school during the New Orleans desegregation crisis. Due to threatened violence, she is being escorted by federal marshals. On the wall behind her are scrawled a racial slur and the letters "KKK."
'Ruining his legacy'
"Pop had the bravery to put those words on the wall," Abigail said. "People don't realize how controversial it was for him to do that. I saw the angry letters castigating him for 'ruining his legacy.' "
One of Rockwell's proudest moments, according to his granddaughter, was when he received a lifetime membership card to the NAACP. More than 30 years later, his portrait of Bridges was installed in the hall outside the Oval Office at the White House for several months during the Obama administration. Reproductions of this and more of Rockwell's Civil Rights era paintings will be on display at the MAC as part of the current exhibition.
Another project Rockwell undertook after leaving the Post was a commission to paint a portrait of Abraham Lincoln for Spokane's Lincoln First Federal Savings and Loan. The bank's CEO, the late Spokane resident Donald P. Lindsay, had the idea to hire America's most famous artist.
"My dad thought it was no big deal to write Norman Rockwell and just ask him to do it," recalled Lindsay's eldest daughter, Karen Warrick. "And it worked."
For $4,000, Rockwell agreed to produce the 7-foot piece, taller even than Lincoln himself. Finished in 1965, the portrait depicts the 16th president as a young man on the farm dressed in work clothes holding an ax in one hand and a book in the other. "Lincoln the Railsplitter" was used to market the Spokane bank and all the branches throughout the state. Jar openers, golf balls, calendars and stationery all bore Rockwell's Lincoln image.
The original painting hung for two decades in the Lincoln First Federal Bank lobby located in what is now the Lincoln building at Riverside and Lincoln. After the bank changed hands, the piece later made its way to the private collection of former presidential candidate H. Ross Perot. It was eventually sold at auction to the Butler Institute of American Art in Youngstown, Ohio, in 2006 for $1.6 million.
The MAC has gathered letters, photos, bank memorabilia and a reproduction of "Lincoln the Railsplitter" to include in the exhibition. "It's exciting that one of the most famous paintings of Abraham Lincoln that was ever done was done by one of America's most famous artists and that it originated right here in Spokane," Jessup said.
Warrick said that she hopes the Rockwell exhibit accomplishes what the artist himself wanted: to rekindle the American spirit. "I just hope that a lot of people are reassured that we care for one another in this country, that we are all the things that Rockwell brings out in his paintings," Warrick said. "You wrap that around the integrity of a Lincoln and maybe young people will be inspired and think: 'Is that what we used to look like in this country?' "
Cache
With the amount of controversy surrounding it, "Joker" feels more like an idea and less like an actual movie. Could it possibly stand up to the mythology that has sprung up around it, stoked by breathless film-festival hype, pre-emptive misanthropic adoration, gun-control activists demanding action and some foot-in-mouth interviews by writer/director Todd Phillips?
It absolutely does not live up to its undeserved hype, for better or worse. And while that might be surprising, it also has to be expected. So what exactly is "Joker"? It's a great trailer. It's two consecutive hours of Joaquin Phoenix dancing, gracefully and gruesomely writhing his emaciated frame.
It's a riff (or a complete ripoff) of "The King of Comedy" down to Robert De Niro cast as late-night talk-show host Murray Franklin. It's a '70s look book sprinkled with the broadest, most obvious comic book mythology and a series of wildly hit-or-miss music cues (Gary Glitter, really?).
It's a virtuosic actor destroying his body to make the undercooked script seem like something more than it is. "Joker" is cloaked in the kind of prestige that tricks you into thinking there's something more meaningful there: moody cinematography, bursts of extreme violence, an actor who doesn't so much as perform but psychically channel a character.
But this is all window dressing, smoke and mirrors to distract from the story being painfully thin and told with all the nuance of a sledgehammer. This thing wouldn't pass muster in paneled newsprint, and, aside from a few soap opera-style reveals, you've heard it all before.
There is one thing Phillips and co-writer Scott Silver do accomplish effectively, and it's the crux on which the perceived controversy hangs. They manage to build empathy for Batman's most popular villain, the Joker, aka Arthur Fleck (Phoenix).
Arthur is a clown who lives with his mother (Frances Conroy) in the outer boroughs of Gotham struggling with mental illness and a strange condition that causes him to laugh in times of distress. He dreams of a career in standup comedy, but he doesn't get jokes. Rather, Arthur is the butt of jokes, which escalate violently in troubled Gotham.
When he finally steps into his power as a murderous chaos clown, empathy is what he demands through his violent actions, pushed to his limit by a broken mental health system, a civil society roiled by unrest and a lack of the attention and love he wants.
There is an aspect of the execution Phillips badly flubs, and it just might be the film's death knell. "Joker" is resoundingly one note throughout the majority of its running time, Phillips mistaking "unrelentingly grim" for "profound," which just renders the film punishingly dull.
It could be by design: The brutal boredom makes you crave the sweet release of chaos; in the last few minutes, where Joker acolytes riot in the streets, things finally perk up. That's because "Joker" puts us on that queasy roller-coaster ride with Arthur himself.
The empathy Phillips, Silver and Phoenix create for Arthur and his actions will be a sticking point for many who don't want to look that grease-painted visage in the face, a representation of mental illness and poverty and structural failure pushed to the brink.
That empathy might be the most radical part of "Joker," but it's not that radical at all. This "Joker" is all setup with no punchline.
Cache
What's new for home viewing on Video on Demand and Netflix, Amazon Prime, Hulu and other streaming services.
Top streams for the week
Cable-cutters can keep up with many primetime network series on Hulu. Among the new shows now available are legal drama "Bluff City Law" with Jimmy Smits, mystery thriller "Emergence" with Alison Tollman, serial killer drama "Prodigal Son" with Michael Sheen, comedy "Perfect Harmony" with Bradley Whitford, melting pot comedy "Sunnyside" with Kal Penn, sitcom spin-off "Mixed-ish" and Portland-set private eye drama "Stumptown" with Cobie Smulders.
You also can see more than two dozen returning shows, including "This Is Us," "Modern Family," "The Good Doctor," "New Amsterdam," "Empire," "The Good Place," "The Voice" and warhorses "Grey's Anatomy" and "Law & Order: SVU."
Episodes arrive on Hulu (with limited commercial interruption) a day after their respective network debuts.
"The Politician" is a musical melodrama starring Ben Platt as a wildly ambitious high school kid running for class president of his elite private school. Gwyneth Paltrow and Jessica Lange co-star in the satirical series created for Netflix by Ryan Murphy.
An underpaid spy (Manoj Bajpayee) keeps his dangerous life a secret in "The Family Man: Season 1" (India, with subtitles), an espionage thriller with a twist of workplace comedy. Ten episodes on Amazon Prime Video.
Gaby Hoffmann, Amy Landecker, Jay Duplass and Judith Light carry the tunes in "Transparent: Musicale Finale," which brings the Emmy-winning Amazon Original comedy to an end without its original star Jeffrey Tambor (who left the show after harassment allegations). On Amazon Prime Video.
Great music sustains "Yesterday" (2019, PG-13), a romantic comedy about a failed singer-songwriter (Himesh Patel) who wakes up in a world where the Beatles never existed and performs their songs as his own. Lily James and Ed Sheeran co-star, Danny Boyle directs from an original script by England's romcom king Richard Curtis ("Love Actually"). On Cable on Demand, VOD, DVD and at Redbox.
Classic pick: Buster Keaton's action-packed comedy "Steamboat Bill, Jr." (1928, silent with score) is hilarious and warmhearted and features some of the most amazing stunts captured on camera. Streams free on Kanopy, free through most library systems.
Pay-Per-View / Video on Demand
"Shaft" (2019, R) is a multi-generational sequel to the private eye classic with Usher joining previous "Shaft" stars Samuel L. Jackson and Richard Roundtree. Also new:
· Horror reboot "Child's Play" (2019, R) with Aubrey Plaza and the voice of Mark Hamill;
· Luc Besson's action film "Anna" (2019, R) with Sasha Luss as a supermodel/assassin;
· Documentary "Pavarotti" (2019, PG-13) from director Ron Howard;
· Essay film "Around India With a Movie Camera" (2018, not rated) created from archival footage of India from 1899 to independence in 1947.
Available same day as select theaters nationwide is "10 Minutes Gone" (2019, R) with Bruce Willis and Michael Chiklis, from direct-to-video veteran Brian A. Miller. Also new are two horror films:
· Logan Miller in "Prey" (2019, not rated) from Blumhouse;
· "The Curse of Buckout Road" (2017, not rated) co-starring Henry Czerny and Danny Glover.
Netflix
A serial killer appears for one night every nine years in "In the Shadow of the Moon" (2019, not rated), a murder mystery with a science-fiction twist. Boyd Holbrook is the cop who follows the case for decades, and Cleopatra Coleman, Bokeem Woodbine and Michael C. Hall co-star in the Netflix Original movie from director Jim Mickle.
Wong Kar-Wai's romantic action drama "The Grandmaster" (China, 2013, PG-13, with subtitles) stars Tony Chiu-Wai Leong as legendary martial arts master Ip Man. Ziyi Zhang and Chang Chen co-star and Yuen Woo Ping provides the choreography, which Wong turns into something more like a dance onscreen. It was nominated for two Oscars, including one for its rich cinematography.
Kristin Scott Thomas stars in World War II mystery "Sarah's Key" (2010, PG-13), from the novel by Tatiana de Rosnay.
The animated short feature "Sound & Fury" (2019, not rated) is a companion piece to the new album by country artist Sturgill Simpson.
True stories: The short documentary "Birders" (Mexico, 2019, with subtitles) celebrates those who monitor and protect birds that migrate across the U.S.-Mexico border.
International TV: A former spy, now teaching Shakespeare, is called back into service in the "Bard of Blood" (India, with subtitles). Also new:
· "Skylines: Season 1" (Germany, with subtitles), a drama set in the music industry;
· Prison drama "The Inmate: Season 1" (Mexico, with subtitles) about an undercover agent posing as a prisoner.
Kid stuff: A teen social media celebrity becomes a court-ordered wilderness club leader in the live-action comedy "Team Kaylie: Season 1" (TV-PG) for teens and tweens. Also new is the animated adventure "Dragons - Rescue Riders: Season 1" for younger viewers.
Standup: "Jeff Dunham: Beside Himself" (2019, not rated).
Amazon Prime Video
"Fido" (2007, R), a social satire of the undead used as menial servants, is one of the best zombie comedies to date. Carrie-Anne Moss, Dylan Baker and Billy Connolly star.
International affairs: Vincent Zhao stars in Yuen Woo Ping's over-the-top action drama "True Legend" (China, 2010, R, with subtitles), featuring appearances by Jay Chou, Michelle Yeoh and David Carradine.
International TV: "A French Village: Seasons 1-4" (France, 2009-2012, with subtitles) follows the inhabitants of a rural town during the Nazi occupation of World War II. The hit drama from France played on PBS in some American cities.
Hulu
Disney's animated "Pocahontas" (1995, G), featuring the voices of Mel Gibson, Irene Bedard and Christian Bale, is one of the last classics of old school animation. It won Oscars for the score and original song "Colors of the Wind."
Everywhere
"American Horror Story: Apocalypse," the eighth season of Ryan Murphy's anthology series, is streaming on Netflix, Amazon Prime and Hulu.
HBO Now
"The Lego Movie 2: The 2nd Part" (2019, PG) animates the world of interlocking toys for a new adventure involving invaders from outer space.
True stories: "Buzz" (2019, TV-MA) profiles the very private Pulitzer Prize-winning journalist and celebrated author Buzz Bissinger.
Available Saturday night is "Isn't It Romantic" (2019, PG-13), a spoof of romantic comedy clichés starring Rebel Wilson and Liam Hemsworth.
Other streams
The fourth season of the documentary series "The Circus: Inside the Wildest Political Show on Earth," is now on all Showtime platforms. New episodes each Sunday.
The family friendly adventure "A Dog's Way Home" (2019, PG) with Ashley Judd is now streaming on all Starz platforms.
"Doc Martin: Series 9," the hit British drama starring Martin Clunes as a prickly surgeon turned country doctor, airs exclusively in the U.S. on Acorn TV. New episodes arrive each Thursday, a day after their respective U.K. premieres.
Britbox celebrates the 50th anniversary of "Monty Python's Flying Circus" with the vintage comedy series "Ripping Yarns" (1976-1979) from Michael Palin and Terry Jones and the 1980 BBC production of "The Taming of the Shrew" starring John Cleese.
Two new series from Europe are now running on MHz Choice. "The Embassy" (Spain, with subtitles) is a drama set at the Spanish Embassy in Thailand and "Murder by the Lake" (Germany, with subtitles) is a crime drama set at Lake Constance, where a partnership of German and Austrian detectives solve crimes. New episodes arrive each Tuesday.
The Criterion Channel spotlights four German features "Directed by Christian Petzold," including the Criterion Channel debuts of the mysterious "Yella" (2007), romantic thriller "Jerichow" (2008) and hard-hitting drama "Barbara" (2012), all starring the brilliant Nina Hoss. With subtitles.
Also on Criterion, "Directed by Lina Wertmüller" spotlights seven features by the Italian filmmaker who was the first woman ever nominated for Best Director at the Oscars, including the satirical "Love and Anarchy" (1973), battle-of-the-sexes comedy "Swept Away" (1974) and Oscar-nominated black comedy "Seven Beauties" (1975), all starring Giancarlo Giannini. With subtitles.
Free streams: Andy Serkis stars as punk rock icon Ian Dury in "Sex & Drugs & Rock & Roll" (2010, not rated). It's now streaming on Kanopy, along with:
· "Frantz" (France, 2017, not rated, with subtitles), a historical drama set between the two world wars directed by François Ozon;
· "War Witch" (2013, not rated, with subtitles), a devastating drama about a child soldier in an unidentified sub-Saharan African nation;
· "Hara-Kiri: Death of a Samurai" (Japan, 2012, not rated, with subtitles), Miike Takashi's remake of Masaki Kobayashi's feudal drama;
· Joseph H. Lewis' "The Big Combo" (1955), a tough film noir starring Cornel Wilde as an obsessive cop and Richard Conte as an arrogant mobster.
New on disc and at Redbox
"Yesterday," "Shaft," "Anna," "Child's Play"
Sean Axmaker is a Seattle film critic and writer. His reviews of streaming movies and TV can be found at streamondemandathome.com.
Cache
Spokane City Councilwoman Karen Stratton's endorsement last summer of a marijuana business seeking a license in Pasco has prompted formal allegations of unethical conduct.
The complaint, made to the city's volunteer Ethics Commission, was made in the midst of a re-election campaign for Stratton, and as she and her husband navigate a bankrupcty case complicated by her own ties to the marijuana industry. The complaint was made by Spokane resident Neil Muller, who has made political contributions to Republican lawmakers and former political foes of Stratton. He alleges a letter the councilwoman sent, on official city letterhead, violates "both in spirit and specifically" several provisions of the city's ethical code, including prohibitions on conflicts of interest and using an official position for personal financial gain.
Stratton said her relationship with Lucky Leaf, a marijuana retailer that opened in downtown Spokane in 2015, was borne out of her official role on the council assisting a business with complaints from the public. The pot shop opened amidst many protests from a nearby church four years ago. Stratton also said the marijuana production business she operates with her husband and other family partners does not have a processing license from the state, which would be necessary to sell their product directly to a retail store.
"I wrote it as a city councilperson, to me it was a city council to city council thing," Stratton said, adding that she did not believe her actions were violations of the city's ethical code.
The letter urges members of the Pasco City Council to consider the economic opportunities afforded by retailers such as Lucky Leaf, drawing on the transformations along First Avenue in downtown Spokane where the shop is located.
"The area has seen a resurgence of investment in recent years, and Lucky Leaf has been an important part of that resurgence," Stratton wrote in her letter.
The owners of Lucky Leaf opened the store in Spokane after city officials forced closure of their Pasco storefront in 2015, and were hoping lawmakers there would reconsider their ban on stores during the summer of 2018. A ban on marijuana businesses in the central Washington city remains in place.
Stratton said she was approached by David and Shilo Morgan, owners of Lucky Leaf, to write a letter on their behalf, and she conferred with the City Council's policy advisor, Brian McClatchey, before sending her own letter.
"I know Brian and I talked about it," Stratton said. But Stratton said the conversation did not include whether writing the letter on city letterhead was appropriate.
When Washington regulators established the legal marijuana industry in the state, they split licenses to operate in the business into three categories: producers, processors and retailers. Producers are allowed by law only to sell to other producers or to processors. Processors are allowed to sell to retail stores. Some businesses own both producer and processor licenses, but Stratton's business does not, which means her farm cannot sell directly to Lucky Leaf.
"Had that been a processor, I probably wouldn't have done it," Stratton said. "We don't sell to retailers."
David Morgan said Monday his business has never purchased directly from Stratton.
"There's really no business connection," he said.
But nothing in the law would prevent product her business had sold to a processor from ultimately winding up on Lucky Leaf's shelves.
The letter, in the upper right corner, includes the logo of the City of Spokane and Stratton's official office. Muller, in his complaint, urges the Ethics Commission to examine whether that official statement should be considered a conflict of interest.
"Stratton could have easily chosen to write a personal and/or business letter supporting her cannabis business colleagues and forwarding her personal political beliefs," Muller wrote. "Instead, she invoked her office and the City of Spokane in a most improper manner."
Stratton said the letter has been shared in Republican circles online, and the councilwoman canceled her scheduled appearance at an unrelated candidate event with the local GOP because they hadn't called her to question her motives before posting the letter on their Facebook page in August.
"If I've done something wrong, I've been very transparent about it," Stratton said. "I just can't believe that this would be an ethics complaint. David Condon, Andy Rathbun and Jim Hedemark will do whatever they can to make this hard for me. Period."
Rathbun is running against Stratton for her seat in northwest Spokane, and Hedemark is a political consultant for Rathbun's campaign. Condon, Spokane's mayor, reposted on his personal Facebook page a link to a blog shared to a local politics group mentioning the Strattons' bankruptcy and her letter to the Pasco City Council.
The complaint also alleges a violation of the ethics code that prohibits the acceptance of gifts or gratuity for public services if it was "intended to serve as a reward for any official action on their part." Lucky Leaf made a $1,000 contribution to Stratton's re-election campaign Aug. 8, according to Public Disclosure Commission filings, but Morgan said the letter was not discussed before his firm made the donation.
Rathbun said he knew Muller professionally, but was unaware the ethics complaint had been filed. He declined to say whether the letter was an appropriate use of city resources.
"She wrote the letter, so she'll have to answer as to her motivations," Rathbun said.
Condon said in an email over the weekend that he had not coordinated with anyone in posting the link on his personal Facebook page. The mayor and Stratton have quarreled publicly several times in the past few years over issues including pay for department heads, Condon's push for a restructured 911 response system in the city and the handling of the ouster of former Spokane Police Chief Frank Straub.
Muller has not contributed to Rathbun's campaign, according to records filed with the Washington Public Disclosure Commission. But he contributed to Condon's 2011 and 2015 mayoral campaigns, as well as a $50 donation in 2015 to Evan Verduin, who was running against Stratton. Verduin earned the mayor's endorsement in that contest.
Stratton has recused herself from some votes involving the marijuana industry in the past, including when an arcade with dubious origins attempted to block the opening of a retailer on East Sprague Avenue.
As of Monday, the city's Ethics Commission had not scheduled a meeting to discuss the complaint.
Cache
The JV will house Ford's India manufacturing business. MM will be responsible for running the JV in India.
Cache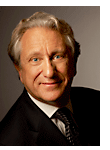 Last week I had a date with Laurence Geller, CEO of Strategic Hotels & Resorts and, by extension, the owner of the Westin Saint Francis hotel here in San Francisco. He put me in an apron, plied me with wine, cooked for me in a rooftop kitchen, gave me a signed copy of his rather purple novel "Do Not Disturb" and entertained me with

the

most delightful story about Michael Mina.

Michael Mina was going to make him a brasserie, in his hotel. Michael Mina was going to put it in the old Oak Room. Michael Mina was going to also make a bakery inside the brasserie and give it a window onto Post Street, somehow, and everyone was going to come and it was going to be awesome.

Laurence told me this, and gave me champagne, which made me happy, and then later he told as much to his 10 other guests, even though he did not care for them in that special way in which he cared for me, and he poured us more wine, and we were happy.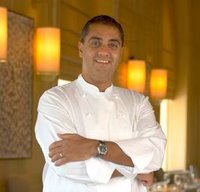 There were warning signs. When, the next day, I called the general manager of the St. Francis, a reliable and trustworthy fellow, he let on that the brasserie plans were, well, in the conceptual stage, but still "likely." And that Michael Mina was in talks but not, shall we say, signed on the dotted line. Michael Mina could not be reached for comment.

Actually, Michael Mina

was

reached for comment, the day after we went to press. Telling me that the plan for a brasserie was very preliminary, one among perhaps 15 projects Mina's company (total restaurants: 10) is weighing at any given time. But he was fairly certain he'd be running the St. Francis' new bar, the Clock Bar. But writing about the brasserie would be, uh, premature.

Well, Michael, you'll have to call Laurence about that one. Careful -- he's a sweet talker.

SF Business Times: St. Francis sees $150M hotel upgrade: CEO: But first, fix tourism (free link)

Cache
I have applied for a grant in the Knight News Challenge, a lively contest to improve the news media through digital publishing.

My idea is CityPipeline.com, a Web hub for news and information on local real estate development. CityPipeline is basically a local real estate map that you can filter, search and add information to.

For each project, the map can or would eventually include:

stage in the development "pipline" (in planning, approved, under construction)
new leases

building sales
city council votes
planning commission votes
links to news articles
links to blog entries
related documents


I have a rough prototype running at sfpipeline.com (IE or Firefox, no Safari yet), which looks like this: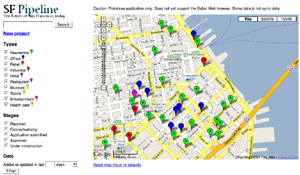 It's sort of a Bloomberg terminal for local real estate, but on the Web and free.

Read all about it on the Knight News Challenge site.

If you have a few minutes, vote on the project too (click next to the stars; you have to create an account but it only takes a minute).

Cache
HE has stayed on York Hospital children's ward several times because of extreme tonsillitis and other infections - now an eight-year-old York boy has decided to help other youngsters with even worse conditions.


Next Page: 25 © Googlier LLC, 2019