Next Page: 25
Cache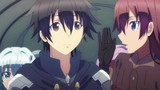 The journey to take Mia home continues, with Satou running afoul the local nobles by disrupting their scheme involving the distribution of healing potions.
Cache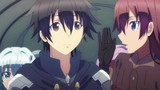 The journey to take Mia home continues, with Satou running afoul the local nobles by disrupting their scheme involving the distribution of healing potions.
Cache
Jan Garfinkle is not your typical VC founder, and not just because she's a rare woman running the venture capital firm she founded nearly two decades ago

Cache
"I must have been about four years old when Russia took hold of me with giant hands. That grip has never lessened. For me, the love of my heart, the fulfilment of the senses and the kingdom of the mind all met here. This book is the story of my obsession."
This isn't a review - at least, not a proper one. It's a post that I feel ought to be made, because today I started crying in public, and it's been a good few years since the ending of a book made me do
that.
But Lesley Blanch's
Journey into the Mind's Eye -
equal parts travel narrative and elegy for lost love - had me bawling. It's ostensibly about Blanch (who is in many ways my
Career Idol
, possibly one of the best prose stylists of the twentieth century, and all too often dismissed as a "great life" when, indeed, her writing is easily as good or better than that of Paddy Leigh Fermor) and her search for the "imaginary" Russia - the idealized version of a country she learned about from her much-older Russian lover, known only as the Traveller.
But it's about so much more than that. It's about seeking a lost love, and coming to terms with loss, and about that imaginary city that we look for when we travel, which is never the place we come to, and which is always nevertheless what draws us from the places we leave behind. It's about the "journey into the mind's eye" we take when we travel, when we find that our journey takes us nowhere new, but only deeper into ourselves. It's about how love can shape us, infect us, and make everything that comes after us about that love.
For me, at least, as for Blanch - love and wandering are inseparable. The perfect place and the perfect Other - they're all part of that endless process of homecoming, of finding
that place
where we can set down our household gods, where we can belong. That's the theme that's been running through the collection of short stories I've been working on this autumn - that's how Blanch sees her travels: at once an encounter with the profound otherness of her love and a realisation that her experience is ultimately
her
story, imprinted upon that otherness.
It's a relief, too, to read a female travel writer (although, full disclosure, I can't get through Freya Stark). The Great Men of the business - PLF as the greatest offender, though Philip Glazebook much less so - often ignore this subjectivity. They're privileged enough to barrel through mountain passes without fear of rape or abduction; often, there's a wilful blindness about how much of what they see is of their own creation. Lesley, like the also-marvelous Bettina Selby, like I
try
to be (I'd be the first to admit that my article in the
Spectator
is as much about me as it is about Tbilisi itself), is utterly open and unapologetic about that constant dialectic between traveler and place, between storyteller and story-subject, that happens when we travel. About that relationship between the place we see in our mind's eye, loaded down with cultural baggage and emotional resonance and easy orientalizing (because we want, after all,
otherness
, or we wouldn't be traveling at all), and the place as
it is
, which perhaps is no more home to us than the places we're running from.
So there you go.
Go read Lesley Blanch.
Because she made me cry.
Cache
Originally posted on: http://staffofgeeks.net/afeng/archive/2007/01/17/103852.aspx
There has been a lot of "buzz" around Ruby on Rails for a while now. I have been following it since it hit the street. I have to admit I have not done much with Rails except for reading and dreaming about it, but I hope to work with it someday. However, in the back of my mind, I always wondered if I could build a real world application using this framework. Now a day, everyone is building so called "Enterprise" (What is enterprise anyways?) applications. If I use Rails, can I say my application is enterprise ready?
I came across Jay Field's post on Rails: Enterprise Ready. One of the points he made in his post is that RoR right out of the box might not solve your problem (I do not think any framework can), but it can be easily extended. Being easily extended is the key to any useful and sucessful framework.
Besides all the enterprise worthyness stuff, I also found Jay's approach to unit testing interesting. On top of the MVC layer, he inserted a Presenter abstraction in between the view and the controller. The Presenter will be responsible for maintaining data for the view to consume. Normally the controller would be responisble for this which might make testing a little bit messy. Since the presenter maintains the data, it can be tested independently. Of course the draw back is having to create and maintain a separate class.
He also mentioned all his unit tests run in less than a second. Assuming he has more than a couple hundred tests, that number is amazingly fast! One of the reasons he is able to achieve those numbers is because none of his tests actually hit the database. This reminds me, our unit tests are running way too slow right now mostly because a lot of tests hit the database (especially when we run it on Oracle, it is killing me). I am going to take off my RoR hat and try to see if I can make our tests faster :-)
Cache
Beautiful description! And her work on the costume seems to be doing the trick. Perhaps soon he will be running his hands through her hair. :-)

Cache
City/Town: Marystown
Area: Burin Peninsula
Cache
City/Town: Corner Brook
Area: West Coast
Cache
STANFORD, Calif. – The Washington Huskies' passing game is broken.
That fact was evident at 10:48 on Saturday night as Chris Petersen's Huskies trudged in a sad procession toward the southeast tunnel at Stanford Stadium. As they did, the public address announcer boomed, "When the eastern part of the country wakes up in the morning, they'll see the final score: Stanford 23, Washington 13!"
Senior wide receiver Aaron Fuller walked with his helmet on, head down, his once-white jersey now stained various shades of green and red. The jersey, in this case, was a visual receipt; it spoke silently, but unmistakably, reflecting Fuller's substantial role in the Husky offense.
Terrell Bynum's jersey was clean. Andre Baccellia's jersey was clean. Quinten Pounds' jersey was clean. Marquis Spiker's jersey was clean. Austin Osborne's jersey was clean. Puka Nacua's jersey was clean.
They either didn't receive an opportunity, or failed to take advantage when they did.
Indeed, the 5-foot-11, 188-pound Fuller was targeted a whopping 17 times Saturday night, and turned in nine catches (and at least three drops) for 171 yards, with a long of 37.
Otherwise, UW's remaining wide receivers combined for an utterly incompetent two catches for 10 yards … which all came in the fourth quarter. No other Husky pass-catcher was targeted more than five times on the night. Junior tight end Hunter Bryant caught just one pass for 8 yards and dropped a pair of passes that would have extended drives on third down.
Junior quarterback Jacob Eason, meanwhile, completed all five of his pass attempts for 56 yards and a touchdown in his team's torrid opening drive. He completed 11 of 31 passes for 150 yards and an interception, while being sacked twice, the rest of the way.
It's been written before, but bears repeating: entering the game, Stanford's defense ranked 127th nationally in opponent completion percentage (70.6), 126th in opponent pass efficiency rating (170.60), 124th in opponent yards per attempt (9.4), 115th in passing defense (287.4 yards a game) and 111th in touchdown passes allowed (11).
So how did this happen? Or, as Petersen was asked in the postgame news conference, "What needs to change to get the passing game going?"
"That's a good question. That's a good question," he repeated. "(There were) dropped balls, and we've got to give our quarterback more answers, too. I know a couple times he was standing back there without answers.
"But you couple that with little protection stuff and he's running around, and a couple guys didn't make plays for him. And when you're not going to get the ball a bunch, you better capitalize."
Here's what not-getting-the-ball-a-bunch looks like: Baccellia, UW's senior starter opposite Fuller, has excelled in three nonconference games – posting 13 catches for 195 and two touchdowns.
But in three games against Pac-12 competition, he has been rendered utterly ineffective, managing just six catches – two per game – for 41 yards. Still, the coaching staff has (perhaps stubbornly) stuck with him. Saturday, he contributed one essentially irrelevant catch for a single yard on five targets.
Senior wide receiver Chico McClatcher, meanwhile, has not caught a pass since the 52-20 victory over Hawaii on Sept. 14. Nacua – a 6-1, 204-pound former four-star freshman – has been targeted a grand total of one time this season, and he turned that target into a picturesque 28-yard touchdown. And it's not that Puka isn't playing, either; the highly touted freshman receiver just rarely runs a route. Most often, he enters the game, blocks for a running play and then immediately exits again. This begs the obvious question: they burned his redshirt so he could block?
As for the trio of talented former four-star redshirt freshmen, Austin Osborne has recorded one catch for minus-2 yards this season. Spiker – who holds the California state prep record with 72 receiving touchdowns – has played in three games without earning a target, and 182-pound speedster Trey Lowe has been sidelined for the first six games with an infection.
Petersen often has repeated that those who practice most consistently will earn opportunities in games. But, if Fuller and Baccellia are so much better than everybody else, isn't that also an issue? If players as presumably talented as Nacua, Osborne and Spiker all can't earn a target in a lopsided 10-point defeat, who's really to blame?
When asked if UW's pass game woes can be traced to personnel and an inability to get open, Petersen said, "I think it's everything. We'll look at the tape there. But like I said, I know a couple times we've just got to cut our losses. (Eason) threw a couple good balls in there that we didn't make plays on. We've got do a better job, there's no question, in the pass game."
In three nonconference games, Eason has completed 77.5% of his passes, throwing for 901 yards and 10 touchdowns with one interception (while being sacked just once).
Meanwhile, in three Pac-12 contests, the former Lake Stevens High School standout has completed just 54.3% of his passes, throwing for 548 yards with one touchdown and two interceptions (while being sacked seven times).
In Eason, Washington touts perhaps the Pac-12's (and the nation's?) most physically talented passer. And yet the Huskies rank sixth in the conference in passing touchdowns (11), seventh in completion percentage (65.8), eighth in yards per attempt (8.1) and pass efficiency rating (150.4) and ninth in passing offense (248.8 yards a game).
Too often, Eason has stood in the backfield without any answers. Perhaps that's play-calling. Perhaps it's personnel, or coaching, or preparation, or all of the above. With UW's next three Pac-12 games coming against 4-1 Arizona, 4-1 Oregon and 4-1 Utah, Petersen and Co., have precious little time to improve their suddenly incompetent passing attack.
The Huskies' jerseys were clean on Saturday night.
Their execution was anything but.
Cache
A GRIP ON SPORTS • It's a rare fall Saturday the past couple decades in which we haven't had to work. Which opened an almost unlimited vista of opportunities on a clear, crisp day. We stayed (or went) inside. But that doesn't mean we didn't watch sports. And learn some things.
•••••••
• Thanks to a family friend, Kim and I were able to attend the Kraziness in the Kennel with some VIP perks. What does that mean? Our line was shorter, we got to mingle and watch TV, enjoy a cold beverage – don't worry, I had diet soda – and sit in decent seats.
Oh, and catch up with some old friends, which is always nice. Then find out the oldest of Gonzaga's friendly men's basketball players is out again, though Mark Few wouldn't term Killian Tillie's absence Saturday injury-based. Sure, Tillie had surgery again, but it was preventative, sort of like why we take a cholesterol pill every night.
We do it to make sure there are no problems down the road.
As John Blanchette points out in his column this morning, that would go down easier with the Zag faithful if it applied to anyone other than Tillie, the most snakebit player Gonzaga has had since at least Josh Heytvelt.
The guy sitting in front of me sure had a lot to say about that, none of it positive. His response to the news of Tillie's surgery seemed a little out of proportion, venom-wise. And we thought GU fans were more of the nurturing, loving type.
Few is going to have to be a bit more nurturing and loving this season, that's for sure. All but three players on the court yesterday afternoon were new to the roster (four when you count Tillie). Two are senior transfers (Admon Gilder and Ryan Gilder, both guards and both players who will contribute). The rest are freshmen.
Six of them.
Do they have talent? Of course they do. They wouldn't be at GU if they didn't. But nothing can make them older except time, practice and a tough non-conference schedule.
The Zags will scrimmage with Michigan State, a lot of folks' pick to win the NCAA title. They will play at Texas A&M, Gilder's old school. They will face quality in the Bahamas at a Thanksgiving tournament. They play at Washington and Arizona, two of the Pac-12's better teams, in December. And they host North Carolina, the bluest of blue bloods.
No wonder Few told the crowd it would play a bigger-than-usual role in helping his team this season.
Their voices and support won't help, though, as much as the passage of time.
• There is one nice perk when the Pac-12 team you follow (in my case, for work) has a bye. You get to focus on the conference's other games. Sometimes that isn't good.
If you happened to watch Stanford's upset of Washington (and I did) last night, you were able to experience a little of why the conference has such a poor reputation concerning its officiating.
Sorry to go there, but there were so many little things done poorly, it undermines the fans' confidence the conference's representatives will get the big things right.
Case in point, a first-half punt. What happened seems minor, but it isn't. Mainly because it was so embarrassing.
With time running down in the half and Stanford hoping to extend a 13-10 lead, the Huskies' Joel Whitford uncorked a line-drive punt. It was so short it hit a Washington player in the leg at the Stanford 27-yard line, then kicked forward and rolled dead at the 10.
Everyone in the stadium knew it happened, including the officials and the ESPN announcers. What the former group didn't know, however, was exactly where. Those of us at home did – as should of the folks in the replay booth. All we (and they) had to do was hit one button on the remote to see. It was the 27. That's where the ball should have been marked. It wasn't. When referee Kevin Mar came on our screen to explain, he told us about the touching and where it occurred. He said the 20-yard line, a point at which the ball had been rolling free. He and his crew were wrong.
This is what replay is meant for. The clock is stopped, the mistake is obvious. Buzz down and fix it. Nope. The ball stayed at the 20. Thousand of people watching at home, including the folks in charge of the conference's officiating and those in charge of its image, knew it was wrong. Fix it. Nope. The ball stayed at the 20.
By the way, those seven yards may have ultimately cost Stanford a shot at a long Jet Toner field goal attempt. We will never know. But we do know the Cardinal didn't start their possession in the right spot.
•••
WSU: Even though Theo Lawson was enjoying the bye week by celebrating friends' nuptials (hey, he put his plans on Twitter, so I don't feel bad sharing), he still talked with Mike Leach and let the Cougar coach enlighten us on defensive coordinator Tracy Claeys' departure. Though Leach's comments didn't shed a whole lot of light on the change. …The letters to the editor on Leach's comments following the Utah loss were mixed in nature. … Elsewhere in the Pac-12, the standings seem a bit upside down right now. … Stanford controlled the line of scrimmage, made plays when it had to and ultimately held off Washington in the upset of the day. The Huskies never found their rhythm in the loss. … California shut outOregon for a half, then the Ducks asserted themselves to gain a tight home win. The Bears' lack of offense cost them in the end. … The Arizona offense came alive behind a healthyKhalil Tate and the Wildcats won in Colorado. The Buffs might be better than their record, however. They certainly are beat up. … UCLAcertainly isn't all that good. The Bruins looked poor again as Oregon State went into the Rose Bowl and outscoredthe host team, adding to Chip Kelly's woes. … The college athletic model will change.
Gonzaga: The Kraziness in the Kennel was just that, especially in the way the Gonzaga students went out of their way to make a quartet of recruits feel wanted (Justin Reed has a story). Besides the Killie injury (as we said, covered in John's column), the news was a nearly new roster for the Zags. In Mark Few's years on campus there has probably a season with more turnover – after more than three decades as an assistant and a head coach, it's hard to imagine anything new – but we can't think of one. Jim covers that aspect of the day. … Jim has another story as he passed along the news freshman Oumar Ballo, the most physically impressive player on the court, is still waiting for the NCAA to rule on his eligibility. … Jesse Tinsley braved the crowds of cameras for the best shots in this photo gallery.
EWU: Our Ryan Collingwood was in Sacramento, probably to catch up with his yearly quota of In-N-Out, but also to cover the game. He has this story. … Around the Big Sky,
Idaho: A week after dropping a road game to woeful Northern Colorado – the Bears are 1-5 after losing at Northern Arizona yesterday – the Vandals looked like a Big Sky contender again Saturday. But fourth-ranked Weber State was able to hold on for 41-35 win in the Kibbie Dome. Peter Harriman has the coverage.
Whitworth: The Pirates finally played at home Saturday and my, how did they play. How does winning 82-7 sound? Dan Thompson was at the Pine Bowl and has this game story.
Preps: There was one football game left over from Friday night, pushed back to Saturday after some lightning around Albi Stadium. The was some lightning yesterday, but it was all confined to the playing surface and most of it supplied by Lewis and Clark's Keani Guthmueller. Dave Nichols was there and he has this story on LC's 43-36 win over Post Falls. … Gonzaga Prep wing Liam Lloyd announced his college commitment yesterday, going on social media to tell everyone he will be playing at Grand Canyon College. Dave has a story on that as well. … Mead golfer Matt Jones was under par last weekend in an event at Pebble Beach. That news is part of our local briefs.
Chiefs: Spokane's offense stayed hot, rolling Tri-City 7-1 last night in Kennewick.
Seahawks: No game today. Isn't that odd? Let's look ahead instead.
•••
• Because Kim and I were out and about yesterday, I didn't get anything I wanted done. Which means my Sunday will be busy. At least the sun will be out and temperature is going to be in the high 50s today, making the mowing and raking and fertilizing a little more enjoyable. Until later …
Cache
We all love a good price and if it is on discounted perfume it is always a welcome find. But how can we be sure that the perfume we buy is the real product? There are so many people running scams in the age of the internet?
Designer jeans, CDs,watches and even drugs are also faked, and it is difficult to understand the difference. Designer perfumes are products of great value, and they are on on the list of product counterfeiters copy.


The Internet has a huge retail market in the perfume industry and counterfeiting is knowen to happen. Just because they smell like the real thing doesn't always mean you are getting what you paid for.

A search on the Internet shows a long list of websites selling discounted perfumes. Some of these fragrances are packaged to look like the real thing but they are fake and a waste of money. They might even contain pollutants and be bad for your health.


The sad part of counterfieted perfume is won't know it is until you buy it. It may look good and even smell good at first. The problem is the fragrance may disapate so quickly you won't even know you are wearing after a short time.

As with all online purchases the reputation of the website is your best defense against scam artists. Reputable sites want repeat business from you and are in the discounted perfume business for the long haul. If you do a search for the name of the website and put the word forum or blog behind it you will be able to find out if their customers are happy or not.

Always purchase products online with a credit card. If you get duped you always have some protection and can maybe stop the transaction.

The law protects you against fraud on the Internet. If you feel you have been lied to about the quality of the product you purchased you have a right to a refund. Getting the refund is not always easy but if enough complaints are filed the site will be removed. Lrgitimate sites want to keep a good reputation and will always refund your money.


It is also a good idea to alert a fragrance manufacturer If their product is being counterfeited, they want to protect their reputation and will be agrisive in the pursuit of counterfiters.

With a little due dilegence on your part you will find websites on the internet selling discounted perfume and you will be happy that you got a good deal. You don't have to pay top dollar to enjoy top of the line perfume.
You always get the best prices on perfume at Discounted Perfume Direct

Cache
Dad and I first crossed the Grand Canyon together in 2004, when I was 25 and he was 51 years old. In one of those mundane yet still-jarring realizations, I acknowledged that someday, not all that long from now, I'll be the same age as he was then ... if I'm lucky. If I'm even luckier, we may still be planning a fall Grand Canyon crossing for that year. It's not outside the realm of possibility. Although he has his share of somewhat odd health setbacks and accident-related injuries — a genetic legacy I reluctantly carry — he seems as likely to become a spry 77-year-old as I am a capable 51-year-old. And I really want this tradition to continue. It doesn't get old — gazing across the Grand Canyon, or crossing its main corridor on an always-unpredictable autumn day with my dad.
It goes without saying, how much I admire my dad, but I'm not sure I've really said it here before. He raised three girls, working hard for a single-income household so my mom could stay at home. We enjoyed an idyllic childhood with lots of love and regular family vacations and important traditions. Things have never been all that difficult or contentious in our immediate family, even when I made a choice to diverge from some of those traditions. For this I am grateful. Dad was always athletic, but he picked up hiking in force when I was 13 or 14 years old, which would have made him about my age now, 40. I wasn't yet 15 when he started inviting me to join his hiking group on shorter jaunts, and about to turn 16 when he accompanied me up my first big mountain, Timpanogos. I remember having the sorest legs and terrible heel blisters, but it was a formative experience — one of a handful of truly life-changing moments I count from my youth.
Dad was able to retire a few years back, and some people close to him questioned how someone so healthy and relatively young could step away from his career. What was he going to do for the rest of his life? His reply — "What I want to do." I think I admire him most for this. He doesn't need validation or ambition to stay vibrant. He simply wants to experience life at its brightest edges, and ride the exhilarating waves through every crest and trough. I think it helps that this is all I want from life, too. He worked hard, planned well and earned his freedom to wake up whenever his sleep-challenged body has had enough rest, and set out for a day-long ramble through mountains he has lived near for most of his life.
Cache
The 1991 Intelligence Authorization Act prohibits the U.S. government from using covert actions - which include propaganda - to "influence United States political processes, public opinion, policies, or media."
Cache
EXCLUSIVE BY ADRIAN KAJUMBA: Nigeria have been running the rule over 21 year-old hotshot Ugbo who has caught the eye after making a prolific start to his loan spell at Roda JC this season.

Cache
The company running South Canterbury's Opuha Dam has called in the engineers after discoloured water was seen flowing from drains under the dam.

Cache
by Alex Zielinski
Three Portlanders who sustained injuries during a 2018 protest have joined together to sue the City of Portland and Portland Police Bureau (PPB) officers, accusing the city of allowing its officers to use violent, unnecessary tactics to muzzle the demonstrators' free speech.
"The City of Portland has a custom and practice of using militarized force against protestors," reads the complaint, filed Monday. "When force is used, PPB makes no effort to limit its force to individuals who actually pose a threat of violence, instead using force indiscriminately at anyone who happens to be in the crowd."
The joint lawsuit names James Mattox, Aaron Cantu, and Tracy Molina as plaintiffs. All three were participating in a counter-protest to the August 4, 2018 "Gibson for Senate Freedom March," a Portland demonstration organized by the far-right agitator Joey Gibson. Gibson, who was making an unsuccessful run for US Senate at the time, is the founder of Patriot Prayer, the small group of alt-right enthusiasts based in Vancouver, WA.
On the day of the August protest, hundreds gathered at the Portland waterfront to oppose Patriot Prayer's far-right rhetoric and threats of violence. However, according to the suit's plaintiffs, the main violence that took place on August 4 came from Portland's own police force.
The complaint focuses on a specific moment during the chaotic demonstration: When officers decided to fire so-called "less lethal" munitions into a crowd of 50 or so counter-protesters near SW Columbia and SW Naito.
"PPB initiated their attack on the counter-fascist protestors following no provocation," the suit reads.
In reports penned after the protest, officers say they were responding to protesters who were throwing rocks and "smashing the windows of police cars." PPB has yet to produce evidence supporting this claim.
Mattox was walking with protesters on SW Columbia when officers began shooting rubber bullets and flash-bang grenades into the crowd. The complaint describes the scene best: "At the time plaintiff was shot he was... waving his arms and his anarchist shield, flipping off the officers, and shouting profanities."
After being shot in the leg by a rubber bullet, Mattox picked up the bullet and shouted at the officers, "Look, you missed!" The same officer fired again, hitting Mattox in the right arm.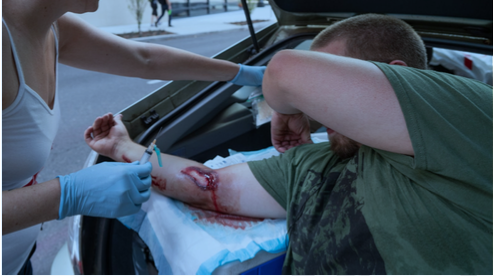 He left the crowd with a bleeding gash, seeking medical care. The complaint claims the PPB officer shot Mattox in retaliation for "engaging in speech that [the officer] did not condone."
"By shooting Mr. Mattox [the officer] in fact chilled the Mr. Mattox's political speech," the document reads.
Cantu was in the same crowd of counter-protesters when PPB began firing its munitions. He was running away from the police when an officer's flash-bang grenade lodged itself into his skull. Cantu was wearing a bike helmet at the time, but the munition was powerful enough to blaze through his helmet and cut into his head. If he hadn't been wearing the helmet, the complaint reads, Cantu could easily have died from the impact.
Cantu suffered a traumatic brain injury and still suffers from dizziness and tinnitus.
Mr. Cantu has sustained emotional distress," the suit adds, "including, but not limited to, pain and suffering, discomfort, fear, frustration, a fear of trusting those in positions of power, and anxiety."
Molina is the only plaintiff who was arrested on August 4. Molina came to the protest with a sign reading, "Hey Racists Stop Making Your Ignorance Our Problem Grow Up or Go Home." During PPB's confrontation with counter-protesters, Molina allegedly followed officers orders to stay on the sidewalk. But, the complaint reads, this didn't stop an officer from grabbing her protest sign from behind.
Molina did not let go of her sign, which allegedly prompted an officer to knock her to the ground "with such force that she fell and rolled into the middle of the street," where she was then crushed by several dog-piling officers.
Molina was charged with disorderly conduct, attempt to commit a felony, and interfering with a police officer. The criminal case was eventually dismissed in her favor.
The plaintiffs have accused the City of Portland and its officers of violating the Fourth and Fourteenth Amendments by using excessive force with little provocation and violating the First Amendment by using violence to silence protected speech. They also accuse the city of negligence, battery, false arrest, and intentional infliction of emotional distress.
"Without adequate training, supervision, or review of PPB's officers, defendant City of Portland has created an environment of militarized responses to mild forms of dissent," the suit reads. "Additionally, by firing their lethal weapons directly into a passive crowd... agents of City of Portland created an unnecessary and unreasonable risk of harm against all present."
The complaint specifically notes how PPB officers do not appear to use the same amout of force against right-wing protestors, "despite their disobedience of officers' orders."
"[Officers] chose to attack plaintiffs' group in part because they disagreed with the political message of the anti-fascist demonstrators and sympathized with the fascists," the document reads.
The plaintiffs, represented by three separate attorneys, have requested a jury trial.
They're not the only ones who've turned to the court system to address officer-inflicted injuries stemming from the 2018 protest. In August, Michelle Fawcett sued the City Portland for physical and psychological damages sustained after being hit by a flash-bang grenade, shot by a PPB officer on August 4, 2018. She's asked the city pay $250,000 for her injuries.
[ Subscribe to the comments on this story ]
Cache
by Abe Asher
Heading into the decisive final day of the MLS regular season, there were plenty of bad omens for a struggling Portland Timbers team in need of a result to qualify for the playoffs.

Brian Fernandez was suspended. Diego Valeri was out with a lingering calf injury. And the San Jose Earthquakes were coming into Providence Park with everything to play for — in need of a win to keep their own season alive.

This time, though, after a month of of ugly soccer and bad breaks and disappointing results, the Timbers got the job done and did it with room to spare.

Goals from Larrys Mabiala, Dairon Asprilla, and Sebastian Blanco were more than enough to lift the Timbers to their first win in six games on a lovely fall afternoon, jump into sixth place in the Western Conference, and bring the curtain down on San Jose's remarkable season.

All of the sudden, after all they endured this fall, the Timbers can look forward to a third-straight playoff appearance that will begin with a game against Real Salt Lake — a team that they've already beaten twice this year, at a venue that they've won at in both of their previous visits under Giovani Savarese.

Things are looking up. Facing the biggest test of their season, the Timbers had the right gameplan and executed it to near-perfection.

With San Jose man-marking in the ubiquitous system installed by their Argentinian manager Matias Almeyda, Savarese — in a move reminiscent of Portland's surge last fall — set his team up to defend deep and hit the 'Quakes on the break.

The early returns were positive. The Timbers nearly took the lead after a quarter of an hour when a Blanco corner hit Chris Wondolowski and forced San Jose goalkeeper Daniel Vega into a sprawling save, and generally were contesting the game on their terms.

The Timbers were getting traction going forward, and while the Earthquakes had plenty of the ball — they'd finish with 61 percent possession and complete nearly 200 more passes than the Timbers did — they were completely unable to break down the Timbers' defensive lines.

A slaloming, one-man run aside, Jorge Villafaña held the dangerous Cristian Espinoza was held in check. Vako completed only four passes during the entirety of the half on the opposite flank, Wondolowski just two from his position at center forward.

The Timbers' attack was limited somewhat with Asprilla and Andy Polo playing on the wings, but with Ebobisse dealing up top and Blanco slashing through the middle, it had a balance that had often been missing over the last several months.

It was on a set piece, though, that the Timbers would strike first.

Just before the half hour mark, Asprilla settled a recycled corner on the edge of the penalty area and slipped a ball wide left for an onrushing Villafaña, who whipped a pass across the face of goal that Mabiala, who had stayed in the box after the initial clearance, stuck out his trailing leg and dragged in.

Just like that, San Jose was in serious trouble — in need of multiple goals, with a third of the game gone, having failed to create a single significant chance yet. But they still had Wondolowski, and, with him, the ability to conjure a goal from thin air.

With halftime closing in and the score 1-0, that's exactly with they did. Off of a pre-planned corner routine, Espinoza hit a cross to the near post and the 36-year-old record MLS goalscorer beat everyone to the ball and flicked a diving header off of the ground, off of the underside of the crossbar, and in to tie the game.
It was vintage Wondolowski — a purely instinctual, fearless finish, his record eleventh goal against Portland, a one of the most important of his season.

As the second half began, with Dallas running riot over Sporting Kansas City, everything was on the table. One of these teams was going to be playing its final 45 minutes of the season, one was going to move on.

Enter, not for the first time and not ever unremarkably, Asprilla. Handed his first start in a month ahead of Marvin Loría, the Colombian with a penchant for scoring the most timely of goals repaid Savarese's faith with another memorable contribution.

Just before the hour mark, Asprilla drifted inside to pick up a cross-field pass from Ebobisse, cut past Florien Jungwirth with an excellent first touch, and went barreling through on goal. Vega stopped his first shot, but the rebound squibbed underneath him — and Asprilla, at the second time of asking, tucked it in.

Whatever his past, for a player who has had the most abject of seasons, this was a stunning moment: a truly excellent goal, all of his own making, thanks to the kind of decisive turn of pace that you almost never see him make when he receives the ball.

At this time of the year, though, there's no rhyme or reason when it comes to Asprilla. He's just a different player.

Almeyda emptied his bench almost immediately the goal, making all three of his substitutions and trying to push his team — again in search of two goals, now with just 30 minutes left to play — into a more overtly attacking posture.

In the process, which included removing a defensive midfielder, the 'Quakes opened themselves up on the counter. The Timbers had several chance to ice the game in the following minutes, with Ebobisse and Cristhian Paredes coming closest, but it'd take a special moment from Blanco to make the result secure.

With a quarter of an hour to play, and Valeri off the field, it was the diminutive Argentine who stepped to a free kick from 25 yards away and fired it into the top corner.

No player on the field more deserved to score. The Timbers were never worse over the last month than when Blanco was out of the lineup, and on a day when they were missing their two most high profile attackers, he brought the heat in every phase of the game.

With that, San Jose was buried. They finished the season having lost six straight, a sour end to an otherwise triumphant first MLS campaign for Almeyda.

The Timbers' run-in wasn't much prettier. But Savarese, who has never missed the postseason as a manager, was understandably pleased with his team's perseverance. They didn't throw in the towel, and they made it to the finish line with their season intact.

"It has been a very difficult season in so many ways," Savarese said after the game. "So that's why I think even in this moment that we have been able to make the playoffs, I'm more proud than ever for all the guys we have on the team."

The slate is clean. Salt Lake away, a team the Timbers know they can beat, and then the specter of another playoff meeting with Seattle. The possibilities, just as they should at this time of the year, abound.
[ Subscribe to the comments on this story ]
Cache
by Alex Zielinski

Stay up to date on Portland news and politics. Looking for fun? Here are the best Things to Do in Portland today.
Police Brutality in Iraq: More than 100 anti-government protesters have been killed by Iraqi police over the past week. The massive demonstrations, focused on the country's low employment rate and government corruption, have been met with live rounds. At least three journalists covering the response have been jailed by the state government.
In Other Attacks on the Press: In the Chihuahua state of Mexico, a photojournalist was shot in the leg by a group of men who interrupted an interview with an alleged drug dealer. The interviewee was killed.
Rowena's Story: A former aid to Harvey Weinstein shares her #MeToo story. In Rowena Chiu's words: "Harvey Weinstein told me he liked Chinese girls. He liked them because they were discreet, he said — because they knew how to keep a secret. Hours later, he attempted to rape me."
This:

Yohhhhh!!!! Tyler Perry built a Studio the size of a whole damn town!

That is success. 🙏🙏🙏🙏🙏🙏🙏🙏🙏🙏

This is the only Studio own by an African-American in Hollywood.

This is #EverydayMotivation pic.twitter.com/BtjyFunQau

— Lord Scummander Rtd. (@zhurg_) October 7, 2019
Foul Play? The top witness in a Dallas trial who saw his neighbor, Botham Jean, die after a trigger-happy police officer mistook his apartment for hers was fatally shot Friday night.
Turn 'em Over: A federal judge in New York has ordered Donald Trump to release eight years of his tax returns—rejecting a prior appeal by Trump's lawyers. In the Monday ruling, the judge said he "cannot endorse such a categorical and limitless assertion of presidential immunity from judicial process."
Speaking Of Wealthy Dudes and Taxes:

Watch how radically taxes on the wealthy have fallen over the past 70 years:

(Full column: https://t.co/XP0a4Iljti) pic.twitter.com/dGxmOjQ1b5

— David Leonhardt (@DLeonhardt) October 7, 2019
Blame It On Rick: Trump went running to Congress Friday to accuse Energy Secretary Rick Perry of pressuring him to call the Ukrainian President and request an investigation into the Biden family. Perry, who doesn't exactly deny this claim, is stepping down from his cabinet position in November.
Dirty Money? Mayoral candidate Sarah Iannarone, meanwhile, is calling on Mayor Ted Wheeler to return the $15,500 he's collected in donations from a wealthy US ambassador who's questionably tied to the Trump impeachment investigation.
Homecoming: Multnomah County Sheriff's Deputies met local Proud Boy Tusitala "Tiny" Toese in the Portland International Airport late Friday with handcuffs. Toese, a violent staple in Patriot Prayer rallies, has been living abroad for the past eight months to avoid assault charges. His first court appearance is this morning.
Shut It Down: Gov. Brown has issued a 180-day ban on flavored vape products in Oregon after two Oregonians die from vape burns. (Now do guns.)
PSST: Tickets for HUMP! 2019 are right here.
[ Subscribe to the comments on this story ]
Cache
When running higher rpm, higher boost and/or a more aggressive cam, valve springs need to be upgraded. our 12v springs feature 165# seat pressure, chromoly retainers and 10 degree locks. Our 24v Springs feature 103# seat pressure and chromoly ret..
Price: $299.00
Cache
The Faith Christian football team wasn't sure if its top running back would be available for Friday's home game against John Paul II Christian.

Cache
RUNNING is undeniably one of the best ways to get in shape. Why? You don't need a fancy gym, expensive equipment or other people to get moving. All you need is yourself and your running shoes. But just because it's such a simple sport to take part...

Cache
CANADIAN import Bridget Carleton says she's ready to hit the ground running in the Fire's WNBL season opener despite only touching down in Townsville over the weekend. Carleton trained with her new team for the first time yesterday and she'll have...

Cache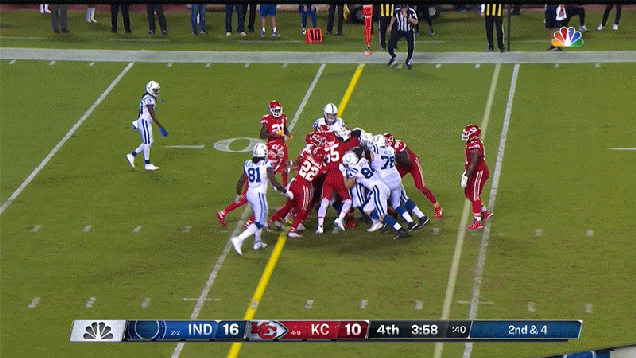 There's no need to go crazy and say that the Colts spent last night drawing up the blueprints for how to beat Patrick Mahomes and the Chiefs, or that running the ball is suddenly the key to winning in the NFL. This was just one game, but it was fun as hell, and it's worth spending some time today luxuriating in just…
Cache
Online small business accounting solutions also take the wear and tear out of running back and forth from the bank to the office and back again.
Cache

In a somewhat surprise announcement from Intel, details on its next range of HEDT processors have been released. Cascade Lake-X is an update to the long-running Skylake-based architecture, and is in large part an incremental update. It has many of the security protections and mitigations implemented, higher frequencies, more memory capacity, and.....



Next Page: 25 © Googlier LLC, 2019