Cache
Georgia's Black Sea Playground
Two years ago, the port city of Batumi, Georgia's pastel-colored playground on the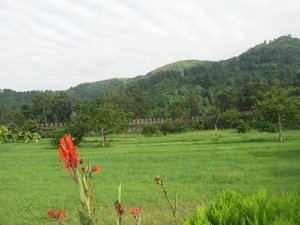 Black Sea Coast, was hardly postcard-worthy. The cobblestone streets were almost uniformly obstructed by rubble, the splendid art nouveau facades hidden beneath layers of scaffolding, plastic sheeting, and an ever-present coating of grime. The few high-end hotels dotting Batumi's main boulevard, which juts out onto a flotsam-dense and particularly oily attempt at a beach, seemed designed for the well-compensated mistresses of oligarchs, a seedy ethos that trickled down to the more economical accommodation options: No sooner had I left the lobby of our ramshackle courtyard hotel than my boyfriend received -- to his superbly Anglo-Saxon befuddlement -- an impromptu lap dance from a member of hotel staff. I warned all my friends and acquaintances passing through the Caucasus that Batumi's place on the international resort roster was just below Blackpool. But this summer, I find myself issuing a complete retraction....
Read more at the Huff
And for a bit more shameless self-promotion, I now have a real-live professional website,
here
! For all your novelistic editing/ghosting/freelancing needs!
Cache
So, I visited Montreal Simon to read

his latest post

, which was a condemnation of the Scheer Conservatives and their fans who are bringing USA-Repugnican style hatred and violent rhetoric up here. It started off well with a picture of some sub-literate right-wing moron holding up this ridiculous (and frightening) hand-made sign:

I've said on numerous occasions that stupid people must have the same right to vote as non-stupid people. But there needs to be gatekeepers to prevent the rise of stupid ideas and rage-fueled political movements from having any prominence greater than the level of three city blocks. Alas, for reasons of selfish cynicism our media and corporate elites see fit to pander to these cretins and stir them up. As well (whose kidding who?) from their own behaviour and the words that flow from their mouths, pens, pencils, keyboards, many among our elites aren't all that intelligent either.

Montreal Simon goes from trashing right-wing assholes calling for Trudeau to be "hung" (or run over by a truck) for taxing them, for verbally acknowledging global warming, for admitting Syrian refugees, for marching in PRIDE parades, and etc., ... where was I? .... Oh yeah, ... Simon goes from condemning those assholes to conflating them with progressives who yell at him for buying the TMX pipeline (so as to bail-out the Bay Street parasites who invested in that bitumen project) and praises Trudeau for asking his supporters (booing the guy) for tolerance as he lets his security drag the man away.

Immediately afterwards Simon mentions a guy who threw an egg at Trudeau during a climate march in Montreal, but it's unclear from the Global News video what that guy's agenda was. Personally, I've never gotten too incensed about ordinary people throwing pies (or, now, eggs) in the faces of politicians.

"What if that pie/egg had been a gun or a bomb or a knife?!?"

Yeah. But you're missing the important point that it wasn't a gun or a bomb or a knife. It was a cream-pie/egg. You could just as well shriek that the hand of someone extended for a handshake could have been a gun. But it wasn't. The person sticking their hand out to a passing politician just wants a handshake. Just as the person with the pie wants to make a statement and not kill anybody.

Simon then starts his spiel about how Justin Trudeau is the most activist politician fighting climate change EVAH!!!! because of his carbon tax and his investments in renewable energy industries. But, if Simon were honest (or not honestly ignorant) he would know that this is mere tinkering and that it is all cancelled-out by his continuing to develop the Tar Sands. Which is par for the course for a liberal politician. They're the masters n' mistresses of using empty words to gull their deluded followers. They "feel your pain." They "want to see all people rise to their full potential." They "don't want to see anyone left behind." They say the things we want to hear in order to get elected and continue to say those things as they enact policies that contradict their flowery words.

The end result of political cowardice and deliberate deceit by politicians like Justin Trudeau is going to be the extinction of most of the earth's life-forms. It will AT LEAST mean the deaths of tens of millions of people. Given this, it was justified for that protester to yell at Trudeau for his sickening devotion to the TMX pipeline. And it is the height of stupidity to conflate environmentalists with legitimate grievances with Islamophobic, racist, right-wing homophobic shit-heads threatening all their adversaries with murder. (Notice how that protester at the Liberal rally stayed right where he was and didn't make a step towards Trudeau.)

And, of course, the first "commentor" was Simon's in-all-but-name co-blogger "Jackie Blue." I haven't (and won't) read her entire densely-packed, extended comment. But she basically says that leftist "shit-disturbers" are as big a threat (to "rational centrists") as right-wingers. Now, given the evidence from Simon's own post, anyone not an idiot can see that isn't true. She then goes on to whine about the progressives who didn't vote for mass-murderess, corrupt scumbag Hillary Clinton. Because "Jackie Blue" continues with the bullshit story that she's a US-American and she continues with the bullshit belief that Hillary Clinton wasn't a murdering scumbag.

Hillary Clinton voted for the Iraq War you stupid fuck! She voted for a war based on obvious stupid lies. The war she voted for has KILLED ONE MILLION IRAQIS and maimed and traumatized millions more. And that's only one of her colossal "mistakes" that she made while servicing the oligarchy and becoming a multi-millionaire herself. And it was Hillary's own sense of entitlement that led her to rig the Democratic primary to defeat Bernie Sanders and thereby bring on the presidency of Donald Trump. Hillary gave us Trump you imbecile!

As a species, we have to do the hard work of overthrowing his rotten, inhuman, ecocidal system. And the longer that (mostly decent-minded) people like Montreal Simon pledge hysterical allegiance to hucksters like Liberals, the longer (and perhaps TOO LATE) will it take to start that job in earnest.

(I'll end by saying that I probably won't be voting. My riding is a contest between the Libs and the Cons. And, from reading

this article

, I'm pretty much deflated about my choices anyway.)




Next Page: 25 © Googlier LLC, 2019