Cache
Musings about the Suspended in Pink Raffle.
Thanks to Marthe Le Van's recent article, I have been thinking about the 'Suspended in Pink' raffle.
Here is an extract:
"As a retail storeowner and salesperson, the raffle felt amateurish, gimmicky, and a bit desperate—like when I heard about Facebook for the first time. Ultimately, after reconciling all my perspectives, I believe there is much to applaud in the
Suspended in Pink
raffle. It feels fresh and innovative, optimistic and courageous, liberating and democratic—all worthy consequences pointing toward progress"
Now, I have no problem at all about an idea of mine being compared to the early Facebook- and I am the first to admit the visuals, practicalities and how the raffle is presented still needs some work!
Most raffles are devised as a means of fundraising, to enable an exhibition, event etc... Seen by the Borax Collective , Handshake Jewellery and an American Art Jewellery group ( i am sure there are many many more).

And as Le Van notices, through her many astute questions, fundraising is not the aim of the 'Suspended in Pink' Raffle...
So what is it? and WHY should you take part?

I go to many many exhibitions every year. But As a wanna-be collector, I have only three small pins.
I dont want a specially designed brooch with a groups logo on it, a sample piece or a bunch of postcards as a consolation prize- I want THE piece.
I want to own

Silke Fleischer's

amazing necklace and Sam Hamilton's 'Bread' Like brooch.
As a practitioner is who interested in engagement and audience interaction, I am always looking for ways to get my audience to wear the jewellery, understand it, and imagine owning it- and that, in my view, is the real strength of the 'Suspended in Pink' raffle.
So the idea of raffling off one of the jewellery pieces from the Suspended in Pink Exhibition seemed an obvious idea.
But its more then that....
Once a viewer decides they wish to take part in the raffle, they then can spend up to an hour, going through the exhibition, trying on the jewellery, comparing, assessing, deciding which item THEY would take home.
Deciding which piece of jewellery spoke out the most to them.
And this was then the piece that they would then bet on.
Maybe they would win it, maybe not- but for £5/€6/$8 it seems like a worth while experience to have- the experience of wearing and imagining that favourite piece of jewellery which YOUR ticket could win you....
And here is the good news- the odds of winning in this raffle are actually really high!
Only a small number of people have guessed the same names, and there are a number of exhibitors who's name has not been guessed yet-
So you have a real chance of winning....
All you have to do is email:
suspendedinpink@gmail.com
with: your name, the name of the artist who you want to win-
And to send payment of £5/€6/$8 by paypal to:
suspendedinpink@gmail.com
The winner is announced this Autumn!
Cache
Il simpatico siparietto del tecnico dell'Inter in conferenza stampa al termine della sfida andata in scena ieri sera a San Siro

Cache
Fuoriclasse e artista dal talento cristallino e immarcescibile: Franck Ribery ha già fatto innamorare calcisticamente Firenze: Montella gli concede la meritata standing ovation del pubblico del "Franchi" a pochi minuti dal termine della vittoriosa sfida dei viola contro l'Udinese...

Cache
1, The vibrating grizzly feeder features double screening and embodies the functions of dirt removing, screening and feeding. 2 The vibrating grizzly feeder is characterized by even feeding, excellen...HeNan Hongji Mine Machinery CO.,LTD

Cache
Say what? Microsoft Windows 11 running a Linux kernel? What'chu smokin'? Steven J. Vaughan-Nichols wrote such a speculative article for ComputerWorld.

And actually, it makes perfect sense. Look at the unmitigated disaster that the Windows 10 updates have been. Week after week after week, we hear about how the Windows 10 updates have wrecked users computers or have otherwise gone seriously awry. Most (if not all) Linux users are Windows refugees, usually fleeing from the lack of desktop choice under Windows, the never-ending assault of virii and virus scanners, the endless battle with malware, etc., etc., etc. The list is nearly as long as the number of Linux users.

Replacing the NT kernel, which is basically rotten, with the Linux kernel is certainly doable. Vaughan-Nichols makes the argument that using the Linux kernel that is passionately and enthusiastically upkept by an army of programmers from around the world makes perfect sense. He goes on to argue that many Windows users won't even have to be aware that Windows is running on a Linux kernel, as Windows can still be made to look like Windows. But the insides, the very core, will get an upgrade in stability and security.

Sure, it sounds crazy. But who could have predicted that Microsoft would go from wanting to bury Linux and calling it a cancer under Steve Ballmer, to expressing love for Linux under Satya Nadella? Who could have predicted that Microsoft would open its extensive patent library to Linux and the FOSS community -- for free?

Vaughan-Nichols goes on to point out that Microsoft could release its own version of Linux today, if it chose to. There's nothing to stop them. But Microsoft developers have been busy laying the groundwork with the Windows Subsystem for Linux (WSL), mapping Linux API calls to Windows, and vice versa.

Coming out of informal discussions from this week's X.Org Developers Conference in Montreal, a "liboutput" library has been proposed as a theoretical new library for helping to bring up Wayland compositors, X11 window managers, and anything else wanting to interface with DRM/KMS kernel interfaces. 

My father of 91 uses Linux as well. (Lubuntu) With Windows, he often picked up a virus or other malware, and he has been running Linux virus free since six years now. He is very happy with Lubuntu. 

My brothers were in the beginning quite negative about my father using Lubuntu, but now they tend to be neutral about it. 

I tried to convince some friends of mine to use Linux, but they perceive it to be too complicated and too different. 

Only two friends of mine like it. 
Cache
EJ Samara For Genesis 8 Female is a character that includes fantasy full body painting, and tattoos for chest and arm. Samara is a character with theatrical makeups that combine opposing sides of light and darkness. She also has 10 expressions included, in icons and dials, and casual makeups, lips, and nails.

CHARACTER MORPHS: Includes lacrimal JCMs to get a natural look when looking to the sides. The head morph is custom, so it doesn't need anything else to work. The body uses Genesis 8 Female Body Morphs for maximum compatibility with all your clothing. This pack also includes a custom morph that simulates the external Anatomical Elements over Genesis 8 Female base mesh, and morphs for long square nails, and long stilleto nails.

MAKEUP OPTIONS: Samara includes 4 theatrical makeups with light and dark sides: Stars and Shadows, Checker on one side of the face, Butterfly and Blood Tears, Male and Female theater makeup. In addition there are 7 casual makeups, from day to day makeups to party or glam makeups. The lips also include a two sided lip, with carmine only on one side.

BODY DECORATIONS OPTIONS: She has tattoos in chest and left arm, and also a full body painting that can be used with all the makeups and lips. You can use the chest tattoo only, or the arm tattoo only, or both. The body painting is applied to the full body, and then apply the makeups over it. This black and white body painting is a classic of the scene arts.

EXPRESSIONS: EJ Samara includes 10 full face expressions, that can be applied with icons and using Pose Control Dials. You can also mix and match the full face expressions applied with the icons with the dials, to change them as you wish.

Price: $18.95 Special Price: $9.48
Cache
Stage Hand is a scene creation kit featuring a large library of props designed as efficient building blocks for quick building. You'll find all sorts of construction segments like walls and stairs along with chairs, tables and speakers. Everything is here to make an awesome concert venue or live action sets to TV shows! The only limit is your imagination!

Included in the set are 10 fully featured scenes built using the blocks provided. These aren't just quick patch jobs, they are complete detailed environments that are ready for you to load and render! Use them for any type of image your heart desires or examine their construction for tips to use when building your own scenes.

You'll also find a set of material options that can be applied to any surface in scenes you build or in the pre-packaged environments. You can use these to customize what's already there or fine tune the piece you've created. Along with these comes a selection of Scene Subsets that provide quick access to some of the more complex things you may want to build. Swap out the existing stages with new ones or or quickly add things like rows of chairs with these!

Price: $29.95 Special Price: $14.98
Cache
OBAMA: Thank you. Thank you. Thank you so much. 奥巴马:谢谢,谢谢,非常感谢。 Tonight, more than 200 years after a former colony won the right to determine its own destiny, the task of perfecting our union moves forward. 两百多年前,美国人民在这块

Cache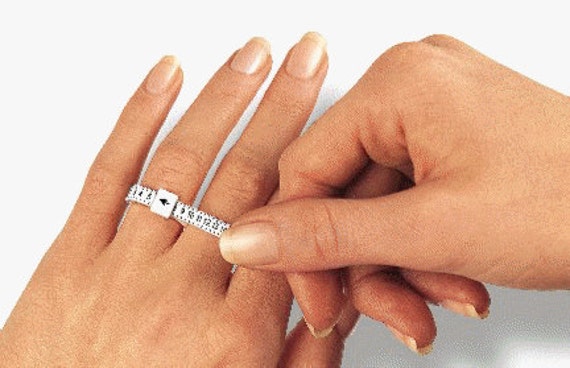 3.00 USD
Purchase this ring sizer to determine which ring size you need. You will easily be able to measure your finger circumference and see which size is going to be most comfortable for you.

Our fingers naturally fluctuate in size from time to time. Your ring size may differ between summer and winter, morning and evening or even depending on how much salt you have eaten lately! Please keep this in mind when deciding on the size you need. Usually a half size is enough to account for any fluctuations, but only you will know the tolerances of your fingers.

Please don't hesitate to contact us with any questions!
Cache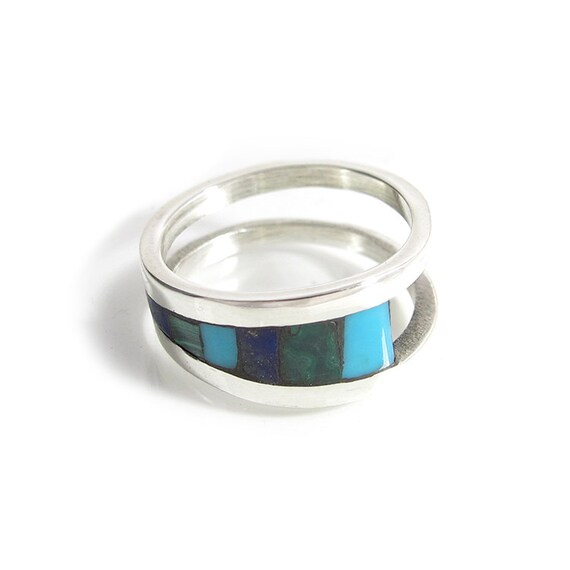 265.00 USD
Enjoy the compliments with this unique inlay ring. Influenced by Native American techniques and modern design, this ring has been completely handmade by me with 100% recycled sterling silver, turquoise, lapis lazuli and malachite. The turquoise used in this piece has been stabilised to prevent colour changes and increase strength. Each piece of stone has been hand cut to inlay perfectly within this sterling silver design. The inlay design features a pattern of turquoise, lapis and malachite squares that taper over the top third of the ring. This ring band features an open sides, allowing the skin of the wear to be seen. This inlay ring is finished with a bright, smooth, high polish.

The casual design of this ring makes it a perfect wedding ring or an everyday accessory.
Although some of my products may be listed and marketed as either masculine or feminine, most items are truly unisex and may be appropriate for both men and women, girls or boys.

This ring is made to order and available in any ring size.

This ring band measures .3" (7mm) at the widest point and .15" (4mm) at the narrowest. If you would prefer a more narrow or wide ring, please contact me for a customised ring.

To view a sizing chart to help determine which size you need, please visit http://www.leanderdambrosia.com/ring-sizing-chart/

You can also purchase this ring sizing tool to help figure out sizing:
https://www.etsy.com/your/shops/leanderdambrosia/tools/listings/226841805

This inlay ring is stamped with a 'sterling' hallmark stamp for makers integrity.

This ring is also available in 100% recycled 14kt yellow gold. Please see this listing: https://www.etsy.com/listing/176800370/gold-inlay-ring-with-turquoise-lapiz-red?ref=shop_home_active_1

**********************************************************************************************************
I use only 100% Recycled metals to create my jewelry. The metals I use are refined from metal that has already been extracted from the earth, such as jeweler' scraps and what would other wise be industry waste. This means that landscapes aren't destroyed, that the people that live on mineral-rich lands aren't displaced and that eco-systems aren't polluted by the dirty processes of mineral mining in order to make my craft. All packaging, printing and gift wrapping is also made with recycled materials and a deep respect for our environment.

To view more rings that I have made, please visit:

http://www.etsy.com/shop/leanderdambrosia?section_id=10476126

Need this piece gift wrapped for a special someone? I have 4 lovely, eco friendly, gender neutral patterns to choose from here:

https://www.etsy.com/listing/109381483/gift-wrap-option-eco-friendly-gift

To see more items in my shop, visit:

http://www.etsy.com/shop/leanderdambrosia

To view my Shop Policies, click:

http://www.etsy.com/shop/leanderdambrosia/policy

To follow me socially:

www.facebook.com/leanderdambrosiawearables
http://pinterest.com/meanderinthesun/
https://twitter.com/LeanderMeander
www.instagram.com/leander_dambrosia_wearables
Cache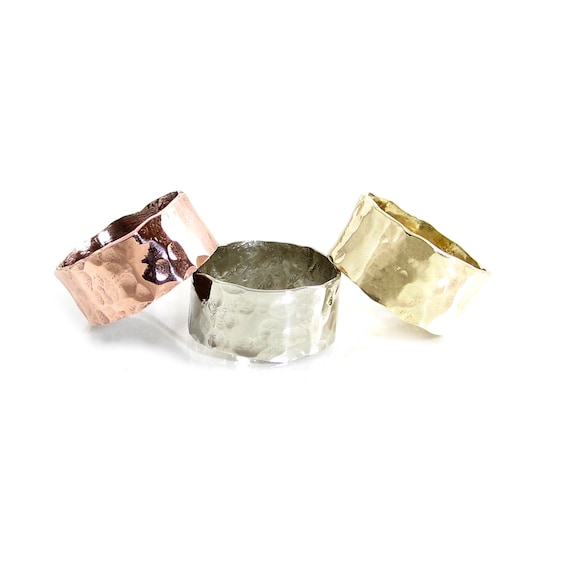 18.00 USD
This wide hammered ring is a great statement piece. This ring is made with solid metal and has been hammered for a rustic texture and polished. This listing is for ONE ring.

This hammered ring measures (8mm) wide. If you would prefer a different width, I can easily make a custom piece for you!

Available in:
-rose copper
-gold brass
-nickel silver
-solid sterling silver

Please indicate the size you need upon purchasing. If your size isn't listed in the variations, please contact me and I can make any size you need.

To view a sizing chart to help determine which size you need, please visit http://www.leanderdambrosia.com/ring-sizing-chart/

You can also purchase this ring sizing tool to help figure out sizing:
https://www.etsy.com/your/shops/leanderdambrosia/tools/listings/226841805

Loved by many for its earthy tones and warmth, copper is known to oxidise (not unlike sterling silver). To keep your copper jewelry looking bright and fabulous, simply polish with a cotton cloth regularly and store your pieces in an air-tight environment when possible. Like most loveable things, your copper jewelry will need a moment of attention here and there.
Cache
Determine proper feeds and speeds for each machine to ensure HPE productivity targets are achieved. Minimum of a Bachelor's degree in a technical field …
From Tata Technologies Inc. - Wed, 26 Jun 2019 18:23:58 GMT - View all Auburn Hills, MI jobs

Cache
Determine proper feeds and speeds for each machine to ensure HPE productivity targets are achieved. 5 -8 years of experience.
From Tata Technologies Inc. - Tue, 11 Jun 2019 18:25:25 GMT - View all Auburn Hills, MI jobs

Cache
Les Aciers JP inc. est à la recherche de journaliers miniers. Vous êtes minutieux, consciencieux, débrouillard et autonome ?
From Les Aciers J.P. - Tue, 17 Sep 2019 19:21:10 GMT - View all La Reine, QC jobs

Cache
Dopamine — это простой и удобный аудиоплеер, который не содержит излишнего функционала и понравится широкой аудитории.

Cache
Mitch McConnell and Lindsey Graham lead condemnation of foreign policy move that could prove 'disaster in the making'Donald Trump with Mark Milley, the chairman of the joint chiefs of staff, in the Cabinet Room on Monday. Lindsey Graham said abandoning the Kurds would be 'a stain on America's honour'. Photograph: Carolyn Kaster/APDonald Trump was dangerously isolated on Monday as, in a rare rebuke, some of his most loyal allies revolted against his decision to withdraw US troops from north-eastern Syria.Senate majority leader Mitch McConnell led a chorus of Republicans who, having defended the president on almost every other issue – including over impeachment – decided to draw a line in the sand."A precipitous withdrawal of US forces from Syria would only benefit Russia, Iran, and the Assad regime," McConnell said. "And it would increase the risk that Isis and other terrorist groups regroup."He added: "As we learned the hard way during the Obama administration, American interests are best served by American leadership, not by retreat or withdrawal."The criticism was significant because McConnell is usually at pains not to cross Trump even at his most capricious. Last week the Kentucky senator released a Facebook video promising to stop Democratic-led impeachment in its tracks.Article 1 of the United States constitution gives the House of Representatives the sole power to initiate impeachment and the Senate the sole power to try impeachments of the president. A president can be impeached if they are judged to have committed "treason, bribery, or other high crimes and misdemeanors" – although the constitution does not specify what "high crimes and misdemeanors" are.The process starts with the House of Representatives passing articles of impeachment. A simple majority of members need to vote in favour of impeachment for it to pass to the next stage. Democrats currently control the house, with 235 representatives.The chief justice of the US supreme court then presides over the proceedings in the Senate, where the president is tried, with senators acting as the jury. For the president to be found guilty two-thirds of senators must vote to convict. Republicans currently control the Senate, with 53 of the 100 senators.Two presidents have previously been impeached, Bill Clinton in 1998, and Andrew Johnson in 1868, though neither was removed from office as a result. Richard Nixon resigned in 1974 before there was a formal vote to impeach him.Martin BelamThe unusual fracture emerged on Sunday night when, shortly after a phone conversation between Trump and Turkey's president Recep Tayyip Erdoğan, the White House announced removal of US troops from the Syria-Turkey border area. "Turkey will soon be moving forward with its long-planned operation into Northern Syria," it added.Critics of all political stripes have long feared that the move could open the way for a Turkish strike on Kurdish-led fighters in the area. Kurdish groups have fought alongside a small US presence in Syria to drive Islamic State militants from the region.The Republican backlash was rapid and potentially unnerving for a president whose fate is tethered to the party and the assumption that it will acquit him in the Senate if, as widely expected, the Democratic-led House of Representatives votes for impeachment.Lindsey Graham, chairman of the Senate judiciary committee, who has become an outspoken defender (and frequent golf partner) of Trump, did not acquiesce this time. Abandonment of the Kurds would be "a disaster in the making", he said, and "a stain on America's honour".Graham told Fox News: "I hope I'm making myself clear how short-sighted and irresponsible this decision is. I like President Trump. I've tried to help him. This, to me, is just unnerving to its core."Graham wrote on Twitter that if the plan goes ahead, he will introduce a Senate resolution opposing it and seeking reversal of the decision. He added: "We will introduce bipartisan sanctions against Turkey if they invade Syria and will call for their suspension from NATO if they attack Kurdish forces who assisted the US in the destruction of the ISIS Caliphate."Kevin McCarthy, the top Republican in the House, whose attempts to defend Trump's phone call with Ukraine's president have provoked mockery, said: "If you make a commitment and somebody is fighting with you, America should keep their word."Michael McCaul of Texas, the lead Republican on the House foreign affairs committee, also urged the president to reconsider. "The United States should not step aside and allow a Turkish military operation in north-east Syria," he said. "This move will undermine our ongoing campaign to prevent an Isis resurgence and will ultimately threaten our homeland."Additionally, the United States needs to stay engaged to prevent further destructive involvement in the region from our adversaries like the Assad regime, Putin and Iran."Notably, senator Marco Rubio of Florida, reluctant to criticise Trump even when the president suggested that China investigate former vice president and 2020 election rival Joe Biden, was clear , describing the retreat as "a grave mistake that will have implications far beyond Syria"And Nikki Haley, Trump's former UN ambassador, admonished Trump without mentioning his name. "We must always have the backs of our allies, if we expect them to have our back," she tweeted. "The Kurds were instrumental in our successful fight against ISIS in Syria. Leaving them to die is a big mistake. TurkeyIsNotOurFriend"Ominously for Trump, even conservative Fox News aired dissent. Host Brian Kilmeade described the pullout as "a disaster", telling viewers of Fox & Friends: "Abandon our allies? That's a campaign promise? Abandon the people that got the caliphate destroyed?"Republicans who have contradicted Trump before did so forcefully again. Utah senator Mitt Romney described Trump's announcement as "a betrayal", adding: "It says that America is an unreliable ally; it facilitates ISIS resurgence; and it presages another humanitarian disaster."Romney and Democratic senator Chris Murphy issued a joint statement insisting Trump's administration "explain to the American people how betraying an ally and ceding influence to terrorists and adversaries is not disastrous for our national security interests".Democrats also piled in but there was a lone voice of support for the president on Capitol Hill. Republican senator Rand Paul, long a critic of foreign intervention, said: "So many neocons want us to stay in wars all over the Middle East forever. [Trump] is absolutely right to end those wars and bring the troops home."Trump himself was undeterred by the blowback. Speaking at the White House on Monday, he said he has "great respect" for the prominent Republican critics. And added: "People are extremely thrilled because they say it's time to bring our people back home. We're not a police force. They're policing the area. We're not a police force. The UK was very thrilled at this decision … many people agree with it very strongly."
Cache
It's always foolish to put your faith in Donald Trump. He's incapable of thinking strategically about anything besides advancing his own material interests.So it makes perfect sense to presume that Trump's apparent decision to permit Turkey to conduct military operations against (until now) American-backed Kurdish forces near the Turkish border in Syria has nothing to do with geopolitical strategy or any process of foreign policymaking beyond his personal and business relationship with Turkey's quasi-authoritarian president Recep Tayyip Erdogan.But that doesn't mean that the bipartisan freak-out against Trump's policy shift is founded in a coherent strategic vision. It isn't. Instead it grows out of a combination of inertia, hubris, pusillanimity, and moralism -- all of them traits that have been on the ascent since the end of the Cold War, and especially since the September 11 attacks.The one positive thing to come out of Trump's flailing foreign policy is that it has exposed the incapacity of the country's leading thinkers in international affairs to offer a compelling reason to resist the president's mischief-making and revert to the status quo. That doesn't give us much to work with now. But it just might set America up for an eventual reckoning with our foolishness and mistakes over the past few decades.The most common response to Trump's announced change of course in Syria has been a cry of lament for the fate of Kurds, who may well find themselves the target of Turkish attacks. How can we abandon allies who fought by our side against the Islamic State and allow them to be crushed by a dictator like Erdogan?There's just one problem -- or rather, several. For one thing, the Kurds aren't our allies. Allies are defined by mutuality: We promise to defend a given state if attacked, that state promises to defend us if we are attacked. The Kurds, a stateless ethnic group found in Turkey, Syria, Iraq, and Iran, has zero capacity to come to America's defense. They are American clients: We have provided them with aid and protection in return for help in fighting ISIS in Syria and Iraq. Precisely how long should the United States be obligated to provide that protection in a dangerous part of the world 6,000 miles from our borders? None of Trump's critics in and out of Congress will tell us. Instead, they'd rather posture earnestly and avoid having to answer.If the U.S. has an ally in the region, it is … Turkey, a member of NATO, an explicit defense alliance. Do those denouncing Erdogan favor ejecting Turkey from NATO, thereby revoking the country's status as an American ally? Maybe that makes sense. But deciding whether it does would require engaging in clear-sighted strategic thinking about NATO, its purpose, and American interests in the Middle East, which is something no one wants to do. They'd rather keep Turkey in NATO -- because no one ever leaves NATO, and because keeping Turkey in the organization helps to antagonize Vladimir Putin -- and then bash the government in Ankara when it's convenient to do so.When critics of Trump's policy shift want to sound harder-nosed, they move beyond Turkey and the Kurds and talk instead about how irresponsible it would be to give up the fight against ISIS: If we don't stay in Syria, terrorists will grow powerful again, threatening the U.S. homeland like they did on 9/11!The first thing to be asked in response to those making such claims is whether they think it's possible for the U.S. to win any war anywhere in the world. Because if the battle against ISIS, which began in earnest five years ago, is measured against the goals enunciated at the start -- the elimination of ISIS's territorial caliphate -- it has been a smashing success. We won. The caliphate is gone. Yet now the goalposts have been shifted. Now "victory" has been redefined to mean … I'm not really sure. Sometimes it sounds like the goal is to make sure ISIS or a successor Islamist organization doesn't arise. At other times it appears to mean something even more amorphous, like the complete elimination of any person who might aspire to revive the caliphate at some time in the future.But is that a sensible foreign policy goal? Keeping an American military footprint in the desert of Syria and Iraq in order to exert control over what happens there for fear that it may possibly cause eventual harm to the United States, a continent and an ocean away? Even assuming this makes sense, for how long should it continue? Five more years? Ten? Twenty? More? And what metrics should we use to evaluate whether it's really benefiting the country, or is working, or has worked?No one wants to say because no one has an answer that makes sense. It's enough, they think, to speak gravely and vaguely about dire threats and keep us doing the same thing -- always expanding American commitments abroad, never pulling them back, and never even prioritizing among them. Anywhere.The U.S. is committed, all at once, to defending Europe, including serving as a check on Russia's ambitions in Eastern Europe, and to defending Israel. It also wants to micromanage regional rivalries across the Middle East in perpetuity. And keep a lid on terrorist activity across North Africa. And win an 18-year-old game of Whack-a-Mole against the Taliban in Afghanistan. And contain North Korea. And stand toe to toe with a rising China. And determine the outcome of a political transition in Venezuela.That's a lot for any country to handle intelligently or wisely -- because having such control-freak ambitions in the world isn't intelligent or wise in the first place. That doesn't mean that Donald Trump's acting out in defiance of Washington's foreign policy consensus makes sense. But it does mean that those who oppose the president need to do more than run screaming back into the arms of that consensus without reflection on its many unacknowledged problems and confusions.Want more essential commentary and analysis like this delivered straight to your inbox? Sign up for The Week's "Today's best articles" newsletter here.
Cache
They may have his back on impeachment, but some of President Donald Trump's most loyal allies are suddenly revolting against his decision to pull back U.S. troops from northern Syria. On Monday, one chief Trump loyalist in Congress called the move "unnerving to the core." An influential figure in conservative media condemned it as "a disaster." And Trump's former top NATO envoy said it was "a big mistake" that would threaten the lives of Kurdish fighters who had fought for years alongside American troops against the Islamic State group. Trump's surprise move, which came with no advance warning late Sunday and stunned many in his own government, threatened to undermine what has been near lockstep support among Republicans at a critical moment in his presidency.
Cache
MANILA, Philippines -- President Rodrigo Duterte of the Philippines has revealed that he has a neuromuscular disease that has led to a slew of medical problems, including making his eye droop.Duterte, who was in Russia for a state visit, told the Filipino community there Saturday night that he has myasthenia gravis, a chronic autoimmune disease that leads to skeletal muscle weakness. He said the disease ran in his family.The revelation came amid continued public speculation about his health. There have been periods when the famously bombastic president has been out of the public eye for days, prompting headlines guessing about his whereabouts and even rumors of his death.But his communications officers have said that Duterte, 74, like any other older person, needs his own personal time.The president revealed the ailment after he apparently made a joke about not being able to look straight at a woman with whom he had danced a duet during the event in Moscow."I have a talent," Duterte said, according to official transcripts provided by his office afterward. "When I look at you, my other eye droops. Do you see? The other eye is smaller. It goes where it wants."He added: "Actually, that's myasthenia gravis. It's a nerve malfunction."Duterte said his grandfather had also had the disease, adding, "So I believe, really, in genetics."The disease often affects the muscles that control the eyes, facial expression, speaking and swallowing, according to the Philippine Medical Association.Duterte came to power in 2016 vowing to rid the country of drug dealers and to wipe out other crimes. Since then, the Philippines' war on drugs has led to thousands of killings allegedly by police and vigilantes, which rights groups have denounced as an atrocity.This year, the United Nations' Human Rights Council voted to examine the thousands of killings linked to Duterte's campaign.Over the years, his public outbursts have included insults against women, the United States and God.In May, the president dropped out of sight for a week, prompting concerns on social media. His aides later tried to quell the rumors by releasing photographs of Duterte having breakfast.One image showed him with the latest issue of a newspaper, suggesting an effort to prove that the picture had been taken on the same day.Last year, Duterte revealed that he had undergone an endoscopy and colonoscopy and that doctors had found he had, he said, "a bad case of Barrett."He was referring to Barrett's esophagus, a complication of gastroesophageal reflux disease, or GERD, in which the contents of the stomach flow backward into the esophagus.The president has also said he has Buerger's disease, which leads to constriction of blood vessels in the arms and legs.This article originally appeared in The New York Times.(C) 2019 The New York Times Company
Cache
Determine piping system requirements and pipe sizing. Measure, cut, thread and bend pipes to required shape and size. Work Conditions and Physical Capabilities.
From Canadian Job Bank - Mon, 30 Sep 2019 15:02:37 GMT - View all Pitt Meadows, BC jobs

Cache
Auch im Oktober gibt es wieder einige Raid-Stunden in Pokémon Go und heute geht es los damit.
Niantic hat jetzt die genauen Termine für den Rest des Monats bekannt gegeben.
Während der Raid-Stunden finden mehr Raid-Kämpfe der Stufe 5 statt.
Cache
<strong>هیتر</strong> the time to examine or just take a look at the content or web-sites we have joined to below the

Cache
Great article from
Chemical and Engineering News
(by Britt Erickson) on the chemistry angle around the mysterious vaping illnesses, with this unusual tidbit about agents other than vitamin E acetate that may be responsible for the problem:
Thickening agents are common in illicit THC cartridges, but they are rarely added to legal products where testing for potency is required, says Jeffrey Raber, cofounder and CEO of the Werc Shop, a California-based cannabis contract manufacturing and testing firm.
"THC concentrates are known to be thick and viscous when they are high potency," Raber says. So when street dealers dilute illicit products with various agents to maximize profits, those products are typically less viscous. Consumers can visually detect the viscosity of the product by turning the cartridge upside down. If a bubble goes from the top to the bottom quickly, it usually means that the product has been cut with something, Raber says. Dealers mask that visual test by adding a thickening agent, so the bubble doesn't move from the top to bottom as fast, and consumers think they are getting a high-potency product.
The illicit cannabis market "is out of control and concerning," even in states like California where recreational cannabis is legal, Raber says. In California, the cannabis black market is estimated to be 3 to 4 times the size of the legal cannabis industry, he notes.
One source of the black market problem is that California requires testing of final finished cannabis products, Wise says. If a product fails the test, more often than not, it doesn't get thrown away. Instead, it enters California's black market and is then distributed to states where cannabis is illegal, she says.
(Out-of-spec product being reworked for sale? Say it isn't so!)
In a similar news, I found
the Mayo Clinic study
(
covered here by the New York Times
) to be interesting, since they did not visually detect signs of lipoic pneumonia, as would be expected if it was vitamin E acetate causing the problem. Rather, the physicians explained it this way:
"All 17 of our cases show a pattern of injury in the lung that looks like a toxic chemical exposure, a toxic chemical fume exposure, or a chemical burn injury," said Dr. Brandon T. Larsen, a surgical pathologist at the Mayo Clinic in Scottsdale, Ariz. "To be honest, they look like the kind of change you would expect to see in an unfortunate worker in an industrial accident where a big barrel of toxic chemicals spills, and that person is exposed to toxic fumes and there is a chemical burn in the airways."
The injuries also look like those seen in people exposed to poisons like mustard gas, a chemical weapon used in World War I, he said.
I find Dr. Larsen's speculation a little confusing, i.e. do pathologists have visual markers for the various types of chemical injuries to the lungs? (They must have, right? I mean, do acidic burns look different than basic (say, ammonia burns), etc., etc?) There can't be just one visual presentation of lung tissue damage from chemicals, can there?

I confess to be very confused as to what exactly is causing the vaping illnesses, and I would really like chemists to get involved to determine what exactly the bad actor (or actors) is/are.




Next Page: 25 © Googlier LLC, 2019