Cache
Contact:
APLU: Jeff Lieberson, (202) 478-6073
USDA-NIFA: William Hoffman, (202) 401-1112
Cooperative Extension: Sandy Ruble, (202) 478-6088
WASHINGTON, October 7, 2019 – Recognizing visionary leadership and diversity in educational programming, the U.S. Department of Agriculture's (USDA) National Institute of Food and Agriculture (NIFA), Cooperative Extension, and the Association of Public and Land-grant Universities (APLU) today announced that Matthew Devereaux, of the University of Tennessee, will receive the 2019 Excellence in Extension Award, and two Iowa State University-led teams, will receive the National Extension Diversity Award. Both awards, along with Regional Excellence in Extension Awards, will be presented at a ceremony on Nov. 10 in San Diego, California during APLU's 132nd Annual Meeting. NIFA and Cooperative Extension have sponsored the awards since 1991.
"NIFA is proud to support the national network of extension experts and educators through our land-grant institution partnership," said NIFA Director J. Scott Angle. "This collaboration brings science-based knowledge to farmers, ranchers and community members to help them grow their businesses, raise healthy families and support their communities."
"We applaud this year's Excellence in Extension and National Extension Diversity Awards winners," said Ed Jones, Associate Dean and Director of Extension, Virginia Tech, and Chair of the Extension Committee on Organization and Policy. "Their work stands as an exceptional example of the impact of Cooperative Extension for the people in all 50 states and five U.S. territories where more than 32,000 Cooperative Extension professionals serve."
National Excellence in Extension Award The Excellence in Extension Award is given annually to one Cooperative Extension professional who excels at programming, provides visionary leadership and makes a positive impact on constituents served.
Matthew Devereaux is Interim Assistant Dean and Department Head for Family and Consumer Sciences at the University of Tennessee Extension. Much of Devereaux's work has centered on developing innovative and highly impactful youth programs. Specifically, his research has focused on best practices for positively developing youth in afterschool settings.
His findings show the importance of focusing heavily on a student's social/emotional development during the beginning of the school year to improve learning as the year progresses. Devereaux's research has shown students have greater gains in grades and standardized test scores when incorporating significant social/emotional learning programming that teaches students how to recognize, understand, label, express and regulate emotions. He's also focusing on developing resources on adverse childhood experiences (ACES), mindfulness, quality childcare and early brain development. He's aiming to examine the impact of positive fathering in future research.
National Diversity in Extension Award The National Diversity Award recognizes significant contributions and accomplishments in achieving and sustaining diversity and pluralism.
Kimberly Greder, Professor of Human Sciences Extension and Outreach Family Life Specialist, leads efforts in Iowa to implement and evaluate extension programs to reduce educational and health disparities facing Latino families. Using Juntos Para Una Mejor Educación (Together for a Better Education), Greder and her teams helped 1,300 Latino youth and parents gain information, develop skills, access resources and broaden networks to help youth identify paths to post-secondary education.
In partnership with the University of Illinois, Iowa faculty engaged 262 parents and children of Mexican heritage in an extension research study focused on testing the efficacy of Abriendo Caminos, a curriculum designed to promote healthy lifestyles and reduce obesity risk. Preliminary findings revealed that families who participated had larger increases in good cholesterol levels, and larger decreases in bad cholesterol and blood inflammation, suggesting improved lifestyle behaviors reducing obesity risk. These efforts led to significant strides in expanding extension's capacity to engage with and provide responsive programming to Iowa Latino families.
Regional Awards NIFA, Cooperative Extension, and APLU will also present four regional awards for excellence this year. The 2019 Regional Excellence in Extension recipients are:
1890 Institutions Region: Dorothy Brandon, Family and Finance Extension State Specialist at Alabama A&M University, for work to improve thousands of adults' financial well-being.
North Central Region: Dianne Shoemaker, Extension Field Specialist, Dairy Production Economics and Associate Professor at The Ohio State University, for holistic farm business management education efforts that help dairy farms improve profitability and sustainability.
Northeast Region: Gordon Johnson, Assistant Professor and Fruits and Vegetables Extension Specialist at the University of Delaware, for work to address challenges facing fruit and vegetable producers in Delaware and the broader mid-Atlantic region.
Southern Region: Mark Peterson, Professor of Community and Economic Development with the Division of Agriculture at the University of Arkansas System, Cooperative Extension Service, for efforts to build vibrant, sustainable communities and regions through community leadership education programming and mentoring.
Western Region: Dave Schramm, Family Life Extension State Specialist, Human Development and Family Studies at Utah State University, for innovative, scholarly leadership of family life programs.
###

USDA is an equal opportunity provider, employer, and lender.
Featured Image:
Group this content belongs to:
Cache
by Morgan Troper

At the end of 2017, Tim Heidecker's On Cinema—a web series lampooning film criticism that the comedian co-hosts with Gregg Turkington—apexed with a five-hour long, fictitious murder trial. Despite overwhelming evidence that Tim Heidecker's character was guilty of several counts of murder (several attendees at a fake music festival he funded overdosed on vape pens, which these days hits a little too close to home), Heidecker was found innocent—and promptly launched a garish social media campaign around his implausible candidacy for San Bernardino district attorney.

This is where the feature-length film Mister America—which screens in Portland on Wednesday—comes in. It's a spin-off of a spin-off of a goofy web-series, and will likely only entertain those who have fully immersed themselves in the On Cinema universe—which, when taking into account the show's 10 seasons, its annual Oscar specials, and its self-contained offshoot Decker, clocks in at an agonizing 20 hours of content.

If you are one of those people, Mister America is frequently funny. At best, it plays like a bizarro version of The War Room—just sub George Stephanopoulos with a woefully incompetent publicist-turned-campaign advisor named Toni (Terry Parks) and Bill Clinton for Heidecker's On Cinema persona, a mix of O.J. Simpson and Trump. But just as often, Mister America's comedy is imperceptible: Take one early scene, when Heidecker and Toni discuss immigration. It doesn't seem like a parody, and there's no punchline. It just feels like a legitimately racist conversation, and it speaks to the dangers of ineffective satire. By the end of the film, when Heidecker breaks down and apologizes to his constituents after a violent outburst at a town hall debate, you don't even feel sorry for the guy. You just want him out of your sight.

[ Subscribe to the comments on this story ]



Cache
Of the 31 questions Rep. Susan Wild took from constituents during her Wednesday town hall, the topic of impeachment came up just a few times.
Cache
Illinois state lawmakers are reaching out to constituents across the state, asking to hear the stories of the state's veterans.

Veterans Day is Nov. 11. To honor Illinois veterans and tell their incredible stories, the state will once again feature the Veterans Day "Wall of Honor" in the Illinois State Capitol in Springfield from Nov. 4-15. Veterans or their family members are asked to submit a photo and tribute to a loved one who has served in the United States Armed Forces to be displayed.

"Our veterans deserve all the recognition they can get," said State Sen. Sue Rezin, R-Morris. "If you are looking for a way to honor a veteran that near and dear to you this Veteran's Day, this is a great opportunity to do so."

Veterans and their families are asked to submit photos and written stories 250 words or less along with the veteran's name, military branch, and conflict or dates of service. Military photos are preferred, but not necessary.

Rezin provided a submission form online at www.SenatorRezin.com/WallOfHonor.

Submissions should be emailed to veteransday@sgop.ilga.gov by Nov. 3. Submissions can also be mailed to Veterans Day Wall, 309 G Statehouse, Springfield, IL 62706.

For questions, call 217-782-7330.



Cache
The sponsors of the BrooklynSpeaks coalition--neighborhood and housing groups--and some allied elected officials are holding a forum tomorrow night at the Montauk Club (25 8th Avenue) in Park Slope at 7 pm.

"Sixteen years of promises, but we still have a hole in the ground. It's time for a new plan," the announcement says:

Fix the traffic problems. Improve transit.
Design spaces that work in Brooklyn.
Create real affordable housing.
Assemblymembers Walter Mosley and Jo Anne Simon are expected.

Developer pre-empts the meeting?

Surely in anticipation of the meeting, developer Greenland Forest City Partners this week floated an article in the New York Post regarding new plans to start the first half of the Vanderbilt Yard platform next year, dutifully regurgitated as Brooklyn's Pacific Park moves to fast track.


Three towers over railyard,
but no timetable

The developer also released a glossy image (left) of those three towers over the railyard, plus the B4 tower flanking the Barclays Center.

As I wrote, it's surely progress, but it's not quite the fast track, because the developer provided no specific timetable for completion of the platform, or the start of future towers.

Still, the three towers over the railyard (B5/B6/B7) might plausibly start in a year or two, as suggested on the tentative project schematic below, given the projected time for the platform, as I write today. Then again, is there a market for all that?



Either way, there still will be a large "hole in the ground" over the eastern block of the railyard, slated for the final three towers, which could take until 2035 and must be built before the lion's share of the much-touted open space can be completed.

See photo below right.

What's on the agenda?

What might the "asks" be?


Eastern block of railyard

As Gib Veconi, a BrooklynSpeaks leader, wrote to me, "In the past, the BrooklynSpeaks sponsors have called for traffic mitigations like residential permit parking, and affordability levels that better reflect the needs of the most rent-burdened members of the community."

Whether it be permit parking and/or other reforms, expect new concerns from neighbors about parking and street safety and new buildings and a school open near congested Sixth Avenue, close to fire and police stations.

Affordability, as of now, relies significantly on the revised Affordable New York program, as I wrote Monday. There's a tension between an increased number of units and more affordability: buildings with 30% affordable units have more middle-income units, while those with 25% affordable units have more low-income ones. That said, an additional commitment by government entities could enhance affordability.

BrooklynSpeaks also once warned that open space behind buildings "is likely to feel more like a private backyard than a public park." In 2015, when the most recent open space design was unveiled, I suggested that Veconi was generous in not repeating that critique.

Let's see if BrooklynSpeaks takes a harsher stance, especially since the open space so far is fractional and there's no timetable for the full open space.

No voluntary changes

It's unlikely that Empire State Development (ESD), the state authority that oversees/shepherds Atlantic Yards/Pacific Park, is looking to adopt a new plan.

After all, a recent effort to allow nearly 100,000 square feet in below-grade space for a fitness center and fieldhouse under the B12 and B13 sites was approved by ESD despite criticism from BrooklynSpeaks, Simon, and Veconi. He also sits on the advisory Atlantic Yards Community Development Corporation (AY CDC), which, at his instigation, reached a first-ever split vote, unable to endorse (or oppose) that below-ground space.

Nor was any public benefit--such as increased affordability, or public space--provided as reciprocation for what many saw as a gift to developer TF Cornerstone, which leased the sites from master developer Greenland Forest City Partners.

What's the leverage?

There may be points for future leverage. The most dramatic would be a lawsuit, such as a challenge to the fitness center and field house approval process. But there's been little talk of such an effort.

Another would be an oversight hearing, conducted by the state Assembly.

Another option would be pressure during the expected (but not yet launched) effort to change the project plan to approve a much larger, two-tower project at Site 5, currently home to P.C. Richard and Modell's.

Veconi suggested another pathway:

The main leverage at this point may be the unstable state of the project. It's not easy to see how Atlantic Yards' affordable housing deadline will be met without building over the railyard, and the recent announcement about construction of the platform above block 1120 doesn't speak to when the buildings above it will be built or by whom. China's monetary policy no longer favors foreign investment in real estate, as evidenced by the recent pattern of sales of development leases. And the project's financing strategy was conceived at a time when City and State subsidy policies for affordable housing was very different that they are now (to say nothing of what may change in 2022 when Affordable New York expires).
He's right that, as project uncertainty rises, the chance for leverage increases, but I still think it's possible--as suggested yesterday--to meet the affordability deadline by building just two towers over the railyard.

I also spoke with Mosley, who said he'd stress the affordable housing component, while Simon, in whose district Site 5 sits, may focus on that issue.

"My issue is the deliverability of the affordable housing within the time frame that was renegotiated," said Mosley, who noted that legislators' query to ESD about a timetable has not drawn a response.

"I've had preliminary conversation about possibility of having oversight hearings," he said. Like Veconi (and speaking before the latest announcement), he expressed skepticism about Greenland USA's commitment, "in terms of the market, the geopolitical landscape."

Mosley said he hoped the meeting would provide "a clearer directive from our constituents as to how we could proceed."

The housing conundrum and the larger transparency issue

The difficulty in requesting more affordability, for example, is that that likely would require an extra subsidy from government or, perhaps, an extra benefit to the developer.

(The Site 5 negotiation could offer leverage on that, but it's also possible that Site 5 would deliver additional affordable units beyond the 2,250 required--seemingly a boon--but would skew toward middle-income households.)

That's because there's no way to hold Greenland Forest City to the once-pledged housing configuration, in which 40% of the affordable units would be low-income. The definition of affordable housing in the guiding Development Agreement is far more broad, encompassing units in various subsidy/assistance programs.

The overarching Atlantic Yards/Pacific Park issue is transparency: the timing of towers, the plan to meet affordability, the progress of the railyard, the likelihood the eastern section will actually be built.

Despite Greenland Forest City's latest strategic announcement, starting a platform does not translate into a project timetable.


Cache
Forward-looking government officials know that, in a digital society, "Policy is the technology and technology is the policy." Any government service delivered at scale is underpinned by a host of technologies. If the success of these business projects is compromised by poor implementation of technology, then the political objectives are compromised too.
Implementing a digital government strategy is a journey that will span multiple budget cycles and political administrations
Public-sector leaders expect government CIOs to find ways that technology can reduce costs, create efficiencies, and improve outcomes for citizens and businesses. They also expect CIOs to consider the social, technological, economic, environmental and political trends that impact the constituents they serve.
Gartner's top strategic technology trends for government
Gartner's list of strategic government technology trends is designed to help CIOs establish the rationale, timing and priority of technology investments. These trends in information and technology were selected in response to pressing public-policy goals and business needs of government organizations in jurisdictions around the globe.
"Now more than ever, technology priorities must be established in the context of business trends such as digital equity, ethics and privacy, and the need for institutional agility," says Rick Howard, Vice President Analyst, Gartner. "CIOs can use these trends to engage stakeholders, demystify concepts, and promote discussion about their value to citizens and society."
Implementing a digital government strategy is a journey that will span multiple budget cycles and political administrations, Howard notes.
[swg_ad]
"The technology trends presented here do not represent what government CIOs are spending most of their time or budget on today," Howard says. "Rather, it is Gartner's list of strategic technology trends that are, should be or soon will be critical areas of focus for government CIOs as they transform public services."
These top trends — which cover the next 12 to 18 months — will vary in importance depending on the tier of government (national, regional or local), region and business context. It is for this reason that they are not ranked in numeric order.
Adaptive security
From ransomware targeting cities such as Baltimore, MD, to attacks on critical infrastructure assets in Ukraine and on parliaments (as in Australia), governments in all geographies and at all levels are under attack, driving the need for new security approaches.
An adaptive security approach treats risk, trust and security as a continuous and adaptive process that anticipates and mitigates constantly evolving cyberthreats. It acknowledges there is no perfect protection and security needs to be adaptive, everywhere, all the time.
Citizen digital identity
Digital identity — the ability to prove an individual's identity via any government digital channel — is critical for inclusion and access to government services, yet many governments have been slow to adopt them. Government CIOs must provision digital identities that uphold both security imperatives and citizen expectations.
Multichannel citizen engagement
Governments that meet citizens via their preferred channels, for example, in person, by phone, via mobile device (over 50% of government website traffic now comes from mobile devices), smart speakers, chatbots or augmented reality, will meet citizen expectations and achieve program outcomes.
Agile by design
Digital government is not a "set and forget" investment. CIOs must create a nimble and responsive environment by adopting an agile-by-design approach, a set of principles and practices used to develop more agile systems and solutions that impact both the current and target states of the business, information and technical architecture.
Digital product management
In the 2019 Gartner CIO Survey, over two-thirds of government CIOs said they already have, or are planning to implement, digital product management (DPM). Often replacing a "waterfall" project management approach, which has a poor track record of success, DPM involves developing, delivering, monitoring, refining and retiring "products" or offerings for business users or citizens. It causes organizations to think differently and delivers tangible results more quickly and sustainably.
Anything as a service (XaaS)
XaaS covers the full range of IT services delivered in the cloud on a subscription basis. The 2019 Gartner CIO Survey also found that 39% of government organizations plan to spend the greatest amount of new or additional funding on cloud services. The XaaS model offers an alternative to legacy infrastructure modernization, provides scalability and reduces time to deliver digital government at scale.
Shared services 2.0
Many government organizations have tried to drive IT efficiencies through centralization or sharing of services, often with poor results. Shared services 2.0 shifts the focus from cost savings to delivering high-value business capabilities such as such as enterprisewide security, identity management, platforms or business analytics.
Digitally empowered workforce
A digitally enabled work environment is linked to employee satisfaction, retention and engagement — but government currently lags other industries in this area. A workforce of self-managing teams needs the training, technology and autonomy to work on digital transformation initiatives.
Analytics everywhere
Gartner refers to the pervasive use of analytics at all stages of business activity and service delivery as analytics everywhere. It shifts government agencies from the dashboard reporting of lagging indicators to autonomous processes that help people make better decisions in real time.
Augmented intelligence
Gartner recommends that government CIOs reframe artificial intelligence as "augmented intelligence," a human-centered partnership model of people and artificial intelligence working together to enhance cognitive performance.
Roles: CIO
The post Technology Trends for the Future of Government appeared first on Smarter With Gartner.
Cache
The Democratic base is tired of the party being passive about Republicans packing the judiciary. So what's their game plan?'Every major Democratic presidential contender must be able to answer tough questions about how they will reform the courts.' Photograph: Andrew Caballero-Reynolds/AFP via Getty ImagesLast Sunday, a boisterous group of protesters, primarily women, marched through Washington, DC. They stopped in front of the Washington home of Senate Majority Leader Mitch McConnell, and gathered on the steps of the Supreme Court. The protest, called "Reclaim the Court," was led by civil rights groups like Planned Parenthood Action, the Center for Popular Democracy, and the Women's March, and was meant to mark the first anniversary of Justice Brett Kavanaugh's appointment to the Supreme Court, and came on the heels of new reporting that lends corroboration to accusations of sexual assault by the Justice and provides greater evidence that he lied under oath at his confirmation hearings, charges which he has denied.Protestors carried signs that said "KAVA-NOPE" and "SUPREMELY CORRUPT." A sister demonstration took place in Portland, Maine, where constituents expressed pointed displeasure at Senator Susan Collins, who voted to confirm Kavanaugh last year. At a podium on the Court steps in DC, protestors called on House Judiciary Committee Chairman Jerry Nadler to initiate impeachment proceedings against Kavanaugh, as he previously promised to do if Democrats won the House in the 2018 midterms. There was palpable rage at the appointment of Kavanaugh, whose presence on the Court symbolized the persistence of two great threats to women's full citizenship and bodily autonomy: sexual assault and the erosion of abortion and contraception rights. Chants rose up of "My body, my choice." A sign raised towards the Court façade read, "BELIEVE SURVIVORS." The demonstrators felt that the Court has the power to make life-altering decisions about the rights and freedoms of women, and that Kavanaugh's presence there indicated that they would not choose well.But the protesters' anger at the court went beyond Kavanaugh himself, and beyond, even, the insult to women's dignity and threat to women's rights that the man represents. Representative Ayanna Pressley, of Massachusettes, told the crowd, "Kavanaugh may have that seat (for now), but what we are fighting for is so much bigger than one insecure man blinded by his privilege." The protesters see Kavanaugh as only the most egregious symptom of a court system that is gravely diseased. Their action speaks to a growing liberal agitation around the judiciary, led by feminists, that is poised to change the politics of the courts.Traditionally, it was only the right that cared about the judiciary. Republicans ran on promises to appoint judges that would uphold conservative social values, and oppose abortion and gay rights. Those judges in turn enshrined the legality of gerrymandering, curtailed voting rights, and opened the floodgates of unlimited corporate money in politics, interventions which have enabled the Republican party to maintain power even in districts where they have only a minority of popular support. The result became cyclical: Republicans won by promising to appoint conservative judges, and then those conservative judges issued decisions that helped more Republicans win.To the left, the judiciary had often been more of an afterthought. Conventional wisdom held that the judiciary could not be counted on as a motivating issue for Democrats the same way that it could for Republicans. But the Kavanaugh appointment brought a new sense of urgency to the matter; the Court's new conservative majority, and the spectacle of the emotional Senate confirmation hearings through which Republicans secured this majority, galvanized the attention of a Democratic base that increasingly feels that its basic civil rights are imperiled under a federal judiciary packed with Trump appointees and a Supreme Court controlled by Trump allies.There is some evidence that this concern expands well beyond the activist left: in September, a poll conducted by the firm Perry Undem found that a full 60% of Americans thought it likely that Brett Kavanaugh committed perjury during his confirmation hearings, a figure that suggests that popular support for impeaching the Justice may be easy for Democrats to come by. Support for abortion rights is even higher, meaning that the Supreme Court, which is poised to issue the first assault on abortion of its new conservative majority just before the next presidential election, is not only comprised of justices that the people do not trust, but is also likely to hand down opinions that the people do not want.And this is the problem with the Supreme Court: it is a profoundly un-democratic institution, and has only been made more so by the right's determination to politicize the court and to manipulate it into helping them secure a policy agenda that runs counter to popular will. The gross injustice of the Kavanaugh confirmation made Americans—and feminists in particular—more aware of the urgency of the problem, and less accepting of its inevitability. Now, every major Democratic presidential contender must be able to answer tough questions about how they will reform the courts; several, including California Senator Kamala Harris and Massachusetts Senator Elizabeth Warren, have joined the call for Kavanaugh's impeachment. Some of the court reform proposals that have emerged from the Democratic field have been halting or insufficient, paying undue deference to a myth of an apolitical court. Others have been more aggressive, more willing to treat the Court as the political institution that Republicans have long treated it as. At any rate, the Democratic base wants answers: it is no longer acceptable for the party to be as passive and accepting of Republican aggression regarding the judiciary as its once was. In Portland, Maine, a small child carried a sign to the protest: "FAIR COURTS FOR MY FUTURE." Beside him, an older woman was even more pointed: "CONSERVATIVE JUDGES ERODE FREEDOMS FOR ALL." * Moira Donegan is a Guardian US columnist
Cache
This paper provides a distributed-morphological analysis of nominal compounding in Japanese in an effort to pin down the phonological, morphosyntactic mechanism in nominal compounding. The findings reveal that the semantic relation between the N1and N2 has seven variations: Object + Tran.conj.; Instrument + Tran.conj.; Modifier - Tran.conj.; Place - Tran.conj.; Method - Tran.conj.; Cause - Tran.conj.; and Subject –tran. conj..Among the variations, sequential voicing is only subject to [Nobject - N TRAN.conj.] nominal compounds. Moreover, during the process of forming a nominal compound, the second constituents (N2) rendered by aspirate consonants /k/ and /t/ are very likely to receive sequential voicing. When the N2 is conveyed by consonant /c/ and fricative consonant /h/, sequential voicing does not occur. Syntactically, Japanese nominal compounds are all right-headed. The formation process of all nominal compounds is a matter of 'word derivation' given the fact that, (i) √Root and the latter added morphemes are not semantically associated and it is after the merger that the semantic interpretation is established, and (ii) the N-N's category is determined by the added morphemes. In addition, lexicalisation plays an essential role during the nominal compounding process. Crucially, lexicalisation only applies to the[Nobject - N TRAN.conj.] type of compound.
Cache
ABET reaccredits 10 Alfred State programs
Stephanie M LaFever
Tue, 10/01/2019 - 14:30
Reaffirming that Alfred State is committed to providing a high-quality technical education, the Accreditation Board for Engineering Technology (ABET) has reaccredited 10 of the college's technology-related majors.
Programs that were recently reaccredited include: computer engineering technology (AAS and BS), electrical engineering technology (AAS and BS), mechanical engineering technology (AAS and BS), surveying engineering technology (AAS), surveying and geomatics engineering technology (BS), construction engineering technology (AAS), and construction management (BS).
Dr. John Williams, dean of the School of Architecture, Management and Engineering Technology at Alfred State, said, "Having the majority of our technology programs recognized by ABET highlights the strength of our faculty and programs and the great experience provided to our students."
Dr. Matthew Lawrence, chair of the Mechanical and Electrical Engineering Technology Department, said, his department is pleased that all six of its engineering technology programs have been fully accredited by ABET through 2024.
"Successful accreditation represents validation of the quality of students, faculty, and staff in the department," he said. "ABET accreditation evaluations are very thorough; over a three-day period, industry and academic experts for each program inspect course materials, review assessment procedures, and interview students, faculty, and administrators. The goal of accreditation is to verify that academic programs are taught by qualified faculty, using industry-relevant techniques and equipment, and, perhaps most importantly, producing graduates that can immediately and positively contribute in their profession after completing the degree. All program constituents deserve recognition for this accomplishment!"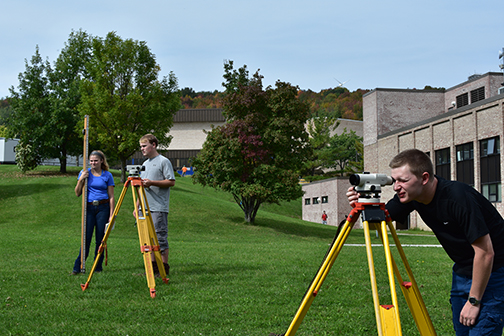 Erin Vitale, chair of the Civil Engineering Technology Department, echoed Lawrence's remarks, noting that she is very pleased about the reaccreditation of her department's programs. She noted, "ABET accreditation puts a national stamp of approval on our programs. It also gives our students credit toward the experience required for professional licenses."
According to Williams, Alfred State programs have been recognized by ABET since the 1950s. To become accredited or reaccredited, educators must create a detailed performance program for each major that aligns the program and its courses to the standards of the national professional societies that oversee each discipline. They must also continually collect and assess data regarding student performance and the level of achievement of program objectives.
"Each program must create a self-study document and host an external review team," Williams said. "This represents a lot of hard work and dedication."
In addition to the excellent news about the 10 ABET reaccreditations, Williams noted that the college's construction management BS program was recently recognized by the Applied and Natural Science Accreditation Commission (ANSAC), one of four ABET commissions that lead and conduct accreditation activities.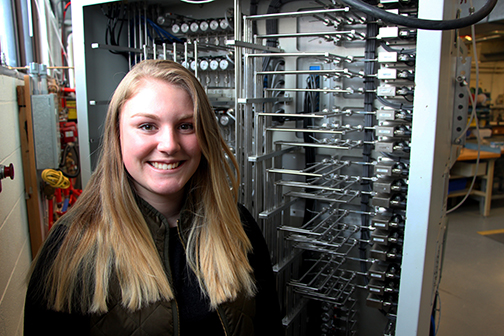 "Historically, our engineering technology programs were accredited under the Engineering Technology Accreditation Commission (ETAC)," he said. "Some recent changes at ABET headquarters required the shift of our construction management BS program from ETAC to ANSAC. This program's objectives and assessment activities needed to be modified to satisfy the new ANSAC expectations and process. This was our first ANSAC accreditation review and we were successful."
Cache
Faculty members are also expected to liaise extensively with external constituents within the community to further the mission of the University as a national…
From Zayed University - Tue, 24 Sep 2019 07:57:55 GMT - View all Abu Dhabi jobs

Cache
This week, new information about President Trump's interactions with foreign governments have rattled Washington, D.C. 
While the White House works on beating back the impeachment inquiry, members of Congress are home in their districts checking in with constituents. This task might prove difficult for those representing districts that have supported the president in the past, like Democratic Congresswoman Elaine Luria from Virginia.
Representative Luria joined Politics with Amy Walter to discuss why she decided to support the impeachment inquiry and the response she's received from constituents in a district that voted for Donald Trump in 2016. 
DC-based reporters Yamiche Alcindor of PBS and MSNBC and Rachael Bade of The Washington Post contextualize the ongoing impeachment proceedings. Tim Alberta from Politico chronicles the transformation of the Republican Party and historian Timothy Naftali demonstrates the role of bipartisanship during past impeachments. 
Amy's Final Take
This week, we also got our first polls taken since House Speaker Nancy Pelosi announced the House was starting a formal impeachment inquiry. Here's what they show: Even as support for impeachment has grown, opinions about how the president is doing his job are virtually unchanged. In other words, as we've seen over the last 2 plus years, voters are pretty locked into how they feel about this president and there's nothing that has been able to alter that. 
This is different from what we saw back during the Nixon impeachment. Back then, as support for impeachment rose, Nixon's approval rating dropped. While support for impeaching Trump is basically at the same point it was with Nixon in 1974, Trump's job approval rating is 41 percent Nixon's was just 25 percent.  It is a testament to just how much more polarized the electorate is today than it was 45 years ago. And, a reminder that even as more and more information about Trump's interactions with Ukraine are revealed — much of it is getting to Americans through partisan, biased filters like social media and cable news - making it harder and harder for any sort of 'consensus' to be found either among members of Congress - or the electorate. 
And, we end up where we've been all along. A divided country, more deeply and firmly entrenched than ever. And, those who aren't as politically engaged or aligned, struggling to make sense of it all.
Opening music: I Think Like Midnight
Cache


Absolute insanity.
Watch:

One of Ocasio-Cortez's constituents loses her mind over climate change during AOC's townhall, claims we only have a few months left: "We got to start eating babies! We don't have enough time! ... We have to get rid of the babies! ... We need to eat the babies!" pic.twitter.com/uVmOnboluI

— Ryan Saavedra (@RealSaavedra) October 3, 2019
---
Cache


Far-left "Squad" member Rep. Rashida Tlaib (D-MI) told constituents on Tuesday that her Democrat colleagues are looking into how to arrest White House officials who refuse to comply with subpoenas as part of an impeachment inquiry against President Donald Trump.

Speaking to her constituents at a town hall in her hometown of Detriot, Tlaib said Democrats are puzzled about how to arrest Cabinet secretaries, telling voters in a video captured by America Rising PAC that they could be taken into custody if Congress votes to hold them in contempt.

----

After the question of 'hunt them down' from an audience member, Rep. Tlaib wonders where Democrats will put Trump officials after their arrest.
Outrageous. Watch.


Cache
Opinion by SLO Cannabis Watch Group Following our last opinion, we expected San Luis Obispo County Supervisor John Peschong to disavow himself of his assertion that he 'owned' SLO County's Title22/23 cannabis ordinance. Instead, Mr. Peschong further entrenched himself and stated at the Sept. 19 Templeton Area Advisory Group (TAAG) meeting, "For me, it's a […]
Cache

Donald Trump threatens to 'obliterate' Turkish economy if it goes too far with Syria invasion

Turks are attacking the heroic Kurds. Trump thought he had a deal with Turkey to protect the Kurds which would allow US troops to withdraw safely

US President Donald Trump warned Turkey against going too far in Syria, after giving Ankara a green light to invade its southern neighbour.

Mr Trump said on Monday he was done with "ridiculous endless war" as he stood aside to allow a long-threatened Turkish assault on Kurdish-held Syria, effectively abandoning its allies who fought Islamic State of Iraq and the Levant (Isil).

The US had for months been working with Turkey to try to create a buffer zone along its border with northern Syria between the Turkish military and Kurdish forces which Ankara sees as terrorists.

But amid an outcry from the region and strong opposition at home from both Democratic and Republican lawmakers, the US leader appeared to reverse himself, though without drawing any specific red lines that might protect Kurdish allies.

"If Turkey does anything that I, in my great and unmatched wisdom, consider to be off limits, I will totally destroy and obliterate the Economy of Turkey (I've done before!)," Mr Trump tweeted.

Other US officials, apparently surprised by Trump's Sunday announcement, stressed that Washington will not actively support the long-threated Turkish action, warning of destabilizing blowback to the region.

"The Department of Defense made clear to Turkey - as did the president - that we do not endorse a Turkish operation in Northern Syria," said Pentagon spokesperson Jonathan Hoffman.

Turkey has repeatedly criticised the slow implementation of the buffer zone and threatened a unilateral assault, but until Monday the US had refused to stand aside.

"The Kurds fought with us, but were paid massive amounts of money and equipment to do so. They have been fighting Turkey for decades," Mr Trump said in an earlier series of tweets.

"Turkey, Europe, Syria, Iran, Iraq, Russia and the Kurds will now have to figure the situation out."

US Republican and Democrats had warned such an offensive on the Kurdish People's Protection Units (YPG), which lost 11,000 troops in the battle against Isil, could lead to a massacre of Kurds and send a worrying message to American allies across the world.

The US began pulling back some of its 1,000 troops from border towns Tel Abyad and Ras al-Ayn on Monday, and has said it will potentially depart the country should widespread fighting break out.

The announcement, first made by the White House overnight on Sunday, appeared to take both the Kurds and US coalition forces, which had been carrying out joint patrols with Turkey on the ground, completely by surprise.

Kurdish sources say they were acting in good faith trying to establish a security mechanism with the US to placate Turkey, but now felt that Ankara had been using it as a cover for reconnaisance.

Mustafa Bali, spokesman for the Kurdish-led Syrian Democratic Forces (SDF), tweeted: "We are not expecting the US to protect NE #Syria. But people here are owed an explanation regarding security mechanism deal, destruction of fortifications and failure of US to fulfill their commitments."

The White House statement was released after a phonecall between US President Donald Trump and Turkish President Recep Tayyip Erdogan on Sunday night.

Mr Erdogan had reportedly assured the US president that Ankara would take over the detention of Isil militants captured by the SDF, on the battlefield.

The Kurds have been holding thousands of Syrian and thousands more foreign Isil suspects in prisons and camps across the north of the country.

Mr Trump has repeatedly asked countries under the US-led coalition against Isil to repatriate their citizens. However, the UK, France, Germany, and other allies have so far refused.

"The United States will not hold them for what could be many years and great cost to the United States taxpayer," the White House statement said. "Turkey will now be responsible for all ISIS fighters in the area captured over the past two years in the wake of the defeat of the territorial "Caliphate" by the United States."

The decision is a massive blow to the Kurds, who not only helped hold back Isil but have for years been building an autonomous statelet in the northeast of Syria.

Turkey claims its planned "safe zone" is to purge the border of YPG forces, which it sees as a terrorist offshoot of the Kurdistan Workers' Party (PKK), which has fought an insurgency inside its territory for the past 35 years.

The proposed corridor would have an initial depth of 18 miles and a length of 300 miles and includes the Kurds' biggest urban centres, including the city of Qamishli which has an estimated 250,000 population.

Turkey on Monday night carried out air strikes on the Iraqi side of the Iraq-Syria border crossing, in what was thought to be an attack on the YPG's supply line.

Western diplomats told the Telegraph they are working on the theory that Mr Erdogan will begin by attempting to take a smaller sliver between the towns of Tel Abyad and Ras al-Ain on the border, but the Turkish president himself has previously hinted at much wider ambitions.

Mr Erdogan has said he wants to return two million of the mostly Sunni Arab Syrian refugees Turkey is hosting to the buffer zone, which some have said would amount to an ethnic repopulation.

The Kurds fear many of the Syrians that might be placed in the zone are not native to north-east Syria, and might displace the Kurdish culture and rights.

The UN said that it was "preparing for the worst", fearing an assault would send large numbers of civilians fleeing.

"This Turkish military operation in northern and eastern Syria will have a significant negative impact on our war on ISIS and will destroy everything that has been achieved from the state of stability over the past years," the Kurdish-led Syrian Democratic Forces said in a statement.

They said they would defend themselves against "Turkish aggression" and called on all sects, including Kurds, Arabs, Syriacs and Assyrians to join them.

Defending its Kurdish allies would have seen the US come against its Nato partner Turkey, which Washington was keen to avoid.

President Donald Trump has since taking office attempted to disentangle the US from drawn-out wars in the Middle East.

His goal of swift withdrawals in Syria, Iraq and Afghanistan have been stymied by concerns from US officials and American allies about the dangerous voids that would remain.

SOURCE

**********************************

America's top CEOs say they are no longer putting shareholders before everyone else

This a joke. CEOs have NEVER put shareholders first. Their own prestige, power and income have always been their first priority and that will not change. Shareholders just get the scraps

For the past two decades, the official stance of America's top corporate executives has been that the interests of shareholders came before the interests of all others—workers, consumers, the cities and towns in which their companies operated, and society as a whole.

Today, that changes.

The Business Roundtable, a lobbying group composed of the nation's leading CEOs, just announced that its members "share a fundamental commitment to all of our stakeholders"—each of whom "is essential"—while pledging "to deliver value to all of them, for the future success of our companies, our communities, and our country."

With its "Statement on the Purpose of a Corporation," the Roundtable has affirmed the need for "meeting or exceeding customer expectations"; "investing in our employees," including by "compensating them fairly and providing important benefits," as well as offering training and education so that they can "develop new skills for a rapidly changing world"; "dealing fairly and ethically with our suppliers"; "supporting the communities in which we work"; and "generating long-term value for shareholders."

Jamie Dimon, the CEO of JPMorgan Chase and the Roundtable's chairman, says he hopes that this declaration "will help to set a new standard for corporate leadership."

It is, without question, a huge deal.

As I've detailed before, through the 1980s and most of the '90s, the Roundtable held that companies had a responsibility to "carefully weigh the interests of all stakeholders," as the organization described it, and that "the thrust of history and law" buttressed this kind of broad assessment.

In 1997, the Roundtable switched course. Suddenly, it proclaimed that "the paramount duty of management and of boards of directors is to the corporation's stockholders" and that "the interests of other stakeholders are relevant as a derivative of the duty to stockholders." (The Roundtable echoed that message in 2016.)

The Roundtable's shift to a shareholder-first posture has been widely cited as a significant marker in the evolution of corporate America—both a reflection and reinforcement of an ideology that has thrilled investors, gripped executives, and knocked out a more enlightened form of capitalism that had emerged in the era after World War II.

Yet since then—and especially over the past 5 to 10 years—serving shareholders first and foremost has come under increasing attack. An expanding chorus of critics has made the case that this predilection has contributed to a short-term mindset among far too many executives, fostering a culture of indiscriminate cost-cutting and financial engineering, and has been a central reason for the explosion in income inequality.

"I read the Roundtable's statement as a return to common-sense principles of management and the recognition that employees need a bigger share of the pie to assure a healthy economy," says Judy Samuelson, executive director of the Aspen Institute's Business and Society Program.

The pressure for business to put an end to shareholder primacy has been building from a variety of quarters. Younger workers, in particular, are looking for employers that have a loftier purpose than merely maximizing their profits. More and more, customers are paying attention to which companies seem to be doing right by their people and the environment—and punishing brands that fall short. Socially conscious investors have started putting vast sums of money into financial products that use a "sustainable, responsible, and impact" lens.

Politicians have also taken up the cause. The Accountable Capitalism Act, proposed by Elizabeth Warren, the Massachusetts senator and Democratic presidential candidate, would require very large companies to obtain a new federal charter under which directors would have to "consider the interests of all corporate stakeholders."

Meanwhile, the basic tenets of shareholder capitalism have been questioned by scholars such as the late Lynn Stout, a Cornell law professor and author of The Shareholder Value Myth, who cogently argued that executives and directors have wide latitude in deciding what is best for a company and don't have any obligation—legal or otherwise—to elevate shareholders above everyone else. Journalists and think-tank types have weighed in along these lines, too.

MY DINNER WITH DIMON

Among them has been me. As Fortune's Alan Murray recounts, the Roundtable began to reevaluate its views on the relationship between shareholders and other stakeholders after a "testy, off-the-record dinner" last fall that I participated in. Dimon had invited four of us—including the Washington Post's Steve Pearlstein, Bloomberg's Joe Nocera, and Samuelson of the Aspen Institute—to JPMorgan headquarters to better understand why we kept insisting that corporate America had become overly obsessed with shareholder value and, as a result, was damaging society.

Dimon's perspective—then and now—is that most big companies already take good care of their various stakeholders. "We relentlessly invest in employees, communities, and innovation," he told me.

If that were true, of course, the new Roundtable statement would simply be codifying the current state of affairs. But with all due respect to Dimon, who deserves great credit for engaging with us and then guiding the Roundtable to recast its position, the numbers don't back him up.

Sure, no company completely ignores all of its constituents save for its shareholders. If it did, it would soon be out of business. But as a study published last week by the Center for American Progress makes clear, things are terribly out of balance.

Wages for the majority of the American workforce have been stagnant for 40 years, while their health coverage and retirement security have eroded. At the same time, corporate profits—high by historical standards—are mainly being used to reward shareholders, including CEOs themselves. Their compensation has gone up 940% since 1978; typical worker compensation has risen 12% during that time, according to the Economic Policy Institute.

For the Roundtable's statement to mean something—and not stand as empty rhetoric—this picture can't be allowed to continue.

With that in mind, I asked a half-dozen colleagues who've been at the fore of fighting shareholder primacy what would it take for them to be convinced that CEOs across the business landscape had genuinely embraced stakeholder capitalism.

For starters, several say, companies must curtail stock buybacks, if not stop them altogether. These repurchases have become a financial narcotic, with a record volume of shares being snapped up, largely in an attempt to pump up their price.

Some, including Roundtable President Joshua Bolten, defend the practice as an efficient way to deploy capital and help the economy grow. But buybacks plainly favor shareholders (including, again, CEOs), and every dollar of profit spent on them means one less dollar that can go directly to bolster worker pay, training, R&D, and other areas.

"I would make it the primary obligation of all business corporations to 'retain-and-reinvest': retain profits and reinvest in the productive capabilities of employees," says economist Bill Lazonick, who is perhaps the country's most outspoken detractor of buybacks. "I would place constraints on 'downsize-and-distribute': downsizing the company's labor force and distributing corporate cash to shareholders."

Environmental stewardship is another proving ground. Some big companies score high marks in this arena right now. But with climate change posing an existential crisis, it's crucial that corporations do far more.

"Why I'm passionate about ending shareholder primacy is that I truly think the future of the entire human race depends on it, and I'm not trying to exaggerate," says Lenore Palladino, an economist at the University of Massachusetts Amherst. "For corporate leaders to show they are committed to stakeholder capitalism, we need to see a commitment to the health of the environment as a business priority . . . a dramatic strategic reorientation towards reversing the current damage and reengineering businesses to be productive for the long term."

For sustainability pioneer John Elkington, another sign that a stakeholder model hadreally taken root would be for companies to no longer speak with two voices: one from the C-suite and another via the Washington influencers representing them.

"They would resign from all trade and industry groups which lobby to slow or stall necessary systemic changes" that would enhance the simultaneous creation of economic, social, and environmental value, says Elkington, who coined the term "triple bottom line." Then they would turn around, he adds, and "forcefully and publicly lobby for a meaningful price on carbon and for the breakup of monopolies and oligopolies."

To give the Roundtable statement some teeth, they'd also take a fresh approach to organized labor. "Welcoming, rather than fighting, a union would be a big one," says Andy Green, managing director of economic policy at the Center for American Progress. Research shows that nearly half of all workers not in a union want to join one. Yet many companies do all they can to keep this from happening.

Samuelson, for her part, would be impressed by companies "dampening down the intense focus on stock price in CEO pay." More than half of CEO compensation is share-based these days, much of it tied to short-term financial measures. Instead, executives should be paid—and to a meaningful degree—on a mix of environmental, social, and governance metrics.

The University of Toronto's Roger Martin, who has been recognized as the world's number-one management thinker, wants to see a reversal of something that, for many of the most senior executives, is even more deep-seated.

Rather than concentrate on stock price, he says, they should expressly concentrate on serving customers or developing employees or tackling some social need through innovation. Ultimately, Martin has maintained, that's the best means of taking care of shareholders anyway.

"For me, the key would be to view shareholder value creation as the logical consequence of other things, not something that you can directly pursue," he says. "It is like Aristotle who pointed out that if a person sets out to be happy, the person is unlikely to end up happy. However, if the person sets out to lead a virtuous life, the person will probably end up happy. If I could only have one thing, it would be that."

Others made additional suggestions: Companies should guarantee a living wage for all workers, including contractors. Stakeholders of different stripes (employees, sustainability experts, even everyday taxpayers) should be given seats on corporate boards. Executives should lean on business schools to stop teaching that shareholder value is the be-all and end-all of capitalism.

Much of this agenda may be dismissed as unrealistic. Certainly, none of it will be easy to achieve. And none of it is meant to imply that the Roundtable's statement isn't, in and of itself, a monumental step.

Words matter. The words of the Roundtable—a Who's Who of those at the helm of the largest U.S. corporations, from Abbott to Zebra Technologies—matter a lot. In the end, though, it is the actions of Roundtable members that will matter the most.

SOURCE

**********************************

For more blog postings from me, see TONGUE-TIED, EDUCATION WATCH INTERNATIONAL, GREENIE WATCH, POLITICAL CORRECTNESS WATCH, AUSTRALIAN POLITICS, and Paralipomena (Occasionally updated), A Coral reef compendium and an IQ compendium. (Both updated as news items come in). GUN WATCH is now mainly put together by Dean Weingarten. I also put up occasional updates on my Personal blog and each day I gather together my most substantial current writings on THE PSYCHOLOGIST.

Email me here (Hotmail address). My Home Pages are here (Academic) or here (Personal). My annual picture page is here

**************************



Cache
What do Strauss and Wills disagree on? by Nathalie Graham

Welcome to the election column from The Stranger that looks at the biggest policy issue dividing each pair of candidates fighting for a seat on the Seattle City Council.

In District 1, it was funding homeless service policies. In District 2, it was the candidates' approach to police accountability. District 3, it was progressive taxation. District 4 was zoning. District 5 was the criminalization of homelessness. Today...

District 6: It's Dan Strauss, the chief policy adviser to Council Member Sally Bagshaw and former Ballard paperboy, vs. Heidi Wills, the ex-city councilmember who went down in a Strippergate shame spiral but who's raring to sink her teeth back into city politics.
What's the biggest issue that divides Strauss and Wills?
Strauss says: Campaign contributions.
In a statement to The Stranger, Strauss wrote:
The contrast between us is demonstrated through our support and contributions. I am running a grassroots campaign and I have the most organizational endorsements. I have maintained the highest number of overall donors and in-district donors and have an average donation of $80, while my opponent's average donation is $107. I have received $91.24 in independent expenditure support, while my opponent has received $111,901.74.

My opponent is out-fundraising me with support from the same people who funded her last campaign: developers, downtown special interests, and the biggest businesses. I have returned checks that I think have strings attached - because I am accountable to the people of District 6, not special interests.
Wills says: Nothing.
Wills did not respond to multiple requests for comment from The Stranger.
We say: Homeless sweeps.
Homelessness has Ballard up in arms. Last year, homelessness quadrupled in the neighborhood. The city even introduced a "park concierge" this summer in the Ballard Commons to make sure everything is hunky-dory (aka, there are no homeless people camping in the park). Current City Council Member Mike O'Brien, though affable and progressive, won himself little favor amongst his constituents for his championing of homelessness issues. Whoever helms District 6 next will be faced with similar challenges as Seattle's homeless population continues to grow. Will they steer clear of O'Brien's approaches? Will they let public outrage dictate how they legislate?
Wills supports sweeping homeless encampments. At a recent debate, she called them "the only tool the city has to help people find the services that they need."
This, additionally, was her vague answer to Real Change News when she was asked twice about her position on sweeps:

I think that the people living in tents in parks and in open spaces without hygienic facilities is really problematic, and I think that we need to ensure that there's a place, of course, for people to go.
Strauss, on the other hand, is against sweeps. He said in that same debate that he was against them unless there's a public-health reason for clearing an encampment. If not, the Navigation Team, the team that conducts the homeless sweeps, is "wasting money," Strauss said.
"Unless there's a public safety or public health reason," he added, "we're just using our dollars inefficiently because we don't have a place for people to go."
According to a recent report by Erica C. Barnett, the Navigation Team is infective and "only about 8 percent of people the Navigation Team contacts when they're removing encampments—128 out of 1,583—actually end up in shelter."
[ Subscribe to the comments on this story ]
Cache
by Morgan Troper

At the end of 2017, Tim Heidecker's On Cinema—a web series lampooning film criticism that the comedian co-hosts with Gregg Turkington—apexed with a five-hour long, fictitious murder trial. Despite overwhelming evidence that Tim Heidecker's character was guilty of several counts of murder (several attendees at a fake music festival he funded overdosed on vape pens, which these days hits a little too close to home), Heidecker was found innocent—and promptly launched a garish social media campaign around his implausible candidacy for San Bernardino district attorney.

This is where the feature-length film Mister America—which screens at the Beacon on Wednesday—comes in. It's a spin-off of a spin-off of a goofy web-series, and will likely only entertain those who have fully immersed themselves in the On Cinema universe—which, when taking into account the show's 10 seasons, its annual Oscar specials, and its self-contained offshoot Decker, clocks in at an agonizing 20 hours of content.

If you are one of those people, Mister America is frequently funny. At best, it plays like a bizarro version of The War Room—just sub George Stephanopoulos with a woefully incompetent publicist-turned-campaign advisor named Toni (Terry Parks) and Bill Clinton for Heidecker's On Cinema persona, a mix of O.J. Simpson and Trump. But just as often, Mister America's comedy is imperceptible: Take one early scene, when Heidecker and Toni discuss immigration. It doesn't seem like a parody, and there's no punchline. It just feels like a legitimately racist conversation, and it speaks to the dangers of ineffective satire. By the end of the film, when Heidecker breaks down and apologizes to his constituents after a violent outburst at a town hall debate, you don't even feel sorry for the guy. You just want him out of your sight.

[ Subscribe to the comments on this story ]



Cache
Congresswoman Rashida Tlaib told constituents at a town hall in Detroit that she and her colleagues are actively reviewing ways to arrest Trump officials.


Next Page: 25 © Googlier LLC, 2019