Cache
Help keep this vibrant community alive, by contributing funds so Naked Capitalism can continue to produce independent, hard-hitting content.
Cache
Jason Hartman talks with Dr. David D Friedman, son of Milton Friedman, former professor at Santa Clara University in the Law School, and author of books such as The Machinery of Freedom: Guide to a Radical Capitalism and Law's Order: What Economics Has to Do with Law and Why It Matters. The two dissect what role the government should have in society: what it's capable of and what it need to steer clear from, while also delving into the 4 problems that need to be addressed in a feud system.
Key Takeaways:
[1:47] How David's thinking is similar and different than his father's
[4:00] Can the government actually be out of everything?
[8:21] One of the mistakes that supporters of free markets make is implying that things won't ever go wrong
[11:51] Market failure is a mark for and against government
[17:43] What David learned about feud law when looking at various legal systems
[21:38] Making the tort claims transferable would make our legal system much better
Website:
Cache
Teaching Machines
Revisions continue.
Other Writing
Visiting
The big activity this week, I reckon, was my son had major surgery on Wednesday. He's staying with us while he recovers from this – and it's going to be a long recovery.
Icon credits: The Noun Project
Cache
Waste Tide
by Chen Quifan (2019)
read: 4 October 2019
rating: [0]
So good and so terrible! A searing indictment of capitalism and a fascinating look into complex Chinese culture. And yet every female character was dead, dying, tortured or a 2d cutout. Did not know it was trending that way until I was too deep in to bail. Like literally most of the characters could be described as downtrodden, sure, but none of them get sadistically assaulted until halfway through the book. As someone who tries to avoid that sort of thing, I felt I was invested. And also, if I'm being honest, hoping for a redemption in this book which didn't really happen.
Cache
Sen. Lamar Alexander

I believe climate change is real.

I believe that human emissions of greenhouse gases are a major cause of climate change.

So, as one Republican, I propose this response: The United States should launch a New Manhattan Project for Clean Energy, a five-year project with Ten Grand Challenges that will use American research and technology to put our country and the world firmly on a path toward cleaner, cheaper energy.

Meeting these Grand Challenges would create breakthroughs in advanced nuclear reactors, natural gas, carbon capture, better batteries, greener buildings, electric vehicles, cheaper solar, fusion and advanced computing. To help achieve these Ten Grand Challenges, the federal government should double its funding for energy research and keep the United States number one in the world in advanced computing. (Read the rest of Lamar's essay)

Rod's Comment: I agree with Senator Alexander that climate change is real. I know, I know; some of you think I am nuts. Anytime I say this, it is met with derision by fellow conservatives. I am told I have drank the Kool Aid. Unfortunately, many Republicans have bought the argument that is all a hoax. I find the science and observations compelling. Not that I do not respect the doubters. The "hide the decline" exposé of a few years ago was enough to spread doubt. The repeatedly missed deadline for the end of the earth made one think the climate change warriors were just Chicken Littles. Still, on balance I think the evidence supports the theory.

I am not so sure the climate change warriors really believe climate change is real. If they did, I think they would embrace nuclear energy, natural gas, technology and a growing economy and capitalism. Unfortunately, most climate change warriors seem more motivated by hatred of modernity, science and capitalism than motivated by a desire to curtail climate change. Maybe it is unfair to say they don't believe that climate change is real; one can agree on the problem and disagree on the means to solve it.

We are not going to end climate change by turning the clock back to the middle ages. We are not going to solve climate change by embracing renewable energy. That may be a minor part of the solution but not a very significant part. Like Senator Lamar says, we need to embrace the future and create large amounts of clean, inexpensive energy. We need to encourage economic development because most of the increase in greenhouse gases is in developing countries.

Lamar says the "Green New Deal," is basically an assault on cars, cows and combustion. It is a plan that could never work. Capitalism and American innovation are the answer; not deprivation and socialism.




Cache
That the changing climate touches everything and everyone should be obvious—as it should be that the poor and marginalised have most to lose when the weather turns against them. What is less obvious, but just as important, is that, because the processes that force climate change are built into the foundations of the world economy and of geopolitics, measures to check climate change have to be similarly wide-ranging and all-encompassing. To decarbonise an economy is not a simple subtraction; it requires a near-complete overhaul. To some—including many of the millions of young idealists who, as The Economist went to press, were preparing for a global climate strike, and many of those who will throng the streets of New York during next week's un General Assembly—this overhaul requires nothing less than the gelding or uprooting of capitalism. After all, the system grew up through the use of fossil fuels in ever-greater quantities. And the market economy has so far done very little to help. Almost half the atmosphere's extra, human-made carbon dioxide was put there after the turn of the 1990s, when scientists sounded the alarm and governments said they would act. <a href="https://www.economist.com/leaders/2019/09/19/the-climate-issue" title="Facebook" rel="nofollow">In fact, to conclude that climate change should mean shackling capitalism would be wrong-headed and damaging.</a> There is an immense value in the vigour, innovation and adaptability that free markets bring to the economies that took shape over that striped century. Market economies are the wells that produce the response climate change requires. Competitive markets properly incentivised, and politicians serving a genuine popular thirst for action, can do more than any other system to limit the warming that can be forestalled and cope with that which cannot. ... Change by the people who are most alarmed will not be enough.

Cache
In Democracy and Prosperity: Reinventing Capitalism through a Turbulent Century, Torben Iversen and David Soskice add to current debates concerning the relationship between democracy and capitalism by arguing that they mutually support each other and enable resilience through turbulence and crisis. This is a welcome contribution to scholarship exploring the 'crisis of democratic capitalism', writes M Kerem Coban, and offers a unique and provocative framework that […]
Cache
"the WASP ascendancy was just a myth" That is an original idea. No, I think the WASP Ascendency was real. It was not a question of numbers. If it was, there never would have been an American entry into WW2 because German, and CAtholic Americans -actually most Americans - didn't want it right up until Pearl Harbor. However Roosevelt, the Anlo elite and organized Jewry wanted to bring Fascism down. Fascism offered an alternative to Anglo Jewish capitalism - free markets and usury - and did so in the middle of the great depression. Something had to be done about it. The WASP got it done. But then what happened to the WASP? Today, who even talks abut them? They do seem like a myth. But I do not think Jews rule because they are so intelligent though it doesn't hurt. I think Jews rule because there is something Jewish value-wise about Anglo societies as opposed to Germanic societies. Why this is so is my question.

Cache
If you live in Venezuela and rely on Adobe products to do your job -- whether that's publishing a newspaper, running an NGO, or doing design work, Adobe has a very special message for you: GO FUCK YOURSELF.
Today, citing US sanctions, Adobe terminated every software license in the country of Venezuela. And because Adobe has "pivoted to the cloud," switching its software to "software as a service," that means that all the software that some of the most desperate, hard-hit people in the world paid good money for are out in the cold.
They're not issuing refunds, either.
It's just part of Adobe's repudiation of capitalism and the idea of private property -- just because you paid for your Adobe products, you don't actually own them.
You've charged me, when will I get my refund?

We are unable to issue refunds. Executive order 13884, orders the cessation of all activity with the entities including no sales, service, support, refunds, credits, etc. What about the free services I use? Am I still able to access them?

Adobe will no longer provide access to software and services, including free ones, or enable you to make any new purchases. We apologize for the inconvenience. When will I lose access to my Adobe accounts and content?

You have until October 28, 2019 to download any content that you have stored in your Adobe account. After this date your account will be deactivated.
Adobe compliance with U.S. Executive Order | Venezuela [Adobe] Read the rest
Cache
On a trip to Ottawa, a few years ago, I got to tour the offices of the e-commerce company Shopify, courtesy of a friend of mine I was visiting who works there. Shopify makes and updates a platform over 800,000 online stores from around the globe use to sell their products, which in 2018 amounted to around $41.1 billion in sales. I remember the workplace looking immaculate and like a fun and exciting place to be. My friend, whose "discipline" at the company is user experience, said he'd been loving it. Shopify has a culture of constant and constructive feedback—posters on the walls say, "Feedback is a gift"—and annual in-company conferences offer employees opportunities to level-up their skills or learn new ones related to their work. He knows that his growth and development matter to the company and, as a result, he feels not only a strong sense of identity and purpose, but also autonomy. He, like many of his coworkers in the R&D department, are given space to make their own decisions when it comes to completing tasks managers assign. It's a consequence, among other things, of the company taking seriously the thesis of Drive: The Surprising Truth About What Motivates Us, a book that's visible on hallway bookshelves. When I told my friend recently that one of Shopify's executives, Toby Shannon, the company's chief support officer, would be part of an Ethical Systems panel on how evolutionary thinking could foster more ethical and effective cultures, he said he wasn't surprised. Shannon, he told me, often gives inspiring talks that weave in ideas from psychology and anthropology.
Well, on a recent evening at NYU's Stern School of Business, it was a pleasure of mine to attend that panel. Shannon was part of a fascinating discussion with evolutionary anthropologist David Sloan Wilson, co-author most recently of Prosocial: Using Evolutionary Science to Build Productive, Equitable, and Collaborative Groups, and Theranos-whistleblower Erika Cheung, who just launched Ethics in Entrepreneurship, a nonprofit dedicated to instilling ethical culture in startups. The conversation revolved around what Wilson called the "core design principles" of effective groups—businesses included—which he, along with social scientist Michael Cox and political economist Elinor Ostrom, elucidated in a 2013 paper in the Journal of Economic Behavior & Organization. Wilson explained that the principles, of which there are eight, emerge from the evolutionary dynamics of cooperation in our own species and others.
In his introductory remarks, Wilson did his best to briefly illustrate those dynamics —otherwise called "multilevel selection"—using the classic board game Monopoly. As opposed to the usual self-centered tactics you use when you're playing for yourself, imagine, he said, playing in a Monopoly tournament, where you're on a team, with teammates playing simultaneously on other boards, and real-estate holdings synced across games: In this set-up, winning would require you to adopt almost entirely different tactics from solo play. You couldn't play for yourself and expect your team to win. You'd have to cooperate, basing your play on the state of other boards in the tournament. As a result, it's no coincidence that, when you glance at the list of core design principles for effective groups, the items look commonsensical and moral: We're social beings, evolved to rely not only on our own wits but on those of others. Ask yourself, if you were on a team, would you want these principles to be firmly in place?
Strong group identity and sense of purpose

Fair distribution of costs and benefits

Fair and inclusive decision making

Monitoring agreed upon behavior

Graduated sanctions for misbehaviors

Fast and fair conflict resolution

Authority to self-govern

Appropriate relations with other groups
Shannon himself wants to apply this paradigm in his work shaping Shopify's organizational culture, having been an aficionado of evolutionary thinking after reading books like Consilience: The Unity of Knowledge, by biologist E.O. Wilson. But of course it is a challenge keeping a rapidly expanding business and employee population running effectively while keeping merchants happy with a critical piece of their infrastructure. He took to heart anthropological observations, across various domains, concerning the optimal size of working groups, which usually consist of five to 12 people—think juries, sports teams, military squads. The goal from the beginning, he said, was to "build a 100-year organization," which meant not feeling beholden to traditional (short-term financial) metrics of business success. For example, he said, "There's nothing in the physics of capitalism that requires a quarterly focus." He was told that Shopify's plan—to have users of its online-store platform profit more than Shopify itself—was unwise. He disagrees. Having Shopify's users—as well as developers who add features on top of Shopify's platform—take top profits, his reasoning goes, benefits the ecosystem in which Shopify operates, ensuring the company's importance and longevity. Shannon said that he championed a sort of evolutionary aphorism: "Selfishness beats altruism within groups, but altruism beats selfishness among or between groups"—a bit of wisdom he took from Consilience.
Cheung said that Theranos actually had some of the core design principles in place, notably the first—strong group identity and a sense of purpose. This is what galvanized investors and the media and so many employees like herself, who cared deeply about patients and wanted to improve their health outcomes along with the cost of healthcare. Theranos' mission, taken at face value, was a good one, and Cheung was committed to realizing it. But the principles it lacked lead to its undoing—specifically fair and inclusive decision making. "The healthcare portion of the company's voice wasn't heard," she said. When they'd raise issues with the product, or process, they "were siloed, spied on."
One of the problems that Cheung wants to address is the tendency among startups, as they scale from, say, five to 400 employees in two years, to inadvertently shed their initial identity or culture to the company's detriment. She asked Wilson how one might harness cultural evolutionary processes to avoid this predicament. He said neither a laissez faire nor a centralized planning approach works. "The experimental process does," he said. Best practices are often stumbled on by happenstance. It means you have to be evolutionary, iterative, and humble about solutions. His best guess is that, as a company rapidly scales, it has to add structure—formalize the aspects of its culture it wants to keep—to stay the same. "Being mindful of that is part of the solution," he said. "Left unmanaged, evolution will take us where we don't want to go."
Social psychologist Jonathan Haidt, Ethical Systems' founder, who was moderating the discussion, picked up on that thread. "Ethical systems wasn't founded on evolutionary ideas," he said, "but it's been implicit in our experimental ethos." For a business' culture to be guided or informed by behavioral science means being willing, even eager, to try new things.
The video of our discussion with David Sloan Wilson, Erika Cheung, and Toby Shannon will be available for viewing soon—stay tuned!
Brian Gallagher is Ethical Systems' Communications Director. Follow him on Twitter @brianga11agher.
Cache
This week's list of articles, news items, opinion pieces and videos that I see as a must if you are looking for a roundup that should be of interest to The Left Chapter readers.

This list covers the week of September 29 - October 6.


For those interested in news and developments in the Canadian election this will be covered in a separate weekly roundup the fourth of which this past Friday was: Scheer's Very Bad Week, PPC At It Again and more -- The Left Chapter Canadian Election Round-up Week Four

1) Riots at Greek refugee camp on Lesbos after fatal fire

Helena Smith, The Guardian

Greek authorities are scrambling to deal with unrest at a heavily overcrowded migrant camp on Lesbos after a fire there left at least one person dead.

2) Quebec should apologize for systemic discrimination in treatment of Indigenous people, Viens report says

Benjamin Shingler, Kamila Hinkson · CBC News

The Quebec government should apologize to First Nations and Inuit for the harm they have endured as a result of provincial laws, policies and practices, says the author of a damning report into the treatment of Indigenous people.

3) Misogyny, male rage and the words men use to describe Greta Thunberg

Camilla Nelson & Meg Vertigan, The Conversation

Greta Thunberg obviously scares some men silly. The bullying of the teenager by conservative middle-aged men has taken on a grim, almost hysterical edge. And some of them are reaching deep into the misogynist's playbook to divert focus from her message.

4) 'Based in hatred': violence against women standing in Colombia's elections

Julia Zulver, The Guardian

The body of mayoral candidate Karina García was found shot and incinerated in her car in the Cauca department of southern Colombia, on 1 September.

5) How a brief socialist takeover in North Dakota gave residents a public bank

Will Peischel, Vox

There's a legislative fight brewing in California. Supporters are pushing a public banking law that could redefine the state's financial landscape, while detractors call it a government intrusion. Both would benefit to look at an unusual source — North Dakota — where a similar policy has been in place for a century.

6) The judge's bizarre remarks in the Ezekiel Stephan case signal a miscarriage of justice

Juliet Guichon, Ian Mitchell and Pauline Alakija · CBC News

In deciding that Collet and David Stephan were not guilty of failing to provide the necessaries of life in the 2012 death of their son, Ezekiel, Justice Terry Clackson ​​​​​​issued a written decision that, in our view, improperly focused on the medical examiner's accent, and not on the medical evidence. Such focus is suspect, and could be evidence of racism.



7) The Phony Liberalism of Bill Maher

Alan MacLeod, Truthdig

Ultimately, Maher has built up an impressive following and continues to espouse snarky elitist hot takes weekly for HBO, earning an estimated $10 million per year doing so. Call him a racist, a bigot or an astute businessman; just don't call him a liberal.

8) We were told capitalism had won. But now workers can take back control

Grace Blakeley, The Guardian

Class politics is reemerging in response to the huge inequality caused by the 2008 crash. And it's time to take on the City.

9) Capitalism's triumph: Labor rights violated in every country on Earth

Systemic Disorder

In what country are labor rights fully respected? The sad answer is: none.

10) New Video May Signal Dangerous Change For Neo-Nazi Terror Cell

Mack Lamoureux and Ben Makuch, Vice

A neo-Nazi terror group under investigation by the FBI has released a propaganda video that one expert is calling "incredibly significant" and "essentially a declaration of war." This comes after the group has already been linked to five murders, and was named in an FBI investigation involving an alleged bomber in Las Vegas who stockpiled explosives and firearms for a planned attack on the city's Jewish and LGBTQ communities.

11) Protesters rally outside North York industrial bakery in wake of death of temp worker

Sara Mojtehedzadeh, The Toronto Star

It was a protest underpinned by a simple question: how many vigils are necessary?

12) SACRAMENTO AMAZON WORKERS ARE PROTESTING AFTER WOMAN WAS ALLEGEDLY FIRED FOR SPENDING EXTRA HOUR WITH DYING MOTHER-IN-LAW

Melissa Lemieux, Newsweek

Amazon workers at the company's Sacramento, California delivery location united to present a petition to their supervisor September 30 to protest the company's off-time policy, according to The Verge.

13) The Fake Nazi Death Camp: Wikipedia's Longest Hoax, Exposed

Omer Benjakob, Haaretz

For over 15 years, false claims that thousands of Poles were gassed to death in Warsaw were presented as fact. Haaretz reveals they are just the tip of an iceberg of a widespread Holocaust distortion operation by Polish nationalists.



14) European Parliament launches anti-communist crusade

Steve Sweeney, People's World

Communists and left organizations have hit out at a reactionary "ahistorical" motion passed by the European Parliament last month which equates communism with "the monster of fascism."

15) Communist Party of Ukraine addresses open letter to the Ukrainian and Russian peoples

Ben Chacko, The Morning Star

UKRAINE'S Communist Party published an open letter to the peoples of Ukraine and Russia today, warning against the rise of fascism and of bids by the ruling elites in each country to turn their populations against one another.

16) Irregular votes, panicked moves, kiosks

Drew Anderson, CBC News

It was fall of 2017. Jason Kenney, former prime minister Stephen Harper's chief lieutenant, and Brian Jean, who had led Alberta's recently dissolved Wildrose Party, were vying to lead the newly created United Conservative Party. On the second day of the three-day leadership vote, a panicked call came from Kenney's campaign in Calgary ordering his team in Edmonton to shut down a voting kiosk they had set up in an empty storefront in a strip mall.

17) Press and OAS's Differential Treatment to Venezuela vs. Crisis in Peru and Ecuador?

Orinoco Tribune

So far, neither the OAS nor the government of the US president, Donald Trump, have ruled against the violation of Ecuadorian human rights or the confrontation of powers in Peru.

18) Ecuador arrests taxi, union leaders as strike over end of fuel subsidies spills into 2nd day

The Associated Press

Ecuadoran authorities dispatched military vehicles to ferry civilian passengers Friday and arrested several transport union leaders in efforts to halt a strike that shut down taxi, bus and other services in response to a sudden rise in fuel prices.

19) Correa: No One Voted For The IMF Or The Increase In Fuel Price

Telesur

The former Ecuadorean president warned that Lenin Moreno "is scared to death for his betrayal to the movement (Revolucion Ciudadana) and the people", because he has taken measures diametrically opposed to his own and to the programmatic proposals that led him to the government.

20) Ecuador Assembly Calls for President's Removal, Early Polls

Telesur

Former members of Ecuadorean President Lenin Moreno's own party, Alianza PAIS, have announced they are demanding early presidential and congressional elections due to the executive's "non-compliance of functions."

21) Ecuador's Transport Workers Strike, Take to Streets to Reject Pro-IMF Neoliberal Reforms

Telesur

Ecuador woke up this Thursday with a total stoppage of activities as a result of a nationwide strike announced by transport workers and taxi drivers to protest against the "Paquetazo", a package of austerity policies which President Lenin Moreno announced Tuesday in order to comply with suggestions presented by the International Monetary Fund (IMF9 in return for billions of dollars in loans.

22) Thousands of Indigenous Farmers Head Towards Ecuador's Capital

Telesur

Ecuador's indigenous and union organizations kept protests going on Saturday and promised not to let-up in their push to overturn President Lenin Moreno's austerity measures, which have convulsed this South American country for three days on a row.

23) Peru: 'Interim President' Araoz Quits, Vizcarra Still in Power

Telesur

Peruvian Interim President Mercedes Araoz announced her resignation Tuesday night as Vice President of the country and as head of state, a designation conferred by Congress Monday night.

24) Peruvian Left Backs Dissolution of Congress: Interview

Telesur

Progressive media outlet Nodal interviewed leftist congresswoman Indira Huilca from the New Peru Movement Party this week. During the interview, they discussed Peru's political crisis and what the left sees as the solution to the never-ending corruption scandals that have engulfed the country. Huilca stated stated that Congress has lost legitimacy and is only trying to impede the rooting out of corruption that they represent, but that a genuine solution will involve going much further than Vizcarra is proposing, and will require confronting the corporate interests fueling corruption.

25) Egypt's Harsh Crackdown Quashes Protest Movement

Vivian Yee and Nada Rashwan, The New York Times

A group of teenagers arrested on their way to buy new school clothes. An illiterate shoeshiner picked up from the street. Eight people stopped while they were eating from a street food cart. And a 28-year-old financial auditor, who was walking to his car after dinner when police officers ordered him to stop.

26) Haiti on Brink of Revolution to Overthrow US-Backed Regime

AMW

Revolutionaries destroyed police headquarters, attacked residences of government officials, and burned a jail and courts to the ground in different parts of Haiti on Friday.

27) Bolivia Launches Reforestation Plan for Areas Affected by Fires

Telesur

Bolivia's government has launched 'Plan Paradise' to reforest areas of the Chiquitania, Santa Cruz, that was affected by forest fires. The plan will bring together experts with governmental authorities to calculate the best ways of reforesting burnt areas.

28) Cuba Manages Fuel Shortage With Venezuelan, Russian Cooperation

Telesur


During the first week of October, a fleet of oil tankers from Venezuela arrived in Cuba to help President Miguel Diaz-Canel to alleviate fuel shortages generated by the U.S. economic and financial blockade.

29) Fearful of Lula's Exoneration, His Once-Fanatical Prosecutors Request His Release From Prison. But Lula Refuses.

Glenn Greenwald, The Intercept

Lula's accusers are desperately trying to get him out of prison, while he insists on staying there until he's fully exonerated.

30) At Least 42 Dead After Days Of Violent Protests In Iraq

Scott Neuman, NPR

Iraqi security forces fired live rounds to disperse crowds of protesters in Baghdad on Friday, as the death toll from days of anti-government unrest has reached at least 42, according to officials.

31) Bolivia to Introduce First Domestically-Made Electric Vehicle

Telesur

President Evo Morales officially presented on Tuesday the first electric car to be manufactured in Bolivia, produced by state owned company YLB. Morales presented the vehicle at the official opening of a new lithium technology center in Potosi.

32) Fighting Calls for Impeachment, Trump Intensifies Anti-Semitic Rhetoric. We Cannot Ignore It.

Mehdi Hasan, The Intercept

"PRIME DIRECTIVE: Always Blame the Jews for Everything."

33) Trump Bars Immigrants Who Cannot Pay For Health Care

Richard Gonzales, NPR

President Trump signed a proclamation late Friday barring legal immigrants who cannot prove they will have health care coverage or the means to pay for it within 30 days of their arrival to the United States.

34) Shoot Them in the Legs, Trump Suggested: Inside His Border War

Michael D. Shear and Julie Hirschfeld Davis, The New York Times

The Oval Office meeting this past March began, as so many had, with President Trump fuming about migrants. But this time he had a solution. As White House advisers listened astonished, he ordered them to shut down the entire 2,000-mile border with Mexico — by noon the next day.

35) Advocates Say President Trump's Immigration Policy Is 'A Tool Of Cruelty'

Joel Rose, NPR

Immigrant advocates asked a federal appeals court on Tuesday to block the Migrant Protection Protocols (MPP), a key part of President Trump's immigration policy. The policy forces asylum seekers to wait for their immigration court hearings in Mexico.

36) Supreme Court Revisits Abortion With Louisiana Case

Nina Totenberg, NPR

The U.S. Supreme Court has jumped headlong back into the abortion wars. The court said Friday that it will hear arguments in a case from Louisiana that is nearly identical to a Texas case decided by the court three years ago.

37) Palestinian Tortured by Israel's Shin Bet in Critical Condition

Telesur

44-year-old Palestinian Samir Arbeed was admitted to a hospital in Jerusalem after been interrogated and tortured by Israel's Shin Bet - domestic intelligence service - who is accusing him to be the mastermind behind an alleged attack in an illegal West Bank settlement.

38) Anti-Palestinianism is the modern day McCarthyism

Asa Winstanley, Middle East Monitor

As regular readers of this column will know, the McCarthyite atmosphere in Britain against supporters of Palestinian rights is getting worse. That is down in part to the Labour Party leadership's acquiescence to the smear campaign to portray the party as anti-Semitic. The Labour National Executive Committee's acceptance of the bogus IHRA "working definition" of anti-Semitism last year gave the document undeserved acceptance and currency; it deliberately conflates anti-Semitism with criticism of Israel for being the racist state that it so evidently is.

39) It's Still Netanyahu's Israel

Douglas Greenwald, Jacobin

Over the past decade, Benjamin Netanyahu has remade Israeli politics in his own image. Though his career now hangs by a thread, his legacy of far-right pandering and cold-blooded "management" of Palestinian oppression will live on.

40) After US Senator Asks Public to 'Imagine' CIA Interfering in Foreign Elections, Historians Are Like... Uhhh

Eoin Higgins, Common Dreams

Comments from Sen. Mark Warner responding to reports that Attorney General Bill Barr asked a number of world governments for help in refuting the investigation into Russian interference with the 2016 U.S. election were met with ridicule Friday as observers mocked the suggestion that the CIA would never do such a thing.

41) Cook's arrival was a disaster for Māori. Britain's half-hearted apology isn't good enough

Tina Ngata, The Guardian

As we mark 250 years since the arrival of Captain Cook in New Zealand, we are still seeing crimes against indigenous peoples and their territories.

42) Workers Are Falling Ill, Even Dying, After Making Kitchen Countertops

Nell Greenfieldboyce, NPR

Artificial stone used to make kitchen and bathroom countertops has been linked to cases of death and irreversible lung injury in workers who cut, grind and polish this increasingly popular material.

43) Irrigation For Farming Could Leave Many Of The World's Streams And Rivers Dry

Dan Charles, NPR

Something odd is happening to streams and rivers on the high plains of Kansas and Colorado. Some have disappeared.

44) My Community Is Warming Three Times Faster Than the Rest of the World

Paul Josie; as told to Jackie Hong, VICE

Canada's North is warming three times faster than the global average. Nowhere is this more acutely felt than in places such as Old Crow, the northernmost community in Yukon and home to the Vuntut Gwitchin First Nation. Earlier this year, Vuntut Gwitchin became among the first Indigenous communities to declare a climate emergency. Last week, Whitehorse, Yukon's capital, also declared a climate emergency.

45) 'Things are getting unstable': global heating and the rise of rockfalls in Swiss Alps

Denise Hruby, The Guardian

As Switzerland's glaciers melt, dangerous rockfalls become more likely and towns are forced to live under an existential threat.

See also: Canadian Climate Strikes, Climate Emergency, Labour Resolutions & more -- The Week in News, Opinion and Videos September 22 - 29

Cache
Environmentalists want us to believe that the Catastrophic Flooding and extreme weather in the midwest, Canada and the rest of the world are a result of CO2/"human carbon footprint" caused "Climate Change." The MSM is predicting that these scenes could be 'The New Normal,' but nothing is normal about any of this. ALL this wanton destruction is being caused by TECHNOLOGY: "'Geo'engineering" or "Weather Warfare" with the stated goal of bringing the world under a One World Economic/Religious/Political system. In the 1991 paperback report by the Council of The Club of Rome titled, "The First Global Revolution," President Emeritus Alexander King and Secretary Bertrand Schneider spelled it out: "The common enemy of humanity is man. In searching for a new enemy to unite us, we came up with the idea that pollution, the threat of global warming, water shortages, famine and the like would fit the bill. All these dangers are caused by human intervention, and it is only through changed attitudes and behavior that they can be overcome. The real enemy then, is humanity itself." – Club of Rome – The First Global Revolution In 2017 at a news conference in Brussels, the executive secretary of the U.N.'s Framework Convention on Climate Change, Christiana Figueres, confirmed the ECONOMIC goals of the "Climate Change" deception: "This is the first time in the history of mankind that we are setting ourselves the task of intentionally, within a defined period of time, to change the economic development model that has been reigning for at least 150 years, since the Industrial Revolution," In reference to a new international treaty that environmentalists hoped to be adopted at the Paris climate change conference later that year, she said: "This is probably the most difficult task we have ever given ourselves, which is to intentionally transform the economic development model for the first time in human history." While Capitalism has its shortcomings, it has been the only successful economic model in the last 150 years, cutting work days in half, hence doubling lifespans. But this runs contrary to the UN's Sustainability Agenda/Agenda 21/depopulation agenda. America's Food Prices are Expected To Skyrocket in the wake of the ENGINEERED "bomb cyclone," which brings the words allegedly uttered by globalist Henry Kissinger in 1974 to mind: "If you control the food supply, you control the people". "[After] March's 'bomb cyclone' and record amounts of snow across large parts of the country. The Weather Channel recently put out this story warning of historic and widespread flooding across vast swaths of Central and Midwestern USA as snow melts, leaving huge parts of 'America's breadbasket' under water. As this story at WYFF reports, Midwestern flooding could become 'the new normal' though officials are blaming 'global warming' and 'climate change' for the disasters that have already caused over $1.4 BILLION worth of losses to the US food supply in Nebraska alone with experts warning that the flooding has only just begun. Huge parts of the areas where much of America's food is grown are now underwater with severe and moderate flooding all along the Mississippi and Missouri Rivers, leaving many farms completely under water, with levees compromised, animals dead and crops meant to be eaten instead destroyed." Stefan Stanford – ANP

Cache
Whether there is indeed an anti-correlation of the poles (a polar sea saw), or just independent chaotic dynamics, I agree that all evidence supports a modern warming period. I also agree that sea level is rising at >2.5mm/year. My question is whether this is more dangerous than handing global governance over to the people who organized sixteen-yr-old Greta Thunberg's expedition to UN General Assembly microphone to scorn western civilization? Statistics helps put things into perspective. We know that 20th century sea level rise was about 25mm. That's 2.5mm/yr on average. Looking at the figure I posted above, by the way from Chen et al (2017), the year 2000 ends at 2.4mm/yr sea level rise. If my math is correct this could fairly be called a zero acceleration in sea level rise in the 20th century. BTW, I stated incorrectly that the graph showed an interval of negative thermal expansion after the 1991 eruption. It's actually a decline in the rate of growth of expansion. Still, it's a surprisingly long indicator trail of negative forcing to a modestly sized eruption. The truly relevant questions are: 1) Has political bias infected climate science or is Mann and Oreskes work just fine? 2) Are the IPCC AOGCM models reliable reproductions of climate? Are they more relevant than observational EBM models, i.e. Lewis and Curry? 3) Do you trust the same squad that is bent impeaching Donald Trump currently with confiscating 10 trillion or more of wealth and directing it wisely? 4) Will innovation and healthy capitalism be enough to replace fossil fuels and perhaps even find weather mitigation techniques before it is "too late." Dewitt, this string and our lifetimes are too short for anything more than your yes or no response on these four questions. -Regards Ron

Cache
I thought All Hallows' Eve borrowed the date from Samhain. Oh well, whatever... :) Capitalism appropriates everything, for good and ill...

Cache
At the beginning of the quest "Merlin's Crystal," in the massively multiplayer online role-playing game (MMORPG) RuneScape, the player must talk to a non-player character, or NPC, named "King Arthur." Though RuneScape takes place in the fantasy realm of Gielinor, Arthur notes that "Back in England, [Merlin] got himself trapped in some sort of magical Crystal," and the player must help break him out. Much to fans' amusement, this section of dialogue implies that England — and thus, our world — exists within the universe of RuneScape. Jagex, RuneScape's developers, are no strangers to in-game "Easter eggs." Most are occasional fourth-wall breaks, meta jokes, or references to real-life material, like the mythological King Arthur and the Knights of Camelot. These connections are mostly innocuous, and they fit within a well-established history of cross-referencing within the fantasy genre. One connection between the land of Gielinor and our own, however, is not so innocuous: money.
Real-world trading is the process of exchanging in-game currency for real-world currency and vice versa. Though strictly against the rules of RuneScape, it is a widespread phenomenon in-game, and its potential for real-world profit has given rise to entire industries of gold farmers and traders. Currently, the website "RSgoldfast" — an illicit but popular real-world trading website — marks the exchange rate at 1 million gold per .79 USD. According to Mod Mat K, a product manager at Jagex, "at any given time, 50 percent of all players are engaging with real-world trading." Even if real-world trading is not a planned feature of the RuneScape economy, it is a feature nonetheless. Beyond the game itself, real-world trading has legal implications. As the RuneScape code of conduct explains, "Nobody has our permission to sell RuneScape accounts or any RuneScape related virtual in-game items. All RuneScape accounts and virtual items are the property of Jagex Ltd and players are only granted a limited, revocable permission to use accounts and virtual items." The world of RuneScape and all exchanges within it are the property of Jagex; any real-world gain from the game belongs to Jagex, and thus, these activities are akin to theft. Moreover, real-world trading often occurs via hacking, phishing, or other illicit ways of obtaining access to players' accounts. It also can involve real credit card fraud, as gold farmers use others' credit cards to pay for RuneScape membership.
But before we analyze the RuneScape economy, let me bring you up to speed. Money — referred to in-game as "gold," "gold points," or "gp" — is central to a player's progression, allowing them to buy items that make progression either more efficient or possible at all. The vast majority of economic activity in-game happens via the Grand Exchange, a commodity-exchange infrastructure through which players can anonymously place offers to buy or sell items in exchange for gold. It is both an in-game location, located northwest of the city of Varrock, and a global infrastructure. Before its release, players had to physically congregate in-game to trade, and trades were completed player-to-player. Now, the Grand Exchange allows near-instantaneous buying and selling between players, permitting trade across servers, time zones, and languages.
The magnitude of trade that occurs via the Grand Exchange is astounding. In the last six months, the top 10 most-traded items accounted for 167 billion coins in-game, equivalent to $132,000. The most expensive trade to occur on the Grand Exchange was a single "Scythe of vitur," a rare drop from one of the game's hardest bosses, which sold for two billion coins, equivalent to around $1,500. The Grand Exchange also allows for economic coordination between players in the form of "merching" clans. "Merching," much like real-life arbitrage, is the process of manipulating prices in-game through buyouts of certain items, thus inducing a shortage in supply and raising the price. Given that items are subjected to "buy limits," which limit the amount that a single player can purchase in a given amount of time, coordination among players is necessary to induce a change in price. Any given player's ability to change an item's price is also limited by access to capital. The Grand Exchange is a relatively free market, subject to the same forces and logics as the real-world economy. Critical to understanding the "realness" of the RuneScape economy is understanding the language that surrounds it. On the RuneScape wiki, the page "economy" features supply and demand infographics detailed enough to use for an ECON 115 study guide.
The rationale for the illegality of real-world trading is two-fold. Both Jagex and players argue that real-world trading devalues players' legitimately earned progression. For context, a "maxed account" — an account that has level 99, the highest achievable, in every skill — takes between three and seven thousand hours to achieve. Given an infinite cash stack, a player could speed up their progression exponentially, as many skills in RuneScape are considered "buyable." RuneScape is a game centered around "grinding," the repetition of tasks ad infinitum as the primary means of progression. Even as players lament the monotony of tasks in RuneScape, a semi-ironic commitment to them is a badge of honor. The language of labor and economic metaphors permeates discussion of in-game achievement, even among those not participating in real-world trading. Most skills in RuneScape are most efficiently trained through intense repetition of a single task, and players often discuss these skills with half-hearted disdain. And yet, they still play. Much of RuneScape's player base started when they were kids, enraptured by the magic of goblins, quests, and chat room abuse.
Many players find this current obsession with efficiency at odds with why they began playing in the first place. "There is a culture of efficiency, 'no xp waste'… Why are you even doing this again?" one disgruntled player wrote in a Reddit post from 2018. The question remains: why do these efficiency-obsessed, jaded players still play the game? Are they "playing" at all?
Psychologist Mihaly Csikszentmihalyi attributes this form of play to the psychological phenomena of "flow," when "a person is able to concentrate on a limited stimulus field, in which he or she can use his or her skills to meet clear demands, thereby forgetting his or her own problems… at the same time obtaining a feeling of control over the environment." Thus, the clear-input output relationship made possible by RuneScape's mechanics is a form of play in and of themselves. The ability for a player to calculate exactly how many logs they need to cut or runes they need to craft to obtain a certain level allows a sense of perfect control over their environment. It is a world in which the rules are clear and the outcomes certain; thus, the only variable is the "grind" that a player is willing to commit.
The pervasiveness of this "grind" culture is evident throughout the RuneScape community but perhaps best exemplified in an exchange I witnessed in a chatroom:
PLAYER A: these quest requirements aren't that high at all
PLAYER B: nope not at all / questing is a joke
A: I'm about it because it feels like every other quest gives me something new / Whether it is useful is irrelevant
B: im [sic] proud of you son / you are what we call weaponized autism
While players can oscillate between "efficiency" and "fun" modes of play, and while both modes of play can appear contradictory, the consistency of their internal logics is important to note. The grind is fun because the grind is fun, and aimless exploration is fun simply because aimless exploration is fun. How a player arrives at either mode of play depends on their knowledge of the game's intricate mechanics, their age, and their participation in the game's surrounding communities. These self-affirming logics of leisure and "play" are both socially enforced in-game and through forums like Reddit and Discord.
It is no coincidence that "flow," as discussed by Csikszentmihalyi, manifests in both work and play. In fact, according to Csikszentmihalyi, "flow" is present more so in work than anywhere. However, just as "play" is a socially constructed term, "work" is a construction as well. Games like RuneScape, which seem to blur the lines between work and play, are apt sites to investigate these constructions and test accepted definitions of either. While Max Weber argued that capitalism emerged as a product of Protestant asceticism, restraint, and prudence, he also saw a universality in the desire for gain: "Capitalism may even be identical with the restraint, or at least a rational tempering, of this irrational impulse. But capitalism identical with the pursuit of profit, and forever renewed profit, by means of continuous, rational, capitalistic enterprise." The fantasy world of RuneScape, thus, is fertile ground for the capitalist spirit to grow. It is a world where all resources are replenished in an instant, where all slain monsters are revived, and where death is little more than a calculated setback. The blurred lines between work and play that bring about flow, that occur as a result of some "Protestant ethic" of simultaneous restraint and unending ambition, make possible the form of play known as "grinding."
Moreover, the blurred lines between work and play bring closer the fantasy economy of RuneScape and our own — an extreme example: the case of Venezuelan gold farmers.
In recent years, Venezuela has undergone an immense economic crisis. Inflation rates have topped over one million percent, with prices of common goods doubling nearly every three weeks. As a result, thousands of young Venezuelans have taken to gold farming in RuneScape as a means of survival. These players use the game's most profitable money-making methods to generate gold, which they then sell in exchange for real money. Doing so has the potential to earn many times the average wage in Venezuela via traditional sources of income.
The language that surrounds "grinding" as performed by dedicated players is different from that which is used to discuss gold farmers. Despite the fact that gold farmers often undertake the same processes as regular players, many players view them as a problem. As one Reddit post, titled "JAGEX DO SOMETHING ABOUT THOSE VENEZUELAN [Real-world traders]" reads, "Since there is a serious IRL crisis in Venezuela for example the blast mine is overloaded with these cunts who crash the spot to sell money they have gathered." One controversial post on Reddit, titled "Killing Venezuelans at East Drags [sic] Guide," though since removed, stirred controversy for laying out a step-by-step guide for identifying and targeting Venezuelan gold farmers. In the divided, vitriolic comment section, the border between the RuneScape world and our own appears nonexistent.
Commenters are not discussing avatars, they are discussing the real people behind them. One comment reads, "I never thought I'd see a guide on how to efficiently kill poor people," with another joining in, "This is kinda [sic] fucked that you are going out of your way to literally help people make already poor people who can barely afford clothes/food etc. struggle even more than they already are." Some players seek to absolve responsibility through either in-game means, saying "RS isn't a charity, it's a game and property of Jagex, kill them all," while others blame real-world structures, claiming that "Socialism killed them, this is just burying the carcass." Along real-life fault lines of racism and classism, others take pride in targeting gold farmers, writing "I kill these guys when warming up my switches on my pure. They are pure offensive practice and some of the best people to kill… Also, you could just say 'Trump' while you attack them and that will easily get their jajajajaja's going." The real-world consequences of a Venezuelan gold farmer being banned or killed go far beyond a simple setback. Both by circumstance and intention, Venezuelan gold farmers do not enjoy the same insulation from the consequences faced in the world of Gielinor as normal players do. Death in-game can literally equate to death in real life, and the game suddenly seems less fun.
But what happens when the real economy starts to resemble a game?
The streamlining and abstraction of wealth and exchange in the RuneScape economy is corollary to that of the Post-Fordist economy. The geographer David Harvey, in his article "Between Space and Time," argues that the advancement of capitalism in the modern world is predicated on a collapsing of space and time, an incessant drive towards the instant. This is on full display in both RuneScape and the financial sector. The Grand Exchange is dialectical in that, while it is a physical space, the exchange it permits has no grounding in said location. While the "Financial District" is a neighborhood, the business that flows through the stock exchange — and computers across the globe — is not bound to any one place. Whereas the market was once a location, it is now an idea. It operates not via bartering, but via logics of supply and demand, mysterious algorithms, and global exchange. And just as the financial sector's ever-expanding consolidation of power combined with the digital revolution of finance has permitted its hegemony over the world's economy, the Grand Exchange has permitted unprecedented abstraction in the RuneScape economy: the mystery of in-game algorithms, the instantaneous nature of trade, and the ability for real-world traders, merchanting clans, and other actors to manipulate prices and quantities with little regard for those on the other end.
What is critical to note here is that abstraction is born of concrete phenomena. Abstraction occurs in inconceivable amounts of money, whether that be item prices or trillion-dollar bonuses. Abstraction is found in the alienation of the worker from their labor, whether manifesting in the devaluation of a hard-earned, maxed RuneScape account or the increasing share of economic growth that goes to the financial sector rather than to workers.
Abstraction grows in the gap between cause and effect, action and responsibility. Just as responsibility helps shape the distinction between a game and real-life or play and work, responsibility (or a lack thereof) has been a critical component of the creation of the modern financial system. This diminishing liability is at the root of the corporate form. As theorist Joshua Barkan argues in The Sovereign Gift, "corporate power has always been articulated within the context of responsibility." As Barkan proposes, the modern corporate form is designed to shield actors from liability. The "Limited Liability Corporation" is one in which no single person takes the fault for the actions of the whole. It is why CEOs can walk away from financial crises with no jail time. It is why multi-billion dollar fines for misconduct and other limited forms of punishment can be shrugged off as costs of doing business.
The consequences, as filtered through the corporate form, simply aren't that severe. The same logic applies to risk-taking in RuneScape. For the vast majority of infractions, a banned account is the worst penalty one could face. They can simply make another. A death, loss of gold, or destruction of special equipment simply does not matter that much, as it is all part of the game. Even for individual financial workers, as anthropologist Karen Ho argues, being "liquidated" is a part of the job on Wall Street and constant instability is part and parcel of simply riding the market. On the contrary, the dire consequences of death or punishment faced by Venezuelan gold farmers or the utter destruction of being fired from a blue-collar job reinforce the distinction between play and work. This limited liability, this insulation from consequences, as Ho uncovers in Liquidated, is how the language and mindsets of games manifest in financial sectors. As one analyst in Ho's book explains, "from a shareholder investor perspective, it's all about playing the game." This sentiment is echoed by businessman-author Andy Kessler: "[Investment firms] literally exist to pay out half their revenue as compensation. And that's what gets them into trouble every so often — it's just a game of generating revenue because the players know they will get half of it back."
There is nothing consequential about an in-game murder when you can simply shut the game off, and there is nothing scary about death when you know you can respawn, whether in Gielinor or on Wall Street.
---
Workers' Play, Players' Work was originally published in The Yale Herald on Medium, where people are continuing the conversation by highlighting and responding to this story.
Cache
Vanquishing the Windigo: Standing Up to Marc Tucker and Digital Capitalism – Wrench in the Gears
Vanquishing the Windigo: Standing Up to Marc Tucker and Digital Capitalism
I've embarked on some intense Internet peregrinations lately, and work has been super busy. But it keeps me grounded in the real, physical world for which I am eternally grateful. It is captivating, full of generous people and natural wonders. It's worth fighting to protect, which is why I continue to wander and try to share the information I stumble over along the way.
I'm excited to finally have a free weekend to write. I feel a growing sense of urgency as I connect with more and more folks across the country. Alaska, California, Utah, Illinois, North Dakota, Oklahoma…the pressure is intensifying, everywhere. If these thoughts seem somewhat scattered, bear with me. This is more an exercise in unburdening than some of my other posts.
Our current education system, admittedly far from perfect, is in the process of being dismantled. Its replacement? Digitally mediated, "lifelong learning," workforce-aligned pathways. They're being pitched in Colorado and Washington State as the "Swiss Model." Other states are seeing the emergence of Markle Foundation-funded Skillful initiatives. Then there's the normalization of gamified behavioral compliance tied to digital economic incentives paralleling this transformation.
Frighteningly, it appears education settings from P-20 are being set up to train future generations to accept and participate in the construction of STEM-centric worlds steeped in cyber-security. No hard hats required, just an up to date eyeglass prescription. Everyone expected to do their part to build and secure these new "worlds." No one spared, not even preschoolers.
We must understand the nature of worlds built in code.
They will exist as augmented reality, mixed reality, and virtual reality.
They will be digitized, data-rich, and surveilled.
They will come with embedded nudges imposed by algorithms.
They will become automated, eventually beyond human control.
Cache

Donald Trump threatens to 'obliterate' Turkish economy if it goes too far with Syria invasion

Turks are attacking the heroic Kurds. Trump thought he had a deal with Turkey to protect the Kurds which would allow US troops to withdraw safely

US President Donald Trump warned Turkey against going too far in Syria, after giving Ankara a green light to invade its southern neighbour.

Mr Trump said on Monday he was done with "ridiculous endless war" as he stood aside to allow a long-threatened Turkish assault on Kurdish-held Syria, effectively abandoning its allies who fought Islamic State of Iraq and the Levant (Isil).

The US had for months been working with Turkey to try to create a buffer zone along its border with northern Syria between the Turkish military and Kurdish forces which Ankara sees as terrorists.

But amid an outcry from the region and strong opposition at home from both Democratic and Republican lawmakers, the US leader appeared to reverse himself, though without drawing any specific red lines that might protect Kurdish allies.

"If Turkey does anything that I, in my great and unmatched wisdom, consider to be off limits, I will totally destroy and obliterate the Economy of Turkey (I've done before!)," Mr Trump tweeted.

Other US officials, apparently surprised by Trump's Sunday announcement, stressed that Washington will not actively support the long-threated Turkish action, warning of destabilizing blowback to the region.

"The Department of Defense made clear to Turkey - as did the president - that we do not endorse a Turkish operation in Northern Syria," said Pentagon spokesperson Jonathan Hoffman.

Turkey has repeatedly criticised the slow implementation of the buffer zone and threatened a unilateral assault, but until Monday the US had refused to stand aside.

"The Kurds fought with us, but were paid massive amounts of money and equipment to do so. They have been fighting Turkey for decades," Mr Trump said in an earlier series of tweets.

"Turkey, Europe, Syria, Iran, Iraq, Russia and the Kurds will now have to figure the situation out."

US Republican and Democrats had warned such an offensive on the Kurdish People's Protection Units (YPG), which lost 11,000 troops in the battle against Isil, could lead to a massacre of Kurds and send a worrying message to American allies across the world.

The US began pulling back some of its 1,000 troops from border towns Tel Abyad and Ras al-Ayn on Monday, and has said it will potentially depart the country should widespread fighting break out.

The announcement, first made by the White House overnight on Sunday, appeared to take both the Kurds and US coalition forces, which had been carrying out joint patrols with Turkey on the ground, completely by surprise.

Kurdish sources say they were acting in good faith trying to establish a security mechanism with the US to placate Turkey, but now felt that Ankara had been using it as a cover for reconnaisance.

Mustafa Bali, spokesman for the Kurdish-led Syrian Democratic Forces (SDF), tweeted: "We are not expecting the US to protect NE #Syria. But people here are owed an explanation regarding security mechanism deal, destruction of fortifications and failure of US to fulfill their commitments."

The White House statement was released after a phonecall between US President Donald Trump and Turkish President Recep Tayyip Erdogan on Sunday night.

Mr Erdogan had reportedly assured the US president that Ankara would take over the detention of Isil militants captured by the SDF, on the battlefield.

The Kurds have been holding thousands of Syrian and thousands more foreign Isil suspects in prisons and camps across the north of the country.

Mr Trump has repeatedly asked countries under the US-led coalition against Isil to repatriate their citizens. However, the UK, France, Germany, and other allies have so far refused.

"The United States will not hold them for what could be many years and great cost to the United States taxpayer," the White House statement said. "Turkey will now be responsible for all ISIS fighters in the area captured over the past two years in the wake of the defeat of the territorial "Caliphate" by the United States."

The decision is a massive blow to the Kurds, who not only helped hold back Isil but have for years been building an autonomous statelet in the northeast of Syria.

Turkey claims its planned "safe zone" is to purge the border of YPG forces, which it sees as a terrorist offshoot of the Kurdistan Workers' Party (PKK), which has fought an insurgency inside its territory for the past 35 years.

The proposed corridor would have an initial depth of 18 miles and a length of 300 miles and includes the Kurds' biggest urban centres, including the city of Qamishli which has an estimated 250,000 population.

Turkey on Monday night carried out air strikes on the Iraqi side of the Iraq-Syria border crossing, in what was thought to be an attack on the YPG's supply line.

Western diplomats told the Telegraph they are working on the theory that Mr Erdogan will begin by attempting to take a smaller sliver between the towns of Tel Abyad and Ras al-Ain on the border, but the Turkish president himself has previously hinted at much wider ambitions.

Mr Erdogan has said he wants to return two million of the mostly Sunni Arab Syrian refugees Turkey is hosting to the buffer zone, which some have said would amount to an ethnic repopulation.

The Kurds fear many of the Syrians that might be placed in the zone are not native to north-east Syria, and might displace the Kurdish culture and rights.

The UN said that it was "preparing for the worst", fearing an assault would send large numbers of civilians fleeing.

"This Turkish military operation in northern and eastern Syria will have a significant negative impact on our war on ISIS and will destroy everything that has been achieved from the state of stability over the past years," the Kurdish-led Syrian Democratic Forces said in a statement.

They said they would defend themselves against "Turkish aggression" and called on all sects, including Kurds, Arabs, Syriacs and Assyrians to join them.

Defending its Kurdish allies would have seen the US come against its Nato partner Turkey, which Washington was keen to avoid.

President Donald Trump has since taking office attempted to disentangle the US from drawn-out wars in the Middle East.

His goal of swift withdrawals in Syria, Iraq and Afghanistan have been stymied by concerns from US officials and American allies about the dangerous voids that would remain.

SOURCE

**********************************

America's top CEOs say they are no longer putting shareholders before everyone else

This a joke. CEOs have NEVER put shareholders first. Their own prestige, power and income have always been their first priority and that will not change. Shareholders just get the scraps

For the past two decades, the official stance of America's top corporate executives has been that the interests of shareholders came before the interests of all others—workers, consumers, the cities and towns in which their companies operated, and society as a whole.

Today, that changes.

The Business Roundtable, a lobbying group composed of the nation's leading CEOs, just announced that its members "share a fundamental commitment to all of our stakeholders"—each of whom "is essential"—while pledging "to deliver value to all of them, for the future success of our companies, our communities, and our country."

With its "Statement on the Purpose of a Corporation," the Roundtable has affirmed the need for "meeting or exceeding customer expectations"; "investing in our employees," including by "compensating them fairly and providing important benefits," as well as offering training and education so that they can "develop new skills for a rapidly changing world"; "dealing fairly and ethically with our suppliers"; "supporting the communities in which we work"; and "generating long-term value for shareholders."

Jamie Dimon, the CEO of JPMorgan Chase and the Roundtable's chairman, says he hopes that this declaration "will help to set a new standard for corporate leadership."

It is, without question, a huge deal.

As I've detailed before, through the 1980s and most of the '90s, the Roundtable held that companies had a responsibility to "carefully weigh the interests of all stakeholders," as the organization described it, and that "the thrust of history and law" buttressed this kind of broad assessment.

In 1997, the Roundtable switched course. Suddenly, it proclaimed that "the paramount duty of management and of boards of directors is to the corporation's stockholders" and that "the interests of other stakeholders are relevant as a derivative of the duty to stockholders." (The Roundtable echoed that message in 2016.)

The Roundtable's shift to a shareholder-first posture has been widely cited as a significant marker in the evolution of corporate America—both a reflection and reinforcement of an ideology that has thrilled investors, gripped executives, and knocked out a more enlightened form of capitalism that had emerged in the era after World War II.

Yet since then—and especially over the past 5 to 10 years—serving shareholders first and foremost has come under increasing attack. An expanding chorus of critics has made the case that this predilection has contributed to a short-term mindset among far too many executives, fostering a culture of indiscriminate cost-cutting and financial engineering, and has been a central reason for the explosion in income inequality.

"I read the Roundtable's statement as a return to common-sense principles of management and the recognition that employees need a bigger share of the pie to assure a healthy economy," says Judy Samuelson, executive director of the Aspen Institute's Business and Society Program.

The pressure for business to put an end to shareholder primacy has been building from a variety of quarters. Younger workers, in particular, are looking for employers that have a loftier purpose than merely maximizing their profits. More and more, customers are paying attention to which companies seem to be doing right by their people and the environment—and punishing brands that fall short. Socially conscious investors have started putting vast sums of money into financial products that use a "sustainable, responsible, and impact" lens.

Politicians have also taken up the cause. The Accountable Capitalism Act, proposed by Elizabeth Warren, the Massachusetts senator and Democratic presidential candidate, would require very large companies to obtain a new federal charter under which directors would have to "consider the interests of all corporate stakeholders."

Meanwhile, the basic tenets of shareholder capitalism have been questioned by scholars such as the late Lynn Stout, a Cornell law professor and author of The Shareholder Value Myth, who cogently argued that executives and directors have wide latitude in deciding what is best for a company and don't have any obligation—legal or otherwise—to elevate shareholders above everyone else. Journalists and think-tank types have weighed in along these lines, too.

MY DINNER WITH DIMON

Among them has been me. As Fortune's Alan Murray recounts, the Roundtable began to reevaluate its views on the relationship between shareholders and other stakeholders after a "testy, off-the-record dinner" last fall that I participated in. Dimon had invited four of us—including the Washington Post's Steve Pearlstein, Bloomberg's Joe Nocera, and Samuelson of the Aspen Institute—to JPMorgan headquarters to better understand why we kept insisting that corporate America had become overly obsessed with shareholder value and, as a result, was damaging society.

Dimon's perspective—then and now—is that most big companies already take good care of their various stakeholders. "We relentlessly invest in employees, communities, and innovation," he told me.

If that were true, of course, the new Roundtable statement would simply be codifying the current state of affairs. But with all due respect to Dimon, who deserves great credit for engaging with us and then guiding the Roundtable to recast its position, the numbers don't back him up.

Sure, no company completely ignores all of its constituents save for its shareholders. If it did, it would soon be out of business. But as a study published last week by the Center for American Progress makes clear, things are terribly out of balance.

Wages for the majority of the American workforce have been stagnant for 40 years, while their health coverage and retirement security have eroded. At the same time, corporate profits—high by historical standards—are mainly being used to reward shareholders, including CEOs themselves. Their compensation has gone up 940% since 1978; typical worker compensation has risen 12% during that time, according to the Economic Policy Institute.

For the Roundtable's statement to mean something—and not stand as empty rhetoric—this picture can't be allowed to continue.

With that in mind, I asked a half-dozen colleagues who've been at the fore of fighting shareholder primacy what would it take for them to be convinced that CEOs across the business landscape had genuinely embraced stakeholder capitalism.

For starters, several say, companies must curtail stock buybacks, if not stop them altogether. These repurchases have become a financial narcotic, with a record volume of shares being snapped up, largely in an attempt to pump up their price.

Some, including Roundtable President Joshua Bolten, defend the practice as an efficient way to deploy capital and help the economy grow. But buybacks plainly favor shareholders (including, again, CEOs), and every dollar of profit spent on them means one less dollar that can go directly to bolster worker pay, training, R&D, and other areas.

"I would make it the primary obligation of all business corporations to 'retain-and-reinvest': retain profits and reinvest in the productive capabilities of employees," says economist Bill Lazonick, who is perhaps the country's most outspoken detractor of buybacks. "I would place constraints on 'downsize-and-distribute': downsizing the company's labor force and distributing corporate cash to shareholders."

Environmental stewardship is another proving ground. Some big companies score high marks in this arena right now. But with climate change posing an existential crisis, it's crucial that corporations do far more.

"Why I'm passionate about ending shareholder primacy is that I truly think the future of the entire human race depends on it, and I'm not trying to exaggerate," says Lenore Palladino, an economist at the University of Massachusetts Amherst. "For corporate leaders to show they are committed to stakeholder capitalism, we need to see a commitment to the health of the environment as a business priority . . . a dramatic strategic reorientation towards reversing the current damage and reengineering businesses to be productive for the long term."

For sustainability pioneer John Elkington, another sign that a stakeholder model hadreally taken root would be for companies to no longer speak with two voices: one from the C-suite and another via the Washington influencers representing them.

"They would resign from all trade and industry groups which lobby to slow or stall necessary systemic changes" that would enhance the simultaneous creation of economic, social, and environmental value, says Elkington, who coined the term "triple bottom line." Then they would turn around, he adds, and "forcefully and publicly lobby for a meaningful price on carbon and for the breakup of monopolies and oligopolies."

To give the Roundtable statement some teeth, they'd also take a fresh approach to organized labor. "Welcoming, rather than fighting, a union would be a big one," says Andy Green, managing director of economic policy at the Center for American Progress. Research shows that nearly half of all workers not in a union want to join one. Yet many companies do all they can to keep this from happening.

Samuelson, for her part, would be impressed by companies "dampening down the intense focus on stock price in CEO pay." More than half of CEO compensation is share-based these days, much of it tied to short-term financial measures. Instead, executives should be paid—and to a meaningful degree—on a mix of environmental, social, and governance metrics.

The University of Toronto's Roger Martin, who has been recognized as the world's number-one management thinker, wants to see a reversal of something that, for many of the most senior executives, is even more deep-seated.

Rather than concentrate on stock price, he says, they should expressly concentrate on serving customers or developing employees or tackling some social need through innovation. Ultimately, Martin has maintained, that's the best means of taking care of shareholders anyway.

"For me, the key would be to view shareholder value creation as the logical consequence of other things, not something that you can directly pursue," he says. "It is like Aristotle who pointed out that if a person sets out to be happy, the person is unlikely to end up happy. However, if the person sets out to lead a virtuous life, the person will probably end up happy. If I could only have one thing, it would be that."

Others made additional suggestions: Companies should guarantee a living wage for all workers, including contractors. Stakeholders of different stripes (employees, sustainability experts, even everyday taxpayers) should be given seats on corporate boards. Executives should lean on business schools to stop teaching that shareholder value is the be-all and end-all of capitalism.

Much of this agenda may be dismissed as unrealistic. Certainly, none of it will be easy to achieve. And none of it is meant to imply that the Roundtable's statement isn't, in and of itself, a monumental step.

Words matter. The words of the Roundtable—a Who's Who of those at the helm of the largest U.S. corporations, from Abbott to Zebra Technologies—matter a lot. In the end, though, it is the actions of Roundtable members that will matter the most.

SOURCE

**********************************

For more blog postings from me, see TONGUE-TIED, EDUCATION WATCH INTERNATIONAL, GREENIE WATCH, POLITICAL CORRECTNESS WATCH, AUSTRALIAN POLITICS, and Paralipomena (Occasionally updated), A Coral reef compendium and an IQ compendium. (Both updated as news items come in). GUN WATCH is now mainly put together by Dean Weingarten. I also put up occasional updates on my Personal blog and each day I gather together my most substantial current writings on THE PSYCHOLOGIST.

Email me here (Hotmail address). My Home Pages are here (Academic) or here (Personal). My annual picture page is here

**************************



Cache

Democrats' Health Care Plan Would 'Totally Obliterate Medicare,' Trump Says

Charles McLaughlin, a 71-year-old Marine veteran of the Vietnam War, recalls how useful Medicare and Medicare Advantage were when he was fighting another battle, this one with cancer.

"I know a lot about Medicare and the supplement. I used it for breathing tubes, feeding tubes, stitches, staples, MRIs, CAT scans, blood tests, hydration shots, chemo treatments, radiation treatments," the Lighthouse Point, Florida, resident said during a rally with President Donald Trump on Thursday in The Villages, Florida, a retirement community near Orlando.

Trump invited him to the stage to speak at an event that culminated in the president signing an executive order to strengthen Medicare and Medicare Advantage, the health care program for people 65 and older, at a time when many Democrats support a "Medicare for All" plan to expand the program to everyone.

"I also want to say: My family, financially, would have been destroyed without Medicare," the retired Marine said, adding:

The politicians on the left are pushing Medicare for All. I say, the result would be no Medicare at all. It will collapse under the load of the system. It will overload it. The lines would be incredible.

Who knows, I probably wouldn't be here. There's no such thing as "free," period.

Trump said, "They like you." McLaughlin answered, "What's not to like?"

Declaring Medicare "under siege," Trump signed an executive order after an hourlong speech.

"We are making your Medicare even better, and we are not letting anyone take it away from you," Trump said. "These people on the other side are totally crazy. They want to take it away and give you lousy health care."

He added: "Medicare is under threat like never before." "Almost every major Democrat in Washington has backed a massive government health care takeover that would totally obliterate Medicare," the president said.

The executive order aims to model traditional Medicare's fee-for-service program in line with the payments for Medicare Advantage. Under traditional Medicare, the government pays for medical care. Private companies offer Medicare Advantage plans, which the Centers for Medicare and Medicaid Services approves. About 24 million people, or more than one-third of Medicare recipients, have Medicare Advantage plans.

The Medicare for All proposal would do away with Medicare Advantage plans by eliminating private health care plans.

Trump also invited Socorra "Corey" Spangler, of Summerfield, Florida, to speak. She noted her family came from Mexico to the United States legally when she was 5-years-old. At age 65, she began having heart problems.

"I went to the doctor. They scheduled me with a cardiologist. He scheduled me for a stress test. I failed that test. So, he scheduled me for a heart test the next day. I failed that," Spangler recalled, adding:

The following Monday, I was in surgery with my five bypasses, and I went home the following Friday. This would never happen with Medicare for All.

I love my Medicare Advantage plan because I can choose the doctor when I need it and get the care I need in a [quick] manner. It wouldn't happen with Medicare for All.

Thank you, Mr. President, for saving my health care.

Over the past two years of his presidency, Trump said, 1,200 more Medicare Advantage plans have been created. He added that premiums have plummeted by 28% and are at their lowest level in more than a decade.

That's in sharp contrast to the average of 54% rise in premiums for Obamacare plans since 2014, said Robert Moffit, a senior fellow at The Heritage Foundation.

"The president wants to build on the success they have had managing Medicare Advantage," Moffit told The Daily Signal. "They have used the administrative authority to increase the plans for chronically ill people, such as people with congestive heart failure or diabetes."

The executive order also further promotes using medical telehealth services to be delivered by telephone or online. That would, in theory, reduce expensive emergency room visits for minor or easily treatable ailments.

SOURCE

***************************************

Rashida Tlaib Comes Out for Jim Crow-Style Laws, Arrests of Her Political Foes

Typical Muslim authoritarianism

Wait long enough, and everything comes around again. Rep. Rashida Tlaib (D-Mich.), one of the wokest womyn in the world, has this week blazed bold new trails by calling for the revival of not one, but two tried-and-true practices that have inexplicably fallen into neglect in American politics: Jim Crow segregation laws and the arrest of one's political opponents.

This brave leader said in a Detroit speech that if Trump Cabinet members failed to comply with congressional subpoenas, "they're trying to figure out, no joke, is it the D.C. police that goes and gets them? We don't know. Where do we hold them?" Tlaib added: "This is the first time we've ever had a situation like this," and that consequently, she and other Democrat leaders were "trying to tread carefully" into this "uncharted territory." She volunteered her own district for this noble undertaking: "I will tell them they can hold all those people right here in Detroit."

Oh, but this territory is amply charted. Tlaib's vision for America's future apparently looks a great deal like the past – and present – of authoritarian regimes the world over. The new diverse, inclusive America of Tlaib and her colleagues apparently includes the 2 a.m. pounding on the door and the hustling of a bewildered, pajama-clad conservative by jackbooted stormtroopers into a waiting police van. Then they get hustled off to Detroit, the name of which will take on an air of menace and foreboding, like "Treblinka" and "Kolyma." And why not? We already have telescreens all over airports and other public spaces pumping CNN propaganda into an unwitting populace 24/7 now; arrests and, presumably, camps for dissenters is the logical next step. After all, that's what happened in Nazi Germany and the Soviet Union, and still happens in North Korea and Communist China. The wise Tlaib knows that our future is their past.

Nor is that all. Tlaib Tuesday toured Detroit's Public Safety Headquarters and told Detroit police Chief James Craig that facial recognition analysts "need to be African Americans, not people that are not. I think non-African Americans think African Americans all look the same."

That meant, of course, that Tlaib herself, since she is not African American, thinks all African Americans look the same, but she can be forgiven for being so overwhelmed by her passion for justice that she got a bit confused. Here again, the visionary Tlaib knows that William Faulkner, despite being a white male Southerner and hence obviously racist and manifestly evil, was actually right when he said, "The past isn't dead. It is not even past." The old Jim Crow laws of the South in Faulkner's time are Tlaib's new vision for America: if she gets her way, you won't be judged by the content of your character, but by the color of your skin.

This is already happening, of course. Back in the old South, some light-skinned blacks tried to pass for white in an attempt to avoid the discrimination, harassment, and ostracism that came to blacks all too often in those days. Nowadays, our society is so post-racial that it's racial again: Elizabeth Warren, as white a white person as you'll ever find, for years passed as Native American for social approval and career advancement. She was even hailed as the first "woman of color" on Harvard's faculty. What color? A light peach, apparently.

Warren is just a more sophisticated version of Rachel Dolezal, the former NAACP official who famously turned out not to be a person of color at all, and Shaun King, aka Talcum X, who strenuously insists that he isn't white despite photographic evidence of his being a light-haired white child before he was woke. Muslim "feminist" activist Linda Sarsour is also passing: in a Vox video published in January 2017, she revealed: "When I wasn't wearing hijab I was just some ordinary white girl from New York City." But in an April 2017 interview, Sarsour referred to "people of color like me." All it took was a hijab to enable Sarsour to change races. Maybe Warren should try that.

Warren, Dolezal, King, and Sarsour are the vanguard of the society Tlaib envisions, one in which being white carries so much of a social stigma that it results in job discrimination and more, and those who are clever and audacious enough to pull it off avoid this opprobrium by passing as being a "person of color." Meanwhile, those who dare to disagree with Tlaib's political agenda will find themselves arrested and incarcerated in Detroit, where all-black facial recognition teams will map their every move. Meet the future: it's the same as the past.

SOURCE

*************************************

Sen. Rand Paul: Experience is the best teacher -- But that's not how I want my kids to learn about socialism

What is it about socialism that casts such a spell that people refuse to acknowledge history? Time and time again socialism leads to the impoverishment of nations. Perhaps it is the allure of equality or fairness. Surveys in America alarmingly show about half of today's youth have a favorable opinion of socialism.

When I was researching my forthcoming book, "The Case Against Socialism," I was horrified to discover a Gallup poll finding that only 45 percent of young American adults (age 18–29) have a positive view of capitalism, while 51 percent of this same group see socialism positively. These surveys link approval of socialism to a corresponding desire among young Americans to live in a "fair" world. Blasi and Kruse of Rutgers University write that "today's youth reject capitalism; what they really want is fairness."

They cite a "2016 Harvard University survey that found that 51 percent of American youth age 18 to 29 no longer support capitalism," and another 2015 poll by "conservative-leaning Reason-Rupe, [which] found that young adults age 18 to 24 have a slightly more favorable view of socialism than capitalism."

When asked to explain their answers in the Harvard Study, participants in a focus group reported feeling that "capitalism was unfair and left people out despite their hard work."

The mantra of fairness is one that is inculcated from a young age. The assumption is that in order for one person to become rich someone else must suffer. Leftists preach that the economy is a zero-sum game where the rich enrich themselves on the backs of the poor, a claim that is revealed to be false when you examine the facts.

The mantra of fairness is one that is inculcated from a young age. The assumption is that in order for one person to become rich someone else must suffer. Leftists preach that the economy is a zero-sum game where the rich enrich themselves on the backs of the poor, a claim that is revealed to be false when you examine the facts.

The great industrialists of the nineteenth century are often tagged as robber barons. Yet as Andrew Carnegie's wealth grew so did the economy. According to Our World in Data, a group of researchers based at the University of Oxford, poverty declined from over 90 percent of people living in extreme poverty worldwide in 1820 to around 75 percent of people living in extreme poverty in 1910. By the time the industrial revolution was in full swing, wages were rising and the standard of living known previously only to kings was becoming far more accessible.

From the time of Carnegie's death in 1919 until the present, the number of people living in extreme poverty declined to less than 10 percent.11 As much of the world embraced capitalism in the twentieth century, childhood mortality plummeted from nearly a third of children dying before the age of five to less than 1 percent in wealthy countries and 4.3 percent worldwide.

And still, American youth mistakenly are attracted to socialism.

We must be teaching history in all the wrong ways.

Blasi and Kruse warn us that "the share of the overall population that questions capitalism's core precepts is around the highest in at least 80 years of polling on the topic." Gallup, in a 2016 poll, records 55 percent of millennials as favoring socialism. Yet, when millennials say they are for socialism, do they have any idea what socialism is in a historical sense? How many of them are even aware of the famines under Stalin, Mao, and Pol Pot? Reason Foundation asked millennials to define socialism and discovered that only 16 percent could identify socialism as government ownership of the means of production.

The only good news about these surveys of young people is that they were overwhelmingly canceled out by the views of older people.

A study published in sciencemag.org concluded that although "children start off like Karl Marx, . . . they eventually become more like a member of the International Olympic Committee. The study 'finds that children's views on fairness change from egalitarian to merit-based as they grow older.'

The question is—will this next generation follow the path of previous generations? Will today's youth, when they leave their parents' basements and begin to earn a living, discover that their success depends on their merit and hard work, or will they succumb like Venezuela to the allure of something for nothing?

The future of our nation depends on the answer.

SOURCE

*********************************

The desperate idiocy of the modern Left

This is from a few years back but is well worth recalling

Recovering Leftie, Ron Rosenbaum, is appalled at the words of a Leftist film-reviewer:

Reviewer
"Still, if "Road to Perdition" ultimately fails as entertainment, it offers rich material for allegory. Maybe it was because I attended a screening on Sept. 11, but I couldn't help seeing Hanks as an American everyman, a pure-hearted killer who will commit no end of mayhem to ensure a better life for his children. Imagine Willie Loman with a tommy gun, and you'll see what I mean. 'You dirty rats! Attention must be paid.'"

Rosenbaum
But of course! What a BRILLIANT point he's making in the course of preening his anti-Americanism before his audience of U.K. intellectuals. What does Sept. 11 remind him of? The way AMERICANS are killers. Sept. 11 becomes, in his lovely leap of logic, really about Americans being pure-hearted killers capable of "no end of mayhem," infinite evil deeds. Doesn't EVERYBODY think that way? (Everybody in his little circle, I imagine). Sept. 11 reminds them that Americans are first and foremost murderers, so let's not spend a moment acknowledging that little matter of Sept. 11 being a day on which 3,000 AMERICANS were murdered by the "pure-hearted killers" of Al Qaeda. Who, when not committing mass murder, stone women as punishment, torture gays, crush free thought by executing dissidents. No, THEY get a pass (and the 3,000 become non-persons). Because they hate America.

SOURCE

************************************

IN BRIEF

FACEBOOK LEGAL BLOW: "Facebook on Wednesday was dealt a major blow in the EU's top court, which ruled that national courts in Europe can order online platforms to remove defamatory content worldwide." (Agence France-Presse)

MIGRANT TSUNAMI: More than 500,000 Central Americans illegally enter Mexico in first half of 2019 on their way to the U.S. (The Daily Caller)

FRANCE JIHAD: Paris knife attacker who killed four law-enforcement colleagues converted to Islam 18 months ago (National Review)

NARRATIVE BUSTER: North Carolina energy company finds solar power actually increases pollution (The Federalist)

VEGAS SETTLEMENT: Las Vegas massacre shooting victims, family members to get up to $800 million to settle lawsuits (Fox News)

*********************************




*********************************

For more blog postings from me, see TONGUE-TIED, EDUCATION WATCH INTERNATIONAL, GREENIE WATCH, POLITICAL CORRECTNESS WATCH, AUSTRALIAN POLITICS, and Paralipomena (Occasionally updated), A Coral reef compendium and an IQ compendium. (Both updated as news items come in). GUN WATCH is now mainly put together by Dean Weingarten. I also put up occasional updates on my Personal blog and each day I gather together my most substantial current writings on THE PSYCHOLOGIST.

Email me here (Hotmail address). My Home Pages are here (Academic) or here (Personal). My annual picture page is here

**************************




Cache

Hitler: Reply to an anonymous critic

It has become pretty well known now among conservative commentators that Hitler was a socialist. The old Soviet disinformation that Hitler was a Rightist is slowly losing its grip. The plain fact is that the ideas Hitler is most famous for -- eugenics and antisemitism -- were mainstream Leftist ideas in the 1920s and 1930s. Leftism is a many-headed beast so not all Leftists subscribed to such ideas but many did. August Bebel summarized it well when he said that antisemitism is der Sozialismus des bloeden Mannes. Leftist intellectuals sometimes rejected it but it was popular among ordinary Leftists. Antisemitism was even a common belief among the Russian Communists of Lenin's day.

I have set out the evidence for all that in my monograph on Hitler but others, such as Jonah Goldberg, have made the same point. Even Louder with Crowder has had a swipe at it

And there is of course online now a large number of articles furiously denying that Hitler was a Leftist, none of which is of any scholarly worth that I can see. A curious exception, however, is a temporary blog from 2011 which is genuinely well informed. It is anonymous and almost entirely devoted to going through my article on Hitler and questioning it detail by detail.

I must say that I am fascinated by by its anonymity. And how come that it is in such an obscure source? I was unaware of it and came across it only by chance a couple of days ago. And if I was unaware of it for 8 years, who else would be aware of it? The author has obviously put a lot of work into it. It took him several months to put it all up. What is the point of that if nobody knows of it? The fact that it is a blogspot blog means that Google knew of it but nobody else seems to. Google owns Blogspot and all Blogspot posts appear to be held on Google's main servers.

From the level of detailed historical knowledge displayed, it seems very likely that the writer is a historian of some standing so the best I can make of it is that he is aware that his opus is little more than a series of quibbles but wants to record his quibbles without anybody being able to hold him responsible for them. His modus operandi is to admit that I am right about something but then to expand the point so as to weaken it in his view. I suppose his admissions that I am right in various ways might be another reason why he wants to remain anonymous

To reply to each and every one of his quibbles would be a book-length enterprise and I have neither the time nor the energy to do that. At age 76 my energies are low so I have to reserve them for what I see as important things. So I will go straight to what I see as his central objection to my thesis. It is in his post of 5 June, 2011

I won't quote any of it as the link leads you straight to it but his objection is to the Nazis being called "brown Bolsheviks", an expression that was commonly applied to them in Germany in the pre-war era. I explained that expression by saying that "Marxism was class-based and Nazism was nationally based but otherwise they were very similar". That is of course the headline point of my article on Hitler: That the Nazis were socialists, nearly as Leftist as the Communists

How well our erudite author gets around that is surely central to his whole argument that Hitler was not a Leftist so he needs a very strong comeback to keep his argument afloat. His comeback is pathetic. He says that the Nazi party had "wings" and Hitler did not belong to the most extreme wing.

So what? All political parties have wings to my knowledge but they also have important things in common or they would not be one party. And the policies they fought elections on in the 1930s were very reminiscent of the U.S. Democratic party in the Soviet era: Slogans such as: "With Hitler against the armaments madness of the world" and "The Marshall and the corporal fight alongside us for peace and equal rights". Regardless of what Hitler personally believed, he campaigned as a strong socialist. The Nazi party won power as a Leftist party. It also had other appeals, such as its nationalism, but its Leftist identity was unmistakeable. How is equality not a Leftist shibboleth?

I can't resist quoting something further from our opinionated author:

First, a quote from what I wrote:

In German, not only the word "Socialism" (Sozialismus) but also the word "Victory" (Sieg) begins with an "S". So he said that the two letters "S" in the hooked-cross (swastika) also stood for the victory of Aryan man and the victory of the idea that the "worker" was a creative force: Nationalism plus socialism again, in other words.

Our erudite author's comment on that:

No evidence for this at all, The only SS one can find stood for "Schutzstaffel", Not "Sieg Sozialismus" or whatever.

Now that's a real lulu. I was quoting Hitler himself -- in Mein Kampf -- as to what the Swastika stood for and our author says: "no evidence for this at all." So Hitler himself didn't know what the swastika stood for???

I don't think I need to go on. That's the most egregious example but his accuracy of statement is at many points very poor.

**********************************

Blumenthal's Bluster

A symphony of mindless hate

As the impeachment of President Trump begins, the battle lines are hardening. Sen. Lindsey Graham dismissed the allegations against the president as "a nothing burger." Sen. Richard Blumenthal had a visceral reaction to Graham's quip, saying:

Donald Trump is going to choke on this supposed nothing burger. He will go down with this supposed nothing burger in his throat because what it shows is repeated, concerted, premeditated criminal conduct.

I found Blumenthal's statement very revealing. Like much of Hollywood's "art" (here and here), it reveals the degree of hatred festering on the left toward Donald Trump.

My old friend Bill Bennett, commenting on this raw hatred, said it reminded him of the animosity Inspector Javert had for Jean Valjean in Les Miserables, which had tragic results.

Sadly, I suspect the left has given little thought as to how it might heal the wounds caused by impeachment or how it might begin to help reunite the country that has been so divided by its extreme policies and growing anti-Americanism.

But let me remind you, my friends, that the left's hatred isn't just about Donald Trump. It's about you. It's about me. It's about all the 63 million "deplorable and irredeemable" people who voted for Donald Trump. They tell us that all the time.

The left's rage didn't begin with Donald Trump. It smeared Ronald Reagan, Robert Bork, Clarence Thomas, George W. Bush, John McCain, and even Mitt Romney. The left viciously attacked Brett Kavanaugh and it is still attacking him.

Friday was the anniversary of Christine Blasey Ford's Senate hearing. And Kamala Harris is still demanding Kavanaugh's impeachment.

Where We Stand

It is hard for anyone to keep up with all the nuances of this dispute and the developments that have taken place at such a rapid pace. Of course, that's the left's goal — to confuse and demoralize conservatives. But let me just summarize where we are:

An anonymous CIA employee, with an identified anti-Trump bias, has filed a complaint about a presidential phone call to another head of state.

The employee was not on the call.

His identity, and those of anyone he worked with, is being hidden.

What he alleged has been shown from the transcript to be false, and there are numerous inconsistencies in the complaint.

On this basis, we're being told by virtually every Democrat and reporter in America that the president must be removed from office.

That's it.

SOURCE

***************************************

With USMCA, Japan, Brazil and South Korea trade deals, President Trump is very bad at being an isolationist

President Donald Trump is very bad at being an isolationist, in fact, he is probably one of the worse isolationists in American history.

Think about it. President Trump is pushing Congress to pass the USMCA, which tears up the 40 year old NAFTA agreement and replaces it with one which protects our national sovereignty while expanding trade between the three countries on a more favorable footing for U.S. workers.

President Trump has talked to India's Prime Minister Modi about building a bi-lateral trade relationship between our two nations. He is similarly working with the President of Brazil along the same lines. He has already rewritten the South Korean trade deal to better accommodate U.S. interests, and has expanded trade relations with Japan creating a massive corn and technology purchase. He is also negotiating deals with the United Kingdom (post-Brexit), and the European Union.

And all the while, his trade team continues to hammer away at the China trade challenge.

Rather than being anti-trade, President Trump is probably the most trade focused U.S. leader in modern history. But his goal is different than many in the past.

The current world trading system was based upon a need to win the Cold War with the Soviet Union by spreading capitalism across the globe. At its core, it was a transfer of wealth from the United States to the rest of the world in the guise of allowing foreign products to be sold in the U.S. with relatively low tariffs, while leaving tariffs on U.S. exports to these developing countries high — the essence of non-reciprocity. This had the effect of allowing those countries to not face U.S. competition in their markets so their domestic economies could thrive from the trade imbalance cash infusion that followed.

For America's part, we received less expensive items in our stores as major parts of industries like our domestic electronics manufacturing got outsourced to Asia. When China entered the world market in a big way and was granted Permanent National Trade Relations status by the U.S. in 2000 and entered the World Trade Organization in 2001, the entire world shifted.

U.S. and other foreign multi-national businesses took the certainty that Chinese goods would have inexpensive access to the U.S. markets and invested heavily in the Chinese economy, building factories knowing that they would benefit from cheap Chinese labor while exporting the once U.S.-made toys and other goods to American consumers.

What was a giant sucking sound of U.S. jobs heading south to Mexico from the Bill Clinton negotiated North American Free Trade Agreement became a tsunami as manufacturers flocked to make products in China with the promise of not only having access to U.S. markets but also being able to sell to Chinese consumers.

With China targeting key industries like steel, aluminum, rare earth mining, electronics, autos and high tech chip manufacturing, more and more blue collar jobs were exported around the globe.

A system originally designed to help get the post-World War II world back on its feet was now sucking the life blood out of America, while still delivering low cost electronics for its trouble. The ugly truth is that, as a result, the U.S. Gross Domestic Product has not exceeded 4 percent since 2000, with what used to be the expected normal growth rate of 3 percent beyond reach since 2005.

This is why President Trump is realigning our trade relationships around the world.

By emphasizing intellectual property protections, the President is ensuring that America's ingenuity and problem solving is not stolen by foreign countries like China and then sold back to U.S. consumers at ten cents on the dollar.

By emphasizing ending currency manipulation, the President is ensuring that deliberate, foreign government created inflationary tariffs are not imposed on U.S. products. Currently, the Bureau of Labor Statistics reports that the trade war with China has NOT resulted in increased costs to U.S. consumers or producers, while generating more than $30 billion in new tax revenue from the Chinese.

How is this possible? The Chinese have forced their wholesalers to eat some of the increased tariff costs while making the Yuan even less valuable than the dollar to keep the costs of Chinese products low.

But this only serves to emphasize the importance of the entirety of the Trump trade agenda. Passing the USMCA, and continuing to create new agreements built upon the inviolability of intellectual property rights puts up an economic wall around China, either trapping them in their anti-property Marxist doctrine or forcing them to accept private property rights for their own economic survival.

The USMCA is the first shoe to drop in this paradigm shifting strategy, and it is why it needs to be voted through the House and Senate. Yes, more, fantastic jobs are projected to be created in the United States, and quite frankly in Canada and Mexico as well. But the language of USMCA on private property and currency manipulation will serve as the models for the entirety of a series of bilateral trade deals.

Trade deals that will encompass the largest economies in the world, except China, and which will create a freedom economic noose around Beijing's neck.

Isolationist? No, President Trump is an American President looking out for American economic interests while putting together a new international trade regime to replace the broken one that was crippling our nation's economic future.

SOURCE

***********************************

IN BRIEF

WHISTLEBLOWER ARRANGEMENTS: "House Intelligence Committee Chairman Adam Schiff announced Sunday that the whistleblower who filed a complaint regarding President Donald Trump's call with Ukraine's president has agreed to testify before the committee, adding that it will likely happen 'very soon,'" The Daily Caller reports. News of the arrangement came two days after Secretary of State Mike Pompeo was subpoenaed. Meanwhile, President Trump on Sunday fumed: "Like every American, I deserve to meet my accuser, especially when this accuser, the so-called 'Whistleblower,' represented a perfect conversation with a foreign leader in a totally inaccurate and fraudulent way." In the same vein as fraud, The Federalist's Sean Davis reveals, "Federal records show that the intelligence community secretly revised the formal whistleblower complaint form in August 2019 to eliminate the requirement of direct, first-hand knowledge of wrongdoing." No wonder Joe Biden's campaign is trying to coerce the Leftmedia into silencing Trump attorney Rudy Giuliani, which sounds suspiciously like ... collusion.

CLINTON PROBE: "The Trump administration is investigating the email records of dozens of current and former senior State Department officials who sent messages to then-Secretary of State Hillary Clinton's private email. ... Those targeted were notified that emails they sent years ago have been retroactively classified and now constitute potential security violations, according to letters reviewed by The Washington Post. In virtually all of the cases, potentially sensitive information, now recategorized as 'classified,' was sent to Clinton's unsecure inbox." (The Washington Post)

JUDICIAL OBSTRUCTION & ACTIVISM: "A federal judge in California ruled Friday against the Trump administration's plan to detain illegal immigrant families longer than 20 days, undercutting the president's attempt to close the chief 'loophole' that caused this year's border surge. Judge Dolly M. Gee, an Obama appointee, has long been a stumbling block for Homeland Security and its immigration plans, and the ruling was expected. The administration is likely to quickly appeal." (The Washington Times)

A 'MEDICARE FOR ALL' HARBINGER: "Federal authorities on Friday charged more than 30 individuals in connection with an alleged Medicare-fraud scheme that took as much as $2 billion out of the pockets of taxpayers before it was detected. The scheme revolved around tricking seniors into getting their cheeks swabbed for unnecessary DNA tests that would supposedly tell them whether they were genetically predisposed to serious diseases, including cancer. The defendants would then charge Medicare for the swabs. In total, they are alleged to have collected $2 billion in reimbursements, with the typical bill running between $7,000 and $12,000." (National Review)

NORTH CAROLINA GERRYMANDERING: "Democrats are headed back to court to challenge the validity of North Carolina's 13 congressional districts, just weeks after the state's highest court ruled that the Republican-controlled legislature unconstitutionally gerrymandered state-level maps. A new lawsuit filed Friday on behalf of 14 North Carolina voters challenges Republican-drawn maps that first went into effect ahead of the 2016 elections, after a court threw out a previous set of maps that were drawn after the 2010 census." (The Hill)

A TALE OF TWO SEASONS "One week after summer's end, a 'winter' storm began blasting parts of the West with up to 3 feet of snow, smashing records with low temperatures, heavy snow, strong winds and blizzard conditions forecast into Monday," USA Today reports. On the other hand, "Temperatures will soar to 10 to 25 degrees above average through much of this week across the Deep South and into the Ohio Valley, mid-Atlantic and Northeast," according to The Weather Channel. For those wondering about the implications of global warming, keep in mind that extreme weather — both of the hot and cold variety — has been and always will be Mother Nature's way of finding equilibrium.

**********************************

For more blog postings from me, see TONGUE-TIED, EDUCATION WATCH INTERNATIONAL, GREENIE WATCH, POLITICAL CORRECTNESS WATCH, AUSTRALIAN POLITICS, and Paralipomena (Occasionally updated), A Coral reef compendium and an IQ compendium. (Both updated as news items come in). GUN WATCH is now mainly put together by Dean Weingarten. I also put up occasional updates on my Personal blog and each day I gather together my most substantial current writings on THE PSYCHOLOGIST.

Email me here (Hotmail address). My Home Pages are here (Academic) or here (Personal). My annual picture page is here

**************************



Cache

How To Help The Poor Without Subsidizing The Rich

If you are a high net worth individual you probably already know about it. A seminar on the subject at Manhattan's Harvard Club attracted financial advisors to some of Americas richest dynasties – including the Pritzker and Soros families.

A Las Vegas meeting on the subject was organized by former White House aide Anthony Scaramucci and attracted such attendees as Mark Cuban, the billionaire owner of the Dallas Mavericks, and former New Jersey governor Chris Christie. It has spurred the Swiss bank UBS to create a fund for its "ultra high net worth" clients – people who have at least $50 million in investable assets.

So, what's all the excitement about? They are called OZs, or Opportunity Zones. They are the hottest investment opportunity around, and they were created by a mere 8 pages in the 185-page tax reform bill the Republicans passed in 2017.

Today In: Business
In theory, the idea was to provide capital to revitalize the urban areas that President Trump has portrayed as "wastelands, ravaged by crime and homelessness and infested by rats." In practice, it's gentrification on a grand scale – as luxury high-rises for the rich replace run-down buildings and other structures.

For example, an OZ project in New Rochelle, N.Y., is financing an upscale apartment building that has a yoga studio, 24-hour valet parking and a spa for residents' pets. One in New Orleans' trendy Warehouse District is building a hotel with an opulent restaurant and a roof-top pool.

As explained in a New York Times investigative report (which is the source of most of what I am relating), here is how it works. Investors in an OZ can defer any capital gains taxes for up to 7 years. After 10 years, an investor can cash out and not owe any taxes at all. On paper, an opportunity zone is a census tract where poor people live. But there can be affluent areas within the tract and that's where the investments can be targeted.

Bottom line: A tax break meant to benefit the poor has become a boon to hedge funds, real estate developers and wealthy investors.

Here is what the tax reform bill might have done instead. Almost 40 years ago, Stuart Butler, then at the Heritage Foundation, proposed Enterprise Zones – a concept first imagined in Margret Thatcher's Britain. Butler's idea was to take a depressed area, remove burdensome taxes and regulations and allow laissez-faire capitalism to flourish. Within no time at all, he expected the South Bronx, for example, to look like Hong Kong.

This idea was championed by Jack Kemp, HUD secretary during the George H.W. Bush presidency, and by New York congressman Charlie Rangel. It was partly implemented during the Clinton administration.

But by most measures, the experiment was a failure. The reason? No regulations were actually repealed. What we got instead was increased spending and a few tax breaks – making government a partner in every private decision that was made. We didn't get less government. We got more government – on top of the government we already had!

That prompted a different approach by my colleagues and me – one called enterprise programs.

Here is the idea: instead of carving out a geographical area for deregulation, let's carve out essential services that are needed by low-income families. All too often, burdensome regulations are pricing poor people out of the market for the services they need the most. So why not remove those regulations?

Take transportation. Did you know that low-income families use taxi cabs more than any other income group? The reason: they are less likely to own a car. So, in cities where taxi regulations have done little more than create a transportation cartel, poor people are hurt the most.

Uber and Lyft have made a huge dent in this market – but they are mainly serving the high end of the market. It's still illegal for me (without a license) to drive a van to a low-income neighborhood in South Dallas, pick up a group of would-be workers, transport them to a job site in North Dallas, and charge each of them a couple of bucks for the ride.

Then there is medical care. Studies show that nurses following computer protocols in MinuteClinics provide care that adheres to best practices as well or better than traditional primary care physicians. Yet in most states, access to this type of high-quality, low-cost care is limited by regulation. That's why there are virtually no MinuteClinics in rural Texas.

Housing is another example. Local governments often block the use of inexpensive modular homes, limit the number of rental housing units, create minimum lot sizes, and impose cost-increasing amenities such as landscaping requirements. All too often, regulations designed to protect property values in affluent neighborhoods have the unintended consequence of reducing housing construction and availability in non-affluent areas.

Most home-based businesses are started by women and they are a principal way women entrepreneurs become self-supporting. But numerous local regulations stand in the way and day care regulations are among the most severe. Suppose you offered to take care of your neighbors' children for a modest fee during the day, while their parents are at work. In most cities that would be illegal unless you obtain a license and meet all kinds of burdensome regulations.

The Brookings Institution estimates that almost 30 percent of all the jobs in the country require a government license. Whom does that type of regulation hurt the most? People with less education, lower incomes and fewer resources. It hurts them in two ways. On the supply side, occupational licensing is a barrier to a job. On the demand side, licensing raises the cost of goods and services people buy.

Our idea is to let the middle and upper-middle class keep all the regulations they want. For them, nothing would change.

But low-income families should have access to a free market.

SOURCE

***************************************

Wise Judge Blocks California Law Targeting Trump

We're all used to seeing California throw its weight around, but its new law requiring a presidential candidate to provide five years of tax returns to be eligible to appear on a primary ballot is a new low. Now, however, a federal district court judge has blocked the state from enforcing it, at least temporarily.

It's the right decision. The law is nothing more than a political attack on President Donald Trump, the federal elections process, and the right of free association of citizens and all political parties.

California is weighing its options, but if it chooses to appeal, the 9th U.S. Circuit Court should affirm the district judge's decision because the law violates the presidential Qualifications Clause and the First Amendment of the Constitution.

The Qualifications Clause in Article II, Section 1 sets out the sole requirements to be president of the United States. You must be a "natural born Citizen," 35 years of age, and a resident "within" the U.S. for 14 years.

The key case on this is U.S. Term Limits, Inc. v. Thornton (1995). There was a movement across the country in the late 1980s and early 1990s to impose term limits on members of Congress. This political movement ended, however, when the U.S. Supreme Court held in Thornton that an Arkansas law limiting the number of terms that a member of Congress could serve was a violation of the separate Qualifications Clauses that apply to members of Congress.

The Arkansas law provided that once a representative or senator reached the maximum term, he could not have his name "placed on the ballot" — a ballot-access restriction akin to California's new law.

Arkansas was adding an additional qualification to being a representative or a senator; the court, in a 5-4 opinion written by Justice John Paul Stevens, said that "States lack the power to impose qualifications." Although the Thornton case dealt with congressional elections, the same constitutional consideration would apply to presidential elections and the presidential Qualifications Clause.

Arkansas also tried to argue that the term limit was not an additional qualification, but simply a ballot-access requirement. But the court disagreed. States can "adopt generally applicable and evenhanded restrictions that protect the integrity and reliability of the electoral process itself." States have the right to implement rules that are intended to avoid "voter confusion, ballot overcrowding or the presence of frivolous candidacies."

But what states cannot do is try to disguise additional qualifications as ballot-access requirements.

In another decision in 1983 — this time involving Ohio — the Supreme Court in Anderson v. Celebrezze (also a 5-4 decision written by Stevens) threw out a March filing deadline for a presidential candidate to appear on the November ballot. The deadline placed an unconstitutional burden on the voting and associational rights of supporters of a candidate in violation of the First Amendment.

According to the court, "state-imposed restrictions implicate a uniquely important national interest" since "the President and the Vice President of the United States are the only elected officials who represent all the voters in the Nation." Thus, "in a Presidential election a State's enforcement of more stringent ballot access requirements" have "an impact beyond its own borders."

So states have far less power to regulate presidential elections "than statewide or local elections, because the outcome of the former will be largely determined by voters beyond the State's boundaries."

Similarly, in 2001, in Cook v. Gralike, the Supreme Court, this time in a unanimous opinion written by Stevens, said that the authority of states is limited to regulating election procedures. The acceptable regulations are those necessary to impose "some sort of order, rather than chaos" on the "democratic process" as well as to protect the integrity of elections.

The new California law says its purpose is to "provide voters with essential information regarding the candidate's potential conflicts of interest, business dealings, financial status, and charitable donations" so they can "make a more informed decision." Gov. Gavin Newsom said in his signing statement that states "have a legal and moral duty to do everything in their power to ensure leaders seeking higher office meet minimal standards, and to restore public confidence."

The law's stated purpose reveals that it has nothing to do with regulating the "reliability of the electoral process itself" and ensuring orderly voting procedures. Newsom's statement about the law imposing "minimal standards" also shows the law isn't about protecting the voting process — it's about imposing California's minimal qualifications on anyone who wants to be president.

California passed a similar bill two years ago. When then-Gov. Jerry Brown vetoed the bill, he not only acknowledged that it might "not be constitutional," but he expressed his concern "about the political perils of individual states seeking to regulate presidential elections in this manner." He called it a "slippery slope." Tax returns now, but what else might states start to demand he said. Health records? High school report cards? Certified birth certificates?

All of that might depend, as Brown warned, "on which political party is in power" and it could "lead to an ever-escalating set of differing state requirements for presidential candidates."

Neither California nor any other state has the right to impose additional requirements for presidential candidates, whether they categorize them as "qualifications" or as restrictive ballot-access requirements.

More HERE

************************************

A military mind that most of the world does not understand

Our military men on dire occasions do remarkable things

It was 2003 on the march into Baghdad. Brian Chontosh was a platoon leader rolling up Highway 1 in a humvee.

When all hell broke loose.

Ambush city.

The young Marines were being cut to ribbons. Mortars, machine guns, rocket propelled grenades. And the kid out of Churchville was in charge. It was do or die and it was up to him.

So he moved to the side of his column, looking for a way to lead his men to safety. As he tried to poke a hole through the Iraqi line his humvee came under direct enemy machine gun fire.

It was fish in a barrel and the Marines were the fish.

And Brian Chontosh gave the order to attack. He told his driver to floor the humvee directly at the machine gun emplacement that was firing at them. And he had the guy on top with the .50 cal unload on them.

Within moments there were Iraqis slumped across the machine gun and Chontosh was still advancing, ordering his driver now to take the humvee directly into the Iraqi trench that was attacking his Marines. Over into the battlement the humvee went and out the door Brian Chontosh bailed, carrying an M16 and a Beretta and 228 years of Marine Corps pride.

And he ran down the trench.

With its mortars and riflemen, machineguns and grenadiers.

And he killed them all.

He fought with the M16 until it was out of ammo. Then he fought with the Beretta until it was out of ammo. Then he picked up a dead man's AK47 and fought with that until it was out of ammo. Then he picked up another dead man's AK47 and fought with that until it was out of ammo.

At one point he even fired a discarded Iraqi RPG into an enemy cluster, sending attackers flying with its grenade explosion.

When he was done Brian Chontosh had cleared 200 yards of entrenched Iraqis from his platoon's flank. He had killed more than 20 and wounded at least as many more.

But that's probably not how he would tell it.

He would probably merely say that his Marines were in trouble, and he got them out of trouble. Hoo-ah, and drive on.

"By his outstanding display of decisive leadership, unlimited courage in the face of heavy enemy fire, and utmost devotion to duty, 1st Lt. Chontosh reflected great credit upon himself and upheld the highest traditions of the Marine Corps and the United States Naval Service."

That's what the Navy Cross citation says.

And that's what nobody will hear.

That's what doesn't seem to be making the evening news. Accounts of American valor are dismissed by the press as propaganda, yet accounts of American difficulties are heralded as objectivity. It makes you wonder if the role of the media is to inform, or to depress – to report or to deride. To tell the truth, or to feed us lies.

But I guess it doesn't matter.

We're going to turn out all right.

As long as men like Brian Chontosh wear our uniform.

SOURCE



********************************

IN BRIEF

NO MORE "CATCH AND RELEASE": "The Trump administration will no longer allow migrant families apprehended at the border to enter the U.S. under the immigration policy commonly known as 'catch and release.' The policy change was announced Monday by Acting Secretary of Homeland Security Kevin McAleenan in remarks at the Council on Foreign Relations in Washington, D.C. ... McAleenan said the end of 'catch and release' is a reaction, in part, to the record number of 144,000 migrants apprehended or encountered at the southern border in May. He said that 72% were unaccompanied children or families." (NPR)

BORDER ENABLERS: "The Marine Corps has charged 13 members with smuggling illegal immigrants into the U.S., in addition to a range of other offenses including failure to obey an order, drunkenness, endangerment, larceny, and perjury, according to a statement released Friday. Lance Corporals Byron Law and David Salazar-Quintero were specifically charged with transporting illegal immigrants into the country for financial gain. The two were based in Camp Pendleton, located between San Diego and Los Angeles, Calif. The other marines included in the indictments, some of whom were charged with distributing cocaine and LSD, were not named." (National Review)

PRESS BRIEFINGS INDEFINITELY SHELVED: "White House Press Sec. Stephanie Grisham said Monday that she has no plans on bringing back the daily White House press briefings, saying reporters used them to make themselves famous. 'Ultimately, if the president decides that it's something we should do, we can do that. But right now, he's doing just fine. And to be honest, the briefings had become a lot of theater, and I think that a lot of reporters were doing it to get famous,' Grisham said on Fox & Friends. ... It has been over six months since a press secretary has held a traditional briefing in the White House press briefing room, according to Axios." (The Daily Caller)

NO RESPECT: "In August, a group of Trump supporters led by conservative activist Scott Presler went to West Baltimore for a massive clean-up operation following tweets sent by President Donald Trump highlighting the dire conditions in the area. Keeping to his promises, Presler has since led clean-up efforts in Newark, New Jersey and Virginia Beach, Virginia. And on Saturday, Presler and some 200 volunteers headed to Democrat-run Los Angeles, removing a stunning 50 tons of garbage, according to the activist. ... The impressive feat, however, has gone widely unnoticed by the mainstream media." (The Daily Wire)

NOLA CRIME: One in seven adults in New Orleans has a warrant out for arrest (The Washington Post)

**********************************

For more blog postings from me, see TONGUE-TIED, EDUCATION WATCH INTERNATIONAL, GREENIE WATCH, POLITICAL CORRECTNESS WATCH, AUSTRALIAN POLITICS, and Paralipomena (Occasionally updated), A Coral reef compendium and an IQ compendium. (Both updated as news items come in). GUN WATCH is now mainly put together by Dean Weingarten. I also put up occasional updates on my Personal blog and each day I gather together my most substantial current writings on THE PSYCHOLOGIST.

Email me here (Hotmail address). My Home Pages are here (Academic) or here (Personal). My annual picture page is here

**************************



Cache
The first, the article WeWork and Counterfeit Capitalism by Matt Stoller. The second, the Episode 943: Unicorn Cowboy from NPR's Planet Money podcast.

Cache
Think Outside invites local, national and international design thinkers to contemplate a 'wicked problem' outside their area of expertise, offering new and unexpected solutions for discussion.
Think Outside: Economy, the final event in the series, asks design thinkers 'how might we design a more ethical and sustainable economic system?'
Many believe the existing model of capitalism is "broken". However, like many of today's "broken" mechanisms, capitalism is a system, a system designed by people. We therefore have the ability (and responsibility) to design a new system - an improved system.
Each speaker has 10 minutes to present their ideas, setting the platform for a considered debate and discussion around the practical implications of these new ideas. The audience was invited to respond to the challenge prior to the event and to share their thoughts as part of the final debate and discussion.
Speakers: Marcus Westbury and Alison Kubler.
Date: Tuesday 5 November, 2013 5.30pm to 7.30pm
Cache
Understanding America's Cultural And Political Realignment
Authored by Richard Tafel via Quillette.com,
Understanding American politics has become increasingly confusing as the old party labels have lost much of their meaning. A simplistic Left vs. Right worldview no longer captures the complexity of what's going on. As the authors of the October 2017 "Pew Survey of American Political Typologies" write, "[I]n a political landscape increasingly fractured by partisanship, the divisions within the Republican and Democratic coalitions may be as important a factor in American politics as the divisions between them."
To understand our politics, we need to understand the cultural values that drive it. The integral cultural map developed by philosopher Ken Wilber identifies nine global cultural value systems including the archaic (survival), tribal (shaman), warrior (warlords and gangs), traditional (fundamentalist faith in God), modern (democracy and capitalism), and postmodern (world-centric pluralism). When combined with Pew's voter typologies, Wilber's cultural levels offer a new map of America's political landscape.
Of Wilber's nine global value systems, the Traditional, Modern, and Postmodern categories are most useful to understanding our moment. Traditional culture values disciplined adherence to assigned gender and social roles: men are providers and heads of households, marriage is between one man and one woman, and the institutions of the military, law enforcement, and the clergy are all highly respected. Historically, traditional cultures were monarchies or states ruled by "strongmen." Modern culture superseded traditional systems in the West during the Enlightenment, and values rationality, democracy, meritocracy, capitalism, and science. Individual rights, free speech, and free markets harness an entrepreneurial spirit to solve problems.
Postmodern culture offers a borderless, geocentric political view that values pluralism. It challenges a pro-American narrative by focusing on the horrors of American history, including the exploitation of Native Americans, slavery, and persistent inequality disproportionately affecting historically disadvantaged groups. Those left behind by modernity and progress now seek recognition, restoration, and retribution via a politics of protest, and show little interest in building political organizations or institutions. We are currently living in a postmodern political moment of disruption, best described by author Helen Pluckrose in her Areo essay "How French Intellectuals Ruined the West: Postmodernism and its Impact, Explained":
If we see modernity as the tearing down of structures of power including feudalism, the Church, patriarchy, and Empire, postmodernists are attempting to continue it, but their targets are now science, reason, humanism and liberalism. Consequently, the roots of postmodernism are inherently political and revolutionary, albeit in a destructive or, as they would term it, deconstructive way.
When we overlay Pew's data with Wilber's Value levels, six cultural political categories emerge: Traditional Left and Right, Modern Left and Right, and Postmodern Left and Right.
Traditional Left: Devout and Diverse

If you live in an urban bubble, you may not even recognize the Traditional Left. Pew identifies these Democrats as "Devout and Diverse," mainly comprised of minorities. Pew describes them as "…fac[ing] the most difficult financial challenges among all Democratic categories." They are "the most religiously observant Democratic-leaning group, and the only one in which a majority (64 percent) says it is necessary to believe in God to be moral and have good values… they have a strong support for the social safety net and further action on racial equality." These Democrats don't support gay rights or increasing immigration and, as Pew notes, "40 percent describe their own ideology as conservative." They are the oldest of the Democratic voter groups and make up around six percent of all engaged voters.

Traditional Right: Country First

While the Devout and Diverse voters have almost no public profile in the media, the Traditional Right is perceived to be much larger than it is. Pew refers to them as "Country First" Republicans, who "fear America risks losing our identity as a nation." They have largely negative views of scientists and artists, and are the most elderly of all typology groups. Primarily comprised of white men, they hold a generally favorable view of Trump and uniformly oppose same-sex marriage. They make up about six percent of all engaged voters.

While both Republicans and Democrats have socially conservative, anti-gay, anti-immigrant voters in roughly the same numbers, the social conservatives on the Right play a more prominent role in American politics, partly because they play a larger role in the GOP, and partly because the media like to highlight them to fit their own narrative. Based on their aging demographic, the traditional value level is unlikely to be as significant a force in future elections.

Modern Left: Opportunity Democrats

The Modern Left is best represented by Pew's "Opportunity Democrats," who are optimistic and pro-business. They believe "most people can get ahead if they are willing to work hard" to achieve the American Dream. Almost half of them say "most corporations make a fair and reasonable amount of profit." They are primarily white, financially well off, and describe themselves as moderate. They are socially inclusive, liberal on immigration, and supportive of gay rights. They are also less likely to believe that blacks and women face structural barriers to advancement. Until recently, this group defined what it meant to be a Democrat, but they have lost their center of power. Today, they make up around 13 percent of all engaged voters.

Modern Right: Core Conservatives and New Era Enterprisers

Two different groups in Pew's study represent Modern values among Republican voters. The larger and older of the two are called "Core Conservatives," while the younger, smaller group Pew calls "New Era Enterprisers." Both groups share modern values evidenced by their belief in the power of capitalism and democracy. Both believe in the power of the free market and the importance of America's global leadership. Both remain optimistic about the possibilities afforded by the American Dream. They make up the 66 percent of Republicans who support the "Dreamers." Their pro-immigration position is also confirmed in a Gallup report, which states that "… significantly more Republicans favor a path to citizenship than support building a border wall or deporting illegal immigrants."

Core Conservatives are the largest Republican voter group. Made up of mostly white men, they enjoy the highest rates of home ownership of any voter group, and a majority believe that they've achieved the American Dream. They are the best educated of any Republican group, yet have the most negative attitudes toward the impact colleges have on our country. They are most likely to invest in the stock market and their most important issue is the economy. "Sixty-eight percent express a positive view of US involvement in the global economy 'because it provides the US with new markets and opportunities for growth.'" In addition to their largely pro-free market and pro-immigration views, they have the most favorable view of Donald Trump among all voting groups. They represent 20 percent of all engaged voters.

New Era Enterprisers, meanwhile, are young, urban, and much more ethnically diverse. Pew points out that they are "strongly pro-business and generally think that immigrants strengthen, rather than burden, the country." Innovation and entrepreneurship are most important to them. They are pro-immigration and pro-gay rights with the highest opinion of a role for government among any Republican group. Only a quarter of them self-identify as strong Republicans. They are the least supportive of Donald Trump among Republican groups, and the least likely to express negative attitudes toward the Democratic Party. They make up nine percent of all engaged voters.

Together these two modern Republican groups total 29 percent of engaged voters, and represent the center of power within the GOP.

Postmodern Left: Solid Liberals and Disaffected Democrats

The two Pew voting groups which make up the Postmodern Left are "Solid Liberals" and "Disaffected Democrats." Both groups have negative views of capitalism and are concerned about America's treatment of minority groups.

Solid Liberals is a bit of a misnomer as they tend to reject liberalism in its classical form. They are progressives who hold strongly negative views of businesses, question or reject the concept of the American Dream, and see the world through the lens of identity politics. They are mostly white, well-off, and well-educated, and they are the most secular voters found across voting groups. Ninety-seven percent strongly disapprove of Trump's job performance. They are unlikely to have friends outside their political circle, and over half of this group would say "that a friendship would be strained if someone voted for Trump," much higher than any other Democratic group. It isn't just Trump they dislike. They are highly partisan in general and the least tolerant of Republicans among all Democrat groups. They are the largest engaged Democratic voting group and the largest of all voting groups in Pews voter typologies. They make up 25 percent of engaged voters.

Pew characterizes Disaffected Democrats as a "financially stressed, majority-minority group [that] supports activist government and the social safety net…" They are unhappy with America and their "disaffection stems from their cynicism about politics, government and the way things are going in the country. Disaffected Democrats would be the most likely to see the world through the lens of identity politics."

A large majority of Disaffected Democrats say their side has been losing in politics, while fewer than half believe that voting gives them a say in how the government runs things, highlighting another hallmark of their beliefs: they have very little faith in the system." They believe government has failed them and that, "poor people have hard lives because government benefits do not go far enough to help them live decently." Unlike the white elite Postmodern Democrats, they often have lived in the same neighborhood their entire lives. They make up 11 percent of all engaged voters.

Together these two diverse progressive groups make up 36 percent of all engaged Democratic voters, which makes them the largest of any groups on the Left or Right. When pundits refer to the Democratic Party moving "leftwards" there are trying to capture this movement toward the postmodern level—the new center of gravity of cultural power on the American Left.

Postmodern Right: Market Skeptic Republicans

The group that is least understood in American politics is the Postmodern Right. While postmodernism on the Left focuses on the failure of modernity to address social justice in term of identity politics, the Postmodern Right questions the fundamental economic worldview of the Modern Right. In Pew's survey, they show up as a new category named "Market Skeptic Republicans."

Like those on the Postmodern Left, they share a strong skepticism of America exceptionalism, an overriding pessimism about the country, and they are critical of both political parties. They are the first ever "Republican-leaning group that is deeply skeptical of business and the fundamental fairness of the nation's economic system." They do not believe in lower taxes, which until recently defined the modern GOP, and they have an unfavorable view of banks and other financial institutions. Unlike other Republicans, Market Skeptic Republicans believe American capitalism is unfair, "an overwhelming share (94 percent) say the economic system unfairly favors powerful interests."

The media often lumps them in as traditional conservatives because of their opposition to immigration. But that's a mistake. They favor legal abortions in higher numbers than the Traditional Left Democrats, and they are the most secular of all Republican groups. They are also most interested in a white identity politics, mirroring those on the Left.

They are also the least loyal to the GOP. As Pew notes, "They stand out for their criticism of both political parties when it comes to caring about the middle class." They hold a more favorable view of Donald Trump than most other Republican groups. Though not well known and ignored by the media, they are a larger voting group than the religious Right in the Republican Party, making up 10 percent of all engaged GOP voters.
Using Pew's voter groups on an integral value map illuminates how polarization is causing divisions within, and well as between, America's Left and Right. It also shows that the center of American politics has moved from a modern base which held the center of gravity for over a century to a new postmodern base. Today, the Democratic Party energy's is centered at that postmodern level, while the center of the GOP remains modern.
What this Map Tells Us about the 2016 Election
In 2016, instead of hiring DC-based consultants, Donald Trump listened to conservative talk radio to plot his strategy. Just as a bat uses sonar, Trump bounces ideas off audiences and recalculates his path accordingly. He intuitively understood that the element unifying the different aspects of the Traditional and Modern Rights was their united opposition to the growing dominance of the urban elite, and the identity politics favored by the Postmodern Left. He exploited those tensions by aggravating them and antagonizing the mainstream media as a means of uniting the Right.
In addition, his post-truth worldview and ability to criticize establishment Republicans provided him with access to a new, postmodern Republican voting group—Market Skeptics. Writer David Ernst has argued in the Federalist that Trump is the first President to "turn postmodernism against itself," because he grasped the postmodern idea of the anti-hero. 
If politics flows downwards from culture, then it was only a matter of time before a politician mastered the role. Love him or hate him, Donald Trump cracked that code. Tony Soprano, Walter White, and Frank Underwood are just a few recent examples of the enormously popular characters who have, each in their own way, stood in for the role of the complicated bad guy who fascinates millions of Americans.
Clinton's Loss
No one told Hillary Clinton that the political landscape in which she and her husband had learned politics had changed. In the 1990s, Bill Clinton successfully navigated the values divide between moderns and traditionalists by polling and then speaking successfully to both traditional and modern voters on the Left and center-Right. That's not the political world Hillary inherited.
Neither she nor Bill are at home with the postmodern voters that are now the largest voting group in the Democrat coalition. Bill Clinton repeatedly proved to be a liability in the 2008 and 2016 races because he failed to understand the demands of the newly "woke" Democrat coalition. Hillary was a modern candidate in a postmodern party without the cultural translation skills she needed to communicate with progressives. Many of those progressives voted in unusually high numbers for Green party candidate Jill Stein or simply stayed home.
What to Expect in 2020
Trump will again seek to unite his coalition by goading the Postmodern Left. Though incumbents are usually judged by how they performed in office, Trump will try to make these opponents the focus of his 2020 campaign, just as he did in 2016. The more he's scolded by the media, the better his chances will be of reuniting his coalition. However, this strategy risks losing New Era Entrepreneurs, and losing any voting group on the Right makes Trump's re-election difficult.
Democratic primary voters, meanwhile, are becoming more postmodern. The pressure to move from the modern liberal to progressive postmodern worldview in the crowded primary field risks alienating modern Democrats. Worse, whoever wins the progressive primary will need to work hard to attract any modern voters in the center and on the Right. Though two aging straight white men lead the polls in the primary as of this writing, the reality of a postmodern base in the Democratic coalition doesn't bode well for straight white male candidates, and offers new opportunities to candidates who are female, black, Latino, or gay.
The challenge for Republicans is that the Traditional Right voting block is aging out. The divisions around business and the role of government between Market Skeptic Republicans and Core Conservatives are as profound as—if not greater than—the divisions on the Left. Worse, their larger voting coalitions are demographically much older. Trump risks pushing the remaining younger entrepreneurial, ethnically diverse voters into the Democrat coalition.
There is, however, one bright spot in this chaos. According to Wilbur's theory, a new "integral" value system is emerging that "transcends and includes" the best aspects of earlier value systems. Jordan Peterson's popularity may be an early sign of this—while embracing aspects of tradition, science, and therapeutic culture, his message and best-selling book appear to be resonating.
If this marks an early shift towards integral values, such a move could put an end to our vicious culture wars as new leaders emerge with the ability to see multiple viewpoints and accommodate their contradictions. Understanding American politics will continue to be hard work. But only when we understand culture will we understand politics so that we can transform it for the better.
Tyler Durden
Tue, 10/08/2019 - 18:05
Cache
Daniel Steinmetz-Jenkins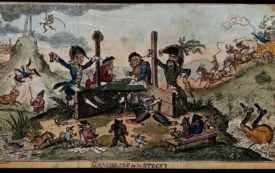 We talk with historian Eugene McCarraher about the myths and rituals of the market, the lost radicalism of the late 19th and early 20th centuries, and the rise of neoliberalism.

The post Has Capitalism Become Our Religion? appeared first on The Nation.




Next Page: 25 © Googlier LLC, 2019