Cache
Musings about the Suspended in Pink Raffle.
Thanks to Marthe Le Van's recent article, I have been thinking about the 'Suspended in Pink' raffle.
Here is an extract:
"As a retail storeowner and salesperson, the raffle felt amateurish, gimmicky, and a bit desperate—like when I heard about Facebook for the first time. Ultimately, after reconciling all my perspectives, I believe there is much to applaud in the
Suspended in Pink
raffle. It feels fresh and innovative, optimistic and courageous, liberating and democratic—all worthy consequences pointing toward progress"
Now, I have no problem at all about an idea of mine being compared to the early Facebook- and I am the first to admit the visuals, practicalities and how the raffle is presented still needs some work!
Most raffles are devised as a means of fundraising, to enable an exhibition, event etc... Seen by the Borax Collective , Handshake Jewellery and an American Art Jewellery group ( i am sure there are many many more).

And as Le Van notices, through her many astute questions, fundraising is not the aim of the 'Suspended in Pink' Raffle...
So what is it? and WHY should you take part?

I go to many many exhibitions every year. But As a wanna-be collector, I have only three small pins.
I dont want a specially designed brooch with a groups logo on it, a sample piece or a bunch of postcards as a consolation prize- I want THE piece.
I want to own

Silke Fleischer's

amazing necklace and Sam Hamilton's 'Bread' Like brooch.
As a practitioner is who interested in engagement and audience interaction, I am always looking for ways to get my audience to wear the jewellery, understand it, and imagine owning it- and that, in my view, is the real strength of the 'Suspended in Pink' raffle.
So the idea of raffling off one of the jewellery pieces from the Suspended in Pink Exhibition seemed an obvious idea.
But its more then that....
Once a viewer decides they wish to take part in the raffle, they then can spend up to an hour, going through the exhibition, trying on the jewellery, comparing, assessing, deciding which item THEY would take home.
Deciding which piece of jewellery spoke out the most to them.
And this was then the piece that they would then bet on.
Maybe they would win it, maybe not- but for £5/€6/$8 it seems like a worth while experience to have- the experience of wearing and imagining that favourite piece of jewellery which YOUR ticket could win you....
And here is the good news- the odds of winning in this raffle are actually really high!
Only a small number of people have guessed the same names, and there are a number of exhibitors who's name has not been guessed yet-
So you have a real chance of winning....
All you have to do is email:
suspendedinpink@gmail.com
with: your name, the name of the artist who you want to win-
And to send payment of £5/€6/$8 by paypal to:
suspendedinpink@gmail.com
The winner is announced this Autumn!
Cache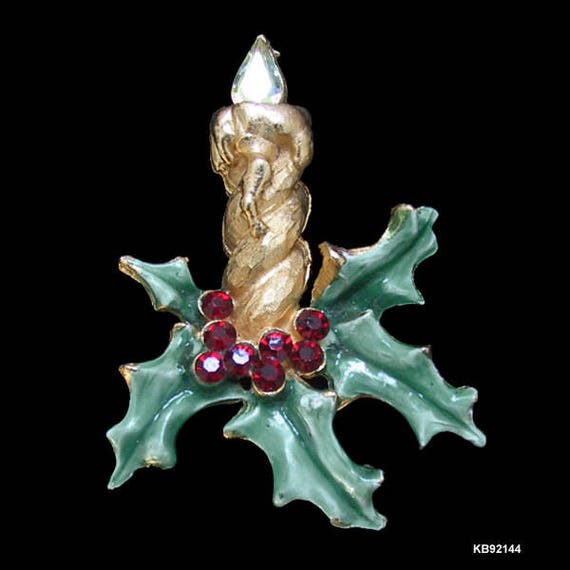 23.00 USD
Vintage 1960s MYLU Single Candle Christmas Brooch Pin Signed, One Candle Christmas Brooch

A single twisted gold colored candle with wax dripping down its side is topped with a tear drop shaped aurora borealis rhinestone and set in sprigs of holly leaves topped by red chaton cut rhinestone berries. Signed © MYLU in block letters on an applied oval plaque on reverse as well as signed in script on the end leaf.

length: 1-3/4", width: 1-3/8"

More of AntiquingOnLine's Antique and Vintage Jewelry at
http://www.etsy.com/shop/AntiquingOnLine

Thank you for looking.

All photos and descriptions copyright © 2019 Antiquing On Line.
Cache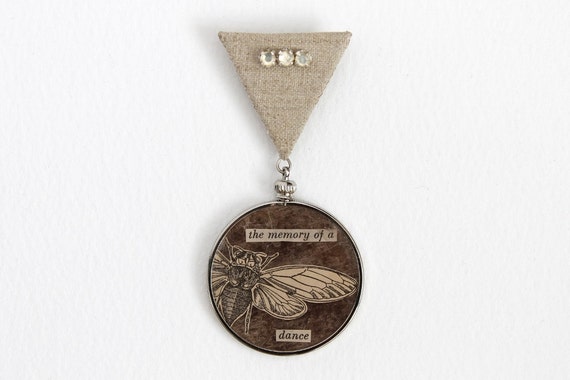 42.00 EUR
This is a one of a kind mixed media art brooch with a small collage. This is for the lover of beauty, carefully thought out details, and elegant vintage bits. You'll never see another brooch like this - it's just as original as you are! The unique nature of this piece also means you should grab this before someone else does!


- size: 3,9x8cm / 1.5"x3.1"
- the text reads "the memory of a dance"


The collage is created with cut out bits from a vintage dictionary and encyclopedia sandwiched between layers of clear and compressed sheets of mica. The mica looks opaque, but when held to the light it has a beautiful translucent warm silver tone to it.

The top part of this brooch is made of natural linen and embellished with vintage sew-on rhinestones. The brooch pin is nickel free, so this piece suits also the more sensitive people.



Your order always arrives beautifully wrapped and ready for gifting, or for simply treating yourself to something special.
Cache
All jewellery charity shopped.
Hello again!
I've been pleasantly surprised at how lovely the weather has been since our return from Ireland. It's chilly at night and first thing in the morning, but I'm still wearing my summer wardrobe...just.
This top is by Nomads and was bought for 3 euros in the Animals in Need charity shop in Donegal town. Martina cut my hair in Ireland and cut it very short, so it's just beginning to grow back a bit now.
Everything charity shopped; lace jacket Barnardo's 2.00; white Next jeans, can't remember. Shoes; 3 euros in Killybegs charity shop about 3 or 4 years ago. All jewellery charity shopped.
School runs, charity shop volunteering and food bank volunteering are all back in the weekly routine. I did a fair amount of child minding the first week I was back as it was my daughter's 41st birthday that week; (oh, that makes me feel so old writing that) and she celebrated in style! A weekend in London, plus a day out in London, a meal with friends on her birthday and I took her to see Downton Abbey at the cinema and out for a meal, as well. We both really enjoyed Downton Abbey - we got into it when we spent May half term in Cornwall last year and watched a DVD of the first series; then we we were hooked and had to watch the entire series over the next few months!
Another Ireland top. This one is by George (Asda) and was 2.00 euros; I love the sleeves and find I wear it a lot. White goes with everything and I love the pattern. Linen trousers 1.00 rail somewhere and shoes as above.
Cardigan by F&F; for the chilly evenings; charity shopped for £2.00 in my Barnardo's.
All jewellery charity shopped; these earrings were picked up in Sligo town for 1 euro.
I got back into walking, too. I walked with my group in Woburn Sands on the first Wednesday I was back and a really lovely 7 mile walk A lot of climbing into and out of woods. As the name suggests it's very close to Woburn Abbey and Safari Park; but a nice village with its public loo in a Shepherd's Hut! I didn't take any photos - too busy catching up with everyone's news.
On Thursday I walked 9 miles. I wanted to recce the walk I'm leading in October; starting from a different place, but realised after 4 miles it would be too long; so just walked an old route back to the start which came to 9 miles in total!
I'm wearing one of the three jackets I bought in Ireland This one was 5 euros and is by
The top underneath came from the 25p basket in my Barnardo's as did the scarf. All jewellery charity shopped.
These were charity shopped Next jeans I was going to donate but chopped the bottoms off and frayed them. Shoes from Sainsbury's earlier this year.
Everything charity shopped except shoes; on line retail.
Trousers are by H&M and can't remember where I got them; the shirt was from the 1 euro rail in the Animal charity shop in Donegal, but can't remember where the lace top came from. It's because I buy so much from charity shops...
All jewellery charity shopped. My scarf had started to untuck itself here; OH didn't notice and neither did I, till I saw the photo! This scarf is an infinity scarf which folds to be an almost square, so I fold it over into a triangle and then fold it over several times into a rectangle. I've experimented with a 'Rosie the Riveter' head wrap, but need to wait till I have a bit more hair to fill it before I show you as the scarf covers the whole of the head!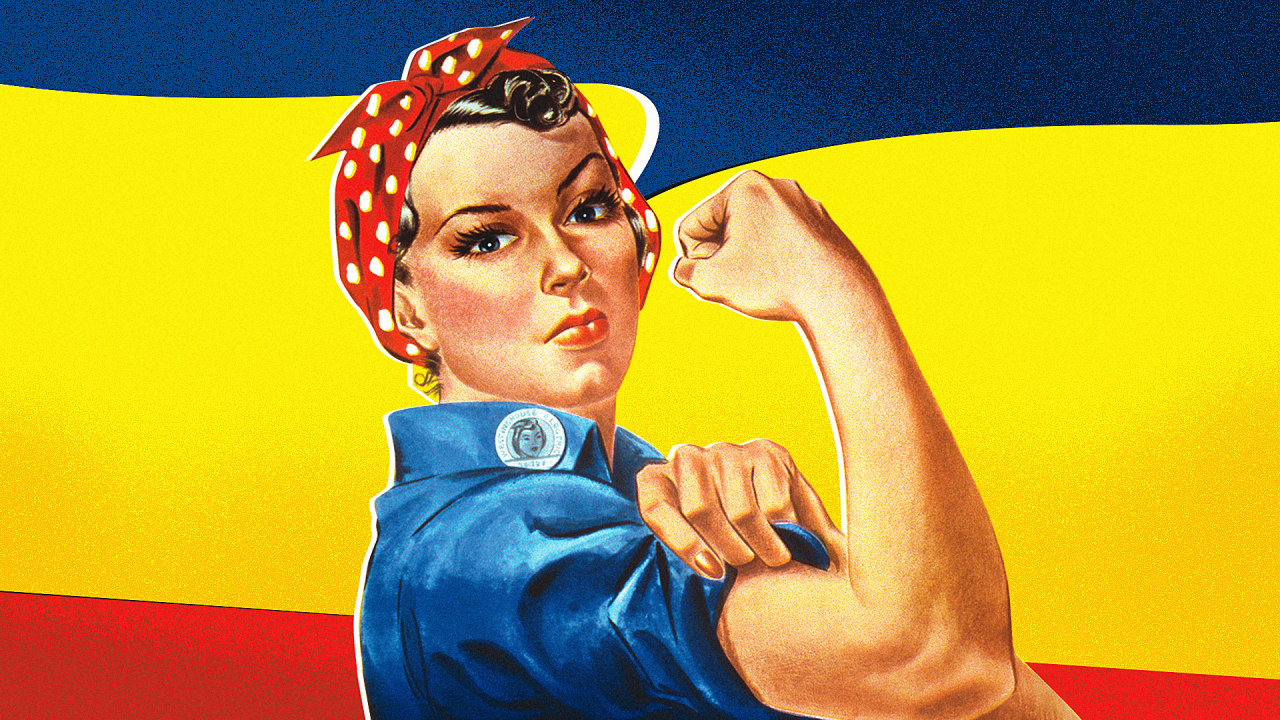 Rosie the Riveter.




Thursday's outfit. Linen top by Wallis 3.99 and trousers by Quiz 2.00; both from my Barnardo's. I'm wearing a sleeveless wool jumper underneath which was from a 1.00 rail somewhere and I tucked it in which I think was a mistake. Shoes charity shopped in Ely; I think.




All jewellery and scarf charity shopped except earrings bought in a Beale's Christmas sale years ago.

I used my bus pass on Thursday and took the bus to Milton Ernest - for free!! Then I walked back to Bedford which came to a total of 10 miles. I still had to do the food shopping when I got back but surprisingly I wasn't feeling tired at all.





All jewellery charity shopped.




It's the Adini skirt again plus the linen top I bought from my Barnardo's for 3.99 before I went away.

Shoes from local PJ shoe shop.




Next Page: 25 © Googlier LLC, 2019