Cache
UPDATE 10/7: I think farmers have had enough, maybe, I hope anyway...

1. "I went to Madison feeling financially scared and emotionally depressed but hopeful," said Paul Adams, who runs a 500-cow organic dairy near Eleva, WI."I came home feeling financially scared, emotionally depressed, unwanted, and unneeded."





2. Brittany Olson left her Barron County farm at 2am to make the trip to Expo and hear Perdue speak. "To go through the effort to see the USDA secretary, only for him to say that small farms like ours likely have no future made me feel like little more than a peasant in a system of modern-day feudalism," Olson said.





3. "To me, it really drew a line in the sand on just where this administration stands," said Chippewa County dairy farmer George Polzin.
Danielle Erdvick summed it up this way in the story:

But I sense a fire growing in the belly of the family farmers I meet in my work with Farmers Union. Farmers are weary. But there's a growing flicker that's starting to feed a change in the narrative. No more will they be spoon-fed a top-down vision for rural America. Instead, I see a drive for a farmscape where fair prices, local food systems, clean water, and land conservation are at the heart of farm policy. How can we achieve it? It'll take actually enforcing America's antitrust laws and holding corporations accountable when they try to monopolize an industry. It'll mean addressing market manipulation. It'll mean not raising our hackles, as farmers and ag groups, every time someone wants to talk about clean water or livestock siting. It'll mean continuing to adopt regenerative practices and thinking outside the box so we're protecting our natural resources for our children and grandchildren.
__________________________________________________________________________________________________



Farmers will never stop voting for Republicans. Sadly, GOP promises of "small government" simply mean they don't really have to do anything for their constituents, and deregulation is anything that basically leaves them alone.

Tariff War is not Their Fight: It seems farmers are okay sacrificing their livelihoods for big corporate interests seeking intellectual rights and protections.

And then the last shoe dropped; Ag Sec. Sonny Perdue told us what big corporate Republican politicians were really thinking about family farmers:


Perdue told reporters that he doesn't know if the family dairy farm can survive as the industry moves toward a factory farm model ... "In America, the big get bigger and the small go out. I don't think in America we, for any small business, we have a guaranteed income or guaranteed profitability."
A few farmers suddenly realized what was really going on...

Jerry Volenec, a fifth-generation Wisconsin dairy farmer with 330 cows, left the Perdue event feeling discouraged about his future. "What I heard today from the secretary of agriculture is there's no place for me. Can I get some support from my state and federal government?"

Darin Von Ruden, president of the Wisconsin Farmers Union and a third-generation dairy farmer who runs a 50-cow organic farm (said) getting bigger at the expense of smaller operations like his is "not a good way to go. Do we want one corporation owning all the food in our country?"
Democrats, Governor Tony Evers backs Family Farms, despite never getting their vote, but after Sonny Perdue's comment, even our laid back Gov. had to say something:




"Are they struggling? Absolutely. But I think at the end of the day we need to get behind them rather than saying, ah maybe you should go larger. I, frankly, resent that the Department of Agriculture secretary from the federal government came in and kind of lambasted them."
But don't take Evers word for it, here's a comment made at the Minnesota Farmfest about CAFO's. Note: Why were visa's for dairy labor ever determined to be seasonal and not year around?:
Wisconsin dairy farmers are still feeling the sting of Trump's visit to Milwaukee in July, where the president downplayed the suffocation felt by farmers here because of Trump's own tariffs.



Trump: "Some of the farmers are doing well. ... We're over the hump. We're doing really well."
Farmer Response...:
"If he's saying farmers are over the hump, he would be badly mistaken," said Darin Von Ruden, a third generation dairy farmer. "In order to get over the hump we need to stop losing dairy farms."
From PBS's Market to Market: Trump's says farmers are happy...
Farmers are slamming Trump's $28 billion farm bailout — more than double Obama's 2009 payment to automakers — as a 'Band-Aid'.
Perdue editorial doesn't repair Damage
: Nope, his word salad backtrack to obscure how he really feels, is a little late. In fact, Perdue reminds farmers how this whole problem was really Trump creation:
Purdue: "President Donald Trump has made it his mission to support American agriculture and negotiate better trade deals so our productive farmers can sell their bounty around the globe."
And don't forget how Scott Walker pushed oversupply in the dairy industry.
Here's what one farmer, "a great patriot," really thinks about Trump:
Cache
Bahia Tropical Outfit is a luxury swimsuit outfit with chains and a dangling belly ring with lots of features for Genesis 3 Female(s), that includes hide options and lots of materials to fully customize everything, even turning it into a top or panty only, showing only the chains you want, or making it strapless, giving it many different appearances, which makes it perfect for lots of situations. A must have!

Iray materials are included to achieve the quality you need for the new generation of NVIDIA Iray renders, in addition to the traditional 3Delight materials. Included are full outfit materials that load with a click, and partial material presets for everything.

MATERIALS FEATURES: You have 16 full outfit hierarchical material presets, and partials to change each part independently: the 16 fabrics of the swimsuit, 8 metals for the chains, 8 full materials for the whole belly ring, 8 partial metals for the belly ring's metals, and 8 partials for the jewels of the belly ring. The most interesting features come as hide options. These allow you to turn the Swimsuit into a top, or a panty (for mixing and matching with other clothing) , hide the straps of the top, or hide the chains you want (the neck ones, the inner ones, the outer, all the belly chains, or all the chains), or hide the closure of the top. In the Belly Ring you can hide all the hanging ornament, or hide the small jewels or just the side tears, so you have several shapes in one. Create endless combinations for a lot of situations!

COMPATIBILITY FEATURES: Both the Swimsuit and the Belly Ring work with all the Genesis 3 Body Morphs, as all of them have been included when needed, which means full freedom to use any of those morphs in your creations. This product is for Genesis 3 Female(s), including Victoria 7, Bethany 7, Kalea 7, Karen 7, Mei Lin 7, Teen Josie 7, and The Girl 7.

MORPHING FEATURES: In the Swimsuit you have style morphs to cover more or less the chest and to make the back of panty look like a tanga, and you can also move the chains of neck and belly independently to make them fall with gravity and the pose, and falling to the front or sides. The Belly Ring's ornament can swing to front-back or side-side, or you can rotate and move it in all directions, and alter the size to make the ornament smaller or bigger, and also the upper ball can be changed of size as you wish. Both the Swimsuit and the Belly Ring include adjustment morphs in case you need them.

Price: $17.95 Special Price: $8.98
Cache
Make your characters shine in gold, silver and precious ornaments with this set of pieces of body jewelry: Belly Chains, Hand Jewelry, and Foot Jewelry. The jewels that give the touch you need, making every render special and unique! A must have!

A huge load of possible appearances, achievable by just applying one of the many materials included that hide and show different parts to get lots of different shapes and finishes.
They can be used in a wide range of scenarios: casual, fantasy, fashion, warrior, dancers, pinup, sexy, beach...

The pieces for left and right hands/feet are independent so you can use them only on the left or right hand or foot, or on both as you wish. You can also combine the ornaments on them with simple or triple chains (except the bells that are always triple) in gold or silver.

Genesis 2 Female and these derived females are supported: Lilith 6, Aiko 6, Gia 6, The Girl 6, Olympia 6, Stephanie 6, Teen Josie 6, Victoria 4 Shape for Genesis 2 Female, Victoria 6, Giselle 6.

Other features:

45 possible appearances for the Belly Chains, each one in 2 finishes: gold and silver.
Adjustment morphs, and movement morphs to move the hanging ornaments of the Belly Chains in all directions for more realism and gravity simulation or animation.
Adjustment morphs for Foot Jewelry and Hand Jewelry
30 partial mat poses for Foot Jewelry for lots of possible appearances: chains in gold and silver, and ornaments of bells, butterly, jewels, scales, shells, and moon with stars, in varied colors and metals.
Chains in gold and silver. Jingle bells in gold and silver. Butterly in 4 beautiful combinations of jewels and gold or silver metals, Jewels with gold or silver frames and 4 jewel sets. Scales in silver and gold textured finish. Shells in 4 colors. Precious stone jewels with gold or silver frames, and 4 beautiful stone sets to choose. And Moon and Stars in silver or gold metals, and moon in Blue, Turquoise, Gold or Silver, and stars in Blue, Turquoise, gold or silver (You can also use the stars only, or the moon only, or combined, you choose!)
30 partial mat poses for the Hand Jewelry: chains in gold and silver, and ornaments of bells, bow, celtic, floral, and moon with stars, in varied colors and metals
Chains in gold and silver. Jingle bells in gold and silver. Bow in Black'N'Gold, Black'N'Silver, Pink, Red, Silver'N'Gold. Celtic ornament with gold or silver metals, and jewels in Black, Blue, or Red. Floral ornament in gold or silver metals, and jewels in Blue, Green, Pink, or Red. Moon and Stars in silver or gold metals, and moon in Blue, Turquoise, Gold or Silver, and stars in Blue, Turquoise, gold or silver.

Price: $17.95 Special Price: $8.98
Cache
Big Girl Morphs for Genesis 8 Female is a collection of morphs with the goal of correcting and beautifying the heavy/body size morphs for Genesis 8 Female. Now the hips, thighs, arms, legs, belly and breasts can be scaled and smoothed to produce your perfect plus sized figure. Corrective JCMs are also supplied to aid the thighs and arms and avoid clipping. Preset shapes are provided for speed an utility.

Price: $19.95 Special Price: $9.98
Cache
Satine is a real woman after her 35th birthday, her face, belly and legs aren't flawless anymore...but now she knows what she wants and goes for it.

Satine HD is fully custom modeled and computer friendly, combined with Normal Maps, based on real shapes and surfaces typical for women between the age of 35 – 40.

She has a gorgeously chic and bossy pixie haircut… she can change from classy to messy with 6 Restyle One-click Presets and different color and style Zones.

Satine's outfit is her psychological armor...

She can be walking around in dark alleys and empty buildings, bending over dead bodies and other crime scenes, being around fingerprints powder and blood - and yeah, she gets those clothes dirty...

Price: $44.95 Special Price: $22.48
Cache
Satine is a real woman after her 35th birthday, her face, belly and legs aren't flawless anymore...but now she knows what she wants and goes for it.

This hot character is bold and adventurous and she can survive in the big city jungle as well as in the wasteland heat.

Satine HD is fully hand modeled in user and computer friendly level 3, combined with Normal Maps, based on real shapes and surfaces typical for women between the age of 35 & 40.

Product contains 2 different Material Sets & Standard Iray Materials and

N.G.S. Anagenessis 2 & Revolution by Dimension-Z Materials.

Price: $19.95 Special Price: $9.98
Cache
Weeks before I headed to Mammoth Cave National Park for a weekend trip, and a day after I'd booked several guided cave tours, I encircled my chest with a tape measure. I was relieved to confirm I'd be an OK fit – quite literally, if just barely – for the Wild Cave Tour, the longest, most intensive cave tour offered at the Kentucky park.
The guided tour at the UNESCO World Heritage site involved more than five hours of hiking in massive caverns, shimmying up and down twisted passageways, clambering over boulders and belly crawling through exceedingly tight sections of rock that wouldn't give an inch.
"Chest or hip measurement must not exceed 42 inches; if you are larger, you may not physically pass through the crawlspaces," the National Park Service advised in no uncertain terms. I'd previously visited Mammoth, which features the world's longest known cave system. Just walking into the massive cave was wowing. But I wanted to go farther – just as the cave does.
The park offers a number of cave tours for kids and adults of all ages, abilities and interests. Whether you feel at home in tight places or worry about claustrophobia, the cave is big enough (and definitely, in places, small enough) to accommodate different appetites for adventure or leisure exploration.
An accessibility tour allows visitors to use an elevator entrance to see Mammoth Cave's grandeur without steps. The tours vary in length, duration and physical difficulty and – like the park guides who lead many of them – tell parts of the cave's story.
Besides covering some serious ground underground, I wanted to learn more about the cave's origins. How did its 412 miles of passageways and counting – with more discovered all the time – come to be?
That led me to the 2 1/2-hour River Styx Tour on the first morning of my August visit, which culminated in seeing the namesake underground river in the depths of the cave by lantern light.
That Saturday afternoon, I took the two-hour Gothic Avenue Tour, which shed light (in relative subterranean darkness) on the early roots of cave exploration, exploitation – including the mining of saltpeter for gunpowder during the War of 1812 – and tourism.
The Wild Cave Tour I saved for last on Sunday.
As our large group for the River Styx Tour approached Mammoth Cave's historic entrance, I could feel the chill draft coming up. It contrasted with the summer heat as water – which has shaped so much of this hidden world – drizzled down in front of the earthbound black hole.
While many elements converged over millions of years to create this one-of-a-kind place, an intricate network of streams and rivers above and below ground is integral to the development of Mammoth Cave.
The River Styx is an example of a subterranean river that is actively creating new passages within Mammoth Cave. "Exploration is continuing – we have not found the end of the cave yet," our guide, Chelsea Ballard, told the group.
Another highlight of the tour, Mammoth Dome – a vertical shaft rising around 200 feet up through which we took spiral stairs – showcases the continuing erosion. Pit or dome formations created by rapidly moving water are a much younger feature than the cave passageways formed by the underground river system, Ballard explained.
The River Styx Tour also passes through a narrow, short, winding passageway called Fat Man's Misery. (Many cave features have names, some of which change over time.) As we went through, the passage looked like some unseen hand had taken a giant spoon and scooped out rock, as you might scoop bites from a cantaloupe.
I'm a latecomer to Mammoth Cave, as is everyone else who visits it these days. As I descended into the historic entrance again for the Gothic Avenue Tour, I was reminded that I was following in the footsteps of its first explorers, Native Americans who entered the cave millennia ago without the aid of concrete steps or any other infrastructure.
The mummified remains of some of these earliest explorers, estimated to be 4,000 to 5,000 years old, drew many tourists to Mammoth Cave in the early 1800s after commercial saltpeter mining ended there.
"Travelers in the area would make side trips to Mammoth Cave to see the geological wonder," said guide Dave Spence, who led this tour. "But mostly, the fame of Mammoth Cave spread as visitors became witness to the artifacts and human remains from (the) earliest prehistoric explorers."
We saw the names of early explorers, of cave owners – from when it was privately held, well before it became a national park in 1941 – and of tourists written in candle smoke on the ceilings. Such was the nature of early visitation, predating the leave-no-trace ethic and modern efforts to balance tourism, which still has an impact, and preservation.
In addition to the obvious underground attraction, Mammoth Cave features more than 80 miles of trails traversing 53,000 acres of hardwoods, bluffs and hills bisected by the Green River and bypassing sinkholes and cave entrances. So not only is there plenty to do, but you also get a glimpse from aboveground of the forces at work below.
The popular Cedar Sink Trail, for example, snakes through the wooded hills and passes a deep depression in an area pockmarked by sinkholes – a site where water from an underground river system ever so briefly sees the light of day.
I got a view of the geologic handiwork underground on the Wild Cave Tour. As I was worming my way through a narrow passage called Bare Hole that Sunday morning with 11 other park visitors, I took stock of the chest measurement I'd taken and found I had little wiggle room.
To call it an army crawl would be spatially generous; this section doesn't allow one to raise up that high even. It's a test nearly right out of the gate, and I calmed myself to take it – shimmying, my boots kicking hollow rock as I squeezed with the other visitors through the tightest section: 9 1/2 inches from floor to ceiling.
We all passed through in good spirits, and later I felt loose enough to laugh with the others through another tight squeeze, called No Name, that gets down to about eight inches. (I guess "Really Tight Squeeze" was taken.) We had to turn our helmeted heads and boots sideways to get through the most cramped segment.
Our park guides – Jenna Hammond, who was shorter and relished the tight squeezes, and the taller Jacob Bolton, who spidered his way up climbs with ease – kept the group on track. As Hammond pointed out, a highlight of the Wild Cave Tour is seeing parts of the cave that most people never get to. "You get to really experience it in such a unique way," she said.
Between the tight spots, we came out into a corridor called Grand Avenue that cars could drive through. This, of course, isn't an actual road, but it's big enough to accommodate one. The area is going to be rehabbed to better accommodate future visitation.
In one space as awing as any I saw on my underground weekend, the 14 of us walked into a veritable canyon with a natural vaulted ceiling. Our wonderment seemed to match the fittingly named Cathedral Domes' dimensions: 150 feet up and 140 feet long.
In Mammoth Cave, there are far fewer stalactites, stalagmites and other dripstone formations – in technical speak, speleothems – compared with caves such as Carlsbad Caverns in New Mexico, which I'd visited with my brothers in the spring.
Yet Mammoth Cave includes its flourishes, such as Frozen Niagara, where we ended the Wild Cave Tour. There the massive (everything seems bigger in Mammoth Cave) dripstone takes on the appearance of ancient falls stopped in their tracks eons ago.
But before we got to that final crescendo, it became clear even passageways that seemed barren could turn corners to wonders such as Cathedral Domes.
There, in quiet reflection, we turned off our headlamps to experience the capped chasm in total darkness and quiet – except for the sound of water, which never ceases its work in the cave, falling gently nearby. It was difficult to imagine as we sat there briefly, in silent reverence, that there could be anything like this exact place in the world.
And, in fact, with Mammoth Cave, there's not.
Cache
Never too timid or shy with flavor, Chef Mikel Zaguirre shares his own take on Vietnamese-inspired street food in Poblacion...




...to the Gindara (L) and Salmon Fin and Belly (R)...

Cache
If your version of heaven includes a great pastrami sandwich, you're going to want to set aside some quality time to check out 50 Fifty Delicatessen, a pop-up concept that takes inspiration from the quintessential Jewish deli.

Cache
Viajante is now closed.



We returned to Viajante for a long anniversary lunch a few Sundays ago. Although Nuno Mendes was not present, the quality and consistency of the dishes were very high. We were sat next to the kitchen and pass and we were able to watch the team in action. Excellent amuse bouches to be had, a mouthful of warm clam soup based on a Portuguese dish called Ameijoa builhao pato, amaranth popcorn, a salmon crisp, a lovely yeast potato and Iberico ham morsel, the olive soup as good as ever. Bread was as good as our previous visit, I have to say the crisp pointed ends of the potato bread baguette combined with their whipped butter make for the most perfect mouthful of bread I've had anywhere.

The meal provided some quality dishes, including a fermented scallop dish was unusual, a meaty texture unlike any scallop I've had before. A lovely crab in milk skin followed, with my wife having the leek and milk skin variation from before. An excellent carrot dish followed for my wife, with a sea bream with fermented carrot and gooseberries and a tart gel of sorts for me. There was also a fantastic flavour packed potato and onion concoction topped with a lush nugget of cod cheek and a stunning cod skin wrap, with daikon replacing the cod for my wife, a real stand out dish. The celeriac, truffle and potato sauce dish was similar to the salsify dish previously. The main courses were variation of iberico, a gorgeous hunk of presa with a vegetable crepinette to start for me with a lovely fresh pea, asparagus and custard dish for my wife, and a knockout square of pork belly with the almond, parsley and garlic picada and some fabulous baby beetroot, which my wife had as the main ingredient.

The cucumber and milk ice cream dish followed, this is one of my favourite desserts, and was just as good as I remembered. Strawberries came with an unusual buckwheat thing, which resembled liquid gel but could be picked up with a fork, delicious though. The milk dessert finished the meal, and was as good as before. Certainly a dessert that can be loved by those who don't have a sweet tooth too. Accompanying coffee were mushroom chocolates and those liquid nitrogen olive and basil gummys, a delicious and certainly one of the more unusual petit fours we've had on our travels.

Again another really excellent meal was had at Viajante, I love the blend of innovative and experimental dishes to be had and the menu format, with every course both a surprise and in some cases, sampling methods, tastes and ingredients I've not had before. The bill came to 270 or so, with non alcoholic lychee cocktails to start, a glass of Sadi-Malot Rose champagne, Monte Cruz Antao Vaz 2011 with the meal, and a really fine Meulenhof Spatlese Riseling 2010 to accompany dessert. We'll go back in the autumn.

Ameijoa bulhao pato.

Enoki mushrooms with green tea and dill.

Salmon with green tea and dill.

Yeast, potato and Iberico ham.

Yeast and potato.

Gordal Olive Soup.

Bread.

Scallop with parsnips and watercress.

Parsnips and watercress.

Crab with milk skin and peas.

Charred leek with milk skin.

Sea bream, sea purslane, fermented carrot and gooseberries.

Carrots and horseradish.

Cod cheek with potato and onion.

Potato, Onion and Daikon.

Celeriac with roasted potato and mushrooms.

Iberico presa with vegetable crepinette

Green peas, asparagus and custard.

Baby beets, sorrel and picada.

Iberico belly with baby beets and picada.

Cucumber and reduced milk.

Strawberrys, buckwheat and melliot.

Milk.

Petit Fours.

Viajante

Cache
Tom Aikens Restaurant is now closed.



We returned to Tom Aikens Restaurant, this time sampling the tasting menu.





The Amuse Bouche was interesting, a lettuce from their rooftop garden, with a truffle Caesar dressing and some extra truffle grated on top. The lettuce was literally minutes from soil to plate and quite lovely, something a little different. Bread was just as good as before, and that cep butter is still unbeatable.




First course was an excellent smoked eel dish, with some variations of cucumber, sea veg and a watercress soup, light and refreshing. My wife had the celeriac dish from the previous visit, although a somewhat lighter balance of ingredients, reflecting the season.




My next course was an ingredient you'd think would be too much on a hot day, foie gras. There was a small line of foie gras mousse, some freeze dried foie, white asparagus, nasturtium, white asparagus ice cream, and at the table, a white asparagus veloute was poured and then the dish topped off with some grated frozen foie gras at the table. This was cool and refreshing yet the frozen foie, mousse and dried granules melted in your mouth and add a deep rich flavour. The white asparagus ice cream and veloute was fantastic, the sweetness balancing perfectly with the richness of the foie. This has to be my favourite ever dish featuring this ingredient, everything worked so well together and was so delicious as a whole. My wife's dish was the white asparagus elements, salad leaves and flowers.




Following this a baked scallop presented in a bowl of pebbles. The scallop was a huge, an excellent example of its kind, and this was different from other scallop dishes I've had by the addition of yeast potatoes, a piece of osso bucco and some toasted bread soup, which made the dish quite savoury and meaty, an excellent dish. I do like the marmite potato too. My wife had something similar to my first course, with various types of cucumber, pickled and salted, with some goats curd mousse, all lovely fresh flavours.




We both had the same next dish, home made ricotta, this was sandwiched between what might have been milk skin, and came with some honey jelly, a ice cream and granita, olive juice, pine buts and basil. I was surprised how salty and strong ricotta can be, almost like feta this was lovely. The honey jelly was particularly good too. Following this my wife had a dish similar to the egg dish I had last time, a large fried ducks eggs, crispy breadcrumbs, but this time with onions too. The caramelised onion bits were really great. I had an unusual dish, monkfish tail, pork belly and squid, the unusual bit being the sliced white strawberries and small cubes of what might have been a citrus fruit or white strawberries again, adding a sweet and sour element to the dish. The fish, pork and squid were generous portions, with that rainbow sheen on the monkfish showing just how fresh it was with some perfectly timed cooking. The squid was lovely, soft and flavourful, the pork belly piece small enough to make me want to try the pork dish next time i return. The sweet and sour elements from the fruit just about worked for me, but strawberries and fish might not be for everyone.




The final main course was the onion dish for my wife, there are some fabulous flavours here and excellent roscoff onions. I really like the sweet onion jam and burnt onion flavours in the piece I tried. Lamb for me, a lovely pink well flavoured piece of fillet, with Mediterranean flavours from the olives, courgettes and artichoke accompanying it. The courgette and olive tempura thing was really good too. However, this and the fish course were almost full sized portions, as were the egg and onion dishes my wife had, we were struggling a bit by the end of the dish, nearing my limits for savoury food.




Having said that, a short while later saw us clearing the plate of the strawberry dessert my wife had last time. It's just as well we have an additional pudding stomach. This is a fantastic dessert, lots of elements, all really great on their own or heaped on the spoon. I loved the strawberry caviar and incredibly light melt in the mouth meringue piece. Petit four were as before, but with an extra truffle of caramac and coconut caramel, as good as it sounds. This is definitely one of the best petit four selections about, a huge selection to be had. However, as we didn't check or weren't told if the jellies were gelatine free I had to eat them all myself. I'd recommend vegetarians check first, and to be honest the other pieces on offer are so good, extra instead of the jellies wouldn't be a loss.




I really enjoyed the meal, and was full to bursting, one wafer thin mint short of a Mr Creosote impression when we left, modern fine dining is not always so generous as this tasting menu. There were some really good dishes to be had, and that foie gras dish as good as anything I've had this year. The bill came to roughly £260.

Bread

Smoked Eel

Celeriac

Foie Gras

White Asparagus

Baked Scallop

Goats Curd Mousse

Homemade Ricotta

Monkfish

Ducks Egg

Lamb

Onion

Strawberry

Petit Fours









Cache
Happy Friday everyone!  Today only, October 4th, Kroger and affiliates can download an ecoupon for a FREE YQ by Yoplait or Goodbelly Probiotics Yogurt1.  Just head here and log into your account. After you download your coupon, take it into your local ...

Cache
Misfit Love Day 2019 was a huge success on so many levels. We had a steady turnout all day, we had many newcomers, we had a woman drive all the way from NYC just for the event, we had one of our favorite guests come again this year–David who is 102–I almost cried when I saw him coming in. He is a wonder and loves the animals, taking slow deliberate strokes when he meets an animal.

I am tired but just wanted to post these pics. It is difficult taking photos while holding a llama or a pay, and I always feel my main job is to be present so I don't have that many.

Once again, my volunteers were super, and we think we had a t least 100+ people. All ages came and the children were delighted and well behaved. We all agreed that every one who has come to our events are just nice people! And we made -I think_at least $2,000 which is the best we've done at a fundraiser.

And Harry made his debut and was super. He has a fan following now! The trailer worked perfect for it, not tress for him or me that way. Then I brought Arlo out for two walk arounds so he got a workout and di fine. It was a lot for him to take in so I gave him breaks. White Dog proved to be a favorite, and I had him in a stall but we decided next year he will have his own little 'Sit with White Dog' paddock so people can be with him. I couldn't let him be free, it could have proven chaotic. he loves the people though–I can't tell you how many people came and told me about White Dog. I brought Captain Sparkle out just to test the waters and it was a lot for him to take in, so we made it a short 15 minute visit. The goats ran free with the people as did the donkeys and people love that. People always tell me how peaceful it it.

And more importantly, people understand what we are doing and appreciate it and told me-tht means so much. I feel very optimistic as we head into next year.


David came last year and is 102 this year
Harry's debut was a hit
As usual Arlo posed like a super model
So happy that Roscoe and Jim Bob were so loved and vice versa
And Uno! He now has a fan club and gave belly rubs all day
This is Cora, I considered keeping her-she's a redhead
Cache
Cena: 39 EUR/m2
***Nádherný výhľad, pokojné a tiché bývanie*** Exkluzívne ponúkame na predaj lukratívny pozemok nachádzajúci sa priamo v Prešove vo vyhľadávanej lokalite Sídliska II. Nachádza sa medzi domami, vo vilovej štvrti, na konci slepej uličky. Pozemok ponúka neopísateľne nádherný výhľad na celý Prešov a okolie. Ste obklopený lesom a prírodou, čo zabezpečuje pokojné a tiché bývanie. Zároveň využívate výhody bývania priamo v meste. Šírka pozemku je cca 23m, dĺžka cca 140m (3100m2). Prístup je po novej asfaltovej ceste. Všetky IS sa nachádzajú pri pozemku. Na pozemku je vybudovaná drevená chatka. Ďalšou výhodou je rýchla dostupnosť do centra mesta a zároveň napojenie sa na diaľnicu, a teda na všetky smery. Pozemok je úplne mimo obchvatu mesta Prešov, takže nič nenaruší jeho atmosféru. Treba určite vidieť..... Exteriér: Školské zariadenia: - MŠ Československej armády vzdialená 10 min pešo mscslarmady.edupage.org - ZŠ Československej armády vzdialená 8 min pešo zsarmpo.edupage.org - ZŠ Matice Slovenskej m.zsmaticeslovenskej.sk/ - ZUŠ Októbrová - umelecká škola so zameraním na výtvarný odbor zuska-vo.wbl.sk Potraviny: - obchod Lidl 3 min autom, ďalej Kaufland, potraviny Jednota - obchodné centrum Centrál s predajňou Milk Agro a Karmen Voľnočasové aktivity: - ABC centrum voľného času s rôznymi krúžkami, kde si Vaše dieťa určite vyberie "to svoje" abccentrum.sk/kontakt/ - ANT Kardiofitness posilovňa a skupinové cvičenia antkardiofitness.sk - interiérové detské centrum Brumík - pešia zóna a cyklistický chodník vedúci popri Toryse od konečnej Sídliska III až po mestskú halu - oddychová zóna s fontánou a certifikovaným detským ihriskom Centrál a iné ďalšie ihriská mapa.tsmp.sk - množstvo zelene a oddychových zón: Prešovská kalvária s nádherným výhľadom na celý Prešov + sv. omše, Kolmanova záhrada, Ekopark - ekoparkpo.sk, Parčík Námestie mládeže, Park Vlada Clementisa - ŠŠK prešov - hádzanársky oddiel - sskhermespo.napady.net, tenisové kurty, tenisový klub Progres - tennisclub.sk, Reštaurácie a bary: - reštaurácia Centrál, reštaurácia Arkáda restaurantarkada.sk, r. Mladosť sluzby-mladost.sk, pohostinstvo Kolmanka, bufet Pod horou, r. Sabaraca 3 Prešov - sabaraca.sk - Redbox pizza - redboxpizza.sk, - Central Park Café, Aquabelly club - aquabelly.sk, kaviareň S3 caffe Ostatná občianska vybavenosť: - OC Centrál: pošta, knižnica, obchody, kvetinárstvo, kaderníctvo, pedikúra, manikúra, mliekomat - lekáreň Dr. Max, lekáreň Amicus, zdravotné strediská, pohotovostná zubná ambulancia... MHD spojenie: 12, 15, 21, 24, 43 Obhliadku si dohodnete na tel.č: 0917 360 151- Ing. Viera Mihaľová, certifikovaný realitný maklér NARKS. Cena je vrátane všetkých poplatkov a provízie RK.

Cache
https://img-hws.y8.com/cloud/v2-y8-thumbs-video-thumbnails-001/268696/s640x360_video_thumbnail.jpg Mary and Statton's one-night stand at a hotel gets interrupted by a robbery, and the complete strangers are forced to help each other navigate the seedy underbelly of a sleepy Welsh island in order to get back their stolen property.
Cache
EPIC CONCEPTION STORY! Sex educators Jamye Waxman and Mistress Mary share the social, sexual and physical transformations of being first-time Moms in the making. TOPICS: Naked Kitchen Moment, "Geriatric" pregnancy, Friendships, Feeling Sexy, Boobs!, New Orgasms, Pregnancy Brain, Prioritizing Sex, Genital Changes, Sensitivity Intensity, Positions, New Partner Intimacy, Belly Rubs, Fear of Vaginal Changes, How They Knew, Masturbation, Vibrators and Sandra has a series of freak outs.

Cache
October 2, 2019, 11:02 AM
Canadian aftermarket helicopter equipment manufacturer Dart Aerospace has acquired Oregon-based aerial firefighting equipment specialist Simplex Aerospace, which traces its history back more than seven decades. The two companies will merge under the Dart brand, which will now encompass more than 320 employees spread over eight locations worldwide.
The purchase, terms of which were not disclosed, will allow Montreal-based Dart to broaden and diversify its firefighting equipment catalog and enable it to offer new products to its global network of rotorcraft manufacturers and operators, including firefighting belly tanks, aerial cleaning supplies, and spray systems for agricultural applications.
"With the support of Simplex's 200-plus international product certifications and its years of experience in the aerial firefighting sector, Dart will strengthen its global leadership position by providing helicopter mission equipment for offshore, firefighting, and utility applications, as well as an increased portfolio alongside our current product offering of 900-plus STCs," said company president and CEO Alain Madore.
Cache
She is set to welcome her first child next month with husband Matty Fahd.

Cache
HALLIE EPHRON: The minute I met

Sarina Dorie,

I knew she was a one-off. A persona. She was literally wearing her multi-talented identity like a pro and greeting her many fans. She's a seriously prolific, award-winning author who juggles genres.

I wanted to know more, so I invited her to spend a day on Jungle Red and tell us about herself.
SARINA DORIE:
As a creative person and a professional, I wear

many hats

. Some of these hats are very separate from each other and look quite different, while others are connected like with my

writing, artist, and dance persona

. The persona that is the most different from what I think of as my natural creative/expressive self is being a

public-school teacher

.
(Sarina promotes literary at a Middle School my posing with a book. Naturally, she had to do it with her special dentures to see if the kids noticed.)
When I am

in teacher mode, I am Ms. Dorie.

Part of my job is to make sure students are being appropriate. When they're not, my job is to remind them not to swear, not to punch each other in the face, and not to draw images of rocket ships made with penises on their arms with Sharpies.



Meanwhile, when I'm a writer, I take all those things I see teens doing that they aren't supposed to and I put those in my stories and novels.



Because I'm an art teacher, I get away with being a little more eccentric. I get away with dressing in clothes that other teachers might not consider standard business teacher attire. I express myself creatively as an art teacher though fashion design and that is considered to be okay. Fashion is probably an accurate metaphor of these different hats I wear—literally and figuratively.
(This is a photo from one of Sarina Dorie's avant-garde belly dance performances.)
Another hat that I wear is a

belly dance teacher

and performer. When I performing, my stage name is

Sarina

as opposed to Ms. Dorie. This is the persona who wears glittery costumes that show my midriff and cleavage, and I get to dance to lively music that I would not necessarily be able to play at work. It is a chance for me to creatively express myself in a different way.

This persona is highly connected to my persona as an

artist and fashion designer

. The fashion design really does go hand in hand with being a dancer because I often design my own costumes. There was a time that I kept my belly dance clothes completely separate from the rest of my life and only wore them for performance, teaching and taking classes, but I have realized as I've designed costumes that I really enjoy wearing attire that creatively expresses my personality. That carries through into my belly dance clothes—which are not traditional belly dance clothes—and my daily attire just walking around being a professional artist or teacher or writer.
(Sarina poses with a book in steampunk attire.)
When I am a writer, I'm Sarina Dorie.



Being a creative person, that artist, dancer, designer style influences how I come across as a writer. When I tell people that I'm a fantasy author or a romance author, people tell me I look like I write fantasy or romance.

When I tell people I write mystery, people never tell me I look like I'm a mystery author. I don't know what people think mystery authors look like. Maybe I need to wear all black and look Gothic in order to be a fantasy mystery author.
(Sarina in costume before selling fashion items at a science fiction and fantasy convention.)
In any case, I feel like I'm walking a fine line between coming across as a professional and expressing my creativity.

When I attend Romance Writer of America workshops, women often talk about being professionals, dressing as professionals, and presenting ourselves. And then there's me in polka dots and stripes. I'm almost as bad as Barbara Cartland with my feathers, flowers, and frills.
My persona might once have been as separate as peanut butter and jelly, but these days, it is more like peanut jelly, an interesting mashup of foods I once tried while I lived in Japan. In all creative outlets, I try to be professional in the way I present myself while interacting with people. I don't dress or talk any differently when I am with my family. I'm really not different as a writer in comparison to my natural self, though I talk about topics that might make me an expert in my field when I am with authors or artists. On the other hand, I am a very different kind of professional when I'm working in my day job as a school teacher.
Many of my daily life experiences as a teacher influence my current writing projects, like my

cozy witch mystery series
Womby's School for Wayward Witches
.
(Sarina Dorie's not-so-cozy witch mystery series Womby's School for Wayward Witches.)
The idea behind this series: You think you know the world of magical boarding schools? Not from a teacher's perspective at a school for at-risk youth.
GIVEAWAY:

For a limited time, I will be offering
Ghoulish Charms
, the first book in the
Vega Bloodmire Cozy Witch Mystery Series
, a spin-off from the Womby's series, as a gift for patrons of Indiegogo who donate to my endeavor to turn the Womby's series into audio books.
Please go to Indiegogo to see Ghoulish Charms and other perks for contributions.
HALLIE:

Phew! She makes those of us who write one genre and produce a novel every two years look like pikers. So here's my question:

If mystery authors 'dressed the part' what would we be wearing?
Sarina Dorie

has sold over 150 short stories to markets like Analog, Daily Science Fiction, F & SF, and Orson Scott Card's IGMS. Her stories and published novels have won humor contests and Romance Writer of America awards. She has over thirty books offered through Amazon, including her bestselling series,
Womby's School for Wayward Witches
.
The best way to stay in contact with Sarina Dorie, hear about what she is writing, know when she has a new release, or books offered for free on Amazon is by signing up for her newsletter.
You can find info about her writing at:
Cache
In home pet sitting is great because it includes lots of belly rubs, bringing in the mail, putting out the trash, securing the home, walks, play, no change in routine, no special vaccinations,
Reno, NV 89509

Cache
One of our Threads Family Values is Abundant Joy & Wonder: We bring curious minds and invite, wisdom, joy, and deep, deep belly laughs! We asked a few of our Fair Trade Partners to share the ways joining the Threads team has expanded their JOY! Here's what they had to say...

Cache
This pork and veal terrine Recipe is super easy to make and incredibly tasty. Deliciously studded with pistachios and basil.  It's perfect for picnics and entertaining.  A winning terrine recipe! I think we all have go to recipes when we are entertaining, and this terrine is one of mine.  It needs to be made a...
The post Easy Pork and Veal Terrine ~ A Super Delicious Crowd Pleaser! appeared first on Belly Rumbles.
Cache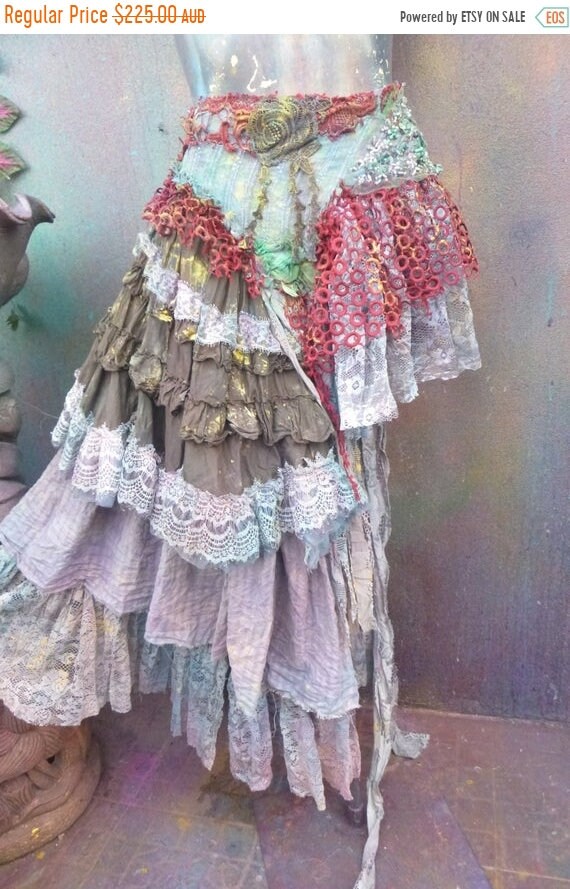 180.00 AUD
wedding skirt,tattered skirt, stevie nicks, bohemian skirt, boho skirt, gypsy skirt, lagenlook skirt,OAK, shabby mermaid wrap skirt.. shown with matching bustier from separate listing..

she's a gorgeous wrap around shabby tiered bustle skirt in muted steam punk hues painted over in metallic paints of gold and blue kissed with assorted netting and laces,bridal decals and shabby detail with roses at the sides adding to her gypsy feel.....these pieces are works of art and sell way below their worth so grab something unique while you can!!!
looks great worn casually with plain tank or dressed up bohemian style..
38" across plus long lace ties and belt hole and loop for better fit and due to the wrap and overlap she'll suit a medium to 39'' waist or hip if tied flush....will suit a larger frame if being layered gypsy boho style...
length is 14'' at the front dipping to 38' behind...
perfect for a wedding or something romantic and makes a wonderful piece in any vintage lovers closet...and out!!!

due to all the fabrics shipping is more expensive but comes with tracking number ..

thanks for popping in
all the best
love wildskin

Item# SK255
Cache
British airline and travel company Thomas Cook went out of business in late September.
Thomas Cook is just the latest airline to shut down this year.
Here's a list of 24 airlines that went bust over the past couple of decades.
British airline and tour operator Thomas Cook ceased operations in late September.
The 178-year-old travel company shut down after failing to secure a £200 million rescue loan.
It joins a number of other low-cost and leisure-oriented airlines to collapse this year, including Wow Air and X, amid stiff competition along with political and economic instability.
Over the past two decades, a number of well-known airline brands have disappeared from the aviation landscape. A large number of these brands have gone away due to mergers as airlines joined together in order to survive the brutally competitive market place.
Read more: Roughly 600,000 travelers are stranded around the world after the British travel provider Thomas Cook declares bankruptcy
Northwest and Delta merged to form the new Delta Air Lines. United and Continental merged to create the new United Airlines with planes painted in Continental livery. TWA was acquired by American Airlines. America West and US Air merged to become US Airways. American Airlines and US Airways then merged to form a new American Airlines under US Airways management. Virgin America was acquired by Alaska Airlines while AirTran Airways and Morris Air were acquired by Southwest Airlines.
In Canada, Canadian Airlines was merged into Air Canada. While in Brazil, Varig was acquired by Gol. The UK's British Caledonian and British Midland were both acquired by British Airways, itself created by the 1974 merger of British Overseas Airways Corporation, British European Airways, and two smaller regional carriers.
But with the sudden collapse of Thomas Cook in mind, we at Business Insider decided to compile a list of airlines that went out of business the old fashioned way, running out of money.
Here's a closer look.
This article was originally published by Benjamin Zhang in March 2019. It was updated by David Slotnick in October 2019.
SEE ALSO: The complete history of the 737 Max, Boeing's promising yet problematic workhorse jet
FOLLOW US: On Facebook for more car and transportation content!
Lakers Airways Skytrain: defunct 1982.
Founded by Sir Freddie Laker in 1966, the airline and its fleet of McDonnell Douglas DC-10 "Skytrains" promised low-cost travel across Atlantic for half the price of its competitors. Unfortunately, the airline could not sustain the business and collapsed under the weight of £270 million of debt in February 1982.
Braniff international Airways: defunct 1982.
The Texas-based airline was one of the most interesting and colorful companies in the business from its unique multi-color livery to its Emilio Pucci designer flight attendant uniforms. Sadly, the airline went belly up in May 1982 after racking up $733 million in debt. Subsequent attempts to revive the brand have proven to be unsuccessful.
Eastern Air Lines: defunct 1991.
Miami-based Eastern Air Lines was one of the biggest names in the US airline business. Unfortunately, Eastern was plagued by labor strife and an inability to compete effectively post-deregulation. Eastern filed for bankruptcy in 1989 before ending flight operations in January 1991.
Midway Airlines: Defunct 1991.
Midway Airlines began flying in 1979 following the deregulation of the US airline industry. The Chicago-based airline was able to survive the surge in fuel prices and the drop in passenger traffic resulting from the Gulf War. The airline shut down in November 1991.
Interflug: defunct 1991.
Founded in 1958, Interflug succeeded Deutsche Lufthansa (different from West Germany's Lufthansa) as the national airline of East Germany. The airline failed to find a buyer after the reunification of Germany. Interflug shut down in February 1991.
Pan American World Airways: defunct 1991.
Founded in 1927, Pam Am is arguably the most iconic name in the airline industry. Unfortunately, the airline ran into financial trouble during the 1970s and 80s before going out of business in 1991.
Tower Air: defunct 2000.
Founded in 1983, New York-based Tower Air operated scheduled passengers flights as well as military and leisure charters using its fleet of Boeing 747 jumbo jet. The airline ran into financial and operational troubles in the mid-1990s before shutting down in May 2000.
Ansett Australia: defunct 2001.
Founded in 1936, Ansett Australia was the second largest airline in Australia when it shut down in September 2001. The airline's owner, Air New Zealand had to be bailed out by the New Zealand government to avoid bankruptcy following Ansett's collapse.
Sabena: defunct 2001.
Founded in 1923, Sabena was Belgium's national airline until its collapse in November 2001.
Swissair: defunct 2002.
Founded in 1931, Swissair was at one time one of the most respected airlines in the world. Unfortunately, the Swissair's "Hunter Strategy" that saw it take equity stakes in a handful of other airlines during the 1980s and 90s stretched the company's finances too far. Swissair ceased operations in March 2002. Its assets were transferred to regional subsidiary Crossair which was then reorganized into the Swiss International Air Lines.
Aloha Airlines: defunct 2008.
Founded in 1946, the Honolulu, Hawaii-based airline ceased passenger flight operations in March 2008.
ATA Airlines: defunct 2008.
Founded in 1973, Indiana-based ATA Airlines filed for bankruptcy and ceased flight operations in April 2008. The airline cited the loss of its military charter business as a contributing factor to its demise.
Mexicana: defunct 2010.
Founded in 1921, Mexicana was Mexico's largest airline when it ran into financial trouble and shut down in August 2010.
Spanair: defunct 2012.
Founded in 1986, Spanair was for much of its existence a subsidiary of SAS Group, the owners of Scandinavian Airlines. In 2008, SAS Group sold off its controlling share in the Barcelona-based airline. The loss-making airline shut down in January 2012 after the local Catalan government failed to find new investors for Spanair.
Malev: defunct 2012.
Founded in 1946, Malev was Hungary's national airline until it ceased operations in February 2012 after the Hungarian government declined to continue funding the loss marking carrier.
Kingfisher: defunct 2012.
Kingfisher was founded in 2005 by flamboyant Indian billionaire Vijay Mallya as part of his UB Group business empire. The airline was known for its colorfully painted aircraft and top-notch service. Kingfisher ceased flights October 2012 after the Indian government pulled the heavily indebted airline's operating license.
Transaero: defunct 2015.
Founded in 1990, Transaero was one of Russia's largest privately-owned airlines. Unfortunately, Transaero collapsed in October 2015 due to $4 billion in debt. Fun fact, two Boeing 747-8 airliners that were due to be delivered to Transaero before its shut down will be converted into the next generation US presidential planes, aka. Air Force One.
Monarch Airlines: defunct 2017.
Founded in 1967, Monarch Airlines a major player in the British leisure charter business. The airline ceased operations in October 2017. According to the Economist, it was the largest airline to ever fail in the UK.
Air Berlin: defunct 2017.
Founded in 1978, Air Berlin was once Germany's second largest airline. The carrier ceased operations in October 2017 after major shareholder Etihad Airways declined to continue financial support of the money-losing airline.
Primera Air: defunct 2018.
Primera Air was a subsidiary of Icelandic tourism company Primera Travel Group. The low-cost carrier ceased operations in October 2018.
Germania: defunct 2019.
Founded in 1978, Berlin-based Germania offered by charter and scheduled passenger service. The airline ceased operations in early February 2019 citing financial insolvency.
Flybmi/British Midland Regional: defunct 2019.
Founded in 1987, Flybmi was once the regional arms of British Midland International. The airline was sold off in 2012 following BMI's acquisition by British Airways. Flybmi shut down in February 2019.
Wow Air: defunct 2019.
Founded in 2012, the Icelandic ultra-low-cost carriers collapsed in March 2019 after failing to secure new investment from Icelandair and private equity firm Indigo Partners.
Thomas Cook: defunct 2019.
After 178 years and various forms, the British airline and travel company collapsed in September 2019 after failing to secure emergency funding demanded by its creditors.



Next Page: 25 © Googlier LLC, 2019