Cache
With collaborative robots proliferating, we wanted to know who's using these robots and what tasks they're doing. Design News caught up with Walter Vahey, executive vice-president at Teradyne, a company that helps manufacturers gear up their automation. Vahey sees a real change in the companies that are deploying robotics. For years robots were tools only for the largest manufacturers. They required expensive care and feeding in the form of integrators and programming. Now, collaborative robots require configuration rather than programming, and they can be quickly switched from task to task.
Vahey talked about robot companies such as Universal Robots (UR) which produces robot arms, and MiR, a company that produces collaborative mobile robots. He explained how they're putting robotics in the hands of smaller manufacturers that previously could not afford advanced automation. The difference is that these robots are less expensive, they can be set up for production without programming, and they can be quickly reconfigured to change tasks.
Robots are now within the investment reach of small manufacturers. That's fueling a surge in the use of collaborative robots. (Image source: Universal Robots)
We asked Vahey what's different about collaborative robots and what he's seeing in robot adoption among smaller manufacturers.
Design News: Tell us about the new robots and how they're getting deployed.
Walter Vahey: Companies such as Universal Robots and MiR are pioneering the robot space. They're bringing automation to a broad class of users and democratizing automation. For small companies, the task at hand is to figure out how to fulfill their orders. It's particularly challenging to manufacturers. In a tight labor market, manufacturers are facing more competition, growing demand, and higher expectations in quality.
Manufacturer can plug UR or MiR robots in very quickly. Everything is easy, from the specs up front to ordering to quickly arranging and training the robot. There's no programming, and the robots have the flexibility to do a variety of applications. Every customer is dealing with labor challenges, so now they're deploying collaborative robots to fulfill demand with high quality.
The whole paradigm has shifted now that you have a broader range of robot applications. You can easily and quickly bring in automation, plug it in ,and get product moving in hours or days rather than months. That's what's driving the growth at UR and MiR.
The Issue of Change Management
Design News: Is change management a hurdle?. Does the robot cause workforce disruption?
Walter Vahey: We really haven't seen that as an issue. The overwhelming need to improve and fulfill demand at a higher quality level helps the manufacturers deploy. It outweighs other challenges. We help with the deployment, and the manufacturers are making the change easily.
We grew up as a supplier of electronic test equipment. Since 2015, we've entered the industrial automation market with a focus on the emerging collaborative robot space. We see that as a way to change the equation for manufacturers, making it faster and easier to deploy automation.
Design News: What about return on investment? Robotics can be a considerable investment for a small company/
Walter Vahey: The customers today are looking for relatively short ROI, and we're seeing it from 6 months to a year. That's a no brainer for manufacturers. They're ready to jump in.
We work hard to make deployment less of an issue. We have an application builder, and we use it to prepare for deployment. The new user may have a pick-and-place operation. They choose the gripper, and we guide them to partners who make it easy to deploy.
The application builder helps the customer pick the gripper. The whole object is to get the customer deployed rapidly so the automation doesn't sit. With MiR, the robot comes in, and we find an easy application for the mobile device. We take the robot around the plant and map it. We've work to guide customers through an application quickly and make the robot productive as soon as possible.
There are hundreds of partners that work with UR and MiR, providing grippers and end effectors. We have a system that customers can plug into. Customer can look at grippers from a wide range of companies. We're not working just on the robot deployment. We work to get the whole system deployed so they can quickly get the ROI.
What Tasks Are the Robots Taking On?
Design News: Who in the plant is using the robots, and what tasks are involved?
Walter Vahey: There is a range of users. To be effective at training a robot and configuring it, the people best suited for it are the ones most aware of the task. To get the robot to be effective you have to know the task. By and large, the person who has been doing that task is best suited to train the robot. That person can then train other robots. Nobody's better suited to do it than the people who know what needs to be done.
The tasks are broad set of applications. We automate virtually any task and any material movement. It's not quite that simple, but it's close. With UR, we're doing machine learning, grinding, packing, pick-and-place, repetitive tasks, welding. It's a very broad set of applications. In materials it's also very broad. Parts going from a warehouse to a work cell, and then from the work cell to another work cell, up to a 1000-kilo payload. We're moving robots into warehousing and logistics space, even large pieces of metal. The robots are well suited for long runs of pallets of materials.
Rob Spiegel has covered automation and control for 19 years, 17 of them for Design News. Other topics he has covered include supply chain technology, alternative energy, and cyber security. For 10 years, he was owner and publisher of the food magazine Chile Pepper.
The Midwest's largest advanced design and manufacturing event!
Design & Manufacturing Minneapolis connects you with top industry experts, including esign and manufacturing suppliers, and industry leaders in plastics manufacturing, packaging, automation, robotics, medical technology, and more. This is the place where exhibitors, engineers, executives, and thought leaders can learn, contribute, and create solutions to move the industry forward. Register today!
Cache
An update from Professor Jenks (4:24 PM Eastern, 07 October 2019):
The Chemistry Department at Iowa State University has an opening for an analytical or experimental physical chemist at the assistant professor level. Applications were originally intended to close Sunday night, but software glitches caused problems from at least Friday onward. Those have been addressed and applications will again be accepted through Thursday night Oct 10. The software will close the window at 12:01 Friday morning. We apologize for the inconvenience and are glad to be able to re-open the position for those who were trying to apply. (Contrary to an earlier comment, I do not have access to the names of anyone who had a partial application submitted; such people should also log into the application system again.) https://isu.wd1.myworkdayjobs.com/en-US/IowaStateJobs/job/Ames-IA/Assistant-Professor_R659
Via the comments on the open thread, a comment from William Jenks:
I am the chemistry chair at ISU. This happened because no one here knew the new software closes at 12:01 AM on a date instead of 11:59 PM. Yes, every single one of us agrees this is stupid. Additionally, there was some kind of partial software problem for Friday and Saturday, too. Anyone with a partial application should hear from us very soon. If you tried to start an application and failed, please send me an email ASAP at

wsjenks@iastate.edu

. I will try to get you into the pool, but I will have to go through our HR people because only a finite number of people will see this post. But yes, we'd like to get you into the pool if at all possible. Very sorry.
Best wishes to those involved.
Cache
Hello Sliva, Thanks, i do have a question what if my company made an early settlement for Part of the loan, what should we do with the loan Upfront fees?! 1.should it be amortized over the remaining loan period or, 2.should it be treated as prorate of the remaining balance of lone. Much appreciated Hussein

Cache
Hemera Photo-Objects Free Download Latest Version for Windows. It is full offline installer standalone setup of Hemera Photo-Objects.
Hemera Photo-Objects Overview
Hemera Photo-Objects is an application which contains different photographs of an object with any backgrounds. All the included objects [...]
The post Hemera Photo-Objects Free Download appeared first on Get Into PC.
Cache
The U.S. Department of Transportation approved an application by Hawaiian Airlines and Japan Airlines on Thursday to form a joint venture but tentatively denied antitrust immunity. The two airlines applied for the antitrust immunity in June 2018 and promised "significant advantages" for consumers including lower fares and additional travel options. The DOT will allow the carriers to sell each other's flights and coordinate marketing and frequent-flyer programs for flights between Japan and ...

Cache
Published at LXer: This morning, when I read the timeline on Facebook, there was one post from someone who shared an application link for Linux, Stacer. I am curious, so I want to know the...

Cache
The left-leaning Seattle Weekly newspaper notes that Locke presided over a $3.2 billion tax break for Boeing while "never disclosing he paid $715,000 to -- and relied on the advice of -- Boeing's own private consultant and outside auditor." Then there's the tainted matter of Locke's "favors for his brother-in-law (who lived in the governor's mansion), including a tax break for his relative's company, personal intervention in a company dispute, and Locke's signature on a federal loan application for the company." Locke's laces ain't so straight.
The glowing profiles of Locke have largely glossed over his troubling ties to the Clinton-era Chinagate scandal. As the nation's first Chinese-American governor, Locke aggressively raised cash from ethnic constituencies around the country. Convicted campaign finance money-launderer John Huang helped grease the wheels and open doors.
In the same time period that Huang was drumming up illegal cash for Clinton-Gore at the federal level, he also organized two 1996 galas for Locke in Washington, D.C. (where Locke hobnobbed with Clinton and other Chinagate principals); three fundraisers in Los Angeles; and an extravaganza at the Universal City, Calif., Hilton in October 1996 that raised upward of $30,000. Huang also made personal contributions to Locke -- as did another Clinton-Gore funny-money figure, Indonesian business mogul Ted Sioeng and his family and political operatives.
Sioeng, whom Justice Department and intelligence officials suspected of acting on behalf of the Chinese government, illegally donated hundreds of thousands of dollars to both Democratic and Republican coffers. Bank records from congressional investigators indicated that one Sioeng associate's maximum individual contribution to Locke was illegally reimbursed by the businessman's daughter.
Checks to Locke's campaign poured in from prominent Huang and Sioeng associates, many of whom were targets of federal investigations, including: Hoyt Zia, a Commerce Department counsel, who stated in a sworn deposition that Huang had access to virtually any classified document through him; Melinda Yee, another Clinton Commerce Department official who admitted to destroying Freedom of Information Act-protected notes on a China trade mission involving Huang's former employer, the Indonesia-based Lippo Group; Praitun Kanchanalak, mother of convicted Thai influence-peddler Pauline Kanchanalak; Kent La, exclusive distributor of Sioeng's Chinese cigarettes in the United States; and Sioeng's wife and son-in-law.
Locke eventually returned a token amount of money from Huang and Kanchanalak, but not before bitterly playing the race card and accusing critics of his sloppy accounting and questionable schmoozing of stirring up anti-Asian-American sentiment. "It will make our efforts doubly hard to get Asian Americans appointed to top-level positions across the United States," Locke complained. "If they have any connection to John Huang, those individuals will face greater scrutiny and their lives will be completely opened up and examined -- perhaps more than usual."
That scrutiny (such as it was) was more than justified. On top of his Chinagate entanglements, Locke's political committee was fined the maximum amount by Washington's campaign finance watchdog for failing to disclose out-of-state New York City Chinatown donors. One of those events was held at NYC's Harmony Palace restaurant, co-owned by Chinese street gang thugs.
And then there were Locke's not-so-squeaky-clean fundraising trips to a Buddhist temple in Redmond, Wash., which netted nearly $14,000 from monks and nuns -- many of whom barely spoke English, couldn't recall donating to Locke, or were out of the country and could never be located. Of the known temple donors identified by the Locke campaign, five gave $1,000 each on July 22, 1996 -- paid in sequentially ordered cashier's checks. Two priests gave $1,000 and $1,100 respectively on Aug. 8, 1996. Three other temple adherents also gave $1,000 contributions on Aug. 8. Internal campaign records show that two other temple disciples donated $2,000 and $1,000 respectively on other dates. State campaign finance investigators failed to track down some of the donors during their probe.
But while investigating the story for the Seattle Times, I interviewed temple donor Siu Wai Wong, a bald, robed 40-year-old priest who could not remember when or by what means he had given a $1,000 contribution to Locke. He also refused to say whether he was a U.S. citizen, explaining that his "English (was) not so good." Although an inept state campaign-finance panel absolved Locke and his campaign of any wrongdoing, the extensive public record clearly shows that the Locke campaign used Buddhist monks as conduits for laundered money.
The longtime reluctance to press Locke -- who became a high-powered attorney specializing in China trade issues for international law firm Davis, Wright & Tremaine after leaving the governor's mansion -- on his reckless, ethnic-based fundraising will undoubtedly extend to the politically correct and cowed Beltway. Supporters are now touting Locke's cozy relations with the Chinese government as a primary reason he deserves the Commerce Department post. Yet another illustration of how "Hope and Change" is just another synonym for "Screw Up, Move Up."
Cache
Originally posted on: http://brustblog.net/archive/2006/10/30/95540.aspx
If anyone has been following this technology closely, there have been a lot of complaints by some of the security vendors regarding PatchGuard. I first heard about this technology at TechEd 2006 in a lot of the Vista sessions.
The recent controversy caused me to do a little more research in to this technology and the issues surrounding it.
The official name for this technology is called Kernel Patch Protection (KPP) and it's purpose is to increase the security and stability of the Windows kernel. KPP was first supported in Windows Server 2003 SP1, Windows XP, and Windows XP Professional Edition. The important thing to understand about this support is that it is for x64 architectures only.
KPP is a direct outgrowth of both customer complaints regarding the security and stability of the Windows kernel and Microsoft's Trustworthy Computing initiative, announced in early 2002.
In order to understand the controversy surrounding KPP, it is important to understand what KPP actually is and what aspects of the Windows operating system it deals with.
What is the Kernel?
The kernel is the "heart" of the operating system and is one of the first pieces of code to load when the operating system starts. Everything in Windows (and almost any operating system, for that matter) runs on a layer that sits on top of the kernel. This makes the kernel the primary factor in the performance, reliability and security of the entire operating system.
Since all other programs and many portions of the operating system itself depend on the kernel, any problems in the kernel can make those programs crash or behave in unexpected ways. The "Blue Screen of Death" (BSoD) in Windows is the result of an error in the kernel or a kernel mode driver that is so severe that the system can't recover.
What is Kernel Patching?
According to Microsoft's KPP FAQ, kernel patching (also known as kernel "hooking") is
the practice of using internal system calls and other unsupported mechanisms to modify or replace code or critical structures in the kernel of the Microsoft Windows operating system with unknown code or data. "Unknown code or data" is any code or data that is not provided by Microsoft as part of the Windows kernel.
What exactly, does that mean? The most common scenario is for programs to patch the kernel by changing a function pointer in the system service table (SST). The SST is an array of function pointers to in-memory system services. For example, if the function pointer to the NtCreateProcess method is changed, anytime the service dispatch invokes NtCreateProcess, it is actually running the third-party code instead of the kernel code. While the third-party code might be attempting to provide a valid extension to the kernel functionality, it could also be malicious.
Even though almost all of the Windows kernels have allowed kernel patching, it has always been an officially unsupported activity.
Kernel patching breaks the integrity of the Windows kernel and can introduce problems in three critical areas:
Reliability
Since patching replaces kernel code with third-party code, this code can be untested. There is no way for the kernel to assess the quality of intent of this new code. Beyond that, kernel code is very complex, so bugs of any sort can have a significant impact on system stability.

Performance
The overall performance of the operating system is largely determined by the performance of the kernel. Poorly designed third-party code can cause significant performance issues and can make performance unpredictable.

Security
Since patching replaces known kernel code with potentially unknown third-party code, the intent of that third-party code is also unknown. This becomes a potential attack surface for malicious code.
Why Kernel Patch Protection?
As I mentioned earlier, the primary purpose of KPP is to protect the integrity of the kernel and improve the reliability, performance, and security of the Windows operating systems. This is becoming increasingly more important with the prevalence of malicious software that is implementing "root kits". A root kit is a specific type of malicious software (although it is usually included as a part of another, larger, piece of software) that uses a variety of techniques to gain access to a computer. Increasingly, root kits are becoming more sophisticated and are attacking the kernel itself. If the rootkit can gain access to the kernel, it can actually hide itself from the file system and even from any anti-malware tools. Root kits are typically used by malicious software, however, they have also been used by large legitimate businesses, including Sony.
While KPP is a good first step at preventing such attacks, it is not a "magic bullet". It does eliminate one way to attack the system...patching kernel images to manipulate kernel functionality. KPP takes the approach that there is no reliable way for the operating system to distinguish between "known good" and "known bad" components, so it prevents anything from patching the kernel. The only official way to disable KPP is by attaching a kernel debugger to the system.
KPP monitors certain key resources used by the kernel to determine if they have been modified. If the operating system detects that one of these resources has been modified it generates a "bug check", which is essentially a BSoD, and shuts down the system. Currently the following actions trigger this behavior:
Modifying system service tables.
Modifying the interpret descriptor table (IDT).
Modifying the global descriptor table (GDT).
Using kernel stacks that are not allocated by the kernel.
Patching any part of the kernel. This is currently detected only on AMD64-based systems.
Why x64?
At this point, you may begin to wonder why Microsoft chose to implement this on x64 based systems only. Microsoft is again responding to customer complaints in this decision. Implementing KPP will almost certainly impact comparability of many legitimate software, primarily security software such as anti-virus and anti-malware tools, which were built using unsupported kernel patching techniques. This would cause a huge impact on the consumer and also on Microsoft's partners. Since x64-based machines still make up the smaller install base (although they are gaining ground rapidly) and the majority of x64-based software has been rewritten to take advantage of the newer architecture, the impact is considered to be substantially smaller.
So...why the controversy?
Since KPP prevents an application or driver from modifying the kernel, it will, effectively, prevent that application or driver from running. KPP in Vista x64 requires any application drivers be digitally signed, although there are some non-intuitive ways to turn that off. (Turning off signed drivers does prevent certain other aspects of Windows from operating, such as being able to view DRM protected media.) However, all that really means is anyone with a legitimately created company and about $500 per year to spend can get the required digital signature from VeriSign. Unfortunately, even it is a reputable company, it still doesn't provide any guarantees as to the reliability, performance, and security of the kernel.
In order for software (or drivers) to work properly on an operating system that implements KPP, the software must use Microsoft-documented interfaces. If what you are trying to do doesn't have such an interface, then you cannot safely use that functionality. This is what has lead to the controversy. The security vendors are saying that the interfaces they require are not publicly documented by Microsoft (or not yet at any rate) but that Microsoft's own security offerings (Windows OneCare, Windows Defender, and Windows Firewall) are able to work properly and use undocumented interfaces. The security vendors want to "level the playing field".
There are many arguments on both sides of the issue, but it seems that many of them are not thought out completely. Symantec and McAfee have argued that the legitimate security vendors be granted exceptions to KPP using some sort of signing process. (See the TechWeb article.) However, this is fraught with potential problems. As I mentioned earlier, there is currently no reliable way to verify that code is actually from a "known good" source. The closest we can come to that is by digital signing, however, a piece of malicious code can simply include enough pieces from a legitimate "known good" source and hook into the exception.
So lets say, for arguments sake, that Microsoft does relent and is able to come up with some sort of exception mechanism that minimizes (or even removes) the chance of abuse. What happens next? Windows Vista, in particular, already includes an array of new features to provide security vendors ways to work within the KPP guidelines.
The Windows Filtering Platform (WFP) is one such example. WFP enables software to perform network related activities, such as packet inspection and other firewall type activities. In addition to WFP, Vista implements an entirely new TCP stack. This new stack has some fundamentally different behavior than the existing TCP stack on Windows. We also have network cards that implement hardware based stacks to perform what is called "chimney offload", which effectively bypasses large portions of the software based TCP stack. Hooking the network related kernel functions (as a lot of software based firewalls currently do), will miss all of the traffic on a chimney offload based network card. However, hooking in to WFP will catch that traffic.
Should Microsoft stop making technological innovations in the Windows kernel simply because there are a handful of partners and other ISVs that are complaining? The important thing to realize is that KPP is not new in Windows Vista. It has been around since Windows XP 64-bit edition was released. Why is it now that the security vendors are realizing that their products don't work properly on the x64-based operating systems? The main point Microsoft is trying to get across is that most of the functionality required doesn't have to be done in the kernel. Microsoft has been working for the last few years trying to assist their security partners in making their solutions compatible. If there is an interface that isn't documented, or functionality that a vendor believes can only be accomplished by patching the kernel, they can contact their Microsoft representative or email msra@microsoft.com for help finding a documented alternative. According to the KPP FAQ, "if no documented alternative exists...the functionality will not be supported on the relevant Windows operating system version(s) that include patch protection support."
I think the larger controversy is the fact that there are now documented ways to break KPP. This is where Microsoft and it's security partners and other security ISVs should be spending their time and energy. If we are going to have a reliable and secure kernel, we need to focus on locking down the kernel so that no one is able to breach it, including the hackers. This is an almost endless process, as the attackers generally have almost infinite amounts of time to bring their "products" to market and don't really have an quality issues to worry about. Even with the recent introduction by Intel and AMD of hardware based virtualation technology (which essentially creates a virtual mini-core processor that can run a specially created operating system), there is still a long way to go.
What's next?
While it is important to understand the goals of KPP and the potential avenues of attack against it, the most important thing for the security community to focus on is in making sure that the Windows kernel stays safe. The best way to do this is to keep shrinking the attack surface until it is almost non-existent. There will always be an attack surface, however, the smaller that surface becomes the easier it is to protect. Imagine guarding a vault. If there is only one way in and out, and that entrance is only 2-feet wide it is much more easily guarded than a vault that has 2 entrances, each of which are 30-feet wide.
However, as malware technology advances it is important for the security technology that tries to protect against it to advance as well. In fact, the security technology really needs to be ahead of the malware if it is to be successful. PatchGuard has already been hacked, some of the proposed Microsoft APIs for KPP won't be available until sometime in 2008, and the security vendors do have legitimate reasons for needing to access certain portions of the kernel.
Host Intrusion Prevention Systems (HIPS), for instance, uses kernel access to prevent certain types of attacks, such has buffer overflow attacks or process injection attacks, by watching for system functions being called from memory locations where they shouldn't be called. The Code Red Worm would not have been detected if only file-based protection systems were in use.
The bottom line is that the malware vendors are unpredictable and not bound by any legal, moral, or ethical constraints. They are also not bound by customer reviews, deadlines, and code quality. The security vendors and Microsoft need to work together to ensure that the attack surface for the kernel and Windows itself is small and stays small. They can do this by:
Establishing a more reliable way to authenticate security vendors and their products that will prevent "spoofing" by the malware vendors.
Minimizing the attack surface of the Windows Kernel.
Establishing documented APIs to interact with the kernel to perform security related functions, such as firewall activities.
Enforcing driver signatures...in other words, don't allow this mechanism to be turned off. At least don't allow it to be turned off for certain security critical drivers.
Enforcing security software digital signatures. If you want your security tool to run, it must be signed. Again, don't allow this mechanism to be turned off.
Establishing a more secure way for the security products to hook in to the kernel.
Restricting products to patching only specific areas of the kernel. Currently, it is possible to patch almost any portion of the kernel.
Enforcing Windows certification testing for any security products.
Cache
Originally posted on: http://brustblog.net/archive/2006/06/18/82247.aspx
Up until Vista, an application or a driver could prevent the system from entering a sleep mode (standby or hibernate) and was often caused by a bug or an overly aggressive power management policy. The problem with this was that the user might not know the system hasn't entered the appropriate sleep stat and eventually loose data.
Vista no longer queries processes when entering sleep states like previous versions of Windows and has reduced the timeout for user-mode notifications to 2 seconds (down from 20 seconds). In addition, drivers can not veto the transition into a sleep state.
Hopefully, these changes will make going to sleep a lot more peaceful.
Cache
ePrint Report: Symmetric-key Corruption Detection : When XOR-MACs Meet Combinatorial Group Testing
Kazuhiko Minematsu, Norifumi Kamiya

We study a class of MACs, which we call corruption detectable MAC, that is able to not only check the integrity of the whole message, but also detect a part of the message that is corrupted. It can be seen as an application of the classical Combinatorial Group Testing (CGT) to message authentication. However, previous work on this application has inherent limitation in communication. We present a novel approach to combine CGT and a class of linear MACs (XOR-MAC) that enables to break this limit. Our proposal, XOR-GTM, has a significantly smaller communication cost than any of the previous ones, keeping the same corruption detection capability. Our numerical examples for storage application show a reduction of communication by a factor of around 15 to 70 compared with previous schemes. XOR-GTM is parallelizable and is as efficient as standard MACs. We prove that XOR-GTM is provably secure under the standard pseudorandomness assumptions.

Cache
Meet Frost a 15-16 week old husky/labrador mixture who is kid, dog and cat friendly. Frost loves to play outside and would like a family that likes to have fun. He is potty trained. Applications are found: https://www.rangersreach.org/our-dogs WE ARE NOT A SHELTER, WE HAVE NO BRICK AND MORTAR LOCATION- WE ARE AN ALL-VOLUNTEER RESCUE, ALL DOGS ARE IN PRIVATE FOSTER HOMES. If we if we think your home might be a nice fit, we will contact you once we have reviewed your completed application. We do check references, use social media, been verified, do phone interview/emails, and home check will be completed before meeting an adoptable dog. Please do not submit an application until you are ready to bring a new furry part of the family home. We do not hold dogs for any reason. We do try to be fair and go in the order applications are received. If no response, decision or adoption is made we have to move on to the next application.

Cache
Look at this stunner!!!! Meet Ian.....we believe he is a one year old husky / chow mixture. He weighs about 42 pounds. He has been completely vaccinated, micro chipped and is heart worm negative. He is just entering our program so stay tuned for more info about this attractive boy! If you are interested in adopting, please complete an application @ https://form.jotform.us/41173109602142. Once approved, home visit and reference checks are also required. If you have further questions outside of this listing, please email XXXX@gmail.com.

Cache
popularity of the phone, who can tell you?  People more prefer mobile apps over mobile browsing. As you all know that iOS and Android are major mobile operating system in the world. But we talk about app development, then our first thought comes in mind – "App development is only for mastered programmer." But now hybrid […]
The post Hybrid App Maker: How To Build An Application Without Coding? appeared first on .
Cache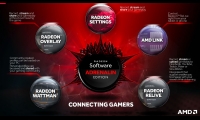 Radeon Software Adrenaline Edition 19.10.1 beta per schede video dalla famiglia Radeon HD 7000 sino alle serie Radeon R9 300, Radeon R9 Fury e Radeon RX. Di seguito le principali note fornite con i driver:

Support For:

AMD Radeon RX 5500 desktop graphics products AMD Radeon RX 5500M mobile graphics products GRID

Fixed Issues:

Borderlands 3 may experience an application crash or hang when running DirectX 12 API. Borderlands 3 may experience lighting corruption when running DirectX 12 API. Display artifacts may be experienced on some 75hz display configurations on Radeon RX 5700 series graphics system configurations. Radeon FreeSync 2 capable displays may fail to enable HDR when HDR is enabled via Windows OS on Radeon RX 5700 series graphics products system configurations. Some displays may intermittently flash black when Radeon FreeSync is enabled and the system is at idle or on desktop.

Known Issues:

Radeon RX 5700 series graphics products may experience display loss when resuming from sleep or hibernate when multiple displays are connected. Toggling HDR may cause system instability during gaming when Radeon ReLive is enabled. Call of Duty : Black Ops 4 may experience stutter on some system configurations. Open Broadcasting Software may experience frame drops or stutter when using AMF encoding on some system configurations. HDMI overscan and underscan options may be missing from Radeon Settings on AMD Radeon VII system configurations when the primary display is set to 60hz. Stutter may be experienced when Radeon FreeSync is enabled on 240hz refresh displays with Radeon RX 5700 series graphics products. AMD Radeon VII may experience elevated memory clocks at idle or on desktop.

Cache
Today's column addresses withdrawing an application for Social Security retirement benefits, what happens with Social Security disability benefits at certain ages, survivor's benefits and domestic partnerships, submitting an application and whether to file early or later.

Cache
Meet Frost a 15-16 week old husky/labrador mixture who is kid, dog and cat friendly. Frost loves to play outside and would like a family that likes to have fun. He is potty trained. Applications are found: https://www.rangersreach.org/our-dogs WE ARE NOT A SHELTER, WE HAVE NO BRICK AND MORTAR LOCATION- WE ARE AN ALL-VOLUNTEER RESCUE, ALL DOGS ARE IN PRIVATE FOSTER HOMES. If we if we think your home might be a nice fit, we will contact you once we have reviewed your completed application. We do check references, use social media, been verified, do phone interview/emails, and home check will be completed before meeting an adoptable dog. Please do not submit an application until you are ready to bring a new furry part of the family home. We do not hold dogs for any reason. We do try to be fair and go in the order applications are received. If no response, decision or adoption is made we have to move on to the next application.

Cache
Look at this stunner!!!! Meet Ian.....we believe he is a one year old husky / chow mixture. He weighs about 42 pounds. He has been completely vaccinated, micro chipped and is heart worm negative. He is just entering our program so stay tuned for more info about this attractive boy! If you are interested in adopting, please complete an application @ https://form.jotform.us/41173109602142. Once approved, home visit and reference checks are also required. If you have further questions outside of this listing, please email XXXX@gmail.com.

Cache
Logon Screen is an application that allows you to change the logon screen background in Windows 7.

Cache

What is QuickBooks Error 5510?QuickBooks Error 5510 could possibly be categorized as the sync could never be finished. Simply because error occurs you may receive an error message with all the download data to QuickBooks. Also find all full information on QuickBooks Error code with regards to meaning , factors and cures , created this . Our Support team provides some simple steps to Fix QuickBooks Error 5510 manually.
Exactly why is the QB Error 5510 caused?QuickBooks Error Code 5510 TroubleshootingQuickBooks Error Code 5510 Troubleshooting
When the adjustments designed to your data online have been completely downloaded as the QuickBooks error 5510 occurs while making these changes to your QuickBooks company file. The primary cause of the QB error 5510 could possibly be since this company file had not been open in QuickBooks during its sync setup. It is in addition crucial to make certain you have the most recent Intuit Sync Manager update based on us.
Steps to fix/Resolve the QB Error 5510With regards to resolution when it comes to QB error checks if Intuit Sync Manager is registered as a built-in Application in QuickBooks. To check on this out:
Open your organization files in QuickBooks.Go to Edit then Preferences.Elect Integrated Applications.Click Company Preferences tab.Now see if you have a tick mark against Intuit Sync Manager within the list.If the tick mark is unquestionably not present, click Sync Now in Intuit Sync Manager as the company file continues to be open.5510 Troubleshooting QuickBooks Pro, Premier , EnterpriseDuring the last 5 years QuickBooks Support Number helping QB user around the world due to the articles how to resolve XXXX error codes within the basic steps. While setting up QB company submit an application for SYNC there be an extensive guidelines issued by Intuit, which should be accompanied by every user. There clearly was less risk of 5510 Error code if user has proper access and permission both the info and company file location. In case 5510 Error comes while synchronizing data with QuickBooks than stick to the steps. Also in some instances Windows 8 and Windows 10 user facing another kind of issue while performing the steps above. We have been here prepared to assist you to Call QuickBooks USA Support Toll Free Phone number anytime.
Cache
Sun Hung Kai Properties (SHKP) has filed an application with the Hong Kong government to increase the capacity of two residential projects by a combined 56 per cent, as the government struggles to inc ... - Source: www.scmp.com

Cache
ISO Coordinator
South Point, OH
Direct-Hire / Permanent Position

Adecco direct-hire group is assisting a client located inSouth Point,OHin recruiting for an experienced ISO Coordinator. This position will require 3-5 years of experience administering ISO 9001:2008 standards to ensure compliance and to create quality manuals. Our client offers proprietary products for the mining, railroad, construction, and highway industries. They offer exceptional benefits through BCBS, 401k w/ match (up to 12%), up to 3 weeks of vacation and a monthly fuel reimbursement for all employees.

As the ISO Coordinator, your responsibilities will include:

*Administering the ISO 9001:2008 standards to ensure regulatory compliance

*Handling internal/external audits

*Creating quality policies

*Creating quality manual

*Working with various departments to ensure all quality standard are adhered to and met



Qualifications:

*3+ years of experience administering ISO 9001:2008 standards

*Experience in creating quality policies and manuals

*Experience in working with internal and external auditing procedures

*Advising on improvements to company policy relating to quality standards

*HS Diploma or equivalent. ISO certification preferred



This is a direct-hire / permanent position with our client. Normal working hours are Monday through Friday, 8am to 5pm. Salary is commensurate with experience.

TO APPLY: Please click on ?Apply Now? to complete an application OR send a resume and salary requirements to brett.windham@adeccona.com. All applications are held in strict confidentiality.

Adecco, Better Work, Better Life!
EOE.
Cache
Primarily responsible for providing accurate, clear and concise information

to loan customers through phone interaction and email utilization. Also, performs a wide range

of duties related to processing in a Financial Call Center environment. Duties include but are not

limited to preparing loans, adhering to call schedules, meeting service level agreements and

serving as the primary loan facilitator for both internal and external customers for assigned loans.

This position requires contact with internal and external customers to ensure workflow and

deadlines are met.



* Acts as an active liaison between the client, underwriting and financial center to meet all loan

and customer requirements.

* Analyzes loan to determine alternate solutions to meet customer and bank objectives.

* Communicates with borrowers; Affiliates, Loan Originators and other parties to correct errors

and ensure all conditions and regulatory requirements are met.

* Provides accurate information to the customer, explains products and policies in a clear,

concise manner.

* Achieves assigned goals while cross selling additional products and services through solution

based selling.

* Achieves loan productively goals while supporting department and individual service level

agreements.

* Fields inbound calls from internal and external customers.

* Audits documents to insure accuracy and timely processing.

* Analyzes loan to determine alternate solutions to meet customer and bank objectives.

* Verifies that all documents are present, legible and all guidelines have been met prior to

moving the loan forward in the process.

* Verify and provide ongoing support to internal and external clients until loan application is

brought to a complete status.

* Fosters partners between call center department and other internal customers.

* Responds in a timely and professional manner to customer inquiries, and concerns.

* Actively participates in ongoing efforts to continually improve customer experience for both

internal and external customers.

* Provides administrative support to assigned area/unit and updates individual production as

requested.

* Fosters partnership between Retail Direct Sales and Business Partners.

* Maintain knowledge of Fifth Third policies and procedures.

* Copies, faxes and sends required customer communications.

* Receptive to and incorporates coaching feedback to improve overall effectiveness.

* Actively participates in personal and team success.

* Additional duties as assigned




Cache
Few IT professionals are unaware of the rapid emergence of 5G, Internet of Things or IoT, edge-fog-cloud or core computing, microservices, and artificial intelligence known as machine learning or AI/ML. These new technologies hold enormous promise for transforming IT and the customer experience with the problems that they solve. It's important to realize that like all technologies, they introduce new processes and subsequently new problems. Most are aware of the promise, but few are aware of the new problems and how to solve them.
5G is a great example. It delivers 10 to 100 times more throughput than 4G LTE and up to 90% lower latencies. Users can expect throughput between 1 and 10Gbps with latencies at approximately 1 ms. This enables large files such as 4K or 8K videos to be downloaded or uploaded in seconds not minutes. 5G will deliver mobile broadband and can potentially make traditional broadband obsolete just as mobile telephony has essentially eliminated the vast majority of landlines.
5G mobile networking technology makes industrial IoT more scalable, simpler, and much more economically feasible. Whereas 4G is limited to approximately 400 devices per Km2, 5G increases that number of devices supported per Km2 to approximately 1,000,000 or a 250,000% increase. The performance, latency, and scalability are why 5G is being called transformational. But there are significant issues introduced by 5G. A key one is the database application infrastructure.
Analysts frequently cite the non-trivial multi-billion dollar investment required to roll-out 5G. That investment is primarily focused on the antennas and fiber optic cables to the antennas. This is because 5G is based on a completely different technology than 4G. It utilizes millimeter waves instead of microwaves. Millimeter waves are limited to 300 meters between antennas. The 4G microwaves can be as far as 16 Km apart. That is a major difference and therefore demands many more antennas and optical cables to those antennas to make 5G work effectively. It also means it will take considerable time before rural areas are covered by 5G and even then, it will be a degraded 5G.
The 5G infrastructure investment not being addressed is the database application infrastructure. The database is a foundational technology for analytics. IT Pros simply assume it will be there for their applications and microservices. Everything today is interconnected. The database application infrastructure is generally architected for the volume and performance coming from the network. That volume and performance is going up by an order of magnitude. What happens when the database application infrastructure is not upgraded to match? The actual user performance improves marginally or not at all. It can in fact degrade as volumes overwhelm the database applications not prepared for them. Both consumers and business users become frustrated. 5G devices cost approximately 30% more than 4G – mostly because those devices need both a 5G and 4G modem (different non-compatible technologies). The 5G network costs approximately 25% more than 4G. It is understandable that anyone would be frustrated when they are spending considerably more and seeing limited improvement, no improvement, or negative improvement. The database application infrastructure becomes the bottleneck. When consumers and business users become frustrated, they go somewhere else, another website, another supplier, or another partner. Business will be lost.
Fortunately, there is still time as the 5G rollout is just starting with momentum building in 2020 with complete implementations not expected until 2022, at the earliest. However, IT organizations need to start planning their application infrastructure upgrades to match the 5G rollout or may end up suffering the consequences.
IoT is another technology that promises to be transformative. It pushes intelligence to the edge of the network enabling automation that was previously unthinkable. Smarter homes, smarter cars, smarter grids, smarter healthcare, smarter fitness, smarter water management, and more. IoT has the potential to radically increase efficiencies and reduce waste. Most of the implementations to date have been in consumer homes and offices. These implementations rely on the WiFi in the building they reside.
The industrial implementations have been not as successful…yet. Per Gartner, 65 to 85% of Industrial IoT to date have been stuck in pilot mode with 28% of those for more than 2 years. There are three key reasons for this. The first are the limitations of 4G of 400 devices per Km2. This limitation will be fixed as 5G rolls out. The second is the same issue as 5G, database application infrastructure not suited for the volume and performance required by industrial IoT. And the third is latency from the IoT edge devices to the analytics, either in the on-premises data center (core), or cloud. Speed of light latency is a major limiting factor for real-time analytics and real-time actionable information. This has led to the very rapid rise of edge-fog-cloud or core computing.
Moving analytic processing out to the edge or fog significantly reduces distance latency between where the data is being collected and where it is being analyzed. This is crucial for applications such as autonomous vehicles. The application must make decisions in milliseconds not seconds. It may have to decide whether a shadow in the road is actually a shadow, a reflection, a person, or a dangerous hazard to be avoided. The application must make that decision immediately and cannot wait. By pushing the application closer to the data collection, it can make that decision in the timely manner that's required. Smart grids, smart cities, smart water management, smart traffic management, are all examples requiring fog (near the edge) or edge computing analytics. This solves the problem of distance latency; however, it does not resolve analytical latency. Edge and fog computing typically lack the resources to provide ultra-fast database analytics. This has led to the deployment of microservices.
Microservices have become very popular over the past 24 months. They tightly couple a database application with its database that has been extremely streamlined to do only the few things the microservice requires. The database may be a neutered relational, time series, key value, JSON, XML, object, and more. The database application and its database are inextricably linked. The combined microservice is then pushed down to the edge or fog compute device and its storage. Microservices have no access to any other microservices data or database. If it needs access to another microservice data element, it's going to be difficult and manually labor-intensive. Each of the microservices must be reworked to grant that access, or the data must be copied and moved via an extract transfer and load (ETL) process, or the data must be duplicated in ongoing manner. Each of these options are laborious, albeit manageable, for a handful of microservices. But what about hundreds or thousands of microservices, which is where it's headed? This sprawl becomes unmanageable and ultimately, unsustainable, even with AI/ML.
AI/ML is clearly a hot tech trend today. It's showing up everywhere in many applications. This is because standard CPU processing power is now powerful enough to run AI / machine learning algorithms. AI/ML is showing up typically in one of two different variations. The first has a defined specific purpose. It is utilized by the vendor to automate a manual task requiring some expertise. An example of this is in enterprise storage. The AI/ML is tasked with placing data based on performance, latency, and data protection policies and parameters determined by the administrator. It then matches that to the hardware configuration. If performance should fall outside of the desired parameters AI/ML looks to correct the situation without human intervention. It learns from experience and automatically makes changes to accomplish the required performance and latency. The second AI/ML is a tool kit that enables IT pros to create their own algorithms.
The 1st is an application of AI/ML. It obviously cannot be utilized outside the tasks it was designed to do. The 2nd is a series of tools that require considerable knowledge, skill, and expertise to be able to utilize. It is not an application. It merely enables applications to be developed that take advantage of the AI/ML engine. This requires a very steep learning curve.
Oracle is the first vendor to solve each and every one of these tech trend problems. The Oracle Exadata X8M and Oracle Database Appliance (ODA) X8 are uniquely suited to solve the 5G and IoT application database infrastructure problem, the edge-fog-core microservices problem, and the AI/ML usability problem.
It starts with the co-engineering. The compute, memory, storage, interconnect, networking, operating system, hypervisor, middleware, and the Oracle 19c Database are all co-engineered together. Few vendors have complete engineering teams for every layer of the software and hardware stacks to do the same thing. And those who do, have shown zero inclination to take on the intensive co-engineering required. Oracle Exadata alone has 60 exclusive database features not found in any other database system including others running the same Oracle Database. Take for example Automatic Indexing. It occurs multiple orders of magnitude faster than the most skilled database administrator (DBA) and delivers noticeably superior performance. Another example is data ingest. Extensive parallelism is built-into every Exadata providing unmatched data ingest. And keep in mind, the Oracle Autonomous Database is utilizing the exact same Exadata Database Machine. The results of that co-engineering deliver unprecedented Database application latency reduction, response time reduction, and performance increases. This enables the application Database infrastructure to match and be prepared for the volume and performance of 5G and IoT.
The ODA X8 is ideal for edge or fog computing coming in at approximately 36% lower total cost of ownership (TCO) over 3 years than commodity white box servers running databases. It's designed to be a plug and play Oracle Database turnkey appliance. It runs the Database application too. Nothing is simpler and no white box server can match its performance.
The Oracle Exadata X8M is even better for the core or fog computing where it's performance, scalability, availability and capability are simply unmatched by any other database system. It too is architected to be exceedingly simple to implement, operate, and manage.
The combination of the two working in conjunction in the edge-fog-core makes the application database latency problems go away. They even solve the microservices problems. Each Oracle Exadata X8M and ODA X8 provide pluggable databases (PDBs). Each PDB is its own unique database working off the same stored data in the container database (CDB). Each PDB can be the same or different type of Oracle Database including OLTP, data warehousing, time series, object, JSON, key value, graphical, spatial, XML, even document database mining. The PDBs are working on virtual copies of the data. There is no data duplication. There are no ETLs. There is no data movement. There are no data islands. There are no runaway database licenses and database hardware sprawl. Data does not go stale before it can be analyzed. Any data that needs to be accessed by a particular or multiple PDBs can be easily configured to do so. Edge-fog-core computing is solved. If the core needs to be in a public cloud, Oracle solves that problem as well with the Oracle Autonomous Database providing the same capabilities of Exadata and more.
That leaves the AI/ML usability problem. Oracle solves that one too. Both Oracle Engineered systems and the Oracle Autonomous Database have AI/ML engineered inside from the onset. Not just a tool-kit on the side. Oracle AI/ML comes with pre-built, documented, and production-hardened algorithms in the Oracle Autonomous Database cloud service. DBAs do not have to be data scientists to develop AI/ML applications. They can simply utilize the extensive Oracle library of AI/ML algorithms in Classification, Clustering, Time Series, Anomaly Detection, SQL Analytics, Regression, Attribute Importance, Association Rules, Feature Extraction, Text Mining Support, R Packages, Statistical Functions, Predictive Queries, and Exportable ML Models. It's as simple as selecting the algorithms to be used and using them. That's it. No algorithms to create, test, document, QA, patch, and more.
Taking advantage of AI/ML is as simple as implementing Oracle Exadata X8M, ODA X8, or the Oracle Autonomous Database. Oracle solves the AI/ML usability problem.
The latest tech trends of 5G, Industrial IoT, edge-fog-core or cloud computing, microservices, and AI/ML have the potential to truly be transformative for IT organizations of all stripes. But they bring their own set of problems. Fortunately, for organizations of all sizes, Oracle solves those problems.
Cache
DecSoft App Builder 2020 Free Download Latest Version for Windows. It is full offline installer standalone setup of DecSoft App Builder 2020.
DecSoft App Builder 2020 Overview
DecSoft App Builder 2020 is a programming and developing an application that allows users to design and built their own [...]
The post DecSoft App Builder 2020 Free Download appeared first on Get Into PC.
Cache
In recent years, the UK's immigration system has become notoriously hostile and a bureaucratic nightmare. The vast amount of rules and regulations governing UK Visa Applications has become daunting and confusing for many Applicants and the consequences of not submitting the mandatory supporting documents can be dire. It is extremely important that the relevant rules and requirements are understood before submitting an application to the Home Office and instructing LEXVISA to prepare and submit your visa application can be the difference in the visa being granted or refused. Why is it important to submit the Mandatory Supporting Documents for UK Visa Applications? The Home Office has a strict set of requirements for every UK visa application and specified documents need to be provided to evidence that the requirements have been met. If an Applicant fails to provide a mandatory supporting document, then the decision on their application may be delayed or even refused. This can have serious cost implications for Applicants as well as bring serious uncertainty and stress. Having a UK Visas and Immigration application refused, even just once, can give an Applicant an 'adverse immigration history', making it more difficult for any future applications to be successful. It […]

The post The Importance of submitting Mandatory Supporting Documents in UK Visa Applications appeared first on London's Leading UK Immigration & Visa Lawyers | LEXVISA Solicitors.




Next Page: 25 © Googlier LLC, 2019