Cache
Welcome to FreedomWorks Foundation's nineteenth regulatory review of 2019! Our Regulatory Action Center proudly updates you with our favorite tidbits from the swamp. We want to smash barriers between bureaucracy and the American people by delivering regulatory news straight to FreedomWorks activists. Check back in two weeks for the next edition.
1) Video of the Week: Unsurprisingly, the United States is not the first country to experience ballooning budgets and astronomical deficits. In the mid-1990's, Canada's debt grew to as high as 70% of GDP, similar to our current debt situation. In this weeks video, John Stossell sits down with Canadian economist David Henderson to discuss how Canada managed to tackle their debt problem by cutting government spending and reducing waste.
2) Why Is the CDC Still Fostering Potentially Deadly Confusion About Vaping and Lung Disease?: "Media outlets, following the lead of the U.S. Centers for Disease Control and Prevention (CDC), continue to blame recent cases of severe respiratory illnesses among vapers on "vaping" and "e-cigarettes" in general, falsely implying a link to legal nicotine products. This misinformation is fostering public confusion that may lead to more disease and death, both from smoking and from the black-market products that have been implicated in the lung disease cases." https://reason.com/2019/09/24/why-is-the-cdc-still-fostering-potentially-deadly-confusion-about-vaping-and-lung-disease/
3) FBI using Facebook ads to gather Russian intelligence: report: "The FBI is reportedly using Facebook ads to gather intelligence on Russia, specifically targeting those who may be or know Russian spies. The FBI is running ads in the Washington, D.C., area, CNN reported on Wednesday, that direct to the FBI field office's website that describes its counterintelligence team and encourages visitors to meet "in person." https://thehill.com/policy/national-security/fbi/464069-fbi-using-facebook-ads-to-gather-russian-intelligence-report
4) Federal Court Upholds FCC Decision to Roll Back Obama-Era Net Neutrality Rules: "Today, by a 2-1 vote, the United States Court of Appeals for the District of Columbia Circuit sided largely with the FCC, upholding the primary regulatory rollback as a valid exercise of its authority. In the nearly 200 page opinion, which is heavy on technical detail, the court wrote that while the challengers raised "numerous objections" aiming to show that the FCC's reclassification is "unreasonable," the judges found them "unconvincing." https://reason.com/2019/10/01/federal-court-upholds-fcc-decision-to-roll-back-obama-era-net-neutrality-rules/
5) Trump to issue executive order 'protecting' Americans from 'Medicare for All' campaign proposals pushed by Democrats: "The executive order, which he is scheduled to discuss at a speech in Florida later Thursday, is intended to bolster Medicare Advantage, private Medicare insurance for seniors that currently covers 22 million people, senior administration officials said on a call with reporters. The plan would also offer more affordable plan options, increase use of telehealth services and bring payments in Medicare fee-for-service program in line with payments for Medicare Advantage, officials said." https://www.cnbc.com/2019/10/03/trump-to-issue-executive-order-protecting-americans-from-medicare-for-all.html
6) Treasury to create tool to help people redeem billions in unclaimed savings bonds: "Sen. John Kennedy (R-La.) on Wednesday said that the Treasury Department will create an online tool to help people redeem billions of dollars in savings bonds. About $26 billion in matured savings bonds are in the U.S. Treasury and have yet to be redeemed. Using the department's forthcoming tool, people will be able to verify against Treasury Department records if they have any savings bonds dated after 1974 that can be redeemed, Kennedy's office said in a news release." https://thehill.com/policy/finance/464057-senator-treasury-will-create-tool-to-help-people-redeem-billions-of-dollars-in
7) Trump takes heat from right over vaping crackdown: "The Trump administration is under fire from conservative groups and some GOP lawmakers, who are pushing back over its planned crackdown on e-cigarette flavors. They say the administration is overreaching, and the flavor ban will harm small businesses, a violation of core Republican free market principles." https://thehill.com/policy/healthcare/464470-trump-takes-heat-from-right-over-vaping-crackdown
Cache
英国女王伊丽莎白二世昨日在威斯敏斯特大厅向议会发表登基60周年演讲,称将牢记英国历史,继续全身心服务国家,称赞丈夫菲利普亲王不断给予力量和引导。她在位时间仅次于维多利亚女王的63年,当她淡定地提起已经历12任英国首相时,引发全场欢笑。 In a speech to mark

Cache
I LOVE ENGLISH Dear teacher and classmates: I am very glad to make a speech here in this class again! This time, I'd like to talk something about English. I love English. English language is now used everywhere in the world. It has become the most c

Cache
J.S. Mill in a speech before parliament denounced the suspension of Habeas Corpus and the use of flogging in Ireland, saying that those who ordered this "deserved flogging as much as any of those who were flogged by his orders" (1866)
Cache
John Milton gave a speech before Parliament defending the right of freedom of speech in which he likened the government censors to an "oligarchy" and free speech to a "flowery crop of knowledge" (1644)
Cache
From Ian:

---
Jonathan S. Tobin: Whatever Happened to the Palestinian 'Diplomatic Tsunami'?

At the United Nations, where once-hardened ex-generals like Barak quaked about the prospect of the world uniting to force Israel to accept a Palestinian state, the situation for the Jewish state's foes is particularly dismal. It's true that many UN agencies, like its Human Rights Council, are still cesspools of antisemitism and hypocrisy, focusing almost exclusively on bogus attacks on Israel while ignoring real human-rights catastrophes in countries around the world.

But as is the case elsewhere, the diplomatic isolation that Barak and so many others feared never happened. Indeed, as Israeli Ambassador to the United Nations Danny Danon recently wrote, the world body is no longer the "home court" for those who oppose Israel. The majority of member states joined the United States and Israel in condemning Hamas terrorism in the past year. In a variety of steps, both large and small, Israel's presence there has become normalized.

At the same time, the Palestinians have become more of an afterthought. It's probably better for Abbas that even the Palestinians' usual cheerleaders on the left paid no attention to his recent address at the UN General Assembly, where he spoke of his devotion to democracy and his plans to hold an election. Abbas is so devoted to democracy that he is currently serving the 15th year of a four-year term as president of the PA, to which he was elected in 2005. No one takes his talk of finally holding another vote seriously, since there is no way he would risk being defeated by his more radical Islamist rivals in Hamas, who currently rule Gaza.

The Arab and Muslim worlds may still be hotbeds of antisemitism and may have successfully exported their Jew-hatred to the West in the form of the BDS movement. However, Arab states have effectively dropped the Palestinian cause as a priority and instead are increasingly looking to Israel as an ally against Iran. Though they still pay some lip service to the Palestinian cause, the governments of Saudi Arabia, Jordan, and Egypt have little interest in creating another failed and unstable Arab state for the Palestinians.

To note these facts is not to deny that the ongoing conflict with the Palestinians is not going away and remains a serious problem. But as long as both the PA and Hamas are stuck in the mindset of their century-long war on Zionism, peace will have to wait until the Palestinians are ready to accept the legitimacy of a Jewish state.

The fact that the "tsunami" that so many Jews feared has fizzled into the BDS flop that can only intimidate someone like Lovato demonstrates that the conventional wisdom peddled by Israel's noisy critics shouldn't be taken seriously. Those who listen to the counsels of despair in 2011 have turned out to be as confused as a second-tier pop star.
FM confirms initiative to sign 'historic' non-aggression pact with Arab states
Foreign Minister Israel Katz on Sunday confirmed that he has been advancing non-aggression treaties with several Arab countries in the Gulf, a "historic" démarche he said could end the conflict between Jerusalem and those states.

"Recently I have been promoting, with the backing of the prime minister, a diplomatic initiative to sign 'non-aggression agreements' with the Arab Gulf states," Katz wrote on Twitter.

"It's a historic move that will end the conflict and enable civilian cooperation until the signing of peace agreements," he said, in what appeared to be a tacit acknowledgement that no Arab country is currently willing to establish full diplomatic relations with the Jewish state as long as the Israeli-Palestinian conflict remains unresolved.

Katz further confirmed that he presented his plan to several Arab foreign ministers during his visit to New York last week at the sidelines of the United Nations General Assembly. He also discussed the proposal with the US administration's outgoing special envoy for the peace process, Jason Greenblatt, Katz said.

"I will continue to work to strengthen Israel's standing in the region and around the world," he pledged.

Katz's tweet included a link to a report aired Saturday night by Channel 12, which first revealed the existence of the potentially groundbreaking initiative.
PMW: Fatah attempts to hide its terror promotion from Facebook

In fact PMW's reports show that Fatah does all of that and worse on its Facebook page, and PMW has pointed this out to Facebook more than once. Yet Facebook continues to leave the platform open for Fatah's terror promotion.

Fishman further explained that Facebook finds that governments and academics are acting too slow in terms of designating who are "terrorist actors" and therefore designates such themselves:
"We [Facebook] designate terrorist actors ourselves. This is pretty unique, but the reason we do this is because although there are a variety of lists of terrorist organizations in the world that are maintained by academics, that are maintained by governments, we find that academics and governments act too slowly. They don't actually maintain comprehensive lists in real time, and the expectation on us by our users and by the community globally is that we are able to respond to these things in near real time."

One can only marvel at the speed with which Facebook claims that it responds to terror promotion when looking at its inaction in the face of PMW's thorough documentation. Nine months ago Facebook was supplied by PMW with explicit evidence that Fatah's mission includes terror and violence. Yet in its statement to the Jerusalem Post last week Facebook said:
"We have received reports about potentially violating content on this page and, as we do with all such reports, are in the process of reviewing that content to determine whether it violates our policies."

Facebook boasting would be laughable, if its behavior was not life-threatening. Facebook claims to have a policy according to which "there may be no praise, support, or representation of a terrorist organization, a terrorist actor, a terrorist event," and boasts 'we are able to respond to these things in near real time."

In the case of Fatah, Facebook has failed repeatedly to deal with the terror promotion on its platform. Despite being provided with the evidence, Facebook did nothing to remove Fatah's terror glorifying and promoting posts. While their actions were no more than piece-meal, it appears that even Fatah accepted PMW's claim that many of their posts contained terror glorification and promotion and decided to take them down.

Facebook removes terror promotion in "real time," except when the murder of Israelis is being celebrated and promoted. For Israelis a full nine months is necessary and Facebook is still "in the process of reviewing that content," that clearly celebrates and promotes terror.

While Facebook is bragging about fighting terror, Palestinian terror is being embedded in the hearts and minds of the next generation of potential terrorists, thanks to Facebook.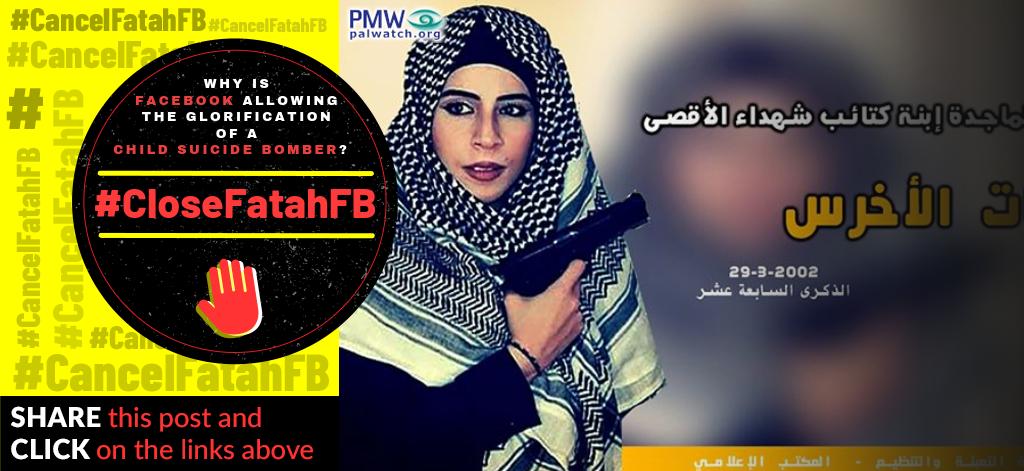 PA wipes peace agreements from schoolbooks, encourages incitement and intolerance
The Palestinian Authority has removed any mention of past agreements with Israel from their school textbooks, with the exception of the Oslo Accords, which are mentioned in far less detail than in previous editions of the schoolbooks, according to a new report by Yedioth Aharonot.

The new curriculum, which has been progressively implemented throughout the past three years, and the textbooks in particular, are studied between 1st and 12th grades in the West Bank, the Gaza Strip, east Jerusalem and refugee camps. They, unlike their previous editions, make no mention of the historical Jewish presence in Israel, and speak about every quarter in Jerusalem's Old City – except the Jewish Quarter.

The portions of the textbooks that do mention the Oslo Accords portray Israel in a negative light, claiming that "the Zionist occupation was forced to recognize the PLO after the First Intifada in 1987."

In addition, the old textbooks contained the full contents of the letter written in 1993 by then-PA chairman Yasser Arafat to then-Israeli prime minister Yitzhak Rabin, which detailed the values of peace between the Palestinians and the Israelis.

The new textbooks, however, censor the part in which Arafat writes that the declaration of principles "is the beginning of an era of coexistence in peace without violence and any action that may risk the peace."

The few times in which Israel is mentioned throughout the rest of the textbooks are in parentheses, a habit typically taken on to claim the illegitimacy of the state by extremist organizations such as Hamas and the Islamic Jihad, according to Mako.



Seth J. Frantzman: Trump gives green light to Turkey to take over Syria, displace U.S. partners

Turkey will soon move forward with its long-planned military operation to create what it calls a "safe zone" in northern Syria – and U.S. forces will not support or be involved in it, the White House press secretary announced early Monday morning. The move is an extraordinary reversal of US policy that leaves America's allies wondering whether they can still rely on the Trump administration.

The statement came after Turkish President Tayyip Erdogan and US President Donald Trump discussed in a phone call Turkey's plans to establish a "safe zone" east of the Euphrates River in Syria. For four years, the US and mostly Kurdish fighters have fought and defeated Islamic State in northeast Syria.

The White House decision will effectively displace the partner forces the US had been working with. For more than a year and a half, Trump has been seeking to leave Syria. In the midst of the impeachment crisis, he has now made the decision to sacrifice US allies in the war on ISIS as opposed to pressuring Ankara with diplomatic means.

"Turkey will soon be moving forward with its long-planned operation into Northern Syria," the White House press secretary said in a statement.

"The United States Armed Forces will not support or be involved in the operation, and United States forces, having defeated the ISIS territorial 'Caliphate,' will no longer be in the immediate area," it added.

The White House looks at the overall picture in eastern Syria, not as one in which the US fought and sacrificed alongside Kurdish partner forces, but as a simple transactional issue.

In this view, the US has no interests in eastern Syria, except the ISIS fighters. Washington has no interests in creating stability, preventing Iranian influence, defending its partners, preventing ethnic cleansing or the destruction of property, or in managing the crisis. Instead, it decided that its mission was tailored and narrow, and nothing beyond the ISIS issue.
US Throws Kurdish Allies Under the Bus; Turkey "Opens the Floodgates" to Europe
Turkey's Erdogan government will be invading northern Syria to slaughter the Kurds, America's loyal allies against ISIS; release captured ISIS fighters, and doubtless seek to stay permanently in control of the area. The horror is that it will be doing all this with the tacit blessing of the US.

"I am saying this today: We have not got the required support from the world -- particularly from the EU -- to share the burden of the refugees we have been hosting, so we might have to [open the gates] to get the support." — Turkish President Recep Tayyip Erdogan, Takvim, September 5, 2019

"If we open the floodgates, no European government will be able to survive for more than six months. We advise them not to try our patience." — Turkish Interior Minister Süleyman Soylu, Anadolu Agency, July 21, 2019.

Erdogan's threats are not new... and his claims are flawed.... Ankara has not lived up to its commitments.

"The most important question is why the refugee camps are not open to civil monitoring. Entry to refugee camps is not allowed. The camps are not transparent. There are many allegations as to what is happening in them. We are therefore worried about what they are hiding from us." — Cansu Turan, a social worker with the Human Rights Foundation of Turkey (TIHV), to Gatestone Institute, August 2016.

"Turkish authorities are detaining and coercing Syrians into signing forms saying they want to return to Syria and then forcibly returning them there." — Human Rights Watch, July 2019.
Netanyahu says cooperation with Russia 'critical' with U.S. to leave Syria
Israel has "great challenges around us" and it's cooperation with Russia is "critical," Prime Minister Benjamin Netanyahu said on Monday, a day after US President Donald Trump announced his intention to withdraw troops from Syria and allow a Turkish incursion there against Kurdish forces.

Netanyahu made the comments at a holiday toast with workers in his office, during which he relayed that he just had a telephone conversation with Russian President Vladimir Putin. Netanyahu phoned Putin to wish him a happy birthday.

"I met with him a few weeks ago about issues that are important for the security of the State of Israel, and this conversation as well was important to Israel's security," he said. Though he did not provide details, the Netanyahu-Putin conversation is believed to have dealt with the changing dynamics in Syria resulting from the White House's dramatic announcement on Sunday.

"We have great challenges around us, but we enjoy important cooperation and coordination with Russia, something that is critical for us, and which we will continue to deal with," he said.
Lindsey Graham, Nikki Haley on Trump's Syria plan: Disaster in the making
The Trump administration's move, which opens the way for a Turkish strike on Kurdish fighters long aligned with Washington, runs counter to the positions of even some of Trump's top allies in his own party.

Lindsey Graham, a Republican senator who is generally a vocal Trump supporter, wrote in a series of Twitter posts that he was trying to set up a call with Secretary of State Mike Pompeo and would introduce a Senate resolution opposing the withdrawal decision and calling for it to be reversed.

"It's never in our national security interest to abandon an ally who's helped us fight ISIS," Graham said in an interview with Fox News Channel, using an acronym for Islamic State.

"This impulsive decision by the president has undone all the gains we've made, thrown the region into further chaos."

Former US Ambassador the United Nations, Nikki Haley also responded on Twitter, saying, "We must always have the backs of our allies, if we expect them to have our back. The Kurds were instrumental in our successful fight against ISIS in Syria. Leaving them to die is a big mistake."

Republican Senator Marco Rubio tweeted that "If reports about US retreat in #Syria are accurate, the Trump administration has made a grave mistake that will have implications far beyond Syria."
US troops begin Syria pullout as Turkey readies offensive, alarming Kurds
US-backed Kurdish-led forces in Syria said American troops began withdrawing Monday from northeast Syria ahead of a Turkish invasion that the Kurds say will overturn five years of achievements in the battle against the Islamic State terror group.

The Syrian Kurdish fighters also accused Washington of failing to abide by its commitments to its key allies in the fight against IS. It's a major shift in US policy.

The American withdrawal came just hours after the White House said US forces in northeastern Syria will move aside and clear the way for an expected Turkish assault — essentially abandoning Kurdish fighters who fought alongside American forces in the years-long battle to defeat IS.

Turkish President Recep Tayyip Erdogan has threatened for months to launch the military operation across the border. He views the Syria Kurdish forces as a threat to his country as Ankara has struggled with a Kurdish insurgency within Turkey.

Turkish Foreign Minister Mevlut Cavusoglu said that Turkey was "determined to ensure our country's existence and security by clearing terrorists from this region."

"From the start of the Syria war, we have supported that country's territorial integrity and will continue to do so from now on," Cavusoglu wrote on Twitter. "We will contribute to bring serenity, peace and stability to Syria."
UN 'preparing for the worst' from Turkey's Syria operation
The United Nations said Monday it was "preparing for the worst" in northeast Syria after the United States said it would step aside to allow for Turkish military operations in the area.

"We don't know what is going to happen… we are preparing for the worst," UN regional humanitarian coordinator for Syria, Panos Moumtzis, said in Geneva, stressing that there were "a lot of unanswered questions" about the consequences of the operation.

Moumtzis added that the UN was "in contact with all sides" on the ground.

But he made clear his office did not have advance warning about the US decision that effectively abandons the Kurds, who were Washington's main ally in the long battle against the so-called Islamic State group.

Moumtzis said the UN's priorities were to ensure that any prospective Turkish offensive not result in new displacements, that humanitarian access remain unhindered and that no restrictions be put in place on freedom of movement.

The UN has a contingency plan to address additional civilian suffering, but "hopes that will not be used," Moumtzis said.
No joke: Iran FM Zarif — whose military exercises control or influence in Syria, Iraq, Lebanon & Yemen — called on Turkey to respect the "sovereignty and territorial integrity" of other countries.https://t.co/i65vK1NpEV

— Hillel Neuer (@HillelNeuer) October 6, 2019
Netanyahu: Israel Needs Air Defense System Against Iranian Cruise Missiles
In a cabinet meeting on Sunday, Prime Minister Benjamin Netanyahu proposed a massive air defense system to defend against Iranian attacks, especially cruise missiles like those used in attacks on a Saudi Arabian oil facility last month, according to KAN.

Last month, cruise missiles and explosive drones were used in an attack on two plants at the heart of Saudi Arabia's oil industry, including the world's biggest petroleum processing facility.

The United States, Saudi Arabia, Britain, France and Germany have publicly blamed the attack on Iran, which denies involvement in the strike.

The attacks on the two facilities cut Saudi Arabia's crude oil supply by around 5.7 million barrels per day, or about 50% of its output.

The plan proposed by Netanyahu will cost billions of shekels. Some of the funds for the project won't be allocated officially until after a government is formed, assuming that there aren't third elections.

The funds for the project will either come from cuts within the security establishment or from funds cut from social services. According to KAN, it's more likely that the funds will be taken from social services.
Iran unveils kit to convert artillery rockets into guided missiles
The Iranian military says it has produced a new conversion kit to upgrade artillery rockets to surface-to-surface missiles, technology that Israel has accused Tehran of attempting to deliver to the Hezbollah terror group.

The Iranians unveiled the new guidance system upgrade, called Labeik, at an event Thursday at which a number of new military technologies were showcased, according to Jane's Defence Weekly.

Jane's reported that Labeik appeared similar to the guidance systems on the Fateh-110 series of rockets, many of which are believed to be in the hands of Hezbollah in Lebanon. According to the report, the new system also looks to be compatible with Zelzal heavy artillery rockets.

Video footage of the new conversion system aired on Iranian television shows a short body featuring four inverted fins that can be fitted between the rocket and its payload.

According to Iran's Fars News, the "anti-armor 'Labeik 1' missiles… enjoy precision-striking power."

"There is nothing new in the conversion itself, they have been doing it for years, and they already showed conversion kits for the Fatah 110 family of missiles," Uzi Rubin, one of the pioneers of Israel's earliest attempts at missile defense, told The Times of Israel.

"What's new here are the aerodynamics of the winglets — very unique, unseen in Iran to date and unseen in any other country. Going to indigenous design rather than copying others indicates self-confidence. The purpose of the new and unique aerodynamics is probably to increase the maneuverability of the converted rockets."
Congresswoman: Antisemitism, Iran threat highlight need for US-Israel ties
Growing global antisemitism and the dangers of Iran make it more important than ever that the US maintain close ties to Israel, leading Republican Representative Ann Wagner of Missouri said during a speech on the floor of the House of Representatives, in which she spoke against BDS and promoted joint Palestinian-Israeli business ventures over the Green Line.

"Israel is deeply invested in achieving peace in the Middle East, and so is the United States of America," said Wagner, who is a member of the US House Foreign Affairs Committee. "And we will all stand collectively with Israel as they work toward the achievement of this goal."

At "a time of heightened antisemitism that we are seeing across the globe, it is more important than ever that we maintain a strong connection to this very key ally of ours in Israel," said Wagner. Such a stance is also significant given that Iran is threatening Israel, including through its proxies Hezbollah and Hamas.

Part of a small congressional delegation that traveled to Israel in August, Wagner was on a trip sponsored by the US Israel Education Association (USIEA). The trip focused on security issues and the work of the Judea and Samaria Chamber of Commerce and Industry, co-led by Avi Zimmerman of the Ariel settlement and Ashraf Jabari of Hebron.

According to the chamber, it has a membership of some 250 Israeli and 250 Palestinian business people. Jabari was among a small number of Palestinian entrepreneurs who attended the US-led economic workshop in Manama, Bahrain, in June.
'The days of the Ottoman Empire are over'
Foreign Minister Yisrael Katz has ordered his office to draw up plans to stop the Turkish government's efforts to undermine Israeli sovereignty in Jerusalem and protect Jordan's special status as guardian of Muslim holy sites in the city.

Katz intends to present the plan to Prime Minister Benjamin Netanyahu soon, so he can authorize its implementation. Due to the sensitivity of the plan, whose implementation will almost certainly lead to a direct confrontation with Ankara, it is also expected to be raised for discussion by the Diplomatic-Security Cabinet. According to ministry officials, as the plan pertains to security matters, there is nothing preventing it from being implemented by a transition government.

The issue of Turkey's influence on members of Jerusalem's Arab population has weighed on security and diplomatic officials' minds for years. As Israel Hayom has previously reported, Turkish President Recep Tayyip Erdoğan has been buying influence over sites and prominent figures in east Jerusalem for years. Nevertheless, Jerusalem has not made any effort to challenge these efforts up until now.

The Foreign Ministry's plan would see the Muslim Brotherhood, which has close ties to Erdoğan's Justice and Development party, deemed an illegal association in Israel. Further ministry recommendations for thwarting Ankara's efforts include restricting the activities of the Turkish Cooperation and Coordination Agency, or TIKA, in Israel. The organization, whose stated objective is "preventing the Judaization of Jerusalem," spends some $12 million annually on activities aimed at undermining Israeli sovereignty in east Jerusalem. It should be noted that these activities are personally managed by Erdoğan.

The plan's architects propose obligating TIKA to coordinate its activities with Israel in advance and preventing the association from act unequivocally in Jerusalem. In addition, they propose Jerusalem not renew the head of TIKA in Jerusalem's, a move that would strip the organization head of his diplomatic status in Israel and render his presence in Israel illegal.

Additional steps would include restricting communications between members of the Islamic Waqf.
How to get Erdogan off the Temple Mount
This is why a new plan from Foreign Minister Yisrael Katz should be seen more as a declaration of intent and less as an operational plan. For the plan to take effect, defense and security officials who have been dealing with the issue for several years already must supply the top political echelon with evidence. Anyone who wants, for example, to limit the activity of TIKA, a well-endowed Turkish government agency, in Jerusalem will have to first prove that its activity goes beyond the bounds of civil/community service and slides into violence and incitement. Thus far, no evidence of that has been found, although attempts have been made to do so.

The steps the Foreign Ministry wants to take against the worldwide Muslim Brotherhood organization could also turn out to be complicated. It's doubtful whether Israel can point to direct activity by the Muslim Brotherhood. On the other hand, it is definitely possible to identify violent activity by groups or individuals with ideological links to the Brotherhood or its international headquarters in London. Steps have been taken against the Muslim Brotherhood in the past, and we can assume that more will be done in the future. Only recently, two female rioters were barred from the Temple Mount for a period of six months.

It looks like the best way to fight Erdoğan, who is hostile to Israel and trying to buy influence in Jerusalem, is to continue to expose Turkey's ties to Hamas. For years, Turkey has served as a haven for Hamas terrorists and commanders. For years, terrorist attacks or attempted terrorist attacks on both sides of the Green Line have been initiated and directed from Turkish territory. Erdoğan has repeatedly made it clear that as far as he is concerned, Hamas is not a terrorist organization, but the facts on the ground prove differently. Dozens of Hamas cells handled from Turkey have been exposed over the past few years, and the Shin Bet recently reported, "Turkey contributes to the military empowerment of Hamas, through methods that include the SADAT company, which was founded on the orders of Adnan Basha, a close advisor to government officials in Turkey."

This is where Israel has to operate, both operationally and in terms of public diplomacy and traditional diplomacy. The Turkish nonprofits active in Jerusalem are tough to check unless legislative changes can be made that alter the definition of "hostile" activity in Jerusalem, the capital of Israel.
Israel backs Cyprus as Turkey moves gas drill into its waters
Israel's envoy to Cyprus on Monday expressed backing for the Mediterranean island state after Turkey moved a gas drilling rig into Cypriot waters last week.

"Friends should stick with each other," Ambassador Sammy Revel tweeted.

He added that Israel is "following closely and with concern" the Turkish move.

Revel's comments come after Cyprus lashed out at Turkey's new attempt to drill for gas in Cypriot waters where European energy companies are already licensed to conduct a search, calling it a "severe escalation" and vowing to fight the move.

Israel and Turkey, once close allies, have had increasingly strained relations since Turkish President Recep Tayyip Erdogan became the country's leader. Erdogan is a staunch supporter of the Palestinians and launches frequent verbal attacks on the Jewish state.

Israel also voiced support for Cyprus in July over Turkish operations in the country's exclusive economic zone.

Israel, Cyprus and Greece have forged an energy-based partnership that has steadily grown following the discovery of gas deposits in the eastern Mediterranean. The United States began joining the talks earlier this year.
German Jews blast WJC's decision to give Merkel the Herzl Award
Members of Germany's Jewish community are speaking out against the World Jewish Congress's decision to honor Chancellor Angela Merkel with its prestigious Herzl Award.

Every year, the organization bestows the award to figures who act to promote Zionist visionary Theodor Herzl's "ideas for the creation of a safer and more tolerant world for Jews."

Along with Merkel, former US Ambassador to the UN Nikki Haley has also been selected for the award, which the two women are set to receive in separate ceremonies.

However, the announcement of WJC's plan to honor Merkel with the award has been met with piercing criticism from members of Germany's Jewish community, who note the change in Merkel's stance toward Israel in recent years, her support for the 2015 nuclear deal, and the increasing sense among the country's Jews that Berlin is not doing an adequate job of contending with the growing threat to Jews as a result of the anti-Semitic views of Arab and Muslim migrants to the country.

Among the points of contention raised by the local Jewish community: Germany's continued pattern of voting against Israel in UN and other international bodies; Berlin's continued funding for organizations that support the boycott, divestment, and sanctions movement; its refusal to ban Hezbollah activities in the country; and Germany's increased financial support for UNRWA, the UN agency for Palestinian refugees, without conditioning those funds on the cessation of incitement against Israel. There also those who cite Merkel's vocal opposition to US President Donald Trump's recognition of Jerusalem as Israel's official capital and Israeli sovereignty over the Golan Heights.
IDF Sets Up New Anti-Tunnel Company to Detect, Destroy Threats in Israel's North
The Israel Defense Forces have set up a special engineering corps company to discover and prevent terror tunnels dug across Israel's northern border from Lebanon.

The new company is intended to deal with the long-term threat from tunneling attempts by Hezbollah, Israeli news website Mako reported on Sunday. It will use cutting edge technology to do so, most of it tested on Hamas tunnels dug from Gaza, but adapted to the northern terrain, which is quite different.

The main tactic employed by the company is the use of new technology, and as a result is heavily invested in research and development.

One department deals with developing technologies to detect tunnels and tunnel digging activity, while another examines the practical engineering means of interdicting and destroying them.

The head of the company, Captain Moshe Asraf, said it was established according to the "lessons" learned during last year's Operation Northern Shield, during which he served as a commander in the engineering corps.
Arabs Hurl Firebombs, Burn Tires as Jews Pray at Joseph's Tomb
Dozens of Palestinians rioted on Sunday night following the pilgrimage of some 1,000 Jews, under Israeli security escort, to the Tomb of Joseph in Shechem/Nablus to pray. The rioters threw firebombs and burning tires at security personnel.

Israeli security forces responded with riot dispersal methods.

There were no Israeli reports of casualties during the incident, however the PA's Wafa news agency reported that seven rioters were wounded after "Israeli forces escorted a convoy of buses packed with over a thousand fanatic Jewish settlers to the site, located in the Palestinian-controlled area, sparking confrontations with Palestinian residents."

Wafa stated that the injured Palestinians had been "protesting" the "raid" and "attempting to block settlers' access to the site"

"Among the settlers who raided the site were Israeli Minister of Economy and Industry Eli Cohen, leader of the council of settlers in the occupied West Bank Yossi Dagan, and Knesset member Moshe Arbel," Wafa reported.
Palestinian Authority Continues to Pay Salaries to Terrorists
Abbas' remarks, which were less acerbic in tone than those he made in previous addresses to the General Assembly, reflected a concern over the ineffectiveness of his policies and the sidelining of the Palestinian issue from the international, regional, and Israeli agenda.

It is also nevertheless evident from Abbas' remarks that he does not intend to bend as far as his fundamental positions on the conflict are concerned. This was given clear expression in Abbas' stated enthusiastic commitment to continue to pay salaries to Palestinian terrorists and their families, despite the fact that Israel has deducted this amount from the tax revenues it transfers to Ramallah. While there is nothing new about this declaration, Abbas' decision to repeat it in a major international forum is indicative of the PA chairman's commitment to the expectations of the Palestinian street, as he perceives and shapes it.

In practice, despite the cuts in the transferred funds and the Palestinian decision to avoid accepting a further installment of payments Israel is willing to transfer, the PA continues to pay these terrorist salaries as usual. According to the PA budget implementation report for 2019, the Palestinian Authority transferred 276 million shekels (around $79 million) in payments – i.e., salaries – and another 75 million shekels (around $22 million) in "social" payments to families, family expenses, medical insurance coverage, and legal expenses, among other things. In total, the PA Prisoner Affairs Ministry spent some 364 million shekels ($105 million) on these terrorist payments.

These numbers reveal that the PA's payments to terrorists in 2019 were similar in scope to those made the previous year. The significance of this is that despite increasing pressure, the Palestinians are sticking to their guns, as it were, and as a result, the chances of the PA
becoming a partner for peace under Abbas' leadership continue to be slim to none.
Khaled Abu Toameh: Shtayyeh: We received NIS 1.5 billion from Israel

The crisis between Israel and the Palestinian Authority over Israeli deductions of payments made to security prisoners and families of Palestinians killed while carrying out attacks against Israelis remains unresolved, PA Prime Minister Mohammad Shtayyeh said on Monday.

Speaking at the weekly meeting of his cabinet in Ramallah, Shtayyeh announced that the PA has received NIS 1.5 billion from Israel in accordance with the deal reached between the two sides last week.

"The problem with Israel [over the funds withheld by Israel] has not been resolved until this moment," Shtayyeh said. "There is no government in Israel that is capable of making a political decision on this matter."

Despite Israel's decision to deduct the payments from the tax revenues it collects on behalf of the Palestinians, the PA government continues to fulfill its duties toward the prisoners and the families of the "martyrs," Shtayyeh said, and the PA government will remain committed to paying salaries to the families of the prisoners and "martyrs."

PA President Mahmoud Abbas also said that the PA's position regarding payments to the security prisoners and families of "martyrs" remains unchanged.
Abbas says he'll discuss elections with Hamas, factions but provides no timeline
Palestinian Authority President Mahmoud Abbas said Sunday that he would discuss plans for new parliamentary elections with all factions, including longtime rivals Hamas.

Meeting with senior Palestinian leaders in the PA's administrative capital of Ramallah in the West Bank, Abbas renewed a pledge to hold the polls — the first since 2006 — but without giving a timeframe.

He announced that they had formed committees to "communicate with the election commission and factions such as Hamas and all factions, as well as with the Israeli authorities."

He said any elections should take place in "the West Bank, Jerusalem and the Gaza Strip."

Hamas and Fatah have been at loggerheads since 2007, when the terror group seized Gaza and threw out Abbas's forces, which retained control of the internationally recognized Palestinian government, based in the West Bank.

No parliamentary elections have been held since 2006, with the two sides trading blame.
Khaled Abu Toameh: What Iran's Friends Are Doing in Gaza

In other words, Islamic Jihad's promise is one of unending toxicity: to go on poisoning the hearts and minds of generation after generation of Palestinians – as well as to continue investing millions of dollars in building tunnels and amassing weapons to ensure that the fight against Israel continues forever.

"The policy of resistance and jihad is the genuine policy to liberate all Palestine, and the Palestinian people will not abandon this path. We will not accept any agreement that contradicts the project of jihad and liberation. Under no circumstances will we give up one inch of the land of Palestine." -- Senior Hamas official Salah Bardaweel.

For [Hamas and Islamic Jihad] , a ceasefire means further amassing weapons and preparing their people for war without worrying about Israeli military action. When will the international community pull its head out of the sand in which it has so long been buried and understand that with organizations such as Hamas and Islamic Jihad running the show, the Gaza Strip will remain the humanitarian disaster that is so bitterly blamed on Israel?
Commander of Gaza-Based Fatah Splinter Group: Fatah Is the Leader of the Armed Struggle pic.twitter.com/ABBhc3ajRQ

— MEMRI (@MEMRIReports) October 7, 2019
Lebanon arrests Syrian for making phone calls to Israel
Lebanese authorities have arrested a Syrian national accused of having made phone calls to neighboring Israel, the army said Friday.

An army statement said the suspect, who was not identified, was referred to court for "contacting Israeli phone numbers and communicating with Israelis present in the occupied Palestinian territories." It did not elaborate.

Lebanon is home to tens of thousands of Syrian refugees who fled the war raging in their country.

In August, tensions spiked between Lebanon and Israel after two drones packed with explosives were sent into the Beirut bastion of the Shiite movement Hezbollah.

Iran-backed Hezbollah and the Lebanese army accused Israel of being behind the drone launch.

Lebanon's government and Hezbollah chief Hassan Nasrallah both described the apparently botched operation as an act of aggression.

A few days after the August 25 drone incident in Beirut, the army opened fire on Israeli drones flying over southern Lebanon.
Does Iran's Leader Leave Room for Iran's Return to the Negotiating Table?
At the same time, over the past few weeks, there have been increasing calls from senior religious figures in Iran and the leadership of the Iranian Revolutionary Guard for the destruction of the State of Israel. This is similar to statements issued by the Supreme Leader in 2016 that Israel would cease to exist in another 25 years. It is possible that this round of criticism against Israel serves a smokescreen while negotiations are taking place between Iran and the United States to enable Iran's return to the nuclear deal.

In any case, by November 7, 2019, a further reduction is expected in Iran's commitment to the nuclear agreement (including the enrichment of uranium to 20 percent and even higher). There is a window of opportunity for diplomacy and European efforts to try what has failed until now – to promise economic compensation to Iran for the American sanctions or alternatively to bring Washington back to the negotiating table. Iran's oppositional regional policy (against Israel and Saudi Arabia, in Yemen, Iraq, and Syria) will apparently make it harder for Europe and the United States to advance the negotiations with Iran. However, in the past, Europe has shown that it is prepared to ignore repeated violations of human rights in Iran, such as its role in terror activities (including within European territory!), to fulfill the nuclear agreement, which eventually leads to investment and economic cooperation with Iran. Iran is well aware of Europe's modus operandi and uses it and U.S. weakness to achieve maximum profit to renew negotiations regarding the nuclear agreement.

"Today, the Nuclear Deal Is in the Intensive Care Unit"
In this regard, Abbas Aragchi, deputy foreign minister and one of the patrons of the nuclear deal, stated at a ceremony marking the 30th anniversary of the opening of the German embassy in Tehran that, "today the nuclear deal is in the intensive care unit." He added that to save it, cooperation was necessary between the P5+1 states. This could "bring down the walls of American sanctions and one-sided policies, which have become its weapon against independent countries." According to him, Iran, along with the European countries, China, and Russia, are attempting to reach a balanced agreement through negotiations, but because of America's one-sided policies, this balance has been violated and lost.5
Iran says Russian journalist held over visa issue, not Israel spy claim
Iran has confirmed the arrest last week in Tehran of a Russian journalist, saying the case was a matter of a visa violation.

Government spokesman Ali Rabiei told reporters that Yulia Yuzik's case is under "quick review" by authorities and wasn't related to matters concerning the "counter-espionage" department. Her ex-husband said last week she had been arrested for allegedly spying for Israel.

The Russian Embassy in Tehran said on Friday that Yuzik flew into Tehran the previous Sunday and that Iranian officials seized her passport at the airport for unknown reasons. She was arrested from her hotel room on Wednesday.

The Russian foreign ministry summoned the Iranian ambassador to Moscow to explain Yuzik's arrest.

Prior to her arrest, Yuzik posted photographs from her trip on Instagram, saying she loved being in Iran.
Houthi Military Expert Lieutenant-General Abed Al-Thour: UAE Like a Cave Full of Bats; We Can Destroy It; UAE Soldiers Will Have No Place to Return to pic.twitter.com/Xm1qkIU7vD

— MEMRI (@MEMRIReports) October 7, 2019
Houthi Political Bureau Member Muhammad Al-Bakhiti: If Saudi Arabia Doesn't Stop Its Aggression, We Might Launch an Offensive Campaign to Reach Riyadh, Topple the Saudi Regime pic.twitter.com/tFFGhqiywX

— MEMRI (@MEMRIReports) October 7, 2019
---
---
We have lots of ideas, but we need more resources to be even more effective. Please donate today to help get the message out and to help defend Israel.

Cache
From Ian:

---
Caroline B. Glick: American Jewry's days of reckoning

On September 29, President Donald Trump set out his nationalist political philosophy in his address before the UN General Assembly. Arguing that the nation-state is the best guarantor of human freedom and liberty, Trump set up a contrast between "patriots" and "globalists."

"The future does not belong to globalists," he said.

"The future belongs to patriots. The future belongs to sovereign and independent nations who protect their citizens, respect their neighbors, and honor the differences that make each country special and unique."

Jewish nationalists, that is, Zionists, could hear their core convictions echoed in Trump's statement. Israeli political philosopher Yoram Hazony made much the same argument in his book "The Virtue of Nationalism," which was published last year.

One of the regimes most opposed to nationalism is the Iranian regime. Iran's leaders view the regime not as the government of the nation of Iran, but as the leader of a global jihad, which will end with the regime's domination of the world, in the name of Islam – not Iran.

Anti-Semitism is one of the animating doctrines of Iran's regime. The leaders ascribe to genocidal Jew-hatred. They use their commitment to annihilating Israel and war against the Jewish state as a means to build legitimacy for their regime and revolution throughout the Islamic world.

In his speech, Trump highlighted the regime's anti-Semitism and its commitment to annihilate Israel.

Trump also excoriated the Arab world for refusing to recognize Israel's right to exist, saying, "Fanatics have long used hatred of Israel to distract from their own failures."

Trump pledged, "America will never tolerate such anti-Semitic hate."

Rather than earning him plaudits, American Jews were caustic in their response to Trump's speech. Britain's Independent reported that several American Jews condemned Trump's speech as anti-Semitic. For instance, Laura Seay, a political science professor in Texas tweeted, "So … Trump condemns anti-Semitism in the same speech he started with anti-Semitic code language like 'globalism.'"
Ruthie Blum: Owing Israel an apology

FINALLY, I APOLOGIZE if I have given anyone the impression that I would be bitter about whatever coalition is cobbled together, or would not accept a third round of Knesset elections, if that becomes necessary. My view – that Prime Minister Benjamin Netanyahu is a great leader – has not changed; nor has my sense that the charges against him are flimsy, at best, been shaken.

In addition, I am less than thrilled about the prospect of a national-unity government, headed either by Netanyahu or by Blue and White leader Benny Gantz, whether or not they reach a rotation agreement. Nor do I welcome new elections, which probably would result in an outcome nearly identical to that of the September 17 vote.

But as soon as a government is formed, including if its makeup is one I consider disappointing, I pledge to continue to use my pen to defend the country against its external enemies, such as Iran – whose regime boasts about possessing the will and means to wipe Israel off the map – and those at home and abroad who engage in equally serious efforts to delegitimize the Jewish state in order to call its existence into question.

I hope to keep the above promises in the year to come, and to live up to a different admonition by Isaiah – verse 5:20 – which is not recited on Yom Kippur, but should be remembered and applied by all of us every single day of each calendar year: "Woe unto them that call evil good, and good evil; that change darkness into light, and light into darkness."
Battling BDS, one laugh at a time
I LIKE the idea that it's time to stand up for ourselves through stand-up, among other means. Better to deliver punchlines than be the punching bags. It's healthy to be able to laugh at ourselves and it beats BDS bitterness. Two days after last month's election, the Government Press Office and Foreign Ministry arranged for a special screening of a new movie called Mossad. The comedy was presented as the perfect break from politics and a good way to help Israel's image.

The satire directed by Alon Gur Arye has a star-studded cast, including heartthrob Tsahi Halevi of Fauda fame in his first comic role. Halevi plays a bumbling spy called Guy Moran (and you can imagine how that surname turns out in English.)

When he gives a woman his card, she says: "But it's blank."

"That's because I'm a secret agent," he replies.

The save-the-world plot in which the Mossad and the CIA compete and collaborate is totally implausible, but many of the one-liners are brilliant and the slapstick stunts are well-executed. When the evil masterminds capture an American billionaire in Jerusalem, they come up against a henpecked Mossad chief whose sole aim is to finish his term without incident and to get to light one of the torches on Independence Day. The (obviously unreal) Mossad head, played by Ilan Dar, demands a videotape of the hostages holding a newspaper showing the date. This leads RBG (the "Real Bad Guys") to scream: "Who can even find videotape anymore? Nobody reads a newspaper!"

Unlike Diplomatic Relations, where the idea is good, but the performance is at times painful, I can happily recommend Mossad. Gur Arye admits that the film was inspired by gag-filled American movies such as Top Secret! and that making it was a dream come true. Noting that most of his Israeli peers want to make dramas, he preferred parody.

"And I wanted to spoof something very Israeli," he explained in a panel after the screening.

Gur Arye was lucky and talented enough to get veteran Israeli director Avi Nesher and American director David Zucker (of the Airplane and the Naked Gun franchise) on board and the film definitely has Zucker's wacky touch.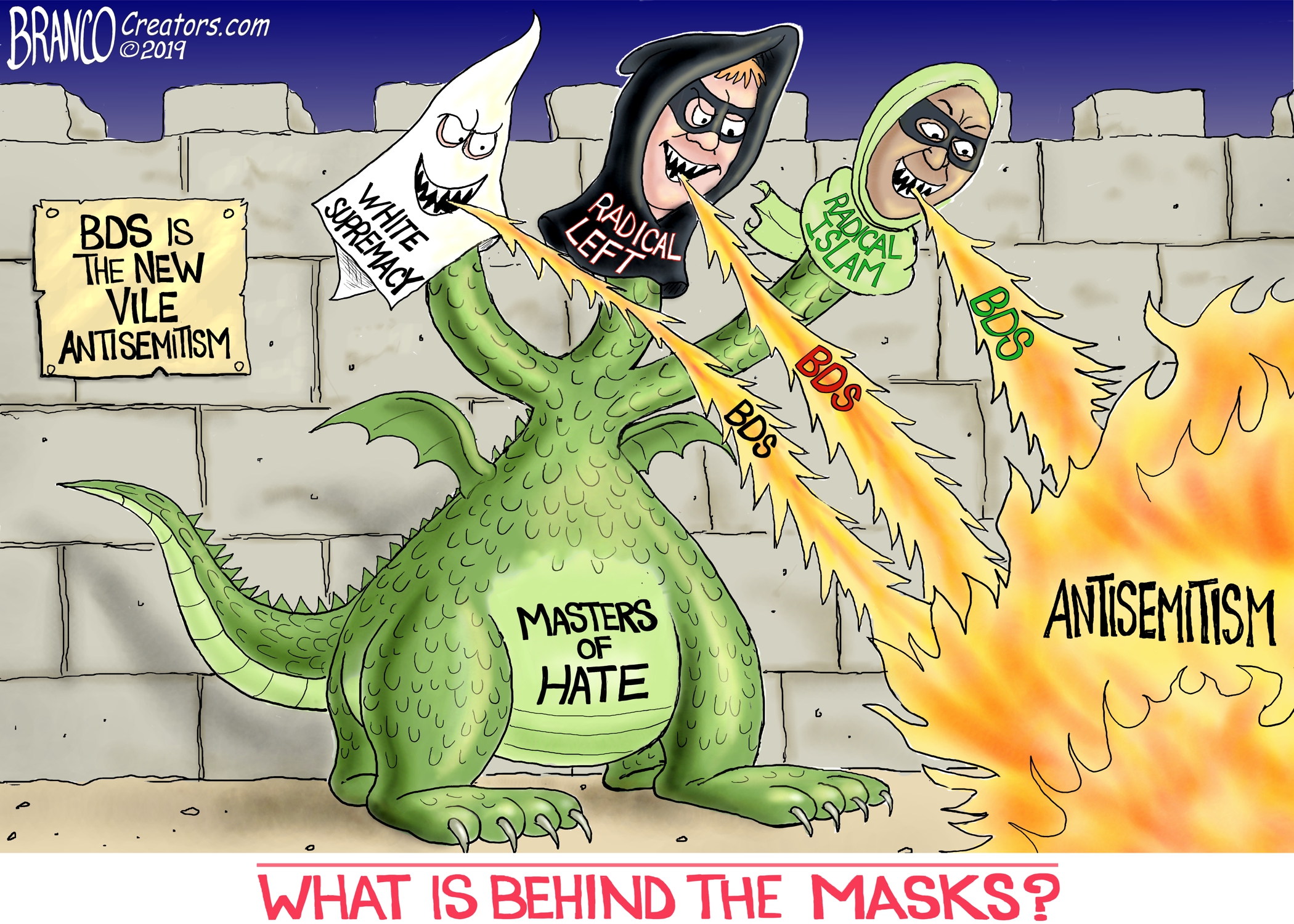 Bari Weiss Makes Her Case
Does she focus too much on left-wing anti-Semitism given the danger from the right? In a way, Weiss replied, left-wing anti-Semitism is more insidious because it "speaks a language that is a siren song — the language of social justice, progress, defense of the oppressed." It's also far more socially acceptable: "Someone who photoshops your face into a gas chamber is not going to be received in polite society. Someone who calls you an Islamophobe and a racist for being a Zionist is going to be invited on television."

She addressed difficult questions with both nuance and simplicity. Yes, "Netanyahu makes it harder to defend Israel" with his Arab-baiting, his alliances with racist parties and his cozying up to authoritarians in Europe. No, it's not acceptable to blame him for anti-Semitic incidents in Europe, because "Jews should not be blamed for anti-Semitism, ever."

I didn't agree with everything Weiss said. I wasn't, for instance, too impressed by her suggestion that Jews who support BDS are motivated by the desire to "belong" and fit in with surrounding society; it seemed needlessly dismissive of some people's sincere beliefs.

I also had mixed feelings about the claim she made at the end of the evening, and which she also makes in the book: That anti-Semitism exists largely as a backlash against the "radical ideas" at the center of Jewish faith and culture. "The idea of one God, that slavery is wrong — those are Jewish ideas," Weiss said. Obviously, the Jews' role as the original monotheists had something to do with their historical contentious relationship with other cultures. But Weiss also oversimplifies this history and flirts with reinventing Judaism in the image of modern humanism. (Both the Hebrew Bible and the Talmud accept slavery as a given, though they also call for humane treatment of slaves.)

At the same time, Weiss had a strong point when she noted the remarkable fact that the Jewish people's "original story is freedom of slavery" — and that Jews "often stand perpendicular to their societies," demanding "the right to be different." As she put it, "That drove people nuts and it still drives people nuts."

Come to think of it, that's not a bad description of Weiss herself. A liberal by any rational standard, she stands perpendicular to most of her social milieu, demanding the right to differ from its groupthink. And it certainly seems to drive people nuts. (h/t Dave4321)
Deborah E. Lipstadt: The Gray Lady and the Jewish State

In late April 2019, the New York Times international editionpublished a cartoon depicting a blind, kippa-wearing President Trump being led by a dachshund with a Jewish star around its neck. The dog's face was a distorted caricature of Prime Minister Benjamin Netanyahu's visage. The message was indisputable: Israelis qua Jews, despite being the national equivalent of lapdogs, have the unique ability to blind presidents and shape political events. Beguiled, not only does Trump do their bidding, but he is, like the other unwitting victims on the world stage, blissfully unaware of what is going on. The cartoon gave vivid expression to the conspiracy theory, or rather myth, that is at the heart of anti-Semitism and did so in an image that, as was widely noted, could have appeared in Der Stürmer. How did it end up receiving the New York Times's imprimatur?

Apparently, a single midlevel editor for the international edition of the paper chose the cartoon from a syndication service to which the paper then subscribed. Subsequent events followed a familiar pattern. The paper, after being inundated with outraged comments, including some from its own staff members, issued a short apology in the form of an editor's note: "The image was offensive, and it was an error of judgment to publish it." Eileen Murphy, a New York Times spokeswoman, added a subsequent statement on behalf of the Opinion section of the paper, identifying the cartoon as anti-Semitic and saying it was "deeply sorry" for publishing it.

In most cases, that would have been the end of the story, except for the scores of Jewish readers and supporters of Israel who were once again forced to decide whether to cancel their subscriptions. Two subsequent events made this incident noteworthy. Writing in the New York Times, op-ed columnist Bret Stephens scathingly lambasted not only the international edition but his own paper. For Stephens, the publication of a "textbook illustration" of anti-Semitism did not reveal institutional anti-Semitism, but it wasn't much better than that. It was that the Times, "otherwise hyper-alert to nearly every conceivable expression of prejudice," could be so, well, blind:
Imagine, for instance, if the dog on a leash in the image hadn't been the Israeli prime minister but instead a prominent woman such as Nancy Pelosi, a person of color such as John Lewis, or a Muslim such as Ilhan Omar. Would that have gone unnoticed by either the wire service that provides the Times with images or the editor who, even if he were working in haste, selected it? The question answers itself. And it raises a follow-on: How have even the most blatant expressions of anti-Semitism become almost undetectable to editors who think it's part of their job to stand up to bigotry?

The answer, Stephens wrote, was that anti-Zionism has become so mainstream "that people have been desensitized to its inherent bigotry," and the Times was complicit in that mainstreaming.
David Collier: St Anne's Church in Soho, Miko Peled and an evening with antisemites

Peled in the Church

But this is Peled's night. Peled is not a man of peace. He is a man clearly wired to seek revenge for whatever injustice his own mind has created for him. He is also someone who buckles when his weak arguments are exposed. I always put Peled's leaving of the fold down to his inability to handle the weight of his family heritage, but it doesn't really matter anymore what drove him over the cliff. What is certain is that he drove off it.

Peled likes provoking Jews. Those who think his 'Holocaust, yes or no' comment from the Labour Party conference of 2017 is a stand-alone remark haven't been paying attention. At UCL the same year he spoke about 'the witch-hunt against antisemites and Holocaust deniers.' going on to suggest to Jeremy Corbyn that he should put away the 'nonsense about Holocaust denial and the nonsense about antisemitism'. If you follow his threads on Twitter and Facebook you soon realise his audience is little more than an extremist, racist mob.

So Peled stands in the Church and beats his chest about how the Labour Party Conference was little more than a 'rally for Palestine'. He isn't wrong. With the NHS, austerity and housing as major concerns for their voters, the Labour Party did little but obsess over Israel.

Peled spoke as he normally does – blaming everything on Zionists and Israeli discrimination. Context and humanity and reason are removed. Lies are created. The end result is raw demonisation. Then look at the laugh his jokes about antisemitism gets from the crowd in the Church.

There is nothing funny about any of this. With Antisemitism visibly on the rise across the globe, the Church provides a platform to someone who ridicules racism against Jews. Peled is feeding antisemitism. He is demonising Zionism and Israel to an audience containing many who already buy into anti-Jewish conspiracy.
PMW: Does The World Karate Federation authorize tournaments named after Palestinian terrorists?

The Palestinian Karate Federation has misused the sport of karate to promote terrorist Dalal Mughrabi who led the murder of 37 Israeli civilians, among them 12 children, as a role model for young Palestinian women:
"The Sisters of Dalal Mughrabi Championship for Young Women" [Official PA daily Al-Hayat Al-Jadida, Sept. 13, 2019]

A banner displayed at the championship carried the name of the "Palestinian Karate Federation" and its logo (left), and the logo of the "World Karate Federation" (right):



[Official Facebook page of the Palestinian Karate Federation, Sept. 11, 2019]
"Palestine" is a member of the Asian Karate Federation, which is a member of the World Karate Federation. Two weeks ago, Palestinian Media Watch passed on the documentation of this Palestinian championship honoring a mass murderer to both federations, asking that they condemn the Palestinian Karate Federation and prohibit the recurrence of terror glorification by the Palestinian Karate Federation and any other of its federation members. In addition, PMW asked that if the federation's "Statutes and Rules" currently do not prohibit naming sporting events after terrorists, that the statutes be amended immediately to include such a prohibition. However, neither federation has responded.

The championship in which 55 young Palestinian female athletes participated was held in Bethlehem by the southern branch of the Palestinian Karate Federation.

Dalal Mughrabi, after whom this tournament was named, was a female Palestinian terrorist who led the most lethal terror attack in Israel's history, known as the Coastal Road massacre, in 1978, when she and other Fatah terrorists hijacked a bus and murdered 37 civilians, 12 of them children, and wounded over 70. PMW has documented numerous examples of PA and Fatah leaders promoting murderer Mughrabi as a hero for Palestinian society in general and for youth in particular. The PA has named at least 6 schools after murderer Mughrabi, many sporting events have been named after her, and a PA schoolbook teaches children to "be like" her.
UK to Release 'Pay to Slay' Audits After Freedom of Information Request
The branch of the British government responsible for administering overseas aid will disclose audit reports regarding aid money allegedly used to pay salaries to convicted terrorists, after abandoning its appeal against a ruling by UK Information Commissioner Elizabeth Denham.

In July 2018, UK Lawyers for Israel (UKLFI), a British volunteer organization of lawyers who support Israel, submitted a Freedom of Information Act request to the Department for International Development for copies of audit reports for the Palestinian Recovery and Development Program. The program is a World Bank multi-donor trust fund for the Palestinian Authority. The DFID refused to release the information, citing among other reasons the risk of potential harm diplomatic relations between the United Kingdom and the PA.

According to UKLFI, "Various countries, including the UK, paid large sums of money into the World Bank's Palestinian Recovery and Development Program Multi Donor Trust Fund (PRDP-MDTF), which were then transferred to the Palestinian Authority's Central Treasury Account." According to the organization, "this is the account from which payments were made to convicted terrorists, rewarding them for their crimes."

Commissioner Denham ruled on July 26 of this year that the reports were of "significant public interest," which outweighed any potential harm that might be done to diplomatic relations between the United Kingdom and the PA Denham ordered the DFID to release the information within 35 days, or appeal.
Observing Labour antisemites in Brighton
For the efficient observer of anti-Israel hate mongering in Great Britain the seaside resort of Brighton in the UK was the place to be during the fourth week of September. There the Labour party's annual conference took place. This gathering also claimed 450 fringe events.

Attendance was around 13 000 people. In a few days one could receive a concentrated overview of anti-Israelism in Labour as well as smatterings of antisemitism, its minimizing and whitewashing.

A few examples illustrate this.

At the conference the great majority of delegates voted for a motion to boycott Israeli "settlement" goods. This was a first for Labour. The delegates also voted to reject trade agreements with the country. It seemed that the party furthermore backed the "right of return" of Palestinian Arabs. This is tantamount to supporting Israel's annihilation through swamping it with Palestinian Arabs. The common way to interpret this right is that those who fled can return. In the Palestinian case it is distorted by Israel's enemies meaning that descendants of refugees from any generation are also entitled to immigrate to Israel where they have never lived.

Palestinian flags and chants of "Free Palestine" were prominent at the Labour conference. This, despite rules prohibiting flags from being displayed on the conference floor. Last year, hundreds of Palestinian flags were also flown with the approval of the Labour leadership after these were handed out to delegates.
EHRC summons 25 former and current Labour staffers to give evidence in antisemitism inquiry in "daunting" letters
The Equality and Human Rights Commission (EHRC) has written to 25 former and current employees of the Labour Party requiring them to provide evidence as part of its inquiry into antisemitism in the Labour Party.

The inquiry, which is a full statutory investigation, was launched by the EHRC on 28th May following a formal referral and detailed legal representations from Campaign Against Antisemitism, which is the complainant.

The letters reportedly advise that "the Commission is gathering evidence to investigate this matter in accordance with the terms of reference and has identified you as a person we require evidence from. Please do not ignore this letter or the Notice. We draw your attention to the consequences of failing to comply with the Notice which…may include committing a criminal offence." The letter requires a response within fourteen days.

The EHRC has the authority to require any individual or organisation to disclose relevant information, and the notices have reportedly been described as "daunting" by some recipients.

Over 70 Labour whistleblowers have given evidence to the EHRC in relation to the antisemitism investigation.
University and College Union which rejected antisemitism definition apologises for excluding Jews from its extensive list of Nazi victims
Extraordinarily, the e-mail did not mention Jewish victims of the Nazis, who were the principal victims of the Holocaust. This was even despite the specific reference to non-Jewish Poles.

UCU indirectly apologised for the offensive omission in an e-mail from an "equality support official" for what were described as "drafting errors" and "human error". The official stated that "UCU apologises for the offence this caused and reassures all members that it continues to fight against all forms of antisemitism, hatred and bigotry in society." In the updated e-mail, a paragraph was added about the genocide of Jews in the Holocaust.

Ordinarily, such an omission might not have been noteworthy, but UCU has a poor record when it comes to fighting antisemitism, including refusing to adopt the International Definition of Antisemitism, repeatedly endorsing the antisemitism-riddled Boycott, Divestment and Sanctions (BDS) campaign against the Jewish State and fighting a legal battle against a Jewish academic who unsuccessfully sued UCU for breach of the Equality Act 2010.

It is hardly a stretch to imagine that there is a relationship between UCU's cavalier approach to antisemitism today and its insensitivity toward commemoration of historic antisemitism. If the Union were to show greater awareness of the antisemitism of the past, perhaps its attitude toward Jews today will also find the correction it so desperately needs.
British Teenager Goes Public About Months of Antisemitic Abuse
A British teenager has gone public about a torrent of antisemitic invective she has faced in recent months, including taunts about the Holocaust.

Charlotte Nathan, 17, who attends school in Northwich, England, was moved to speak about her experiences after she received a derogatory message on her Snapchat account that said, "I wanna fart in your face to remind you of how your grandparents died."

The Manchester-based Jewish Telegraph quoted her as saying, "Casual racism is a common feature of daily life, especially among the millennial generation, who perceive racism as a form of humor and so-called 'banter.'"

"Catalysts, such as memes used on social media, seem to justify and sugarcoat the underlying racial tensions that as a society we fail to address," she stated. "This can be exemplified through the lack of education supplied about different cultural groups to schools and other communities, exacerbating ignorance."

"I am no stranger to antisemitic abuse," she added, "and for the last six years, being in secular education and interacting with other cultures, I have encountered a fair share of comments and remarks."

"This is evidence of inherited, underlying racism we see daily," she said.
I empathize with #DemiLovato and I think you all should too https://t.co/MenJtfl8EE #Israel

— (((David Lange))) (@Israellycool) October 4, 2019
October 4, 2019
Oh dear @kileycnn and @CNN,

This is totally backwards. The wars of '48 and '67 were Arab wars against Israel, with the aim of destroying Israel completely. If they were "Israeli wars" in any meaningful sense, they were Israeli wars of survival. Neither was a war of "expansion". pic.twitter.com/CYy0CwszBy

— HonestReporting (@HonestReporting) October 3, 2019
Revisiting a BBC Radio 4 Christmas report from the Gaza Strip
As was noted here at the time, Husain was conspicuously silent on the topic of how many Christians actually currently live in the Gaza Strip and her report was obviously intended to promote the politically motivated narrative that Gaza's Christian population lives happily under Hamas rule, with its only tribulations caused by Israel.

Last week Israel's Channel 12 aired an interview (in Hebrew and Arabic) by Arab affairs correspondent Ohad Hemo with a Christian who escaped the Gaza Strip four months ago.

"Since Hamas came to power in the Gaza Strip the Christians living there have become scapegoats and the targets of that organisation as well as Salafist extremists. Due to their difficult situation most have fled and from a community of 4,200 people, now only a few hundred remain. Kamal Tarazi was there until recently. Four months ago he managed to escape: "Hamas people took over my home and turned it into a command post", he recounts. […]

'They put me in a number of prisons and Hamas' prison is all just beatings and psychological torture' he recalls. According to him the harming of the Christians in Gaza has become routine and does not stop even during times of conflict. […]

'They harass and harm the Christian public and Christian institutions, churches and charities'."

The calibre of Mishal Husain's reporting on the topic of challenges faced by the Christian community in the Gaza Strip is again all too apparent.
It worries us you have a range of "Palestinian" jewellery Designed by ArabellabyMansour Earrings contain the photo of Leila Khaled who hijacked TWA Flight 840 in 1969 The first woman to hijack an airplane Does @Etsy @EtsyUK believe terror related items are suitable? @Campaign4T pic.twitter.com/aIJmSAjxgL

— Eye On Antisemitism (@AntisemitismEye) October 4, 2019


Ha'aretz: The Fake Nazi Death Camp: Wikipedia's Longest Hoax, Exposed

"The first gassing there took place on October 17, 1943, killing at least 150 Poles caught in a street roundup and about 20 Belgian Jews …. Bodies were either cremated in crematoriums or open-air pyres (including at a former sports stadium) or simply buried under collapsed buildings during the systematic demolition of the former ghetto .... [Some estimates] place the number of the camp's victims well above 212,000, mainly Poles and several thousand of non-Polish."

This dry description of the systematic murder of ethnic Poles by Nazi forces during World War II was taken from the English-language Wikipedia article for the "Warsaw concentration camp," also known as Konzentrationslager Warschau. The site where the camp stood is an object of pilgrimage for some in Poland, who hold periodic ceremonies on what they believe is hallowed ground. They come to honor the memory of thousands of Poles murdered in a gas chamber located near the Warsaw West (Warszawa Zachodnia) train station – which still exists – and have even erected monuments and plaques in their memory.

There's just one problem: No such death camp ever existed. There is no historical evidence of German gas chambers ever existing in Warsaw, and nowhere near 200,000 people died in the cluster of Nazi internment centers that did stand at the basis of the myth of KL Warschau.

"It's fake history," says Prof. Havi Dreifuss, a Tel Aviv University historian and Yad Vashem's expert on Poland and the Holocaust, when asked about gas chambers in Warsaw. Other Holocaust historians share her unequivocal position: "It's a conspiracy theory," says Prof. Jan Grabowski, a Polish-Canadian historian from the University of Ottawa, when asked about the legend behind the death toll. Yet both claims appeared, almost without interruption, for 15 years on the English-language version of Wikipedia in what is said to be Wikipedia's longest-standing hoax.
European Court: Holocaust Denial Is Not a Human Right
Denying that the Holocaust ever happened isn't a form of freedom of expression protected under the European Human Rights Convention, a top court has ruled in a case that stretches back nearly a decade.

Udo Pastoers, a German who suggested in a 2010 speech that the Holocaust never occurred, was fairly convicted under the country's laws against the intentional defamation of Jewish people, the European Court of Human Rights ruled while rejecting his complaints.

Pastoers' argument that his statements were protected by Article 10, which protects freedom of expression, was "manifestly ill-founded," given that he "had intentionally stated untruths in order to defame the Jews and the persecution that they had suffered," the Strasbourg, France-based court ruled on Thursday. His complaint that he was denied a fair trial in Germany was also rejected by the ECHR.

Pastoers had given a speech a day after Holocaust Remembrance Day in 2010, saying that the "the so-called Holocaust is being used for political and commercial purposes" and also referring to a "barrage of criticism and propagandistic lies" and "Auschwitz projections." He was first convicted in 2012 by a German district court, and then a regional court rejected his appeal of the verdict less than a year later.
Swastika, anti-Semitic slur painted on wall of former Krakow Ghetto
A swastika and other graffiti were painted on the wall of the former ghetto in Krakow.

"Whores Jews, get the f*** out of Poland" alongside the swastika were discovered drawn with a tar-like substance on Tuesday — the second day of Rosh Hashanah, the Jewish New Year. Municipal services painted over the graffiti on the same day.

Police investigated in the area of Limanowskiego Street; there are no suspects.

"While I was extremely upset to see the hateful graffiti on the ghetto wall, especially on Rosh Hashanah, the quick reaction by the city and the police reminded me why Krakow is such a good place to be a Jew," said Jonathan Ornstein, director of the Jewish Community Center of Krakow.

On Sunday, graffiti reading "Confederation against Jews #447" was discovered on the wall of the Jewish cemetery in Tarnow.

In 2018, the US Congress approved Law 447, or the Justice for Uncompensated Survivors Today, or JUST act, which insures that those who survived World War II or their heirs receive compensation for their losses, if it has not already happened. The Confederation is a right-wing political group that opposes the restitution of Jewish property.
India issues terror alert for Jewish, Israeli targets on Yom Kippur
Authorities in India have warned of a potential terror attack on Jewish or Israeli targets on Yom Kippur, which begins Tuesday night.

According a Channel 12 news report on Friday, Israeli security services are working with their Indian counterparts to thwart any potential attack over the Jewish holiday period, which runs until October 21.

The Israeli embassy in New Delhi, synagogues, Chabad buildings, Jewish schools, restaurants and hotels known as popular destinations among Israeli travelers have all been put on high alert with increased security.

The Times of India reported last month that there were fears an attack could be carried out on a Jewish target by a cell affiliated with either the Al-Qaeda or Islamic State terrorist groups.

The report said the alert was issued on the basis of intelligence received from the security agencies of other countries. No further details were given.

In 2008, there were coordinated attacks on Mumbai's luxury hotels, the main railway station, a restaurant popular with tourists and the city's Chabad center. The Lashkar-e-Taiba group was blamed for the attacks that killed 166 people in total, including six Israelis.
3 out of every 4 LA county Jews view antisemitism as serious - poll
Three-quarters of Jewish people in Los Angeles County view antisemitism as a serious threat, a new survey found.

"The Pat Brown Institute (PBI) for Public Affairs at California State University, Los Angeles conducted a poll of more than 1,800 Jewish voters in Los Angeles county [and it] revealed strong support for the survival of Israel as a Jewish state and also very significant fears of growing antisemitism," said Dr. Raphael Sonenshein, executive director of PBI.

"More than 70% reported being concerned about it," he said. "Written comments to an open-ended question revealed concerns from both the Right and the Left on antisemitism. Clearly though, fears of growing antisemitism are widespread."

According to the findings, 41% of the participants said that antisemitism is an extremely serious problem, and 31% said they consider it "very serious."

Seventy-six percent of the participants said that remembering the Holocaust is "essential" for them, and an additional 19% viewed it as "important." Thirty-six percent of participants said that caring for Israel is essential for them, and an additional third said it is important, while 25% of those polled expressed their opinion that they did not see caring about Israel as important.
Vandals smash windows of Brooklyn synagogue during Rosh Hashanah prayers
The windows of a synagogue in Brooklyn were smashed by vandals this week during Rosh Hashanah services.

A video showing people throwing milk crates at the Rivnitz synagogue in the Williamsburg neighborhood was circulated Wednesday on social media.

Police said that the incident took place on Monday afternoon and they were searching for two females who were seen in the video, according to WPIX-TV.

Mayor Bill de Blasio condemned the vandalism.

"This is a shocking act of hate," he wrote on Twitter. "We WILL find the perpetrators and hold them responsible."

The Anti-Defamation League said it was "deeply disturbed" by the video.

"At a time when the Brooklyn Jewish community is already on edge in the wake of a series of anti-Semitic incidents, it is extremely upsetting to see this congregation targeted during what is otherwise supposed to be a joyous celebration of the Jewish New Year," Evan Bernstein, the regional director of the organization's New York-New Jersey office, said in a statement.
This perpetrator is wanted for vandalism and burglarizing a shul that occurred on 9/28/19. If seen, please call 911 and Shmira @ 718-221-0303 #NYPD #Shmira pic.twitter.com/CTqSXXJIX8

— Crown Heights Shmira (@CHSPshmira) October 3, 2019
Teen allegedly attacked Jewish woman in Brooklyn, pulling off scarf, wig
Police said a Jewish woman reported being harassed in Brooklyn on Rosh Hashanah.

The 22-year-old said that she was approached on Sunday evening by a female teenager who "pulled her scarf and wig from her head," a New York Police detective, Annette Shelton, told the Jewish Telegraphic Agency in an email.

The incident occurred in the Bedford-Stuyvesant neighborhood and the perpetrator, who was described as being 16 years old, was accompanied by another teenager, the woman told police.

Shelton said that the police's Hate Crimes Task Force was investigating the incident.

The incident is the second alleged attack that occurred on Rosh Hashanah in the borough. On Monday, the windows of a synagogue were broken in the Williamsburg neighborhood.

That incident drew condemnations from Mayor Bill de Blasio and Gov. Andrew Cuomo.

There has been a spate of attacks in recent months against visibly Orthodox Jews in Brooklyn.
Arabic-speaking man tosses rock at Israeli's head in Germany
A 27 -year-old Israeli woman was the victim of a violent antisemitic attack in Bavaria after an Arabic-speaking man tossed a rock at her after she spoke Hebrew.

She suffered a head injury, according to the Bavarian daily Merkur, which reported on Thursday that the police are searching for the suspect who fled the scene of the alleged crime.

That attack took place on Wednesday near a cemetery in the town of Massing. The Israeli woman was walking with her two sons near the cemetery. After the woman called for one of her sons in Hebrew, the man screamed in Arabic "Jew" and tossed a stone at her head.

The Merkur reported that the suspect is between 40 and 50 years-old and has short, black hair. He spoke broken German with a foreign accent.
Israeli startups raise more than $1 billion in September
Israeli startups raised $5.9 billion so far in 2019 and are on track to pass last year's record-breaking figure of $6.4 billion, the Israeli business daily Globes reported on Wednesday.

Based on press releases from Israeli companies that have completed financing rounds, more than $1 billion was raised in September alone.

However, the true figure is likely even higher, as some companies do not reveal investment data, according to the report.

Israeli tech companies raised $650 million in July and $350 million in August, according to the IVC Research Center.

In September, credit company Fundbox raised $326 million, fintech firm Tipalti raised $76 million and open security platform Snyk raised $70 million. In addition, drone defense company D-Fend raised $28 million, and 3D-printing company Xjet raised $45 million.
Early clinical trial for ALS sufferers shows biotech firm 'on the right track'
Kadimastem Ltd., a biotechnology firm that develops cell therapies, said it has received "promising interim results" from a first group of patients treated with its new therapy for amyotrophic lateral sclerosis (ALS), also known as Lou Gehrig's disease, a fatal neurodegenerative condition that causes the loss of muscle control.

"Looks like we are on the right track," said Rami Epstein, the CEO of Kadimastem, in a phone interview. "The interim results are important because they demonstrate that we have managed to inject the live cells into a human body without any treatment-related significant adverse effect, while also showing a measurable therapeutic effect. Our cell therapy managed to significantly slow down the disease progression and halt deterioration of the disease."

The cell therapy aims to slow or even halt the progression of the disease and improve patients' quality of life and life expectancy, he said.

ALS leads to muscle weakness, loss of motor function, paralysis, breathing problems, and eventually death. The average life expectancy of ALS patients is two to five years. According to the ALS Therapy Development Institute, there are approximately 450,000 ALS patients worldwide, 30,000 of them in the US. According to the ALS Foundation for Life, the annual average healthcare costs of an ALS patient in the US are estimated at US$ 200,000. Thus, the annual healthcare costs of ALS patients in the US alone amount to $6 billion.

In a filing to the Tel Aviv Stock Exchange last week, the firm said that the treatment administered to one group of patients in a Phase 1/2a clinical trial held in Israel apparently caused a significant slowdown in the progress of the disease and was found to be safe.
Israel Mounts See-Through-Wall Radar on Robots
Israel's Camero is positioning its Xaver see-though-wall technology for networked use by unmanned systems, according to company officials.

Ilan Abramovich, Camero (and sister company Meprolight) senior vice-president of sales and marketing for defence, said the company's Xavernet, a wireless Toughbook-based networking capability, enables the handheld sense-through-wall radars to be operated from 100–200 m line-of-sight.

The concept places the radars on robotic or unmanned platforms for remote control. Currently, four radars can be controlled at once, Abramovich said. It works with the Xaver 100 and Xaver 400 systems, he added.

The Xaver 100 hand-held radar was designed for teams breaching a room or a door, to give them a 'go or no-go' decision by simply showing if a person was behind the wall by displaying an arrow that indicates if the person is moving towards or away from the wall.

All the Xaver series systems are radar-based, and use ultra wide-band radio signals between 3 –10 GHz. They have a 120° field of view (FOV) and can see through drywall, concrete, and various structures, though not solid metal. Metal drywall studs or concrete reinforced with rebar can block the signal as well, but can still make the system function if a non-metal through-spot can be found, Abramovich said.
Israel Shipyards Sells Patrol Craft Worldwide
Israel Shipyards has received orders for its newest patrol craft, the OPV 45, and is in discussions towards the first sale of a Sa'ar S-72 vessel, according to Noam Katsav, managing director at Israel Shipyards.

The Sa'ar S-72 is 71.8 m long, has a 3,200 n mile range, an 800 tonne displacement, and a 30 kt top speed. Contract talks are ongoing with one country, and one Sa'ar S-72 has begun construction in the meantime, Katsav said.

In September Israel Shipyards has sold two OPV 45s, which are 45.7 m long, have a 3,000 n mile range, a 290 tonne displacement, and a 24 kt top speed. The yard will start building those soon, he added. The OPV 45 is driven by fixed-pitch propellers and the power plants depend on the customer's needs. It can mount stabilised naval gun systems of up to 30 mm in the primary position, and 12.7 mm machine guns.

Meanwhile, the yard is building more of its Shaldag fast patrol craft. Shaldag variants - Mk II, III, IV, and V - are broken down by size to meet user-specific needs. The Israeli Navy, for example, typically wants small and fast vessels that can be operated by younger sailors.
Army inducts Israeli 'tank killers' till DRDO develops indigenous ones
Indian infantry soldiers now finally have a new weapon to destroy advancing enemy tanks on the western front with Pakistan. The Army has begun to induct a limited number of Israeli Spike anti-tank guided missiles (ATGMs) to meet immediate operational requirements till the indigenous man-portable "tank killers" being developed by DRDO are ready for induction.

Sources on Thursday said the "first lot" of the 210 Spike missiles, with a dozen launchers, "arrived in India about 10 days ago" as part of the "Army vice chief's emergency procurement powers" exercised by the force amidst the ongoing heightened tensions with Pakistan.

The Army moved to buy the initial amount of the fire-and-forget Spike ATGMs, which have a strike range of up to 4-km, for around Rs 280 crore after the Jaish-e-Muhammed training facility at Balakot in Pakistan was bombed by Indian Mirage-2000 fighters on February 26.

"The order will be repeated if the man-portable ATGM being developed by DRDO is not ready by next year. We don't want to be slowed down any longer in plugging our critical operational deficiencies by DRDO," said an Army source.
Cyprus Stocking Up on Israeli Drones
Cyprus' National Guard is said to have received its first four unmanned drones from Israel, allowing Cypriot agencies to obtain clear views from high above over land and water.

The drones, Aerostar Tactical UAS (TUAS) made in Israel, are described as accurate, programmable, and one of the most efficient and cost-effective systems of its class. The specific make has logged over 250,000 operational flight hours with missions flown worldwide.

According to Kathimerini Cyprus, four Unmanned Aerial Vehicles have been delivered to Cyprus National Guard by Aeronautics, an Israeli company, extending the Cypriot range of capabilities for a number of agencies with high definition cameras that can get images from very high flying altitudes.

The purchase of the four UAV's came at a total cost of 12 million euros the report said, adding that the use of the drones would include monitoring Cyprus' Exclusive Economic Zone (EEZ). Additional uses would include patrolling forest areas in the summer to detect fires as well as assisting in rescue missions within the Nicosia Flight Information Region.
Paul McCartney to Get Back to the Yarkon, sources say
It might seem like only "Yesterday" that Paul McCartney performed in Israel, but maybe you'll be amazed to learn that it was 11 years ago and Maariv is reporting that it's "highly likely" that the beloved pop star and former Beatle will get back to Park HaYarkon (or possibly a different venue) for another concert.

Citing information from "close associates," the publication said that McCartney was "in talks" with officials and promoters and the chance for another Tel Aviv show by the man once dubbed "the cute Beatle" is "extremely high." Apparently, these sources think that they can work it out or in other words, McCartney will soon be showing us again that he loves Israel, yeah yeah yeah.

McCartney, who is currently married to the Jewish transportation mogul Nancy Shevell (rhymes with "Michelle") - and whose first wife, the late photographer and animal-rights activist Linda Eastman, was Jewish - was able to master a few words of Hebrew in his 2008 performance, including, "Shana Tova" (Happy New Year) and "Ahava" (love) in addition to the obligatory "Shalom." He ended that concert with the word, "Nitra'eh" -- "We'll see each other again."

If he needs more inspiration this time around, he might want to check out a Yiddish version of "A Hard Day's Night" by Gerry Tenney which will surely inspire him to throw in a few Yiddishisms once he arrives here by jet, even if he doesn't fly in from Miami Beach BOAC.

No word on whether Shevell will accompany him, which might prompt him to croon some silly love songs to his wife of nearly eight years. There's also no word on whether his daughter, the acclaimed fashion designer Stella McCartney, will be leaving home to attend the show.
Kevin Spacey shows up in Israel, wearing a kippah
Kevin Spacey was spotted in an Israeli restaurant in Tel Aviv on Wednesday, catching the locals by surprise.

The former "House of Cards" star, who has recently faced multiple allegations of sexual misconduct, arrived in Israel to visit a friend who was sitting shiva (the traditional seven-day mourning period following the death of a family member) in Jerusalem.
Kevin Spacey at a restaurant in Tel Aviv

The actor was seen wearing a kippah during his shiva visit, but later took the kippah off when he dined at the Tel Aviv restaurant Coco BamBino.

Spacey is just one of a number of celebrities who have visited the Jewish state over the past few weeks, among them Demi Lovato and popular Eurovision contestant Mahmoud. Spacey's legal cases have been closed, but he has been fired from "House of Cards" and has remained a source of controversy.
Times Are A Changin': Saudi Citizen Sings Jewish Prayer Marking Jewish New Year
On Thursday, outgoing U.S. Middle East envoy Jason Greenblatt posted a video indicative of how much has changed in the Middle East in recent years, with a Saudi citizen singing the moving Jewish prayer "Avinu Malkeinu," which is sung frequently during the ten days between Rosh Hashanah, which marks the Jewish New Year and was celebrated at the beginning of this week, and Yom Kippur, the Jewish Day of Atonement, in which Jews ask God for forgiveness for their sins.


Inspiring to see @mohsaud08 sing these words during the Days of Repentance between Rosh Hashanah and Yom Kippur. The times are changing indeed! Let's all keep moving in a positive direction.... https://t.co/yEL1s0G2B6

— Jason D. Greenblatt (@jdgreenblatt45) October 3, 2019



Mohammed Saud was singing the version of "Avinu Malkeinu" written by the composer Max Janowski.

According to Jewish belief, on Rosh Hashanah God opens the book of life and death to decide who will live or die in the coming year; he closes the book on Yom Kippur, making the ten days noteworthy for serious introspection. On Yom Kippur, Jews are permitted to ask for forgiveness for their sins against God and sins they are unaware they have committed, but any sins against their fellow man must be dealt with by having apologized to the person who was hurt in the process and asking for their forgiveness personally.
Memorial service to be held in Ari Fuld's honor
On Sunday, a dedication and memorial ceremony will be held in honor of Ari Fuld who was stabbed and killed by a terrorist just over one year ago.

The Ari Fuld Project, which Fuld's widow, Miriam Fuld, founded with the non-profit organization Standing Together, completed fund raising for a "hospitality truck," something that Fuld was trying to fund around the time of his death.

The truck is meant to help IDF soldiers and was intended to be in memory of Fuld's friend Yehoshua Friedberg, a lone soldier from Canada who was murdered by terrorists in 1993. Now, the truck will have Fuld and Friedberg's photos side-by-side.

The ceremony will be held on Fuld's first yahrzeit (first anniversary of his death) at Gush Etzion Junction, where he was murdered.

Before he succumbed to his wounds, Fuld shot the terrorist that stabbed him, preventing him from harming anyone else. For this act of bravery, Fuld was posthumously awarded Israel's Medal of Valor.

At the age of 18 Fuld moved from New York to Israel and enlisted to the Golani Brigade, an IDF infantry unit. He later served as a reservist in an elite paratrooper unit and served in Efrat's counter-terrorism unit. He was a rabbi, educator, fundraiser, karate instructor and pro-Israel activist.
One of the Last Living Heroes of Israel's Fight for Independence
At 99, Harold "Smoky" Simon is one of the heroes of Israel's War of Independence. He was Chief of Air Operations in the war after flying as a navigator-bombardier for the South African Air Force (SAAF) during World War II. In 1948, as newlyweds, Simon and his wife, Myra, who had been a meteorologist in the SAAF, joined a South African Zionist Federation group to volunteer to fight in Israel. "Fighting the Nazis gave us the skills and the experience we needed to fight for Israel," he says.

"We had to muster all of our nerve to do the job against these powerful enemies. We were up against six Arab armies - the Egyptians were supplied by the Brits, the Syrians by the French, and we didn't have a single combat plane of our own." Israel had old German planes sold by the Czechs, smuggled in and reassembled.

Simon reminds us of Arab League Secretary-General Abdul Rachman Azzam Pasha, who said on May 1, 1948: "If the Zionists dare to establish a state, the massacres we would unleash would dwarf anything which Genghis Khan and Hitler perpetrated." Simon continues, "These were difficult times. None of us knew how it would turn out. But as proud as I'd been to be one of millions fighting to defeat the Nazis, it was even more emotional when you are part of a small bunch fighting for your own people, your own country."

"With all the odds against us then, there is far more than human effort behind that victory. Returning to our ancient land, we are living a miracle of biblical proportions here." In 1968, Simon was elected as chairman of World Machal, representing nearly 5,000 volunteers from 59 countries who fought in the War of Independence. He has served in that capacity for a half-century.
---
---
We have lots of ideas, but we need more resources to be even more effective. Please donate today to help get the message out and to help defend Israel.

Cache
From Ian:

---
Seth Frantzman: Israel appears strong, but there are risks ahead

BUT ISRAEL has some issues on the horizon that, if they would come together at the wrong time, would be a perfect storm. Among these is the increasing hostility of Turkey. Ankara has become more nationalist and religious-nationalist, a toxic mix. It is flexing its muscles, taking over swaths of northern Syria and seeking to keep on track to totally remove the Americans from the region. That would be a setback for the US – and setbacks for the US also impact Israel. Turkey is buying the S-400, not in itself a problem for Israel. Ostensibly, both Ankara and Jerusalem have an interesting relationship with Moscow today, borne of Russia's increased role in the region, particularly in Syria.

Russia's role in Turkey is strategic and also related to energy and Syria. This can impact Israel in a complex way. Turkey's current government is seeking to take up the mantle of being the main opposition to Israel in the region. It bashes Israel over Jerusalem, and its media run hyperbolic stories about Israeli abuses. Turkey is close to the Muslim Brotherhood today and wants to see Hamas have a more prominent role in Ramallah. Yet Israel can deal with Turkey's anger. The question is whether it can deal with the emerging Turkey-Iran relationship.

Iran has been a challenge for Israel due to a variety of reasons, but lately it is capitalizing on the weakness of its adversaries. That means it is increasingly playing a role in Iraq, Lebanon, Syria and Yemen. That means it is transferring precision missile technology to Hezbollah.

Iran's IRGC says that it can destroy Israel. It launched an attack on Saudi Arabia on September 14 that has ramifications for Israel. That Riyadh did not respond shows that Israel's supposed common interests with the Gulf are more problematic than in reality. Saudi Arabia won't confront Iran. So who will confront Iran? The US? No. The US has signaled it will not. And the next US administration may be more pro-Iran than this one. That could give Tehran what it wants in Syria, which means a kind of "land bridge" that ends near the Golan and threatens Israel.

What Israel faces today is potentially two strong adversaries in Turkey and Iran, although they are quite different in how they confront Israel. Turkey uses soft power; Iran uses hard power. But Israel, appearing strong, now faces these challenges in some ways alone. It is not like the 1950s, when Israel was truly alone. Israel has made major inroads in India, China and elsewhere. But the immediate challenges are still there. It is dangerous to be too confident and arrogant today, and it is essential that Jerusalem seek to analyze and deal with these challenges in the long-term because short term planning won't work. Iran thinks in the long term – and its role in the region is a long-term role.
Jpost Editorial: No Third Election

Against that backdrop, the 22nd Knesset was sworn in on Thursday in Jerusalem. Many are wondering if, like the 21st Knesset, it will also last for less than two months and perhaps become the shortest-lived legislature in Israel's history.

As the Post's Lahav Harkov pointed out on Wednesday, there are only eight new members of this Knesset, as well as another nine who are returning from past stints as legislators, which means that 103 members of the 22nd Knesset will be sworn in for the second time this year.

A proud institution, the Knesset is in danger of becoming a laughing stock. But it's no joke. Israel needs a stable government and a stable Knesset. Every attempt must be made to prevent the newly sworn-in Knesset from becoming the shortest Knesset in Israeli history.

All parties should take the responsibility upon themselves as if they alone are charged with insuring that a third election is not called for. The country has survived some nine months of paralysis, but it's only a matter of time before the string starts to unravel out of control and the situation begins to do irreparable damage to Israel and its population.

At Thursday's ceremony, Knesset Speaker Yuli Edelstein led the MKs with "I pledge allegiance to the State of Israel and to faithfully fulfill my mission in the Knesset." And the newly sworn-in lawmakers responded: "I pledge."

Let's hope they take that allegiance and mission seriously and prevent a third election.

Amb. Alan Baker: The EU Demonstrates a Distinct Political Bias Against Israel

European Union Special Representative for the Middle East Peace Process Susanna Terstal, writing in the Jerusalem Post on Sep. 21, evidently believes that incessant repetition of the phrase "two-state solution" adds some element of legitimacy and feasibility to the idea. But the two-state solution has never been agreed-upon between Israel and the Palestinians, and does not figure in any of the agreements between them. It is nothing more than an expression of wishful thinking within the UN and the EU.

To the contrary, the Oslo Accords, to which the EU itself is a signatory, clearly leaves the issue of the permanent status of the territories to be decided in negotiations. Thus, whether the outcome will be one, two or three states, or a federation or confederation, remains on the negotiating table. By incessantly plying a two-state solution, the EU is in fact prejudging an agreed negotiating issue.

Suggestions by Israeli leaders to "apply sovereignty" led EU representatives to complain that unilateral modification of the Oslo Accords "undermines the entire agreement" and "dismantles Oslo." One wonders why the EU did not view the recent declarations by the Palestinian leadership canceling the territorial division between areas A, B and C in a similar light. Did this not undermine the accords?

The EU representative also expressed support for a "Palestinian state based on the 1967 lines." Yet the issue of borders is an agreed-upon permanent-status negotiating issue, and her presumption of a Palestinian state based on the 1967 lines clearly contradicts and prejudges both the Oslo Accords and UN Security Council Resolution 242 of 1967.

The EU cannot in good faith claim that it does not take sides in the conflict. The EU has not only taken sides, but clearly demonstrates a distinct political bias against Israel in virtually all its positions, policies, statements and dealings regarding the Israeli-Palestinian negotiation process.
Iran displays ancient clay tablets, returned by US, from empire that freed Jews
The National Museum of Iran opened on Wednesday an exhibition of around 300 cuneiform clay tablets returned from the United States after a drawn-out legal saga.

The tablets were found at the ruins of Persepolis, capital of the Persian Achaemenid Empire (6th – 4th c. BC) in the south of Iran. Cyrus the Great, who ruled during the Achaemenid Empire, is said to have liberated the Jews from Babylonian captivity in 539 BCE, allowing them to return home and build the Second Temple.

The works on display belonged to a group of 1,783 clay tablets or tablet fragments returned to Iran by the Oriental Institute at the University of Chicago.

In the 1930s, the university had received on loan around 30,000 tablets or tablet fragments found at Persepolis for research purposes, Iranian media reported.

A large portion of the tablets were returned in three batches between 1948 and 2004 before their restitution was blocked by legal action initiated by American survivors of an attack in Israel in 1997 carried out by the Palestinian Hamas terror group.

Blaming Tehran for supporting the armed group, the plaintiffs demanded the seizure of the tablets and their sale put toward the $71.5 million that Iran was ordered to pay in the case.

The proceedings only ended in February 2018 when a US Supreme Court decision banned the seizure of the works.
Yossi Cohen: The Mossad Spy Chief Who Stole Iran's Secret Nuclear Archives
In March 2018, Mossad Director Yossi Cohen, 58, updated then-CIA Director Mike Pompeo on what the Mossad had found inside Iran's secret nuclear archives that it had stolen from the heart of Tehran in January 2018. Sources close to Cohen told the Jerusalem Post that the information the Mossad seized is "still being used right now" to glean high-quality and valuable intelligence. A map of nuclear sites captured in the operation has yet to be made public. These revelations "even go beyond Prime Minister Benjamin Netanyahu's revelation of the Abadeh nuclear site" earlier this month. Cohen says Pompeo praised the Mossad for redefining "daring and boldness."

Dozens of agents were involved in surveillance missions and the heist itself. Neutralizing any electronic surveillance that could expose them, they spent six hours and 29 minutes nabbing Iran's secret nuclear files, which were kept in 32 safes. They used special torches to slice into these safes. They loaded the vast files onto trucks and used Iranian smugglers to get across the border.

Cohen's view is that relations with Sunni countries in the Gulf are "not as much about personal trust, but about overlapping national interests" - especially when it comes to Iran. For example, while Cohen would be against sharing sensitive Israeli technologies with the Saudis to combat the drone threat from Iran, he would seek to help states in the Gulf combat Iran together in other ways.

Regarding the Palestinians, sources close to Cohen indicate that he does not believe anything will move on the peace process until PA President Mahmoud Abbas leaves office.
FDD: The Israeli–Palestinian Struggle, Continued.

There is no chance of a "peace party" returning to Jerusalem unless Israelis see that Palestinians have unequivocally denounced the past, that the celebrations of those who've died killing Israelis are rejected. That is impossible to envision in the near-term: neither Fatah, nor Hamas, nor the Israelis, nor Washington want the Palestinian people voting. All fear the worst—the wrong side winning. Perhaps most perversely, the Israelis are invested in a security status quo with Fatah that likely negates the chance of any Palestinian change, and surely makes Hamas more popular on the West Bank than its tyranny in Gaza has earned. But it's possible that if there were a free vote among Palestinians the hostility towards Israelis—the fundamental rejection of the legitimacy of a Jewish state—could be the common denominator among Palestinians who otherwise loathe Fatah's and Hamas' dictatorships. Palestinians again voting could lead to intense violence, among Palestinians and against Israelis. Nonetheless, Palestinian popular sovereignty is likely the only way out of this cul-de-sac. We have two peoples wanting the same land with national and especially religious narratives that negate the other's. For even non-practicing Muslims, Moses is a great prophet, trying to lead his people toward the one, true calling—Islam. A Jewish homeland wasn't in Allah's message. Yet the unrelenting secularism of Westerners reduces the most compelling stories we have to differences about water rights, East Jerusalem, and security checkpoints.

The basic character of a people and faith can change, but that usually happens after a truly devastating military defeat or a long evolution. The Palestinians haven't actually seen a society-crushing catastrophe; they have endured foreign, non-Muslim overlords, with all of the indignities, and incompetent, avaricious, ambitious, insouciant, deluded and sometimes brutal native rulers (they, however, get a middling score in hideousness in the modern Middle East).

Since 2002, the Israelis appear to have a consensus: Palestinians cannot be trusted. On the other side, Palestinians seem more conflicted about the Jews, more divided religiously and culturally, more prone to internecine violence today than they were when the Israelis directly ruled all of the West Bank and Gaza.

The continuing decline of America in the Middle East will unavoidably remove certain delusions about what might be possible between the Israelis and the Palestinians. The torpor of the peace process under Obama and Trump is likely the new American standard. If they haven't already, Palestinians will give up on the idea of Washington's intercession, of American democracy coercing Israeli democracy into making concessions to unelected Palestinian officials. For the Palestinian people that will, at least, change the rhetoric and excuses of the ruling elite.

America's retreat may tempt the Israelis to act more hubristically towards the Palestinians, to take land in the West Bank that has no plausible security value. But the most effective check on ugly Israeli actions has always been the internal debate, the tension between the executive, legislative, and judicial authorities in Israel's messy democracy.

For decades out, it's hard to see anything better than an unpleasant modus vivendi between the Israelis and the Palestinians. Given that it is the Middle East, however, that isn't an awful state. Americans always want to believe that honesty is the best policy, that without honesty solutions aren't possible. We are certainly tardy in applying that principle to the Israeli–Palestinian clash.
The Missile War in Southern Arabia: Lessons for Israel
UAV Warfare
Another hint of the effectiveness of Patriot defense are Houthi/Iranian alliance efforts both to suppress it and evade it. To elucidate this point, we need to refer to another aspect of the Houthi/Iranian war machine in Yemen: UAV warfare. UAVs are one of the main pillars of Iranian military doctrine. Together with other weapon shipments, Iran has been providing the Houthis with numerous types of UAVs, both of the larger types used for armed reconnaissance such as the Shahad 129 (roughly equivalent to Israel's Hermes 450) and smaller "suicide" UAVs (such as the Ababil, used by Hezbollah in 2006 for attacks deep within Israel, which for the sake of Iranian deniability has been renamed Kasef 2). The Houthi arsenal is augmented by the acquisition of mail order UAVs such as the Chinese "Skywalker" available online from Ali Baba. More remarkable, the Iranians have provided the Houthis with knowhow, production machinery and expertise to set up a UAV industry of their own in their stronghold of Sad'ha in northern Yemen. The Houthi UAV industry is now producing unique designs of long-range machines, some equipped with jet engines, obviously designed in Iran. Beyond the classic UAV roles of reconnaissance and light bombardment, the Houthi/Iranian alliance is using them for direct "suicide" attacks on Patriot batteries. Three incidents of direct attacks on Patriot batteries have been claimed: Two attacks were within Yemen, probably targeting UAE batteries in Mocha and Marib, and one attack on a Patriot battery defending the Saudi border city of Najran, with unknown results.

Even more significantly, the Houthi/Iranian alliance exploits the Patriot's system limitations in engaging low and slow threats in order to penetrate beneath the Saudi air/missile defense shield. In fact, UAVs are now being used by the Houthi's as ersatz land attack cruise missiles. With immunity against air and missile defense, and with much better accuracy than ordinary ballistic missiles, UAVs now seem to be the preferred weapons for imaginative and audacious strikes deep within Saudi territory. For example, the civilian airport of the Saudi town of Abha, about 120 km. from the Yemeni border, was attacked by Houthi suicide UAVs no less than three times during the month of June 2019, wounding 28 passengers and airport workers. In August 2019, the Houthis managed to strike the Shaybah oilfield deep within Saudi Arabia, almost 1200 Km from the Houthi stronghold in Sad'ha. The attack was carried out by no less than 10 UAVs and sparked a fire in gas storage tanks. Such a complex attack needs precise coordination and excellent navigation, which demonstrates the proficiency achieved by Iran's UAV operators. While those strikes did not cause excessive damage – perhaps intentionally so – they were propaganda coups for the Houthis, providing them with solid achievements in the cognitive battlefield.

The fourth lesson for Israel is the growing military role of UAVs both for missile defense suppression and for evasion. UAVs were first used by Hezbollah for reconnaissance over Israel even prior to the 2006 Lebanon war. At the closing stage of that war, four suicide UAVs were launched by Hezbollah against Israeli targets (One suffered a failure and fell near the border, two were intercepted by Israeli jet fighters, and the fourth vanished). In the 2014 Gaza war Hamas tried to attack Tel Aviv with its own UAVs (Two, perhaps three UAVs were shot down by Patriot air defense batteries). This experience is not indicative of the future. The Yemen war demonstrates how UAVs will be employed in future wars in significant numbers to erode Israel's missile defense capabilities by attacking the Iron Dome, David Sling and Arrow batteries. Hostile UAVs, in conjunction with precision rockets, may well be tasked to damage Israel's critical infrastructures such as desalination plants. Consequently, Israel needs to integrate air defense capabilities into its missile defense systems, and to provide its critical infrastructures with their own point defenses.

The current civil wars in the Middle East – especially in Syria and in Yemen – resemble the Spanish civil war of the 1930s inasmuch as they are exploited by outside powers to test new doctrines, weapons and tactics in realistic battle conditions. What the Axis powers (and to a lesser extent the USSR) did in Spain during the 1930s is being done today by Iran in Yemen.

It would be advisable for Israel's Ministry of Defense and the IDF to closely study the civil war in Yemen, particularly its rocket and drone warfare aspects. The weapons and tactics in use in Yemen today will be employed against Israel tomorrow.
Israeli President Tells Papal Diplomat Israel Wants to Share Land with Palestinians
Israel wants to "share the land and find a way to live together" with the Palestinians, President Reuven Rivlin told Cardinal Leonardo Sandri, one of the highest-ranking Vatican diplomats, when they met at the President's Residence on Thursday night.

Sandri, who is the Prefect of the Congregations for the Oriental Catholic Churches, came with a delegation that included several Franciscan priests, as well as the Papal Nuncio and the Custos of the Holy Land.

He is in the region to mark the 800th anniversary of the Pilgrimage of Peace to the Middle East by St. Francis of Assisi and his dialogue with the Sultan of Egypt.

Rivlin, who has met with Pope Francis and is aware of the efforts being made by the Vatican to bring about a cessation of hostilities in the Middle East in general and between Israel and the Palestinians in particular, told Sandri that he knows how hard the Vatican is working to find a solution to this century-old tragedy.

Knowing that Sandri is also going to Ramallah to meet with Palestinian Authority President Mahmoud Abbas, Rivlin asked him to convey his regards, and noted that Abbas had sent New Year greetings to the people of Israel.

Emphasizing the need to build understanding between Israelis and Palestinians, Rivlin was of the opinion that a valuable asset in this regard was the restoration of the baptismal site at Qasr el-Yahud on the Jordan River near Jericho, where Jesus first met John the Baptist.

The restoration project was approved by Israeli, Jordanian and Palestinian leadership, said Rivlin, who was personally involved in the process.

Dr. Martin Sherman: Alternative Jordans?

Although the details of the "Deal" are as yet obscure, it would appear the Jordan is slated to play a major role in it—grudgingly or otherwise. Accordingly, the feasibility of the "Deal"—indeed its acceptability—will be dramatically impacted by the nature of the regime east of the Jordan River and its prospective stability (or lack thereof).

After all, although some may hope otherwise, there seems little prospect that any successor regime in Amman will be more favorably disposed toward Israel than the current one.

This takes us back to the crucial strategic importance for Israel of the highlands of Judea-Samaria and the Jordan Valley. As I have been at pains to point out on numerous occasions, not only are these highlands the only topographical barrier between Jordan and the heavily populated coast plain, but any forces—regular or renegade—deployed on them will have complete topographical command and control of virtually all Israel's airfields (military and civilian, including Ben Gurion, the only international airport), its major ports and naval bases, is principal traffic axes (rail and road), vital infrastructure installations/systems (electrical power, desalination plants and water conveyance), centers of civilian government and military command and 80% of the civilian population and commercial activity.

All of these will be in range of cheap, readily available weapons that have already been used against Israel from areas evacuated by it and transferred to Arab control.

Thus, the rationale of any plan that entails Israeli evacuation of this vital territory will hinge critically on the nature of the regime-type in Jordan, which abuts it from the East.

For whatever other grave detriments their might be in such a plan, it will matter greatly if Jordan is ruled by a government that strives to reign in forces hostile to Israel, or one that is indifferent to their aggressive intent—or worse, is complicit with it.

After all, should the Trump plan entail significant territorial concessions, Israel may well find itself in a situation in which it will have to contend with a huge expanse of hostile territory, stretching from the fringes of Greater Tel Aviv to the border of Iraq—and perhaps beyond.

Accordingly, Israel's security establishment should indeed draw up plans to deal with prospective alternatives in Jordan—not only how to cope with them once they arise, but to prevent them from arising at all.
Why Israelis should support the Iraqi protesters
Another Arab Spring-like protest movement now seems to be arising, seeking to topple the present Iraqi government. As Israelis, we should support the Iraqi people in their quest for true freedom and democracy.

Mendi Safadi, heads of the Safadi Center for International Diplomacy, Research, Public Relations and Human Rights, has noted that if we want to prevent the creation of another Syria, we should call upon the community of nations to intervene as soon as possible to uphold the rights of the protesters, prevent additional bloodshed, and stop the radical Islamists, Iran, and the former Baathists from overtaking the protest movement.

"Today, this Arab Spring has begun to take over Iraq against a government that is corrupt and loyal to Iran," Safadi said. "These protesters are against the Iranians taking over Iraq. Talks with activists on the ground and the leaders of the protest movement reveal that the people are repulsed by the government, who betrayed their nation by becoming a proxy of Iran. The Iranian takeover of Iraq has gotten the people to revolt, to take to the streets and to demand that Iraq be returned to its rightful owners. They seek freedom and basic human rights that every citizen of this world deserves."

According to a report from the Internal Commission of Iraq, "The Iraqi government takes instructions from Iranian Revolutionary Guard Commander Qassem Soleimani. Over 700 members of the Iranian Revolutionary Guard shot live fire at Iraqi demonstrators. There were demonstrators who were killed including men, women and children. The Iranians even went as far as burning a 2-year-old child in a car with her father. The Iraqi people are calling upon the international community to intervene urgently in order to save the Iraqi people, who have suffered under Iran and political Islam. We demand that all pro-Iranian parties be banished from Iraq and to take away all of Iran's influence in the country. We seek to hold the regime accountable and to change from a parliamentary system to a republican form of government. We seek that the rights of women be respected, as the number of women in the country is very high. The Iraqi people will stop protesting only once our demands are met."
Iraq crisis: Protests say anger could boil over Friday after 44 deaths
Protesters in Iraq prepared Friday for bloody clashes with security forces in Iraq after three days of protests that saw the government order live fire against the demonstrators. The protesters are angry. They have tried to block roads to the airport in Baghdad and break into the "Green Zone" where foreign embassies are located. They are shocked that officials have ordered live fire used against them.

The protests began on October 1 in the wake of Iraqi Prime Minister Adel Abdul Mahdi sidelining a popular Counter-Terrorism service commander named Abdul Wahab Al-Saadi. But the real reason for the protests are much larger. They are angry over corruption and wage stagnation and lack of opportunities.

The Prime Minister has closed down internet and sought to isolate cities in Iraq. He gave a speech on Thursday evening and has indicated he could meet the protesters. But there are no clear leaders of the protests. The demonstrators gained some solace when the Shi'ite religious leader Ayatollah Ali Sistani appeared to express sympathy on Friday. Many believed that after prayers on Friday there would be bloody clashes unless the government retrains its tactics. It is not entirely clear which police have been ordered to fire on the protesters, because protesters say they cannot identify them by uniform. Some said it was not the Federal Police but other interior ministry forces. Others claims it was members of Shi'ite militias loyal to Iran, including the Saraya Khorosani unit. But much of this is rumors and has not been confirmed. What is clear is that security forces can be heard in dozens of videos using gunfire. Up to fifty demonstrators may have been killed and thousands injured, including members of the police.

The UN has called on Iraq to have a transparent investigation about the shooting of the demonstrators. "We call on the Iraqi government to allow people to freely exercise their rights to freedom of expression and peaceful assembly."
Iran tries to blame Israel and US for Iraqi protests
Iranian media and local sources in Iraq have reported on the protests sweeping the country with increasing concern that the protesters oppose Iranian influence. This concern has now reached the highest levels of Iran's regime where the narrative that has been concocted is to blame "foreign" hands for the unrest. Under this logic tens of thousands of young men, leaderless and braving the gunfire of security forces, have been sacrificing themselves by the dozens all because of some complex conspiracy.

Iraq's government of Prime Minister Adel Abdul Mahdi has shut down internet, social media and even made phone calls difficult in areas across Iraq, all to stop the protests. Yet the protests continue. To discredit them an Iranian cleric on Friday claimed the US and Israel are behind the protests. Supposedly it was to "disrupt a major annual Shi'ite Muslim pilgrimage planned to be held in Iraq later this month," Reuters reported. "The enemy is now determined against the Islamic nation, America and Zionism are targeting the Arabaeen pilgrimage in Iraq, causing trouble," claimed Ayatollah Mohammad Emami-Kashani.

His full Friday sermon, published at Tasnim News in Farsi claims that "America and Zionism are the enemies of God." He mentions the Houthi rebels in Yemen who "have shown themselves against the miserable Saudi rulers," and notes that Saudi Arabia's reputation has been weakened. This is a reference to the September 14 drone and missile attack on Saudi Arabia. He also mentions the US "maximum pressure" sanctions on Iran and says that it has not been successful. "Endurance is the way of the martyrs." It is in this context he says that the "enemies" are targeting the religious pilgrimages to the holy sites in Karbala, where Shi'ites make pilgrimage. He calls on people to take refuge in the shrine of Imam Hussein.

In Iraq the senior Shi'ite religious leader, Grand Ayatollah Ali al-Sistani, lamented the deaths of dozens of protesters and called for an end to the deaths, casualties and destruction. He called on the government to listen to the people's demands about corruption and other issues.
Russian journalist arrested in Tehran on suspicion of spying for Israel
A Russian journalist has been arrested in Iran on suspicion of spying on the Islamic Republic on behalf of Israel, according to family members and Russian media reports.

Yulia Yuzik was first declared missing earlier this week by family members who said she was arrested in Tehran days ago. Her ex-husband Boris Voytsekhovskiy posted on Facebook that Yuzik was facing charges of cooperating with Israeli intelligence services, and that her trial is scheduled for Saturday.

According to Voytsekhovskiy, Yuzik's charges carry a prison sentence of up to 10 years.

It wasn't clear when Yuzik was arrested; her last post on social media was a series of Instagram pictures taken in Kashan, a city in northern part of Isfahan province.

Voytsekhovskiy told Russian media outlets that Yuzik used to work as a correspondent in Tehran several years ago, and she returned to the Iranian capital last week at the invitation of an unknown party.
Engel bows to Arab lobbyists, pro-Israel friends are silent
An anti-Hamas bill has been severely watered down by Congressman Eliot Engel. It's a turn of events that should trouble every supporter of Israel.

The New York Post revealed this week that Engel (D-NY), the chairman of the House Foreign Affairs Committee, agreed to change the bill after heavy pressure from Qatar and the Palestinian Authority (PA)

The Post quoted "a personal acquaintance of Engel's" as saying, "Eliot told me directly that he was getting a lot of pressure from the Qataris" about the bill. At the same time, Engel or his representatives held seven meetings this past spring with lobbyists for the PA, apparently to discuss the bill.

The Qataris didn't like the fact that the bill mentioned Qatar's massive financial support for Hamas. The PA didn't like the fact that it would have penalized regimes—like the PA—that assist Hamas in various ways.

So the bill, which was authored by Rep. Brian Mast (R-Florida), was changed. The language about Qatar was removed, and loopholes were added so that aid to Hamas which is considered "humanitarian" would not be blocked.

We put "humanitarian" in quotation marks because we all remember how "humanitarian" concrete, which supposedly would be used to build homes, instead was used to build tunnels to kidnap and murder Israelis.

At this point in the story, you would imagine that those Jewish leaders who claim to be Engel's buddies would have intervened to restore the original language of the Mast bill.
Behind the Lines: Pakistan and Israel: Much ado about nothing?
Pakistani Prime Minister Imran Khan last week dismissed speculation that his country was moving toward the establishing of open diplomatic relations with Israel. Speaking at the Asian Society in New York City last Thursday, as reported by the Middle East Eye website, Khan reiterated Pakistan's traditional stance on the issue:

"Pakistan has a very straightforward position," the Pakistani prime minister and former cricket star said. "It was our founder of Pakistan Quaid-i-Azam Muhammad Ali Jinnah who was very clear that there has to be just settlement, a homeland for Palestinians, before Pakistan can recognize Israel."

His remarks, according to Middle East Eye, were met with enthusiastic applause. They came amid widespread recent speculation at a possible diplomatic breakthrough between Jerusalem and Islamabad. Prominent Pakistani journalist Kamran Khan launched the rumors with a tweet on August 25, asking "Why can't we openly debate pros cons of opening direct and overt channels of communication with the State of Israel?"

What is the background to the recent speculation, and is there a realistic chance of a breakthrough, or do Imran Khan's remarks settle the matter in the negative?

THERE IS a school of thought in Pakistan that favors the abandonment, or at least the questioning, of Islamabad's long rejection of formal ties with the Jewish state. Why now?
'Recent convert' to Islam stabs 4 to death at Paris police headquarters
A 45-year-old technology administrator at the police headquarters in central Paris went on a knife rampage inside the building on Thursday, killing three police officers and an administrative worker before he was shot dead by an officer, French officials said.

French broadcaster BFM TV said the attacker had converted to Islam 18 months ago.

Officials did not say anything about the motive for the attack and said they were still trying to discover if there was a terrorism link.

The man launched the attack in his office then moved to other parts of the large 19th-century building across the street from the Notre Dame Cathedral.

An officer stopped the attack when he shot the assailant in the compound's courtyard, said a police official. The official was not authorized to talk publicly about the case and requested anonymity.
IDF thwarts weapons smuggling attempt from Lebanon to Israel
The IDF and Israel Police thwarted an attempt to smuggle weapons from Lebanon into Israel in September, according to an IDF spokesperson.

An IDF field observer from the 869th battalion spotted two suspects acting suspiciously on the Lebanese side of the border with Israel near the border fence. IDF soldiers went to the scene to check the issue.

Bags found in the area contained about 40 pistols and magazines which were meant to be smuggled from Lebanon into Israel. The background of the incident is being looked into.

One suspect was arrested on the Israeli side of the border and was transferred for questioning by security forces.

"I saw a suspect approaching the fence and immediately realized that this was an unusual incident," said Pvt. Adi ben Naim, the field observer who identified the suspects. "I alerted the troops and directed them to the location. It was only after the incident that I realized that a very large weapon-smuggling attempt was thwarted. My job as a field observer is to identify what takes place in the field and alert my commanders; which is exactly what I did in this incident.
Thanks to the vigilance of Adi, an 18-year-old combat intelligence soldier, a smuggling attempt of 40 guns from Lebanon into Israel was thwarted.

👏🏻 round of applause👏🏻 pic.twitter.com/WRQ0Pu5oro

— Israel Defense Forces (@IDF) October 3, 2019
@Friendsisrael delegation visiting one of the tunnels dig by terrorist organization Hizballah to penetrate Israeli soil and carried out an attack. Almost a year after the discovery @UNIFIL_ is still looking to the other side! @COLRICHARDKEMP pic.twitter.com/SvuMCkYlnJ

— Friends of Israel (@Friendsisrael) October 3, 2019
Israeli military marks 'Mean Girls Day' by trolling Iran on Twitter
The Israel Defense Forces marked "Mean Girls Day" this week by tweeting a meme of Iran's supreme leader Ayatollah Ali Khamenei and Hassan Nasrallah, leader of the Lebanese Shiite terrorist group Hezbollah.

The meme, posted on Thursday, October 3, was an altered version of a "never before seen" photo published by the Iranian government showing the supreme leader, Nasrallah and Qassem Soleimani — the commander of Iran's elite Quds Force.

The IDF photoshopped the Iranians into a "Mean Girls" scene alongside Lindsay Lohan, with the caption: "There's no one meaner than the mean girls of the Middle East…"

The IDF added #DontSitWithThem and #MeanGirlsDay to their post.

October 3 was a date that was mentioned in passing by Lohan's character to her crush in Mean Girls, and has since become a pop cultural phenomenon marked annually by movie fans.

The "Don't sit with them" refers to a line in the movie when Rachel McAdams's character Regina George is turned away from popular clique's table at lunch because she's wearing sweatpants.
Seriously @Newsweek @marikamalaea, does this really look like Benjamin Netanyahu to you in @IDF's tweet?! It's actually Qasem Soleimani, the head of the Iranian Revolutionary Guard's Quds Force. Oops. https://t.co/Zciz5w0NwX pic.twitter.com/Fa0nB5fxLq

— HonestReporting (@HonestReporting) October 4, 2019
Arab citizens of Israel undergo quiet revolution
The Arab citizens of Israel need rapid development of their areas. They dream of having high-tech zones and industrial centers; they seek enhanced police work to battle the crime that is raging in the streets of Arab cities; and they resent the vicious incitement against them that was led for years by the prime minister and the ruling party. Will the future government, which for now is still nowhere to be seen, be able to fulfill all of these demands and build bridges between the establishment and one-fifth of Israel's population?

During the recent political campaign, the Likud party accused Gantz numerous times of "planning to create a government with [Joint List MKs] Ahmad Tibi and Ayman Odeh," but the leaders of the bloc had ruled it out many times. When Blue and White MK Ram Ben-Barak, ex-deputy director of the Mossad, turned to the Arabs this summer, he said that Blue and White needed them "to change the government." But what will happen the day after such a change is accomplished?

Amjad Iraqi, a contributing editor at +972 magazine, said to The Media Line that what is missing from the tactical decision of the Joint List is thought about the day after. "This decision is quite some gamble that could also backfire, especially if a unity government will be formed eventually between Likud and the Blue and White bloc. I do understand the logic —Ayman Odeh decided to prioritize getting rid of Netanyahu, and most of the public endorsed him because they want to change at least some part of the equation. But how do we know that the Blue and White bloc, whose leaders had their share of critical and negative remarks about Arabs, will be able to live up to its promises?" said Iraqi.

El-Sana believes that if the Joint List is unable to maximize its gains this time around, the alternative for the next time will be voting for existing Jewish parties or for a joint Arab-Jewish party, a project that el-Sana tried to run this time together with the former Knesset speaker, Avrum Burg. There are also many question marks about the participation of the Balad party, which is increasingly seen by many in the Arab public as a destabilizing element that fails to serve its people. "If they were to participate in the elections today by themselves, they would go down. They have three seats in the Joint List, but they are worth only 1.5 seats, or even less" says Darawshe. On the opposite side, Iraqi believes that Balad gives legitimacy to the Joint List, serving as a link between them and the wider Palestinian cause. "Balad still represents a significant portion of voters. They need the Joint List, and the Joint List needs them," he concludes.

For now, Arab voters seem to be quite satisfied with the result. They proved to be resilient against incitement and intimidation, increased their representation at the Knesset, and now will wait just like everyone else to see how the current political reality TV unfolds.

The leaders of the Joint List will now have to prove to their voters that they can make some real gains with the increased power that they received this time. Considering the shaky structure of the bloc, which includes four different parties with contradicting ideologies, this will not be easy. If no government is formed and Israel goes to a third round of elections, the bloc will have to campaign extremely hard to maintain its success. For now, it is unlikely that the Joint List will top its current result—13 seats. The quiet revolution in the Arab sector, however, will continue, sweeping Arab Israeli citizens away from segregation and isolation, toward integration and equality.
Thousands of Arab Israelis march, block roads to protest deadly crime wave
Thousands of Arab Israelis held protests Friday at the conclusion of prayers, a day after a general strike over a wave of deadly violence within the minority community.

Protesters blocked roads, including sections of the major highways in the north of the country. Demonstrators carried signs with slogans such as "our children's blood is not cheap" and chanted slogans about what they say is police inaction on the issue.

Ayman Odeh, the head of the Knesset's predominantly Arab Joint List faction, called on the Jewish community to join the protests, saying that a society without weapons should be the ideal for everyone.

"I also urge the Jewish public to join the protests. A society without firearms is a civil and social aim for us all," Odeh tweeted.
Some Israelis to Celebrate Sukkot with 4 Species Holders Made in Gaza
Some Israelis — many, in fact — will celebrate the holiday of Sukkot this year holding their four species bound with holders produced in the Gaza Strip.

Ahead of the Jewish holiday, the IDF Coordinator of Government Activities in the Territories (COGAT) has approved the import of tens of thousands of four species holders, used for the traditional customs of the holiday.

The four species – the etrog, a citron fruit; the lulav, a frond of a date palm; the hadas, a myrtle bough; and the aravah, a willow branch – are the species the Jewish people are commanded to bind together during the holiday.

The holders are made out of dried palm leaves, woven into a shape that allows the four species to be held together comfortably during the holiday prayers. The abundance of palm trees in Gaza, as well as cheap labor, makes the enclave a prime location for the production of the holders.

Despite the growing tension between Hamas, the terror group that controls Gaza and Israel, COGAT was able to facilitate the import successfully, passing it through the Kerem Shalom Crossing under heavy security inspection.
Ha'aretz: Meet the Palestinian Villagers Living Out the American Dream

Halfway between the West Bank cities of Ramallah and Nablus, the road gives way to an exit unlike any other along Israel's Highway 60. At first glance, this route — lined with palm trees and polished sidewalks that lead up to lavish stone villas — looks like a well-funded Jewish settlement. But a closer look reveals that unlike other typical settlements, there is no security gate at the entrance to the community and its houses are not lined up in rows along the hilltops.

The expensive homes scattered on slopes among olive trees, reminiscent of the famous Hollywood Boulevard, are actually a window into the Palestinian diaspora. The majority of their dwellers are dual American-Palestinian nationals who live in the United States for most of the year and treat the village of Turmus Ayya as their summer home.

Turmus Ayyans are not only based in the United States. These Palestinian villagers are spread throughout the world, with members of the community living in Spain, Panama, Cuba and Brazil. According to the village's municipal office, there are some 11,000 Turmus Ayyans in total; 4,000 are permanent residents, while 7,000 made their home abroad.

Unlike the majority of Palestinians living in the diaspora, Turmus Ayyans are not refugees of the 1948 war. Rather, they are economic immigrants who chose to leave this West Bank village in pursuit of better financial opportunities. Residents told Haaretz that the first villager to immigrate was Odeh Abdel Qader, who left for the United States in 1909 and worked in Manhattan's Little Syria (where the Financial District is situated today). Local Wadi Abu Awad recalls Qader's return to the village: "He was the guy who came from America," he says. Throughout the 20th century, Qader's legacy became an inspiration for other Turmus Ayyans who wished to chase the American Dream.
Hamas Facing Growing Criticism in Gaza
A picture making the rounds on social media shows the leader of Hamas, Ismail Haniyeh, with his six sons, standing healthy in tailored suits, and beneath it, a picture of Gaza youths who have had a leg amputated after rioting at the Gaza fence.

Another example is a recording by a Gazan father whose son was wounded at the border confrontations.

"I was told I needed to provide his medicine out of my own pocket. If he were the son of one of the Hamas higher-ups, the whole world would have given aid."

"Where am I supposed to get money for medicine? They told my boy to get on the bus and protest, and then they threw him out to die."
Attempted murder, much? https://t.co/bbvtz4rtQ7

— (((David Lange))) (@Israellycool) October 4, 2019
Iran not 'drawing back' militarily after Saudi attack-US admiral
Iran has not drawn back to a less threatening military posture in the region following the Sept. 14 attack on Saudi Arabia, the top U.S. admiral in the Middle East told Reuters, suggesting persistent concern despite a lull in violence.

"I don't believe that they're drawing back at all," Vice Admiral Jim Malloy, commander of the U.S. Navy's Bahrain-based Fifth Fleet, said in an interview.

The United States, Saudi Arabia, Britain, France and Germany have publicly blamed the attack on Iran, which denies involvement in the strike on the world's biggest crude oil-processing facility. The Iran-aligned Houthi militant group in Yemen has claimed responsibility.

Malloy did not comment on any U.S. intelligence guiding his assessment. But he acknowledged that he monitored Iranian activities closely, when asked if he had seen any concerning movements of Iranian missiles in recent weeks.

Malloy said he regularly tracks Iranian cruise and ballistic missile movements -- "whether they're moving to storage, away from storage." He also monitors whether Iran's minelaying capabilities head to distribution sites or away from them.

"I get a briefing of movements on a daily basis and then assessments as to what that could mean," he said.

Relations between the United States and Iran have deteriorated sharply since President Donald Trump pulled out of the Iran nuclear accord last year and reimposed sanctions on its oil exports.

For months, Iranian officials issued veiled threats, saying that if Tehran were blocked from exporting oil, other countries would not be able to do so either.

However, Iran has denied any role in a series of attacks that have followed, including against tankers in the Gulf using limpet mines earlier this year.
UN nuclear watchdog says Iran taking 'step in right direction'
The UN's nuclear watchdog said Friday Iran had taken "a step in the right direction" towards dealing with questions on its nuclear program but cautioned that the issues have not been "completely addressed."

The International Atomic Energy Agency (IAEA) did not detail what the questions related to but said it was "discussing substance" with the Iranians.

There has been "engagement" from Tehran in recent weeks on questions relating to its nuclear safeguards declarations to the agency, IAEA acting head Cornel Feruta told journalists in Vienna.

"[That] engagement doesn't mean that the issues are completely addressed but it's a step in the right direction," he added.

Feruta said the queries did not touch directly on the faltering 2015 nuclear deal between Iran and world powers but rather on Iran's separate safeguards agreement with the agency.

Diplomatic sources in Vienna say the agency has been waiting for information from the Iranians relating to samples taken earlier this year from a warehouse near the capital Tehran.
France: Iran, US have one month to come to negotiating table
Iran and the United States have one month to get to the negotiating table, France's foreign minister warned, suggesting Tehran's plan to increase its nuclear activities in November would spark renewed tension in the region.

French President Emmanuel Macron attempted but failed to broker talks between US President Donald Trump and Iranian President Hassan Rouhani in New York last week.

"We consider that these initiatives, which didn't succeed, are still on the table and it is up to Iran and the United States to seize [them] in a relatively short amount of time because Iran has announced new measures to reduce its commitments to the Vienna accord in November," Jean-Yves Le Drian told parliament's foreign affairs committee.

Iran is breaching the restrictions of its 2015 nuclear deal with major powers in response to US sanctions imposed since Washington pulled out of the agreement in May of last year.

It has said its next roll-back would be at the start of November, and diplomats fear that this next breach could force European powers, which are trying to salvage the accord, to respond.
Iran rejects French call for release of dual national scholar
Iran said on Friday that France's call for it to release a detained French-Iranian scholar was an interference in its internal affairs and would not help resolve the issue, the official news agency IRNA reported.

France's Foreign Ministry on Thursday demanded Iran release dual national Fariba Adelkhah, a senior research fellow at Sciences Po university in Paris, who was detained on unspecified charges earlier this year.

"(Iranian Foreign Ministry spokesman Abbas) Mousavi said the French Foreign Ministry's interference in the case of an Iranian citizen was irrelevant..., and added: 'This will not only fail to help resolve the issue, but rather make the legal process more complicated'," IRNA reported.

Rights activists have accused Iran of arresting a number of dual nationals to try to win concessions from other countries - a charge that the Islamic republic has regularly dismissed.

Adelkhah's arrest came at a time when France and other European powers were caught up in an international standoff over Tehran's 2015 nuclear deal, which the United States abandoned last year.
U.S. Sanctions Paralyze Imports via Iranian Ports
More than 20 ships carrying around one million tonnes of grain are stuck outside Iranian ports as US sanctions create payment problems and hamper the country's efforts to import vital commodities, sources directly involved in the trade said.

Trading companies such as Bunge (BG.N) and China's COFCO International have been hit by payment delays and additional costs of up to $15,000 a day as the renewed US restrictions stifle the processing of transactions, trade sources said.

According to Reuters, food, medicine and other humanitarian supplies are exempt from sanctions Washington re-imposed after US President Donald Trump said he was walking away from a 2015 international deal over Iran's nuclear program.

But the US measures targeting everything from oil sales to shipping and financial activities have deterred several foreign banks from doing any Iranian business, including humanitarian deals such as food shipments.

The few remaining lenders still processing Iranian business face multiple hurdles to facilitate payments as financing channels freeze up.
U.S. Sanctions Squeezing Iran-Backed Hizbullah in Lebanon
The conflict between Iran and the U.S. that has created tensions throughout much of the Middle East is now also being felt in Lebanon, where Washington has slapped sanctions on the Iran-backed Hezbollah and warned they could soon expand to its allies, further deepening the tiny Arab country's economic crisis.

The Trump administration has intensified sanctions on the Lebanese militant group and institutions linked to it to unprecedented levels, targeting lawmakers for the first time as well as a local bank that Washington claims has ties to the group.

Two U.S. officials visited Beirut in September and warned the sanctions will increase to deprive Hezbollah of its sources of income. The push is further adding to Lebanon's severe financial and economic crisis, with Lebanese officials warning the country's economy and banking sector can't take the pressure.

"We have taken more actions recently against Hezbollah than in the history of our counterterrorism program," Sigal P. Mandelker, undersecretary for terrorism and financial intelligence at the U.S. Treasury, said in the United Arab Emirates last month.

Mandelker said Washington is confident the Lebanese government and the central bank will "do the right thing here in making sure that Hezbollah can no longer have access to funds at the bank."
Iran's regime lashes out at German antisemitism commissioner in response to 'Post' article
The Islamic Republic of Iran's foreign ministry blasted a prominent German official on Wednesday after the commissioner tasked with combating antisemitism told The Jerusalem Post that Chancellor Angela Merkel's administration should withdraw from the Iran nuclear deal and re-impose sanctions on Tehran for its nefarious conduct.

The Iranian regime-controlled PressTV wrote that "in an online statement on Wednesday, Foreign Ministry spokesman Abbas Mousavi condemned the remarks by Uwe Becker, commissioner of the Hessian federal state government for Jewish life and the fight against anti-Semitism."

PressTV added that "Becker on Monday called on German Chancellor Angela Merkel to put Israel's security above 'possible economic interests' that comes with the deal – known as the Joint Comprehensive Plan of Action (JCPOA)."

Becker, the commissioner of the Hessian federal state government for Jewish life and the fight against antisemitism, told the Post on Monday that "the current escalation with Israel should be reason enough for Germany to advocate the.... Iran nuclear agreement, which has been undermined by Iran... [as] dead, and for the necessary sanctions against Tehran to become effective again in their entirety."
---
---
We have lots of ideas, but we need more resources to be even more effective. Please donate today to help get the message out and to help defend Israel.

Cache
At a major right-wing conference in France last weekend, former National Rally (RN) MP Marion Maréchal called on French people to resist the "Great Replacement". Maréchals comments came during a speech she gave at the "Convention of the Right" in Paris. During her address, Maréchals told her supporters that the massive demographic changes that are […]
Cache
Protesters shouted down acting Homeland Security Secretary Kevin McAleenan Monday morning, forcing him to cancel a speech he was trying to give at an immigration conference at Georgetown University Law Center.
The annual conference is sponsored by the Migration Policy Institute, a nonpartisan think tank, and regularly draws major figures ...

Cache
*BUKAN DR MAHATHIR YG TIDAK.MAHU ANWAR TAPI....*
Dr Mahathir takda masaalah serah.
Tapi harus diingat bahawa ada kelas atasan dan kayangan dlm masyarakat Malaysia yg hidup seperti lintah darat menghisap.kekayaan negara untuk kesenangan mereka.
Baru2 ini, mantan Menteri Undang Undang Zaid Ibrahim mengkritik Daim Zainuddin dan kawan2 billionaiare beliau dilaporkan telah membuat beberapa keputusan yang kritikal bagi pihak Kerajaan dan Kabinet Malaysia.
Kita mesti ingat. Kumpulan2 peniaga billionaire serta Daim sendiri yg dirujuk oleh Zaid Ibrahim ini, bukanlah kumpulan peniaga yg boleh dibanggakan. Mreka2 ini tidak pernah berjaya dalam perniagaan pun. Mereka jadi kaya hanya kerana projek-projek kerajaan yg mereka dapat secara terus tanpai persaingan hasil dari pengaruh politik mereka.
Dengan kata lain, mereka ini tidak layak mendapat kontrak kelas F pun tapi diberi kontrak2 berbillion2 ringgit sbb mereka ada pengaruh politik semata-mata. Sekarang ini mereka boleh buat keputusan bagi pihak Kabinet Malaysia, mengikut Zaid Ibrahim.
Anwar Ibrahim meringkuk dalam penjara dua kali. Dimalukan dan diaibkan dgn tudhhan meliwat yg kita tau tuduhan dan fitnah ini dimulakan oleh Daim Zainuddin sendiri sedari tahun 1996. Sila rujuk pengakuan Raja Komando (Arwahnya) yg pada mulanya dilibatkan utk menyebarkan cerita jahat ini.
Fitnah jahat ini diulang2 hanya kerana lintah-lintah penghisap darah ini takut Dato Seri Anwar menjadi Perdana Menteri.
Mereka2 ini hidup dengan menjadikan kekayaan Malaysia seperti hak milik mak bapak mereka.
Tuduhan Anwar meliwat ini digunakan dan diulang acapkali kerana mreka amat takut Anwar Ibrahim naik ke kerusi Perdana Menteri.
Bila naik sahaja Anwar Ibrahim maka lintah2 darat ini terpaksa menjalankan perniagaan mereka secara lurus dan bersungguh-sungguh. Mereka tidak boleh lagi bersambil lewa dan tidak boleh lagi membolot semua projek-projek gajah dan paus yg biasanya tidak pergi kepada orang2 kecil yang masih miskin dan bergelut dgn kehidupan yg sukar alam perniagaan.
Yang kaya semakin kaya dan yang miskin semakin merempat.
Anak2 Dr Mahathir pun tergolong dalam kumpulan ini juga.
Usaha menaikkan Azmin Ali juga menggantikan Anwar juga telah berlaku dan masih sedang diusahakan juga walaupun tampaknya konfinden utk projek ini berjaya semakin kurang memandangkan terdedahnya beberapa video jijik dan memualkan.
Anwar Ibrahim benar2 mahu melihat kekayaan negara pergi kepada orang yang sepatutnya. Bukan pergi kepada kroni dan mereka yg jadi kaya hanya kerana pemberian dari kerajaan.
Kalau usaha Anwar berjaya, Malaysia boleh menjadi sebuah negara yang maju dan tersohor di muka dunia.
Kalau gagal, Malaysia akan jadi sebuah lagi Zimbabwe dan Burkina Faso. Orang2 Melayu dan Bangsa Malaysia akan terus merempat di bumi sendiri. Berebut cebisan2 kekayaan negara manakala segelintir elit di atas meratah 80% kekayaan negara.

Ini selari dengan ayat Allah dalam Surah 3_110:
Kamu adalah umat yang terbaik yang dilahirkan untuk manusia, menyuruh kepada yang ma´ruf, dan mencegah dari yang munkar, dan beriman kepada Allah. Sekiranya Ahli Kitab beriman, tentulah itu lebih baik bagi mereka, di antara mereka ada yang beriman, dan kebanyakan mereka adalah orang-orang yang fasik.
www.malaysiawaves.net tidak bertanggungjawab di atas setiap pandangan dan pendapat yang diutarakan melalui laman sosial dan halaman komen blog ini. Ia adalah pandangan peribadi pemilik akaun dan tidak semestinya menggambarkan pandangan dan pendirian blog ini

Last Testament by Zaid Ibrahim
Zaid Ibrahim -November 10, 2018 1:31 PM
13.6k
Shares
11.7k 1.6k 283


The world came crashing down on me after I suggested in a tweet and a blog posting that Tun Daim Zainuddin and his billionaire friends were making key decisions for the Pakatan Harapan government.

First Mr Lim Guan Eng called and said my statement was uncalled for as it was not true and not based on facts. He suggested that I make a retraction. Then my closest friends asked why I was picking unnecessary fights with so many people. Even my family members seemed unhappy. They told me we would no longer have food on the table if I continued giving opinions about powerful people in the country.

The die is cast.

I now fully retract my statement about Tun Daim's involvement with the Pakatan Harapan government and the reference to his role in making important decisions. I regret my unfair and unjustified remarks and apologise to both Tun Dr Mahathir Mohamad and Tun Daim Zainuddin for the anguish my writing has caused them both. In all my years of writing, I have taken great pains to ensure the accuracy of the information I received, but this one is obviously faulty and has crossed the line of responsible writing. I much regret it.

To my readers:

I have decided it's best for my self esteem and my family's welfare that I cease writing altogether. I started writing regularly nine years ago. It's difficult to write with honesty and some courage without upsetting or hurting some feelings somewhere.

Five years before the Wall Street Journal report about the 1MDB scandal came out, I gave a speech at the Kuala Lumpur Rotary Club where I spoke of the undesirability of having Dato Seri Najib Razak succeed Tun Abdullah Badawi as prime minister because of the many financial scandals that I believed he was embroiled in although the stories were not out yet.

The reaction was fast and furious, just like it is now, and that's why I took the step of retiring from my firm Zaid Ibrahim & Co so that it would not suffer from the association with me. Such was the heavy price I had to pay for the freedom to speak on matters that I thought were important to the country.

Having left the firm, I continued writing, on average three times a week. Sometimes I ran foul of the law, at least as perceived by the then attorney-general. I was in and out of court countless times. Fortunately for me, my friends M Puravalen, Americk Singh and Gopal Sri Ram took the cases pro bono and I was able to survive five long years of court actions.

I thought that a new country would be born from the struggles of the people against Najib Razak, and I was playing my part as a responsible citizen should. I got pats on my back for those writings and no one then said I was picking unnecessary fights. Now an opinion piece on Tun Daim has caused so much anger from so many, exacting another heavy price from me.

Not only I will stop writing altogether, I will no longer be a member of any political party. I have wasted enough years in politics, thinking I could make some difference to the country, but it's not to be. Maybe Malaysian politics does not need someone like me and I have realised this a little too late. I thought I had given Pakatan Harapan enough in the last eight years to at least get some respect and recognition from its members, but it's not to be.

I will now start working again to pay for the debts I have accumulated in the many years in the wilderness. To my friends who remain steadfast and support me in finding a job again, I say thank you. To my readers, I appreciate your support too. They called me all sorts of names – maverick and what not – but don't believe them. I am just a simple man who believes in truth and justice, but I don't have the means to fight anymore.

Zaid Ibrahim is a former law minister.

The views expressed are those of the author and do not necessarily reflect those of FMT.
Cache
Assists a licensed Speech Pathologist by implementing, as appropriate for scope of practice, treatment programs to inpatient/outpatient members having specific communicative disorders, excluding complicated neurologically based disorders, craniofacial & laryngeal & oropharyngeal disorders. Performs job duties under close supervision of licensed Speech Pathologist(s). Essential Functions: - Upholds KP's Policies & Procedures, Principles of Responsibilities & applicable state, federal & local laws - Implements documented treatment plans or protocols developed by a supervising Speech Pathologist - Provides individualized treatment to adults & children w/ specific communication disorders under the supervision of a Speech Pathologist - Documents patient progress toward meeting established objectives & reports the information to a supervising Speech Pathologist - Assists the Speech Pathologist during assessments, including, but not limited to, assisting w/ formal documentation, preparing materials & performing clerical duties for a supervising Speech Pathologist - Complies w/ JCAHO, federal stat, local & health plan regulations - Observes all regional, medical center & department policies & procedures - Maintains privacy & confidentiality of medical information - Observes universal precautions & all infection control safety procedures - Maintains standards of professional behavior established to enhance quality of service - Uses appropriate titles & greetings for patients, families, physicians & staff - Treats all patients in accordance w/ Patient's Bill of Rights - Attends required in-services - Communicates clearly, effectively & appropriately at all times - Written & verbal communication must be clear, concise, legible, timely, accurate, complete & appropriate at all times - Maintains a courteous, professional relationship w/ patients, families, other members of the department & health care team - Maintains equipment, supplies & work area in accordance w/ department guidelines - Follows department policies related to equipment & maintenance - Assists in maintaining clean & safe work areas - Demonstrates an understanding of the cognitive, physical, emotional, chronological maturation process in delivery of services to patients of the age group served - neonatal, pediatric, adolescent, adult or geriatric - Documents clinical activities in a timely, comprehensive & accurate manner following department policies & procedures - Demonstrates effective teaching techniques when instructing patients and/or family members - Performs other related duties, as assigned

Cache
Striking portrait of American Socialist leader Eugene V. Debs for the cover of the leftist magazine The Liberator, May 1919
The previous month Debs had entered prison to serve a ten year sentence for a speech he gave in opposition to the First World War. He would run for President in 1920 while still in prison. He was released by Presidential commutation in December, 1921 after a mass campaign for his freedom.
As he entered the prison Debs wrote "I enter the prison doors a flaming revolutionist, my head erect, my spirit untamed and my soul unconquerable."
The portrait captures that spirit admirably.
For a letter Debs wrote about his imprisonment to readers of the magazine in March, 1919 see below.
(The Daily LIFT - Leftist Image for Today - is a new The Left Chapter feature posting a daily photo, cartoon, artwork or other image related to leftist history or contemporary realty.)
Cache
Investment now nudging one percent of GDP.
It was just one graph, but it said it all.
Prices paid by businesses for software in Australia might be falling, but enterprises down under are spending money at close to dotcom levels on code – only this time it's to optimise their operations rather than chasing a meme.
That's the take from one of the most remarkable snapshots of local investment in software yet, produced not by an analyst firm or vendor, but the by the Assistant Governor for the Reserve Bank of Australia's Economic division, Dr Luci Ellis.
It's a highly significant number, not least because it (partially) documents the broader role of computing in the national economy.
In fact, software investment levels in Australia are now primed to punch through one percent of nominal GDP (gross domestic product) that stands at $19 trillion.
And in case you wondered where the skills shortage came from, the software cut of that pie is easy to measure and equates to (roughly) $19 billion.
It's a a sustained trend that, over the last ten years or so, shows more local money is broadly and consistently being poured into software smarts – and as a core part of the economy rather than because of a sugar hit or cyclical factor.
Based on RBA and Australian Bureau of Statistics (ABS) data, Ellis bowled-up the chart and stats – Computer Software Investment; Share of Nominal GDP – in a speech last Friday that sought to demystify how the central bank sources, charts and uses data to make economic predictions.
Notably, the chart (below) isn't part of a regular series, but was put together specifically to illustrate what to factor in or out when trying to determine what indicators to use when plotting where the economy is headed.
In the past that might have been new car sales, spend on industrial plant and equipment, retail turnover … but now it's software, at least for the purposes of Ellis' speech, memorably titled "Lumps, Bumps and Waves".

She's not afraid to chunk down the concepts or simplify the lingo either.

"Simple, non-technical descriptions can show why it's useful to know something about the underlying shape of a particular special factor. If something is a lump or a bump, it doesn't mark the beginning of a change in trend. Its effect may not last," Ellis observed.

"In developing our forecasts or setting monetary policy, we might want to look through those lumps and bumps, and focus instead on the longer-term trends."

Even more simply, it's "the signal in the noise".

"We have to be careful to avoid seeing paradigm shifts in every wiggle in the data. But structural change permeates the economy, and always will," Ellis said.

But these days software spend isn't just a business trend, it's a broader wave of change triggered by factors external to the economy,

Ellis notes there are a few 'bumps' on the chart "culminating in a peak around the dot-com boom and Y2K rectification work" where it peaks at just over one percent of nominal GDP in the very early noughties before taking a very unceremonious slide until around year before the GFC.

Then, around 2012-2013, software investment takes off like a rocket – Amazon Web Services put its first DC on Australian soil in 2012 – before near vertical growth gently tapers but still stays strong.

"More recently, this type of investment has again been increasing faster than the economy as a whole, as firms adopt mobile, cloud and other new technologies," Ellis observes.

The thing to remember is that the graph is tracking software investment across the economy rather than just against previous sales, revenue or pricing.

So even if software, especially cloud and SaaS, fell in price compared to on-prem, it became more accessible and affordable, presumably at the expense of hardware.

There's good reason for RBA to be sticking its nose into Australia's software sector too.

Not least because things once loosely categorised as 'digital' are now influencing the shape of the broader economy, and with it the outlook for jobs and growth.

Australia's conundrum is that wages growth has remained stuck and some parts of the economy are doing far better on the digital front than others.

The influence of software and technology on the economy, or the so-called tech effect, was called out by RBA Governor Philip Lowe in June 2018.

The picture Lowe painted at that time was a paradox where there was still spare capacity in the labour market, yet firms found it harder to get suitable workers, with little or no translation to increases wages.

Ellis' chart is the latest valuable piece in figuring out that puzzle.

Got a news tip for our journalists? Share it with us anonymously here.
Cache
WASHINGTON (AP) — Melania Trump will hear directly from teens and young adults about their experiences with electronic cigarettes and vaping.
The White House says she has invited a group from the Truth Initiative to participate in a "listening session" Wednesday. It will be the second time this week that the first lady has highlighted e-cigarettes and vaping among youth.
Mrs. Trump used a speech Monday to call on companies to leave children out of marketing campaigns for e-cigarettes.
Scheduled to join her at Wednesday's session are Health and Human Services Secretary Alex Azar and White House counselor Kellyanne Conway.
The Truth Initiative says it's the largest nonprofit public health organization dedicated to achieving a culture where all youth and young adults reject tobacco.
Cache
Federal Reserve Board Chair Jerome Powell delivers a speech on the U.S. economy, monetary policy and more.

Cache
Federal Reserve Board Chair Jerome Powell takes questions on the U.S. economy after delivering a speech in Denver, Colorado.

Cache
Federal Reserve Board Chair Jerome Powell takes questions on the U.S. economy after delivering a speech in Denver, Colorado.

Cache

Exclusive Excerpt—Charles Hurt: 'Still Winning: Why America Went All In on Donald Trump—And Why We Must Do It Again'

When Trump jumped into the presidential race in 2015, he was a well-known figure. He had been in the hot glare of the New York tabloid media for decades. Everything from the unveiling of golden buildings that bore his name to raunchy details about his various divorces made headlines. His business accomplishments in the real estate world and his success as a reality television star put him on par with a tiny handful of stars known around the world by one name.

But when Trump descended the escalator in Trump Tower that day, he had made political headlines more recently for something entirely different.

Four years earlier, Trump shocked the political world by launching a campaign questioning whether President Barack Obama was born in the United States. For the entire political-media establishment inside Washington, D.C., this merely proved that Donald Trump was some kind of crazy conspiracy loon. For these establishment people, it also proved Trump was a racist. […] But outside Washington, Trump simply proved he was willing to talk about things and ask questions about things that the entire political establishment had deemed unmentionable—even racist.

Having already demonstrated his unflinching willingness to go crashing wildly into the choppy waters of political incorrectness, Donald Trump was ready to announce his campaign for the presidency. From the first words, it was clear this would be a different kind of candidate running a different kind of campaign.

"Wow. Whoa," he said, admiring the crowd cheering him from all sides and the balcony above. "That is some group of people. Thousands," he said.

That line still gets me. Literally, within the first ten words of Trump's campaign—even before he actually announced his intentions—Trump was focused on crowd size. Much more on that later. But suffice it to say that in the years since Trump uttered those words, he has talked a great deal about crowd sizes, and it has driven his enemies absolutely out of their minds. Which, in turn, brings wild, lusty cheers from audiences who pack monster truck arenas to see their president perform.

After admiring the assembled crowd, he thanked them. He called it "an honor" to have them in "Trump Tower."

Never. Stop. Selling.

I think it was along about that moment in his speech that I said to myself, This guy could be our next president.

His message was simple. Clear. Pro-American. He was selling something. He was telling a story. After seven years of bitter disappointment and the wasted opportunities of Barack Obama's nerdy, professorial, lecture-some presidency, this guy could be just what America needs, I thought.

Quickly, Trump got back to the size of his crowd.

"This is beyond anybody's expectations," he beamed. "There's been no crowd like this."

Then he attacked. Ferociously.

Some of the Republicans who had already announced for president botched their kickoffs. The air conditioner didn't work, or something. "They sweated like dogs," Trump sneered.

Worse, their crowds were too small for the rooms they hired.

And then the kill shot: "How are they going to beat ISIS?" he asked.

"I don't think it's gonna happen. Our country is in serious trouble."

It's a fair point. If you cannot pull off a simple announcement speech on television, then how on earth can you possibly be expected to destroy the most diabolical and determined jihad of our time?

There is a larger point here as well. It has to do with language.

In the very first moments of his announcement speech, Donald Trump was declaring a pact with American voters. Earlier, he had proved his willingness to go wildly off script from establishment officialdom when he brazenly questioned Obama's birth certificate.

Now he was promising to use the same scalding rhetoric and blunt honesty to expose and fix a whole host of grievous maladies facing regular Americans across the country.

Maladies that had crept into American society over the decades under the blind—or, often, encouraging—eye of political leaders in both parties.

Terrorism, globalism, "free" trade, illegal immigration, legal immigration. Trump was willing to be as belligerent as he needed to be in order to finally stand up to ISIS, China, Japan, Mexico, and the entire global world order.

Trump shrewdly understood in that moment that if political candidates were incapable of speaking bluntly about thorny issues, or if they shied away from harshly identifying America's enemies, then there would be no hope for anything ever getting better.

Standing there in my office, watching this amazing spectacle unfold, it was that different way of talking that most gripped my attention. A wildly fresh vocabulary with sharp notes of brazenly impolitic honesty.

"The U.S. has become a dumping ground for everybody else's problem," Trump said, just a few lines into the speech.

My goodness, I thought. Nobody in Washington talks like this. But it sounds like exactly what you hear just about anywhere if you leave Washington, D.C., or New York City.

"When Mexico sends its people, they're not sending their best. They're not sending you. They're not sending you," he said, karate chopping the air.

"They're sending people that have lots of problems and they're bringing those problems to us. They're bringing drugs, they're bringing crime, they're rapists, and some, I assume, are good people."

On its face, this statement is technically true. Illegals from Mexico (and other places south of the border) come into the United States. They smuggle drugs into the country. They certainly commit crimes (including illegally crossing our border). And some of them are indeed rapists.

Trump was highlighting a real, destructive and expensive problem that a lot of American voters care deeply about. Yet almost nobody in Washington cares about fixing it.

Democrats are desperate to change the voting electorate. So, they want every warm body they can get into the country to hustle to the voting booth. Republicans, being more business friendly, are delighted to turn a blind eye on a process that floods our country with cheap labor.

The only group without a voice in this debate were millions of regular American voters. Until Trump announced his campaign.

Donald Trump's furious assault on the political establishment brought condemnations from every corner of it. Sure, those people were perfectly content letting political sleeping dogs lie. China ripping off America was no big deal for them. Free trade was going gangbusters for the stock market and Wall Street. Everybody who was anybody was making a killing off illegal immigration. Cheap nannies for all!

But the seething rebukes of Trump and his announcement speech were about so much more than just those issues. They were about Trump's language, his rough-and-tumble demeanor, and his willingness to court such political upheaval.

In her memoir, former first lady Michelle Obama eviscerated the man who followed her husband into the White House for just this. Trump's questioning of Obama's birth certificate, she wrote, "was crazy and mean-spirited, of course, its underlying bigotry and xenophobia hardly concealed."

Again, any hint of questioning Obama's American loyalty was deemed racist. Such a questioner was not just called out as dishonest or stupid or uninformed. They were flat-out racist for questioning Obama's alliances.

That was not all Michele Obama had to say about Trump and his style of politics. Trump's birth certificate inquiry "was also dangerous, deliberately meant to stir up the wingnuts and kooks," she wrote. "What if someone with an unstable mind loaded a gun and drove to Washington? What if that person went looking for our girls? Donald Trump, with his loud and reckless innuendos, was putting my family's safety at risk. And for this I'd never forgive him."

Wow. Perhaps Michelle Obama spoke too soon when she said that she was finally proud of her country once her husband got elected.

But I have to ask: What is more incendiary? Asking questions about where a political opponent was born? Or accusing a political opponent of deliberately and willfully trying to inspire "wingnuts and kooks" to assassinate the daughters of a president?

While we're at it, what about a president who wades into local police issues around the country and his only contribution is to inject race into them? What about a president who goes around the world apologizing for America and giving long lectures about how America is exceptional, you know, like every other country on the planet is exceptional in its own way. In other words, nothing exceptional whatsoever about America. What about a president who belittles Americans for their "guns" and their "religion"?

After eight years of insufferable academia out of the White House, it should have been little surprise that American voters would be in the mood for something very different. They would be looking for a guy who speaks bluntly and paints vivid pictures. A guy who spent years savoring his time talking to the workers and tradesmen who built his buildings, and learned to talk like them. Above all, he was listening and listening and taking to heart what he was hearing.

Every now and then, some reporter churns a Trump speech through some word program on the Internet that calculates the grade level the speech was written at. As in sixth-grade level, meaning a sixth grader could understand it. And these simpering, obnoxious, arrogant asses somehow think that speaking so plainly is an insult, when Trump—along with American voters—knows it is actually the highest, most honest achievement there is.

Independent Authenticity Voter

Strangely, this was a counterintuitive gambit for some of the very same voters who wound up stunning the political establishment by voting for Trump—after having voted for Barack Obama. Twice! I call them the independent authenticity voters. They don't much care about parties and don't particularly like Washington politics. But every four years they generally turn out and vote. And when the noise of the campaign gets as loud as it does every four years, they are reminded of how much they despise politics and most politicians. But they mostly turn out and vote.

Overwhelmingly, they choose the lesser bastard. The least dishonest one. The one they think comes closest to being genuine and authentic. In 2008, that was obviously Barack Obama. His hopeful campaign about neither red America nor blue America but one red, white, and blue America resonated with these voters. Funnily enough, the late senator John McCain would have appealed to these very voters eight years earlier when he was still a true political "maverick" and before he got co-opted by Democrats and the media (I repeat myself) to kneecap Republicans at every turn. As bad as things were in 2012, President Obama still had enough authenticity left in the tank to beat the hopelessly repackaged Mitt Romney.

These voters yearned for someone authentic to be president. Most horrifying to mainstream political observers is the number of voters who voted for President Barack Obama—twice!—because they thought he was that authentic nonpolitician. Oh, how they were betrayed!

The accepted language of politics is defended by those who practice it as merely polite and responsible. And this is often true. I know many decent politicians and staffers and journalists who embrace polite language. And they are disgusted by anything else in the political arena.

If the 2016 election proved anything, it proved that Donald Trump was exactly right. There was, after all, a tremendous thirst out there for something different. Something new. Above all, something authentic.

So, from the very first lines of his announcement speech that day at the foot of his glass escalator, Mr. Trump proved to be impolitic. Unpolished. Dripping with authenticity. That guy you know who talks rough, who doesn't own a set of church clothes but would be the first person you would call if you found yourself in a life-threatening situation and needed some really dirty work handled.

Trump knew at that moment that he had to break through all the soft, white noise of modern American politics. All the fake niceties of acceptable political speech. After all, it was a lie and had been for a very long time. Behind all those fake niceties were the raw, brutal realities of vicious politics played by the nastiest of operatives going back decades. They peddled in the most dishonest, soul-crushing, character-destroying sewage that you could imagine—but then wore nice seersucker suits at garden parties, talking all sorts of high-minded pleasantries.

Yuck!

Donald Trump saw all of this for exactly what it was. It was a fraud. Whether it was trade, immigration, wars, spending, or taxes—it was all a fraud. The American people were getting taken to the cleaner's financially, and the American people were getting sold out as losers.

And Trump wasn't even president yet! He was still just one of sixteen people vying for the Republican nomination. If you polled the media that day, every single reporter in all of politics would have given Trump a zero percent chance of winning the nomination, let alone the presidency.

After the speech was over, I called my office at the Washington Times and told my editor to scrap the column I had filed—that a new one was on the way. I endorsed Donald Trump, something I had never done before in a newspaper column. Because, after all, who gives a crap what I think about anything? But this was clearly something different. The speech was brilliant. It was daring, to be sure, but it also reflected an enormous amount of intentional thought. Trump had been listening very closely to voters. He had also been talking to some very smart people who clearly follow politics closely and understood the political landscape far better than any of the self-anointed geniuses inside the Beltway.

So I picked up the phone and called Steve Bannon, a friend who I knew liked to dabble in the more contrarian world of counterpolitics. We agreed the speech was great and, of course, Bannon told me he had been talking to Trump. A speech had been written. Bannon had seen it as late as the night before, he said. But the speech Trump delivered on live television to the country was entirely different than the one that had been prepared.

"Yeah, he didn't read the speech," Bannon marveled. "He got up there and just decided to wing it!"

Even at that point, Trump was not to be handled or scripted or managed or staffed. He was going on nothing but his own raw political instincts. And in the end, voters trusted Donald J. Trump to remain in character more than they trusted any politician to keep his campaign promises.

That turned out to be a pretty smart bet.

SOURCE
**********************************

Dems Vote To Enhance Med Care for Illegals Now, Vote Down Vets Waiting 10 Years for Same Service

House Democrats voted Thursday to fast-track an electronic medical records system that would serve illegal immigrants, something America's veterans have been seeking for years.

The House passed the bill on a largely party line vote of 230-184, American Military News reported. Only two Republican congressmen supported the bill — Brian Fitzpatrick of Pennsylvania and Fred Upton of Michigan.

The proposal has yet to be considered by the Republican-controlled Senate.

The Democratic proposal would require the Department of Homeland Security and U.S. Customs and Border Patrol to create an Electronic Health Records system.

Part of that system's job will be to provide information to Congress on the health of migrants who enter the country illegally, according to The Hill.

The bill gives the DHS 90 days after the bill receives final approval to get the job done. In contrast, the Veterans Administration has been working for years to implement an EHR system for veterans.

Democratic Rep. Lauren Underwood of Illinois said it is important for Congress to ensure that workers at the border are doing their jobs.

"As DHS works to improve its medical screening of children and migrants at the border to ensure there is a minimum standard of care, the need for proper record keeping on those screenings will only increase," she said.

Underwood said that the bill was based on her experiences touring America's southern Border.

"When I was at the border I saw busy, overworked Border Patrol officials having to keep health records on paper. I also saw how these records don't follow migrants between facilities and transfers of custody," she said.

But critics wondered how adding more responsibilities to overworked Border Patrol officials would fix anything

"I oppose this bill because it is poorly conceived, erroneously drafted and extremely risky," Republican Rep. Jim Banks of Indiana said.

SOURCE

**********************************

For more blog postings from me, see TONGUE-TIED, EDUCATION WATCH INTERNATIONAL, GREENIE WATCH, POLITICAL CORRECTNESS WATCH, AUSTRALIAN POLITICS, and Paralipomena (Occasionally updated), A Coral reef compendium and an IQ compendium. (Both updated as news items come in). GUN WATCH is now mainly put together by Dean Weingarten. I also put up occasional updates on my Personal blog and each day I gather together my most substantial current writings on THE PSYCHOLOGIST.

Email me here (Hotmail address). My Home Pages are here (Academic) or here (Personal). My annual picture page is here

**************************




Cache
Over the past 20 years Dimity Dornan has helped countless hearing impaired children to listen and speak like children with normal hearing. A speech pathologist turned social entrepreneur, Dimity founded Hear and Say in 1992, developing it into one of the world's leading paediatric auditory-verbal and cochlear implant centres.
Today, Hear and Say provides services for over 600 children and families across Australia, and delivers global professional training for similar centres and universities across the world. As Executive Director, Dimity continues to use her medical background and sharp business acumen to advocate for a realistic solution for deaf children. Dimity has received a number of awards, including the Ernst and Young Australian Social Entrepreneur of the Year (2005) and Telstra Business Woman of the Year (2011).
Game Changers is a Queensland Business Leaders Hall of Fame initiative presented by SLQ, QUT Business School and the Queensland Library Foundation. The Queensland Business Leaders Hall of Fame, celebrates, records and retells the stories of Queensland business leaders and their contributions to Queensland.

Date: Wednesday, 21 May 2014
Time: 6pm
Venue: Auditorium 1, Level 2, State Library of Queensland
Cache
Death Toll In Iraq Soars As Pro-Iran Gunmen Start 'Shooting Protesters'
Authored by Patrick Cockburn via The Unz Review,
Iraqi paramilitary groups close to Iran are suspected of joining attacks on protesters in Baghdad and other cities, leading to heavy loss of life among demonstrators. Some 107 people have been killed and over 6,000 wounded in the last six days, though hospital doctors say the government is understating the true number of fatalities.
"The pro-Iranian militia have each taken a sector of Baghdad and are responsible for its security," a source, who does not want his name published, told The Independent.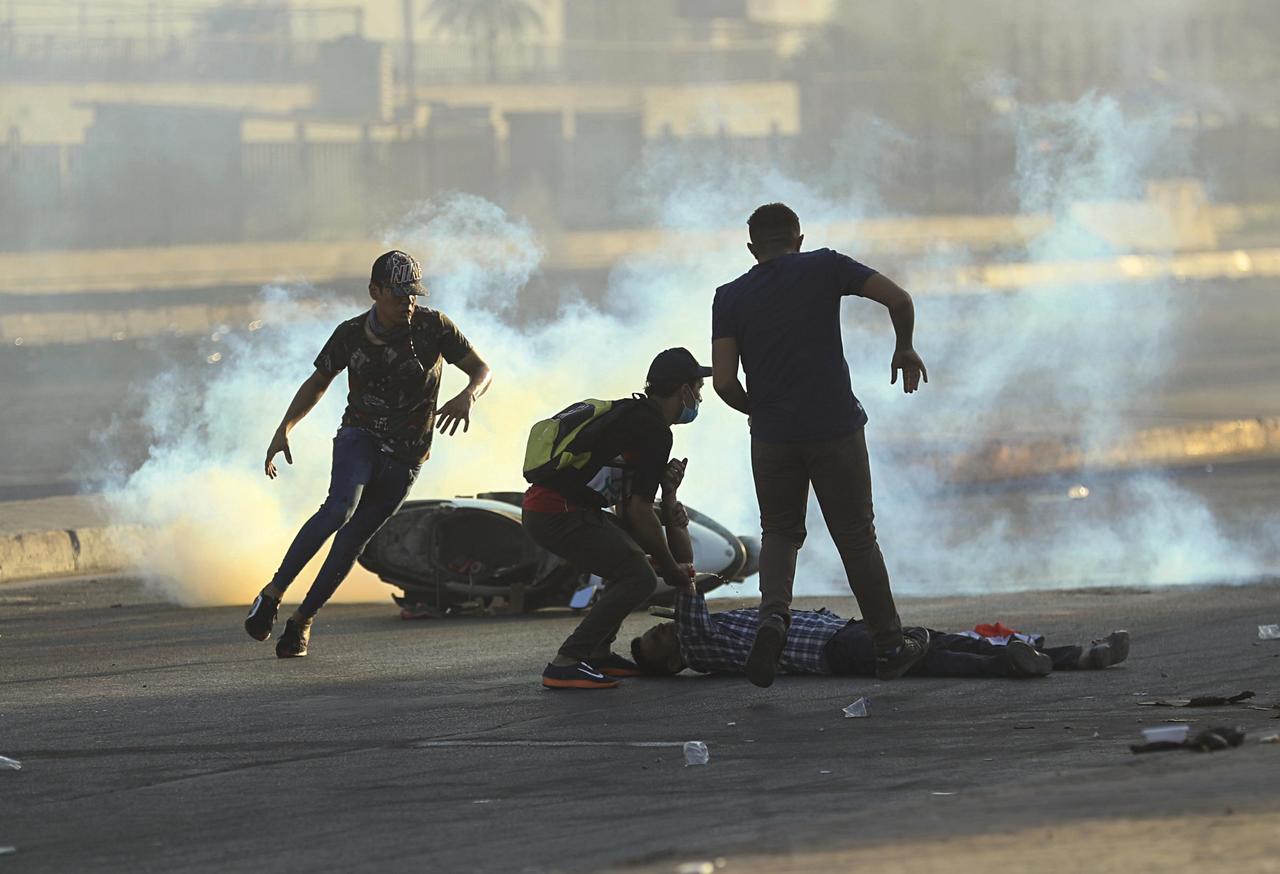 He said that snipers belonging to these groups had fired live rounds at protesters, often aiming for the head or heart. Eyewitnesses say that Iraqi soldiers are also firing directly into crowds of the protesters, who are demanding the fall of the government, jobs and an end to corruption.
The gunmen shooting protesters come from pro-Iranian factions of the Hashd al-Shaabi or Popular Mobilization Units, an 85,000-strong strong body that came into being to stop the Isis advance on Baghdad after the fall of Mosul in 2014. It is a coalition of about 30 groups, many of them predating Isis, which is paid for by the Iraqi government and nominally under its control, but with widely varying political loyalties. They includes powerful units, such as Ketaeb Hezbollah, which say opening that their first loyalty is to the Iranian leadership.
The demonstrations in Baghdad and in much of Shia southern Iraq are largely spontaneous, but where there are local leaders they have sometimes been singled out for killing.
Haider Karim Al-Saidi, a leading organiser of the protests, was shot dead by a sniper near Al-Mudhafar Square late on Sunday night. Earlier, witnesses had reported that they had seen snipers taking up positions on roof tops overlooking the square.
Footage shows how snipers, allegedly belonging to Iran-backed militias, were targeting peaceful protesters in Baghdad in cold blood.
Who holds these militias accountable for this heinous crime? #Iraq pic.twitter.com/nNobrvXoz7

— Baxtiyar Goran (@BaxtiyarGoran) October 8, 2019
The paramilitaries have assaulted injured protesters in hospital: a doctor working in the Medical City complex in central Baghdad said that members of a paramilitary group called Asaib Ahl al-Haq, known for its pro-Iranian sympathies, had broken into a hospital ward filled with wounded demonstrators and started hitting them. When he protested, he was told "to mind his own business" and was beaten with a baton.
An Interior Ministry spokesman Saad Maan said that 6,107 people had been injured in the unrest, including 1,200 members of the security forces. Public buildings and political party headquarters have also been destroyed.
A paramilitary group called Kataib Hezbollah, which has no connection with the Lebanese group with a similar name but is strongly supportive of Iran, is alleged to have ransacked at least ten television stations that had been giving full or sympathetic coverage to the demonstrations. In one case gunmen in balaclavas arrived in twelve white cars without license plates and wrecked studios, seizing computers, beating up staff and taking their wallets and mobile phones.
The government has expressed suspicion that a third party is playing a role in provoking greater violence, through using snipers who shoot to kill. Interior Ministry spokesman Saad Maan said at a press conference that "malicious hands" were targeting protesters and security forces alike. This may be true in part but is also a bid by the security forces to evade responsibility for firing directly into crowds, though there is every sign that they have been doing just that. Repressive measures have included a two-day curfew, a continuing ban on the internet, and pre-emptive arrests.
In #Iraq unseen snipers are firing at both protesters and police. The last time this happened was in 2005 and the 2 British SAS were caught being behind it. https://t.co/SaX7Fl6R7F

— Syrian Girl 🇸🇾 (@Partisangirl) October 6, 2019
The demands of the protesters have become more radical since last Tuesday, as the casualty toll has mounted, with growing calls for the fall of the government of Adel Abdul Mahdi. He has shown himself to be ineffective, making a speech at the weekend in which he outlined a 17-point plan including unemployment benefit and subsidised housing but he made little impression. In his year in office, Mr Mahdi has failed to introduce any important reforms, so his sudden zeal for change carries little credibility.
The signs are, for the moment that repression will continue but also that it will not succeed. "The protesters are very young and feel they have little to lose," says one observer. "They will go on protesting whatever happens."
Despite Iraq enjoying monthly oil revenues of over $6 billion, pervasive government corruption since the fall of Saddam Hussein in 2003 has meant that there has been little new building of roads, schools and hospitals and there is a chronic shortage of electricity and, in some cities, water.
Above all there is a lack of jobs with a population at 38 million, growing by one million year and 70 percent below the age of 30. Many of these are jobless and include 307,000 graduates. Some of the have been camped outside ministries in Baghdad for the last three months asking for jobs appropriate to their qualifications, but not getting them.
Popular anger over long-standing socioeconomic grievances has been increasing year by year and the defeat of Isis in the siege of Mosul in 2017 means that the government no longer has the excuse that all its energies and resources are absorbed by the war against al-Qaeda type groups.
But this does not quite explain why the Iraqi government – along with pro-Iranian paramilitary groups – should have reacted so violently and counter-productively against a relatively small protest march on the Jumhuriya Bridge in Baghdad last Tuesday.
AFP Report: Security forces said "unidentified snipers" had killed four people including two police in Baghdad...
#UPDATE Security forces said "unidentified snipers" had killed four people including two police in Baghdad, and AFP journalists reported hearing rapid automatic rifle fire across the capital in what appeared to be the most chaotic day of protests yet https://t.co/dfPQgOynVo

— AFP news agency (@AFP) October 4, 2019
There have been much bigger protests without provoking such violence in previous years, including one last year in Basra that was close to a general uprising, but without live rounds being fired at demonstrators. In 2016, demonstrators stormed the Green Zone in Baghdad and ransacked the parliament building and the prime minister's office while the security forces stood by.
Explanations for the self-destructive reaction of the government this time round include Prime Minister Adel Andul Mahdi's advisers being dominated by military hawks prone to rely on force and with little political understanding. The aggressive role of the pro-Iranian paramilitaries is evidence that Tehran fears peaceful anti-government mass protests, along the lines of the Green Movement in Iran in 2009 and in Syria in 2011, both of which, at their peak, threatened regime change.
"The Iranians want to militarize the situation so it cease to be a mass movement," says one Iraqi commentator. This would explain the shooting of so many demonstrators. But by over reacting the government and the Iranians may have provoked the very situation that they want to avoid.
Tyler Durden
Tue, 10/08/2019 - 16:45



Next Page: 25 © Googlier LLC, 2019