Cache
Hold it right there! Do you need law enforcement personnel to add to your security force? After all, who's going to back up our brave security guards when the aliens attack? Your valiant City Police, that's who! This expansion for the Security! for Genesis 2 Male set allows you to create realistic police uniforms with many working props and smartprop presets (including a gun and handcuffs, among many others).

Price: $9.95 Special Price: $4.98
Cache
Delil Souleiman/GettyLate Sunday night in Washington, the White House announced it was pulling U.S. troops out of northeast Syria to clear the way for a Turkish invasion. The Kurds there who led the fight on the ground that defeated the so-called Islamic State had seen President Donald Trump's betrayal coming. But still they hoped it could be avoided. "Don't let the Turks disrupt my wedding," our translator texted in September prior to our arrival in the region. For more than a year, we have been visiting almost monthly to interview captured ISIS cadres held by the Kurdish and Arab troops of the Syrian Democratic Forces (SDF) as part of a project for the International Center for the Study of Violent Extremism. Trump's Crazy Syria Move Will Wipe Out America's Allies and Set Up a Big ISIS ComebackIn September, we saw the Turkish threat to invade at any moment was held off by tense U.S. negotiations in which the SDF made considerable concessions, allowing Turkey to patrol jointly a large swath of territory while agreeing to remove checkpoints and military positions farther back from the Turkish border."They should put their patrols inside Turkish territory, and not enter Syria," SDF leaders told us at the time, as they reluctantly acquiesced to U.S. demands.* * *BITTER FRIENDS* * *Many current and former White House advisors counseled against the kind of announcement made Sunday night. Defense Secretary James Mattis resigned last year over Trump's threat to remove the few thousand U.S. troops in Syria, who not only served as advisors in the fight against ISIS, but as deterrence against Turkish operations east of the Euphrates River. In a particularly bitter post on Twitter, Bret McGurk, who served as the special U.S. presidential envoy for the fight against ISIS from 2015 to 2018, wrote, "Donald Trump is not a Commander-in-Chief. He makes impulsive decisions with no knowledge or deliberation. He sends military personnel into harm's way with no backing. He blusters and then leaves our allies exposed when adversaries call his bluff or he confronts a hard phone call."The U.S. military learned about the withdrawal plan only after Trump decided on it following his Sunday phone call with Turkish President Recep Tayyip Erdogan. It has pulled out of two small observation posts in the security-mechanism zone near the Syria-Turkey border so far. But no further withdrawals are imminent, according to a knowledgeable source. The military, remembering Trump's December order out of Syria and subsequent reversal, is waiting to learn if Trump will follow through with withdrawal this time.A recently departed senior Pentagon official considered the pullout a "blatant betrayal" of the U.S.' Kurdish partners that gives "carte blanche to Erdogan" for a widely forecast bloodletting. "It's going to be a massacre, that's clear," the ex-official told The Daily Beast. "It's fundamentally wrong. They destroyed the Caliphate."But the Kurds are not entirely defenseless. Military leaders of the dominant group, known as the YPG or People's Protection Units (and their female YPJ partners), already were in overdrive in September, preparing for what they had long anticipated—a possible betrayal by their closest ally, the United States.* * *DIGGING IN* * *Alongside every major highway and criss-crossing the entire Northern Syria area, in fields, cities and towns, we saw digging for an extensive system of tunnels. "We're ready either way," the Kurdish leaders told us when we asked if they trusted the Americans to keep the Turks at bay.Kurds don't have much, but their spirit of freedom and their desire to protect their hard-won territory and what they see as their incipient democracy was evident everywhere in September as the YPG troops prepared for battle with a much better equipped foe—the Turkish armed forces, the second biggest military in NATO. But nobody who fought ISIS in Syria in one vicious battle after another has forgotten that the huge Turkish army stood by and did nothing against the Islamic State as its killers carried out genocidal campaigns against Yazidis and Shiites, while abducting, torturing, ransoming or beheading Americans, Europeans, and Japanese, among others. Through all that, NATO ally Turkey was not interested in intervention. Far from it.That was until the White House statement Sunday night, up to which the U.S. military denied Turkey the ability to operate in airspace over SDF controlled territory, effectively making it more difficult to enter Northern Syria to conduct the "terrorist cleansing operation" that Turks insist upon. They already carried out one such operation in Afrin, west of the Euphrates, in January 2018, displacing Kurds and effectively taking over the area, using what Kurds claim are former ISIS cadres to fight for them.Turks view the Northern Syria area of Rojava, and the YPG dominated SDF, as controlled by Kurdish PKK terrorists operating under another name—wolves in sheep's clothing. Indeed, in times past—until 1998—PKK leader Abdullah Ocalan, lived freely in Syria and the father of the current Assad allowed him to train and equip his highly disciplined terrorist group for attacks into Turkey. It's also true that over time, the various governing parties of Syria, Iraq and Iran have made use of PKK assaults on Turks as a way to exert pressure on Turkish politics. Turkey has suffered greatly from PKK terrorist attacks both inside Turkey and globally, and the PKK is clearly designated on the U.S. and EU's list of terrorist organizations. In recent concessions to Turkey's alarm over the SDF, a group they view as being in the hands of the PKK, the U.S. recently added additional individuals involved in the PKK to the U.S. State Department's specially designated terrorist list. Turkey has also developed drones that fly over the Qandil mountains, in northern Iraq, making it easier to spot PKK movements and routinely send fighter jets to bomb them.  In the case of northern Syria however, until President Trump's announcement late Sunday night Washington time, the U.S. policy was to deny the Turks military incursions into territory where U.S. troops patrol and the U.S. military controls the airspace and claims by Turkey that the SDF is PKK have also been hotly disputed.While Turkey sees the SDF as dominated and led by a terrorist organization, the U.S. has a completely different perspective, viewing the YPG and SDF as valued allies in the fight against ISIS. Indeed, YPG and YPJ (Women's People's Protection Units) fighters lost over 1,000 lives fighting ISIS and it is common to see Kurdish men and women in Rojava on crutches, in wheelchairs and otherwise suffering from serious and lifelong injuries sustained in the battle to retake ISIS dominated areas, including Raqqa. While the rest of the world was silent, the YPG and YPJ can also take credit for going to the rescue of the Yazidis on Sinjar mountain in 2014, fighting to stop ISIS from carrying out a massive genocidal campaign in which ISIS cadres captured and enslaved countless Yazidi women, boys, and girls. The men were killed by ISIS, the boys killed or indoctrinated. The women and girls subsequently were raped and treated as chattel. But thousands were able to escape with YPG help.* * *THE PRISONERS* * *At present the SDF houses thousands of captured ISIS prisoners, holding the men in repurposed schools and prisons overflowing with former fighters and in camps similarly run at overcapacity for ISIS women and children. According to a March 2019 UN report, a total of 8,000 Islamic State fighters currently are held in SDF custody. In our recent visits to north and east Syria from May through August, relying on our primary intelligence sources, we were told that approximately 2,000 of these Islamic State prisoners were considered "foreign terrorist fighters" from North Africa, Europe, and the Americas.The same data was also corroborated in an August 2019 press release by the Office of the Spokesperson, Special Envoy of the Global Coalition to Defeat ISIS, Ambassador James Jeffrey. Just under a 1,000 of the prisoners are believed to be Europeans. ICSVE has interviewed approximately five percent of those detained. Most appear to have become totally disillusioned, are exhausted from battle and prison and say they want to lay down arms. While there is no specific deradicalization or rehabilitation program applied to them at present and we have been requested by the SDF and also agreed to build one, it's safe to say the majority are spontaneously deradicalizing and simply want to return home to their former lives after facing a judicial process.The SDF prisons are overcrowded and the SDF leadership repeatedly has expressed a need to ICSVE researchers for technical assistance in dealing with terrorist prisoners and for financial assistance to build at least five prisons. Riots and attempted jail breaks have occurred in SDF prisons holding foreign fighters. Likewise, recent news reporting shows over-capacity has prisoners sleeping next to each other on their sides to be able to fit into small and overcrowded rooms. Three detention centers holding ISIS women and children also are administered by the SDF: Camps Hol, Ain Issa and Roj. According to a UN Report as of April 2019 an estimated 75,000 women and children were being held. Our data suggests that at least 60,000 are Syrians and Iraqis. At least 8,000 children and 4,000 wives of foreign fighters remain in the camp.Women and children live in tents in these camps which are hot in the summer, freezing cold during winter, and leak cold rainwater as well.  Dust blows around the camps causing breathing difficulties for some. Women and children have died of typhus, tent fires, and other dangers in the camps. Recently vaccinations have been offered, but many mothers don't trust the program and refrain from having their children vaccinated. The women cook for themselves and complain that the food provided them lacks nutritious fruits and vegetables. Schools are lacking as well.All of the camps housing women have suffered from ISIS enforcers still dedicated to the group who require the other women to continue to cover themselves and punish those who speak out against them. These women have attacked other women, set their tents on fire, stolen their possessions, attacked, bitten, beaten and stabbed guards and have murdered other women creating a sense of chaos, constant danger and oppression in the camps. Recently a gun fight broke out in Camp Hol, with one woman killed and seven wounded.Foreign fighters from about 60 countries remain in SDF custody. We have interviewed foreign fighters who are nationals of the United States, Canada, Australia, Trinidad and Tobago, the UK, Belgium, France, the Netherlands, Pakistan, Dagestan, Turkey, Denmark, Russia, Kosovo, Montenegro, Albania, Bosnia, Indonesia, Tunisia, Saudi Arabia, Morocco, Libya, Switzerland, Egypt, and Germany. * * *A TRIBUNAL?* * *While the SDF has struggled to contain the overflow of captured ISIS fighters, they have been frustrated by Turkish politics and threats to their very existence. In recent years with the Syrian uprising and rise of ISIS in Iraq and Syria, the Turks saw it to be to their advantage to fund, train and equip Islamist rebels that they believed could keep the Kurdish independence movements in Syria in a weakened state or altogether destroyed. The Kurds, meanwhile, fought back in 2015 when ISIS invaded the city of Kobani on the Turkish border and rose up as a valiant on-the-ground force to repel the terrorists. The U.S. led coalition began arming and supplying the YPG and YPJ, and providing air cover, infusing the Kurds with a powerful sense of valor and military might that ultimately led to the complete territorial defeat of an Islamic State "Caliphate" that had taken as its motto "remain and expand."ISIS is hardly a defeated foe however, with weekly sleeper cell attacks occurring in both Syria and Iraq and the likes of ISIS leader Abu Bakr al Baghdadi still making video and audio appeals to supporters around the world to reinstate the Caliphate, starting with breaking the ISIS prisoners out of captivity.The subject of ISIS captives is one of great importance to President Trump who repeatedly has threatened to release the roughly 12,000 ISIS foreign men, women and children prisoners held by the SDF in prisons and camps.  Trump's view is that each country has to take its citizens back, even countries like Sweden that lack a terrorism law under which to prosecute returnees, and countries like France, which already has a serious militant jihadi prison problem and fears any more potential ISIS cadres inside its penitentiaries. These countries have continued to tell the SDF that an international tribunal can be established in its territory to try ISIS prisoners in place. But the UN Counter Terrorism Directorate and U.S. State Department strongly disagree with this proposal and President Trump continues to tweet that he is simply going to release the prisoners to European countries refusing to repatriate them—even though it is the SDF, not Washington, that has them in custody.In a series of tweets on Monday, Trump claimed erroneously that most of the ISIS prisoners are foreigner terrorist fighters and seemed to ignore that ISIS, even when based far away in Syria, is a very real threat to U.S. citizens and interests. It is "time for us to get out of these ridiculous Endless Wars, many of them tribal, and bring our soldiers home. WE WILL FIGHT WHERE IT IS TO OUR BENEFIT, AND ONLY FIGHT TO WIN. Turkey, Europe, Syria, Iran, Iraq, Russia and the Kurds will now have to … figure the situation out, and what they want to do with the captured ISIS fighters in their "neighborhood." They all hate ISIS, have been enemies for years. We are 7000 miles away and will crush ISIS again if they come anywhere near us!"While arguments of who should be responsible to prosecute and hold ISIS prisoners can be made on both sides, in many ways Europe, Jordan and many other countries effectively did "flush the toilet" of their militant jihadi problem by allowing them to freely exit their countries to go fight in Syria, most of them ultimately joining ISIS. The U.S. at present repatriates all of its ISIS fighters bringing them to swift and sound justice at home.* * *ISIS AMBASSADOR TO TURKEY* * *Turkey also has a responsibility in the rise of ISIS, having allowed over 40,000 foreign fighters to cross over its border into Syria, many unabashedly on their way to join the Islamic State. Many prisoners tell us of Turkish complicity with their journey into ISIS-land and being wished well by border guards who winked as they crossed into Syria.Abu Mansour, a 36-year-old Moroccan ISIS emir interviewed by ICSVE in February 2019 in Iraqi prison, told us that he basically functioned as the ISIS ambassador to Turkey, negotiating border issues, the transfer of ISIS wounded into Turkey for treatment, the flow of foreign fighters across the Turkish border into ISIS territory, and other logistics. "The subject of Turkey is a very big one," he said, "and the mutual interests include the obvious and the hidden.""Their benefit was that it was a border area and we have a border strip with them," Abu Mansour continued. "Security is one of them, and they wanted to control north of Syria."  The Turks wanted to control the entire border region in Syria and even into Iraq as far as Mosul, according to Abu Mansour, but they wanted to do it through a proxy force. "So, they wanted to find organizations that would do this favor for them, including terminating the presence of the Kurdish Workers Party [the PKK], without a direct interference from Turkey. At the same time, especially since they were part of NATO, they don't want to anger NATO, because they need NATO."By the same token, Turkish President Erdogan's background as a committed Islamist created a certain sympathy, as did his ambition to revive in modern form the old Ottoman empire, Abu Mansour claimed. "The pretext of [controlling the] Kurdistan Workers' Party [PKK] is a strong pretext for Turkey, but they have ambitions, as they have entered regions that don't have PKK in them." Abu Mansour explained the Turkish and ISIS relationship through his own experiences. In 2013, he said, he was assigned to receive the ISIS volunteers arriving in Turkey, but later, "I supervised the country entry operations, registration as a whole."  Then in 2015, he said, "I worked on external relations, relations with the Turkish intelligence. It started when I was at the borders." First there was an agreement about passing the wounded from Syria into Turkey, about the border crossing and security arrangements. "Ambulances, especially in critical and serious situations, could go straight to the [border] gate," said Abu Mansour. "Then a Turkish ambulance takes the case to the Turkish hospitals, and it is followed up inside Turkey. There was a hotline with intelligence who are located at the borders. Most places were available, [including] hospitals in Turkey [and] there was a technical staff of doctors who follow up the case in Turkey. The [Turkish] state was paying for certain operations performed in private hospitals, but most cases referred by the public hospitals were for free."Abu Mansour said he had "face-to-face meetings with Turkish delegations. Sometimes they represented the intelligence services, sometimes the Turkish army, depending on the issue. "Most meetings were in Turkey on the border strip, but there were also meetings in Ankara and Gaziantep, depending on the issue," said Abu Mansour. He would travel with a delegation of two or three ISIS people."Referencing the easy relationship, as he saw it, between ISIS and the Turkish intelligence and military, Abu Mansour claimed, an ISIS emir could "go to Ankara without a problem.  They always sent a car, or a bodyguard. At one point, we met weekly, depending on the issue and its importance to Turkey and to us, according to the demand."The situation described by Abu Mansour raises a question: did the ultimate defeat of ISIS in fact deprive the Turks of the proxy buffer zone they wanted—which they are now invading Syria to establish?Abu Mansour recalled, "Turkey asked on many occasions for a safe zone." This would be a demilitarized zone where it would provide ISIS with whatever it wanted, but only inside Syrian territories. According to Abu Mansour, , ISIS refused to grant it, and relations started to fall apart. Eventually, Turkey grew sick of the back and forth, and there was also a split in ISIS leadership, with one faction deciding it would take the terror war into Turkey with a 2016 bombing at Istanbul airport. At the time, Abu Mansour was in Gaziantep, Turkey, and the Turkish authorities told him they thought this was an orchestrated act to pressure Ankara. But he says that was not the case. The external security services of ISIS had started setting their own agenda, "carrying out operations everywhere," Abu Mansour told us. "We reached a state in which they couldn't care less about politics, and they worked like gangs, [and would] strike anywhere."While Turkey continues to claim that the SDF, our strongest ally in fighting ISIS, is a terrorist dominated group, many questions remain about Turkey's own complicity with ISIS. Given that during a bitterly fought war with ISIS, in which many Kurdish lives were lost, that the SDF managed to take control of the area, institute a functioning political system that included granting an impressive array of minority rights and rights to women, the SDF deserves our respect and protection.But U.S. President Donald Trump has put a price on all this. "The Kurds fought with us," he tweeted, "but were paid massive amounts of money and equipment to do so." That they saved countless lives in the process, including American lives, does not seem to have been a factor.Spencer Ackerman also contributed reporting to this article.Read more at The Daily Beast.Get our top stories in your inbox every day. Sign up now!Daily Beast Membership: Beast Inside goes deeper on the stories that matter to you. Learn more.
Cache
Update: Three Houston area residents accused of a Saturday afternoon shoplifting at College Station's Academy store also involved one of the suspects pointing a gun at a citizen who blocked the suspect's vehicle from driving away. According to the College Station police arrest report, the citizen moved his truck and the suspects drove out of […]

Cache
So, I visited Montreal Simon to read
his latest post
, which was a condemnation of the Scheer Conservatives and their fans who are bringing USA-Repugnican style hatred and violent rhetoric up here. It started off well with a picture of some sub-literate right-wing moron holding up this ridiculous (and frightening) hand-made sign:
I've said on numerous occasions that stupid people must have the same right to vote as non-stupid people. But there needs to be gatekeepers to prevent the rise of stupid ideas and rage-fueled political movements from having any prominence greater than the level of three city blocks. Alas, for reasons of selfish cynicism our media and corporate elites see fit to pander to these cretins and stir them up. As well (whose kidding who?) from their own behaviour and the words that flow from their mouths, pens, pencils, keyboards, many among our elites aren't all that intelligent either.
Montreal Simon goes from trashing right-wing assholes calling for Trudeau to be "hung" (or run over by a truck) for taxing them, for verbally acknowledging global warming, for admitting Syrian refugees, for marching in PRIDE parades, and etc., ... where was I? .... Oh yeah, ... Simon goes from condemning those assholes to conflating them with progressives who yell at him for buying the TMX pipeline (so as to bail-out the Bay Street parasites who invested in that bitumen project) and praises Trudeau for asking his supporters (booing the guy) for tolerance as he lets his security drag the man away.
Immediately afterwards Simon mentions a guy who threw an egg at Trudeau during a climate march in Montreal, but it's unclear from the Global News video what that guy's agenda was. Personally, I've never gotten too incensed about ordinary people throwing pies (or, now, eggs) in the faces of politicians.
"What if that pie/egg had been a gun or a bomb or a knife?!?"
Yeah. But you're missing the important point that it wasn't a gun or a bomb or a knife. It was a cream-pie/egg. You could just as well shriek that the hand of someone extended for a handshake could have been a gun. But it wasn't. The person sticking their hand out to a passing politician just wants a handshake. Just as the person with the pie wants to make a statement and not kill anybody.
Simon then starts his spiel about how Justin Trudeau is the most activist politician fighting climate change EVAH!!!! because of his carbon tax and his investments in renewable energy industries. But, if Simon were honest (or not honestly ignorant) he would know that this is mere tinkering and that it is all cancelled-out by his continuing to develop the Tar Sands. Which is par for the course for a liberal politician. They're the masters n' mistresses of using empty words to gull their deluded followers. They "feel your pain." They "want to see all people rise to their full potential." They "don't want to see anyone left behind." They say the things we want to hear in order to get elected and continue to say those things as they enact policies that contradict their flowery words.
The end result of political cowardice and deliberate deceit by politicians like Justin Trudeau is going to be the extinction of most of the earth's life-forms. It will AT LEAST mean the deaths of tens of millions of people. Given this, it was justified for that protester to yell at Trudeau for his sickening devotion to the TMX pipeline. And it is the height of stupidity to conflate environmentalists with legitimate grievances with Islamophobic, racist, right-wing homophobic shit-heads threatening all their adversaries with murder. (Notice how that protester at the Liberal rally stayed right where he was and didn't make a step towards Trudeau.)
And, of course, the first "commentor" was Simon's in-all-but-name co-blogger "Jackie Blue." I haven't (and won't) read her entire densely-packed, extended comment. But she basically says that leftist "shit-disturbers" are as big a threat (to "rational centrists") as right-wingers. Now, given the evidence from Simon's own post, anyone not an idiot can see that isn't true. She then goes on to whine about the progressives who didn't vote for mass-murderess, corrupt scumbag Hillary Clinton. Because "Jackie Blue" continues with the bullshit story that she's a US-American and she continues with the bullshit belief that Hillary Clinton wasn't a murdering scumbag.
Hillary Clinton voted for the Iraq War you stupid fuck! She voted for a war based on obvious stupid lies. The war she voted for has KILLED ONE MILLION IRAQIS and maimed and traumatized millions more. And that's only one of her colossal "mistakes" that she made while servicing the oligarchy and becoming a multi-millionaire herself. And it was Hillary's own sense of entitlement that led her to rig the Democratic primary to defeat Bernie Sanders and thereby bring on the presidency of Donald Trump. Hillary gave us Trump you imbecile!
As a species, we have to do the hard work of overthrowing his rotten, inhuman, ecocidal system. And the longer that (mostly decent-minded) people like Montreal Simon pledge hysterical allegiance to hucksters like Liberals, the longer (and perhaps TOO LATE) will it take to start that job in earnest.
(I'll end by saying that I probably won't be voting. My riding is a contest between the Libs and the Cons. And, from reading
this article
, I'm pretty much deflated about my choices anyway.)
Cache
It seems like everyone has an opinion these days, especially when it comes to legal questions. Unfortunately, when it comes to something as complex as the law, there's plenty of misinformation out there, and when widely distributed, it can lead to all sorts of negative consequences. That's why, in addition to holding negligent parties accountable, the firm occasionally uses our platform to illuminate how our civil justice system actually works through reference to actual cases we've litigated. In this article, we'll discuss one case involving firearms negligence, in which the irresponsible decisions of adults directly contributed to a heavily intoxicated teenage boy shooting his friend in the head. Our attorneys were able to demonstrate that these events would likely not have transpired the way they did had the defendants acted more prudently, and successfully hold them accountable as a result. A Good Old Time In The Country Goes Horribly Wrong If…

Cache
Houston Nightclub Shooting Leaves Two People Dead, One Injured. (ABC13.com) Could the shooting outside a Houston nightclub have been prevented and are justice and compensation available to the families of the victims? Read Our Legal Take below to find out what legal options are available. Local News Gunfire rang out outside a Houston, Texas nightclub early Sunday morning, October 6, 2019, leaving two people dead and one person injured. As reported by ABC13.com, "Houston police responded to reports of a shooting outside of a nightclub in the 9000 block of Westheimer around 2 a.m." According to the report, "a fight broke out inside of the club and then moved outside…someone pulled out a gun and fired several shots, killing two people and injuring one more." The injured victim was taken to the hospital in stable condition, per the report. The investigation is ongoing, no suspects have been identified. Our Legal Take FORMER CLIENT: I…

Cache
COLUMBUS, Ohio (AP) — Republican Gov. Mike DeWine's new proposals to address Ohio gun violence in the wake of the Dayton mass shooting don't include background-check requirements for gun sales or a so-called red-flag law to restrict firearms for people perceived as threats, despite his earlier support of those ideas.
Instead, his administration detailed legislative proposals detailed Monday intended to increase and improve background checks and ensure people don't have firearms if a court has deemed them to be a danger. Among other changes, the "STRONG Ohio" plan also would increase penalties for anyone who provides a gun to someone who is legally prohibited from having one, and require that certain types of protection orders and arrest warrants be reflected in state and federal law enforcement databases to ensure more accurate background checks.
DeWine said his team consulted with city leaders, lawmakers and many others and worked to produce proposals that he believes will get results, protect people's rights — and be able to pass the Republican-led Legislature.
"They do not infringe on Second Amendment rights for anyone who has a legal right to own a gun," Lt. Gov. Jon Husted said. "What the plan does is put dangerous people — criminals — on notice that if you're a threat to yourself or others, you are not legally allowed to possess weapons, and we're going to build a system to ensure that you don't."
Husted said the idea of a red-flag law that still protected gun owners' due process proved "inadequate and unworkable" because of the time required for due process and the danger that could pose for law enforcement and because removing a weapon doesn't ensure the subject won't harm themselves or others. So-called red flag laws allow a court to temporarily seize guns from people believed to be a danger to themselves or others.
The news conference included the legislation's sponsor, GOP Sen. Matt Dolan, of Chagrin Falls, along with supportive statements from Dayton Mayor Nan Whaley and Whitney Austin, a gun owner seriously wounded in a Cincinnati shooting last year.
Whaley, a Democrat, recalled how a crowd chanted "Do something!" as she and DeWine attended a vigil after a shooter in Dayton killed nine people in August. The new proposals don't do enough but are an "important start," she said.
"This is the first time in my career that I have witnessed our state government seriously consider restrictions on access to guns instead of allowing more dangerous weapons in our communities," Whaley said.
The top Democrat in the House, Rep. Emilia Strong Sykes, of Akron, objected more bluntly.
"When the people told the governor to do something, they didn't mean to do just anything," she said in a statement. "Ohioans want common sense gun safety. STRONG Ohio is weak."
Advocates from the anti-violence group Everytown for Gun Safety also criticized DeWine, saying he abandoned his earlier proposals and offered legislation that lacks needed changes.
Another group, Ohioans for Gun Safety, said it applauds DeWine's proposal but will continue its separate, ongoing push to use a petition process to change state law to require background checks on virtually all gun sales.
A detailed summary of the STRONG Ohio bill is available here. Key components of the bill will:
Create a process in Ohio law, similar to the current probate court process that directs those suffering from severe mental health conditions into court-ordered treatment, to give hospitals and courts a better ability to help those who are legally declared to be a danger to themselves or others due to drug dependency or chronic alcoholism;
Ensure that citizens have full due process at all probate court hearings;
Ensure that those legally declared by a judge to be a danger to themselves or others do not have access to firearms;
Give family members of those who may be a danger to themselves or others because of drug dependency or chronic alcoholism the ability to more easily petition the probate court for court-ordered treatment;
Mandate that law enforcement agencies and courts enter certain protection orders and arrest warrants for serious crimes into state and federal law enforcement databases to ensure more accurate background check results;
Create a new private-sale background check process that will increase the number of background checks conducted in Ohio while also protecting the privacy of law-abiding gun owners;
Create a legal safe harbor for firearms sellers who require private-sale background checks;
Increase penalties for those who sell or provide a firearm to someone legally prohibited from possessing a gun;
Give judges a range of sentences for felony cases in which a gun was either possessed, brandished, or used;
Increase the penalty for those who are found with a gun while legally prohibited from possessing a firearm;
Increase the penalty for selling a gun to a minor;
Increase penalties for straw purchases and knowingly possessing a straw-purchased gun.
Cache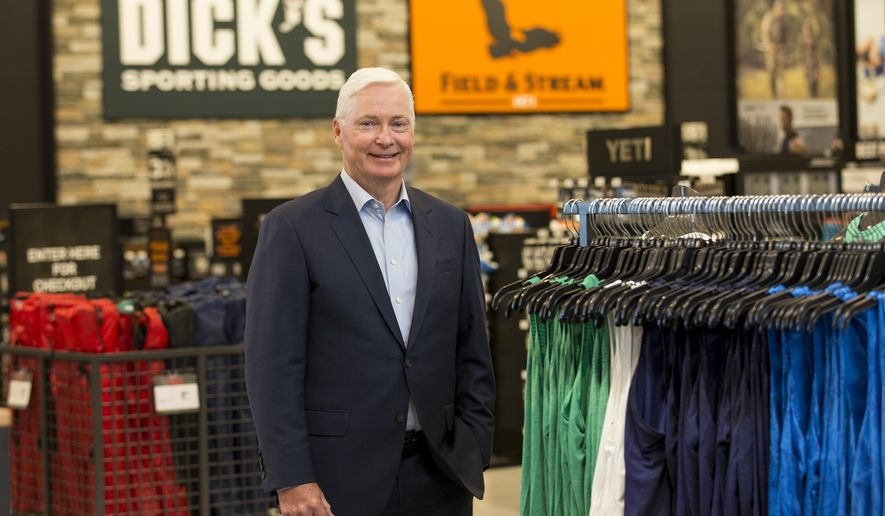 One of the biggest obstacles to getting assault weapons banned in the United States is the amount of money they generate.

There were around 10 million guns manufactured in the U.S. in 2016 of which around 2 million were semiautomatic, assault-style weapons. According to the National Shooting Sports Foundation, the firearms industry's trade association, the U.S. industry's total economic impact in 2016 alone was $51 billion.
In 2016, the NRA gave over $50 million to buy support from lawmakers. When one considers the tens of millions of dollars spent on commerce and corruption, it's no wonder gun control advocates have an uphill battle.
That, of course, assumes that money can control just about anyone in the equation. However, there are a few brave souls who actually value human life over profit.
---
One CEO stood up and put his money were his mouth is, even though it cost his business an estimated $250 million, is Ed Stack, CEO of Dick's Sporting Goods.
After a gunman killed 17 people at Marjory Stoneman Douglas High School in Parkland, Florida, on Feb. 14, 2018, Dick's stopped selling assault-style rifles at all 729 of its namesake stores and subsidiaries across 47 states in the U.S.
It also announced it would not sell any firearms to people under the age of 21.
That announcement came after it had stopped selling assault-style rifles at its namesake stores in 2012 after the Sandy Hook shooting.
While announcing the ban, Dick's stepped its toes into the political debate by imploring elected officials to enact common sense gun reform by passing the following regulations:

— Ban assault-style firearms
— Raise the minimum age to purchase firearms to 21
— Ban high capacity magazines and bump stocks
— Require universal background checks that include relevant mental health information and previous interactions with the law
— Ensure a complete universal database of those banned from buying firearms
— Close the private sale and gun show loophole that waives the necessity of background checks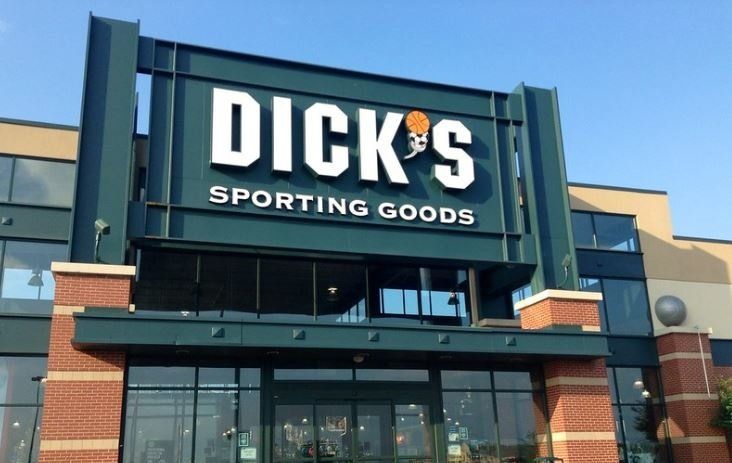 via Mike Mozart / Flickr
The decision was partly inspired by the ugly truth that Dick's sold a shotgun to the Parkland shooter in three months before the massacre, although it wasn't used at the shooting.

"We did everything by the book. We did everything that the law required, and still he was able to buy a gun," Stack said. "When we looked at that, we said the systems that are in place across the board just aren't effective enough to keep us from selling a gun like that.
Currently, 125 of Dick's 729 stores no longer sell guns of any kind. Stack is looking to expand that number.
However, for Stack, taking the moral high road hasn't come without its costs.
"How much did you think you were going to lose?" CBS News' Lee Cowan asked Stack.
"A quarter of a billion dollars," Stack replied. "And how much did you actually lose?" Cowan repled.
"About a quarter of a billion! Pretty close," Stack said.
At the time of the ban, Dick's had about $5 million worth of assault-style rifles in its inventory and he decided to turn it into scrap metal.
"I said, 'You know what? If we really think these things should be off the street, we need to destroy them,'" he said.
Cache
I have a Browning A bolt 2 long range 300 rum for sale very beautiful rifle with ammo . 5 full boxes an 2 partial boxes
Will not just sell the gun without the ammo it is a package deal basically you are buying a gun and getting ammo for free and no you can't have the ammo just for free without buying the gun that's just for the smart ass is out there

Cache
The four began the Danger Room "exercise" cautiously, realizing stepping on any of the squares could trigger problems, Able using his "Fix" skill disabled the panel in front of him rendering it safe to step on. Bras Hombre tried to do the same, but he was no tech.
Osric
took a few tentative steps into the room, only to come face to face with a robot popping up from the floor in front of him and beginning to activate it's taser hands.
Osric
swung his melee weapon and beheaded the robot.
Varlo
stepped into the room and jumped back avoiding the pit trap that opened up beneath him. Soon more robots were triggered. Then the thing...the Hybrid Mergence MOVED! It scuttled across the room quickly, triggering traps as it moved, another robot popped up and then some form of thick vision obscuring fog, then the Hybrid Mergence triggered a pit trap and fell into the trap.
The Hybrid Mergence
Able decided this was his chance and dashed across the room and dove into the pit after the thing. With each step he made a loud click occurred...multiple robots appeared, a Gatling gun popped up in the corner and whirred into life, barrels of some sort of flaming substance shot out of the wall and fire spilled out into the room approaching the edge of the pit containing Able and the thing.
Then things went really wild, the robots that activated the prior round now moved towards the four. This trigged explosions, more robots, including a life-like robotic version of Stalin (who drew its pistol), a crevasse appeared dividing the room, and an Energy Cannon appeared.
Varlo
nearest to the Gatling gun, safely got to the Gatling gun (although a robot was now activated right beside Bras Hombre).
Varlo
hacked into the Gatling gun's system and was able to manually take control of it (he rolled so well with his skill check that he altered the things programmed damage output and rate of fire). Bras Hombre was locked in combat with a robot, while
Osric
used his psionic powers to telekinetically lift Able (now holding the Hybrid Mergence) out of the pit and towards the exit. Robot Stalin popped off a shot at the airborne Able hurting him but not "killing" him. Just as a flaming barrel emerged from the wall and melted robot Stalin into slag. The Plasma gun activated, misfired and overheated blowing up. Bras Hombre had managed to pry up a floor panel giving him some cover from all the chaos. A blizzard of ice and snow(WTH?!!) activated in the middle of the room spilling over into the crevasse and mixing in with the flames from the burning barrels, steam made visibility even harder. As robots were taken out more appeared in their place. The words of the robot announcer at the start of this fiasco echoed in their heads...this was an "Introductory Scenario" to the danger room?!
Unbeknownst to the party, their encounter was being broadcast on more channels across Riot, and even a few bars on the orbiting Outlaw Station.
Varlo
then used the reprogrammed Gatling Gun to unleash a massive volley of "bullets" across the room, robots were taken out... along with Able and Bras Hombre!! In all this chaos it was friendly fire that took out half the party. The party couldn't hear it but bar patrons cheered as Val (unintentionally?) took out two of his teammates.
Osric
knowing they were about to go down in flames (literally?) dashed to
Able's
fallen form, retrieved the Hybrid Mergence and was able to open the exit door. The program ended, the fires, fog and blizzard dispersed. The simulation was ended. Bras Hombre and Able shook their heads, groggily waking up, bruised but alive and with bad headaches.
The robot announcer instructed the four that the exercise was over, and directed them to the freshers and to return the Hybrid Mergence to the containment cube now appearing in the room.
Osric
started in that direction, but then he sensed something. The Hybrid Mergence was a living thing! And it was projecting emotions to
Osric
...fear, sadness, most of all it wanted to escape this place!
Osric
realized it had some level of sentience and some level of psychic ability...at least some level of empathy. At the last minute
Osric
swapped out a small ration pack from his gear while stowing the creature in his clothing he dropped the ration pack into the containment cube, acting like he was returning the Hybrid Mergence, which now was secreted under his clothing and then excited the Danger Room.
Varlo
grinned from ear to ear, while Able gave him a menacing glare and Bras Hombre shook his head.
Cache

In the game Deer Hunter you pick up a gun and go to the forest to hunt deer. Your character will be ambushed. Before you on the screen will be visible forest clearing. Deer will walk on it. You will need to aim the sight of your weapon at the deer and catch it in the sight. When ready, fire a shot. If the sight is accurate, then a bullet hitting an animal will destroy the deer and you will get a trophy.

Cache
listing is for one IWI TAVOR x95 in .300 black out.
rifle has less than 200 rounds down pipe. Safe queen, low serial.

comes with...
original box and packing
firearm
iwi cleaning kit (unused)
1 troy battle mag
sealed manual/paperwork (not in pics)
after market MLI muzzle break with blast defuzer.
misc tools

cash or trade
woste i can say is no!
all WA gun laws apply, I hate em as much as you do but my ass is exit only.
BUYERS,Ill go 50/50 on transfer fee.
TRADERS, ill pay both fees.

prefered shop is Spectyr industries in monroe. Can travel.

thanks for looking!

Cache
Democratic presidential candidates reiterated their call for gun control Wednesday and urged Americans to keep up the fight for change, sidestepping the issue of impeachment in Washington and whether it will divert lawmakers.
At a gun policy forum in Nevada, Cory Booker said the National Rifle...
Cache
HAVING GOT MY REAR HUBS ORGANISED COULD SOME OF YOU ADVISE WHETHER AND HOW WE GREASE THE NIPPLE IN THE HUB.
Do we fill the hub and nipple with grease via a GUN or do we grease it by spreading by hand?
Do we not put any grease in the hub?
Thanks for your help
Roy

Cache
The Germans had a whole army's worth of men and material to defend against the Allied invasions at Normandy. Battlefront has yet more for your Flames of War games. Armored vehicles, artillery, and more to defend German holdings.
From the announcement:
Sd Kfz 250 Transports (Plastic)

The Sd Kfz 250 half-track is a smaller version of the panzergrenadiers' Sd Kfz 251, carrying a single MG42 team. Although faster than its bigger cousin, the Sd Kfz 250 has a much shorter wheelbase, limiting its ability to cross obstacles. The smaller size and greater speed of the Sd Kfz 250 makes it much easier to conceal and ideal for reconnaissance operations

Sd Kfz Scout Troop (Plastic)

The Sd Kfz 250/9 2cm-armed half-tracked armoured cars, and their Sd Kfz 250 command vehicle with its powerful radio, scout ahead of the panzer division, spearheading its advance. Although well-enough armed to tackle enemy armoured cars, they attempt to avoid combat with anything bigger, using stealth to complete their scouting role.

5cm Tank-Hunter Platoon (Plastic)

The lightweight 5cm anti-tank gun may have been relegated to second line divisions like the beach defence formations, but it is still effective at giving the infantry close protection against Allied tanks, leaving the tanks and the big '88's to do their work unencumbered by the need to protect the infantry.

Armoured Reconnaissance Company HQ (Plastic)

The light reconnaissance company is organised along the same lines as a panzergrenadier company. The biggest difference is that they are mounted in the smaller Sd Kfz 250 halftrack. While this is often small enough to avoid detection, they need nearly twice as many of them. If they do get into a full-on fight, this can prove to be a blessing as the Sd Kfz 250 half-track is as heavily armed as the panzergrenadiers' bigger Sd Kfz 251, meaning that they have nearly twice the firepower.

Panzer IV Tank Platoon (Plastic)

Although various marks of the Panzer IV have been in combat since the beginning of the war, the latest models used in Normandy are far more powerful than the originals and still out-gun most enemy medium tanks.

Möbelwagen AA Platoon

Recognising the need for something heavier than the light 2cm, the Germans have started building a self-propelled 3.7cm Flakpanzer (anti-aircraft tank) on the Panzer IV chassis. The Flakpanzer IV is nicknamed 'Möbelwagen' or 'Furniture Van' for it's slab-sided appearance until the armoured shields are folded down to give its 3.7cm AA gun an all-round field of fire. The tank chassis gives the Möbelwagen the mobility to keep up with the panzers, while the 3.7cm gun gives it the punch to bring down any aircraft.

Sd Kfz 10/4 Light AA Platoon

The Sd Kfz 10/4 half-track's 20mm gun is one of the most common anti-aircraft guns in the German army and is equally useful against both Allied air strikes and ground attacks. When defending, the panzergrenadiers often dismount their guns and dug them in for better protection.
Cache
Bus routes for Cherry Creek Schools were disrupted on Monday afternoon due to a possible shooting in Aurora. Police in Aurora arrested a suspect for allegedly firing a gun into the air.

Cache





Man Behind Slogan Promoting French Preservation

"The great replacement has become a household word. I take responsibility for it. I believe in its relevance."

THOUGH the writer had already lived in his castle for a quarter of a century, it was only three years ago that he finally restored it to its original purpose as a fortress.

The writer, Renaud Camus, rebuilt the top 10 feet of the 14th-century tower, giving him an even more commanding view of his surroundings: the village of 40 souls below; the Pyrenees, faintly visible some 100 miles south despite the midsummer haze; and, in every direction, the peaceful, rolling hills of the "eternal France" that he describes as under assault from what he calls hordes of immigrants.

Up in his castle, the France that Mr. Camus imagines has made him one of the most influential thinkers on the far right in his own country and elsewhere. In his writings, he describes an ongoing "invasion" of France by immigrants bent on "conquest" of its white, European population. To him, the immigrants are "colonizing" France by giving birth to more children and making its cities, towns — and even villages — unlivable.

Others have espoused similar ideas. But Mr. Camus's portrayal of demographic change — le "grand remplacement," or the supposed "great replacement" of France's original population by newer arrivals, mostly from Africa — has become an extremist talking point, cited by mass killers in distant parts of the world.

"It's a slogan that dramatizes the situation, talking of great replacement the same way we speak of the great barbarian invasions," said Rudy Reichstadt, an expert on political extremism at the Fondation Jean-Jaurès research institute in Paris. "Now, if you go to a horse race betting bar and talk politics, and you mention the great replacement, people will understand what you mean."

The idea of the great replacement has directly influenced French politicians and thinkers. Interpreted and repackaged across the internet, it has resonated widely beyond France, including in white supremacist circles.

The men held in two recent mass shootings — at a Walmart in El Paso and at a mosque in Christchurch, New Zealand — both referred to the "great replacement" and the need to defend white populations against invading outsiders.

While decrying the killings, Mr. Camus said he had no regrets about coming up with the term.

"The great replacement has become a household word," he said. "I take responsibility for it. I believe in its relevance."

Stroking his white beard, Mr. Camus, who is not related to the 20th-century writer Albert Camus, sat in his expansive study — half the top floor of his castle filled with books and a handful of African masks. In contrast to the harsh words he chooses to describe France's immigrants, he spoke softly, and sometimes with the mannerisms of another era. He and his partner of two decades, Pierre, addressed each other as "vous," though they said they sometimes slipped into the informal "tu."

Ensconced in his castle in southern France, in a village an hour's drive across country roads from the nearest train station, Mr. Camus, 73, is perhaps an unlikely source of inspiration for the world's far right and white supremacists. Until a few years ago, Mr. Camus was known, mainly by other French writers, as a novelist and a pioneering writer of gay literature. An early book about his sexual experiences, called "Tricks," remains his most translated work.

Growing up in a conservative rural town in central France, Mr. Camus went to Paris in the 1960s and found a niche in the capital's literary and artistic scene. He befriended Roland Barthes, who wrote the preface for "Tricks." As a member of the Socialist Party, he became active in politics on the left.

Still, Mr. Camus longed to return to the countryside. He sold his Paris apartment and, in 1992, used the money to buy and restore the castle in Plieux, fulfilling a lifelong fantasy.

A few years after moving to Plieux, he had what he calls an epiphany that would shape his political views. While visiting a 1,000-year-old village in southern France, he said he saw a group of veiled women milling around a fountain.

"And in the ancient windows — beautiful, paired gothic windows — veiled women would appear all of a sudden," he said. "It was really the population of eternal France that was changing."

THAT led to the formation in 2002 of his own political party, l'In-nocence, which calls for an end to all immigration and promotes sending immigrants and their children back to their countries of origin.

But it was a decade later, when he publicly began using the term "great replacement" and wrote a book with the same title, that his influence in France began to be felt.

The great replacement, he wrote, indicates the "replacement of a people, the indigenous French people, by one or others; of its culture by the loss of its cultural identity through multiculturalism."

He says he sees no contradiction between his earlier life as a gay writer on the left and his current role as an ideological beacon for the right, including violent extremists. He contends he has always told "the hard truths."

Previous generations of European immigrants had been drawn by "love" for France, he wrote. But the newer arrivals since the 1970s — mostly from France's former colonies in the Maghreb and in sub-Saharan Africa — didn't come "as friends." Instead, he declared, they came as conquerors, filled with hatred and a desire to punish France.

He singled out Muslims for "not wanting to integrate" into French society.

According to government data, immigrants now make up about 10 percent of France's population, many of them nonwhite, up from about 7 percent in the 1970s, or 5 percent in 1946, the year of Mr. Camus's birth — a steady rise, though far from the overwhelming one described by Mr. Camus…

Mr. Camus's ideas — and his subsequent call to support Marine Le Pen, the far-right leader of the National Rally party — turned him into a pariah in France's literary and media circles.

His longtime publishers dropped him, forcing him to publish on his own. "The Great Replacement" was never translated into English. Invitations from mainstream news shows dried up. Lifelong friendships came to an end.

But even as Mr. Camus became toxic, his phrase gained traction, first on French farright websites, like "Observatoire de Grand Remplacement." Politicians on the right and far right, including Ms. Le Pen, used the term.

Then "great replacement" slipped into the right-wing mainstream. While Mr. Camus's books went largely unsold, best-selling writers, like Eric Zemmour, have expounded on the idea.

Jean-Yves Camus, an expert on the far right at the French Institute for International and Strategic Affairs, said that the author of "The Great Replacement" viewed the world from the perspective of a novelist and aesthete without recognition of realworld consequences.

"He should become aware that in our universe, where everything happens in real time, what you say from the position of an aesthete or a writer, can instantly be transformed into a gun and bullets," said the expert, who is not related to Renaud Camus.

Isolated in his castle, Mr. Camus grew even more removed from the actual France he purported to describe — one filled, he believes, with people of Arab and African descent burning with hatred for France and plotting its conquest. In fact, he acknowledged that his understanding of such people was based mainly on Twitter and Facebook.

He said he almost never read newspapers or watched television.

"Distance is very, very necessary for observation," he said.

SOURCE






My Book Defending Free Speech Has Been Pulled

James Flynn

I recently completed a book defending free speech. Emerald Press scheduled it for publication but then decided not to proceed. Here's what it said about the book in Emerald's September 2019 catalogue:

In Defense of Free Speech: The University as Censor
Author James R. Flynn, University of Otago, New Zealand

Synopsis: The good university is one that teaches students the intellectual skills they need to be intelligently critical—of their own beliefs and of the narratives presented by politicians and the media. Freedom to debate is essential to the development of critical thought, but on university campuses today free speech is restricted for fear of causing offence. In Defense of Free Speech surveys the underlying factors that circumscribe the ideas tolerated in our institutions of learning. James Flynn critically examines the way universities censor their teaching, how student activism tends to censor the opposing side and how academics censor themselves, and suggests that few, if any, universities can truly be seen as 'good.' In an age marred by fake news and social and political polarization, In Defense of Free Speech makes an impassioned argument for a return to critical thought.

I was notified of Emerald's decision not to proceed by Tony Roche, Emerald's publishing director, in an email on 10th June:


"I am contacting you in regard to your manuscript In Defense of Free Speech: The University as Censor. Emerald believes that its publication, in particular in the United Kingdom, would raise serious concerns. By the nature of its subject matter, the work addresses sensitive topics of race, religion, and gender. The challenging manner in which you handle these topics as author, particularly at the beginning of the work, whilst no doubt editorially powerful, increase the sensitivity and the risk of reaction and legal challenge. As a result, we have taken external legal advice on the contents of the manuscript and summarize our concerns below.

There are two main causes of concern for Emerald. Firstly, the work could be seen to incite racial hatred and stir up religious hatred under United Kingdom law. Clearly you have no intention of promoting racism but intent can be irrelevant. For example, one test is merely whether it is "likely" that racial hatred could be stirred up as a result of the work. This is a particular difficulty given modern means of digital media expression. The potential for circulation of the more controversial passages of the manuscript online, without the wider intellectual context of the work as a whole and to a very broad audience—in a manner beyond our control—represents a material legal risk for Emerald.

Secondly, there are many instances in the manuscript where the actions, conversations and behavior of identifiable individuals at specific named colleges are discussed in detail and at length in relation to controversial events. Given the sensitivity of the issues involved, there is both the potential for serious harm to Emerald's reputation and the significant possibility of legal action. Substantial changes to the content and nature of the manuscript would need to be made, or Emerald would need to accept a high level of risk both reputational and legal. The practical costs and difficulty of managing any reputational or legal problems that did arise are of further concern to Emerald.

For the reasons outlined above, it is with regret that Emerald has taken the decision not to publish your manuscript. We have not taken this decision lightly, but following senior level discussions within the organization, and with the additional benefit of specialist legal advice. I realize that this decision will come as a disappointment to you and hope that you will be able to find an alternative publisher with whom to take the work to publication."


If the book is sober and responsible, and if Emerald's letter is correct, that poses a question: Does Britain have free speech? The above letter inspired me to change the title from "In Defense of Free Speech: The University as Censor" to "A Banned Book: Free speech and universities." I hope that some publishers will contact me (jim.flynn@otago.ac.nz), so they can decide whether the book is worthy of publication and whether it runs afoul of any of the U.K.'s laws. If a journalist gets in touch, I can also send them the text for their eyes only. Let me give an outline of its contents.

The benefits of free speech

First, I give a general defense of free speech and criticize Jason Stanley and Jeremy Waldron insofar as their views differ from my own. I then use the case of Charles Murray being denied a platform at Middlebury College to show what students and staff miss out on when they refuse to hear or read those who offend them:

[My] dividends from reading Arthur Jensen, Richard Lynn, and Charles Murray: a plausible case that genetic differences between the major races are unlikely to confer an advantage or a handicap for desirable personal traits; a far better understanding of black America; a method that sheds light on personal development and leaves room for personal autonomy; an understanding of how differently males and females respond to formal education; a case that genetic differences between the genders seem cognitively trivial; a somewhat better understanding of the Chinese both at home and in America; a case for affirmative action that does not depend on racial bias; and most of all, a better understanding of the dynamics of a truly humane and egalitarian society.

This is the sad fate that the mob at Middlebury wanted to save me from. If I had not read these "discredited" scholars, I would still have a half-educated mind full of passion about race and gender and class and not much else.

A history of oppression

I then chart the history of the sins of universities against free speech with an emphasis on the McCarthy era (when conservatives barred or fired those they considered suspect), through the transitional period of Vietnam, to the present (when many on the "left" do much the same, particularly student protest groups). I detail the use of speech codes, and trigger warnings, and departments that have a party line ("Walden codes") to discipline, expel, fire, and, above all, to defend indoctrination rather than education.

I include among the latter some African American studies departments that will not assign books or papers by conservative thinkers, some women's studies departments that reject incontrovertible social science that runs counter to the official feminist ideology, and some (almost all) education departments that define their purpose as sending out "missionaries" to convert schools to their vision of an egalitarian society. I also provide a history of America's schoolteachers, tracing how the low status of their profession has made the schools susceptible to adopting a missionary role.

Finally, I criticize the failure of universities to provide their students with the critical intelligence they need to be autonomous human beings and good citizens, despite the fact that they all state this as their chief objective.

Is this book worth reading?

Well, it will not be read unless it is published. To discuss a point made in Emerald's letter, every reference to a person is documented by citations of published material or material in the public domain. At present, I can only cite the testimony of distinguished scholars. Some of the following were referees who sent their opinions to Emerald and some read it to give me an informal assessment.

This book is an education in itself…It is a brilliant and courageous book.
—Thomas Bouchard

That's shocking [the rejection] even by the standards of contemporary restrictions on free speech, and especially ironic given the subject of your book.
—Steven Pinker

It is ironic that a book critical of restrictions on free speech should itself be rejected by a publisher who is worried about the book falling afoul of UK laws on incitement to racial hatred. In fact this is doubly ironic, given that the book is by Jim Flynn, after whom the "Flynn effect" is named, because the Flynn effect is all about the difference that culture and environment — rather than genes — makes to IQ scores. The draft I have seen has the potential to be an important and controversial work that will be very widely discussed.
—Peter Singer

I must admit I was shocked. Well, anyway, they have given you material for another chapter!
—John C. Loehlin

This is in-[expletive]-credible…Your book should not be considered even close to the fringes of politically correct discourse. If publishers are scared of your book, the censorship problem is a few orders of magnitude worse than I realized.
—Charles Murray

Homily

Discussing why free speech should extend to questions of race and gender necessarily involves presenting views (such as those of Jensen, Murray, and Lynn), if only for purposes of rebuttal, which upset those who believe that racial and sexual equality is self-evident. If upsetting students or staff or the public is a reason for banning speech, all such discussion is at an end. I end the book by quoting from George Orwell's original preface to Animal Farm, which was itself rejected by Faber and Faber for being too critical of Stalin: "If liberty means anything at all, it means the right to tell people what they do not want to hear."

James R. Flynn is an intelligence researcher who gave his name to the Flynn Effect. He is Emeritus Professor of Political Studies at the University of Otago in Dunedin, New Zealand.

SOURCE






As Fundraising Shoots Up, Lawsuits Threaten Southern Poverty Law Center

The embattled far-left Southern Poverty Law Center flew past the half-billion-dollar mark in assets for the first time, ending the last tax year with $518.3 million in assets—after raking in $122.9 million that year, according to a newly disclosed IRS filing.

To provide a sense of scale, $518.3 million is more in assets than either the American Civil Liberties Union Foundation Inc. ($452.8 million) or Planned Parenthood Federation of America Inc. ($446.3 million) had at the end of 2017.

Critics say the Montgomery, Alabama-based Southern Poverty Law Center (SPLC), a public-interest law firm whose founder, Morris Dees, and president, Richard Cohen, were ousted earlier this year amid accusations of racial discrimination and employee abuse, unfairly tars conservatives as racist as a matter of policy, treats all opposition to illegal or legal immigration, open borders, and multiculturalism as hate, and all political expression of those views as hate speech.

The SPLC, critics also say, deliberately lumps together all sorts of groups on America's political right in order to intimidate and "de-platform" non-leftists. Conservative, libertarian, anti-tax, immigration reductionist, and other groups are all viewed as legitimate targets for vilification.

The group has its defenders in the media who take its work seriously. For example, in Rolling Stone, Amelia McDonell-Parry wrote that "the SPLC has developed a reputation for being an authority on extremist hate groups, monitoring and exposing their activities to the public, media and law enforcement."

The Center appears to have brought in donor dollars by blaming something it calls the "Trump Effect" for thousands of cases of alleged "prejudice," "bullying," and "hate crimes" in the nation's schools. Within weeks of President Donald Trump's election, the group released the results "of a new survey, answered by more than 10,000 teachers across the country detailing the negative effect the election has had on school climates."

The SPLC called on the president-elect "to immediately and forcefully publicly denounce racism and bigotry and to call on Americans to stop all acts of hate" even though there was little evidence from across the country that Trump supporters had done anything wrong. To the contrary, media reports at the time were bursting with stories of Trump supporters and Make America Great Again hat-wearers being violently set upon by angry liberals and progressives.

As part of its mission, the SPLC brings civil rights lawsuits that attack school choice, tracks so-called hate groups, publishes newsletters, and provides educational materials and grant money to teachers in hopes of reaching young minds.

Among the conservative groups that the SPLC has labeled "hate groups" are the Center for Security Policy, David Horowitz Freedom Center, Alliance Defending Freedom, Liberty Counsel, and Christians and Jews United for Israel. SPLC official Mark Potok has said, "I want to say plainly that our aim in life is to destroy these groups, completely destroy them."

Some groups resist the label. In June 2018, the SPLC paid more than $3 million as part of a legal settlement to former Muslim extremist Maajid Nawaz for wrongfully placing him and his London-based counter-extremism group, Quilliam, on an anti-Muslim hate list.

Although a federal judge recently dismissed a racketeering lawsuit brought by the nonpartisan Center for Immigration Studies (CIS) against SPLC leaders for blacklisting it as a "hate group," other lawsuits appear to be in the making.

Liberty Counsel and 60 other organizations are considering filing defamation lawsuits against the SPLC, according to PJMedia.

In a lawsuit already filed, a federal judge in Missouri refused in July to dismiss a defamation lawsuit brought against the SPLC by Craig Nelsen a former heroin addict, who created the Robinson Jeffers Boxing Club (RJBC), a 13-week residency "life treatment" program for men with opioid addictions or other serious problems.

Nelsen said the program was "designed to address the specific challenges unique to white males in the United States, [but that] the program was open to, and would benefit, men in distress of any race." True to form, the SPLC claimed Nelsen was a neo-Nazi, anti-immigrant, and racist, and that his club was for whites only.

Conservatives—and more than a few leftists—have long complained that the SPLC perennially hypes and exaggerates incidents involving racism in America in order to promote its radical agenda and raise a mountain of money.

JoAnn Wypijewski wrote in The Nation magazine that "No one has been more assiduous in inflating the profile of [hate] groups" than the center's founder, Morris Dees.

The SPLC "spends most of its time—and money—on a relentless fundraising campaign, peddling memberships in the church of tolerance with all the zeal of a circuit rider passing the collection plate," Ken Silverstein wrote in Harper's magazine.

The $518.3-million figure for SPLC assets for the year ended Oct. 31, 2018, was up $41.3 million from $477 million the year before.

The Montgomery, Alabama-based SPLC also beefed up its workforce, reporting having 360 employees and 514 volunteers, compared to 302 employees and 197 volunteers the year before. As a result of the workforce expansion, the group paid out $29.2 million in salaries and benefits, compared to $23.9 million the year before, according to a Return of Organization Exempt from Income Tax (IRS Form 990) signed by the 501(c)(3) nonprofit's secretary-treasurer, Teenie Hutchison on Jan. 31, 2019.

The SPLC acknowledges in the IRS filing that it "has ownership in several foreign corporations," indirectly owns "several passive foreign investment companies," and has financial dealings in the Cayman Islands, a tax haven in the Caribbean.

The SPLC famously ignited controversy when it labeled a conservative group, Family Research Council, a "hate group" because it opposes homosexuality on religious grounds. Liberal Washington Post columnist Dana Milbank called it "absurd" for the SPLC to place FRC, which he called "a mainstream conservative thinktank," "in the same category as Aryan Nations, Knights of the Ku Klux Klan, Stormfront and the Westboro Baptist Church."

But gay rights activist Floyd Lee Corkins acknowledged he acted based on the dubious hate group report, shooting up FRC national headquarters in 2012, nonfatally wounding building manager Leo Johnson before he was subdued. Corkins said he wanted to kill as many FRC employees as possible, after which he planned to rub Chick-fil-A sandwiches in their faces as they died. Chick-fil-A became a target of LGBT protests in 2012 when its CEO, Dan T. Cathy, acknowledged he was "guilty as charged" of supporting anti-gay-marriage initiatives.

The SPLC has tried to spread its radical views to the education sector through its Teaching Tolerance program, which critics say is a means of ideologically indoctrinating students.

In late 2017, the group started handing out money as part of its Educator Grants program "to support projects that promote affirming school climates and educate youth to thrive in a diverse democracy." The grants "support social justice work at the classroom, school and district level."

"Teachers and administrators know best how to come up with innovative ways to teach their students to fight bigotry and hate," Maureen Costello, director of Teaching Tolerance said. "We want to help them turn those ideas into projects that will have a big impact on the way students see themselves and how they view and treat others."

"Our hope is to build, over time, a network of educators who are enthusiastic about learning from each other and who will share their experiences fighting injustice in their schools with the broader Teaching Tolerance community," Costello says. "Instead of allowing prejudice and hate to fester in the minds of our young people, we want to cultivate future generations with greater empathy, kindness and understanding for one another."

On its IRS form, the Center disclosed having given more than $600,000 in grants.

What are educators doing with the money?

Grant recipient Amy Dickerson worked with her students in New Orleans on what should replace Confederate statues.

"We started the project with reflecting on our own identity and generating adjectives to describe ourselves," Dickerson said. "Students studied the artist Nick Cave, who creates wearable pieces of art called Soundsuits that express his identity and views on social justice."

In Boston, a grant was used to "empower" "black and brown girls" to "practice self-love, self-advocacy and sisterhood." Ayanna Pressley, the first black woman elected to the Boston City Council, addressed the crowd. Pressley, a far-left Democrat, is now a U.S. representative from Massachusetts who is a member of the radical so-called Squad headed up by U.S. Rep. Alexandria Ocasio-Cortez, a self-described democratic socialist from New York.

Teaching Tolerance embraced the Global Climate Strike protest event Sept. 20.

"From the civil rights movement to recent youth-led movements to stop gun violence, we have asked educators to learn from young people's activism and to instill students with an understanding of their power and value."

Educators were encouraged to "introduce students to young people around the world who have truly been at the forefront of the fight for environmental justice—and made a difference in the face of apathy. Perhaps most famously, 16-year-old Greta Thunberg has helped inspire global action and conversation through her activism."

Educators "should consider introducing students to the diverse coalition of young people calling for climate justice."

The Southern Poverty Law Center did not respond to a request for comment.

SOURCE






Australia: Abortion is decriminalised in New South Wales after weeks of contentious debate and heated protests

This is a storm in a teacup. Abortion has been decriminalized in NSW for years -- ever since the Heatherbrae case. The 1971 case of R v Wald ruled that abortions do not contravene the laws in certain circumstances.

That case involved a criminal trial of five people – most of whom were health care professionals. The five defendants were involved in performing an abortion at the Heatherbrae clinic in Bondi. All were charged under section 83 of the Crimes Act.

The trial judge found that an abortion is lawful if there is an 'economic, social or medical ground or reason' upon which the doctor could honestly and reasonably believe that an abortion could avoid a 'serious danger to the pregnant woman's life or her physical or mental health.'

All five defendants were ultimately found 'not guilty' on that basis – and the ruling opened the doors to women seeking to terminate a pregnancy for reasons such as financial disadvantage or instability, or fears of social stigma and judgment – factors which may negatively affect a woman's mental wellbeing.

The judgment also affirmed that abortions do not need to be performed in hospitals – paving the way for women's health clinics around the state.

NSW parliament has passed laws decriminalising abortion following a marathon debate and weeks of protest. There was applause in the lower house on Thursday as the Abortion Law Reform Act 2019 passed its final hurdle.

It comes after the controversial bill passed the upper house 26 votes to 14 on Wednesday night following nearly 40 hours of discussion - making it the third longest debate in the state's house of review.

The bill, presented to parliament in August by Independent MP Alex Greenwich, takes abortion out of the criminal code and allows terminations up to 22 weeks.

'Thank you to all members for the role you have played in this historic reform ... we can feel proud that part of our legacy will be the decriminalisation of abortion in NSW,' the Member for Sydney said.

An amendment passed in the upper house recognised doctors performing abortions after 22 weeks could seek advice from a multi-disciplinary team or hospital advisory committee.

'With the passing of this bill, our parliament affirms that we trust women,' Labor MP and bill co-sponsor Jo Haylen said just before the final vote. 'We trust women to make decisions about their own lives and about their own bodies.'

The legislation was opposed by religious groups, anti-abortion activists and several MPs who raised concerns about late-term and sex-selective abortions, conscientious objection and the way the bill was introduced.

Nationals MP Barnaby Joyce, and former prime minister Tony Abbott were both outspoken in their opposition of the bill.

Joyce described it as the 'slavery debate of our time,' while Abbott accused the NSW government of putting forward 'the most radical abortion laws in this country.'

Liberal and Labor MPs were allowed a conscience vote on the bill.

Tensions in the government reached a climax last week when Liberal MPs Tanya Davies, Mathew Mason-Cox and Lou Amato said they would move a leadership spill motion against Premier Gladys Berejiklian over her handling of the bill.

The rebel MPs, who ultimately withdrew the motion, said it had been made clear that 'at an absolute minimum' four key amendments were required to ensure continued Liberal Party membership.

Ms Davies on Thursday supported amendments made to the bill, saying they created more safeguards and brought the bill to a better place.

Abortions after 22 weeks are allowed with the approval of two 'specialist medical practitioners.'

All terminations after 22 weeks will now have to be performed in a public hospital.

'Many of us within the Parliament, and also outside in our communities, had concerns with the original bill ... concessions, amendments, changes to the original bill were moved through both houses of Parliament and that is a good thing,' she said.

The legislation that passed on Thursday is more conservative than the initial bill that Greenwich introduced after changes were made following opposition.

Labor MP Penny Sharpe, who is one of 15 co-sponsors of the bill, on Wednesday night said the vote was 119 years in the making.

'The current law has meant women and doctors have a threat of 10 years in jail for making this decision and that not okay,' she told parliament. 'This is a massive step forward for women in this state.'

SOURCE

******************************

Political correctness is most pervasive in universities and colleges but I rarely report the incidents concerned here as I have a separate blog for educational matters.

American "liberals" often deny being Leftists and say that they are very different from the Communist rulers of other countries. The only real difference, however, is how much power they have. In America, their power is limited by democracy. To see what they WOULD be like with more power, look at where they ARE already very powerful: in America's educational system -- particularly in the universities and colleges. They show there the same respect for free-speech and political diversity that Stalin did: None. So look to the colleges to see what the whole country would be like if "liberals" had their way. It would be a dictatorship.

For more postings from me, see TONGUE-TIED, GREENIE WATCH, EDUCATION WATCH INTERNATIONAL, AUSTRALIAN POLITICS and DISSECTING LEFTISM. My Home Pages are here or here or here. Email me (John Ray) here. Email me (John Ray) here.

************************************




Cache
Thanks RR! My shooting sessions are usually scattered through the day whenever I have 15 - 30 minutes to relax and shoot so grab-and-go is the name of the game. Having to run back into the house to get something can get annoying real quick. My backstop is 55 yards from the bench and I use portable "shooting stations" (a log mounted on three legs) to setup at random ranges. I've just started clearing some bush and it looks like I can go another 65 - 75 yards to a natural backstop. I like the golf bag cart idea, was given one of those "fold open" designs that I want to convert into a gun cart. Figure that it would be useful when I go pesting on some of the farms I hunt on. Seen some guys using an ATV to carry their stuff on the range - talk about the ultimate gun carrier LOL! Hank

Cache
Geo791, Thank you for the links! I enjoy watching how others approach shooting out to 100 yards. I can see the problems that a Clip/Magazine create for slug length. I'm glad DAQ went with single-shot Long Actions that allow slug length to really not be an issue. I am intrigued by his belief that slugs can be unstable at shorter distances and then somehow stabilize with additional distance. My experience has been that a slug that is stable (no yaw) at some maximum distance is also stable at muzzle exit. I do agree that slugs can be less effected by the wind if they are suited to the MV, RPM and the Slug length, shape (form factor) and Mass. I have been working on a comparison of ball (spherical) and comparison to bullet shape in a give Big Bore trying to establish if a gun that has a certain degree of accuracy with ball that the accuracy with bullet shape projectile's accuracy will correlate. Just think if you could shoot a simple spherical and obtain the fundamental accuracy potential of a barrel. I have been told by respected barrel makers that I'm barking up the wrong tree and chasing the wrong rabbit down the wrong hole...but I can't find anything in the literature that says it has been done and no published results. If anyone knows of some factual reporting on the topic, I'm all ears! Even if it turns out "They" are right I will still have FUN doing it! shootski

Cache
The message is that criticism is important because if we do not get criticized once and a while we will all act like complete morons and dress ridiculously... i guess. One of the things that often gets brought up and i totally agree with is that some of the jokes outstay their welcome. sometimes the best jokes are in small doses, once you stretch it out into a sketch it just gets less funny, when obviously the intention is assumed it gets funnier. thats why i ain't fond of the Cat back and forth in Cured. not only does it make the Cat look like a much bigger idiot then he has shown to be in the past, but it just drags. and its not a particularly clever plan either. it just makes the villain look stupid for giving the cat a gun and assuming he wouldn't just turn it on him. With Siliconia i think there is a series 5 episode there in the waiting. the concept of Lister, Rimmer and the cat losing their humanity is pretty horrific really. but when you mix that with the counseling session that really doesn't go anywhere since Kryten switches back fairly quickly anyway. and the whole upgrade subplot, it just feels like a mishmash of ideas.

Cache
Tika Tac A1 in 6.5mm creedmoor at Bisley




So you fancy shooting? As I guess is obvious from this blog I started shooting to have a more personal relationship with my dinner, but these days I shoot paper targets much more than I shoot Rabbits, Squirrel and Deer.

I've read lots of 'how to get started' articles, most of them written by people who have got newbies of the ground and to be fair they were clear as mud, so I thought I'd have a go.

Here in old Blighty we have fairly strict firearms laws which utterly defy common sense, but for the most part the system works well and people who hold firearms are rarely involved in crime of any kind. I say defy common sense because they are a vast expense to administer and pointlessly inconvenient to comply with. Using the driving licence as a model the whole thing could be massively simplified. From banger to bugatti one licence to drive them all, with rifles its an application for every rifle.




You must have Good Reason:
There are two kinds of good reason to have a firearm, you have Land [or access to land], or you are a member of a Gun Club. "I wish to bring justice to the unworthy" isn't considered acceptable. There are some exceptions but unless you're a veterinarian, farmer, or live in Northern Ireland they're not really important.





A Ruger 1022 in 22LR accurate AF at 25 yards.


Club membership:
You cant just book a session and turn up to shoot to see if you like it. You must apply, be vetted by the cops, then you can shoot under supervision, then you can become a full member. It takes about three to six months.




Some specialist target rifles in .308, used in the competition known as Fullbore in the UK.


The NRA and Bisley:
Not all clubs are affiliated to the NRA, in fact its less than would be helpful, but there are some advantages. The NRA controls the national shooting ground which is in Surrey just outside london and has ranges from 25 to 1200 yards you can rent fairly cheaply. On the upside its super safe, on the downside its not very good if you want to practice shooting at various ranges within the same string of ten shots. The NRA is staffed by well meaning people, bogged down by tradition and endless complex rule structures, which are usually described in a verbal shorthand largely incomprehensible to the outsider or new comer.
You need to be a member and have a range competency card. There are two ways to get one.
The NRA run courses - not cheap.
Your club [if affiliated] will run days at Bisley and once they're comfortable that you are safe they'll issue you with one. The competency card has individual sections for each kind of shooting, so it can take a while to evidence all the kinds you need.

Apart from the hundreds of pounds you'll save on training there are other reasons to be a member of a club. The pool of knowledge that will help you get better, and buy better. There are people who have learned to shoot and clean their guns almost solely off the internet, I find it easier to be shown one-on-one. I walked away from an auction at £500 for a rifle that later sold for £1600, a friend of mine bought one almost the same, but with a nicer scope, for £450 from a guy who was retiring from the club.




A very Sticky club Savage in 22LR


Getting your own guns:
Club rifles have hundreds, if not thousands, of rounds put through them a week, and it shows. They are also 'one size fits no one' Every club has an example of someone who shot a perfect score with a club gun that hadn't been cleaned in weeks. You never know, it could be you, even if it is the chances of repeating the feat are even slimmer.

Back to 'good reason':
Every firearm you own has conditions attached to your ownership. They fall into two main categories Target Shooting and Pest Control. All rifles can be shot at targets, but only some rifles can be shot at animals. Each rifle you own will have conditions attached to your owning it.

Storage Restrictions.
To have a Fire Arms Certificate you need to have storage at home, you could have club storage, but that would only let you shoot at that premises, so you wouldn't be able to take your rifle anywhere else for stalking or competition. I know a couple of people who have membership of two clubs so they can store rifles at each. I've heard of people who have an additional stalking rifle kept at a gun shop in Scotland. Its all far from convenient. You're going to need a gun safe.
Listen carefully. There are loads of secondhand safes on offer, for a reason. If its listed as a ten gun safe, it will hold four. Never mind the width, be mindful of the depth. Only buy a safe that can take scoped rifles. Do as I say not as I have done. I'm looking for my third safe, this time I will get it right.

You need to have the safe on the wall, and ideally obscured from casual view, before you have your Fire Arms Enquiry Officer visit.
The internet is full of new shooters getting their knickers in a twist about the visit, pointlessly.
The person who comes to interview you is a civilian who works for the cops, they are trained to ask you questions, they're not an expert on guns and ammo, they might never have fired a gun in their life.
Once again the internet is full of anecdotes about their misunderstandings of calibre and legislation.
I spent a pleasant two hours chatting with he chap who came to see me, a pensive two weeks waiting for him to hand deliver my certificate, then another week waiting for corrections to it, before it finally arrived in the post and I could make that first over enthusiastic purchase.

Probably the silliest thing about our licensing system is the way its 'licence the gun', not 'licence the person'. So you're in the ridiculous position of having to choose something that may or may not suit your needs before you can buy it. As you want to practice a lot, you'll need that 22LR for club shooting, but as there are dozens of different types of target shooting there's no one rifle that does them all. Then you're going to want to shoot at ranges beyond 25 yards and your shooting career could go in literally any direction, all of which require slightly different equipment.
There are myriad choices and combinations on offer, every one of them wonderful in some way.
Here's a sample battery working on the assumption that you're going to be shooting both with your club, then at Bisley [or wherever] with your new friends from your club.




A super rare full custom all steel clone of a Ruger 1022, made by AMT & Theoben


22LR your rimfire rifle
The indoor rifle, £5 buys you 50 shots, will slay Rabbits out to 50 yards, loads of competitions, and a brilliant way to practice. They cost anything from £20 to £2,000 - and more for the super specialist examples for world class competition. Barrel life is almost endless.



.223 your small deer / short range centre fire rifle
Cheap to keep and can be shot at nearly every rifle range. There are plenty of 22 CF's but some of them are too wonderful [fast] to be shot at some ranges, and the faster the bullet goes the shorter the life of the barrel. With 223 there's plenty of cheap ammo, long barrel life and a hooj choice second hand making the .223 the ideal club/plinking calibre. They all shoot out to 300 yards and some, with a faster twist rate barrel, will shoot a lot further.
Legal for Muntjac and Chinese Water Deer in the south and for Roe in Scotland.





A very nice CZ in .308, bit heavy for staking but proven to be very accurate.


.308 or better yet 6.5 Creedmoor your all deer / longer range centre fire rifle
Since the 1950's the 308 has been the default target round, and its the do everything hunting round. From Alaska to Zimbabwe there's nowhere you cant buy ammunition for them. Barrel life is long, 800 yards + in a short barrelled gun - longer in a specialist target rifle, and there are more of them on sale at any time than any other calibre. Ammunition runs from cheapo NATO surplus to super performance, from lightweight to personal artillery. .308 The default setting.

BUT, hold on just a minute.

In the last 10-11 years the 6.5mm has come into its own. Scandiwegens have been shooting the 6.5mm bullets at targets and massive moose for a hundred years with great affect. Recently the 6.5mm has appeared in a new cartridge that grows in popularity every year. Fads come and fads go, but the Creedmoor is now established. A 1200m cartridge that's gentle on your shoulder and cheaper to feed than most, its also available in bullet weights and designs suitable for everything from Foxes to Moose, and low drag target rounds that have hit steel out at 3000m.
If you do shoot at Bisley the NRA are supporting CM by selling them at £17 for 20 which represents something of a bargain these days.





A Lee Enfield Mk4 with Vernier Sights calibrated to 1200 yards


303 Lee Enfield.
Everyone should have a .303. The historic rifle. It's a bit galling having to listen to the old boys at the club tell you about the Enfield they bought for a tenner back in the day, but inflation is what it is.

And on to your stalking rifle(s)
You could have a 223 and a 6.5mm that would slay every kind of deer in the UK no problem, but in order to be a really efficient target shooting rifles they need to be too heavy to be really handy stalking rifles.
For years the default setting for an english stalking rifle has been .243 (6mm) but unless you have one made or re-barrelled they often don't have the twist rate for the heavier bullets needed for the bigger deer.
Then there's pigs, the UK has a growing number of excellent Wild Boar shooting opportunities and the guidance is 7mm and up, that 308 (7.69mm) would have been perfect. Your second Creedmoor would do it fine if you made some heavier rounds for it, but not all guides will let you use less than 7mm.





Did I mention Gallery Rifle? A sport your club probably shoots...... TBC

more soon
your pal
SBW




Cache
I was eight years old when I first shot a gun. I killed a pheasant. I shot it twice: first in its leg and then again in its chest. It was the day after Thanksgiving, 2007.
My dad woke me up at 4:30 in the morning to drive two-and-a-half hours from our house in Charlotte, N.C. to a fancy pheasant-shooting farm in South Carolina. He and his brother always went hunting the day after Thanksgiving, but my Uncle Matt was with his wife's family that year, so my dad brought me instead. He called it a father-daughter outing. He hoped it would be the beginning of an annual tradition.
I remember I wore a white and green striped Abercrombie & Fitch shirt that morning. It was tight and smelled overpoweringly of the teenage-boy cologne the store sells. When I wore it, I felt old and hot, and I considered it an appropriately fashionable interpretation of the oversized camouflage vest my dad was trying to get me to wear. He surrendered, and I won. I did wear his big neon orange baseball hat, though. "You have to wear it so that everyone can see you in the field. So that nobody shoots you by accident," he said.
I rode to the farm in a booster seat in the back of my dad's Suburban. The truck was a metallic forest green. He kept his screwdrivers in the cupholders in the backseat. He kept his rifles in a pile in the trunk. My dad drives fast always and he drove fast that morning. The cops pulled us over and gave him a ticket for speeding. I was scared. I thought they might check the trunk and see all his guns and think that he was lying about being my dad, and suspect that actually he was kidnapping me. They didn't check the trunk for guns. We drove on, safe.
Last week, my best friend from high school, Mebane, went to a fundraiser for Ducks Unlimited in Charlottesville, Va. . There was an all-you-can-eat buffet and an open bar and fraternity boys in button-down shirts and silver cufflinks and plain white Vans. All the girls wore cocktail dresses. After dessert, they auctioned off a semi-automatic rifle. The winner was a fourteen-year-old girl. She went up to the stage to accept the weapon, and people clapped. Later that night, she decided she didn't want it. Maybe she'd been drilled enough times on the lock-down protocol to know better. Or maybe it was too heavy for her to carry home by herself. She gave it back to the showrunners and an old man took it instead. Probably, it made another addition to an extensive collection.
When I was eight and shot the pheasant, it wasn't flying. It was on the ground. You're not supposed to shoot birds when they're on the ground because it takes the challenge out of the sport. It makes it too easy. You're supposed to shoot birds when they're flying, when they're so far away that they don't even look like birds, but just black specks moving through the sky in swarms or V-shapes or sometimes, if you're unlucky, alone. It's hard to shoot a bird when it's flying alone but not in a way that makes it a sport. The target is smaller, and the pay-off is smaller too. You're supposed to shoot birds in packs, when they're far enough away that you forget that they're alive and can't tell that they're dead until your dog is at your feet holding the the limp feathered bodies between its jaws.
When my brothers and I watched Kill Bill with my mother one Sunday night last summer, she shouted every time a gun sounded.
"Shush, Mom. I can't hear what they're saying," my younger brother said.
"Oh! She screamed again, and covered her mouth. "Sorry, sorry." When it finished, she said, "You can tell that movie was made by a man."
When my mom was thirty, her younger cousin used a gun to shoot himself by the pond in his mother's backyard. Since then she hasn't gone to a shooting range with my dad. When he asks her to go with her, she tells him that she has sensitive ears, and the kick-back leaves an ugly bruise between her breast and armpit.
I'm not a good shot anymore. Maybe I would be if the father-daughter hunting outing had become a tradition, but my uncle started spending Thanksgivings in Charlotte and Christmases with his wife's family, and my little brothers got old enough to shoot soon after I did. Together, we used to prop old soup cans and empty milk jugs on tree stumps in our backyard and shoot them with our BB guns. It was fun until the BB guns lost their novelty and my brothers moved on to real guns, the ones my dad keeps locked in a metal safe next to his bookshelf. Shooting became a boys' thing again.
My dad still talks about the day I shot that pheasant at dinner parties and on my birthday and during most Thanksgivings. Like my mother, I've learned to hate the bruise a gun leaves between my armpit and breast. A gun is too heavy and too loud for me to hold anymore. I can't see killing as a sport. But when my dad tells the story, I still smile.
---
Shooting was originally published in The Yale Herald on Medium, where people are continuing the conversation by highlighting and responding to this story.
Cache

Exclusive Excerpt—Charles Hurt: 'Still Winning: Why America Went All In on Donald Trump—And Why We Must Do It Again'

When Trump jumped into the presidential race in 2015, he was a well-known figure. He had been in the hot glare of the New York tabloid media for decades. Everything from the unveiling of golden buildings that bore his name to raunchy details about his various divorces made headlines. His business accomplishments in the real estate world and his success as a reality television star put him on par with a tiny handful of stars known around the world by one name.

But when Trump descended the escalator in Trump Tower that day, he had made political headlines more recently for something entirely different.

Four years earlier, Trump shocked the political world by launching a campaign questioning whether President Barack Obama was born in the United States. For the entire political-media establishment inside Washington, D.C., this merely proved that Donald Trump was some kind of crazy conspiracy loon. For these establishment people, it also proved Trump was a racist. […] But outside Washington, Trump simply proved he was willing to talk about things and ask questions about things that the entire political establishment had deemed unmentionable—even racist.

Having already demonstrated his unflinching willingness to go crashing wildly into the choppy waters of political incorrectness, Donald Trump was ready to announce his campaign for the presidency. From the first words, it was clear this would be a different kind of candidate running a different kind of campaign.

"Wow. Whoa," he said, admiring the crowd cheering him from all sides and the balcony above. "That is some group of people. Thousands," he said.

That line still gets me. Literally, within the first ten words of Trump's campaign—even before he actually announced his intentions—Trump was focused on crowd size. Much more on that later. But suffice it to say that in the years since Trump uttered those words, he has talked a great deal about crowd sizes, and it has driven his enemies absolutely out of their minds. Which, in turn, brings wild, lusty cheers from audiences who pack monster truck arenas to see their president perform.

After admiring the assembled crowd, he thanked them. He called it "an honor" to have them in "Trump Tower."

Never. Stop. Selling.

I think it was along about that moment in his speech that I said to myself, This guy could be our next president.

His message was simple. Clear. Pro-American. He was selling something. He was telling a story. After seven years of bitter disappointment and the wasted opportunities of Barack Obama's nerdy, professorial, lecture-some presidency, this guy could be just what America needs, I thought.

Quickly, Trump got back to the size of his crowd.

"This is beyond anybody's expectations," he beamed. "There's been no crowd like this."

Then he attacked. Ferociously.

Some of the Republicans who had already announced for president botched their kickoffs. The air conditioner didn't work, or something. "They sweated like dogs," Trump sneered.

Worse, their crowds were too small for the rooms they hired.

And then the kill shot: "How are they going to beat ISIS?" he asked.

"I don't think it's gonna happen. Our country is in serious trouble."

It's a fair point. If you cannot pull off a simple announcement speech on television, then how on earth can you possibly be expected to destroy the most diabolical and determined jihad of our time?

There is a larger point here as well. It has to do with language.

In the very first moments of his announcement speech, Donald Trump was declaring a pact with American voters. Earlier, he had proved his willingness to go wildly off script from establishment officialdom when he brazenly questioned Obama's birth certificate.

Now he was promising to use the same scalding rhetoric and blunt honesty to expose and fix a whole host of grievous maladies facing regular Americans across the country.

Maladies that had crept into American society over the decades under the blind—or, often, encouraging—eye of political leaders in both parties.

Terrorism, globalism, "free" trade, illegal immigration, legal immigration. Trump was willing to be as belligerent as he needed to be in order to finally stand up to ISIS, China, Japan, Mexico, and the entire global world order.

Trump shrewdly understood in that moment that if political candidates were incapable of speaking bluntly about thorny issues, or if they shied away from harshly identifying America's enemies, then there would be no hope for anything ever getting better.

Standing there in my office, watching this amazing spectacle unfold, it was that different way of talking that most gripped my attention. A wildly fresh vocabulary with sharp notes of brazenly impolitic honesty.

"The U.S. has become a dumping ground for everybody else's problem," Trump said, just a few lines into the speech.

My goodness, I thought. Nobody in Washington talks like this. But it sounds like exactly what you hear just about anywhere if you leave Washington, D.C., or New York City.

"When Mexico sends its people, they're not sending their best. They're not sending you. They're not sending you," he said, karate chopping the air.

"They're sending people that have lots of problems and they're bringing those problems to us. They're bringing drugs, they're bringing crime, they're rapists, and some, I assume, are good people."

On its face, this statement is technically true. Illegals from Mexico (and other places south of the border) come into the United States. They smuggle drugs into the country. They certainly commit crimes (including illegally crossing our border). And some of them are indeed rapists.

Trump was highlighting a real, destructive and expensive problem that a lot of American voters care deeply about. Yet almost nobody in Washington cares about fixing it.

Democrats are desperate to change the voting electorate. So, they want every warm body they can get into the country to hustle to the voting booth. Republicans, being more business friendly, are delighted to turn a blind eye on a process that floods our country with cheap labor.

The only group without a voice in this debate were millions of regular American voters. Until Trump announced his campaign.

Donald Trump's furious assault on the political establishment brought condemnations from every corner of it. Sure, those people were perfectly content letting political sleeping dogs lie. China ripping off America was no big deal for them. Free trade was going gangbusters for the stock market and Wall Street. Everybody who was anybody was making a killing off illegal immigration. Cheap nannies for all!

But the seething rebukes of Trump and his announcement speech were about so much more than just those issues. They were about Trump's language, his rough-and-tumble demeanor, and his willingness to court such political upheaval.

In her memoir, former first lady Michelle Obama eviscerated the man who followed her husband into the White House for just this. Trump's questioning of Obama's birth certificate, she wrote, "was crazy and mean-spirited, of course, its underlying bigotry and xenophobia hardly concealed."

Again, any hint of questioning Obama's American loyalty was deemed racist. Such a questioner was not just called out as dishonest or stupid or uninformed. They were flat-out racist for questioning Obama's alliances.

That was not all Michele Obama had to say about Trump and his style of politics. Trump's birth certificate inquiry "was also dangerous, deliberately meant to stir up the wingnuts and kooks," she wrote. "What if someone with an unstable mind loaded a gun and drove to Washington? What if that person went looking for our girls? Donald Trump, with his loud and reckless innuendos, was putting my family's safety at risk. And for this I'd never forgive him."

Wow. Perhaps Michelle Obama spoke too soon when she said that she was finally proud of her country once her husband got elected.

But I have to ask: What is more incendiary? Asking questions about where a political opponent was born? Or accusing a political opponent of deliberately and willfully trying to inspire "wingnuts and kooks" to assassinate the daughters of a president?

While we're at it, what about a president who wades into local police issues around the country and his only contribution is to inject race into them? What about a president who goes around the world apologizing for America and giving long lectures about how America is exceptional, you know, like every other country on the planet is exceptional in its own way. In other words, nothing exceptional whatsoever about America. What about a president who belittles Americans for their "guns" and their "religion"?

After eight years of insufferable academia out of the White House, it should have been little surprise that American voters would be in the mood for something very different. They would be looking for a guy who speaks bluntly and paints vivid pictures. A guy who spent years savoring his time talking to the workers and tradesmen who built his buildings, and learned to talk like them. Above all, he was listening and listening and taking to heart what he was hearing.

Every now and then, some reporter churns a Trump speech through some word program on the Internet that calculates the grade level the speech was written at. As in sixth-grade level, meaning a sixth grader could understand it. And these simpering, obnoxious, arrogant asses somehow think that speaking so plainly is an insult, when Trump—along with American voters—knows it is actually the highest, most honest achievement there is.

Independent Authenticity Voter

Strangely, this was a counterintuitive gambit for some of the very same voters who wound up stunning the political establishment by voting for Trump—after having voted for Barack Obama. Twice! I call them the independent authenticity voters. They don't much care about parties and don't particularly like Washington politics. But every four years they generally turn out and vote. And when the noise of the campaign gets as loud as it does every four years, they are reminded of how much they despise politics and most politicians. But they mostly turn out and vote.

Overwhelmingly, they choose the lesser bastard. The least dishonest one. The one they think comes closest to being genuine and authentic. In 2008, that was obviously Barack Obama. His hopeful campaign about neither red America nor blue America but one red, white, and blue America resonated with these voters. Funnily enough, the late senator John McCain would have appealed to these very voters eight years earlier when he was still a true political "maverick" and before he got co-opted by Democrats and the media (I repeat myself) to kneecap Republicans at every turn. As bad as things were in 2012, President Obama still had enough authenticity left in the tank to beat the hopelessly repackaged Mitt Romney.

These voters yearned for someone authentic to be president. Most horrifying to mainstream political observers is the number of voters who voted for President Barack Obama—twice!—because they thought he was that authentic nonpolitician. Oh, how they were betrayed!

The accepted language of politics is defended by those who practice it as merely polite and responsible. And this is often true. I know many decent politicians and staffers and journalists who embrace polite language. And they are disgusted by anything else in the political arena.

If the 2016 election proved anything, it proved that Donald Trump was exactly right. There was, after all, a tremendous thirst out there for something different. Something new. Above all, something authentic.

So, from the very first lines of his announcement speech that day at the foot of his glass escalator, Mr. Trump proved to be impolitic. Unpolished. Dripping with authenticity. That guy you know who talks rough, who doesn't own a set of church clothes but would be the first person you would call if you found yourself in a life-threatening situation and needed some really dirty work handled.

Trump knew at that moment that he had to break through all the soft, white noise of modern American politics. All the fake niceties of acceptable political speech. After all, it was a lie and had been for a very long time. Behind all those fake niceties were the raw, brutal realities of vicious politics played by the nastiest of operatives going back decades. They peddled in the most dishonest, soul-crushing, character-destroying sewage that you could imagine—but then wore nice seersucker suits at garden parties, talking all sorts of high-minded pleasantries.

Yuck!

Donald Trump saw all of this for exactly what it was. It was a fraud. Whether it was trade, immigration, wars, spending, or taxes—it was all a fraud. The American people were getting taken to the cleaner's financially, and the American people were getting sold out as losers.

And Trump wasn't even president yet! He was still just one of sixteen people vying for the Republican nomination. If you polled the media that day, every single reporter in all of politics would have given Trump a zero percent chance of winning the nomination, let alone the presidency.

After the speech was over, I called my office at the Washington Times and told my editor to scrap the column I had filed—that a new one was on the way. I endorsed Donald Trump, something I had never done before in a newspaper column. Because, after all, who gives a crap what I think about anything? But this was clearly something different. The speech was brilliant. It was daring, to be sure, but it also reflected an enormous amount of intentional thought. Trump had been listening very closely to voters. He had also been talking to some very smart people who clearly follow politics closely and understood the political landscape far better than any of the self-anointed geniuses inside the Beltway.

So I picked up the phone and called Steve Bannon, a friend who I knew liked to dabble in the more contrarian world of counterpolitics. We agreed the speech was great and, of course, Bannon told me he had been talking to Trump. A speech had been written. Bannon had seen it as late as the night before, he said. But the speech Trump delivered on live television to the country was entirely different than the one that had been prepared.

"Yeah, he didn't read the speech," Bannon marveled. "He got up there and just decided to wing it!"

Even at that point, Trump was not to be handled or scripted or managed or staffed. He was going on nothing but his own raw political instincts. And in the end, voters trusted Donald J. Trump to remain in character more than they trusted any politician to keep his campaign promises.

That turned out to be a pretty smart bet.

SOURCE
**********************************

Dems Vote To Enhance Med Care for Illegals Now, Vote Down Vets Waiting 10 Years for Same Service

House Democrats voted Thursday to fast-track an electronic medical records system that would serve illegal immigrants, something America's veterans have been seeking for years.

The House passed the bill on a largely party line vote of 230-184, American Military News reported. Only two Republican congressmen supported the bill — Brian Fitzpatrick of Pennsylvania and Fred Upton of Michigan.

The proposal has yet to be considered by the Republican-controlled Senate.

The Democratic proposal would require the Department of Homeland Security and U.S. Customs and Border Patrol to create an Electronic Health Records system.

Part of that system's job will be to provide information to Congress on the health of migrants who enter the country illegally, according to The Hill.

The bill gives the DHS 90 days after the bill receives final approval to get the job done. In contrast, the Veterans Administration has been working for years to implement an EHR system for veterans.

Democratic Rep. Lauren Underwood of Illinois said it is important for Congress to ensure that workers at the border are doing their jobs.

"As DHS works to improve its medical screening of children and migrants at the border to ensure there is a minimum standard of care, the need for proper record keeping on those screenings will only increase," she said.

Underwood said that the bill was based on her experiences touring America's southern Border.

"When I was at the border I saw busy, overworked Border Patrol officials having to keep health records on paper. I also saw how these records don't follow migrants between facilities and transfers of custody," she said.

But critics wondered how adding more responsibilities to overworked Border Patrol officials would fix anything

"I oppose this bill because it is poorly conceived, erroneously drafted and extremely risky," Republican Rep. Jim Banks of Indiana said.

SOURCE

**********************************

For more blog postings from me, see TONGUE-TIED, EDUCATION WATCH INTERNATIONAL, GREENIE WATCH, POLITICAL CORRECTNESS WATCH, AUSTRALIAN POLITICS, and Paralipomena (Occasionally updated), A Coral reef compendium and an IQ compendium. (Both updated as news items come in). GUN WATCH is now mainly put together by Dean Weingarten. I also put up occasional updates on my Personal blog and each day I gather together my most substantial current writings on THE PSYCHOLOGIST.

Email me here (Hotmail address). My Home Pages are here (Academic) or here (Personal). My annual picture page is here

**************************




Cache
Guns exact a heavy toll on the American public every day. On the average day, around 100 people die from a gun death. Because of the rise in gun deaths in recent years, the nation now faces a serious man-made epidemic. When people think of firearm death, they tend to focus on mass shootings such […]

Cache
Since I'm getting kiddo's costume all spruced up for Comic Con this year, I realized I forgot to post his Rocket Halloween costume from this past year!
This past year for Halloween (and now for Comic Con) I made my son a Rocket Raccoon costume. I was Gamora along with him (and my husband Starlord)- but I'll post shots of those costumes once we have them fixed up for Comic Con, since we rushed our costumes for Halloween. (I spent most of my time making kiddo's costume).



He LOVED wearing the jumpsuit and adored the fur, that he wouldn't let me take off the jumpsuit when I was cutting the fur and patches for the knees.



Here's some of the rest of the costume DIY:








The ears also came with the raccoon tail, but since Rocket is brown, I painted the stripes.
















(My son insisted I wear the ears after I finished them.)


He wore the costume to both a Halloween Party and trick or Treating (his face makeup was much better for Trick or Treating). He was so tuckered out Halloween, that he actually fell asleep in his costume before we could go trick or treating, so we let him nap for a hair before waking him up to go trick or treating (which is probably why many of his photos he is cranky looking- woke up from a nap too early both times wearing it. figures).



(cranky Rocket)




Toddler is not a fan of face makeup.





Sleepy Rocket and a tired Gamora.





Knees and feet (with ankle fur)




Passed out Rocket before we could go Trick or Treating.




Daddy encouraging him to go Trick or Treating down our block.




Sleepy cranky Rocket.




This is the Volume 2 Guardians of the Galaxy Rocket Raccoon, which sadly doesn't have nearly as much to go from, hence why I ended up making mine (most of the Rocket costumes were either too small or were ment for big kids). I hope if you decide to make a Rocket for your kiddo (or yourself) you don't have as much fur floating around the house as we did. haha.


Do you like Guardians of the Galaxy? Who's your fav. character?
-M


Next Page: 25 © Googlier LLC, 2019