Cache
Imagine you and your friends, riding out into the open ocean aboard a trusted boat with the wind at your back and your hands at the helm. Living on a country made of over 300 islands, venturing to one of the outer islands by boat is often the best way—and sometimes the only way—to get there. Kadavu, Fiji is an island group that's largely undeveloped with the main island of Kadavu covered in...
Cache
UPDATE 10/7: I think farmers have had enough, maybe, I hope anyway...

1. "I went to Madison feeling financially scared and emotionally depressed but hopeful," said Paul Adams, who runs a 500-cow organic dairy near Eleva, WI."I came home feeling financially scared, emotionally depressed, unwanted, and unneeded."





2. Brittany Olson left her Barron County farm at 2am to make the trip to Expo and hear Perdue speak. "To go through the effort to see the USDA secretary, only for him to say that small farms like ours likely have no future made me feel like little more than a peasant in a system of modern-day feudalism," Olson said.





3. "To me, it really drew a line in the sand on just where this administration stands," said Chippewa County dairy farmer George Polzin.
Danielle Erdvick summed it up this way in the story:

But I sense a fire growing in the belly of the family farmers I meet in my work with Farmers Union. Farmers are weary. But there's a growing flicker that's starting to feed a change in the narrative. No more will they be spoon-fed a top-down vision for rural America. Instead, I see a drive for a farmscape where fair prices, local food systems, clean water, and land conservation are at the heart of farm policy. How can we achieve it? It'll take actually enforcing America's antitrust laws and holding corporations accountable when they try to monopolize an industry. It'll mean addressing market manipulation. It'll mean not raising our hackles, as farmers and ag groups, every time someone wants to talk about clean water or livestock siting. It'll mean continuing to adopt regenerative practices and thinking outside the box so we're protecting our natural resources for our children and grandchildren.
__________________________________________________________________________________________________



Farmers will never stop voting for Republicans. Sadly, GOP promises of "small government" simply mean they don't really have to do anything for their constituents, and deregulation is anything that basically leaves them alone.

Tariff War is not Their Fight: It seems farmers are okay sacrificing their livelihoods for big corporate interests seeking intellectual rights and protections.

And then the last shoe dropped; Ag Sec. Sonny Perdue told us what big corporate Republican politicians were really thinking about family farmers:


Perdue told reporters that he doesn't know if the family dairy farm can survive as the industry moves toward a factory farm model ... "In America, the big get bigger and the small go out. I don't think in America we, for any small business, we have a guaranteed income or guaranteed profitability."
A few farmers suddenly realized what was really going on...

Jerry Volenec, a fifth-generation Wisconsin dairy farmer with 330 cows, left the Perdue event feeling discouraged about his future. "What I heard today from the secretary of agriculture is there's no place for me. Can I get some support from my state and federal government?"

Darin Von Ruden, president of the Wisconsin Farmers Union and a third-generation dairy farmer who runs a 50-cow organic farm (said) getting bigger at the expense of smaller operations like his is "not a good way to go. Do we want one corporation owning all the food in our country?"
Democrats, Governor Tony Evers backs Family Farms, despite never getting their vote, but after Sonny Perdue's comment, even our laid back Gov. had to say something:




"Are they struggling? Absolutely. But I think at the end of the day we need to get behind them rather than saying, ah maybe you should go larger. I, frankly, resent that the Department of Agriculture secretary from the federal government came in and kind of lambasted them."
But don't take Evers word for it, here's a comment made at the Minnesota Farmfest about CAFO's. Note: Why were visa's for dairy labor ever determined to be seasonal and not year around?:
Wisconsin dairy farmers are still feeling the sting of Trump's visit to Milwaukee in July, where the president downplayed the suffocation felt by farmers here because of Trump's own tariffs.



Trump: "Some of the farmers are doing well. ... We're over the hump. We're doing really well."
Farmer Response...:
"If he's saying farmers are over the hump, he would be badly mistaken," said Darin Von Ruden, a third generation dairy farmer. "In order to get over the hump we need to stop losing dairy farms."
From PBS's Market to Market: Trump's says farmers are happy...
Farmers are slamming Trump's $28 billion farm bailout — more than double Obama's 2009 payment to automakers — as a 'Band-Aid'.
Perdue editorial doesn't repair Damage
: Nope, his word salad backtrack to obscure how he really feels, is a little late. In fact, Perdue reminds farmers how this whole problem was really Trump creation:
Purdue: "President Donald Trump has made it his mission to support American agriculture and negotiate better trade deals so our productive farmers can sell their bounty around the globe."
And don't forget how Scott Walker pushed oversupply in the dairy industry.
Here's what one farmer, "a great patriot," really thinks about Trump:
Cache
WASHINGTON, D.C. -- FreedomWorks grassroots activists visited Rep. Ralph Norman's (R-S.C.) Rock Hill district office today and made their case for why Congress must oppose socialized healthcare and in particular, price controls on prescription drugs. FreedomWorks grassroots activists from South Carolina's fifth congressional district were in attendance and spoke with Rep. Norman's district staff.
Allen Page, FreedomWorks' Southeast Regional Director, commented:
"Government goes to those who show up, and that's exactly why FreedomWorks' outstanding grassroots activists are here and involved. Nancy Pelosi's health care plan, which includes price controls on prescription drugs, would put us on the path to socialized medicine. Instead of lowering costs, price controls on prescription drugs will lead to shortages and the development of fewer lifesaving cures. FreedomWorks activists are proud to continue the fight against government involvement in American's health care, and we hope that Rep. Norman will do the same and oppose price controls back in Washington."
Cache
IceWM is a very lightweight desktop. It's been around for over 20 years, and its goals today are still the same as back then: speed, simplicity, and getting out of the users way.
I used to add IceWM to Scientific Linux, for a lightweight desktop. At the time, it was only a .5 Meg rpm. When running, it used only 5 Meg of memory. Over the years, IceWM has grown a little bit. The rpm package is now 1 Meg. When running, IceWM now uses 10 Meg of memory. Even though it literally doubled in size in the past 10 years, it is still extremely small.
What do you get in such a small package? Exactly what it says, a Window Manager. Not much else. You have a toolbar with a menu or icons to launch programs. You have speed. And finally you have themes and options. Besides the few goodies in the toolbar, that's about it.
Cache
By Doug Zanger
Senior Editor
Adweek
Reprinted with permission

Deutsch North America's CEO Mike Sheldon is hanging up his cleats. It's not a retirement, per se, but a move away from Deutsch in Los Angeles after 22 years.
During his tenure, the Michigan native has presided over highs and lows. Most notably, Sheldon is credited with turning Deutch's then-nascent L.A. operation into one of the staples of the market, taking it from a handful of people to, at its peak, a 600-plus juggernaut. The agency continues to create standout work for brands, including high profile campaigns for Taco Bell, Dr. Pepper and others.
On the downside, the agency split from Target, yet won the Reebok business shortly after that. Additionally, after nine years—and being credited with reviving Volkswagen's fortunes with breakout work including the oft-referenced "The Force"—Deutsch and the carmaker ended their relationship.
Yet with all of the ups and downs (common in any agency), Sheldon, who spent six years at TBWA\Chiat\Day pre-Deutsch, remained upbeat and steadfast in his mission to build and retain a positive outlook and culture. Adweek caught up with Sheldon to find out a little more about his time at Deutsch and what's next.
I'll start with the predictable question. Why now?
Mike Sheldon: It's a confluence of events. I've been doing this for 22 years, and I turned 60 a couple of weeks ago. I've been talking to [IPG CEO] Michael Roth about this for a while and want to see what else is out there. I'm not ready to go feed pigeons on a park bench. I want to see what the universe brings. I still have a lot of energy and interest in new and exciting ventures, and I figured after 22 years at Deutsch and 37 years in advertising, maybe there's something else out there for me.
What would you say, outside of the obvious things like technology, are the most significant changes you've seen at Deutsch L.A.?
We've always been about investing ahead of revenue. In the future, it will be the same. You have to stay ahead of the business, or you'll get run over. We got into digital production years ago, and started Steelhead [Deutch's in-house production company] a few years ago. Experiential is now huge, analytics are as well. The future is going to be like the past: Unless you stay ahead, it will get the best of you.
How does an agency "stay ahead"?
For us, it's having rock-solid clients like Taco Bell, Keurig Dr. Pepper and H&R block that appreciate the partnership and long-term commitment and depths of understanding that an agency can have into a client's business and provide value way beyond any marketing communication. Then some clients want a TV spot or need to spend time looking at their consumer base. You have to go with the flow since there aren't a ton of AOR relationships. I keep telling everybody to think of yourself as the ultimate Swiss army knife because that's what we need to be a good, successful agency moving forward.
You've touched on a couple of successful points in your tenure. Aside from those, what would say is another significant accomplishment?
By far, the idea of kindness. There are a lot of really good people in this business—brilliant and creative people. But that has to be combined with being kind and putting your employees first and, unfortunately, making some of those difficult decisions like walking away from a prickly client. It doesn't get talked about much in this business, but being good to other humans is a business asset.
Anything you would have done differently over the past two-plus decades?
I thought that I could have started an agency at one point, but it was never in the cards or the right things for me. I used to think that I should have done that, but looking back, I've realized how much I've enjoyed and valued my time here.
One of the tougher times for the agency was the end of the VW relationship. What did you learn from that?
I'd be less than truthful if I didn't say it was a kick in the gut after nine years of really great results, fantastic work and a great brand point of difference. But that's advertising. That's what we signed up for. There are a lot of things that you can't control, and the best advertising executives have a short memory. So while that stung, nine months later, it's a distant memory, and we're on to all the work that's currently filling up the plate. You can't take that stuff too seriously, personally or emotionally—it'll eat you alive.
What's your view on the agency world today?
It's a tougher time than it's ever been in the business, but it's also kind of a mind game now. You have to stay positive, keep pitching and pushing. Anybody that reads too much of the press or gets bummed out about anything is dead because this business is just unforgiving. So it's staying ahead. It's innovating, it's adding new divisions. It's not being afraid to invest and keeping both feet on the gas. Otherwise, there's just too much gravity pulling things down right now. Clients will always pay for ideas, great execution and results-driven communications.
What's next for you?
I'm going to keep the aperture wide open. I have purposely not overplanned this. My goal is to see what the universe brings in. That might be taking a bike ride on a random Tuesday, consulting, bringing in a direct-to-consumer product to life, or another type of product to life. I really want to stay open.
Is Lil' Sweet, Diet Dr. Pepper's mascot, the most underrated ever?
I think he might be. But, in all seriousness, we love Lil' Sweet, and that brand continues to defy gravity year after year because it's the coolest, weirdest campaign in the world.

---
Doug Zanger is a senior editor at Adweek focusing on creativity and agencies. Find him on Twitter at @zanger.
This article originally ran in Adweek and is reprinted with permission.
 
Cache
Slimy, sticky, slobber, drool, blood, spit, snot, muck, scum, ooze; this all sounds so revolting, but to a horror special effects artist that's what he or she needs to pull off a convincing, or believable realization. In this set I give you the tools to produce your own special effects with Photoshop layer styles and High-Resolution Photoshop brushes of real slime I created in my studio using household items and melted gummy worms, (ooh-yuk). They have a transparent look and feel of the real thing. Hope you have as much fun with these as I did creating them. Transform them, stretch them, or move them anywhere you see fit. Use just a color or use the great layer styles included; however some are really transparent, so all I suggest is duplicate the styles layer a couple of times and this seems to help it read better. Hope these help bring your illustrations to life and make your job easier. Thank you and enjoy.

Price: $12.95 Special Price: $6.48
Cache
Benefit strategies have undergone a lot of changes since the economic recession of 2008. That's why Gallagher asked 4,155 organizations how they handle their overall benefit strategy. Its 2019 Benefits Strategy & Benchmarking Survey can help you understand how you stack up against other organizations when it comes to optimizing the packaging and branding of […]
The post This Survey Helps You Make the Most of Your Benefits appeared first on HR Daily Advisor.
Cache
They say it takes a village to raise a child. Well, it also takes a village — at best a supportive community, and at the least a few very good friends — to keep a person sane and happy. All of us need companionship, which is exactly why teenagers are texting their friends in the middle of dinner (TMI, BFF, OMG …), and why people who didn't own a personal computer last year now have profiles on Facebook, MySpace, and other social networking sites.
Maybe the first trick to finding friends is to befriend ourselves, and to become comfortable with silence, because no one has the power to make us feel okay with ourselves but us. But, lest we stay quiet for too long, here are 10 techniques to meet new friends, which I think everyone can benefit from, because, as I learned in Girl Scouts a few hundred years ago (where I didn't make any friends…), some are silver and the others are old, I mean gold.
1. Join a book club.
Most of my friends are in book clubs, and, I have to admit, I'm a little envious of the discussions that happen in these groups. If your neighborhood doesn't have a book club, you can usually join one as part of the local library, the recreational or community center, the community college, or online, of course.
2. Volunteer.
That one seems like a no-brainer, but, seriously, have you ever considered the many charities to which you could give your time? Your local civic association is always in need of volunteers for projects like "let's clean up the park before a hundred dogs crap on it again" and Toys-for-Tots, Christmas in April, and so on. Don't forget about all your local politicians who need help with their campaigns. If one impresses you, offer to knock on a few doors for her or him. Host a cheese and cracker party for the community to get to know the candidate.
3. Find a support group.
There's more to the support group universe than AA. Have you ever looked through all the local listings of meetings in your area? There's even ACOMP (Adult Cousins of Mean People) … not really.
4. Take a night class.
That's where you can supposedly meet men (or women) if you find yourself single in your late 30s or 40s or 50s. If you take a class in something that you are interested in, you're very likely to find potential friends with similar hobbies.
5. Get a dog.
I'm not talking about using the dog as a companion (because we know a dog is a man's best friend). I just mean that dogs are people magnets–and usually nice-people magnets. Here in Annapolis, we have dog cults. If you walk your mutt in certain neighborhoods, you will meet approximately five to ten friends per mile. Double that if you're walking a Golden Retriever. Triple it if you head to the "dog park," designed specifically for doggy play, or proper socialization for dogs.
6. Steal friends.
I realize this technique was frowned upon in the fifth grade. You would surely earn a reputation as a friend-stealer if you tried this too many times. But many (NOT ALL) people in their 30s, 40s, 50s, etc. have loosened up a bit. I have found this to be a very efficient method of making friends, because someone has already done your dirty work–the interview process–and weeded out the toxic folks. It's like
Facebook
in real life.
7. Knock on doors.
Yep. That's what I did six years ago when I was stuck home with a fussy baby and going absolutely crazy. I walked around the neighborhood knocking on every porch that held a stroller. "You in there. I know you have kids. You want to be my friend?" I might have been a tad more subtle than that, but not much.
8. Carpool to work.
Hey, it works for elementary school kids. Many 6-year-olds meet their best buddies on the bus because 1) they live in their neighborhood (what could be more convenient?), 2) they are on the same schedule, and 3) they know the same people ("Susie has cooties").
9. Connect with your alumni association.
I used to be much better at this before kids came along, but even today, I still pay my dues. Alumni associations are gold mines for potential friends. You already have a major experience in common: you can rehash old times as a conversation starter if you need one. Plus many associations sponsor community service events, workshops, or trips abroad that you can take advantage of even if you aren't looking for friends.
10. Talk to strangers.
I know this goes against what you were taught in elementary school. But, yes, the way to meet friends is to strike up a conversation with absolutely anyone. This means becoming the annoying lady everyone dodges on the plane: "So … what are you reading? … Oh, 'Left Behind.' … Have you gotten to the part where everyone except a handful of people burn in hell?… No? … I hope I didn't ruin it for you." If you put yourself out there, yes, you will get rejected many times, and that hurts a little (sometimes a lot). But you will also find your best friends. Everyday life is full of potential friendship moments: waiting rooms, church, trains, planes, automobiles, office meetings, support groups, or coffee shops.
http://psychcentral.com/blog/archives/2009/02/26/10-ways-to-make-friends/
Cache
With collaborative robots proliferating, we wanted to know who's using these robots and what tasks they're doing. Design News caught up with Walter Vahey, executive vice-president at Teradyne, a company that helps manufacturers gear up their automation. Vahey sees a real change in the companies that are deploying robotics. For years robots were tools only for the largest manufacturers. They required expensive care and feeding in the form of integrators and programming. Now, collaborative robots require configuration rather than programming, and they can be quickly switched from task to task.
Vahey talked about robot companies such as Universal Robots (UR) which produces robot arms, and MiR, a company that produces collaborative mobile robots. He explained how they're putting robotics in the hands of smaller manufacturers that previously could not afford advanced automation. The difference is that these robots are less expensive, they can be set up for production without programming, and they can be quickly reconfigured to change tasks.
Robots are now within the investment reach of small manufacturers. That's fueling a surge in the use of collaborative robots. (Image source: Universal Robots)
We asked Vahey what's different about collaborative robots and what he's seeing in robot adoption among smaller manufacturers.
Design News: Tell us about the new robots and how they're getting deployed.
Walter Vahey: Companies such as Universal Robots and MiR are pioneering the robot space. They're bringing automation to a broad class of users and democratizing automation. For small companies, the task at hand is to figure out how to fulfill their orders. It's particularly challenging to manufacturers. In a tight labor market, manufacturers are facing more competition, growing demand, and higher expectations in quality.
Manufacturer can plug UR or MiR robots in very quickly. Everything is easy, from the specs up front to ordering to quickly arranging and training the robot. There's no programming, and the robots have the flexibility to do a variety of applications. Every customer is dealing with labor challenges, so now they're deploying collaborative robots to fulfill demand with high quality.
The whole paradigm has shifted now that you have a broader range of robot applications. You can easily and quickly bring in automation, plug it in ,and get product moving in hours or days rather than months. That's what's driving the growth at UR and MiR.
The Issue of Change Management
Design News: Is change management a hurdle?. Does the robot cause workforce disruption?
Walter Vahey: We really haven't seen that as an issue. The overwhelming need to improve and fulfill demand at a higher quality level helps the manufacturers deploy. It outweighs other challenges. We help with the deployment, and the manufacturers are making the change easily.
We grew up as a supplier of electronic test equipment. Since 2015, we've entered the industrial automation market with a focus on the emerging collaborative robot space. We see that as a way to change the equation for manufacturers, making it faster and easier to deploy automation.
Design News: What about return on investment? Robotics can be a considerable investment for a small company/
Walter Vahey: The customers today are looking for relatively short ROI, and we're seeing it from 6 months to a year. That's a no brainer for manufacturers. They're ready to jump in.
We work hard to make deployment less of an issue. We have an application builder, and we use it to prepare for deployment. The new user may have a pick-and-place operation. They choose the gripper, and we guide them to partners who make it easy to deploy.
The application builder helps the customer pick the gripper. The whole object is to get the customer deployed rapidly so the automation doesn't sit. With MiR, the robot comes in, and we find an easy application for the mobile device. We take the robot around the plant and map it. We've work to guide customers through an application quickly and make the robot productive as soon as possible.
There are hundreds of partners that work with UR and MiR, providing grippers and end effectors. We have a system that customers can plug into. Customer can look at grippers from a wide range of companies. We're not working just on the robot deployment. We work to get the whole system deployed so they can quickly get the ROI.
What Tasks Are the Robots Taking On?
Design News: Who in the plant is using the robots, and what tasks are involved?
Walter Vahey: There is a range of users. To be effective at training a robot and configuring it, the people best suited for it are the ones most aware of the task. To get the robot to be effective you have to know the task. By and large, the person who has been doing that task is best suited to train the robot. That person can then train other robots. Nobody's better suited to do it than the people who know what needs to be done.
The tasks are broad set of applications. We automate virtually any task and any material movement. It's not quite that simple, but it's close. With UR, we're doing machine learning, grinding, packing, pick-and-place, repetitive tasks, welding. It's a very broad set of applications. In materials it's also very broad. Parts going from a warehouse to a work cell, and then from the work cell to another work cell, up to a 1000-kilo payload. We're moving robots into warehousing and logistics space, even large pieces of metal. The robots are well suited for long runs of pallets of materials.
Rob Spiegel has covered automation and control for 19 years, 17 of them for Design News. Other topics he has covered include supply chain technology, alternative energy, and cyber security. For 10 years, he was owner and publisher of the food magazine Chile Pepper.
The Midwest's largest advanced design and manufacturing event!
Design & Manufacturing Minneapolis connects you with top industry experts, including esign and manufacturing suppliers, and industry leaders in plastics manufacturing, packaging, automation, robotics, medical technology, and more. This is the place where exhibitors, engineers, executives, and thought leaders can learn, contribute, and create solutions to move the industry forward. Register today!
Cache
Delil Souleiman/GettyLate Sunday night in Washington, the White House announced it was pulling U.S. troops out of northeast Syria to clear the way for a Turkish invasion. The Kurds there who led the fight on the ground that defeated the so-called Islamic State had seen President Donald Trump's betrayal coming. But still they hoped it could be avoided. "Don't let the Turks disrupt my wedding," our translator texted in September prior to our arrival in the region. For more than a year, we have been visiting almost monthly to interview captured ISIS cadres held by the Kurdish and Arab troops of the Syrian Democratic Forces (SDF) as part of a project for the International Center for the Study of Violent Extremism. Trump's Crazy Syria Move Will Wipe Out America's Allies and Set Up a Big ISIS ComebackIn September, we saw the Turkish threat to invade at any moment was held off by tense U.S. negotiations in which the SDF made considerable concessions, allowing Turkey to patrol jointly a large swath of territory while agreeing to remove checkpoints and military positions farther back from the Turkish border."They should put their patrols inside Turkish territory, and not enter Syria," SDF leaders told us at the time, as they reluctantly acquiesced to U.S. demands.* * *BITTER FRIENDS* * *Many current and former White House advisors counseled against the kind of announcement made Sunday night. Defense Secretary James Mattis resigned last year over Trump's threat to remove the few thousand U.S. troops in Syria, who not only served as advisors in the fight against ISIS, but as deterrence against Turkish operations east of the Euphrates River. In a particularly bitter post on Twitter, Bret McGurk, who served as the special U.S. presidential envoy for the fight against ISIS from 2015 to 2018, wrote, "Donald Trump is not a Commander-in-Chief. He makes impulsive decisions with no knowledge or deliberation. He sends military personnel into harm's way with no backing. He blusters and then leaves our allies exposed when adversaries call his bluff or he confronts a hard phone call."The U.S. military learned about the withdrawal plan only after Trump decided on it following his Sunday phone call with Turkish President Recep Tayyip Erdogan. It has pulled out of two small observation posts in the security-mechanism zone near the Syria-Turkey border so far. But no further withdrawals are imminent, according to a knowledgeable source. The military, remembering Trump's December order out of Syria and subsequent reversal, is waiting to learn if Trump will follow through with withdrawal this time.A recently departed senior Pentagon official considered the pullout a "blatant betrayal" of the U.S.' Kurdish partners that gives "carte blanche to Erdogan" for a widely forecast bloodletting. "It's going to be a massacre, that's clear," the ex-official told The Daily Beast. "It's fundamentally wrong. They destroyed the Caliphate."But the Kurds are not entirely defenseless. Military leaders of the dominant group, known as the YPG or People's Protection Units (and their female YPJ partners), already were in overdrive in September, preparing for what they had long anticipated—a possible betrayal by their closest ally, the United States.* * *DIGGING IN* * *Alongside every major highway and criss-crossing the entire Northern Syria area, in fields, cities and towns, we saw digging for an extensive system of tunnels. "We're ready either way," the Kurdish leaders told us when we asked if they trusted the Americans to keep the Turks at bay.Kurds don't have much, but their spirit of freedom and their desire to protect their hard-won territory and what they see as their incipient democracy was evident everywhere in September as the YPG troops prepared for battle with a much better equipped foe—the Turkish armed forces, the second biggest military in NATO. But nobody who fought ISIS in Syria in one vicious battle after another has forgotten that the huge Turkish army stood by and did nothing against the Islamic State as its killers carried out genocidal campaigns against Yazidis and Shiites, while abducting, torturing, ransoming or beheading Americans, Europeans, and Japanese, among others. Through all that, NATO ally Turkey was not interested in intervention. Far from it.That was until the White House statement Sunday night, up to which the U.S. military denied Turkey the ability to operate in airspace over SDF controlled territory, effectively making it more difficult to enter Northern Syria to conduct the "terrorist cleansing operation" that Turks insist upon. They already carried out one such operation in Afrin, west of the Euphrates, in January 2018, displacing Kurds and effectively taking over the area, using what Kurds claim are former ISIS cadres to fight for them.Turks view the Northern Syria area of Rojava, and the YPG dominated SDF, as controlled by Kurdish PKK terrorists operating under another name—wolves in sheep's clothing. Indeed, in times past—until 1998—PKK leader Abdullah Ocalan, lived freely in Syria and the father of the current Assad allowed him to train and equip his highly disciplined terrorist group for attacks into Turkey. It's also true that over time, the various governing parties of Syria, Iraq and Iran have made use of PKK assaults on Turks as a way to exert pressure on Turkish politics. Turkey has suffered greatly from PKK terrorist attacks both inside Turkey and globally, and the PKK is clearly designated on the U.S. and EU's list of terrorist organizations. In recent concessions to Turkey's alarm over the SDF, a group they view as being in the hands of the PKK, the U.S. recently added additional individuals involved in the PKK to the U.S. State Department's specially designated terrorist list. Turkey has also developed drones that fly over the Qandil mountains, in northern Iraq, making it easier to spot PKK movements and routinely send fighter jets to bomb them.  In the case of northern Syria however, until President Trump's announcement late Sunday night Washington time, the U.S. policy was to deny the Turks military incursions into territory where U.S. troops patrol and the U.S. military controls the airspace and claims by Turkey that the SDF is PKK have also been hotly disputed.While Turkey sees the SDF as dominated and led by a terrorist organization, the U.S. has a completely different perspective, viewing the YPG and SDF as valued allies in the fight against ISIS. Indeed, YPG and YPJ (Women's People's Protection Units) fighters lost over 1,000 lives fighting ISIS and it is common to see Kurdish men and women in Rojava on crutches, in wheelchairs and otherwise suffering from serious and lifelong injuries sustained in the battle to retake ISIS dominated areas, including Raqqa. While the rest of the world was silent, the YPG and YPJ can also take credit for going to the rescue of the Yazidis on Sinjar mountain in 2014, fighting to stop ISIS from carrying out a massive genocidal campaign in which ISIS cadres captured and enslaved countless Yazidi women, boys, and girls. The men were killed by ISIS, the boys killed or indoctrinated. The women and girls subsequently were raped and treated as chattel. But thousands were able to escape with YPG help.* * *THE PRISONERS* * *At present the SDF houses thousands of captured ISIS prisoners, holding the men in repurposed schools and prisons overflowing with former fighters and in camps similarly run at overcapacity for ISIS women and children. According to a March 2019 UN report, a total of 8,000 Islamic State fighters currently are held in SDF custody. In our recent visits to north and east Syria from May through August, relying on our primary intelligence sources, we were told that approximately 2,000 of these Islamic State prisoners were considered "foreign terrorist fighters" from North Africa, Europe, and the Americas.The same data was also corroborated in an August 2019 press release by the Office of the Spokesperson, Special Envoy of the Global Coalition to Defeat ISIS, Ambassador James Jeffrey. Just under a 1,000 of the prisoners are believed to be Europeans. ICSVE has interviewed approximately five percent of those detained. Most appear to have become totally disillusioned, are exhausted from battle and prison and say they want to lay down arms. While there is no specific deradicalization or rehabilitation program applied to them at present and we have been requested by the SDF and also agreed to build one, it's safe to say the majority are spontaneously deradicalizing and simply want to return home to their former lives after facing a judicial process.The SDF prisons are overcrowded and the SDF leadership repeatedly has expressed a need to ICSVE researchers for technical assistance in dealing with terrorist prisoners and for financial assistance to build at least five prisons. Riots and attempted jail breaks have occurred in SDF prisons holding foreign fighters. Likewise, recent news reporting shows over-capacity has prisoners sleeping next to each other on their sides to be able to fit into small and overcrowded rooms. Three detention centers holding ISIS women and children also are administered by the SDF: Camps Hol, Ain Issa and Roj. According to a UN Report as of April 2019 an estimated 75,000 women and children were being held. Our data suggests that at least 60,000 are Syrians and Iraqis. At least 8,000 children and 4,000 wives of foreign fighters remain in the camp.Women and children live in tents in these camps which are hot in the summer, freezing cold during winter, and leak cold rainwater as well.  Dust blows around the camps causing breathing difficulties for some. Women and children have died of typhus, tent fires, and other dangers in the camps. Recently vaccinations have been offered, but many mothers don't trust the program and refrain from having their children vaccinated. The women cook for themselves and complain that the food provided them lacks nutritious fruits and vegetables. Schools are lacking as well.All of the camps housing women have suffered from ISIS enforcers still dedicated to the group who require the other women to continue to cover themselves and punish those who speak out against them. These women have attacked other women, set their tents on fire, stolen their possessions, attacked, bitten, beaten and stabbed guards and have murdered other women creating a sense of chaos, constant danger and oppression in the camps. Recently a gun fight broke out in Camp Hol, with one woman killed and seven wounded.Foreign fighters from about 60 countries remain in SDF custody. We have interviewed foreign fighters who are nationals of the United States, Canada, Australia, Trinidad and Tobago, the UK, Belgium, France, the Netherlands, Pakistan, Dagestan, Turkey, Denmark, Russia, Kosovo, Montenegro, Albania, Bosnia, Indonesia, Tunisia, Saudi Arabia, Morocco, Libya, Switzerland, Egypt, and Germany. * * *A TRIBUNAL?* * *While the SDF has struggled to contain the overflow of captured ISIS fighters, they have been frustrated by Turkish politics and threats to their very existence. In recent years with the Syrian uprising and rise of ISIS in Iraq and Syria, the Turks saw it to be to their advantage to fund, train and equip Islamist rebels that they believed could keep the Kurdish independence movements in Syria in a weakened state or altogether destroyed. The Kurds, meanwhile, fought back in 2015 when ISIS invaded the city of Kobani on the Turkish border and rose up as a valiant on-the-ground force to repel the terrorists. The U.S. led coalition began arming and supplying the YPG and YPJ, and providing air cover, infusing the Kurds with a powerful sense of valor and military might that ultimately led to the complete territorial defeat of an Islamic State "Caliphate" that had taken as its motto "remain and expand."ISIS is hardly a defeated foe however, with weekly sleeper cell attacks occurring in both Syria and Iraq and the likes of ISIS leader Abu Bakr al Baghdadi still making video and audio appeals to supporters around the world to reinstate the Caliphate, starting with breaking the ISIS prisoners out of captivity.The subject of ISIS captives is one of great importance to President Trump who repeatedly has threatened to release the roughly 12,000 ISIS foreign men, women and children prisoners held by the SDF in prisons and camps.  Trump's view is that each country has to take its citizens back, even countries like Sweden that lack a terrorism law under which to prosecute returnees, and countries like France, which already has a serious militant jihadi prison problem and fears any more potential ISIS cadres inside its penitentiaries. These countries have continued to tell the SDF that an international tribunal can be established in its territory to try ISIS prisoners in place. But the UN Counter Terrorism Directorate and U.S. State Department strongly disagree with this proposal and President Trump continues to tweet that he is simply going to release the prisoners to European countries refusing to repatriate them—even though it is the SDF, not Washington, that has them in custody.In a series of tweets on Monday, Trump claimed erroneously that most of the ISIS prisoners are foreigner terrorist fighters and seemed to ignore that ISIS, even when based far away in Syria, is a very real threat to U.S. citizens and interests. It is "time for us to get out of these ridiculous Endless Wars, many of them tribal, and bring our soldiers home. WE WILL FIGHT WHERE IT IS TO OUR BENEFIT, AND ONLY FIGHT TO WIN. Turkey, Europe, Syria, Iran, Iraq, Russia and the Kurds will now have to … figure the situation out, and what they want to do with the captured ISIS fighters in their "neighborhood." They all hate ISIS, have been enemies for years. We are 7000 miles away and will crush ISIS again if they come anywhere near us!"While arguments of who should be responsible to prosecute and hold ISIS prisoners can be made on both sides, in many ways Europe, Jordan and many other countries effectively did "flush the toilet" of their militant jihadi problem by allowing them to freely exit their countries to go fight in Syria, most of them ultimately joining ISIS. The U.S. at present repatriates all of its ISIS fighters bringing them to swift and sound justice at home.* * *ISIS AMBASSADOR TO TURKEY* * *Turkey also has a responsibility in the rise of ISIS, having allowed over 40,000 foreign fighters to cross over its border into Syria, many unabashedly on their way to join the Islamic State. Many prisoners tell us of Turkish complicity with their journey into ISIS-land and being wished well by border guards who winked as they crossed into Syria.Abu Mansour, a 36-year-old Moroccan ISIS emir interviewed by ICSVE in February 2019 in Iraqi prison, told us that he basically functioned as the ISIS ambassador to Turkey, negotiating border issues, the transfer of ISIS wounded into Turkey for treatment, the flow of foreign fighters across the Turkish border into ISIS territory, and other logistics. "The subject of Turkey is a very big one," he said, "and the mutual interests include the obvious and the hidden.""Their benefit was that it was a border area and we have a border strip with them," Abu Mansour continued. "Security is one of them, and they wanted to control north of Syria."  The Turks wanted to control the entire border region in Syria and even into Iraq as far as Mosul, according to Abu Mansour, but they wanted to do it through a proxy force. "So, they wanted to find organizations that would do this favor for them, including terminating the presence of the Kurdish Workers Party [the PKK], without a direct interference from Turkey. At the same time, especially since they were part of NATO, they don't want to anger NATO, because they need NATO."By the same token, Turkish President Erdogan's background as a committed Islamist created a certain sympathy, as did his ambition to revive in modern form the old Ottoman empire, Abu Mansour claimed. "The pretext of [controlling the] Kurdistan Workers' Party [PKK] is a strong pretext for Turkey, but they have ambitions, as they have entered regions that don't have PKK in them." Abu Mansour explained the Turkish and ISIS relationship through his own experiences. In 2013, he said, he was assigned to receive the ISIS volunteers arriving in Turkey, but later, "I supervised the country entry operations, registration as a whole."  Then in 2015, he said, "I worked on external relations, relations with the Turkish intelligence. It started when I was at the borders." First there was an agreement about passing the wounded from Syria into Turkey, about the border crossing and security arrangements. "Ambulances, especially in critical and serious situations, could go straight to the [border] gate," said Abu Mansour. "Then a Turkish ambulance takes the case to the Turkish hospitals, and it is followed up inside Turkey. There was a hotline with intelligence who are located at the borders. Most places were available, [including] hospitals in Turkey [and] there was a technical staff of doctors who follow up the case in Turkey. The [Turkish] state was paying for certain operations performed in private hospitals, but most cases referred by the public hospitals were for free."Abu Mansour said he had "face-to-face meetings with Turkish delegations. Sometimes they represented the intelligence services, sometimes the Turkish army, depending on the issue. "Most meetings were in Turkey on the border strip, but there were also meetings in Ankara and Gaziantep, depending on the issue," said Abu Mansour. He would travel with a delegation of two or three ISIS people."Referencing the easy relationship, as he saw it, between ISIS and the Turkish intelligence and military, Abu Mansour claimed, an ISIS emir could "go to Ankara without a problem.  They always sent a car, or a bodyguard. At one point, we met weekly, depending on the issue and its importance to Turkey and to us, according to the demand."The situation described by Abu Mansour raises a question: did the ultimate defeat of ISIS in fact deprive the Turks of the proxy buffer zone they wanted—which they are now invading Syria to establish?Abu Mansour recalled, "Turkey asked on many occasions for a safe zone." This would be a demilitarized zone where it would provide ISIS with whatever it wanted, but only inside Syrian territories. According to Abu Mansour, , ISIS refused to grant it, and relations started to fall apart. Eventually, Turkey grew sick of the back and forth, and there was also a split in ISIS leadership, with one faction deciding it would take the terror war into Turkey with a 2016 bombing at Istanbul airport. At the time, Abu Mansour was in Gaziantep, Turkey, and the Turkish authorities told him they thought this was an orchestrated act to pressure Ankara. But he says that was not the case. The external security services of ISIS had started setting their own agenda, "carrying out operations everywhere," Abu Mansour told us. "We reached a state in which they couldn't care less about politics, and they worked like gangs, [and would] strike anywhere."While Turkey continues to claim that the SDF, our strongest ally in fighting ISIS, is a terrorist dominated group, many questions remain about Turkey's own complicity with ISIS. Given that during a bitterly fought war with ISIS, in which many Kurdish lives were lost, that the SDF managed to take control of the area, institute a functioning political system that included granting an impressive array of minority rights and rights to women, the SDF deserves our respect and protection.But U.S. President Donald Trump has put a price on all this. "The Kurds fought with us," he tweeted, "but were paid massive amounts of money and equipment to do so." That they saved countless lives in the process, including American lives, does not seem to have been a factor.Spencer Ackerman also contributed reporting to this article.Read more at The Daily Beast.Get our top stories in your inbox every day. Sign up now!Daily Beast Membership: Beast Inside goes deeper on the stories that matter to you. Learn more.
Cache
(Bloomberg) -- President Donald Trump hasn't endorsed a Turkish incursion into Syria, a senior administration official said, deepening confusion around his policy after an uproar from Republicans that he planned to abandon U.S. Kurdish allies.The official said Trump has cautioned Turkish President Recep Tayyip Erdogan that he will bear responsibility for Islamic State prisoners in the region, as well as a resurgence of violence if the militants are freed and any harm to civilians in areas Turkey occupies.The official briefed reporters on condition of anonymity.Trump later suggested his move to clear the way for a Turkish invasion was intended in part to pressure European countries including France and Germany that, he said, have refused to accept the return of citizens who joined Islamic State.Trump said at a meeting with military leaders that he had urged U.S. allies to reclaim their citizens, but they had refused."We're not going to move the fighters to Guantanamo Bay and take care of them for many, many years into the future, that's not for us," he said. "Now it's time for Germany and France and all of the nations where they came from to take them back and they chose no. Maybe they're going to change their tune now, I don't know."Trump has come under criticism from allies including Republican Senator Lindsey Graham of South Carolina and his former United Nations ambassador, Nikki Haley, for his announcement late Sunday that the U.S. wouldn't stand in the way of the Turkish incursion.The White House statement was read around the world as Trump abandoning U.S. policy that Kurdish allies would be protected from Turkish aggression in exchange for their help in defeating Islamic State.Former Vice President Joe Biden, who is among the top Democratic contenders to challenge Trump's re-election in 2020, said in a statement that "once again, an impulsive and erratic president has abandoned friends of the United States with a late-night tweet."American officials didn't immediately explain the president's change in position on Syria. Trump's order to remove about 50 U.S. troops from a Syria border region Turkey intends to invade doesn't represent a green light for the incursion, the U.S. official said. The official added that Trump had discussed the decision with officials at the State Department and Pentagon before the White House announcement, and that the agencies should not have been surprised.The U.S. had successfully dissuaded Turkey from an invasion for two years, but if Erdogan orders an operation, the U.S. doesn't want its soldiers endangered or caught in the crossfire, the official said.I've told President Erdogan, I hope he's going to treat everybody with great respect," Trump said at the meeting with military leaders. Earlier, he told reporters at the White House: "I have consulted with everybody.""I fully understand both sides of it but I campaigned on the fact I was going to bring our soldiers home," he said.The administration official did not say that any U.S. soldiers would be brought home as a result of the withdrawal. The troops moved from the border region, mostly special forces soldiers, would be re-positioned at different U.S. bases in Syria, the official said.(Updates with more Trump remarks, beginning in fourth paragraph)To contact the reporters on this story: Josh Wingrove in Washington at jwingrove4@bloomberg.net;Justin Sink in Washington at jsink1@bloomberg.netTo contact the editors responsible for this story: Alex Wayne at awayne3@bloomberg.net, John HarneyFor more articles like this, please visit us at bloomberg.com©2019 Bloomberg L.P.
Cache
Mitch McConnell and Lindsey Graham lead condemnation of foreign policy move that could prove 'disaster in the making'Donald Trump with Mark Milley, the chairman of the joint chiefs of staff, in the Cabinet Room on Monday. Lindsey Graham said abandoning the Kurds would be 'a stain on America's honour'. Photograph: Carolyn Kaster/APDonald Trump was dangerously isolated on Monday as, in a rare rebuke, some of his most loyal allies revolted against his decision to withdraw US troops from north-eastern Syria.Senate majority leader Mitch McConnell led a chorus of Republicans who, having defended the president on almost every other issue – including over impeachment – decided to draw a line in the sand."A precipitous withdrawal of US forces from Syria would only benefit Russia, Iran, and the Assad regime," McConnell said. "And it would increase the risk that Isis and other terrorist groups regroup."He added: "As we learned the hard way during the Obama administration, American interests are best served by American leadership, not by retreat or withdrawal."The criticism was significant because McConnell is usually at pains not to cross Trump even at his most capricious. Last week the Kentucky senator released a Facebook video promising to stop Democratic-led impeachment in its tracks.Article 1 of the United States constitution gives the House of Representatives the sole power to initiate impeachment and the Senate the sole power to try impeachments of the president. A president can be impeached if they are judged to have committed "treason, bribery, or other high crimes and misdemeanors" – although the constitution does not specify what "high crimes and misdemeanors" are.The process starts with the House of Representatives passing articles of impeachment. A simple majority of members need to vote in favour of impeachment for it to pass to the next stage. Democrats currently control the house, with 235 representatives.The chief justice of the US supreme court then presides over the proceedings in the Senate, where the president is tried, with senators acting as the jury. For the president to be found guilty two-thirds of senators must vote to convict. Republicans currently control the Senate, with 53 of the 100 senators.Two presidents have previously been impeached, Bill Clinton in 1998, and Andrew Johnson in 1868, though neither was removed from office as a result. Richard Nixon resigned in 1974 before there was a formal vote to impeach him.Martin BelamThe unusual fracture emerged on Sunday night when, shortly after a phone conversation between Trump and Turkey's president Recep Tayyip Erdoğan, the White House announced removal of US troops from the Syria-Turkey border area. "Turkey will soon be moving forward with its long-planned operation into Northern Syria," it added.Critics of all political stripes have long feared that the move could open the way for a Turkish strike on Kurdish-led fighters in the area. Kurdish groups have fought alongside a small US presence in Syria to drive Islamic State militants from the region.The Republican backlash was rapid and potentially unnerving for a president whose fate is tethered to the party and the assumption that it will acquit him in the Senate if, as widely expected, the Democratic-led House of Representatives votes for impeachment.Lindsey Graham, chairman of the Senate judiciary committee, who has become an outspoken defender (and frequent golf partner) of Trump, did not acquiesce this time. Abandonment of the Kurds would be "a disaster in the making", he said, and "a stain on America's honour".Graham told Fox News: "I hope I'm making myself clear how short-sighted and irresponsible this decision is. I like President Trump. I've tried to help him. This, to me, is just unnerving to its core."Graham wrote on Twitter that if the plan goes ahead, he will introduce a Senate resolution opposing it and seeking reversal of the decision. He added: "We will introduce bipartisan sanctions against Turkey if they invade Syria and will call for their suspension from NATO if they attack Kurdish forces who assisted the US in the destruction of the ISIS Caliphate."Kevin McCarthy, the top Republican in the House, whose attempts to defend Trump's phone call with Ukraine's president have provoked mockery, said: "If you make a commitment and somebody is fighting with you, America should keep their word."Michael McCaul of Texas, the lead Republican on the House foreign affairs committee, also urged the president to reconsider. "The United States should not step aside and allow a Turkish military operation in north-east Syria," he said. "This move will undermine our ongoing campaign to prevent an Isis resurgence and will ultimately threaten our homeland."Additionally, the United States needs to stay engaged to prevent further destructive involvement in the region from our adversaries like the Assad regime, Putin and Iran."Notably, senator Marco Rubio of Florida, reluctant to criticise Trump even when the president suggested that China investigate former vice president and 2020 election rival Joe Biden, was clear , describing the retreat as "a grave mistake that will have implications far beyond Syria"And Nikki Haley, Trump's former UN ambassador, admonished Trump without mentioning his name. "We must always have the backs of our allies, if we expect them to have our back," she tweeted. "The Kurds were instrumental in our successful fight against ISIS in Syria. Leaving them to die is a big mistake. TurkeyIsNotOurFriend"Ominously for Trump, even conservative Fox News aired dissent. Host Brian Kilmeade described the pullout as "a disaster", telling viewers of Fox & Friends: "Abandon our allies? That's a campaign promise? Abandon the people that got the caliphate destroyed?"Republicans who have contradicted Trump before did so forcefully again. Utah senator Mitt Romney described Trump's announcement as "a betrayal", adding: "It says that America is an unreliable ally; it facilitates ISIS resurgence; and it presages another humanitarian disaster."Romney and Democratic senator Chris Murphy issued a joint statement insisting Trump's administration "explain to the American people how betraying an ally and ceding influence to terrorists and adversaries is not disastrous for our national security interests".Democrats also piled in but there was a lone voice of support for the president on Capitol Hill. Republican senator Rand Paul, long a critic of foreign intervention, said: "So many neocons want us to stay in wars all over the Middle East forever. [Trump] is absolutely right to end those wars and bring the troops home."Trump himself was undeterred by the blowback. Speaking at the White House on Monday, he said he has "great respect" for the prominent Republican critics. And added: "People are extremely thrilled because they say it's time to bring our people back home. We're not a police force. They're policing the area. We're not a police force. The UK was very thrilled at this decision … many people agree with it very strongly."
Cache
Alex Wong/GettyIf President Donald Trump is thinking a deal with his friend Kim Jong Un might distract from his troubles at home, he'd better think again. The abrupt end of "working-level" negotiations between U.S. and North Korean officials in Stockholm over the weekend proves yet again that talking isn't working. "Kim thought he could sucker us because of the president's statements and because our alliances are in trouble and because he believed Trump wanted a foreign policy success," said David Maxwell, retired special forces colonel and senior fellow at the Foundation for Defense of Democracies. "We have to keep pushing Kim to really conduct negotiations, but the minute we give in to giving him concessions, he has won and we have lost."While Trump Shrugs, North Korea's Building Better MissilesIf the firing of the hawkish John Bolton as Trump's national security adviser "helped Kim think he could get what he wants," said Maxwell, the North Koreans at Stockholm yet again confirmed that Kim is not about to give up his precious nukes. The nuclear program was initiated by his grandfather, Kim Il Sung, perpetuated by his father, Kim Jong Il, and is now the centerpiece of Kim's defense policy.North Korea's foreign ministry left no doubt about the failure of the talks. "We have no intention to hold such sickening negotiations as what happened this time," said the statement, throwing cold water over the session in Stockholm, which had lasted eight hours and thirty minutes. The U.S. negotiator, Stephen Biegun, had tried in vain to present ideas that the Americans should have known would be unacceptable. A North Korean official identified only as a spokesperson, possibly First Vice Foreign Minister Choe Son Hui, who is a key figure in talks with the U.S., sarcastically mimicked Washington's demand for "complete, verifiable, irreversible denuclearization." The U.S., said the spokesperson, must take "a substantial step to make complete and irreversible withdrawal of the hostile policy toward the DPRK," i.e., the Democratic People's Republic of Korea.The statement wound up with a threat intended to catch the attention of Trump as he contemplates maybe a third summit with Kim–his fourth if you count their impromptu meeting on the North-South line at Panmunjom at the end of June.Better watch out, was the message. If the U.S. "again fingers [points] at the old scenario," said the spokesperson, "the dealings between the DPRK and the U.S. may immediately come to an end." Indeed, the statement concluded, "the fate of the future DPRK-U.S. dialogue depends on the U.S. attitude, and the end of this year is its deadline."The Americans for their part seemed to think another round of talks would be just the thing to head off that looming deadline lest Kim inspire a crisis similar to that of two years ago when tests of nuclear warheads and long-range missiles were the norm. State Department spokesperson Morgan Ortagus said the U.S. was accepting Sweden's invitation to meet again in two weeks, but North Korea was having none of it."The U.S. is spreading a completely ungrounded story that both sides are open to meet after two weeks," said the North Korean spokesperson, but "it is not likely at all that it can produce a proposal commensurate to the expectations of the DPRK and to the concerns of the world in just fortnight [sic]."The statement decried the U.S. failure to come up with what the North Koreans call "a new calculation method," dismissing out of hand the litany of proposals that Biegun had put on the table.The exact nature of that "calculation method" was not clear, but presumably it calls for prolonging the moratorium on testing nuclear warheads and intercontinental ballistic missiles in exchange for relief from sanctions. The North might even suspend its aging nuclear complex at Yongbyon while fabricating warheads elsewhere in a step-by-step process immune from serious inspections and would surely press for an "end-of-war" declaration under which the U.S. would have to withdraw most of its 28,500 troops from South Korea."The fundamental problem with Trump's North Korea efforts—they can't be called an actual policy—is that North Korea has not even considered giving up its nuclear weapons," said David Straub, retired senior U.S. diplomat in Seoul and Washington. "As long as that's the case, no amount of Trump sucking up to Kim will make a real difference, and Trump backed off maximum pressure long ago."To veteran U.S. diplomats, Trump's grasp on reality is far from clear. "As with many of his other policies, Trump is engaged in fantasy," said Straub, "but because he engages in fantasy, who can predict how he will now respond?"  Straub asks if Trump "is mad at Pompeo and his negotiating team and will order even more gifts and concessions?"Evans Revere, who once headed the North Korean desk at the State Department and was number two U.S. diplomat in Seoul, sees the outcome at Stockholm as "a very predictable collapse." The North Korean strategy, said Revere,  "appears to have been to take advantage of the U.S. fixation on working-level talks, use the testing of increasingly capable ballistic missiles to pressure Washington, and to issue threats about an end-of-year deadline to ensure the United States team came to the table with a more generous, flexible, and creative offer than the one Trump made in Hanoi."Trump, Revere believes, "backed off maximum pressure long ago."Under the circumstances, the U.S. was in no mood to articulate publicly its proposals at Stockholm. "The U.S. brought creative ideas and had good discussions with its DPRK counterparts," said Ortagus at the State Department, citing but not explaining "a number of new initiatives that would allow us to make progress."Clearly the North Koreans saw all that stuff as diplo-speak for an elaborate ruse to get them to give up their nukes while the North has flaunted its military prowess in short-range missile tests.Trump has said such tests are not in violation of any understanding reached with Kim at their first summit in Singapore last year, but North Korea most recently has aroused concerns by test-firing a short-range missile from an under-water platform. North Korea's party newspaper, Rodong Sinmun, called the prototype for a submarine-launched ballistic missile a "time bomb" and "most fearful dagger" pointed at its enemies. In theory, a submarine might be able to launch such a missile, tipped with a nuclear warhead, while submerged undetected off the U.S. west coast.In fact, the North Koreans in Stockholm seemed to have gained a measure of revenge for the humiliation of the second Trump-Kim summit in Hanoi at the end of February when Trump walked out without reaching so much as a meaningless statement with Kim similar to the one that ended the Singapore summit.Donald Trump Enters the Eccentric Dictator Phase of His PresidencyThat denouement, which the North Koreans blamed on Bolton and Secretary of State Mike Pompeo, resulted in the dismissal of the top North Korean advisers surrounding Kim, notably Kim Yong Chol, the North's former intelligence chief, whom Pompeo had seen in Pyongyang, New York, and Washington. Trump, after his 45-minute closed-door meeting with Kim on the North-South line at Panmunjom on June 30, said Kim had agreed on working-level talks to bring about a real deal on the basis of their summit in Singapore. "The Kim regime may misperceive from Singapore that it can throw negotiators under the bus, rush into another summit, and extract greater concessions from Trump," said Leif-Eric Easley, professor of international relations at Ewha University in Seoul, "but a lesson from Hanoi is that if the North Koreans want sanctions relief, they're going to have to do the work at the working level." This time, however, the new North Korean negotiator, Kim Myong Gil, a veteran diplomat who had negotiated with Americans in talks in the '90s and then as ambassador to the United Nations, was taking no chances. The meeting, he said, had "not fulfilled our expectations and broke down." Presumably, on orders from Pyongyang, he was not going to concede anything in return for whatever concessions the Americans might offer. Instead, he staged a walkout of his own.Read more at The Daily Beast.Get our top stories in your inbox every day. Sign up now!Daily Beast Membership: Beast Inside goes deeper on the stories that matter to you. Learn more.
Cache
Author and educator Mitchell S. Jackson, who will interview Ta-Nehisi Coates at The Morrison Center on Oct. 7, humanizes the plight of disenfranchised people to show how inequality works in America. If there is a lesson to be learned from the Black Lives Matter movement, it's that the dangers, responsibilities and rules of living in America aren't the same for everyone. Long before BLM, however, people like Mitchell S. Jackson fought to illuminate that principle for others. The title of Jackson's latest book, Survival Math, released earlier this year, suggests that even in the wealthiest nation on earth, there are still many whose lives are games played for the highest stakes: life and death. "Survival math are the on-the-spot decisions one has to make when they're faced with a really serious threat. That's on the surface," Jackson said. "People who are disenfranchised are always having to make survival-math choices, which are the broader choices that help them avoid poverty and the criminal justice system." Jackson, who will be in Boise on Monday, Oct. 7, to interview author Ta-Nehisi Coates on the Morrison Center stage for The Cabin's Readings & Conversations series, draws the portraits of real people whose lives have been functions of "survival math" as someone who has lived that life himself. When he was a sophomore in college, he was incarcerated on drug charges; but unlike many people who have been wrung through the justice system, Jackson's career as a writer has been on the up-and-up, and he has taught creative writing at several prestigious institutions of higher learning across the country. He said it was a no-brainer when his agent called him up to gauge his interest in interviewing Coates in Boise. Though Jackson said he's interested in Coates' journalism and nonfiction work—work that has made him a national-caliber thinker on history and race relations—it's Coates' latest book, The Water Dancer, released in late September, that interests him the most. "I think [Coates] gets so many questions that go over the same subjects. I'm going to try to connect this to his other work, but I'm interested in how he put [The Water Dancer] together, what kind of revisions he made. People don't talk to him a lot about craft, they ask about the issue of black lives in America," Jackson said. The intersection of style and substance are of keen interest to Coates and Jackson both. In The Water Dancer, there are scenes that, though fictional and stylized, mirror and reflect on mechanisms of oppression. In Survival Math, Jackson deploys similar strategies to shade what's ultimately a work…

Cache
Olympia-born band Sleater-Kinney has a thing for Spokane. The band is opening its "The Center Won't Hold" tour in the Lilac City on Wednesday at the Martin Woldson Theater at the Fox four years after opening its previous tour with a sold-out show at the Knitting Factory.
Sure, logistics-wise, it makes sense for the duo to kick off tours in Spokane, but, in a recent interview, singer/guitarist Corin Tucker said the decision to start the "Center Won't Hold" tour here also stemmed from the experience they had when they played in 2015.
"I think Spokane might be our good luck charm," she said. "We had such a good time last time. We were so nervous. It was our first show in almost a decade. We had come back after the hiatus to play the (first) show in at least eight years. We had a great experience."
Last time Sleater-Kinney was on the road, the band was coming off a lengthy break and bringing new album "No Cities to Love" with them.
The time between shows isn't as long this time around, but Tucker and singer/guitarist Carrie Brownstein, who formed Sleater-Kinney together in 1994, had to overcome another obstacle: the sudden departure of longtime drummer Janet Weiss.
Weiss announced that she was leaving the band in July, a month and a half before the release of "The Center Won't Hold."
"It was definitely a difficult moment," Tucker said. " 'How do we handle this? What should we do?' There's a lot of sadness in losing a longtime collaborator like that. I think though, that, Carrie and I felt like we were still really committed to the band and committed to this album.
"We were in the middle of the release, and so we felt like, 'Well, this is a really hard challenge,' but we felt like we were going to figure it out together."
She and Brownstein also got lucky, Tucker said, after finding drummer Angie Boylan, who is joining the band on tour after a recommendation from Tucker's husband, filmmaker Lance Bangs. Boylan, as it turns out, was playing in a Sleater-Kinney cover band and already knew half of the band's songs.
"It's bizarre. It's awesome," Tucker said about musicians choosing to dedicate their careers to Sleater-Kinney's. "What an honor that somebody would care about our music that much that they want to re-create it.
"That's every writer's dream is that your music has that kind of impact on listeners so that they would actually care enough about the songs to re-create them live. That's a really wonderful thing to hear about your music."
Boylan's Sleater-Kinney knowledge now includes tunes from "The Center Won't Hold." When writing the album, Tucker, Brownstein and Weiss worked independently of one another, a new technique for the band. Tucker said the distance inspired her to approach her songs with a "proof of concept."
"There were songs that were like, 'This is what I'm thinking. This is the world that I would want to get into with this song in terms of melody and the voicing of the character.' … It was interesting for me as a writer to try approaching it that way."
In January, Sleater-Kinney announced that they were working on the then-untitled album with Annie Clark, aka St. Vincent. The band initially planned to work with numerous producers but found that Clark was the perfect fit.
"She came out of the gate with so many ideas and enthusiasm, but also her skillset was amazing," Tucker said. "She had ideas for every part of the song."
Take "Ruins," for example. Tucker said she, Brownstein and Weiss were using "basic synth sounds" before Clark suggested making the synth sound "disgusting." Ten synthesizers later, the band settled on one that made the song sound corrosive and dirty.
"That's an important thing about working with a producer is having an outside ear that brings a whole other character to the album," Tucker said. "It provides a leadership role that I think is really important, and Annie is a very natural born leader. That was something we enjoyed about working with her."
As a whole, "The Center Won't Hold" is loud, in your face and no holds barred – just as Sleater-Kinney has always been.
"We've always been a band that craved your attention and wants to take over your space and wants to be heard. I think this album is no exception," Tucker said. "We feel like in this cultural moment, especially for women, it's not a time to be quiet or complacent or step back.
"It's time to be really loud and make ourselves heard and try to change as much as we can about what's happening now in our country."
Cache
With the amount of controversy surrounding it, "Joker" feels more like an idea and less like an actual movie. Could it possibly stand up to the mythology that has sprung up around it, stoked by breathless film-festival hype, pre-emptive misanthropic adoration, gun-control activists demanding action and some foot-in-mouth interviews by writer/director Todd Phillips?
It absolutely does not live up to its undeserved hype, for better or worse. And while that might be surprising, it also has to be expected. So what exactly is "Joker"? It's a great trailer. It's two consecutive hours of Joaquin Phoenix dancing, gracefully and gruesomely writhing his emaciated frame.
It's a riff (or a complete ripoff) of "The King of Comedy" down to Robert De Niro cast as late-night talk-show host Murray Franklin. It's a '70s look book sprinkled with the broadest, most obvious comic book mythology and a series of wildly hit-or-miss music cues (Gary Glitter, really?).
It's a virtuosic actor destroying his body to make the undercooked script seem like something more than it is. "Joker" is cloaked in the kind of prestige that tricks you into thinking there's something more meaningful there: moody cinematography, bursts of extreme violence, an actor who doesn't so much as perform but psychically channel a character.
But this is all window dressing, smoke and mirrors to distract from the story being painfully thin and told with all the nuance of a sledgehammer. This thing wouldn't pass muster in paneled newsprint, and, aside from a few soap opera-style reveals, you've heard it all before.
There is one thing Phillips and co-writer Scott Silver do accomplish effectively, and it's the crux on which the perceived controversy hangs. They manage to build empathy for Batman's most popular villain, the Joker, aka Arthur Fleck (Phoenix).
Arthur is a clown who lives with his mother (Frances Conroy) in the outer boroughs of Gotham struggling with mental illness and a strange condition that causes him to laugh in times of distress. He dreams of a career in standup comedy, but he doesn't get jokes. Rather, Arthur is the butt of jokes, which escalate violently in troubled Gotham.
When he finally steps into his power as a murderous chaos clown, empathy is what he demands through his violent actions, pushed to his limit by a broken mental health system, a civil society roiled by unrest and a lack of the attention and love he wants.
There is an aspect of the execution Phillips badly flubs, and it just might be the film's death knell. "Joker" is resoundingly one note throughout the majority of its running time, Phillips mistaking "unrelentingly grim" for "profound," which just renders the film punishingly dull.
It could be by design: The brutal boredom makes you crave the sweet release of chaos; in the last few minutes, where Joker acolytes riot in the streets, things finally perk up. That's because "Joker" puts us on that queasy roller-coaster ride with Arthur himself.
The empathy Phillips, Silver and Phoenix create for Arthur and his actions will be a sticking point for many who don't want to look that grease-painted visage in the face, a representation of mental illness and poverty and structural failure pushed to the brink.
That empathy might be the most radical part of "Joker," but it's not that radical at all. This "Joker" is all setup with no punchline.
Cache
In the last moments of Rupert Goold's "Judy," Miss Garland herself (Renée Zellweger) tells (or perhaps implores) her audience: "You won't forget me, promise me you won't." The film does make sure of that, preserving the iconic star in amber, though it's not as the soft, golden-voiced teen we know so well.
This is not Judy in her prime but at one of her lowest points, at her most real and raw, and in a transformed and transfixing performance, Zellweger captures Judy as her flawed, vulnerable, sweet, charming and deeply human self.
Based on Peter Quilter's stage play "The End of the Rainbow," adapted by Tom Edge for the screen, "Judy" takes place during a run of shows in 1969 at London's Talk of the Town dinner club.
A destitute Judy Garland reluctantly takes the gig in hopes of earning enough money to regain custody of her children, Lorna (Bella Ramsey) and Joey, from her ex-husband Sid Luft (Rufus Sewell).
During the contained period, the film unspools what makes the famous Garland tick. Yes, it is indeed the uppers, downers, booze, insomnia, anorexia and deep-rooted trauma inflicted by a childhood spent laboring under the watch of a controlling, verbally abusive Louis B. Mayer.
But what we learn is Judy is driven equally by her desires as she is by her demons. All she wants is to be loved. And, every night, if she chooses, she can receive that love, in droves, from her audience.
Zellweger embodies Garland's brittleness, twitchy and strained, hardened by years of drugs and her rough upbringing of long workdays and forced diet pills. Judy has crystallized, thin as glass, ready to shatter at any moment.
She works because she must, and because she loves her children, but also because it's all she's ever known, to get up onstage and sing. It's how she earns her living, her love, her existence.
Goold's film is unshowy, merely a platform for Zellweger's virtuosic performance. Goold is smart to simply give breathing room to Zellweger, and to the musical numbers, letting her stalk the stage in anger, glory and confusion without cutting away.
Zellweger ably reminds us all that her ability to act while singing is unparalleled. And in "Judy," she proves she may well be the best singing actor of her generation (lest we forgot "Chicago" or her spunky performance of "Sugar High" in "Empire Records").
Her first performance at Talk of the Town is riveting. Zellweger never blinks (literally) as Judy switches into performance-mode like a woman possessed by her own talent, relying on sheer adrenaline, muscle memory and the uncut adoration of an audience. That's her real addiction, the high she's always chasing.
Zellweger is a force of nature onstage, but she finds the softness and sweetness in the fragile Judy, her wry humor and loving nature. We witness these moments in the hushed exclamation of "oh, that's good" over a bite of cake she allows herself, out of politeness to her hosts, and in a shy invitation to dinner to a couple of fans waiting for her after her show, the only folks in London happy for her company.
It's a nuanced, complex, nakedly emotional performance that digs into the darkest psychology of one of our most beloved stars and demands that, even in her lowest moments, we could never count Judy Garland out. The same goes for Renée Zellweger.
Cache
Three states, six addresses, one daughter, three dogs and countless memories (and eye rolls) have brought my husband and me to our seventh year of marriage this year. The main things that have gotten us through are the basics: love, laughter, adventure – and chicken adobo.
I attribute my cooking skills, or mainly that of chicken adobo, to his fondness of me, which is probably what made him propose in the first place. Seriously, though, that whole "the way to a man's heart is through his stomach" is no joke.
The first time he tried chicken adobo, he was smitten, and out of the myriad meals I've made throughout the years, it's still his absolute favorite. Can't say I blame him, though. As the unofficial national dish of the Philippines, it's a tasty one that's hard to beat.
Braised in a flavorful mixture of soy sauce, vinegar, garlic, sugar, pepper and bay leaves, the chicken is cooked so tender that it practically falls off the bone. It's tangy, garlicky, slightly sweet and oh-so-savory, with sauce so good you'll want to drink it. This recipe is extra saucy, so there's plenty to drizzle over the rice with which it's served.
While there are many variations and ratios of the basic ingredients, it always yields delicious results. Coconut milk, onions, chilies and different types of vinegar are commonly used. The dish is frequently made with pork, too, and beef and fish also work.
While I prefer thighs (I find them to be the most tender and moist), any cut of chicken can be used, and skin is typically left on. I also like the added texture and heartiness the potatoes bring, but it can be made without them if you choose.
Chicken Adobo
2 tablespoons olive oil or cooking oil
2-3 pounds chicken thighs, skinless (bone-in or boneless), cut into large chunks
6 garlic cloves, minced
2 potatoes, peeled and cut into chunks
1 cup soy sauce
1 cup apple cider vinegar
1 tablespoon sugar
2 bay leaves, dried
1 teaspoon freshly ground black pepper
Heat the oil in a large skillet over medium-high heat. Add the chicken and cook until lightly browned and slightly crisp on all sides, about 8-10 minutes.
Stir in the garlic and potatoes and continue to cook for 3 more minutes. Add the soy sauce, vinegar, sugar, bay leaves and pepper. Bring to a boil, then cover and reduce heat to simmer. Simmer until potatoes and chicken are tender, about 20 minutes.
Serve over rice.
Audrey Alfaro can be reached at spoonandswallow@yahoo.com.
Cache
Hope you put on your party pants today – or, better yet, stretchy pants – because we are celebrating one of America's most iconic foods: the cheeseburger. That's right, Wednesday is National Cheeseburger Day! A favorite on this foodie's calendar, although celebrated more than I'd like to admit.
There are many claims as to who created that first cheese-laden burger, which became popular in the late 1920s. It's reputed that Lionel Sternberger, while just a teenager in 1924, introduced the cheeseburger when he experimentally put cheese on a hamburger at his father's roadside sandwich shop, the Rite Spot in Pasadena, California.
The Pasadena Chamber of Commerce even commemorated Sternberger's tasty creation with a plaque at the site that the Rite Spot once stood, which is now a bank. I'm taking that American classic sandwich out of your hands and serving it in a bowl with cheeseburger soup. Is your face screaming, "Ewww?!" Well, I promise you that it's anything but ewww!
Loaded with ground beef, cheese, onions, tomatoes and pickles, it's creamy and satisfying, hitting all the delicious burger flavors and textures. And in true cheeseburger fashion, it can be finished off with a variety of toppings: additional cheese, pickles, tomatoes and onions or croutons and bacon bits.
Bacon also can be cooked and added into the soup. And while ground beef is used to mimic the taste and ingredients of a real cheeseburger, you can substitute ground turkey, chicken or sausage, and the results will be just as tasty.
For a heartier soup, try it with macaroni noodles. And, for some spice, hot sauce, red pepper flakes or pepper jack cheese can be added.
Cheeseburger Soup
Adapted from shewearsmanyhats.com.
2 pounds ground beef
2 cups diced onion
4 garlic cloves, minced
1 teaspoon kosher salt
1 teaspoon ground black pepper
1/3 cup all-purpose flour
1 tablespoon dried parsley flakes
1/2 cup dill pickle juice
2 tablespoons yellow mustard
24 ounces beef broth
14.5-ounce can diced tomatoes, drained
1/2 cup pickles, chopped
1 cup half and half or heavy cream
8 ounces shredded cheddar cheese
Optional toppings:
Shredded cheese, chopped pickles, diced tomatoes, diced onions and bacon bits
Add ground beef and onions to a large stockpot and cook over medium heat, breaking apart the meat, until browned. Drain off excess oil and stir in garlic, salt and pepper and flour and continue cooking for 2 minutes, stirring constantly.
Mixture will be dry, and flour may become slightly browned. Stir in parsley, pickle juice, mustard, beef broth and diced tomatoes. Bring to boil, then cover and reduce the heat to simmer for 10 minutes.
Add in pickles, half and half and shredded cheese; stir until melted. Continue cooking on low heat for another 10 minutes. Salt and pepper to taste. Keep warm until ready to serve.
Serve topped with cheese, pickles, tomatoes, onions and bacon bits, if desired.
Audrey Alfaro can be reached at spoonandswallow@yahoo.com.
Cache
From Texas Standard . Texas is becoming increasingly urban, but lots of folks still live in the vast rural swathes of the state, as do their animals. That's why it's a problem that there's a big shortage of veterinarians, who want to practice away from the big cities. The solution seemed simple to Texas Tech University – just open a new veterinary school in the Panhandle to get more people trained.

Cache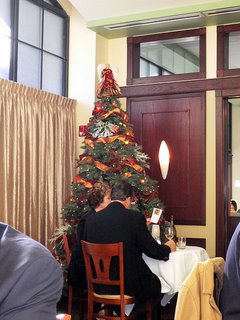 "I think there was a time 20 years ago where most restaurants closed for Thanksgiving. I think that's gradually shifted to where most [400+] are open."

--Kevin Westlye, Golden Gate Restaurant Association, in the Examiner


(Photo courtesy Maitri on Flickr via Creative Commons license.)

Cache
From farm to table … to YouTube. That's what students at YouthCity's summer and after school program have started through an ongoing partnership with neighboring Liberty Park Farmers Market.

Cache
HomeStretch

wrote:

↑

Mon Oct 07, 2019 7:52 pm

Postergirl

wrote:

↑

Mon Oct 07, 2019 7:43 pm

How can I tell if they did the step-up cost basis properly? When I continued with the advisory, the account went from

all bonds to the allocation above. It was done by ML advisory.

If 100% of your Inherited holdings were sold and proceeds reinvested, the cost basis of the new holdings should be fine. It would apply to any inherited holdings still in your portfolio.

Good step moving away from the advisor.


That's a relief, at least some good news
After I turn off the reinvesting as you instructed, I will look to transfer to

probably Vanguard for a much simpler set of funds.

Cache
BuddyJet

wrote:

↑

Sun Oct 06, 2019 9:20 pm

ARoseByAnyOtherName

wrote:

↑

Sun Oct 06, 2019 7:45 pm

BuddyJet

wrote:

↑

Sun Oct 06, 2019 7:20 pm

Our corporate lawyer and accountant broke me of my tendency to save everything forever. Beyond what is required by the IRS or other authorities, you can't be forced to search or produce in discovery what you don't have. She really cringed when she heard how many tapes we archived of our email and general server.

That seems like strange advice. If you don't have it the person on the other side of the document or email probably does. Wouldn't you want to know what the other side has on you? Of course I Am Not A Lawyer, so what do I know, but still....

It was in the context of the cost to search through the multiple archives of servers in response to document requests.


That's important context because while that may be important for a business it's not valid for individuals.

Cache
1) Switched from Optum Bank HSA ($3 monthly fee) to Lively HSA (no fees and now no commissions investing Lively HSA with TD Ameritrade).



2) Received a new "Discover-IT" credit card today and set about switching all our automatic payments to it. I'll receive 5% back on a quarterly rolling list of establishments/purchases such as Amazon, Walmart.com & Target this quarter, and next quarter on grocery stores, then gas stations & Uber/Lyft, and after that restaurants & Paypal (up to $1500 max in purchases per quarter), and 1% on everything else unlimited.



And as a signup bonus for the first year they match it, so it's effectively 10% and 2% back, as long as I keep the card for a full year at least.



Our grocery store previously accepted

no

credit cards at all, just cash, checks, & debit, but recently they began accepting Discover (as the only credit card) so that's what prompted the acquisition of this card. Before this we of necessity used only debit from our checking account at this grocery. Since we spend thousands on groceries annually it'll be worth it. I can get some money back now.


Next Page: 25 © Googlier LLC, 2019