Cache
From Ian:

---
Jonathan S. Tobin: Whatever Happened to the Palestinian 'Diplomatic Tsunami'?

At the United Nations, where once-hardened ex-generals like Barak quaked about the prospect of the world uniting to force Israel to accept a Palestinian state, the situation for the Jewish state's foes is particularly dismal. It's true that many UN agencies, like its Human Rights Council, are still cesspools of antisemitism and hypocrisy, focusing almost exclusively on bogus attacks on Israel while ignoring real human-rights catastrophes in countries around the world.

But as is the case elsewhere, the diplomatic isolation that Barak and so many others feared never happened. Indeed, as Israeli Ambassador to the United Nations Danny Danon recently wrote, the world body is no longer the "home court" for those who oppose Israel. The majority of member states joined the United States and Israel in condemning Hamas terrorism in the past year. In a variety of steps, both large and small, Israel's presence there has become normalized.

At the same time, the Palestinians have become more of an afterthought. It's probably better for Abbas that even the Palestinians' usual cheerleaders on the left paid no attention to his recent address at the UN General Assembly, where he spoke of his devotion to democracy and his plans to hold an election. Abbas is so devoted to democracy that he is currently serving the 15th year of a four-year term as president of the PA, to which he was elected in 2005. No one takes his talk of finally holding another vote seriously, since there is no way he would risk being defeated by his more radical Islamist rivals in Hamas, who currently rule Gaza.

The Arab and Muslim worlds may still be hotbeds of antisemitism and may have successfully exported their Jew-hatred to the West in the form of the BDS movement. However, Arab states have effectively dropped the Palestinian cause as a priority and instead are increasingly looking to Israel as an ally against Iran. Though they still pay some lip service to the Palestinian cause, the governments of Saudi Arabia, Jordan, and Egypt have little interest in creating another failed and unstable Arab state for the Palestinians.

To note these facts is not to deny that the ongoing conflict with the Palestinians is not going away and remains a serious problem. But as long as both the PA and Hamas are stuck in the mindset of their century-long war on Zionism, peace will have to wait until the Palestinians are ready to accept the legitimacy of a Jewish state.

The fact that the "tsunami" that so many Jews feared has fizzled into the BDS flop that can only intimidate someone like Lovato demonstrates that the conventional wisdom peddled by Israel's noisy critics shouldn't be taken seriously. Those who listen to the counsels of despair in 2011 have turned out to be as confused as a second-tier pop star.
FM confirms initiative to sign 'historic' non-aggression pact with Arab states
Foreign Minister Israel Katz on Sunday confirmed that he has been advancing non-aggression treaties with several Arab countries in the Gulf, a "historic" démarche he said could end the conflict between Jerusalem and those states.

"Recently I have been promoting, with the backing of the prime minister, a diplomatic initiative to sign 'non-aggression agreements' with the Arab Gulf states," Katz wrote on Twitter.

"It's a historic move that will end the conflict and enable civilian cooperation until the signing of peace agreements," he said, in what appeared to be a tacit acknowledgement that no Arab country is currently willing to establish full diplomatic relations with the Jewish state as long as the Israeli-Palestinian conflict remains unresolved.

Katz further confirmed that he presented his plan to several Arab foreign ministers during his visit to New York last week at the sidelines of the United Nations General Assembly. He also discussed the proposal with the US administration's outgoing special envoy for the peace process, Jason Greenblatt, Katz said.

"I will continue to work to strengthen Israel's standing in the region and around the world," he pledged.

Katz's tweet included a link to a report aired Saturday night by Channel 12, which first revealed the existence of the potentially groundbreaking initiative.
PMW: Fatah attempts to hide its terror promotion from Facebook

In fact PMW's reports show that Fatah does all of that and worse on its Facebook page, and PMW has pointed this out to Facebook more than once. Yet Facebook continues to leave the platform open for Fatah's terror promotion.

Fishman further explained that Facebook finds that governments and academics are acting too slow in terms of designating who are "terrorist actors" and therefore designates such themselves:
"We [Facebook] designate terrorist actors ourselves. This is pretty unique, but the reason we do this is because although there are a variety of lists of terrorist organizations in the world that are maintained by academics, that are maintained by governments, we find that academics and governments act too slowly. They don't actually maintain comprehensive lists in real time, and the expectation on us by our users and by the community globally is that we are able to respond to these things in near real time."

One can only marvel at the speed with which Facebook claims that it responds to terror promotion when looking at its inaction in the face of PMW's thorough documentation. Nine months ago Facebook was supplied by PMW with explicit evidence that Fatah's mission includes terror and violence. Yet in its statement to the Jerusalem Post last week Facebook said:
"We have received reports about potentially violating content on this page and, as we do with all such reports, are in the process of reviewing that content to determine whether it violates our policies."

Facebook boasting would be laughable, if its behavior was not life-threatening. Facebook claims to have a policy according to which "there may be no praise, support, or representation of a terrorist organization, a terrorist actor, a terrorist event," and boasts 'we are able to respond to these things in near real time."

In the case of Fatah, Facebook has failed repeatedly to deal with the terror promotion on its platform. Despite being provided with the evidence, Facebook did nothing to remove Fatah's terror glorifying and promoting posts. While their actions were no more than piece-meal, it appears that even Fatah accepted PMW's claim that many of their posts contained terror glorification and promotion and decided to take them down.

Facebook removes terror promotion in "real time," except when the murder of Israelis is being celebrated and promoted. For Israelis a full nine months is necessary and Facebook is still "in the process of reviewing that content," that clearly celebrates and promotes terror.

While Facebook is bragging about fighting terror, Palestinian terror is being embedded in the hearts and minds of the next generation of potential terrorists, thanks to Facebook.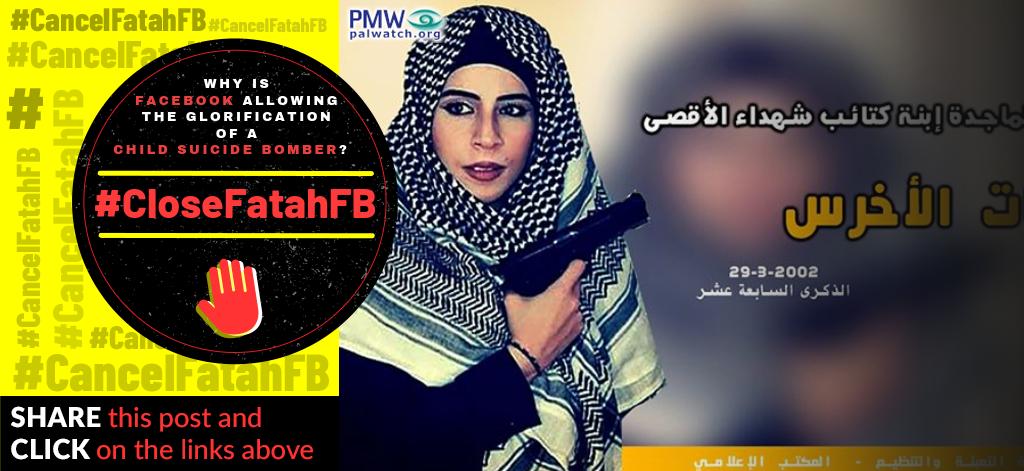 PA wipes peace agreements from schoolbooks, encourages incitement and intolerance
The Palestinian Authority has removed any mention of past agreements with Israel from their school textbooks, with the exception of the Oslo Accords, which are mentioned in far less detail than in previous editions of the schoolbooks, according to a new report by Yedioth Aharonot.

The new curriculum, which has been progressively implemented throughout the past three years, and the textbooks in particular, are studied between 1st and 12th grades in the West Bank, the Gaza Strip, east Jerusalem and refugee camps. They, unlike their previous editions, make no mention of the historical Jewish presence in Israel, and speak about every quarter in Jerusalem's Old City – except the Jewish Quarter.

The portions of the textbooks that do mention the Oslo Accords portray Israel in a negative light, claiming that "the Zionist occupation was forced to recognize the PLO after the First Intifada in 1987."

In addition, the old textbooks contained the full contents of the letter written in 1993 by then-PA chairman Yasser Arafat to then-Israeli prime minister Yitzhak Rabin, which detailed the values of peace between the Palestinians and the Israelis.

The new textbooks, however, censor the part in which Arafat writes that the declaration of principles "is the beginning of an era of coexistence in peace without violence and any action that may risk the peace."

The few times in which Israel is mentioned throughout the rest of the textbooks are in parentheses, a habit typically taken on to claim the illegitimacy of the state by extremist organizations such as Hamas and the Islamic Jihad, according to Mako.



Seth J. Frantzman: Trump gives green light to Turkey to take over Syria, displace U.S. partners

Turkey will soon move forward with its long-planned military operation to create what it calls a "safe zone" in northern Syria – and U.S. forces will not support or be involved in it, the White House press secretary announced early Monday morning. The move is an extraordinary reversal of US policy that leaves America's allies wondering whether they can still rely on the Trump administration.

The statement came after Turkish President Tayyip Erdogan and US President Donald Trump discussed in a phone call Turkey's plans to establish a "safe zone" east of the Euphrates River in Syria. For four years, the US and mostly Kurdish fighters have fought and defeated Islamic State in northeast Syria.

The White House decision will effectively displace the partner forces the US had been working with. For more than a year and a half, Trump has been seeking to leave Syria. In the midst of the impeachment crisis, he has now made the decision to sacrifice US allies in the war on ISIS as opposed to pressuring Ankara with diplomatic means.

"Turkey will soon be moving forward with its long-planned operation into Northern Syria," the White House press secretary said in a statement.

"The United States Armed Forces will not support or be involved in the operation, and United States forces, having defeated the ISIS territorial 'Caliphate,' will no longer be in the immediate area," it added.

The White House looks at the overall picture in eastern Syria, not as one in which the US fought and sacrificed alongside Kurdish partner forces, but as a simple transactional issue.

In this view, the US has no interests in eastern Syria, except the ISIS fighters. Washington has no interests in creating stability, preventing Iranian influence, defending its partners, preventing ethnic cleansing or the destruction of property, or in managing the crisis. Instead, it decided that its mission was tailored and narrow, and nothing beyond the ISIS issue.
US Throws Kurdish Allies Under the Bus; Turkey "Opens the Floodgates" to Europe
Turkey's Erdogan government will be invading northern Syria to slaughter the Kurds, America's loyal allies against ISIS; release captured ISIS fighters, and doubtless seek to stay permanently in control of the area. The horror is that it will be doing all this with the tacit blessing of the US.

"I am saying this today: We have not got the required support from the world -- particularly from the EU -- to share the burden of the refugees we have been hosting, so we might have to [open the gates] to get the support." — Turkish President Recep Tayyip Erdogan, Takvim, September 5, 2019

"If we open the floodgates, no European government will be able to survive for more than six months. We advise them not to try our patience." — Turkish Interior Minister Süleyman Soylu, Anadolu Agency, July 21, 2019.

Erdogan's threats are not new... and his claims are flawed.... Ankara has not lived up to its commitments.

"The most important question is why the refugee camps are not open to civil monitoring. Entry to refugee camps is not allowed. The camps are not transparent. There are many allegations as to what is happening in them. We are therefore worried about what they are hiding from us." — Cansu Turan, a social worker with the Human Rights Foundation of Turkey (TIHV), to Gatestone Institute, August 2016.

"Turkish authorities are detaining and coercing Syrians into signing forms saying they want to return to Syria and then forcibly returning them there." — Human Rights Watch, July 2019.
Netanyahu says cooperation with Russia 'critical' with U.S. to leave Syria
Israel has "great challenges around us" and it's cooperation with Russia is "critical," Prime Minister Benjamin Netanyahu said on Monday, a day after US President Donald Trump announced his intention to withdraw troops from Syria and allow a Turkish incursion there against Kurdish forces.

Netanyahu made the comments at a holiday toast with workers in his office, during which he relayed that he just had a telephone conversation with Russian President Vladimir Putin. Netanyahu phoned Putin to wish him a happy birthday.

"I met with him a few weeks ago about issues that are important for the security of the State of Israel, and this conversation as well was important to Israel's security," he said. Though he did not provide details, the Netanyahu-Putin conversation is believed to have dealt with the changing dynamics in Syria resulting from the White House's dramatic announcement on Sunday.

"We have great challenges around us, but we enjoy important cooperation and coordination with Russia, something that is critical for us, and which we will continue to deal with," he said.
Lindsey Graham, Nikki Haley on Trump's Syria plan: Disaster in the making
The Trump administration's move, which opens the way for a Turkish strike on Kurdish fighters long aligned with Washington, runs counter to the positions of even some of Trump's top allies in his own party.

Lindsey Graham, a Republican senator who is generally a vocal Trump supporter, wrote in a series of Twitter posts that he was trying to set up a call with Secretary of State Mike Pompeo and would introduce a Senate resolution opposing the withdrawal decision and calling for it to be reversed.

"It's never in our national security interest to abandon an ally who's helped us fight ISIS," Graham said in an interview with Fox News Channel, using an acronym for Islamic State.

"This impulsive decision by the president has undone all the gains we've made, thrown the region into further chaos."

Former US Ambassador the United Nations, Nikki Haley also responded on Twitter, saying, "We must always have the backs of our allies, if we expect them to have our back. The Kurds were instrumental in our successful fight against ISIS in Syria. Leaving them to die is a big mistake."

Republican Senator Marco Rubio tweeted that "If reports about US retreat in #Syria are accurate, the Trump administration has made a grave mistake that will have implications far beyond Syria."
US troops begin Syria pullout as Turkey readies offensive, alarming Kurds
US-backed Kurdish-led forces in Syria said American troops began withdrawing Monday from northeast Syria ahead of a Turkish invasion that the Kurds say will overturn five years of achievements in the battle against the Islamic State terror group.

The Syrian Kurdish fighters also accused Washington of failing to abide by its commitments to its key allies in the fight against IS. It's a major shift in US policy.

The American withdrawal came just hours after the White House said US forces in northeastern Syria will move aside and clear the way for an expected Turkish assault — essentially abandoning Kurdish fighters who fought alongside American forces in the years-long battle to defeat IS.

Turkish President Recep Tayyip Erdogan has threatened for months to launch the military operation across the border. He views the Syria Kurdish forces as a threat to his country as Ankara has struggled with a Kurdish insurgency within Turkey.

Turkish Foreign Minister Mevlut Cavusoglu said that Turkey was "determined to ensure our country's existence and security by clearing terrorists from this region."

"From the start of the Syria war, we have supported that country's territorial integrity and will continue to do so from now on," Cavusoglu wrote on Twitter. "We will contribute to bring serenity, peace and stability to Syria."
UN 'preparing for the worst' from Turkey's Syria operation
The United Nations said Monday it was "preparing for the worst" in northeast Syria after the United States said it would step aside to allow for Turkish military operations in the area.

"We don't know what is going to happen… we are preparing for the worst," UN regional humanitarian coordinator for Syria, Panos Moumtzis, said in Geneva, stressing that there were "a lot of unanswered questions" about the consequences of the operation.

Moumtzis added that the UN was "in contact with all sides" on the ground.

But he made clear his office did not have advance warning about the US decision that effectively abandons the Kurds, who were Washington's main ally in the long battle against the so-called Islamic State group.

Moumtzis said the UN's priorities were to ensure that any prospective Turkish offensive not result in new displacements, that humanitarian access remain unhindered and that no restrictions be put in place on freedom of movement.

The UN has a contingency plan to address additional civilian suffering, but "hopes that will not be used," Moumtzis said.
No joke: Iran FM Zarif — whose military exercises control or influence in Syria, Iraq, Lebanon & Yemen — called on Turkey to respect the "sovereignty and territorial integrity" of other countries.https://t.co/i65vK1NpEV

— Hillel Neuer (@HillelNeuer) October 6, 2019
Netanyahu: Israel Needs Air Defense System Against Iranian Cruise Missiles
In a cabinet meeting on Sunday, Prime Minister Benjamin Netanyahu proposed a massive air defense system to defend against Iranian attacks, especially cruise missiles like those used in attacks on a Saudi Arabian oil facility last month, according to KAN.

Last month, cruise missiles and explosive drones were used in an attack on two plants at the heart of Saudi Arabia's oil industry, including the world's biggest petroleum processing facility.

The United States, Saudi Arabia, Britain, France and Germany have publicly blamed the attack on Iran, which denies involvement in the strike.

The attacks on the two facilities cut Saudi Arabia's crude oil supply by around 5.7 million barrels per day, or about 50% of its output.

The plan proposed by Netanyahu will cost billions of shekels. Some of the funds for the project won't be allocated officially until after a government is formed, assuming that there aren't third elections.

The funds for the project will either come from cuts within the security establishment or from funds cut from social services. According to KAN, it's more likely that the funds will be taken from social services.
Iran unveils kit to convert artillery rockets into guided missiles
The Iranian military says it has produced a new conversion kit to upgrade artillery rockets to surface-to-surface missiles, technology that Israel has accused Tehran of attempting to deliver to the Hezbollah terror group.

The Iranians unveiled the new guidance system upgrade, called Labeik, at an event Thursday at which a number of new military technologies were showcased, according to Jane's Defence Weekly.

Jane's reported that Labeik appeared similar to the guidance systems on the Fateh-110 series of rockets, many of which are believed to be in the hands of Hezbollah in Lebanon. According to the report, the new system also looks to be compatible with Zelzal heavy artillery rockets.

Video footage of the new conversion system aired on Iranian television shows a short body featuring four inverted fins that can be fitted between the rocket and its payload.

According to Iran's Fars News, the "anti-armor 'Labeik 1' missiles… enjoy precision-striking power."

"There is nothing new in the conversion itself, they have been doing it for years, and they already showed conversion kits for the Fatah 110 family of missiles," Uzi Rubin, one of the pioneers of Israel's earliest attempts at missile defense, told The Times of Israel.

"What's new here are the aerodynamics of the winglets — very unique, unseen in Iran to date and unseen in any other country. Going to indigenous design rather than copying others indicates self-confidence. The purpose of the new and unique aerodynamics is probably to increase the maneuverability of the converted rockets."
Congresswoman: Antisemitism, Iran threat highlight need for US-Israel ties
Growing global antisemitism and the dangers of Iran make it more important than ever that the US maintain close ties to Israel, leading Republican Representative Ann Wagner of Missouri said during a speech on the floor of the House of Representatives, in which she spoke against BDS and promoted joint Palestinian-Israeli business ventures over the Green Line.

"Israel is deeply invested in achieving peace in the Middle East, and so is the United States of America," said Wagner, who is a member of the US House Foreign Affairs Committee. "And we will all stand collectively with Israel as they work toward the achievement of this goal."

At "a time of heightened antisemitism that we are seeing across the globe, it is more important than ever that we maintain a strong connection to this very key ally of ours in Israel," said Wagner. Such a stance is also significant given that Iran is threatening Israel, including through its proxies Hezbollah and Hamas.

Part of a small congressional delegation that traveled to Israel in August, Wagner was on a trip sponsored by the US Israel Education Association (USIEA). The trip focused on security issues and the work of the Judea and Samaria Chamber of Commerce and Industry, co-led by Avi Zimmerman of the Ariel settlement and Ashraf Jabari of Hebron.

According to the chamber, it has a membership of some 250 Israeli and 250 Palestinian business people. Jabari was among a small number of Palestinian entrepreneurs who attended the US-led economic workshop in Manama, Bahrain, in June.
'The days of the Ottoman Empire are over'
Foreign Minister Yisrael Katz has ordered his office to draw up plans to stop the Turkish government's efforts to undermine Israeli sovereignty in Jerusalem and protect Jordan's special status as guardian of Muslim holy sites in the city.

Katz intends to present the plan to Prime Minister Benjamin Netanyahu soon, so he can authorize its implementation. Due to the sensitivity of the plan, whose implementation will almost certainly lead to a direct confrontation with Ankara, it is also expected to be raised for discussion by the Diplomatic-Security Cabinet. According to ministry officials, as the plan pertains to security matters, there is nothing preventing it from being implemented by a transition government.

The issue of Turkey's influence on members of Jerusalem's Arab population has weighed on security and diplomatic officials' minds for years. As Israel Hayom has previously reported, Turkish President Recep Tayyip Erdoğan has been buying influence over sites and prominent figures in east Jerusalem for years. Nevertheless, Jerusalem has not made any effort to challenge these efforts up until now.

The Foreign Ministry's plan would see the Muslim Brotherhood, which has close ties to Erdoğan's Justice and Development party, deemed an illegal association in Israel. Further ministry recommendations for thwarting Ankara's efforts include restricting the activities of the Turkish Cooperation and Coordination Agency, or TIKA, in Israel. The organization, whose stated objective is "preventing the Judaization of Jerusalem," spends some $12 million annually on activities aimed at undermining Israeli sovereignty in east Jerusalem. It should be noted that these activities are personally managed by Erdoğan.

The plan's architects propose obligating TIKA to coordinate its activities with Israel in advance and preventing the association from act unequivocally in Jerusalem. In addition, they propose Jerusalem not renew the head of TIKA in Jerusalem's, a move that would strip the organization head of his diplomatic status in Israel and render his presence in Israel illegal.

Additional steps would include restricting communications between members of the Islamic Waqf.
How to get Erdogan off the Temple Mount
This is why a new plan from Foreign Minister Yisrael Katz should be seen more as a declaration of intent and less as an operational plan. For the plan to take effect, defense and security officials who have been dealing with the issue for several years already must supply the top political echelon with evidence. Anyone who wants, for example, to limit the activity of TIKA, a well-endowed Turkish government agency, in Jerusalem will have to first prove that its activity goes beyond the bounds of civil/community service and slides into violence and incitement. Thus far, no evidence of that has been found, although attempts have been made to do so.

The steps the Foreign Ministry wants to take against the worldwide Muslim Brotherhood organization could also turn out to be complicated. It's doubtful whether Israel can point to direct activity by the Muslim Brotherhood. On the other hand, it is definitely possible to identify violent activity by groups or individuals with ideological links to the Brotherhood or its international headquarters in London. Steps have been taken against the Muslim Brotherhood in the past, and we can assume that more will be done in the future. Only recently, two female rioters were barred from the Temple Mount for a period of six months.

It looks like the best way to fight Erdoğan, who is hostile to Israel and trying to buy influence in Jerusalem, is to continue to expose Turkey's ties to Hamas. For years, Turkey has served as a haven for Hamas terrorists and commanders. For years, terrorist attacks or attempted terrorist attacks on both sides of the Green Line have been initiated and directed from Turkish territory. Erdoğan has repeatedly made it clear that as far as he is concerned, Hamas is not a terrorist organization, but the facts on the ground prove differently. Dozens of Hamas cells handled from Turkey have been exposed over the past few years, and the Shin Bet recently reported, "Turkey contributes to the military empowerment of Hamas, through methods that include the SADAT company, which was founded on the orders of Adnan Basha, a close advisor to government officials in Turkey."

This is where Israel has to operate, both operationally and in terms of public diplomacy and traditional diplomacy. The Turkish nonprofits active in Jerusalem are tough to check unless legislative changes can be made that alter the definition of "hostile" activity in Jerusalem, the capital of Israel.
Israel backs Cyprus as Turkey moves gas drill into its waters
Israel's envoy to Cyprus on Monday expressed backing for the Mediterranean island state after Turkey moved a gas drilling rig into Cypriot waters last week.

"Friends should stick with each other," Ambassador Sammy Revel tweeted.

He added that Israel is "following closely and with concern" the Turkish move.

Revel's comments come after Cyprus lashed out at Turkey's new attempt to drill for gas in Cypriot waters where European energy companies are already licensed to conduct a search, calling it a "severe escalation" and vowing to fight the move.

Israel and Turkey, once close allies, have had increasingly strained relations since Turkish President Recep Tayyip Erdogan became the country's leader. Erdogan is a staunch supporter of the Palestinians and launches frequent verbal attacks on the Jewish state.

Israel also voiced support for Cyprus in July over Turkish operations in the country's exclusive economic zone.

Israel, Cyprus and Greece have forged an energy-based partnership that has steadily grown following the discovery of gas deposits in the eastern Mediterranean. The United States began joining the talks earlier this year.
German Jews blast WJC's decision to give Merkel the Herzl Award
Members of Germany's Jewish community are speaking out against the World Jewish Congress's decision to honor Chancellor Angela Merkel with its prestigious Herzl Award.

Every year, the organization bestows the award to figures who act to promote Zionist visionary Theodor Herzl's "ideas for the creation of a safer and more tolerant world for Jews."

Along with Merkel, former US Ambassador to the UN Nikki Haley has also been selected for the award, which the two women are set to receive in separate ceremonies.

However, the announcement of WJC's plan to honor Merkel with the award has been met with piercing criticism from members of Germany's Jewish community, who note the change in Merkel's stance toward Israel in recent years, her support for the 2015 nuclear deal, and the increasing sense among the country's Jews that Berlin is not doing an adequate job of contending with the growing threat to Jews as a result of the anti-Semitic views of Arab and Muslim migrants to the country.

Among the points of contention raised by the local Jewish community: Germany's continued pattern of voting against Israel in UN and other international bodies; Berlin's continued funding for organizations that support the boycott, divestment, and sanctions movement; its refusal to ban Hezbollah activities in the country; and Germany's increased financial support for UNRWA, the UN agency for Palestinian refugees, without conditioning those funds on the cessation of incitement against Israel. There also those who cite Merkel's vocal opposition to US President Donald Trump's recognition of Jerusalem as Israel's official capital and Israeli sovereignty over the Golan Heights.
IDF Sets Up New Anti-Tunnel Company to Detect, Destroy Threats in Israel's North
The Israel Defense Forces have set up a special engineering corps company to discover and prevent terror tunnels dug across Israel's northern border from Lebanon.

The new company is intended to deal with the long-term threat from tunneling attempts by Hezbollah, Israeli news website Mako reported on Sunday. It will use cutting edge technology to do so, most of it tested on Hamas tunnels dug from Gaza, but adapted to the northern terrain, which is quite different.

The main tactic employed by the company is the use of new technology, and as a result is heavily invested in research and development.

One department deals with developing technologies to detect tunnels and tunnel digging activity, while another examines the practical engineering means of interdicting and destroying them.

The head of the company, Captain Moshe Asraf, said it was established according to the "lessons" learned during last year's Operation Northern Shield, during which he served as a commander in the engineering corps.
Arabs Hurl Firebombs, Burn Tires as Jews Pray at Joseph's Tomb
Dozens of Palestinians rioted on Sunday night following the pilgrimage of some 1,000 Jews, under Israeli security escort, to the Tomb of Joseph in Shechem/Nablus to pray. The rioters threw firebombs and burning tires at security personnel.

Israeli security forces responded with riot dispersal methods.

There were no Israeli reports of casualties during the incident, however the PA's Wafa news agency reported that seven rioters were wounded after "Israeli forces escorted a convoy of buses packed with over a thousand fanatic Jewish settlers to the site, located in the Palestinian-controlled area, sparking confrontations with Palestinian residents."

Wafa stated that the injured Palestinians had been "protesting" the "raid" and "attempting to block settlers' access to the site"

"Among the settlers who raided the site were Israeli Minister of Economy and Industry Eli Cohen, leader of the council of settlers in the occupied West Bank Yossi Dagan, and Knesset member Moshe Arbel," Wafa reported.
Palestinian Authority Continues to Pay Salaries to Terrorists
Abbas' remarks, which were less acerbic in tone than those he made in previous addresses to the General Assembly, reflected a concern over the ineffectiveness of his policies and the sidelining of the Palestinian issue from the international, regional, and Israeli agenda.

It is also nevertheless evident from Abbas' remarks that he does not intend to bend as far as his fundamental positions on the conflict are concerned. This was given clear expression in Abbas' stated enthusiastic commitment to continue to pay salaries to Palestinian terrorists and their families, despite the fact that Israel has deducted this amount from the tax revenues it transfers to Ramallah. While there is nothing new about this declaration, Abbas' decision to repeat it in a major international forum is indicative of the PA chairman's commitment to the expectations of the Palestinian street, as he perceives and shapes it.

In practice, despite the cuts in the transferred funds and the Palestinian decision to avoid accepting a further installment of payments Israel is willing to transfer, the PA continues to pay these terrorist salaries as usual. According to the PA budget implementation report for 2019, the Palestinian Authority transferred 276 million shekels (around $79 million) in payments – i.e., salaries – and another 75 million shekels (around $22 million) in "social" payments to families, family expenses, medical insurance coverage, and legal expenses, among other things. In total, the PA Prisoner Affairs Ministry spent some 364 million shekels ($105 million) on these terrorist payments.

These numbers reveal that the PA's payments to terrorists in 2019 were similar in scope to those made the previous year. The significance of this is that despite increasing pressure, the Palestinians are sticking to their guns, as it were, and as a result, the chances of the PA
becoming a partner for peace under Abbas' leadership continue to be slim to none.
Khaled Abu Toameh: Shtayyeh: We received NIS 1.5 billion from Israel

The crisis between Israel and the Palestinian Authority over Israeli deductions of payments made to security prisoners and families of Palestinians killed while carrying out attacks against Israelis remains unresolved, PA Prime Minister Mohammad Shtayyeh said on Monday.

Speaking at the weekly meeting of his cabinet in Ramallah, Shtayyeh announced that the PA has received NIS 1.5 billion from Israel in accordance with the deal reached between the two sides last week.

"The problem with Israel [over the funds withheld by Israel] has not been resolved until this moment," Shtayyeh said. "There is no government in Israel that is capable of making a political decision on this matter."

Despite Israel's decision to deduct the payments from the tax revenues it collects on behalf of the Palestinians, the PA government continues to fulfill its duties toward the prisoners and the families of the "martyrs," Shtayyeh said, and the PA government will remain committed to paying salaries to the families of the prisoners and "martyrs."

PA President Mahmoud Abbas also said that the PA's position regarding payments to the security prisoners and families of "martyrs" remains unchanged.
Abbas says he'll discuss elections with Hamas, factions but provides no timeline
Palestinian Authority President Mahmoud Abbas said Sunday that he would discuss plans for new parliamentary elections with all factions, including longtime rivals Hamas.

Meeting with senior Palestinian leaders in the PA's administrative capital of Ramallah in the West Bank, Abbas renewed a pledge to hold the polls — the first since 2006 — but without giving a timeframe.

He announced that they had formed committees to "communicate with the election commission and factions such as Hamas and all factions, as well as with the Israeli authorities."

He said any elections should take place in "the West Bank, Jerusalem and the Gaza Strip."

Hamas and Fatah have been at loggerheads since 2007, when the terror group seized Gaza and threw out Abbas's forces, which retained control of the internationally recognized Palestinian government, based in the West Bank.

No parliamentary elections have been held since 2006, with the two sides trading blame.
Khaled Abu Toameh: What Iran's Friends Are Doing in Gaza

In other words, Islamic Jihad's promise is one of unending toxicity: to go on poisoning the hearts and minds of generation after generation of Palestinians – as well as to continue investing millions of dollars in building tunnels and amassing weapons to ensure that the fight against Israel continues forever.

"The policy of resistance and jihad is the genuine policy to liberate all Palestine, and the Palestinian people will not abandon this path. We will not accept any agreement that contradicts the project of jihad and liberation. Under no circumstances will we give up one inch of the land of Palestine." -- Senior Hamas official Salah Bardaweel.

For [Hamas and Islamic Jihad] , a ceasefire means further amassing weapons and preparing their people for war without worrying about Israeli military action. When will the international community pull its head out of the sand in which it has so long been buried and understand that with organizations such as Hamas and Islamic Jihad running the show, the Gaza Strip will remain the humanitarian disaster that is so bitterly blamed on Israel?
Commander of Gaza-Based Fatah Splinter Group: Fatah Is the Leader of the Armed Struggle pic.twitter.com/ABBhc3ajRQ

— MEMRI (@MEMRIReports) October 7, 2019
Lebanon arrests Syrian for making phone calls to Israel
Lebanese authorities have arrested a Syrian national accused of having made phone calls to neighboring Israel, the army said Friday.

An army statement said the suspect, who was not identified, was referred to court for "contacting Israeli phone numbers and communicating with Israelis present in the occupied Palestinian territories." It did not elaborate.

Lebanon is home to tens of thousands of Syrian refugees who fled the war raging in their country.

In August, tensions spiked between Lebanon and Israel after two drones packed with explosives were sent into the Beirut bastion of the Shiite movement Hezbollah.

Iran-backed Hezbollah and the Lebanese army accused Israel of being behind the drone launch.

Lebanon's government and Hezbollah chief Hassan Nasrallah both described the apparently botched operation as an act of aggression.

A few days after the August 25 drone incident in Beirut, the army opened fire on Israeli drones flying over southern Lebanon.
Does Iran's Leader Leave Room for Iran's Return to the Negotiating Table?
At the same time, over the past few weeks, there have been increasing calls from senior religious figures in Iran and the leadership of the Iranian Revolutionary Guard for the destruction of the State of Israel. This is similar to statements issued by the Supreme Leader in 2016 that Israel would cease to exist in another 25 years. It is possible that this round of criticism against Israel serves a smokescreen while negotiations are taking place between Iran and the United States to enable Iran's return to the nuclear deal.

In any case, by November 7, 2019, a further reduction is expected in Iran's commitment to the nuclear agreement (including the enrichment of uranium to 20 percent and even higher). There is a window of opportunity for diplomacy and European efforts to try what has failed until now – to promise economic compensation to Iran for the American sanctions or alternatively to bring Washington back to the negotiating table. Iran's oppositional regional policy (against Israel and Saudi Arabia, in Yemen, Iraq, and Syria) will apparently make it harder for Europe and the United States to advance the negotiations with Iran. However, in the past, Europe has shown that it is prepared to ignore repeated violations of human rights in Iran, such as its role in terror activities (including within European territory!), to fulfill the nuclear agreement, which eventually leads to investment and economic cooperation with Iran. Iran is well aware of Europe's modus operandi and uses it and U.S. weakness to achieve maximum profit to renew negotiations regarding the nuclear agreement.

"Today, the Nuclear Deal Is in the Intensive Care Unit"
In this regard, Abbas Aragchi, deputy foreign minister and one of the patrons of the nuclear deal, stated at a ceremony marking the 30th anniversary of the opening of the German embassy in Tehran that, "today the nuclear deal is in the intensive care unit." He added that to save it, cooperation was necessary between the P5+1 states. This could "bring down the walls of American sanctions and one-sided policies, which have become its weapon against independent countries." According to him, Iran, along with the European countries, China, and Russia, are attempting to reach a balanced agreement through negotiations, but because of America's one-sided policies, this balance has been violated and lost.5
Iran says Russian journalist held over visa issue, not Israel spy claim
Iran has confirmed the arrest last week in Tehran of a Russian journalist, saying the case was a matter of a visa violation.

Government spokesman Ali Rabiei told reporters that Yulia Yuzik's case is under "quick review" by authorities and wasn't related to matters concerning the "counter-espionage" department. Her ex-husband said last week she had been arrested for allegedly spying for Israel.

The Russian Embassy in Tehran said on Friday that Yuzik flew into Tehran the previous Sunday and that Iranian officials seized her passport at the airport for unknown reasons. She was arrested from her hotel room on Wednesday.

The Russian foreign ministry summoned the Iranian ambassador to Moscow to explain Yuzik's arrest.

Prior to her arrest, Yuzik posted photographs from her trip on Instagram, saying she loved being in Iran.
Houthi Military Expert Lieutenant-General Abed Al-Thour: UAE Like a Cave Full of Bats; We Can Destroy It; UAE Soldiers Will Have No Place to Return to pic.twitter.com/Xm1qkIU7vD

— MEMRI (@MEMRIReports) October 7, 2019
Houthi Political Bureau Member Muhammad Al-Bakhiti: If Saudi Arabia Doesn't Stop Its Aggression, We Might Launch an Offensive Campaign to Reach Riyadh, Topple the Saudi Regime pic.twitter.com/tFFGhqiywX

— MEMRI (@MEMRIReports) October 7, 2019
---
---
We have lots of ideas, but we need more resources to be even more effective. Please donate today to help get the message out and to help defend Israel.

Cache
From Ian:

---
PMW: PA capitulates to Israel's anti-"Pay-for-Slay" law

After initially refusing to accept any tax revenues Israel collected and transfered to the Palestinian Authority because Israel implemented its anti-"Pay-for-Slay" law, PA Chairman Mahmoud Abbas has now capitulated and agreed to accept the vast majority of the funds.

In February 2019, Israel's cabinet decided to implement one part of the 2018 anti-"Pay-for-Slay" law and started to deduct the sum the PA spent in 2018 paying salaries to terrorist prisoners and released prisoners from the 2019 tax revenues Israel collects and transfers to the PA.

Initially, rejecting Israel's implementation of the anti-"Pay-for-Slay" law, because he argued that paying financial rewards to Palestinian terrorists is legitimate, Abbas refused to accept the money Israel tranfered and plunged the PA into a self-made financial crisis.

"[PA] Minister of Civil Affairs [and Fatah Central Committee member] Hussein Al-Sheikh said yesterday [Feb. 10, 2019] that he has conveyed an official message at the request of [PA] President Mahmoud Abbas that emphasizes that 'He will refuse to receive the collected [tax] money if Israel deducts even one penny from it.'" [Official PA daily Al-Hayat Al-Jadida, Feb. 11, 2019]

When he made that decision, Palestinian Media Watch speculated that Abbas was probably planning to use the ensuing impoverishment of the Palestinian population as a tactic to put pressure on Israel to transfer to him the money he uses to reward terror. PMW also suggested that he was using the decision as a means to leverage the international community to put pressure on Israel to ignore its own laws. Abbas was also hoping that the international community would again side with the PA against Israel and further subsidize the PA.

As a show of his resolve to plunge the PA economy into the abyss, Abbas decided to cut the salaries of the PA's law abiding employees by 40-50% while guaranteeing the payment, in full, of the salaries to the terrorists. The PA also stopped allowing Palestinians to receive medical treatment in Israel, under the false claim that Israel was deducting $100 dollars a year for this service. This ban did not apply to senior Fatah figures like Jibril Rajoub who continued to receive medical treatment in an Israeli hospital.

Abbas' decision to accept the tax revenues, even though Israel continues to implement its anti-"Pay-for-Slay" law, reflects an understanding that all these goals have failed.
Pay for Slay with funds from UK?
The Department for International Development (DFID) must now release documents to UK Lawyers for Israel (UKLFI), having abandoned part of its appeal from the decision of the Information Commissioner's Office (ICO).

The ICO ordered DFID to disclose to UKLFI audits of accounts into which British grant aid was transferred and then used to pay salaries to convicted Palestinian terrorists. British Ministers relied on these audits when concerns were expressed that British money was being used to pay terrorists.

Various countries, including the UK, paid large sums of money into the World Bank's Palestinian Recovery and Development Program Multi donor trust fund (PRDP-MDTF), which were then transferred to the Palestinian Authority's Central Treasury Account.

Funds from this account were used to pay convicted terrorists, rewarding them for their crimes.

On 26 July 2019, the ICO ordered DFID to disclose the audit reports of the PRDP-MDTF and the terms on which the auditors were engaged. The ICO concluded that there was a significant public interest in the disclosure of the information, which outweighed any harm that may be done to diplomatic relations with the Palestinian Authority.

DFID had filed a Notice of Appeal on 19 August 2019, saying that it intended to appeal the release of the documents, on the grounds that the ICO's assessment of the public interest was wrong, and that it also disputed the ICO's conclusion that the Palestinian Authority was not a State, for the purposes of section 27 of the Freedom of Information Act.
David Singer: Netanyahu and Liberman must stop Israel's third election in a year

Israel is surrounded by enemies – especially Iran, Hezbollah in Lebanon and Syria and Hamas in Gaza that could be tempted to exploit the fractured nature of Israel's current political circumstances.

There are pressing political issues awaiting Israel's next Government – most notably negotiations on President Trump's deal of the century and Netanyahu's election promise to annex large parts of the "West Bank."

Ending this state of suspended uncertainty has now been thrust on the shoulders of Netanyahu and Liberman – following the failure of Netanyahu and Blue and White leader Benny Gantz to achieve a deal they could both live with.

Netanyahu and Liberman would do well to heed the sage advice contained in the Ethics of the Fathers:

"Do not seek greatness for yourself, and do not lust for honor"

Achieving greatness and honor together by compromising their political expectations will secure Netanyahu and Liberman a special place in the annals of Israel.



Jonathan S. Tobin: It's time to put an end to labeling Trump an anti-Semite

It's that at a time when a rising tide of anti-Semitism is spreading over the globe – and Jews are facing the twin threats of white-supremacist hate from the far-Right, as well as leftist anti-Zionists seeking to delegitimize both Israel and American Jews – using it as a partisan political weapon is dangerously irresponsible.

Trump's actions and statements are fair game for criticism and, like any other leader, can be held accountable by Congress and the courts.

But labeling him an anti-Semite is a blatant falsehood. That's not merely because he's clearly the most pro-Israel president America has had, in addition to someone with Jewish family, and with a staff and cabinet filled with many Jews.

It's also true that his administration has in some respects taken anti-Semitism more seriously than his predecessors. He has ordered civil-rights investigations into attacks on Jewish students and others on US college campuses that were ignored by Obama, and Trump's Justice Department convened a summit on the subject that addressed issues not treated seriously before this.

If anti-Semitism is just one more brickbat to be tossed around with impunity in the course of bitter and all-too-savage debate on impeachment, then those who are using it in that way are effectively saying that it's not as important as their partisan goals.

It's time for both Democrats and Republicans of goodwill to recognize that whatever the outcome of the impeachment battle, injecting false charges of anti-Semitism into the discussion will not advance their cause. It will, however, materially damage the fight against hate.
Elizabeth Warren Fundraises for Anti-Semite
Senator Elizabeth Warren, well-known for cultural appropriation, sent a fundraising email on behalf of Leslie Cockburn late yesterday afternoon.

Warren's support comes well after the Republican Party of Virginia revealed that Leslie Cockburn was a "virulent anti-Semite" for espousing bizarre conspiracy theories regarding the Jewish people and Israel. It was also recently discovered that Cockburn's work has been used as source material for a number of white nationalist organizations. Notably, at least one of those websites was responsible for promoting and organizing the deadly Charlottesville rally of last August. Cockburn's history of anti-Semitism has been well-documented since she wrote Dangerous Liaison in the early 1990s.

It is also worth noting that Cockburn's co-author, at a debate at Oxford in 2007, said "the Israel lobby in the United States dictates American policy." Andrew Cockburn also had this to say about the so-called Israel Lobby: "I mean, you know, we've had comparisons of the National Rifle Association lobby, very powerful, supremely powerful in Congress, but you can get up and run for office against the National Rifle Association for gun control and no-one tries to demonise you or drive you out of public life. That's different with the Israel lobby. It's across, it's the Congress, it's the executive branch and it's in the culture, in the media."

"Either Elizabeth Warren didn't do her homework, or she supports what Cockburn stands for; anti-Semitism." said RPV Executive Director John Findlay. "Elizabeth Warren should answer whether she agrees with Leslie's co-author when he said that "the Israel lobby in the United States dictates American policy." This endorsement by a Massachusetts Democrat exemplifies the truth about Leslie Cockburn – she is an out-of-touch, out-of-state liberal who only wants to go to Congress to push a far-left agenda."
The UN's Insane Israel Bias: Ben Shapiro on UN Watch Statistics

Ben Shapiro calls out the UN's extreme bias against Israel, reading out UN Watch's data:
The U.N. and Israel: Key Statistics from UN Watch
Your UNRWA teachers incite Jihadi terror & antisemitism. Here are the names & faces of 10 such racists exposed in our latest report, bringing the total of confirmed bigots teaching your students—funded by EU, UK, German & Canadian taxpayers—to 100: https://t.co/3RIYd2sBjy https://t.co/Zjarnyox3u

— Hillel Neuer (@HillelNeuer) October 6, 2019


Seth J Frantzman: Turkey re-writes international law with "safe zone" invasion doctrine

Turkey has re-written the rules of international law in Syria, declaring that when there is a presence of what it views as a "terrorist organization," it has a right to invade and create a "safe zone" or "peace corridor" along the border. Other countries including India, Israel, Saudi Arabia, Russia and Egypt may take note and begin to study Ankara's doctrine that has wide implications for international affairs.

In international relations, countries generally enjoy a right to self-defense. This is enshrined in various international laws, precedent and treaty law. The UN Charter, for instance, argues in Article 2 that "All members shall refrain in their international relations from the threat or use of force against the territorial integrity or political independence of any state." Article 51 notes that nothing in the charter "shall impair the inherent right of individual or collective self-defense."

Ankara re-written these norms, arguing that when a country has designated an organization a "terrorist group" that it will have a right to invade the neighboring country and set up a "safe zone" along the border. This doesn't require Ankara to present any evidence that there was a threat or attacks from northern Syria. Turkey simply took over Jarabulus and Afrin in 2016 and 2018 respectively. Now Turkey says it has a right to take over eastern Syria, redraw property lines and international borders, and settle one million Syrian refugees there, creating hundreds of towns regardless of the local population's views.

This is a new step in international law, one which has broad implications. Israel's conquest in 1967 of the West Bank and Golan Heights have generally been seen as illegal under international law. But Israel may now argue it is setting up a "safe zone." This could also be Israel's argument for distancing Hezbollah from the Lebanese border.

Wider ramifications mean that India can now argue that it needs a safe zone in Pakistan to keep extremists away from parts of the border of Kashmir. Pakistan may need to take over parts of Afghanistan to create Turkey-style safe zones. Russia can say that its role in eastern Ukraine is a "safe zone" or peace corridor. Saudi Arabia now likely needs a safe zone in Yemen. The number of safe zones that can be created on the Turkish model may be endless. Many porous borders across the Sahel in Africa mean that various countries may need to set up safe zones in the territory of their neighbor.
Curious what international law folks thing about this - why Turkey's broadening takeover of parts of Syria is not widely framed by states and into orgs as a matter of occupation/
annexation cc @opiniojuris @lawfareblog @AmnestyCIJ https://t.co/EQmXyp65gf

— Eugene Kontorovich (@EVKontorovich) October 6, 2019
In English, Haaretz Whitewashes Temple Mount Killings
In an article last week on the occasion of IDF's Brig. Gen. Eran Niv wrapping up his post as commander of the Judea and Samaria Division, Haaretz's English edition whitewashes the July 2017 killing of two Druze police officers shot dead by three Israeli Arab assailants just outside the Temple Mount.

Haaretz's English edition, both in print (page 4, Sept. 29) and online refer to the "deaths of two Border Police officers" in the summer of 2017:
The perceived violation of religious symbols is a particularly potent accelerant for violence, Niv says, recalling the violence that erupted after Israel installed metal detectors at the Temple Mount in the summer of 2017, following the deaths of two Border Police officers, as well as the brief outburst that followed visits by Jews to the Temple Mount in August on Tisha B'Av, which coincided with the Muslim holiday of Eid al-Adha.

Why does the English edition fail to note that the border police officers were killed by Israeli Arab assailants leaving the Temple Mount? Indeed, violence didn't erupt only after the officers' "deaths" -- their deaths themselves, ie murders, were violent.

The Hebrew version of the same article more precisely reported that the officers were killed
China pulls out of $5B deal to develop Iranian offshore gas field
China's state oil company has pulled out of a $5 billion deal to develop a portion of Iran's massive offshore natural gas field, the Islamic republic's oil minister said Sunday, an agreement from which France's Total SA earlier withdrew over US sanctions.

The South Pars field deal, struck in the wake of Iran's 2015 nuclear deal with world powers, appears to be just the latest business casualty of America's pressure campaign on Tehran following US President Donald Trump's unilateral withdrawal of the US from the deal.

It also comes as China and the US engage in their own trade war, as Beijing and Washington levy billions of dollars of tariffs on each other's goods.

Oil Minister Bijan Zangeneh, quoted by the ministry's Petroenergy Information Network (SHANA), said Sunday that the China National Petroleum Corp. was "no longer in the project." He did not elaborate or give any reason for the withdrawal, though SHANA said the company "had pulled out of a contract" to develop the field.

Officials in Beijing didn't immediately acknowledge their decision. Phone calls to the CNPC rang unanswered on Sunday and its website bore no mention of the withdrawal.
Australia Denies Extradition of Iranian Academic to US
Australia will not extradite an Iranian academic to the United States, Australia's attorney-general said over the weekend, following a 13-month detention of the researcher for allegedly exporting American-made military equipment to Iran.

Attorney-General Christian Porter said in a statement that "in all the circumstances of this particular case" the academic, Reza Dehbashi Kivi, should not be extradited.

"My decision was made in accordance with the requirements of Australian domestic legal processes and is completely consistent with the powers provided to the commonwealth attorney-general under our law," Porter said.

The statement came hours after Iran had agreed to free an Australian couple from a Tehran prison who were held on spying charges. Later on Saturday, Iranian media reported that Dehbashi Kivi had already returned to Iran.

Porter would not say whether the two cases were related.

"The Australian Government does not comment on the details behind its consideration of particular cases," Porter said in his e-mailed statement.

"And while it is likely that because of Mr Kivi's nationality some will speculate regarding this matter, consistent with prior practice I do not intend to comment further on the particular details of this case, particularly when any such response from me may diminish our government's capacity to deal with future matters of this type in Australia's best interests."
Iranian media calls on Iraqis to takeover U.S. embassy amid protests
An Iranian newspaper linked to Supreme Leader Ayatollah Ali Khamenei called on Iraqis to seize the US embassy in Baghdad, in a move similar to the takeover of the US embassy in Tehran during the Iranian revolution of 1979, according to Radio Farda.

"Historical evidence has shown that US embassies in all countries, even in friendly and allied countries, are the focus of conspiracy. The US Embassy in Iran is a clear and exemplary example of this bitter reality," wrote Hossein Shariatmadari, the editor of the Kayhan newspaper, in reference to the former US embassy that was taken over and held hostage during the revolution in 1979.

Documents found in the embassy in 1979 "revealed the betrayal of some Iranian political figures and exposed the countless US crimes in Iran and some other countries in the region," according to Kayhan.

The author of the Kayhan article asked "young Iraqi revolutionary believers" why they don't "end the presence of the US Embassy in Baghdad, the same espionage and conspiracy center against the oppressed Iraqi people."

Shariatmadari claimed that "There are many documents about the presence of U.S., Israeli and Saudi Wahabi agents, as well as Ba'thist elements behind the Iraqi protests."
Iranian health workers infect hundreds, including kids, with HIV - report
More than 300 people are accusing local Iranian medical officials of infecting them with the HIV virus, according to Iranian media sources.

The residents, located in the village of Chenar Mahmoud and the towns of Lordegan, Chahar Mahal and Bakhtiari, say adults and children contracted HIV from local medical centers and health clinics due to unsanitary medical practices, including from contaminated syringes used by the local health organizations during a widespread test for diabetes two months prior.

There are similar unconfirmed reports by individuals in neighboring villages.

On Saturday, large groups of the affected townspeople, along with their loved ones and supporters, stormed the office of the Friday Prayer Imam and set it ablaze. Another group protested in front of the governor's building in the province, demanding that the courts investigate the case.

Radio Farda and the Mehr-news agency (MNA) both reported on the incidents.

"A limited number of 'opportunists' attempted to create disruption and sedition outside the Governor's building, but failed," MNA reported about the incident in front of the governor's office.
Merkel's gov't says Iran's call to 'wipe Israel off the map' not antisemitic
German Chancellor Angela Merkel's government declared the Iranian regime's call to obliterate the Jewish state is not an expression of antisemitism in an eye-popping statement to The Jerusalem Post on Friday.

On October 1, Merkel's Foreign Ministry merely labeled the call to destroy Israel by commander-in-chief of Iran's Islamic Revolutionary Guard Corps (IRGC) Gen. Hossein Salami "anti-Israel rhetoric."

When the Post asked the Merkel administration if it agrees with the statement of its foreign ministry, a spokesman told the Post: "We have nothing to add to the reply of the foreign office."

The Post specifically asked if Salami's statements are antisemitic.

In late September, Salami delivered his call to exterminate the Jewish state before an audience of IRGC leaders that was publicized by the state-funded IRNA agency, as well as other Iranian regime-controlled outlets.

Salami said that "This sinister regime must be wiped off the map and this is no longer… a dream [but] it is an achievable goal."

He added that his country has "managed to obtain the capacity to destroy the impostor Zionist regime" 40 years after the 1979 Islamic revolution.
Iranian Cleric Ebad Mohammadtabar: When the Hidden Imam Arrives, The Whole World Will Convert to Islam or Die; We Will Confront, Defeat the Jews, Zionism pic.twitter.com/3F5W0NDq1x

— MEMRI (@MEMRIReports) October 6, 2019
IRGC Commander-in-Chief General Hossein Salami: Our Deterrence Capabilities Have Almost Reached Their Peak; America's Power Is in Decline; Regional War Would Wipe Israel off the Map pic.twitter.com/yOGnnXgUxP

— MEMRI (@MEMRIReports) October 6, 2019


JPost Editorial: Caving to BDS

We don't believe that Lovato is an antisemite but she does need to understand that by backtracking on her praise for Israel, she is playing into the hands of antisemites and forces that seek Israel's destruction.

By caving to BDS pressure, Lovato let herself be used as a political tool. She backtracked on her praise for Israel out of some distorted sense of solidarity with the Palestinian cause.

It is true that Israel has an unsettled conflict with the Palestinians and this paper is not alone within Israel of calling – repeatedly – on the government to find ways to reengage with the Palestinian Authority and to work toward a solution.

The BDS movement, Lovato should know, does not want peace and is not interested in a two-state solution. It openly seeks the elimination of Israel as the nation-state of the Jewish people, a right afforded to Israel by the United Nations.

Like Lorde, Lovato has joined the forces that believe the Jewish people do not deserve that right. They hold Israel to a double standard and believe that song line out the Jews is okay and not hypocritical or wrong.

She may have distanced herself from Israel and apologized for visiting here, but she needn't be "Sorry, not Sorry," as her famous hit song goes. Israelis might not get to hear her perform anytime soon in Jerusalem or Tel Aviv but they will get to hear Celine Dion next summer. Our hearts, as Dion famously sings, will go on.
A beginner's guide to the SJP national conference
In a surprise to nobody, Students for Justice in Palestine (SJP) announced that its upcoming national conference, set to commence on November 1, will be held on the University of Minnesota Campus in Minneapolis (UMN). Why is this not a surprise? Because Minneapolis happens to be the district of antisemitic Congresswoman Ilhan Omar, a prominent figure in the Boycott, Divestment and Sanctions movement against Israel.

This is not a coincidence. In fact, the very first goal stated on the conference website is to capitalize on shifts in the political climate, represented by the elections of BDS supporters Rep. Omar and Rep. Rashida Tlaib. However, the real shift in the political climate – one that SJP itself has played a substantial role in – is the resurgence of the world's "oldest hatred" in the US under the guise of BDS.

Countless articles and in-depth studies have delineated the various calls for violence by the SJP leadership, as well as their intimate connection with Palestinian terrorist organizations like Hamas, Hezbollah, Palestinian Islamic Jihad, and the Popular Front for the Liberation of Palestine (PFLP), all of which thrive off an ideology of Jew-hatred. It's not just the leadership that is guilty of promoting antisemitism, but many student members of SJP as well.

How many times must an SJP chapter host convicted terrorists like Rasmea Odeh at its events before they are called out for their antisemitism? How many social media posts fawning over convicted terrorist Marwan Barghouti and PFLP founder George Habash must be shared by official SJP accounts until the tech overlords ban SJP from their platforms? How many T-shirts glorifying PFLP terrorist Leila Khaled must be sold at their events before the world opens its eyes?
HonestReporting's Daniel Pomerantz Exposes BDS Co-founder Omar Barghouti

HonestReporting's Executive Director Daniel Pomerantz goes head to head with on live television with Omar Barghouti, one of the founders of the Boycott, Divestment and Sanctions movement against Israel. This is a 3 minute highlight reel. For the full 20 minute segment click here: https://youtu.be/xq0XUFpVoCA
This was originally aired on CGTN's The Heat news talk program. CGTN is China's English language international channel, with an estimated global viewership of 4 million.
Financial Times misleads on Muslim antisemitism
A Sept. 27th Financial Times book review written by David Feldman, director of the UK based Pears Institute for the Study of Antisemitism, gave a mostly positive account of "How to Fight Anti-Semitism" by NY Times editor Barri Weiss.

However, on the topic of Muslim antisemitism, Feldman is critical.

Weiss is strong on how rightwing anti-Semitism functions, and she scores some hits in her attacks on the left and radical Islam. But sometimes she misses the target. Her writing about anti-Semitism among Muslims is a case in point. It is because of the growing Muslim presence, Weiss claims, that "it is dangerous to be a Jew in Europe." In fact, so far as we can tell, most anti-Semitism in Britain stems from white men who are nominally Christian.

This is extremely misleading.

Whilst it's narrowly true that most antisemitic incidents in the UK are committed by "white men", this is not a terribly significant fact given the overwhelming majority of British citizens are white. When taking into account antisemitic incidents by perpetrator, based on the size of racial and religious groups, CST's 2018 report demonstrates that Muslims commit acts of antisemitism at a rate disproportionate to their numbers. (page 8 of the report)

Further, according to a major 2017 study of antisemitic attitudes in the UK, by the Institute for Jewish Policy Research and CST, levels of antisemitism in the UK are "2 to 4 times higher among Muslims compared to the general population".
The BBC's take on 'Zionism'
On its website, the BBC has an animated series entitled An A-Z of -isms – including one episode titled "Zionism: A Very Brief History" – and gives this strapline: "Writers, academics and thinkers share their takes on some of the world's most important ideas (plus a few fun ones)."

The corporation declares that it is "the world's leading public service broadcaster," and creates "distinctive, world-class programmes and content which inform, educate and entertain millions of people in the UK and around the world." Therefore, although, so far, only 79,300 or so of those millions have clicked the Zionism animation, it must be remembered that it is on the BBC's website and not on some obscure ranter's internet outlet.

As it is, for now, one of the most viewed -isms, it cannot be ignored and remains relevant. Also, Israel is a subject close to the BBC's keyboards.

In setting itself up as educator, and because it is here dealing with "some of the world's most important ideas," the BBC is duty-bound to ensure editorial rigor of its content. Yet, the corporation shirks this duty when it complacently defers it to the author of the "potted history" of Zionism. Using drab and noisy illustrative cartoons that are in some cases inaccurate and inappropriate, with the voice-over veering high and low, further underlines the utter slovenliness of this BBC product.

Clearly, the Zionism -ism was also a "fun one" of the -isms. Theodor Herzl gets tomatoes thrown at him, Jews are swivel-eyed and other such – it adds up to a bit of a list in this 3.08-minute agitated animation.

Who or what was editing Colin Shindler's "take" on Zionism? You won't find out who Herzl was, a Jew, because you're not told.

You are also not told about how Europe, with its fanatical crusades, was long ago set on its path to Hitler's "Final Solution." Nor is there any mention of the horrifically violent history of antisemitism across Europe, in which entire villages of Jews were regularly burned to the ground – and this was before the Spanish and Portuguese Inquisitions, the latter of which was a wedding gift of sorts. Alfred Dreyfus was dispensable and so Shindler dispensed with him, and with this swipe, a major defining point in modern Jewish history is elided.

Russian antisemitism – the only mention of "antisemitism" – is quickly and quaintly dismissed as a "heavy hand." Also not mentioned is the specially coined Russian term, "pogrom," with all the wanton and brutal destruction of whole Jewish communities that it entailed. It is interesting, though, how the word "Diaspora" is used, without any irony about the way in which it has become a common term, far beyond the Jewish context – a bit like pogrom (but then again, it was not mentioned). Whereas Herzl got tomatoes thrown at him, "Arab nationalism" is treated reverentially. Not even one falafel flies (but then again, falafels are Pharaonic).
CAMERA Arabic prompts correction of three inaccuracies in one BBC report
A BBC article published on September 24th on the network's Arabic website was corrected last week (no earlier than October 1st, based on the date attributed to a cached copy of the inaccurate version) following a complaint made by CAMERA Arabic on the day of publication.

The article – which aimed to provide a detailed, informed introduction to Israel's major Arab parties – contained three factual errors, one memorable typo and one major omission – all in one subsection.

Under the headline "What are the components of the Joint Arab List in the Israeli Knesset and [what are] their orientations?", the article discussed the Joint List – a union of four Israeli parties, three of which self-identify as "Arab" while the fourth, Hadash, describes itself as "Arab-Jewish" (although the vast majority of its voters are estimated to be Arab).

The inaccuracies appeared in the part of the article portraying one of the Joint List's components: the nationalist Arab party of the National Democratic Alliance (Balad). The correction addressed all the issues raised by CAMERA Arabic. (all translations, emphasis and in-bracket remarks are by CAMERA Arabic unless otherwise specified)
Anti-Semitic hate crimes in NYC have risen significantly in 2019
The number of hate crimes against Jews in New York City has risen significantly over the first nine months of this year, part of a citywide rise in such offenses.

The New York Police Department has reported 311 total hate crimes through September, as opposed to 250 reported through the same period in 2018, according to Deputy Inspector Mark Molinari, who heads the department's Hate Crimes Task Force.

Molinari said 52 percent of the reported hate crimes, or 163, have targeted Jews. Over the same period last year, the NYPD reported 108 anti-Semitic hate crimes.

At a meeting Thursday with Jewish philanthropists, Molinari discussed the numbers and how to prevent anti-Semitic crimes in the city. He recounted a list of anti-Jewish hate crimes that had made the news just this week:
- Two Jewish men had their hats knocked off by a group of teens.
- A separate group of children broke the windows of a Brooklyn synagogue during the Rosh Hashanah holiday.
- Also during the holiday, a third group of kids harassed a Jewish woman, pulling off her scarf and wig.
Robert Kraft names new exec. director of Foundation To Combat Anti-Semitism
Robert Kraft, chairman and CEO of the Kraft Group, announced today the hiring of Dr. Rachel Fish as the founding executive director of the Foundation to Combat Anti-Semitism. Fish will begin her new role on Monday, October 7.

Kraft established this new foundation in response to the growing rise in antisemitism in the U.S. and abroad, particularly in light of the spread of hateful rhetoric online and the initiation of hate crimes against the Jewish people through social media. He announced the foundation when he was awarded the Genesis Prize in June in Jerusalem, along with his own $20 million founding investment and the generous donations of others.

"I am thrilled to have Rachel lead this new and important effort," Kraft said. "Rachel's education, experience and, most importantly, her commitment make her the right person for this role. She is equipped to face the growing epidemic of antisemitism with tenacity and a proven track record of progress through a lifetime of work in this arena. Our family is honored and privileged to have Rachel lead this new foundation, which is so close to our hearts."

Fish brings with her a thorough background and history in the fight against antisemitism, including a strong academic understanding of the issues and varied experience in advocacy work. Most recently, Rachel was Senior Advisor and Resident Scholar of Jewish/Israel Philanthropy at The Paul E. Singer Foundation in New York City where she aided in developing the strategic approach for the foundation's giving and worked directly with practitioners to implement their missions and initiatives.
Turkey's Kanter Says He Was Harassed by Erdogan Supporters
Boston Celtics and Turkey center Enes Kanter said he had been harassed outside a Massachusetts mosque on Friday by two men he described as supporters of Turkish President Recep Tayyip Erdogan.

Kanter, who filmed the incident and posted it on Twitter, is an outspoken critic of the Turkish regime and its human rights record.

He was indicted by a Turkish court last year on charges of belonging to an armed terrorist group, which he denies.

"Erdogan thugs attacked and threatened me today after Friday prayers in Boston at a mosque," he wrote.

"Turkish Government don't even let me practice my religion freely in America let alone my freedom of speech is under attack."

The video does not show any physical violence, but Kanter is clearly agitated as a crowd gathers around him on the sidewalk, and he seems particularly annoyed by one man who is not speaking English.

"I told you America, this is crazy," Kanter said in the video.
Israeli defense firm Elbit secures $153 million drone deal with Asian country
Israel defense firm Elbit has secured a drone deal with an Asian country worth approximately $153 million, the company said on Sunday.

The contract will comprise a networked, multi-layer drone system, with aerial vehicles of varying sizes and capabilities, and will be delivered to the unnamed southeast Asia country over a 22-month period.

The materiel will include over 1,000 of Elbit's THOR mini-drones, which look like consumer rotor drones and are meant to carry out surveillance and reconnaissance operations. The unmanned aircraft can fly at altitudes of 2,000 feet and at 65 kilometers per hour (40 mph).

It will also include dozens of Skylark drones, small aircraft launched and operated by a team of two that are widely used by the Israel Defense Forces. The Sky Rider, as it is known in Hebrew, is a tactical surveillance drone operated by the Artillery Corps that provides a live video feed to soldiers on the ground.
Israeli innovation is about to disrupt the fruit industry
"Disruption" is a common superlative applied to technology startups. Craigslist disrupted the classified advertising business. Uber and Lyft have disrupted the taxi industry.

Now, a new Israeli company aims to disrupt the fruit market, encompassing some 116 million acres of fruit orchards globally.

Markets in general are ripe for disruption when inefficiencies eat away at their core. The issue with fruit is knowing how much the trees on a farm will produce in a given year.

In industrial farming, this is known as "yield estimation" and it's accomplished today in a remarkably low-tech way: Farm crews do a manual, visual "count" from the sampling of a few randomly selected trees in the field or in photographic images. From there, they extrapolate to the entire orchard.

But because it's very difficult to distinguish unripe green fruit from green leaves, inaccuracies ranging from 30% to 40% are common. And wrong yield estimation results in less (or even no) profitability.
Pre-Mossad: How one man used espionage to bring Poland's Jews to Israel
Miri Nahari's father, Tzvi Netzer, was the point-man for pre-Mossad clandestine efforts bringing 250,000 out of 300,000 Jewish Holocaust survivors from Poland to Israel.

Despite that near-miraculous accomplishment, strangely, Netzer is not as much of an international household name as his boss, Shaul Avigur.

Avigur helped found the Haganah's intelligence wing, and at points headed all of Mossad Aliyah Bet and Nativ – which, respectively, brought massive numbers of European and Russian Jews to Israel.

Still, Netzer was the operational leader on the ground for "the Bricha" (the Jewish Escape) in Poland.

That meant getting Jews out of Poland post-World War II and essentially made him the pre-Mossad Israeli intelligence station chief in one of the key countries in Europe for Jewish survivors.

But before he got to that point, he, in typical Mossad-level spellbinding style, survived quite a few precarious situations, Nehari tells The Jerusalem Post Magazine with a flicker in her eye.

At this point, Nehari herself is a grandmother, and spent aspects of her career carrying out important activities for the state.
Her dynamic and bubbly personality is on full display as we make small talk and she offers a hot drink in the living room of her Ramat Hasharon home.
'A great privilege to see Ari rejoice in Trump's J'lem decision'
US Ambassador to Israel David Friedman eulogized Ari Fuld in Gush Etzion Sunday evening, lauding the murdered father of four as an 'outstanding American, an outstanding Israeli, and an outstanding Jew'.

Speaking during a ceremony marking the first yahrzeit (anniversary of his death) of Fuld in Gush Etzion south of Jerusalem, Friedman recalled Fuld's pro-Israel activism, and his jubilation over the White House's decision to move the US embassy in Israel from Tel Aviv to Jerusalem.

"The voice of your brother cries out to me from this ground…and it reminds us, as only Ari can, that we must always stand for the truth. I remember how excited Ari was on the day that we opened the United States Embassy in Jerusalem, some 17 months ago," said Friedman.

"He issued several moving videos. Through all his excitement and all his commentary, the point that reverberated over and over again was not that the opening of the embassy was good, not that it was the right policy, not that it was appropriate or that it was just. Rather what Ari said was that the moving of the embassy to Jerusalem was an act in solidarity with the truth.

"The United States did not discover something new when it opened our embassy there. Rather, the United States was the first among nations to take a stand for the truth, in recognizing Jerusalem's undeniable eternal status as the capital of Israel, and Ari implicitly recognized this."

"It was a great privilege to see Ari rejoice at President Trump's decision. While we had no doubt that we had taken the right path, positive reinforcement from an American and an Israeli and a Jew of Ari's stature was most welcome."

Friedman went on to call Fuld, who was murdered in a stabbing attack by a Palestinian Arab terrorist near the Gush Etzion bloc last year, a 'proud American, Israeli, and Jew'.
Yahya, a Muslim Arab Israeli Combat Soldier


5,000-year-old NYC-style metropolis uncovered in northern Israel

The ruins of a 5,000-year-old megalopolis were uncovered in northern Israel, the Antiquities Authority announced on Sunday, in one of the most significant archaeological findings in recent history.

The ruins were discovered in a major excavation project in the Ein Assur site near Harish. According to the IAA, the city was the largest and most central one in the area during the Bronze Age. According to the archaeologists, about 6,000 people lived there, a huge number at the time.

"About the same time that the first pharaoh established his rule over Egypt, this city was founded," IAA official Yitzhak Paz, explained in a video, calling the city "the New York of that era."

Paz explained that the location offered exceptionally good conditions to settle, such as sources of water and strategic proximity to ancient commercial routes.

The city was fortified and its urban design is clearly visible, he added.

The ruins clearly show a web of roads and alleys, as well as the design of the buildings. Among the most unique structures uncovered, was a temple where religious rituals were performed. A seal imprint featuring the figure of a stylized man raising his hands in prayer and a head figurine were found at the site.

An even earlier settlement, dating to the Chalcolithic period from 7,000 years ago, was uncovered in deeper excavations made beneath this city's houses. It seems that two abundant springs originating in the area in antiquity were a site of attraction throughout the period.

According to the authority, the finding will change everything scholars know about the urbanization process in the Land of Israel in ancient times.
---
---
We have lots of ideas, but we need more resources to be even more effective. Please donate today to help get the message out and to help defend Israel.

Cache
Turkey has long warned of operation in the region to set up 'safe zone' to host Syrian refugees and push out enemies.

Cache
The ambitious plan of President Recep Tayyip Erdogan of Turkey to resettle at least one million Syrian refugees within a "safe zone" along the Turkish-syrian border has come a step closer to being realized. On Sunday U. S. President Donald Trump...

Cache
The ditching of Kurdish-led forces threatens to destabilise the region further. It is just the latest proof of the dangers of this president's foreign dealings

Wherever US policy on Syria settles in the coming weeks and months, damage has already been done. Two announcements within a few hours encapsulated both the style of Donald Trump's presidency (personalised, ignorant and erratic) and its perils. The first, a White House statement, followed a phone call with the Turkish president, Recep Tayyip Erdoğan, and blindsided everyone, including parts of Mr Trump's administration. It not only announced the abrupt decision to withdraw troops from the north-eastern area bordering Turkey, abandoning the Kurdish-led Syrian Democratic Forces with which the US has partnered, but gave the green light to a Turkish invasion. The second – a tweet, following a furious backlash even from his own party at the prospect of further chaos in a desperately unstable region – announced that should Ankara do anything that "I, in my great and unmatched wisdom, consider to be off limits, I will totally destroy and obliterate the Economy of Turkey".

But Ankara sees the SDF as indistinguishable from Kurdish insurgents inside Turkey and has long sought to eradicate them. Now it is poised to launch an offensive – likely to boost Mr Erdoğan's flagging domestic popularity. It then wants to move many of its 3.6 million Syrian refugees – a source of growing complaints at home – to the area, reengineering its demography. Turkey never forgave its ally for partnering with the SDF; but Mr Erdoğan may now find that thanks to Mr Trump he has taken on more than he can manage.

Continue reading...

Cache

Donald Trump threatens to 'obliterate' Turkish economy if it goes too far with Syria invasion

Turks are attacking the heroic Kurds. Trump thought he had a deal with Turkey to protect the Kurds which would allow US troops to withdraw safely

US President Donald Trump warned Turkey against going too far in Syria, after giving Ankara a green light to invade its southern neighbour.

Mr Trump said on Monday he was done with "ridiculous endless war" as he stood aside to allow a long-threatened Turkish assault on Kurdish-held Syria, effectively abandoning its allies who fought Islamic State of Iraq and the Levant (Isil).

The US had for months been working with Turkey to try to create a buffer zone along its border with northern Syria between the Turkish military and Kurdish forces which Ankara sees as terrorists.

But amid an outcry from the region and strong opposition at home from both Democratic and Republican lawmakers, the US leader appeared to reverse himself, though without drawing any specific red lines that might protect Kurdish allies.

"If Turkey does anything that I, in my great and unmatched wisdom, consider to be off limits, I will totally destroy and obliterate the Economy of Turkey (I've done before!)," Mr Trump tweeted.

Other US officials, apparently surprised by Trump's Sunday announcement, stressed that Washington will not actively support the long-threated Turkish action, warning of destabilizing blowback to the region.

"The Department of Defense made clear to Turkey - as did the president - that we do not endorse a Turkish operation in Northern Syria," said Pentagon spokesperson Jonathan Hoffman.

Turkey has repeatedly criticised the slow implementation of the buffer zone and threatened a unilateral assault, but until Monday the US had refused to stand aside.

"The Kurds fought with us, but were paid massive amounts of money and equipment to do so. They have been fighting Turkey for decades," Mr Trump said in an earlier series of tweets.

"Turkey, Europe, Syria, Iran, Iraq, Russia and the Kurds will now have to figure the situation out."

US Republican and Democrats had warned such an offensive on the Kurdish People's Protection Units (YPG), which lost 11,000 troops in the battle against Isil, could lead to a massacre of Kurds and send a worrying message to American allies across the world.

The US began pulling back some of its 1,000 troops from border towns Tel Abyad and Ras al-Ayn on Monday, and has said it will potentially depart the country should widespread fighting break out.

The announcement, first made by the White House overnight on Sunday, appeared to take both the Kurds and US coalition forces, which had been carrying out joint patrols with Turkey on the ground, completely by surprise.

Kurdish sources say they were acting in good faith trying to establish a security mechanism with the US to placate Turkey, but now felt that Ankara had been using it as a cover for reconnaisance.

Mustafa Bali, spokesman for the Kurdish-led Syrian Democratic Forces (SDF), tweeted: "We are not expecting the US to protect NE #Syria. But people here are owed an explanation regarding security mechanism deal, destruction of fortifications and failure of US to fulfill their commitments."

The White House statement was released after a phonecall between US President Donald Trump and Turkish President Recep Tayyip Erdogan on Sunday night.

Mr Erdogan had reportedly assured the US president that Ankara would take over the detention of Isil militants captured by the SDF, on the battlefield.

The Kurds have been holding thousands of Syrian and thousands more foreign Isil suspects in prisons and camps across the north of the country.

Mr Trump has repeatedly asked countries under the US-led coalition against Isil to repatriate their citizens. However, the UK, France, Germany, and other allies have so far refused.

"The United States will not hold them for what could be many years and great cost to the United States taxpayer," the White House statement said. "Turkey will now be responsible for all ISIS fighters in the area captured over the past two years in the wake of the defeat of the territorial "Caliphate" by the United States."

The decision is a massive blow to the Kurds, who not only helped hold back Isil but have for years been building an autonomous statelet in the northeast of Syria.

Turkey claims its planned "safe zone" is to purge the border of YPG forces, which it sees as a terrorist offshoot of the Kurdistan Workers' Party (PKK), which has fought an insurgency inside its territory for the past 35 years.

The proposed corridor would have an initial depth of 18 miles and a length of 300 miles and includes the Kurds' biggest urban centres, including the city of Qamishli which has an estimated 250,000 population.

Turkey on Monday night carried out air strikes on the Iraqi side of the Iraq-Syria border crossing, in what was thought to be an attack on the YPG's supply line.

Western diplomats told the Telegraph they are working on the theory that Mr Erdogan will begin by attempting to take a smaller sliver between the towns of Tel Abyad and Ras al-Ain on the border, but the Turkish president himself has previously hinted at much wider ambitions.

Mr Erdogan has said he wants to return two million of the mostly Sunni Arab Syrian refugees Turkey is hosting to the buffer zone, which some have said would amount to an ethnic repopulation.

The Kurds fear many of the Syrians that might be placed in the zone are not native to north-east Syria, and might displace the Kurdish culture and rights.

The UN said that it was "preparing for the worst", fearing an assault would send large numbers of civilians fleeing.

"This Turkish military operation in northern and eastern Syria will have a significant negative impact on our war on ISIS and will destroy everything that has been achieved from the state of stability over the past years," the Kurdish-led Syrian Democratic Forces said in a statement.

They said they would defend themselves against "Turkish aggression" and called on all sects, including Kurds, Arabs, Syriacs and Assyrians to join them.

Defending its Kurdish allies would have seen the US come against its Nato partner Turkey, which Washington was keen to avoid.

President Donald Trump has since taking office attempted to disentangle the US from drawn-out wars in the Middle East.

His goal of swift withdrawals in Syria, Iraq and Afghanistan have been stymied by concerns from US officials and American allies about the dangerous voids that would remain.

SOURCE

**********************************

America's top CEOs say they are no longer putting shareholders before everyone else

This a joke. CEOs have NEVER put shareholders first. Their own prestige, power and income have always been their first priority and that will not change. Shareholders just get the scraps

For the past two decades, the official stance of America's top corporate executives has been that the interests of shareholders came before the interests of all others—workers, consumers, the cities and towns in which their companies operated, and society as a whole.

Today, that changes.

The Business Roundtable, a lobbying group composed of the nation's leading CEOs, just announced that its members "share a fundamental commitment to all of our stakeholders"—each of whom "is essential"—while pledging "to deliver value to all of them, for the future success of our companies, our communities, and our country."

With its "Statement on the Purpose of a Corporation," the Roundtable has affirmed the need for "meeting or exceeding customer expectations"; "investing in our employees," including by "compensating them fairly and providing important benefits," as well as offering training and education so that they can "develop new skills for a rapidly changing world"; "dealing fairly and ethically with our suppliers"; "supporting the communities in which we work"; and "generating long-term value for shareholders."

Jamie Dimon, the CEO of JPMorgan Chase and the Roundtable's chairman, says he hopes that this declaration "will help to set a new standard for corporate leadership."

It is, without question, a huge deal.

As I've detailed before, through the 1980s and most of the '90s, the Roundtable held that companies had a responsibility to "carefully weigh the interests of all stakeholders," as the organization described it, and that "the thrust of history and law" buttressed this kind of broad assessment.

In 1997, the Roundtable switched course. Suddenly, it proclaimed that "the paramount duty of management and of boards of directors is to the corporation's stockholders" and that "the interests of other stakeholders are relevant as a derivative of the duty to stockholders." (The Roundtable echoed that message in 2016.)

The Roundtable's shift to a shareholder-first posture has been widely cited as a significant marker in the evolution of corporate America—both a reflection and reinforcement of an ideology that has thrilled investors, gripped executives, and knocked out a more enlightened form of capitalism that had emerged in the era after World War II.

Yet since then—and especially over the past 5 to 10 years—serving shareholders first and foremost has come under increasing attack. An expanding chorus of critics has made the case that this predilection has contributed to a short-term mindset among far too many executives, fostering a culture of indiscriminate cost-cutting and financial engineering, and has been a central reason for the explosion in income inequality.

"I read the Roundtable's statement as a return to common-sense principles of management and the recognition that employees need a bigger share of the pie to assure a healthy economy," says Judy Samuelson, executive director of the Aspen Institute's Business and Society Program.

The pressure for business to put an end to shareholder primacy has been building from a variety of quarters. Younger workers, in particular, are looking for employers that have a loftier purpose than merely maximizing their profits. More and more, customers are paying attention to which companies seem to be doing right by their people and the environment—and punishing brands that fall short. Socially conscious investors have started putting vast sums of money into financial products that use a "sustainable, responsible, and impact" lens.

Politicians have also taken up the cause. The Accountable Capitalism Act, proposed by Elizabeth Warren, the Massachusetts senator and Democratic presidential candidate, would require very large companies to obtain a new federal charter under which directors would have to "consider the interests of all corporate stakeholders."

Meanwhile, the basic tenets of shareholder capitalism have been questioned by scholars such as the late Lynn Stout, a Cornell law professor and author of The Shareholder Value Myth, who cogently argued that executives and directors have wide latitude in deciding what is best for a company and don't have any obligation—legal or otherwise—to elevate shareholders above everyone else. Journalists and think-tank types have weighed in along these lines, too.

MY DINNER WITH DIMON

Among them has been me. As Fortune's Alan Murray recounts, the Roundtable began to reevaluate its views on the relationship between shareholders and other stakeholders after a "testy, off-the-record dinner" last fall that I participated in. Dimon had invited four of us—including the Washington Post's Steve Pearlstein, Bloomberg's Joe Nocera, and Samuelson of the Aspen Institute—to JPMorgan headquarters to better understand why we kept insisting that corporate America had become overly obsessed with shareholder value and, as a result, was damaging society.

Dimon's perspective—then and now—is that most big companies already take good care of their various stakeholders. "We relentlessly invest in employees, communities, and innovation," he told me.

If that were true, of course, the new Roundtable statement would simply be codifying the current state of affairs. But with all due respect to Dimon, who deserves great credit for engaging with us and then guiding the Roundtable to recast its position, the numbers don't back him up.

Sure, no company completely ignores all of its constituents save for its shareholders. If it did, it would soon be out of business. But as a study published last week by the Center for American Progress makes clear, things are terribly out of balance.

Wages for the majority of the American workforce have been stagnant for 40 years, while their health coverage and retirement security have eroded. At the same time, corporate profits—high by historical standards—are mainly being used to reward shareholders, including CEOs themselves. Their compensation has gone up 940% since 1978; typical worker compensation has risen 12% during that time, according to the Economic Policy Institute.

For the Roundtable's statement to mean something—and not stand as empty rhetoric—this picture can't be allowed to continue.

With that in mind, I asked a half-dozen colleagues who've been at the fore of fighting shareholder primacy what would it take for them to be convinced that CEOs across the business landscape had genuinely embraced stakeholder capitalism.

For starters, several say, companies must curtail stock buybacks, if not stop them altogether. These repurchases have become a financial narcotic, with a record volume of shares being snapped up, largely in an attempt to pump up their price.

Some, including Roundtable President Joshua Bolten, defend the practice as an efficient way to deploy capital and help the economy grow. But buybacks plainly favor shareholders (including, again, CEOs), and every dollar of profit spent on them means one less dollar that can go directly to bolster worker pay, training, R&D, and other areas.

"I would make it the primary obligation of all business corporations to 'retain-and-reinvest': retain profits and reinvest in the productive capabilities of employees," says economist Bill Lazonick, who is perhaps the country's most outspoken detractor of buybacks. "I would place constraints on 'downsize-and-distribute': downsizing the company's labor force and distributing corporate cash to shareholders."

Environmental stewardship is another proving ground. Some big companies score high marks in this arena right now. But with climate change posing an existential crisis, it's crucial that corporations do far more.

"Why I'm passionate about ending shareholder primacy is that I truly think the future of the entire human race depends on it, and I'm not trying to exaggerate," says Lenore Palladino, an economist at the University of Massachusetts Amherst. "For corporate leaders to show they are committed to stakeholder capitalism, we need to see a commitment to the health of the environment as a business priority . . . a dramatic strategic reorientation towards reversing the current damage and reengineering businesses to be productive for the long term."

For sustainability pioneer John Elkington, another sign that a stakeholder model hadreally taken root would be for companies to no longer speak with two voices: one from the C-suite and another via the Washington influencers representing them.

"They would resign from all trade and industry groups which lobby to slow or stall necessary systemic changes" that would enhance the simultaneous creation of economic, social, and environmental value, says Elkington, who coined the term "triple bottom line." Then they would turn around, he adds, and "forcefully and publicly lobby for a meaningful price on carbon and for the breakup of monopolies and oligopolies."

To give the Roundtable statement some teeth, they'd also take a fresh approach to organized labor. "Welcoming, rather than fighting, a union would be a big one," says Andy Green, managing director of economic policy at the Center for American Progress. Research shows that nearly half of all workers not in a union want to join one. Yet many companies do all they can to keep this from happening.

Samuelson, for her part, would be impressed by companies "dampening down the intense focus on stock price in CEO pay." More than half of CEO compensation is share-based these days, much of it tied to short-term financial measures. Instead, executives should be paid—and to a meaningful degree—on a mix of environmental, social, and governance metrics.

The University of Toronto's Roger Martin, who has been recognized as the world's number-one management thinker, wants to see a reversal of something that, for many of the most senior executives, is even more deep-seated.

Rather than concentrate on stock price, he says, they should expressly concentrate on serving customers or developing employees or tackling some social need through innovation. Ultimately, Martin has maintained, that's the best means of taking care of shareholders anyway.

"For me, the key would be to view shareholder value creation as the logical consequence of other things, not something that you can directly pursue," he says. "It is like Aristotle who pointed out that if a person sets out to be happy, the person is unlikely to end up happy. However, if the person sets out to lead a virtuous life, the person will probably end up happy. If I could only have one thing, it would be that."

Others made additional suggestions: Companies should guarantee a living wage for all workers, including contractors. Stakeholders of different stripes (employees, sustainability experts, even everyday taxpayers) should be given seats on corporate boards. Executives should lean on business schools to stop teaching that shareholder value is the be-all and end-all of capitalism.

Much of this agenda may be dismissed as unrealistic. Certainly, none of it will be easy to achieve. And none of it is meant to imply that the Roundtable's statement isn't, in and of itself, a monumental step.

Words matter. The words of the Roundtable—a Who's Who of those at the helm of the largest U.S. corporations, from Abbott to Zebra Technologies—matter a lot. In the end, though, it is the actions of Roundtable members that will matter the most.

SOURCE

**********************************

For more blog postings from me, see TONGUE-TIED, EDUCATION WATCH INTERNATIONAL, GREENIE WATCH, POLITICAL CORRECTNESS WATCH, AUSTRALIAN POLITICS, and Paralipomena (Occasionally updated), A Coral reef compendium and an IQ compendium. (Both updated as news items come in). GUN WATCH is now mainly put together by Dean Weingarten. I also put up occasional updates on my Personal blog and each day I gather together my most substantial current writings on THE PSYCHOLOGIST.

Email me here (Hotmail address). My Home Pages are here (Academic) or here (Personal). My annual picture page is here

**************************




Next Page: 25 © Googlier LLC, 2019