Cache
[Swiss transmission order] French pubcaster France 3's detective drama Crimes parfaits is a "semi-anthology" where a murderer known from the start thinks he/she has committed the perfect crime but a detective (different in every couple of episodes) proves him/her wrong.
It's the concept of the inverted detective story, popularized by Columbo though created in literature many years before the famous lieutenant.
The crime dramas of
France 3
are a fully-fledged genre, recognizable from the postcard drone shots of their regional locations, the same actors jumping from one to another and stories sometimes so similar that you wonder if they are generated by some artificial intelligence. The channel is the happy home of
Commissaire Magellan
,
Mongeville
,
Meurtres à...
or ratings juggernaut
Capitaine Marleau
. The later is the most popular TV series in France, which certainly explains why
Crimes parfaits
is essentially a copycat factory of the gendarme played by
Corinne Masiero
.
One of Marleau's relatives is
Police captain Louise Bonne
("Comme la poire"), played by actress and humorist
Julie Ferrier
. Introduced a year ago, she returns with her deputy and protégé
Fatou
(
Wendy Nieto
) in
À la vie, à la mort
and
Trop beau pour être vrai
.
Juliette Petiot
(Louise's teenage daughter
Zoé
) and
Sophie de la Rochefoucauld
, very funny as the ill-named pathologist
Gracieuse
, are back too. Humorist (another one!) and actor
Mathieu Madénian
joins the main cast as
Grégoire
, a sympathetic
procureur
.
The two episodes, penned by
Marie-Anne Le Pezennec
and helmed by
Nicolas Herdt
, try to show a bit of ambition within the limits of both the series format and the labored humour of the main character.
Arié Elmaleh
guest stars as
Bruno Aubert
,
the murderer of
À la vie, à la mort
. Bruno is the director of a funeral home founded by his father. He gets rid of
Alex
, his best friend, who's also the godfather of his daughter. The man ends up embalmed! Capitaine Bonne and Fatou investigate. The feud between Louise and her husband escalates
Arié Elmaleh does an impressive rendition of the closest thing to a France 3 version of
Dexter Morgan
(
Dexter
) at the beginning of the episode. Also starring
Joyce Bibring
(
Marine
),
Louisiane Gouverneur
(
Annabelle
),
Yann Pradal
(Alex),
Virginia Anderson
(
Cécilia
),
Antoine Cholet
(
Romain
),
Serge Feuillard
(
Gérard
) and
Simon Thomas
(
Joël
).
Sylvain Damal
, the victim of
Trop beau pour être vrai
, is described by his colleagues, friends and neighbours as a sort of saint and even a hero. The wife of this director of a fish trading company and two of his employees beg to differ.
They plot his murder and make it look like a drowning caused by jellyfishes. One of the guest stars is the talented
Christelle Reboul
as
Violette
, a role far away from
Amélie
in
Nos chers voisins
(2012-2017). Since
Capitaine Marleau
, it seems that a lot of crime dramas of France 3 have their dedicated teams of gagmen. Also with
Armelle Deutsch
(
Hélène
),
Jérôme Robart
(
Lucas
),
Christophe Favre
(
Marcel
),
Jérémy Gillet
(
Hugo
),
François Briault
(
Sylvain
) and
Vincent Bercholz
(
Mayor
). Developed with
Toma de Matteis
. Produced by
Caroline Lassa
for
Salsa Productions
.
Co-produced by
France.tvstudio
and
France Télévisions
with
Be-Films
and
RTBF (Télévision belge)
. With the participation of
RTS Radio Télévision Suisse
. Music by
Maïdi Roth and Franck Pilant
. Additional music by
Flemming Nordkrog
. Theme music of
Crimes parfaits
by
Jean-Pierre Taïeb
. Filmed with the support of
Département de la Charente-Maritime
.
Not yet shown by France 3.
See also:
https://tattard2.blogspot.com/2019/09/crimes-parfaits-capitaine-agnes-bertaud.html (Capitaine Agnès Bertaud)
Cache
Información que es parte de un artículo de
la Vanguardia
(sin editar).- Según revela The Telegraph, el plan de Johnson
contempla que Irlanda del Norte se mantenga sujeta a las regulaciones del mercado único europeo en cuanto a agricultura, alimentación y productos manufacturados al menos hasta 2025
. Al cumplirse ese límite temporal, el Parlamento autónomo norirlandés podría decidir si la región se mantiene alineada con los estándares comunitarios o bien si se reintegra en la legislación británica.
Con esa solución, Johnson espera modificar la polémica salvaguarda para Irlanda del Norte original, que prevé que ésta se mantenga en el mercado único y la unión aduanera de manera indefinida, hasta que se encuentre una solución alternativa para mantener sin barreras la frontera con la República de Irlanda. Hasta ahora Irlanda del Norte ha sido el principal escollo para alcanzar un acuerdo.
Downing Street no prevé una nueva prórroga y se mueve en las coordenadas de acuerdo o no acuerdo.
El viceprimer ministro irlandés, Simon Coveney, señaló por su parte que por los detalles que han salido hasta ahora a la luz "no hay bases para un acuerdo" y considera que las intenciones de Londres son "preocupantes".
La ministra irlandesa de Asuntos Europeos, Helen McEntee, dijo que esos planes no serían aceptables para Dublín
y que ello produce dudas sobre si Johnson tiene intención sincera de alcanzar un acuerdo. "De lo que hablábamos de nuevo de coger y descartar ciertas partes del mercado único para Irlanda del Norte. Y ahora se habla sobre un límite de tiempo, que una vez más no es aceptable", ha señalado.
Un portavoz de Downing Street aseguró que el Gobierno "o bien va a trabajar hacia un acuerdo o hacia un no acuerdo, pero nadie va a trabajar para una extensión" del Brexit más allá de 31 de octubre, la fecha límite fijada por ahora para que el Reino Unido abandone la UE. "Continuaremos luchando para que se respete el mayor voto democrático en la historia el Reino Unido", agregó esa fuente, en referencia al referéndum sobre el Brexit de junio de 2016, en el que el 51,9% de los votantes optó por salir de la UE.
Johnson, por su parte, ha insistido en que no tiene intención de solicitar una prórroga de la ruptura a Bruselas, tal como le exigirá una ley si no ha logrado ratificar un acuerdo el próximo 19 de octubre. "Me temo que después de tres años y medio, la gente está empezando a sentir que les toman por idiotas. Están empezando a sospechar que hay fuerzas en este país que no quieren que el 'brexit' se produzca", se espera que diga hoy en su discurso el jefe de Gobierno.
La televisión irlandesa, RTÉ News , avanzó que Johnson planeaba implementar puestos de control a ambos lados de la frontera norirlandesa, lo cuál violaría los acuerdos de paz del Viernes Santo
, que trajeron paz a la convulsa región.
Cache
Note - this new series of posts follows Tbilisi's interior hidden treasures - entry halls, courtyards, and other secrets that can be accessed with a simple push of a door.

I'd always thought that the most beautiful entry-hall in Tbilisi was the ornate pink Moorish one in the building at the corner of Asatiani and Machabeli Street. However, an accidental wander into
Tbilisi State Academy of Arts
at 22 Griboedov St in Mtatsminda, a mad combination of William Morris wallpaper, gilded carvings, and a few stray stone lines, may cause me to revise that theory. As in most Tbilisi entry halls, nobody much seemed to mind (or much notice) our presence. Some of the more beautiful rooms (which I've found in online archives) are closed off - the entire building is poised to implode into ruins at any moment. But what's still accessible - palatial art-nouveau-meets-orientalist-fantasy - is among the most beautiful examples of architecture in Tbilisi.
(Note - I didn't have a camera when I went in - all photos are internet-sourced)
Historical information about the building - (s
ourced from the TSAA websit
e). It was apparently designed as a palace in the nineteenth century by one G. Ivanov, before being restored in the twentieth by its owner, Nino Kobulashvili, to a design by Simon Kldashvili. In the late nineteenth century the building was known as "Tbilisi Club" - and was home to a number of amenities, among them libraries, billiard-rooms, and performance halls - only to become an arts school in 1922. An appeal for restoration funding - along with some stunning archival photos - can be found
here.
Also notable - if slightly less sumptuous - is the Academy outpost at the
Toidze Building, located at 21 Chonkadze Stree
t, into which I wandered on a couple of previous occasions, and which is famous for having the most utterly dangerous-looking steampunk spiked chandelier I'd ever seen (and for being all-but abandoned and hence more prone to chandelier collapse than the Opera Garnier.)
Cache
Here are the highlights of my family history and genealogy related activities over the past week:
1) Attended the Chula Vista Genealogical Society (CVGS) Board Meeting on Wednesday.

I reported on the Research Group, DNA Interest Group, the October Newsletter, and the membership survey. Wrote, edited, published and distributed the October Newsletter on Sunday.
2) Finally started my new presentation on "Researching in Historical Newspapers" which I will give at the 30 October CVGS general meeting.
4) Was a panelist on today's Mondays With Myrt.

The panel discussed THE Genealogy Show, Find A Grave, One-name studies, the Barbour collection, the Oxford Family History Fair, Russ's Family Tree Maker 2019 presentation, is the FHL obsolete?, FHL catalog and collections, a lost diary found, and my posts about newspaper searches on GenealogyBank and Newspapers.com.
7) There were several sessions working in the RootsMagic software program to match with and update FamilySearch Family Tree profiles for Seaver families and my ancestral families, with occasional additions to the RootsMagic profiles.

I have matched 32,966 of my RootsMagic persons with FSFT.
8) Used Web Hints and Record Matches from Ancestry, MyHeritage, Findmypast and FamilySearch to add content and sources to my RootsMagic profiles.

I now have 54,945 persons in my RootsMagic file, and 110,380 source citations. I TreeShared twice this week updating 290 profiles, and I resolved 1502 Ancestry Hints. I've fallen behind on the Ancestry Record Hints with 115,339 to be resolved, but I work on them weekly.
9) Added several more ThruLines to DNA matches to my RootsMagic file. Added Notes to about 10 AncestryDNA matches.
10) Wrote 18 Genea-Musings blog posts last week, of which three were a press release. The most popular post last week was
New Collection on Ancestry.com - Newspapers.com Obituary Index, 1800s to Current
with over 516 views.
=============================================

The URL for this post is:
Copyright (c) 2019, Randall J. Seaver

Please comment on this post on the website by clicking the URL above and then the "Comments" link at the bottom of each post. Share it on Twitter, Facebook, or Pinterest using the icons below. Or contact me by email at randy.seaver@gmail.com.
Cache
Karolinska "står inte på offrens sida" när det gäller de antisemitiska trakasserierna. Det menar människorättsorganisationen Simon Wiesenthal Center.
Mikael Odenberg, ordförande i Karolinska Institutets styrelse, beskriver kritiken som "grundlös".
Cache
That spike in traffic can only mean one thing: someone really cool (or at least popular) has linked to us. In this case, it was Simon Parkin's excellent article on Desert Bus, the parody mini-game that would have been a part of Penn & Teller's Smoke and Mirrors for the Sega CD, 3DO and PC. I [...]

Cache
The openSUSE community concluded its sixth openSUSE.Asia Summit this weekend at the Fakultas Teknik of the Universitas Udayana in Bali, Indonesia.
Bali's newest tourist attraction, the Garuda Wisnu Kencana status, towered outside the window as participants discussed all things openSUSE and open source.
A number of participants traveled from all over the world to join students from the university. The students volunteered with running the summit and many made their first contributions to open source. Attendees from more than 20 nations attended the summit. Talks at the summit focused on open source technologies, community contributions, healthcare technologies like GNU Health, packaging, using the Open Build Service and much more.
openSUSE Asia Summit 2019 #oSAS19 @openSUSEID @openSUSE pic.twitter.com/EjMtLi6Jb9

— Klmpk Linux Arek Sby (@KLAS_Activity) October 5, 2019
Simon Lee and Dr. Axel Braun from the openSUSE Board provided attendees with a status update about the openSUSE Project and introduced Gerald Pfeifer as the new chairperson for openSUSE. GNOME's Executive Director Neil McGovern gave a keynote at the summit; the GNOME.Asia Summit will be next week in East Java, which is the island next to where the openSUSE.Asia Summit took place.
The organizers from the opensuse.id community put together a fantastic summit for the participants had several social events to collaborate on topics related to the project and expansion of the project and open source technologies within Asia. The project and attendees expressed their thanks to sponsors who helped to maked the summit a success. SUSE, Simplify8, Radiant Utama Interinsco TBK,  MyCoop, PT Boer Technology, Excellent, Bogorwebhost, Linksys, Fans.co.id
The openSUSE.Asia Summit started a tradition at the first openSUSE.Asia Summit of passing along the Summit's photo album; the organizing team from the previous year passes the Summit's photo album to the organizers who are completing the current Summit. Max Huang passed the album to Kukuh Syafaat during the ceremonial end of the summit.
A really great tradition with the @openSUSE.Asia Summit; the organizing team from the previous year passes the Summit's photo album to the organizers who are completing this year's Summit. pic.twitter.com/57lzBCctp3

— openSUSE Linux (@openSUSE) October 6, 2019
That wasn't the only ceremony. The conference started off with a ceremonial dance and opening remarks from the university's staff.
Well, that's a pretty amazing way of opening a conference! @openSUSE @openSUSEID #oSAS19 pic.twitter.com/FEIMkxPMgB

— Neil McGovern (@nmcgovern) October 5, 2019
Next year's openSUSE.Asia Summit is planned to take place in Faridabad, India.
Cache
Happy bookish birthdays (3 October) to… Thomas Wolfe (Look Homeward, Angel) (at AmazonSmile: benefit a non-profit of your choice by shopping*) Gore Vidal (Myra Breckenridge) (at AmazonSmile*) Katherine Kerr (the Deverry series) (at AmazonSmile*) Simon Scarrow (Eagles of the Empire) (at AmazonSmile*) James Herriot (All Creatures Great and Small) (at AmazonSmile*) Jack Hodgins (Broken Ground) […]

Cache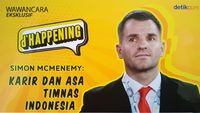 Pelatih Simon McMenemy berkisah tentang peluang Timnas Indonesia di level internasional. Simon juga menuturkan soal karirnya saat ini dan di masa depan.

Cache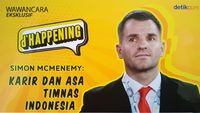 Simon McMenemy (dan PSSI) disorot setelah dua kelalahan Timnas Indonesia di Kualifikasi Piala Dunia 2022. Sebesar apa optimisme Simon bersama Skuat Garuda?

Cache
So, I visited Montreal Simon to read
his latest post
, which was a condemnation of the Scheer Conservatives and their fans who are bringing USA-Repugnican style hatred and violent rhetoric up here. It started off well with a picture of some sub-literate right-wing moron holding up this ridiculous (and frightening) hand-made sign:
I've said on numerous occasions that stupid people must have the same right to vote as non-stupid people. But there needs to be gatekeepers to prevent the rise of stupid ideas and rage-fueled political movements from having any prominence greater than the level of three city blocks. Alas, for reasons of selfish cynicism our media and corporate elites see fit to pander to these cretins and stir them up. As well (whose kidding who?) from their own behaviour and the words that flow from their mouths, pens, pencils, keyboards, many among our elites aren't all that intelligent either.
Montreal Simon goes from trashing right-wing assholes calling for Trudeau to be "hung" (or run over by a truck) for taxing them, for verbally acknowledging global warming, for admitting Syrian refugees, for marching in PRIDE parades, and etc., ... where was I? .... Oh yeah, ... Simon goes from condemning those assholes to conflating them with progressives who yell at him for buying the TMX pipeline (so as to bail-out the Bay Street parasites who invested in that bitumen project) and praises Trudeau for asking his supporters (booing the guy) for tolerance as he lets his security drag the man away.
Immediately afterwards Simon mentions a guy who threw an egg at Trudeau during a climate march in Montreal, but it's unclear from the Global News video what that guy's agenda was. Personally, I've never gotten too incensed about ordinary people throwing pies (or, now, eggs) in the faces of politicians.
"What if that pie/egg had been a gun or a bomb or a knife?!?"
Yeah. But you're missing the important point that it wasn't a gun or a bomb or a knife. It was a cream-pie/egg. You could just as well shriek that the hand of someone extended for a handshake could have been a gun. But it wasn't. The person sticking their hand out to a passing politician just wants a handshake. Just as the person with the pie wants to make a statement and not kill anybody.
Simon then starts his spiel about how Justin Trudeau is the most activist politician fighting climate change EVAH!!!! because of his carbon tax and his investments in renewable energy industries. But, if Simon were honest (or not honestly ignorant) he would know that this is mere tinkering and that it is all cancelled-out by his continuing to develop the Tar Sands. Which is par for the course for a liberal politician. They're the masters n' mistresses of using empty words to gull their deluded followers. They "feel your pain." They "want to see all people rise to their full potential." They "don't want to see anyone left behind." They say the things we want to hear in order to get elected and continue to say those things as they enact policies that contradict their flowery words.
The end result of political cowardice and deliberate deceit by politicians like Justin Trudeau is going to be the extinction of most of the earth's life-forms. It will AT LEAST mean the deaths of tens of millions of people. Given this, it was justified for that protester to yell at Trudeau for his sickening devotion to the TMX pipeline. And it is the height of stupidity to conflate environmentalists with legitimate grievances with Islamophobic, racist, right-wing homophobic shit-heads threatening all their adversaries with murder. (Notice how that protester at the Liberal rally stayed right where he was and didn't make a step towards Trudeau.)
And, of course, the first "commentor" was Simon's in-all-but-name co-blogger "Jackie Blue." I haven't (and won't) read her entire densely-packed, extended comment. But she basically says that leftist "shit-disturbers" are as big a threat (to "rational centrists") as right-wingers. Now, given the evidence from Simon's own post, anyone not an idiot can see that isn't true. She then goes on to whine about the progressives who didn't vote for mass-murderess, corrupt scumbag Hillary Clinton. Because "Jackie Blue" continues with the bullshit story that she's a US-American and she continues with the bullshit belief that Hillary Clinton wasn't a murdering scumbag.
Hillary Clinton voted for the Iraq War you stupid fuck! She voted for a war based on obvious stupid lies. The war she voted for has KILLED ONE MILLION IRAQIS and maimed and traumatized millions more. And that's only one of her colossal "mistakes" that she made while servicing the oligarchy and becoming a multi-millionaire herself. And it was Hillary's own sense of entitlement that led her to rig the Democratic primary to defeat Bernie Sanders and thereby bring on the presidency of Donald Trump. Hillary gave us Trump you imbecile!
As a species, we have to do the hard work of overthrowing his rotten, inhuman, ecocidal system. And the longer that (mostly decent-minded) people like Montreal Simon pledge hysterical allegiance to hucksters like Liberals, the longer (and perhaps TOO LATE) will it take to start that job in earnest.
(I'll end by saying that I probably won't be voting. My riding is a contest between the Libs and the Cons. And, from reading
this article
, I'm pretty much deflated about my choices anyway.)
Cache
Le FC Nantes enregistre une nouvelle victoire à domicile grâce à un but de Simon à la 86e

Cache
With busy schedules and limited space, in-person tutorial sessions are hard to arrange for large classes. Our resource centre offers drop-in homework support, but can only hold a small fraction of our class. As an alternative that can be scaled up to any number of students, we have been experimenting with online video tutorials. Students can tune in to a weekly, live-streamed tutorials and interact with the tutors via chat. Recordings are posted on YouTube. In this presentation, I'll discuss the technology, logistics, and what we've learned so far.
Presenter
Dr. Simon de Vet
Physics and Atmospheric Science
Dalhousie University
Cache
This free 1-hour webinar from GigaOm Research brings together experts in network traffic analysis, featuring GigaOm analyst Simon Gibson and a special guest from Corelight, Steve Smoot. They'll discuss the evolution of network analysis and explain how open-source Zeek (formerly Bro) came to be the network traffic analysis tool of choice for security analysts to make fast sense of their traffic.

In this 1-hour webinar, you will discover:

Why understanding traffic at today's scale is so important for security teams
The complexities of traffic and telemetry collection for security
What Bro was built to do, why was it renamed Zeek, and how it overcomes these complexities
How Corelight makes Zeek easy to deploy and expands its capabilities

Why Attend:

Nearly all cyberattacks must cross the network, but security analysts often struggle to make quick sense of traffic at scale for hunting and incident response, trapped between data-starved logs (e.g. Netflow) and too much data (full packets) to analyze in time. What if instead there was a "Goldilocks' for network data?

We'll dive into Zeek's creation at Livermore Labs and discusses some of the challenges that come with using it in large, fast network environments and explain how Corelight enables organizations to quickly take advantage of the power of Zeek at scale.



Request Free!
Cache
Fucking assholes. There's going to be a Simon Wiesenthal center for ICE agents in the near future.


Posted by phlegmmy

Cache
As President Trump vows to pull back from military involvement in the Middle East, his Republican allies are condemning him for abandoning allies and emboldening regional enemies. In a tweet Mr Trump said "if Turkey does anything that I, in my great and unmatched wisdom, consider to be off limits, I will totally destroy and obliterate the Economy of Turkey". We speak to Washington correspondent Simon Marks.

Cache
The X Factor: Celebrity will see Louis Walsh and Nicole Scherzinger return as judges.

Cache
Este foi o segundo grande título de Simon Brändström somente no segundo semestre O sueco Simon Brändström volta ao topo do pódio de um grande evento na Europa menos de 45 dias depois de vencer o Main Event do EPT Barcelona. Desta vez, Simon Brändström foi o melhor entre os 690 participantes do evento principal do WPT…

Author information
The post Simon Brändström vence o Main Event do WPT do Reino Unido appeared first on Poker é no MaisEV.
Cache
We had a wonderful meal at Simon Rogan's Roganic last year, and when it closed without any confirmation of a follow up London venture I was disappointed that we would not be able to sample his cooking again without a long journey up to Cumbria. So, to my delight, when Claridges announced he would be taking over the restaurant from Gordon Ramsay, I knew we would be heading for lunch as soon as we could.

You can't help but feel a bit special when heading into Claridges, and as we arrived a little early we soaked up the ambiance in the lobby before heading in. The room is impressive, with Claridges stunning art deco architecture, but a natural, organic feel, with pebble stones on wooden tables with a comfortable ambiance.

We were sat and Jack, joining Fera from our Fitzrovia haunt Kitchen Table, came over for a chat and took our drinks orders. Nice to see a familiar face. Throughout the meal the service from all was top class, just the type of consummate professionals I would expect at venue like Claridges, and not a hint of stuffiness.

Starting with some cocktails, pea shoot, apple marigold and vermouth for my wife, and a lovage and herb rye whiskey for me. Both were unusual, and quite different to anything I've had before, and as I'm a fan of lovage it was great to taste it in such a different way. However, note to self: Don't have whiskey cocktail instead of breakfast.

The first dish was brought out by Simon himself, a rather impressive start. A crisp barley wafer with smoked eel, lovely, light and flavoursome. The canapes were all equally lovely, a mouthful of the sea in the form of a mackerel wafer, a fabulous bite of rabbit, crisp, warm and rich, and an absolute peach of a dish, a bowl with potato mousse and winslade cheese dish, including duck heart for myself, being particularly memorable. The last amuse bouche was clever, an almost ice cold salad of crab with rhubarb acting as a perfect palate cleanser before the bread course, a hunk of bread with butter and unusually a cup of sweet onion broth.

The main dishes were all very much what I would expect from Simon, very light, bags of flavour, highly technical, unusual herbs and foraged ingredients. The cabbage/beef course had an amazing smoked broccoli cream I will remember for a long time but the star was a dish brought out by Simon himself, a grilled salad. This was amazing, a barrage of crunchy and crispy textures from the grilled leaves, underneath a gorgeous truffle custard redolent with strong truffle flavours served in a wooden bowl and with a large wooden spoon, which i used to scrape the bowl clean of every last trace of that custard. I've seen some of the opening reviews where some found they weren't so keen on some courses, but I couldn't fault a single dish, and every element from the shellfish butter with the prawn to some delightful discs of pickled tongue with the hogget an absolute treat.

Desserts were similar, light, fresh with perfect balance. I loved the cherries that came with the yoghurt, and the celery pieces at the bottom of the ice cream dish were a touch of unexpected genius, I now know that if you do it right, celery can go in a dessert. This was finished with a blackcurrant wafer and a fizzy blackberry concoction, which was excellent, and I think a much better choice than the chamomile milkshake I've seen described elsewhere.

The petit fours were again something out of the ordinary, especially the sweet cicely cake, a ghost of a sponge so light it barely seemed real. We ended the meal with a fancy filter coffee poured at the table, in a rather cool Japanese filter kit, the coffee a fabulous Kenyan blend that we took without milk and clearly a cut above most coffees I've had.

Our wine, recommended by the sommelier on my vague instructions for something sweet, fruity and fragrant was a bottle of Patrimonio 'Grotte di Sole', Antoine Arena 2010 (£75) and was perfect with the food, lasting us right to the petit fours.

The bill came to around £420, our most expensive London meal, but with the surroundings, food, service, booze and a 15 quid (!) coffee it wasn't too much of a shocker. We enjoyed a memorable lunch, Simons food is exciting, unique and every bite a joy. Vegetarians are equally catered for, with Simons food naturally being more vegetarian friendly, especially with so much being sourced from the farm in Cartmel.


Puffed barley, onion, watercress. Puffed barley, smoked eel, watercress.

Berkswell cheese, pickled plum. Mackerel, seawater cream, caviar.

Stewed rabbit and lovage.

Chicken skin, thyme, roasted garlic.

Scallops in buttermilk.

Peas in buttermilk.

Winslade and potato.

Crab, rhubarb, goats cheese.

Kohlrabi, rhubarb, goats cheese.

Malt bread, onion broth.

Raw beef, smoked broccoli cream, scallop roe, acidic apple juice.

Sweetheart cabbage, smoked broccoli cream, fresh curd, acidic apple juice.

Oxalis, smoked yolk, carrot, juniper.

Prawns from Gairloch, picked alexander, asparagus, shellfish butter.

Asparagus, picked alexander and sunflower.

Grilled Salad, Isle of Mull, truffle custard and sunflower seeds.

Cods cheeks poached in dulse stock, artichoke, beetroot and sea orache.

Artichokes with dulse, beetroot and sea campion.

Herdwick hogget, pickled tongue, mushroms, turnips.

Celeriac baked in hay, crispy skin, hen of the woods, turnips and hazelnut.

Chamomile, butterscotch, celery.

Sheep's yoghurt, cherries, Douglas fir.

Hampshire Strawberries,woodruff and elder flower.

Blackberry and lemon verbena.

Sweet cicely cake.

Banana mint drops.

Smoked meringue.

Fera At Claridges


Cache
Best of Leadership Digital October 1, 2019. LEADING BLOG | TUESDAY, OCTOBER 1, 2019 First Look: Leadership Books for October 2019 Here's a look at some of the best leadership books to be released in October 2019. Don't miss out on other great new and future releases. The Infinite Game by Simon Sinek. Do you know how to play the game you're in? In finite games, like football or chess, the players are known, the rules are fixed, and the endpoint is clear. MORE >> LEAD CHANGE BLOG [...]

Cache
Cast: Cary Elwes, Imogen Poots, Aleyse Shannon, Brittany O'Grady, Lily Donoghue, Ben Black, Madeleine Adams, Lucy Currey, Simon Mead e Caleb Eberhardt.

Cache
St Kilda won't allow gun onballer Jack Steven to walk to Geelong without gaining decent compensation, says football boss Simon Lethlean.
Cache
The romantic notion of the King twins playing together at St Kilda could be firming as a real possibility, after Simon Lethlean revealed the club had spoken to Ben King's manager.
Cache
Presented in partnership with Musica Viva. The Mitchell family are elated to announce, for one night only during Spring Carnival weekend, a quartet of Australia's most acclaimed chamber musicians, who will perform at Montalto Restaurant in Red Hill. Be in the audience for chamber musicians, Elizabeth Sellers, Simon Oswell, Svetlana Bogosavljevic and Wilma Smith as […]

The post An evening of Chamber Music at Montalto appeared first on Love the Peninsula.




Next Page: 25 © Googlier LLC, 2019