Cache
Ron Johnson became Wisconsin's Senator because he didn't understand the Affordable Care Act, and hated a program offering more people access to affordable health insurance. He even said...



And it only got worse from there. In Washington, Johnson's blathering idiocy became the talk of the town:


And then he got reelected...true!

Johnson plays Trump as Victim, says he's "...never seen a president, administration, be sabotaged from the day after the election: Amazing. Let's remind our clueless Dumb Ron Johnson why that's not true either:

1. Here's John Boehner offering his plans for Obama's agenda: "We're going to do everything — and I mean everything we can do — to kill it, stop it, slow it down, whatever we can."

2. Senate Minority Leader Mitch McConnell summed up his plan to National Journal: "The single most important thing we want to achieve is for President Obama to be a one-term president."

3. Mike Pence, underscored the point with a clip from Patton, showing the general rallying his troops for war against their Nazi enemy: "We're going to kick the hell out of him all the time! We're going to go through him like crap through a goose!"

4. Even though the economy was in free fall, not one House Republican had voted for the effort to revive it, prompting a wave of punditry about a failed party refusing to help clean up its own mess and dooming itself to irrelevance.

5. Have

we forgotten that right when President Obama took office in 2009,

the Republican leadership in Congress planned a

no-honeymoon

strategy of all-out resistance to Obama

, even though the country was in an economic meltdown? Then-Sen. George Voinovich (R-Ohio) said that "if [Obama] was for it, we had to be against it."
So it's mind-bending to hear Dumb Ron Johnson whine about the supposed "attacks" on the grifting Trump family presidency:
Johnson: "I have never in my lifetime seen a president after being elected, not having some measure of well wishes from his opponents; I've never seen a president, administration, be sabotaged from the day after the election; I've never seen no measure of a honeymoon what-so-ever."
Johnson, chairman of the Senate's Homeland Security committee, rambled from one conspiracy theory to another (just like every Trump cultist), and admitted he doesn't trust the CIA or the FBI.
Johnson: "No, I don't — absolutely not. No, and I didn't trust them back then."
So, Nothing like this ever happened under Obama? Trump Investigations plays into GOP Victim-Hood
: Here's just a quick reminder below. Note: Remember Trump's own attempts to seek out Obama's birth certificate to prove he was not a U.S. citizen and a secret Muslin:
MSNBC: Republicans made aggressive use of their investigative powers ... matters involving Hillary Clinton, her use of email as secretary of state, her conduct of foreign policy and the Clinton Foundation ... House Republicans unleashed a barrage of subpoenas ... a half dozen GOP-led House committees conducted protracted investigations of the 2012 attacks on U.S. diplomats in Benghazi, Libya ... investigations of the 2009-2011 Operation Fast and Furious episode – a botched initiative against drug cartels that ended up putting guns in the hands of murderers ... investigations into the IRS's treatment of conservatives, and his administration's loan guarantee to the failed solar-panel startup, Solyndra. And much more.
Who can forget Johnson's imagined "secret society?"
Or this Johnson gem:
Ron Johnson now has his eye on the governorship in Wisconsin. Just a little advice to anyone thinking about moving to a state who's economy is held hostage by the gerrymandered Republican Party determined to not change a thing because after 8 years of control, everything is perfect now; DON'T.
Cache
Mitch McConnell becomes most senior lawmaker in Trump's party to oppose withdrawal of US troops from northern Syria

Cache
SACRAMENTO, Calif. (AP) — Pharmacists in California will be able to dispense HIV prevention pills to patients without a doctor's prescription after Gov. Gavin Newsom signed legislation Monday that supporters say will greatly reduce the spread of infection. Advocates of Senate Bill 159 say that California is the first state to authorize pre-exposure prophylaxis, also called PrEP, and post-exposure prophylaxis, known as PEP, without prescriptions. California is already considered a leader in HIV/AIDS prevention, they say. PrEP is a once-daily […]

Cache
Mitch McConnell and Lindsey Graham lead condemnation of foreign policy move that could prove 'disaster in the making'Donald Trump with Mark Milley, the chairman of the joint chiefs of staff, in the Cabinet Room on Monday. Lindsey Graham said abandoning the Kurds would be 'a stain on America's honour'. Photograph: Carolyn Kaster/APDonald Trump was dangerously isolated on Monday as, in a rare rebuke, some of his most loyal allies revolted against his decision to withdraw US troops from north-eastern Syria.Senate majority leader Mitch McConnell led a chorus of Republicans who, having defended the president on almost every other issue – including over impeachment – decided to draw a line in the sand."A precipitous withdrawal of US forces from Syria would only benefit Russia, Iran, and the Assad regime," McConnell said. "And it would increase the risk that Isis and other terrorist groups regroup."He added: "As we learned the hard way during the Obama administration, American interests are best served by American leadership, not by retreat or withdrawal."The criticism was significant because McConnell is usually at pains not to cross Trump even at his most capricious. Last week the Kentucky senator released a Facebook video promising to stop Democratic-led impeachment in its tracks.Article 1 of the United States constitution gives the House of Representatives the sole power to initiate impeachment and the Senate the sole power to try impeachments of the president. A president can be impeached if they are judged to have committed "treason, bribery, or other high crimes and misdemeanors" – although the constitution does not specify what "high crimes and misdemeanors" are.The process starts with the House of Representatives passing articles of impeachment. A simple majority of members need to vote in favour of impeachment for it to pass to the next stage. Democrats currently control the house, with 235 representatives.The chief justice of the US supreme court then presides over the proceedings in the Senate, where the president is tried, with senators acting as the jury. For the president to be found guilty two-thirds of senators must vote to convict. Republicans currently control the Senate, with 53 of the 100 senators.Two presidents have previously been impeached, Bill Clinton in 1998, and Andrew Johnson in 1868, though neither was removed from office as a result. Richard Nixon resigned in 1974 before there was a formal vote to impeach him.Martin BelamThe unusual fracture emerged on Sunday night when, shortly after a phone conversation between Trump and Turkey's president Recep Tayyip Erdoğan, the White House announced removal of US troops from the Syria-Turkey border area. "Turkey will soon be moving forward with its long-planned operation into Northern Syria," it added.Critics of all political stripes have long feared that the move could open the way for a Turkish strike on Kurdish-led fighters in the area. Kurdish groups have fought alongside a small US presence in Syria to drive Islamic State militants from the region.The Republican backlash was rapid and potentially unnerving for a president whose fate is tethered to the party and the assumption that it will acquit him in the Senate if, as widely expected, the Democratic-led House of Representatives votes for impeachment.Lindsey Graham, chairman of the Senate judiciary committee, who has become an outspoken defender (and frequent golf partner) of Trump, did not acquiesce this time. Abandonment of the Kurds would be "a disaster in the making", he said, and "a stain on America's honour".Graham told Fox News: "I hope I'm making myself clear how short-sighted and irresponsible this decision is. I like President Trump. I've tried to help him. This, to me, is just unnerving to its core."Graham wrote on Twitter that if the plan goes ahead, he will introduce a Senate resolution opposing it and seeking reversal of the decision. He added: "We will introduce bipartisan sanctions against Turkey if they invade Syria and will call for their suspension from NATO if they attack Kurdish forces who assisted the US in the destruction of the ISIS Caliphate."Kevin McCarthy, the top Republican in the House, whose attempts to defend Trump's phone call with Ukraine's president have provoked mockery, said: "If you make a commitment and somebody is fighting with you, America should keep their word."Michael McCaul of Texas, the lead Republican on the House foreign affairs committee, also urged the president to reconsider. "The United States should not step aside and allow a Turkish military operation in north-east Syria," he said. "This move will undermine our ongoing campaign to prevent an Isis resurgence and will ultimately threaten our homeland."Additionally, the United States needs to stay engaged to prevent further destructive involvement in the region from our adversaries like the Assad regime, Putin and Iran."Notably, senator Marco Rubio of Florida, reluctant to criticise Trump even when the president suggested that China investigate former vice president and 2020 election rival Joe Biden, was clear , describing the retreat as "a grave mistake that will have implications far beyond Syria"And Nikki Haley, Trump's former UN ambassador, admonished Trump without mentioning his name. "We must always have the backs of our allies, if we expect them to have our back," she tweeted. "The Kurds were instrumental in our successful fight against ISIS in Syria. Leaving them to die is a big mistake. TurkeyIsNotOurFriend"Ominously for Trump, even conservative Fox News aired dissent. Host Brian Kilmeade described the pullout as "a disaster", telling viewers of Fox & Friends: "Abandon our allies? That's a campaign promise? Abandon the people that got the caliphate destroyed?"Republicans who have contradicted Trump before did so forcefully again. Utah senator Mitt Romney described Trump's announcement as "a betrayal", adding: "It says that America is an unreliable ally; it facilitates ISIS resurgence; and it presages another humanitarian disaster."Romney and Democratic senator Chris Murphy issued a joint statement insisting Trump's administration "explain to the American people how betraying an ally and ceding influence to terrorists and adversaries is not disastrous for our national security interests".Democrats also piled in but there was a lone voice of support for the president on Capitol Hill. Republican senator Rand Paul, long a critic of foreign intervention, said: "So many neocons want us to stay in wars all over the Middle East forever. [Trump] is absolutely right to end those wars and bring the troops home."Trump himself was undeterred by the blowback. Speaking at the White House on Monday, he said he has "great respect" for the prominent Republican critics. And added: "People are extremely thrilled because they say it's time to bring our people back home. We're not a police force. They're policing the area. We're not a police force. The UK was very thrilled at this decision … many people agree with it very strongly."
Cache
BRENDAN SMIALOWSKIPresident Donald Trump's decision to pave the way for a Turkish invasion of northern Syria at the expense of Kurdish allies in the region has infuriated Republican allies in the Senate who have spent the last two weeks twisting themselves in knots to defend him from an impeachment inquiry. Late on Sunday, the White House released a one-paragraph statement declaring that a Turkish invasion of northern Syria was imminent, and the United States would "not support or be involved in the operation" and "will no longer be in the immediate area." For Kurds in the region—who have been fighting ISIS with U.S.-supplied weapons and are largely considered the strongest fighting force in Syria—the declaration amounts to an abrogration of agreements with the United States to defend them against Turkey, which considers them to be terrorists. In June, Trump himself warned that abandoning the alliance would allow Turkey to "wipe out the Kurds, who helped us with ISIS."Trump's Crazy Syria Move Will Wipe Out America's Allies and Set Up a Big ISIS ComebackThe backlash from his Republican allies was swift.  Sen. Lindsey Graham (R-SC), led the way on Monday morning, with the South Carolina senator calling the move "shortsighted and irresponsible" on Fox & Friends, a show that effectively serves as a televised presidential daily brief for Trump."This impulsive decision by the president has undone all the gains we've made, thrown the region into further chaos, Iran is licking their chops, and if I'm an ISIS fighter, I've got a second lease on life," Graham said. "I will do everything I can to sanction Turkey's military and their economy if they step one foot into Syria. I hope I'm making myself clear how shortsighted and irresponsible this decision is."Graham even referenced the House's impeachment inquiry, unprompted, before adding that while "I've tried to help him," the president's behavior was "just unnerving to its core."Graham, who has spent years trying to steer Trump closer to the hawkish foreign policy stances held by his Republican predecessors, opened the floodgates for Republicans who see Trump's move as a threat to a critical U.S. ally in the region, and a potentially disastrous embrace of an autocratic regime.Indeed, Monday saw widespread pushback from around the Senate GOP, from lawmakers who've cozied up to Trump to those who have been more willing to call him out. Sen. Marco Rubio (R-FL), a Trump ally who has nudged him toward more hawkish positions on Venezuela and Iran policy, called the decision "a grave mistake that will have implications far beyond Syria." Sen. Cory Gardner (R-CO) said that he was "deeply concerned" that the decision could leave Kurds who risked their lives to fight ISIS in harm's way.And Sen. Mitt Romney (R-UT), probably Trump's most vocal Senate GOP critic, characterized the pullout as "a betrayal" that "presages another humanitarian disaster" in Syria. Romney went so far as to join Sen. Chris Murphy (D-CT) to demand that administration officials explain their move to lawmakers and the public. Sen. Ben Sasse (R-NE), meanwhile, has toned down his Trump criticism lately but warned that the retreat would "likely result in the slaughter of allies who fought with us, including women and children." Sen. Susan Collins (R-ME) managed to subtweet the president, calling Trump's move "a terribly unwise decision" moments after the president described his wisdom on the matter as "great and unmatched."Even Majority Leader Mitch McConnell, in a rare rebuke of the president whom he has pledged to protect from removal from office, pleaded with Trump to maintain an American presence in the region and to prevent Turkey from invading."I urge the president to exercise American leadership to keep together our multinational coalition to defeat ISIS and prevent significant conflict between our NATO ally Turkey and our local Syrian counterterrorism partners," McConnell said in a statement. Major new conflict between Turkey and our partners in Syria, McConnell said, "would seriously risk damaging Turkey's ties to the United States and causing greater isolation for Turkey on the world stage."Among Trump's allies seeking to thread the needle between opposing the withdrawal and ensuring that the president didn't feel attacked was Sen. Ted Cruz, who tweeted that while Trump was "right to want to bring our soldiers home," it would be "DISGRACEFUL" (capital letters Cruz's) to allow Turkey to attack Kurdish allies in the region."Our enemies and rivals (Iran, Russia, etc.) don't abandon their allies," Cruz said. "If we want allies to stand with America in the future, we shouldn't either. Honorable nations stand by their friends."Seemingly alone among Senate Republicans in supporting the withdrawal was Sen. Rand Paul, who is perhaps the biggest cheerleader of Trump's isolationist instincts. The Kentucky senator told reporters that he stands with Trump "as he once again fulfills his promises to stop our endless wars and have a true America First foreign policy."Other Senate Republicans have remained tight-lipped on the president's decision, perhaps praying that Trump will reverse course on the withdrawal—as he did in December 2018, after sharp rebukes from within the party and the resignation of Secretary of Defense Jim Mattis halted a hastily announced drawdown of U.S. troops from Syria.Asked during an event celebrating a trade agreement with Japan on Monday afternoon about whether he had consulted with the Joint Chiefs of Staff about the decision, Trump insisted that he had."I consulted with everybody," Trump said.Additional reporting: Sam Brodey Read more at The Daily Beast.Get our top stories in your inbox every day. Sign up now!Daily Beast Membership: Beast Inside goes deeper on the stories that matter to you. Learn more.
Cache
Trump's latest move has officials scrambling to understand the implications as Turkish forces gather near the Syrian borderTurkish fighters gather near the north-east Syrian border in preparation of a widely-anticipated invasion. Photograph: Nazeer Al-Khatib/AFP via Getty ImagesKurdish forces in Syria have said the fate of tens of thousands of suspected Islamic State fighters and their families is uncertain, after US forces began a sudden withdrawal from the country, abandoning their former ally on the eve of a widely-anticipated Turkish invasion.The effects of the shock retreat continued to reverberate through the region on Monday as Turkish forces massed near the border with the Kurdish stronghold of north-eastern Syria.The looming offensive– which was green-lighted by Donald Trump in a phone call to Recep Tayyip Erdogan late on Sunday – came as a surprise to US officials and allies, who were scrambling to understand the implications. There was a furious backlash in Congress, including from some of Trump's closest allies, who accused the president of betraying the Kurds.The decision represents the latest in a series of erratic moves by Trump, who is fighting impeachment at home, apparently taken without consultation with, or knowledge of, US diplomats dealing with Syria, or the UK and France, the US's main international partners in the country.A White House statement on Sunday night after his conversation with his Turkish counterpart said that: "Turkey will soon be moving forward with its long-planned operation into northern Syria", adding that US forces were being removed from the area.The Kurdish-led Syrian Democratic Forces (SDF) said on Monday its US partners had already begun withdrawing troops from areas along Turkey's border. Footage aired on Kurdish news agency Hawar purportedly showed US armoured vehicles evacuating key positions in the border region.The SDF spokesman, Mustafa Bali, accused the US of leaving the area to "turn into a war zone", adding that the SDF would "defend north-east Syria at all costs".But on Monday the Pentagon, which has been cooperating with Turkey along the Syrian border, issued a statement saying: "The department of defence made clear to Turkey – as did the president – that we do not endorse a Turkish operation in northern Syria. The US armed forces will not support or be involved in any such operation."State department officials also sought to minimize the announcement, telling reporters that only about two dozen American troops would be removed from the Turkey-Syria border, and suggesting that Turkey might not go through with a large-scale invasion.In the face of fierce criticism from both political rivals and allies in Congress, Trump took to Twitter to try to defend the move and threaten Turkey."I held off this fight for almost 3 years, but it is time for us to get out of these ridiculous Endless Wars, many of them tribal, and bring our soldiers home," he said."As I have stated strongly before, and just to reiterate, if Turkey does anything that I, in my great and unmatched wisdom, consider to be off limits, I will totally destroy and obliterate the Economy of Turkey (I've done before!)," he said.It was unclear however, what was "off limits".In earlier tweets, Trump had appeared unsentimental about the Kurds, noting that they had been paid "massive amounts of money and equipment" in the four year campaign, when they were used as the main US proxy to fight Isis in Syria.But the issue of Isis foreign fighters, most of them European, has clearly preoccupied the US president.Both Trump and the Kurdish-led Syrian Democratic Forces (SDF) have repeatedly called on European states to repatriate around 20,000 foreign nationals currently held in north-east Syria for trial and rehabilitation at home.Trump argued it was up to Turkey and Europe and others, "to watch over the captured Isis fighters and families".An SDF spokesman, Amjed Osman, said on Monday it was not clear what would happen to the prisoners. "We repeatedly called for foreign states to take responsibility for their Isis nationals. But there was no response," he said in a statement. It is far from clear if Turkey has the capacity – or desire – to take custody of the detainees being held in crowded Kurdish jails and displacement camps, stretching the SDF to its limits and prompting warnings that militants are using the prisons to regroup.Some 74,000 women and children of the caliphate are held at the infamous Hawl camp, where they are guarded by just 400 SDF soldiers. But the camp, a hotbed of violence and extremist ideology, falls outside the parameters of the 32km-deep safe zone on the Turkish-Syrian border that Erdogan has said his forces would establish.Aid agencies warned that an offensive could displace hundreds of thousands of people, and create a new humanitarian disaster.Save the Children said that more than 9,000 children from 40 countries were being held in camps and depended on humanitarian aid to survive."Reports of imminent military operations and troops already sent to the border are deeply troubling. The international community, including the UK, should take urgent steps to do what's best for these children and bring them to their home countries before access becomes even more unpredictable," the group said.The Guardian understands that the SAS and French special forces present in Rojava would be tasked with securing the camp perimeters if the Kurds withdrew. However, with only several hundred troops between them, their numbers would need to be quickly boosted by regular soldiers to avoid a catastrophic collapse in security.In Washington, the move was condemned by allies and opponents of the president. House speaker Nancy Pelosi, a Democrat, said the move "poses a dire threat to regional security and stability, and sends a dangerous message to Iran and Russia, as well as our allies, that the United States is no longer a trusted partner".Senate Republican leader Mitch McConnell said: "A precipitous withdrawal of US forces from Syria would only benefit Russia, Iran, and the Assad regime. And it would increase the risk that Isis and other terrorist groups regroup."Republican Senator Lindsey Graham, a staunch Trump loyalist on most issues, said he would call for Turkey's suspension from NATO and introduce sanctions against Ankara if the Turks attack Kurdish forces."This decision to abandon our Kurdish allies and turn Syria over to Russia, Iran, & Turkey will put every radical Islamist on steroids. Shot in the arm to the bad guys. Devastating for the good guys," Graham wrote in a tweet.During the campaign against Isis, the SDF did the bulk of the ground fighting to defeat Isis in Syria, losing 11,000 troops in the grinding battle. The senior ranks of the organisation are dominated by members of the Kurdistan Workers' Party (PKK), which has fought a four-decade guerilla war against the Turkish government.Ankara has long complained that, while fighting Isis, PKK forces were also waging war in Turkey.
Cache
Donald Trump's allies have turned on the president after he took the decision to green-light an offensive by Turkish on its Kurdish allies in Syria. President Trump apparently made the decision without consultation from his own advisers or intelligence services, who warned that it could prove to be one of the most reckless decisions of his presidency. Mr Trump appeared focused on making good on his political pledges to bring home American troops from "ridiculous endless wars", even at the risk of sending a troubling signal to American allies abroad. Key Republican leaders in Congress appeared taken aback by the move, which they called a "betrayal" that could stain the US's name. "I want to make sure we keep our word for those who fight with us and help us," Kevin McCarthy, House Minority Leader, said, adding that, "If you make a commitment and somebody is fighting with you. America should keep their word." Mr Trump defended his decision in a series of breathless tweets, writing: "I was elected on getting out of these ridiculous endless wars, where our great Military functions as a policing operation to the benefit of people who don't even like the USA (sic)." Senator Lindsey Graham, a top Republican ally of Mr Trump, said Congress could impose economic sanctions on Turkey and threaten its Nato membership if Ankara invaded Syria. A female fighter of the US-backed Kurdish-led Syrian Democratic Forces (SDF) flashes the victory gesture while celebrating near the Omar oil field in the eastern Syrian Deir Ezzor province on March 23, 2019, after announcing the total elimination of the Islamic State (IS) group's last bastion in eastern Syria. Credit: AFP Mr Graham also said that Mr Trump's moves were a "disaster in the making" that would empower Isil in Syria. Senate Majority Leader Mitch McConnell, one of Mr Trump's key allies, added his voice of dissent, saying: "A precipitous withdrawal of US forces from Syria would only benefit Russia, Iran, and the Assad regime."   The warning was echoed by the US's partners on the ground, the Syrian Democratic Forces (SDF), which claimed yesterday their ability to contain thousands of prisoners in their detention had become severely compromised. "We were doing our best to provide the best kind of security... but with the Turkish invasion we are forced to pull out some of our troops from the prisons and from the camps to the border to protect our people," Mustafa Bali, spokesman for the Kurdish-led SDF said. "The Islamic State will benefit from the security vacuum that will follow, and will strengthen and regroup itself," he said, adding that it would undo years of work defeating the jihadists. The SDF has been holding some 10,000 male Isil suspects, including an estimated 10 Britons, in prisons across north-eastern Syria, many of which fall inside Turkey's proposed 18-mile deep, 300-mile-long buffer zone. This does not include the more than 70,000 women and children held in detention camps would could also be at risk. The White House statement announcing the news was released shortly after a phone call between Mr Trump and Turkish President Recep Tayyip Erdogan on Sunday night. Foreign prisoners in Syria detained by the SDF in Baghuz during the battle for Isil's last stronghold Credit: CBS Mr Erdogan had reportedly assured the US president that Ankara would take over the detention of Isil militants captured by the SDF. He said in a brief statement to press on Monday that he thought the numbers of Isil prisoners had been exaggerated but Turkey was ready to "remove them swiftly", without elaborating. Mr Trump has repeatedly asked countries working with the US-led coalition against Isil to repatriate their citizens, even threatening on numerous occasions to release them. However, the UK, France, Germany, and other allies have so far refused.  "The United States will not hold them for what could be many years and great cost to the United States taxpayer," a White House statement released on Sunday said. "Turkey will now be responsible for all ISIS fighters in the area captured over the past two years in the wake of the defeat of the territorial "Caliphate" by the United States." On Monday night, US Central Command, however, issued a statement saying that the US does not support Turkey invading Kurdish territory. "The Department of Defense made clear to Turkey - as did the President - that we do not endorse a Turkish operation in Northern Syria. The US Armed Forces will not support, or be involved in any such operation," said Jonathan Hoffman, Secretary of Defense for Public Affairs.  Turkey - Syria map Coalition sources said the chance of a smooth handover from Kurdish to Turkish control was "virtually impossible", leaving the prospect of prisoners breaking free in the chaos.  Western diplomats told the Telegraph they too were surprised by Mr Trump's statement, saying they had not been told in advance. They said European governments were rethinking their strategy on suspects being held in Syria. Mr Trump's decision to pull back from Syria was criticised by Brett McGurk, the former special presidential envoy for the global coalition to defeat Isil who quit in December over differences of opinion with the president on post-Isil US strategy. "Donald Trump is not a Commander-in-Chief. He makes impulsive decisions with no knowledge or deliberation," Mr McGurk tweeted. "He sends military personnel into harm's way with no backing. He blusters and then leaves our allies exposed when adversaries call his bluff or he confronts a hard phone call." The US had for months been working with Turkey to try to create a "safe zone" along its border with northern Syria between the Turkish military and Kurdish forces which Ankara sees as terrorists. At a glance | The four Kurdistans Turkey has repeatedly criticised its slow implementation and threatened a unilateral assault, but until now the US had refused to stand aside. "The Kurds fought with us, but were paid massive amounts of money and equipment to do so. They have been fighting Turkey for decades," Mr Trump said in a series of irate tweets. "Turkey, Europe, Syria, Iran, Iraq, Russia and the Kurds will now have to figure the situation out." Analysts said on Monday that the US's Kurdish had been left feeling abandoned. "For some time there is a belief in Washington that President Trump and the conventional US are two separate things. Perception is that he makes decisions without consulting his own government, advisers. Kurds and people on the ground  they have been surprised by the decision," Mutlu Civiroglu, Washington-based Kurdish Affairs analyst, told the Telegraph. "Kurds are worried, disappointed. They put a lot of trust in the US, which is the only reason they went ahead with the security mechanism put forward by the US and they expect America to stand with them."
Cache
It's not every day that Senate Majority Leader Mitch McConnell (R-Ky.) and House Speaker Nancy Pelosi (D-Calif.) are on the same page, but today is that day.McConnell released a statement Monday afternoon breaking with President Trump on his recent decision to pull back troops from northern Syria as Turkey prepares a military incursion."A precipitous withdrawal of U.S. forces from Syria would only benefit Russia, Iran, and the Assad regime," McConnell says. "And it would increase the risk that ISIS and other terrorist groups regroup. I urge the president to exercise American leadership to keep together our multinational coalition to defeat ISIS and prevent significant conflict between our NATO ally Turkey and our local Syrian counterterrorism partners."> McConnell wants Trump to change his mind on Syria, says a precipitous withdrawal benefits Russia, Iran, Assad and warns about ISIS pic.twitter.com/7NmHN98qWD> > -- Steven Dennis (@StevenTDennis) October 7, 2019He concludes by suggesting the Trump administration is at risk of succumbing to what he sees as the foreign policy failings of the Obama administration, writing that "American interests are best served by American leadership, not by retreat or withdrawal."This came as Trump was facing a flood of criticism from the right including from one of his biggest allies in the Senate, Sen. Lindsey Graham (R-S.C.), who wrote that the decision will have "disastrous consequences for our national security."Almost immediately after McConnell's statement, Pelosi released a statement of her own urging Trump to reconsider as well, though with far harsher language. Pelosi calls Trump's move a "reckless, misguided decision" that "betrays our Kurdish allies" in "a foolish attempt to appease an authoritarian strongman." Amid this bipartisan criticism, Trump defended the move in a tweet in which he touted his own "great and unmatched wisdom."
Cache
(Bloomberg) -- President Donald Trump's decision to withdraw U.S. forces from Syria and abandon Kurdish allies has prompted a furious backlash among key members of his most important bulwark against an impeachment conviction: Senate Republicans.Hawkish GOP senators, whom Trump will need to keep him in office if the House moves ahead with impeachment, condemned the president's decision as a win for terrorists and a defeat for American credibility. Some are already discussing legislation to push back."A precipitous withdrawal of U.S. forces from Syria would only benefit Russia, Iran and the Assad regime," Senate Majority Leader Mitch McConnell said in a statement. He urged the president to "keep together our multinational coalition to defeat ISIS and prevent significant conflict between our NATO ally Turkey and our local Syrian counterterrorism partners."Foreign policy has long been the issue where Republicans are most likely to disagree with Trump, and it's not clear that strong words against the president's Syria policy will cost him any political support. Trump would have to lose the support of at least 20 Republican senators to be removed from office if the House votes to impeach him.The harshest criticism Monday came from South Carolina Senator Lindsey Graham, a strong Trump ally and frequent golf companion. Graham said this "impulsive decision" will benefit Iran and cost the U.S. leverage in the region.Graham also said he and Democratic Senator Chris Van Hollen will introduce sanctions against Turkey if the NATO ally invades Syria. He said he expects such sanctions to get a two-thirds majority -- enough to override a Trump veto.After criticism from Graham and others, Trump tweeted that he would "totally destroy and obliterate" Turkey's economy if it took "off limits" actions that he didn't specify. He also said Turkey must "watch over" about 12,000 captured Islamic State fighters and tens of thousands of their family members living in jails and camps in Kurdish-held territory.The Senate earlier this year had a veto-proof margin to pass an amendment authored by McConnell opposing a withdrawal from Syria and Afghanistan. On Monday, Criticism in Congress was bipartisan, focused on the move to abandon Kurdish forces who helped U.S. forces fight ISIS, and who are holding thousands of ISIS fighters in custody.Other Senate Republicans pushing back on the president include Marco Rubio of Florida, Mitt Romney of Utah and Susan Collins of Maine, though none other than Graham have yet said they plan to act on their dismay.Romney, who heads a Foreign Relations subcommittee on the Middle East and counterterrorism, released a joint statement with Connecticut Senator Chris Murphy, the top Democrat on the panel, saying Trump's decision "severely undercuts America's credibility as a reliable partner and creates a power vacuum in the region that benefits ISIS." They demanded that the administration explain the decision to the full committee.Nebraska Senator Ben Sasse, who is up for re-election next year, warned against partnering with Turkish President Recep Erdogan."If the president sticks with this retreat, he needs to know that this bad decision will likely result in the slaughter of allies who fought with us, including women and children," Sasse said in a statement Monday. "I hope the president will listen to his generals and reconsider."Some House Republicans also criticized the abrupt withdrawal. Wyoming Representative Liz Cheney, a member of GOP leadership, called the decision a "catastrophic mistake." New York Republican Elise Stefanik recently returned from a bipartisan trip to the region and joined a statement with Democratic representatives condemning Trump's "rash decision.""Not only will this decision further destabilize the region, it will make it more difficult for the United States to recruit allies and partners to defeat terrorist groups like ISIS," the statement said.One of Trump's Senate allies approved of Trump's decision: Rand Paul of Kentucky, who has long called for withdrawing troops from Syria and Afghanistan.(Updates with McConnell quote in third paragraph)\--With assistance from Erik Wasson.To contact the reporter on this story: Steven T. Dennis in Washington at sdennis17@bloomberg.netTo contact the editors responsible for this story: Joe Sobczyk at jsobczyk@bloomberg.net, Anna Edgerton, Laurie AsséoFor more articles like this, please visit us at bloomberg.com©2019 Bloomberg L.P.
Cache
REUTERSOne of President Donald Trump's most loyal supporters in the Senate raged against the president's Sunday night announcement that America will bow out of Syria while Turkey attacks allied Kurds in the region, calling the decision on Monday "shortsighted and irresponsible."Appearing on Trump-boosting morning show Fox & Friends, Sen. Lindsey Graham (R-SC) was asked whether he supported the president's move, prompting the hawkish Republican lawmaker to exclaim, "Absolutely not.""If I didn't see Donald Trump's name on the tweet, I thought it would be [former President] Obama's rationale for getting out of Iraq." he said. "This is gonna lead to ISIS's reemergence!"Graham went on to say this was a "big win for ISIS," claiming that the Kurds in the area will align with Syrian dictator Bashar al-Assad because they'd have no choice due to the United States abandoning them. "So this is a big win for Iran and Assad," he added.(During another Fox & Friends segment, co-host Brian Kilmeade criticized the president as well, calling the president's decision "disastrous" and that it would leave the Kurds to fend for themselves.)The South Carolina senator then stated that the "Kurds stepped up when nobody else would to fight ISIS," noting that if we abandon the Kurds at this point, nobody will want to help America in the future in fighting radical Islam. Graham also pushed back on Trump's claim that ISIS has been eradicated."The biggest lie being told by the administration [is] that ISIS is defeated," he declared. "This impulsive decision by the president has undone all the gains we've made, thrown the region into further chaos. Iran is licking their chops. And if I'm an ISIS fighter, I've got a second lease on life. So to those who think ISIS has been defeated, you will soon see.""I hope I'm making myself clear how shortsighted and irresponsible this decision is, in my view," Graham concluded.The GOP lawmaker continued to blast the president's move on Twitter following his Fox & Friends appearance, saying he doesn't "believe it is a good idea to outsource the fight against ISIS to Russia, Iran and Turkey.""I feel very bad for the Americans and allies who have sacrificed to destroy the ISIS Caliphate because this decision virtually reassures the reemergence of ISIS. So sad. So dangerous," he wrote in another tweet. "President Trump may be tired of fighting radical Islam. They are NOT tired of fighting us."Furthermore, piggybacking off his assertion on Fox & Friends that he would do everything he can to sanction Turkey if they invade Syria, Graham announced that he would "introduce bipartisan sanctions against Turkey if they invade Syria and will call for their suspension from NATO if they attack Kurdish forces who assisted the U.S. in the destruction of the ISIS Caliphate."Graham wasn't alone among Trump's allies and loyalists to call out the president over his decision to stand aside as Turkey attacks one of America's most reliable allies in the region. For example, Nikki Haley, former U.S. ambassador to the U.N., said we "must always have the backs of our allies" and leaving the Kurds to "die is a big mistake." And Rep. Liz Cheney (R-WY), weeks after competing with Sen. Rand Paul (R-KY) for Trump's affections, called it a "catastrophic mistake" to pull out of Syria, adding that terrorists "thousands of miles away can and will use their safe-havens to launch attacks against America."Facing overwhelming criticism from within his own party on the Turkey-Syria decision, Trump tweeted late Monday morning that if Turkey does anything that "I, in my great and unmatched wisdom, consider to be off limits, I will totally destroy and obliterate the Economy of Turkey (I've done before!)."Read more at The Daily Beast.Got a tip? Send it to The Daily Beast hereGet our top stories in your inbox every day. Sign up now!Daily Beast Membership: Beast Inside goes deeper on the stories that matter to you. Learn more.
Cache
Sen. Lindsey Graham (R-S.C.) is out with a rare rebuke of President Trump, making his case somewhere he knows will reach the president: Fox & Friends.Graham spoke out Monday morning over the White House's announcement that the U.S. would be pulling troops out of northern Syria, where Turkey is planning a military incursion. In an appearance on Fox & Friends, Graham blasted the decision as "shortsighted and irresponsible," also calling the whole situation "just unnerving to its core." Host Brian Kilmeade made clear earlier in the show he totally agrees, while House Minority Leader Kevin McCarthy (R-Calif.) is also expressing doubts and Sen. Marco Rubio (R-Fla.) calls the decision a "grave mistake."Just to make himself as clear as possible, Graham took to Twitter after his Fox & Friends appearance to call the decision a "disaster in the making" that, among other things, "ensures ISIS comeback" and "will be a stain on America's honor for abandoning the Kurds."> I don't know all the details regarding President Trump's decision in northern Syria. In process of setting up phone call with Secretary Pompeo. > > If press reports are accurate this is a disaster in the making.> > -- Lindsey Graham (@LindseyGrahamSC) October 7, 2019> * Ensures ISIS comeback. > * Forces Kurds to align with Assad and Iran. > * Destroys Turkey's relationship with U.S. Congress. > * Will be a stain on America's honor for abandoning the Kurds.> > -- Lindsey Graham (@LindseyGrahamSC) October 7, 2019> Also, if this plan goes forward will introduce Senate resolution opposing and asking for reversal of this decision. Expect it will receive strong bipartisan support.> > -- Lindsey Graham (@LindseyGrahamSC) October 7, 2019This is, at least, "assuming the press reports are accurate," Graham says, making clear he's trying to set up a call with Secretary of State Mike Pompeo. The Associated Press' Zeke Miller notes, "Not briefing one of your closest Hill allies about a policy they're not going to like (after doing the same thing to them in December) is a choice."
Cache
Congress took its first step Wednesday toward allowing state-sanctioned marijuana businesses to access banking products without fear of a federal government crackdown.
That step included support from Rep. Cathy McMorris Rodgers, an Eastern Washington Republican who has spoken against the state's legalization of recreational marijuana and received criticism from cannabis reformers hoping to fully legalize the drug.
"I heard from a lot of banks and credit unions about the increased amount of cash that is on our streets, and the danger that it poses for our community," McMorris Rodgers said in an interview following her vote.
The bill, sponsored by Rep. Ed Perlmutter, D-Oregon, prohibits federal regulators from penalizing or limiting financial services offered by lending institutions working with marijuana businesses that followed state laws. The bill passed 321-103with 91 Republicans voting in favor, many of them saying they supported the bill's narrow scope that is intended to keep such businesses from relying solely on cash. That can make them targets for crime, bill supporters argued.
Many banks and credit unions have avoided working with cannabis businesses, as the drug remains illegal under federal law. Locally, Numerica Credit Union offers a limited set of financial services to growers, processors and retailers.
The U.S. Treasury Department keeps track of banks and credit unions nationwide reporting activity with marijuana businesses as part of its suspicious activity reports program. The department reported in June that there were 715 lending institutions nationwide that were conducting business with marijuana firms.
Advocates pushing for further reform of federal marijuana laws, including the potential declassification of the drug as a controlled substance, heralded Wednesday's vote. It is the first time Congressional lawmakers have approved any legislation dealing only with marijuana, as more and more states legalize its sale to both medical patients and as a recreational drug.
"For the first time ever, a supermajority of the House voted affirmatively to recognize that the legalization and regulation of marijuana is a superior public policy to prohibition and criminalization," Justin Strekal, political director of the National Organization for the Reform of Marijuana Laws, said in a statement.
The bill doesn't change marijuana's classification as illegal under federal law. It also doesn't address the Justice Department's apparent attempts to keep bankruptcy cases from people declaring marijuana income out of the courts.
McMorris Rodgers said her support for the legislation was due to its narrow scope. But the congresswoman noted that she's also co-sponsored another marijuana bill introduced by Oregon Democratic Rep. Ed Blumenauer which would enable the sale of marijuana seeds and plant starts to researchers licensed by the federal government for medical study.
"I continue to have concerns about legalization of recreational marijuana, in particular," McMorris Rodgers said. "I'm concerned about the safety around it, especially for our kids."
The House's approval of the bill sends the legislation to the Republican-controlled Senate, where another Western GOP lawmaker has already convened an informational hearing about a companion bill.
Idaho Sen. Mike Crapo, chairman of the Senate's Banking Committee, held a hearing in late July on similar bipartisan legislation, but no votes were taken. At the time, Crapo said he was interested in learning more about the legislation, but also concerned about a 2013 Justice Department initiative under President Barack Obama that targeted firearm sellers, payday lenders and other businesses believed to be at risk of committing financial crimes.
"Having a conversation about whether banks should be able to provide banking services to entities engaged in federally illegal behavior brings up the issue and concern that there has been a push to choke off legal industries from the banking sector," Crapo said at the July hearing.
Strekal and representatives of other marijuana reform organizations urged the Senate to take up the legislation in statements Wednesday. President Donald Trump has not given clear indication whether he would sign marijuana banking legislation if it were to pass both chambers of Congress, but he expressed some support for another bipartisan bill introduced in Congress that, among other changes, would give state-sanctioned marijuana businesses access to banking.
Crapo told reporters for the publication Congressional Quarterly on Wednesday that he wanted to consider a banking bill, which could be separate from the House bill, in the Senate soon.
Cache
Senate Majority Leader Mitch McConnell is opposing President Donald Trump's plan to pull U.S. troops from northern Syria, a rare policy split between the Senate's top Republican and Trump.

Cache
Cicero urges the Senate to apply the laws equally in order to protect the reputation of Rome and to provide justice for the victims of a corrupt magistrate (1stC BC)
Cache
In a rare show of bipartisanship, the top lawmakers in the U.S. House of Representatives and Senate on Monday condemned President Donald Trump's decision to withdraw U.S. troops from northeastern Syria, which could open the way for a Turkish strike on Kurdish-led fighters in the area.
Cache
Senate Majority Leader Mitch McConnell (R-Ky.) should consider cutting his losses and instruct his caucus to vote unanimously to remove President Trump when the Senate receives the impeachment dec...

Cache
The Senate has said that it would engage the Central Bank of Nigeria (CBN) and other financial institutions in Nigeria to chart a new course for the fiscal policy in the country.

Cache
WASHINGTON(TIP): US lawmakers on Wednesday, Oct 2,  introduced a bipartisan resolution in the Congress to commemorate the memory and legacy of the apostle of peace. Coinciding with the 150th birth anniversary of Mahatma Gandhi, US [...]

Cache
When the House impeaches an official, does the Senate have to act? The Constitution does not directly address this question, but Senate rules do. Matt Glassman:


These rules strongly suggest that the Senate does not have any discretion in starting a trial upon the appearance of an impeachment article from the House. The use of the word "shall" is pretty clear.

pic.twitter.com/QsxWW1x4KI

— Matt Glassman (@MattGlassman312) September 29, 2019

But, but, but...


One-liner: The Constitution does not require a trial. Current Senate rules do require a trial. The Senate could unanimously ignore those rules. A majority could change those rules or otherwise dispose of the trial. A change/disposal would require at least one recorded vote.

— Matt Glassman (@MattGlassman312) September 29, 2019
Cache
Adam Gabbatt at The Guardian:
The National Rifle Association (NRA) has acted as a "foreign asset" in providing Russian officials access to US political organizations, according to an investigation by Senate Democrats.
The results of the investigation were published by the Oregon senator Ron Wyden on Friday. The report also alleges that the NRA may have broken tax laws by using donated funds to further its officers' business interests.
Wyden and other Democrats on the Senate finance committee found that a delegation of NRA officials traveled to Moscow in December 2015.
The trip was coordinated with Maria Butina and Alexander Torshin, who are both Russian. Butina is currently serving an 18-month prison sentence after she tried to infiltrate US conservative groups and the NRA to promote Russian political interests around the 2016 election.
While in Russia the NRA met with "a host of senior level Kremlin officials", Wyden said. Those officials included Russia's foreign minister, Sergei Lavrov, and the deputy prime minister, Dmitry Rogozin, who oversaw defense and munitions industries.
After the trip to Russia, the NRA allowed Butina to bring a delegation from Russia to its influential annual meeting. Wyden said the NRA also "provided access" to other conservative political organizations, including the National Prayer Breakfast and the Council for National Policy.
The investigation also found that the then vice-president of the NRA, Pete Brownell, had agreed to go on the trip in exchange for business opportunities in Russia. At least part of the trip was paid for by the NRA, according to the report. Brownell was the vice-president of the organization, which has tax-exempt status, from May 2017 to May 2018.
Cache
by Alex Zielinski
Three Portlanders who sustained injuries during a 2018 protest have joined together to sue the City of Portland and Portland Police Bureau (PPB) officers, accusing the city of allowing its officers to use violent, unnecessary tactics to muzzle the demonstrators' free speech.
"The City of Portland has a custom and practice of using militarized force against protestors," reads the complaint, filed Monday. "When force is used, PPB makes no effort to limit its force to individuals who actually pose a threat of violence, instead using force indiscriminately at anyone who happens to be in the crowd."
The joint lawsuit names James Mattox, Aaron Cantu, and Tracy Molina as plaintiffs. All three were participating in a counter-protest to the August 4, 2018 "Gibson for Senate Freedom March," a Portland demonstration organized by the far-right agitator Joey Gibson. Gibson, who was making an unsuccessful run for US Senate at the time, is the founder of Patriot Prayer, the small group of alt-right enthusiasts based in Vancouver, WA.
On the day of the August protest, hundreds gathered at the Portland waterfront to oppose Patriot Prayer's far-right rhetoric and threats of violence. However, according to the suit's plaintiffs, the main violence that took place on August 4 came from Portland's own police force.
The complaint focuses on a specific moment during the chaotic demonstration: When officers decided to fire so-called "less lethal" munitions into a crowd of 50 or so counter-protesters near SW Columbia and SW Naito.
"PPB initiated their attack on the counter-fascist protestors following no provocation," the suit reads.
In reports penned after the protest, officers say they were responding to protesters who were throwing rocks and "smashing the windows of police cars." PPB has yet to produce evidence supporting this claim.
Mattox was walking with protesters on SW Columbia when officers began shooting rubber bullets and flash-bang grenades into the crowd. The complaint describes the scene best: "At the time plaintiff was shot he was... waving his arms and his anarchist shield, flipping off the officers, and shouting profanities."
After being shot in the leg by a rubber bullet, Mattox picked up the bullet and shouted at the officers, "Look, you missed!" The same officer fired again, hitting Mattox in the right arm.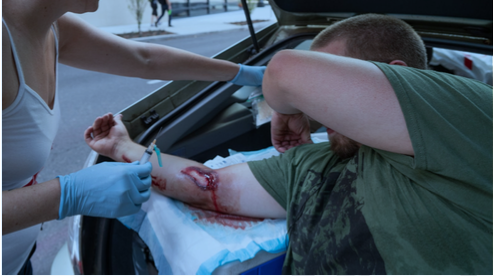 He left the crowd with a bleeding gash, seeking medical care. The complaint claims the PPB officer shot Mattox in retaliation for "engaging in speech that [the officer] did not condone."
"By shooting Mr. Mattox [the officer] in fact chilled the Mr. Mattox's political speech," the document reads.
Cantu was in the same crowd of counter-protesters when PPB began firing its munitions. He was running away from the police when an officer's flash-bang grenade lodged itself into his skull. Cantu was wearing a bike helmet at the time, but the munition was powerful enough to blaze through his helmet and cut into his head. If he hadn't been wearing the helmet, the complaint reads, Cantu could easily have died from the impact.
Cantu suffered a traumatic brain injury and still suffers from dizziness and tinnitus.
Mr. Cantu has sustained emotional distress," the suit adds, "including, but not limited to, pain and suffering, discomfort, fear, frustration, a fear of trusting those in positions of power, and anxiety."
Molina is the only plaintiff who was arrested on August 4. Molina came to the protest with a sign reading, "Hey Racists Stop Making Your Ignorance Our Problem Grow Up or Go Home." During PPB's confrontation with counter-protesters, Molina allegedly followed officers orders to stay on the sidewalk. But, the complaint reads, this didn't stop an officer from grabbing her protest sign from behind.
Molina did not let go of her sign, which allegedly prompted an officer to knock her to the ground "with such force that she fell and rolled into the middle of the street," where she was then crushed by several dog-piling officers.
Molina was charged with disorderly conduct, attempt to commit a felony, and interfering with a police officer. The criminal case was eventually dismissed in her favor.
The plaintiffs have accused the City of Portland and its officers of violating the Fourth and Fourteenth Amendments by using excessive force with little provocation and violating the First Amendment by using violence to silence protected speech. They also accuse the city of negligence, battery, false arrest, and intentional infliction of emotional distress.
"Without adequate training, supervision, or review of PPB's officers, defendant City of Portland has created an environment of militarized responses to mild forms of dissent," the suit reads. "Additionally, by firing their lethal weapons directly into a passive crowd... agents of City of Portland created an unnecessary and unreasonable risk of harm against all present."
The complaint specifically notes how PPB officers do not appear to use the same amout of force against right-wing protestors, "despite their disobedience of officers' orders."
"[Officers] chose to attack plaintiffs' group in part because they disagreed with the political message of the anti-fascist demonstrators and sympathized with the fascists," the document reads.
The plaintiffs, represented by three separate attorneys, have requested a jury trial.
They're not the only ones who've turned to the court system to address officer-inflicted injuries stemming from the 2018 protest. In August, Michelle Fawcett sued the City Portland for physical and psychological damages sustained after being hit by a flash-bang grenade, shot by a PPB officer on August 4, 2018. She's asked the city pay $250,000 for her injuries.
[ Subscribe to the comments on this story ]
Cache
Cybersecurity Awareness Month Is Underway Executives consider cyberattacks the second leading global risk to doing business, per the World Economic Forum's 2019 Global Risks Report. The US Senate passed a law to help firms suffering from ransomware attacks, and the NSA launched a new Cybersecurity Directorate. With a flurry of activity already underway, it's going […]

Cache
I have never had much respect for David Akin, Global News' Chief political correspondent.
Not since he worked at Sun TV News, where Ezra Levant also worked, and first looked like a Con desperately seeking a Senate seat.
But recently his Con bias has escalated out of control, to a point that two weeks ago he actually had the nerve to tell Justin Trudeau

 

that he should resign.
Read more »
Cache
Six members of the Long Island contingent of the Senate Majority sent a letter to the commissioner of the Department of Environmental Protection (DEC), Basil Seggos, calling on his department to conditionally approve the pipeline project known as either the Northeast Supply Enhancement Project (NESE) or the Williams pipeline. The DEC originally denied the permit in May, […]

Cache
City & State NY's Winners and Losers here. City & State NY's 2019 Finance Power 50 here. Susan Arbetter to take over Capital Tonight. Cuomo on Chartock here. US Army announces large contract with Lockheed Martin. REBNY argues tax revenues could drop by $1 billion per because of new rent laws. Senate Republicans file claim to preserve fusion voting.


Next Page: 25 © Googlier LLC, 2019