Cache
UPDATE 10/7: I think farmers have had enough, maybe, I hope anyway...

1. "I went to Madison feeling financially scared and emotionally depressed but hopeful," said Paul Adams, who runs a 500-cow organic dairy near Eleva, WI."I came home feeling financially scared, emotionally depressed, unwanted, and unneeded."





2. Brittany Olson left her Barron County farm at 2am to make the trip to Expo and hear Perdue speak. "To go through the effort to see the USDA secretary, only for him to say that small farms like ours likely have no future made me feel like little more than a peasant in a system of modern-day feudalism," Olson said.





3. "To me, it really drew a line in the sand on just where this administration stands," said Chippewa County dairy farmer George Polzin.
Danielle Erdvick summed it up this way in the story:

But I sense a fire growing in the belly of the family farmers I meet in my work with Farmers Union. Farmers are weary. But there's a growing flicker that's starting to feed a change in the narrative. No more will they be spoon-fed a top-down vision for rural America. Instead, I see a drive for a farmscape where fair prices, local food systems, clean water, and land conservation are at the heart of farm policy. How can we achieve it? It'll take actually enforcing America's antitrust laws and holding corporations accountable when they try to monopolize an industry. It'll mean addressing market manipulation. It'll mean not raising our hackles, as farmers and ag groups, every time someone wants to talk about clean water or livestock siting. It'll mean continuing to adopt regenerative practices and thinking outside the box so we're protecting our natural resources for our children and grandchildren.
__________________________________________________________________________________________________



Farmers will never stop voting for Republicans. Sadly, GOP promises of "small government" simply mean they don't really have to do anything for their constituents, and deregulation is anything that basically leaves them alone.

Tariff War is not Their Fight: It seems farmers are okay sacrificing their livelihoods for big corporate interests seeking intellectual rights and protections.

And then the last shoe dropped; Ag Sec. Sonny Perdue told us what big corporate Republican politicians were really thinking about family farmers:


Perdue told reporters that he doesn't know if the family dairy farm can survive as the industry moves toward a factory farm model ... "In America, the big get bigger and the small go out. I don't think in America we, for any small business, we have a guaranteed income or guaranteed profitability."
A few farmers suddenly realized what was really going on...

Jerry Volenec, a fifth-generation Wisconsin dairy farmer with 330 cows, left the Perdue event feeling discouraged about his future. "What I heard today from the secretary of agriculture is there's no place for me. Can I get some support from my state and federal government?"

Darin Von Ruden, president of the Wisconsin Farmers Union and a third-generation dairy farmer who runs a 50-cow organic farm (said) getting bigger at the expense of smaller operations like his is "not a good way to go. Do we want one corporation owning all the food in our country?"
Democrats, Governor Tony Evers backs Family Farms, despite never getting their vote, but after Sonny Perdue's comment, even our laid back Gov. had to say something:




"Are they struggling? Absolutely. But I think at the end of the day we need to get behind them rather than saying, ah maybe you should go larger. I, frankly, resent that the Department of Agriculture secretary from the federal government came in and kind of lambasted them."
But don't take Evers word for it, here's a comment made at the Minnesota Farmfest about CAFO's. Note: Why were visa's for dairy labor ever determined to be seasonal and not year around?:
Wisconsin dairy farmers are still feeling the sting of Trump's visit to Milwaukee in July, where the president downplayed the suffocation felt by farmers here because of Trump's own tariffs.



Trump: "Some of the farmers are doing well. ... We're over the hump. We're doing really well."
Farmer Response...:
"If he's saying farmers are over the hump, he would be badly mistaken," said Darin Von Ruden, a third generation dairy farmer. "In order to get over the hump we need to stop losing dairy farms."
From PBS's Market to Market: Trump's says farmers are happy...
Farmers are slamming Trump's $28 billion farm bailout — more than double Obama's 2009 payment to automakers — as a 'Band-Aid'.
Perdue editorial doesn't repair Damage
: Nope, his word salad backtrack to obscure how he really feels, is a little late. In fact, Perdue reminds farmers how this whole problem was really Trump creation:
Purdue: "President Donald Trump has made it his mission to support American agriculture and negotiate better trade deals so our productive farmers can sell their bounty around the globe."
And don't forget how Scott Walker pushed oversupply in the dairy industry.
Here's what one farmer, "a great patriot," really thinks about Trump:
Cache
I arrived a half hour early to the Mabee Center at Oral Roberts University, which turned out to be a good idea. There were already hundreds of people crowded into the lobby waiting for a "town hall" sponsored by the ORU College Republicans featuring Rick Santorum. The event was initially scheduled to take place in a banquet […]

Cache
Two new articles up this month! The first, from the excellently titled
Lady Adventurer
, is on Khevsureti, which is perhaps my favourite place in Georgia outside of Tbilisi, and by far my favourite mountain region.
Going to the Mountains
Everybody knows the mountains. My landlord tells me stories of stone towers and stolen icons; the taxi-driver warns me of the dangers of being bride-napped..
.
More here...
The second article is a particular source of pleasure for me, as it's at one of my very favourite publications,
Guernica
, and because I've finally published a piece about something other than Tbilisi! It's a personal essay about
the trip I took to Sicily
a few years ago, focusing on Palermo rather than Cefalu - with some rare details about my bizarre family life.
"
Fatherlands"
I went to Palermo because it was home, and because nowhere else yet had been. I had too many stamps in my passport, too many languages only half-spoken, and a room in a shared house in England piled high with the talismans of my wanderings...
Read more at the source.
Cache
Note - this new series of posts follows Tbilisi's interior hidden treasures - entry halls, courtyards, and other secrets that can be accessed with a simple push of a door.

I'd always thought that the most beautiful entry-hall in Tbilisi was the ornate pink Moorish one in the building at the corner of Asatiani and Machabeli Street. However, an accidental wander into
Tbilisi State Academy of Arts
at 22 Griboedov St in Mtatsminda, a mad combination of William Morris wallpaper, gilded carvings, and a few stray stone lines, may cause me to revise that theory. As in most Tbilisi entry halls, nobody much seemed to mind (or much notice) our presence. Some of the more beautiful rooms (which I've found in online archives) are closed off - the entire building is poised to implode into ruins at any moment. But what's still accessible - palatial art-nouveau-meets-orientalist-fantasy - is among the most beautiful examples of architecture in Tbilisi.
(Note - I didn't have a camera when I went in - all photos are internet-sourced)
Historical information about the building - (s
ourced from the TSAA websit
e). It was apparently designed as a palace in the nineteenth century by one G. Ivanov, before being restored in the twentieth by its owner, Nino Kobulashvili, to a design by Simon Kldashvili. In the late nineteenth century the building was known as "Tbilisi Club" - and was home to a number of amenities, among them libraries, billiard-rooms, and performance halls - only to become an arts school in 1922. An appeal for restoration funding - along with some stunning archival photos - can be found
here.
Also notable - if slightly less sumptuous - is the Academy outpost at the
Toidze Building, located at 21 Chonkadze Stree
t, into which I wandered on a couple of previous occasions, and which is famous for having the most utterly dangerous-looking steampunk spiked chandelier I'd ever seen (and for being all-but abandoned and hence more prone to chandelier collapse than the Opera Garnier.)
Cache
Lobio!
When (as it often happens), I grow "half-sick of shadows" and homesick for Georgia (when Oxford ceases to be interesting, for a time, and I start to long for the back streets of Sololaki or the moon over Mtatsminda), I try to channel my homesickness into Georgian cookery. Now, as a certified Non-Georgian (albeit one seeking Honorary Status), I have very little license to cook Proper Georgian Food here in Oxford, where I live in a bizarre neo-Gothic drafty Victorian Orthodox Christian boarding house with a kitchen full of fenugreek and olive oil. (I did make khinkali here one, but most of the dumplings opened up and my Georgian friends were mildly judgy...I stand by their taste, however)
However,
given that my diet in Georgia consists of 9 parts lobio/lobiani to every 1 part "other food sources", I may well have, in two on-and-off years, eaten comparable
amounts
of lobio to the average 20-something Georgian, who may, like any normal person, eat bean-based dishes in rotation with other kinds of food. After several iterations of lobio, however, including attempts made with
Caitlyn
(also known as my "bellydancer/medieval-historian friend", with whom I went to Armenia) and in Paris at the home of the loveliest Couchsurfing hosts of all time, I have created the ultimate lobio recipe for those attempting to re-create the flavours of lobio abroad.
Hence, without further ado,
Fleur Flaneur's Recipe for Lobio Abroad
Ingredients
-3 cans of red kidney beans in water
-1 enormous bunch fresh coriander
-1 package walnuts
-2 plums ("tkemali" isn't available here, but this serves as a substitute")
-1 head garlic
-1 onion
-2 leeks (other recipes give carrot and celery, but I prefer leeks)
-Spices: dried coriander, fenugreek seeds (lots!), fenugreek leaves (lots!), chilli pepper, parsley, salt, pepper to taste
Directions1.
Finely chop the onions and leeks, sautee until brown.
2.
Add beans, just enough water to avoid burning. When it boils, lower flame to simmering. Add *loads* of dried spices (keep adding more every 20 minutes or so).
3.
While beans are cooking, prepare the "paste." Finely chop a head of garlic, combine with diced walnuts (or, if you're me, simply place the walnuts in a plastic bag and stomp on them for a while), add LOADS of dried spices and chopped plums. Add most of the fresh coriander. Set aside.
4.
When beans have been cooking for approximately 2 hours (or "when properly soft"), add combination of walnuts-raw garlic-fruit-herb-spice paste. Stir in for 2-5 minutes (don't let the coriander get soggy)
5.
Stir in lots more fresh coriander, immediately remove from flame. Serve, garnished with even more coriander.
What
makes
the dish, for me, is ensuring a) that the garlic is
raw
, b) that the coriander isn't soggy (ie, add dried spices throughout, but fresh spices only at the end), c) that there are plenty of plums in there, d) that you add ridiculously large amounts of every spice listed on this menu.
Dear Fleur,What if I *am* in Georgia? Where can I get good lobio and lobiani in Tbilisi?-A Human Bean

Dear Human Bean,
Google-sourced image.
While I normal decry chain restaurants with every fibre of my being, if you're looking for cheap and reliably delicious lobiani in a charming atmosphere, the Machakhela in Meidan (which is open 24/7 - hence
for breakfast
) has a stunning terrace overlooking the river, serves serviceable Nescafe with milk, and uniformly excellent lobiani. (Yes, I know, it's an overpriced chain, but it's the only place I can get my 7 am lobiani fix.) The upscale
Literatuli
chain offers another variety - thick lobio inside a flaky croissant pastry, which is reasonably priced (3 lari or thereabouts) and mindblowingly delicious.
The best lobio I've tasted was the pureed lobio at the
Twins Old Cellar
winery/inn in Napareuli, near Telavi, Kakheti. In Tbilisi, however, I'm partial to the lobio with dried fruit at
Cafe Gabriadze
(9 lari - pricey but good, with larger/harder beans). Or head to
Mtskheta
, thirty minutes away, famous for its lobio.
Salobie
- outside the city centre - is rightly famous, but I was equally impressed with a tiny restaurant right near the car park called something like
Dzveli Mtskheta
(right towards the city centre from the enormous lot, on your right, in a small courtayard). Lobio 3-6 lari - can't recall.
Cache
Dad and I first crossed the Grand Canyon together in 2004, when I was 25 and he was 51 years old. In one of those mundane yet still-jarring realizations, I acknowledged that someday, not all that long from now, I'll be the same age as he was then ... if I'm lucky. If I'm even luckier, we may still be planning a fall Grand Canyon crossing for that year. It's not outside the realm of possibility. Although he has his share of somewhat odd health setbacks and accident-related injuries — a genetic legacy I reluctantly carry — he seems as likely to become a spry 77-year-old as I am a capable 51-year-old. And I really want this tradition to continue. It doesn't get old — gazing across the Grand Canyon, or crossing its main corridor on an always-unpredictable autumn day with my dad.
It goes without saying, how much I admire my dad, but I'm not sure I've really said it here before. He raised three girls, working hard for a single-income household so my mom could stay at home. We enjoyed an idyllic childhood with lots of love and regular family vacations and important traditions. Things have never been all that difficult or contentious in our immediate family, even when I made a choice to diverge from some of those traditions. For this I am grateful. Dad was always athletic, but he picked up hiking in force when I was 13 or 14 years old, which would have made him about my age now, 40. I wasn't yet 15 when he started inviting me to join his hiking group on shorter jaunts, and about to turn 16 when he accompanied me up my first big mountain, Timpanogos. I remember having the sorest legs and terrible heel blisters, but it was a formative experience — one of a handful of truly life-changing moments I count from my youth.
Dad was able to retire a few years back, and some people close to him questioned how someone so healthy and relatively young could step away from his career. What was he going to do for the rest of his life? His reply — "What I want to do." I think I admire him most for this. He doesn't need validation or ambition to stay vibrant. He simply wants to experience life at its brightest edges, and ride the exhilarating waves through every crest and trough. I think it helps that this is all I want from life, too. He worked hard, planned well and earned his freedom to wake up whenever his sleep-challenged body has had enough rest, and set out for a day-long ramble through mountains he has lived near for most of his life.
Cache
In London recently I went to buy a coffee and discovered it was free because it was the birthday of the business. If you are ever in London and near Covent Garden, check out: www.lundenwic.com.

Cache
"Super Star" Saturday – Angelina Jolie and Harris Dickinson Edition October 5, 2019 By: Scott This week, I went out for the Maleficent: Mistress of Evil premiere. My main goal was to hopefully have Michelle Pfeiffer sign a couple of items. Anything else I got from the rest of the cast would be icing on […]

Cache
I've been periodically updating my Slackware Active Directory domain members from http://www.bisdesign.ca/ivandi/slackware/PAM-packages/. I went to do that today and that directory is gone. Does...

Cache
I have a fairly new (less than 6months) Nook, and I use Calibre. I've been using Calibre for a long time and had no problems. today I see that the books showing as in the MAIN memory of the Nook, aren't in the library of the nook. I sent three books to the Nook today and when I went looking for them, they just weren't there. that's what prompted me to examine things more closely. I don't have a card, so everthing loads to Main Memory. According to the Nook, I have a lot of room. There are books in the library, but they are the ones tht B&N downloaded direct to the nook, and did not go through my useof Calibre. Where is calibre putting these books on theNook if not in the Books Library? Can someone help me figure this out?

Cache
I went out on Sunday with friends.... I know that sentence seems bizarre. It is something I haven't done in 12 years. On the surface it may appear to some that to attempt such a thing must mean that I am doing better. I mean I left the house and socialised for 6 hours. What they didn't see was the fact there were days of pacing so activity followed by rest periods. Massive amounts of ensuring I got my medications scheduled at the right time and attempting not to let my anxiety take over.
We planned going to the create and craft show back in July. As the ticket only cost £8, I was prepared to lose it if on the day I woke up and wasn't well enough to attend. It seemed so far off in the future the 29th September that it may as well been a year away. So when I realised it was the coming weekend it set me into a panic. My biggest fear was becoming ill away from home and then ruining the day for my friends.
The anxiety leading up to this event was off the chart. I lost a few nights sleep over it. I kept catastrophizing, what if's? The stupid thing is many of these what if's have never happened. It was a fear of the unknown, of never having been to a Create and Craft show or knowing how busy it would be. Surprisingly the morning of the show the anxiety had subsided and I was able to look ahead to the day. I was almost relaxed which then made me anxious.
I had more medication on me than a pharmacy to cover me for every eventuality. I had my 4 hourly meds - pyridostigmine and pseudoephedrine to ensure that my blood pressure remained high enough for me to remain vertical and not suffer horrendous fatigue. Extra pain relief in case sitting on my scooter for all that time caused muscle spasms or just pain. Stugeron in case my vertigo decided to kick off and cause me problems. Taken at the earliest opportunity it can stop an attack in its tracks. Buscopan, in case due to nerves my bowel adhesion pain decided to pop up and make itself known. Paracetamol - to give me extra back up for my pain relief. I decanted oramorph ( liquid morphine) into a smaller bottle so I didn't have to carry a huge one with me. Alarms were set on my phone, compression socks on, allergy lists, medication lists and medical condition lists were safely stowed in my bag. Along with a list of my doctors and next of kin. All this and I was only leaving the house for a few hours. If that all sounds like someone who is doing better let me know.
Every trick in my book was employed to ensure that I would be able to cope with this trip out ( as a one off ). Everything that could be done in advance of Sunday was done. Clothes for the day sorted by Wednesday, down to underwear and compression stockings. All clothes had to be comfortable, in layers so that I could be warm or cooler depending on how my temperature decided to behave on the day. Normally I am always cold. All medicines, allergy lists, medical info was printed out weeks in advance and kept in an envelope so on the day ( or day before ) it could just be slipped into my bag. My bag was packed on Friday and Saturday, last minute items Chilly bottles of drinks were added on Sunday morning. Nothing was left to chance. Every eventuality was planned for. Jay would be staying at home with Dembe and would be ready to come and get me should I need collecting early.
The day itself was fantastic, I managed to chat to lots of people. I met the ladies behind the scrap-busting quilt challenge from Sugar Bowl Crafts and bought half a metre of material from then, some Anna Maria Horner fabric. I chatted at length to the local branch of the Embroidery Guild and would have signed up to attend meetings had they not taken place on a Saturday. Not driving and having hubby work in retail meaning Saturdays off are like gold dust means I miss out on a lot of things. I also spent a great deal of time talking to the Quilters Guild region 4 which is my region. I am now considering entering a quilt into the novice category of The Festival of Quilts as 2020 is the last year I would be able to enter this category. You have to have been sewing less than 3 years, I started October 7th 2017.
I could have spent an absolute fortune on fabric. There were just so many beautiful fabrics from so many different designers. I managed to pick myself up some bargains. I got some gorgeous fat quarters, some Christmas and some non Christmas.
I managed to pick up some good quality thread for £1 a reel. The pinky one is for me to finish a cushion cover as I didn't have any threads that were even close to the colour of the fabric. The blue thread is for my Christmas table runners. As I tried applique on my embroidery machine last week for the first time, I absolutely loved it.
Yesterday I found out my snowmen are going to be the Brother Embroidery machine group that I belong to banner for the month. Which was a wonderful surprise.
A lot of my Christmas fabric was bought to make Snowmen and Father Christmas table runners as gifts. So I went in with a set list and didn't deviate from my plan. It would have been incredibly easy to go mad but I have so much fabric that I need to only buy what I need, not what I want! Or I will have to make another scrap-busting quilt very soon!
By the time we had finished at the show I was getting cold and exhausted. I was in bed by 6.15pm as I could no longer hold myself upright and had already suffered a bad fall in the kitchen about a hour earlier caused by being over tired. I was asleep before 8pm and slept all the way through waking at around 6.30am. By 7am I had badly scalded myself with steam from the kettle so Monday was effectively written off as I spent the day on the sofa with my hand in a bowl of cold water.
Yesterday was pretty quiet too although I did manage to stitch out a cushion front for a friend. Only because hubby was home and I didn't have to do anything other than look after myself. I managed to forget to take my blood pressure boosting medications so by 4pm I was wondering if I would make it to dog training. I took my medication and had two cups of coffee and that saw me through. However this morning...Wednesday all the activity has caught up with me and I feel hungover, the concentration span of a gnat and every part of my body hurts.
I knew that I wouldn't get away with going out unscathed, I am a little surprised that it has taken over 48 hours to hit me properly. Normally it is 24 hours before I feel an outings / events full effects. But this was a huge deal and I had probably kept myself going with the adrenaline still firing and the fact Monday I couldn't do anything and I was still limited yesterday. There are always consequences, I will always end up paying for enjoying myself. I can't complain it is far worse not to have done anything and still wake up feeling like you have been run over by a truck. I might not look that sick but looks are very deceiving. Only people who really know me, know how I look when I am taking a nosedive. This morning I only had to catch sight of myself in the mirror to know that this was the day I would be paying for trying to be normal.
So it was a huge deal for me going out on Sunday, it wont be a regular thing as I don't want to spend days recovering no matter how much I enjoy myself. This is now recovery day three and this is the most multisystemic one. Today my blood pressure is misbehaving, I am white as a sheet and my pain is at a higher level than the norm. I would love nothing more than to announce that my health has made such a significant improval that a trip out with friends had no consequences for me but sadly that just isn't the case.
Massive thank you to Alison and Tracey for looking after me. Also Chris for driving us.
Cache
by JMcL63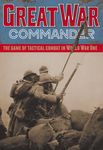 Great War Commander

Liam came round today for another Great War Commander random scenario. Today's game was again set during the September 1918 Battel of Saint Mihiel, and it pitted my line Americans against Liam's elite Germans in a fight across one of WW1's infamous lunar battlefields. From past experience, I knew what I'd be facing: a detachment of German Garde supported by FS10 artillery. I didn't want to attack across that open ground, so I went with a detachment of my own, and took just a French 75mm cannon in support, because I needed points to buy fortifications. For those, I invested in a pillbox with a trench, plus six more trenches, and the inevitable wire. Unfortunately, my leadership was poor - my HRL was a mere ML8, and he was my only Command-2 leader. Against this, Liam had two Command-2 leaders, ML10 and ML9. So he had very tough troops who were very well led.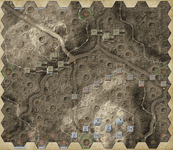 Setup: the opposing forces face off across the valley

The game got off to a good start for Liam when his artillery drifted onto my cannon's position. The crew broke, never rallied, and were eliminated shortly thereafter. First blood to Liam. Liam then adjusted the artillery onto my HRL in his pillbox. The pillbox itself survived the impact, and its cover was more than adequate, but my two other platoons in the impact zone weren't so fortunate: their trenches were reduced to foxholes, and they were soon picked off by HMG fire. My return fire was pretty lacklustre because my platoons were largely out of range, leaving me just my MGs, and my setup meant that I could only activate one HMG per fire card. I did however get an Artillery Denied, and drew another, but Liam played an Artillery Request to repair his telephone the turn before I would have eliminated it. However, his artillery saw no more action in the game after I broke it for a second time.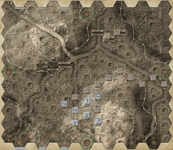 The end: the Germans dominate the battlefield having suffered minimal casualties (one platoon saved from outright elimination by a Light Wounds)

As the midgame opened, Liam had manoeuvred his companies forward so that they could all bring their fire to bear on my main position. I did manage to drop a wire on one HMG stack, but even so, the firepower Liam could amass was simply sickening: attacks of 15 or 16FP before the dice roll were common. In the face of that, even the +5 cover of my pillbox couldn't prevail, and Liam swept the hill clear of my main company. Then, with his HRL's hilltop HMG, he turned his attention to my secondary position. My platoon there broke under the first attack. Then there was a time trigger. I drew a new strategy card, and got Battle Morale - Rally a friendly Leader and all Units within his Command Radius. I also had 3 Fire cards and a Probe - an unbroken Formation broken by fire doesn't break after all. So I just had to survive one turn and I might be able to hold on. Twas not to be though: Liam opened fire on his next turn and my platoon melted under the fire, forcing my surrender with half a deck to play, and me in front on VP.

Loser's lesson learned: well, Liam and I agreed that I hadn't done anything wrong in particular, but I did lose, so I'd have to say that allowing Liam to stand off and bring all his platoons' firepower to bear while they were out of range of my own troops wasn't a strong play. So I guess I couldn've deployed my wire to make moving further forward in the centre a more attractive proposition to Liam. Then again, why would Liam have come forward when he could just exploit his firepower advantage?

Afterthoughts
Well, this wasn't quite as close as our last game, but it was pretty damn close: I actually thought I was going to hold on for a VP victory for a change. And just to underline exactly how close it was: I checked what would've happened if I'd had the chance to play my fire card after rallying with that strategy card, and, there'd've been an event - Devil Dogs - which would have enabled me to increase my surrender level by one. Gah! (Again!) Also, we again used the variant artillery rules from our last game. Once again, I can't recall them having any material effect on the course of play, although the increase in points cost of Liam's FS10 artillery could've proved significant if the game had gone to VP.

Cache
Originally posted on: http://geekswithblogs.net/Lance/archive/2006/10/06/93364.aspx
The town of Apex, where I live, is on the front page of cnn.com this morning because of a series of explosions last night and early this morning at a hazardous waste plant. Everyone has been evacuated for a 1 mile radius, and my home sits about 3 miles west of the explosions.
I was at a tavern which got evacuated. You could smell the chemicals in the air, people were walking around with cloth over their faces trying not to breathe.
The last word is that the fire is still going, but there is no positive confirmation of this because nobody is there except the HazMat teams. Now the concern is the rain that we got this morning, and how that might effect ground water.
Update: Apparently air quality tests have turned up nothing horrible. Water quality tests forthcoming. I went ahead and bought a few gallons of water just in case.
Cache
This was the challenge this week: "This weekend we are going back the the late 90s early 00s with the theme being retrigs, ratchet and glitch. It was everywhere for a brief period of time and shaped the way our machines were made. You don't have to go full drill and bass madness you can add it in subtle ways if you want... or you can just go mental. I'll let you choose." So Having just bought an Arturia MicroFreak and Audiothingies MicroMonsta, I had to use them both. So after an afternoon of unplugging, and re-configuring all my MIDI cables, I'm almost there. Or there enough to bash out a jam at least! I'm using a pattern on the Tr8s called EDM-Metal, but tweaked a bit, and messed with. Microfreak has a 64 step sequence of resonance and gaps. Skulpt adds some percussive blips. Micromonsta I couldn't quite get to sync yet, so I went with an evolving sweepy pad.

Cache
July 23, 2014

The loss of a high school course turned into a great opportunity for one Laurens District High School graduate. As a freshman, Braxton Michels was interested in the machine tool class offered at LDHS. However, when the teacher left to pursue other opportunities, the course was discontinued. But, Michels knew he wanted to enroll in some form of industrial or manufacturing curriculum.
The loss of a high school course turned into a great opportunity for one Laurens District High School graduate.
As a freshman, Braxton Michels was interested in the machine tool class offered at LDHS. However, when the teacher left to pursue other opportunities, the course was discontinued. But, Michels knew he wanted to enroll in some form of industrial or manufacturing curriculum.
"You need at least a two-year degree for almost any job now," he said. "I knew anything that I took while in high school would help me in the future."
Michels enrolled in the new mechatronics dual enrollment class at the Center for Advanced Manufacturing (CAM) in Laurens. Upon graduation from high school, he was hired by a large local manufacturing company. He is currently enrolled in the QuickSkills program at the CAM to earn a CNC Operator certificate. In the fall, Michels will continue his education at Piedmont Technical College in the machine tool technology program.
"You need at least a two-year degree for almost any job now," he said. "I knew anything that I took while in high school would help me in the future."
Taking classes at the CAM has been a pleasure for Michels. The smaller size of the facility and the helpfulness of the staff have helped make him more successful.

"Coming here to the CAM has provided a great environment for me," Michels said. "Everyone here has gone out of their way to help me."

Michels said he would recommend anyone at the high school level to explore the dual enrollment program as the first step to their career.

"This has been a great opportunity," Michels said. "I was lucky enough to be able to get those classes under my belt before I went into the workforce."

For more information or to enroll in the mechatronics technology dual enrollment courses available at the CAM, students should contact their guidance counselor. For more information on the mechatronics technology associate degree, contact Kevin Moore at moore.k@ptc.edu. 

Laurens County PTC Programs Student and Alumni Profiles No

Cache
This must be a British, or crossing the ocean thing. Last time I went to Arizona, I packed my cpap in its case and brought it as an extra carry on, no advance notice needed

Cache
My favorite destination I went to in 2017 was Thailand. I got engaged the day before we left. We went to Bangkok and Phuket. My only wish was that we had more than a week to explore. 2018 I will be getting married and we will be going to Portugal and Spain on our honeymoon! I am going to have to add some of your travels to my bucket list!

Cache
"A fallen leaf is nothing more than a Summer's wave goodbye."

Unknown


Happy October ladies! As usual, I have no idea where the year went but I'm just plugging along. Sometimes I think we focus too much on seasons and it all begins to feel contrived, but who am I to judge? This world feels like it's gone mad some days, so if pumpkin patches and football games give people joy then more of that please! I've actually been feeling a little blue about Summer ending, but I know I'll snap out of it soon.
It does feel like Fall here in the early mornings and at night, and I'm realizing that there are plenty of holes in my wardrobe that need to be filled before Nate and I go to New York City in a few weeks. I made a small list of things I need, and I'll share that in my next post. I cannot wait to experience Fall on the east coast!

In the meantime, here are some highlights from September.

Exploring local boutiques has become a recent hobby of mine. I went to a San Diego based shop called Pigment, and it was a bohemian dream. Tons of plants, home decor, accessories, books, fun and unique gifts. I picked up a baby shower present but I plan on going back and getting this coffee table book. They have three locations but I went to One Paseo in Del Mar. If you're ever in the San Diego area, you must go.



Shopping at Sephora for a new perfume. My sweet friends Gina and Caryl gave me a gift card for my birthday and I wanted to use it to get something special. You guys know I love my Kai perfume oil and have worn it for years as a signature scent, but ever since trying Ouai products on my hair I have been obsessed with how amazing the products all smell. Brilliant to create corresponding perfumes. I had a hard time choosing between Melrose Place and North Bondi, but ultimately went with North Bondi. Both are floral, with North Bondi having notes of Italian lemon, bergamot, jasmine, and white musk. Melrose Place is well...heavy on the rose. Which I do really love, but North Bondi just dried down and settled better on my skin.

Who am I kidding, I could have bought both! I literally walked out of the store, thought about it, walked back in and still had trouble deciding. Anyway, Kai will always be my signature fragrance, but it's fun trying something new.



Eating all the Italian food. The bruschetta from Robert Renzoni Winery in Temecula is drool-worthy with pesto, prosciutto, sweet tomato, spicy pepper, and oil. Divine. I had a similar bruschetta at Isola in Little Italy just a couple weeks later while visiting Katie, so clearly I'm on a kick.


Drinking Irish whiskey on the rocks! I'm not sure how or why I decided that I like whiskey after years of thinking it tastes like gasoline, but Nate is very proud of me since it's his drink of choice. Instead of having a glass of wine while watching some of our favorite shows at night, I now enjoy a double pour of Jameson and drink it s l o w l y. The mural below is coincidentally located at One Paseo so I had to snap a picture after leaving Pigment!


Watching Succession on HBO was our Sunday night ritual in September, and there are only two episodes left of the season. It was a slow burn in season one, and it took awhile to get going but now I'm hooked. I also watched Unbelievable on Netflix that broke my heart, but the acting was outstanding and the ending leaves you feeling hopeful.

Overall, I loved September and I'm sorry that it's over but here's to looking forward to making the most of the last months of 2019!

How was your month? Any big plans in October?



Cache
Nate and I celebrated our 6 year wedding anniversary on September 21st, and we kept it pretty low-key. I wasn't sure what the plans were because it wasn't my year to plan...we rotate! One year I'm in charge of what we do to celebrate, the next year Nate does. It was still pretty warm out so I went with my favorite Ann Taylor dress (last seen here) and added a floral kimono to bring in an extra layer since nights are getting much cooler now. I can't stress enough how much I love re-wearing things but switching up the styling to make it feel more current. I typically wear kimonos with a tank or t-shirt and jeans, but they also look great over dresses.

Aside from cardigans, I think kimonos are great transition pieces for Fall. Most people associate them with Summer, but if you live in a warmer climate they are perfect for those in-between days.


So after dinner, Nate actually surprised me with a gift - not something we do - with two plane tickets to visit New York City next month! If you've followed me from the beginning, then you know we went to NYC in 2010 after my college graduation. It was a very short trip though, we were only there for 3 days total, so going back now for almost an entire week is such a treat and one that nearly brought me to tears.
We have friends across the bridge in New Jersey that we will be staying with, and I'm so excited to see them too! I honestly have so much outfit planning to do right?! But more on that later. and please feel free to give me any tips or recommendations in the meantime!
Cache
'They don't see me as a perfect person and I don't want them to.'
Cache
Recently, another set of the usual Jewish leftist academics and no-name students signed a petition against Trump's handling providing funds to Duke/UNC after it had an anti-Israel conference.

This is no big deal. But +972 Magazine's coverage of the story mentioned some prominent names that signed the petition:


The open letter to Education Secretary Betsy DeVos, whose signatories include renowned scholar Judith Butler, Noam Chomsky, and artist Molly Crabapple, condemns the Education Department's recent investigation of the consortium and subsequent ultimatum...

Who is Molly Crabapple, whom +972 puts on the same pedestal as the discredited Judith Butler and Noam Chomsky?

Well, although she has tried to erase her many tweets about the topic, Crabapple was a huge fan of a neo-Nazi known as "Weev."

Here is Weev:




As documented in this Medium article about Crabapple's relationship with Weev:

Weev is a self-professed admirer of Hitler

, and currently serves as

the webmaster/IT guy for The Daily Stormer, a neo-Nazi website

. He has bragged about

faxing threats to kill Jewish children to synagogues

. (There are

28 total mentions of the alias "Weev" on The Southern Poverty Law Center's website

, filled under the sections "Hatewatch" and "Extremist Profile.") He

waged a targeted harassment campaign against a prominent woman programmer

, taunting her and her family with rape and violence threats until she was scared to go out in public. He tried to

organize people to crash the funeral of Heather Heyer

. He has a large swastika tattoo on his chest.

A few years ago, Quinn Norton lost her job at the New York Times partially because of her friendship with Weev. But for some reason, Molly Crabapple's friendship with him hasn't turned the Left - or Leftist Jews - against her.

Crabapple wrote an article about his trial where he was accused of hacking AT&T. The merits of the case are not so clear; he really didn't hack AT&T. But Crabapple's care about Weev went way beyond her support for his civil rights and to her admiration of him as a person, as she wrote in an article for Vice:


On the morning of March 18, I was sitting with friends at the Federal Courthouse in Newark, waiting to hear how long Weev would spend in jail.

I didn't go there to write an article. I went because his conviction was wrong, and my friends and I cared for him. I meant to be another body filling the courtroom, to provide whatever support that's good for.

...While he's instantly likeable in person, he's done things that have offended.

...One after the other, his friends embraced him, warm and hard. Official internet asshole or not, Weev inspires ride-or-die love.

Four hours earlier, we'd been downing whiskey to celebrate Weev's last night of freedom.

...Weev tried to touch his tablet. Suddenly, giants in hoodies pounced on him. Weev is small. Their huge backs walled him off. They pounded his head into the table, cuffed him, and dragged him from the room. Weev's friends sprang to their feet. This is the cruel trick of seeing a loved one handcuffed. You want to protect them. You can't. A black-haired girl from last night's party balled up in tears.

...Weev returned in shackles, grinning.
Molly Crabapple was practically in love with a proud neo-Nazi with a swastika tattooed on his chest.

And today she is considered a leading light of the Left, to the extent that she is name-checked by +972 to be in the same category as Butler and Chomsky.

Since people started pointing out Crabapple's entirely inappropriate love for her Nazi friend, she had been furiously removing all her loving tweets to Weev, and now claims that she never liked him. But she can't erase this love-letter to the bigot and misogynist.

Crabapple has signed other anti-Israel and pro-BDS petitions. Jewish Voice for Peace happily gets her signature when they need it. She reliably shows up when anti-Israel groups ask her to.

The question is, why the Left is so quick to excuse one of their own who embraced a far-right asshole?

(h/t Kweansmom)





---
---
We have lots of ideas, but we need more resources to be even more effective. Please donate today to help get the message out and to help defend Israel.


Next Page: 25 © Googlier LLC, 2019