Cache
(Bloomberg) -- President Donald Trump hasn't endorsed a Turkish incursion into Syria, a senior administration official said, deepening confusion around his policy after an uproar from Republicans that he planned to abandon U.S. Kurdish allies.The official said Trump has cautioned Turkish President Recep Tayyip Erdogan that he will bear responsibility for Islamic State prisoners in the region, as well as a resurgence of violence if the militants are freed and any harm to civilians in areas Turkey occupies.The official briefed reporters on condition of anonymity.Trump later suggested his move to clear the way for a Turkish invasion was intended in part to pressure European countries including France and Germany that, he said, have refused to accept the return of citizens who joined Islamic State.Trump said at a meeting with military leaders that he had urged U.S. allies to reclaim their citizens, but they had refused."We're not going to move the fighters to Guantanamo Bay and take care of them for many, many years into the future, that's not for us," he said. "Now it's time for Germany and France and all of the nations where they came from to take them back and they chose no. Maybe they're going to change their tune now, I don't know."Trump has come under criticism from allies including Republican Senator Lindsey Graham of South Carolina and his former United Nations ambassador, Nikki Haley, for his announcement late Sunday that the U.S. wouldn't stand in the way of the Turkish incursion.The White House statement was read around the world as Trump abandoning U.S. policy that Kurdish allies would be protected from Turkish aggression in exchange for their help in defeating Islamic State.Former Vice President Joe Biden, who is among the top Democratic contenders to challenge Trump's re-election in 2020, said in a statement that "once again, an impulsive and erratic president has abandoned friends of the United States with a late-night tweet."American officials didn't immediately explain the president's change in position on Syria. Trump's order to remove about 50 U.S. troops from a Syria border region Turkey intends to invade doesn't represent a green light for the incursion, the U.S. official said. The official added that Trump had discussed the decision with officials at the State Department and Pentagon before the White House announcement, and that the agencies should not have been surprised.The U.S. had successfully dissuaded Turkey from an invasion for two years, but if Erdogan orders an operation, the U.S. doesn't want its soldiers endangered or caught in the crossfire, the official said.I've told President Erdogan, I hope he's going to treat everybody with great respect," Trump said at the meeting with military leaders. Earlier, he told reporters at the White House: "I have consulted with everybody.""I fully understand both sides of it but I campaigned on the fact I was going to bring our soldiers home," he said.The administration official did not say that any U.S. soldiers would be brought home as a result of the withdrawal. The troops moved from the border region, mostly special forces soldiers, would be re-positioned at different U.S. bases in Syria, the official said.(Updates with more Trump remarks, beginning in fourth paragraph)To contact the reporters on this story: Josh Wingrove in Washington at jwingrove4@bloomberg.net;Justin Sink in Washington at jsink1@bloomberg.netTo contact the editors responsible for this story: Alex Wayne at awayne3@bloomberg.net, John HarneyFor more articles like this, please visit us at bloomberg.com©2019 Bloomberg L.P.
Cache
From Ian:

---
Jonathan S. Tobin: Whatever Happened to the Palestinian 'Diplomatic Tsunami'?

At the United Nations, where once-hardened ex-generals like Barak quaked about the prospect of the world uniting to force Israel to accept a Palestinian state, the situation for the Jewish state's foes is particularly dismal. It's true that many UN agencies, like its Human Rights Council, are still cesspools of antisemitism and hypocrisy, focusing almost exclusively on bogus attacks on Israel while ignoring real human-rights catastrophes in countries around the world.

But as is the case elsewhere, the diplomatic isolation that Barak and so many others feared never happened. Indeed, as Israeli Ambassador to the United Nations Danny Danon recently wrote, the world body is no longer the "home court" for those who oppose Israel. The majority of member states joined the United States and Israel in condemning Hamas terrorism in the past year. In a variety of steps, both large and small, Israel's presence there has become normalized.

At the same time, the Palestinians have become more of an afterthought. It's probably better for Abbas that even the Palestinians' usual cheerleaders on the left paid no attention to his recent address at the UN General Assembly, where he spoke of his devotion to democracy and his plans to hold an election. Abbas is so devoted to democracy that he is currently serving the 15th year of a four-year term as president of the PA, to which he was elected in 2005. No one takes his talk of finally holding another vote seriously, since there is no way he would risk being defeated by his more radical Islamist rivals in Hamas, who currently rule Gaza.

The Arab and Muslim worlds may still be hotbeds of antisemitism and may have successfully exported their Jew-hatred to the West in the form of the BDS movement. However, Arab states have effectively dropped the Palestinian cause as a priority and instead are increasingly looking to Israel as an ally against Iran. Though they still pay some lip service to the Palestinian cause, the governments of Saudi Arabia, Jordan, and Egypt have little interest in creating another failed and unstable Arab state for the Palestinians.

To note these facts is not to deny that the ongoing conflict with the Palestinians is not going away and remains a serious problem. But as long as both the PA and Hamas are stuck in the mindset of their century-long war on Zionism, peace will have to wait until the Palestinians are ready to accept the legitimacy of a Jewish state.

The fact that the "tsunami" that so many Jews feared has fizzled into the BDS flop that can only intimidate someone like Lovato demonstrates that the conventional wisdom peddled by Israel's noisy critics shouldn't be taken seriously. Those who listen to the counsels of despair in 2011 have turned out to be as confused as a second-tier pop star.
FM confirms initiative to sign 'historic' non-aggression pact with Arab states
Foreign Minister Israel Katz on Sunday confirmed that he has been advancing non-aggression treaties with several Arab countries in the Gulf, a "historic" démarche he said could end the conflict between Jerusalem and those states.

"Recently I have been promoting, with the backing of the prime minister, a diplomatic initiative to sign 'non-aggression agreements' with the Arab Gulf states," Katz wrote on Twitter.

"It's a historic move that will end the conflict and enable civilian cooperation until the signing of peace agreements," he said, in what appeared to be a tacit acknowledgement that no Arab country is currently willing to establish full diplomatic relations with the Jewish state as long as the Israeli-Palestinian conflict remains unresolved.

Katz further confirmed that he presented his plan to several Arab foreign ministers during his visit to New York last week at the sidelines of the United Nations General Assembly. He also discussed the proposal with the US administration's outgoing special envoy for the peace process, Jason Greenblatt, Katz said.

"I will continue to work to strengthen Israel's standing in the region and around the world," he pledged.

Katz's tweet included a link to a report aired Saturday night by Channel 12, which first revealed the existence of the potentially groundbreaking initiative.
PMW: Fatah attempts to hide its terror promotion from Facebook

In fact PMW's reports show that Fatah does all of that and worse on its Facebook page, and PMW has pointed this out to Facebook more than once. Yet Facebook continues to leave the platform open for Fatah's terror promotion.

Fishman further explained that Facebook finds that governments and academics are acting too slow in terms of designating who are "terrorist actors" and therefore designates such themselves:
"We [Facebook] designate terrorist actors ourselves. This is pretty unique, but the reason we do this is because although there are a variety of lists of terrorist organizations in the world that are maintained by academics, that are maintained by governments, we find that academics and governments act too slowly. They don't actually maintain comprehensive lists in real time, and the expectation on us by our users and by the community globally is that we are able to respond to these things in near real time."

One can only marvel at the speed with which Facebook claims that it responds to terror promotion when looking at its inaction in the face of PMW's thorough documentation. Nine months ago Facebook was supplied by PMW with explicit evidence that Fatah's mission includes terror and violence. Yet in its statement to the Jerusalem Post last week Facebook said:
"We have received reports about potentially violating content on this page and, as we do with all such reports, are in the process of reviewing that content to determine whether it violates our policies."

Facebook boasting would be laughable, if its behavior was not life-threatening. Facebook claims to have a policy according to which "there may be no praise, support, or representation of a terrorist organization, a terrorist actor, a terrorist event," and boasts 'we are able to respond to these things in near real time."

In the case of Fatah, Facebook has failed repeatedly to deal with the terror promotion on its platform. Despite being provided with the evidence, Facebook did nothing to remove Fatah's terror glorifying and promoting posts. While their actions were no more than piece-meal, it appears that even Fatah accepted PMW's claim that many of their posts contained terror glorification and promotion and decided to take them down.

Facebook removes terror promotion in "real time," except when the murder of Israelis is being celebrated and promoted. For Israelis a full nine months is necessary and Facebook is still "in the process of reviewing that content," that clearly celebrates and promotes terror.

While Facebook is bragging about fighting terror, Palestinian terror is being embedded in the hearts and minds of the next generation of potential terrorists, thanks to Facebook.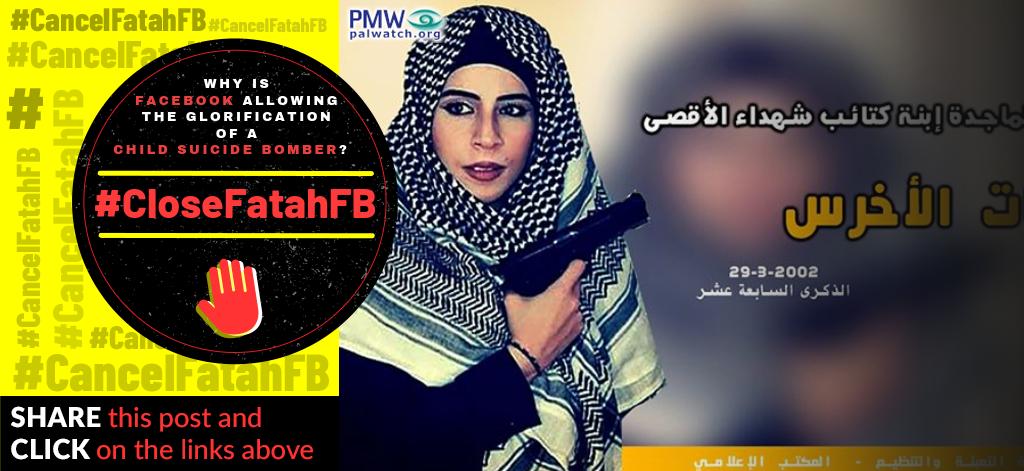 PA wipes peace agreements from schoolbooks, encourages incitement and intolerance
The Palestinian Authority has removed any mention of past agreements with Israel from their school textbooks, with the exception of the Oslo Accords, which are mentioned in far less detail than in previous editions of the schoolbooks, according to a new report by Yedioth Aharonot.

The new curriculum, which has been progressively implemented throughout the past three years, and the textbooks in particular, are studied between 1st and 12th grades in the West Bank, the Gaza Strip, east Jerusalem and refugee camps. They, unlike their previous editions, make no mention of the historical Jewish presence in Israel, and speak about every quarter in Jerusalem's Old City – except the Jewish Quarter.

The portions of the textbooks that do mention the Oslo Accords portray Israel in a negative light, claiming that "the Zionist occupation was forced to recognize the PLO after the First Intifada in 1987."

In addition, the old textbooks contained the full contents of the letter written in 1993 by then-PA chairman Yasser Arafat to then-Israeli prime minister Yitzhak Rabin, which detailed the values of peace between the Palestinians and the Israelis.

The new textbooks, however, censor the part in which Arafat writes that the declaration of principles "is the beginning of an era of coexistence in peace without violence and any action that may risk the peace."

The few times in which Israel is mentioned throughout the rest of the textbooks are in parentheses, a habit typically taken on to claim the illegitimacy of the state by extremist organizations such as Hamas and the Islamic Jihad, according to Mako.



Seth J. Frantzman: Trump gives green light to Turkey to take over Syria, displace U.S. partners

Turkey will soon move forward with its long-planned military operation to create what it calls a "safe zone" in northern Syria – and U.S. forces will not support or be involved in it, the White House press secretary announced early Monday morning. The move is an extraordinary reversal of US policy that leaves America's allies wondering whether they can still rely on the Trump administration.

The statement came after Turkish President Tayyip Erdogan and US President Donald Trump discussed in a phone call Turkey's plans to establish a "safe zone" east of the Euphrates River in Syria. For four years, the US and mostly Kurdish fighters have fought and defeated Islamic State in northeast Syria.

The White House decision will effectively displace the partner forces the US had been working with. For more than a year and a half, Trump has been seeking to leave Syria. In the midst of the impeachment crisis, he has now made the decision to sacrifice US allies in the war on ISIS as opposed to pressuring Ankara with diplomatic means.

"Turkey will soon be moving forward with its long-planned operation into Northern Syria," the White House press secretary said in a statement.

"The United States Armed Forces will not support or be involved in the operation, and United States forces, having defeated the ISIS territorial 'Caliphate,' will no longer be in the immediate area," it added.

The White House looks at the overall picture in eastern Syria, not as one in which the US fought and sacrificed alongside Kurdish partner forces, but as a simple transactional issue.

In this view, the US has no interests in eastern Syria, except the ISIS fighters. Washington has no interests in creating stability, preventing Iranian influence, defending its partners, preventing ethnic cleansing or the destruction of property, or in managing the crisis. Instead, it decided that its mission was tailored and narrow, and nothing beyond the ISIS issue.
US Throws Kurdish Allies Under the Bus; Turkey "Opens the Floodgates" to Europe
Turkey's Erdogan government will be invading northern Syria to slaughter the Kurds, America's loyal allies against ISIS; release captured ISIS fighters, and doubtless seek to stay permanently in control of the area. The horror is that it will be doing all this with the tacit blessing of the US.

"I am saying this today: We have not got the required support from the world -- particularly from the EU -- to share the burden of the refugees we have been hosting, so we might have to [open the gates] to get the support." — Turkish President Recep Tayyip Erdogan, Takvim, September 5, 2019

"If we open the floodgates, no European government will be able to survive for more than six months. We advise them not to try our patience." — Turkish Interior Minister Süleyman Soylu, Anadolu Agency, July 21, 2019.

Erdogan's threats are not new... and his claims are flawed.... Ankara has not lived up to its commitments.

"The most important question is why the refugee camps are not open to civil monitoring. Entry to refugee camps is not allowed. The camps are not transparent. There are many allegations as to what is happening in them. We are therefore worried about what they are hiding from us." — Cansu Turan, a social worker with the Human Rights Foundation of Turkey (TIHV), to Gatestone Institute, August 2016.

"Turkish authorities are detaining and coercing Syrians into signing forms saying they want to return to Syria and then forcibly returning them there." — Human Rights Watch, July 2019.
Netanyahu says cooperation with Russia 'critical' with U.S. to leave Syria
Israel has "great challenges around us" and it's cooperation with Russia is "critical," Prime Minister Benjamin Netanyahu said on Monday, a day after US President Donald Trump announced his intention to withdraw troops from Syria and allow a Turkish incursion there against Kurdish forces.

Netanyahu made the comments at a holiday toast with workers in his office, during which he relayed that he just had a telephone conversation with Russian President Vladimir Putin. Netanyahu phoned Putin to wish him a happy birthday.

"I met with him a few weeks ago about issues that are important for the security of the State of Israel, and this conversation as well was important to Israel's security," he said. Though he did not provide details, the Netanyahu-Putin conversation is believed to have dealt with the changing dynamics in Syria resulting from the White House's dramatic announcement on Sunday.

"We have great challenges around us, but we enjoy important cooperation and coordination with Russia, something that is critical for us, and which we will continue to deal with," he said.
Lindsey Graham, Nikki Haley on Trump's Syria plan: Disaster in the making
The Trump administration's move, which opens the way for a Turkish strike on Kurdish fighters long aligned with Washington, runs counter to the positions of even some of Trump's top allies in his own party.

Lindsey Graham, a Republican senator who is generally a vocal Trump supporter, wrote in a series of Twitter posts that he was trying to set up a call with Secretary of State Mike Pompeo and would introduce a Senate resolution opposing the withdrawal decision and calling for it to be reversed.

"It's never in our national security interest to abandon an ally who's helped us fight ISIS," Graham said in an interview with Fox News Channel, using an acronym for Islamic State.

"This impulsive decision by the president has undone all the gains we've made, thrown the region into further chaos."

Former US Ambassador the United Nations, Nikki Haley also responded on Twitter, saying, "We must always have the backs of our allies, if we expect them to have our back. The Kurds were instrumental in our successful fight against ISIS in Syria. Leaving them to die is a big mistake."

Republican Senator Marco Rubio tweeted that "If reports about US retreat in #Syria are accurate, the Trump administration has made a grave mistake that will have implications far beyond Syria."
US troops begin Syria pullout as Turkey readies offensive, alarming Kurds
US-backed Kurdish-led forces in Syria said American troops began withdrawing Monday from northeast Syria ahead of a Turkish invasion that the Kurds say will overturn five years of achievements in the battle against the Islamic State terror group.

The Syrian Kurdish fighters also accused Washington of failing to abide by its commitments to its key allies in the fight against IS. It's a major shift in US policy.

The American withdrawal came just hours after the White House said US forces in northeastern Syria will move aside and clear the way for an expected Turkish assault — essentially abandoning Kurdish fighters who fought alongside American forces in the years-long battle to defeat IS.

Turkish President Recep Tayyip Erdogan has threatened for months to launch the military operation across the border. He views the Syria Kurdish forces as a threat to his country as Ankara has struggled with a Kurdish insurgency within Turkey.

Turkish Foreign Minister Mevlut Cavusoglu said that Turkey was "determined to ensure our country's existence and security by clearing terrorists from this region."

"From the start of the Syria war, we have supported that country's territorial integrity and will continue to do so from now on," Cavusoglu wrote on Twitter. "We will contribute to bring serenity, peace and stability to Syria."
UN 'preparing for the worst' from Turkey's Syria operation
The United Nations said Monday it was "preparing for the worst" in northeast Syria after the United States said it would step aside to allow for Turkish military operations in the area.

"We don't know what is going to happen… we are preparing for the worst," UN regional humanitarian coordinator for Syria, Panos Moumtzis, said in Geneva, stressing that there were "a lot of unanswered questions" about the consequences of the operation.

Moumtzis added that the UN was "in contact with all sides" on the ground.

But he made clear his office did not have advance warning about the US decision that effectively abandons the Kurds, who were Washington's main ally in the long battle against the so-called Islamic State group.

Moumtzis said the UN's priorities were to ensure that any prospective Turkish offensive not result in new displacements, that humanitarian access remain unhindered and that no restrictions be put in place on freedom of movement.

The UN has a contingency plan to address additional civilian suffering, but "hopes that will not be used," Moumtzis said.
No joke: Iran FM Zarif — whose military exercises control or influence in Syria, Iraq, Lebanon & Yemen — called on Turkey to respect the "sovereignty and territorial integrity" of other countries.https://t.co/i65vK1NpEV

— Hillel Neuer (@HillelNeuer) October 6, 2019
Netanyahu: Israel Needs Air Defense System Against Iranian Cruise Missiles
In a cabinet meeting on Sunday, Prime Minister Benjamin Netanyahu proposed a massive air defense system to defend against Iranian attacks, especially cruise missiles like those used in attacks on a Saudi Arabian oil facility last month, according to KAN.

Last month, cruise missiles and explosive drones were used in an attack on two plants at the heart of Saudi Arabia's oil industry, including the world's biggest petroleum processing facility.

The United States, Saudi Arabia, Britain, France and Germany have publicly blamed the attack on Iran, which denies involvement in the strike.

The attacks on the two facilities cut Saudi Arabia's crude oil supply by around 5.7 million barrels per day, or about 50% of its output.

The plan proposed by Netanyahu will cost billions of shekels. Some of the funds for the project won't be allocated officially until after a government is formed, assuming that there aren't third elections.

The funds for the project will either come from cuts within the security establishment or from funds cut from social services. According to KAN, it's more likely that the funds will be taken from social services.
Iran unveils kit to convert artillery rockets into guided missiles
The Iranian military says it has produced a new conversion kit to upgrade artillery rockets to surface-to-surface missiles, technology that Israel has accused Tehran of attempting to deliver to the Hezbollah terror group.

The Iranians unveiled the new guidance system upgrade, called Labeik, at an event Thursday at which a number of new military technologies were showcased, according to Jane's Defence Weekly.

Jane's reported that Labeik appeared similar to the guidance systems on the Fateh-110 series of rockets, many of which are believed to be in the hands of Hezbollah in Lebanon. According to the report, the new system also looks to be compatible with Zelzal heavy artillery rockets.

Video footage of the new conversion system aired on Iranian television shows a short body featuring four inverted fins that can be fitted between the rocket and its payload.

According to Iran's Fars News, the "anti-armor 'Labeik 1' missiles… enjoy precision-striking power."

"There is nothing new in the conversion itself, they have been doing it for years, and they already showed conversion kits for the Fatah 110 family of missiles," Uzi Rubin, one of the pioneers of Israel's earliest attempts at missile defense, told The Times of Israel.

"What's new here are the aerodynamics of the winglets — very unique, unseen in Iran to date and unseen in any other country. Going to indigenous design rather than copying others indicates self-confidence. The purpose of the new and unique aerodynamics is probably to increase the maneuverability of the converted rockets."
Congresswoman: Antisemitism, Iran threat highlight need for US-Israel ties
Growing global antisemitism and the dangers of Iran make it more important than ever that the US maintain close ties to Israel, leading Republican Representative Ann Wagner of Missouri said during a speech on the floor of the House of Representatives, in which she spoke against BDS and promoted joint Palestinian-Israeli business ventures over the Green Line.

"Israel is deeply invested in achieving peace in the Middle East, and so is the United States of America," said Wagner, who is a member of the US House Foreign Affairs Committee. "And we will all stand collectively with Israel as they work toward the achievement of this goal."

At "a time of heightened antisemitism that we are seeing across the globe, it is more important than ever that we maintain a strong connection to this very key ally of ours in Israel," said Wagner. Such a stance is also significant given that Iran is threatening Israel, including through its proxies Hezbollah and Hamas.

Part of a small congressional delegation that traveled to Israel in August, Wagner was on a trip sponsored by the US Israel Education Association (USIEA). The trip focused on security issues and the work of the Judea and Samaria Chamber of Commerce and Industry, co-led by Avi Zimmerman of the Ariel settlement and Ashraf Jabari of Hebron.

According to the chamber, it has a membership of some 250 Israeli and 250 Palestinian business people. Jabari was among a small number of Palestinian entrepreneurs who attended the US-led economic workshop in Manama, Bahrain, in June.
'The days of the Ottoman Empire are over'
Foreign Minister Yisrael Katz has ordered his office to draw up plans to stop the Turkish government's efforts to undermine Israeli sovereignty in Jerusalem and protect Jordan's special status as guardian of Muslim holy sites in the city.

Katz intends to present the plan to Prime Minister Benjamin Netanyahu soon, so he can authorize its implementation. Due to the sensitivity of the plan, whose implementation will almost certainly lead to a direct confrontation with Ankara, it is also expected to be raised for discussion by the Diplomatic-Security Cabinet. According to ministry officials, as the plan pertains to security matters, there is nothing preventing it from being implemented by a transition government.

The issue of Turkey's influence on members of Jerusalem's Arab population has weighed on security and diplomatic officials' minds for years. As Israel Hayom has previously reported, Turkish President Recep Tayyip Erdoğan has been buying influence over sites and prominent figures in east Jerusalem for years. Nevertheless, Jerusalem has not made any effort to challenge these efforts up until now.

The Foreign Ministry's plan would see the Muslim Brotherhood, which has close ties to Erdoğan's Justice and Development party, deemed an illegal association in Israel. Further ministry recommendations for thwarting Ankara's efforts include restricting the activities of the Turkish Cooperation and Coordination Agency, or TIKA, in Israel. The organization, whose stated objective is "preventing the Judaization of Jerusalem," spends some $12 million annually on activities aimed at undermining Israeli sovereignty in east Jerusalem. It should be noted that these activities are personally managed by Erdoğan.

The plan's architects propose obligating TIKA to coordinate its activities with Israel in advance and preventing the association from act unequivocally in Jerusalem. In addition, they propose Jerusalem not renew the head of TIKA in Jerusalem's, a move that would strip the organization head of his diplomatic status in Israel and render his presence in Israel illegal.

Additional steps would include restricting communications between members of the Islamic Waqf.
How to get Erdogan off the Temple Mount
This is why a new plan from Foreign Minister Yisrael Katz should be seen more as a declaration of intent and less as an operational plan. For the plan to take effect, defense and security officials who have been dealing with the issue for several years already must supply the top political echelon with evidence. Anyone who wants, for example, to limit the activity of TIKA, a well-endowed Turkish government agency, in Jerusalem will have to first prove that its activity goes beyond the bounds of civil/community service and slides into violence and incitement. Thus far, no evidence of that has been found, although attempts have been made to do so.

The steps the Foreign Ministry wants to take against the worldwide Muslim Brotherhood organization could also turn out to be complicated. It's doubtful whether Israel can point to direct activity by the Muslim Brotherhood. On the other hand, it is definitely possible to identify violent activity by groups or individuals with ideological links to the Brotherhood or its international headquarters in London. Steps have been taken against the Muslim Brotherhood in the past, and we can assume that more will be done in the future. Only recently, two female rioters were barred from the Temple Mount for a period of six months.

It looks like the best way to fight Erdoğan, who is hostile to Israel and trying to buy influence in Jerusalem, is to continue to expose Turkey's ties to Hamas. For years, Turkey has served as a haven for Hamas terrorists and commanders. For years, terrorist attacks or attempted terrorist attacks on both sides of the Green Line have been initiated and directed from Turkish territory. Erdoğan has repeatedly made it clear that as far as he is concerned, Hamas is not a terrorist organization, but the facts on the ground prove differently. Dozens of Hamas cells handled from Turkey have been exposed over the past few years, and the Shin Bet recently reported, "Turkey contributes to the military empowerment of Hamas, through methods that include the SADAT company, which was founded on the orders of Adnan Basha, a close advisor to government officials in Turkey."

This is where Israel has to operate, both operationally and in terms of public diplomacy and traditional diplomacy. The Turkish nonprofits active in Jerusalem are tough to check unless legislative changes can be made that alter the definition of "hostile" activity in Jerusalem, the capital of Israel.
Israel backs Cyprus as Turkey moves gas drill into its waters
Israel's envoy to Cyprus on Monday expressed backing for the Mediterranean island state after Turkey moved a gas drilling rig into Cypriot waters last week.

"Friends should stick with each other," Ambassador Sammy Revel tweeted.

He added that Israel is "following closely and with concern" the Turkish move.

Revel's comments come after Cyprus lashed out at Turkey's new attempt to drill for gas in Cypriot waters where European energy companies are already licensed to conduct a search, calling it a "severe escalation" and vowing to fight the move.

Israel and Turkey, once close allies, have had increasingly strained relations since Turkish President Recep Tayyip Erdogan became the country's leader. Erdogan is a staunch supporter of the Palestinians and launches frequent verbal attacks on the Jewish state.

Israel also voiced support for Cyprus in July over Turkish operations in the country's exclusive economic zone.

Israel, Cyprus and Greece have forged an energy-based partnership that has steadily grown following the discovery of gas deposits in the eastern Mediterranean. The United States began joining the talks earlier this year.
German Jews blast WJC's decision to give Merkel the Herzl Award
Members of Germany's Jewish community are speaking out against the World Jewish Congress's decision to honor Chancellor Angela Merkel with its prestigious Herzl Award.

Every year, the organization bestows the award to figures who act to promote Zionist visionary Theodor Herzl's "ideas for the creation of a safer and more tolerant world for Jews."

Along with Merkel, former US Ambassador to the UN Nikki Haley has also been selected for the award, which the two women are set to receive in separate ceremonies.

However, the announcement of WJC's plan to honor Merkel with the award has been met with piercing criticism from members of Germany's Jewish community, who note the change in Merkel's stance toward Israel in recent years, her support for the 2015 nuclear deal, and the increasing sense among the country's Jews that Berlin is not doing an adequate job of contending with the growing threat to Jews as a result of the anti-Semitic views of Arab and Muslim migrants to the country.

Among the points of contention raised by the local Jewish community: Germany's continued pattern of voting against Israel in UN and other international bodies; Berlin's continued funding for organizations that support the boycott, divestment, and sanctions movement; its refusal to ban Hezbollah activities in the country; and Germany's increased financial support for UNRWA, the UN agency for Palestinian refugees, without conditioning those funds on the cessation of incitement against Israel. There also those who cite Merkel's vocal opposition to US President Donald Trump's recognition of Jerusalem as Israel's official capital and Israeli sovereignty over the Golan Heights.
IDF Sets Up New Anti-Tunnel Company to Detect, Destroy Threats in Israel's North
The Israel Defense Forces have set up a special engineering corps company to discover and prevent terror tunnels dug across Israel's northern border from Lebanon.

The new company is intended to deal with the long-term threat from tunneling attempts by Hezbollah, Israeli news website Mako reported on Sunday. It will use cutting edge technology to do so, most of it tested on Hamas tunnels dug from Gaza, but adapted to the northern terrain, which is quite different.

The main tactic employed by the company is the use of new technology, and as a result is heavily invested in research and development.

One department deals with developing technologies to detect tunnels and tunnel digging activity, while another examines the practical engineering means of interdicting and destroying them.

The head of the company, Captain Moshe Asraf, said it was established according to the "lessons" learned during last year's Operation Northern Shield, during which he served as a commander in the engineering corps.
Arabs Hurl Firebombs, Burn Tires as Jews Pray at Joseph's Tomb
Dozens of Palestinians rioted on Sunday night following the pilgrimage of some 1,000 Jews, under Israeli security escort, to the Tomb of Joseph in Shechem/Nablus to pray. The rioters threw firebombs and burning tires at security personnel.

Israeli security forces responded with riot dispersal methods.

There were no Israeli reports of casualties during the incident, however the PA's Wafa news agency reported that seven rioters were wounded after "Israeli forces escorted a convoy of buses packed with over a thousand fanatic Jewish settlers to the site, located in the Palestinian-controlled area, sparking confrontations with Palestinian residents."

Wafa stated that the injured Palestinians had been "protesting" the "raid" and "attempting to block settlers' access to the site"

"Among the settlers who raided the site were Israeli Minister of Economy and Industry Eli Cohen, leader of the council of settlers in the occupied West Bank Yossi Dagan, and Knesset member Moshe Arbel," Wafa reported.
Palestinian Authority Continues to Pay Salaries to Terrorists
Abbas' remarks, which were less acerbic in tone than those he made in previous addresses to the General Assembly, reflected a concern over the ineffectiveness of his policies and the sidelining of the Palestinian issue from the international, regional, and Israeli agenda.

It is also nevertheless evident from Abbas' remarks that he does not intend to bend as far as his fundamental positions on the conflict are concerned. This was given clear expression in Abbas' stated enthusiastic commitment to continue to pay salaries to Palestinian terrorists and their families, despite the fact that Israel has deducted this amount from the tax revenues it transfers to Ramallah. While there is nothing new about this declaration, Abbas' decision to repeat it in a major international forum is indicative of the PA chairman's commitment to the expectations of the Palestinian street, as he perceives and shapes it.

In practice, despite the cuts in the transferred funds and the Palestinian decision to avoid accepting a further installment of payments Israel is willing to transfer, the PA continues to pay these terrorist salaries as usual. According to the PA budget implementation report for 2019, the Palestinian Authority transferred 276 million shekels (around $79 million) in payments – i.e., salaries – and another 75 million shekels (around $22 million) in "social" payments to families, family expenses, medical insurance coverage, and legal expenses, among other things. In total, the PA Prisoner Affairs Ministry spent some 364 million shekels ($105 million) on these terrorist payments.

These numbers reveal that the PA's payments to terrorists in 2019 were similar in scope to those made the previous year. The significance of this is that despite increasing pressure, the Palestinians are sticking to their guns, as it were, and as a result, the chances of the PA
becoming a partner for peace under Abbas' leadership continue to be slim to none.
Khaled Abu Toameh: Shtayyeh: We received NIS 1.5 billion from Israel

The crisis between Israel and the Palestinian Authority over Israeli deductions of payments made to security prisoners and families of Palestinians killed while carrying out attacks against Israelis remains unresolved, PA Prime Minister Mohammad Shtayyeh said on Monday.

Speaking at the weekly meeting of his cabinet in Ramallah, Shtayyeh announced that the PA has received NIS 1.5 billion from Israel in accordance with the deal reached between the two sides last week.

"The problem with Israel [over the funds withheld by Israel] has not been resolved until this moment," Shtayyeh said. "There is no government in Israel that is capable of making a political decision on this matter."

Despite Israel's decision to deduct the payments from the tax revenues it collects on behalf of the Palestinians, the PA government continues to fulfill its duties toward the prisoners and the families of the "martyrs," Shtayyeh said, and the PA government will remain committed to paying salaries to the families of the prisoners and "martyrs."

PA President Mahmoud Abbas also said that the PA's position regarding payments to the security prisoners and families of "martyrs" remains unchanged.
Abbas says he'll discuss elections with Hamas, factions but provides no timeline
Palestinian Authority President Mahmoud Abbas said Sunday that he would discuss plans for new parliamentary elections with all factions, including longtime rivals Hamas.

Meeting with senior Palestinian leaders in the PA's administrative capital of Ramallah in the West Bank, Abbas renewed a pledge to hold the polls — the first since 2006 — but without giving a timeframe.

He announced that they had formed committees to "communicate with the election commission and factions such as Hamas and all factions, as well as with the Israeli authorities."

He said any elections should take place in "the West Bank, Jerusalem and the Gaza Strip."

Hamas and Fatah have been at loggerheads since 2007, when the terror group seized Gaza and threw out Abbas's forces, which retained control of the internationally recognized Palestinian government, based in the West Bank.

No parliamentary elections have been held since 2006, with the two sides trading blame.
Khaled Abu Toameh: What Iran's Friends Are Doing in Gaza

In other words, Islamic Jihad's promise is one of unending toxicity: to go on poisoning the hearts and minds of generation after generation of Palestinians – as well as to continue investing millions of dollars in building tunnels and amassing weapons to ensure that the fight against Israel continues forever.

"The policy of resistance and jihad is the genuine policy to liberate all Palestine, and the Palestinian people will not abandon this path. We will not accept any agreement that contradicts the project of jihad and liberation. Under no circumstances will we give up one inch of the land of Palestine." -- Senior Hamas official Salah Bardaweel.

For [Hamas and Islamic Jihad] , a ceasefire means further amassing weapons and preparing their people for war without worrying about Israeli military action. When will the international community pull its head out of the sand in which it has so long been buried and understand that with organizations such as Hamas and Islamic Jihad running the show, the Gaza Strip will remain the humanitarian disaster that is so bitterly blamed on Israel?
Commander of Gaza-Based Fatah Splinter Group: Fatah Is the Leader of the Armed Struggle pic.twitter.com/ABBhc3ajRQ

— MEMRI (@MEMRIReports) October 7, 2019
Lebanon arrests Syrian for making phone calls to Israel
Lebanese authorities have arrested a Syrian national accused of having made phone calls to neighboring Israel, the army said Friday.

An army statement said the suspect, who was not identified, was referred to court for "contacting Israeli phone numbers and communicating with Israelis present in the occupied Palestinian territories." It did not elaborate.

Lebanon is home to tens of thousands of Syrian refugees who fled the war raging in their country.

In August, tensions spiked between Lebanon and Israel after two drones packed with explosives were sent into the Beirut bastion of the Shiite movement Hezbollah.

Iran-backed Hezbollah and the Lebanese army accused Israel of being behind the drone launch.

Lebanon's government and Hezbollah chief Hassan Nasrallah both described the apparently botched operation as an act of aggression.

A few days after the August 25 drone incident in Beirut, the army opened fire on Israeli drones flying over southern Lebanon.
Does Iran's Leader Leave Room for Iran's Return to the Negotiating Table?
At the same time, over the past few weeks, there have been increasing calls from senior religious figures in Iran and the leadership of the Iranian Revolutionary Guard for the destruction of the State of Israel. This is similar to statements issued by the Supreme Leader in 2016 that Israel would cease to exist in another 25 years. It is possible that this round of criticism against Israel serves a smokescreen while negotiations are taking place between Iran and the United States to enable Iran's return to the nuclear deal.

In any case, by November 7, 2019, a further reduction is expected in Iran's commitment to the nuclear agreement (including the enrichment of uranium to 20 percent and even higher). There is a window of opportunity for diplomacy and European efforts to try what has failed until now – to promise economic compensation to Iran for the American sanctions or alternatively to bring Washington back to the negotiating table. Iran's oppositional regional policy (against Israel and Saudi Arabia, in Yemen, Iraq, and Syria) will apparently make it harder for Europe and the United States to advance the negotiations with Iran. However, in the past, Europe has shown that it is prepared to ignore repeated violations of human rights in Iran, such as its role in terror activities (including within European territory!), to fulfill the nuclear agreement, which eventually leads to investment and economic cooperation with Iran. Iran is well aware of Europe's modus operandi and uses it and U.S. weakness to achieve maximum profit to renew negotiations regarding the nuclear agreement.

"Today, the Nuclear Deal Is in the Intensive Care Unit"
In this regard, Abbas Aragchi, deputy foreign minister and one of the patrons of the nuclear deal, stated at a ceremony marking the 30th anniversary of the opening of the German embassy in Tehran that, "today the nuclear deal is in the intensive care unit." He added that to save it, cooperation was necessary between the P5+1 states. This could "bring down the walls of American sanctions and one-sided policies, which have become its weapon against independent countries." According to him, Iran, along with the European countries, China, and Russia, are attempting to reach a balanced agreement through negotiations, but because of America's one-sided policies, this balance has been violated and lost.5
Iran says Russian journalist held over visa issue, not Israel spy claim
Iran has confirmed the arrest last week in Tehran of a Russian journalist, saying the case was a matter of a visa violation.

Government spokesman Ali Rabiei told reporters that Yulia Yuzik's case is under "quick review" by authorities and wasn't related to matters concerning the "counter-espionage" department. Her ex-husband said last week she had been arrested for allegedly spying for Israel.

The Russian Embassy in Tehran said on Friday that Yuzik flew into Tehran the previous Sunday and that Iranian officials seized her passport at the airport for unknown reasons. She was arrested from her hotel room on Wednesday.

The Russian foreign ministry summoned the Iranian ambassador to Moscow to explain Yuzik's arrest.

Prior to her arrest, Yuzik posted photographs from her trip on Instagram, saying she loved being in Iran.
Houthi Military Expert Lieutenant-General Abed Al-Thour: UAE Like a Cave Full of Bats; We Can Destroy It; UAE Soldiers Will Have No Place to Return to pic.twitter.com/Xm1qkIU7vD

— MEMRI (@MEMRIReports) October 7, 2019
Houthi Political Bureau Member Muhammad Al-Bakhiti: If Saudi Arabia Doesn't Stop Its Aggression, We Might Launch an Offensive Campaign to Reach Riyadh, Topple the Saudi Regime pic.twitter.com/tFFGhqiywX

— MEMRI (@MEMRIReports) October 7, 2019
---
---
We have lots of ideas, but we need more resources to be even more effective. Please donate today to help get the message out and to help defend Israel.

Cache
From Ian:

---
Seth Frantzman: Israel appears strong, but there are risks ahead

BUT ISRAEL has some issues on the horizon that, if they would come together at the wrong time, would be a perfect storm. Among these is the increasing hostility of Turkey. Ankara has become more nationalist and religious-nationalist, a toxic mix. It is flexing its muscles, taking over swaths of northern Syria and seeking to keep on track to totally remove the Americans from the region. That would be a setback for the US – and setbacks for the US also impact Israel. Turkey is buying the S-400, not in itself a problem for Israel. Ostensibly, both Ankara and Jerusalem have an interesting relationship with Moscow today, borne of Russia's increased role in the region, particularly in Syria.

Russia's role in Turkey is strategic and also related to energy and Syria. This can impact Israel in a complex way. Turkey's current government is seeking to take up the mantle of being the main opposition to Israel in the region. It bashes Israel over Jerusalem, and its media run hyperbolic stories about Israeli abuses. Turkey is close to the Muslim Brotherhood today and wants to see Hamas have a more prominent role in Ramallah. Yet Israel can deal with Turkey's anger. The question is whether it can deal with the emerging Turkey-Iran relationship.

Iran has been a challenge for Israel due to a variety of reasons, but lately it is capitalizing on the weakness of its adversaries. That means it is increasingly playing a role in Iraq, Lebanon, Syria and Yemen. That means it is transferring precision missile technology to Hezbollah.

Iran's IRGC says that it can destroy Israel. It launched an attack on Saudi Arabia on September 14 that has ramifications for Israel. That Riyadh did not respond shows that Israel's supposed common interests with the Gulf are more problematic than in reality. Saudi Arabia won't confront Iran. So who will confront Iran? The US? No. The US has signaled it will not. And the next US administration may be more pro-Iran than this one. That could give Tehran what it wants in Syria, which means a kind of "land bridge" that ends near the Golan and threatens Israel.

What Israel faces today is potentially two strong adversaries in Turkey and Iran, although they are quite different in how they confront Israel. Turkey uses soft power; Iran uses hard power. But Israel, appearing strong, now faces these challenges in some ways alone. It is not like the 1950s, when Israel was truly alone. Israel has made major inroads in India, China and elsewhere. But the immediate challenges are still there. It is dangerous to be too confident and arrogant today, and it is essential that Jerusalem seek to analyze and deal with these challenges in the long-term because short term planning won't work. Iran thinks in the long term – and its role in the region is a long-term role.
Jpost Editorial: No Third Election

Against that backdrop, the 22nd Knesset was sworn in on Thursday in Jerusalem. Many are wondering if, like the 21st Knesset, it will also last for less than two months and perhaps become the shortest-lived legislature in Israel's history.

As the Post's Lahav Harkov pointed out on Wednesday, there are only eight new members of this Knesset, as well as another nine who are returning from past stints as legislators, which means that 103 members of the 22nd Knesset will be sworn in for the second time this year.

A proud institution, the Knesset is in danger of becoming a laughing stock. But it's no joke. Israel needs a stable government and a stable Knesset. Every attempt must be made to prevent the newly sworn-in Knesset from becoming the shortest Knesset in Israeli history.

All parties should take the responsibility upon themselves as if they alone are charged with insuring that a third election is not called for. The country has survived some nine months of paralysis, but it's only a matter of time before the string starts to unravel out of control and the situation begins to do irreparable damage to Israel and its population.

At Thursday's ceremony, Knesset Speaker Yuli Edelstein led the MKs with "I pledge allegiance to the State of Israel and to faithfully fulfill my mission in the Knesset." And the newly sworn-in lawmakers responded: "I pledge."

Let's hope they take that allegiance and mission seriously and prevent a third election.

Amb. Alan Baker: The EU Demonstrates a Distinct Political Bias Against Israel

European Union Special Representative for the Middle East Peace Process Susanna Terstal, writing in the Jerusalem Post on Sep. 21, evidently believes that incessant repetition of the phrase "two-state solution" adds some element of legitimacy and feasibility to the idea. But the two-state solution has never been agreed-upon between Israel and the Palestinians, and does not figure in any of the agreements between them. It is nothing more than an expression of wishful thinking within the UN and the EU.

To the contrary, the Oslo Accords, to which the EU itself is a signatory, clearly leaves the issue of the permanent status of the territories to be decided in negotiations. Thus, whether the outcome will be one, two or three states, or a federation or confederation, remains on the negotiating table. By incessantly plying a two-state solution, the EU is in fact prejudging an agreed negotiating issue.

Suggestions by Israeli leaders to "apply sovereignty" led EU representatives to complain that unilateral modification of the Oslo Accords "undermines the entire agreement" and "dismantles Oslo." One wonders why the EU did not view the recent declarations by the Palestinian leadership canceling the territorial division between areas A, B and C in a similar light. Did this not undermine the accords?

The EU representative also expressed support for a "Palestinian state based on the 1967 lines." Yet the issue of borders is an agreed-upon permanent-status negotiating issue, and her presumption of a Palestinian state based on the 1967 lines clearly contradicts and prejudges both the Oslo Accords and UN Security Council Resolution 242 of 1967.

The EU cannot in good faith claim that it does not take sides in the conflict. The EU has not only taken sides, but clearly demonstrates a distinct political bias against Israel in virtually all its positions, policies, statements and dealings regarding the Israeli-Palestinian negotiation process.
Iran displays ancient clay tablets, returned by US, from empire that freed Jews
The National Museum of Iran opened on Wednesday an exhibition of around 300 cuneiform clay tablets returned from the United States after a drawn-out legal saga.

The tablets were found at the ruins of Persepolis, capital of the Persian Achaemenid Empire (6th – 4th c. BC) in the south of Iran. Cyrus the Great, who ruled during the Achaemenid Empire, is said to have liberated the Jews from Babylonian captivity in 539 BCE, allowing them to return home and build the Second Temple.

The works on display belonged to a group of 1,783 clay tablets or tablet fragments returned to Iran by the Oriental Institute at the University of Chicago.

In the 1930s, the university had received on loan around 30,000 tablets or tablet fragments found at Persepolis for research purposes, Iranian media reported.

A large portion of the tablets were returned in three batches between 1948 and 2004 before their restitution was blocked by legal action initiated by American survivors of an attack in Israel in 1997 carried out by the Palestinian Hamas terror group.

Blaming Tehran for supporting the armed group, the plaintiffs demanded the seizure of the tablets and their sale put toward the $71.5 million that Iran was ordered to pay in the case.

The proceedings only ended in February 2018 when a US Supreme Court decision banned the seizure of the works.
Yossi Cohen: The Mossad Spy Chief Who Stole Iran's Secret Nuclear Archives
In March 2018, Mossad Director Yossi Cohen, 58, updated then-CIA Director Mike Pompeo on what the Mossad had found inside Iran's secret nuclear archives that it had stolen from the heart of Tehran in January 2018. Sources close to Cohen told the Jerusalem Post that the information the Mossad seized is "still being used right now" to glean high-quality and valuable intelligence. A map of nuclear sites captured in the operation has yet to be made public. These revelations "even go beyond Prime Minister Benjamin Netanyahu's revelation of the Abadeh nuclear site" earlier this month. Cohen says Pompeo praised the Mossad for redefining "daring and boldness."

Dozens of agents were involved in surveillance missions and the heist itself. Neutralizing any electronic surveillance that could expose them, they spent six hours and 29 minutes nabbing Iran's secret nuclear files, which were kept in 32 safes. They used special torches to slice into these safes. They loaded the vast files onto trucks and used Iranian smugglers to get across the border.

Cohen's view is that relations with Sunni countries in the Gulf are "not as much about personal trust, but about overlapping national interests" - especially when it comes to Iran. For example, while Cohen would be against sharing sensitive Israeli technologies with the Saudis to combat the drone threat from Iran, he would seek to help states in the Gulf combat Iran together in other ways.

Regarding the Palestinians, sources close to Cohen indicate that he does not believe anything will move on the peace process until PA President Mahmoud Abbas leaves office.
FDD: The Israeli–Palestinian Struggle, Continued.

There is no chance of a "peace party" returning to Jerusalem unless Israelis see that Palestinians have unequivocally denounced the past, that the celebrations of those who've died killing Israelis are rejected. That is impossible to envision in the near-term: neither Fatah, nor Hamas, nor the Israelis, nor Washington want the Palestinian people voting. All fear the worst—the wrong side winning. Perhaps most perversely, the Israelis are invested in a security status quo with Fatah that likely negates the chance of any Palestinian change, and surely makes Hamas more popular on the West Bank than its tyranny in Gaza has earned. But it's possible that if there were a free vote among Palestinians the hostility towards Israelis—the fundamental rejection of the legitimacy of a Jewish state—could be the common denominator among Palestinians who otherwise loathe Fatah's and Hamas' dictatorships. Palestinians again voting could lead to intense violence, among Palestinians and against Israelis. Nonetheless, Palestinian popular sovereignty is likely the only way out of this cul-de-sac. We have two peoples wanting the same land with national and especially religious narratives that negate the other's. For even non-practicing Muslims, Moses is a great prophet, trying to lead his people toward the one, true calling—Islam. A Jewish homeland wasn't in Allah's message. Yet the unrelenting secularism of Westerners reduces the most compelling stories we have to differences about water rights, East Jerusalem, and security checkpoints.

The basic character of a people and faith can change, but that usually happens after a truly devastating military defeat or a long evolution. The Palestinians haven't actually seen a society-crushing catastrophe; they have endured foreign, non-Muslim overlords, with all of the indignities, and incompetent, avaricious, ambitious, insouciant, deluded and sometimes brutal native rulers (they, however, get a middling score in hideousness in the modern Middle East).

Since 2002, the Israelis appear to have a consensus: Palestinians cannot be trusted. On the other side, Palestinians seem more conflicted about the Jews, more divided religiously and culturally, more prone to internecine violence today than they were when the Israelis directly ruled all of the West Bank and Gaza.

The continuing decline of America in the Middle East will unavoidably remove certain delusions about what might be possible between the Israelis and the Palestinians. The torpor of the peace process under Obama and Trump is likely the new American standard. If they haven't already, Palestinians will give up on the idea of Washington's intercession, of American democracy coercing Israeli democracy into making concessions to unelected Palestinian officials. For the Palestinian people that will, at least, change the rhetoric and excuses of the ruling elite.

America's retreat may tempt the Israelis to act more hubristically towards the Palestinians, to take land in the West Bank that has no plausible security value. But the most effective check on ugly Israeli actions has always been the internal debate, the tension between the executive, legislative, and judicial authorities in Israel's messy democracy.

For decades out, it's hard to see anything better than an unpleasant modus vivendi between the Israelis and the Palestinians. Given that it is the Middle East, however, that isn't an awful state. Americans always want to believe that honesty is the best policy, that without honesty solutions aren't possible. We are certainly tardy in applying that principle to the Israeli–Palestinian clash.
The Missile War in Southern Arabia: Lessons for Israel
UAV Warfare
Another hint of the effectiveness of Patriot defense are Houthi/Iranian alliance efforts both to suppress it and evade it. To elucidate this point, we need to refer to another aspect of the Houthi/Iranian war machine in Yemen: UAV warfare. UAVs are one of the main pillars of Iranian military doctrine. Together with other weapon shipments, Iran has been providing the Houthis with numerous types of UAVs, both of the larger types used for armed reconnaissance such as the Shahad 129 (roughly equivalent to Israel's Hermes 450) and smaller "suicide" UAVs (such as the Ababil, used by Hezbollah in 2006 for attacks deep within Israel, which for the sake of Iranian deniability has been renamed Kasef 2). The Houthi arsenal is augmented by the acquisition of mail order UAVs such as the Chinese "Skywalker" available online from Ali Baba. More remarkable, the Iranians have provided the Houthis with knowhow, production machinery and expertise to set up a UAV industry of their own in their stronghold of Sad'ha in northern Yemen. The Houthi UAV industry is now producing unique designs of long-range machines, some equipped with jet engines, obviously designed in Iran. Beyond the classic UAV roles of reconnaissance and light bombardment, the Houthi/Iranian alliance is using them for direct "suicide" attacks on Patriot batteries. Three incidents of direct attacks on Patriot batteries have been claimed: Two attacks were within Yemen, probably targeting UAE batteries in Mocha and Marib, and one attack on a Patriot battery defending the Saudi border city of Najran, with unknown results.

Even more significantly, the Houthi/Iranian alliance exploits the Patriot's system limitations in engaging low and slow threats in order to penetrate beneath the Saudi air/missile defense shield. In fact, UAVs are now being used by the Houthi's as ersatz land attack cruise missiles. With immunity against air and missile defense, and with much better accuracy than ordinary ballistic missiles, UAVs now seem to be the preferred weapons for imaginative and audacious strikes deep within Saudi territory. For example, the civilian airport of the Saudi town of Abha, about 120 km. from the Yemeni border, was attacked by Houthi suicide UAVs no less than three times during the month of June 2019, wounding 28 passengers and airport workers. In August 2019, the Houthis managed to strike the Shaybah oilfield deep within Saudi Arabia, almost 1200 Km from the Houthi stronghold in Sad'ha. The attack was carried out by no less than 10 UAVs and sparked a fire in gas storage tanks. Such a complex attack needs precise coordination and excellent navigation, which demonstrates the proficiency achieved by Iran's UAV operators. While those strikes did not cause excessive damage – perhaps intentionally so – they were propaganda coups for the Houthis, providing them with solid achievements in the cognitive battlefield.

The fourth lesson for Israel is the growing military role of UAVs both for missile defense suppression and for evasion. UAVs were first used by Hezbollah for reconnaissance over Israel even prior to the 2006 Lebanon war. At the closing stage of that war, four suicide UAVs were launched by Hezbollah against Israeli targets (One suffered a failure and fell near the border, two were intercepted by Israeli jet fighters, and the fourth vanished). In the 2014 Gaza war Hamas tried to attack Tel Aviv with its own UAVs (Two, perhaps three UAVs were shot down by Patriot air defense batteries). This experience is not indicative of the future. The Yemen war demonstrates how UAVs will be employed in future wars in significant numbers to erode Israel's missile defense capabilities by attacking the Iron Dome, David Sling and Arrow batteries. Hostile UAVs, in conjunction with precision rockets, may well be tasked to damage Israel's critical infrastructures such as desalination plants. Consequently, Israel needs to integrate air defense capabilities into its missile defense systems, and to provide its critical infrastructures with their own point defenses.

The current civil wars in the Middle East – especially in Syria and in Yemen – resemble the Spanish civil war of the 1930s inasmuch as they are exploited by outside powers to test new doctrines, weapons and tactics in realistic battle conditions. What the Axis powers (and to a lesser extent the USSR) did in Spain during the 1930s is being done today by Iran in Yemen.

It would be advisable for Israel's Ministry of Defense and the IDF to closely study the civil war in Yemen, particularly its rocket and drone warfare aspects. The weapons and tactics in use in Yemen today will be employed against Israel tomorrow.
Israeli President Tells Papal Diplomat Israel Wants to Share Land with Palestinians
Israel wants to "share the land and find a way to live together" with the Palestinians, President Reuven Rivlin told Cardinal Leonardo Sandri, one of the highest-ranking Vatican diplomats, when they met at the President's Residence on Thursday night.

Sandri, who is the Prefect of the Congregations for the Oriental Catholic Churches, came with a delegation that included several Franciscan priests, as well as the Papal Nuncio and the Custos of the Holy Land.

He is in the region to mark the 800th anniversary of the Pilgrimage of Peace to the Middle East by St. Francis of Assisi and his dialogue with the Sultan of Egypt.

Rivlin, who has met with Pope Francis and is aware of the efforts being made by the Vatican to bring about a cessation of hostilities in the Middle East in general and between Israel and the Palestinians in particular, told Sandri that he knows how hard the Vatican is working to find a solution to this century-old tragedy.

Knowing that Sandri is also going to Ramallah to meet with Palestinian Authority President Mahmoud Abbas, Rivlin asked him to convey his regards, and noted that Abbas had sent New Year greetings to the people of Israel.

Emphasizing the need to build understanding between Israelis and Palestinians, Rivlin was of the opinion that a valuable asset in this regard was the restoration of the baptismal site at Qasr el-Yahud on the Jordan River near Jericho, where Jesus first met John the Baptist.

The restoration project was approved by Israeli, Jordanian and Palestinian leadership, said Rivlin, who was personally involved in the process.

Dr. Martin Sherman: Alternative Jordans?

Although the details of the "Deal" are as yet obscure, it would appear the Jordan is slated to play a major role in it—grudgingly or otherwise. Accordingly, the feasibility of the "Deal"—indeed its acceptability—will be dramatically impacted by the nature of the regime east of the Jordan River and its prospective stability (or lack thereof).

After all, although some may hope otherwise, there seems little prospect that any successor regime in Amman will be more favorably disposed toward Israel than the current one.

This takes us back to the crucial strategic importance for Israel of the highlands of Judea-Samaria and the Jordan Valley. As I have been at pains to point out on numerous occasions, not only are these highlands the only topographical barrier between Jordan and the heavily populated coast plain, but any forces—regular or renegade—deployed on them will have complete topographical command and control of virtually all Israel's airfields (military and civilian, including Ben Gurion, the only international airport), its major ports and naval bases, is principal traffic axes (rail and road), vital infrastructure installations/systems (electrical power, desalination plants and water conveyance), centers of civilian government and military command and 80% of the civilian population and commercial activity.

All of these will be in range of cheap, readily available weapons that have already been used against Israel from areas evacuated by it and transferred to Arab control.

Thus, the rationale of any plan that entails Israeli evacuation of this vital territory will hinge critically on the nature of the regime-type in Jordan, which abuts it from the East.

For whatever other grave detriments their might be in such a plan, it will matter greatly if Jordan is ruled by a government that strives to reign in forces hostile to Israel, or one that is indifferent to their aggressive intent—or worse, is complicit with it.

After all, should the Trump plan entail significant territorial concessions, Israel may well find itself in a situation in which it will have to contend with a huge expanse of hostile territory, stretching from the fringes of Greater Tel Aviv to the border of Iraq—and perhaps beyond.

Accordingly, Israel's security establishment should indeed draw up plans to deal with prospective alternatives in Jordan—not only how to cope with them once they arise, but to prevent them from arising at all.
Why Israelis should support the Iraqi protesters
Another Arab Spring-like protest movement now seems to be arising, seeking to topple the present Iraqi government. As Israelis, we should support the Iraqi people in their quest for true freedom and democracy.

Mendi Safadi, heads of the Safadi Center for International Diplomacy, Research, Public Relations and Human Rights, has noted that if we want to prevent the creation of another Syria, we should call upon the community of nations to intervene as soon as possible to uphold the rights of the protesters, prevent additional bloodshed, and stop the radical Islamists, Iran, and the former Baathists from overtaking the protest movement.

"Today, this Arab Spring has begun to take over Iraq against a government that is corrupt and loyal to Iran," Safadi said. "These protesters are against the Iranians taking over Iraq. Talks with activists on the ground and the leaders of the protest movement reveal that the people are repulsed by the government, who betrayed their nation by becoming a proxy of Iran. The Iranian takeover of Iraq has gotten the people to revolt, to take to the streets and to demand that Iraq be returned to its rightful owners. They seek freedom and basic human rights that every citizen of this world deserves."

According to a report from the Internal Commission of Iraq, "The Iraqi government takes instructions from Iranian Revolutionary Guard Commander Qassem Soleimani. Over 700 members of the Iranian Revolutionary Guard shot live fire at Iraqi demonstrators. There were demonstrators who were killed including men, women and children. The Iranians even went as far as burning a 2-year-old child in a car with her father. The Iraqi people are calling upon the international community to intervene urgently in order to save the Iraqi people, who have suffered under Iran and political Islam. We demand that all pro-Iranian parties be banished from Iraq and to take away all of Iran's influence in the country. We seek to hold the regime accountable and to change from a parliamentary system to a republican form of government. We seek that the rights of women be respected, as the number of women in the country is very high. The Iraqi people will stop protesting only once our demands are met."
Iraq crisis: Protests say anger could boil over Friday after 44 deaths
Protesters in Iraq prepared Friday for bloody clashes with security forces in Iraq after three days of protests that saw the government order live fire against the demonstrators. The protesters are angry. They have tried to block roads to the airport in Baghdad and break into the "Green Zone" where foreign embassies are located. They are shocked that officials have ordered live fire used against them.

The protests began on October 1 in the wake of Iraqi Prime Minister Adel Abdul Mahdi sidelining a popular Counter-Terrorism service commander named Abdul Wahab Al-Saadi. But the real reason for the protests are much larger. They are angry over corruption and wage stagnation and lack of opportunities.

The Prime Minister has closed down internet and sought to isolate cities in Iraq. He gave a speech on Thursday evening and has indicated he could meet the protesters. But there are no clear leaders of the protests. The demonstrators gained some solace when the Shi'ite religious leader Ayatollah Ali Sistani appeared to express sympathy on Friday. Many believed that after prayers on Friday there would be bloody clashes unless the government retrains its tactics. It is not entirely clear which police have been ordered to fire on the protesters, because protesters say they cannot identify them by uniform. Some said it was not the Federal Police but other interior ministry forces. Others claims it was members of Shi'ite militias loyal to Iran, including the Saraya Khorosani unit. But much of this is rumors and has not been confirmed. What is clear is that security forces can be heard in dozens of videos using gunfire. Up to fifty demonstrators may have been killed and thousands injured, including members of the police.

The UN has called on Iraq to have a transparent investigation about the shooting of the demonstrators. "We call on the Iraqi government to allow people to freely exercise their rights to freedom of expression and peaceful assembly."
Iran tries to blame Israel and US for Iraqi protests
Iranian media and local sources in Iraq have reported on the protests sweeping the country with increasing concern that the protesters oppose Iranian influence. This concern has now reached the highest levels of Iran's regime where the narrative that has been concocted is to blame "foreign" hands for the unrest. Under this logic tens of thousands of young men, leaderless and braving the gunfire of security forces, have been sacrificing themselves by the dozens all because of some complex conspiracy.

Iraq's government of Prime Minister Adel Abdul Mahdi has shut down internet, social media and even made phone calls difficult in areas across Iraq, all to stop the protests. Yet the protests continue. To discredit them an Iranian cleric on Friday claimed the US and Israel are behind the protests. Supposedly it was to "disrupt a major annual Shi'ite Muslim pilgrimage planned to be held in Iraq later this month," Reuters reported. "The enemy is now determined against the Islamic nation, America and Zionism are targeting the Arabaeen pilgrimage in Iraq, causing trouble," claimed Ayatollah Mohammad Emami-Kashani.

His full Friday sermon, published at Tasnim News in Farsi claims that "America and Zionism are the enemies of God." He mentions the Houthi rebels in Yemen who "have shown themselves against the miserable Saudi rulers," and notes that Saudi Arabia's reputation has been weakened. This is a reference to the September 14 drone and missile attack on Saudi Arabia. He also mentions the US "maximum pressure" sanctions on Iran and says that it has not been successful. "Endurance is the way of the martyrs." It is in this context he says that the "enemies" are targeting the religious pilgrimages to the holy sites in Karbala, where Shi'ites make pilgrimage. He calls on people to take refuge in the shrine of Imam Hussein.

In Iraq the senior Shi'ite religious leader, Grand Ayatollah Ali al-Sistani, lamented the deaths of dozens of protesters and called for an end to the deaths, casualties and destruction. He called on the government to listen to the people's demands about corruption and other issues.
Russian journalist arrested in Tehran on suspicion of spying for Israel
A Russian journalist has been arrested in Iran on suspicion of spying on the Islamic Republic on behalf of Israel, according to family members and Russian media reports.

Yulia Yuzik was first declared missing earlier this week by family members who said she was arrested in Tehran days ago. Her ex-husband Boris Voytsekhovskiy posted on Facebook that Yuzik was facing charges of cooperating with Israeli intelligence services, and that her trial is scheduled for Saturday.

According to Voytsekhovskiy, Yuzik's charges carry a prison sentence of up to 10 years.

It wasn't clear when Yuzik was arrested; her last post on social media was a series of Instagram pictures taken in Kashan, a city in northern part of Isfahan province.

Voytsekhovskiy told Russian media outlets that Yuzik used to work as a correspondent in Tehran several years ago, and she returned to the Iranian capital last week at the invitation of an unknown party.
Engel bows to Arab lobbyists, pro-Israel friends are silent
An anti-Hamas bill has been severely watered down by Congressman Eliot Engel. It's a turn of events that should trouble every supporter of Israel.

The New York Post revealed this week that Engel (D-NY), the chairman of the House Foreign Affairs Committee, agreed to change the bill after heavy pressure from Qatar and the Palestinian Authority (PA)

The Post quoted "a personal acquaintance of Engel's" as saying, "Eliot told me directly that he was getting a lot of pressure from the Qataris" about the bill. At the same time, Engel or his representatives held seven meetings this past spring with lobbyists for the PA, apparently to discuss the bill.

The Qataris didn't like the fact that the bill mentioned Qatar's massive financial support for Hamas. The PA didn't like the fact that it would have penalized regimes—like the PA—that assist Hamas in various ways.

So the bill, which was authored by Rep. Brian Mast (R-Florida), was changed. The language about Qatar was removed, and loopholes were added so that aid to Hamas which is considered "humanitarian" would not be blocked.

We put "humanitarian" in quotation marks because we all remember how "humanitarian" concrete, which supposedly would be used to build homes, instead was used to build tunnels to kidnap and murder Israelis.

At this point in the story, you would imagine that those Jewish leaders who claim to be Engel's buddies would have intervened to restore the original language of the Mast bill.
Behind the Lines: Pakistan and Israel: Much ado about nothing?
Pakistani Prime Minister Imran Khan last week dismissed speculation that his country was moving toward the establishing of open diplomatic relations with Israel. Speaking at the Asian Society in New York City last Thursday, as reported by the Middle East Eye website, Khan reiterated Pakistan's traditional stance on the issue:

"Pakistan has a very straightforward position," the Pakistani prime minister and former cricket star said. "It was our founder of Pakistan Quaid-i-Azam Muhammad Ali Jinnah who was very clear that there has to be just settlement, a homeland for Palestinians, before Pakistan can recognize Israel."

His remarks, according to Middle East Eye, were met with enthusiastic applause. They came amid widespread recent speculation at a possible diplomatic breakthrough between Jerusalem and Islamabad. Prominent Pakistani journalist Kamran Khan launched the rumors with a tweet on August 25, asking "Why can't we openly debate pros cons of opening direct and overt channels of communication with the State of Israel?"

What is the background to the recent speculation, and is there a realistic chance of a breakthrough, or do Imran Khan's remarks settle the matter in the negative?

THERE IS a school of thought in Pakistan that favors the abandonment, or at least the questioning, of Islamabad's long rejection of formal ties with the Jewish state. Why now?
'Recent convert' to Islam stabs 4 to death at Paris police headquarters
A 45-year-old technology administrator at the police headquarters in central Paris went on a knife rampage inside the building on Thursday, killing three police officers and an administrative worker before he was shot dead by an officer, French officials said.

French broadcaster BFM TV said the attacker had converted to Islam 18 months ago.

Officials did not say anything about the motive for the attack and said they were still trying to discover if there was a terrorism link.

The man launched the attack in his office then moved to other parts of the large 19th-century building across the street from the Notre Dame Cathedral.

An officer stopped the attack when he shot the assailant in the compound's courtyard, said a police official. The official was not authorized to talk publicly about the case and requested anonymity.
IDF thwarts weapons smuggling attempt from Lebanon to Israel
The IDF and Israel Police thwarted an attempt to smuggle weapons from Lebanon into Israel in September, according to an IDF spokesperson.

An IDF field observer from the 869th battalion spotted two suspects acting suspiciously on the Lebanese side of the border with Israel near the border fence. IDF soldiers went to the scene to check the issue.

Bags found in the area contained about 40 pistols and magazines which were meant to be smuggled from Lebanon into Israel. The background of the incident is being looked into.

One suspect was arrested on the Israeli side of the border and was transferred for questioning by security forces.

"I saw a suspect approaching the fence and immediately realized that this was an unusual incident," said Pvt. Adi ben Naim, the field observer who identified the suspects. "I alerted the troops and directed them to the location. It was only after the incident that I realized that a very large weapon-smuggling attempt was thwarted. My job as a field observer is to identify what takes place in the field and alert my commanders; which is exactly what I did in this incident.
Thanks to the vigilance of Adi, an 18-year-old combat intelligence soldier, a smuggling attempt of 40 guns from Lebanon into Israel was thwarted.

👏🏻 round of applause👏🏻 pic.twitter.com/WRQ0Pu5oro

— Israel Defense Forces (@IDF) October 3, 2019
@Friendsisrael delegation visiting one of the tunnels dig by terrorist organization Hizballah to penetrate Israeli soil and carried out an attack. Almost a year after the discovery @UNIFIL_ is still looking to the other side! @COLRICHARDKEMP pic.twitter.com/SvuMCkYlnJ

— Friends of Israel (@Friendsisrael) October 3, 2019
Israeli military marks 'Mean Girls Day' by trolling Iran on Twitter
The Israel Defense Forces marked "Mean Girls Day" this week by tweeting a meme of Iran's supreme leader Ayatollah Ali Khamenei and Hassan Nasrallah, leader of the Lebanese Shiite terrorist group Hezbollah.

The meme, posted on Thursday, October 3, was an altered version of a "never before seen" photo published by the Iranian government showing the supreme leader, Nasrallah and Qassem Soleimani — the commander of Iran's elite Quds Force.

The IDF photoshopped the Iranians into a "Mean Girls" scene alongside Lindsay Lohan, with the caption: "There's no one meaner than the mean girls of the Middle East…"

The IDF added #DontSitWithThem and #MeanGirlsDay to their post.

October 3 was a date that was mentioned in passing by Lohan's character to her crush in Mean Girls, and has since become a pop cultural phenomenon marked annually by movie fans.

The "Don't sit with them" refers to a line in the movie when Rachel McAdams's character Regina George is turned away from popular clique's table at lunch because she's wearing sweatpants.
Seriously @Newsweek @marikamalaea, does this really look like Benjamin Netanyahu to you in @IDF's tweet?! It's actually Qasem Soleimani, the head of the Iranian Revolutionary Guard's Quds Force. Oops. https://t.co/Zciz5w0NwX pic.twitter.com/Fa0nB5fxLq

— HonestReporting (@HonestReporting) October 4, 2019
Arab citizens of Israel undergo quiet revolution
The Arab citizens of Israel need rapid development of their areas. They dream of having high-tech zones and industrial centers; they seek enhanced police work to battle the crime that is raging in the streets of Arab cities; and they resent the vicious incitement against them that was led for years by the prime minister and the ruling party. Will the future government, which for now is still nowhere to be seen, be able to fulfill all of these demands and build bridges between the establishment and one-fifth of Israel's population?

During the recent political campaign, the Likud party accused Gantz numerous times of "planning to create a government with [Joint List MKs] Ahmad Tibi and Ayman Odeh," but the leaders of the bloc had ruled it out many times. When Blue and White MK Ram Ben-Barak, ex-deputy director of the Mossad, turned to the Arabs this summer, he said that Blue and White needed them "to change the government." But what will happen the day after such a change is accomplished?

Amjad Iraqi, a contributing editor at +972 magazine, said to The Media Line that what is missing from the tactical decision of the Joint List is thought about the day after. "This decision is quite some gamble that could also backfire, especially if a unity government will be formed eventually between Likud and the Blue and White bloc. I do understand the logic —Ayman Odeh decided to prioritize getting rid of Netanyahu, and most of the public endorsed him because they want to change at least some part of the equation. But how do we know that the Blue and White bloc, whose leaders had their share of critical and negative remarks about Arabs, will be able to live up to its promises?" said Iraqi.

El-Sana believes that if the Joint List is unable to maximize its gains this time around, the alternative for the next time will be voting for existing Jewish parties or for a joint Arab-Jewish party, a project that el-Sana tried to run this time together with the former Knesset speaker, Avrum Burg. There are also many question marks about the participation of the Balad party, which is increasingly seen by many in the Arab public as a destabilizing element that fails to serve its people. "If they were to participate in the elections today by themselves, they would go down. They have three seats in the Joint List, but they are worth only 1.5 seats, or even less" says Darawshe. On the opposite side, Iraqi believes that Balad gives legitimacy to the Joint List, serving as a link between them and the wider Palestinian cause. "Balad still represents a significant portion of voters. They need the Joint List, and the Joint List needs them," he concludes.

For now, Arab voters seem to be quite satisfied with the result. They proved to be resilient against incitement and intimidation, increased their representation at the Knesset, and now will wait just like everyone else to see how the current political reality TV unfolds.

The leaders of the Joint List will now have to prove to their voters that they can make some real gains with the increased power that they received this time. Considering the shaky structure of the bloc, which includes four different parties with contradicting ideologies, this will not be easy. If no government is formed and Israel goes to a third round of elections, the bloc will have to campaign extremely hard to maintain its success. For now, it is unlikely that the Joint List will top its current result—13 seats. The quiet revolution in the Arab sector, however, will continue, sweeping Arab Israeli citizens away from segregation and isolation, toward integration and equality.
Thousands of Arab Israelis march, block roads to protest deadly crime wave
Thousands of Arab Israelis held protests Friday at the conclusion of prayers, a day after a general strike over a wave of deadly violence within the minority community.

Protesters blocked roads, including sections of the major highways in the north of the country. Demonstrators carried signs with slogans such as "our children's blood is not cheap" and chanted slogans about what they say is police inaction on the issue.

Ayman Odeh, the head of the Knesset's predominantly Arab Joint List faction, called on the Jewish community to join the protests, saying that a society without weapons should be the ideal for everyone.

"I also urge the Jewish public to join the protests. A society without firearms is a civil and social aim for us all," Odeh tweeted.
Some Israelis to Celebrate Sukkot with 4 Species Holders Made in Gaza
Some Israelis — many, in fact — will celebrate the holiday of Sukkot this year holding their four species bound with holders produced in the Gaza Strip.

Ahead of the Jewish holiday, the IDF Coordinator of Government Activities in the Territories (COGAT) has approved the import of tens of thousands of four species holders, used for the traditional customs of the holiday.

The four species – the etrog, a citron fruit; the lulav, a frond of a date palm; the hadas, a myrtle bough; and the aravah, a willow branch – are the species the Jewish people are commanded to bind together during the holiday.

The holders are made out of dried palm leaves, woven into a shape that allows the four species to be held together comfortably during the holiday prayers. The abundance of palm trees in Gaza, as well as cheap labor, makes the enclave a prime location for the production of the holders.

Despite the growing tension between Hamas, the terror group that controls Gaza and Israel, COGAT was able to facilitate the import successfully, passing it through the Kerem Shalom Crossing under heavy security inspection.
Ha'aretz: Meet the Palestinian Villagers Living Out the American Dream

Halfway between the West Bank cities of Ramallah and Nablus, the road gives way to an exit unlike any other along Israel's Highway 60. At first glance, this route — lined with palm trees and polished sidewalks that lead up to lavish stone villas — looks like a well-funded Jewish settlement. But a closer look reveals that unlike other typical settlements, there is no security gate at the entrance to the community and its houses are not lined up in rows along the hilltops.

The expensive homes scattered on slopes among olive trees, reminiscent of the famous Hollywood Boulevard, are actually a window into the Palestinian diaspora. The majority of their dwellers are dual American-Palestinian nationals who live in the United States for most of the year and treat the village of Turmus Ayya as their summer home.

Turmus Ayyans are not only based in the United States. These Palestinian villagers are spread throughout the world, with members of the community living in Spain, Panama, Cuba and Brazil. According to the village's municipal office, there are some 11,000 Turmus Ayyans in total; 4,000 are permanent residents, while 7,000 made their home abroad.

Unlike the majority of Palestinians living in the diaspora, Turmus Ayyans are not refugees of the 1948 war. Rather, they are economic immigrants who chose to leave this West Bank village in pursuit of better financial opportunities. Residents told Haaretz that the first villager to immigrate was Odeh Abdel Qader, who left for the United States in 1909 and worked in Manhattan's Little Syria (where the Financial District is situated today). Local Wadi Abu Awad recalls Qader's return to the village: "He was the guy who came from America," he says. Throughout the 20th century, Qader's legacy became an inspiration for other Turmus Ayyans who wished to chase the American Dream.
Hamas Facing Growing Criticism in Gaza
A picture making the rounds on social media shows the leader of Hamas, Ismail Haniyeh, with his six sons, standing healthy in tailored suits, and beneath it, a picture of Gaza youths who have had a leg amputated after rioting at the Gaza fence.

Another example is a recording by a Gazan father whose son was wounded at the border confrontations.

"I was told I needed to provide his medicine out of my own pocket. If he were the son of one of the Hamas higher-ups, the whole world would have given aid."

"Where am I supposed to get money for medicine? They told my boy to get on the bus and protest, and then they threw him out to die."
Attempted murder, much? https://t.co/bbvtz4rtQ7

— (((David Lange))) (@Israellycool) October 4, 2019
Iran not 'drawing back' militarily after Saudi attack-US admiral
Iran has not drawn back to a less threatening military posture in the region following the Sept. 14 attack on Saudi Arabia, the top U.S. admiral in the Middle East told Reuters, suggesting persistent concern despite a lull in violence.

"I don't believe that they're drawing back at all," Vice Admiral Jim Malloy, commander of the U.S. Navy's Bahrain-based Fifth Fleet, said in an interview.

The United States, Saudi Arabia, Britain, France and Germany have publicly blamed the attack on Iran, which denies involvement in the strike on the world's biggest crude oil-processing facility. The Iran-aligned Houthi militant group in Yemen has claimed responsibility.

Malloy did not comment on any U.S. intelligence guiding his assessment. But he acknowledged that he monitored Iranian activities closely, when asked if he had seen any concerning movements of Iranian missiles in recent weeks.

Malloy said he regularly tracks Iranian cruise and ballistic missile movements -- "whether they're moving to storage, away from storage." He also monitors whether Iran's minelaying capabilities head to distribution sites or away from them.

"I get a briefing of movements on a daily basis and then assessments as to what that could mean," he said.

Relations between the United States and Iran have deteriorated sharply since President Donald Trump pulled out of the Iran nuclear accord last year and reimposed sanctions on its oil exports.

For months, Iranian officials issued veiled threats, saying that if Tehran were blocked from exporting oil, other countries would not be able to do so either.

However, Iran has denied any role in a series of attacks that have followed, including against tankers in the Gulf using limpet mines earlier this year.
UN nuclear watchdog says Iran taking 'step in right direction'
The UN's nuclear watchdog said Friday Iran had taken "a step in the right direction" towards dealing with questions on its nuclear program but cautioned that the issues have not been "completely addressed."

The International Atomic Energy Agency (IAEA) did not detail what the questions related to but said it was "discussing substance" with the Iranians.

There has been "engagement" from Tehran in recent weeks on questions relating to its nuclear safeguards declarations to the agency, IAEA acting head Cornel Feruta told journalists in Vienna.

"[That] engagement doesn't mean that the issues are completely addressed but it's a step in the right direction," he added.

Feruta said the queries did not touch directly on the faltering 2015 nuclear deal between Iran and world powers but rather on Iran's separate safeguards agreement with the agency.

Diplomatic sources in Vienna say the agency has been waiting for information from the Iranians relating to samples taken earlier this year from a warehouse near the capital Tehran.
France: Iran, US have one month to come to negotiating table
Iran and the United States have one month to get to the negotiating table, France's foreign minister warned, suggesting Tehran's plan to increase its nuclear activities in November would spark renewed tension in the region.

French President Emmanuel Macron attempted but failed to broker talks between US President Donald Trump and Iranian President Hassan Rouhani in New York last week.

"We consider that these initiatives, which didn't succeed, are still on the table and it is up to Iran and the United States to seize [them] in a relatively short amount of time because Iran has announced new measures to reduce its commitments to the Vienna accord in November," Jean-Yves Le Drian told parliament's foreign affairs committee.

Iran is breaching the restrictions of its 2015 nuclear deal with major powers in response to US sanctions imposed since Washington pulled out of the agreement in May of last year.

It has said its next roll-back would be at the start of November, and diplomats fear that this next breach could force European powers, which are trying to salvage the accord, to respond.
Iran rejects French call for release of dual national scholar
Iran said on Friday that France's call for it to release a detained French-Iranian scholar was an interference in its internal affairs and would not help resolve the issue, the official news agency IRNA reported.

France's Foreign Ministry on Thursday demanded Iran release dual national Fariba Adelkhah, a senior research fellow at Sciences Po university in Paris, who was detained on unspecified charges earlier this year.

"(Iranian Foreign Ministry spokesman Abbas) Mousavi said the French Foreign Ministry's interference in the case of an Iranian citizen was irrelevant..., and added: 'This will not only fail to help resolve the issue, but rather make the legal process more complicated'," IRNA reported.

Rights activists have accused Iran of arresting a number of dual nationals to try to win concessions from other countries - a charge that the Islamic republic has regularly dismissed.

Adelkhah's arrest came at a time when France and other European powers were caught up in an international standoff over Tehran's 2015 nuclear deal, which the United States abandoned last year.
U.S. Sanctions Paralyze Imports via Iranian Ports
More than 20 ships carrying around one million tonnes of grain are stuck outside Iranian ports as US sanctions create payment problems and hamper the country's efforts to import vital commodities, sources directly involved in the trade said.

Trading companies such as Bunge (BG.N) and China's COFCO International have been hit by payment delays and additional costs of up to $15,000 a day as the renewed US restrictions stifle the processing of transactions, trade sources said.

According to Reuters, food, medicine and other humanitarian supplies are exempt from sanctions Washington re-imposed after US President Donald Trump said he was walking away from a 2015 international deal over Iran's nuclear program.

But the US measures targeting everything from oil sales to shipping and financial activities have deterred several foreign banks from doing any Iranian business, including humanitarian deals such as food shipments.

The few remaining lenders still processing Iranian business face multiple hurdles to facilitate payments as financing channels freeze up.
U.S. Sanctions Squeezing Iran-Backed Hizbullah in Lebanon
The conflict between Iran and the U.S. that has created tensions throughout much of the Middle East is now also being felt in Lebanon, where Washington has slapped sanctions on the Iran-backed Hezbollah and warned they could soon expand to its allies, further deepening the tiny Arab country's economic crisis.

The Trump administration has intensified sanctions on the Lebanese militant group and institutions linked to it to unprecedented levels, targeting lawmakers for the first time as well as a local bank that Washington claims has ties to the group.

Two U.S. officials visited Beirut in September and warned the sanctions will increase to deprive Hezbollah of its sources of income. The push is further adding to Lebanon's severe financial and economic crisis, with Lebanese officials warning the country's economy and banking sector can't take the pressure.

"We have taken more actions recently against Hezbollah than in the history of our counterterrorism program," Sigal P. Mandelker, undersecretary for terrorism and financial intelligence at the U.S. Treasury, said in the United Arab Emirates last month.

Mandelker said Washington is confident the Lebanese government and the central bank will "do the right thing here in making sure that Hezbollah can no longer have access to funds at the bank."
Iran's regime lashes out at German antisemitism commissioner in response to 'Post' article
The Islamic Republic of Iran's foreign ministry blasted a prominent German official on Wednesday after the commissioner tasked with combating antisemitism told The Jerusalem Post that Chancellor Angela Merkel's administration should withdraw from the Iran nuclear deal and re-impose sanctions on Tehran for its nefarious conduct.

The Iranian regime-controlled PressTV wrote that "in an online statement on Wednesday, Foreign Ministry spokesman Abbas Mousavi condemned the remarks by Uwe Becker, commissioner of the Hessian federal state government for Jewish life and the fight against anti-Semitism."

PressTV added that "Becker on Monday called on German Chancellor Angela Merkel to put Israel's security above 'possible economic interests' that comes with the deal – known as the Joint Comprehensive Plan of Action (JCPOA)."

Becker, the commissioner of the Hessian federal state government for Jewish life and the fight against antisemitism, told the Post on Monday that "the current escalation with Israel should be reason enough for Germany to advocate the.... Iran nuclear agreement, which has been undermined by Iran... [as] dead, and for the necessary sanctions against Tehran to become effective again in their entirety."
---
---
We have lots of ideas, but we need more resources to be even more effective. Please donate today to help get the message out and to help defend Israel.

Cache
Garland Terrell Decell, 95, of Ruston, LA, was born on Dec. 11, 1923, in Hazelhurst, MS, to the late Robert M. Decell and Thelma Thompson Decell.
Garland was preceded in death by his father and mother, a son, Richard (Ricky) Garland Decell, and two brothers R.D. Decell and Wilmer Decell.
He is survived by his wife, Dorene Skipper Decell and a sister Jean Decell Rugg of West Monroe, LA.
He is also survived by his daughters, Dottie Decell Brown of Spartanburg, SC; Judy Robeaux Bowyer and husband Steve of Virginia Beach, VA; and a son, John A. Robeaux and wife LaDonna of Downsville, LA; as well as 10 grandchildren and 20 great-grandchildren.
Garland proudly served his country during World War II in the Army where he fought in France and Germany during the Battle of the Bulge. He received a commission during the war and has since been awarded the Bronze Star and the French Legion of Honor Medal, which is the highest award given by the French government. After the war, he continued to serve his country in the National Guard for 30 years. Garland was twice honored by the City of Ruston as Citizen of the Month as well as a Garland Decell Day. He was further honored by being selected to be the Grand Marshal of the Christmas parade. Garland was co-owner of Decell Tom's Sales, along with his wife Dorene, for 30 years.
Garland was a longtime member of the Ruston Rotary Club, starting in 1980 and he was a member of Trinity United Methodist Church participating in the Godspel Sunday School Class.
What more can you say about a man who loved his family and his country? He worked hard and had many friends. He loved working in his yard and with his favorite Caladiums it was a beautiful sight to behold. By sharing his stories of his experiences during the war, he was able to educate many young and old about the war. His interview was shown by KTBS about the Battle of the Bulge for that battle's anniversary. He was a longtime fan of the Lady Techsters and followed them throughout the country for NCAA playoffs and away games. He loved spending quality time with family and friends. This world lost a hero and Heaven has gained one. He will be greatly missed.
Serving as pallbearers with be Patrick Anderson, Bill Brown, James Fuller, nephew Ken Rugg and his two grandsons Jason and Justin Brown.
Garland will be laid to rest with full military honors befitting that of a soldier who served his country during war and peace times.
Visitation will be from 6 - 8 p.m. Friday, Oct. 4, at Owens Memorial Chapel Funeral Home.
A funeral celebrating the life of Garland Decell will take place at 1 p.m. Saturday, Oct. 5, at the Trinity United Methodist Church Sanctuary followed by interment at Mulhearn Memorial Park Cemetery in Monroe, LA.
The family wishes to thank Brandon White, Estelle Outley and Katherine Agbaih for their devoted care.
Memorial donations may be made to the Ruston Military Museum or a charity of your choice. To leave a memorial message for the family, please visit www.owensmemorialfuneralhome.com.
Category:



Next Page: 25 © Googlier LLC, 2019