Cache
US Representative Devin G. Nunes filed a defamation and common-law conspiracy complaint Monday against Politico reporter Ryan Lizza and Hearst Magazines in federal court in Iowa. In the suit, the California Republican claims that a 2018 article Lizza wrote for Esquire called "Devin Nunes's Family Farm Is Hiding a Politically Explosive Secret," was a "scandalous hit piece" that […]

Cache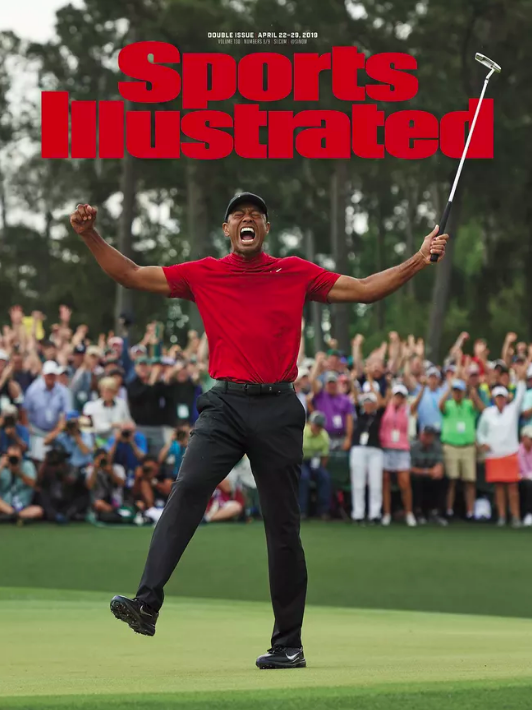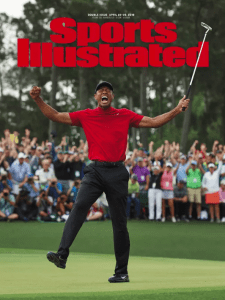 A staff uprising at Sports Illustrated...
Following Tuesday's New York Post report that editor-in-chief Chris Stone is exiting Sports Illustrated after 27 years with the magazine, The Wall Street Journal added late Wednesday evening that the brand's new operator, TheMaven Inc., is planning to lay off more than 40 staffers and replace them with "as many as 200 contract workers in coming months to cover sports," citing people familiar with the matter.
The news follows what has been a tumultuous two years for the 65-year-old magazine since its parent company, Time Inc., was acquired by Meredith Corp. in early 2018. After the merger, Meredith put a handful of former Time Inc. titles, including Sports Illustrated, Time and Fortune, up for sale in order to focus on its newly expanded suite of entertainment, food and lifestyle magazines.
In May, Meredith sold SI to the licensing firm Authentic Brands Group, with an agreement that would allow Meredith to continue running SI's media operations for up to two years. That agreement lasted approximately two weeks, as ABG announced, in mid-June, a new licensing deal that would transfer the next 10 years of SI's operations to TheMaven—a two-year-old startup that bills itself as "a digital distribution and monetization platform," acquired TheStreet over the summer for $16.5 million and also hosts the websites of several Active Interest Media magazines.
On Thursday afternoon, a Twitter account purportedly belonging to "Sports Illustrated employees concerned about our future" went live, issuing an impassioned plea to Meredith and ABG to "drop TheMaven and save Sports Illustrated."
"TheMaven wants to replace top journalists in the industry with a network of Maven freelancers and bloggers, while reducing or eliminating departments that have ensured that the stories we publish and produce meet the highest standards," the statement reads. "With minutes' notice, transition meetings were canceled, with our futures and families hanging in the balance. The way that today's events have been handled suggests that the publication is in unstable hands."
As of Thursday evening, several current and former SI employees had retweeted the statement, along with numerous editorial staffers announcing that they had been let go. At around 7pm Eastern, TheMaven issued a statement, including the assurance that "approximately 300 distinct voices, the majority of which are journalists, will be producing stories for SI by January 2020, which will help drive an increase in SI content production."
Layoffs at Pitchfork...
Elsewhere, Condé Nast laid off Pitchfork's six-person video team as part of a move that will see those duties shifted to Condé Nast Entertainment (CNE), the company's video production arm.
Part of a broader reorganization that's seen the video operations of most of Condé's brands centralized under CNE, the six Pitchfork staffers, a mix of full-time and freelance employees, have been offered the opportunity to apply for two open positions there.
"These layoffs affirm our need for a strong union at Pitchfork," read a statement from Pitchfork's editorial staff union, which was organized earlier this year in part as a reaction to previous rounds of layoffs and is represented by the NewsGuild of New York alongside fellow Condé titles Ars Technica and The New Yorker. "We are frustrated by how our coworkers have been treated throughout this process. Not only were they told that the financial details of their severance packages would depend on a 'professional' exit, but they were also asked to plan projects that would exceed their established exit date, which kept changing due to management's lack of foresight."
[caption id="attachment_171905" align="alignright" width="150"]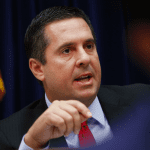 Rep. Devin Nunes[/caption]
Devin Nunes sues Esquire over Iowa farm story...
In between "Fox & Friends" appearances this week, Rep. Devin Nunes—a congressman from California and ranking member of the House Intelligence Committee—filed a $75 million defamation suit against Esquire, parent company Hearst Magazines and writer Ryan Lizza over a November 2018 article about Nunes' family's dairy farm in Iowa.
Filed in U.S. district court in Cedar Rapids, Iowa, the suit—which variously describes Lizza's article as "false and defamatory," "click-bait, sensationalist, egregious misstatements" and "a scandalous hit piece," seeks monetary damages "for the insult, pain, embarrassment, humiliation, mental suffering, anguish, and injury to [Nunes'] good name and professional reputation in Iowa and elsewhere," adding that Lizza and Esquire "should be punished for their unlawful actions and a very strong message needs to be sent to prevent other so-called 'journalists' from acting in a similar way."
Nunes' main point of contention, per the court filing, is Lizza and Esquire's casting of the story as revealing a "politically explosive secret," including the article's assertion that Nunes and his family had conspired to hide the fact that they'd moved their dairy farm from their native California to Sibley, Iowa in 2006. The complaint does not specifically dispute one of the article's primary implications: that the Nunes' farm, like many others in the region, probably relies on undocumented labor.
As of last month, Lizza is now chief Washington correspondent at Politico.
Esquire is not alone in being named a defendant in a Nunes-initiated defamation suit this year. In March, Nunes filed a $250 million defamation suit against Twitter and a pair of parody accounts devoted to mocking him on the platform, and in August, he sued McClatchy Co. and The Fresno Bee—a newspaper headquartered about two miles outside the district he represents—for $150 million over "character assassination" and "knowingly false" reports allegedly meant to derail his 2018 congressional campaign, a lawsuit McClatchy described as "a baseless attack on local journalism and a free press."
Hearst Magazines has not yet returned a request for comment.
Read Nunes' full Esquire/Hearst Magazines complaint here, via Courthouse News.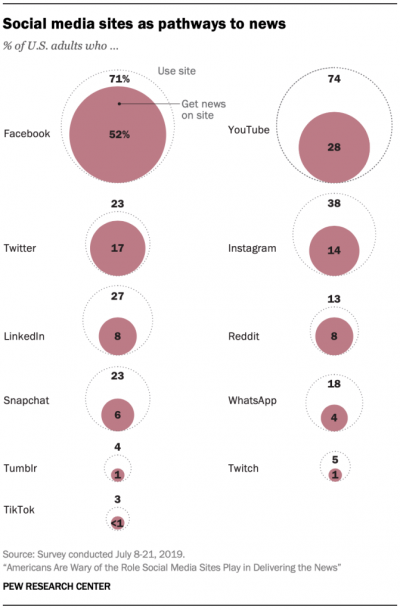 More than half of U.S. adults get news from Facebook...

A July survey of more than 5,000 U.S. adults by Pew Research Center, the findings of which were revealed Wednesday, suggests that a majority of Americans believe social media networks have too much control over the news that users are exposed to on the platforms.

The full report can be accessed here, but perhaps most salient to publishers: the study suggests that 52% of all U.S. adults and 73% of Facebook users get news on the platform, compared to 28% of adults who get news on YouTube and 17% who get it on Twitter, and those numbers appear to be increasing.

"More than half of U.S. adults get news from social media often or sometimes (55%), up from 47% in 2018," the report says. "About three-in-ten Americans now get news on social media often (28%), up from 20% in 2018."

It's merger season!

Following last week's merger of Vox Media and New York magazine, Vice Media ended months of speculation by revealing, on Wednesday, that it's reached an agreement to acquire Refinery29 in a deal that values the latter brand at around $400 million, according to multiple estimates.

In a memo to staff, Vice CEO Nancy Dubuc, who was brought in from A&E Networks to replace co-founder Shane Smith last year, touted Refinery29's large female audience—claiming the combined companies will now reach 350 million people worldwide each month—its event series 29Rooms and "the synergies between our two cultures, values and beliefs," among other things.

Dubuc added that Refinery29 will remain a distinct brand within Vice Media's portfolio, similar to earlier acquisitions i-D and Garage magazines, with the deal expected to close "over the next several weeks."

In other consolidation news, Taboola and Outbrain—a pair of digital advertising platforms primarily known as the firms behind the links "you might also like" at the bottom of news articles—announced Thursday that they have entered an agreement to merge, pending regulatory approval.

Upon closing, the combined company would assume the Taboola brand name and be run by Taboola founder and CEO Adam Singolda, with Outbrain shareholders receiving a 30% stake as well as $250 million in cash in the deal. A joint announcement from the companies said that Taboola COO Eldad Maniv and Outbrain co-CEOs David Kostman and Yaron Galai will remain involved at least through a transitional period, but wasn't clear on what comes after that.

The companies said the merger will provide advertisers with "a meaningful competitive alternative to Google and Facebook" and enable increased investment in technology, which they say will drive more revenue to publishers and improve the user experience on their clients' sites.

The post Upheaval at Sports Illustrated, Mergers in Digital Media | News & Notes appeared first on Folio:.




Next Page: 25 © Googlier LLC, 2019