Cache
(Bloomberg) -- President Donald Trump's decision to withdraw U.S. forces from Syria and abandon Kurdish allies has prompted a furious backlash among key members of his most important bulwark against an impeachment conviction: Senate Republicans.Hawkish GOP senators, whom Trump will need to keep him in office if the House moves ahead with impeachment, condemned the president's decision as a win for terrorists and a defeat for American credibility. Some are already discussing legislation to push back."A precipitous withdrawal of U.S. forces from Syria would only benefit Russia, Iran and the Assad regime," Senate Majority Leader Mitch McConnell said in a statement. He urged the president to "keep together our multinational coalition to defeat ISIS and prevent significant conflict between our NATO ally Turkey and our local Syrian counterterrorism partners."Foreign policy has long been the issue where Republicans are most likely to disagree with Trump, and it's not clear that strong words against the president's Syria policy will cost him any political support. Trump would have to lose the support of at least 20 Republican senators to be removed from office if the House votes to impeach him.The harshest criticism Monday came from South Carolina Senator Lindsey Graham, a strong Trump ally and frequent golf companion. Graham said this "impulsive decision" will benefit Iran and cost the U.S. leverage in the region.Graham also said he and Democratic Senator Chris Van Hollen will introduce sanctions against Turkey if the NATO ally invades Syria. He said he expects such sanctions to get a two-thirds majority -- enough to override a Trump veto.After criticism from Graham and others, Trump tweeted that he would "totally destroy and obliterate" Turkey's economy if it took "off limits" actions that he didn't specify. He also said Turkey must "watch over" about 12,000 captured Islamic State fighters and tens of thousands of their family members living in jails and camps in Kurdish-held territory.The Senate earlier this year had a veto-proof margin to pass an amendment authored by McConnell opposing a withdrawal from Syria and Afghanistan. On Monday, Criticism in Congress was bipartisan, focused on the move to abandon Kurdish forces who helped U.S. forces fight ISIS, and who are holding thousands of ISIS fighters in custody.Other Senate Republicans pushing back on the president include Marco Rubio of Florida, Mitt Romney of Utah and Susan Collins of Maine, though none other than Graham have yet said they plan to act on their dismay.Romney, who heads a Foreign Relations subcommittee on the Middle East and counterterrorism, released a joint statement with Connecticut Senator Chris Murphy, the top Democrat on the panel, saying Trump's decision "severely undercuts America's credibility as a reliable partner and creates a power vacuum in the region that benefits ISIS." They demanded that the administration explain the decision to the full committee.Nebraska Senator Ben Sasse, who is up for re-election next year, warned against partnering with Turkish President Recep Erdogan."If the president sticks with this retreat, he needs to know that this bad decision will likely result in the slaughter of allies who fought with us, including women and children," Sasse said in a statement Monday. "I hope the president will listen to his generals and reconsider."Some House Republicans also criticized the abrupt withdrawal. Wyoming Representative Liz Cheney, a member of GOP leadership, called the decision a "catastrophic mistake." New York Republican Elise Stefanik recently returned from a bipartisan trip to the region and joined a statement with Democratic representatives condemning Trump's "rash decision.""Not only will this decision further destabilize the region, it will make it more difficult for the United States to recruit allies and partners to defeat terrorist groups like ISIS," the statement said.One of Trump's Senate allies approved of Trump's decision: Rand Paul of Kentucky, who has long called for withdrawing troops from Syria and Afghanistan.(Updates with McConnell quote in third paragraph)\--With assistance from Erik Wasson.To contact the reporter on this story: Steven T. Dennis in Washington at sdennis17@bloomberg.netTo contact the editors responsible for this story: Joe Sobczyk at jsobczyk@bloomberg.net, Anna Edgerton, Laurie AsséoFor more articles like this, please visit us at bloomberg.com©2019 Bloomberg L.P.
Cache
President Trump's promise to pull out of Syria is not going over well.The White House announced Sunday night that the U.S. will "no longer be in the immediate area" of northern Syria where Turkish President Recep Tayyip Erdogan said Saturday a Turkish military incursion was "imminent." Erdogan's promise left even Trump's allies skeptical of the U.S. decision to leave America's Kurdish allies, and led Sen. Lindsey Graham (R-S.C.) to partner with a Democrat and prepare a response to whatever Erdogan has planned.On Monday morning, Graham had tweeted that Trump's Syria decision was "a disaster in the making," while Sen. Chris Van Hollen (D-Md.) tweeted "Congress must make it clear that Turkey will pay a heavy price if they attack the Syrian Kurds." Graham then tweeted that he'd talked to Van Hollen about doing just that, announcing that "we will introduce bipartisan sanctions against Turkey" and move to remove the country from NATO if it attacks Syria or the Kurds.> Hope and expect sanctions against Turkey - if necessary - would be veto-proof. > > This decision to abandon our Kurdish allies and turn Syria over to Russia, Iran, & Turkey will put every radical Islamist on steroids. Shot in the arm to the bad guys. Devastating for the good guys.> > -- Lindsey Graham (@LindseyGrahamSC) October 7, 2019Graham's "veto-proof" guarantee probably won't be necessary considering Trump's subsequent and, uh... passionate response. > ....the captured ISIS fighters and families. The U.S. has done far more than anyone could have ever expected, including the capture of 100% of the ISIS Caliphate. It is time now for others in the region, some of great wealth, to protect their own territory. THE USA IS GREAT!> > -- Donald J. Trump (@realDonaldTrump) October 7, 2019
Cache
It's just a coincidence that everyone that has a problem with Trump is not a Republican. You don't have to be a Democrat to despise what he's done or think that it's immoral. There are plenty of independents and otherwise unaffiliated voters who don't condone Trump's incompetence. But it is telling that Republicans seem so determined to overlook just about every violation.

Cache
NEW YORK – With President Donald Trump under siege on Capitol Hill, a federal judge dealt him a setback on another front Monday and ruled that New York City prosecutors can see his tax returns for an investigation into matters including the payment of hush money to porn star Stormy Daniels and a Playboy centerfold.

U.S. District Judge Victor Marrero emphatically rejected Trump's attempt to keep his financial records under wraps, calling the president's broad claim of immunity from all criminal proceedings "extraordinary" and "an overreach of executive power" at odds with the Constitution.

For now, at least, the tax returns remain beyond the reach of prosecutors. The president's lawyers appealed the judge's ruling to the 2nd U.S. Circuit Court of Appeals, which put the matter on hold while it considers the case on an expedited basis.

At issue is a request from Manhattan District Attorney Cyrus R. Vance Jr. that Trump's accounting firm turn over eight years' worth of his business and personal tax returns dating back to 2011.

Vance, a Democrat, is investigating payments made to buy the silence of Daniels and model Karen McDougal, both of whom claimed to have had affairs with the president.

"The Radical Left Democrats have failed on all fronts," Trump fumed on Twitter after the judge's ruling, "so now they are pushing local New York City and State Democrat prosecutors to go get President Trump. A thing like this has never happened to any President before. Not even close!"

The district attorney's office declined to comment.

The investigation is unfolding with Trump already facing a fast-moving impeachment drive by House Democrats that was set off by his attempts to get Ukraine's leader to investigate his political rival Joe Biden.

Trump's lawyers have said that Vance's investigation is politically motivated and that the request for tax records should be stopped because Trump is immune from any criminal probe as long as he is president.

The judge swept that claim aside as overly broad.

"As the court reads it, presidential immunity would stretch to cover every phase of criminal proceedings, including investigations, grand jury proceedings and subpoenas, indictment, prosecution, arrest, trial, conviction, and incarceration," Marrero wrote. "That constitutional protection presumably would encompass any conduct, at any time, in any forum, whether federal or state, and whether the President acted alone or in concert with other individuals."

The judge said he couldn't accept that legal view, "especially in the light of the fundamental concerns over excessive arrogation of power" that led the founding fathers to create a balance of power among the three branches of government.

Trump has steadfastly refused to make his tax returns public, breaking a tradition set by presidents and White House candidates decades ago. He has also gone to court to fight congressional subpoenas issued to his bank for various personal financial records, including his tax returns. That dispute is also before the federal appeals court.

In yet another effort to pry loose Trump's tax records, California recently passed a law requiring candidates for president or governor to turn over five years' worth of returns, or else they cannot appear on the state's primary ballot. A federal judge blocked the law this month, saying it is probably unconstitutional.

Vance began his probe after federal prosecutors in New York completed their investigation into payments that Trump's former personal lawyer, Michael Cohen, arranged to be made to the two women to keep them silent during the presidential race.

Cohen is serving a three-year prison sentence for crimes that included campaign finance violations in connection with the hush money.

Trump was never charged, though prosecutors said publicly that he was aware of and directed the illegal payments. Justice Department policy has long been that sitting presidents cannot be charged criminally.

Grand jury proceedings and records in New York are secret. If Vance gains access to Trump's returns through a grand jury investigation, that doesn't necessarily mean their contents will be disclosed publicly.

It is unclear what Trump's returns might have to do with the criminal investigation or why prosecutors are reaching back as far as 2011.

But the long reach of the subpoena might stem in part from testimony Cohen gave to Congress early this year when he asserted that Trump overstated his wealth to financial institutions before he became president.

Cohen turned over copies of financial statements he said the president provided to Deutsche Bank during a 2014 effort to buy the Buffalo Bills. The statements showed Trump's net worth soaring from $4.55 billion in 2012 to $8.66 billion in 2013.

___

Associated Press writer Eric Tucker in Washington contributed to this story.



Cache
WASHINGTON, Oct 7- Democratic presidential hopeful Pete Buttigieg unveiled his plan on Monday to slash prescription drug costs for senior citizens and target pharmaceutical companies for rising prices, the latest 2020 candidate to detail policies to tackle the issue. Buttigieg, the mayor of South Bend, Indiana, said his plan would cut out-of-pocket...

Cache
Updated at 4 p.m. ET House Democrats defended their impeachment inquiry into President Trump on Wednesday, while opening another front in the ongoing battle with the White House over documents they are seeking for their probe. Three House committee chairmen threatened to issue a subpoena for the documents. "We're not fooling around here," House Intelligence Committee Chairman Adam Schiff said at a news conference with fellow California Democrat House Speaker Nancy Pelosi. Schiff said White House attempts to stonewall the investigation "will be strengthening the case on obstruction" of justice. At a White House press conference alongside Finnish President Sauli Niinistö later on Wednesday, Trump said, "I always cooperate" with congressional subpoenas, but went on to repeatedly denigrate Democratic investigations moving toward impeachment as a "hoax." "We'll work together with shifty Schiff and Pelosi and all of them," Trump said. Pelosi repeated her argument that the president's July

Cache
NEW YORK – A federal judge Monday emphatically rejected President Donald Trump's challenge to the release of his tax returns to New York prosecutors, saying the president's broad claim of immunity from all criminal investigations is at odds with the Constitution. But an appeals court blocked any handover of the records for now.
At issue is a request from Manhattan District Attorney Cyrus R. Vance Jr. that Trump's accounting firm turn over eight years' worth of his business and personal tax returns for an investigation into the payment of hush money to two women who claimed to have had affairs with the president.
U.S. District Judge Victor Marrero turned down Trump's attempt to keep the tax returns under wraps, saying the president was making a "categorical and limitless assertion of presidential immunity."
The president's lawyers immediately appealed to the 2nd U.S. Circuit Court of Appeals, and it granted a temporary stay of the judge's ruling "pending expedited review" by the court.
"The Radical Left Democrats have failed on all fronts," Trump fumed on Twitter, "so now they are pushing local New York City and State Democrat prosecutors to go get President Trump. A thing like this has never happened to any President before. Not even close!"
The criminal investigation in New York is unfolding with Trump already under siege on Capitol Hill from a fast-moving impeachment drive set off by his attempts to get Ukraine's leader to investigate his political rival Joe Biden. The judge's ruling marked the latest in a string of setbacks for the president in the past couple of weeks.
Trump's lawyers have said that the investigation led by Vance, a Democrat, is politically motivated and that the request for his tax records should be stopped because he is immune from any criminal probe as long as he is president.
Marrero called Trump's claim of broad immunity "extraordinary" and "an overreach of executive power."
"As the court reads it, presidential immunity would stretch to cover every phase of criminal proceedings, including investigations, grand jury proceedings and subpoenas, indictment, prosecution, arrest, trial, conviction, and incarceration," the judge wrote. "That constitutional protection presumably would encompass any conduct, at any time, in any forum, whether federal or state, and whether the President acted alone or in concert with other individuals."
The judge said couldn't accept that legal view, "especially in the light of the fundamental concerns over excessive arrogation of power" that led the founding fathers to create a balance of power among the three branches of government.
Trump's lawyers and the district attorney's office did not immediately comment in response to the ruling. Justice Department attorneys in Washington, who had urged Marrero to delay deciding the issue, declined to comment.
Vance began his probe after federal prosecutors in New York completed their investigation into payments that Trump's former personal lawyer, Michael Cohen, arranged to be paid to porn star Stormy Daniels and Playboy model Karen McDougal to keep them silent during the presidential race. The Trump Organization later reimbursed Cohen.
Cohen is serving a three-year prison sentence for crimes that included campaign finance violations in connection with the hush money.
Trump was never charged, though prosecutors said publicly that he was aware of and directed the illegal payments. Justice Department policy has long been that sitting presidents cannot be charged criminally.
Trump has steadfastly refused to make his tax returns public, breaking from a tradition set by presidents and presidential candidates decades ago.
Grand jury proceedings and records in New York are secret. If Vance gains access to Trump's returns through a grand jury investigation, that doesn't mean that their contents will be disclosed publicly.
It is unclear what Trump's returns might have to do with the criminal investigation.
Cache
WASHINGTON – An attorney for the whistleblower who sounded the alarm about President Donald Trump's pressure on Ukraine said Sunday that "multiple" whistleblowers have come forward, deepening a political quagmire that has engulfed the president as well as several of his Cabinet members.
The news comes as House Democrats are accelerating their impeachment inquiry and subpoenaing documents related to Trump's efforts to push foreign countries to investigate one of his political opponents, former vice president Joe Biden.
"I can confirm that my firm and my team represent multiple whistleblowers in connection to the underlying August 12, 2019, disclosure to the Intelligence Community Inspector General," the whistleblower's attorney, Andrew Bakaj, said in a tweet. "No further comment at this time."
Mark Zaid, who also is a member of the original whistleblower's legal team, confirmed to the Washington Post that the team is now representing a second whistleblower, someone who works in the intelligence community. The second individual has spoken to the inspector general of the intelligence community and has not filed a complaint.
"Doesn't need to," Zaid said in a text message, adding that the person has "first hand knowledge that supported the first whistleblower."
News that the original whistleblower's team is representing a second person was first reported Sunday by ABC News.
Trump seized on the latest development in a Sunday night tweet.
"Democrat lawyer is same for both Whistleblowers? All support Obama and Crooked Hillary. Witch Hunt!" he said.
The crisis, which began last month with media reports revealing the original whistleblower's complaint, has quickly metastasized across the Trump administration, ensnaring senior officials such as Energy Secretary Rick Perry and Secretary of State Mike Pompeo, who came under further scrutiny over the weekend.
Trump largely stayed out of public view, spending Saturday at his golf club in Sterling, Virginia, and Sunday at the White House. In tweets, he attacked Democrats and some Republican detractors, including Sen. Mitt Romney of Utah, whose ouster he demanded Saturday after Romney criticized him.
He also appeared to directly link the 2020 presidential race to his efforts to push Ukraine to investigate Biden, contrary to a tweet on Friday declaring that "this has NOTHING to do with politics or a political campaign against the Bidens."
"And by the way, I would LOVE running against 1% Joe Biden – I just don't think it's going to happen," Trump tweeted Sunday, arguing that Biden and his family were "PAID OFF, pure and simple!"
"Sleepy Joe won't get to the starting gate, & based on all of the money he & his family probably 'extorted,' Joe should hang it up," Trump added. "I wouldn't want him dealing with China & [Ukraine]!"
Biden campaign spokesman Andrew Bates responded by calling it "puzzling" that Trump would claim to love the prospect of a matchup against Biden, "seeing as how he just sent his administration into a tailspin by trying to bully a foreign country into spreading a comprehensively debunked conspiracy theory about the vice president."
Biden's son Hunter served for nearly five years on the board of Burisma, Ukraine's largest private gas company, whose owner came under scrutiny by Ukrainian prosecutors for possible abuse of power and unlawful enrichment. Hunter Biden was not accused of any wrongdoing in the investigation.
As vice president, Joe Biden pressured Ukraine to fire the top prosecutor, Viktor Shokin, whom Biden and other Western officials, including Republicans, accused of not sufficiently pursuing corruption cases. At the time, the investigation into Burisma was dormant, according to former Ukrainian and U.S. officials.
On Saturday, Perry's discussions with Ukrainian officials came to attention amid reports that Trump told Republicans on Friday that he made the July 25 call with the Ukrainian president at the request of Perry.
Asked about Trump's comments, which were first reported by Axios, Energy Department spokeswoman Shylyn Hynes said in an email that Perry encouraged Trump to speak with Ukrainian President Volodymr Zelensky to discuss energy security.
Pompeo, who was scheduled to return to Washington on Sunday, is facing growing pressure from Democrats seeking Ukraine-related documents.
House Foreign Affairs Committee Chairman Eliot Engel, D-N.Y., said Sunday on CBS's "Face the Nation" that Pompeo, who had spent much of the past week in Europe, missed a Friday deadline to comply with a subpoena for information about the State Department's dealings with Ukraine. Pompeo asserts that a letter sent to the committee constitutes the department's initial response.
The whistleblower complaint accused Trump of asking the Ukrainian government to help him with his reelection bid by launching an investigation into Biden. Democrats are also probing whether Trump's decision to withhold nearly $400 million in military assistance from Ukraine was linked to his push for the government there to pursue political investigations that could bolster the president's reelection bid.
Text messages between State Department officials, revealed by House Democrats last week, show that there was at least some concern that Trump was pursuing an improper quid pro quo.
"As I said on the phone, I think it's crazy to withhold security assistance for help with a political campaign," diplomat William Taylor wrote on Sept. 9 to Gordon Sondland, the U.S. ambassador to the European Union.
Sondland, who has denied that Trump sought a quid pro quo, has agreed to meet privately on Tuesday with the three House panels – Intelligence, Foreign Affairs and Oversight – spearheading the probe, according to a committee aide.
On Friday, those three committees subpoenaed the White House for documents and wrote a letter to Vice President Mike Pence demanding that he turn over documents related to his talks with Zelensky.
Speaking at a Republican event in Louisiana on Saturday, Pence criticized Democrats but gave no indication about whether he would comply with their document request.
"Do-Nothing Democrats launched a partisan impeachment inquiry in a blatant attempt to overturn the will of the American people in the last election," he said.
On Sunday, Trump's campaign announced that the president would be traveling to Lake Charles, Louisiana, to hold a rally on Friday. The president will also have a rally on Wednesday in Minneapolis.
No White House officials made appearances on the Sunday morning news shows, leaving it up to congressional Republicans and Trump's personal lawyer Rudy Giuliani to defend the president in heated interviews during which they offered at-times-contradictory explanations for the president's actions.
In a combative exchange on NBC's "Meet the Press," host Chuck Todd urged Sen. Ron Johnson, R-Wis., to explain why he told the Wall Street Journal about his concern in the summer that Trump had sought to link Ukrainian military aid to an investigation of the Bidens.
Johnson repeatedly declined to answer, instead raising a conspiracy theory and criticizing the media before finally stating that Trump had "adamantly denied" any quid pro quo.
Johnson also at one point said he does not trust U.S. intelligence agencies. "Something pretty fishy happened during the 2016 campaign and in the transition, the early part of the Trump presidency, and we still don't know," he said.
"We do know the answer," an exasperated Todd responded, adding: "You're making a choice not to believe the investigations that have taken place."
Giuliani issued a defiant defense of Trump in an interview on Fox News Channel's "MediaBuzz" in which he argued that the president "has every right to ask countries to help us in a criminal investigation that should be undertaken."
Giuliani was named in the whistleblower's complaint and in a rough transcript of Trump's phone call with Zelensky as being a key intermediary in back-channel efforts to pursue the allegations against Biden.
But other Republicans sought to play down Trump's comments, including his exchange with reporters outside the White House on Thursday in which he urged China to investigate Biden.
In an interview on ABC News's "This Week," Rep. Jim Jordan, R-Ohio, echoed a suggestion on Friday by Sen. Marco Rubio, R-Fla., that Trump's China statement was not "a real request."
"George, you really think he was serious about thinking that China's going to investigate the Biden family? … I think he's getting the press all spun up about this," Jordan told host George Stephanopoulos.
During the interview, Stephanopoulos repeatedly sought an answer from Jordan on whether he thinks it is appropriate for Trump to ask China and Ukraine to investigate Biden. Jordan dodged the question more than a dozen times.
Democrats on Sunday defended their party's efforts to pursue an impeachment inquiry.
In an interview on "Fox News Sunday," Rep. Val Demings, D-Fla., a member of the Intelligence Committee, supported Democratic House Speaker Nancy Pelosi's view that no vote by the full House is necessary for an impeachment inquiry to move forward.
She added that she thinks the House "will have to take a serious look at articles of impeachment" based on the evidence that has emerged.
Rep. Hakeem Jeffries, N.Y., a key member of House Democratic leadership, said on "This Week" that "the evidence of wrongdoing by Donald Trump is hiding in plain sight."
"The administration, without justification, withheld $391 million in military aid from a vulnerable Ukraine," he said. "The president then pressured a foreign leader to interfere in the 2020 elections and target an American citizen for political gain. That is textbook abuse of power."
Cache
The last midterm race of the year will have a resolution soon as Sen. Mary Landrieu, the only stateside-elected Democrat left in Louisiana, faces a runoff race this coming weekend. Jeremy Alford, editor and publisher of LAPolitics.com, discusses.

Cache
COLUMBUS, Ohio (AP) — Republican Gov. Mike DeWine's new proposals to address Ohio gun violence in the wake of the Dayton mass shooting don't include background-check requirements for gun sales or a so-called red-flag law to restrict firearms for people perceived as threats, despite his earlier support of those ideas.
Instead, his administration detailed legislative proposals detailed Monday intended to increase and improve background checks and ensure people don't have firearms if a court has deemed them to be a danger. Among other changes, the "STRONG Ohio" plan also would increase penalties for anyone who provides a gun to someone who is legally prohibited from having one, and require that certain types of protection orders and arrest warrants be reflected in state and federal law enforcement databases to ensure more accurate background checks.
DeWine said his team consulted with city leaders, lawmakers and many others and worked to produce proposals that he believes will get results, protect people's rights — and be able to pass the Republican-led Legislature.
"They do not infringe on Second Amendment rights for anyone who has a legal right to own a gun," Lt. Gov. Jon Husted said. "What the plan does is put dangerous people — criminals — on notice that if you're a threat to yourself or others, you are not legally allowed to possess weapons, and we're going to build a system to ensure that you don't."
Husted said the idea of a red-flag law that still protected gun owners' due process proved "inadequate and unworkable" because of the time required for due process and the danger that could pose for law enforcement and because removing a weapon doesn't ensure the subject won't harm themselves or others. So-called red flag laws allow a court to temporarily seize guns from people believed to be a danger to themselves or others.
The news conference included the legislation's sponsor, GOP Sen. Matt Dolan, of Chagrin Falls, along with supportive statements from Dayton Mayor Nan Whaley and Whitney Austin, a gun owner seriously wounded in a Cincinnati shooting last year.
Whaley, a Democrat, recalled how a crowd chanted "Do something!" as she and DeWine attended a vigil after a shooter in Dayton killed nine people in August. The new proposals don't do enough but are an "important start," she said.
"This is the first time in my career that I have witnessed our state government seriously consider restrictions on access to guns instead of allowing more dangerous weapons in our communities," Whaley said.
The top Democrat in the House, Rep. Emilia Strong Sykes, of Akron, objected more bluntly.
"When the people told the governor to do something, they didn't mean to do just anything," she said in a statement. "Ohioans want common sense gun safety. STRONG Ohio is weak."
Advocates from the anti-violence group Everytown for Gun Safety also criticized DeWine, saying he abandoned his earlier proposals and offered legislation that lacks needed changes.
Another group, Ohioans for Gun Safety, said it applauds DeWine's proposal but will continue its separate, ongoing push to use a petition process to change state law to require background checks on virtually all gun sales.
A detailed summary of the STRONG Ohio bill is available here. Key components of the bill will:
Create a process in Ohio law, similar to the current probate court process that directs those suffering from severe mental health conditions into court-ordered treatment, to give hospitals and courts a better ability to help those who are legally declared to be a danger to themselves or others due to drug dependency or chronic alcoholism;
Ensure that citizens have full due process at all probate court hearings;
Ensure that those legally declared by a judge to be a danger to themselves or others do not have access to firearms;
Give family members of those who may be a danger to themselves or others because of drug dependency or chronic alcoholism the ability to more easily petition the probate court for court-ordered treatment;
Mandate that law enforcement agencies and courts enter certain protection orders and arrest warrants for serious crimes into state and federal law enforcement databases to ensure more accurate background check results;
Create a new private-sale background check process that will increase the number of background checks conducted in Ohio while also protecting the privacy of law-abiding gun owners;
Create a legal safe harbor for firearms sellers who require private-sale background checks;
Increase penalties for those who sell or provide a firearm to someone legally prohibited from possessing a gun;
Give judges a range of sentences for felony cases in which a gun was either possessed, brandished, or used;
Increase the penalty for those who are found with a gun while legally prohibited from possessing a firearm;
Increase the penalty for selling a gun to a minor;
Increase penalties for straw purchases and knowingly possessing a straw-purchased gun.
Cache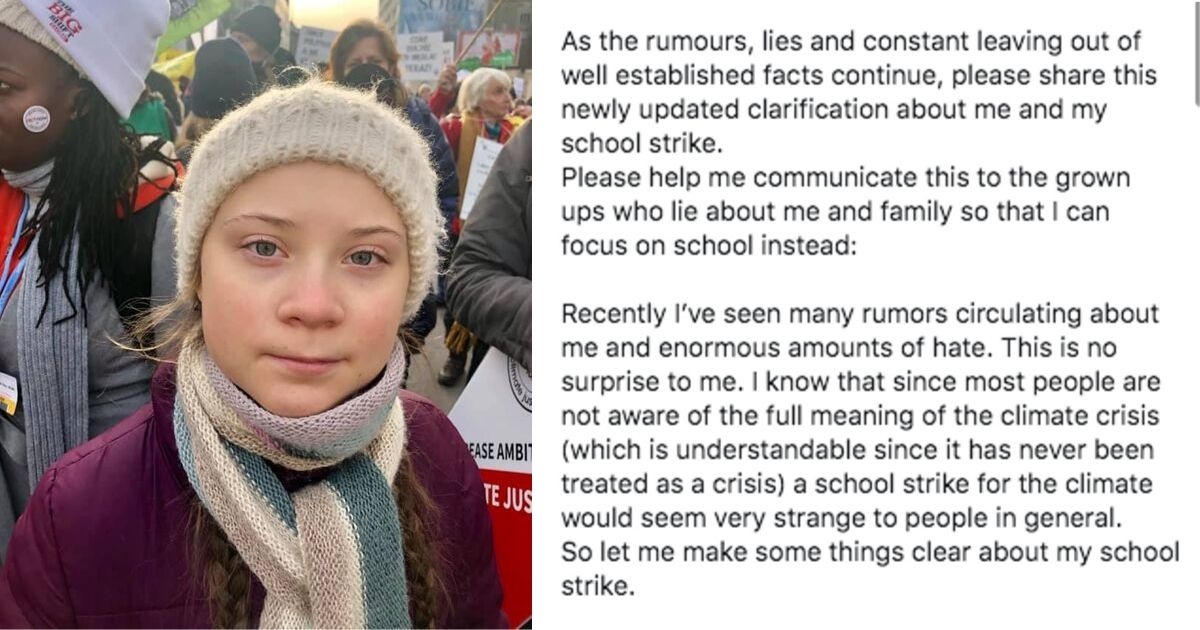 Unless you've been living under a rock for the past year, you know who Greta Thunberg is. But depending on your chosen media and information outlets, what think you know about her might be totally false.
I've perused comments on articles about Thunberg's climate change activism and have seen the same false statements about her over and over again. Here are some actual cut-and-pasted comments (misspellings included) from just one article in the past week:
---
"She is one hell of an actress."
"Greta has mental issues and the adults around her are manipulating her for their own gain."
"This is nothing more than a kid being coached fir a acting career! Lol such a democrat trick!"
"I feel sorry for this girl who is really a victim of child abuse. Who scares their children with all this propaganda?"
"Her parents got 18million for being on TV to say what she said."
"It's not real. That little girl is corporate sponsored."
You get the gist.
Thunberg took to Twitter recently to briefly address her critics, saying they "come up with every thinkable lie and conspiracy theory" and that they "will cross every possible line to avert the focus, since they are so desperate not to talk about the climate and ecological crisis."
"Being different is not an illness and the current, best available science is not opinions," she aded, "it's facts."
Facts appear to elude many, however. I am constantly baffled by how people will repeat things they hear, or state what they think is probably true, without putting forth any effort to discover the truth. This is especially the case for what people think they know about Greta Thunberg.

It's not that hard to research her. Thunberg made the news in Sweden long before she became a globally recognized activist. There are many news articles about her school strike and how she ended up where she is now.
What's extra maddening is that Thunberg herself addressed all of the rumors about her and explained her history way back in February on Facebook, and yet people continue to spew the same falsehoods. The fact that a 16-year-old has to correct adults who should know how to research is sad, but here we are.
First, she explained the origins of how her school strike came about, starting with how she'd won a writing contest about the environment and then had some phone conversations with other activists. They were focusing on other efforts, and Thunberg decided to do her school strike alone. Her parents weren't happy about it and told her at that time that they weren't supportive.

"On the 20 of August I sat down outside the Swedish Parliament," she wrote. "I handed out fliers with a long list of facts about the climate crisis and explanations on why I was striking. The first thing I did was to post on Twitter and Instagram what I was doing and it soon went viral. Then journalists and newspapers started to come. A Swedish entrepreneur and business man active in the climate movement, Ingmar Rentzhog, was among the first to arrive. He spoke with me and took pictures that he posted on Facebook. That was the first time I had ever met or spoken with him. I had not communicated or encountered with him ever before."

She then addressed the rumors about who is "behind" her outspoken activism:
"Many people love to spread rumors saying that I have people 'behind me' or that I'm being 'paid' or 'used' to do what I'm doing. But there is no one 'behind' me except for myself. My parents were as far from climate activists as possible before I made them aware of the situation.

I am not part of any organization. I sometimes support and cooperate with several NGOs that work with the climate and environment. But I am absolutely independent and I only represent myself. And I do what I do completely for free, I have not received any money or any promise of future payments in any form at all. And nor has anyone linked to me or my family done so.

And of course it will stay this way. I have not met one single climate activist who is fighting for the climate for money. That idea is completely absurd.

Furthermore I only travel with permission from my school and my parents pay for tickets and accommodations.

Thunberg went on to explain how she wants people to treat climate change as a crisis because it is a crisis, and that she's really not saying anything new. This is what scientists have been telling us for decades.
"There is one other argument that I can't do anything about," she wrote, "And that is the fact that I'm 'just a child and we shouldn't be listening to children.' But that is easily fixed—just start to listen to the rock solid science instead. Because if everyone listened to the scientists and the facts that I constantly refer to—then no one would have to listen to me or any of the other hundreds of thousands of school children on strike for the climate across the world. Then we could all go back to school."
Welp.
Thunberg also pointed people to her TED Talk in which she explains how her interest in the climate began:
Her own school principal, Sirkka Persson, commented on her Facebook post, writing:
"Greta, being your Principal at school I do not doubt you are writing your own speeches.

All the things you write about in this poster I also get questions about. People often judge others out of their own behavior. So many rumors and so many people who do not know you or your family who think they know how things are and what is best for you. Embarrassing...

Each day I see you at school you give hope and strength to others. You affect people and have an impact on their way of thinking and behaviour. You have definately [sic] got me thinking new thoughts. That is admirable."


If people want to argue with the solutions that Thunberg puts forth, that's fine. She's chosen to speak publicly, and her ideas are up for debate. What is not up for debate are the verifiable facts about her history. What's not up for debate is the fact that being on the autism spectrum is not a mental illness. What is not up for debate is the fact that the vast majority of scientists and the world's most renowned professional scientific organizations have all said that climate change is happening, that humans are contributing to faster-than-normal global warming, and that if we don't act to mitigate it, we will face disastrous consequences.
And obviously, the personal attacks need to stop. It's unacceptable for anyone at any age, but to disparage the looks or
Cache
Momentum is growing for an end to Ontario's 2005 pit bull ban with the NDP and Green party questioning the legislation passed by a previous Liberal government after a Toronto man was mauled by two such dogs, prompting police to fire 16 bullets into them.
Targeting the handful of breeds popularly referred to as pit bulls does not help deal with dangerous dogs in general, the heads of both parties said Monday as Premier Doug Ford's government rethinks the Dog Owner's Liability Act.
"We've said all along that it didn't really do what it was supposed to do and it was not an effective way of dealing with dangerous dogs," New Democrat Leader Andrea Horwath told reporters.
The latest pushback against the ban is coming from Progressive Conservative MPPs David Piccini and Rick Nicholls, who have been collaborating on a private members' bill to repeal the ban after Piccini began circulating a petition over the summer.
"We're looking at all options with the Dog Owner's Liability Act and the breed-specific language," said Piccini (Northumberland—Peterborough South), suggesting stricter penalties for negligent dog owners, animal abuse and neglect should be considered, along with more public education on how to approach dogs.
Green Leader Mike Schreiner said the prohibition on pit bulls "discriminates against certain dog breeds in the face of scientific evidence."
"Breed-specific laws are simply not as effective at reducing the incidence of bites and they result in the unnecessary euthanasia of hundreds of dogs and puppies," he added in a statement.
Ontario's ban requires owners to muzzle, leash and sterilize their pit bulls and outlawed the breeding and import of them in a bid to eradicate them from the province. Owners can face fines of up to $10,000 or six months in jail for not complying.
The law followed several highly publicized pit bull attacks in Toronto. A 2014 investigation by the Star found pit bulls were more likely than any other breed to bite people and pets in the city during the three years ending in 2004. In that year, there were 984 licensed pit bulls and 168 bites reported. But by 2013 there were only 501 pit bulls registered in Toronto and just 13 bites. The city no longer keeps bite statistics by breed.
But experts maintain the ban remains misguided.
"Individuals of any breed can be aggressive," said Angela Fernandez, an associate law professor at the University of Toronto who teaches a course on animals and the law.
"Breed-specific bans misrepresent the problem of dangerous dogs by making it seem like it is the dog's membership in a breed or subspecies that explains why things have gone wrong when they do. However, it is the history of that individual dog that is more likely the root cause," she added.
"Using breed as a way to decide which dogs should be either killed or sent out of the province is grossly indiscriminate and unfair to all the other dogs who can be put into that category who have never done anything to anyone."
The ban also ignores the bite risk of other dogs, particularly big ones more likely to cause serious damage, if they feel threatened or become agitated.
"We do have a higher potential for damage with some of these larger dogs…that we don't worry about in terms of our breed-specific legislation," Lee Niel, an assistant professor at the University of Guelph's veterinary college, said on TVO's the Agenda in 2016.
"So there is a discrepancy there that doesn't really make sense," added Niel, who was not available Monday.
Critics point to a 2017 move by the City of Toronto to crack down on owners of all dangerous dogs as a better solution than a breed-specific ban.
That bylaw requires owners to muzzle their animals, attached a coloured tag to collars and post warning signs on their properties if the dog has severely bitten or attacked a person or another pet. Any dog that has twice bitten in a nonsevere manner is also subject to the same restrictions.
Interim Liberal Leader John Fraser said the province has more important issues to deal with at this time, such as turmoil in the education system and contract talks with teacher unions.
"A day after narrowly avoiding a (school) strike that would have thrown families into chaos, the Ford government wants to talk about lifting the pit bull ban? It's a thinly-veiled attempt to change the channel and further evidence of how the premier's priorities are grossly out of whack with Ontarians," Fraser said.
When the ban was being debated 14 years ago, then-Toronto police chief Julian Fantino supported it on the basis of safety for officers and the public, saying pit bulls were the favourite choice of outlaw motorcycle gangs, drug dealers and street gangsters to guide marijuana grow ops and hideouts.
"These dogs are used a weapons," he told a legislative committee. "Our officers are becoming equally as cognizant of dangerous dogs as they are of guns when the arrive on scenes of their calls."
Rob Ferguson is a Toronto-based reporter covering Ontario politics. Follow him on Twitter: @robferguson1
Cache
Amy Klobuchar said Monday that she raised $4.8 million in the third quarter for her 2020 presidential campaign, a total that places the Minnesota senator in the middle of the Democratic field in fundraising for the third straight quarter. Klobuchar has raised more than some rivals but less than top-tier candidates such as Sen. Bernie Sanders, who raised $25.3 million last quarter, and Sen. Elizabeth Warren, who raised $24.6 million. Klobuchar said during a stop in New Hampshire on Sunday that she's been careful about how the campaign spends money and "we have money in the bank." The campaign, which announced its total ahead of the Oct. 15 filing deadline, did not disclose how much cash it has on hand.
Cache
To Richard Marks; one of my deepest regrets is having donated time, money and energy to your supervisorial campaign. You're a sore loser, a pitiful apologist, a turgid intellect and a crappy central committee member.
Posted by Proud democrat Since "771

Cache
Sorry ttbs, but you are not the arbiter as to who is and is not a Democrat/Republican.

The "insurgents" have already been in power for several years - its the Pam Services and Linda Atkins of the world who are Greens cloaked in Democrat clothing.


Posted by serious indeed1

Cache
Guess What He Spent It On

Cache
From Ian:

---
PMW: PA capitulates to Israel's anti-"Pay-for-Slay" law

After initially refusing to accept any tax revenues Israel collected and transfered to the Palestinian Authority because Israel implemented its anti-"Pay-for-Slay" law, PA Chairman Mahmoud Abbas has now capitulated and agreed to accept the vast majority of the funds.

In February 2019, Israel's cabinet decided to implement one part of the 2018 anti-"Pay-for-Slay" law and started to deduct the sum the PA spent in 2018 paying salaries to terrorist prisoners and released prisoners from the 2019 tax revenues Israel collects and transfers to the PA.

Initially, rejecting Israel's implementation of the anti-"Pay-for-Slay" law, because he argued that paying financial rewards to Palestinian terrorists is legitimate, Abbas refused to accept the money Israel tranfered and plunged the PA into a self-made financial crisis.

"[PA] Minister of Civil Affairs [and Fatah Central Committee member] Hussein Al-Sheikh said yesterday [Feb. 10, 2019] that he has conveyed an official message at the request of [PA] President Mahmoud Abbas that emphasizes that 'He will refuse to receive the collected [tax] money if Israel deducts even one penny from it.'" [Official PA daily Al-Hayat Al-Jadida, Feb. 11, 2019]

When he made that decision, Palestinian Media Watch speculated that Abbas was probably planning to use the ensuing impoverishment of the Palestinian population as a tactic to put pressure on Israel to transfer to him the money he uses to reward terror. PMW also suggested that he was using the decision as a means to leverage the international community to put pressure on Israel to ignore its own laws. Abbas was also hoping that the international community would again side with the PA against Israel and further subsidize the PA.

As a show of his resolve to plunge the PA economy into the abyss, Abbas decided to cut the salaries of the PA's law abiding employees by 40-50% while guaranteeing the payment, in full, of the salaries to the terrorists. The PA also stopped allowing Palestinians to receive medical treatment in Israel, under the false claim that Israel was deducting $100 dollars a year for this service. This ban did not apply to senior Fatah figures like Jibril Rajoub who continued to receive medical treatment in an Israeli hospital.

Abbas' decision to accept the tax revenues, even though Israel continues to implement its anti-"Pay-for-Slay" law, reflects an understanding that all these goals have failed.
Pay for Slay with funds from UK?
The Department for International Development (DFID) must now release documents to UK Lawyers for Israel (UKLFI), having abandoned part of its appeal from the decision of the Information Commissioner's Office (ICO).

The ICO ordered DFID to disclose to UKLFI audits of accounts into which British grant aid was transferred and then used to pay salaries to convicted Palestinian terrorists. British Ministers relied on these audits when concerns were expressed that British money was being used to pay terrorists.

Various countries, including the UK, paid large sums of money into the World Bank's Palestinian Recovery and Development Program Multi donor trust fund (PRDP-MDTF), which were then transferred to the Palestinian Authority's Central Treasury Account.

Funds from this account were used to pay convicted terrorists, rewarding them for their crimes.

On 26 July 2019, the ICO ordered DFID to disclose the audit reports of the PRDP-MDTF and the terms on which the auditors were engaged. The ICO concluded that there was a significant public interest in the disclosure of the information, which outweighed any harm that may be done to diplomatic relations with the Palestinian Authority.

DFID had filed a Notice of Appeal on 19 August 2019, saying that it intended to appeal the release of the documents, on the grounds that the ICO's assessment of the public interest was wrong, and that it also disputed the ICO's conclusion that the Palestinian Authority was not a State, for the purposes of section 27 of the Freedom of Information Act.
David Singer: Netanyahu and Liberman must stop Israel's third election in a year

Israel is surrounded by enemies – especially Iran, Hezbollah in Lebanon and Syria and Hamas in Gaza that could be tempted to exploit the fractured nature of Israel's current political circumstances.

There are pressing political issues awaiting Israel's next Government – most notably negotiations on President Trump's deal of the century and Netanyahu's election promise to annex large parts of the "West Bank."

Ending this state of suspended uncertainty has now been thrust on the shoulders of Netanyahu and Liberman – following the failure of Netanyahu and Blue and White leader Benny Gantz to achieve a deal they could both live with.

Netanyahu and Liberman would do well to heed the sage advice contained in the Ethics of the Fathers:

"Do not seek greatness for yourself, and do not lust for honor"

Achieving greatness and honor together by compromising their political expectations will secure Netanyahu and Liberman a special place in the annals of Israel.



Jonathan S. Tobin: It's time to put an end to labeling Trump an anti-Semite

It's that at a time when a rising tide of anti-Semitism is spreading over the globe – and Jews are facing the twin threats of white-supremacist hate from the far-Right, as well as leftist anti-Zionists seeking to delegitimize both Israel and American Jews – using it as a partisan political weapon is dangerously irresponsible.

Trump's actions and statements are fair game for criticism and, like any other leader, can be held accountable by Congress and the courts.

But labeling him an anti-Semite is a blatant falsehood. That's not merely because he's clearly the most pro-Israel president America has had, in addition to someone with Jewish family, and with a staff and cabinet filled with many Jews.

It's also true that his administration has in some respects taken anti-Semitism more seriously than his predecessors. He has ordered civil-rights investigations into attacks on Jewish students and others on US college campuses that were ignored by Obama, and Trump's Justice Department convened a summit on the subject that addressed issues not treated seriously before this.

If anti-Semitism is just one more brickbat to be tossed around with impunity in the course of bitter and all-too-savage debate on impeachment, then those who are using it in that way are effectively saying that it's not as important as their partisan goals.

It's time for both Democrats and Republicans of goodwill to recognize that whatever the outcome of the impeachment battle, injecting false charges of anti-Semitism into the discussion will not advance their cause. It will, however, materially damage the fight against hate.
Elizabeth Warren Fundraises for Anti-Semite
Senator Elizabeth Warren, well-known for cultural appropriation, sent a fundraising email on behalf of Leslie Cockburn late yesterday afternoon.

Warren's support comes well after the Republican Party of Virginia revealed that Leslie Cockburn was a "virulent anti-Semite" for espousing bizarre conspiracy theories regarding the Jewish people and Israel. It was also recently discovered that Cockburn's work has been used as source material for a number of white nationalist organizations. Notably, at least one of those websites was responsible for promoting and organizing the deadly Charlottesville rally of last August. Cockburn's history of anti-Semitism has been well-documented since she wrote Dangerous Liaison in the early 1990s.

It is also worth noting that Cockburn's co-author, at a debate at Oxford in 2007, said "the Israel lobby in the United States dictates American policy." Andrew Cockburn also had this to say about the so-called Israel Lobby: "I mean, you know, we've had comparisons of the National Rifle Association lobby, very powerful, supremely powerful in Congress, but you can get up and run for office against the National Rifle Association for gun control and no-one tries to demonise you or drive you out of public life. That's different with the Israel lobby. It's across, it's the Congress, it's the executive branch and it's in the culture, in the media."

"Either Elizabeth Warren didn't do her homework, or she supports what Cockburn stands for; anti-Semitism." said RPV Executive Director John Findlay. "Elizabeth Warren should answer whether she agrees with Leslie's co-author when he said that "the Israel lobby in the United States dictates American policy." This endorsement by a Massachusetts Democrat exemplifies the truth about Leslie Cockburn – she is an out-of-touch, out-of-state liberal who only wants to go to Congress to push a far-left agenda."
The UN's Insane Israel Bias: Ben Shapiro on UN Watch Statistics

Ben Shapiro calls out the UN's extreme bias against Israel, reading out UN Watch's data:
The U.N. and Israel: Key Statistics from UN Watch
Your UNRWA teachers incite Jihadi terror & antisemitism. Here are the names & faces of 10 such racists exposed in our latest report, bringing the total of confirmed bigots teaching your students—funded by EU, UK, German & Canadian taxpayers—to 100: https://t.co/3RIYd2sBjy https://t.co/Zjarnyox3u

— Hillel Neuer (@HillelNeuer) October 6, 2019


Seth J Frantzman: Turkey re-writes international law with "safe zone" invasion doctrine

Turkey has re-written the rules of international law in Syria, declaring that when there is a presence of what it views as a "terrorist organization," it has a right to invade and create a "safe zone" or "peace corridor" along the border. Other countries including India, Israel, Saudi Arabia, Russia and Egypt may take note and begin to study Ankara's doctrine that has wide implications for international affairs.

In international relations, countries generally enjoy a right to self-defense. This is enshrined in various international laws, precedent and treaty law. The UN Charter, for instance, argues in Article 2 that "All members shall refrain in their international relations from the threat or use of force against the territorial integrity or political independence of any state." Article 51 notes that nothing in the charter "shall impair the inherent right of individual or collective self-defense."

Ankara re-written these norms, arguing that when a country has designated an organization a "terrorist group" that it will have a right to invade the neighboring country and set up a "safe zone" along the border. This doesn't require Ankara to present any evidence that there was a threat or attacks from northern Syria. Turkey simply took over Jarabulus and Afrin in 2016 and 2018 respectively. Now Turkey says it has a right to take over eastern Syria, redraw property lines and international borders, and settle one million Syrian refugees there, creating hundreds of towns regardless of the local population's views.

This is a new step in international law, one which has broad implications. Israel's conquest in 1967 of the West Bank and Golan Heights have generally been seen as illegal under international law. But Israel may now argue it is setting up a "safe zone." This could also be Israel's argument for distancing Hezbollah from the Lebanese border.

Wider ramifications mean that India can now argue that it needs a safe zone in Pakistan to keep extremists away from parts of the border of Kashmir. Pakistan may need to take over parts of Afghanistan to create Turkey-style safe zones. Russia can say that its role in eastern Ukraine is a "safe zone" or peace corridor. Saudi Arabia now likely needs a safe zone in Yemen. The number of safe zones that can be created on the Turkish model may be endless. Many porous borders across the Sahel in Africa mean that various countries may need to set up safe zones in the territory of their neighbor.
Curious what international law folks thing about this - why Turkey's broadening takeover of parts of Syria is not widely framed by states and into orgs as a matter of occupation/
annexation cc @opiniojuris @lawfareblog @AmnestyCIJ https://t.co/EQmXyp65gf

— Eugene Kontorovich (@EVKontorovich) October 6, 2019
In English, Haaretz Whitewashes Temple Mount Killings
In an article last week on the occasion of IDF's Brig. Gen. Eran Niv wrapping up his post as commander of the Judea and Samaria Division, Haaretz's English edition whitewashes the July 2017 killing of two Druze police officers shot dead by three Israeli Arab assailants just outside the Temple Mount.

Haaretz's English edition, both in print (page 4, Sept. 29) and online refer to the "deaths of two Border Police officers" in the summer of 2017:
The perceived violation of religious symbols is a particularly potent accelerant for violence, Niv says, recalling the violence that erupted after Israel installed metal detectors at the Temple Mount in the summer of 2017, following the deaths of two Border Police officers, as well as the brief outburst that followed visits by Jews to the Temple Mount in August on Tisha B'Av, which coincided with the Muslim holiday of Eid al-Adha.

Why does the English edition fail to note that the border police officers were killed by Israeli Arab assailants leaving the Temple Mount? Indeed, violence didn't erupt only after the officers' "deaths" -- their deaths themselves, ie murders, were violent.

The Hebrew version of the same article more precisely reported that the officers were killed
China pulls out of $5B deal to develop Iranian offshore gas field
China's state oil company has pulled out of a $5 billion deal to develop a portion of Iran's massive offshore natural gas field, the Islamic republic's oil minister said Sunday, an agreement from which France's Total SA earlier withdrew over US sanctions.

The South Pars field deal, struck in the wake of Iran's 2015 nuclear deal with world powers, appears to be just the latest business casualty of America's pressure campaign on Tehran following US President Donald Trump's unilateral withdrawal of the US from the deal.

It also comes as China and the US engage in their own trade war, as Beijing and Washington levy billions of dollars of tariffs on each other's goods.

Oil Minister Bijan Zangeneh, quoted by the ministry's Petroenergy Information Network (SHANA), said Sunday that the China National Petroleum Corp. was "no longer in the project." He did not elaborate or give any reason for the withdrawal, though SHANA said the company "had pulled out of a contract" to develop the field.

Officials in Beijing didn't immediately acknowledge their decision. Phone calls to the CNPC rang unanswered on Sunday and its website bore no mention of the withdrawal.
Australia Denies Extradition of Iranian Academic to US
Australia will not extradite an Iranian academic to the United States, Australia's attorney-general said over the weekend, following a 13-month detention of the researcher for allegedly exporting American-made military equipment to Iran.

Attorney-General Christian Porter said in a statement that "in all the circumstances of this particular case" the academic, Reza Dehbashi Kivi, should not be extradited.

"My decision was made in accordance with the requirements of Australian domestic legal processes and is completely consistent with the powers provided to the commonwealth attorney-general under our law," Porter said.

The statement came hours after Iran had agreed to free an Australian couple from a Tehran prison who were held on spying charges. Later on Saturday, Iranian media reported that Dehbashi Kivi had already returned to Iran.

Porter would not say whether the two cases were related.

"The Australian Government does not comment on the details behind its consideration of particular cases," Porter said in his e-mailed statement.

"And while it is likely that because of Mr Kivi's nationality some will speculate regarding this matter, consistent with prior practice I do not intend to comment further on the particular details of this case, particularly when any such response from me may diminish our government's capacity to deal with future matters of this type in Australia's best interests."
Iranian media calls on Iraqis to takeover U.S. embassy amid protests
An Iranian newspaper linked to Supreme Leader Ayatollah Ali Khamenei called on Iraqis to seize the US embassy in Baghdad, in a move similar to the takeover of the US embassy in Tehran during the Iranian revolution of 1979, according to Radio Farda.

"Historical evidence has shown that US embassies in all countries, even in friendly and allied countries, are the focus of conspiracy. The US Embassy in Iran is a clear and exemplary example of this bitter reality," wrote Hossein Shariatmadari, the editor of the Kayhan newspaper, in reference to the former US embassy that was taken over and held hostage during the revolution in 1979.

Documents found in the embassy in 1979 "revealed the betrayal of some Iranian political figures and exposed the countless US crimes in Iran and some other countries in the region," according to Kayhan.

The author of the Kayhan article asked "young Iraqi revolutionary believers" why they don't "end the presence of the US Embassy in Baghdad, the same espionage and conspiracy center against the oppressed Iraqi people."

Shariatmadari claimed that "There are many documents about the presence of U.S., Israeli and Saudi Wahabi agents, as well as Ba'thist elements behind the Iraqi protests."
Iranian health workers infect hundreds, including kids, with HIV - report
More than 300 people are accusing local Iranian medical officials of infecting them with the HIV virus, according to Iranian media sources.

The residents, located in the village of Chenar Mahmoud and the towns of Lordegan, Chahar Mahal and Bakhtiari, say adults and children contracted HIV from local medical centers and health clinics due to unsanitary medical practices, including from contaminated syringes used by the local health organizations during a widespread test for diabetes two months prior.

There are similar unconfirmed reports by individuals in neighboring villages.

On Saturday, large groups of the affected townspeople, along with their loved ones and supporters, stormed the office of the Friday Prayer Imam and set it ablaze. Another group protested in front of the governor's building in the province, demanding that the courts investigate the case.

Radio Farda and the Mehr-news agency (MNA) both reported on the incidents.

"A limited number of 'opportunists' attempted to create disruption and sedition outside the Governor's building, but failed," MNA reported about the incident in front of the governor's office.
Merkel's gov't says Iran's call to 'wipe Israel off the map' not antisemitic
German Chancellor Angela Merkel's government declared the Iranian regime's call to obliterate the Jewish state is not an expression of antisemitism in an eye-popping statement to The Jerusalem Post on Friday.

On October 1, Merkel's Foreign Ministry merely labeled the call to destroy Israel by commander-in-chief of Iran's Islamic Revolutionary Guard Corps (IRGC) Gen. Hossein Salami "anti-Israel rhetoric."

When the Post asked the Merkel administration if it agrees with the statement of its foreign ministry, a spokesman told the Post: "We have nothing to add to the reply of the foreign office."

The Post specifically asked if Salami's statements are antisemitic.

In late September, Salami delivered his call to exterminate the Jewish state before an audience of IRGC leaders that was publicized by the state-funded IRNA agency, as well as other Iranian regime-controlled outlets.

Salami said that "This sinister regime must be wiped off the map and this is no longer… a dream [but] it is an achievable goal."

He added that his country has "managed to obtain the capacity to destroy the impostor Zionist regime" 40 years after the 1979 Islamic revolution.
Iranian Cleric Ebad Mohammadtabar: When the Hidden Imam Arrives, The Whole World Will Convert to Islam or Die; We Will Confront, Defeat the Jews, Zionism pic.twitter.com/3F5W0NDq1x

— MEMRI (@MEMRIReports) October 6, 2019
IRGC Commander-in-Chief General Hossein Salami: Our Deterrence Capabilities Have Almost Reached Their Peak; America's Power Is in Decline; Regional War Would Wipe Israel off the Map pic.twitter.com/yOGnnXgUxP

— MEMRI (@MEMRIReports) October 6, 2019


JPost Editorial: Caving to BDS

We don't believe that Lovato is an antisemite but she does need to understand that by backtracking on her praise for Israel, she is playing into the hands of antisemites and forces that seek Israel's destruction.

By caving to BDS pressure, Lovato let herself be used as a political tool. She backtracked on her praise for Israel out of some distorted sense of solidarity with the Palestinian cause.

It is true that Israel has an unsettled conflict with the Palestinians and this paper is not alone within Israel of calling – repeatedly – on the government to find ways to reengage with the Palestinian Authority and to work toward a solution.

The BDS movement, Lovato should know, does not want peace and is not interested in a two-state solution. It openly seeks the elimination of Israel as the nation-state of the Jewish people, a right afforded to Israel by the United Nations.

Like Lorde, Lovato has joined the forces that believe the Jewish people do not deserve that right. They hold Israel to a double standard and believe that song line out the Jews is okay and not hypocritical or wrong.

She may have distanced herself from Israel and apologized for visiting here, but she needn't be "Sorry, not Sorry," as her famous hit song goes. Israelis might not get to hear her perform anytime soon in Jerusalem or Tel Aviv but they will get to hear Celine Dion next summer. Our hearts, as Dion famously sings, will go on.
A beginner's guide to the SJP national conference
In a surprise to nobody, Students for Justice in Palestine (SJP) announced that its upcoming national conference, set to commence on November 1, will be held on the University of Minnesota Campus in Minneapolis (UMN). Why is this not a surprise? Because Minneapolis happens to be the district of antisemitic Congresswoman Ilhan Omar, a prominent figure in the Boycott, Divestment and Sanctions movement against Israel.

This is not a coincidence. In fact, the very first goal stated on the conference website is to capitalize on shifts in the political climate, represented by the elections of BDS supporters Rep. Omar and Rep. Rashida Tlaib. However, the real shift in the political climate – one that SJP itself has played a substantial role in – is the resurgence of the world's "oldest hatred" in the US under the guise of BDS.

Countless articles and in-depth studies have delineated the various calls for violence by the SJP leadership, as well as their intimate connection with Palestinian terrorist organizations like Hamas, Hezbollah, Palestinian Islamic Jihad, and the Popular Front for the Liberation of Palestine (PFLP), all of which thrive off an ideology of Jew-hatred. It's not just the leadership that is guilty of promoting antisemitism, but many student members of SJP as well.

How many times must an SJP chapter host convicted terrorists like Rasmea Odeh at its events before they are called out for their antisemitism? How many social media posts fawning over convicted terrorist Marwan Barghouti and PFLP founder George Habash must be shared by official SJP accounts until the tech overlords ban SJP from their platforms? How many T-shirts glorifying PFLP terrorist Leila Khaled must be sold at their events before the world opens its eyes?
HonestReporting's Daniel Pomerantz Exposes BDS Co-founder Omar Barghouti

HonestReporting's Executive Director Daniel Pomerantz goes head to head with on live television with Omar Barghouti, one of the founders of the Boycott, Divestment and Sanctions movement against Israel. This is a 3 minute highlight reel. For the full 20 minute segment click here: https://youtu.be/xq0XUFpVoCA
This was originally aired on CGTN's The Heat news talk program. CGTN is China's English language international channel, with an estimated global viewership of 4 million.
Financial Times misleads on Muslim antisemitism
A Sept. 27th Financial Times book review written by David Feldman, director of the UK based Pears Institute for the Study of Antisemitism, gave a mostly positive account of "How to Fight Anti-Semitism" by NY Times editor Barri Weiss.

However, on the topic of Muslim antisemitism, Feldman is critical.

Weiss is strong on how rightwing anti-Semitism functions, and she scores some hits in her attacks on the left and radical Islam. But sometimes she misses the target. Her writing about anti-Semitism among Muslims is a case in point. It is because of the growing Muslim presence, Weiss claims, that "it is dangerous to be a Jew in Europe." In fact, so far as we can tell, most anti-Semitism in Britain stems from white men who are nominally Christian.

This is extremely misleading.

Whilst it's narrowly true that most antisemitic incidents in the UK are committed by "white men", this is not a terribly significant fact given the overwhelming majority of British citizens are white. When taking into account antisemitic incidents by perpetrator, based on the size of racial and religious groups, CST's 2018 report demonstrates that Muslims commit acts of antisemitism at a rate disproportionate to their numbers. (page 8 of the report)

Further, according to a major 2017 study of antisemitic attitudes in the UK, by the Institute for Jewish Policy Research and CST, levels of antisemitism in the UK are "2 to 4 times higher among Muslims compared to the general population".
The BBC's take on 'Zionism'
On its website, the BBC has an animated series entitled An A-Z of -isms – including one episode titled "Zionism: A Very Brief History" – and gives this strapline: "Writers, academics and thinkers share their takes on some of the world's most important ideas (plus a few fun ones)."

The corporation declares that it is "the world's leading public service broadcaster," and creates "distinctive, world-class programmes and content which inform, educate and entertain millions of people in the UK and around the world." Therefore, although, so far, only 79,300 or so of those millions have clicked the Zionism animation, it must be remembered that it is on the BBC's website and not on some obscure ranter's internet outlet.

As it is, for now, one of the most viewed -isms, it cannot be ignored and remains relevant. Also, Israel is a subject close to the BBC's keyboards.

In setting itself up as educator, and because it is here dealing with "some of the world's most important ideas," the BBC is duty-bound to ensure editorial rigor of its content. Yet, the corporation shirks this duty when it complacently defers it to the author of the "potted history" of Zionism. Using drab and noisy illustrative cartoons that are in some cases inaccurate and inappropriate, with the voice-over veering high and low, further underlines the utter slovenliness of this BBC product.

Clearly, the Zionism -ism was also a "fun one" of the -isms. Theodor Herzl gets tomatoes thrown at him, Jews are swivel-eyed and other such – it adds up to a bit of a list in this 3.08-minute agitated animation.

Who or what was editing Colin Shindler's "take" on Zionism? You won't find out who Herzl was, a Jew, because you're not told.

You are also not told about how Europe, with its fanatical crusades, was long ago set on its path to Hitler's "Final Solution." Nor is there any mention of the horrifically violent history of antisemitism across Europe, in which entire villages of Jews were regularly burned to the ground – and this was before the Spanish and Portuguese Inquisitions, the latter of which was a wedding gift of sorts. Alfred Dreyfus was dispensable and so Shindler dispensed with him, and with this swipe, a major defining point in modern Jewish history is elided.

Russian antisemitism – the only mention of "antisemitism" – is quickly and quaintly dismissed as a "heavy hand." Also not mentioned is the specially coined Russian term, "pogrom," with all the wanton and brutal destruction of whole Jewish communities that it entailed. It is interesting, though, how the word "Diaspora" is used, without any irony about the way in which it has become a common term, far beyond the Jewish context – a bit like pogrom (but then again, it was not mentioned). Whereas Herzl got tomatoes thrown at him, "Arab nationalism" is treated reverentially. Not even one falafel flies (but then again, falafels are Pharaonic).
CAMERA Arabic prompts correction of three inaccuracies in one BBC report
A BBC article published on September 24th on the network's Arabic website was corrected last week (no earlier than October 1st, based on the date attributed to a cached copy of the inaccurate version) following a complaint made by CAMERA Arabic on the day of publication.

The article – which aimed to provide a detailed, informed introduction to Israel's major Arab parties – contained three factual errors, one memorable typo and one major omission – all in one subsection.

Under the headline "What are the components of the Joint Arab List in the Israeli Knesset and [what are] their orientations?", the article discussed the Joint List – a union of four Israeli parties, three of which self-identify as "Arab" while the fourth, Hadash, describes itself as "Arab-Jewish" (although the vast majority of its voters are estimated to be Arab).

The inaccuracies appeared in the part of the article portraying one of the Joint List's components: the nationalist Arab party of the National Democratic Alliance (Balad). The correction addressed all the issues raised by CAMERA Arabic. (all translations, emphasis and in-bracket remarks are by CAMERA Arabic unless otherwise specified)
Anti-Semitic hate crimes in NYC have risen significantly in 2019
The number of hate crimes against Jews in New York City has risen significantly over the first nine months of this year, part of a citywide rise in such offenses.

The New York Police Department has reported 311 total hate crimes through September, as opposed to 250 reported through the same period in 2018, according to Deputy Inspector Mark Molinari, who heads the department's Hate Crimes Task Force.

Molinari said 52 percent of the reported hate crimes, or 163, have targeted Jews. Over the same period last year, the NYPD reported 108 anti-Semitic hate crimes.

At a meeting Thursday with Jewish philanthropists, Molinari discussed the numbers and how to prevent anti-Semitic crimes in the city. He recounted a list of anti-Jewish hate crimes that had made the news just this week:
- Two Jewish men had their hats knocked off by a group of teens.
- A separate group of children broke the windows of a Brooklyn synagogue during the Rosh Hashanah holiday.
- Also during the holiday, a third group of kids harassed a Jewish woman, pulling off her scarf and wig.
Robert Kraft names new exec. director of Foundation To Combat Anti-Semitism
Robert Kraft, chairman and CEO of the Kraft Group, announced today the hiring of Dr. Rachel Fish as the founding executive director of the Foundation to Combat Anti-Semitism. Fish will begin her new role on Monday, October 7.

Kraft established this new foundation in response to the growing rise in antisemitism in the U.S. and abroad, particularly in light of the spread of hateful rhetoric online and the initiation of hate crimes against the Jewish people through social media. He announced the foundation when he was awarded the Genesis Prize in June in Jerusalem, along with his own $20 million founding investment and the generous donations of others.

"I am thrilled to have Rachel lead this new and important effort," Kraft said. "Rachel's education, experience and, most importantly, her commitment make her the right person for this role. She is equipped to face the growing epidemic of antisemitism with tenacity and a proven track record of progress through a lifetime of work in this arena. Our family is honored and privileged to have Rachel lead this new foundation, which is so close to our hearts."

Fish brings with her a thorough background and history in the fight against antisemitism, including a strong academic understanding of the issues and varied experience in advocacy work. Most recently, Rachel was Senior Advisor and Resident Scholar of Jewish/Israel Philanthropy at The Paul E. Singer Foundation in New York City where she aided in developing the strategic approach for the foundation's giving and worked directly with practitioners to implement their missions and initiatives.
Turkey's Kanter Says He Was Harassed by Erdogan Supporters
Boston Celtics and Turkey center Enes Kanter said he had been harassed outside a Massachusetts mosque on Friday by two men he described as supporters of Turkish President Recep Tayyip Erdogan.

Kanter, who filmed the incident and posted it on Twitter, is an outspoken critic of the Turkish regime and its human rights record.

He was indicted by a Turkish court last year on charges of belonging to an armed terrorist group, which he denies.

"Erdogan thugs attacked and threatened me today after Friday prayers in Boston at a mosque," he wrote.

"Turkish Government don't even let me practice my religion freely in America let alone my freedom of speech is under attack."

The video does not show any physical violence, but Kanter is clearly agitated as a crowd gathers around him on the sidewalk, and he seems particularly annoyed by one man who is not speaking English.

"I told you America, this is crazy," Kanter said in the video.
Israeli defense firm Elbit secures $153 million drone deal with Asian country
Israel defense firm Elbit has secured a drone deal with an Asian country worth approximately $153 million, the company said on Sunday.

The contract will comprise a networked, multi-layer drone system, with aerial vehicles of varying sizes and capabilities, and will be delivered to the unnamed southeast Asia country over a 22-month period.

The materiel will include over 1,000 of Elbit's THOR mini-drones, which look like consumer rotor drones and are meant to carry out surveillance and reconnaissance operations. The unmanned aircraft can fly at altitudes of 2,000 feet and at 65 kilometers per hour (40 mph).

It will also include dozens of Skylark drones, small aircraft launched and operated by a team of two that are widely used by the Israel Defense Forces. The Sky Rider, as it is known in Hebrew, is a tactical surveillance drone operated by the Artillery Corps that provides a live video feed to soldiers on the ground.
Israeli innovation is about to disrupt the fruit industry
"Disruption" is a common superlative applied to technology startups. Craigslist disrupted the classified advertising business. Uber and Lyft have disrupted the taxi industry.

Now, a new Israeli company aims to disrupt the fruit market, encompassing some 116 million acres of fruit orchards globally.

Markets in general are ripe for disruption when inefficiencies eat away at their core. The issue with fruit is knowing how much the trees on a farm will produce in a given year.

In industrial farming, this is known as "yield estimation" and it's accomplished today in a remarkably low-tech way: Farm crews do a manual, visual "count" from the sampling of a few randomly selected trees in the field or in photographic images. From there, they extrapolate to the entire orchard.

But because it's very difficult to distinguish unripe green fruit from green leaves, inaccuracies ranging from 30% to 40% are common. And wrong yield estimation results in less (or even no) profitability.
Pre-Mossad: How one man used espionage to bring Poland's Jews to Israel
Miri Nahari's father, Tzvi Netzer, was the point-man for pre-Mossad clandestine efforts bringing 250,000 out of 300,000 Jewish Holocaust survivors from Poland to Israel.

Despite that near-miraculous accomplishment, strangely, Netzer is not as much of an international household name as his boss, Shaul Avigur.

Avigur helped found the Haganah's intelligence wing, and at points headed all of Mossad Aliyah Bet and Nativ – which, respectively, brought massive numbers of European and Russian Jews to Israel.

Still, Netzer was the operational leader on the ground for "the Bricha" (the Jewish Escape) in Poland.

That meant getting Jews out of Poland post-World War II and essentially made him the pre-Mossad Israeli intelligence station chief in one of the key countries in Europe for Jewish survivors.

But before he got to that point, he, in typical Mossad-level spellbinding style, survived quite a few precarious situations, Nehari tells The Jerusalem Post Magazine with a flicker in her eye.

At this point, Nehari herself is a grandmother, and spent aspects of her career carrying out important activities for the state.
Her dynamic and bubbly personality is on full display as we make small talk and she offers a hot drink in the living room of her Ramat Hasharon home.
'A great privilege to see Ari rejoice in Trump's J'lem decision'
US Ambassador to Israel David Friedman eulogized Ari Fuld in Gush Etzion Sunday evening, lauding the murdered father of four as an 'outstanding American, an outstanding Israeli, and an outstanding Jew'.

Speaking during a ceremony marking the first yahrzeit (anniversary of his death) of Fuld in Gush Etzion south of Jerusalem, Friedman recalled Fuld's pro-Israel activism, and his jubilation over the White House's decision to move the US embassy in Israel from Tel Aviv to Jerusalem.

"The voice of your brother cries out to me from this ground…and it reminds us, as only Ari can, that we must always stand for the truth. I remember how excited Ari was on the day that we opened the United States Embassy in Jerusalem, some 17 months ago," said Friedman.

"He issued several moving videos. Through all his excitement and all his commentary, the point that reverberated over and over again was not that the opening of the embassy was good, not that it was the right policy, not that it was appropriate or that it was just. Rather what Ari said was that the moving of the embassy to Jerusalem was an act in solidarity with the truth.

"The United States did not discover something new when it opened our embassy there. Rather, the United States was the first among nations to take a stand for the truth, in recognizing Jerusalem's undeniable eternal status as the capital of Israel, and Ari implicitly recognized this."

"It was a great privilege to see Ari rejoice at President Trump's decision. While we had no doubt that we had taken the right path, positive reinforcement from an American and an Israeli and a Jew of Ari's stature was most welcome."

Friedman went on to call Fuld, who was murdered in a stabbing attack by a Palestinian Arab terrorist near the Gush Etzion bloc last year, a 'proud American, Israeli, and Jew'.
Yahya, a Muslim Arab Israeli Combat Soldier


5,000-year-old NYC-style metropolis uncovered in northern Israel

The ruins of a 5,000-year-old megalopolis were uncovered in northern Israel, the Antiquities Authority announced on Sunday, in one of the most significant archaeological findings in recent history.

The ruins were discovered in a major excavation project in the Ein Assur site near Harish. According to the IAA, the city was the largest and most central one in the area during the Bronze Age. According to the archaeologists, about 6,000 people lived there, a huge number at the time.

"About the same time that the first pharaoh established his rule over Egypt, this city was founded," IAA official Yitzhak Paz, explained in a video, calling the city "the New York of that era."

Paz explained that the location offered exceptionally good conditions to settle, such as sources of water and strategic proximity to ancient commercial routes.

The city was fortified and its urban design is clearly visible, he added.

The ruins clearly show a web of roads and alleys, as well as the design of the buildings. Among the most unique structures uncovered, was a temple where religious rituals were performed. A seal imprint featuring the figure of a stylized man raising his hands in prayer and a head figurine were found at the site.

An even earlier settlement, dating to the Chalcolithic period from 7,000 years ago, was uncovered in deeper excavations made beneath this city's houses. It seems that two abundant springs originating in the area in antiquity were a site of attraction throughout the period.

According to the authority, the finding will change everything scholars know about the urbanization process in the Land of Israel in ancient times.
---
---
We have lots of ideas, but we need more resources to be even more effective. Please donate today to help get the message out and to help defend Israel.

Cache
From Ian:

---
If Jews Don't Speak Up for Themselves, No One Will Speak Up for Them
In his sermon for Rosh Hashanah, Ammiel Hirsch, the rabbi of a prominent Reform synagogue in Manhattan, urged his congregants not to lose sight of "the central Jewish principle [that] all Jews are responsible one for the other." It is impossible, he argued, to "live a full Jewish life" without feeling that "the pain of a Belgian Jew is our pain; the fear of an Israeli child terrorized by rockets is our fear; the insecurity of Orthodox Jews attacked repeatedly on the streets of Brooklyn is our insecurity." Yet, in the face of the anti-Semitic threats that come from so many different directions—which Hirsch went on to analyze—Jews must not lose their sense of pride, or begin to see Judaism as a burden rather than a privilege.
Progress on Antisemitism and BDS at the UN and Women's March
In the war against BDS, the most recent development in academia was the Department of Education censure of Duke University and the University of North Carolina for the misuse of Federal Title VI funds, prompted by complaints over a BDS related event in the spring. Title VI of the Higher Education Act is intended to support foreign language instruction and US national security needs, but has become a slush fund for tendentious Middle East Studies education and programming aimed at college students and K-12.

The Education Department's letter to the Duke-UNC Center for Middle East Studies complained that fewer than 1,000 students were taking Middle East language courses, while almost 7,000 were enrolled in Middle East Studies courses with "little or no relevance to Title VI." The complaint also criticized the lack of focus on religious minorities in the Middle East and the near exclusive emphasis on Islam, particularly for K-12 teachers.

The schools were instructed to respond with a compliance plan. In the interim, however, predictable complaints were voiced by academics regarding the alleged "chilling effect on academic freedom" and by BDS advocates, who characterized the move as "anti-Palestinian."

The investigation comes after a recent study demonstrated that Arab and Muslim countries had donated billions of dollars to American colleges and universities in the past decade, with over $1.5 billion from Qatar alone. The impact of these donations is difficult to measure, but the deference and obsequiousness shown by universities and academics to donors generally is well known.

Underscoring the impact of BDS and biased pedagogy on campus, another report also indicated that Israel-related antisemitism on campuses increased dramatically between 2017 and 2018. Strong increases were seen in accusations of "genocide" against Israel, along with justifications for terrorism. Most important were dramatic increases in faculty-led BDS activities including sponsored events and individual boycotts of Israel and supporters.

Finally, it was announced that the National Students for Justice in Palestine conference would be taking place at the University of Minnesota at the beginning of November. The announcement also touted the election of Reps. Ilhan Omar (D-MN) and Rashida Tlaib (D-MI). The conference is designed to train BDS activists, many of them already on record espousing violence, as well as expand "intersectional" alliances of those "who struggle against state violence, settler-colonialism, and imperialism — from Palestine to Turtle Island, from the Philippines to Mexico and beyond."
Adam Milstein: BDS is face of old antisemitism: What will we do to stop it?

The majority of recent reports on the connection of the BDS movement to both terrorism and antisemitism make many different recommendations on how to stop the growing antisemitism of our era. One recommendation of particular note is that countries should accept the International Holocaust Remembrance Alliance (IHRA) definition of antisemitism, uphold its principles and outlaw the BDS movement.

The IHRA's working definition is a concise description of a complex hatred that takes many forms. It reads: "Antisemitism is a certain perception of Jews, which may be expressed as hatred toward Jews. Rhetorical and physical manifestations of antisemitism are directed toward Jewish or non-Jewish individuals and/or their property, toward Jewish community institutions and religious facilities."

The people who lead the BDS movement bring many different kinds of antisemitic hatred into our public conversation, and the IHRA definition helps identify the sort of bigotry they spread. It defines antisemitism as accusing Jews or Israel of inventing or exaggerating the Holocaust; accusing Jews of dual loyalty; using blood libel to criticize Israel; comparing Israel to the Nazis; and holding the Jewish state to a double standard – or, in one of its purest forms of hate, denying the Jewish people the right to self-determination.
Now that many in the world are finally acknowledging just how evil BDS is, our Jewish community and fellow Americans must follow suit. Governments and NGOs must adopt the IHRA definition of antisemitism. Our local, state and federal governments must pass laws and resolutions that condemn and delegitimize the vile hatred of BDS. Politicians and bureaucrats should stop funding educational programs that include BDS bigotry. Financial platforms should not be allowed to provide services to BDS organizations that publish antisemitic content or have links to terrorism. And we shall all demand that social media platforms remove antisemitic BDS content.

After a decade of excuses and inaction about BDS, it seems that some people are finally waking up to the danger this movement poses – not only to the Jewish people, but also to the basic values of the liberal societies in which we live.

It is the responsibility of our leaders to build on the recent momentum to inform the public about the BDS movement's antisemitic agenda, its shadowy funding sources, its true aim of denying Jewish self-determination, its lopsided and underhanded tactics, and its connection to terrorism.

BDS is the new face of the old antisemitism, and when it comes to fighting antisemitism, the old adage "better late than never" is particularly apt for our moment. It's time for us all to get to work.
Chief Rabbi of UK Speaks of BDS and the Rise of Antisemitism

Chief Rabbi Ephraim Mirvis of the United Kingdom spoke with Jordana Miller on the rise of antisemitism and the effects of the BDS movement in the UK.
Neo-Nazi protestors in Germany call for Palestinian help against Israel
Dozens of neo-Nazis marched through the German city of Dortmund on Monday, calling for Palestinian support to eradicate Israel.

The demonstration, which came on the heels of an anti-fascist protest in the western German city, involved approximately seventy neo-Nazi activists marching through the streets, holding flags of the Third Reich flag and chanting, "Palestine help us, Israel still exists" and "Israel no more."

Israel's Ambassador to Germany Jeremy Issacharoff posted condemned the neo-Nazi rally, writing on Twitter: "Disgraceful to see neo-Nazis openly on the streets of Dortmund just as we celebrate the Jewish New Year, my wife's great grand parents were from Dortmund and were murdered by the Nazis, where there is no remorse there can be no forgiveness."

Dortmund is considered to have the biggest neo-Nazi presence of any city in western Germany, with the majority of them living in the Dorstfeld quarter.

Dorstfeld is littered with graffiti of Third Reich's flag, symbols and writings.In September, anti-fascist activists arrived with police backup in Dorstfeld, where they covered the hateful graffiti with colors and messages calling for unity and tolerance.

When the neo-Nazis pledged retaliation for the clean-up, the anti-fascist activists vowed to march against them every Monday for the next 13 weeks.



Israel Journal of Foreign Affairs: Eleanor Roosevelt: Palestine, Israel and Human Rights

The creation of the State of Israel was an act of racism, imperialism, and colonialism. Eleanor Roosevelt supported it, which means she was not the humanitarian everyone believes her to be, but rather a racist, imperialist, and colonialist. That is the central thesis of Geraldine Kidd's dissertation-turned-prosecutorial brief against the most influential first lady in American history.

Readers will have no trouble surmising where Kidd (who teaches at University College in Cork, Ireland) stands on the Arab–Jewish conflict, and why she is so disappointed in Mrs. Roosevelt's sympathy for Zionism. Arab violence in Mandatory Palestine was merely a response to "incursions by the land-hungry Zionists" (p. 90) and "the insidious and ever-growing [Jewish] colonization" (p. 91), Kidd asserts. Arab leaders who violently opposed the creation of a Jewish state of any size were merely "vigorously defending Palestinian rights in the face of Jewish imposition" (p. 80). As for Mrs. Roosevelt, she "aspired for a Jewish-occupied Palestine" (p. 240) and her "growing interest in Palestine as a Jewish state bade ill for the indigenous people, whose land the Zionists coveted" (p. 54).

"Indigenous," incidentally, is a term invoked by Kidd with almost comic frequency. She applies it to the Arab residents of Mandatory Palestine no less than eleven times in the first 100 pages of her book, yet never feels it necessary to explain the basis for that assertion. For Kidd, it is self-evident that the Arabs have been the rightful owners of every inch of the country since time immemorial, while "the foreign, migrating Jewish minority" should be regarded as usurpers and criminals (p. 31).

As she chronicles Mrs. Roosevelt's views and record on Palestine, Kidd has trouble letting her have the last word. Again and again, she cites some remark by the first lady, then quickly follows with a rebuttal of her own. The book at times resembles a meeting of a debate club. Mrs. Roosevelt states that Palestine did not belong to Britain; Kidd interjects, "She was ignoring the fact that the Mandate granted them legal authority to govern it" (p. 123). Mrs. Roosevelt alludes to illegal Arab immigration into Palestine; Kidd retorts, "This statement is an extraordinary reversal of the facts, for it was not the Arabs who had moved into the Jewish orbit but instead it was the Jews who had steadily encroached on the Arabs" (p. 123). The former first lady finds fault with the Palestinian Arabs who fled in 1948; an incensed Kidd responds, "This argument is weak, as obviously the Palestinians, in their panic, had no way of knowing what the future might hold for them." Kidd adds, for good measure, that Mrs. Roosevelt's point "neatly coincided with contemporaneous Zionist thinking" (p. 174).
Prime Minister condemns "antisemitic Marxists" at Labour Party Conference last week
In his Conservative Party Conference speech, Prime Minister Boris Johnson lambasted "the fratricidal antisemitic Marxists who were in Brighton [at the Labour Party Conference] last week."

Campaign Against Antisemitism reported multiple instances of antisemitism or concern over anti-Jewish abuse at the Labour Party Conference, and has warned that the Labour Party is now institutionally antisemitic.


"Let's get #Brexit done!"@BorisJohnson reiterates his promise for the UK to leave the EU on the 31 October.

He also hits out at Labour saying he wants to win an election "against the fratricidal anti-semitic Marxists".

Tory conference updates: https://t.co/pmpEh8j3M3 pic.twitter.com/OWUslSYiCS

— Sky News Politics (@SkyNewsPolitics) October 2, 2019



On 28th May, the Equality and Human Rights Commission launched a full statutory investigation following a formal referral and detailed legal representations from Campaign Against Antisemitism, which is the complainant.

In recent months, twelve MPs and three peers have resigned from the Labour Party over antisemitism, along with a large number of MEPs, councillors and members.
Top UK Cabinet Minister: Everyone 'Has a Duty to Stop' Antisemitism
British Chancellor of the Exchequer Sajid Javid reiterated his support for the Jewish state at a Conservative Friends of Israel (CFI) event on Tuesday.

Addressing the gathering, which was attended by six cabinet ministers as well as a slew of other prominent figures, Javid said, "When I look at Israel… it is a country that aligns with all of our values… it's great to see how strongly this party supports the values of Israel at every level."

Javid also condemned antisemitism in the UK, declaring, "Everyone in this room has a duty to stop it."

"Anyone with a sense of history knows full well why the Jewish community feels uneasy now, and nowadays we don't have to look to the past to learn, sadly you just have to look around you," he continued.

Israeli Ambassador to the UK Mark Regev told Javid, "You can be proud… that under this Conservative government, the Israel-UK partnership is stronger than ever before. Our trade is growing beyond the £8.6 million we had last year, we have just signed a trade agreement so that trade will continue to grow in the years to come. That's prosperity and that's jobs."
Corbyn Sparks Controversy for Rosh Hashanah Video Featuring Hamas Supporter
Jeremy Corbyn sparked outrage for releasing a Rosh Hashanah video that features an activist who last year led a public Jewish mourning prayer for dead members of Hamas.

In the clip posted on Twitter ahead of the Jewish holiday, Corbyn visits a grocery store with Jewish Labour Party members to discuss the symbolism of honey and apples for the Jewish new year and promote Labour's "Green Industrial Revolution" program.

Alongside him is Rob Abrams, a Jewish anti-Zionist activist who in May 2018 led the Kaddish prayer in Parliament Square for 62 Palestinians killed on the Israel-Gaza border, at least 50 of whom were Hamas operatives, according to the Jewish Chronicle.

Israel activist David Collier wrote in response to the clip, "There is no way you are not aware much of the Jewish community were outraged when this person explicitly led a prayer service for dead Hamas terrorists. Which makes your actions here deliberate. Your spiteful nature highlights you are a real danger."

Also in the video is Labour counselor Sue Lukes, who tweeted an article titled the "Jewish 'War against Corbyn' risks bringing real antisemitism to Britain" and wrote a piece to "honor" Malia Bouattia, the former National Union of Students president who was accused of antisemitism.
Local UK Labour Party Branch Planning No-Confidence Vote Against Jewish MP on Eve of Yom Kippur
A local UK Labour party branch is planning a no-confidence vote against a Jewish MP on the eve of Yom Kippur.

Dame Louise Ellman, the Labour MP for Liverpool Riverside, who is Jewish, has been active in Jewish Labour groups and critical of antisemitism in her party.

Labour has been beset by series of antisemitism scandals since Jeremy Corbyn became its leader in 2015.

Ellman has held leadership positions in the Labour Friends of Israel and the Jewish Labour Movement, and is currently vice president of the Jewish Leadership Council.

The proposed motion by the St. Michael's Labour branch states, "This Branch is fully behind Jeremy Corbyn," and cites a statement by Ellman in which she said that she understood "why Jews would seriously consider leaving Britain if Corbyn became PM."

As a result of her statement, says the motion, "We have no confidence that our MP Louise Ellman will carry out the wishes of our [Constituency Labour Party] and the Riverside constituency, or that she will follow Labour Party policy."

"This Branch therefore calls on our Riverside MP, Louise Ellman, to resign," the motion concludes.

The motion will be taken up at a meeting to be held at 8 p.m. next Tuesday, which is the eve of Yom Kippur, the holiest day of the Jewish year.
Jewish Voice for Labour member Stephen Marks, who defended Jackie Walker, is re-elected to Labour's disciplinary body
Stephen Marks, a member of the antisemitism-denial group and sham Jewish representative organisation, Jewish Voice for Labour, has been re-elected to Labour's National Constitutional Committee, the Party's disciplinary body.

Mr Marks signed a 2017 petition in support of Jackie Walker, a former vice-chair of Momentum and one of those exemplifying the institutionalisation of antisemitism in the Labour Party. Mr Walker was repeatedly suspended by Labour and finally expelled earlier this year. She has persistently claimed that complaints of antisemitism are part of a plot to destabilise the leadership of Jeremy Corbyn and has rejected the International Definition of Antisemitism.

Last year Mr Marks also reportedly shared a petition in support of David Watson, who was suspended from Labour in 2016 for allegedly sharing claims on social media comparing the Israeli intelligence agency Mossad with the Nazis and accusing Israel of genocide. Mr Marks is reported to have written in respect of Mr Watson: "It is cases like this which 'bring the party into disrepute'. Those responsible are the ones who should be suspended!"

Earlier this month Mr Watson reportedly called for the abolition of the Equality and Human Rights Commission, which launched a full statutory investigation into Labour antisemitism on 28th May following a formal referral and detailed legal representations from Campaign Against Antisemitism, which is the complainant.
Jewish Voice for Labour co-chair to speak at "Stand up to racism" church event on Yom Kippur
Jenny Manson, the co-chair of the antisemitism-denial group and sham Jewish representative organisation, Jewish Voice for Labour (JVL), is scheduled for a speaking engagement on Kol Nidrei, the night of Yom Kippur.

The event, titled "Resisting the rise of the racists and fascists", will feature Ms Manson on a panel with Weyman Bennett, a member of the Socialist Workers Party's central committee. The panel is part of a larger "West London stand up to racism" event at St Mary's Church Hall in South Ealing on 8th October. It is anticipated that there will be debate on far-right extremism and antisemitism.

Although Ms Manson has previously admitted that JVL was founded in order "to tackle allegations of antisemitism in the Labour Party", she has reportedly been "hurt" by suggestions that question her Jewishness and the organisation has also stressed its Jewish credentials (including in its name). Some have suggested that this stance is somewhat undermined by undermined by Ms Manson's decision to participate in a speaking engagement at a church on Yom Kippur.

Yom Kippur (the Day of Atonement) is the holiest day in the Jewish calendar and is marked by most Jews with fasting and synagogue attendance. Communal organisations are shut and work or public engagements are generally discouraged.
Labour MP sorry for liking Facebook comment claiming Israel disgraces Jews
Labour's MP for Kensington has apologised for liking a Facebook comment claiming Israel "disgraces all of us Jews worldwide."

Emma Dent Coad, who was elected in 2017, 'unliked' the comment within hours of Jewish News reaching out for comment.

A spokesperson for the MP said: "Emma liked this in error and apologises."

A comment posted by online user Earl Okin on Monday evening read: "I've always been a Bevanite – my ultimate political hero….and as a Jew, the current Israeli apartheid regime disgraces all of us Jews worldwide."

It was reported to Jewish News by the anti-racism Twitter account GnasherJew.

The post was a response to another post by online user Bob Pandy critical of "Blairite" MPs and "members of the Netanyahu fan club".
Grotesque: Al Sharpton Gives Rosh Hashanah Sermon at East Side Synagogue
On Monday, former pogrom leader and current Democrat kingmaker Al Sharpton boasted on his Facebook page the fact that he was "being presented to speak at the Rosh Hashanah Services of the East Side Synagogue by Rabbi Perry Berkowitz and Rabbi Leah Berkowitz."

For the record, the ESS informed its members that "this year our worship space of many years, the All Souls Sanctuary, is undergoing extensive renovation and is not available for our use. We are blessed that services will be held instead at Madison Avenue Presbyterian Church at corner of 73rd Street and Madison Avenue in Manhattan. This is a beautiful and awe-inspiring space that will deepen our High Holyday (sic) experience."

Like the old joke says, "The synagogue is closed for the holidays."

By now practically every Jewish newspaper in New York has condemned the notion that Sharpton, who is identified more than anyone else with the August 1991 Crown Heights Pogrom, should be preaching to Jews on the "High Holyday." Sharpton marched through Crown Heights and in front of the 770 Eastern Parkway headquarters of Chabad-Lubavitch shortly after the riot, leading some 400 rioters who were chanting, "Whose streets? Our streets!" and "No justice, no peace!" Sharpton himself notoriously called Jews "diamond merchants," which was his personal contribution to the anti-Semitic vernacular.
Twtichy: 'Disgusting': Socialist N.Y. State Senator (and AOC pal) Julia Salazar channels Ilhan Omar in response to Brooklyn synagogue being vandalized on Rosh Hashanah

Remember New York State Senator Julia Salazar? She's the Democratic socialist who lied about being an immigrant and a Jew. This will probably come as a major shock to you, but it seems that the kind of person who would lie about being Jewish doesn't actually have a whole lot of respect for Jews.

On September 30, teenage thugs threw large objects (reportedly milk crates) through the window of the Rivnitz synagogue in Brooklyn during a Rosh Hashanah service:


Two nights ago, some young people apparently threw objects into a window of a building at Throop & Bartlett St, where neighbors were gathered for Rosh Hashana prayers.

We need to care for each other and protect each other. This isn't acceptable in our district or in our city.

— Julia Salazar (@JuliaCarmel__) October 2, 2019



She might as well have written "Some people apparently threw something through some building."
Conservative Group Severs Ties With 'Brand Ambassador' for Controversial Photo
Pro-Trump youth group Turning Point USA (TPUSA) announced this week that it has severed ties with one of its brand ambassadors following a picture of her at a dinner over the weekend with accused antisemites and white nationalists.

A spokesperson confirmed on Monday to Right Wing Watch, a project of People for the American Way, which monitors far-right activities and content, that Ashley St. Clair is no longer part of TPUSA.

"TPUSA is a large national organization that touches hundreds of thousands of people all across the nation," said the spokesperson. "Ashley is no longer one of our thousands of volunteer activists and ambassadors. [Founder and executive director] Charlie [Kirk] and TPUSA have repeatedly and publicly denounced white nationalism as abhorrent and un-American and will continue to do so."

The spokesperson also noted that St. Clair wasn't representing the organization while she was photographed.

St. Clair, who is Jewish, attended a dinner held after a debate between antisemitic and white-nationalist podcaster Nicholas Fuentes, who attended the 2017 Unite the Right rally in Charlottesville, Va., and conspiracy theorist Jacob Wohl.

St. Clair, who wasn't at the debate, attended what she told Right Wing Watch was a "diverse dinner."
Demi Lovato 'sorry not sorry' for Israel visit
Grammy-nominated American singer and actress Demi Lovato's love affair with Israel on her recent visit here seems to have come to an abrupt halt.

In an Instagram post on Wednesday that was then deleted, Lovato apologized if her trip offended anyone.

Lovato's visit initially appeared to have gone well, so the controversy that followed came as a surprise. The pop singer, who has more than 74 million Instagram followers, posted photos of herself at the Western Wall, being baptized in the Jordan River, touring Yad Vashem, and visiting the Shalva National Center for people with disabilities.

"There is something absolutely magical about Israel," she gushed. "I've never felt such a sense of spirituality or connection to God… something I've been missing for a few years now... I'm grateful for the memories made and the opportunity to be able to fill the God-sized hole in my heart. Thank you for having me, Israel."

But on Wednesday, she wrote in an Instagram story: "I'm extremely frustrated. I accepted a free trip to Israel in exchange for a few posts. No one told me there would be anything wrong with going or that I could possibly be offending anyone. With that being said, I'm sorry if I hurt or offended anyone, that was not my intention. Sometimes people present you with opportunities and no one tells you the potential backlash you could face in return. This was meant to be a spiritual experience for me, NOT A POLITICAL STATEMENT, and now I realize it hurt people and for that I'm sorry. Sorry I'm not more educated, and sorry for thinking this trip was just a spiritual experience. Going against all advice right now and apologizing because it feels right to me and I'd rather get in trouble for being authentic to myself, than staying quiet to please other people. I love my fans, all of them, from all over."

The BDS backlash began as soon as Lovato posted photos of her Israel visit on Instagram. Angry fans responded with scathing comments that she was ignoring the plight of the Palestinians and that she should boycott Israel.

Lovato then deleted the comments on a photo showing her Jordan River baptism where she praised Israel as "magical."
Her detractors took to Twitter to criticize the singer. Among the comments, Nouran Ahmed wrote: "Hey, Demi... actually, you need to read more about the history of this land because it's called Palestine, not Israel, and the magical feeling that you felt, it's back to the history of the land (Palestine) not Israel."

While BDS supporters have long campaigned to persuade celebrities to cancel planned trips to Israel, the controversy over Lovato's visit is unusual in that the pressure came following her visit. Apparently, the singer was taken by surprise by the criticism. But why she then removed her apology – which lives on in screen grabs – is unclear.

Meanwhile, Minister of Jerusalem Affairs Ze'ev Elkin took credit for inviting her as an initiative of his ministry. (h/t Esty)
Just fyi, one pic she posted I saw yesterday was her meeting with special-needs kids.

This is what she's feeling made to apologize for. Bringing smiles to the faces of Jewish children with special needs.

BDS is a genuinely cruel way to express hatred of Jews.

— Seth Mandel (@SethAMandel) October 3, 2019
German Museum to Give Walid Raad Art Prize Despite City Government's Objection: Report
On Monday, the German city of Aachen announced that it had withdrawn a decision to give a prestigious art prize worth €10,000 (roughly $10,900) to artist Walid Raad, citing his alleged support for Boycott, Divestment, and Sanctions, a pro-Palestine movement. But, according to a new report, that move is not the end of the story.

The German news network WDR reports that Raad will receive the award after all, via the Ludwig Forum for International Art, a museum in the city that facilitates the award, the Aachen Art Prize. The museum's board reportedly made the decision on Tuesday night.

Marcel Philipp, the mayor of Aachen, previously said in a statement, "According to research, we have to assume that the designated prizewinner is a supporter of the BDS movement and has been involved in various measures for the cultural boycott of Israel." He added that, when the city of Aachen had inquired with him about his alleged support for BDS, Raad had been "evasive." The city alleged that Raad "could not distance himself from BDS," which it referred to as an "anti-Semitic" movement.

The Ludwig Forum's board reportedly disagreed with the city's of Aachen's decision, however, and WDR said that its members could not find any evidence that Raad was an anti-Semite.

The Ludwig Forum and Raad did not immediately respond to requests for comment.

In an interview with the German publication Deutschlandfunk, the Ludwig Forum's CEO, Michael Müller-Vorbrüggen, said that the museum had obtained the funds to give out the award, and it was therefore it did not need to the city's permission to offer Raad the prize.
University and College Union apologises after failing to include Jews on list of groups of Holocaust victims
The University College Union (UCU) has apologised after it left out Jews from a description of the different groups murdered in the Holocaust, an omission the chief executive of the Holocaust Memorial Day Trust called "completely unacceptable".

The UCU had sent out an e-mail to branch and local association secretaries, in which chapters of the union were encouraged to observe HMD 2020, which takes place on January 27.

It described how the Nazis had persecuted groups such as "trade unions, including social democrats and Communists", "Europe's Roma and Sinti people", "Black people", "disabled people", "freemasons", "gay and lesbian people", "Jehovah's witnesses" and "'asocials', which included beggars, alcoholics, drug addicts prostitutes and pacifists" were persecuted by the Nazi regime.

It also specifically mentioned "non-Jewish Poles and Slavic POWs". However, it made no mention of Jews, the primary targets of the Holocaust.

When the e-mail was publicised, Jews on social media attacked the "shocking" and "sickening" omission, with others suggesting that the mention of "non-Jewish Poles" showed the Union had clearly been thinking about who to include – and who to leave out.

A link in the e-mail led to a specific page on the UCU about HMD, which also neglected to mention Jews as victims of the Holocaust, while mentioning other significant groups.

In a subsequent e-mail from the union's "equality support official", the organisation apologised for what it called "drafting errors" in its initial message.
Columbia celebrates anti-Semitism
I want to give Mohamad credit on one score: He's honest about his Jew-hatred. He doesn't pretend he's only attempting to champion Palestinian rights. He doesn't pretend to be supporting boycotts just to encourage Israelis to withdraw from "occupied territories." He doesn't claim that he's not anti-Semitic but merely anti-Zionist.

That last claim I find particularly misleading and annoying. Because, given a choice, I'll take anti-Semites over anti-Zionists any day. Garden-variety anti-Semites – I'm not talking about neo-Nazis or Stalinists or Khomeinists or Salafi/jihadis – disparage Jews. They don't want them working in their businesses, living in their neighborhoods, or joining their clubs. That's nasty but disparagement is survivable, and alternative businesses, neighborhoods and clubs can generally be found.

Anti-Zionists, by contrast, seek a more consequential goal. They want to deprive Israel of its fundamental right to exist. They want to end Jewish self-determination in any part of the ancient Jewish homeland, a unique refuge for Jews who fled not only from Europe but also – and in larger numbers – from Arab and Muslim countries.

Were anti-Zionists to achieve their goal, were they to succeed in eradicating the Jewish state, what would happen to the more than 6 million Jewish Israelis who live there? I think you know. I think Mohamad knows too. Perhaps he'd be "very sympathetic to them." If he's still around, of course.
When anti-Semites take advantage of liberal institutions
Last week, during a forum of world leaders held in my school, Columbia University, Malaysian Prime Minister Dr. Mahathir Mohamad spoke.

The 94-year-old leader is probably the most anti-Semitic head of state. He doesn't try to hide his anti-Semitism, he doesn't just criticize Israel, he practices classic anti-Semitism, the kind that has been associated with various slurs against the Jewish people (they have long noses; they rule the world; they cause others to fight and die for them, and so forth).

Letting the Malaysian leader speak is only the latest example of the institution's problematic choice of speakers, having already let former Iranian President Mahmoud Ahmadinejad speak at the university about a decade ago.

The organization that I head, Students Supporting Israel (SSI), has refused to stay silent. Although we could not get Mahathir's speech canceled, we decided to generate a critical conversation so that the university won't even consider inviting someone like the Malaysian prime minister ever again.

We were told that we would lose, that he would be welcomed with great honor at the university and that his anti-Semitic agenda would not be condemned.

But we did not relent. We created a petition that got more than 3,000 signatures, we sent a letter to the university president and to the professor who was to introduce the prime minister at the event, and we demanded that both university officials condemn Mahathir.
Seth J Frantzman: Khashoggi's abused to whitewash dictatorships' treatment of journalists

Websites that support the Iranian regime, state media in Turkey, and voices from authoritarian regimes and human rights abusers sought to cynically exploit the anniversary of the murder of former Saudi insider Jamal Khashoggi. Since last year, the genuine grief over the death of Khashoggi has been hijacked in some countries and media to use it for ulterior motives, talking about press freedom while journalists are jailed, expelled and harassed.

"Even as Turkish leaders call for an international inquiry into Saudi Arabian journalist Khashoggi's murder, the Committee to Protect Journalists found the Turkish government to be the world's biggest jailer of journalists for the third consecutive year," ABC news noted last year.

Amnesty International and Reporters Without Borders were on hand in Istanbul this year to commemorate the murder of Khashoggi. Amnesty published a special call to honor his legacy.

While Amnesty was commemorating Khashoggi, the human rights organization also pointed out the long list of abuses of freedom in Turkey. Yet Ankara's state media outlets have sought to highlight Khashoggi's death as an example of press freedom.

A scientist was sentenced to 15 months in prison just days before the Khashoggi commemoration for the apparent crime of publishing environmental findings. Amnesty has called for charges to be dropped against the academic, whom it describes as a whistle-blower.

Amnesty noted in August that Turkey carries out mass blocking of websites, a "full-frontal attack on freedom of expression." According to the human rights organization, the Reporters Without Borders representative that attended the Khashoggi event was himself detained in 2016 "after symbolically guest editing a publication for a day as part of a solidarity campaign."
Guardian smears Israel with false claim of 50 'racist laws'
A Sept. 25th op-ed at the Guardian ("Ousting Netanyahu isn't enough for Israel's Palestinians. They want equality") by former +972 contributor Amjad Iraqi included the claim that Israel has "dozens of discriminatory laws".

Iraqi's claim that Israeli Arabs are afforded less rights than Jews links to a report by the radical-left NGO Adalah (where he works as its advocacy director) alleging the existence of at least "50 racist laws" in Israel. However, CAMERA and other watchdog groups have refuted Adalah's claims of racism – a term used so carelessly by the NGO that even an Israeli public health law requiring that parents vaccinate their children is included on their list of "racist laws".

Among the most comprehensive analyses of the "50 racist laws" claim was conducted by the Institute for Zionist Strategies (IZS), a policy and research organization dedicated to preserving Israel as a democratic Jewish state.

Here are the highlights from their detailed July 2016 report:

- The overwhelming majority of the laws featured in the list (53 out of 57) do not even relate to the citizens' ethnic origins and those that do, are designed to prevent and avoid discrimination. For example, the Law and Administration Ordinance (1948) that defines the country's official rest days, and the Law for Using the Hebrew Date, both explicitly exclude institutions and authorities that serve non-Jewish populations for whom the law provides for definitions and procedures appropriate for their specific needs.

- In 21 cases, Adalah's claims of discrimination stem from the organization's extremist stance that rejects the nature of Israel as a nation-state in general and as the nation-state of of the Jewish people in particular. For example, the Yad BenZvi Law is defined as a discriminatory law because of the institution's objective of promoting Zionist ideals.

- 18 of the laws reflect customs in other Western democracies whose democratic character no one would disparage. For example, according to Adalah, the flag constitutes a discriminatory law. Needless to say, this unfounded reasoning would mean that any country, the flag of which bears a cross or crescent discriminates against its non-Christian or non-Muslim minorities. A more in-depth comparison between the laws frequently found that Israeli legislation is actually characterized by a higher degree of tolerance for its national minorities.
The Washington Post's Skewed Worldview on Jews and Israel
The overwhelming majority of American Jewry has a positive view of Israel. Yet, the overwhelming majority of opinion pieces and reporting from major U.S. news outlets doesn't reflect this reality. Instead, the media promotes a small and unrepresentative minority. The Washington Post offers a case in point.

Ninety-five percent of American Jews have a "strongly positive" view of Israel, according to an August 2019 Gallup poll. The pollster noted that this was "significantly more pro-Israel than the overall national averages of 71% favorable views of Israel and 21% favorable views of the Palestinian Authority."

Similarly, a 2013 Pew survey observed: "76% of Jews (identified by religion) said they were at least somewhat emotionally attached to Israel. In addition, almost half said that caring about Israel is an essential part of being Jewish (with most of the rest saying it is important although not essential) and nearly half reported that they had personally traveled to Israel."

In short: American Jewry is, except for a miniscule minority, pro-Israel. Yet, the American media often chooses to give a megaphone to Jews that actively oppose, or are hypercritical of, the Jewish state.

The Washington Post, for example, gives inordinate column space to the tiny fraction of Jews, American and otherwise, who are against the right of Jewish self-determination. In a Sept. 20, 2019 tweet, Mairav Zonszein of +972 magazine cheered that her publication was "all up in The Washington Post opinion pages today," with two pieces from the same organization appearing on the same day. Zonszein proudly noted that editors of "mainstream outlets" were no longer editing out or tweaking her use of the term "apartheid."
It's a start! https://t.co/2t9mV6pEGO #FBblocksPalestine

— (((David Lange))) (@Israellycool) October 3, 2019
In Pittsburgh a year later, the shofar-blower is dead and the shul is shuttered
As this city's Jewish community celebrated Rosh Hashanah this week, the Tree of Life synagogue stood closed, its doors blocked by a chain-link fence.

A brown, wilted wreath hung on a tree near the synagogue, where a gunman killed 11 worshipers last year in the worst anti-Semitic attack in American history. Jewish stars bearing the names of the victims are taped to a glass door at the front entrance, behind a fence and under an Israeli flag and a sign thanking first responders. A makeshift wooden sign on a barricade next to the building reads "No day shall erase you from the memory of time."

The synagogue is built to welcome hundreds of Jews. But the only person to enter regularly now is a custodian who maintains the building while the three congregations that meet there decide what to do. Tree of Life has been shuttered since the attack.

"I hope it's torn down," said Ellen Surloff, who was president of one of the congregations, the Reconstructionist Dor Hadash, at the time of the shooting. "I don't think that I could ever go back in that building and not be continually reminded of what took place there."

Signs of the attack remain everywhere in Squirrel Hill, the quiet, warm, tree-lined community that has been the home to Pittsburgh's Jews for more than a century, and which otherwise feels idyllic as summer turns into fall.

Local businesses display a sign created shortly after the attack that reads "Stronger than Hate" alongside a yellow Star of David and blue and red diamonds — the city's traditional colors. The kosher supermarket hangs a banner with the names of the 11 victims. The local Starbucks has three large hearts painted on its windows with the words "love," "kindness" and "hope" painted in Hebrew and English on each one.
'A rapidly spreading crisis'
A FIVE-YEAR-OLD student began wetting himself in class after he was subjected to antisemitic bullying over the course of four months, while a 12-year-old student was forced to kiss the feet of a Muslim child and was physically assaulted.

Both Jewish students, who have asked to remain anonymous, had to leave their public schools because their families felt the principals did not provide them adequate support.

The first child, a prep student at Hawthorn West Primary School, started wetting himself in bed at night, and in class. He also became agitated, began using derogatory language and looked for an excuse each morning to avoid going to school. His parents knew something was wrong, but were unsure if it was all a part of the adjustment process from kindergarten.

Then, after spilling his cereal one morning, the five-year-old broke down. "He literally fell down on the floor," his mother shared with The AJN, "and said, 'Mummy, you shouldn't love me. I'm a worthless, Jewish rodent. I'm vermin.'"

Mortified, his mother crumbled on the floor with him.

It was later revealed that the young boy was being bullied on a daily basis by five classmates in the school bathrooms. It started when he was questioned about being circumcised. Then came the barrage of antisemitic insults, including "Jewish vermin", "the dirty Jew" and a "Jewish cockroach".

But when raised with the school, the mother says they were "dismissive" of the antisemitic element. The school's solution was to keep the student from using the regular bathroom, offering the facilities of another bathroom instead.

"But we felt uncomfortable because obviously you're not addressing the issue," remarked the student's mother.

The parents called for an education policy about antisemitism to be rolled out. But the school declined.

According to the student's mother, "they refused to accept there was an antisemitic issue. 'It's not antisemitism, it's just bullying.' The principal said, I don't want to make other students feel uncomfortable".
Daphne Anson: In the Lucky Country, Jewish Schoolkid Forced to Kiss a Muslim Schoolkid's Feet

Back in 2012, I drew attention on this blog to a disturbing trend identified at schools in north-west England.

The repellent state of affairs had been revealed by the noted Anglo-Jewish historian Professor Geoffrey Alderman:

'Last November, in my capacity as a visiting professor at York St John University, I had the privilege of hearing a presentation by doctoral student Joy Schmack. Mrs Schmack, an extremely experienced teacher and inspector of secondary-school religious education, is researching the use of the word "Jew" in teenage classrooms in the north-west of England. She presented chilling evidence of the unmistakeable revival of the word "Jew" as a common term of abuse amongst teenagers, who apparently habitually use it as a synonym for "cheat" or "swindler", or "snitch". "Don't you dare Jew me", one Merseyside youngster might say to another - perhaps hardly realising the significance of these words.

Scarcely four months after hearing this presentation I received a communication from a retired gentleman whose family escaped from Nazi Germany in 1934 and who now devotes his retirement to talking about antisemitism to youngsters in schools in Cheshire, Merseyside and Lancashire. He had been moved to write to me because of his experience at one such school, where his presentation was discourteously received and where a teacher confessed to him that the word "Jew" had now replaced the word "gay" as a playground term of abuse. The teacher said: "If kids wish to insult each other, they now use (the word) Jew" [Emphasis added]....'

Now, the Australian Jewish News, in a scoop, reveals the antisemitic targeting that Jewish schoolkids at non-Jewish day schools in Melbourne have been enduring, causing them extreme anxiety and distress, and of the craven, odious response of the school authorities when the abused kids' parents (having tardily learned of the abuse from their persecuted offspring). That response was basically: "It's not antisemitism, it's bullying, and your kids should learn to toughen up".

They refused one set of parents' request to teach the school body about the realities and consequences of antisemitism.
Hitler-loving neo-Nazi who said it was his "dream" to create a bloodbath arrested at Luton airport and sentenced to four years in prison
Jacek Tchorzewski, an 18-year-old neo-Nazi Polish national staying in Buckinghamshire, has been sentenced to four years in prison.

Mr Tchorzewski was arrested at Luton Airport in February on suspicion of terrorism offences as he tried to board a flight to Poland, with police recovering an "enormous amount" of digital documents, including manuals on making explosives and weapons. In one voice recording, Mr Tchorzewski said it was his "dream" to "plan some terrorism" and carry out an attack, and he wrote in a notebook found while he was remanded: "Let's fill our hearts with terror and London's streets with blood."

Other documents included extreme right-wing material which praised Hitler, neo-Nazism and Satanism and also featured antisemitic sentiments and even called for genocide. He was also said to be connected to convicted terrorist Oskar Dunn-Koczorowski, who was jailed in June.

Mr Tchorzewski pleaded guilty on 21st June at the Old Bailey to ten counts of possession of information likely to be useful to a person committing or preparing an act of terrorism, contrary to section 58 of the Terrorism Act 2000. He was sentenced on 20th September at the Old Bailey.
Trial begins for German neo-Nazi group accused of plotting attacks
The trial of an alleged neo-Nazi terrorist cell accused of plotting violent political upheaval in Germany opened Monday amid reports the country's far-right scene is growing more armed and radical.

Eight members of the so-called Revolution Chemnitz group aged between 21 and 32 will answer to charges of forming a right-wing terrorist organization, according to federal prosecutors.

Almost a year to the day after most of the suspects' arrest in coordinated raids, the proceedings took place under tight security in Dresden, the capital of Saxony state, a stronghold of the extreme right.

Resentment runs deep in the region over Merkel's liberal refugee policy that led to the arrival of more than a million asylum seekers to Germany since 2015.

The anti-immigrant, anti-Muslim Alternative for Germany (AfD) party scored 27.5 percent in a state election earlier this month, just shy of the 32 percent garnered by Chancellor Angela Merkel's conservatives.

The suspects are accused of "coming together to achieve their political goals — to shake the foundations of the state — with serious violent acts," a spokeswoman for the superior regional court said.

They allegedly sought to carry out "violent attacks and armed assaults" against immigrants, political "opponents," reporters and members of the economic establishment.
Argentina Holocaust museum takes custody of secret stash of Nazi artifacts
The Museum of the Holocaust in Argentina's capital on Wednesday took custody of the largest collection of Nazi artifacts discovered in the country's history.

Federal police and Interpol agents found the more than 70 Nazi objects hidden behind a bookcase in a collector's home north of Buenos Aires in 2017 as part of an investigation into artworks of illicit origins. The Nazi items include busts of Adolf Hitler, an instrument to measure people's heads to supposedly determine their racial purity and statues of the Nazi eagle with a swastika under its talons.

Owning Nazi objects in Argentina can be illegal if it is determined that the items incite racial or religious hate in public, although they can be allowed in private. It has not been determined if the collector violated the anti-discrimination law, although he has been charged with owning pieces of illegal origin.

Agents with Interpol began following the collector and with a judicial order raided the house on June 8, 2017. A large bookshelf caught their attention and behind it agents found a hidden passageway to a room filled with Nazi imagery.
Teen allegedly attacks Jewish woman in Brooklyn, pulling off her wig
Police said Thursday a Jewish woman reported being harassed in Brooklyn on Rosh Hashanah.

The 22-year-old said that she was approached on Sunday evening by a female teenager who "pulled her scarf and wig from her head," a New York Police detective, Annette Shelton, told the Jewish Telegraphic Agency in an email.

The incident occurred in the Bedford-Stuyvesant neighborhood and the perpetrator, who was described as being 16 years old, was accompanied by another teenager, the woman told police.

Shelton said that the police's Hate Crimes Task Force was investigating the incident.

The incident is the second alleged attack that occurred on Rosh Hashanah in the borough. On Monday, the windows of a synagogue were broken in the Williamsburg neighborhood.

That incident drew condemnations from Mayor Bill de Blasio and Gov. Andrew Cuomo.
BREAKING: Jewish woman attacked in Williamsburg; headscarf yanked off her head.

We cannot allow this to continue! The Jewish community is being terrorized!

Enough!!! pic.twitter.com/CLRBIHUKwn

— Dov Hikind (@HikindDov) October 2, 2019
Hate fliers circulated in Montana town on Rosh Hashanah
Fliers bearing white nationalist language and hate speech were circulated to businesses in Whitefish, Montana.

The fliers were circulated on Monday, the first day of the Jewish holiday of Rosh Hashanah.

"The hate literature was not only offensive in relation to the Jewish holiday, but it is concerning as there is a recorded rise and mainstreaming of antisemitism in the United States, including the troll storm perpetrated from outside the community onto the Jewish people of Whitefish just two and a half years ago," Rachel Carroll Rivas of the Montana Human Rights Network said in a statement.

The fliers included code words like the number "88," which stands for "Heil Hitler" (because H is the eighth letter of the alphabet) and "14 Words" which represents a 14-word statement asserting white supremacy that was created by white nationalist David Lane, who is specifically named on the flier, according to the network.

Similar fliers appeared in Helena, Montana, over the weekend.

Neo-Nazi Andrew Anglin launched a campaign in December 2016 against Jews in Whitefish in which he published personal details and photos of Jewish residents, including a child. The campaign stemmed from a real estate dispute in Whitefish between Tanya Gersh, who is Jewish, and Sherry Spencer, the mother of white supremacist leader Richard Spencer.

Gersh said that anonymous internet users harassed her family after Anglin revealed her home address and phone number, her husband's business contact information and her son's Twitter handle.

Other Jewish families in Whitefish were also targeted. The Jewish population of the city is about 60.
KTVQ news - Whitefish - Antisemitic flyers pic.twitter.com/zLS9UW9mSj

— Eye On Antisemitism (@AntisemitismEye) October 3, 2019
Uber Expands Partnership With Israel's Moovit
Ride-sharing company Uber is set to expand its collaboration — first announced in February — with Israel-based public transit app developer Moovit App Global, the latter said Wednesday. The original partnership saw Uber leverage Moovit's application programming interface to provide users in London and four other cities with public transportation information, so that riders can access real-time transit data and route planning in the Uber app. As part of the expanded partnership, Uber is set to expand its service to 15 additional cities globally, including Paris and San Francisco.

Moovit also announced that ride-sharing company Lyft is set to implement a similar service in New York.

Founded in 2012 and based in central Israel, Moovit develops and offers a free mobile navigation app providing real-time public transit information in 3,000 cities and 92 countries. Its app has over 500 million users, adding to the company's database of over 7,000 public transportation operators, according to the company's statement.
CVC to Pay $450 Million for a 25 Percent Stake in Israeli Web and Mobile Monetization Company IronSource
Private equity firm CVC Capital Partners is negotiating a deal to acquire a 25 percent stake in web and mobile monetization company IronSource for $450 million, according to two people familiar with the matter who spoke to Calcalist on condition of anonymity. The deal, which values IronSource at $1.55 billion, is expected to be signed in the upcoming 24 hours, the people said, adding that the company is expected to hand out $100 million-worth of dividends to shareholders before the deal is complete.

The negotiations almost came to an unsuccessful end two months ago due to disagreements over IronSource's valuation, which has since been resolved, the people familiar with the matter said. If completed, the deal is expected to be the biggest secondary deal of an Israeli company. CVC will become IronSource's largest shareholder, but its founders will keep a controlling share with a 45-50 percent stake held between them, down from the 60 percent they currently hold, according to the people. The company's employees, which hold options worth $25 million, will also take part in the sale.

The CVC sale is expected to be the last funding IronSource raises before its initial public offering, scheduled for the second half of 2020. The company, which is expected to see revenues of around $1 billion for 2019 with an EBITDA of $150 million, expected to see its revenues and profit grow by its IPO. Its net profit for 2019 is estimated at $120 million to $130 million for 2019, according to the people familiar with the matter, and the company has no debt.

Founded in 2009, IronSource was originally a download optimization software developer, which shifted its focus to rewarded ads following a series of acquisi

Cache
NEW YORK – With President Donald Trump under siege on Capitol Hill, a federal judge dealt him a setback on another front Monday and ruled that New York City prosecutors can see his tax returns for an investigation into matters including the payment of hush money to porn star Stormy Daniels and a Playboy centerfold.

U.S. District Judge Victor Marrero emphatically rejected Trump's attempt to keep his financial records under wraps, calling the president's broad claim of immunity from all criminal proceedings "extraordinary" and "an overreach of executive power" at odds with the Constitution.

For now, at least, the tax returns remain beyond the reach of prosecutors. The president's lawyers appealed the judge's ruling to the 2nd U.S. Circuit Court of Appeals, which put the matter on hold while it considers the case on an expedited basis.

At issue is a request from Manhattan District Attorney Cyrus R. Vance Jr. that Trump's accounting firm turn over eight years' worth of his business and personal tax returns dating back to 2011.

Vance, a Democrat, is investigating payments made to buy the silence of Daniels and model Karen McDougal, both of whom claimed to have had affairs with the president.

"The Radical Left Democrats have failed on all fronts," Trump fumed on Twitter after the judge's ruling, "so now they are pushing local New York City and State Democrat prosecutors to go get President Trump. A thing like this has never happened to any President before. Not even close!"

The district attorney's office declined to comment.

The investigation is unfolding with Trump already facing a fast-moving impeachment drive by House Democrats that was set off by his attempts to get Ukraine's leader to investigate his political rival Joe Biden.

Trump's lawyers have said that Vance's investigation is politically motivated and that the request for tax records should be stopped because Trump is immune from any criminal probe as long as he is president.

The judge swept that claim aside as overly broad.

"As the court reads it, presidential immunity would stretch to cover every phase of criminal proceedings, including investigations, grand jury proceedings and subpoenas, indictment, prosecution, arrest, trial, conviction, and incarceration," Marrero wrote. "That constitutional protection presumably would encompass any conduct, at any time, in any forum, whether federal or state, and whether the President acted alone or in concert with other individuals."

The judge said he couldn't accept that legal view, "especially in the light of the fundamental concerns over excessive arrogation of power" that led the founding fathers to create a balance of power among the three branches of government.

Trump has steadfastly refused to make his tax returns public, breaking a tradition set by presidents and White House candidates decades ago. He has also gone to court to fight congressional subpoenas issued to his bank for various personal financial records, including his tax returns. That dispute is also before the federal appeals court.

In yet another effort to pry loose Trump's tax records, California recently passed a law requiring candidates for president or governor to turn over five years' worth of returns, or else they cannot appear on the state's primary ballot. A federal judge blocked the law this month, saying it is probably unconstitutional.

Vance began his probe after federal prosecutors in New York completed their investigation into payments that Trump's former personal lawyer, Michael Cohen, arranged to be made to the two women to keep them silent during the presidential race.

Cohen is serving a three-year prison sentence for crimes that included campaign finance violations in connection with the hush money.

Trump was never charged, though prosecutors said publicly that he was aware of and directed the illegal payments. Justice Department policy has long been that sitting presidents cannot be charged criminally.

Grand jury proceedings and records in New York are secret. If Vance gains access to Trump's returns through a grand jury investigation, that doesn't necessarily mean their contents will be disclosed publicly.

It is unclear what Trump's returns might have to do with the criminal investigation or why prosecutors are reaching back as far as 2011.

But the long reach of the subpoena might stem in part from testimony Cohen gave to Congress early this year when he asserted that Trump overstated his wealth to financial institutions before he became president.

Cohen turned over copies of financial statements he said the president provided to Deutsche Bank during a 2014 effort to buy the Buffalo Bills. The statements showed Trump's net worth soaring from $4.55 billion in 2012 to $8.66 billion in 2013.

___

Associated Press writer Eric Tucker in Washington contributed to this story.



Cache
President Donald Trump on Thursday accused Democrats of an all-out attempt to "totally obliterate Medicare" and portrayed himself as the program's defender as he took steps to expand Medicare's private insurance option.
But no Democrat is proposing to take coverage or benefits away, a fact that...



Next Page: 25 © Googlier LLC, 2019