Cache
A Historic Election 历史性选举 After a hard-fought campaign, Democratic Senator Barack Obama has won the US presidential election, and will become the 44th President of the United States the first African-American in the countrys history to do so. P

Cache
Congress took its first step Wednesday toward allowing state-sanctioned marijuana businesses to access banking products without fear of a federal government crackdown.
That step included support from Rep. Cathy McMorris Rodgers, an Eastern Washington Republican who has spoken against the state's legalization of recreational marijuana and received criticism from cannabis reformers hoping to fully legalize the drug.
"I heard from a lot of banks and credit unions about the increased amount of cash that is on our streets, and the danger that it poses for our community," McMorris Rodgers said in an interview following her vote.
The bill, sponsored by Rep. Ed Perlmutter, D-Oregon, prohibits federal regulators from penalizing or limiting financial services offered by lending institutions working with marijuana businesses that followed state laws. The bill passed 321-103with 91 Republicans voting in favor, many of them saying they supported the bill's narrow scope that is intended to keep such businesses from relying solely on cash. That can make them targets for crime, bill supporters argued.
Many banks and credit unions have avoided working with cannabis businesses, as the drug remains illegal under federal law. Locally, Numerica Credit Union offers a limited set of financial services to growers, processors and retailers.
The U.S. Treasury Department keeps track of banks and credit unions nationwide reporting activity with marijuana businesses as part of its suspicious activity reports program. The department reported in June that there were 715 lending institutions nationwide that were conducting business with marijuana firms.
Advocates pushing for further reform of federal marijuana laws, including the potential declassification of the drug as a controlled substance, heralded Wednesday's vote. It is the first time Congressional lawmakers have approved any legislation dealing only with marijuana, as more and more states legalize its sale to both medical patients and as a recreational drug.
"For the first time ever, a supermajority of the House voted affirmatively to recognize that the legalization and regulation of marijuana is a superior public policy to prohibition and criminalization," Justin Strekal, political director of the National Organization for the Reform of Marijuana Laws, said in a statement.
The bill doesn't change marijuana's classification as illegal under federal law. It also doesn't address the Justice Department's apparent attempts to keep bankruptcy cases from people declaring marijuana income out of the courts.
McMorris Rodgers said her support for the legislation was due to its narrow scope. But the congresswoman noted that she's also co-sponsored another marijuana bill introduced by Oregon Democratic Rep. Ed Blumenauer which would enable the sale of marijuana seeds and plant starts to researchers licensed by the federal government for medical study.
"I continue to have concerns about legalization of recreational marijuana, in particular," McMorris Rodgers said. "I'm concerned about the safety around it, especially for our kids."
The House's approval of the bill sends the legislation to the Republican-controlled Senate, where another Western GOP lawmaker has already convened an informational hearing about a companion bill.
Idaho Sen. Mike Crapo, chairman of the Senate's Banking Committee, held a hearing in late July on similar bipartisan legislation, but no votes were taken. At the time, Crapo said he was interested in learning more about the legislation, but also concerned about a 2013 Justice Department initiative under President Barack Obama that targeted firearm sellers, payday lenders and other businesses believed to be at risk of committing financial crimes.
"Having a conversation about whether banks should be able to provide banking services to entities engaged in federally illegal behavior brings up the issue and concern that there has been a push to choke off legal industries from the banking sector," Crapo said at the July hearing.
Strekal and representatives of other marijuana reform organizations urged the Senate to take up the legislation in statements Wednesday. President Donald Trump has not given clear indication whether he would sign marijuana banking legislation if it were to pass both chambers of Congress, but he expressed some support for another bipartisan bill introduced in Congress that, among other changes, would give state-sanctioned marijuana businesses access to banking.
Crapo told reporters for the publication Congressional Quarterly on Wednesday that he wanted to consider a banking bill, which could be separate from the House bill, in the Senate soon.
Cache
Former President Barack Obama weighed in on the mass shootings this past weekend in El Paso, Texas, and Dayton, Ohio, saying on Monday that Americans "should soundly reject language coming out of the mouths of any of our leaders that feeds a climate of fear and hatred or normalizes racist sentiments." In a statement released on Twitter , Obama did not mention President Trump by name, but his reference seemed clear. Obama denounced language from "leaders who demonize those who don't look like us, or suggest that other people, including immigrants, threaten our way of life, or refer to other people as sub-human, or imply that America belongs to just one certain type of people." Such language, Obama said, "has no place in our politics and our public life." He added that "it's time for the overwhelming majority of Americans of goodwill, of every race and faith and political party, to say as much — clearly and unequivocally." Obama's statement Monday was a rare occasion when the former

Cache
(AP Photo/Jacquelyn Martin)
Arlington, Texas, has been selected to become the new home of the $150 million National Medal of Honor Museum.

Cache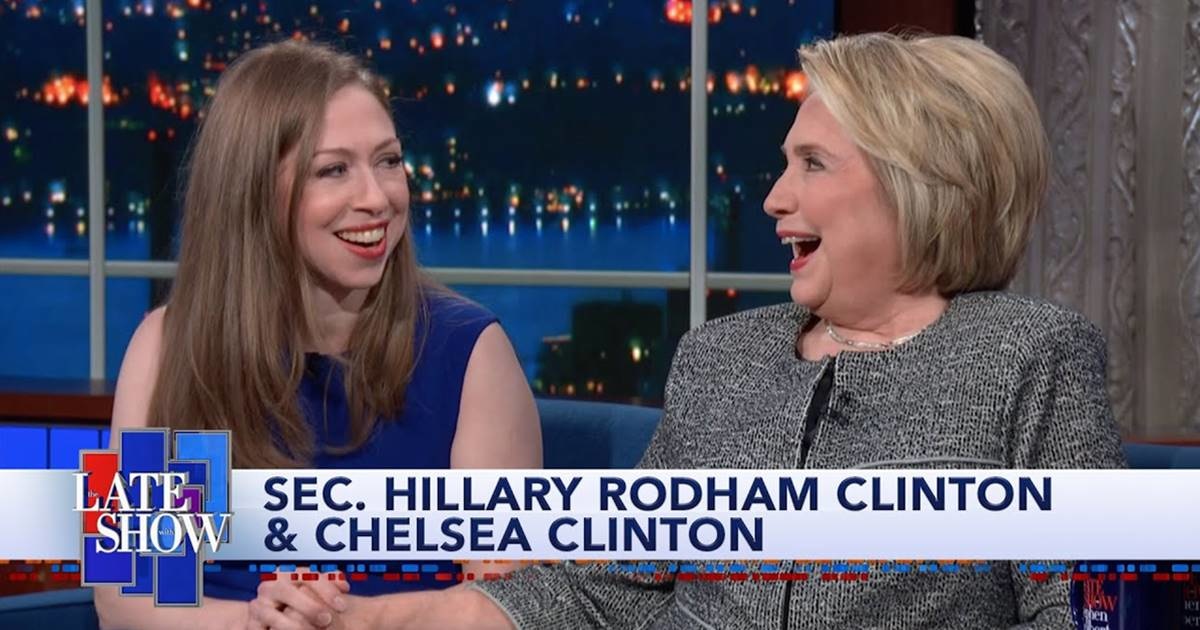 One of the darkest refrains of the Trump presidency have been the crowds at his rallies chanting "Lock her up" at the mention of Hillary Clinton's name.

The idea that an American president would threaten to imprison a political rival smacks of authoritarian tactics that have no place in a democracy.
These days, the chants seem rather ironic being that Donald Trump is facing an impeachment inquiry in the House of Representatives for trying to extort the president of Ukraine. If Trump is removed from office, he may face legal consequences for his actions which could mean jail time.
---
"The Late Show" host Stephen Colbert had fun with the idea of Trump being locked up on his show Monday night when his guests were former Secretary of State Clinton and her daughter, Chelsea.

At the start of the interview, Colbert asked Clinton about the impeachment inquiry saying, "Is it time to — dare I say — lock him up?"

Then the crowd began chanting "Lock him up" to Clinton's chagrin and then she motioned with her hand to tamp down the chanting.
When the crowed quieted, Clinton said that the impeachment inquiry is "exactly what should be done."
"I believe strongly that this particular incident has had such a huge impact because we've known for a long time that he [Trump] was a corrupt businessman who cheated people, and we've known that he and his campaign asked for aid from Russia, we've known that," said Clinton.

"But to see him in the office of the president putting his own personal and political interest ahead of the national security of our country just pierced through whatever confusion or denial people had. And, at that point, Speaker Pelosi rightly said this is something we have to investigate and that's what's going on."
Colbert admits that Trump's dealings with Ukraine have changed his opinion on impeachment.
"I was never a big 'let's impeach him' fan," Colbert said. "I thought we should go to the ballot box. But when someone is clearly using the office that they're in to subvert the ballot box. To use by corrupt means influence fro other countries to maintain their office, what good is that ballot box at that point?"
Clinton knows about impeachment. Her husband was impeached in 1998 and, as a young lawyer, she worked on the case against Richard Nixon. She believes that Trump's actions are exactly what the framers of the Constitution were defending against.
"To undermine the oath that he took to protect and defend the Constitution and the American people that's what falls right into the definition of an impeachable offense," she said.
Colbert also asked Clinton's thoughts on current Secretary of State Mike Pompeo, who was on the call when President Trump attempted to extort the president of Ukraine.
"How many times when you were Secretary of State did you have to say to Barack Obama 'You can't extort foreign countries'?
"Yeah, that never happened," Clinton laughed.
Cache
Some wore pig noses. Others waved Old Glory and "Don't Tread on Me" flags. Their handmade signs read: "Say No to Generational Theft"; "Obama'$ Porkulu$ Wear$ Lip$tick"; and "I don't want to pay for the SwindleUs! I'm only 10 years old!" The event was peaceful, save for an unhinged city-dweller who showed his tolerance by barging onto the speakers' stage and giving a Nazi salute.
Carender, a newcomer to political activism, shared advice for other first-timers: "Basically, everyone, you just have to do it. Call up your police station or parks department and ask how you can obtain a permit, and then just start advertising. The word will spread. I am only one person, but with a little hard work this protest has become the efforts of a lot of people."
Why bother? It's for posterity's sake. For the historical record. And hopefully it will spur others to move from the phones and computers to the streets. For Carender, it's just the beginning. She gathered all the attendees' e-mail addresses and will keep up the pressure.
"We need to show that we exist. Second, we need to show support for the Republicans and Democrats that voted against the porkulus. If they think, for one second, that they made a bad choice, we have no chance to fight. Third, it sends a message to Obama and Pelosi that we are awake and we know what's happening and we are not going to take it lying down. It is a message saying, 'Expect more opposition because we're out here.'"
The anti-pork activists turned out in Denver, too. On Tuesday, while Obama cocooned himself at the city's Museum of Nature and Science for the stimulus signing, a crowd of nearly 300 gathered on the Capitol steps on their lunch hour to flame-broil the spending bill and feast on roasted pig (also donated by yours truly). Jim Pfaff of Colorado's fiscal conservative citizens group Americans for Prosperity condemned the "Ponzi scheme, Madoff style" stimulus and led the crowd in chants of "No more pork!" Free-market think-tank head Jon Caldara of the Independence Institute brought oversized checks representing the $30,000 stimulus debt load for American families.
On Wednesday in Mesa, local conservative talk station KFYI spearheaded a third large protest to welcome Obama as he unveiled a $100 billion to $200 billion program to bail out banks and beleaguered borrowers having trouble paying their mortgages. The entitlement theme played well last week in Florida, where Obama played Santa Claus to enraptured supporters shamelessly seeking government presents. But nearly 500 protesters in Mesa came to reject the savior-based economy with signs mocking gimme-mania.
Their posters jeered: "Give me Pelosi's Plane"; "Annual Passes to Disneyland"; "Fund Bikini Wax Now"; "Stimulate the Economy: Give Me a Tummy Tuck"; "Free Beer for My Horses."
And my favorite: "Give me liberty or at least a big-screen TV."
Plans are underway for anti-stimulus-palooza protests in Overland Park, Kan., Nashville and New York -- home of smug Democratic Sen. Chuck Schumer. Schumer's derisive comment on the Senate floor about the "chattering classes" who oppose reckless spending has not been forgotten or forgiven. The insult spurred central Kentucky talk show host Leland Conway to organize a pork rind drive. Angry taxpayers bombarded the senator's office with 1,500 bags of cracklins.
Disgraced Democratic Sen. John Edwards was right about one thing: There are two Americas. One America is full of moochers, big and small, corporate and individual, trampling over themselves with their hands out demanding endless bailouts. The other America is full of disgusted, hardworking citizens getting sick of being played for chumps and punished for practicing personal responsibility.
Now is the time for all good taxpayers to turn the tables on free-lunching countrymen and their enablers in Washington. Community organizing helped propel Barack Obama to the White House. It can work for fiscal conservatism, too.
Cache
From Ian:

---
Efraim Karsh (WSJ): The Zionist Movement Did Not Seek to Dispossess the Palestinian Arabs

David Ben-Gurion's stature as Israel's founding father would seem to be eminently secure, given his crucial, perhaps indispensable, role in salvaging the Jewish people from political oblivion and reinstating it in its ancestral homeland. Tom Segev's A State at Any Cost: The Life of David Ben-Gurion is an effort to tarnish his reputation and reinterpret Israel's founding period.

On May 14, 1948, Ben-Gurion proclaimed the establishment of the State of Israel, becoming its first prime minister and defense minister, posts he held until 1963 (with a brief retirement from office in 1953-55). Segev casts Israel's founding father as the destroyer of Palestinian Arab society - deeply implicated in what Segev and his fellow revisionists see as the "original sin" of Israel's creation: the supposedly deliberate and aggressive dispossession of the native Arab population.

The truth is that, far from seeking to dispossess the Palestinian Arabs as claimed by Segev, the Zionist movement had always been amenable to the existence of a substantial Arab minority in the prospective Jewish state.

No less than Ze'ev Jabotinsky, founder of the faction that was the forebear of today's Likud Party, voiced his readiness (in a famous 1923 essay) "to take an oath binding ourselves and our descendants that we shall never do anything contrary to the principle of equal rights, and that we shall never try to eject anyone." And if this was the position of the more "militant" faction of the Jewish national movement, small wonder that mainstream Zionism took for granted the full equality of the Arab minority in the prospective Jewish state.

In December 1947, shortly after Palestinian Arabs had unleashed wholesale violence to subvert the newly passed UN partition resolution, Ben-Gurion told his Labor Party that "in our state there will be non-Jews as well" and all of them will be equal citizens; equal in everything without any exception; that is: the state will be their state as well."

The Haganah's operational plan - adopted in March 1948 to reverse then-current Palestinian Arab aggression and rebuff the anticipated invasion by the Arab states - was predicated, in the explicit instructions of the Haganah's commander in chief, on the "acknowledgment of the full rights, needs, and freedom of the Arabs in the Hebrew state without any discrimination, and a desire for coexistence on the basis of mutual freedom and dignity."
To the Arab World, Jewish Sovereignty Is a Rebellion against Islam Itself
Arab anti-Zionism, Shmuel Trigano argues, has little to do with land, the fate of the Palestinians, or Palestinian self-determination—and everything to do with religion. Citing the historical status of non-Muslims in the Islamic Middle East, he points in particular to two concepts: that of the ummah, a nation of all Muslim believers that transcends ethnic and political boundaries, and that of the dhimmi, protected religious minorities who are allowed to live in Muslim society with legal disabilities:

The concept of the ummah inspired the Arabs to rebel against the [European] colonial powers: not so much for their colonial nature (the colonial yoke of the Ottomans was by and large tolerated), but for their Christianity. A decisive turning point was the rise of nationalism: while the ummah dissolved into nation-states, the pan-Arabism that emerged in its wake provided indirect continuity.

To this situation, . . . an additional factor came to the fore: the creation of a Jewish national home in Palestine, under the British Mandate, as provided by the Balfour Declaration of 1917. The problem derived not from the emergence of a new political force in the midst of the Arab countries, but from its Jewish character: as sacrilegious to the Islamic conscience as the Christian colonial powers had been. . . . In these terms, Jewish sovereignty is understood as nothing short of a rebellion against Islam.

Thus, Trigano argues, the conflict between Israel and its neighbors can be understood in relation to the gradual and long-ongoing destruction of the Jewish communities of the Middle East and, more broadly, to the destruction of Christian and other non-Muslim communities. The latter began not recently, with the rise of Islamic State, but with the bloody anti-Armenian pogroms of the 1890s:

The Armenians . . . committed an act of rebellion against [their status as] dhimmi by fighting for national autonomy. . . . A violent response ensued: several massacres were carried out by the Ottomans in 1894-5. . . . Often overlooked is the jihadist nature of these massacres: not only in their motivation and their legitimation, but also in the nature of the acts themselves and the fact that the surviving women and children (some 150,000) were forcibly converted to Islam. The same pattern was to reappear in the second wave of massacres, this time instigated by the Young Turks [in 1915].
Michael Lumish: The White Jew

When I was growing up to be a "white" person meant to be a person of European descent. This is no longer the case.

To be "white," today, means to be a "bad" person, particularly if you tend to be of the manly persuasion.

In contemporary political parlance, "whiteness" is a signifier of racism, oppression, colonialism, imperialism, privilege, sexism, Islamophobia, transphobia, capitalism, and, most particularly, racism.

The irony is delicious.

"Progressives" -- throughout politics and the academe and, even, corporate America -- consider "white" to be a category of ethnic guilt. In the name of "social justice" they are condemning innocent young kids, particularly boys, of some sort of original sin.

They are, in fact, damaging your children and most of you are A-OK with it.

In this way, the "progressive" movement is deeply religious and increasingly medieval. The movement used to be about open-mindedness. Today it is about hysterical dogma. Mario Savio would not recognize it.

It used to be about social libertarianism and freedom of expression. Today it is about ideological conformity and a Puritanical patrolling of the borders of acceptable thought.
Interior minister moves to deport Palestinian BDS founder
Interior Minister Aryeh Deri announced on Sunday that he had directed the Population and Immigration Authority to prepare a legal opinion to be used in the deportation of Boycott, Divestment, and Sanctions founder Omar Barghouti.

Barghouti holds Israeli permanent residency status, which he obtained after marrying an Arab Israeli woman, with whom he lives in the northern city of Acre.

"I intend to act quickly to deprive Omar Barghouti of residency status in Israel, Deri said in a statement announcing the move. "This is a man who does everything to harm the country and therefore must not enjoy the right to be a resident of Israel."

The Interior Ministry said that the opportunity became available to push for Bargouti's deportation after Deputy Attorney General Dina Zilber notified his office that it had the authority to revoke the BDS founder's residency status.

This was thanks to a 2018 amendment to Israeli residency laws that makes breach of trust a crime significant enough to allow the interior minister to strip an individual of his or her residency status. According to an interpretation of the law, boycotting Israel could constitute such an offense.

Israel has barred Barghouti from leaving the county a number of times in recent years by refusing to renew travel documents granted to Palestinian residents of Israel who do not have full citizenship.
David Collier: Miko Peled, Ian Fantom and the secretive 'neo-Nazi' group

Last Thursday there was a 'Keep Talking' event at St Anne's Church Soho. It was an event organised and attended by some truly nasty antisemites. The event shows how the suggested differences between 'far-right' and 'far-left' are illusions. There is just a sewer of extremism – those who build conspiracy theories, and all too frequently pin the blame on the 'Jews'.

We can begin with this image, which shows Miko Peled speaking at the Church. On his right (our left) – set apart from the audience- are Ian Fantom and Alison Chabloz.

Ian Fantom is a hard-core conspiracy theorist. He wore this t-shirt, suggesting both 9/11 and 7/7 were staged, to an event he organised in 2016:

In 2010, Ian Fantom co-founded a group called 'Keep Talking' that was set up because other '9-11 truth' groups were 'sabotaged from within'. Conspiracy theories about conspiracy groups. Fantom explains this himself in an article he wrote for 'UNZ review'. The website UNZ is described as 'extreme-right' and pushes Holocaust denial. The founder of Unz is known to have contributed funds to a 'quasi white-nationalist' group.

Fantom co-founded 'Keep Talking' with the Holocaust denier Nick Kollerstrom. It was interesting to read that the two of them agreed 'Keep Talking' would avoid discussion of Holocaust denial because they didn't want to be 'derailed' by the 'Zionist lobby'.

At the Peled event, Fantom is sitting next to Alison Chabloz. Chabloz is a convicted Holocaust denier. She was able to attend the event because she was recently released from jail pending an appeal. Chabloz is best known for teasing Jews over the Holocaust through the use of music, creating songs that turn the Holocaust into a fictional joke that she sets to classic Jewish tunes. Other far-right activists were also in attendance. The images suggest that James Thring was present. Thring is a confidante of David Duke and is a regular attendee of the 'Keep Talking' events.
Church 'sorry' for leasing room for Miko Peled talk
St Anne's Church in Soho has apologised for leasing a room to the controversial Keep Talking Group for a talk by Israeli-born anti-Zionist activist Miko Peled.

Peled spoke at the church last Thursday for an event titled "Miko Peled, Journey of an Israeli in Palestine."

The anti-racism charity Hope Not Hate expressed concern about the event in a series of tweets on Saturday.

St Anne's Church said on Sunday that it will donate the room hire fee to the Community Security Trust and will review its own booking procedure.

The church apologised "for the offence that has been caused to members of the Jewish Community" and said it opposes "any form of hatred: be it racism, homophobia or antisemitism."

But Peled denied accusations of prejudice, saying in a statement: "The suggestion that the event in which I spoke in any way shape or form represents hate, racism, homophobia or antisemitism is outrageous and libelous.
Petra Marquardt-Bigman: Zahra Billoo's "pro-Palestinian" anti-Semitism

Given that Billoo has almost 34 000 Twitter followers, she may not have seen the responses, and she may also not have seen a blog post that highlighted her updated blood libel. But it is also unlikely that she would have cared much if she had noticed the criticism. Like her good friend Linda Sarsour, Zahra Billoo despises anyone who dares to notice contemporary manifestations of anti-Semitism propagated by the left. That includes the Anti-Defamation League (ADL), to which Billoo devoted a Facebook post and an almost identical Twitter thread last year in order to educate her followers about the ADL's supposedly vicious record and odious history.

If you consider an organization that has been fighting anti-Semitism and other forms of bigotry for more than a century as an unmitigated evil that must be denounced and shunned, you shouldn't be surprised when lots of people doubt that you're just out to criticize Israeli policies.

In this context it's particularly depressing that Democratic Congresswoman Rashida Tlaib decided to issue a full-throated declaration of solidarity with Billoo. Tlaib linked to a thread in which Billoo attributed her ousting from the Women's March board to "an Islamophobic smear campaign led by the usual antagonists," which she identified as mainly "right-wingers, from the President's son to the Anti-Defamation League and troll armies." It seems fair to assume that Tlaib intended to endorse Billoo's take when she wrote: "They won't silence us for speaking out against human rights violations. They will lie, smear our names and call us anti this and that, but we always be pro- humanity & we have the truth on our side."

Well, if you think it is "pro-humanity" to endorse the kind of blatant anti-Semitism Zahra Billoo propagates, you probably agree with all the Jew-haters who have thought for centuries that Jews are not quite human.

I can easily imagine that neither Rashida Tlaib nor Linda Sarsour nor Zahra Billoo would think I have any standing to define what's "pro-Palestinian," but if they insist that it's "pro-Palestinian" to update age-old anti-Semitic stereotypes by substituting "Israel" or "Zionists" for "Jews", their Palestinian cause can only attract vile bigots.
Open letter to Mayor DeBlasio and the NY Democrats machine
As the perilous scourge of visceral anti-Semitism continues unabated in New York City in the form of attacks on Orthodox Jews as well as their homes and synagogues, our elected officials have stubbornly remained mute on the issue of clearly identifying from whence these attacks are emanating.

This past week a synagogue in the Williamsburg section of Brooklyn was vandalized on Rosh Hashanah and a hassidic woman was attacked as well. Video footage shows two minority youth throwing a milk crate and a metal mailbox at the synagogue. They were with at least three other young people of color outside the Throop Avenue synagogue. The impact broke a window.

It appears that the best that New York City Mayor Bill DeBlasio could muster up in response to these attacks was to call them a "hate crime" on his Twitter account but he never offered a clear and decisive plan on how to deter these attacks.

Having said this, it is long overdue to squarely confront Mayor DeBlasio as well as New York Governor Andrew Cuomo, Attorney General Letitia James and others who are committed to furthering the Democratic party agenda of transforming anti-Semitism into a politically "right wing" phenomenon that will only cease to exist when President Trump vacates office.

In response to this dangerous political chicanery of dismissing anti-Semitic attacks when they are committed by minority youth, I thought a letter to the Mayor and his cohorts would be in order.
— (((David Lange))) (@Israellycool) October 7, 2019
He sold his soul to kiss the ring of the bloodsoaked antisemite Al Sharpton, a grotesque display of cynicism that will be a permanent stain on his character and record, all for 0%? For Wales?

https://t.co/1OA3sDzowu

— Seth Mandel (@SethAMandel) October 6, 2019
College slammed for hosting Labour MP suspended for alleged antisemitism
Several Jewish groups and UK Members of Parliament have slammed a decision by the University of Nottingham to host Labour MP Chris Williamson, who was suspended from the party in February for claiming it has been "too apologetic" about antisemitism.

Williamson was readmitted back into the party in June, but was suspended again two days later after a backlash from the Jewish community and Labour MPs. In August, he announced he was suing the Labour Party over its decision to re-implement his suspension.

Last week the University of Nottingham announced that Williamson would speak on Monday in a lecture series on "British Politics in Crisis" hosted by the School of Politics and International Relations.

The Union of Jewish Students together with the Nottingham Jewish Society called the decision "unacceptable," adding that they were "surprised wholly."

"Williamson has been suspended by the Labour Party over antisemitism and has a consistent history of Jew-baiting and defending antisemitism," read the statement. "Williamson has been invited to Nottingham to add a perspective of an individual who is an ally of Jeremy Corbyn, yet there are plenty of individuals the university could have invited who are not suspended for antisemitism."
Reporter complained about 'stingy' Jew, hired by Liberty University
Emily Austen, a reporter who was fired by Fox Sports in Florida for derogatory comments about Jews and minorities, has been hired by the evangelical Christian Liberty University.

Fox dismissed Austen in 2016 as a sideline reporter for the Tampa Bay Rays baseball team and the Orlando Magic basketball team after she recorded an interview with Barstool Sports in which she said she "didn't even know that Mexicans were that smart," and that the "Chinese guy is always the smartest guy in math class," according to the Tampa Bay Times.

In the interview, she also talked about "Jews in Boca," including one who was "stingy," and said Jews "would complain and b**** about everything."

Liberty, the Virginia school run by Jerry Falwell Jr. that was founded by his televangelist father, announced on Wednesday that it was hiring Austen to appear on "Game On," a sports TV show it produces.

"This is much more than a second chance at my 'dream career,'" Austen said in a statement posted on Facebook by "Game On." "I am here to honor God, share the Gospel through athletics, and promote Liberty student-athletes, coaches and staff and their walks with Christ. I once was lost but now I am found."
Did you know that there is a metro in Bethlehem, West Bank? Well there isn't but it doesn't stop this Palestinian student from preaching lies on college campuses just to spread hatred towards Israel.

#Stopthelies pic.twitter.com/8hvteUynYy

— Jonathan Elkhoury- جوناثان الخوري (@Jonathan_Elk) October 6, 2019
— (((David Lange))) (@Israellycool) October 7, 2019
"Don't play apartheid." In downtown Portland, activists with the Democratic Socialists of America handed out flyers calling the public to oppose racism by boycotting the upcoming

@trailblazers

vs.

@MaccabiHaifaBC

game. Maccabi Haifa is an Israeli basketball team.

pic.twitter.com/ifCFl5IMEG

— Andy Ngo (@MrAndyNgo) October 7, 2019
— Eye On Antisemitism (@AntisemitismEye) October 7, 2019
— (((David Lange))) (@Israellycool) October 6, 2019
Demi Lovato Apologizes, Had No Idea Jews Lived in Israel (satire)
Following backlash, singer Demi Lovato has profusely apologized for her recent concert in and praise of Israel, insisting she had no idea that the people who treated her so well on the trip were in fact Jews.

Lovato spent her time in the country, which she billed as a spiritual journey, visiting the Western Wall and Israel's Holocaust memorial, Yad Vashem, after being baptized in the Jordan River. But soon after she returned, Twitter user @FreePalestine42069 called her out for legitimizing the presence of Jews in the country.

"Debbie (sic) Lovato is an apartheid-loving Zionist!" the user said in a post that earned seven retweets, including three from Democratic presidential candidates. "She is a war crime (sic) and must be brought to the Haig (sic) right now!"

Lovato immediately apologized, claiming she did not know that Israel was full of Jews and that her visit would spark such a negative reaction.
CNN Rewrites History of 1948, 1967 Wars
Sam Kiley, a senior international correspondent based in CNN Abu Dhabi's bureau, has rewritten the history of Israel's 1948 War of Independence and the 1967 Six-Day War. In his Oct. 3 analysis ("Any war between the US and Iran would be a catastrophe. And no one could win it"), Kiley absurdly asserts that those fateful wars were "to expand territory":
Close to 200,000 descendants of Palestinians who fled their country in successive Israeli wars to expand territory in 1948 and 1967, now live in Lebanon. A similar number are in Jordan.

The 1948 and 1967 wars were fought to fend off Arab campaigns to annihilate the Jewish state, not "to expand territory." As CNN has in the past reported, in May 1948: "Forces from Egypt, Syria, Jordan, Iraq and Lebanon invade, leading to the first in a series of Arab-Israeli wars."

In 1967, Israel attacked Egypt preemptively to once again thwart a campaign to eliminate the Jewish state. Before Israel's preemptive attack, Egypt expelled United Nations troops from the Sinai peninsula and blockaded Israel's port of Eilat, under international law a casus belli. These belligerent Arab actions were accompanied by explicit calls from Arab leaders to destroy Israel. For instance, as President Nasser declared: "Our aim is the full restoration of the rights of the Palestinian people. In other words, we aim at the destruction of the State of Israel. The immediate aim: perfection of Arab military might. The national aim: the eradication of Israel" (Nov. 18, 1965).
The Washington Post Isn't About to Let Facts Get in Its Way
The Washington Post, for example, gives inordinate column space to the tiny fraction of Jews, American and otherwise, who are against the right of Jewish self-determination. In a Sept. 20, 2019 tweet, Mairav Zonszein of +972 magazine cheered that her publication was "all up in The Washington Post opinion pages today," with two pieces from the same organization appearing on the same day. Zonszein proudly noted that editors of "mainstream outlets" were no longer editing out or tweaking her use of the term "apartheid."

As NGO Monitor has documented, "972's articles promote a marginal agenda from the fringes of Israeli discourse, thus presenting a distorted sense of the debate in Israel." The blog-based magazine "promotes the Durban strategy to demonize and delegitimize Israel" and its writers and contributors have accused the Jewish state of "apartheid," "ethnic cleansing," and "racism." Indeed, the magazine's content is completely self-discrediting and its donors are largely foreign and anti-Israel.

A previous editor-in-chief, Noam Sheila, referred to his critics as "the Jewish KKK" and in May 2012, +972 published a cartoon that depicted Israeli Prime Minister Benjamin Netanyahu raping US President Barack Obama and eating his limbs. In May 2019, they published an article titled, "By going vegan, Israelis can avoid talking about human rights."

Elsewhere, the Post has published opinion pieces by Jewish Voice for Peace (JVP), described by the Anti-Defamation League (ADL) as "a radical anti-Israel activist group that advocates for a complete economic, cultural, and academic boycott of the State of Israel." JVP, ADL's report on the group notes, has celebrated Palestinian terrorists like Rasmea Odeh and Marwan Barghouti.
Indy writer: levels of antisemitism in the UK are almost "negligible".
First, the fact that there were, as Shamash writes, no antisemitic incidents reported during the 2018 high holidays (Rosh Hashanah and Yom Kippur) may have something to do with the fact that the UK deployed counter-terror police to protect synagogues on those days. (Indeed, all throughout the year, every Jewish institution in the UK is protected by some kind of security presence.)

Moreover, according to CST, 2018 saw the highest levels of antisemitism ever recorded in a single calendar year.

Finally, the writer's final claim that, compared to the experiences of Muslims in the UK, "levels of antisemitism are almost negligible" is not supported the data.

CST (a charity that fights antisemitism) recorded1652 antisemitic incidents in 2018.

In that same year, Tell Mama (a charity that fights anti-Muslim bigotry) recorded 1072 anti-Muslim incidents.

Now, let's look at hate crime data (which is distinct from the data recorded by CST and Tell Mama) reported by the Home Office. It does show more hate crimes in 2017-18 against Muslims than Jews in total numbers . But, given Jews' significantly smaller population (Jews represent .05% of the population), the RATE of hate crimes against Jews was significantly higher than those against Muslims (who represent nearly 5% of the population).
BBC News silent on PA climb down over tax revenues
In late February of this year the Palestinian Authority announced that it would refuse to accept tax revenues collected on its behalf by Israel due to deduction of the amount paid to terrorists and their families.

BBC audiences heard nothing about that financial own goal (or the subsequent salary cuts endured by PA employees) until June, when they were informed that the PA "could be bankrupt by July or August". The BBC's explanation of that claim included the topic of tax revenue transfers from Israel:

"The financial crisis was exacerbated this February by a dispute with Israel over the transfer of tax and tariff revenues it collects on the PA's behalf.

Israel announced it would freeze the transfer of about $139m (£109m) – an amount it said was equal to that paid by the PA in 2018 to families of Palestinians jailed by Israel or killed while carrying out attacks.

Israeli officials say the payments incentivise terrorism. But the PA insists they are welfare payments for relatives of prisoners and "martyrs".

The PA responded to the freeze by refusing to accept any further Israeli revenue transfers, which account for about half its budget."
McGill Daily Continues To Malign Israel
Up to its old tricks, the McGill Daily continues to malign Israel on its pages. This is not surprising from a publication which recently peddled in antisemitism by claiming that Zionism is racism and for having an editorial policy of banning Zionist opinions.

On the September 30 edition, the Daily featured a polemic by its Science and Technology editor, Willa Holt, about "Israel's September Knesset Election".



How did the Daily depict Israel? With a Palestinian flag, a freudian slip perhaps!

Instead of providing a neutral analysis of Israeli democracy in action, here's how Ms. Holt described Israeli Prime Minister Netanyahu:
Netanyahu ran his campaign on violent colonial promises and racist, hypernationalist anti-Arab statements, including a promise to annex the Jordan Valley"

Holt later claimed that: "Both parties (Blue & White and Likud) in question are advancing further violence on Palestinians in the Jordan Valley, which is already under a de facto annexation, which stands in violation of international law."

If this isn't opinion disguised as news, then what is? On what basis can these Israeli political parties be said to have advocated for "advancing further violence on Palestinians…"? As well, it goes without saying that Israel disputes claims that its presence in Judea and Samaria (the "West Bank") is in violation of international law. Israel claims it has legal standing to presently administer these areas and it asserts ancestral and religious rights too.

Holt concludes by observing the following: "For Palestinians already living under a violent occupation, the election has no positive outcomes. The international community's inaction in the face of illegal occupation is itself a violation of human rights."

So much for journalistic objectivity!
Accused Poway synagogue gunman pleads not guilty to deadly shooting
The accused gunman in the deadly shooting at a San Diego-area synagogue pleaded not guilty to charges of murder and attempted murder.

In addition to entering pleas on Thursday in a San Diego court for firing an assault rifle inside the Chabad of Poway synagogue, John Earnest, 20, also pleaded not guilty to arson charges for a fire a month earlier at a nearby mosque, the ABC affiliate in San Diego, 10 News reported.

One woman, Lori Gilbert-Kaye, 60, was killed and three people were wounded, including an 8-year-old girl and the synagogue's rabbi, who lost a finger, in the April 27 shooting at the Chabad of Poway synagogue.

The murder charge has been classified as a hate crime, making Earnest eligible for the death penalty, though prosecutors from the San Diego County District Attorney's Office have not said whether they will seek that punishment.

Earnest is being held without bail. He is due back in court on December 5, when a trial date will be set.

Earnest also faces more than 100 hate crime-related counts filed by the U.S. Attorney's Office and could also face the death penalty in the federal case, the Times of San Diego reported.

Earnest told a 911 operator in the moments after the attack that he did it to save white people from Jews.
U.K. Cleric Abu Usamah At-Thahabi: I Support Chopping Off Hands of Thieves, But Only in the Muslims World, Not Here

pic.twitter.com/2qQ8AWhV18

— MEMRI (@MEMRIReports) October 7, 2019
Why a Japanese-American artist painted a mural of Nazi fighter Hannah Senesh
Hannah Senesh, the Jewish woman who died fighting Nazis as a British paratrooper, may seem an unlikely motivation for Japanese-born artist Julie Robertson.

But the 35-year-old Christian artist, who just spent four days painting a 30-by-40-foot mural of the late Jewish poet, learned about Senesh earlier this year and was struck by her bravery. A national hero in Israel, Senesh parachuted into Europe to help anti-Nazi forces in 1943. She was captured and killed at the age of 23, but despite being tortured refused to reveal any details of her mission.

"To be able to hear the story of such a young girl that had such conviction to do something so dangerous, and then she never gave up information when she was captured, that's my hero," she told the Jewish Telegraphic Agency on Wednesday in between finishing work on the mural. "So I really wanted to paint her."

Robertson, who goes by the name JUURI professionally, painted the mural in the East Village neighborhood of San Diego. She learned about Senesh earlier this year while on a trip to Israel organized by Philos Project, a Christian pro-Israel group. She had been to Israel two other times as part of delegations organized by Artists 4 Israel, a group that brings creatives to the Jewish state.

The Oklahoma City-based artist says she had always wanted to go to the Jewish state because "it's the starting place of my faith."

"I've always heard about Israel my entire life, but you can't really know what it is until you go there," she said.
US Ambassador Friedman at Evangelical rally: 'Jerusalem literally keeps us safe'
Shared values and a common history, not soldiers and weapons, guarantee a nation's security, US Ambassador to Israel David Friedman said Sunday.

Addressing a rally of pro-Israel Evangelicals, Friedman hailed the recently inaugurated Pilgrimage Road, a new archaeological site in Jerusalem's City of David, which lies underneath the Palestinian neighborhood of Silwan, as a "once in a century discovery" that proved beyond any doubt the existence of the Jewish Temple in the city.

"Jerusalem does not only move us spiritually. It literally keeps us safe," said Friedman. "Let me be clear about an important point: no quantity of bombs or fighter jets or troops really guarantees anyone's security. What makes a people safe, what makes us all safe, is when we stand for something, when we collectively share values, beliefs, goals and a common history. That's what Israel's enemies try to deny it when they object so angrily to the Pilgrimage Road. Because if Israel, God forbids, loses its history, it stands for nothing, and it is no longer safe."

On June 30, Friedman and other US officials used a sledgehammer to hammer through what they later said was a newly erected cardboard wall in front of the Pilgrimage Road, a now-subterranean stairway that was said to have served as a main artery for Jews to the Temple Mount thousands of years ago.
The Temple Mount's treasure trove
A small clay bulla, or seal, that was used to sign official letters in the days of the kingdom of Judea waited nearly 2,600 years amid the rubble at the foundations of the Western Wall to be discovered by Israeli archaeologists. For eight years, the rubble has been cleared away, one bucket after another, and taken directly to the site of the Ancient Jerusalem Sifting Project, which is run under the auspices of Ir David Foundation.

Comparatively large finds, such as a chisel used to carve the stones of the Western Wall, turn up immediately. Small discoveries usually come to light only after some time has passed. The dirt that contained the royal seal had been waiting six years to be sifted. A few weeks ago, project volunteer Batya Ofan, dumped it onto a large sieve, washed it down, and uncovered a royal seal from the seventh century BCE bearing the name "Adoniyahu asher al habayit" (translation: Adoniyahu, who is over [oversees] the house) in early Hebrew script.

The Bible uses the epithet "asher al habayit" for only eight people. It was a title reserved for the most senior administrator of a kingdom – in this case, the kingdom of Judea. However, the name Adoniyahu does not appear among those eight. Three different biblical figures – King David's son, a Levite from the days of Jehoshaphat, and a tribal leader from the time of the Prophet Nehemiah - bear the name, but none of them lived in the seventh century BCE. The seal, therefore, introduced archaeologists to a fourth Adoniyahu, who was hitherto unknown.

Archaeologist Dr. Eli Shukron, who once directed the project to excavate the foundations of the Western Wall and oversaw many of the discoveries made there, suggests a possible connection between the seal that belonged to the fourth Adoniyahu "asher al habayit" and another inscription from the same century that was discovered in a burial cave dating back to the First Temple era 150 years ago.
Yom Kippur 1967: The Return to the Western Wall
On Yom Kippur in 1967, thousands arrived at the Western Wall for the concluding prayers and to hear the long awaited sound of the shofar.

Prior to the advance of Israeli paratroopers into the Old City of Jerusalem in June 1967, the Western Wall area had been occupied by Jordan and off-limits to Jews.

The 20th century was a transitional time for the land of Israel, and the Western Wall had been under many rulers, from the Ottoman Turks, to British Mandatory rule, to the Jordanians.

Yom Kippur of 1929 followed the devastating pogroms in the land of Israel. Death and destruction was incited largely by the vehement anti-Zionist Grand Mufti of Jerusalem, Amin Al-Husseini. In the aftermath, British authorities allowed the Mechitza (dividing screen between men and women) at the Western Wall, which was prohibited the prior year. Still, the sounding of the shofar was prohibited, due to pressure from the Mufti and his cohorts. That decree remained in effect throughout the years of the British Mandate.

The independent State of Israel was declared on May 14, 1948 and preserved only through desperate defense in bloody conflict. But despite valiant efforts to hold onto it, the Old City fell to Jordanian forces. The Western Wall was then declared off limits to Israelis and Jews.

For the next 19 years, the Western Wall remained that way. When Yom Kippur arrived, the wall stood in solitude, devoid of its faithful. Jews could only gaze from afar — from the Israeli side of the armistice line.

However, that would soon change.
'There is going to be a war tonight' - Israel opens Yom Kippur War archive
The Defense Ministry has published new archival material describing the drama of the critical hours prior to the outbreak of the 1973 Yom Kippur War.

"There is going to be a war tonight," said IDF chief of staff Lt.-Gen. David "Dado" Elazar at 4:30 a.m. on October 6, 1973, the day the war broke out, to commander of the IAF Maj.-Gen. Benny Peled and the head of Military Intelligence, Maj.-Gen. Eli Zeira. "There are military signs, moves and reports that should be taken seriously."

An hour later, Elazar warned Zeira that the military should go on high alert and mobilize thousands of reservists.

At 7:15 that morning, in another meeting with commanders, Elazar concluded: "If no preventative strike will be approved by noon, we will be on immediate alert," since it was estimated that the war would break out at 6 p.m. Elazar also addressed the issue of evacuating civilians from the Golan Heights to the center of the country.

"I am aware of the political limits of this, but when we are confident that a war is going to break out, it is important that we win as fast as possible," he said.

The Yom Kippur War came almost as a complete surprise to Israel. A warning notice was given too late for an orderly call-up of the reserves, before the Syrian and Egyptian armies launched a joint surprise attack on IDF positions in the Golan Heights and the Sinai Peninsula.
Fearing shortages, Dayan mulled drafting young, old in 1973 war, papers show
In the early hours of the 1973 Yom Kippur War, as Israel struggled to beat back invading Egyptian and Syrian forces, Defense Minister Moshe Dayan told his staff to begin looking into drafting teens and elderly ex-reserves soldiers into the fight, fearing the Jewish state may not have the manpower it needed for the battle.

The comments are part of a series of transcripts and reports declassified by the Defense Ministry on Monday, showing the fears, deliberations and painful internal conversations by the Israel Defense Forces' top brass and senior political leadership during a conflict that even at the time was considered poorly prepared for and managed.

The ministry's archive released the transcripts from IDF General Staff meetings for the first five days of the war, as well as the final intelligence report given to IDF chief of staff David "Dado" Elazar and defense minister Moshe Dayan on October 5, 1973, one day before the war broke out.

The following day, the Egyptians and Syrians launched their attacks, catching the IDF off-guard. The war was hard-fought and grueling with significant setbacks in the early days, leading to candid expressions of concern by the country's leaders over Israel's ability to win it.

"What do I fear in my heart more than anything? That the State of Israel will in the end be left without enough weapons to defend itself… There won't be enough tanks, there won't be planes, there won't be people, there won't be people trained to protect the land of Israel," Dayan told the IDF General Staff according to the newly released transcripts.

The then-defense minister told the army to consider conscripting people too old to perform reserve duty or too young to have yet been drafted.
Golda Meir's letter to bereaved families on eve of Yom Kippur War uncovered
A letter of condolence to bereaved Israeli families written by then-prime minister Golda Meir on the eve of the Yom Kippur War recently was discovered.

In the years following the establishment of the Jewish state, it was customary for the prime minister to have contact with the families of killed soldiers, including sending letters for holidays and official occasions. Meir was scrupulous about the custom and frequently corresponded with bereaved families both privately and officially.

On the eve of the Yom Kippur War in 1973, Meir sent a letter, dated October 5, to bereaved families in which she wrote: "Your pain is the pain of the entire nation… Our main concern is achieving peace for Israel. The memory of our loved ones motivates us to do anything in our power so that there be no more casualties, and we know no more bereavement."

A day later saw the outbreak of the Yom Kippur War, which claimed the lives of 2,500 Israeli soldiers.

Meir resigned in April 1974, amid public criticism and a loss of confidence in the government.

The letter will be offered for sale at the Kedem auction house in Jerusalem in December.
Inaccurate BBC Yom Kippur war claim – 14 years and counting
Six years ago we documented the BBC's correction of inaccurate Israeli casualty figures during the 1973 Yom Kippur War:

BBC Yom Kippur war accuracy failure perpetuated over years

However as was noted at the time, at least two other items of BBC content include the same error, stating that the number of Israeli casualties in that war was "about 6,000".

That claim is found for example in a backgrounder titled 'A History of Conflict' which is undated, but appears to come from around 2005.

It also appears in another side-box of 'context' appended to an 'On This Day' feature – likewise undated, but apparently from around 2005 at the latest.
Forty-Six Years Since Israel's Yom Kippur War

Retired IDF General Yom-Tov Tamir was stationed on the Suez Canal during the Yom Kippur War. Tamir joins us the in studio to speak of the attack on its 46th anniversary. More: On October 6, 1973, a combined attack by the armies and air forces of Egypt and Syria, breached Israeli defenses and launched a nearly three week war that cost the lives of some 3,000 Israelis and maimed and scarred thousands of others. The surprise pincer attack on Israel's holiest day reshaped the country's history, shaking the confidence of the region's most formidable power.
---
---
We have lots of ideas, but we need more resources to be even more effective. Please donate today to help get the message out and to help defend Israel.

Cache
When Barack Obama was president, anytime you'd make the constitutional case against feds owning massive amounts of land, liberals would attack you as racist, backwards, neoconfederate – or something. And now it's coming back to bite them. Last Friday, Donald Trump announced the latest federal plans regarding over 700,000 acres in California. Don't be surprised, […]

Cache
Chokwe Antar Lumumba, the mayor of Jackson, Mississippi, comes from an activist family. His father, Chokwe Lumumba, was a legendary figure—a brilliant lawyer and organizer on behalf of communities that had been let down by both major parties. After the senior Lumumba was elected mayor of Jackson in 2013, the media described him as America's most revolutionary city leader. When he died less than a year after taking office, his son ran to replace him and lost. That defeat did not dissuade Chokwe Antar Lumumba. He kept speaking up, organizing, and campaigning.
In 2017 he won by a landslide, taking 94 percent of the general election vote. As mayor, he has addressed national issues, but his primary focus has been on the grassroots work of delivering services, participatory budgeting, and community empowerment.
—John Nichols
JN: You promised as mayor to make Jackson the most radical city on the planet. What did you mean by that?
CAL: A radical is a person who seeks change. Here in Mississippi, those individuals that we have the most reverence for—whether it's Ida B. Wells, Fannie Lou Hamer, or Medgar Evers—or, nationally, if we look at Martin Luther King or Malcolm X, or for those who look to Jesus Christ, we find that they were all radicals. I see it as a term of endearment.
JN: The word "radical" also speaks to going to the root of the problem. It isn't just about changing things. It's also trying to figure out what the core challenge is.
CAL: Absolutely. We often focus on the symptoms of our problems, as opposed to the root cause. My father talked about how people were lured into a place of complacency upon the election of Barack Obama. He said that sometimes we have to look at the presidency in the same manner as we look at the plantation.
He said on the plantation, you always had an overseer. Sometimes the overseer was white, sometimes the overseer was black. Maybe if he was black, he didn't beat you as bad. But whether he was white or black, you were still on a plantation—you were no more free. We need to look at the structure of oppression. We need to look at multinational corporations and how they exploit people.
JN: You have said about governing that filling potholes is a part of radical change.
CAL: While potholes may not be the global issue that changes conditions for everybody, it is important that we focus on those things that people are concerned with. As you're knocking on doors and talking to people about the larger things in life—discrimination, exploitation—you're invariably confronted by a brother or sister who says, "Yeah, you know, that's nice, but how are you going to fix that pothole in my street?"
For some people, that may seem minuscule in the grand scheme of things. But we have to be able to bridge pothole to pothole and community to community. People in Jackson understand that there's a nexus between them and people in Gary, Indiana; Chicago, Illinois; New Orleans, Louisiana—that in those cities, they suffer from the same infrastructure problems. Then what we learn is that your problem was never just a pothole. Your problem is that you don't control the decision-making process that leads to a pothole being fixed.
JN: You said, "People ask me how I felt after Donald Trump was elected. I say, 'I woke up in Mississippi.'" What did you mean by that?
CAL: It's a recognition that Mississippi has always been at the bottom. If you were poor before Donald Trump, you're likely still poor now. If you were poor before Barack Obama or George W. Bush or Bill Clinton, then you were poor after. It has mattered very little whether you consider yourself a Democrat or a Republican; you've been suffering under the same conditions. That is a unifying point for all of us—that what we do collectively will change the order of the day for Mississippi and that the calvary isn't necessarily coming.
Adapted from the interview on John Nichols's Nation podcast, Next Left.
Cache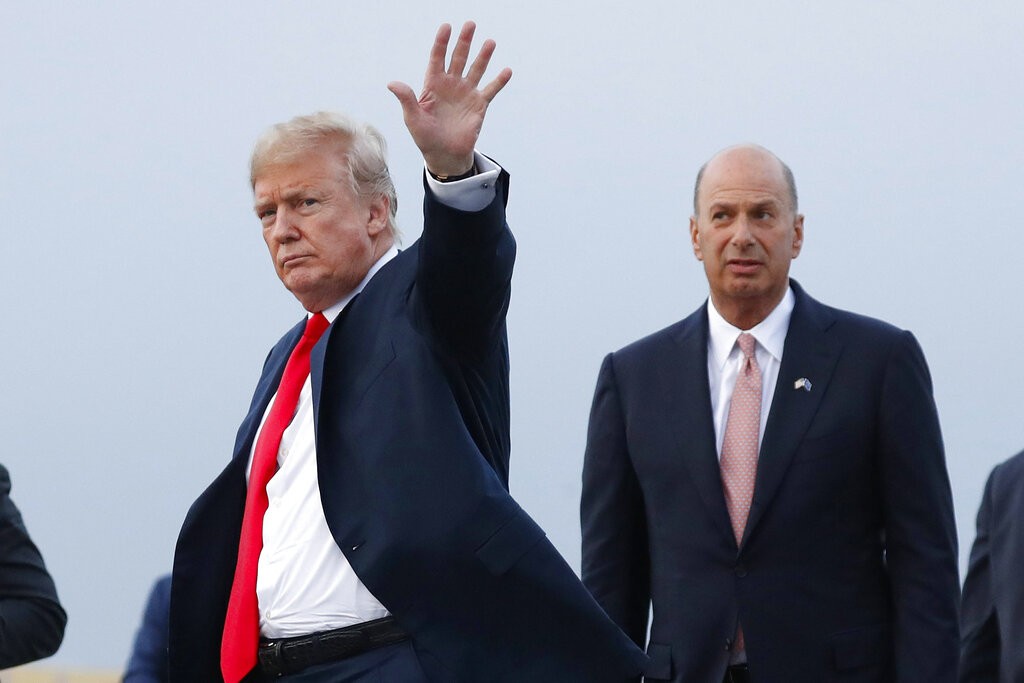 Departamento de Estado dos EUA impediu o depoimento de Gordon Sondland, que esteve envolvido nas negociações entre Trump e o presidente da Ucrânia, Volodymyr Zelensky. Trump e o seu embaixador para a União Europeia, Gordon Sondland, em 10 de julho de 2018 Pablo Martinez Monsivais/AP O Departamento de Estado dos EUA barrou o depoimento do embaixador americano para a União Europeia, Gordon Sondland, que estava previsto para esta terça-feira (8), no comitê que conduz o inquérito de impeachment do presidente Donald Trump. Sondland estava "profundamente frustrado" por não poder testemunhar, de acordo com seu advogado, Robert Luskin. Ele não explicou por que seu cliente foi barrado, e o Departamento de Estado não fez comentários. Uma acusação de um denunciante anônimo e mensagens de texto divulgadas por um outro funcionário público mostram que Sondland é uma testemunha importante para tentar descobrir se o presidente Trump, do Partido Republicano, tentou levantar histórias problemáticas de um concorrente do Partido Democrata e, para isso, usando política externa. Sondland deveria responder perguntas nesta terça (8) sobre o episódio. É a segunda vez que os parlamentares iriam questionar um diplomata sobre a tentativa de Trump de forçar a Ucrânia a investigar o democrata Joe Biden antes das eleições de 2020. Até a semana passada, Sondland era mais conhecido em seu estado, Washington, do que na capital do país, Washington D.C.. Agora, ele está no meio de um inquérito de impeachment que tem como centro um telefonema feito no dia 25 de julho entre Trump e o presidente da Ucrânia Ainda que não esteja acostumado a ser o centro de atenções do mundo, Sondland, um dono de hotéis, filantropista e doador de campanhas, tem familiaridade e é bem conectado com os dois principais partidos políticos dos EUA. "Ele gosta de ter relações pessoas com quem está no poder", diz David Nierenberg, um assessor de investimentos que conhece Sondland há anos. "Algumas pessoas colecionam livros, algumas pessoas colecionam carros. Ele colecionava essas relações." Trocas de textos divulgadas por deputados do Partido Democrata mostram que Sondland, o embaixador dos EUA para a União Europeia, trabalhava com outros enviados de Trump para forçar a Ucrânia a abrir duas investigações: Uma sobre uma potencial interferência do país europeu durante as eleições de 2016 nos EUA Outra sobre a empresa de gás que tinha, no seu conselho de administração, Hunter Biden, filho de Joe Biden, que foi vice-presidente de Barack Obama e é um dos pré-candidatos da oposição ao governo dos EUA Em troca, os americanos ofereceram um encontro, em Washington, entre Trump e o presidente ucraniano, Volodymyr Zelensky. Não há evidência de crime cometido por Biden ou pelo seu filho. Mensagens de texto As mensagens mostram também que Sondland tentou garantir a um terceiro diplomata que suas ações eram apropriadas, mas que eles deveriam ser cautelosos para limitar suas trocas de mensagens por escrito. "O presidente foi claro: não há quid pro quo (expressão em latim que significa troca) de nenhuma natureza. O presidente tenta determinar se a Ucrânia de fato vai adotar a transparência e as reformas que o presidente Zelensky prometeu durante a sua campanha", ele escreveu. Sondland também escreveu: "Eu sugiro que a gente pare com as perguntas e respostas por texto".

Cache
Barack Obama joked in 2011 about Republicans wanting a border moat with alligators. Donald Trump reportedly wanted exactly that.

Cache
LinkedIn-Gründer Reid Hoffmann spricht über rasantes Unternehmenswachstum, Barack Obama redet kurz darauf von verantwortungsvoller Unternehmensführung. Was läuft schief in unserem System – und was können wir dagegen tun? …

Cache
For two years now, Republicans have played the role of the dog that chases cars, in hot pursuit of a goal, but with no clear plan what to do once they attain it. But now they've caught it, or more accurately, it was handed to them, and now they have the burden of proving that they are worthy of the responsibility that the voters have assigned them. Up until now, the Republicans have profited primarily from their status as the default alternative to a Democratic Party that has given the voter every reason to turn them out.
And they don't have a lot of time to present a plan. The landscape is not what it once was. It took 40 years of the Democratic Party's arrogance and mismanagement to wear out the American people's goodwill before they were thrown out of power in 1994. Republicans needed only 12 years to alienate America and return control to the Democrats. This time, the Democrats turned the trick in only four years. Clearly, Americans' patience is not what it used to be.
One reason is that Americans have access to unfiltered information now. If we still lived in a world where Walter Cronkite and the New York Times held monopolistic control over information, there never would have been a Gingrich Revolution.
And this election should tell the Republicans what they need to do. After years of believing media advice that they needed to move toward the Democrats, the electorate demonstrated otherwise by tossing out moderates of both parties. On the day before the election a public opinion poll revealed that
Nancy Pelosi's job approval stood at 8%
. Eight times that many disapproved of her work. Moderates rejected the Republicans in 2006 and 2008 because they failed to draw a significant distinction between themselves and the Democrats. Nancy Pelosi highlighted that distinction for them and independent voters rejected the Democrats' vision.
The large majority of Americans have made it clear that they don't want moderation. They want decisiveness. If Republicans are capable of learning, they could take lessons from what has worked. New Jersey Governor Chris Christie and Virginia Governor Bob McDonnell both won surprising victories by promising to govern conservatively. Both have grown in popularity by adhering to those promises. This is especially notable in New Jersey as that state is about as hostile to Republicans as any in the union.
If Republicans can demonstrate that they've learned their lessons and are willing to make the difficult choices necessary to steer America back on the right track, they are likely to be rewarded in 2012, because it's unlikely that Democrats will be able to give Americans an affirmative reason to restore them to power.
Pennsylvania Governor Fast Eddie Rendell probably best summarized the fatal flaw in the Democratic Party on election morning as he predicted a better than expected result for the Democrats. He credited Barack Obama with appealing to the Democratic Party base to reinvigorate their enthusiasm.
Rendell identified the
"heart and soul"
of the Democratic base as "blacks, Latinos, gays and lesbians."
The problem with having grievance politics as your strength is that even when you manage to win, your mandate is not the nationalization of one sixth of the economy, or an unprecedented intrusion of the federal government into every aspect of private life. You are only charged with retaliating against the dominant culture for the satisfaction of a few small slivers of the population.
Keeping that heart and soul enthusiastic also requires a constant refreshment of the culture of grievance. An outstanding example of just how difficult that cultivation has become can be found in columnist Eugene Robinson's Election Day column in which he predictably exposed racism in the Republicans' campaign battle cry: "Take back the government."
Mr. Robinson inferred from this simple slogan that Republicans meant for white folks to take back the government from a black man. In fact the phrase is a call for a return to self government and away from the paternalistic path to serfdom that Barack Obama and Nancy Pelosi sought to drive us down as though we were cattle.
Mr. Robinson could not possibly have found this slogan offensive if his grievance mentality had not overwhelmed his sense of irony and his long term memory. Barack Obama and Nancy Pelosi used those identical words in 2008.
An appeal to tribal grievance will never be a match for a defense of liberty.
Cache


Oh yeah, the great Colin Powell, who voted for Barack Obama TWICE, who said he 'cried' when Obama was elected in 2008 (see video below), who has never advanced the ball one yard on the Republican side in his entire life, is once again scolding Republicans. Why? Because they are staying silent and not speaking out against President Donald Trump. It seems as though every time Colin Powell is handed a microphone, he takes a swipe at Republicans.

"The Republican Party has got to get a grip on itself. Right now, Republican leaders and members of the Congress, in both the Senate and in the House, are holding back because they're terrified of what will happen to any one of them if they speak out"
Here is the video-

Colin Powell: "The Republican Party has to get a grip on itself." https://t.co/b1qZxxCrnK pic.twitter.com/n8HAmes8MQ

— The Hill (@thehill) October 7, 2019


Colin Powell day after Obama was elected in 2008 - I cried.
WATCH:


---
Cache
In manchen US-Gefängnissen wird die Ansicht vertreten, die Lektüre von Barack Obamas Memoiren könnte die Sicherheit der Vereinigten Staaten gefährden, lesen wir in der "FAZ". Ebenfalls auf dem Index: ein Band mit Mondkarten und ein Klingonisch-Lexikon.

Von Tobias Wenzel
www.deutschlandfunkkultur.de, Kulturpresseschau
Hören bis: 19.01.2038 04:14
Direkter Link zur Audiodatei







Cache

Exclusive Excerpt—Charles Hurt: 'Still Winning: Why America Went All In on Donald Trump—And Why We Must Do It Again'

When Trump jumped into the presidential race in 2015, he was a well-known figure. He had been in the hot glare of the New York tabloid media for decades. Everything from the unveiling of golden buildings that bore his name to raunchy details about his various divorces made headlines. His business accomplishments in the real estate world and his success as a reality television star put him on par with a tiny handful of stars known around the world by one name.

But when Trump descended the escalator in Trump Tower that day, he had made political headlines more recently for something entirely different.

Four years earlier, Trump shocked the political world by launching a campaign questioning whether President Barack Obama was born in the United States. For the entire political-media establishment inside Washington, D.C., this merely proved that Donald Trump was some kind of crazy conspiracy loon. For these establishment people, it also proved Trump was a racist. […] But outside Washington, Trump simply proved he was willing to talk about things and ask questions about things that the entire political establishment had deemed unmentionable—even racist.

Having already demonstrated his unflinching willingness to go crashing wildly into the choppy waters of political incorrectness, Donald Trump was ready to announce his campaign for the presidency. From the first words, it was clear this would be a different kind of candidate running a different kind of campaign.

"Wow. Whoa," he said, admiring the crowd cheering him from all sides and the balcony above. "That is some group of people. Thousands," he said.

That line still gets me. Literally, within the first ten words of Trump's campaign—even before he actually announced his intentions—Trump was focused on crowd size. Much more on that later. But suffice it to say that in the years since Trump uttered those words, he has talked a great deal about crowd sizes, and it has driven his enemies absolutely out of their minds. Which, in turn, brings wild, lusty cheers from audiences who pack monster truck arenas to see their president perform.

After admiring the assembled crowd, he thanked them. He called it "an honor" to have them in "Trump Tower."

Never. Stop. Selling.

I think it was along about that moment in his speech that I said to myself, This guy could be our next president.

His message was simple. Clear. Pro-American. He was selling something. He was telling a story. After seven years of bitter disappointment and the wasted opportunities of Barack Obama's nerdy, professorial, lecture-some presidency, this guy could be just what America needs, I thought.

Quickly, Trump got back to the size of his crowd.

"This is beyond anybody's expectations," he beamed. "There's been no crowd like this."

Then he attacked. Ferociously.

Some of the Republicans who had already announced for president botched their kickoffs. The air conditioner didn't work, or something. "They sweated like dogs," Trump sneered.

Worse, their crowds were too small for the rooms they hired.

And then the kill shot: "How are they going to beat ISIS?" he asked.

"I don't think it's gonna happen. Our country is in serious trouble."

It's a fair point. If you cannot pull off a simple announcement speech on television, then how on earth can you possibly be expected to destroy the most diabolical and determined jihad of our time?

There is a larger point here as well. It has to do with language.

In the very first moments of his announcement speech, Donald Trump was declaring a pact with American voters. Earlier, he had proved his willingness to go wildly off script from establishment officialdom when he brazenly questioned Obama's birth certificate.

Now he was promising to use the same scalding rhetoric and blunt honesty to expose and fix a whole host of grievous maladies facing regular Americans across the country.

Maladies that had crept into American society over the decades under the blind—or, often, encouraging—eye of political leaders in both parties.

Terrorism, globalism, "free" trade, illegal immigration, legal immigration. Trump was willing to be as belligerent as he needed to be in order to finally stand up to ISIS, China, Japan, Mexico, and the entire global world order.

Trump shrewdly understood in that moment that if political candidates were incapable of speaking bluntly about thorny issues, or if they shied away from harshly identifying America's enemies, then there would be no hope for anything ever getting better.

Standing there in my office, watching this amazing spectacle unfold, it was that different way of talking that most gripped my attention. A wildly fresh vocabulary with sharp notes of brazenly impolitic honesty.

"The U.S. has become a dumping ground for everybody else's problem," Trump said, just a few lines into the speech.

My goodness, I thought. Nobody in Washington talks like this. But it sounds like exactly what you hear just about anywhere if you leave Washington, D.C., or New York City.

"When Mexico sends its people, they're not sending their best. They're not sending you. They're not sending you," he said, karate chopping the air.

"They're sending people that have lots of problems and they're bringing those problems to us. They're bringing drugs, they're bringing crime, they're rapists, and some, I assume, are good people."

On its face, this statement is technically true. Illegals from Mexico (and other places south of the border) come into the United States. They smuggle drugs into the country. They certainly commit crimes (including illegally crossing our border). And some of them are indeed rapists.

Trump was highlighting a real, destructive and expensive problem that a lot of American voters care deeply about. Yet almost nobody in Washington cares about fixing it.

Democrats are desperate to change the voting electorate. So, they want every warm body they can get into the country to hustle to the voting booth. Republicans, being more business friendly, are delighted to turn a blind eye on a process that floods our country with cheap labor.

The only group without a voice in this debate were millions of regular American voters. Until Trump announced his campaign.

Donald Trump's furious assault on the political establishment brought condemnations from every corner of it. Sure, those people were perfectly content letting political sleeping dogs lie. China ripping off America was no big deal for them. Free trade was going gangbusters for the stock market and Wall Street. Everybody who was anybody was making a killing off illegal immigration. Cheap nannies for all!

But the seething rebukes of Trump and his announcement speech were about so much more than just those issues. They were about Trump's language, his rough-and-tumble demeanor, and his willingness to court such political upheaval.

In her memoir, former first lady Michelle Obama eviscerated the man who followed her husband into the White House for just this. Trump's questioning of Obama's birth certificate, she wrote, "was crazy and mean-spirited, of course, its underlying bigotry and xenophobia hardly concealed."

Again, any hint of questioning Obama's American loyalty was deemed racist. Such a questioner was not just called out as dishonest or stupid or uninformed. They were flat-out racist for questioning Obama's alliances.

That was not all Michele Obama had to say about Trump and his style of politics. Trump's birth certificate inquiry "was also dangerous, deliberately meant to stir up the wingnuts and kooks," she wrote. "What if someone with an unstable mind loaded a gun and drove to Washington? What if that person went looking for our girls? Donald Trump, with his loud and reckless innuendos, was putting my family's safety at risk. And for this I'd never forgive him."

Wow. Perhaps Michelle Obama spoke too soon when she said that she was finally proud of her country once her husband got elected.

But I have to ask: What is more incendiary? Asking questions about where a political opponent was born? Or accusing a political opponent of deliberately and willfully trying to inspire "wingnuts and kooks" to assassinate the daughters of a president?

While we're at it, what about a president who wades into local police issues around the country and his only contribution is to inject race into them? What about a president who goes around the world apologizing for America and giving long lectures about how America is exceptional, you know, like every other country on the planet is exceptional in its own way. In other words, nothing exceptional whatsoever about America. What about a president who belittles Americans for their "guns" and their "religion"?

After eight years of insufferable academia out of the White House, it should have been little surprise that American voters would be in the mood for something very different. They would be looking for a guy who speaks bluntly and paints vivid pictures. A guy who spent years savoring his time talking to the workers and tradesmen who built his buildings, and learned to talk like them. Above all, he was listening and listening and taking to heart what he was hearing.

Every now and then, some reporter churns a Trump speech through some word program on the Internet that calculates the grade level the speech was written at. As in sixth-grade level, meaning a sixth grader could understand it. And these simpering, obnoxious, arrogant asses somehow think that speaking so plainly is an insult, when Trump—along with American voters—knows it is actually the highest, most honest achievement there is.

Independent Authenticity Voter

Strangely, this was a counterintuitive gambit for some of the very same voters who wound up stunning the political establishment by voting for Trump—after having voted for Barack Obama. Twice! I call them the independent authenticity voters. They don't much care about parties and don't particularly like Washington politics. But every four years they generally turn out and vote. And when the noise of the campaign gets as loud as it does every four years, they are reminded of how much they despise politics and most politicians. But they mostly turn out and vote.

Overwhelmingly, they choose the lesser bastard. The least dishonest one. The one they think comes closest to being genuine and authentic. In 2008, that was obviously Barack Obama. His hopeful campaign about neither red America nor blue America but one red, white, and blue America resonated with these voters. Funnily enough, the late senator John McCain would have appealed to these very voters eight years earlier when he was still a true political "maverick" and before he got co-opted by Democrats and the media (I repeat myself) to kneecap Republicans at every turn. As bad as things were in 2012, President Obama still had enough authenticity left in the tank to beat the hopelessly repackaged Mitt Romney.

These voters yearned for someone authentic to be president. Most horrifying to mainstream political observers is the number of voters who voted for President Barack Obama—twice!—because they thought he was that authentic nonpolitician. Oh, how they were betrayed!

The accepted language of politics is defended by those who practice it as merely polite and responsible. And this is often true. I know many decent politicians and staffers and journalists who embrace polite language. And they are disgusted by anything else in the political arena.

If the 2016 election proved anything, it proved that Donald Trump was exactly right. There was, after all, a tremendous thirst out there for something different. Something new. Above all, something authentic.

So, from the very first lines of his announcement speech that day at the foot of his glass escalator, Mr. Trump proved to be impolitic. Unpolished. Dripping with authenticity. That guy you know who talks rough, who doesn't own a set of church clothes but would be the first person you would call if you found yourself in a life-threatening situation and needed some really dirty work handled.

Trump knew at that moment that he had to break through all the soft, white noise of modern American politics. All the fake niceties of acceptable political speech. After all, it was a lie and had been for a very long time. Behind all those fake niceties were the raw, brutal realities of vicious politics played by the nastiest of operatives going back decades. They peddled in the most dishonest, soul-crushing, character-destroying sewage that you could imagine—but then wore nice seersucker suits at garden parties, talking all sorts of high-minded pleasantries.

Yuck!

Donald Trump saw all of this for exactly what it was. It was a fraud. Whether it was trade, immigration, wars, spending, or taxes—it was all a fraud. The American people were getting taken to the cleaner's financially, and the American people were getting sold out as losers.

And Trump wasn't even president yet! He was still just one of sixteen people vying for the Republican nomination. If you polled the media that day, every single reporter in all of politics would have given Trump a zero percent chance of winning the nomination, let alone the presidency.

After the speech was over, I called my office at the Washington Times and told my editor to scrap the column I had filed—that a new one was on the way. I endorsed Donald Trump, something I had never done before in a newspaper column. Because, after all, who gives a crap what I think about anything? But this was clearly something different. The speech was brilliant. It was daring, to be sure, but it also reflected an enormous amount of intentional thought. Trump had been listening very closely to voters. He had also been talking to some very smart people who clearly follow politics closely and understood the political landscape far better than any of the self-anointed geniuses inside the Beltway.

So I picked up the phone and called Steve Bannon, a friend who I knew liked to dabble in the more contrarian world of counterpolitics. We agreed the speech was great and, of course, Bannon told me he had been talking to Trump. A speech had been written. Bannon had seen it as late as the night before, he said. But the speech Trump delivered on live television to the country was entirely different than the one that had been prepared.

"Yeah, he didn't read the speech," Bannon marveled. "He got up there and just decided to wing it!"

Even at that point, Trump was not to be handled or scripted or managed or staffed. He was going on nothing but his own raw political instincts. And in the end, voters trusted Donald J. Trump to remain in character more than they trusted any politician to keep his campaign promises.

That turned out to be a pretty smart bet.

SOURCE
**********************************

Dems Vote To Enhance Med Care for Illegals Now, Vote Down Vets Waiting 10 Years for Same Service

House Democrats voted Thursday to fast-track an electronic medical records system that would serve illegal immigrants, something America's veterans have been seeking for years.

The House passed the bill on a largely party line vote of 230-184, American Military News reported. Only two Republican congressmen supported the bill — Brian Fitzpatrick of Pennsylvania and Fred Upton of Michigan.

The proposal has yet to be considered by the Republican-controlled Senate.

The Democratic proposal would require the Department of Homeland Security and U.S. Customs and Border Patrol to create an Electronic Health Records system.

Part of that system's job will be to provide information to Congress on the health of migrants who enter the country illegally, according to The Hill.

The bill gives the DHS 90 days after the bill receives final approval to get the job done. In contrast, the Veterans Administration has been working for years to implement an EHR system for veterans.

Democratic Rep. Lauren Underwood of Illinois said it is important for Congress to ensure that workers at the border are doing their jobs.

"As DHS works to improve its medical screening of children and migrants at the border to ensure there is a minimum standard of care, the need for proper record keeping on those screenings will only increase," she said.

Underwood said that the bill was based on her experiences touring America's southern Border.

"When I was at the border I saw busy, overworked Border Patrol officials having to keep health records on paper. I also saw how these records don't follow migrants between facilities and transfers of custody," she said.

But critics wondered how adding more responsibilities to overworked Border Patrol officials would fix anything

"I oppose this bill because it is poorly conceived, erroneously drafted and extremely risky," Republican Rep. Jim Banks of Indiana said.

SOURCE

**********************************

For more blog postings from me, see TONGUE-TIED, EDUCATION WATCH INTERNATIONAL, GREENIE WATCH, POLITICAL CORRECTNESS WATCH, AUSTRALIAN POLITICS, and Paralipomena (Occasionally updated), A Coral reef compendium and an IQ compendium. (Both updated as news items come in). GUN WATCH is now mainly put together by Dean Weingarten. I also put up occasional updates on my Personal blog and each day I gather together my most substantial current writings on THE PSYCHOLOGIST.

Email me here (Hotmail address). My Home Pages are here (Academic) or here (Personal). My annual picture page is here

**************************





Next Page: 25 © Googlier LLC, 2019