Cache
UPDATE 10/7: I think farmers have had enough, maybe, I hope anyway...

1. "I went to Madison feeling financially scared and emotionally depressed but hopeful," said Paul Adams, who runs a 500-cow organic dairy near Eleva, WI."I came home feeling financially scared, emotionally depressed, unwanted, and unneeded."





2. Brittany Olson left her Barron County farm at 2am to make the trip to Expo and hear Perdue speak. "To go through the effort to see the USDA secretary, only for him to say that small farms like ours likely have no future made me feel like little more than a peasant in a system of modern-day feudalism," Olson said.





3. "To me, it really drew a line in the sand on just where this administration stands," said Chippewa County dairy farmer George Polzin.
Danielle Erdvick summed it up this way in the story:

But I sense a fire growing in the belly of the family farmers I meet in my work with Farmers Union. Farmers are weary. But there's a growing flicker that's starting to feed a change in the narrative. No more will they be spoon-fed a top-down vision for rural America. Instead, I see a drive for a farmscape where fair prices, local food systems, clean water, and land conservation are at the heart of farm policy. How can we achieve it? It'll take actually enforcing America's antitrust laws and holding corporations accountable when they try to monopolize an industry. It'll mean addressing market manipulation. It'll mean not raising our hackles, as farmers and ag groups, every time someone wants to talk about clean water or livestock siting. It'll mean continuing to adopt regenerative practices and thinking outside the box so we're protecting our natural resources for our children and grandchildren.
__________________________________________________________________________________________________



Farmers will never stop voting for Republicans. Sadly, GOP promises of "small government" simply mean they don't really have to do anything for their constituents, and deregulation is anything that basically leaves them alone.

Tariff War is not Their Fight: It seems farmers are okay sacrificing their livelihoods for big corporate interests seeking intellectual rights and protections.

And then the last shoe dropped; Ag Sec. Sonny Perdue told us what big corporate Republican politicians were really thinking about family farmers:


Perdue told reporters that he doesn't know if the family dairy farm can survive as the industry moves toward a factory farm model ... "In America, the big get bigger and the small go out. I don't think in America we, for any small business, we have a guaranteed income or guaranteed profitability."
A few farmers suddenly realized what was really going on...

Jerry Volenec, a fifth-generation Wisconsin dairy farmer with 330 cows, left the Perdue event feeling discouraged about his future. "What I heard today from the secretary of agriculture is there's no place for me. Can I get some support from my state and federal government?"

Darin Von Ruden, president of the Wisconsin Farmers Union and a third-generation dairy farmer who runs a 50-cow organic farm (said) getting bigger at the expense of smaller operations like his is "not a good way to go. Do we want one corporation owning all the food in our country?"
Democrats, Governor Tony Evers backs Family Farms, despite never getting their vote, but after Sonny Perdue's comment, even our laid back Gov. had to say something:




"Are they struggling? Absolutely. But I think at the end of the day we need to get behind them rather than saying, ah maybe you should go larger. I, frankly, resent that the Department of Agriculture secretary from the federal government came in and kind of lambasted them."
But don't take Evers word for it, here's a comment made at the Minnesota Farmfest about CAFO's. Note: Why were visa's for dairy labor ever determined to be seasonal and not year around?:
Wisconsin dairy farmers are still feeling the sting of Trump's visit to Milwaukee in July, where the president downplayed the suffocation felt by farmers here because of Trump's own tariffs.



Trump: "Some of the farmers are doing well. ... We're over the hump. We're doing really well."
Farmer Response...:
"If he's saying farmers are over the hump, he would be badly mistaken," said Darin Von Ruden, a third generation dairy farmer. "In order to get over the hump we need to stop losing dairy farms."
From PBS's Market to Market: Trump's says farmers are happy...
Farmers are slamming Trump's $28 billion farm bailout — more than double Obama's 2009 payment to automakers — as a 'Band-Aid'.
Perdue editorial doesn't repair Damage
: Nope, his word salad backtrack to obscure how he really feels, is a little late. In fact, Perdue reminds farmers how this whole problem was really Trump creation:
Purdue: "President Donald Trump has made it his mission to support American agriculture and negotiate better trade deals so our productive farmers can sell their bounty around the globe."
And don't forget how Scott Walker pushed oversupply in the dairy industry.
Here's what one farmer, "a great patriot," really thinks about Trump:
Cache
Chris Massoglia was born in Minneapolis, Minnesota, to Christopher and Karen Massoglia.
[

2

]
His father is a
chiropractor
and his mother a
homemaker
.
[

2

]
His parents are devout
Christians
and
Republicans
, and Massoglia grew up a fan of
Christian pop music
(as well as unable to listen to
rap music
).
[

2

]
Gifted with an above-average intelligence, Massoglia was
homeschooled
by his mother.
[

2

]
While his peers were taking third grade-level subjects, Massoglia was taking eighth grade-level courses.
[

2

]
By the age of 13, he had enrolled in an
online university
where his coursework included
developmental psychology
,
Biblical studies
,
algebra
, and
American history
.
[

2

]
He also had studied
jujitsu
, played
piano
, trained as a
hip-hop
dancer, knew
American sign language
, and rode horses.
[

2

]
He was also a stand-out
Little League Baseball
player.
[

2

]
The Massoglia family has, as of 2009, refused to move to Hollywood, preferring to maintain a home in Minneapolis despite the extensive travel for Chris that this requires.
[

3

]
He began acting in 2003 under the name "Chris Kelly" (sometimes appearing as "Chris J. Kelly") in an episode of the
television program
Law & Order: Criminal Intent.
[

3

]
The same year, he was considered for the part of 10-year-old Sean in the
Nicole Kidman
film
Birth
, but the family refused to allow him to appear naked on screen with a nude, grown woman.
[

2

]
He auditioned for
Spider-Man 2
(getting far enough in the casting process to spend an afternoon with
Tobey Maguire
) and
Bad News Bears
(he returned six times for call-backs but was not cast).
[

2

]
He spent the summer of 2004 away from auditions to play Little League Baseball; his team (the Robbinsdale All-Stars) won the Minnesota state title that year but did not go to the
Little League World Series
after losing in the Indianapolis regionals.
[

2

]
He appeared in two episodes of
Medical Investigation
in 2004,
[

4

]
and four episodes of the
TNT
cable television
police drama
Wanted
in 2005.
[

3

]
[

4

]
He began using his family name of Massoglia in 2008.
[

3

]
http://en.wikipedia.org
Cache
Am 20. Oktober 2009 erschien das erste Borderlands.
Wer rechnen kann, weiß also, dass das Spiel in diesem Jahr sein zehnjähriges Jubiläum feiert. Und das tut Gearbox natürlich im aktuellen Teil.
Das erste Jubiläums-Event, die Boss-Woche, hat bereits gestern begonnen und läuft noch bis zum 8. Oktober um 17:59 Uhr.
Cache
Auction Sale Every Saturday - *****Please check our current inventory at www.jettauction.com ***** - - Automatic ...
Used > Autos > Cars > SUVs
Cache
Auction Sale Every Saturday - *****Please check our current inventory at www.jettauction.com ***** - - Manual ...
Used > Autos > Cars > Passenger Cars
Cache
Wikipedie říká toto:"V památkovém zákoně se pro starožitnosti stanovuje minimální stáří 50 let, vzhledem k rychlým změnám technologií a sortimentu výroby i módy se však tato hranice stále snižuje."
NAŘÍZENÍ RADY (ES) č. 116/2009 ze dne 18. prosince 2008 o vývozu kulturních statků (je starožitnost kulturní statek? - B.) říká v příloze 1 toto: "Obrazy a malby - Díla, která jsou starší 50 let a nenáleží svému autoru." - stejné nařízení stanoví pro dopravní prostředky hranici 75 let.

Cache
The star of the 'Bourne' film franchise reveals that he was approached by James Cameron to take on the lead role in the 2009 blockbuster, and explains why he decided to give it a pass.

Cache
Seit dem 08. Mai 2009 sind wir sog. Geocacher und dies mit stetig wachsender Begeisterung. Wer nicht weiss, was Geocaching ist, kann sich hier ein wenig einlesen: Wikipedia über Geocaching Unser Profil und Informationen über die zuletzt von uns gemachten Caches findet ihr ab sofort auf folgender Seite: Geocaching So, wir sind dann mal weg, […]

Cache
Nice scoop in the Chronicle today, Mina is going in to the Millenium Tower condo project:

Mina + "his longtime wine director" Rajat Parr
Named RN74 after Burgundy highway
spring 2009 opening "at the earliest" (building itself not done until spring 2009)

4,700 square feet, with 70 seats in dining room, 60 in bar
"moderately priced French-American cuisine ... A typical menu will offer five vegetable dishes, five fish, five pork and poultry items, and five meats."
Mina:

"I just want it to be very relaxd."
I'm a bit of a dunce -- I was tipped to something like this nearly two months ago and forgot to ask Mina about it when I had him on the phone last week. Sigh.

Cache
di Davide Drago
«Questo non è un processo all'Arma dei Carabinieri, ma è un processo contro cinque esponenti dell'Arma dei Carabinieri che nel 2009 violarono il giuramento di fedeltà alle leggi e alla Costituzione, tradendo innanzitutto l'Istituzione di cui facevano e fanno parte». Ieri mattina nell'aula bunker di Rebibbia si è conclusa la requisitoria del pm Giovanni Musarò nel processo per la morte di Stefano Cucchi, arrestato nell'ottobre 2009 per droga e morto una settimana dopo nel reparto detenuti dell'ospedale «Pertini» di Roma. Il pm doveva formulare le richieste di condanna nei confronti degli imputati, tutti e cinque carabinieri: Alessio Di Bernardo, Raffaele D'Alessandro e Francesco Tedesco, tutti accusati di omicidio preterintenzionale e abuso d'autorità. Vincenzo Nicolardi e Roberto Mandolini, tutti accusati di calunnia (Mandolini, anche di falso) entrambi accusati di aver condizionato la ricostruzione dei fatti precisato negli atti giudiziari come "i ...
Cache
City/Town: St. John's
Area: Avalon Peninsula
Cache
City/Town: Lewisporte
Area: Central/Interior
Cache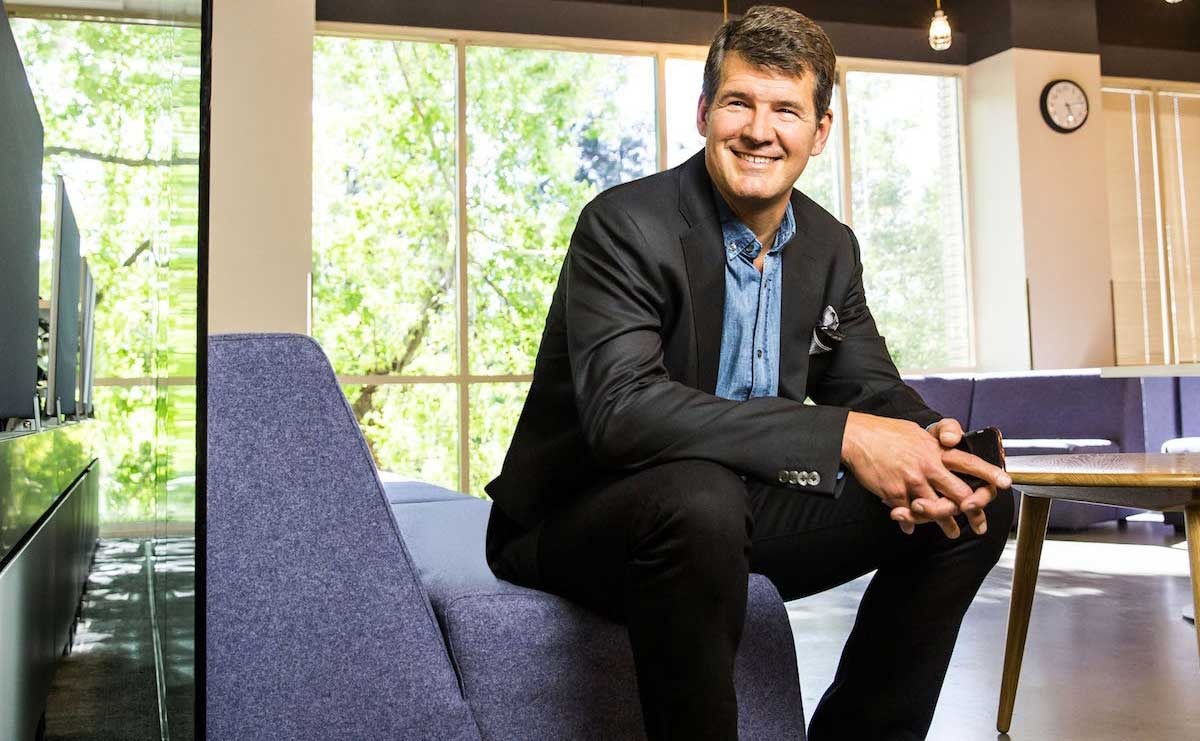 Ebay Inc. ha nominato Scott Schenkel, più recentemente vicepresidente senior e direttore finanziario della società, in qualità di amministratore delegato ad interim. La società ha annunciato, attraverso una nota, che questa decisione segue le dimissioni di Devin Wenig come presidente e ceo. La società ha inoltre affermato che Andy Cring, vicepresidente di eBay e responsabile della pianificazione e analisi finanziaria globale, è stato nominato direttore finanziario ad interim. L'etailer ha riaffermato la sua guida per l'intero anno sulla base della crescita organica dei ricavi neutrali dal 2 al 3 per cento, indici non Gaap da 2.70 dollari a 2.75 dollari per azione e l'Eps Gaap da 1.97 dollari a 2.07 dollari per azione.
Commentando lo sviluppo, Thomas Tierney, presidente di eBay Inc. board, ha sottolineato: "durante i suoi 12 anni presso eBay, Scott ha dimostrato di essere un leader forte e dinamico che conosce bene il nostro business. Ha lavorato a stretto contatto con i nostri team in tutta l'azienda per attuare la nostra strategia. Siamo fiduciosi che l'esperienza di Scott lo rende la persona migliore per guidare la Società in questo periodo."
Ebay nomina Scott Schenkel come ceo ad interim
Schenkel, ha affermato l'azienda, è stato vicepresidente senior e cfo dal 2015, guidando il dipartimento finanziario, quello analitico e informatico, nonché la business unit di eBay Classifieds. In precedenza, ha trascorso sei anni come vice presidente senior e direttore finanziario di eBay Marketplace, dove era responsabile della supervisione di finanza, analisi, strategia e innovazione in tutta l'azienda. Schenkel è dal 2007 con eBay in qualità di vicepresidente della direzione finanziaria.
"Ebay è un mercato globale entusiasmante e di successo che è alimentato dal nostro straordinario team, marchio iconico e piattaforma unica. Mentre il consiglio continua la sua ricerca, noi continueremo a concentrarci sul nostro piano strategico e sulle iniziative relative ai prodotti, garantendo un'ottima esperienza del cliente e una transizione senza problemi", ha aggiunto Schenkel.
Schenkel ha trascorso quasi 17 anni in General electric in vari ruoli finanziari, tra cui direttore finanziario di Ge Healthcare Clinical Systems, direttore finanziario di Ge Plastics Europe e direttore finanziario di Ge Lighting Europe. Ha iniziato la sua carriera come parte del programma di gestione finanziaria di Ge nella sede della Carolina del Nord, America. Schenkel è attualmente membro del consiglio di NetApp come presidente del comitato di revisione.
La società ha affermato, inoltre, che Cring ha ricoperto il ruolo di vicepresidente della pianificazione e analisi finanziaria globale presso eBay, fin dal 2013, anno in cui si è unito all'azienda. Prima di eBay, è stato vicepresidente senior di Fp&A presso Yahoo dal 2009 al 2012. Prima di allora, il manager ha trascorso 17 anni presso General Electric in una varietà di ruoli finanziari, tra cui direttore finanziario delle tecnologie di rilevamento e ispezione.
Immagini: Scott Schenkel tramite la sala stampa di eBay
Cache
In an era when many advocates use social media and online petitions to garner widespread support, the Catholic Church instead focuses on the audience it already has. In Philadelphia, the archdiocese coordinated the distribution of letters to all 219 parishes that warned of "serious dangers" posed by the bill and urged people to pick up additional information at the exits after Mass – and contact their lawmakers.
Since 2009 alone, state lawmakers from both sides of the aisle have tried at least 200 times to extend the civil statute of limitations for child sexual abuse cases, according to a USA TODAY analysis of legislation filed in all 50 states, part of a two-year look at model legislation in partnership with the Arizona Republic and the Center for Public Integrity.
The bills have borrowed from and built on each other, sharing common phrases and ideas.

Many special interests, including the insurance industry, oppose efforts to give survivors more time to sue. But two organizations are uniquely positioned to wield influence because of their deep ties to local communities: the Catholic Church and the Boy Scouts of America.
Cache
Das vom IceCube-Detektor aufgefangene flüchtige Teilchen stammt wohl aus dem turbulenten Zentrum einer fernen Galaxie - Es war eine kleine Sensation: Wissenschaftler meldeten im Juli 2018, etwa ein Jahr zuvor mit dem IceCube-Observatorium am Südpol ein hochenergetisches Neutrino aus einer fernen Galaxie aufgefangen zu haben. Es sollte von einem Objekt mit der Bezeichnung TXS 0506+056 stammen – einer sehr aktiven fernen Galaxie. Ein internationales Team unter der Leitung von Silke Britzen vom Max-Planck-Institut für Radioastronomie hat nun detailreiche Radiobeobachtungen von TXS 0506+056 aus den Jahren 2009 bis 2018 untersucht und eine Erklärung für die Neutrinoaktivität gefunden: Ursache ist demnach ein kosmischer Zusammenstoß innerhalb der Galaxie.

Cache
Lagt inn av simen93:
8 000 kr nå
Cache

Чужая женщина...Чужой мужчина...


Чужая женщина...Чужой мужчина...
Столкнулись взглядами,а в чем причина?

А просто...женщина любила сказки.
Забыла женщина мужские ласки.

Ну а мужчина...глаза увидел.
И вдруг подумал,кто их обидел?

Ей так хотелось поверить в Чудо!
Но жизнь,не Сказка...беги от сюда!

Ну а мужчина?Ведь он Мужчина.
Была для взглядов своя причина.

Вот эта женщина,а вот мужчина...
Уже не ищут Они причину.

И потянулись слова часами...
И все Их взгляды сказали сами!
P.S

Ах как же в жизни нам мало надо,
Когда-то...Слова,когда-то...Взгляда.

© Copyright: Мария Мейнедрум, 2009
Свидетельство о публикации №109112700256


Cache
La extraña sensación de su mirada y una historia desconocida hizo pender de un hilo su alma dentro de mi cabeza. La delgada línea entre amor y locura procuró no hacerme saber nunca cual de todas las primaveras era la suya después del solsticio. Ahora que una nueva mirada, una nueva alma, un nuevo amor, una nueva locura, una nueva primavera después de un nuevo solsticio, me hace vivir una nueva vida. Brindo con una nueva copa a la salud de estos nuevos ojos, que son los tuyos y son los míos hasta el final de los tiempos.

Gracias a todos los que creyeron en este proyecto, hoy mi primer disco, el viernes 8 de enero en La Otra Puerta, Pio Nono 348 Barrio Bellavista.




Cache
Submitted on Tue, 2019-10-08 02:11
หลังการชุมนุมต่อเนื่องมาหลายสัปดาห์ ล่าสุดรัฐบาลฮ่องกงออกมาตรการใหม่เพื่อบีบผู้ชุมนุม ซึ่งหนึ่งในนั้นก็คือการบังคับใช้กฎหมายห้ามสวมหน้ากาก โดยมีผู้ประท้วง 2 รายถูกจับด้วยข้อหานี้เป็นครั้งแรกและเพิ่งได้รับการประกันตัวในวันจันทร์นี้ (7 ต.ค.)
ทิวทัศน์ของฮ่องกงในปี 2009 (ที่มาของภาพประกอบ: Flickr/Bernard Spragg. NZ/Public Domain)
ทางการฮ่องกงจับกุมและตั้งข้อหาผู้ประท้วงด้วยกฎหมายห้ามสวมหน้ากากเป็นครั้งแรกในวันที่ 7 ต.ค. ที่ผ่านมาก่อนที่จะอนุญาตให้มีการประกันตัวผู้ประท้วง 2 คนนี้
ทางการอ้างกฎหมายห้ามสวมหน้ากากมาใช้ตั้งข้อหาพวกเขาซึ่งกฎหมายดังกล่าวเป็นส่วนหนึ่งของ "บัญญัติสถานการณ์ฉุกเฉิน" (Emergency Regulations Ordinance) ที่มีมาตั้งแต่สมัยฮ่องกงยังเป็นอาณานิคมของอังกฤษ และมีบทลงโทษจำคุกสูงสุด 1 ปี
ฮ่องกงฟรีเพรสระบุว่านี้เป็นครั้งแรกที่มีการบังคับใช้กฎหมายนี้ โดยที่ผู้ประท้วง 2 รายถูกตั้งข้อหาในการพิจารณาที่ศาลอีสเทิร์นมาจีสเตรทคอร์ทเมื่อช่วงเช้าของวันที่ 7 ต.ค. วันเดียวกับที่มีเทศกาลชงโหย่งที่มีการเคารพบรรพบุรุษคล้ายเทศกาลเชงเม้ง โดยในช่วงที่มีการพิจารณาคดีนั้นมีผู้ประท้วงราว 100 คนไปปรากฏตัวที่ศาลเพื่อให้กำลังใจผู้ที่ถูกจับกุมในครั้งนี้
ผู้ที่ถูกจับกุมในครั้งนี้มีนักศึกษาชายอายุ 18 ปี กับหญิงอายุ 38 ปี พวกเขาถูกจับกุมตั้งแต่วันที่ 5 ต.ค. ที่ผ่านมาในย่านกวนตง ทางการยังตั้งข้อหาชุมนุมอย่างผิดกฎหมายกับพวกเขาด้วย โดยหลังจากมีการพิจารณาคดีในศาลพวกเขาก็ได้รับอนุญาตประกันตัวและสั่งให้มีการเลื่อนพิจารณาคดีไปเป็นวันที่ 18 พ.ย. ที่จะถึงนี้ โดยที่ผู้ถูกจับกุมไม่ได้รับอนุญาตให้ออกจากฮ่องกงและต้องปฏิบัติตามกฎห้ามออกนอกเคหะสถานในช่วงเวลาระหว่าง 5 ทุ่ม ถึง 6 โมงเช้า รวมถึงต้องรายงานตัวตัวตำรวจ 1 ครั้งต่อสัปดาห์
อย่างไรก็ตามมีการฟ้องร้องเพื่อต่อสู้ในเรื่องนี้ โดยเป็นการต่อศาลสูงเพื่อให้มีการต่อต้านกฎหมายการห้ามหน้ากาก
รัฐบาลฮ่องกงประกาศบังคับกฎใหม่นี้ตั้งแต่วันที่ 4 ต.ค. ที่ผ่านมา ซึ่งเป็นการสร้างความไม่พอใจให้ผู้ชุมนุมมากยิ่งขึ้น เดอะการ์เดียนระบุว่ามีประชาชนหลายหมื่นคนยังคงเดินขบวนท่ามกลางสายฝนในย่านใจกลางของฮ่องกงและในหลายๆ ย่านเพื่อต่อต้านกฎหมายนี้และต่อต้านความรุนแรงของตำรวจ ซึ่งมีคนส่วนใหญ่ยังคงสวมหน้ากากเพื่อแสดงการขัดขืนต่อข้อบังคับใหม่ ในช่วงบ่ายมีการใช้แก็สน้ำตาจากตำรวจเพื่อพยายามสลายการชุมนุมส่วนผู้ชุมนุมก็เริ่มทำลายข้าวของๆ กลุ่มธุรกิจที่เชื่อว่าเป็นธุรกิจที่สนับสนุนจีนแผ่นดินใหญ่ รวมถึงมีบางส่วนทำให้เกิดความเสียหายต่อรถไฟใต้ดิน
ทั้งนี้รัฐบาลฮ่องกงยังได้สั่งปิดสถานีรถไฟใต้ดินในวันจันทร์ซึ่งเป็นวันหยุดราชการ ทำให้ผู้ประท้วงแสดงความไม่พอใจทั้งจากเรื่องที่การปิดสถานีรถไฟเป็นการสกัดกั้นคนไม่ให้รวมตัวกันชุมนุมหรือสลายตัวได้ และไม่พอใจที่ตำรวจใช้กำลังโจมตีผู้ชุมนุมจากในสถานีรถไฟใต้ดิน
การประกาศใช้บัญญัติสถานการณ์ฉุกเฉินนี้ไม่เคยมีมาก่อนเลยนับตั้งแต่ช่วงครึ่งศตวรรษที่ผ่านมาจนถึงตอนนี้และไม่มีมีการประกาศใช้เลยหลังจากที่อังกฤษส่งเกาะฮ่องกงให้อยู่ใต้การปกครองของจีนในปี 2540 มีข้อกังวลว่าการบังคับใช้มาตรการนี้จะทำให้ผู้บริหารสูงสุดของฮ่องกง แคร์รี หลำ มีอำนาจอย่างไร้ขอบเขต นักวิจารณ์กล่าวว่าการบังคับใช้กฎหมายบัญญัติสถานการณ์ฉุกเฉินนี้ขาดความชอบธรรมและเป็นก้าวแรกไปสู่เผด็จการอำนาจนิยม อย่างการบีบบังคับควบคุมชีวิตประจำวันของประชาชน
ในช่วงที่มีการประกาศบังคับใช้บัญญัติสถานการณ์ฉุกเฉิน แคร์รี หลำ ยังเปรยไว้ว่าถ้าหากยังคงมีการประท้วงดำเนินต่อไปทางรัฐบาลอาจจะใช้มาตรการที่หนักข้อกว่านี้รวมถึงการบังคับใช้เคอร์ฟิว
คริส แพทเทน อดีตผู้ว่าการรัฐฮ่องกงคนสุดท้ายก่อนที่ฮ่องกงจะอยู่ภายใต้การปกครองของจีนเป็นหนึ่งในผู้ที่วิพากษ์วิจารณ์มาตรการใหม่นี้ โดยบอกว่าแคร์รี หลำ ใช้วิธีการหนักข้อเกินไป พูดเน้นถึงเรื่องที่ตำรวจติดอาวุธทำให้เยาวชนบาดเจ็บสาหัส อีกทั้งยังเตือนว่าสถานการณ์อาจจะยกระดับมากขึ้นกว่าเดิมถ้าหากแคร์รี หลำ ยังไม่ยอมเจรจากับผู้ชุมนุม โดยเฉพาะผู้ชุนมุมที่ประท้วงอย่างสงบ
เรียบเรียงจาก
Two Hong Kong protesters charged with violating anti-mask law released on bail, Hong Kong Free Press, 07-10-2019
Hong Kong protests: first charges brought under laws banning face masks, The Guardian, 07-10-2019
Violence grips Hong Kong as Lam activates emergency powers, The Guardian, 04-10-2019
ติดตามประชาไทอัพเดท ได้ที่เฟซบุ๊ก https://fb.me/prachatai : ทวิตเตอร์ https://twitter.com/prachatai : LINE ไอดี = @prachatai
Cache
Existe a nivel global una burbuja crediticia, generada como consecuencia de una década de tasas de interés en cero. Sin embargo, esta vez estamos muy cerca de ver el estallido de esa burbuja.
Si. Lo que acaban de leer. Tienen que vender todos los bonos del mundo.
Les recuerdo que en su momento insistí mucho con que había que vender los bonos de Argentina y sin embargo hubo muchos que no lo hicieron (resultados a la vista).
El objetivo de esta nota es que no sufran ahora nuevas pérdidas inesperadas en todos los otros bonos que tengan. Atención: no va a escuchar a ningún ejecutivo de cuentas de ningún banco alertando acerca de este peligro. Lo que es aún peor, la mayoría de la gente se siente injustificadamente segura con bonos corporativos que son tóxicos.
Ya hablé varias veces acerca de la burbuja crediticia que existe a nivel global, generada como consecuencia de una década de tasas de interés en cero. Sin embargo, esta vez les escribo porque creo que estamos muy cerca de ver el estallido de esa burbuja.
¿Cual es el desencadenante de esta debacle? Días atrás marqué como el fracaso del IPO de WeWork es un indicio de que se acaba el "dinero fantasía". Pero China también empieza a mostrar síntomas de que es cada vez más difícil conseguir capital.
Muy poco se está hablando de esto, pero a las compañías chinas se les está haciendo cada vez más difícil seguir pagando su deuda.
Recordemos que desde 2009 el alto crecimiento de la economía china se viene sosteniendo en parte de manera artificial, con un fenomenal aumento de la deuda corporativa.
¿Y qué está pasando ahora?
Al empeorar las condiciones económicas, esto intensificado por la guerra comercial, se ha disparado el número de compañías chinas que están defaulteando su deuda.
En el año 2018, se triplicaron los defaults corporativos. Y en 2019, esta tendencia continúa aumentando vertiginosamente, con unos u$s 10.000 millones en defaults corporativos hasta agosto de este año.
Como si esto fuera poco, en 2020 el 40% de las empresas chinas que están en dificultades tendrán que afrontar vencimientos por u$s 8.600 millones.
El mercado ha tomado nota de ello. Los rendimientos de los bonos chinos en dólares llegan al 15%, en un momento donde las tasas de interés en el mundo están en mínimos de 5.000 años:
Además, debemos tener en cuenta dos cuestiones más, que creo también son impactantes.
(1) En EEUU los bonos calificados como BBB (categoría más baja dentro de "Investment Grade") representan hoy más de la mitad del universo de bonos corporativos. El monto total de estos bonos BBB es de u$s 3 Trillions, lo cual es casi el triple de toda la deuda "High Yield".
Esto es de enorme importancia, porque en caso de ver un empeoramiento de las condiciones económicas, una gran masa de estos bonos recibirán un downgrade y perderán la categoría "Investment Grade". En consecuencia, muchos de los fondos que sólo pueden invertir en bonos "Investment Grade" estarán obligados a venderlos.
(2) En el mundo los bonos con rendimiento negativo superan los u$s 15 Trillions. ¿Cómo se explica esto? Ha habido una combinación de pánico comprador sumado a la burbuja más grande de la historia en bonos (muy superior a la de Internet en los 2000 y a Real Estate en el 2007).
En este contexto, es prácticamente imposible tener un rendimiento decente en renta fija sin asumir un riesgo desmedido como contrapartida.
Dicho de otra manera: si están teniendo bonos con un rendimiento "razonable" (digamos entre un 3%-6%) es porque esos bonos tienen un riesgo implícito muy alto. Y si tienen fondos de bonos que están rindiendo el 3%, la situación es idéntica, solo que la diferencia se la están repartiendo entre todos los intermediarios del fondo (administración, bancos, abogados, gastos operativos).
Esto es exactamente lo que pasó con la deuda de Argentina. Luego de la debacle posterior a las PASO, creo que a todos les quedó bien en claro el riesgo que estaban tomando al comprar un bono de Argentina hace uno o dos años cuando la rentabilidad de estos bonos parecía "atractiva".
Hoy muchos inversores tienen fondos de bonos internacionales que compraron buscando rentabilidad "segura". Sin embargo, en el 99% de los casos, no saben lo que están comprando ni los riesgos que están asumiendo.
Esos fondos suelen contener una amplia variedad de bonos corporativos que en poco tiempo van a caer con fuerza. El mercado de bonos va a colapsar: lo vengo diciendo hace mucho tiempo.
Se lo que muchos deben estar pensando…"¡Miguel nos manda a vender todo!".
Me gustaría poder decirles que compren acciones y bonos internacionales, pero es un contexto pésimo para hacerlo. Se avecinan tiempos muy difíciles para los activos tradicionales.
Por eso, si tienen un perfil de riesgo muy conservador, les sugiero que recuerden que estar en cash también es un trade. Y en momentos como este, es uno bastante inteligente.
Por otra parte, como también me he cansado de repetirlo, el oro y la plata son de las pocas cosas que tiene sentido comprar hoy.
Para ganar dinero en los próximos años sin dudas van a tener que hacer cosas diferentes. Los activos tradicionales no son hoy un refugio de valor sino todo lo contrario: son una bomba de tiempo.
Conclusión: van a a tener que empezar a dedicarle tiempo a entender dónde y cómo realizan sus inversiones. El que no esté preparado, se va a llevar sorpresas muy desagradables.
Cache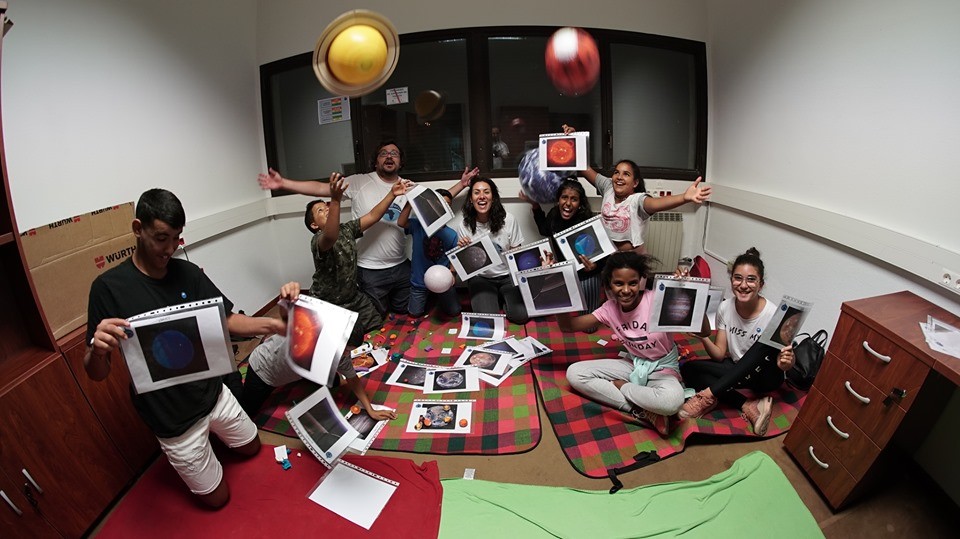 A astrofísica brasileira Patrícia Spinelli se uniu a colegas pesquisadores em todo o mundo para fundar em 2009 um projeto itinerante que leva conhecimentos científicos até comunidades periféricas, rurais ou que vivenciam diferentes tipos de conflitos.
Chamado de GalileoMobile, a iniciativa já foi até aldeias indígenas no Acre, Rondônia e Bolívia, e já passou por comunidades e instituições escolares de países como Índia, Uganda, Chile e Peru. A próxima parada neste mês de outubro será para atender refugiados sarauís em um campo localizado em Tindouf, na Argélia. Esse grupo de pessoas foi afetado pela Guerra do Saara Ocidental, que durou de 1975 a 1991: até hoje, o Saara Ocidental é considerado um território não-autônomo e vive sob a administração do Marrocos.
A ação do grupo de cientistas no campo de refugiados é chamada de Amanar e ocorre em parceria com a Associação Canária de Amizade com o Povo Sarauí ( ACAPS) e com o Instituto de Astrofísica de Canarias (IAC). Voluntários levam telescópios, material didático e fazem oficinas e palestras sobre ciência com pessoas de diversas faixas etárias.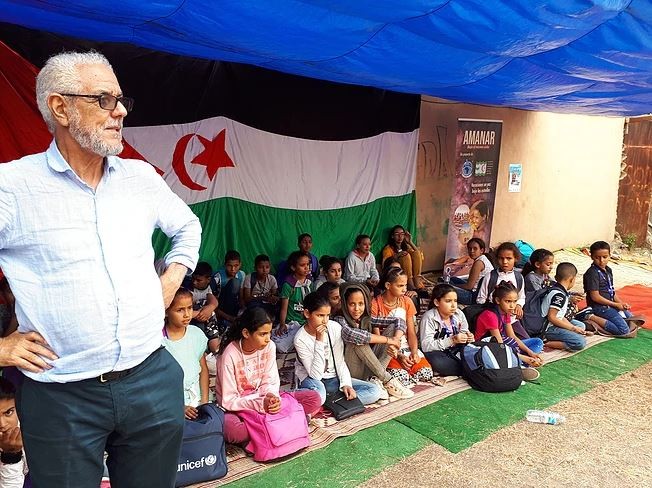 "Normalmente os grupos de refugiados recebem outro tipo de assistência, é muito difícil observamos essa inclusão a partir da ciência", comenta Spinelli, em entrevista à GALILEU.
Ela conta que o Amanar já passou por uma etapa anterior, que ocorreu de julho a agosto deste ano e ocorreu nas Ilhas Canárias, arquipélago espanhol que fica no Oceano Atlântico, próximo à costa noroeste da África.
Durante o verão europeu, as crianças dos campos de refúgio sarauís viajam da Argélia até essas ilhas para se hospedarem em casas de famílias espanholas, onde recebem comida, brinquedos, roupas e ajuda financeira.
Os cientistas participantes do Amanar aproveitam então o período de intercâmbio para planejarem não apenas as palestras, mas também observações em telescópios no arquipélago, que é reconhecido pelos observatórios do Instituto de Astrofísica das Canárias (IAC) por ser ideal para a visualização de estrelas e constelações.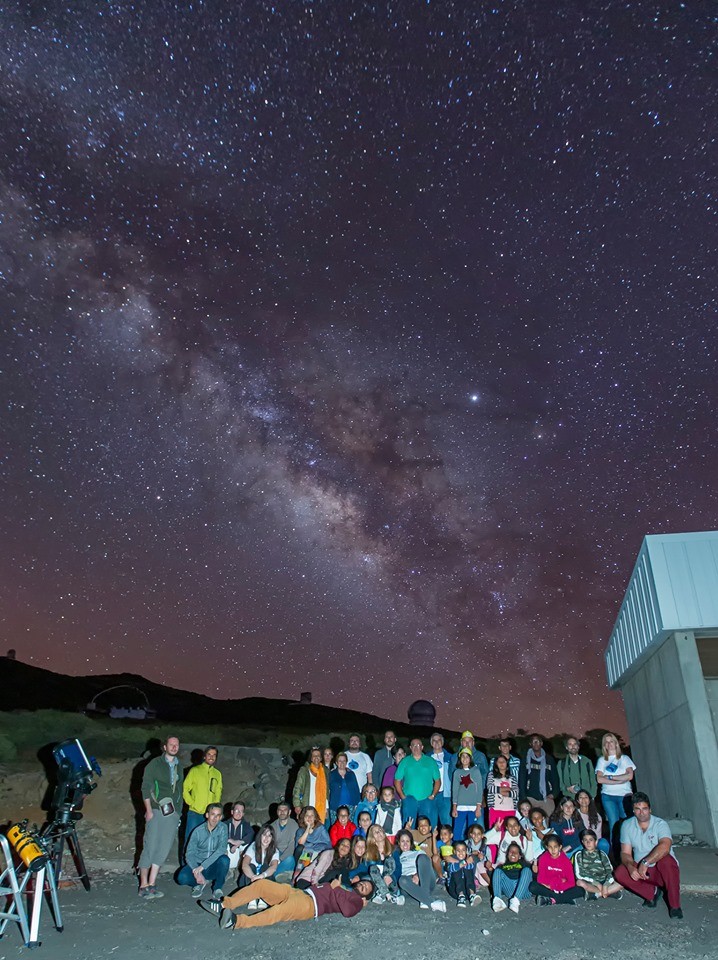 Astronomia pela paz
Outro projeto que foi desenvolvido este ano pela GalileoMobile é o Columba-Hypatia, que leva astronomia até a Ilha do Chipre, localizada a leste do Mar Mediterrâneo, ao sul da Turquia. O local é divido por um conflito étnico que separa a parte sul, habitada por cipriotas gregos, e a região norte, onde fica a comunidade cipriota turca.
As Nações Unidas (ONU) criaram no local uma zona neutra, a partir de uma missão de paz que se iniciou em 1964. Mas, segundo relatório recente do secretário-geral da ONU, António Guterres, apesar da situação estar estável, a tensão entre os grupos está sempre presente.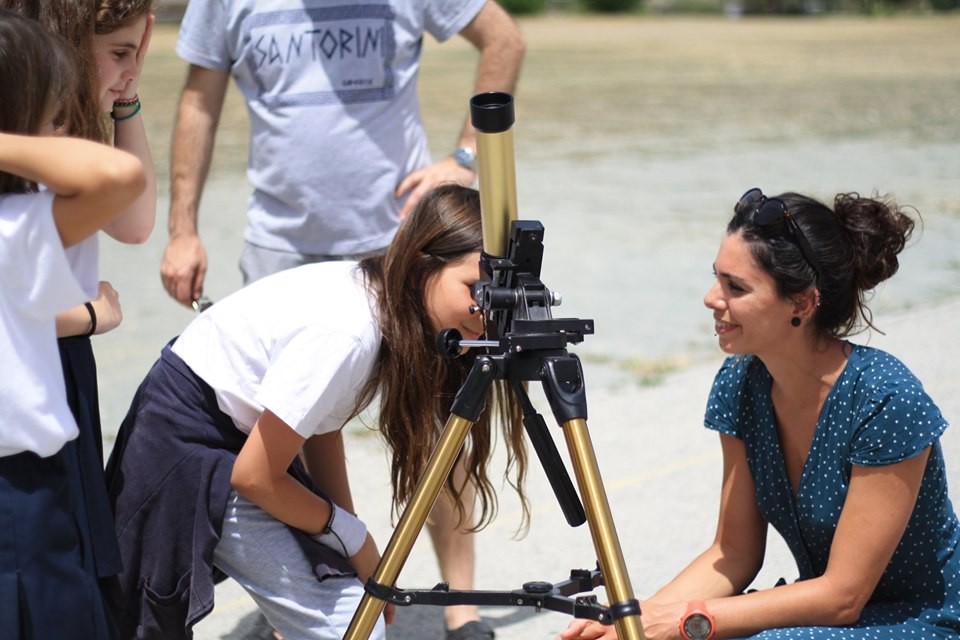 Spinelli explica que para viabilizar o Columba-Hypatia na região cipriota foi necessário um processo diplomático intenso com ambas as partes que administram a ilha. Para conciliar diferenças, os voluntários do projeto realizam oficinas de astronomia com crianças das duas origens culturais. Há tradutores no local para facilitar o diálogo e os materiais didáticos fornecidos são todos traduzidos.
"Colocamos as crianças para falarem sobre coisas que elas têm em comum, sempre utilizando o céu como referência", conta a astrofísica. "Afinal o céu que elas observam é o mesmo. É sem fronteiras, pois não vemos nenhuma linha que divide o céu".
Todos os projetos da GalileoMobile dependem de doações provenientes de editais de cada localidade e de financiamento coletivo, além de patrocinadores - o maior deles é a União Astronómica Internacional (UAI). Para fazer uma doação ou ser voluntário em outros programas ou nas próximas ações do Amanar ou do Columba-Hypatia, entre em contato no site do GalileoMobile.
Cache
Pingback from Dew Drop – June 12, 2009 | Alvin Ashcraft's Morning Dew
Cache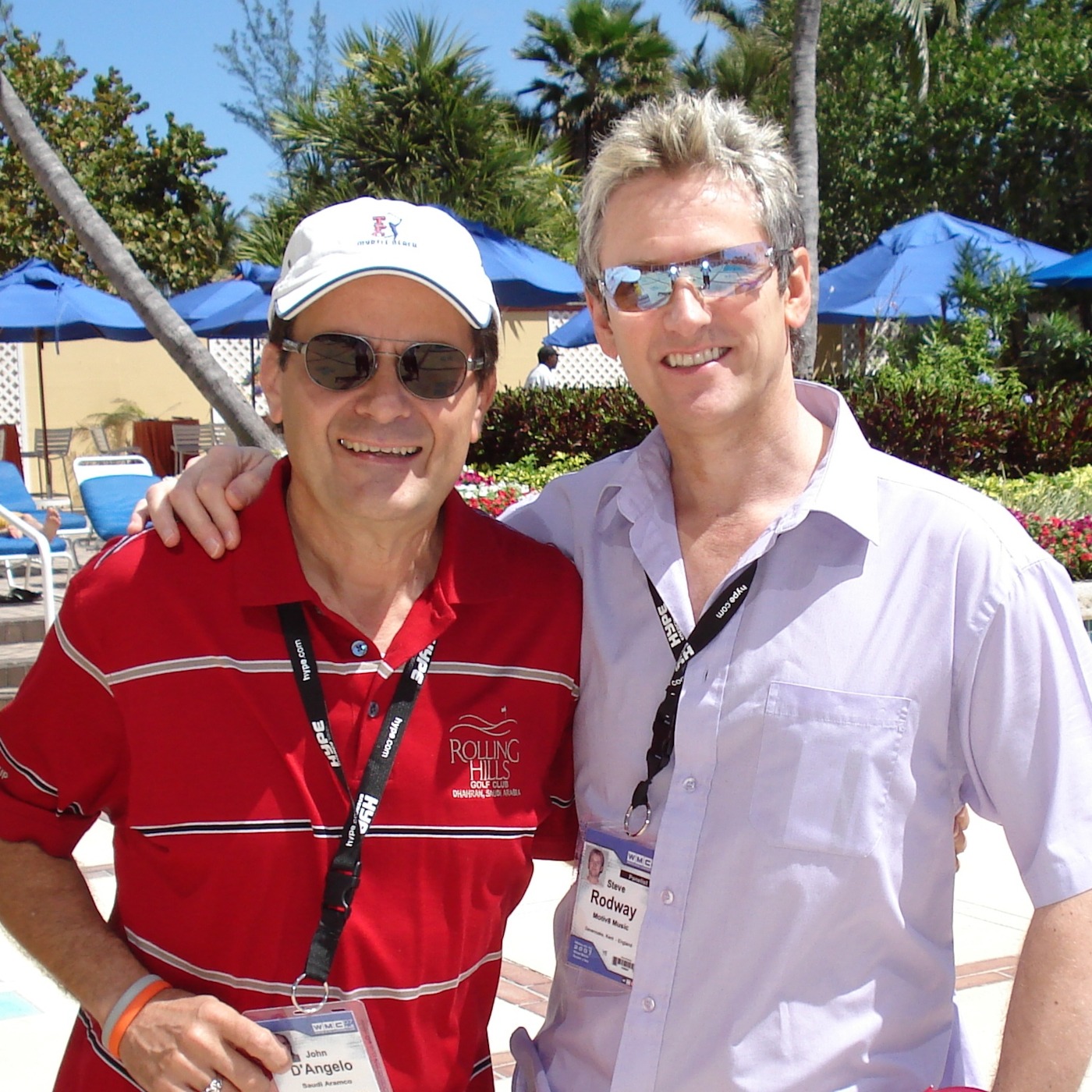 Photo Op Johnny D w/ Steve Rodway Grammy Award Winner, UK This episode has No Commercial interruptions, solid mix and remixes I made of International Dance/house/trance. No One on the Planet gives this much Diversity! Enjoy! Club Chaos April 23, 2K10 Mixed and produced by DJ Johnny D (all rights reserved) Club Chaos Set 1 1. Kate Ryan – Sage Comme Un Image (ARS Ent) Belgium 2. Lemar – The Way Love Goes (Cahill Rado Edit) Sony Ent./ ATV Copyright Control) UK 3. Livvi Franc – Automatik (Wideboys Stadium Radio Edit) RCA/Sony Music Ent.) UK 4. Craig David – One More Lie (Standing in the Shadows) Universal Music, UK (Motown) Club Chaos Set 2 1. Johnny D Remix of DJ Antoine – Every Breath (Clubzound Edit) Sessions Recordings, Switzerland 2. Johnny D Remix of David Guetta feat. Estelle – One Love (Positiva, UK/ Editions Square Rivoli/Chrysalis Music/Dipiu' 3. Antoine Clamaran feat. Mazaya – When the Sun Goes Down (Clap Productions/Dipiu'/Sony Music Ent.) D-Plac Production, France 4. Maika – Embrasse –Moi (J.R. Music/SME StrategicMarketing/Sony Music Ent.) France 5. Donkeyboy – Ambitions (Cosmic Dawn Remix) Warner Music Group Company, Norway Club Chaos Set 3 1. Sub Focus – Could This Be Real (radio edit) Ram, UK 2. Jes – Lovesong (Magik Muzik/ Black Hole) The Netherlands 3. Johnny D Remix of Angelic – It's My Turn 2009 (Darren Tate radio edit) Mondo/ Serous Worldwide/Peer Music/BMG Music/Copyright Control, UK 4. Lasgo – Over You (Radio edit0 (541/N.E.W.S. ) Belgium Club Chaos Set 4 1. Dabruck & Klein feat. Michael Feiner – The Feeling (WePlay, Germany) 2. Dennis Ferrer – Hey Hey (Radio Edit) (Objektivity/Defected Records) Sfere Music, BMI USA 3. Cosmosound feat. Nekk = I'd Loveto Change the World(Rivaz Radio Edit) Energy Productions, Italy – Planet Works, Greece.(Chrysalis Music/Oh My God) Sample '71 Ten Years After Band 4. DJ Satami – Castle In the Sky 2010 (Tanzamomo Remix Edit) Sunflower, Italy 5. Jan Wayne – Hello (HANDZ UP! Edit) Shakespeare Sisters'92 Hello (turn Your Radio On) Deutsche Dance/ Discoton Music Edition/Reverb Music/G.S.A. Musikverlag Progressive, Germany

Cache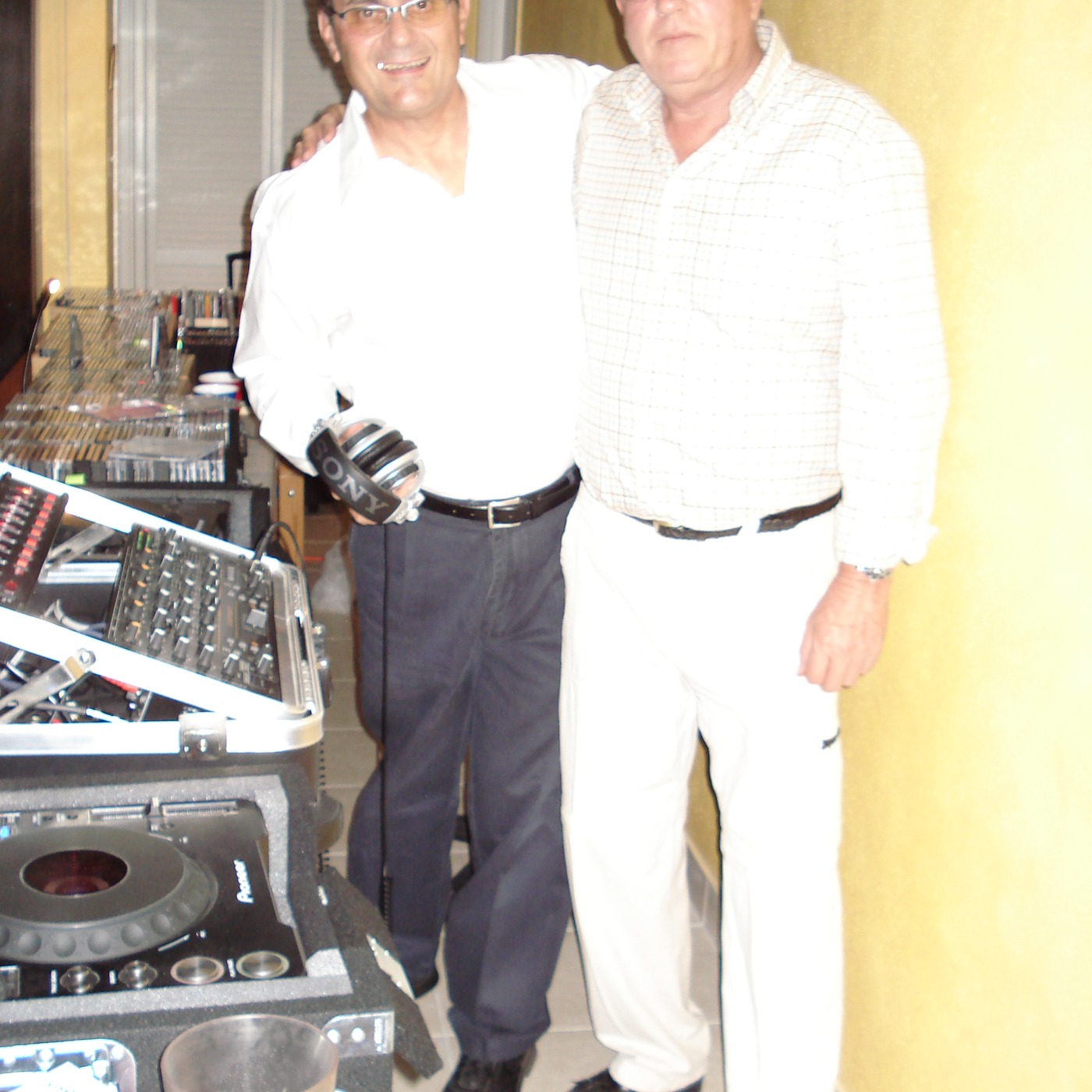 Club Chaos Aug. 8, 2009 Mixed and produced by DJ Johnny D (all rights reserved) Club Chaos Set 1 1. Ladyhawke – Paris Is Burning (Simmons & Christopher Club Mix) Modular Records/Island UK 2. Relight Orchestra & DJ Andrea – UMA Historia DE IFA (Elegibo) Cattaneo & Gardini Radio '09 Mix (Milano Lab, Italy) 3. Bad Boy Bill feat. Alyssa Palmer – Falling Anthem (Menage Music USA) 4. DJ Sneak vs. Herve feat. Kid Infinity – Droppin' Kisses (CR2 Records, UK) 5. Natural Born Grooves – Candy on the Dancefloor (Wideboys Miami Radio Edit) Club Chaos Set 2 1. Stereo Palma – Cada Vez (Malibu Breeze Remix) Dancemania Germany 2. Celine Dion vs Maurice Joshua – I'm Alive (Columbia Records USA) Remix 3. September – Because I Love You (Clubmix Short) Catchy Tunes Sweden 4. Kerli – Walking On Air (Josh Harris Radio Edit) Island Def Jam USA Club Chaos Set 3 1. Greg Cerrone feat. Andy P. Taking Control of You (Original Radio Mix) On the Air Music France 2. D.O.N.S. – You Used to Hold Me (Gregg Cerrone Remix) Kingdom Kome Cuts Germany 3. Anastacia – Absolutely Positively (Moto Blanco Radio Mix) Mercury Records UK 4. Solo feat. Jenry R – Dark Today Highlight Records Cyprus Club Chaos Set 4 1. Shaggy feat. Gary "Nesta" Pine – Fly High (Radio Edit) Ministry of Sound/ Big Yard Music/Scikron Ent. Germany 2. Tom Boxerfeat. Jay – A Beautiful Day (Vanotek Radio Edit) Roton Romania 3. Mintman feat. Karina – Talkin' In Your Sleep (Warner Chappel Music Denmark) 4. Tatana & Hanna Hais – Jazz Samba Breeze (Sirup Music Switzerland)


Next Page: 25 © Googlier LLC, 2019