Googlier.com News Article Search
Googlier.com Precious Metals Exchange Smart Contracts
Googlier.com Document Services

An ancient tree is the first ever found to have a record of Earth's magnetic field reversal
https://www.good.is/an-ancient-tree-is-the-first-ever-found-to-have-a-record-of-earths-magnetic-field-reversal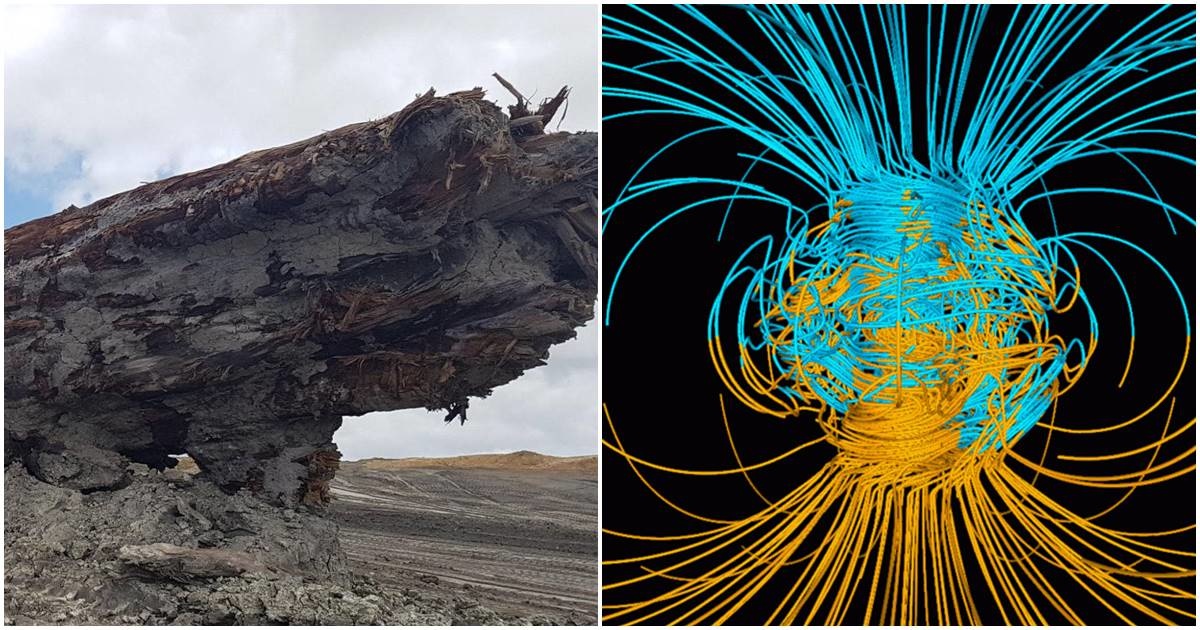 Trees give us a unique glimpse into our past. An examination of tree rings can show us what the climate was like in a given year. Was it a wet winter? Were there hurricanes in the summer? Did a forest fire ravage the area?

An ancient tree in New Zealand is the first to provide evidence of the near reversal of the Earth's magnetic field over 41,000 years ago.
Over the past 83 million years there have been 183 magnetic pole reversals, a process that takes about 7,000 years to complete.
---
"It's not a sudden flip, but a slow process, during which the field strength becomes weak, very probably the field becomes more complex and might show more than two poles for a while, and then builds up in strength and [aligns] in the opposite direction," Monika Korte, the scientific director of the Niemegk Geomagnetic Observatory at GFZ Potsdam in Germany, said according to Live Science.
During this process, the Earth can be bombarded with dangerous cosmic rays shot out of the sun.
The last time this happened was 772,000 years ago and, since, the magnetic field has almost reversed 15 times.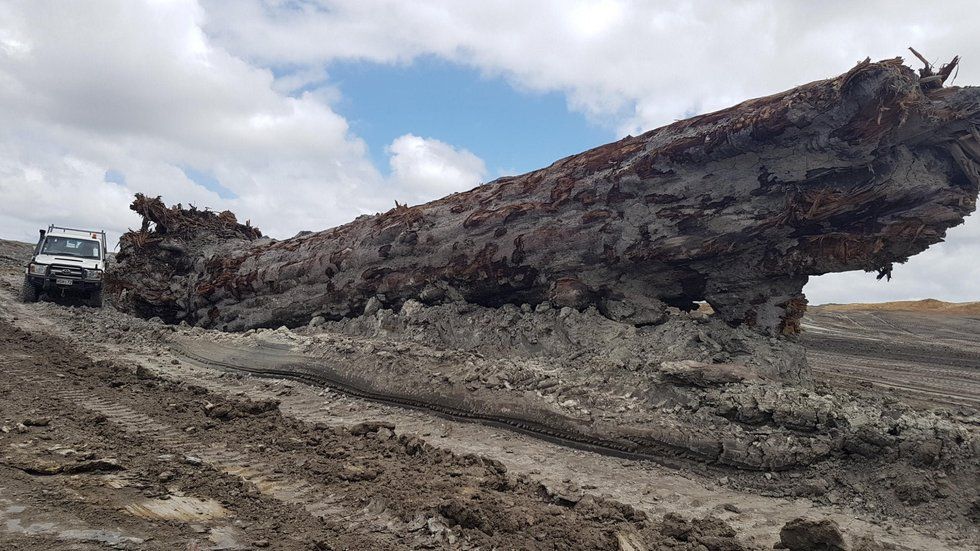 via Reddit

One of these near reversals was during the lifespan of an ancient Agathis australis — better known as its Māori name kauri — that was recently unearthed 26-feet below ground during the construction of a geothermal power plant in New Zealand.


The tree lived for 1500 years from between 41,000 and 42,500 years ago during a period known as the Laschamp Excursion.

"There's nothing like this anywhere in the world," Alan Hogg, from New Zealand's University of Waikato, said according to Newsweek. "This Ngawha kauri is unique."

The kauri's rings contain a complete record of the near reversal and it's the first time a tree that lived through the entire event has been discovered.

Samples of the tree are being analyzed by a team led by ChrisTurney from the University of South Wales. By understanding the near reveral's effect on the tree, scientists hope to learn what to expect next time it happens.

"We will have increased cosmic radiation. It will take out satellites and it might take out other communication infrastructure," Alan Hogg, from New Zealand's University of Waikato, said.

The effects of a magnetic field change are of increasing interest to scientists after reports last September showed the Earth's northern magnetic pole moved at an unexpectedly fast rate tate towards Siberia.

"Because the Earth's magnetic field has a major effect on how much radiocarbon carbon is formed in the upper atmosphere, these precious analyses will allow us to investigate the magnitude and rate of change when the magnetic field reversed during the Laschamp; something not possible before and of great interest given recent changes in the Earth's magnetic field," Turney said.




Array ( [the] => 35 [p] => 30 [a] => 29 [of] => 19 [in] => 11 [to] => 11 [magnetic] => 10 [field] => 10 [tree] => 10 [and] => 9 [https] => 8 [www] => 6 [years] => 6 [is] => 6 [blank] => 6 [target] => 6 [noreferrer] => 6 [noopener] => 6 [rel] => 6 [href] => 6 [Earth's] => 5 [during] => 5 [New] => 4 [near] => 4 [The] => 4 [com] => 4 [was] => 4 [h] => 4 [ancient] => 4 [said] => 4 [this] => 4 [from] => 4 [br] => 4 [An] => 3 [out] => 3 [img] => 3 [reversal] => 3 [record] => 3 [ago] => 3 [will] => 3 [have] => 3 [class] => 3 [us] => 3 [process] => 3 [has] => 3 [time] => 3 [University] => 3 [it] => 3 [first] => 3 [that] => 3 [by] => 2 [more] => 2 [RELATED] => 2 [interest] => 2 [Laschamp] => 2 [complete] => 2 [change] => 2 [not] => 2 [d] => 2 [articles] => 2 [take] => 2 [strength] => 2 [becomes] => 2 [good] => 2 [center] => 2 [Alan] => 2 [text-align] => 2 [are] => 2 [at] => 2 [last] => 2 [might] => 2 [Hogg] => 2 [Zealand's] => 2 [with] => 2 [according] => 2 [for] => 2 [cosmic] => 2 [reversed] => 2 [Waikato] => 2 [scientists] => 2 [on] => 2 [effect] => 2 [style] => 2 [an] => 2 [reversals] => 2 [been] => 2 [as] => 2 [known] => 2 [there] => 2 [pole] => 2 [kauri] => 2 [given] => 2 [unique] => 2 [Zealand] => 2 [rate] => 2 [small] => 2 [like] => 2 [these] => 2 [its] => 2 [jpg] => 2 [lived] => 2 [src] => 2 [assets] => 2 [what] => 2 [show] => 2 [can] => 2 [rings] => 2 [past] => 2 [This] => 1 [order] => 1 [millionth] => 1 [plants] => 1 [Nonprofit] => 1 [Ngawha] => 1 [dd] => 1 [better] => 1 [australis] => 1 [reforestation-nonprofit-planted-] => 1 [lifespan] => 1 [Newsweek] => 1 [-million-trees] => 1 [name] => 1 [earths] => 1 [world] => 1 [via] => 1 [Reddit] => 1 [Agathis] => 1 [period] => 1 [between] => 1 [There's] => 1 [nothing] => 1 [anywhere] => 1 [help] => 1 [One] => 1 [plant] => 1 [M] => 1 [power] => 1 [geothermal] => 1 [construction] => 1 [ground] => 1 [below] => 1 [-feet] => 1 [unearthed] => 1 [recently] => 1 [newsweek] => 1 [ancient-tree-discovered-earths-magnetic-field-] => 1 [ori] => 1 [Excursion] => 1 [happens] => 1 [heal] => 1 [carbon] => 1 [September] => 1 [showed] => 1 [northern] => 1 [moved] => 1 [unexpectedly] => 1 [fast] => 1 [tate] => 1 [towards] => 1 [Siberia] => 1 [Because] => 1 [major] => 1 [how] => 1 [much] => 1 [radiocarbon] => 1 [formed] => 1 [after] => 1 [upper] => 1 [atmosphere] => 1 [precious] => 1 [analyses] => 1 [allow] => 1 [investigate] => 1 [magnitude] => 1 [when] => 1 [something] => 1 [possible] => 1 [before] => 1 [great] => 1 [recent] => 1 [changes] => 1 [reports] => 1 [increasing] => 1 [planet] => 1 [Wales] => 1 [kauri's] => 1 [contain] => 1 [it's] => 1 [through] => 1 [entire] => 1 [event] => 1 [discovered] => 1 [Samples] => 1 [being] => 1 [analyzed] => 1 [team] => 1 [led] => 1 [ChrisTurney] => 1 [South] => 1 [By] => 1 [effects] => 1 [increased] => 1 [infrastructure] => 1 [communication] => 1 [other] => 1 [satellites] => 1 [It] => 1 [radiation] => 1 [We] => 1 [understanding] => 1 [UpliftingNews] => 1 [next] => 1 [expect] => 1 [learn] => 1 [hope] => 1 [reveral's] => 1 [comments] => 1 [data-rm-shortcode-id] => 1 [r] => 1 [two] => 1 [about] => 1 [hr] => 1 [It's] => 1 [sudden] => 1 [flip] => 1 [but] => 1 [slow] => 1 [which] => 1 [weak] => 1 [very] => 1 [probably] => 1 [complex] => 1 [than] => 1 [poles] => 1 [earths-magnetic-north-pole-has-officially-moved] => 1 [while] => 1 [then] => 1 [builds] => 1 [up] => 1 [aligns] => 1 [opposite] => 1 [direction] => 1 [Monika] => 1 [Korte] => 1 [scientific] => 1 [director] => 1 [Niemegk] => 1 [Geomagnetic] => 1 [Observatory] => 1 [takes] => 1 [trevornace] => 1 [Potsdam] => 1 [wet] => 1 [ever] => 1 [found] => 1 [rbl] => 1 [ms] => 1 [origin] => 1 [Trees] => 1 [give] => 1 [glimpse] => 1 [into] => 1 [our] => 1 [examination] => 1 [climate] => 1 [year] => 1 [Was] => 1 [winter] => 1 [sites] => 1 [Were] => 1 [hurricanes] => 1 [summer] => 1 [Did] => 1 [forest] => 1 [fire] => 1 [ravage] => 1 [area] => 1 [provide] => 1 [evidence] => 1 [over] => 1 [Over] => 1 [million] => 1 [forbes] => 1 [GFZ] => 1 [Germany] => 1 [reddit] => 1 [cGlyZXNfYXQiOjE] => 1 [io] => 1 [eyJhbGciOiJIUzI] => 1 [NiIsInR] => 1 [cCI] => 1 [IkpXVCJ] => 1 [eyJpbWFnZSI] => 1 [Imh] => 1 [dHBzOi] => 1 [vYXNzZXRzLnJibC] => 1 [tcy] => 1 [yMTE] => 1 [OTIyMC] => 1 [ODB] => 1 [LmpwZyIsImV] => 1 [NzA] => 1 [true] => 1 [MjIyNzZ] => 1 [XKmP] => 1 [bCyJ] => 1 [EoG] => 1 [Op] => 1 [Ho] => 1 [b] => 1 [mrLiIKBvmwPOHkBrfJhU] => 1 [image-media] => 1 [media-photo-credit] => 1 [placeholder] => 1 [Add] => 1 [Photo] => 1 [Credit] => 1 [rebelmouse] => 1 [lazy-loadable] => 1 [livescience] => 1 [be] => 1 [-earth-magnetic-poles-flip] => 1 [html] => 1 [Live] => 1 [Science] => 1 [olive-tree-vouves-greece-crete] => 1 [Historic] => 1 [-year-old] => 1 [olive] => 1 [still] => 1 [producing] => 1 [olives] => 1 [day] => 1 [During] => 1 [Earth] => 1 [bombarded] => 1 [id] => 1 [dangerous] => 1 [rays] => 1 [shot] => 1 [sun] => 1 [happened] => 1 [since] => 1 [almost] => 1 [times] => 1 [shortcode-media] => 1 [shortcode-media-rebelmouse-image] => 1 [rm-shortcode] => 1 [PVSQK] => 1 [data-rm-shortcode-name] => 1 [rebelmouse-image] => 1 [Turney] => 1 ) © Googlier LLC, 2019