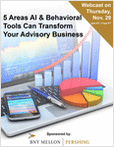 Date: Thursday, November 29, 2018
Time: 2pm ET | 11am PT
Cost: Complimentary

Sponsored by: BNY Mellon | Pershing
Artificial intelligence (AI) is a largely untapped resource in the investment industry. Though this new technology can be confusing and overwhelming at times, smart advisors are embracing this powerful tool to address their greatest needs. AI can improve outcomes in at least five different areas, including overall practice management, client engagement/communication, investments/stock predictions, fraud/risk management, and regulatory/compliance oversight.
Join this complimentary webcast to get a deeper and clearer appreciation of AI and how this rapidly evolving technology can help transform your practice. You'll discover:
The best ways to harness and mine client data to improve communication and business outcomes
How to use the latest AI-related tools to improve results, including investment/portfolio and risk analytics
Ways that AI can boost firm productivity, strengthen client relationships and reshape the future of your practice
Register Now!!
Featured Speakers:
Doug Fritz, CEO & Founder, F2 Strategy, Inc.
Tommy Marshall, Fintech Advisor, Accenture
Gavin Spitzner, President, Wealth Consulting Partners, LLC
Request Free!