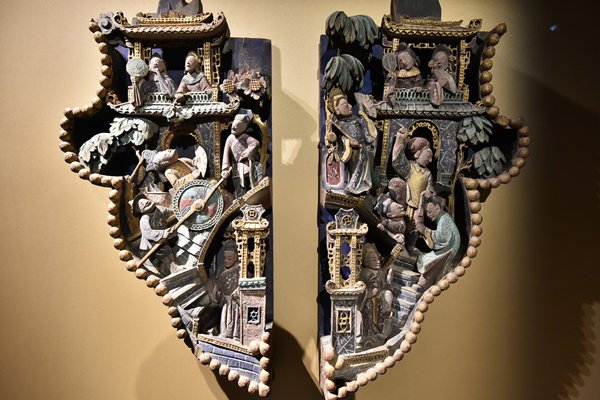 An exhibition showcasing the practical uses and artistic qualities of Chaozhou woodcarving will open tomorrow at the Hong Kong Museum of History.
Speaking at the opening ceremony today, Director of Leisure & Cultural Services Michelle Li said the Guangdong, Hong Kong and Macau governments signed the Greater Pearl River Delta Cultural Exchange & Co-operation Development Plan 2014-2018 in 2014 to strengthen co-operation.
She said the Hong Kong Museum of History and Guangdong Museum launched an exhibition exchange programme this year, demonstrating the close relationship between the cultural institutes of both places.
Ms Li thanked the Department of Culture & Tourism of Guangdong Province, the Guangdong Museum and the Federation of Hong Kong Chiu Chow Community Organizations for bringing treasures of traditional Chinese art and culture to Hong Kong.
Chaozhou woodcarving is a traditional Chinese folk handcraft known as "gilt wood" and was inscribed onto the first national list of intangible cultural heritage in 2006.
Highlight exhibits include a gilt wooden diamond-shaped food container featuring a pigmented lacquer painting of Wine from Wang Maosheng, and a large gilt wooden lobster and crab cage in openwork provided by Gu Liuxi who inherited the national intangible cultural heritage of Chaozhou woodcarving.
With 120 exhibits, the exhibition will also illustrate the Chaoshan community in Hong Kong's customs and traditions, including the Yu Lan Festival, Chaozhou opera, Chaozhou music, dietary habits and religious rituals.
The exhibition will run until February 25.
Click here for details.