Three Years in the Klondike by Jeremiah Lynch, Edited by Dale L. Morgan, Panning for Gold, Lakeside Classics, 1967 Vintage X LIBRARY Book by ProfessorBooknoodle
Translate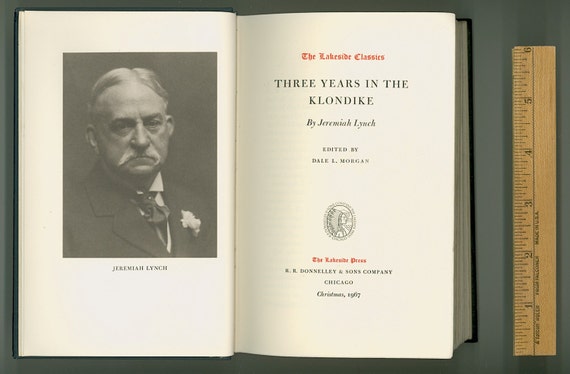 24.00 USD
This is a clean and attractive deaccessioned library copy of "Three Years in the Klondike" by Jeremiah Lynch. The book was edited by Dale L. Morgan and issued in 1967 by R. R. Donnelley & Sons in their Lakeside Classics Series. The book has a frontispiece photo-portrait of the author, a map and eight halftone photographs as illustrations. It's an exciting read, full of discovery and human interest, as the table of contents suggests:

CONTENTS: Historical Introduction / Frisco to Dawson / First Day in Dawson / The Post OFfice / Trip to French Hill / Autumn of 1898 - Dawson / My First Snow Experience / The First Sleigh Journey / Eldorado and bonanza / The Stampede / The Fire / The Mine / Autumn of 1899 / Winter of 1899 / Galena Creek / The Year 1900 / The Robbery / The Murders / Around La Barge / Summer of 1901

SERIES : Lakeside Classics (No. 65)
TITLE : Three Years in the Klondike
AUTHOR : Jeremiah Lynch
EDITOR : Dale L. Morgan
IMPRINT : R. R. Donnelley & Sons
PLACE : Chicago
DATE : 1967
EDITION : Reprint
PROVENANCE : Deaccessioned library book ... X-LIBRARY

Illustrated trade hardcover; contains 9 halftone photographs, and one map. Has an Introduction, notes, and an index; lvi + 372 pages , plus three pages of publisher's list; 4 1/4" x 6 5/8", dark blue cloth-covered boards with gilt lettering on spine, and publisher's device stamped in gilt on front board. Top edge gilt.

CONDITION ... This is a deaccessioned library volume which remains clean and attractive, with the following noted:

EXTERIOR — Catalog label on spine. Spine displays transparent spotting, likely as a result of application of catalog label. Boards have mild surface rub, and a touch of the same transparent spotting on the front ... board corner tips softly bumped ... basically clean and attractive. Top edge gilt a touch rubbed, else bright. Fore-and bottom text-block edges not marked.
BINDING : The rear flyleaf has been replaced, else solid with no detached or loose leaves.
INTERIOR — Library markings are at a minimum (identity stamp and discard stamp on front flyleaf), just discernible are some pencil erasures of catalog marks on title page (this has no real effect). There maybe one or two other catalog marks through the text, but I did not spot any. Basically the text is clean and unmarked - no underlining, no marginalia, no writing. All seems clean and presentable.
Share on Facebook
Share on Twitter
Share on Google+
Share on LinkedIn
Pin on Pinterest