Next Page: 10000
Cache
No doubt it's useful to have a Jew one can call upon to defend one against allegations of anti-Semitism.

Cache
венгер Каково? посоветовали стильный шоп цены в идеале

Cache
The Believer and the Modern Study of the Bible is a collection of essays—mostly by Orthodox university scholars and rabbis living in Israel—about the problem of reconciling Jewish faith with the theories of the past century-and-a-half of secular Bible scholarship. While Ysoscher Katz finds much to praise in the volume, he deems deficient two essays that attempt to use the ancient rabbis' approach to exegesis as a sort of permission slip for modern religious readers to read the Hebrew Bible in ways long deemed heretical:
Offering a novel understanding of midrash, Rabbi Yehuda Brandes argues that its authors were precursors to Julius Wellhausen, the father of modern biblical criticism. He claims that at its core midrash is a critical enterprise, written by rabbis who believed that there are irreconcilable contradictions in the Torah. As a solution they offer robust non-literal reinterpretations. [Therefore, Brandes claims], the rabbis believed that nothing in the Bible needs to be taken literally. They contend that the Torah's grammar, terms, and even its core narrative could be reinterpreted to be read in an abstract and allegorical fashion. Although the argument is creative and courageous, one wonders whether it is not perhaps overstated. Tradition did not see [the most radical] examples [cited by Brandes] as paradigmatic but instead viewed them as isolated cases where the rabbis, the sanctioned interpreters of the Torah, were entitled to reinterpret exceptional verses or texts that they thought needed to be reread. However, to see their project as a carte blanche to reject the literal meaning of formative religious narratives is, to say the least, a stretch. Rabbi David Bigman takes a different tack. He builds a convincing case that the rabbis had a preference for some parts of the Bible. He infers from the lineup of "important" texts that those that are not on the list are non-essential to the tradition and can therefore be denuded of their [claims to] historicity. [But] the fact that the rabbis saw some aspects of the Pentateuch as being particularly important does not imply that the other parts can be discarded as irrelevant.
Cache
When, a Polish Jew named Herschel Grynszpan walked into the German embassy in Paris and assassinated an official in retaliation for the Nazis' persecution of his family, Adolf Hitler immediately used it as a pretext to launch violent attacks on Jews throughout the Third Reich. Saturday marks the 81st anniversary of these pogroms, which came to be known as Kristallnacht. Stephen Koch, whose biography of Grynszpan was reviewed in Mosaic, explains how Grynszpan—arrested by the Gestapo in 1940—foiled Nazi plans to use him as a pawn:
Hitler had decided to turn [Grynszpan] into the defendant in a major show trial in Berlin, "proving" that World War II had been started by the "World Jewish Conspiracy," using the "evil" Herschel as their trigger. . . . Enormous amounts of Nazi money, time, and energy went into planning this charade. Hitler was kept constantly informed. The star witness was to be no less than the former French foreign minister Georges Bonnet, a covert Nazi fellow-traveler and major player in Munich, who promised the Nazis to tell the world that, yes, indeed, France went to war in 1939 only because of relentless, irresistible, warmongering pressure from "the Jews." The trial . . . never took place because Herschel Grynszpan kept it from taking place. As a prisoner of the Nazis, Herschel had quickly grasped that he was being primed for more anti-Semitic propaganda. To prevent that disgrace, he concocted an extraordinarily ingenious lie. He claimed that he had not really killed the German diplomat for any political reason at all. His "protest" had merely been his cover for a deeper secret: the unspeakable truth that he'd killed the diplomat in the midst of a homosexual lovers' quarrel. This inspired falsehood was certain to turn into the trial's most scandalous news story. It made an enraged Goebbels advise Hitler to postpone the whole thing. It stayed postponed forever.
Cache
Being a Jew in Spain, especially in the southern part of the country that was once home to a thriving community, is a lonely business. That didn't stop more than 10,000 Venezuelans from trying to obtain Spanish citizenship before a law giving Jews the right to return to Spain expired at the end of this past September—a testament to how dire the crisis had become in the South American country.
Since 2016, violence, poverty, and insecurity have plagued Venezuela, where political upheavals have led to economic and humanitarian crises. Some 4.3 million Venezuelans have fled the country, according to the United Nations' refugee agency. Many have emigrated to neighboring South American countries, such as Ecuador or Colombia. But in an unexpected historical turn, Venezuelan Jews have tried to capitalize on their fleeting chance at returning to Spain, a country most have never known. 
Continue reading "The Lost Tribes of Spanish Jews" at...
Cache
Vanishing American Jew Dershowitz Alan M

Cache
Being a Jew in Spain, especially in the southern part of the country that was once home to a thriving community, is a lonely business. That didn't stop more than 10,000 Venezuelans from trying to obtain Spanish citizenship before a law giving Jews the right to return to Spain expired at the end of this past September—a testament to how dire the crisis had become in the South American country.
Since 2016, violence, poverty, and insecurity have plagued Venezuela, where political upheavals have led to economic and humanitarian crises. Some 4.3 million Venezuelans have fled the country, according to the United Nations' refugee agency. Many have emigrated to neighboring South American countries, such as Ecuador or Colombia. But in an unexpected historical turn, Venezuelan Jews have tried to capitalize on their fleeting chance at returning to Spain, a country most have never known. 
Continue reading "The Lost Tribes of Spanish Jews" at...
Cache
When Perry Brickman failed out of Emory University's dental school in 1951, his parents—Lithuanian Jews whose families had immigrated to Tennessee, where Brickman was raised—were disconsolate. "My mom had worked really hard all her life," he told me. "I was gonna be her boy! It was really upsetting to her when I flunked out. My dad got real quiet." Brickman paused. "They did live to see me graduate from dental school with honors. But they always still thought if I'd worked harder, I would've made it at Emory. Unfortunately, they didn't live long enough to hear the apology."
That apology came from the president of Emory University in 2012. It acknowledged that Brickman and almost two-thirds of his Jewish classmates were deliberately kicked out of the school or made to repeat a year or more of their classwork. The dental school's dean from 1949 to 1959, John Buhler, had systematically flunked them outright or attempted to force them to quit. (In the years after Brickman's brief tenure, Buhler also amended the school's application so that students had to check off whether they were "Caucasian, Jew or Other.")
Continue reading "A Fraternity of Silence" at...
Cache
For Bob Tufts, who passed away last month at age 63 after a yearlong battle with multiple myeloma, his life in baseball and as a Jew were forever intertwined. His devotion to both formed deep roots as a Princeton undergrad, where he excelled as a student and starting pitcher. Most important, it was where he met and fell in love with his wife of 34 years, Suzanne Israel.  
Both of us Goldbergs knew Bob personally. Robert from his time working on patient advocacy campaigns through the Center for Medicine at the Public Interest and Zach, through his father's connection, and from spending time together at Yankee games and talking baseball.   
Continue reading "The Chosen" at...
Cache
On May 8, 1945, the Soviet military interpreter Elena Kagan was entrusted with a burgundy-colored box. Her superior in the SMERSH counterintelligence group had told her that it contained Adolf Hitler's dentures and teeth and that she was answerable with her life for its safekeeping. On V-Day, Elena, a Jew who would have turned 100 this week, was holding a box with what remained of Hitler. "The situation in which I found myself was odd, unreal," she later wrote in her book, Memoirs of a Wartime Interpreter. "God Almighty, is this happening to me? Is this me standing here at the moment Germany surrenders, with a box in my hands containing the indisputable remnants of Adolf Hitler?!" It would take her a lifetime to fully grasp this moment, and its consequences.
The charred remains of Hitler and Eva Braun were unearthed in Berlin on May 4: A soldier found them in a bomb crater in the Reich Chancellery garden. The remains were unrecognizable and were reburied. On May 5, after a series of interrogations, which yielded testimony about Hitler's suicide, the bodies were uncovered and an official document was drawn up. Elena was there to witness: "On a grey blanket, contorted by fire, lay black, hideous human remains, caked with lumps of mud." The moment left her emotionally unaffected, unlike the recent sight of Goebbels' dead children, which haunted her: The youngest girl, Heidrun, seemed to be the same age as her own daughter.
Continue reading "The Remarkable Tale of Elena Rzhevskaya, Who Identified Hitler's Remains" at...
Cache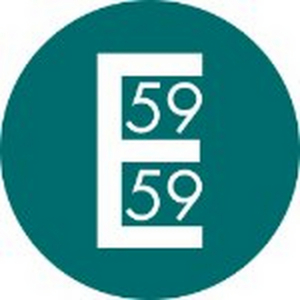 59E59 Theaters (Val Day, Artistic Director; Brian Beirne, Managing Director) is proud to announce the line-up of shows for the 2020 Winter Season. All performances take place at 59E59 Theaters (59 East 59th Street, between Park and Madison Avenues). Ticket prices and performance schedules vary. For tickets, call the 59E59 Box Office at 646-892-7999 or by visiting www.59e59.org.

Tickets for the 2020 Winter Season go on sale to 59E59 Members on November 5 and to the general public on November 12.

Winter 2020 at 59E59 Theaters features nine Off Broadway premieres of some of the most exciting and eclectic American and international productions including: Rick Miller's BOOM, an explosive musical tribute to the baby boomer generation; the return of Dublin-based Fishamble with the US premiere of MAZ AND BRICKS; emerging powerhouse theater company The Hearth with Lily Akerman's New York debut THE COMMONS; and WHISPER HOUSE, a new musical by multi-award-winning writing team Duncan Sheik and Kyle Jarrow and produced by The Civilians.

The season also features the DC-based Happenstance Theater in their NYC premiere with BAROCOCO; HOW TO LOAD A MUSKET, a piece of docu-theater about Revolutionary War re-enactors from Less Than Rent; Cary Gitter's charming romantic comedy THE SABBATH GIRL from Penguin Rep; MR. TOOLE, a new play about Pulitzer Prize-winning novelist John Kennedy Toole (A Confederacy of Dunces), from Articulate Theatre Company; and Melissa Bubnic's NYC debut with her hit London play BOYS WILL BE BOYS courtesy of The Pond Theater Company.
The 2020 Winter Season:

January 7 - February 2
MAZ AND BRICKS written by Eva O'Connor, directed by Jim Culleton
With Ciaran O'Brien and Eva O'Connor
Produced by Fishamble: The New Play Company as part of Origin's 1st Irish
Tickets: $25 - $35 ($26 for 59E59 Members)
On sale now!

The Olivier Award-winning Fishamble returns to 59E59 Theaters as part of 1st Irish!

Maz is planning to attend a pro-choice demonstration; Bricks is planning to take his daughter to the zoo. But nothing goes according to plan. As the day unfolds, the two become unlikely friends, changing each other in ways they never thought possible.

January 9 - February 23
Press Opening: Wednesday, January 15 at 7 pm
BOOM written, directed, and performed by Rick Miller
Produced by Kidoons and WYRD Productions
Tickets: $25 - $70 ($49 for 59E59 Members)
On sale now!

100 voices. 25 years. 1 man.

Dora and Gemini Award-winning writer and performer Rick Miller takes us through 25 turbulent years and gives voice to over 100 influential politicians, activists, and musicians. A mind-blowing experience for all ages, BOOM captures the music, culture, and politics that defined a generation. "BOOM will blow your mind!" - Edmonton Sun

January 11 - January 26
HOW TO LOAD A MUSKET written by Talene Monahon, directed by Jaki Bradley
With cast TBA
Produced by Less Than Rent Theatre
Tickets: $25 ($20 for 59E59 Members)
On sale now!

Every year, across the country, thousands of historical reenactors stage the bloodiest, most divisive battles fought on American soil. Pursuing total authenticity, they fire muskets, chew hard-tack, and wear handmade period clothing in brutal weather. Playwright Talene Monahon began interviewing reenactors in 2015, spending time with Revolutionary War units in Massachusetts and New York before making her way down South to speak to the reenactors of the Civil War. Woven from these verbatim conversations, HOW TO LOAD A MUSKET explores this unique and all-consuming hobby and the people who practice it as they find themselves caught in the crosshairs of a national battle over how history is told.

February 6 - February 23
THE COMMONS by Lily Akerman, directed by Emma Miller
With cast TBA
Produced by The Hearth
Tickets: $25 ($20 for 59E59 Members)

Missing almonds, empty apologies, and a pizza box in the recycling bin that clearly belongs in the trash. When space is at a premium, there's no room for weak links. The Commons is a play about living with strangers and the things that seem small until they aren't.

Following their critically acclaimed production Athena in 2018, The Hearth continue their commitment of nurturing the next generation of female artists with this world premiere by Lily Akerman.

February 11 - March 8
THE SABBATH GIRL by Cary Gitter, directed by Joe Brancato
With cast TBD
Produced by Penguin Rep
Tickets: $25 - $35 ($26 for 59E59 Members)

Angie Mastrantoni has a lot going for her: a job at a hip art gallery; a new apartment on the Upper West Side. But not much time or hope for relationships. Then her neighbor Seth, a divorced Orthodox Jew with a knish store on the Lower East Side, knocks on her door.

A brand new romantic comedy written by Cary Gitter, a two-time O'Neill semifinalist and Jewish Plays Project finalist, THE SABBATH GIRL explores the loneliness of big-city life and the possibility of finding love next door.

February 28 - March 15
MR. TOOLE by Vivian Neuwirth, directed by Cat Parker
With Linda Purl, Ryan Spahn, Lou Libertore, Stephen Schnetzer, and John Ingle
Produced Articulate Theatre Company, in association with Lagniappe Productions
Tickets: $25 ($20 for 59E59 Members)

The teacher a student will never forget becomes a legend the world will always remember.

Award-winning playwright Vivian Neuwirth creates a deeply personal reflection on the life of John Kennedy Toole, author of the Pulitzer Prize-winning novel, A Confederacy of Dunces.

Before he was an author, John Kennedy Toole was a teacher. That's how Lisette, one of his students at an all-girls college in New Orleans knew him and loved him. Through her eyes, amid the music, magic, and mystery of the Big Easy we, too, learn to love "Mr. Toole."

March 12- April 19
Press Opening: Tuesday, March 24 at 7 pm
WHISPER HOUSE music & lyrics by Duncan Sheik, book & lyrics by Kyle Jarrow, directed by Steve Cosson
With a cast TBD
Produced by The Civilians, in association with 59E59 Theaters
Tickets: $25 - $70 ($49 for 59E59 Members)

An eerie lighthouse stands on the remote coast of Maine at the height of World War II. After losing his parents, young Christopher is sent there to live with his aunt Lily, whom he's never met, and Yasuhiro, the Japanese man who works for her. Soon Christopher begins to hear strange music seeping through the walls. Is his imagination getting the better of him? Or are there ghosts here, warning of real danger? Then the whispers become something louder...

Written by Grammy and Tony winner Duncan Sheik (Spring Awakening, America Psycho) and Tony-nominated and Obie winner Kyle Jarrow (Spongebob Squarepants, The Broadway Musical, The Wildness) and directed by The Civilians' Artistic Director Steve Cosson, WHISPER HOUSE combines a lush original score with a haunting story of loss, love, and forgiveness.

March 18 - April 5
BAROCOCO directed by Mark Jaster and Sabrina Selma Mandell, devised by Happenstance Theater
With Gwen Grastorf, Caleb Jaster, Mark Jaster, Sabrina Selma Mandell, Sarah Olmsted Thomas, and Alex Vernon
Produced by Happenstance Theater
Tickets: $25 - $35 ($26 for 59E59 Members)

BAROCOCO dives into the late Baroque and flaunts 18th-century finery, wigs, panniers, gestural styling, elaborate ornamentation and the excesses of Rococo in this unique physical comedy. A charming and charismatic six-person ensemble exposes an indulgent aristocratic lifestyle precariously perched on the edge of its extinction. Happenstance Theater invites you to experience the charade - from parlor games to pantomime, from the exquisite to the revolting - in this delightful comedy of manners.

March 26 - April 12
BOYS WILL BE BOYS by Melissa Bubnic, directed by Lily Dorment
Cast TBD
Produced by The Pond Theatre Company
Tickets: $25 ($20 for 59E59 Members)

Astrid Wentworth is at the top of her game. A superstar trader in the male-dominated world of banking and high finance. She is ruthless and relentless, but she's always played by the boys' rules to get to the top.

So when Astrid takes on protégée Priya, she is the perfect person to help this ambitious young woman navigate the industry - as long as Priya's willing to listen.
Cache
Although Jews usually, but not always, share a common gene pool, they are not a race because any non-Jew who converts to Judaism will be recognized as being Jewish by all those rabbis who share a commitment to the same denomination of Judaism as the...

Cache
The attainment of social justice has been a utopian goal throughout history. While God created all equal, there is no society in the world where this actually exists in a pure form. There have always been advocates and champions for the poor and downtrodden so the call for social justice will always be with us. It is right to want to help those less fortunate but we must not be deceived into believing a lie over the honest truth.
On university and college campuses across America, students are particularly attracted to causes and activities which call for social justice because they are looking for something worthwhile and meaningful in which to invest their energies. This is laudable but before signing on to support a particular cause, some investigation is in order. Sadly, too many are too quick to hang their hats on the peg labeled "social justice" without analyzing the underlying facts or closely examining those people and organizations who are leading the way. America's students are being influenced by liberal professors and radical Islamic activists whose agenda is not truly social justice for all. Islamic activists are working diligently on our campuses of higher learning capturing the hearts and minds of college and university students. They are motivated not by a sense of social justice but rather by the unraveling and dismantling of the principles and values upon which America was founded. By preying on the naiveté of America's youth, they are working on changing America from within. Once accomplished (and they are making significant progress) the consequences will be negative for America and for Israel.
One organization, the Christian Coalition of America, is attempting to challenge radical Islam's propaganda campaigns on campuses in every state. To be successful in confronting the evil ideology of radical Islam, they must vastly expand their presence and accelerate their efforts and this, I understand, is in the works. Remember, radical Islam openly declares their intention to destroy the "Great Satan" which is the USA and the "Little Satan" which is Israel.
Misinformation and fabricated "truths" are two of the tools in the arsenal of radical Islam which is the power source fueling the engines of terror and jihad around the world. The widespread call for social justice for the so called "oppressed" Palestinians has become a hot button to stir up strife creating a hostile environment for Jewish students on campuses. Israel has been painted as an evil pariah and solely to blame for the unfortunate plight of the "poor, oppressed Palestinians" who are suffering at the hands of an unjust "occupier." In reality it is the corrupt Palestinian leadership with their misguided values which places jihad (holy war) with Israel as more important than lifting the standard of living for the Palestinian people.
Yes, despite what the Palestinians would have the world believe, Israel and the Jews are not the cause for their oppressed state of existence and Israel is not an illegal occupier. In fact, because of the historic Jewish experience, Jews feel a deep moral obligation to stand up for the downtrodden. Because Israel and Jew bashing are in vogue, it's doubtful that any of our young generation has ever heard this from one of their left-leaning professors. Today's atmosphere of political correctness does not leave room for positive speech about the Jews and Israel and this must stop. If Israel and the Jews were removed from the earth, the Palestinians would still be poor and desperate.
If those crying out for social justice really wanted to see this become a reality, they would be on the side of Israel – the one country in the world constantly and unfairly condemned by the U.N. and others and held to a different and higher standard than any other country in the world. The Jewish people are the subject of open hatred and hostility but who is seeking social justice for them? There was little to no outcry for justice when Jewish cemeteries were being desecrated and synagogues spray painted with ugly words and messages reminiscent of the dark days leading up to the Holocaust. The atmosphere today is much the same as it was in the 1930s and 1940s when Hitler unleashed his program of ethnic cleansing but without knowing history this would be difficult to discern. Ignorance and indifference led to the deaths of millions of Jews and others. Could it happen again?
Efforts to achieve social justice will produce positive results if rightly placed. We must not accept or condone acts of terror, incitement of hatred, or genocidal or brutal acts against humanity. We must know and stand on the truth. If our schools won't teach our children, then we must teach our schools. Israel and the Jews are here to stay. They have a long and rich history which pre-dates all of us by thousands of years and they have a very wonderful habit of making significant contributions to the betterment of the world from which we all greatly benefit.
highlights:
Cache
All those social justice warriors and anti-racist campaigns, can you just hold on a mo? Are you really voting for Labour and campaigning for Jeremy Corbyn to be PM? Is racism ok if it's only the Jew on the receiving end? Is backing a party leader who is either an anti-Semite or a bloke who apparently acquiesces to anti-semitism ok if it means getting the train to run on time? Jew hatred is an evil. It leads to dead Jews.
Hannah Arendt (October 14, 1906–December 4, 1975) understood this. In 1962, The New Yorker commissioned Ardent to report on the trail of Adolf Eichmann in Jerusalem. Who was the man who had murdered so many? Was he special? Was evil really so humdrum? In 1963, her report was published in Eichmann in Jerusalem: A Report on the Banality of Evil.
Thanks to Hitler, anti-Semitism has been discredited, perhaps not forever but certainly for the time being, and this is not because the Jews have become more popular all of a sudden but because not only Ben-Gurion but most people have "realized that in our day the gas chamber and the soap factory are what anti-Semitism may lead to."
That was then. Now Corbyn gives British Jews lessons in how to be English, likes anti-Semitic art and makes friends with those who would want them all dead. But he says he's not a racist.
What he said was always the same, expressed in the same words. The longer one listened to him, the more obvious it became that his inability to speak was closely connected with an inability to think, namely, to think from the standpoint of somebody else. No communication was possible with him, not because he lied but because he was surrounded by the most reliable of all safeguards against the words and the presence of others, and hence against reality as such.
But not to worry because Corbyn is an idealist – and the are the kind of people you an believe in:
An "idealist," according to Eichmann's notions, was not simply a man who believed in an "idea" or a man who did not steal or accept bribes, though these qualifications were indispensable. An "idealist" was a man who lived for his idea (hence he could not be a businessman, for example) and who was prepared to sacrifice for his idea everything and, especially, everybody. When he asserted during the police examination that he would have sent his own father to his death if that had been required, he did not mean merely to stress the extent to which he was under orders, and ready to obey them; he also meant to show what an "idealist" he had always been. Of course, the perfect "idealist," like everybody else, had his personal feelings, but if they came into conflict with his "ideal," he would never permit them to interfere with his actions.
Don't vote for his Labour Party.
Cache
For you are all sons of God through faith in Christ Jesus. For as many of you as were baptized into Christ have put on Christ. There is neither Jew nor Greek, there is neither slave nor free, there is neither male nor female; for you are all one in Christ Jesus.

Galatians 3:26-28

Cache
New project started to be available today, check it out http://sapbi.canguysbebi.bestsexyblog.com/?mayra handcuffed shits porn free jew girls...

Cache
Kino
in 2D
Länge (2 Std. 07 Min.) Genres Biografie , Drama Produktionsländer Großbritannien , Frankreich , Serbien
Cache
From Ian:

---
Noah Pollak: Leading Democrats Call for Conditioning Military Aid to Israel

The United States could have responded to Arab antagonism by following the European playbook and squeezed Israel for concessions. But American strategists realized the best way to stop the wars wasn't to make Israel feel less secure, but rather to make Israel less defeatable.

The U.S. military aid that started in earnest in the form of an emergency arms resupply during the 1973 war has been perhaps the single-most effective U.S. policy toward the Middle East in the past half-century. With America now in Israel's corner, the Arab states were compelled to abandon the fantasy of wiping the Jewish State off the map. That led to what had previously been unthinkable: Egypt signed a peace treaty with Israel in 1979, and Jordan followed in 1994.

Other benefits to the United States flowed from military aid to Israel: With the Jewish state now fielding advanced U.S. weaponry against Arab states, which were armed with inferior Soviet weapons, regional skirmishes were turned into devastating morale-killers for Moscow. In one air campaign in June 1982, Israeli-piloted F-15s and F-16s shot down 88 Syrian-piloted Soviet MiGs. Israel lost a single F-16. Battles like this clarified for the world which side was likely to prevail in the Cold War.

Today, Gulf Arab states are drawing closer to an increasingly powerful Israel, seeking protection from Iran—another way in which U.S. military aid, which maintains Israel's "qualitative military edge" in the region, is promoting American interests and decreasing the likelihood that the United States will be called upon to directly protect regional allies.

Warren, Sanders, and Buttigieg did not acknowledge this history, or these strategic benefits. Since the progressive activists of the Democratic Party view Israel largely through the lens of the Palestinians, it was only a matter of time before they began to demand that all aspects of the U.S.-Israel relationship be subordinated to the politics of that issue.
US Jewish umbrella group slams Democratic hopefuls' calls to leverage Israel aid
An umbrella group of more than 50 Jewish organizations from across the ideological spectrum condemned calls by Democratic presidential candidates to condition military aid to Israel on its approach to making peace with the Palestinians.

"We are deeply troubled by recent statements that would place conditions, limitations, or restrictions on the US security assistance provided to Israel, so vital for the defense and security of the country, the protection of essential US interests, and stability in the region," Arthur Stark, chairman, and Malcolm Hoenlein, executive vice chairman/CEO, of the Conference of Presidents of Major American Jewish Organizations said in a statement issued Friday.

"This approach would harm American objectives in the Middle East and would undermine the ability of our key ally to defend itself against the threats it faces on all its borders."

Sens. Bernie Sanders of Vermont and Elizabeth Warren of Massachusetts, along with Mayor Pete Buttigieg of South Bend, Indiana, recently have indicated a willingness to use American aid to force policy changes by Israel regarding the Palestinian conflict, including halting settlement construction.
U.S.-Israel Security Cooperation Is A Win-Win
Not a single American serviceperson needs to be stationed in Israel. Aside from training missions, there have been American soldiers stationed in Israel since 2009, only working with the American/Israeli co-designed X-band radar system — a deployment that helps the U.S. and Israel monitor threats from the east.

Israel's missile defense capabilities — developed and produced in conjunction with American industry — not only protect Israel from Hamas and Hezbollah missiles, but protect the United States from emerging threats from North Korea and Iran. Various branches of the U.S. military have purchased a variety of Israeli-developed systems and participated in joint development of anti-tunnel defenses, the Arrow Missile Program, the F-35 Joint Strike Fighter Plane, THEL Laser Program, the Advanced Urban Combat Training Facility, as well as Iron Dome.

Israel has been a partner in U.S. and multi-lateral military exercises for years; interestingly, Israel and the United Arab Emirates flew together in one. Combined exercises have taken place on NATO territory, in the U.S., in Israel (where the Luftwaffe flew above Israeli territory, making a few people blink), and the Pacific Ocean. Not a single country has opted out due to Israel having opted in.

The two countries are drawn together by common values and common threats. The bipartisan support of our ally Israel has been a testament to those values, as well as to the practical recognition that the threats require cooperation in intelligence, technology, and security policy.

The volatility of the Middle East is unlikely to be constrained. The United States, desirous of removing its soldiers from the region even as it understands the risk attendant to a resurgent Russia and increasingly desperate Iran, is as much in need of capable allies now as it ever was. It would be a shame if rampant J Street politicization of the relationship were allowed to do damage.



MEMRI: Article On Muslim Brotherhood Website: Election Of A Gay U.S. President Will Lead To Pressure On Arab Countries To Permit Homosexuality; The Prophet Muhammad Ordered The Killing Of Homosexuals

In an October 7, 2019 article on the website of the Egyptian Muslim Brotherhood's Freedom and Justice Party, Egyptian journalist and Muslim Brotherhood (MB) member Amer Shamakh wrote about the growing support for the LGBTQ community and same-sex marriage in the West, and in the U.S. in particular. Calling them "perversion" that is contrary to human nature and the monotheistic religions, he warned that if potential Democratic presidential candidate Pete Buttigieg became president, this would lead to a campaign of pressure on Arab countries to accept the LGBTQ community as normal, as it is perceived today in the West. Expressing concern that Arab leaders would capitulate to such pressure, he underlined that Islam views homosexuality as "one of the most loathsome deeds," that "Islamic law instructs that those who carry it out be killed by burning, being thrown from a high place, or stoning," and that the Prophet Muhammad himself even ordered that this be done.

Below are excerpts from Shamakh's article:
"After the world has experienced an extremist U.S. president who alarmed the world, especially the Muslims, with his madness and his strange decisions, it may in the future experience another [kind of] U.S. president: a gay one... The official U.S. candidate [sic] for the 2020 presidential election is 37-year-old Pete Buttigieg, a Democrat, who is currently mayor of South Bend, Indiana. He has been married for a year to his partner Justin, and the two have now declared that they want to start a family!

"This pervert wishes to gain the votes of his fellow [LGBTQ] Americans, whose number has increased many times over in [the past] 25 years. Surveys indicate that during this period the number of Americans who support homosexuality increased fivefold, the number of homosexuals in U.S. society rose from 3% in 1990 to 20% in 2014, and the number of those favoring marriage among these perverts rose from 11% in 1990 to 49% in 2014. This means that 20% of Americans are gay, and that 50% of Americans support the gay 20% and recognize them [as legitimate], in spite of their crime that contravenes human nature... and does not exist even among animals.
Tony Blair says Labour antisemitism is "killing the Party" but stops short of saying he won't vote for Corbyn
Tony Blair has said that Labour's antisemitism scandal is "absolutely killing the Party", but stopped short of declaring that he would not vote for the Party in the coming election.

The former Prime Minister made the remarks at a dinner at the Board of Deputies, and said that he anticipates a "complete battle" in Labour between its moderate and radical wings.

Although Mr Blair expressed confidence that Labour leader Jeremy Corbyn would not win the election, when asked if he himself would vote tactically he replied: "I can't".

Mr Blair insisted that "there are really good Labour MPs that are standing in this election. People I know, people I've worked with. People who have stood up very strongly on antisemitism in the Labour Party and I want to see them supported."

Left-wing antisemitism, Mr Blair explained, is "not limited to a few bad apples" but rather is a "phenomenon", and complained about those who are "obsessed with a hatred of Israel", noting that he is "having more reasonable conversations about Israel with some of the Arab states than I am back home with parts of the Left."
.@uklabour moderates to Jews GE2017 - "vote for your decent hard working labour candidates @jeremycorbyn will resign when he loses"

Labour moderates to Jews GE2019 - "vote Labour and help us rebuild when Corbyn loses."

HELL NO! #LabourAntisemitism https://t.co/24r60QH6ow

— (((GnasherJew®גנאשר))) (@GnasherJew) November 6, 2019
Disgraced MP Chris Williamson barred from standing as a candidate in forthcoming general election
It understood that the disgraced MP, Chris Williamson, will not be permitted to stand as a candidate for the Labour Party in the coming general election in Derby North.

Mr Williamson is best known for baiting Jews by dismissing allegations of antisemitism as "proxy wars and bulls***" whilst supporting Labour activists like Marc Wadsworth and Jackie Walker who were expelled from the Party over their comments. He has been suspended by Labour three times (although the second suspension was overturned by the High Court).

He has been on suspension while his case is reviewed yet again by the Party, and it has now emerged that the Labour Party has barred him from standing in the general election as a candidate for the Party. Suspended members are usually unable to stand as candidates.

In an interview yesterday on LBC, the Shadow Chancellor of the Exchequer, John McDonnell, refused to distance himself from Mr Williamson. When asked by host Iain Dale whether he wants Mr Williamson to be a candidate in the general election, Mr McDonnelll said that Mr Williamson's case is currently under consideration and therefore he would not wish to say anything that might prejudice the case. To this Mr Dale responded: "the right answer to that question was 'no'."
Diane Abbott: Not all Jews think Corbyn is an anti-Semite
Boris Johnson's election campaign has got off to a dismal start but it seems Labour is determined to catch up. Diane Abbott appeared on the Today programme this morning to discuss her party's anti-Semitism problem. But Mr S isn't convinced her defence will convince many voters that things are all OK:

Nick Robinson: Do you accept you haven't done enough (to resolve the problem of anti-Semitism)?

Diane Abbott: '…it's not every element of the Jewish community that believes Jeremy is an anti-Semite.'

NR: 'Well every major Jewish newspaper says it, every major Jewish representative body says it.'

DA: 'Yeah, well, the Hasidic community in Stamford Hill doesn't say that…'

Hardly a vote-winning pitch to worried Jewish voters…
Gil Troy: Jews lobby non-Jews to browbeat Jews – what do you call that?

Thank you, Jeremy Ben-Ami, Bernie Sanders and J Street's conventioneers. At J Street's recent conference, they ended their charade. J Street is not the "pro-Israel, pro-peace" movement it long pretended to be; it's the anti-occupation lobby, lacking nuance, balance and any ability to criticize Palestinians.

Sanders' words brought a different clarity: Any Jew who donates to this bash-Israel-firster has no heart; any American who donates to this socialist-for-thee-but-not-for-me has no brain.

I'm responding to Sanders "as a Jew," because he tried insulating himself from criticism by playing what the British novelist Howard Jacobson calls the "asaJew" card. "It's going to be very hard for anybody to call me – whose father's family was wiped out by Hitler, who spent time in Israel – an antisemite," Sanders said. Don't call him an antisemite, just a disloyal fool. He thrills antisemites like Ilhan Omar, who endorsed him, while emboldening murderous anti-Zionists leading Hamas and the Palestinian Authority.

This American Jewish Corbynite is spearheading J Street's campaign to browbeat Democratic candidates, demanding they use American aid to Israel as a battering ram, blackmailing Israel into making policy moves most Israelis have learned would harm them, their country and their region.

That follows the policy Ben-Ami championed at the conference: bullying candidates to buy into J Street's occupation preoccupation of bullying Israel. Reducing the complicated, multidimensional Israel-Palestinian conflict to this simplistic "end the occupation" slogan makes as much sense as Republicans yelling "cut taxes" as an economic and social cure-all. Life is messier.

I know that doubting someone's loyalty risks discouraging debate, but what else do you call it? Isn't it disloyal for a Jew to emphasize his Jewishness as he urges non-Jews to blackmail the Jewish state to do things that would embolden Jew-haters and get many Jews killed?
Just a note. @guardian, boycotting Israeli (Jewish) businesses is not "pro Palestinian" simply as it doesn't benefit Palestinians in any way.
What's so hard in writing "anti-Israel boycotts"? pic.twitter.com/Jlp0dY7wMM

— Dan Poraz (@PorazDan) November 5, 2019
Jewish Orgs Claim 'Trump Endangers Jews,' Despite Synagogue Shooters Hating His Jewish Ties
On Wednesday, activists from two left-wing Jewish organizations, Bend the Arc: Jewish Action and IfNotNow, interrupted a speech by President Trump in Pittsburgh to blame him for the attack on the Tree of Life synagogue.

In a video posted by IfNotNow, a group primarily known for its boycott of Birthright trips, activists can be heard screaming, "Trump endangers Jews!" According to IfNotNow's Facebook post, the activists disrupted Trump's speech "one year after he incited the deadliest attack on Jews in US history."

Tree of Life synagogue shooter Robert Bowers actually hated Trump because of his Jewish family and his perceived fondness for Jews. By blaming Trump for the attack on Jews, left-wing Jewish activists are actually—if one uses their logic—blaming the victim.

Social media posts by Bowers reveal that he despised Trump. His social media posts include deeply offensive slurs in reference to Jews, comments about how he has never voted for Trump nor owned "a maga hat," and posts depicting Trump as being supposedly controlled by Jews:


Posts from the suspected Pittsburgh shooter Robert Bowers. He hated Trump and thought Trump was controlled by Jews. This monster is an unhinged anti-Semitic terrorist. pic.twitter.com/sjb2k6ucwb

— Robby Starbuck (@robbystarbuck) October 27, 2018



These social media posts have been referenced by mainstream news outlets, although they have not prevented Jewish activists (and even Linda Sarsour) from blaming Trump for the shooting in their social media commentary. (h/t Comrade FAILexa, Communistan)
Jewish, Pro-Israel Groups Raise Alarm Over Upcoming Anti-Israel Event at University of Massachusetts
Eighty-four Jewish and pro-Israel groups signed an open letter to Chancellor of the University of Massachusetts Amherst Kumble Subbaswamy raising alarm over an upcoming anti-Israel event that the letter charges will be a purely political and extremist gathering that should not have UMass sponsorship.

The missive addresses an event called "Criminalizing Dissent: The Attack on BDS & American Democracy." The organizers say it will "address accelerating efforts by US political leaders, pro-Israel lobbying groups, and college and university administrators to silence, smear, and criminalize supporters of BDS, a nonviolent movement that aims to hold Israel accountable for its ongoing human rights abuses and its illegal 50-year occupation of Palestinian land."

Among the slated speakers are political activist Linda Sarsour, academic Cornel West and BDS movement leader Omar Barghouti, all known for their vehement anti-Israel views.

The letter notes that a previous such petition was sent to Chancellor Subbaswamy regarding a similar event in May called, "Not Backing Down: Israel, Free Speech, & the Battle for Palestinian Rights," to which the upcoming event bills itself as a "follow up."

The May event featured Sarsour, along with other prominent anti-Israel figures Roger Waters and Marc Lamont Hill.

The letter said that past statements of these activists "draw on classic antisemitic tropes."
#ACU #campus where #antisemitic messages show up pic.twitter.com/2dxOMNoeAR

— Eye On Antisemitism (@AntisemitismEye) November 6, 2019
An Open Letter to UMass Professors Who Support BDS
Below is an open letter to the faculty members who signed a pro-BDS letter to University of Massachusetts Amherst Chancellor Kumble Subbaswamy:

We do not know whether you signed the letter because you are knowledgeable on the issue, or you are just trusting the colleague who encouraged you to "be one of the good guys" and sign. If you are of the latter, allow us to address you.

This is indeed about freedom of speech, and about both sides speaking. It is just the opposite of what the document you signed claims. It is not the Jews who are trying to shut down criticism of Israel. Only someone who knows nothing about Israel or is a dedicated enemy can say such a thing with a straight face. No country on the planet has so high a level of internal public critical discussion. Everyone criticizes Israel, including Israelis and Jews. What the Jews who support Israel find really offensive is the moral sadism of calling them Nazis or having people from far more prejudiced, if not racist, cultures call this astoundingly tolerant polity "racist."

It is not the Jews who support Israel who are preventing discussions on what is going on in the Middle East or shutting down criticism of Israel; it is those who support the BDS movement, for whom any exchange with an Israel-supporter is considered unacceptable. It is not pro-Israel Jews who are pushing "cancel culture" with shouting and violence; it is BDS promoters. According to the BDS narrative, Israel is an irredeemable evil — like the Nazis or white supremacists — with whom no compromise can be made. As runs their chant: "From the river to the sea, Palestine will be free."

Do you really think that Palestinian sovereignty over "every inch of the land" will bring freedom? For anyone? Even Muslims?
Ecstatic Ariel Gold Announces Acceptance into ISIS (satire)
Days after returning from Iran, Code Pink national co-director Ariel Gold announced on Twitter that she has also been accepted into the Islamic State to lead the country's Jewish outreach program.

"I spoke to ISIS President Abu Ibrahim al-Hashimi, and it turns out he has the exact same opinion about Jews and Israel as I do!" Gold tweeted. "And to think that some people call him anti-Semitic."

Gold promised to "keep an open mind" as she met with ISIS leaders and toured the scattered remains of the once-vast caliphate. She even agreed to participate in the execution of a young Yazidi woman.

"This girl claims that she's being executed because her burka didn't cover her ankles, but al-Hashimi told me she's, like, totally a Zionist," Gold said.

Along with her excitement at the prospect of meeting ISIS leaders, Gold said that she is hopeful that her trip may lead to new opportunities.

"If ISIS really likes me, maybe I can also be a Bernie Sanders surrogate," she said.
German journalist to be awarded prize for combating antisemitism
The European Janusz Korczak Academy will present Dr. Mathias Döpfner, CEO of Berlin-based media group Axel Springer SE and president of the Federation of German Newspaper Publishers, with a prestigious award on Thursday to recognize his efforts to combat antisemitism and preserve human dignity.

The Korczak Prize for Humanism is awarded biannually to individuals by the academy, founded by the Jewish Agency, for their outstanding contributions to advancing tolerance, human rights and the fight against racism and hatred.

Döpfner, the head of Germany's largest publishing house, has been hailed for his vocal opposition to antisemitism in Germany and abroad, and his efforts to boost ties between Germany and the State of Israel.

In May, leading German daily newspaper Bild – the largest brand published by Axel Springer – printed a cut-out kippah on its front page. The move followed comments made by Germany's government commissioner on antisemitism that Jews should sometimes remove their kippah in order to avoid racist attacks.

The ceremony in Berlin will be attended by Jewish Agency Chairman Isaac Herzog, who is visiting Germany almost one month after an armed attack at a synagogue in Halle on Yom Kippur and ahead of the 81st anniversary of Kristallnacht.

Herzog's visit also follows the approval earlier this week of a decade-long strategic plan by the Jewish Agency to address rising antisemitism across the globe.
BBC's UK reporting hindered by its own record on Gaza casualties
That will of course come as no surprise to anyone familiar with the BBC's own track record on the subject. Over five years after that conflict there is still no evidence of the BBC having ever independently verified the civilian/combatant casualty ratios which it continues to promote.

Instead, as noted here in the past, the BBC quotes figures attributed to "the UN" which are in fact sourced from the controversial report commissioned by the UN Human Rights Council more than a month before the conflict ended (originally headed by William Schabas) that was published in June 2015.

A close look at that report's methodology shows that the Hamas-run "Ministry of Health in Gaza" is one source of the report's data, together with the UNOCHA "Protection Cluster". As has been noted here previously, that "Protection Cluster" includes political NGOs, some of which also have a financial relationship with UNOCHA.

And so, with the BBC having spent over five years amplifying casualty figures and debatable civilian/combatant casualty ratios supplied by Hamas and NGOs involved in 'lawfare' campaigning against Israel that were funnelled through a UN agency and subsequently promoted in a controversial and biased UNHRC report, it is hardly surprising that the corporation's journalists are incapable of informing their domestic audiences that according to studies, a significant proportion of the Palestinians killed in Operation Protective Edge were terrorist operatives.

Also notable is the fact that although this BBC report is based on an article published by the Jewish Chronicle which notes Ms Sultana's prior connections to the controversial advocacy group MEND (see p21 – 30 here), the BBC apparently did not consider it necessary to communicate that information to its 'Coventry & Warwickshire' audiences.
Haaretz Vs. Haaretz Are Reasons for Khalida Jarrar's 2017 Arrest Classified
In recent articles, Haaretz has alleged that the reasons for the 2017 arrest of Khalida Jarrar, a former Palestinian lawmaker who was arrested again last week, are "still classified" despite the fact that Haaretz itself reported those very reasons at the time of the arrest. Most recently, a Nov. 4 page 2 print edition story by Jack Khoury entitled "Israel arrests PA J'lem Affairs minister for third time," erred:

In February, Jarrar was released after 20 months of administrative detention without trial. The reasons for her previous arrest are still classified.

The identical error appeared in the Oct. 31 digital article entitled "Israel Arrests Ex-Palestinian Lawmaker, Only Eight Months After Her Release From Prison".

In fact, the reasons for her previous 20 months of administrative detention, which lasted from July 2017 until February 2019, are not classified, and Haaretz itself has reported them.
Reuters Errs on Administrative Detention For 'Anti-Israel Activity'
A Reuters article today egregiously misrepresents administrative detention, erroneously asserting that it is mainly applied to "Palestinians suspected of anti-Israeli activities," when in fact the Israeli practice applies in cases of suspected security offenses. The Nov 4. article ("Jordan says two citizens held in Israel to return 'before the end of the week'") errs:
Israel mainly uses "administrative detention", or imprisonment without trial, against Palestinians suspected of anti-Israeli activities.

The identical error also appears in this earlier Oct. 29 article.

Israel does not mainly use administrative detention against Palestinians suspected of "anti-Israeli activities" generally. Rather, the measure may only be applied in cases of suspicion regarding security-related offenses.

Thus, B'Tselem, an NGO highly critical of Israeli government policies and activity in the West Bank, explains:
In the West Bank (not including East Jerusalem), administrative detention is carried out under the Order regarding Security Provisions. The order empowers the military commander of the West Bank, or another commander to whom the power has been delegated, to place individuals in administrative detention for up to six months at a time, if the commander has "reasonable grounds to believe that reasons of regional security or public security require that a certain person be held in detention".
Latest Antisemitic Attacks in Borough Park Underline Grim Challenges Facing Orthodox Jews in Brooklyn
As the New York City Police Department announced on Tuesday that its hate crimes unit was investigating a series of attacks last Friday night against Orthodox Jews in the Borough Park section of Brooklyn, a prominent leader of the community warned that the ongoing threat of antisemitic violence meant that "people in some neighborhoods are scared to leave their houses."

Speaking to The Algemeiner on Tuesday, Rabbi Yaacov Behrman — the founder of the Brooklyn-based Jewish Future Alliance — said that the spate of attacks over the last two years against Orthodox Jews in the Williamsburg, Crown Heights and Borough Park neighborhoods were overwhelmingly perceived within the community as being spurred by antisemitic malice.

"People's feelings are important, and the community sees this as antisemitic," Berhman said. "There are these constant attacks on Jewish individuals in which no money is stolen, and where there seems to be no motivation other than to attack Jews."

The latest incidents were registered last Friday night, with three separate attacks in Borough Park that involved the same passenger car over a five-block radius. Security cameras captured each incident, in which several men jumped out of the car to chase Jewish men and boys. In one incident, a Jewish man was punched and beaten after the group pinned him against another vehicle with their car.

More than half of the hate crimes reported in New York City this year have been antisemitic in nature, with over 150 incidents targeting Jews — a rise of 63 percent in the previous year, according to figures released by the NYPD in September.
Synagogue President: Gun-Free Zones Are 'Asinine'



Antifa activist charged with hate crime after harassing and threatening to murder a Seattle Rabbi. Why the Silence from Seattle Jewish Federation, @MayorJenny , @ADLSeattle ? https://t.co/9x9N2SCuSs

— The Mike Report 🤔 מיכאל (@MikeReport1) November 5, 2019
German Far-Right Leader Stirs Controversy With Antisemitic 'Judas' Tweet Aimed at Popular Musician
A leading parliamentarian with the far-right "Alternative for Germany" (AfD) party faced heavy criticism on Monday after he deployed a notorious antisemitic trope in a social media attack on one of Germany's top recording artists.

Several politicians are demanding the resignation of AfD representative Stephan Brandner from his role as chair of the Legal Committee of the Bundestag, Germany's federal parliament, following a tweet last Thursday in which he invoked the Biblical figure of Judas Iscariot — according to Christian tradition, the disciple who betrayed Jesus to the Roman authorities in exchange for financial gain, while remaining a devout Jew. The representation of Judas as emblematic of inherent Jewish deceitfulness became popular in Europe during the Middle Ages.

Brandner's tweet was aimed at one of Germany's most popular musicians, Udo Lindenberg, who was awarded the Federal Cross of Merit on Oct. 2 by the German government. Known for his opposition to the former Soviet satellite regime in East Germany, Lindenberg has more recently voiced concerns about the growing appeal of the far right.

In a Facebook post commenting on the surge in support for the AfD in regional elections last month, Lindenberg wrote, "Do you not see the same old-new slogans on the walls of the houses?" In the same post, he described Björn Höcke — one of the AfD's most influential regional leaders — as "a real fascist, resurrected from the ruins and facing towards the Nazis."

In his condemnation of Lindenberg, Brandner asserted that the medal presented to the singer was reminiscent of Judas's financial gains from his betrayal of Jesus.
Antisemitic hate crimes in Sweden rise by 53% to all-time record high
The number of anti-Semitic hate crimes recorded in Sweden rose to a record high last year, jumping 53 percent over the 2016 figures, government statistics show.

The 2018 report, which the Swedish National Council for Crime Prevention published Thursday, listed 280 anti-Semitic hate crimes that year compared to 182 in 2016. The latest numbers are the highest on record since at least 2006, when the Council began collecting aggregated data.

Overall, the number of hate crimes with a racist or xenophobic motive rose by 69 percent over 2016 in Sweden to 4,865 cases last year, the report stated.

The council decided not to publish hate crime figures for 2017 without explaining the decision. In one attack from 2017, the Jewish assembly synagogue in Gothenburg was firebombed by approximately 10 men protesting Israel's policies.

Anti-Semitic motives represented the largest increase from 2016 in hate crimes and was the largest hike in anti-Semitic crimes on record, the report said.

Anti-Semitic attacks accounted for 4 percent of all hate crimes in 2018. The Jewish population of 20,000 comprises approximately 0.2 percent of Sweden's population.
Anti-fraud unicorn: Israel's Riskified raises $165m. in funding round
Tel Aviv-based fraud prevention start-up Riskified became the latest Israeli "unicorn" on Tuesday, raising $165 million in funding at a valuation exceeding $1 billion.

A "unicorn" refers to start-ups reaching or exceeding a $1b. market valuation.

Led by global growth equity firm General Atlantic, Riskified says the Series E funding round will enable the company to scale business domestically and internationally, in addition to expanding its range of products.

Other investors included Fidelity Management & Research Company, Winslow Capital Management and previous backers of the company.

Founded by Eido Gal and Assaf Feldman in 2012, Riskified is described as the pioneer of chargeback-guarantee fraud prevention – a solution in which every transaction approved by Riskified carries a full, money-back guarantee for the merchant in case of a fraud-related charge-back.

By precisely distinguishing legitimate purchases from fraud based on machine-learning from 500,000 daily transactions, Riskified protects merchants and ensures that customers do not see their payments incorrectly rejected at the online checkout.
UAE said readying to open doors to Israeli tourists, starting with 2020 Expo
The United Arab Emirates intends to allow Israeli tourists to freely visit the country and is engaged in high-level talks with Israeli authorities to put the policy into practice, the Yedioth Ahronoth daily newspaper reported Wednesday.

Israelis will initially be allowed to enter the UAE so that they can attend the Expo 2020 world fair in Dubai, which will include an Israeli pavilion. However, Expo and UAE sources confirmed to the paper that the intention is to leave the door open to Israeli visitors even after the exhibition closes.

Israel has no diplomatic ties with the UAE, though relations between the countries have quietly warmed over shared concerns about Iranian aggression in the region. Senior Israeli ministers have openly visited the country and in 2018, Israel's national anthem was played at a judo tournament in Abu Dhabi when its team member won a gold medal.

Mohamed Khater, assistant director for tourism development in Ras Al Khaimah, a UAE emirate, confirmed that Israelis will be allowed to visit the Expo.

"I believe, God willing, they will come to visit also after the exhibition," he said. "Already now hundreds of Israelis trickle into the country and we will be glad to host all of them."

Israelis can currently visit the UAE if they have a foreign passport or with Israeli travel papers after getting a special entry permit.
US gives large grant to Jerusalem soccer program for Israeli, Palestinian kids
More than a year after the US administration announced drastic funding cuts to programs benefiting Palestinians, the US Embassy in Jerusalem gave a handsome grant for a project bringing Jewish and Arab children living in the capital together to play soccer.

The Hapoel Katamon Neighborhood League, in which kids from both the western and eastern part of the city participate, is "in harmony" with Washington's vision for peace, US Ambassador to Israel David Friedman told The Times of Israel.

It will receive a one-time payment of $200,000, according to embassy officials.

"This year, 51 teams from 25 different schools will take part in the project, involving more than 750 boys and girls and 26 coaches from all sectors of society — religious and secular Jews, Muslims and Christians, representing the diversity of Jerusalem," the US embassy said in a statement.

"The US Embassy views sports and educational activities as vital tools for building bridges between different communities and promoting a just, equal and shared society."
Israeli tourism rises 10% compared to 2018
According to the Central Bureau of Statistics, approximately 447,100 tourist entries were recorded in October 2019, (the month when most of Jewish holidays fell in 2019) 7.9% less than October 2018 and 4.9% more than October 2017.

In the period of January – October 2019, 3.7 million tourist entries were recorded, compared to 3.4 million recorded in the same period last year, an increase of 10%.

In September, there was an increase of 44% in tourist entries on September 2018 (when most of the Jewish holidays fell in 2018). Therefore, in order to take into account, the period of the Jewish holidays, the two-month period should be calculated together.

In September-October 2019, 852,100 tourist entries were recorded, as opposed to 767,200 in the same period last year, an increase of 11%.

Revenue from incoming tourism in October stood at $643 million (about NIS 2.3 billion) and, since the beginning of the year, at $5.371 billion (about NIS 19.3 billion).

According to the Israeli Tourism Ministry, there has been a 10% increase in tourist entries to Israel since the start of the year compared to the same period last year.
George Clooney Set to Narrate New Documentary on the Late Israeli President Shimon Peres

Los Angeles film director Richard Trank has released a new film that chronicles the life and legacy of Israel's former president and prime minister Shimon Peres. Trank's film "Never Stop Dreaming", narrated by George Clooney, tells the life story of Shimon Peres from his childhood in Poland to becoming a key figure in Israel's establishment. The film focuses on his milestone achievements that include helping build up Israel's military and nuclear program, his entry into parliament, and his leadership role in the Labor Party through his election as prime minister in 1984.
Yad Vashem receives Torah scroll saved during Kristallnacht
A family Torah scroll that was saved from destruction in Ansbach, Germany during Kristallnacht was handed over to the Yad Vashem memorial and museum by the granddaughter of its owner.

The Torah scroll belonged to Dr. Ludwig Dietenhofer, "an industrialist who was active in Ansbach community life," according to Yad Vashem. Dietenhofer, who lived alone at the time because his children had all moved out of Germany, "held several public positions in the city, including as a member of the city council and head of the Jewish Community Committee."

Dietenhofer, a Zionist, planned to move to British-held Palestine and help build an independent Jewish state, and ultimately made it there shortly after Kristallnacht, or "Night of Broken Glass," when Nazis terrorized Jews throughout Germany and Austria.
Ludwig Dietenhofer and his wife / Credit: Yad Vashem Archives

During the fateful night on Nov. 9-10, 1938, Nazis killed at least 91 people, burned down hundreds of synagogues, vandalized and looted 7,500 Jewish businesses and arrested up to 30,000 Jewish men, many of whom were taken away to concentration camps.

Dietenhofer, who realized even before that night that Nazi persecution of the Jews was escalating, made sure that the Torah scroll would be spared and taken to a safe place several days in advance.

"On 27 October 1938, a tear gas bomb was thrown into the synagogue in Ansbach during prayer time, and the congregants were forced to stop praying," Yad Vashem noted on its website. "In November 1938, shortly before Kristallnacht, Ludwig was summoned to an urgent meeting with the Ansbach Chief of Police. The police chief, a friend of Ludwig's, warned him about the approaching riots, the anticipated synagogue conflagrations and physical violence, and urged him to leave the country as soon as possible."

Dietenhofer accepted that advice and took the Torah scroll, which had been donated to the synagogue by his family and used for multiple generations.
---
---
We have lots of ideas, but we need more resources to be even more effective. Please donate today to help get the message out and to help defend Israel.

Cache
From Ian:

---
Three Reasons why a Corbyn Government would Threaten Jewish life in Britain
2. Security of Jewish Community Buildings

It is a horrifying reality that in 2019, Jewish communities across the world live in fear of violent terror attacks. The traumatic scenes outside of the Tree of Life Synagogue in Pittsburgh, or the recent attack on the Halle synagogue in Germany, are ones we fear being repeated in the UK. When a kosher shop became a target in France's wave of terror attacks in 2015, it struck a raw chord with many in Britain's Jewish community. I recall the Friday night sabbath dinner conversation — what if I had been one of those hostages? How worrying that it is only the small English Channel separating us from the wave of terror against Jewish communities in Europe? This fear only increased with the stabbings of Jews outside a synagogue in Marseille later that year and the subsequent murders in Paris of Sarah Halimi and Mireille Knoll in further antisemitic incidents.

I recently enrolled my daughter at a nursery school based at a synagogue. Upon visiting the nursery — as much as I wanted to meet the staff, see the space and learn about the daily schedule — the thing I spent the most time checking-out was the security set-up for the building. From the age of one, my daughter will be attending daycare with a guard at the front door and constant security presence. That is not the desires of an over-protective parent — it is a necessary precaution of 21st century Jewish life. In this environment, the Jewish community relies on a supportive government who understand and sympathise with these very real security threats — a government that will help overcome any administrative or regulatory hurdles to protecting Jewish community centres, schools and places of worship.

I can recall hearing this support loud and clear from successive political party leaders over the past decades, whether Labour, Conservative or Lib Dems. I have never once heard Jeremy Corbyn utter his commitment. In fact, when I searched out looking to find and consolation that Jeremy Corbyn might understand the nature of anti-Jewish terrorism, I only found the opposite. Down the road from my home is a Jewish community building named Balfour House. I recall visiting it as a teenager when taking part in a youth volunteering programme. In 1994, the building was bombed in an antisemitic incident, and one backbench MP spent the subsequent years campaigning for the release of two of the terrorist attackers. His name was Jeremy Corbyn.
CAMERA: Jeremy Corbyn's Antisemitism Crisis A Timeline

An antisemitism crisis has engulfed the Labour Party in the UK, and party leader Jeremy Corbyn is at its center. Corbyn and his supporters insist he is entirely innocent. "He does not have an antisemitic bone in his body," one of his Labour allies has said.

Others aren't so convinced. "What is racist bone and how do you know whether another person has one?" asked renowned British author Howard Jacobson at an Intelligence Squared debate on the Labour leader's fitness to be prime minister. To left-wing author James Bloodworth, meanwhile, the problem isn't in the bones. "While I genuinely believe that Corbyn does not have an antisemitic bone in his body," Bloodworth wrote, "he does have a proclivity for sharing platforms with individuals who do; and his excuses for doing so do not stand up."

A poll in the summer of 2018 found that an overwhelming majority of British Jews, and a plurality of the general British public, believe Corbyn is antisemitic. Even Labour members who feel there is a deliberate campaign to exaggerate antisemitism charges against Corbyn and his party acknowledge that the party has a "genuine problem" with antisemitism.

While there has been some coverage in the U.S. press of the antisemitism scandal across the Atlantic, it has rarely been detailed and comprehensive — perhaps owing to the frequency of revelations about Corbyn's past associations and statements. This timeline seeks to fill in the gaps left by coverage of Corbyn's antisemitism scandal (it does not focus on antisemitic comments by other Labour members and activists, although those play a significant role in the Labour crisis).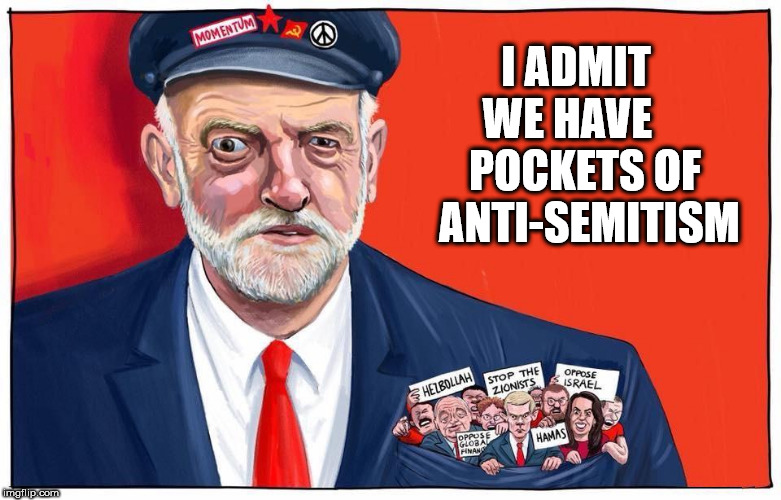 Revealed: UK Labour Party Candidate Said She Would Celebrate Deaths of Blair, Bush and Netanyahu; Slandered Pro-Israel Students
A UK Labour party candidate in the upcoming December parliamentary elections has been found to have said she would celebrate the deaths of former British Brime Minister Tony Blair, ex-US President George W. Bush and current Israeli Prime Minister Benjamin Netanyahu, and also to have slandered pro-Israel student activists.

The Jewish Chronicle reported that Zarah Sultana, who was nominated last week to contest the parliamentary seat for Coventry South, had once posted on social media that she did not agree it was wrong to "celebrate the death of any person regardless of what they did."

"Try and stop me when the likes of Blair, Netanyahu and Bush die," she wrote.

"The sooner they meet their creator the better," she added. "The concepts of justice and accountability don't truly exist in this life. Only in the next."

She also appeared to endorse terrorism, saying, "I wrote 'right to non violent resistance.' Best believe that was an error and I meant to write 'violent resistance.'"

Furthermore, Sultana libeled supporters of Israel, posting, "There will come a time in the near future where those (who) lobby for Israel feel the same shame and regret as South African apartheid supporters."

"It is not progressive to champion a state created through ethnic cleansing, sustained through occupation, apartheid and war crimes," she added.

While she was at university, Sultana attacked pro-Israel students, writing, "Those within the student movement who go to Zionist conferences and trips should be ashamed of themselves. You're advocating racist ideology."
US Jewish groups demand freedom for Jonathan Pollard
Several major American Orthodox Jewish organizations wrote pleas to US President Donald Trump to terminate Jonathan Pollard's parole so that he can care for his ill wife.

Agudath Israel of America, the Orthodox Union, and the Coalition for Jewish Values each sent their own petition to the president.

Agudath Israel Executive Vice President Rabbi David Zwiebel wrote that his organization has argued for Pollard's release for years, "and we now plead on humanitarian grounds for the commutation of his sentence and the termination of his parole."

"In order to simply accompany his wife to her doctor 's appointments and her chemotherapy sessions, which assistance she very much needs, Mr. Pollard is required by his parole conditions to give three days advance notice and submit a formal written request to leave Manhattan and go to wherever she needs to be taken. Unless he receives written permission, which is not automatic but can be denied and must be negotiated each and every time, he cannot accompany her," Rabbi Zweibel added.

Orthodox Union President Mark Bane wrote that the parole conditions preventing Pollard from leaving his home between 7 PM and 7 AM would prevent him from being able to assist his wife in the event of an emergency.
ADL's negation of Muslim Jew-hatred pandemic - sorry, it won't wash
Absent significant cognitive dissonance, anyone keeping abreast of the ongoing global jihad carnage—from Afghanistan to India to Yemen—even Germany—would not be surprised that "white supremacist" killings remain a marginal epiphenomenon. Just in the past 30 calendar days through November 2, 2019, there were (at least) 72 Islamic jihadist attacks (tabulated here) in 19 countries, during which 352 persons were killed, and 304 injured.

Perusing, or drilling down on the most recent U.S. Department of State (USDOS) "Country Reports on Terrorism 2018" (just published November 1, 2019), confirms, again, this irrefragable truth, as summarized by City Journal's Seth Barron, when he reviewed the 2017 report:

…[A]lmost all the world's extremist violence is concentrated in a handful of regions, where very few white people live

Methodical key word searches of the (11/1/19-released) 2018 USDOS 332pp. report reveal, tellingly, the following references:

83 for "jihad-jihadist"; 14 for "Communist", with another 8 for "Marxist", including the Basque ETA, often dubbed "Nationalist"; 4 for "Nationalist" itself, but this includes only the
(1) Marxist Palestinian PFLP,
(2) the Kurdish Marxist-Maoist PKK, and Marxist Turkey-based Revolutionary People's Liberation Party/Front,
(3) the jihadist spearheaded "ethno-nationalist insurgency" in southern Thailand, and
(4) so-called "regional nationalist groups" in Bosnia Herzegovina—which also includes jihadists who attempted to "travel to foreign battlefields";
5) a solitary—one—"white supremacist" reference to Sweden, in this full context—"Sweden faces 'a new normal,' with an estimated 2,000 'Islamist extremists' and 1,000 'white supremacist and leftist violent extremists' present in the country."
Jonathan Tobin: New Israel Fund's war on Jewish life

According to the Forward, the rationale for the New Israel Fund's push to create an alternative philanthropic system can be explained by what a Philadelphia psychologist named Roy Idelson considered to be a reasonable request. He wanted his local umbrella Jewish philanthropy – the Jewish Federation of Greater Philadelphia – to allow him to use its foundation to donate money to an entity of his choice, IfNotNow.

A number of federations and many others operate foundations that allow their supporters to create so-called "donor-advised" philanthropic funds to funnel money to non-profit groups of the individual's choice. The arrangement is profitable for federations since they make money by fees earned by managing the donor's money and hopefully increasing it by wise investment decisions.

But, to its credit, the Philadelphia federation refused Idelson's request.

The reason was that giving money to IfNotNow was contrary to the interests of the community. IfNotNow is, contrary to the Forward's description of its activities, not just critical of Israeli policies but avowedly neutral about Zionism.

Idelson was outraged and now thinks that Philadelphia's federation – and others that share its policies – aren't operating a big enough tent. That's why he's supporting the New Israel Fund's new project. The NIF is seeking to create an alternative to federations by allowing donors to give money to exactly the kind of groups that mainstream philanthropies want no part of.

The NIF's Progressive Jewish Fund, which was launched late last month, will do just that. That's good news for groups like IfNotNow, which hope to reap more donations, in addition to the New Israel Fund, which will profit from such gifts.
Ocasio-Cortez apologizes for blocking ex-lawmaker Hikind on Twitter
US Rep. Alexandria Ocasio-Cortez said Monday she is sorry for blocking a former Brooklyn elected official from her Twitter account after he was critical of her.

In a statement, the Democrat said she had reconsidered her decision, as part of the settlement of a federal lawsuit that Dov Hikind had brought against her this year.

"Mr. Hikind has a First Amendment right to express his views and should not be blocked for them," she said. "In retrospect, it was wrong and improper and does not reflect the values I cherish. I sincerely apologize for blocking Mr. Hikind."

Hikind, a former New York state Assemblyman, said he was blocked from Ocasio-Cortez's extremely popular @AOC campaign account, which has 5.7 million followers, after he criticized her comments comparing border detention camps to concentration camps.

Hikind was pleased with the representative's comments. "I couldn't ask for much more at this point," he said.

He said he hoped it would be the beginning of a dialogue between himself and Ocasio-Cortez.
Today was a great victory not only for me, but for citizens and free speech everywhere!

However, the fight against antisemitism and its apologists continues and we need your help to achieve more such victories! Please do your part by visiting https://t.co/7UTMXpMF2f today pic.twitter.com/dtuIP2ClMj

— Dov Hikind (@HikindDov) November 4, 2019
Jewish group accuses NDP MPP Joel Harden of supporting Palestinian 'terrorist leader'
A Jewish advocacy group called Monday for an apology from an Ontario New Democrat who tweeted in support of a member of a terrorist group.

Joel Harden, who represents Ottawa Centre in the provincial legislature, tweeted last week about the treatment of a senior official with the Popular Front for the Liberation of Palestine, which Canada has listed as a terrorist entity.

"Saddened, sickened and disgusted by the continued abuse of Khalida Jarrar, my parliamentary colleague, by Israeli occupation forces," Harden wrote.

He urged Prime Minister Justin Trudeau to demand her immediate release.
Sut Jhally Is Not the Victim
It's kind of pathetic when a privileged college professor — who has been allowed to organize two anti-Israel rallies at a state's "flagship" university — complains of being censored and silenced by people who disagree with him and have done an effective job of pointing out factual misstatements in his attacks on Israel.

But that's exactly what Sut Jhally, chairman of the communications department at UMass Amherst, has done. In a recent email to Mondoweiss, an anti-Zionist website, Jhally complained about the efforts of the Committee for Accuracy in Middle East Reporting and Analysis (CAMERA) to hold him accountable for his incessant and counter-factual propagandizing against Israel.

In the statement published on November 1, 2019, Jhally complains that he has been "a long-standing target of CAMERA mostly as a result of the films I have been involved in." He then states: "They have filed formal complaints to the university and have written long exposes about my 'shameless propaganda.'" Jhally explains, "When I say 'they,' it is actually one sorry individual, Dexter van Zile, who has written every piece and filed every complaint."

Jhally, who has admitted publicly that he views college classrooms as a good place to promote his anti-Israel propaganda because they provide a "captive audience" of students who can be forcibly exposed to his films and then tested on them afterwards, wrote this statement after UMass Chancellor Kumble Subbaswamy condemned the BDS movement on October 21.

Subbaswamy said he would not interfere with an anti-Israel event organized by Jhally scheduled to take place on November 12, but lamented that such a one-sided event was scheduled. Jhally organized a similar event at UMass Amherst in May 2019.
Anti-BDS Maccabee Task Force to expand to 11 universities in Europe
In the past two decades, one of the most critical frontlines of pro-Israel advocacy has been the college campus. Today, a number of passionate and dedicated organizations work in this space to counter the virulent anti-Israel movement found at many universities in North America.

With this presence, some US-based pro-Israel organizations are now turning their sights on Europe in an attempt to tackle what many feel is a significantly more difficult environment for supporters of Israel.

The Maccabee Task Force has recently announced that it will expand into 11 universities in Europe in six countries.

"This year we will be on over 100 North American campuses; we are almost on all the campuses that meet of criteria of support. What we saw abroad was a significant need," said CEO David Brog, noting that MTF focuses on campuses with a "serious" BDS threat and ones that will produce "tomorrow's leaders and influencers."

Launched in 2015, the Maccabee Task Force goal is focused on combating the BDS movement by investing directly in Jewish and pro-Israel organizations, while building a broader consensus supporting Israel on campus.

After its initial foray into six campuses in 2016, the Maccabee Task Force has rapidly expanded each school year, with a current presence on 80 campuses across North America.

"We had another very good year last year. We were able to support more than 1,200 pro-Israel events on our 80 campuses," said Brog. "We were able to bring 1,500 campus leaders and influencers to Israel. That, to us, is a significant investment. Nobody else is bringing that number of campus leaders to Israel, and these are primarily non-Jews as well."
Cultural BDS: Artists Are Under Attack
The malicious demonizing of Israelis has inevitably led to a dramatic rise in antisemitism and violence against Jews everywhere. BDS exploits classic antisemitic tropes associating Israelis with theft, blood libel, and the cause of war. Brandeis University and the AMCHA Initiative studies reveal a direct correlation between BDS activities and antisemitism on US college campuses, and a 2019 poll from the Institute for Jewish Policy Research found an established link between the BDS movement and antisemitism in Great Britain.

Critics accuse President Donald Trump of exciting antisemitism on the extreme right. There is no doubt, however, that antisemitism is coming from both sides of the political spectrum, and that BDS is leading the rise on the left.

Utterly absent in BDS rhetoric is a call for artists to foster peace and reconciliation. Artists are routinely shunned for their attempts to bring both sides together or any sign of a balanced perspective.

Support for peace typically comes from entertainers who refuse to boycott the Jewish homeland. Music legend Leonard Cohen donated proceeds from a 2009 Tel Aviv concert to organizations working for peace. Ian Anderson, lead singer of the rock band Jethro Tull, donated earnings from three separate concert tours to charities including the Polyphony Foundation, which brings together Arab and Jewish children for the study and performance of classical music.

BDS has demonized Israelis and artists, fomented antisemitism, and made peace a more distant dream.

If you think BDS is a nonviolent campaign with humanistic goals, think again.
Demi Lovato, the Portland Trailblazers and you
Of all the enemies of the State of Israel, only one often harms more non-Israelis than Israelis: the boycott, divestment and sanctions movement.

The BDS movement is so ineffective at damaging the Israeli economy that it can more accurately be categorized as an anti-associated-with-Israel group, not an anti-Israel group. Every day, Israel-supporting Americans, now including singer Demi Lovato and the Portland Trailblazers basketball team, become the targets of the BDS movement's hate-filled agenda.

Lovato, a Christian with Jewish ancestry, traveled to Israel in early October, where she was baptized in the Jordan River, visited the Western Wall, met with special-needs children and toured Yad Vashem Holocaust memorial and museum. She posted pictures about these experiences to her 74 million Instagram followers.

She did not take a political position, meet with Israeli leaders or discuss regional issues. There are unconfirmed reports that she was paid approximately $150,000, partly by the Israeli Foreign Ministry, to take the trip in exchange for posting on Instagram.

For these actions, she was excoriated on social media. CodePink, a "women-led grassroots organization," claimed on Twitter that Lovato's actions were "unacceptable" and that she was "legitimizing apartheid." Lovato, whose career hinges on her likeability, rushed to apologize.
Report Shows Uptick in Anti-Israel Activity on American College Campuses
Anti-Israel activity on college campuses in the United States increased during the 2018-19 academic year, according to an Israel on Campus Coalition report that shows there was a record number of anti-Israel disruptions at pro-Israel campus events.

During the academic year, campuses on the East Coast experienced more anti-Israel events than any other region, including an increase in anti-Israel activity at Ivy League schools such as Columbia University, Brown University and Cornell University.

Harvard University experienced a rise in anti-Israel events over the past two academic years.

Overall, 28 BDS and other anti-Israel campaigns were run on college campuses—an increase of a few more over the 2017-18 academic year and a decrease of 16 over the 2014-15 academic year.

"As the BDS movement has become more established over time, anti-Israel tactics have become increasingly hostile as Israel's detractors double down on efforts to make campuses inhospitable to Jews and Zionists," according to the report.

The 2018-19 academic year consisted of the highest recorded number of anti-Israel interruptions at pro-Israel events at 23, an increase of five from the previous academic year.
A Fraternity of Silence
In the 1940s, the ADA formed a council on dental education in an attempt to improve the field. The organization hired a consultant named Harlan H. Horner, who published a report in 1940 suggesting all the ways dental schools could do better. One important step was admitting fewer Jews.

"He wrote that 36% of the dental students come from four states—New York, New Jersey, Illinois and Pennsylvania—and those students are all from the same 'immigrant background,'" Brickman said, the quotation marks audible in his tone. "In other words, they're Jewish. Maybe a few are Italian. And this is not good. We need representation of all people; if you're a dental school in Georgia you need good ol' country boys! You shouldn't have any Jews! Some of this made sense: He wanted students from everywhere. It sounds real good. But he obviously had an agenda." The ADL leaked the story to The New York Times, and the American Dental Association issued a statement saying no worries; they'd never agree to Horner's recommendations. "This was in the middle of the war, and they said Jewish boys were fighting like the other boys," Brickman said. But the Horner commission had already approached individual dental schools urging them to take action. One of the schools was Temple; when Brickman visited its archives, he said, "I found a letter the dean of the dental school wrote to the president saying that his number one accomplishment was improving the school's horrible physical plant, and number two was that four years ago, 72% of the freshman class was of the Jewish persuasion and now, only 24% were. They said it wasn't anti-Semitism or anything against the Jews, it's just that we were admitting too many students from New York state. But the number of Jews went from 72% to 24%."

Brickman went through old yearbooks from dozens of dental schools to see how Jewish student populations changed in the wake of the Horner commission. "I looked at names and fraternities," he said. "And if it was a name that you couldn't really tell, but he was married to Sadie Goldberg, I knew a boy was Jewish." Sure enough, he found that the numbers of Jews in dental schools—"even Columbia!"—plummeted. "It was a conspiracy, no question about it," he said.
Rivlin urges 'anti-Semitism czars' to urgent action
"Anti-Semitism is not a Jewish problem alone. It is a problem for all humanity. We are engaged in a bitter joint fight against any expressions of anti-Semitism – from the Right, the Left or from radical Islam," President Reuven Rivlin said Monday at a meeting with special envoys from Europe and the US charged with leading the fight against anti-Semitism in their home countries.

Officials who attended the meeting at the President's Residence included European Commission Coordinator on Combating Anti-Semitism Katherina von Schnurbein; US Special Envoy for Monitoring and Combating anti-Semitism Elan Carr; UK Special Envoy for post-Holocaust issues Lord Eric Pickles; German Government Commissioner on Anti-Semitism Dr. Felix Klein; and French Special Representative on Racism, Anti-Semitism and Discrimination Frédéric Potier, all of whom provided Rivlin with overviews of their work.

"Your clear voices and the work you do are crucial, particularly at such a challenging and hostile time," the president told the representatives.

"Anti-Semitism is anti-Semitism is anti-Semitism. There are no gray areas and there is no option other than zero tolerance. One can criticize us so long as it is criticism. The moment it turns to boycotts and actions against Israel that are influenced by anti-Semitism – we will not accept it," he said.

Carr said, "Many leaders around the world understand that anti-Semitism is not only against the Jews, but against society as a whole. It is a great honor to work alongside such leaders for a better and more just world, and I am proud to call them partners.

"It is important that you know that my country, headed [by my] boss President Trump, and my boss Secretary of State Mike Pompeo, stand with you in the struggle for the security of Jewish people around the world and for the State of Israel," Carr added.
European MP: We need to increase security 'wherever Jewish life takes place'
Europe needs to do much more to protect its Jewish community, including stationing police outside every Jewish institution, according to the new head of the working group on anti-Semitism in the European Parliament.

"In front of every synagogue, every Jewish school — anywhere where Jewish life takes place — there should at least be the awareness of the police, and depending on the risk assessment there also has to be the presence of the police [so that it] can act if there's an attack," Karoline Edtstadler said.

"Unfortunately, there is a pressing need for this. We can argue about whether police presence in front of synagogues is good or bad, but it's clearly a necessity," she added.

In a wide-ranging interview with The Times of Israel, Edtstadler, a former deputy interior minister in Austria who entered the European Parliament earlier this summer, also said Brussels should support Israel as the only democracy in the Middle East and not assume the role of a greater "moral authority" that can force its views and positions on Jerusalem, especially regarding the conflict with the Palestinians.

"There are three kinds of anti-Semitism: the old-fashioned kind, a new imported one, and anti-Zionism. It took a long time before people dared speaking about the imported anti-Semitism, but it's a fact," Edtstadler said, alluding to Jew-hatred among immigrant communities.

"Anti-Zionism, which targets Israel, is the most difficult one, because you have to be well-educated to find out about it. We can never stop fighting anti-Semitism. It will exist forever," she added.
German students allegedly sing antisemitic songs after Buchenwald visit
Just hours after visiting the Buchenwald concentration camp as part of a school trip, three 14-year-old high school students reportedly started playing antisemitic songs and singing along with the lyrics.

According to a German police press statement, the students are being investigated for alleged incitement.

The police said that the three were on the school bus returning from the trip when they turned on the music and began to sing along. The incident occurred on October 15, but was reported to police over the weekend, according to the statement.

According to Deutsche Welle, the students are from Theo Koch School in the western city of Grunberg.

In a short statement to the press, Hessen's Minister of Culture Alexander Lorz stressed that "hate speech and insults are no trivial offense."

"The teenagers must be made very clear that we do not tolerate such a thing in our country," he added.
I'm an Indian Immigrant. I was Accosted in Bonn, Germany, Because I was Mistaken for a Jew
As a foreigner moving to Germany, I sensed the Antisemitism early on. I knew the perpetrators all too well. They were mostly men my age, the majority of them from the Middle East or Muslim-majority North Africa.

As I strolled Cologne's inner city for the first time some ten years ago, the Jew-hatred stared right at my face.

It was not the well-disguised Antisemitism that my progressive and woke German friends and colleagues displayed. Like the time when one of them claimed that Palestinian suicide bombers killing innocent Jews were mere "freedom fighters." Or things you heard between the lines every time Jews or the Jewish State was mentioned in an academic debate.

The Jew-hatred on the street was free from polite inhibitions you generally expected from educated Germans mindful of their historical responsibility and guilt. These men, mostly from Turkey or the Middle East, do not know such restraints. They praised Hitler, glorified the Holocaust, and called for the destruction of Israel. Harmless conversations in cafés or streets often veered towards wild claims of Jewish conspiracies.

Even for Indian migrants like me, with no ax to grind on the issue of the Middle Eastern conflicts, it was clear that something was deeply wrong here. In the wake of the 2012 Gaza conflict and the ensuing antisemitic hate-fest on the streets of Cologne prompted me to mobilize fellow Indians living in Germany and the West. If immigrants fueled Antisemitism on German roads, then we immigrants had to take it head-on.

The overwhelming support I got from the Indian community led to the creation of the social media initiative 'Indians For Israel.' My subsequent visits to Israel and my interactions with the German Jewish community only strengthened my commitment.
Flyers slammed as anti-Semitic, racist distributed in Philadelphia
Flyers described by local US media as anti-Semitic and racist have recently been placed on cars in parts of South Philadelphia.

The page-long flyer makes several false claims about the Jewish community and African Americans, the local CBS affiliate reported Sunday.

"In general it profiles a really negative light on people of the Jewish faith, and their business dealings. It is anti-Semitic, and in my opinion it was trying to galvanize the African American community, to kind of be against the Jewish community," Betsy Oliphant Ross, who found one of the flyers, told ABC6. She said she was "disturbed" by the flyer she found on Friday afternoon.

More flyers were discovered on Saturday and Sunday.

State Rep. Joanna McClinton called the flyers "hate-filled" and "unacceptable."

Police reportedly are looking for video from security cameras in the area to try to find the person or persons who left the flyers.
Multiple Jewish residents of Borough Park assaulted on same night
Several Jewish members of Borough Park's Jewish community were attacked on Friday night.

The first attack occurred on New Utrecht Avenue and 53rd Street at around midnight. A few men exited their vehicle and chased two ultra-Orthodox boys as they were walking down the street. The two boys escaped unharmed after being chased, which was caught on CCTV camera.

The same assailants returned to their vehicles and drove to 48th Street, within range of the Bobover Bais Midrash, where they punched an ultra-Orthodox man as he sat in his vehicle. The men once again fled the scene after being caught on film.

Additional reports of assault on two other ultra-Orthodox residents of Borough Park occurred Friday night, one on 14th Avenue and 51st Street, and separately, another on 14th Avenue and 55th Street.

This series of assaults come amid reports of rising antisemitic sentiment and attacks on Jews in the United States, in addition to numerous incidences of defacement of Jewish-owned properties, gravestones and community institutions.
Suspect arrested after Minnesota school tagged with swastika
US police have arrested a suspect in a Minneapolis suburb after a swastika and other offensive graffiti were found at an elementary school.

In an email to Edina School District families, Superintendent John Schultz wrote that "when an act of hatred occurs anywhere in Edina, it affects our entire community."

Police said the arrest occurred Monday after the suspect was caught on security video. The vandalism at Concord Elementary School happened over the weekend.

The Star Tribune reported that Schultz said the district has turned to the Jewish Community Resource Council for guidance as they work through the issue.

"We strongly believe that these types of incidents are carried out by individuals who do not reflect the sentiments of the community as a whole," he added. "They remind us, however, that we must be vigilant in our work around equity and cultural understanding. The future-readiness of our students depends on their ability to work collaboratively with others from vast numbers of cultures, religions and backgrounds."
Utah school principal, teacher placed on leave after student dresses as Hitler
The principal and a teacher at an elementary school in Utah have been placed on paid administrative leave after a student dressed in an Adolf Hitler costume and participated in the school's Halloween parade.

The student at the Creekside Elementary School in Kaysville, Utah, wore a brown long-sleeved shirt with a red swastika armband on the sleeve, in photos that circulated Friday on social media. He also appeared to be wearing a Hitler mustache.

The Davis School District apologized for the incident in a statement, the local Fox affiliate reported.

"The Davis School District apologizes for what took place yesterday. It does not tolerate speech, images or conduct that portray or promote hate in any form. The district is taking the matter very seriously and is investigating every aspect of the situation," the statement said. "It does not tolerate speech, images or conduct that portray or promote hate in any form."
Always remember that the @jdforward and @jvplive are on the side of Richard Spencer (who calls Jews "K*kes")... but only in his criticism of Israel. ?? pic.twitter.com/acxg5BwKjF

— The American Zionist (@americanzionism) November 4, 2019
How the Jew Whom Hitler Blamed for Kristallnacht Outsmarted His Captors
When, a Polish Jew named Herschel Grynszpan walked into the German embassy in Paris and assassinated an official in retaliation for the Nazis' persecution of his family, Adolf Hitler immediately used it as a pretext to launch violent attacks on Jews throughout the Third Reich. Saturday marks the 81st anniversary of these pogroms, which came to be known as Kristallnacht. Stephen Koch, whose biography of Grynszpan was reviewed in Mosaic, explains how Grynszpan—arrested by the Gestapo in 1940—foiled Nazi plans to use him as a pawn:

Hitler had decided to turn [Grynszpan] into the defendant in a major show trial in Berlin, "proving" that World War II had been started by the "World Jewish Conspiracy," using the "evil" Herschel as their trigger. . . . Enormous amounts of Nazi money, time, and energy went into planning this charade. Hitler was kept constantly informed. The star witness was to be no less than the former French foreign minister Georges Bonnet, a covert Nazi fellow-traveler and major player in Munich, who promised the Nazis to tell the world that, yes, indeed, France went to war in 1939 only because of relentless, irresistible, warmongering pressure from "the Jews."

The trial . . . never took place because Herschel Grynszpan kept it from taking place. As a prisoner of the Nazis, Herschel had quickly grasped that he was being primed for more anti-Semitic propaganda. To prevent that disgrace, he concocted an extraordinarily ingenious lie. He claimed that he had not really killed the German diplomat for any political reason at all. His "protest" had merely been his cover for a deeper secret: the unspeakable truth that he'd killed the diplomat in the midst of a homosexual lovers' quarrel.

This inspired falsehood was certain to turn into the trial's most scandalous news story. It made an enraged Goebbels advise Hitler to postpone the whole thing. It stayed postponed forever.
World War II pilot's heroic Holocaust secret revealed
It was a secret that Royal Air Force pilot Halsey Roscorla took to his grave in 1966 – a secret that would not surface for more than half-a-century.

But this week, the full story of his heroism was revealed by the ahead of Remembrance Day on Monday by Royal Star and Garter, a British charity that cares for military veterans and their partners living with disability or dementia.

Roscorla's family never learned of his heroic action since he never spoke of his time in the military to his wife, Joan, or children, Anne and Charles.

When he died in 1966 at the age of 47, his family thought his military stories were gone forever. But in 2005, pieces of his remarkable story came to light after a chance sighting of a photograph and film footage in a news report. That fateful night, Charles was watching the television news when he spotted a familiar photograph.

"In our photo album drawer at home, there is a series of pictures of planes lined up on a runway, and [it's] looking like refugee children going into these planes," he recalled. "I've known them forever. And we turned on the news one night in 2005, and it was a celebration of the refugee children being picked up at Prague airport.

"Children who had been in camps to be brought to this country, they were taken to Windermere. It was the 60th anniversary. My wife Martine and I [said] 'Oh! What was that?'" the 68-year-old recalled.
Hall of Famer Staubach to be honored for support of Israel
Hall of Fame quarterback Roger Staubach will be honored "for his work as a strong supporter of Israel and other Zionist causes."

The Bnai Zion Foundation, a nonprofit organization based in the United States that identifies and funds capital projects in Israel, will present the Dallas Cowboys great with its 2019 American-Israel Friendship Award at an event in Dallas on Monday.

Staubach wrote in a commentary published in the Dallas Morning News ahead of the awards ceremony that "(M)y Catholic roots have always helped me see the importance of an Israeli homeland."

The Heisman Trophy winner called the purchase of Israel Bonds while a student at the U.S. Naval Academy, because they were affordable, "my first link to Israel."

He also wrote: "Israel is a very special place that represents so many faiths. It covers everyone and everything, and you don't have to be Jewish to understand its singular status and to support it as a nation and an idea."
Heschel quote to be centerpiece of public mural in Buenos Aires
A quote from the late Rabbi Abraham Joshua Heschel will be the centerpiece of a mural painted in a public square in Buenos Aires.

The Buenos Aires city government and the Latin American Rabbinical Seminary held a contest to design the mural to honor human rights activist Rabbi Marshall Meyer. It will be located in the north of the city, close to Meyer's Bet El synagogue.

Meyer, who was mentored by Heschel, explained his commitment to social justice causes and the reason for publicly demonstrating that commitment by saying that "when you march for fair causes, you are praying with your feet." That vision was taught to Meyer by Heschel, an activist who spoke about that idea after he marched from Selma to Montgomery in 1965 with Martin Luther King.

Meyer, a New York native who worked in Buenos Aires from 1958 to 1984 to revitalize the Conservative movement, spoke out for liberty while working in Buenos Aires during the military dictatorship government in Argentina from 1976 to 1983.

A graffiti design of the phrase "Marchar es como rezar con los pies" ("Marching is like praying with your feet") was proposed by artist Ariel Mintzer, 29.
As Israel celebrates Aliyah Day, 2019 figures point to a peak year
For the fourth straight year, Israel is marking Aliyah Day, celebrating the ingathering of the exiles and the contribution of Jewish immigrants to the state.

According to official statistics, 2019 has so far been a good year for aliyah, with 28,629 olim making Israel their home as of October. Only a decade ago, the number of olim for roughly the same period in 2009 stood at 17,179.

In 2014, more than 27,000 olim arrived in Israel, and a year later the number rose to 31,858, marking a record for the period of 2009-2019.

The number of olim in 2018 was close to that record, standing at 30,381, and 2019 may end with an even higher figure.

The breakdown of the numbers for the period of January through October 2019 is as follows: 12,722 from Russia; 5,247 from Ukraine; 2,470 from the United States; 276 from Canada; 143 from Australia; 1,996 from France; 469 from the UK; 350 from Brazil; 321 from South Africa; 93 from Venezuela; 127 from Mexico and 143 from Turkey.

According to government agencies, olim also arrived from Muslim countries, including 57 from Iran.

Even Thailand and Japan are represented in this year's figures, with 14 olim arriving from former and 5 from the latter.
Today, we honor the memory of former Prime Minister and Chief of the General Staff, Lt. Gen. Yitzhak Rabin.

May his memory be a blessing. pic.twitter.com/aSxgufuJYi

— Israel Defense Forces (@IDF) November 4, 2019
---
---
We have lots of ideas, but we need more resources to be even more effective. Please donate today to help get the message out and to help defend Israel.

Cache
This is the photo of the Erem article


Erem News has an article about a symposium in Gaza held by the Hamas ministry of culture, to explain religious Jews in Israel.

In the first paragraph it describes their ideas and rituals as "ugly and weird." Indeed, much of the fiction they follow that with is indeed ugly and weird.

Palestinian writer and historian, Tawfiq Abu Shomer, spoke about the results of his research into a community he knows little about.

Abu Shomer describes the Jewish Sabbath. After stressing how important it is, he goes on to say that "Haredim try to defraud the religion and laws by hiring non-Jews to do their work on Saturday, so that they themselves will not break the sanctity of the day. (The laws of asking a non-Jew to do activity on the Sabbath are very complex, but in general it is not allowed without many caveats.)

The supposed "expert" then informed his audience that Hareidi communities in Israel do not allow ambulances or other emergency vehicles into their neighborhoods on Shabbat. This is absurd.

The Gaza audience was told that Haredim "denigrate women and tend to violence them in all forms, treating women as impure and only good for having babies."

The more religious women are required to wear a full body veil, according to Abu Shomer. (There is a tiny cult that forces women to wear a veil but their bizarre rules have nothing to do with Judaism, as they are denigrated as the "Taliban.")

Another new rule that no one has heard of before: "The ultra-Orthodox religion also forbids a man from sitting in a seat on which a woman was sitting, until 10 minutes after she left." I guess religious men can never sit on a bus or subway because they don't know who sat on the seat beforehand.

The speaker then went on to say that Israel imports haredim into the country and pays them to have lots of kids.

As for how the haredim make a living , well, they smuggle drugs!

This Hamas antisemitism under the guise of scholarship is about as explicit as it gets.


---
---
We have lots of ideas, but we need more resources to be even more effective. Please donate today to help get the message out and to help defend Israel.

Cache
From Ian:

---
Poll: Almost 50% of UK Jews will 'seriously consider' leaving if Corbyn wins elections
Britain's Jewish community so deeply concerned by the prospect of Labour Party leader Jeremy Corbyn winning the next general election that community leaders have launched a campaign to undermine his premiership candidacy.

A recent poll by the Jewish Leadership Council, a British-Jewish advocacy group, found that 47% of British Jews would "seriously consider" emigrating if Corbyn is elected prime minister.

Some 87% of British Jews believed Corbyn to be anti-Semitic, and 90% said they will not vote for Labour, the poll found.

UK Prime Minister Boris Johnson called the general elections, set for Dec. 12, following his failure to push the Brexit deal through Parliament. Johnson's promise to have the UK leave the European Union by Oct. 31 had been a key element in the Conservatives' leadership bid, which brought him to power in July.

Corbyn has been repeatedly lambasted for his failure to tackle anti-Semitism within Labour. In 2018, the party received 863 complaints of anti-Semitism but took action in only 101 of those cases. Worse, Labour members who have publicly made statements such as "Jews are the problem" have remained in the party despite complaints against them.


All three of Britain's leading Jewish newspapers made an appearance on #Marr this morning, as @johnmcdonnellMP fails to make any kind of hard line on #LabourAntisemitism.

Says he's "saddened" by it. pic.twitter.com/j0STRAhAEy

— Jewish Telegraph (@JewishTelegraph) November 3, 2019



According to the Jewish Chronicle, prominent British Rabbi Jonathan Romain has even taken the unprecedented step of urging congregants to vote against Labour, warning that a Corbyn-led government "would pose a danger to Jewish life as we know it."

"I should stress that the problem is not the Labour Party itself, which has a long record of fighting discrimination and prejudice, but the problem is Jeremy Corbyn. Corbyn-led Labour, has at best, let antisemitism arise within its ranks, or at worst, has encouraged it," Romain wrote in a letter to the 823 families who are members of his Berkshire shul.

"This has never happened under any previous Labour leader … so the finger of responsibility really does seem to point to Jeremy Corbyn. I am therefore suggesting we should each put aside all other considerations and vote for whichever party is most likely to defeat Labour in whatever constituency we are in – even if we would never normally vote for that party."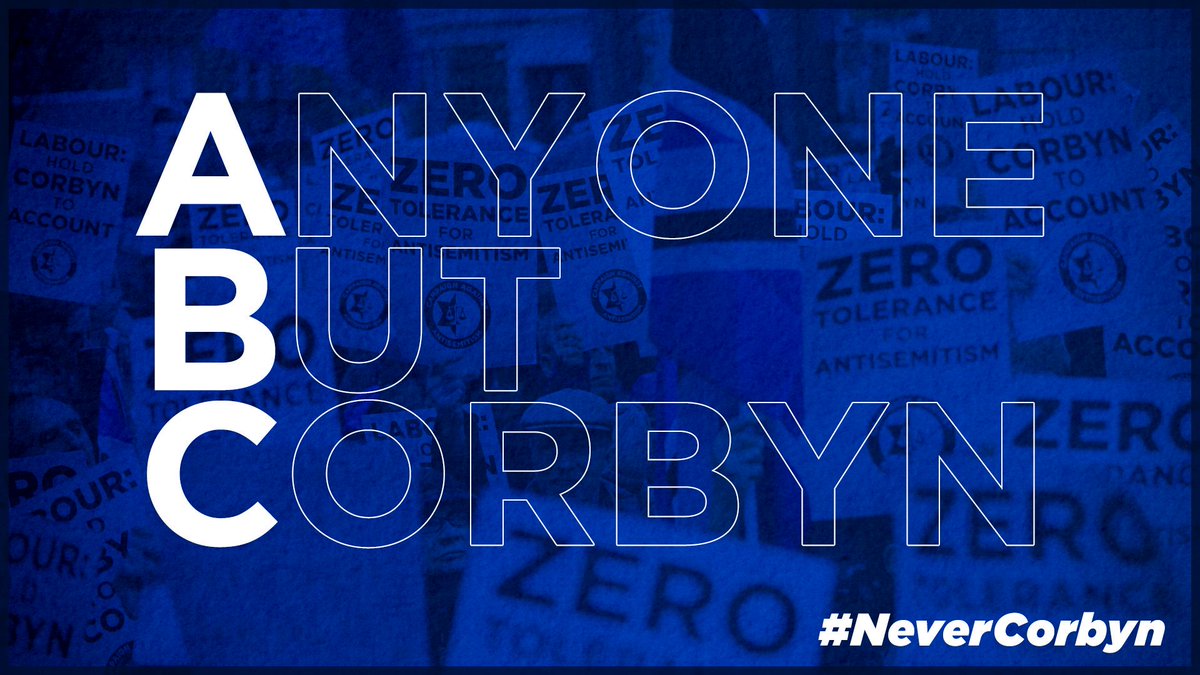 Israel Advocacy Movement: Why vote Labour?

In the upcoming election, a vote for Labour is a vote for:
☠️ Terrorism supporters
🇻🇪 An economy like Venezuela
🚫 Racism
A vote for Labour is a vote for insanity… watch the election video Labour don't want you to see.
Jewish Caller Tells Maajid Nawaz He Would Emigrate If Corbyn Elected
A Jewish caller told Maajid Nawaz that he would close his business and leave the UK if Jeremy Corbyn were to become Prime Minister because of anti-Semitism.

David, from Hendon, said: "I will leave the country as soon as Corbyn comes in, God forbid that he should.

"I will not stay in a country where anti-Semitism is now accepted because I think, brilliantly, he and his PR people just didn't answer really, just deflected old accusations.

Now people are fed up with hearing the word so it's almost as if it's accepted and whether that's the case or people are actually anti-Semitic in this country... I hope not but I'm beginning to have my doubts."

He also explained that he would shut down his business of 53 people.

He said: "I will leave, I will close down all of my businesses which I can. I've been nervous of this, I'm in the position where I'll be able to close them down.

"These people won't be employed anymore and that's fine. I'm looking after myself and I'm sure people, some of your viewers or listeners will be saying 'good riddance, let's get rid of the guy'.

But there are hundreds of people like me, and not all of them are Jewish, there are hundreds of wealthy people who have built up businesses who know that in the end Mr. Corbyn will take it all away from us because he doesn't appreciate people who work hard."
Historian: New evidence shows FDR's bigotry derailed many Holocaust rescue plans
Not only was US president Franklin Roosevelt perfunctory about rescuing Jews from the Nazis, but he obstructed rescue opportunities that would have cost him little or nothing, according to Holocaust historian Rafael Medoff.

FDR's role in preventing the rescue of European Jewry is detailed in a new book called, "The Jews Should Keep Quiet: Franklin D. Roosevelt, Rabbi Stephen S. Wise, and the Holocaust."

Published in September, Medoff's book includes new archival materials about the relationship between Roosevelt and Rabbi Stephen Wise, who the author sees as a sycophantic Jewish leader used by Roosevelt to "keep the Jews quiet."

Wrote Medoff, "Franklin Roosevelt took advantage of Wise's adoration of his policies and leadership to manipulate Wise through flattery and intermittent access to the White House." In return for visits to the White House and Roosevelt calling him by his first name, Wise undermined Jewish activists who demanded the administration let more Jewish refugees into the US.

According to Medoff, Roosevelt's policies toward European Jews were motivated by sentiments similar to those that spurred him to intern 120,000 Japanese Americans in detention camps as potential spies.

"Roosevelt used almost identical language in recommending that the Jews and the Japanese be forcibly 'spread thin' around the country," Medoff told The Times of Israel. "I was struck by the similarity between the language FDR used regarding the Japanese, and that which he used in private concerning Jews — that they can't be trusted, they won't ever become fully loyal Americans, they'll try to dominate wherever they go."
Gil Troy: Mark Twain's 'Innocents Abroad' explains our Israel obsession

Twain offered his pragmatic American explanation for Palestine's desolation: "Palestine is no more of this work-day world. It is sacred to poetry and tradition – it is dream-land." Twain feared that Palestine induced so much stargazing no one ever rolled up their sleeves to produce anything there.

Fortunately, the Zionist movement was starting to tap into old-new Jewish dreams to motivate hardy, hardscrabble, hardworking pioneers – much as the American dream drove Twain's fellow Americans. This pre-Zionist book offers a core Zionist message. The Palestine Twain saw highlights the modern miracles Zionism created that we take for granted.

STILL, IF dreams can motivate or paralyze, mythmaking can inspire – or disappoint. Sarna has long shown how Palestine as dreamland boosted modern Israel in American and Jewish eyes. Many Americans, especially American Jews, echo the pilgrims' naivete. They romanticize Israel, falling in love with what Sarna calls a "mythical Israel," more indicative of "American Jewish ideals" than "Israeli realities." The Zionist dream, American-style, long celebrated an Israel that was even more progressive than America – defined by kibbutz workers, not Wall Street investors; built by new brawny Jews, not traditionally brainy Jews.

Beware: too much mythmaking about any country – especially the world's only Jewish state trying to survive in a Middle East hostile to Jews and democracies – is risky. As with any romance, some idealization during courtship greases the wheels of love. And Israel's "dreamland" still dazzles most Americans. But, today, with Israel in middle age, the toxicity of faded romance often triggers an overly harsh counterreaction. Somehow, many of Israel's jilted leftist lovers still love America while hating Donald Trump. Yet when they detest an Israeli policy or prime minister, they give up on Israel and Zionism.

Mark Twain's memories of being a Missouri non-Yankee in King Solomon's court helps explain our modern obsession with Israel, too. Twain emphasizes how foundational Palestine is to the West. "Crowded with historical interest," filled with "elegant fragments," it still dominates our collective imaginations.

But heed Twain's warning. Those who believe Israel can do no right – along with those who believe Israel can do no wrong – are often telling us more about the "verdicts they brought with them" rather than their fair assessments of this rich, complex, modern democracy.

Clearly, we have some Mark Twain-like "unlearning" to do, especially about Israel.
Revisionist Author Tries to Distort the Record of David Ben-Gurion
Tom Segev's well-written biography of Israel's first prime minister, A State At Any Cost: The Life of David Ben-Gurion, is undercut by the author's biases and penchant for narrative.

It would be hard to imagine Israeli Prime Minister Benjamin Netanyahu publishing an op-ed in The New York Times on Buddhism. But back in April 1962, the first Israeli premier, David Ben-Gurion, did precisely that — but only after spending weeks studying with religious scholars as a personal guest of the prime minister of Burma, today's Myanmar. Ben-Gurion even insisted, much to the consternation of his teachers, "that he had discovered a self-contradiction in the Buddha's doctrine that no one else had ever noticed." It turned out that he was wrong; it was a translation error.

As Segev makes clear, Israel's founding father was both exceptional and eccentric. And nearly five decades after his passing, Ben-Gurion remains iconic, with a legacy and career that are arguably unmatched in the small nation's modern history.

As his private secretary, Yitzhak Navon, once observed, "Without Ben-Gurion, the State of Israel would not be in existence — and this I can say about nobody." Indeed, long before he was making history, Ben-Gurion was its avid student.

As Segev notes: "He saw himself, and was seen by others, as an incarnation of history." To a great extent, this was the result of the tremendous willpower that he displayed throughout his life.
New Book Tells a Holocaust Family Mystery
I just finished reading an extraordinary new book, House on Endless Waters by author Emuna Elon.

From start to finish, I found it to be well-written, touching, and chock-full of character development; there were so many stories I could relate to.

The book is a family mystery ripe with great plot twists. It explores one man's quest — a renowned Israeli author — to visit his birthplace in Amsterdam, despite promising his late mother that he would never return to that city. And during a visit to that city's Jewish museum, he sees a picture of his mother, pre-war, holding a child he doesn't recognize. The book explores his adventures through Amsterdam — past, present, and future — replete with dreams, visions, and more, all in beautifully written prose.

Throughout the book, I had memories of growing up in a home where my grandparents were Holocaust survivors, and my mom (z"l) spent so much time researching, reading, and studying about the history of our many family members who were murdered by the Nazis. She attended conferences, discovered obscure files, and spent days at Yad Vashem. In the last few months of her life, my mother learned that her father, Morris Waga, had been married with a family before he married my grandmother. He lost that wife and a three-year old daughter in the camps to the Nazis. Yet, throughout his entire life, he never told my mother or her younger brother.

The book discusses underground networks that hid Jewish children during the war, and the burdens faced by those who survived. The scars of the Holocaust haunt families and people for generations.
Jonathan Tobin: Can Joe Biden save the day for pro-Israel Democrats?

The problem here for pro-Israel Democrats is that, out of necessity, they've hitched the fate of their cause to what right now looks like a fading star. Biden, who hasn't won a competitive race on his own (being Barack Obama's running mate doesn't count) since Richard Nixon was president, has so far been a disappointment to his backers. With a focus on the effort to impeach Trump dominating the headlines this winter, it may also remind voters of his son's questionable behavior further dragging him down.

Nor, it should be added, is Biden coming to the issue with entirely clean hands. He was part of Obama's eight-year-long pressure campaign against the Israeli government, as well as an ardent supporter of the disastrous 2015 Iran nuclear deal, which he still defends.

Biden may be instinctively supportive of the Jewish state in ways that eclipse those of Warren, Sanders and Buttigieg; however, the tenor of his dialogue with Israel has always been that of an American who thinks he knows the Middle East better than Israelis. Biden received a devastating – and completely deserved – tongue-lashing from former Israeli Prime Minister Menachem Begin at a Senate hearing in June 1982. In response to Biden's threats of aid cuts that were hardly different from the statements of the primary opponents he now considers "outrageous," Begin slapped him down by telling him that he was "not a Jew with trembling knees," and that Israel would defend its principles, "and, when necessary, we will die for them again, with or without your aid."

In a competition with far more extreme critics of Israel than he ever was, Biden is the best that pro-Israel Democrats, who once dominated their party yet now seem unable to muster sufficient support for censoring or shunning anti-Semites like Omar and Tlaib, can muster. It is on his aging and uncertain shoulders that the fate of the Democrats as a pro-Israel party rests. That's a prospect that should scare friends of the Jewish state, no matter which party they support.
Michael Lumish: Are Arabs indigenous to Judea?

Of course, Arabs are not indigenous to Judea / Israel. Arabs are conquerers indigenous to the Arabian peninsula. If one cares about "the conflict" -- or what I call The Long Arab / Muslim War against the Jews of the Middle East -- then one must recognize the Jews as indigenous and the Arabs and Muslims as imperialists and colonialists.

And, yet, the progressive-left and the Democratic Party honestly believe that the Jewish defenders of Jewish children and Jewish land are the aggressors. They honestly believe that Arabs have every right to kill Jews as a matter of "resistance." It is an intelligent rhetorical strategy on par with the propaganda skill of the National Socialists.

The brilliance behind Arab and Muslim imperialism is that they actually managed to convince the arrogant and ignorant Euros that they are the indigenous population in the lands that they conquered.
Corbyn, a cause for concern
Meanwhile, Johnson's main rival, Labour leader Jeremy Corbyn, also isn't assured of restoring his party to power for the first time since 2010. Corbyn's ideological extremism is attractive to certain strata of British society but is also a deterrent to others. Some polls find Corbyn to be the "least popular Opposition leader of the past 45 years." Even if he doesn't win, it's still theoretically possible for him to establish a "resistance coalition" against Johnson and Brexit, which would include the Liberal Democrats and Scottish separatists who oppose leaving the EU.

Even if Labour is weakened in the upcoming election, in such a manner that Corbyn is forced to resign, he will have left behind a party that is fundamentally different than the one he inherited four years ago. Labour's far-left faction has effectively consummated its takeover of Britain's main Opposition party, essentially ridding it of all internal dissent. Under the guise of its anti-Israel and anti-Zionist worldview, Labour has normalized anti-Semitism as part of the British political landscape. Even if Corbyn goes, the devastation he leaves in his wake will be absolute.

All efforts by the country's Jewish community and Labour's own Jewish MPs to foster dialogue with Corbyn's circle about banishing anti-Semitic activists within its ranks have floundered amid their refusal to recognize the importance of the matter. There have been cosmetic initiatives, mostly for public relations purposes, but little else. Labour under Corbyn's leadership has legitimized anti-Semitism and shown Jews that the party that first welcomed them to Great Britain – no longer cares for them.

With a sense of humor that under the current circumstances has taken a darker turn, British Jews have altered Labour's slogan from "For the many, not for the few," to "For the many, not for the Jew." If Labour rises to power, this joke could have serious implications for all of Britain.
In the early 1980s the hard-Left tried to purge Labour of Jews.

This article from the @Spectator (December 1984) delves further into it and names two hard-Left politicians at the heart of it: Ken Livingstone & Jeremy Corbyn. 1/6 pic.twitter.com/EOFDVKnd5H

— Corbyn in The Times (@TimesCorbyn) November 3, 2019
Lad, 15, dupes Jeremy Corbyn into signing paper saying he supports terrorists and is an anti-Semite – The Sun https://t.co/KrPBDWOiMc

— Eye On Antisemitism (@AntisemitismEye) November 4, 2019
Also in October: A selection of other antisemitic Incidents that we did not cover
A swastika was spray-painted on a sign near a Jewish school in Gateshead. The graffiti appeared on the corner of High West Street and Gladstone Terrace on 7th October.

A swastika and the words "Lewis is a Jew" were carved into the glass panel of a bus stop in East Leeds. Anyone with information should contact West Yorkshire Police on 101 referencing log number 243.

On Shabbat, 19th October at the Clapton Common and Oldhill Street junction in Stamford Hill, three males accosted Orthodox Jews walking home from synagogue with antisemitic slurs including "Heil Hitler".
Alison Chabloz fails to overturn conviction over Holocaust denial at High Court, leaving no further avenue of appeal
Moments ago, notorious antisemite and Holocaust denier Alison Chabloz has had her application for a judicial review denied by the High Court following her landmark conviction on three charges of sending grossly offensive communications via a public communications network.

Ms Chabloz had sought to overturn her conviction on technicalities relating to the meaning of what constituted sending communications online, but the High Court denied her appeal and upheld the earlier judgment. There was confusion over the way that the case had proceeded to court as Ms Chabloz's case was brought before judges by her barrister, Adrian Davies, who maintains his record of losing cases for neo-Nazis and Holocaust deniers.

Ms Chabloz had sought to overturn her conviction on technicalities relating to the case began as a private prosecution by Campaign Against Antisemitism, which was then continued by the Crown Prosecution Service. The charges related to three self-penned songs in which Ms Chabloz denounced a supposed Jewish conspiracy to dominate the world and attacked the Holocaust as a fraud perpetrated by Jews for financial gain.

The conviction set a new precedent in British law, effectively delivering a landmark precedent verdict on incitement on social media and on whether the law considers Holocaust denial to be "grossly offensive" and therefore illegal when used as a means by which to hound Jews.
Boston University set to hire anti-Israel professor
Sarah Ihmoud, a postdoctoral associate at Boston University, is currently under consideration for a teaching position at the university, Americans for Peace and Tolerance (APT) reported.

According to APT, the university has not yet made an offer to Ihmoud, but the offer is "imminent."

Education Without Indoctrination (EWI) called for action to prevent Boston University from becoming "a platform for Jew-hate."

Ihmoud, co-author of Sexual Violence, Women's Bodies, and Israeli Settler Colonialism, presented the paper to BU. In it, she claims that "rape and killing of Palestinian women was a central aspect of Israeli troops' systematic massacres and evictions during the destruction of Palestinian villages in 1948" and describes Nazi-like actions, including the shooting of pregnant women and the murder of children.

The paper also claims that that both brutality and sexual violence against Palestinian Authority women is an ongoing tactic of the IDF.
Major Jewish Groups Applaud Twitter for 'Belated' Shut Down of Hamas, Hezbollah Accounts
Major Jewish groups applauded the micro-blogging website Twitter on Sunday for suspending a series of accounts affiliated with the terrorist groups Hamas and Hezbollah.

"Thank you @Twitter for suspending the accounts of Hamas and Hezbollah," Jonathan Greenblatt, the CEO of the Anti-Defamation League, tweeted.

Referring to Twitter CEO Jack Dorsey, Greenblatt added, "US-designated Foreign Terrorist Organizations do not belong on the platform. Let's hope all platforms follow @jack's lead."

The American Jewish Committee also weighed in, pointing out that while Twitter has accepted that there is no difference between the "military" and political wings of terrorist groups, the European Union continues to separate the two.


.@Twitter is finally recognizing these terrorist groups for what they are and shutting them down.

But would you believe that others—including the EU—still refuse to recognize all of Hezbollah as a terrorist group?

Join us: https://t.co/r0OtayNpdChttps://t.co/aBnI81sYvQ

— American Jewish Committee (@AJCGlobal) November 3, 2019



The Simon Wiesenthal Center responded by tweeting, "Belated but welcome anti-terrorist moves by @Twitter — hope others will follow."

BBC ignores Twitter's terror groups suspensions
To date, those searching for coverage of that story under the BBC News website's 'social media' and 'Twitter' tags will find nothing.

Perhaps the BBC is having difficulty working out how to square that quote from Twitter with its own euphemistic portrayals of Hamas as a 'militant Islamist group' and Hizballah as a 'political, military and social organisation'.
Indy egregiously misleads on Gaza power shortages
A Nov. 3rd article in the Independent on the use of solar power in Gaza grossly misled readers as to the extent and origin of the strip's electricity shortages.

The article, "Meet the Gazan woman turning rubble into building blocks and sunlight into power", by their deputy international editor Gemma Fox, begins thusly:

For Samar, Gaza's crippling blackouts used to mean a daily, panicked rush to take her son to the nearest hospital so that his lungs wouldn't fail.

He suffers from a lung disease that has left him dependent on a machine to breathe. But the machine depends on electricity – something in critically short supply in Gaza.

Samar's story is far from unique, with the enclave's two million residents forced to try to survive on roughly three hours of electricity since Israel imposed a blockade in 2016.

Hospitals and other buildings rely on generators to keep the power on during the cuts, but they are expensive, and until recently, a luxury that Samar was unable to afford.

First, Israel imposed their blockades of Gaza, due to Hamas's takeover of the strip, in 2007, not 2016.

Also, it was both Egypt and Israel who imposed a blockade. In Israel's case, the only items that have generally been restricted are military related (or dual-use) goods.

Additionally, the Indy gets their figures on the daily availability of electricity in Gaza wildly wrong. Palestinians in the strip get around twelve hours a day, not three, as a detailed report and graph by United Nations Office for the Coordination of Humanitarian Affairs (OCHA) makes clear.
BBC WS radio amplifies claim that a country called Palestine "existed"
Despite the claims from Hills and Lefrak, as we noted when BBC World Service radio previously promoted the museum and its founder back in June, it is essentially the continuation of a project that is very much political – even if Lefrak fails to identify it as such.

Lefrak: "Museum founder Bshara Nassar says his goal is to create a space that's more personal than political."
Nassar: "We want to really transform the story and put Palestinians in the light that we're human beings, right? We're artists, we're entrepreneurs, we're in politics and we contributing a lot to the US as immigrants as well."
Lefrak: "Nassar immigrated to the US from the West Bank in 2011. When he came to Washington he saw a city full of museums but he didn't see one that reflected him."
Nassar: "Really I could not see a place where the Palestinian story can be told."
Lefrak: "So he decided to open a travelling exhibition that would eventually become the museum. One of the objects in the collection is a 1946 passport for the Palestine Mandate. It was rendered useless the following year after the United Nations voted to establish the State of Israel. Curator Nada Odeh wants visitors to understand that history."

That passport was of course in fact "rendered useless" in May 1948 when the British terminated their administration of the League of Nations Mandate for Palestine – the purpose of which was to create a Jewish national home. In 1947 the UNGA passed a resolution (181) recommending that the area then still under British administration should be partitioned between Jewish and Arab states – a recommendation accepted by the Jews but rejected out of hand by the Arabs and hence never implemented. BBC world Service listeners heard nothing of that history – or the Arab attacks which followed that UN vote – but they did hear the 'non-political' museum's Syrian-born head curator promote the falsehood that a country "called Palestine" used to exist.
As unacceptable as this incident was, trust @guardian not to mention in the headline that it was a sponge bullet that hit the Palestinian. https://t.co/n2Cq5jnACD

— HonestReporting (@HonestReporting) November 4, 2019
German Cardinal: Antisemitism is an attack on us all
A prominent German cardinal of the Catholic Church has pledged that Jews and Christians will stand together in the fight against rising antisemitism in the country.

Cardinal Reinhard Marx, who is chairman of the German Bishops' Conference and serves as the archbishop of Munich and Freising, said on Sunday night that "Christians and Jews will never separate again," in the face of new antisemitism.

He made the comments during a panel discussion on antisemitism at the Catholic Academy in Berlin hosted by the German Bishops' Conference and the Orthodox Rabbinical Conference of Germany.

Among prominent figures who attended were Katharina von Schnurbein, the European Commission coordinator on combating antisemitism; Armin Laschet, prime minister of North Rhine-Westphalia; and Josef Schuster, head of the Central Council of Jews in Germany.

A statement released by the German Bishops' Conference quoted Marx as calling for stronger social commitment and better cohesion in society "in the face of resurgent antisemitism in Germany and Europe."

He stressed that he was "very worried" about the direction society is heading because there are "more and more blogs and ideologies from people that cannot be taught, who indulge in conspiracy theories and soon unite as a sounding board for... slogans of antisemitism."
Outrage in Germany over neo-Nazis' political 'kill list'
German Chancellor Angela Merkel's government on Monday strongly condemned death threats against two leading Green party politicians by a neo-Nazi group, as concern mounts over a rise in right-wing extremism.

Greens lawmaker Cem Ozdemir, who has Turkish roots, revealed at the weekend that police were investigating an email he had received from a neo-Nazi group saying he was at the top of their kill list.

"We are currently planning how and when to execute you. At the next rally? Or will we get you outside your home?" the email read, according to the Funke newspaper group.

Fellow Greens MP Claudia Roth received a message saying she was second in line to be killed.

Both emails were sent on October 27 and signed with "Nuclear Weapons Division Germany" (AWD), apparently a German offshoot of a notorious US-based neo-Nazi group.

"The German government clearly condemns any kind of threats or violence against politicians," Merkel's spokeswoman Ulrike Demmer told reporters.

"We cannot and will not accept these attacks on our free democratic system," she said, vowing to use the full force of the law against the perpetrators.
White supremacist charged with planning to blow up Colorado synagogue
US authorities have arrested a known white supremacist on suspicion that he planned to blow up a synagogue in Colorado, local media reported Monday.

The suspect, named as Richard Holzer, 27, reportedly met an undercover FBI agent on Friday at a motel with explosives that he allegedly intended to use to attack Temple Emanuel in the city of Pueblo.

Holzer told an undercover FBI agent that he had previously been a member of the Ku Klux Klan, and had become a skinhead, according to the Denver Post.

Holzer said he was preparing a "holy war" and claimed to have poisoned the water at the synagogue with arsenic and was planning to do so again, The Denver Post reported, citing an affidavit filed on Saturday at the US District Court in Colorado.

According to the affidavit, when asked what if people were in the building when the bomb exploded, "Holzer stated that he did not think anyone would be there, but that if they were, Holzer would not care because they would be Jews."
Men dressed as Jews hand out Holocaust denial fliers at Colorado mall
A group of men wearing large white yarmulkes and fringed prayer shawls handed out fliers promoting Holocaust denial and hung up cards bearing anti-Semitic canards on a pedestrian mall in Boulder, Colorado.

The fliers handed out at Boulder's Pearl Street Mall by the men who appeared to be posing as Jews claimed the Holocaust was "impossible."

The men also hung notes on index cards around the mall that claimed "Academia is dominated by Marxist Jews," Jews run the porn industry," and "Jews ran the Atlantic slave trade," the Daily Camera newspaper reported.

The men livestreamed their actions, according to the report.

As of Sunday morning, no reports were filed with police about the fliers, Boulder police told the newspaper.
SICKENING! Neo Nazis in #Colorado dress up as Orthodox #Jews and pass out Holocaust denying flyers, post #antisemitic propaganda stickers.

Police claim they have no complaints! REALLY @boulderpolice?!?!?! We are officially complaining! https://t.co/VQhvrUr9cd pic.twitter.com/FzZdMvdy0s

— StopAntisemitism.org (@StopAntisemites) November 4, 2019
City of Poway, CA, set to rename street after Chabad shooting victim
The city council in Poway, Calif., will consider a proposal on Nov. 5 to change the name of a short street in memory of Lori Lynn Gilbert-Kaye, the only fatality in the shooting earlier this year at Chabad of Poway.

Under the proposal, Eva Drive would become Lori Lynn Lane. It is located near where the 60-year-old congregant lived with her husband, Dr. Howard Kaye, about a mile from the synagogue.

Poway Mayor Steve Vaus said that people associated with Chabad approached the city to propose the street-name change.

"They did all the groundwork, and our team got the obstacles out of the way," he said. "It should have unanimous and enthusiastic support."

Three people, including senior Rabbi Yisroel Goldstein, were wounded on April 27 when lone gunman John Earnest shot at worshippers during Shabbat-morning services.

Earnest has pleaded not guilty to state and federal charges, including 113 federal hate crime-related counts.
Karish natural gas field off Israel's shore found to be much bigger than thought
Energean Oil and Gas plc, a Greek gas producer focused on the Mediterranean, said Monday that its appraisal of the Karish North discovery offshore Israel has revealed 0.9 trillion cubic feet (tcf) of recoverable natural gas resources plus 34 million barrels of light oil or condensate.

The appraisal "significantly" increases the resource volumes discovered by Energean at the Karish and Tanin leases off Israel's shore, the statement said.

The firm had already discovered 2.4 tcf of natural gas at the Karish and Tanin fields, along with 33 million barrels of light oil. Energean has already signed accords to sell 4.7 billion cubic meters a year of the fuel to Israeli customers.

Light crude oil is a liquid petroleum that has a low density and low viscosity than heavy crude oil. Natural gas condensate is a mixture of hydrocarbon liquids that are present in the raw natural gas produced at gas fields.

Israel, a nation traditionally starved of natural resources, believes the discovery of natural gas reserved off its shores in the Mediterranean will lead it to energy independence and make it an exporter of gas. The Karish and Tanin natural gas fields sit alongside the larger Tamar and Leviathan deposits in Israel's economic waters in the Mediterranean.
Israel-Egypt gas pipeline deal expected in coming days
A deal that would transfer control of a natural gas pipeline between Israel and Egypt is expected to be closed in the next few days, the companies said on Sunday.

Texas-based Noble Energy (NBL.N), Israel's Delek Drilling (DEDRp.TA) and Egyptian East Gas Co have partnered in a venture called EMED, which last year agreed to buy a 39% stake in the subsea EMG pipeline for $518 million that will carry Israeli gas exports to Egypt.

In a regulatory filing in Tel Aviv, Delek said the shares have already been transferred to the buyers while the funds are currently being held in a trust. It noted that no closing conditions remained.

"Upon the transfer of the full amount of the consideration to the sellers, which is expected to be performed in the coming days, the EMG transaction will be closed in practice," Delek said.

Partners in Israel's Leviathan and Tamar offshore gas fields had agreed to sell $15 billion worth of gas to a customer in Egypt — Dolphinus Holdings — but last month the deal was amended to boost supply by 34% to about 85 billion cubic meters, or an estimated $20 billion.
Elbit Systems Lands 5-Year, $50 Million Portuguese Defense Ministry Contract
Israeli defense contractor Elbit Systems announced over the weekend that it has been awarded a $50 million contract to supply the Portuguese Air Force with a complete electronic warfare suite and customer logistics support for the new KC-390 multi-mission aircraft. The contract is to be completed over a five-year period.

Under the contract, Elbit will supply the Portuguese Air Force's KC-390s with Radar and Laser Warning Systems, an IR Missile Warning System, Countermeasures Dispensing System, a Directional IR Countermeasures system and Active ECM (AECM) POD system.

"The Portuguese Air Force is a long-standing strategic partner of Elbit Systems and we are proud of this contract award to provide enhanced survivability for their new fleet of KC-390 aircraft," said Edgar Maimon, executive vice president and general manager of Elbit Systems' Electronic Warfare and Signals Intelligence Unit.

Last week, Elbit announced that it had been selected by the Swiss Federal Department of Defense, Civil Protection and Sport to provide the Swiss Armed Forces with an army-wide tactical Software Defined Radio (SDR) solution under the Telecommunications Armed Forces (TK A) program.
Ray Charles in Israel
"I had always heard that I was popular in Israel, but I didn't get over there until the early seventies," the soul genius Ray Charles recalled. "Some people asked me to do a documentary. I liked the idea. I'd never done anything like that before. The film people knew I wasn't a scholar or a theologian, but they had heard that I had a decent working knowledge of the Bible. They had also heard that the Israelis liked me, and they hoped the two things would blend."

Ray Charles, accompanied by his five backup singers, the Raelettes, arrived in Israel in early December 1972. In the first two weeks of that month they performed at five wildly successful concerts. Israeli fans of the "Genius of Soul" thronged the concert halls of Jerusalem, Tel Aviv, and Haifa. Fans cheered the musicians in the streets and the press gave their concert tour wide coverage.

The musicians spent two weeks performing and touring in the country. It was, Charles remembered, an opportunity to "look around and learn. … It was all so old, so incredibly old, that I couldn't help but shake my head in wonder. I could smell history in the streets."

By the early 1970s, Ray Charles and the Raelettes had given concerts all over the world. In Japan, they had encountered particularly enthusiastic audiences. But in terms of enthusiasm none of these concerts prepared Charles and his ensemble for the reception they received in Israel.

That many Israelis liked Ray Charles and his music was an understatement. I was living in Jerusalem at the time and I remember vividly the excitement that his visit generated. I also remember that by the time I made it to the concert hall box office the two Jerusalem shows were completely sold out. I never got to hear him on that tour, but news of it was in all of the Israel newspapers. It seemed that by missing that concert I had missed more than the music.

The riveting story of the Jerusalem concert is best told by the genius himself: In his autobiography, Brother Ray, (co-written with David Ritz) Charles wrote that, "In thirty years on the road, I had never experienced anything like this. We were supposed to do two shows, but the first one had the crowd so crazy and happy that they wouldn't leave. The second crowd was due any minute, but the first crowd wasn't about to move."
The Jewish roots of French icon Asterix the Gaul
The iconic adventures of Asterix the Gaul may be most famous in the French-speaking world, but their inspiration is decidedly Jewish.

One of the most famous characters in French comics, and considered by many to be a French national hero, the adventures of Asterix and his sidekick Obelix are popular all over the world. The comics were translated to over 100 languages, including Latin, Welsh and Hebrew. It has inspired 10 movies, the most recent one the 2018 Asterix: The Secret of the Magic Potion.

But could Asterix be Jewish? While the answer is obviously no – Asterix is literally a Gaul, after all – Ateret Yerushalayim rosh yeshiva Rabbi Shlomo Aviner argues that the Jewish inspiration is clearly there.

It is important to note that the original writer behind Asterix, René Goscinny, was undoubtedly Jewish, having been born in Paris in 1926 to two Jewish immigrants from Poland. His father accepted a job in Argentina after he was born, unknowingly ensuring their family won't be harmed by the Nazi occupation of France, to which he returned in 1946.

Speaking in an interview reported by Srugim, Rabbi Aviner, who is French himself – after mentioning that this isn't as important as studying Rashi, a medieval Jewish scholar who was also French – reaffirmed Goscinny's Jewishness.

"His father was born in Warsaw, and his grandfather was a rabbi," he explained. "His Jewish identity was strong."
Jewish astronaut snaps space pics of Israel, salutes late father
Jewish astronaut Jessica Meir, who made history last month as one half of the first all-female spacewalking team, on Friday posted pictures of Israel snapped from space with a caption saying the country was part of her father's journey.

"My father's globe spanning journey as a surgeon from the Middle East, to Europe, and eventually to the U.S. was an inspiration to many in my immediate and extended family. #TheJourney," Meir wrote.

Meir's late father was born in 1925 in Baghdad, and in 1931 the whole family left Iraq as a result of anti-Semitism and settled in pre-state Israel.

He was in medical school at the American University of Beirut when the 1948 War of Independence broke out and returned to Israel, where he drove an ambulance during the war. He then went to Geneva to finish medical school before taking a job in Sweden, where he met Meir's mother, a nurse who was raised in a Christian Swedish family.

Her parents then moved to the US.
My father's globe spanning journey as a surgeon from the Middle East, to Europe, and eventually to the U.S. was an inspiration to many in my immediate and extended family. #TheJourney pic.twitter.com/wBN1Iz7O5O

— Jessica Meir (@Astro_Jessica) November 1, 2019
---
---
We have lots of ideas, but we need more resources to be even more effective. Please donate today to help get the message out and to help defend Israel.

Cache
Dangerous for Polytheists.
Cache
Question: How does someone become a Jew? Answer: There are two ways to become a Jew: by birth or by becoming Jewish. Anyone can become a Jew, no matter whether one is French, Italian or any other nationality, because Jewishness is not via lineage. To become a Jew means to adopt a certain way of thinking, an […]

Cache
32nd Sunday in Ordinary Time, Nov. 10 (Year C) 2 Maccabees 7:1-2, 7, 9-14; Psalm 17; 2 Thessalonians 2:16-3:5; Luke 20:27-38
What are we willing to suffer for our faith or for a matter of principle and conscience?
In most areas of the world (not all), one would not suffer as dramatic an end as the brothers in the story from Maccabees. What we might suffer is usually more subtle — ridicule, ostracism, maybe the loss of a job or promotion. No blood necessary — these things work quite well most of the time.
During the revolt of the Maccabees in the second century B.C., it was a different story. The persecutors were the Greek kings of Syria led by Antioches Epiphanes, and he was playing hardball. In his attempt to impose Greek culture and destroy Judaism, he forbade all Jewish practices. This included Sabbath observance, circumcision, sacrifice and the dietary laws. Many resisted and many paid with their lives.
The loyalty test consisted of eating a piece of pork flesh, which no observant Jew would do. Refusal meant death, and some capitulated. What harm is there in just a little taste of pork? This probably went through the minds of many, and their tormentors even tried this argument to reason with them.
The answer was simple: it was a violation of conscience and one's covenant with God. This story is an example of a martyrology — fictionalized accounts of the martyrs meant to encourage the faithful and inspire them to do likewise. This is the first place in the Bible that explicitly mentions the Resurrection and it is paralleled by Daniel, which is written around the same time. This new theology answered an important dilemma people faced. Those who were faithful to God's Law were suffering and dying, while the unfaithful capitulators were prospering. Is God just? Will the wicked be punished and the righteous rewarded?
If the physical life is all that we have, the answer is no. But if God will raise the dead to life, then it is a different story — everyone will get what is coming to them. Being faithful and righteous counts, always, regardless of the immediate consequences.
As 2 Thessalonians assures us, God is faithful; God is just. We never need to fear about doing the right thing. Those are the occasions that form who and what we will be for eternity. We need but focus our hearts on the love of God and the steadfastness of Christ.
Spiritual things cannot be understood with earthbound and materialist ways of thinking, but many people try just the same. The Sadducees did not believe in the Resurrection since it was not taught in Scripture.
A group of them tried to use the Resurrection as a way of making a fool of Jesus. They posed a seemingly impossible question: A woman was married consecutively to seven brothers, each of whom died childless. This was in keeping with the law that stated if a man died childless, it was the duty of his brother to father children by his widow so that his name would live on. That was the only afterlife possible.
At the resurrection of the dead, whose wife will she be? After all, she was married to all seven. From a human point of view, there is no answer to this question.
Jesus brushed the question aside, insisting that marriage is an earthly and human institution and is not part of the resurrected life. Those who are raised up live on a much higher spiritual plane — they are like angels and are immortal.
Mark's version of this story is far more severe: Jesus accuses them of being ignorant of both Scripture and the power of God. Jesus challenged them to rethink their notion of the Resurrection. It is not mere reanimation of a corpse, but a complete transformation and elevation to a new way of being.
And death itself is not the end. God is the God of the living, not the dead. The dead are those who do not know God; those who are in Christ are truly alive.
Once again, we need not allow the fear of physical death to control our thoughts and actions — we are free in Christ. Only spiritual thinking will open the Scriptures and the ways of God to us.
Cache
A haunting meditation on the legacy of racism, violence, and abuse, Relief by Execution: A Visit to Mauthausen by Gint Aras is a gut-kick of a memoir in which Aras contemplates the far-reaching tentacles of anger and hate from the normalized cruelty of a boy's childhood to the genocide of World War II. After a prolonged bout of PTSD following a violent attack, Aras visits the Mauthausen concentration camp in Lithuania and reflects on its horrors, acknowledging that as a descendant of Lithuanians, there exists within himself "the energy of the victim and the perpetrator."

While depictions of the Holocaust remind us of the enduring human capacity for dehumanization and extreme cruelty, Aras's essay is at its strongest when recounting the socially accepted racism of his Lithuanian-American community in Chicago. Jesse Jackson's 1984 Presidential run provides a backdrop for Aras's father's racist diatribes; the community's anti-Semitism is equally virulent and ingrained in their language. Aras writes: "The Lithuanian word for Jew is žydas. My family used this word to mean snot, and for a time I knew no other word. Mother would see me picking my nose and scold me, Netrauk žydų, or Stop pulling out Jews." Aras draws the connections between the family's denialism and scapegoating of Lithuanian Jews as Soviet collaborators with their refusal to see the physical and emotional abuse perpetrated against him by his tyrannical father. As an adult, Aras confronts his father in a harrowing scene, yet a cathartic reckoning remains elusive.

Aras reflects on whether he is imposing "the personal on the collective," but most readers will recognize how hate, in its various manifestations, informs the cultural assumptions we carry. Aras's willingness to confront this legacy is a useful reminder that we all bear the responsibility to do the same.

Review by Chuck Augello
Chuck Augello is the author of The Inexplicable Grey Space We Call Love (Duck Lake Books - April 2020). His work has appeared in One Story, Literary Hub, The Vestal Review, The Coachella Review, and other fine journals. He's a contributor to Cease Cows and publishes The Daily Vonnegut, a website exploring the life and art of Kurt Vonnegut.






Next Page: 10000

© Googlier LLC, 2019