Next Page: 10000
Cache
Mike Owen shared this excellent project. A wearable glove uses gestures to give the animatronic bird commands. The addition of the Monster M4sk adds a whole extra dimension of expressiveness!Via...

Cache
F Naf Sister Location Animatronics published at Thursday 7 November 2019.

Cache
1901 was an eventful year by any measure. Queen Victoria died, President McKinley was assassinated, and Guglielmo Marconi received the first successful telegraph transmissions. The world was at the cusp a new century, and belief in progress was riding high.

And on December 5 of that year, one more world-changing event occurred. In Chicago, a baby was born and named after his family pastor. Although no one guessed it at the time, little Walter Elias Disney was going to spend a lifetime pushing the boundaries of magic and imagination. Now it's almost impossible to imagine the past century or so without his contributions. No Walt Disney World? No "Mary Poppins"? No Mickey Mouse!?

Today Disney.com has prepared a special tribute to Walt for the anniversary of his birth (just visit the Disney.com home page and see what you find!), and we thought it would be fun to look at just a few of the ways Walt changed our world.


Animated Films
Before Disney, there were cartoons -- short, funny snippets of animation that ran in movie theaters to fill time before the main attraction. When Walt decided to attempt a full-length movie, entirely created in animation, people (including some in his own company) thought the idea was crazy. No one would sit through a cartoon that lasted well over an hour! But Walt's vision won through and in 1937, "Snow White and the Seven Dwarfs" truly revolutionized the art of moviemaking. A critical and commercial smash, the movie proved that animation could be used to tell a complex and emotionally moving story. The animated films that have followed, from "Pinocchio" to Disney-Pixar's "Up," were all made possible by one man's vision.


Theme Parks
Once upon a time, amusement parks were little more than beer gardens -- a little dirty, a little rowdy, and no place to take small children. Walt Disney wanted a park where he could take his own little girls, and dreamed up Disneyland Park. It's hard now to realize just how revolutionary Disneyland was -- scrupulously clean, beautifully landscaped, with every detail created to delight children (and the child in us all). It was never just a collection of "rides," but a series of lands that Guests could enter, virThe 411 - Walt Disney - The Man Behind the Mousetual dreams come true. This "theming" has shaped the Disney Parks around the world and transformed Guests' expectations for what a theme park should be.


Audio-Animatronics
The idea of robotics didn't originate with Walt, of course -- but his innovations
in "Audio-Animatronics," the startlingly lifelike Characters we see in Disney Theme Parks and parades, have helped spark the imagination of generations of Guests who've encountered them, and raise public interest in the possibilities of such technology in the future. Who knows how many future scientists have been inspired by a youthful viewing of Great Moments with Mr. Lincoln?


The Mickey Mouse Club
The '50s were almost defined by Walt's pioneering show mixing real kids, music, and fun. As one of the first programs intended for older children, it bridged the gap between "little kid" shows and adult entertainment.


Mickey Mouse
Walt's animated hero quickly became, and remains, one of the most recognizable personalities in the world, and a symbol for friendship, pluck, and fun who has brought happiness to millions.

A world without Walt would truly have been a less inspiring and exciting place. We all have a lot to celebrate today!
*From The Disney Insider
Cache
It's time for another collection of vintage Frontierland scans from the Mysterious Benefactor! All of these are from 1978.
Here's an interesting view from "Walt's balcony" according to the file name; this was years before the Disney Gallery allowed mere mortals to get this same perspective. It's cool to see the Gullywhumper and the Bertha Mae on the river together. Like John Lennon and Paul McCartney playing guitar together after the Beatles broke up! Yes, just like that. The strange layered gradations in the upper left are a mystery to me.
I love that pontoon bridge (but do I love it more than the suspension bridge?). Folks are crossing in an orderly manner, except for that rambunctious kid in to the left - he is going straight to Disney jail! The Mark Twain is heading straight for us, ramming speed. What is that thing on the shore to our right? A billboard for Burma Shave?
Ah, beautiful Tom Sawyer Island, pre-Fantasmic. Audio-Animatronic flowers line the shore; there's more raft and Mark Twain action in the distance.
Smart guests remembered to bring a bag of dried corn with them; Disneyland CMs were always happy to grind it into meal for corn muffins, johnnycakes, or (my favorite) corn gruel.
How's this for a beautiful sight? It appears that riders are de-planing from the Mark Twain, but I would be in line for the next evening voyage around the Rivers of America - one of my all-time favorite experiences at Disneyland.
Thank you, Mysterious Benefactor!
Cache
£8 RRP £9.99

Jules is a young man barely a century old. He's lived long enough to see the cure for death and the end of scarcity, to learn ten languages and compose three symphonies … and to realise his boyhood dream of taking up residence in Disney World.

Disney World! The greatest artistic achievement of the long-ago twentieth century. Now overseen by a network of 'ad hocs' who keep the classic attractions running as they always have, enhanced with only the smallest high-tech touches.

But the ad hocs are under attack. A new group has taken over the Hall of Presidents and is replacing its venerable audioanimatronics with new, immersive direct-to-brain interfaces that give guests the illusion of being Washington, Lincoln and all the others. For Jules, this is an attack on the artistic purity of Disney World itself.

Worse: it appears that this new group has had Jules killed. This upsets him. (It's only his fourth death and revival after all.) Now it's war.



Cache
Aunque para muchos la nueva entrega de la saga que construyó el nombre de James Cameron, sea la mejor entrega desde que se estrenara 'Terminator 2: el juicio final', incluido mi compañero Mikel Zorrilla, lo cierto es que la cristalización de la idea de que las secuelas tras aquel magnum opus del director de 'Titanic' (1997) son películas terribles se ha ido cimentando a lo largo de los años y parece que ya cualquier intento de corrección será mejor.
Sin embargo, la memoria es efímera y las primeras reacciones de la anterior probablemente tuvieran expresiones similares, hasta que va calando la disensión y cada nueva entrega se convierte en la peor de la saga. La diferencia es que el baile alrededor de 'Terminator: Destino Oscuro' ha estado ya algo viciado desde el principio y nadie se acaba de creer que esté en el mismo plano de realidad que 'El juicio final' cuando los tráilers ya dejaban ver una lluvia de CGI opuesta al espíritu de las dos primeras entregas.
SPOILERS DENTRO DEL TEXTO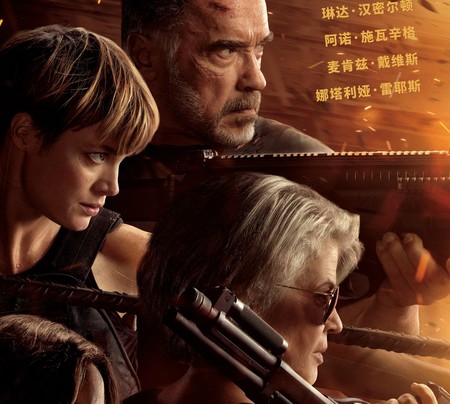 Para los más exigentes con el time line de la saga puede ser, sí, que esta sea la auténtica 'Terminator 3' y que las otras hayan sido un mal sueño, productos millonarios que evocan un fan fiction tontorrón para sacar provecho. Sin embargo, el uso y abuso de situaciones de la segunda película lo único que hacen es convertir 'Dark Fate' en un remake caro, flojo e idiotizado de la mezcla de acción, terror y ciencia ficción de la saga. Que sí, esta vez recoge a Linda Hamilton para molar un poco, y es agradable volverla a ver en acción, pero ¿La convierte eso una buena película?
La gravedad frente a las tortas bien dadas
Lo primero que sorprende en 'Terminator: Destino oscuro' es su poco disimulado abrazo a la pereza digital, las escenas de acción con pantalla verde y el uso de CGI casi por deporte. Con un argumento similar, que básicamente quería incidir en los puntos fuertes de la primera secuela 'Terminator 3: la rebelión de las máquinas' (Rise of the Machines, 2003) es una versión mucho menos solemne y más autoconsciente de sus limitaciones argumentales. Peor al menos no busca forzar un tono grave y se lanza a la piscina del cine de acción por ser cine de acción.
Como una de las primeras series B caras, un fenómeno de nuevo milenio, el film de Jonathan Mostow no trataba de inventar la rueda, sino dar dos horas que repasan ecos de la saga en forma de blockbuster sólido y sin artificios. En su humildad logra una extraordinaria escena futura, que parece '1997: Rescate en Nueva York' (Escape from New York, 1981), film en donde trabajó James Cameron y tomó nota del apocalipsis concebido a lo grande. Ese fondo de cráneos con panorámica apocalíptica con robots reales de Stan Winston sacan los colores al prólogo CGI de la 6.
Mostow no es Cameron, pero usa movimientos de cámara sencillos muy efectivos, claros, potentes. Hace variaciones interesantes de la historia como usar la perspectiva de Connor y cambiar el punto de vista. El terminator de Kristiana Loken es definitivamente un delirio trash, que sabe que puede hinchar sus tetas para engañar a un policía. Demostrando que el humor sin limitaciones es una constante de esta entrega. Aunque también tiene momentos valientes, ya que no se cortan a romper el tabú de matar a niños.
A diferencia de la estructura de escena de acción-diálogo a puerta cerrada de primeros planos de la 6, la tercera es trepidante, una concatenación de escenas de acción que hacen palidecer la mano en la dirección de Tim Miller. La escena de persecución de la nueva no es sino un resumen de la impresionante secuencia de ocho minutos con un camión-grúa tras el camión bomberos. Lo mismo con esa lucha de ciborgs a torta limpia, volando y atravesando paredes con especialistas, con hostias que duelen de verdad.
También hay una vuelta al gore loco y un primer acto que lleva a la macarrada de la escena del cementerio y el ataúd. Bazookas, otra persecución estupenda y la sorpresa de utilizar otro modelo de robots con animatronics reales. Todo se une para descubrir que toda la misión es un señuelo y presenciar uno de los finales más desoladores que puede dejar un blockbuster. Nada ha cambiado, no se puede luchar contra Skynet desde el pasado. Mientras, la 6 calca el de la segunda parte pretendiendo hacer como que lo ha visto.
La única salvación de la franquicia estaba en el futuro
Volver a lo bueno de la saga 'Terminator' no es repetir la misma película una y otra vez. Por mucho que se empeñen en decir que 'Destino oscuro' conecta con los elementos que hacían exitosas las dos primeras, lo único que plantea es una repetición sin mucho sentido de momentos claves de aquellas con escenarios sin mucha alma y acercando el concepto de la saga al mercado blockbuster con efecto en China. La repetición es tan desvergonzada que incluye las mismas paradas en el camino, a modo de remanso para los protagonistas por dos veces.
En el final, tan solo hace falta ver al T-800 haciendo el pulgar para arriba a Sarah Connor mientras se deshace en un horrendo caldo digital junto al remedo sin fuerza del T-1000. Mucho se ha hablado, sin embargo, en lo decepcionante que es la cuarta entrega de la franquicia 'Terminator: Salvation' (2011), la única que se desarrolla en gran parte en el futuro lleno de máquinas. De nuevo, hay un desaprovechamiento de la idea de postapocalipsis azulado y lleno de lásers, pero para nada es la mala película que se retrata.
Pecaba de querer incluir una subtrama poco interesante, demasiado vaga, que luego serviría de base para 'Blade Runner 2049' (2017). Es una aventura de ciencia ficción con buenas ideas,una proyección visual que en muchos momentos se adelantaba a recursos de planificación efectos especiales que ahora hemos asimilado tras ver 23 películas Marvel e incluso momentos kaiju-mecha, pero lo cierto es que su escala panorámica y sus espantapájaros ajados con esqueleto de metal planteaban un escenario novedoso en la franquicia, que todavía podía ser utilizado en un par de filmes adicionales.
La rompedora de cadenas, Madre de John Connor
Lo del odio a Emilia Clarke es para hacérselo mirar. Vale que no es la gran actriz de su generación, pero siendo honestos. ¿Cuántos actores bastante peores de género masculino hemos visto en diferentes papeles principales en incontables productos comerciales de acción a lo largo de los años 2000? De ella, principalmente, emana el odio a la secuela 'Terminator: Génesis' (Terminator Genisys, 2015), un inofensivo tebeo de línea Norma editorial hecho cine que ni siquiera se tomaba demasiado en serio a sí mismo.
A diferencia de 'Terminator: Destino Oscuro' y su obtusa reformulación de la misma línea temporal de siempre, esta continuación o spin off, jugaba a ser una especie de 'Regreso al futuro 2' (Back to the Future II, 1989) que se atrevía a remezclar y samplear las realidades conocidas de la película, convirtiéndose en un buddy Movie fantástica con Sara Connor y el T-800 convertidos en dos supervivientes marginales preparados para cualquier ataque del futuro. No sin antes, por cierto, ofrecer un prólogo estupendo en el futuro lleno de máquinas.
Una película que encadena escenas de acción, una tras otra y apenas da respiro, muy tonta en su concepto de comedia de acción pero desprejuiciada y por gusto por las escenas más grandes que la vida, como esos disparos de bazooka desde un helicóptero a otro o autobuses cayendo de puentes con los héroes salvados en el último momento. Arnold Schwarzenegger está más gracioso y digno que en la última y al menos no tratan de darle un tono grave a sus giros impracticables, proponiendo a John Connor como un malo de opereta mientras suenan los Ramones.
Y la concepción será menos ambiciosa, pero sus escenas de acción, con helicópteros entre edificios y persecuciones sin fin son efectivas y tienen una puesta en escena sólida, pese a su sencillez. Ni siquiera hace falta meterse en el mejor producto salido a partir de la segunda parte, 'Las crónicas de Sarah Connor' (The Sarah Connor Cronicles, 2008-2009), —que confirma a dos protagonistas de 'Juego de Tronos' como Connor y a la que esta sexta entrega fusila su prólogo— para confirmar que 'Terminator: Destino oscuro' no solo es la peor de toda la saga, sino uno de los blockbusters más decepcionantes del año.
También te recomendamos
'Terminator: Génesis' no tendrá secuela, en su lugar se estrenará 'Los vigilantes de la playa'
Terminator volverá por sexta vez... tras un "reajuste"
'Terminator 2' vuelve a los cines con una versión en 3D supervisada por James Cameron
-
La noticia Comparadas con 'Terminator: Destino Oscuro', las secuelas denostadas de la saga no son tan prescindibles fue publicada originalmente en Espinof por Jorge Loser .
Cache
By Karuna Dharini Devi Dasi
The place Srila Prabhupada called his "Western world headquarters" remains a vital oasis of Krishna consciousness.
Part One: Some History
Starting off in Midcity LA, 1968






Next Page: 10000

© Googlier LLC, 2019