Next Page: 10000
Cache
iLUCKI Casino - Exclusive Free Spins
New players only - NO US!
20 Free Spins on 'Fire Lightning' by Bgaming
How to claim the bonus: New players need to sign up from our LINK and the free spins will be added automatically. Make sure to clear cache and cookies before registering.
WR: 45x
Max Cashout: 50 EUR
Restricted games: Scarab Treasure, An escape from Alcatraz, Anotherland, Highway Stars, Jewels, Love Magic, Lucky Drink, Lucky Drink in Egypt, Marswood Party, Maya Mystery, Neptune's Kingdom, Persian Nights, Piggy Bank, Princess Of Swamp, Sevens, Super Sevens, The Elusive Gonzales, The Ghost Walks, Africa Gold, The Spanish Armada, WhoSpunIt Plus, Dr. Jekyll & Mr. Hyde, Split Way Royal, Super 7 Blackjack, Tens or Better, Three Card Rummy, Triple Edge Poker, Vip European Roulette, Zoom Roulette, Ninja, London Hunter, Ocean's Call, Wicked Witch, Super Fast Hot Hot Respin, Tree of Fortune, Mega Boy, Devil's Delight, Robin Hood: Shifting Riches, The Wish Master, Secrets of Atlantis, Secrets of Atlantis Touch, Single Deck Blackjack Professional Series, TXS Hold'em Professional Series, The French Roulette, Reel Steal, The Reel Steal Touch, Dead or Alive, Lucky Angler Touch, Lucky Angler, Medusa 2 H5 HQ, Medusa, 300 Shields, Medusa II, Jackpot Jester 200000, Tower Quest, Eye of the Kraken, Pearls of India, Rage to Riches, Golden Legend, Happy Halloween, Holiday Season, Hugo 2, MULTIFRUIT 81, Moon Princess, Pimped, Reactoonz, Riches of RA, Royal Masquerade, Book of Dead, Dragon Ship, Sea Hunter, Queen of Gold, Beautiful Bones, Castle Builder, Cool Buck, Gems Odyssey, Gems Odyssey 92, High Society, Immortal Romance, Hot Ink, Wheel of Wealth Special Edition, Wheel of Wealth, Untamed Wolf Pack, Untamed Giant Panda, Untamed Crowned Eagle, Untamed Bengal Tiger, Tomb Raider - Secret of the Sword, Tomb Raider, Scrooge, Peek a Boo - 5 Reel, Thunderstruck, Thunderstruck II, Terminator 2, Avalon, Avalon II - Quest for The Grail, Bikini Party, Vampire: The Masquerade - Las Vegas, Reel Gems, Dragon Dance, Wild Orient, Texas Hold`em, Trey Poker, Wild Texas, Divine Forest, Vikings Go Berzerk, Ozwin's Jackpots, Vikings go to Hell, Spina Colada, Double Dragons, Holmes, Alchymedes, Tut's Twister, Wolf Hunters, Nitro Circus, Retro Reels, Retro Reels Extreme Heat, Retro Reels Diamond Glitz, Max Quest: Wrath of Ra, Jokerizer, Art of the Heist, Pumkin Patch.
Once credited when does the bonus expire: In 3 days
Promo offer expires: 31st December 2019
Allowed max bet per spin: 5 EUR
Need to register credit card to claim no deposit: Yes
Min deposit needed in order to cashout winnings: 10 EUR
Is the bonus cashable? Yes
Bonus can be claimed in conjunction with sister casinos no deposit? - Yes
Is the ND available on download &/or instant play version? Yes, on both
Is No deposit available on mobile? Yes
Restricted countries from the bonus: Afghanistan, Algeria, American Samoa, Angola, Botswana, Burundi, Chad, Cuba, Djibouti, Equatorial Guinea, Guam, Guinea-Bissau, Guyana, Holy See (Vatican City State), Iran, Islamic Republic of, Korea, Democratic People's Republic of, Lithuania, Madagascar, Malawi, Nepal, Netherlands, Macao, Palestine, State of, Puerto Rico, Sao Tome and Principe, Sierra Leone, Somalia, South Sudan, Spain, United States, Sudan, United States Minor Outlying Islands, Virgin Islands, U.S., Vanuatu, Sweden.
Restricted countries at the casino: France, Israel, Netherlands, Spain, United Kingdom, United States.
New Customer Offer. T&C's Apply. 18+.
Cache
INTERNATIONAL, 4 November 2019, 

Peace and Security - The road ahead "will not be easy" for the Horn of Africa, UN Deputy Secretary-General Amina Mohammed said on Monday, briefing the Security Council on her Joint Solidarity Mission with the African Union (AU) at the end of October. 
"The foundations have been laid for a transition from peace to sustainable development", she said, but building on these "will require unity and cooperation across the region and common ground internationally". 
This is particularly the case surround the issue of tens of thousands of refugees and internally displaced persons, many vulnerable to trafficking, along with finding regional solutions to protection challenges, including sexual violence, in areas where conflict is still ongoing. 
After visiting Djibouti, Eritrea, Ethiopia and Somalia from 21 to 26 October, she observed, "it was clear from our travels that this region is cut from the same fabric".  
"Each country is its own shade, but they are interwoven", the deputy UN chief asserted. "What happens in one country will impact the others, and so a regional approach and genuine collaboration is paramount".  
She was encouraged by signs of the revitalization of the regional body of Member States, known as the Inter-Governmental Authority on Development (IGAD), saying the platform "will be essential to providing the necessary pathways we can all support". 
She underscored the importance of doing a joint mission with the AU, saying "we can achieve so much more" when working together.  
"What is needed now is to maintain and deepen that dialogue and partnership, and to use this to encourage regional solutions and unity", Ms. Mohammed flagged. 
Women peacekeepers 
In paying tribute to UN peacekeepers, Ms. Mohammed noted that in each country visited, the "critical importance" of women serving in security forces, the police, military, and peacekeeping "was starkly clear".  
"These women, against all odds, strengthen our protection efforts, increase the credibility of our efforts, engage in local level mediation, and make communities feel more at ease", she spelled out.  
And yet less than four per cent of UN peacekeepers are women: "Much more can and should be done", including addressing their practical challenges, such as providing the opportunities they need to be deployed, stressed the deputy UN chief.  
Women on frontline of transformation 
Having accompanied the Deputy Secretary-General, the AU's Ambassador to the UN, Fatima K. Mohammed, informed the Council that women are on the frontline addressing climate insecurity, radicalization and violent extremism.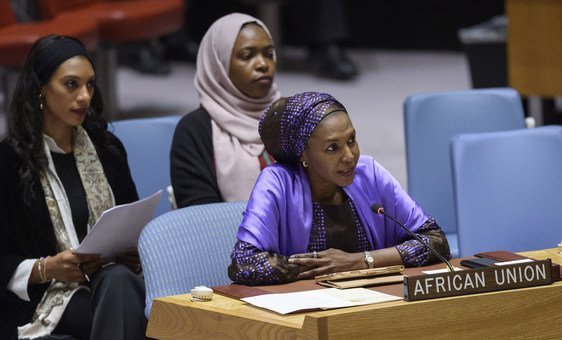 "We witnessed first-hand that peace, security and development had little chance to stand without the full and effective participation of women and youth", she argued.  
And yet, despite women and girls continuing to suffer from exclusion, communal conflicts, internal displacements and unregulated migrations, the delegation observed their resilience, commitment and determination to effect real change. 
"In all the countries we visited, the delegation witnessed the creativity and innovation of women in the political and socio-economic spheres of their societies", Ms. Mohammed said. "The laudable and courageous initiatives of these women need to be bolstered by all of us". 
Noting a "new era of peace in the Horn of Africa" she advocated for enhanced regional cooperation and solidarity and called on the UN and AU "to be at the vanguard of this solidarity and respond to the aspirations of the people…for a peaceful, stable and integrated region". 
Cache
Djibouti Eswatini Equatorial Guinea Mauritius Guinea- Bissau Gabon Gambia Lesotho Botswana Namibia Mauritania Liberia Central African Republic Republic of The Congo Libya Sierra Leone Eritrea Togo (that's 18 of 46 — it ends with Nigeria) South Sudan Burundi Benin (10,008,749) … Continue reading

Cache
Nouvelles informations DJI 001 / 1019 / OBS 087.2 Détention arbitraire / Disparition forcée / Torture / Libération Djibouti 4 novembre 2019
L'Observatoire pour la protection des défenseurs des droits de l'Homme, un partenariat de la FIDH et de l'Organisation mondiale contre la torture (OMCT), a reçu de nouvelles informations et vous prie d'intervenir de toute urgence dans la situation suivante à Djibouti.
Nouvelles informations :
L'Observatoire a été informé par la Ligue djiboutienne des droits (...)

- Défenseurs des droits humains

Cache
U.S. Army Maj. Gen. Michael D. Turello, commanding general, Combined Joint Task Force–Horn of Africa (CJTF-HOA) (right), and Anke Holstein, Ambassador of Germany to Djibouti (left), pose for a group photo following the opening ceremony of the multinational maritime exercise Cutlass Express 2019.2 (CE 19.2) held at the Doraleh Coast Guard Training Center in Djibouti, Oct. 28, 2019. Participants of CE 19.2 will train alongside U.S. Naval Forces Central Command's International Maritime Exercise (IMX) 19 participating nations during the Navy diver/explosive ordnance disposal introductory training, continuing to eliminate traditional regional seams and increasing U.S. global capabilities and interoperability. (U.S. Air Force photo by Senior Airman Gabrielle Spalding)

Cache
U.S. Army Command Sgt. Maj. Shawn F. Carns, command senior enlisted leader, Combined Joint Task Force–Horn of Africa (CJTF-HOA) (right), listens to a guest speaker during the opening ceremony of the multinational maritime exercise Cutlass Express 2019.2 (CE 19.2) held at the Doraleh Coast Guard Training Center in Djibouti, Oct. 28, 2019. CE 19.2, sponsored by U.S. Africa Command and led by U.S. Naval Forces Europe-Africa/U.S. 6th Fleet (CNE-CNA/C6F), intends to assess and improve combined maritime law enforcement capacity, promote national and regional security in East Africa, and increase interoperability among the U.S., African nations, and international partners. (U.S. Air Force photo by Senior Airman Gabrielle Spalding)

Cache
Rear Adm. Nancy Lacore, vice commander, U.S. Sixth Fleet, and director, Maritime Partner Programs, U.S. Naval Forces Europe-Africa, speaks to attendees of the multinational maritime exercise Cutlass Express 2019.2 (CE 19.2) during the opening ceremony held at the Doraleh Coast Guard Training Center in Djibouti, Oct. 28, 2019. Cutlass Express is designed to improve regional cooperation, maritime domain awareness and information sharing practices to increase capabilities among the U.S., East African and Western Indian Ocean nations to counter illicit maritime activity. (U.S. Air Force photo by Senior Airman Gabrielle Spalding)

Cache
U.S. Army Maj. Gen. Michael D. Turello, commanding general, Combined Joint Task Force–Horn of Africa (CJTF-HOA) (center right), and Alexander Hamilton, deputy chief of mission, U.S. Embassy Djibouti (center left), joined other dignitaries at the opening ceremony of the multinational maritime exercise Cutlass Express 2019.2 (CE 19.2) held at the Doraleh Coast Guard Training Center in Djibouti, Oct. 28, 2019. CE 19.2 is one of three CNE-CNA/C6F-facilitated regional exercises undertaken to provide African forces and international partners with collaborative opportunities on comprehensive maritime security concerns. (U.S. Air Force photo by Senior Airman Gabrielle Spalding)

Cache
Local and international military leaders and government officials gather for a group photo after the opening ceremony of the multinational maritime exercise Cutlass Express 2019.2 (CE 19.2) held at the Doraleh Coast Guard Training Center in Djibouti, Oct. 28, 2019. CE 19.2, sponsored by U.S. Africa Command and led by U.S. Naval Forces Europe-Africa/U.S. 6th Fleet (CNE-CNA/C6F), intends to assess and improve combined maritime law enforcement capacity, promote national and regional security in East Africa, and increase interoperability among the U.S., African nations, and international partners. (U.S. Air Force photo by Senior Airman Gabrielle Spalding)

Cache
U.S. Army Maj. Gen. Michael D. Turello, commanding general, Combined Joint Task Force–Horn of Africa (CJTF-HOA) (center), shakes hands with a Djiboutian military member following the opening ceremony of the multinational maritime exercise Cutlass Express 2019.2 (CE 19.2) held at the Doraleh Coast Guard Training Center in Djibouti, Oct. 28, 2019. Cutlass Express is designed to improve regional cooperation, maritime domain awareness and information sharing practices to increase capabilities among the U.S., East African and Western Indian Ocean nations to counter illicit maritime activity. (U.S. Air Force photo by Senior Airman Gabrielle Spalding)

Cache
U.S. Army Maj. Gen. Michael D. Turello, commanding general of Combined Joint Task Force-Horn of Africa, visited with leaders of Operation Atalanta on board ITS Antonio Marceglia, outside Djibouti City, Djibouti.

Cache
U.S. Army Maj. Gen. Michael D. Turello, commanding general of Combined Joint Task Force-Horn of Africa, visited with leaders of Operation Atalanta on board ITS Antonio Marceglia, outside Djibouti City, Djibouti.

Cache
Source: UN High Commissioner for Refugees
Country: Afghanistan, Bangladesh, Burundi, Central African Republic, Chad, Colombia, Democratic Republic of the Congo, Djibouti, Ecuador, Ethiopia, Iraq, Jordan, Kenya, Lebanon, Libya, Mexico, Myanmar, Niger, Nigeria, Pakistan, Rwanda, Somalia, South Sudan, Sudan, Syrian Arab Republic, Turkey, Uganda, Ukraine, United Republic of Tanzania, Venezuela (Bolivarian Republic of), World
By Filippo Grandi, United Nations High Commissioner for Refugees
07 October 2019
Mr. Chairman,
Deputy Secretary-General,
Distinguished Delegates,
Ladies and Gentlemen,
The modern concept of refugee protection was born in the middle of the last century, as the world emerged from two devastating global conflicts and was preparing to enter the Cold War. Millions had been uprooted from their homes, as wars cast people adrift, empires disintegrated, borders were redrawn, and minorities and political opponents were persecuted and expelled. Ensuring the safety of those displaced, and resolving displacement, were among the earliest priorities of the United Nations.
Seven decades on, forced human displacement remains a global concern. The context is different, but the complexity remains immense. Today's refugee crises are part of a growing flow of human mobility, driven by many overlapping elements.
Resource-based conflicts that transcend borders, shaped by a mosaic of local, regional and international interests; fueled by extremism, criminal networks and urban gangs.
Loss of hope, as global advances in prosperity, education and the fight against hunger and disease fail to reach those most in need.
Conflicts premised on ethnic and religious differences, stoked by others for political and financial gain.
Collapsing eco-systems and weather-related disasters that destroy homes and livelihoods, forcing millions further into poverty.
Damaging forms of nationalism, and hate speech that – often through cyberspace – have found a new legitimacy in public discourse.
Refugees emerge from these widening fault-lines – a warning of things going wrong. This is why tackling forced displacement calls again for a bigger, broader ambition than we have managed to muster in the recent past.
This was the vision that drove the development of the Global Compact on Refugees. Addressing refugee crises cannot be done in isolation from larger global challenges, and from effective migration policies. The two compacts – on refugees, and on safe, orderly and regular migration – were designed to complement each other, and for good reason.
Look at the Sahel – a situation of enormous complexity, where insecurity, poverty and loss of traditional livelihoods are fracturing and uprooting entire communities, across the region and beyond. Protecting refugees and the internally displaced is vital. But this must be accompanied by a deeper and wider scope of action that cuts across the political, security, migration and development spheres.
Two aspects of the Global Compact on Refugees stand out.
One is its comprehensive approach. It accelerates a long-awaited shift in responses – from a traditional humanitarian angle, as the Deputy Secretary-General said, to one that preserves the humanitarian imperative, but matches it with a broader set of tools more adapted to the dynamics of today's refugee flows.
This means peacemaking and peacebuilding, development action and private sector investment. It means sustained, strategic support to address the root causes of refugee movements and mixed population flows. The Deputy Secretary-General has just highlighted how this dovetails with the work to bring about a UN system that can best catalyze progress collectively towards the Sustainable Development Goals. Synergies between the compact and UN reforms are therefore relevant and strong.
Also, the compact makes tangible the commitment to international solidarity that underpins the refugee protection regime, but has never been fully realised. You will hear more about this from our new Assistant High Commissioner for Protection, Gillian Triggs, whom I am happy to introduce to you today.
Securing the refugee compact – a practical, concrete tool – proved that beyond the damaging, unilateral approaches that sometimes surface, a commitment to addressing refugee flows through international solidarity still prevails. At UNHCR, we are fully committed to this effort, and we count on all of you – our closest partners – to do the same. It is possible! The Global Refugee Forum, to be convened in December in this building, will be the opportunity to showcase what has been achieved, and make fresh commitments to further progress.
Mr Chairman,
The last year has underscored why the compact is needed, and how it is starting to re-shape our collective response. Let me share my thoughts on seven related challenges.
First, while much of the discussion on forced displacement has focused on arrivals in the global North, the most profound consequences by far are in host countries in the global South. Preserving asylum there, and helping host communities, requires more substantial and sustained international support. More than four million Venezuelans, for example, have left the country, the majority taking refuge in 14 nations in Latin America and the Caribbean. Most of these states have shown commendable solidarity, despite immense pressures. Colombia's recent decision to grant citizenship at birth to the children of Venezuelans in the country is an example, and the Quito Process is helping shape a regional approach.
Sustaining this solidarity is vital, including through support to the services, infrastructure and economy of impacted countries. I welcome the engagement of the Inter-American Development Bank, and the World Bank's decision to extend support to Colombia – and potentially also Ecuador – through its Global Concessional Financing Facility. I urge them to accelerate their contributions. The forthcoming Solidarity Conference convened by the European Union, together with UNHCR and the International Organisation for Migration, will be an opportunity to take stock and commit more.
Second, responses to 'mixed flows' of refugees and migrants continue to generate very divisive debates. Widespread political rhetoric exploits the anxieties prevailing among those excluded from the benefits of globalization, and directs those fears towards refugees and migrants – themselves among the most disenfranchised people on the planet. Pitting exclusion against exclusion is not only cynical and immoral – it rarely offers practical solutions to either. And measures taken or invoked to reduce flows – pushbacks, externalization of asylum processing, policies of deterrence – all erode refugee protection without really addressing the root causes of mixed flows, or the challenges of integration.
These situations are enormously complex – we must recognise that. I saw this last week in Mexico, where impressive examples of refugee integration are coupled with increasing migratory pressures from the region but also from Africa. A range of actions is undoubtedly needed to address these "mixed" flows. Several are included in that region under the MIRPS, a regional framework for protection and solutions which we have promoted; and we will contribute to UN efforts to support initiatives such as a regional development plan for Mexico and northern Central America, currently being discussed. In this context, saving lives and safeguarding the dignity and rights of all those on the move must remain central, together with access to international protection for those with valid claims. There and elsewhere, legal migration pathways would help prevent the abuse of asylum systems as substitutes of migration channels.
We observe these challenges not only in northern Central America and at the southern border of the United States, but also in southern Africa, and south-east Asia. In Europe, public confidence in asylum and migration management has been diminished, and must be restored through fast and fair procedures, good migration management that avoids overloading asylum systems, and investments in integration for those with a right to stay. Cooperation between governments is needed – including on the return of those who do not qualify for international protection or other stay arrangements.
I welcome the recent decisions of four EU States to establish a temporary cooperation mechanism for disembarking those rescued in the Mediterranean, and hope that this will galvanise broader EU engagement and revitalize rescue at sea arrangements. But this must also be matched by a broader ambition – investments in addressing the root causes of refugee flows, and supporting the efforts of refugee-hosting and transit countries. UNHCR continues to evacuate the most vulnerable from Libya – efforts for which Niger and now Rwanda are providing life-saving channels. Hopefully, others will join. We work closely with the International Organisation for Migration in these efforts, as elsewhere. But these operations pose enormous dilemmas, and can only be sustained as part of a comprehensive, responsibility-sharing approach that has the preservation of life, and access to international protection as central imperatives. There, as in several other operations, UNHCR colleagues and our partners are working – let us not forget that – under extremely dangerous conditions.
Third, long-standing and recurring displacement crises continue to persist, in the absence of political solutions. And other major crises are now becoming protracted too. In this context, the compact's emphasis on inclusion, resilience and development action – pending solutions – is critical. This year marked the fortieth anniversary of the start of the Afghan refugee crisis. Regrettably, peace efforts seem once again to have stalled. I welcome Afghanistan's decision to apply the comprehensive refugee response model in support of its initiatives to solve displacement, but solutions remain compromised by drought, insecurity and governance failures. Just 15,000 refugees returned home last year. The hospitality displayed by Pakistan and Iran, and their work on refugee inclusion and self-reliance, as well as on legal migration and stay options, are ground-breaking, but must receive more international support while the Afghan crisis continues.
In Somalia, too, while the commitment of the government to reduce forced displacement is evident and commendable, conflict and drought are still inhibiting solutions and driving new displacement. In this context, the regional application of the comprehensive response model by IGAD helps strengthen asylum, access to rights, and refugee inclusion in health, education and national economies.
Governments in the East and Horn of Africa have been in the forefront of the application of the comprehensive refugee response model. Ethiopia, Djibouti, Kenya and Uganda, among others, have made enormous strides with the support of the World Bank's expertise and financing, bilateral development support and private sector investments. These are already transforming the lives of many refugees, as well as refugee-hosting communities across the region, and proving the validity of the model enshrined in the compact. They are giving concrete meaning to the African Union's decision to declare 2019 the year of refugees, displaced people and returnees in Africa.
Fourth, the issue of repatriation continues to be the subject of much attention. A question we are increasingly asked is – how to advance solutions, when security in countries of origin remains fragile, and there is no end of hostilities? Can people return to their home countries in the absence of political settlements?
The answer is that returns must be driven by people, not by politics. Across UNHCR's operations, we have an ongoing dialogue with refugees on return, and on the complex factors that influence their decisions. We work with governments to help create the conditions paving the way for returns. These must be voluntary and sustainable.
Take the example of Syria. Some 200,000 Syrian refugees have returned since 2016, and over three quarters of the almost six million refugees in neighbouring countries say they hope to return one day. We must continue to be guided by their views and decisions, and provide support to those who choose to return to avoid exposing them to further hardship.
Our policy is not to stand back and wait. We work with the Government of Syria to help address barriers to return and support confidence-building measures; hoping of course that recent political advances are consolidated; and that further humanitarian crises – especially in Idlib – can be avoided through concerted action by all parties.
In the meantime, international support to asylum countries must be sustained. Their outstanding generosity, and continuous donor support have helped Syrian refugees contend with long years in exile, even in places like Lebanon where the ratio of refugees to nationals continues to be the highest in the world. The achievements are significant: last year, 1.3 million Syrian refugee children were attending school, and 110,000 work permits were issued in Jordan and Turkey. However, acute poverty and vulnerability are weighing on people's lives, and on host communities, and inevitably influencing their decisions.
In Myanmar, too, the Government has recognised the right of refugees in Bangladesh to return, and has started an important dialogue with the refugees, to build confidence and enable informed decisions. UNHCR and UNDP are working on social cohesion projects in northern Rakhine State to help pave the way for eventual returns. These are important steps, but need to be accompanied by more visible changes on key issues of refugee concern – freedom of movement, solutions for the internally displaced, clear information on a pathway to citizenship.
A second bilateral initiative to commence repatriation in August did not result in any refugees coming forward. But it sent important messages: the door is open, and voluntariness was respected. My hope is that this can now pave the way for a more strategic approach, in which refugee voices and choices are central. UNHCR stands ready to advise and support. There, and in other places, for example with Burundian refugees in Tanzania, and Nigerian refugees in the Lake Chad region, we are available to facilitate dialogue and solutions through tripartite approaches which include UNHCR.
Fifth, and closely linked to my previous point, we need to seize opportunities to accelerate solutions. Conflicts moving towards peace are rare, but when there is a chance, we have to pursue it. In this respect, we are closely following events in Sudan and South Sudan. The political transition in Sudan and the new Government's commitment to a peace process have important implications for hundreds of thousands of Sudanese refugees, and for the internally displaced. The renewed momentum in the South Sudan peace process is also encouraging. Spontaneous refugee returns to South Sudan have already surpassed 200,000, and IDP returns are also under way.
Over the last two years, UNHCR and IGAD have been promoting the inclusion of refugees and internally displaced people in the South Sudan peace process. I hope that these recent developments will pave the way to a definitive end of the cycle of violence and displacement that has blighted the lives of generations of Sudanese and South Sudanese people.
Resettlement is another solution – albeit for very few. While some countries are stepping up their programmes, the overall number of places has plummeted. I am very disappointed by this. Resettlement saves lives and offers stability to refugees who are most vulnerable and at risk. I propose that we use more deliberately our new three-year strategy to intensify resettlement efforts, and expand private sector and community involvement.
The sixth major challenge relates to our engagement with the internally displaced. At the end of 2018, over 41 million people were living in displacement in their own countries. Major IDP operations, in Iraq, Syria, Yemen, the Lake Chad Basin, the Central African Republic, the Democratic Republic of Congo, and Ukraine, remain among our most politically and operationally complex – but all are among our priorities. I wish to flag in particular that together with our partners, we are responding with more resources to the Ethiopian government's call for support to address recent large-scale internal displacement in the country.
In sum, we are trying to better align our efforts to advance solutions for refugees and IDPs, and to design our operations more effectively, in the context of inter-agency efforts. Our new policy on internal displacement reflects our firm and revitalized commitment. This places particular emphasis on protection leadership, and aligning our interventions with those of our partners.
Mr. Chairman,
A few days ago, at the start of the 74th session of the General Assembly in New York, we heard calls to accelerate our responses to the climate emergency, before it is too late. Greta Thunberg, speaking for the next generations, and António Guterres, speaking as the world's conscience, were adamant in asking all of us to take action – now.
These calls concern us, too, as we gather here to discuss issues of forced displacement. I have just presented six key displacement-related challenges. The seventh intersects and underpins them all.
Climate-related causes are a growing driver of new internal displacement, surpassing those related to conflict and violence by more than 50%. Climate is often also a pervasive factor in cross-border displacement.
The term "climate refugee" is not based in international law, and does not reflect the more complicated ways in which climate interacts with human mobility. But the image it conveys – of people driven from their homes as an outcome of the climate emergency – has rightly captured public attention.
I am often asked how the UN refugee organization can help respond to this challenge. I wish to take this opportunity to share a few thoughts for your consideration.
For some years, UNHCR has worked to highlight relevant legal frameworks and the protection gaps resulting from cross-border displacement in the context of climate change. We will continue to help steer international discussions and the legal and normative debate in this area, including through engagement with the Platform on Disaster Displacement, and other multilateral fora.
Forced displacement across borders can stem from the interaction between climate change and disasters with conflict and violence – or it can arise from natural or man-made disasters alone. Either situation can trigger international protection needs.
In the first case, these would normally be met through recognition as a refugee under the 1951 Convention or regional refugee frameworks. In the second, temporary protection or stay arrangements, on which UNHCR has expertise, can provide flexible and speedy responses.
Even more specifically, where disaster-related displacement occurs, a strong operational response, guided by protection considerations, is often needed. Here too, UNHCR will continue to work in inter-agency contexts to support governments – building on our strong expertise in emergency responses. The Global Compact on Refugees by the way calls for preparedness measures and evidence-based forecasting, and the inclusion of refugees in disaster risk reduction strategies.
There are other considerations. Climate factors drive people out of their homes – but large-scale refugee movements – whether or not climate-induced – have themselves in turn an environmental impact, and refugees are frequently located in climate hotspots. I am determined to make these considerations more relevant to the way we prepare for and respond to refugee crises.
At UNHCR, we have worked for years to reduce the environmental impact of refugee crises through renewable energy options, reforestation activities, and access to clean fuels and technology for cooking. We have now launched a revitalized energy strategy and are improving our tools to address these challenges. Private sector partners such as the IKEA Foundation have been invaluable in helping us develop new approaches.
And finally like other organizations, we recognise that our own operational footprint has an environmental impact, and are taking action accordingly. We are working, for example, to increase energy efficiency and renewable energy use.
Mr. Chairman,
Work to respond to these challenges is made possible by the strong confidence that UNHCR continues to receive from donor partners. We expect funds available this year to reach an estimated 4.82 billion US dollars. The United States' contribution has continued to be the most substantial, and has been decisive in many challenging situations, and for this I am very grateful. I wish to thank the European Commission and Germany for their particularly strong support; and Sweden, the United Kingdom, Denmark, Norway and the Netherlands for providing critical, substantive unearmarked funding; and of course all other donors as well.
The gap between requirements and available resources nonetheless continues to grow in absolute terms and will reach around 3.82 billion US dollars this year. Private sector income is projected to increase by 11% over last year's figure, to 470 million US dollars. We continue to work to diversify our funding base, in the spirit of responsibility-sharing and to ensure a stable platform for our work. Most importantly, our partnership with development organizations is becoming much stronger, and is helping us find ways to target our resources in ways that leverage those bigger programmes.
I am aware that donor generosity must be matched by constant improvements in how we manage the organization. In late 2016, I initiated a reform process to ensure an agile and effective UNHCR, with country operations equipped to pursue context-driven strategies, innovate, and respond to local and regional dynamics, as part of UN Country Teams. This was the rationale for our regionalisation and decentralization process, which is giving greater authority and flexibility to country offices, helping us get closer to refugees, and front-loading support through Regional Bureaux located in their regions.
We are entering the last phase of structural changes, which will involve adjustments to Headquarters Divisions and other entities in line with the new rebalanced authorities.
Of course, transformation is not only about structures and accountabilities, and is not a one-time exercise – it is also about transforming our organisational culture, investing in the quality of work, improving and streamlining systems and processes, and creating space for innovation.
We are working on evidence-based planning, on how we describe impact, and on increasing efficiency, in line with our Grand Bargain commitments and as an active participant, as the Deputy Secretary-General noted, in broader UN reforms. I recently endorsed a Data Transformation Strategy, and the new UNHCR/World Bank Joint Data Centre will be inaugurated this week in Copenhagen by the Secretary-General – a milestone of humanitarian/development cooperation.
We also continue to embed a strong risk management culture across the organisation, and to strengthen systems and tools for preventing and responding to misconduct. This includes sexual exploitation and abuse, and sexual harassment, for which we have implemented a broad range of measures and to which I am personally committed, also as Champion for this issue in the Inter-Agency Standing Committee. There is no place in the organization for perpetrators, and we will keep survivors and victims at the center of our response.
Mr. Chairman,
In 2011, my predecessor, the Secretary-General, convened a ministerial meeting on the 60th anniversary of the 1951 Refugee Convention, and the 50th of the 1961 Convention on the Reduction of Statelessness. It is fair to say that until then, the statelessness mandate had been a rather peripheral aspect of UNHCR's work. Clearly, you didn't see it that way. More than 60 states and regional entities came forward with pledges aimed at reducing statelessness, and that groundswell of political will and commitment became the catalyst for the #IBelong campaign, launched in 2014. Spurred on by the energy that had emerged, we decided to fix a time limit – ten years – to bring statelessness to an end.
Now, as we mark the halfway point, it's time to take stock and renew the commitment that set us on the path towards that bold ambition. This is the aim of the High-Level Segment that will follow in a few moments, as part of this Executive Committee meeting.
When we talk about statelessness, we often find ourselves speaking of laws, documents and other technicalities. These are critical, and are where the hard work has to happen, but when we frame statelessness purely in legal terms, we lose sight of the all-encompassing blight it casts on people's lives, pushing them to the margins of society, denying them basic rights and a sense of identity. This is an area in which – for relatively little investment – wide-reaching impact is within our reach.
Some of you, last year, were present at an EXCOM side event at which a young woman who had grown up stateless became the citizen of a country for the first time. It was a deeply emotional experience for everyone present – and that moment, more than any speech or list of pledges, captured what it means to finally belong, after years spent living on the margins. She and a number of formerly stateless people are present here today, and I encourage you to talk to them and understand what citizenship has meant to them. Their stories are what will inspire us as we move ahead.
There have been important achievements in the first half of the campaign – tackling gender discrimination in nationality laws, introducing laws to avoid childhood statelessness, and developing procedures to find solutions for people who would otherwise be stateless. Certain protracted situations were finally resolved. Fifteen states acceded to one or both of the Statelessness Conventions. Kyrgyzstan became the first State to formally announce that all known cases of statelessness on its territory had been resolved – an achievement that should inspire others. I look forward to honouring a Kyrgyz champion of this campaign, Azizbek Ashurov, at the Nansen Award ceremony this evening.
I also wish to acknowledge the work of UNICEF, UNFPA, the World Bank, and civil society and academic networks – and especially the Geneva-based 'Friends' of the campaign, who have been persistent in their advocacy and support. The regional preparatory meetings have been characterized by energy and commitment. I am pleased to share that we have received 171 pledges ahead of today's event, which has also galvanised other initiatives that may become concrete pledges later.
At a time when we are asking a lot of you, this is particularly commendable. At UNHCR, we will also step up our efforts even more to achieve the ambitious collective goal of ending statelessness once and for all.
Mr Chairman,
The first Global Refugee Forum will be convened in this building in just over two months. It comes at the end of a turbulent decade, in which people and communities have been uprooted across all regions. Nobody foresaw, ten years ago, the convergence of trends and events that would lead to a doubling in the number of people forcibly displaced, and the prominence that refugee and migrant flows would assume in domestic and international politics. Addressing and resolving forced displacement has rightly emerged as an urgent priority intertwined with other 21st-century global challenges, including climate change.
The big question now is – what are we going to make of the next decade? Will it be one that sees us in retreat – turning our backs on the hard-learned lessons of the twentieth century – or one in which we will have the courage of joining forces in spite of our different perspectives and interests, embracing the challenges and opportunities of international cooperation to address the plight of exile? These are the fundamental questions that the Forum will have to tackle. I hope – of course – that it will respond by clearly showing the second way. I encourage all of you to ensure high-level representation from States, share positive experiences, and make significant and impactful commitments that will greatly improve the future of refugees and host communities.
I believe that in the Global Compact for Refugees, we have grounds for optimism. The momentum is there. We have a powerful tool that was born of a narrative of possibility. The Forum will be the occasion, I hope, to show that we do not shy away from the enormous responsibility placed on all of us – one that stems not only from the refugees and host communities looking to us for action, but also from the opportunity that we have to inspire new generations, and demonstrate, in so many practical, concrete ways, why international cooperation matters, and how it can be made to work.
Thank you.
Cache
Source: World Bank, Education Above All
Country: Afghanistan, Bangladesh, Burkina Faso, Cambodia, Cameroon, Chad, Democratic Republic of the Congo, Djibouti, Ecuador, Ethiopia, Haiti, India, Iran (Islamic Republic of), Iraq, Kenya, Lao People's Democratic Republic (the), Lebanon, Liberia, Libya, Malawi, Malaysia, Mali, Mexico, Morocco, Mozambique, Myanmar, Niger, Nigeria, Pakistan, Paraguay, Philippines, Rwanda, Senegal, Sierra Leone, South Sudan, Syrian Arab Republic, Thailand, Uganda, United Republic of Tanzania, World, Zambia
WASHINGTON DC, September 20, 2019 - This week, Education Above All Foundation (EAA) and the World Bank announced a ground-breaking partnership to enrol two million out of school children from more than 40 countries by 2025. During a meeting with World Bank President David Malpass, Her Highness Sheikha Moza bint Nasser, Founder and Chairperson of Education Above All Foundation, stressed the importance of this framework agreement.
The agreement commits up to $250 million in funding for developing countries striving to enable access to quality primary education for all of their still out-of-school children. Unlike traditional philanthropic efforts of organizations like EAA who usually fund local non-profits directly, this innovative funding model aims to take lessons learned in the field to scale, through direct support to participating countries with implementation, evaluation, and reporting - enabling accountability and systemic change at the national level.
Out of school children (OOSC) are among the hardest to reach in each country due to the many and often compounding barriers to education including extreme poverty, distance to school, and conflict. This new agreement calls on governments to utilise funds to prioritise out of school children by ensuring their access to quality primary education through results-based financing. The agreement highlights the importance of multi-stakeholder partnerships in supporting developing nations, in providing education for all, and meeting the UN Sustainable Development Goals, particularly SDG 4 (ensuring inclusive and quality education for all and promoting lifelong learning).
"The World Bank is committed to addressing the global learning crisis. The partnership with Education Above All is critically important in this effort. There are still too many out of school children around the globe. Together we will bring these children into school and help them learn and fulfil their potential. Learning for all is a foundation for building strong human capital for every country," said Jaime Saavedra, Global Director for Education at the World Bank.
"Our partnership with Qatar and Education Above All will play an especially important role in the Middle East and North Africa," said Ferid Belhaj, World Bank Vice President for the Middle East and North Africa. "As access to quality education is critical for the region to unlock the huge potential of its large youth population, whose energy and creativity could become a new source of dynamic and inclusive growth."
Through this new funding structure, EAA and The World Bank will support financing opportunities for resource mobilization, education advocacy, and poverty reduction in developing countries across three continents. Proposed targeted countries include Afghanistan, Bangladesh, Burkina Faso, Cambodia, Cameroon, Chad, Democratic Republic of Congo, Djibouti, Ecuador, Ethiopia, Haiti, India, Iran, Iraq, Kenya, Laos, Lebanon, Liberia, Libya, Malawi, Malaysia, Mali, Mexico, Morocco, Mozambique, Myanmar, Nepal, Nigeria, Pakistan, Paraguay, Philippines, Rwanda, Senegal, Sierra Leone, South Sudan, Sri Lanka, Syria, Tanzania, Thailand, Uganda, and Zambia.
About Education Above All (EAA) Foundation
The Education Above All (EAA) Foundation is a global education foundation established in 2012 by Her Highness Sheikha Moza bint Nasser. The Foundation envisions bringing hope and real opportunity to the lives of impoverished and marginalized children, youth and women, especially in the developing world and in difficult circumstances such as conflict situations and natural disasters. It believes that education is the single most effective means of reducing poverty, generating economic growth and creating peaceful and just societies, as well as a fundamental right for all children and an essential condition to achieving the Sustainable Development Goals (SDGs). For more information, visit educationaboveall.orghttp://educationaboveall.org/.
About World Bank Group Work on Education
The World Bank Group is the largest financier of education in the developing world. We work on education programs in more than 80 countries and are committed to helping countries reach Sustainable Development Goal (SDG) 4, which calls for access to quality education and lifelong learning opportunities for all by 2030. In 2018, we provided about $4.5 billion for education programs, technical assistance, and other projects designed to improve learning and provide everyone with the opportunity to get the education they need to succeed. Our current portfolio of education projects totals $17 billion, highlighting the importance of education for the achievement of our twin goals, ending extreme poverty and boosting shared prosperity.
For more information, please visit: worldbank.org/educationhttp://.worldbank.org/education educationaboveall.orghttp://www.educationaboveall.org
Cache
Source: US Agency for International Development
Country: Afghanistan, Bangladesh, Brazil, Colombia, Democratic People's Republic of Korea, Democratic Republic of the Congo, Ecuador, Eritrea, Ethiopia, Iraq, Mexico, Myanmar, Nigeria, Rwanda, Somalia, South Sudan, Syrian Arab Republic, Uganda, United States of America, Venezuela (Bolivarian Republic of), World, Yemen
For Immediate Release
Monday, August 20, 2018 Office of Press Relations
Telephone: +1.202.712.4320 | Email: press@usaid.gov
Center for Strategic and International Studies
Washington, DC
August 20, 2018
ADMINISTRATOR GREEN: Good morning, everyone. Thank you, Dan, for that kind introduction and thanks to all of you for being here to help mark this very important occasion.
As we begin, as we call it in Congress, I'd like to start with a point of personal privilege. I'd like to take this opportunity this morning to express our sadness over the death of Kofi Annan. He was a giant who has spent his entire life advocating for peace, and the for the protection of humanitarian workers, something that we'll be talking about today. As he so often said, "People, not states, should be at the center of what we do." His passing makes this World Humanitarian Day even more poignant.
This morning, on behalf of USAID, I hope to convey two important messages to all of you. The first is, as Dan was alluding to, relates to the rapidly-evolving nature of humanitarian relief and assistance.
The second, as we mark this day, is simply our deep, deep admiration and gratitude for the many heroes of our humanitarian work. They, and many of you, are truly extraordinary and heroic.
I have to say that before I joined USAID, I didn't really appreciate the scope and range of what it is that we do in our humanitarian work. You can see it in some of the numbers. In 2017, USAID responded to 53 crises in 51 countries. For only the second time in our agency's history, we had six DART teams, Disaster Assistance Response Teams, deployed simultaneously around the world. The first time that happened was the preceding year.
At this very moment, we have pre-positioned resources and experts in just about every part of the world. We have seven emergency stockpiles in places like Djibouti, South Africa, and Malaysia. We have full-time response staff in 30 countries. We have six regional offices and 11 adviser offices, located with partners like the military's combatant commands.
One of my most vivid memories from my first year as Administrator was, essentially, a crash course in how some of this works. One day, during last year's UN General Assembly meetings, we received word of a terrible earthquake, the second one that had struck Mexico City. One evening that week, I was walking down the street between back-to-back dinners with two different mobile phones: one with the White House, one with the DART team leader.
I was dodging pedestrians, I'm sure looking ridiculous, while the disaster professionals were helping me navigate something much more serious: how to rapidly mobilize an emergency response team to Mexico City to help our neighbors to the South respond to its second earthquake in just a few weeks' time.
The government said to us that they'd welcome the assistance of a highly-specialized type of international search and rescue team, something really hard to find, especially in a hurry. But, thanks to the White House, our talented team here in D.C., our network of first responders, and the DOD, we were able to transport and stand up just such a team in Mexico City before breakfast the next morning. I'm honored to be part of a network, which includes many of you, that can make something like that happen.
But, as we gather to mark World Humanitarian Day this year, we have to acknowledge that natural disaster responses no longer epitomizes today's humanitarian work. We still do that, to be sure, and I think we do it well. But, these days, we face vast other challenges all around the world.
Our humanitarian resources are increasingly being deployed, not for storms and quakes and the like, but for man-made disasters, from conflict-driven displacement to tyranny-driven economic collapse.
Our DARTs are more likely to be deployed for those types of crises, and by far, most of our humanitarian assistance dollars are being allocated for those kinds of needs. There's the ongoing tragedy in Syria, a horrific conflict in its seventh year and one of the most complex crises of our time. Over 13 million people, more than 80 percent of the current population, need humanitarian assistance. There's the ongoing struggle in Afghanistan, where 3.3 million people need humanitarian assistance. A recent upturn in violence has claimed 1,700 civilian lives this year alone.
A dozen or so years ago, I travelled to Afghanistan as a congressman. And, in those days, our presence was measured by the tens of thousands of military boots on the ground. These days, we still have some troops there, but our boots on the ground are increasingly humanitarian and development workers, some of whom have been back to work in Afghanistan two, three, and even four times.
Nine hundred aid workers have been killed in Afghanistan in the last decade.
There's South Sudan, the most dangerous place of all for humanitarian workers. Seven million people in South Sudan, including 1 million living on the brink of famine, depend on international assistance just to survive.
Then there are the man-made crises far closer to home. One of the most underreported catastrophes in the world today is what's happening in and around Venezuela. More than 2.3 million Venezuelans have already fled. It's the largest single mass exodus in the history of the Western Hemisphere. And it's ongoing. I saw this first hand when I visited Cucuta, in Colombia, and the Bolivar Bridge last month. Five thousand new migrants enter Colombia each and every day. They're desperately seeking food and emergency medical care. They're seeking survival.
This isn't merely Colombia's challenge. Venezuelans are fleeing to places like Brazil and Ecuador, as we read over the weekend, and northward to the Caribbean. The list of man-made, conflict-caused, and regime-driven humanitarian crises goes on and on. After all, there are roughly 70,000,000 displaced people in the world today.
Since humanitarian needs and crises are changing, we're doing our best our to change and to respond to them, with the best tools and ideas that we can find. We're applying lessons learned over and over again. And we're fostering innovation.
This past February, USAID and our British cousins, DFID, joined in launching the first-ever Humanitarian Grand Challenge. The Grand Challenge mechanism is a way for the world's best thinkers, from organizations large and small, for-profit and non-profit, business, academia, to offer new ideas in helping (inaudible) relief to the most vulnerable, hardest to reach communities in the world.
It's a chance for us to identify and invest in the best and the brightest. We've already received 615 applications from 86 different countries, including a third from women and nearly half from lower and middle income countries. We're excited to see and mobilize the results, and they're due out this fall.
Given how much of our humanitarian response is in conflict zones and fragile states, we're paying more attention than ever to the obstacles and challenges that factions, gangs, militias, and corrupt officials are throwing at relief teams. Case in point. In April of this year, a leading humanitarian agency reported that it had encountered no fewer than 70 checkpoints on the 300-mile trip from Aden to Sanaa, in Yemen. I'm sure those were just helpful citizens offering directions along the way.
But it's the kind of situation that caused us to launch the Strengthening Field Level Capacity on Humanitarian Access and Negotiations program last August.
It's aimed at helping relief team members better understand practical negotiation techniques and safe, effective field-level decision making.
Because there is nothing more important to us, nothing more important to me, than the safety and security of our humanitarian network, that's the area that we're especially focusing on. We must stay ahead of threats and potential threats. So we're supporting organizations dedicated to improving security standards and training for NGO staff. We're modifying our policy so that security, costs for equipment, staff, training and site enhancements can be more easily built into your contracts and grant budgets.
We're investing in new tools to help us map and minimize risk to operations at the most basic level, the level of, for example, moving food from a plane to a truck, to a warehouse and distribution center. But, let's face it: we can take every possible step to minimize risk. We can't make it go away.
And many of you here know that all too well. One of the most inspiring and humbling parts of my job is getting to meet the heroes who know the risks but carry on just because they care.
I saw firsthand, when I visited IDP camps just outside of Raqqa. I heard stories of challenges that humanitarian heroes face each day, as they strive to bring water and food and medical care to those who've been victimized by the years of conflict. With Assad's regime still holding sway in parts of the country, there's no real, legitimate government partner with whom to work. And their path is riddled with unexploded ordinance, which is going off at the rate of, roughly, three dozen per day.
The shelters they sleep in at night shake with the dropping of bombs each and every day. And yet, somehow, because of their commitment to others, they wake up the next morning and they do it all over again. These are the heroes that we hold high this World Humanitarian Day.
People like Iraq's Salam Muhammad. When Anbar and Kirkuk were liberated from ISIS at the end of last year, humanitarians were the first ones on the ground, providing food, water, and medical care. Iraq staff with the U.S.-funded NGO spend their days clearing mines and educating their neighbors about the dangers the ordinance poses.
Salam decided to joint this particular NGO after witnessing several tragedies that left some of his relatives and friends injured, or killed. He was one of the NGO's first recruits in Iraq. Every day is challenging for the de-miners; any accident can be fatal. But Salam and his staff love their jobs and show up for work every day filled with passion because they know what they're doing matters.
There's Jay Nash, a regional adviser who has lived and worked for USAID in the Democratic Republic of the Congo for the past 20 years. The DRC is, as you know, no stranger to aid worker attacks, with 210 people being killed, wounded, or kidnapped since 2000.
In 1999, while visiting a university in the DRC, Jay was ambushed by a mob of students who thought he was a spy for neighboring Rwanda. The mob torched the U.S. embassy vehicle he had been driving, but Jay escaped after a group of brave students made a ring around him, guarding him until they were able to duck him into the girls' dormitory.
Sitting in that dorm, trapped for hours with a mob threatening to break down the doors, Jay said he had one thought: he thought of the children with disabilities that he was helping in his free time. DRC has a higher than average rate of disability. And he thought to himself, if he died in that girls' dorm, who would take care of those kids?
After eight hours, he made a run for it, and he didn't look back. Not only did he stay in DRC working for USAID, in 2001, he started his own NGO called StandProud. It provides treatment and equipment to young people with disabilities, helping them gain dignity, mobility, and independence.
There's Fareed Noori, one of the victims of last month's attack on a government building in Jalalabad, Afghanistan. The blast killed 15 people. Fareed had been working in Afghanistan since 2010 for a USAID partner the International Rescue Committee, as a water, sanitation, and hygiene engineer. As his colleagues noted, whenever there was an emergency, Fareed was the first in the field to help with whatever was needed.
Fareed was in an emergency meeting at the time of the attack. He was killed doing the work of helping others, to which he had committed his life. Fareed leaves behind four children, two girls, two boys, all under the age of 9.
Another victim of that attack was Bakhtawara; it's a pseudonym, a bright and impressive 22-year-old woman. She was working for the International Organization for Migration, another USAID partner. She had married very early and had a child by the age of 16. But, despite being a young mother in a conservative community, she fought for her education and learned English. After school, she knew she wanted to help people. She convinced her family to let her, not just get job, but get a career as a humanitarian.
When her husband was killed in a bombing three years ago, she continued working as a 19-year-old single mother. Her job took her to the very government offices that were often targeted by insurgents. On the day she was killed, she was attending one of the meetings that she had hoped would help her find better ways to deliver aid to people in need. The building was bombed and then overrun with gunfire. She died doing what she focused her life on, helping people build a brighter future.
Extremist insurgents in Afghanistan like to target these workers. There's a special place in hell...
There's the story of the seven aid workers killed in South Sudan in March of this year. They were killed when their car was ambushed along the 185-mile route of the badly rutted roads in South Sudan's remote east. Their vehicle had been labeled as belonging to an NGO right down to the license plates. It didn't matter. Six of the seven worked for a small Sudanese NGO called the Grass Roots Empowerment and Development Organization, GREDO, which is supported by USAID and worked to promote sustainable development at the grassroots level.
Three of the victims were helping to build a youth center. Two taught English. One was also a driver and the father of a newborn. Three were new recruits. Humanitarian heroes, one and all. And there were thousands of others. And I stand in awe of what they do.
Final thoughts. Why do they do it? What causes them to go out and take these risks? I learned the answer, and (inaudible), when I visited Bangladesh and Burma with Secretary Pompeo earlier this year. In Bangladesh, I went to a Cox's Bazaar, and I saw the hundreds of thousands of Rohingya who are barely surviving in that camp.
They are vulnerable to monsoons and cyclones and without the humanitarian workers, life would be very different. It's bad enough already.
And then I went to Burma, and I travelled to an IDP camp near Sittwe. And what I saw there was the most disturbing thing I have ever seen in development. I saw young families trapped. I saw young families unable to go to school and completely dependent upon the emergency food assistance that we provide.
So, those workers take the risks because they are all that is standing between an even worse catastrophe and death in these young people, these victims. Today we celebrate them. Thank you.
MODERATOR: Thank you. (inaudible) I'm also the director of the Humanitarian Agenda, as Dan mentioned, which is what this event is a part of, it's a new partnership as as we have this conversation. Firstly, I want to ask you -- well, one, congratulations; it's been about a year now since you've been appointed, and you've been back one year? So, happy anniversary.
ADMINISTRATOR GREEN: Pretty close. Thank you -- ask my staff.
MODERATOR: (inaudible) We're all very happy that you were chosen to be in this position because, as Dan alluded to, your deep background in international developments. One of the things that you said a lot in this position is talking about, "The purpose of foreign aid is to end the need for its existence." It's one of your key messages that we hear time and time again. So, I want you to elaborate on sort of how that squares with humanitarian assistance. Right? There's a big difference of international developments for, you know, economic growth and being self-reliant. But humanitarian assistance is so often, as you mentioned, driven by tyranny and regimes, and it's about saving lives. So, how do you marry those two?
ADMINISTRATOR GREEN: Well, first off you're right. What I've said since the day that I was first announced is that the purpose of our foreign assistance must be ending its need to exist. And what I mean by that is, we should look every day at ways of helping people take on their own challenges. Not because we want to do less or walk away, but because we believe in human dignity, and we believe in the innate desire of everyone -- every individual, every family, every community, every country -- to want to craft their own bright future.
In the area of humanitarian assistance, what I always say is, look, we will always stand with people when crisis strikes because that is who we are, that is in the American DNA. But at the same time we'll also look for ways to foster resilience so that we can help countries and communities withstand future shocks. And we've seen promising results in places like Ethiopia. You mentioned on the food security front, Ethiopia's a country that's had six consecutive years of drought and yet not falling into full famine. And that obviously is about much more than the work we're doing, but I think we're making a difference in helping Ethiopians build their ability to withstand consecutive years of drought.
So, I see the two as fitting very well together, and the other piece to it is, on the humanitarian front, again, we have natural disasters and man-made disasters. The man-made disasters are coming at us fast and furious. It's also about preventing the next generation of crisis and conflict. I'm often asked what it is that keeps me up at night, and what keeps me up at night are our children being born in camps, and growing up in camps, and getting educated in camps. And when, God willing, the walls come down and the gate opens up, the question is, are those young people going to be prepared to take on the challenges of the world? Are they connected to the communities around them?
And so with the humanitarian work that we do in many of these places, it's really aimed towards the future. And so I think it fits in well; it's a longer term of view, but I see them -- really is all going in the same direction.
MODERATOR: I'm actually headed out to Nigeria in a few weeks and doing some research looking at Feed the Future portfolio there, but really looking at the nexus between that humanitarian and development assistance, you know, how that would work in an unstable environment. So, I'm anxious to see what I learn from that as well. You know, the Trump administration has called for reduction, of course, of U.S. foreign assistance, but, regardless of that, the U.S. continues to be -- and dominate as the largest donor worldwide.
When you're talking to your colleagues in this administration, what is it that you talk about in terms of why it's so important for us to sustain this leadership? I mean, I could throw out numbers and I'll do a little bit.
In 2018, the U.S. pledged 29 billion foreign assistance. Five billion of that was dedicated to humanitarian assistance. I was looking this morning at how that compares to others, and, I mean, the UK -we're event twice what they do. So, you know, we're such a leader in this space. Why is that so important? Why should we dedicate American tax dollars or more importantly to cleaning up other people's wars?
ADMINISTRATOR GREEN: Well, first off, you're correct; we're far and away the world's humanitarian leader, and, quite frankly, two or three or four of them together don't really add up to what we're doing. We need other countries to do more because, with those challenges that I laid out, those man-made challenges, I don't see an end in sight, quite frankly, in any of them. So, these are open-ended challenges, and while we are proud to be the world's leader, we need others to step up to the plate. I will tell you, what I worry about is, because these man-made disasters, man-made, often regime-driven disasters, because they are open-ended, there's a real risk that it will begin to take up so much of our budget that it threatens our ability to do some of the development investments that we all want to do, including quite frankly, some of the resilience work that we want to do.
So, we do need others to step up to the plate. But in terms of, you know, what I say to the rest of the administration, it's not a hard cell, you know, pushing them to open a door. The administration is very supportive of our humanitarian work; we continue to be the world's leader; that's not going to change. And I think it's really -- the arguments for it fall on a number of different fronts. Number one, this is an expression of American values. This is who we are and always have been. It is a projection of the American spirit, in my view. So, I think that is very much alive and well in the American psyche, in the American DNA.
But secondly, it's in our interest. Just take for a moment the assistance that we're providing to Colombians, supporting Venezuelans who have fled the border, doing the same thing in some other countries. There is great American self-interest in supporting the ability of these communities to withstand this migration, to help afford some of those costs, because the instability that results from not being able to provide support, I think, is an issue, is a diplomatic issue, is a national security issue. And, as you heard me mention, I think particularly what is happening in the Western Hemisphere is completely underreported.
When I was at the Summit of the Americas, I heard from a number of countries, including Caribbean states, that they were starting to feel the presence of Venezuelans fleeing. And while they're all supportive of their neighbors, clearly it's not without a cost. But the same thing is true in many other parts of the world. So, the investments that we make on the humanitarian front are oftentimes in our self-interest. I look at the work that we're doing on the humanitarian front with an eye towards providing a lifeline so that those who've been displaced in parts of the Middle East can return. That's in our interest. That's a stated foreign policy priority. So, you know, yes, there is certainly -- I think the morality that we -- the expression of values that we've always supported. But I also believe it's in our interest and our national security interest.
MODERATOR: And thank you for reminding us in your speech about humanitarian heroes and what World Humanitarian Day is about. You talked about the unfortunate situation that in today's crises a lot of the time aid workers are targeted specifically. So, I want to ask you whether you feel like there's an erosion of international humanitarian law over, you know, that you talked about the evolution of humanitarian assistance. And so as the world gets more and more disorderly, we see more and more protracted conflicts. Do you feel that both governments and non-state actors alike are violating this law, and is there anything that we can or should be doing more I guess, particularly from the donor or U.S. government perspective, to hold them more accountable?
ADMINISTRATOR GREEN: Well, first off, we in the U.S. demand adherence to international law, international humanitarian law. So, we demand that unfettered access is provided, for example, in Rakhine, in Northern Rakhine in Burma. So, that's always been important for us. But if you're asking whether some non-state actors like ISIS are breaking international law, yeah. Having been to both Raqqa and Northern Iraq, what has been done there by ISIS is truly evil. There is simply no other word to describe what they've done: the desecration of graves, the desecration of churches, the disappearances of Yazidis. It's staggering and truly evil. Of course they are breaking every standard that we all know.
Yes, it is a challenge to international law; one of the best ways that we can respond is to say that, and to say it often, and to keep coming back to it. Because I do think the American opinion matters. And to say all across the political spectrum here in this country that we stand united and demand adherence to those standards and that what is happening is unacceptable.
MODERATOR: You brought up demanding unfettered access. I want to let our audience know that the Humanitarian Agenda will be going to the capitol this fall, and we're focusing specifically on the issue of humanitarian access. You brought up, of course, in Yemen, that's 70 choke hold points that David Miliband also talked about when he was here in Yemen -- in April on Yemen. I also want to say we're publishing a policy piece on Yemen here at CSIS that will come out this week.
I have many more questions, but I think we'll turn to the audience, so that we can engage them as well. So, if you have a question, please raise your hand. We will take it in rounds of threes, so announce yourself and where you're from. Please keep it concise, and at the end of it, there should be a question mark. So, who has a question? Yes, sir, right over here. Thanks, gentlemen.
QUESTION: I'll ask a real fast question, my name is Rob, I work for USAID, thank you, sir. My question is about the environment, I'm just back from the Congo, where Ebola is happening and I was just in Madagascar where there was a plague outbreak. A lot of the disasters you talked about have an environmental component, and we're doing some in the United States, but some people think we really need to do more, and that's a little bit against maybe some people in the administration, so I would love for you to talk about your thoughts about that.
MODERATOR: Great question. More? Let's do Julie Howard right there.
QUESTION: Thank you. Mr. Administrator, thank you for your comments. Could you comment on the recent story in the Washington Post about the potential pullback of $3 billion in foreign assistance funds and how that may affect our ability to respond to humanitarian as well as the resilience opportunities you described?
MODERATOR: And, Julie, will you introduce yourself for those that don't know you?
QUESTION: Sorry?
MODERATOR: Would you introduce yourself?
QUESTION: Oh, yes, okay. So, I'm a non-resident senior adviser here at CSIS, thank you.
MODERATOR: Julie and I are also going to be travel partners when I go to Nigeria. It's actually Julie that is leading that study. Let's take one more question right back here. Yes, thank you.
QUESTION: Hi, my name's (inaudible) a reporter from Voice of America. There are a number of humanitarian assistance and also food aid to North Korea spended by the United States Government. What are the key principles that all the United States Government providing assistance to North Korea and under which scenario can assistance to North Korea be resumed?
MODERATOR: Thank you.
ADMINISTRATOR GREEN: Sure.
MODERATOR: Easy questions, right?
ADMINISTRATOR GREEN: On North Korea, simply put, there have been no discussions that I'm aware of regarding assistance into North Korea. I certainly haven't been part of any such discussions.
Secondly, on the pullback, while we haven't received official notification of anything, I've heard of nothing that would change our status as the world's leader in humanitarian assistance. I haven't seen anything. Third, on -- first off, it's interesting that you visited Ebola country and you talked about conservation, because their linked, obviously.
I think that's one of the reasons we've seen the outbreak of Ebola in other formerly, entirely rare diseases in some of the areas where we've seen deforestation and such. What we're trying to do at USAID, many of you are aware, we're developing metrics that are aimed at helping us to better understand a country's capacity and commitment in a number of sectors, and conservation's one of them.
So, we're looking at things like biodiversity and how resources are managed, because we think it's important, and it's something that we hope to be able to incentivize in the future and have conversations around. I have a personal interest in the conservation front and as you know, we recently made some announcements regarding assistance to Colombia and helping them in their natural resource management. So, I think it's an important area that shouldn't be divorced from the rest of development.
We think it is one of those key areas that needs to be assessed and looked at as we help countries, in what we call, as you know, probably ad nauseam as I talk about the journey to self-reliance. One of those areas is, in fact, conservation, biodiversity, and the capacity to manage resources.
MODERATOR: Let's take another round of questions. Raise your hand high. Joel?
QUESTION: Joel (inaudible) from Norwegian Refugee Council, thank you Administrator Green for your excellent remarks. I'm afraid I have to follow up on the rescission question. We're not going to let you off so easily.
What's been reported is that there's going to be a cut of a billion to UN peacekeeping operations, and that has the potential to not only disrupt work in South Sudan and Somalia and the Congo, but it also has the potential to disrupt, through further chaos in refugee flows, neighboring countries that we care about that are our allies, such as Ethiopia, Uganda, Rwanda, and so on.
I guess -- the argument is that, even if USAID itself doesn't lose funding or doesn't lose out through the rescission, the work will lose out, I feel, if this really goes ahead. So, if you could just offer more thought on -- I mean, you said you're pushing on an open door when it comes to international work, and, honestly, it's not always obvious to see that from the outside. Thank you.
MODERATOR: Thanks, Joel. Let's do these two right here in the front, Haley, yep.
QUESTION: Thank you. Hi, good morning. Nicole (inaudible), I'm a senior associate here at CSIS. Thank you, Administrator Green, for your great comments. You mentioned briefly -- you touched on young people and so, given the disproportionate (inaudible) of people in these countries and how often humanitarian crises can disproportionately affect children and young people, can you talk a little bit more about some of the focus that you're keeping in these initiatives and on the work that you're doing to remedy the situation for youth? Thanks.
MODERATOR: Great, and I think there was a question right behind you if there still is, yeah.
QUESTION: Hello, my name is Jessica (inaudible), and I'm a Jeane Kirkpatrick Fellow at the American Enterprise Institute. You mention in your remarks about the man-made nature of a lot of the ongoing conflicts, and I was wondering if you could speak to USAID's role not only in providing humanitarian response in that context, but also the active role that the agency is taking in countering and preventing ongoing violent extremism.
MODERATOR: Great question.
ADMINISTRATOR GREEN: That's a great question. Joel, on the budget front, I really don't have much more that I can provide. Part of it is I'm not attempting to duck, I just literally don't have more, I'd refer you to OMB quite frankly. But again, you know, they is simply looking at the numbers of the last year and what we're doing on the humanitarian front. There is simply no argument that we have backed away from our role as the world's leading humanitarian assistant. Just objectively, we are far and away the largest humanitarian donor.
We're the largest humanitarian donor in Syria; we're the largest humanitarian donor in conflict after conflict. I do think it is fair for all of us to talk about how it is that these resource needs can be met in the future. I don't mean just the immediate future, but the open-ended nature of these conflicts and this instability and this displacement is staggering.
It is what worries me, because these conflicts that we're seeing -- South Sudan; Yemen -- you and I have talked about Yemen a great deal in recent months. It's open-ended, and I do worry about that. I do worry about our ability to meet resource needs and, you know, the world meeting these resource needs. They're significant.
On the question of young people, particularly in displaced settings, we are looking at a number of ways of accelerating crisis situation education, conflict community education. We've received generous support from Congress, along with generous directives from Congress, in the area of education. What we've been trying to do, and Congresswoman Lowey has long been a great leader on this front, is to try to make sure that we are able to prioritize these crisis needs, and I do think that it's a crisis. It does worry me a great deal.
So, we're looking at some of the use of innovative technologies to see if that can help us in these settings, but it is a very focus and as we develop our basic education strategy going forward, I think you'll see a particular focus on those areas, because it is, as you suggest, very important for the future.
In terms of preventing violent extremism, we have, as you know, an important role under the National Security Strategy. We are investing in trying to identify the drivers of violent extremism.
One of my strong beliefs that comes, actually, from my time at International Republican Institute is that we shouldn't jump to conclusions and try to draw global assumptions and lessons. Instead, we need to look at local drivers. Experience shows us that it's often local drivers, community drivers that become flashpoints for extremism. And so, we're certainly investing research there, and some of the preventative tools that are there; from my days as an Ambassador in Tanzania, I often point out that after the terrible bombing, embassy bombing, the work that we did with our Tanzanian partners in the wake of that, to take on some of the drivers of poverty and despair, I believe was an important down payment for preventing violent extremism. So, I'm a big believer in tackling those drivers and tackling that which can lead to despair. So, that will always be a key part of our work.
MODERATOR: Mr. Green, at Davos this year, you talked about the importance of tapping into the creativity of the private sector, and how innovative financing mechanisms and other innovative technologies can really create better development outcomes. In your speech today, you talked about the Humanitarian Grand Challenges. Are there any specific companies or partnerships or technologies that you're most excited about right now. The things that you see that are happening in the field, you've been in in this career -- I mean, you've had a career for decades that are all related to development --
ADMINISTRATOR GREEN: Don't say decades.
MODERATOR: Okay, sorry -- you're very young. The last year that you've been an administrator, what are the -- what are the cool, new technologies that we should know about, that are out there, that the mainstream audience has no idea how we're delivering (inaudible) humanitarian assistance?
ADMINISTRATOR GREEN: Yeah, I mean, to be honest, there are countless. During global innovation we -- which we had last fall, whenever it was, and I had a chance to walk through the marketplace at the Ronald Reagan Building, and take a look at some of the innovations. Everything from lunchbox-size solar batteries allowing us to power work in refugee and displaced persons camps to some of the weather forecasting stations that are created with 3D printers. You go through there and it's extraordinary. And it fills you with great hope for our ability to reach out and touch more people in more settings than ever before. In the area of financing -- we announced in India last fall, the world's first Development Impact Bond for maternal and child health, and the largest development impact bond of its kind. So, what we did through that is to set outcomes that we needed to see in order to repay the investment, but in terms of the means, we turn the private sector loose.
And in the follow-up conversations that we had, you can see that our partners, some of whom are based here in D.C., were terribly excited. Because for the first time they didn't have us micro-managing each step along the way, but saying, "Look, these are the outcomes that we need, you go get them." And really tapping into the private sector, nonprofit and for-profit. Also, in the area of displaced communities on World Humanitarian Day, the use of biometrics to establish identification of refugees and IDPs as well as some of the digital technologies for delivering resources -- assistance so that recipients have modest purchasing power in surrounding communities, thereby not only providing assistance, not only holding onto human dignity and allowing them to make some decisions, but also providing a tangible benefit to those host communities which are often placing a disproportionate burden by those who are there. So, it -- it's really using business principles, human nature, and I'd like to say there are new technologies, but my kids will tell me very quickly they're old technologies, just new to someone like me. Tapping into these, I think, creates enormous, enormous hope for reaching into places we haven't before.
MODERATOR: I want to continue on that "hope" trend for a minute. So, you know, when you think about the crises, many of which are located in Syria, Yemen, in South Sudan --
ADMINISTRATOR GREEN: Is that the whole part?
MODERATOR: Now, I know. Well, this is where I'm kind of heading with this. Is there a crisis that you have your eyes on that you do see any reversal in terms of reversal trends, or any progress? Is there a place that you do think we're going to be able to see some positive outcomes in the next -- I should say decade there, because I know it takes time. But is there one that you see not going the wrong direction?
ADMINISTRATOR GREEN: Oh, sure. There are lots of promising stories. I think Ethiopia and Eritrea provide tremendous hope. One of the challenges, again, as an old democracy guy, one of the challenges that I saw was the enabling environment, for civil society and NGOs in a place like Ethiopia, and with the transition to a new government, we're having conversations that we didn't have before, in ways that I think will be very helpful. Also, I think that their willingness to partner with us more and more will help us make some investments in those areas -- in those resilience areas that will not only help Ethiopia and Eritrea, but also, quite frankly, I think will save us money in the long run. So, there are lots of stories like that, I think all around the continent of Africa and elsewhere. But there are -- every hopeful story is replaced by a new challenge. None of these challenges are inevitable, as problems. But they do require us to be innovative. They do require us to be engaged, they do require us to invest up front, and to be innovative in those procuring methods and how we partner. All of those things need to be done if we're going to turn -- either prevent the challenges from becoming crises, or turn problems into solutions.
MODERATOR: Thank you. I lived in Ethiopia for three years, and I have to say it's quite exciting to see the change that's happening there. I'd like to just turn it onto -- are there any more burning questions? No hands are shooting up; let's do one more right here in the front.
QUESTION: Hi, this is Chris (inaudible) with the State Department. Thank you so much for your leadership of USAID and development. I have a question regarding the nexus between humanitarian assistance, you've been mentioning the nexus with conflict development stabilization -- how does humanitarian assistance fit in, or is it just a one piece element that is disassociated from political issues?
MODERATOR: Great, and as you answer that and any other final remarks you'd like to make as well.
ADMINISTRATOR GREEN: Sure. Thank you and again, thanks to all of you. So I think from the National Security Strategy, you see -- also the Stabilization Assistance Review, you see, I think, a clear multi-agency, multi-department approach to many of these challenges. Our relationship with the State Department is as close as it's ever been. I've received nothing but support and affirmation from Secretary Pompeo. We are working, as you know, closely because all of these challenges touch each of us in different ways and we each have different capacities.
You know, I think it's probably never been more clear than in a place like the Burma-Bangladesh crisis. So, you know, when Rohingya in one place their IDPs and when they're in another place, they're refugees, and then of course we all look at that and say, "forget the labels, they're people who we need to help out," and invest in, and so we do. Also, I would say that both State and AID have as close of a working relationship with DoD as we've had in a very long time. As many of you know, we have a couple dozen detailees over at the Pentagon and the Combatant Commands. DoD has made it clear that they don't want to do what we do or State does, and we certainly don't want to do what they do. So, I would think those seamless teams and close communications are helping us. And going back to the budget question, they have to; there's not enough money for duplication. There's not enough money for bureaucracy. We just have to stay in constant communication.
As to (inaudible) final remarks, I really would like to leave off with where my remarks, my opening remarks left off -- or left off. On this World Humanitarian Day, I would ask that we all think of those men and women who are in places in far places in world, in conflict zones, in fragile settings, day after day, delivering emergency medical assistance, food assistance, water and hygiene under the most trying of circumstances, difficult security situations. They do it because they care. They're my heroes. I'm sure they're your heroes. They are patriots. And what a wonderful expression of values and our priorities that with what they're doing each and every day. Thank you.
Cache
Source: European Commission's Directorate-General for European Civil Protection and Humanitarian Aid Operations
Country: Afghanistan, Algeria, Armenia, Bangladesh, Burkina Faso, Burundi, Cameroon, Central African Republic, Chad, Colombia, Democratic Republic of the Congo, Djibouti, Ecuador, Egypt, El Salvador, Ethiopia, Georgia, Greece, Guatemala, Guinea, Haiti, Honduras, India, Iran (Islamic Republic of), Iraq, Jordan, Kenya, Lebanon, Libya, Madagascar, Mali, Mauritania, Mexico, Myanmar, Niger, Nigeria, occupied Palestinian territory, Pakistan, Paraguay, Philippines, Rwanda, Sierra Leone, Somalia, South Sudan, Sudan, Syrian Arab Republic, Turkey, Uganda, Ukraine, United Republic of Tanzania, Venezuela (Bolivarian Republic of), World, Yemen
Key messages
Education is lifesaving. Education is crucial for both the protection and healthy development of girls and boys affected by crises. It can rebuild their lives; restore their sense of normality and safety, and provide them with important life skills. It helps children to be self-sufficient, to be heard, and to have more influence on issues that affect them. It is also one of the best tools to invest in their long-term future, and in the peace, stability and economic growth of their countries.
Education in emergencies actions can help prevent, reduce, mitigate and respond to emergency-related academic, financial, social, institutional, physical and infrastructural barriers to children's education, while ensuring the provision of safe, inclusive and quality education.
In 2017, the EU dedicates 6% of its annual humanitarian aid budget to education in emergencies, one of the most underfunded sectors of humanitarian aid. In 2018, this amount will increase to 8%.
4.7 million girls and boys in 52 countries have benefited from EUfunded education in emergencies actions between 2012 and 2017.
Cache
Author: carbon20
Subject: 36632
Posted: October 31 2017 at 2:58pm

i NEVER get emotional,about a FOX news item, (never read the rubbish) or politics ,to me its a a big joke , and Chump is the top JOKER....at the moment,




please Note ,Obama will be the next President of the USA ,




i cant wait to see Chump SACKED.......




Jacksdad, if you have ever read "the Art of War",its very pertanent to the China situation we have developing NOW.....they building "ports" all over in Strategic places , i.e Sri Lanka,Djibouti , building and fortifing Islands...........seems to me they building infrastructure to what means ,who knows.....




the World needs a strong USA lead by a




STATESMAN................




not a TWIT SALESMAN !!!!!









Cache
Author: carbon20
Subject: 36632
Posted: October 27 2017 at 3:11pm


Chinese President Xi Jinping takes absolute control of armed forces in military shake-up
Updated Thu at 3:07pm
The Chinese military — the People's Liberation Army (PLA) — has seen the biggest shake-up in decades at the week-long 19th Party Congress that has wrapped up in Beijing.
Most of the top leadership has been replaced with President Xi Jinping's generals.
Mr Xi has already started a complete overhaul and modernisation process of the military.
He wants a fighting force that can back up his vision of making China a world power by 2050.
With more than 2 million troops, China has the world biggest military, but now Mr Xi wants it to be the best.
He has set up the deadlines for this to happen. By 2035 he wants it fully modernised and by 2050 to be the top-ranked military.
Nearly 90 per cent of the military delegates to the Congress were new faces.
On Wednesday, Mr Xi replaced three out of the four top generals of the Central Military Committee.
This was the last but most important step in Mr Xi taking absolute control of the armed forces.
Professor Willy Lam from the Chinese University of Hong Kong said the purges had been intense in the months leading up to the Congress.
"The entire structure of the PLA has been shaken up. In the last two months, we have seen the elevation of 20 close proteges of Xi Jinping," he said.
"Generals that Xi Jinping knew when he worked in the provinces of Fujian and Zhejiang from 1985 to 2007. So, these generals that he has trusted have been promoted."
Mr Xi's reform process is already well underway. Seven military regions have been re-made into five combat commands. The aim is to modernise to make troops more mobile and war-ready.
Political power grows out of barrel of a gun
Professor Lam said Mr Xi has used strident nationalism, like claims over the South and East China seas to build his legitimacy as a strongman.
"There is no doubt that Xi Jinping will reserve a big part of the budget for military modernisation and particularly the modernisation of weapons," he said.
"Xi Jinping as the leader of the PLA is convinced within 10 to 20 years, China can close the gap with the Russians, and before the middle of this century China can close the defence gap in terms of military and weapon sophistication with the United States."

The blue water navy is to be built up as China pushes itself further into the Pacific.

China has built its second aircraft carrier and there is more on the way.

The navy is set to get a threefold increase in marines in the next several years. It is also extending its military presence further afield, setting up a base in Djibouti on the Horn of Africa.

China is already starting to build its own military hardware. It has developed the J-20 stealth fighter and the new generation J-16 strike jet fighter.

The PLA has taken delivery of its 1,000th attack helicopter — 20 years ago they only had 100 and they were used for transport.

But there is a long way to go and the Chinese military has not been tested in battle since 1979, when they suffered a humiliating counterpunch by a battle-hardened Vietnamese army.

Professor Joseph Chen, from City University of Hong Kong, said the military build is part and parcel of China becoming a superpower.

"It's natural China will want to have a say, [China] would like to have a measure of control. But this is going to be a long-term process and an expensive process, and it will alarm China's neighbours, so these will be the difficulties facing China," he said.

Mr Xi has made it clear he wants to make China great again, and he knows Mao Zedong's famous adage that "political power grows out of barrel of a gun" is an important way to do it.

Topics: government-and-politics, federal-government, defence-and-national-security, defence-forces, defence-industry, world-politics,china




Cache
U.S. Army Gen. Stephen J. Townsend, commander, U.S. Africa Command, visited the Expeditionary Mobile Base USS Lewis B. Puller to observe evolutions and meet with troops during the multinational maritime exercise Cutlass Express 2019.2 in Djibouti, Nov. 4, 2019.




Next Page: 10000

© Googlier LLC, 2019